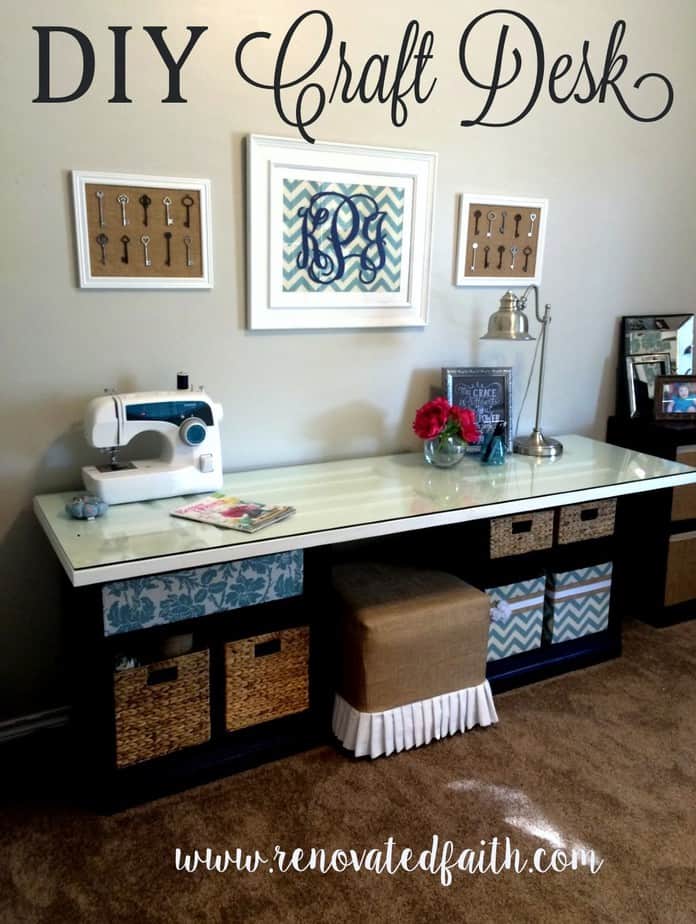 My grandma is the "original DIYer" and the inspiration for the design of my craft desk. She's a unique combination of Ana White, Joanna Gaines and Miss Mustard Seed, all in one. While running a high-end drapery business out of her home, it was not uncommon to find her building and painting furniture to accommodate her stylish but thrifty needs.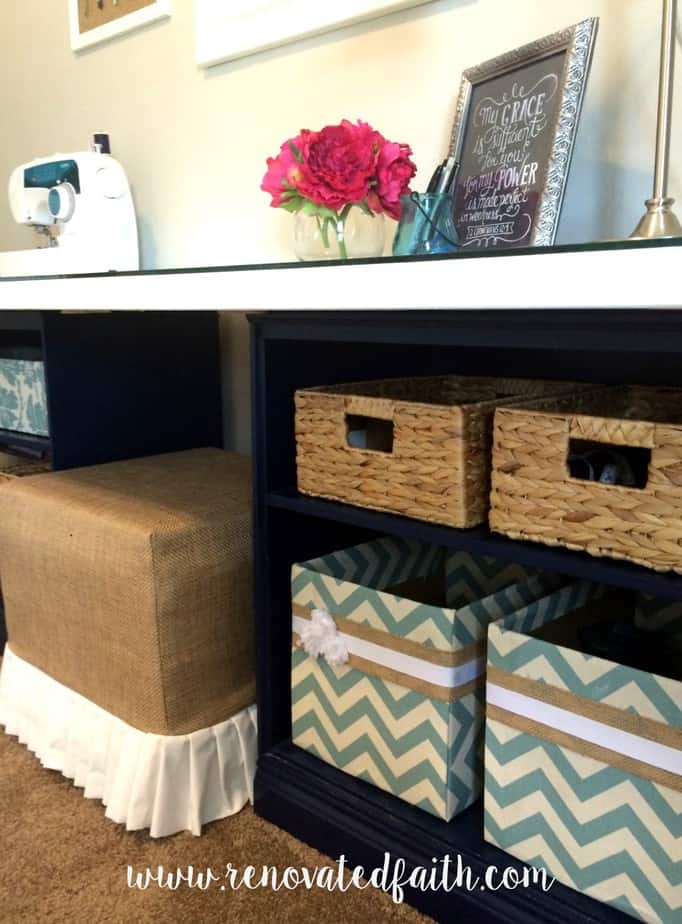 When I received two small bookcases from her, I decided they would be perfect to use as part of my craft desk. Remembering she had made some furniture out of hollow-core doors, it gave me the idea to use a paneled door for the desk top.
A cheap door with some character was a necessity for this project so I headed to my source for DIY treasures…Restore. If you haven't visited your local Restore, you are missing out. Basically, businesses and individuals donate building supplies to Restore in order to benefit Habitat for Humanity. The products are sold to the public for a minimum amount. I got this door for $6!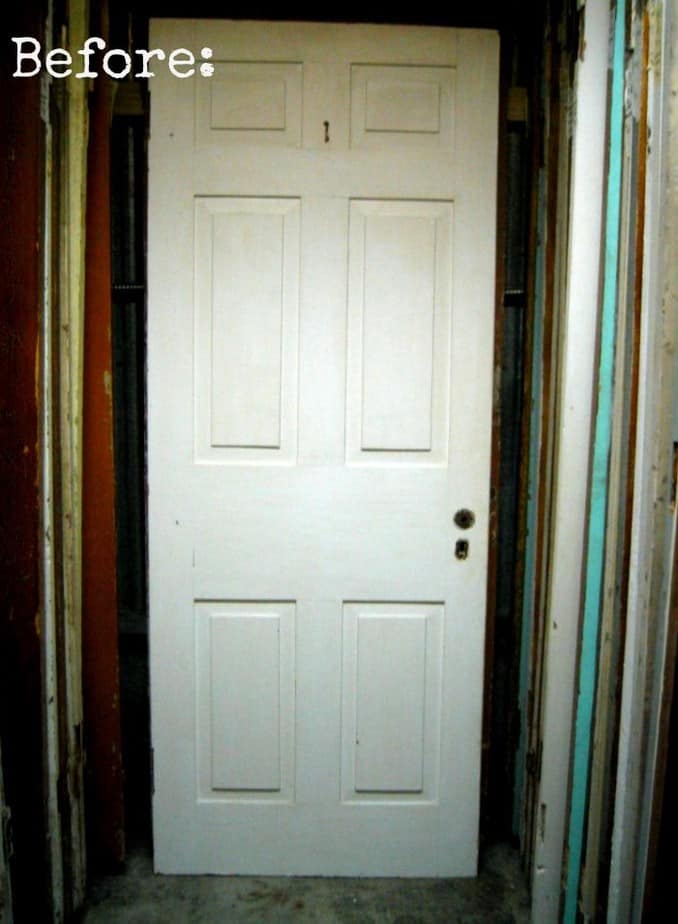 After filling the knob holes in the door with wood filler, I let it dry a couple days before sanding smooth. Then, I covered the door in a fresh coat of white paint. After a light sanding, I set the door on top of the two bookcases and just like that, I had a craft desk with plenty of surface space.
The two-shelf bookcases are 32″ high so any similar bookcases would work. One option could be these at $36 for two. If you are concerned about painting laminate bookcases, don't be! Use this tutorial at LiveLoveDIY. I have done it many times and the brush strokes actually resemble wood grain texture, making them look more like solid wood bookcases.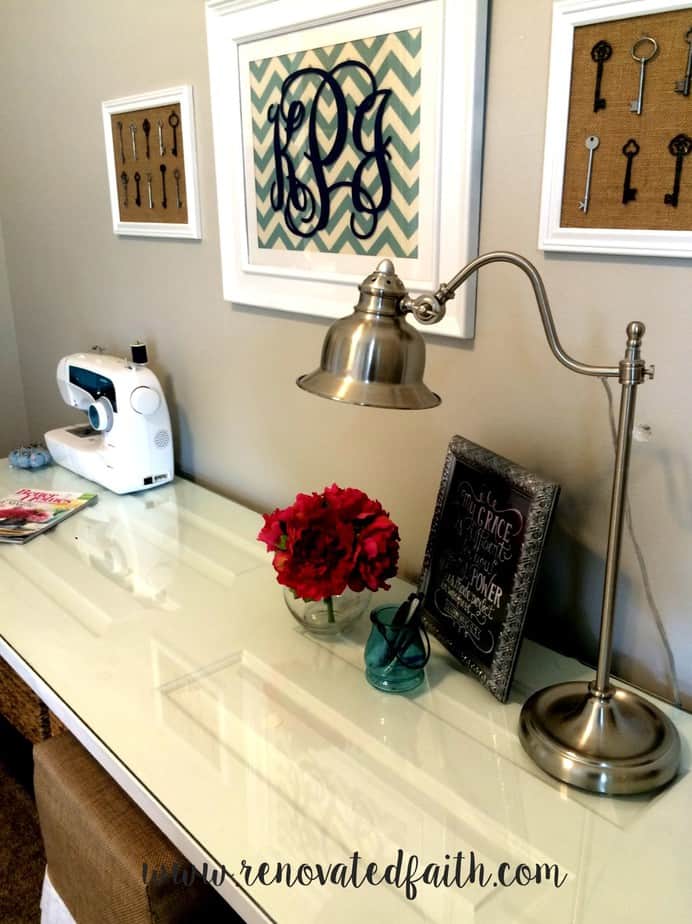 After ordering a piece of glass from our local glass dealer, I simply set it on the desk. The weight of the glass keeps it in place. Be sure to tell them that it will be used for a desk top so they make the glass the correct thickness.
For aesthetic and practical reasons, I absolutely love the glass finish on this desk. For one thing, the panels add character and dimension. The glass top is so convenient as I don't ever have to be concerned with the moisture from a cold drink and cleaning up spills is super easy. I got super glue on it the other day and I was able to scrape it off easily.
Also, the glass protects it from heat so I can use my glue gun to my heart's content without being careful of a wood surface. It is even a great surface for repotting my African violets(also a hobby of my grandmas), as I wipe it with cleaner when I'm done.
The added benefit of glass is the ability to write on the surface with dry erase markers. It's convenient to be able to jot down a reminder, or even my weekly memory verse. Morgan definitely likes this feature as well.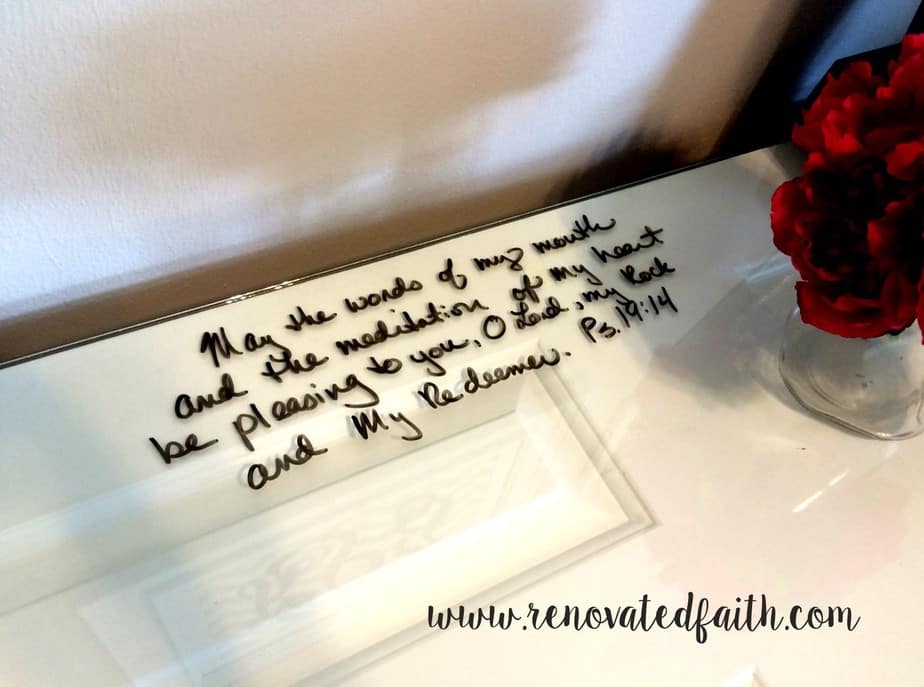 Premier Prints fabrics offers a wide variety of fabrics in coordinating colors so I was able to coordinate the fabric from the monogrammed wall art to the fabric on the bins. The fabric bins at the bottom right are just diaper boxes that I covered and added ribbon. In true Miss Mustard Seed style, I made a pleated seat cover for my stool.
Much like my grandma, Lucille Heitzman, my desk is multifaceted. I use it to work on projects, write, pay bills, and play games with Morgan. I absolutely love this setup and the fact that I am using my grandmother's bookcases makes it more special to me.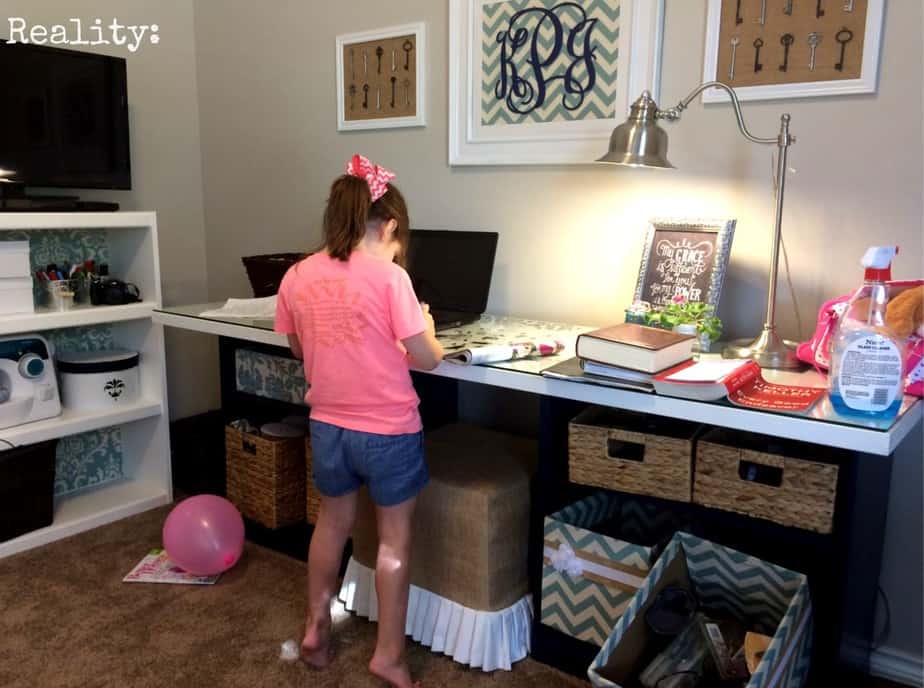 For the sake of transparency, here is how my craft table looked before I straightened up to take pictures. As you can see it is well-used! Morgan is drawing me a picture with dry erase markers.
You'll see that many of my posts include a Before, After and Reality shot. That's because life's real beauty isn't measured by an "After" picture but in the happenings of everyday life, as messy as they seem.
Thanks for visiting and I'd love to here your thoughts on my craft desk!
'Til Next Time-