I open my eyes to see the light streaming in through the curtains upon a room that makes me smile.  There's nothing quite like waking up in a bedroom you adore.  Fortunately, beauty does not have to break the bank as I show you in this post How To Create a Dream Bedroom On a Budget.
What are your dreams?  My answer to that question from 10 years ago is completely different from my answer today.
Ironically, I'm so thankful that some of those dreams didn't come true.
Life gives twists and turns that we never see coming. But fortunately God can take the most broken of circumstances and makes them into something lovely.  That especially through life's difficulties and our own shortcomings, God shows up.  Then, He graces us with 'things' we never could have imagined.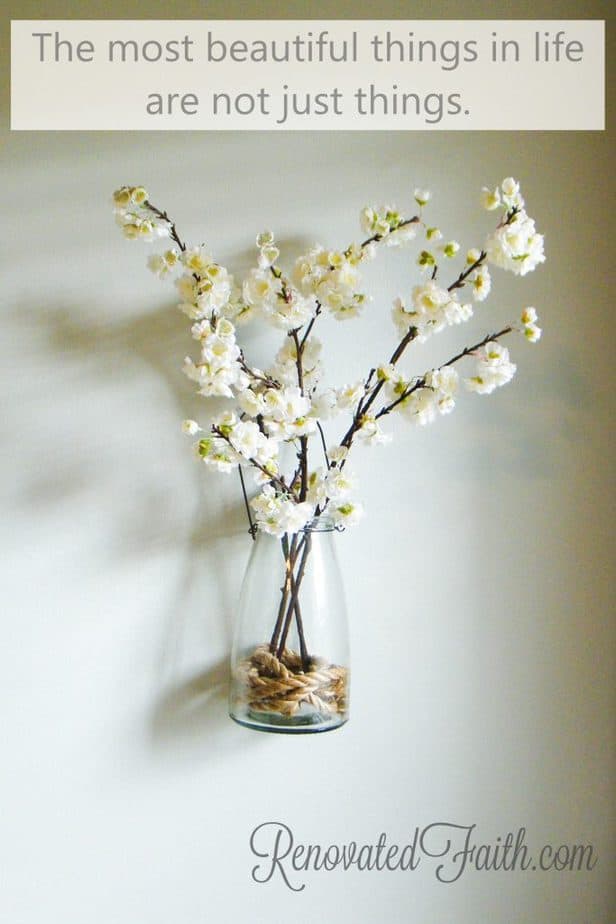 At 17 months our only child Morgan was diagnosed with an extremely rare autoimmune disease called Autoimmune Neutropenia.  For over two years, she couldn't be out in public much, had daily shots and weekly blood work.  To say that our lives were affected by this rare blood disorder was an understatement.
However, after all we have been through…after all the doctor's visits, sickness, injections and lab visits, I wouldn't change a thing.
Click To Tweet
However, after all we have been through…after all the doctors visits, sickness, injections and lab visits, I wouldn't change a thing.  I realized that out of the most horrible of circumstances, God instilled a beauty and kindness into Morgan's personality I never knew was possible.
Because of what she's been through, she has a genuine concern and empathy for others.  She has an unselfish love for those around her and is quick to pray for those in need.  Through what seemed to be a tragedy, I've seen her blossom into the tiny version of the godly woman she will one day become.
Even after her remission, our budget was extremely tight because of medical bills.  Still I was pretty determined to decorate.  I remembered Crystal from moneysavingmom.com to say that when you see something you want that is out of your price range to be creative and "find a better way".
So I did…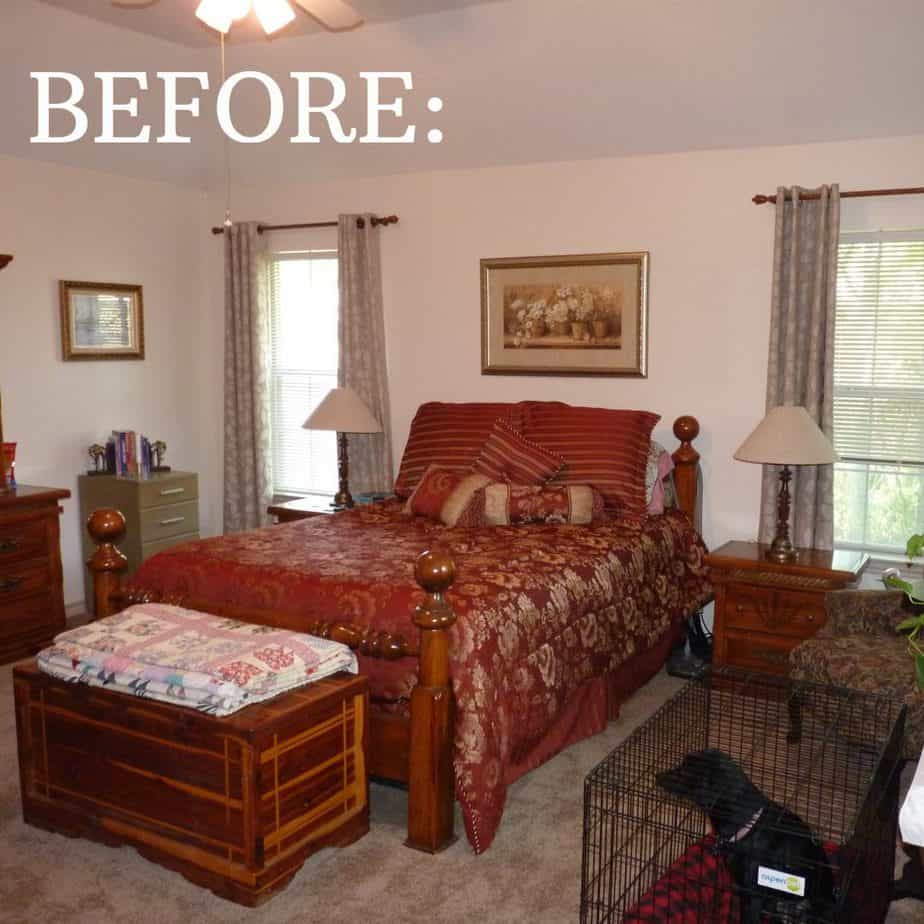 Maybe this isn't the dream bedroom you see in a catalog but its my dream bedroom because of the satisfaction I had in making it our own.  I used lots of tricks I learned along the way to save money while still achieving the desired effect.
I've yet to to do a DIY project where everything went smoothly.  As much as those hiccups can intimidate me, I'm thankful for them.  As I look back, those are the moments I learned the most.
Just like with any home project, life gets you challenges but in the midst of those hardships, you learn something – you gain greater appreciation for the depths of his blessings.
Often our misconstrued dreams collide with God's best and His blessings result.
Click To Tweet
Being on an episode of Fixer Upper or having décor from Pottery Barn does not a dream bedroom make.  What creates a dream home are the personal touches that make you feel like you never want to leave.   Your home's decor should remind you of the joy that life brings without breaking your pocketbook.
I love that our room has some of these personal touches – my husband's late grandmother's old side table top that doubles as a picture frame, some framed botanical prints that remind me of my grandmother's garden, a parfait glass of my mother's that doubles as a candle holder and the list goes on and on.
If we had not been in a place where I need to watch our budget, I would have missed out on all these personal touches that made this space our dream bedroom.
A home should tell stories of the people that live there.  Sometimes the stories aren't pretty but we learn from them and allow God to use our brokenness and the results are glorious.
Your décor need not be expensive or trendy, but should be personal, unfolding the truth about where you have been and where you are headed.
5 Steps To Create A Dream Bedroom On A Budget
Click To Tweet
5 Steps To Create A Dream Bedroom On A Budget
1. Pick Your Bedding
The focal point of any bedroom is the bed and headboard because they set the tone for the rest of the space.  Therefore, be sure to get a duvet or comforter you absolutely love.  (Jake loves it too!)
I saw this duvet on Pinterest and then realized it was discontinued at Pottery Barn.  I tried to talk myself into something else but, honestly, I couldn't get my mind off of it – discontinued or not!  So, I found it on Ebay for only $60.
2. Decide On A Paint Color
If you coordinate with a color from something in your room like your duvet or a piece of artwork, be sure to use a very muted, and lighter version of that color.  While a paint chip may look perfect, colors tend to seem much brighter and deeper on a full wall.
Don't be hesitant to get samples and paint large blocks of paint on your wall (at least 4'x4').  This will ensure that you not only like the color but also see how the light affects it throughout the day.   For example, I used the Behr color match to Sherwin Williams' Silver Strand.  During some parts of the day, the color looks more like a frosty gray-blue and other parts of the day it has a slight hint of green.    Color matching a paint color to Behr is a great way to save money while still getting a paint with good coverage.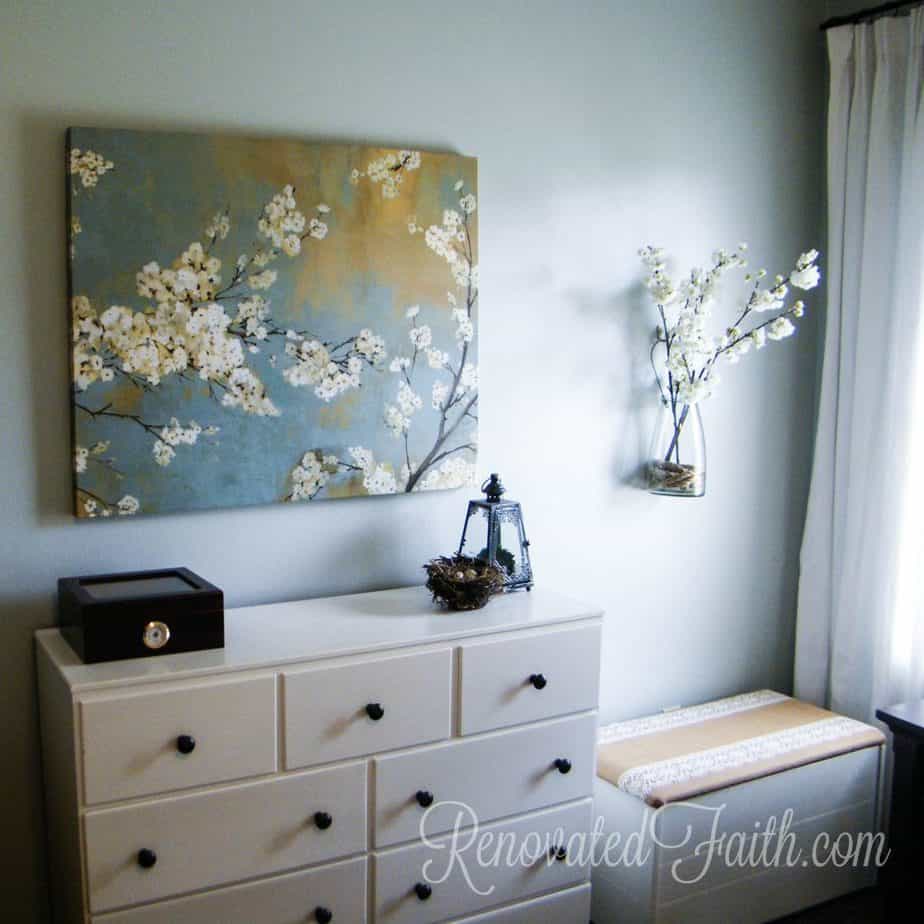 3. Curtain Hardware
In my post DIY Custom Curtain Rods , I explain how I used electrical conduit to make my own curtain rods.  The curtain rods for all three windows in our master bedroom cost less than $10!   I promise no one can tell the difference between mine and something you'd buy at Restoration Hardware.
Another cost-saving secret involves those curtain rings you see there…  Those may or may not be binder rings that have been spray painted!  They actually attach to paperclips which attach to pleat hooks that give the look of pinch-pleated curtains without the permanency or hassle of sewing!  I'll share a tutorial in an upcoming post!
4. Hang Your Hardware and Curtains.
I picked these white curtains at Target.com on sale because I wanted the room to feel light and airy since I already have a lot of blue going on.  White acts like a pallet cleanser for any room, giving contrast and a fresh, clean look.
After you paint, you want to hang your rods and curtains.  Be sure to hang them the correct way as showing in my post DIY Curtain Rods on a Budget which shows you how to spend less than $12 per curtain rod. (Also, check out my post on How to Add a Pinch Pleat to Store Bought Curtains).
This method allows you to maximize your window size and allow as much light as possible.  You can't see this in the picture but my curtains just barely cover the edge of the window making them appear so much bigger.  If you go this route, you might want to pick thicker curtains, so it's not obvious when the sun shines through.
Hanging your rod a few inches higher gives the illusion of taller ceilings.  I actually got the longer length that the curtains came in and then hemmed them to the correct size.
5.  Add Some Accessories
Don't hang your artwork until after you hang your curtains.  If you hang your art first and then your curtains with the above method, your wall space could look cramped.  Hanging your curtains first allows you to plan for the right placement of artwork or mirrors.
These were plastic frames I found on sale that I spray painted silver with Rustoleum Metallic Spray Paint.  I then bought some inexpensive botanical print files on Etsy and printed them at home.   There are tons of options for free art work on Pinterest including my DIY Faux Painted Sign Printables.
Choose a rug large enough that the entire bed can fit on it and at least the two side legs of your end tables.  Ballard Designs has a great Rug Design Guide to help you with this.
I made this throw pillow with some old fabric I had and my friend Jennifer at And Sew On monogrammed it for me.  A southern girl can't have too many monograms!
Choose some neutral accessories, making sure that any color in the room has at least one 'color friend'.  Notice how the headboard and lampshades are the same color.  Also, the chair and rug coordinate.  The lamp bases and picture frames match.  You get the idea…
Some designers say that every room should have a black piece of furniture.  What they are emphasizing is the need for contrast to create interest.  A room with all light colors or all dark colors is boring.  Here my  end tables serve as my "something black" although they are technically espresso.
We built a barn door going into the Master Bath that I posted about in my Light and Airy Master Bathroom Makeover.  What a difference some paint makes!!!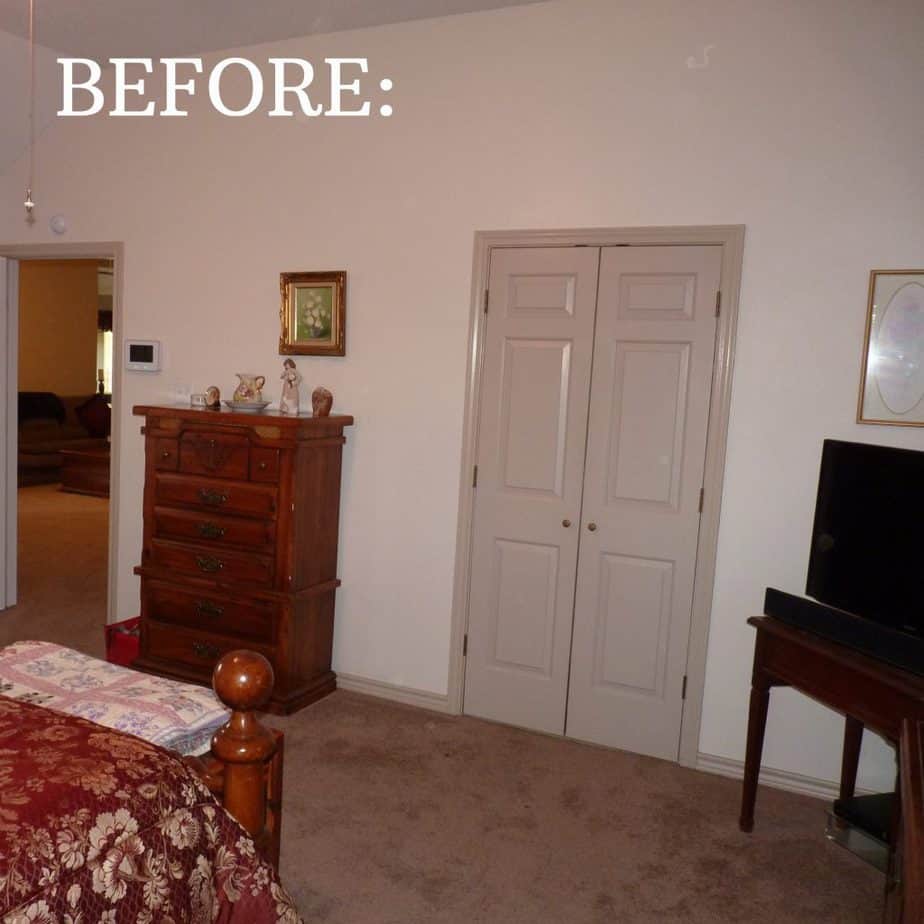 Of course my favorite piece of furniture in the room is the desk that I restored and posted about in DIY Vanity Makeover (How God Restores Our Brokenness).    I love how the blue coordinates well with the wall color and duvet.
Source List
Here's where I found all my fabulous finds! (This blog uses affiliate links.  See the full disclosure policy HERE.)
Lamps – These mercury glass lamps are gorgeous and I've gotten lots of compliments on them.  They are the Better Homes and Gardens brand from Walmart.
Headboard – I was a little hesitant to buy this headboard online but we absolutely love it!  Can you believe it was only $150 for a king headboard?  I can't make a headboard for that price!  http://amzn.to/2fMyWGE
Side Tables – Avington Side Table in Dark Tobacco from Target.
Chair – Felton Tufted Chair from Target.  These chairs are pretty fabulous and they come in a variety of colors!  Not bad for $299!
Mirrors – OSP Designs Wide Frame Mirror Set – These mirrors are very heavy duty and high quality!  I highly recommend them.
Curtains – These Farrah Curtain Panels at Target are perfect for any window.  They are on sale now too!
Lamp on Desk – This Mercury Glass Lamp from Hobby Lobby was a gift from my mother-in-law.  Use your online coupon and get it half-price!
Rug – I'm so crazy about this Hudson Shag Rug!  It's durable but also the softed rug I've ever walked on – perfect for a bedroom where you need every incentive possible to get out of bed.
Barn Door Hardware – Here is the hardware we used for the barn door.  This process was a lot easier than we thought we we realized we didn't have to figure out our own sliding mechanism.  http://amzn.to/2xdtNtA


Remember that a home is not special because of how much you spend decorating it.  The personal touches you add are what remind you that the most beautiful things in life are not just things.
If you want to save this post for later, pin it here: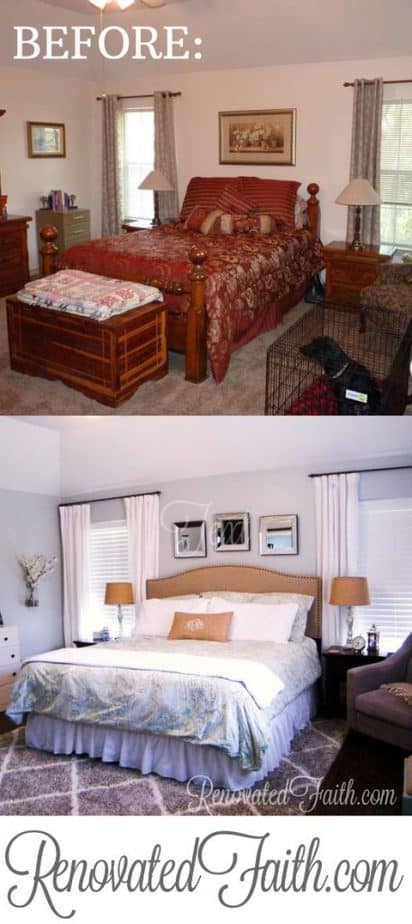 Blessings,

Be sure to follow the fun here!
Welcome to Renovated Faith, where I share about DIY projects, my faith and everything in between! When I'm not spending time with my family, you will find me redoing furniture in the garage or watering plants in my greenhouse. This blog is about transformation. Anyone can renovate a house but only God can transform our hearts!