Harvey Prayer Guide : Lifting Up Those Affected By the Flood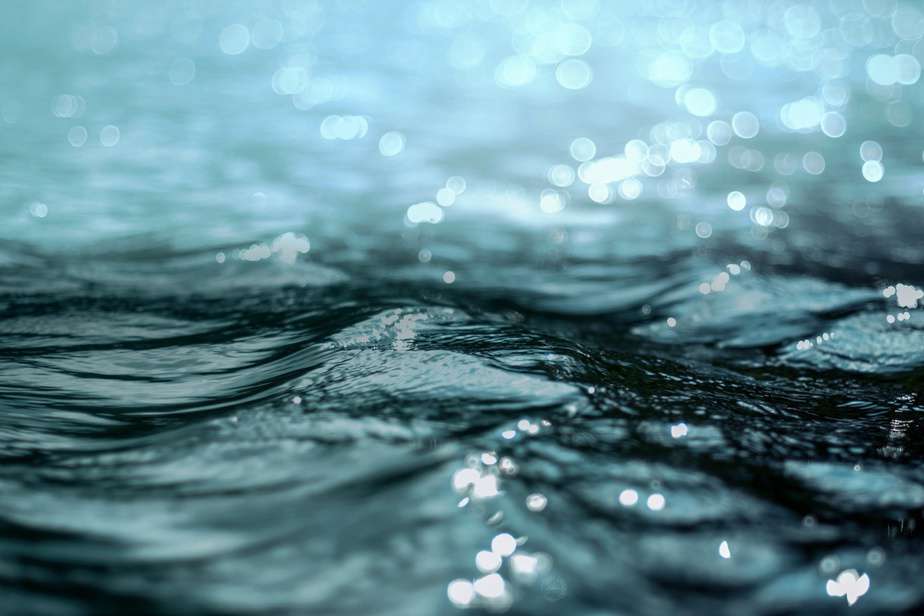 Harvey will go down in history as the flood that all future floods are to be compared.  Reporter after reporter repeats that this hurricane is unprecedented, movie-like and even apocalyptic in nature.
Imagine looking around at your home to see all your personal possessions soaked in filthy water – your child's stuffed animals, your clothes and even your mattresses.  Where you once admired your favorite paint color, you now see a water line and the beginning of mold.  Imagine your home being one of the tens of thousands that withstood floodwater damage and your family having to relocate indefinitely.  Your home, your job, your child's school schedule  and even your next meal are all a big question mark as you try to grip the reality of the last 48 hours.
As a Texan, it's no surprise to see neighbors extending help wherever possible in order to help those in need, but what if you aren't in the proximity to help?
Fortunately, we have an amazing capacity to assist with the flood through the power of prayer.  If you are like me, even the prayer needs of those that have suffered such a great loss are overwhelming, but hopefully this prayer guide will be of some help.
Pray that even out of this storm that people will see God's provision, peace and grace, knowing His love even exceeds the number of raindrops that have fallen.
Harvey Prayer Guide
1. WEATHER
Pray that the weather does not intensify and that the rain dissipates completely so that the flood waters can recede.
Job 28:25,26 – When he established the force of the wind and measured out the waters, when he made a decree for the rain and a path for the thunderstorm
2.  RESCUE
Pray for those in need of rescuing that are still possibly trapped in homes.  Pray that rescuers become aware of their location and they are quickly brought to safety.
Psalm 31:2 – Turn your ear to me, come quickly to my rescue; be my rock of refuge, a strong fortress to save me. 
3. VICTIMS
Pray for the tens of thousands from Houston, Rockport, Port Aransas, Victoria, Refugio, Orange, Beaumont, Lumberton and other areas that will be displaced from their homes for an indefinite amount of time.  May they have a place of comfort where their physical, emotional and spiritual needs are met.
Matthew 11:28  "Come to me, all you who are weary and burdened, and I will give you rest.
4. CHILDREN
Pray children will be comforted as they are enduring a tremendous amount of change now.
Isaiah 41:10 – So do not fear, for I am with you; do not be dismayed, for I am your God.  I will strengthen you and help you; I will uphold you with my righteous right hand.
5.  ELDERLY
Pray for the elderly as they are relocated to new facilities and away from their families and usual caretakers.
Isaiah 46:3 Even to your old age I will be the same, And even to your graying years I will bear you! I have done it, and I will carry you; And I will bear you and I will deliver you.
6.  RESPONDERS
Pray for the protection and safety of first responders.  Pray for endurance and health as they continue to help those in need.
Deuteronomy 31:6 –  Be strong and courageous. Do not be afraid or terrified because of  them, for the LORD your God goes with you; he will never leave you nor forsake you."
7.  DONATIONS
Pray that there are enough donations and the right type of contributions to make a true impact to the victims.
Luke 12:24 Look at the birds. They don't plant or harvest, they don't have storerooms or barns, but God feeds them. And you are worth much more than birds.
8. LOOTERS
Pray that any looters will be discouraged and stopped from taking advantage of victims.  Pray also for the safety of officers on patrol.
2 Thessalonians 3:3 – But the Lord is faithful, He shall establish you, and keep you from evil.
9.  HOPE
Pray for residents as they see their homes for the first time, and they are comforted.   Pray they find honest contractors and help to rebuild in a timely manner.
Isaiah 43:2 – When you pass through the waters, I will be with you; and when you pass through the rivers, they will not sweep over you. When you walk through the fire, you will not be burned; the flames will not set you ablaze.
As always, please let me know how I can pray for your personally.
If you would like to save this post for later, you can pin it here: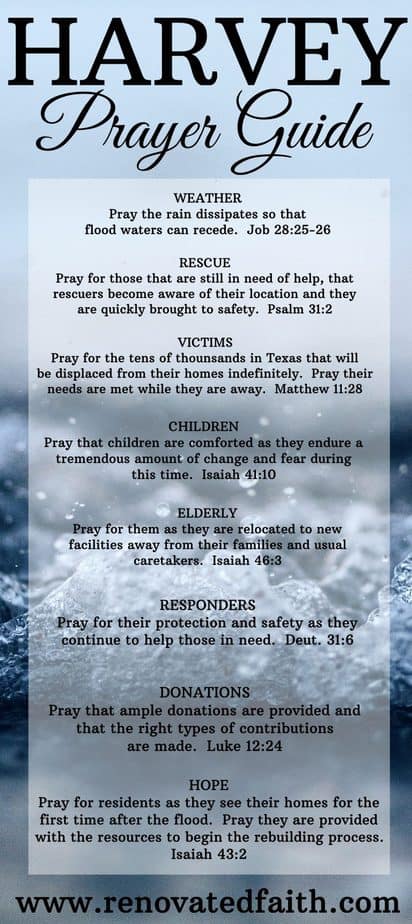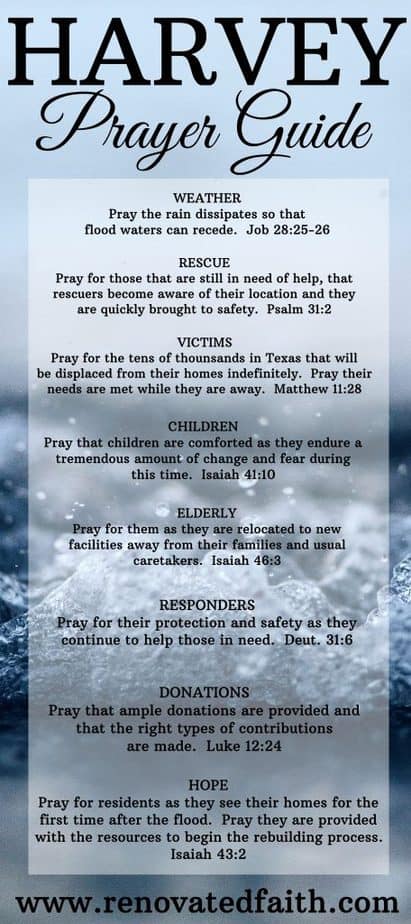 Blessings,

Be sure to follow the fun here!
Welcome to Renovated Faith, where I share about DIY projects, my faith and everything in between! When I'm not spending time with my family, you will find me redoing furniture in the garage or watering plants in my greenhouse. This blog is about transformation. Anyone can renovate a house but only God can transform our hearts!