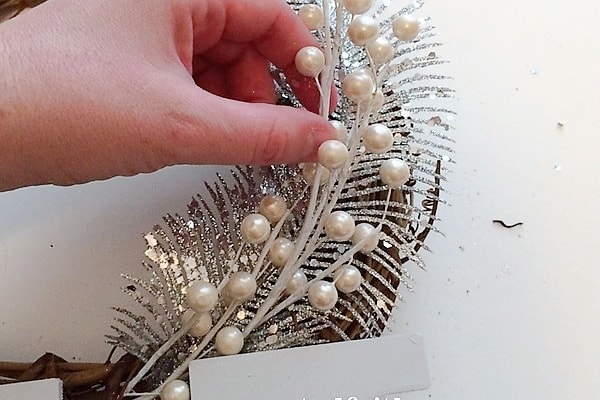 Our women's ministry at church had an event that included Christmas cookies, a hot cocoa bar and also some craft projects. Guess who volunteered to be in charge of said crafts!?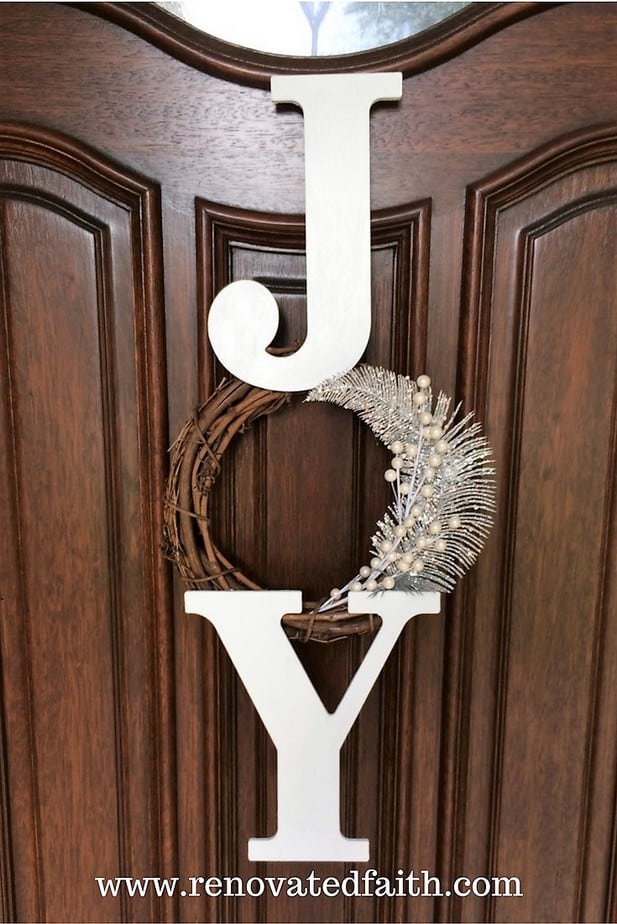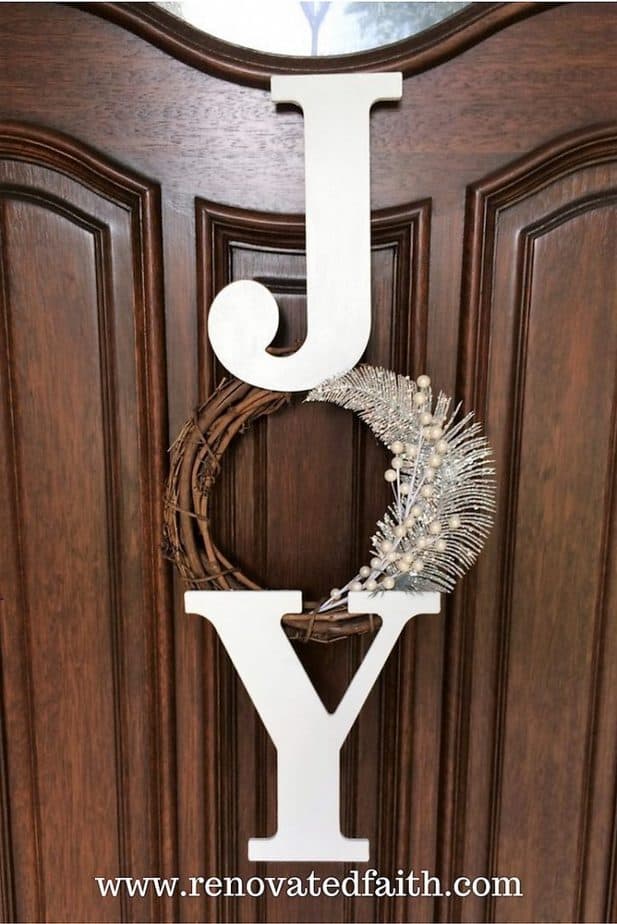 Every lady had the option to make a JOY wreath and customize it with various decor including berries, glitter feathers, snowflakes and polka dots! The wreaths were a big hit and were a quick and easy project for a large group.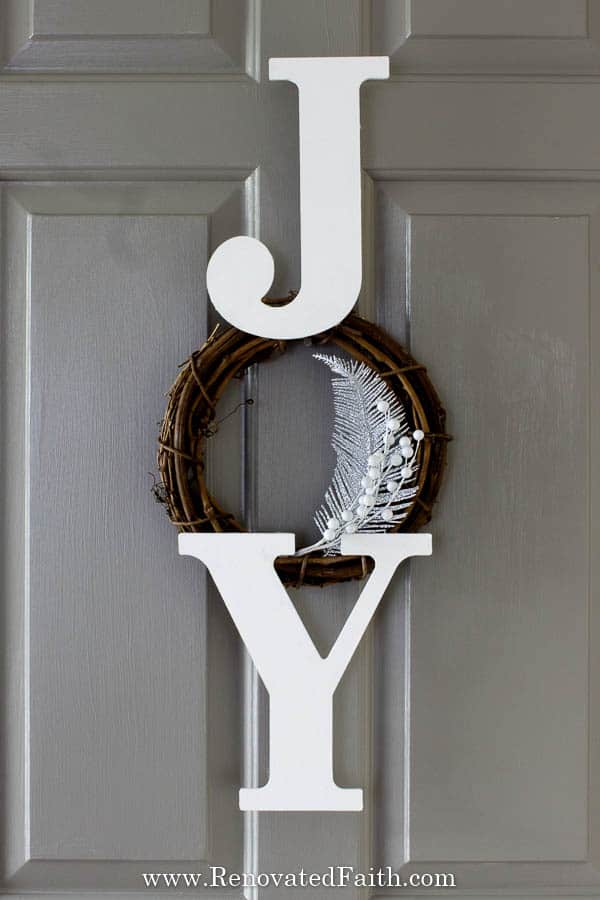 Joy Christmas Wreath – What You Need:
"Wood" Letters – The cheapest I found were the 9″composite letters at Hobby Lobby at $2.38 each. They go on sale every four few months so you can get them even cheaper.
10″ Grapevine Wreath – I found them at Consumercrafts.com at $1.47 each.
Hot Glue Gun and several hot glue sticks
Fishing line
Spray Paint
Decorative Sprigs, Snowflakes, etc.
Optional: Vinyl stick-on polka dots – I got mine at amazon.com
The total cost was $7.00 and we just asked women pay $5.00 to offset the costs.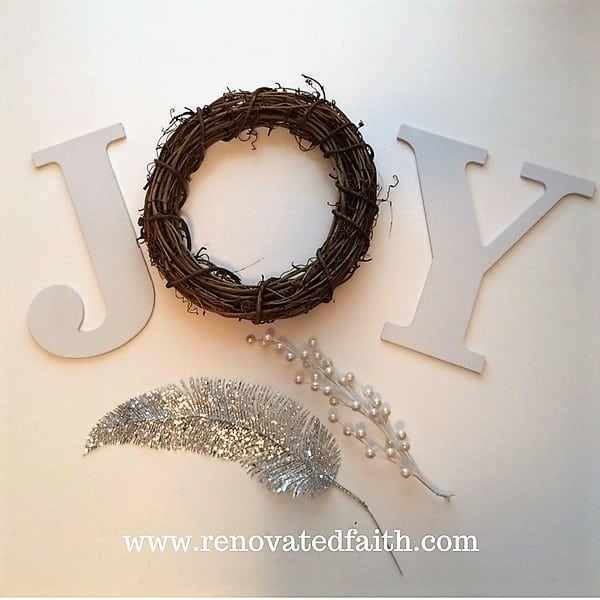 After gathering my supplies, I spray painted the letters with flat white spray paint and sanded when needed. After they dried for 48 hours, I started gluing the letters to the wreath.
Put your J face down and put a large amount of hot glue at the bottom. Place your wreath on top and press down firmly.
Do the same with the top of the Y. Add hot glue again and press the wreath down. Make sure the J,O and Y are in a straight line before the glue cools completely. It will take a few minutes for that much glue to cool. Add more glue if needed to make sure the letters are attached well to the wreath.
While the glue continues to cool, put a big glob of glue at the top back of the J on the X that is marked Stick the knotted end of a small piece of fishing line into the glue. Let it cool completely before you turn your wreath over.
Trim the end of your picks with the wire cutter and hot glue them into the wreath.
All 30 women had a great time making their wreaths and were able to each add their personal touch. It was such a versatile and easy craft that anyone can do and we still managed to stay on budget.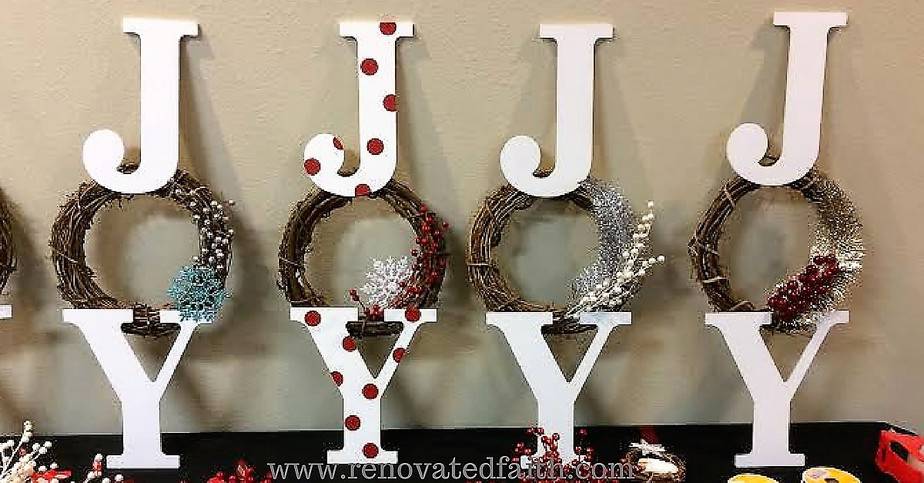 Another craft option at the event was the Nativity Ornaments from last week's post. Next week I'll post a neighbor gift idea and some things God showed me about how to better engage with my neighbors.
'Til Next Time,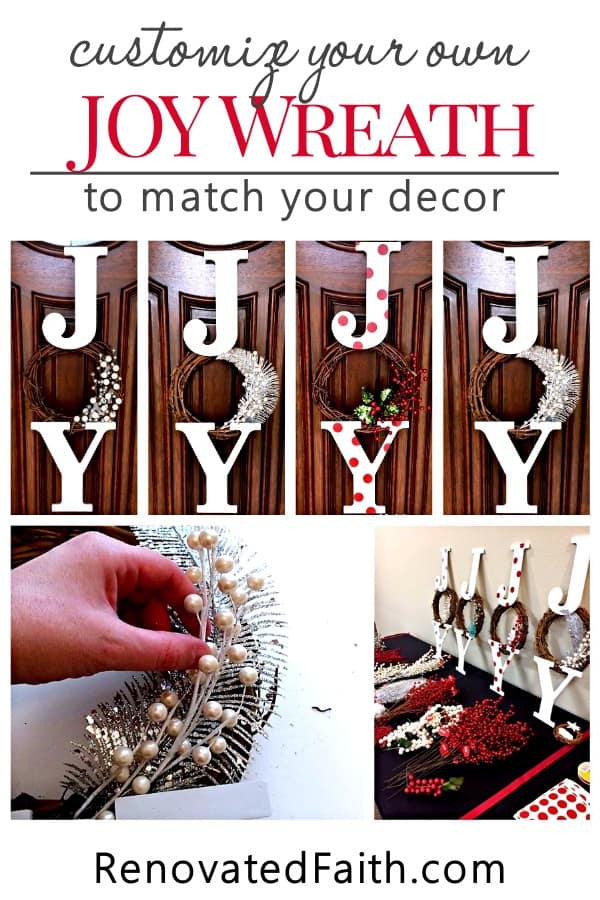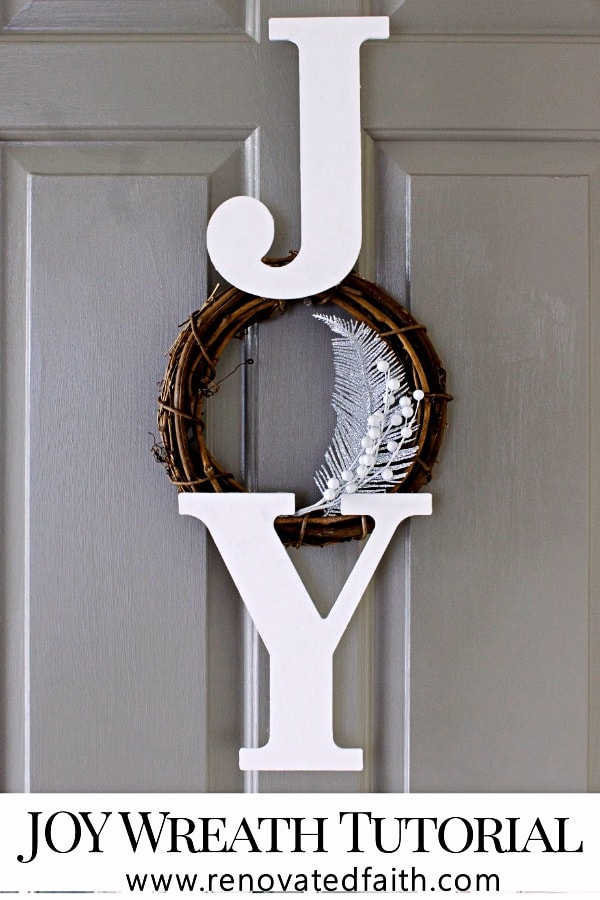 Welcome to Renovated Faith, where I share about DIY projects, my faith and everything in between! When I'm not spending time with my family, you will find me redoing furniture in the garage or watering plants in my greenhouse. This blog is about transformation. Anyone can renovate a house but only God can transform our hearts!