Hardly Pinterest-worthy is the picture below. In my meager attempts to live a shiny, compartmentalized, 'I've got it under control' kind of life, I sometimes forget what's most important. As I made stovetop potpourri, God reminded me I should care care less about how I am perceived and more about how He is received.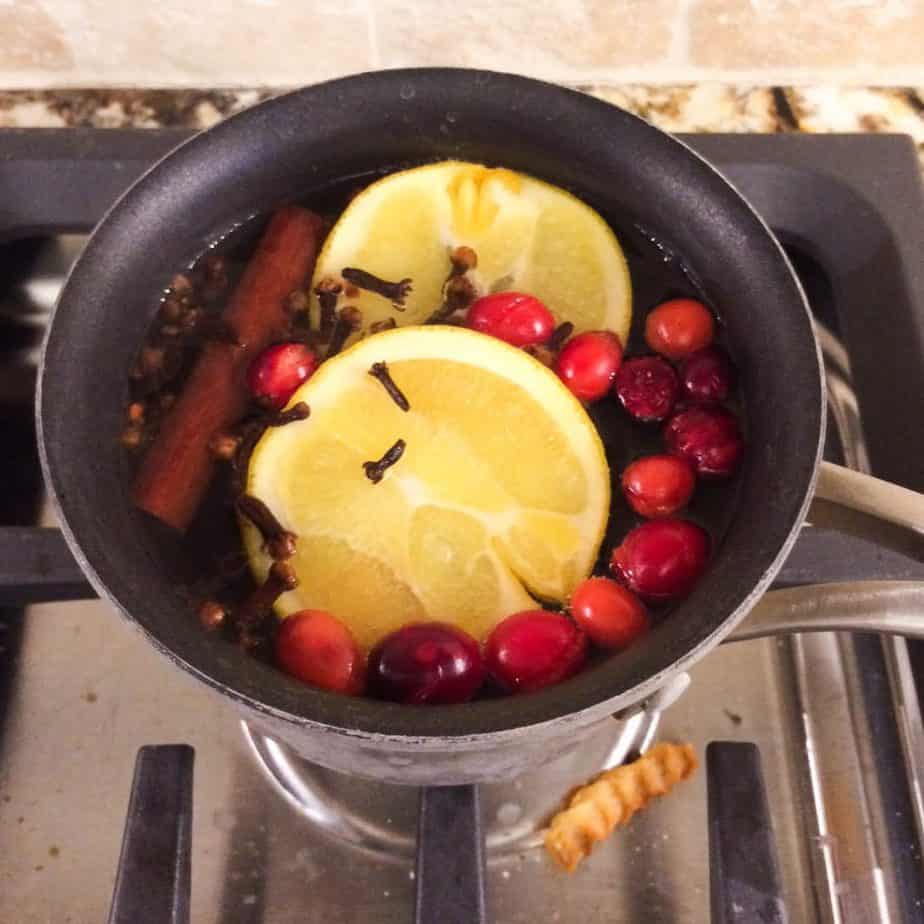 This post was going to include a recipe for Stove-top Potpourri and explain ways to get to know your neighbors during the holiday season, and it still does…sort of.
After taking this shot, I took a second to look at the image. After realizing I cut the orange "wrong", and that my lemons were too moldy to use, I noticed a sad, crusty French fry from last night's gourmet dinner on the stove. Although some might see this picture as a Pinterest-fail, I was reminded that this is still a beautiful picture in God's eyes.
In 1 John, the apostle starts out by saying, "That which was from the beginning, which we have heard, which we have seen with our eyes, which we have looked upon and touched with our hands, concerning the word of life – the life was made manifest and we have seen it and testify to it and proclaim to you the eternal life, which was with the Father and was made manifest to us."
The word manifest means "clear, obvious." With every sense, God wanted us to recognize the truth of who He is – that He sent His Son out of His great love for us to deliver us from sin. God made clear the truth of Christ by engaging us on every level – through sight, sound and touch.
When the disciples saw that Jesus filled their nets with fish, when the woman was healed after touching His robe and when a little girl was brought back from death upon Jesus only hearing her story, Jesus made it clear that He wants to engage with us on every level possible.
Christ doesn't wait to help us until we get our act together, He faithfully engages us in our time of need.
Click To Tweet
Christ doesn't wait to help us until we get our act together, He faithfully engages us in our time of need. God wants us to come to Him as we are. He doesn't care that we don't have it all together (and no one does). He just wants us to show up and seek to engage with Him.
The picture of my Stovetop Potpourri above will never make it on the pages of a magazine…but it still counts.
I still "showed up." It brings glory to God as He knows my heart's intent to build relationships with my neighbors to hopefully be a vehicle for His love.
He doesn't care that the process wasn't perfect. Your Heavenly Father doesn't want you "clean yourself up" before presenting your requests to Him. He wants to engage you in your greatest time of need and come as you are. He is delighted when His children "just show up"!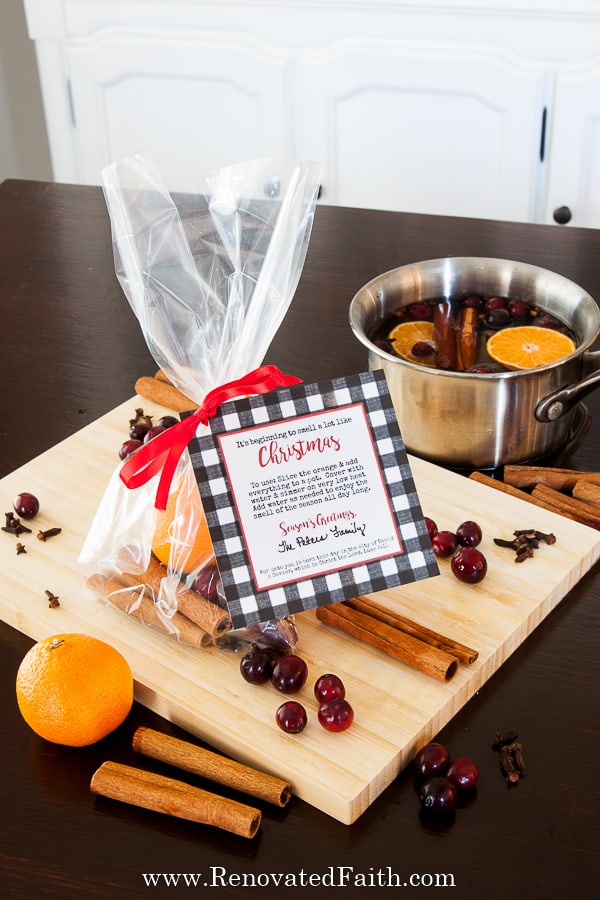 The same can be said in how we engage with others. A couple months ago, I didn't take a rare opportunity to talk to my neighbor because my hair wasn't done and I wasn't wearing makeup. But maybe that's the kind of neighbor she needed most that day…
Ironically, sometimes what we try to hide from others is the the very thing that can form a bridge to connect on an interpersonal level.
Our Heavenly Father wants us to be transparent about the depths from which He has saved us. Thankfully, He doesn't want us to engage with him as a sterile 'my lipstick is always on' version of ourselves and neither do our neighbors.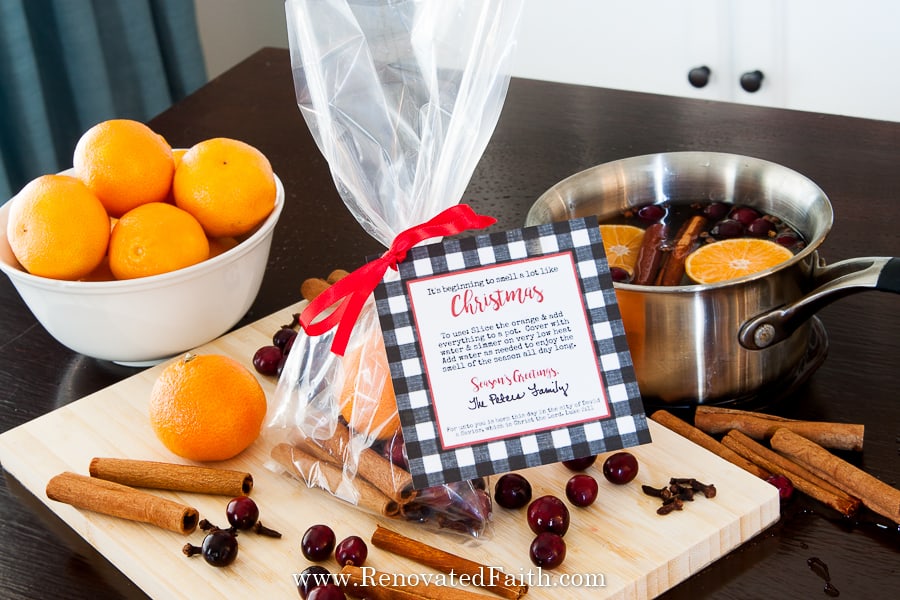 God seeks to engage you on every level so your focus shifts from how you are perceived to how HE is received.
Click To Tweet
God seeks to engage you on every level so your focus shifts from how you are perceived to how HE is received.
The Lord does not require us to be perfect but He simply wants us to be present. So often, a preoccupation with self dims that light that God so desperately wants to shine through us onto others.
He wants us to be real with others about the difficulties and pain that life brings, knowing that God can heal our every wound and alleviate every fear.
As in 2 Corinthians 2:15, may we be the "pleasing aroma of Christ among those who are being saved and those who are perishing." The reality of ourselves might not always be pretty. However, there is an opportunity for our neighbors to see Him when the abundance of His all-sufficient love meets our own insufficiency.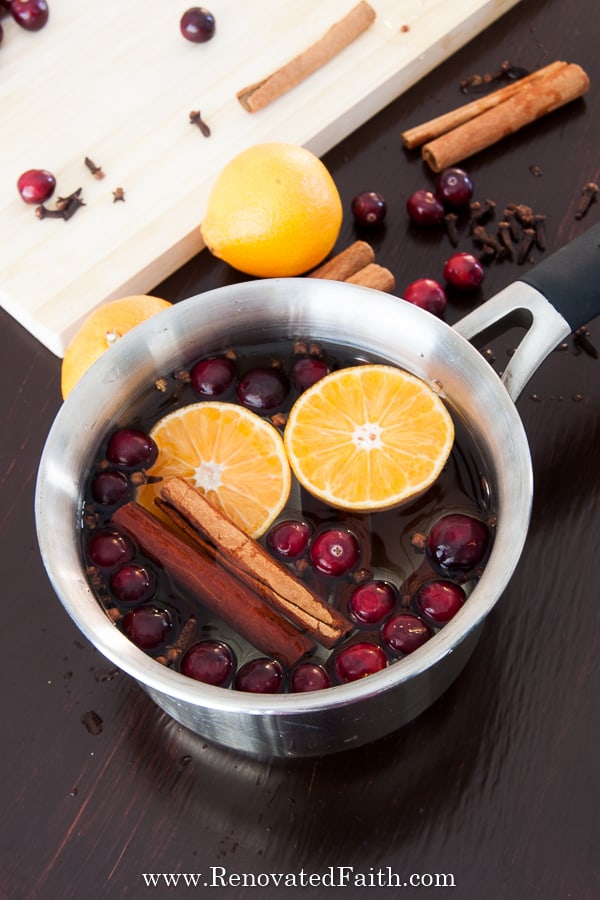 Stove Top Potpourri Recipe
(This blog uses affiliate links. See the full disclosure policy HERE.)
1 orange (I like to use Clementines)
2 cinnamon sticks – The cheapest I found are these cinnamon sticks at Walmart.
1 T. whole cloves
¼ c. cranberries
My Secret Ingredient: I also like to add a few drops of an essential oil blend called Germ Fighter. It is basically just cloves, lemon and cinnamon, giving the potpourri a stronger smell. I put all of the cinnamon sticks in a baggie, added about 10 drops of the Germ Fighter and shook the bag. I also make hand sanitizer with this oil blend by adding about 10 drops to 1/4 cup aloe gel. Of course, it smells amazing in a diffuser during cold and flu season. It kills germs and smells like Christmas! Who could ask for more?!?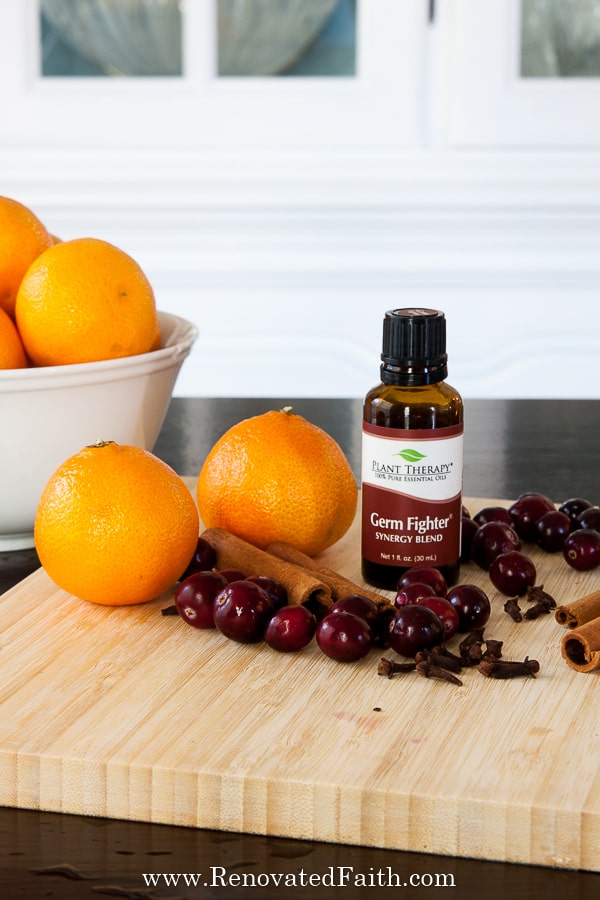 By subscribing to the blog you can access my free Stovetop Potpourri gift tag, by signing up HERE. You have two options to pick from!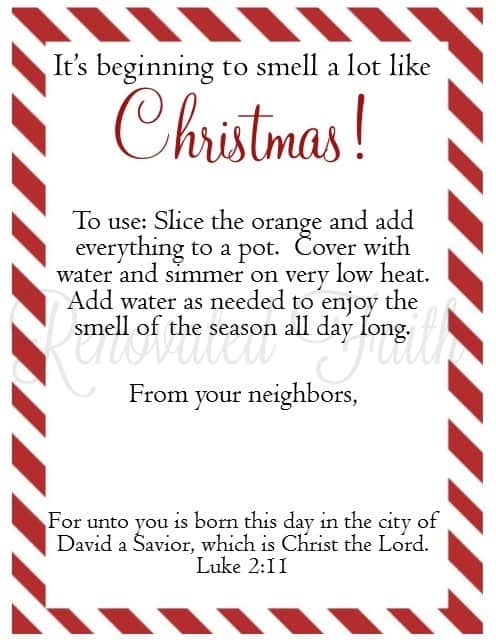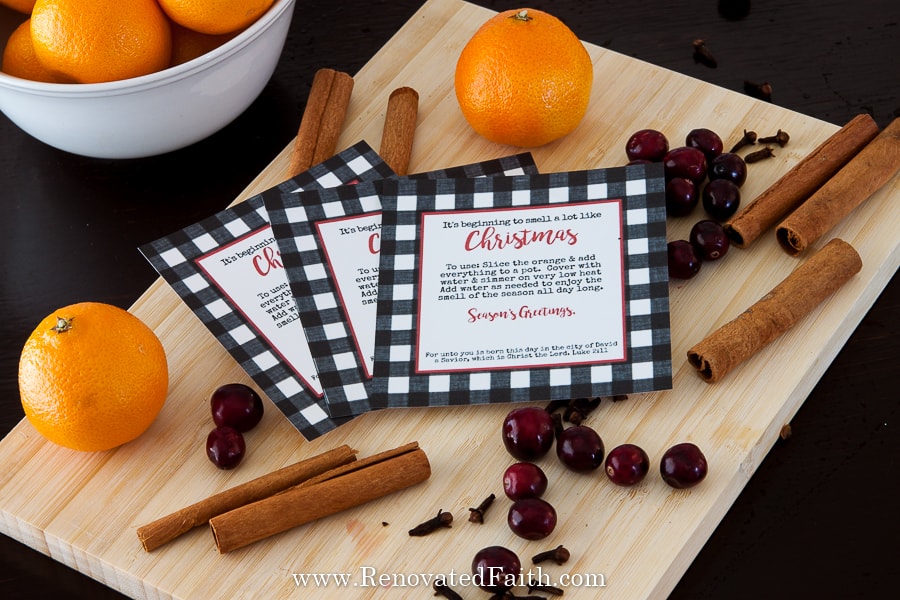 If you are already subscribed, go HERE and use your password at the bottom of your last newsletter.
I tied them with ribbon and my daughter and I had fun putting them in each neighbor's mailbox! They have been a big hit so far with all of our neighbors.
More Christmas Posts from Renovated Faith
How to Add Ribbon to a Christmas Tree the EASY Way
Knock-Off Pottery Barn Orament Wreath and Garland
How to Decorate a Christmas Tree Step by Step
Christmas Front Porch Ideas on a Budget
Did you like this post? This blog is my ministry so be sure to share it as a message of God's hope. Have a wonderful week!
If you want to save this pot for later, pin it here: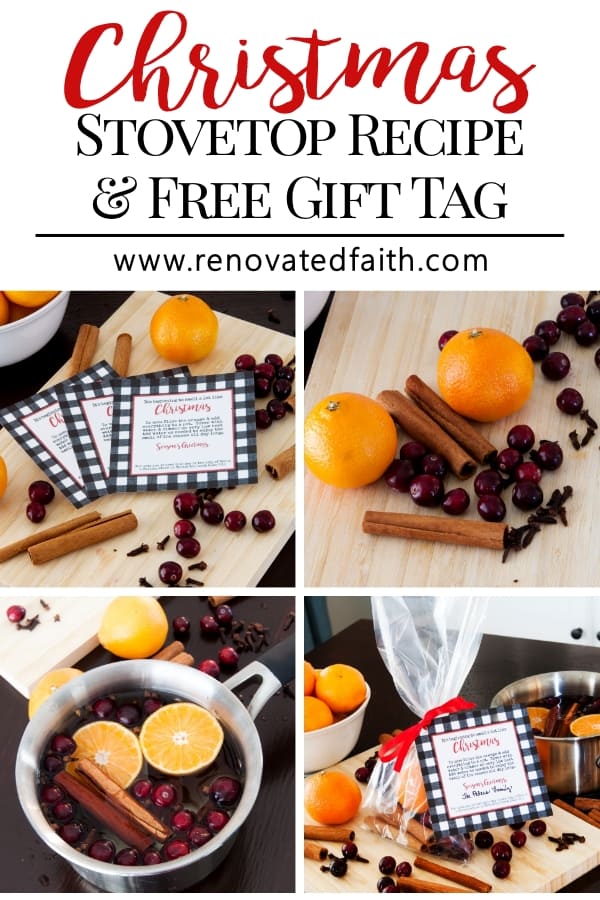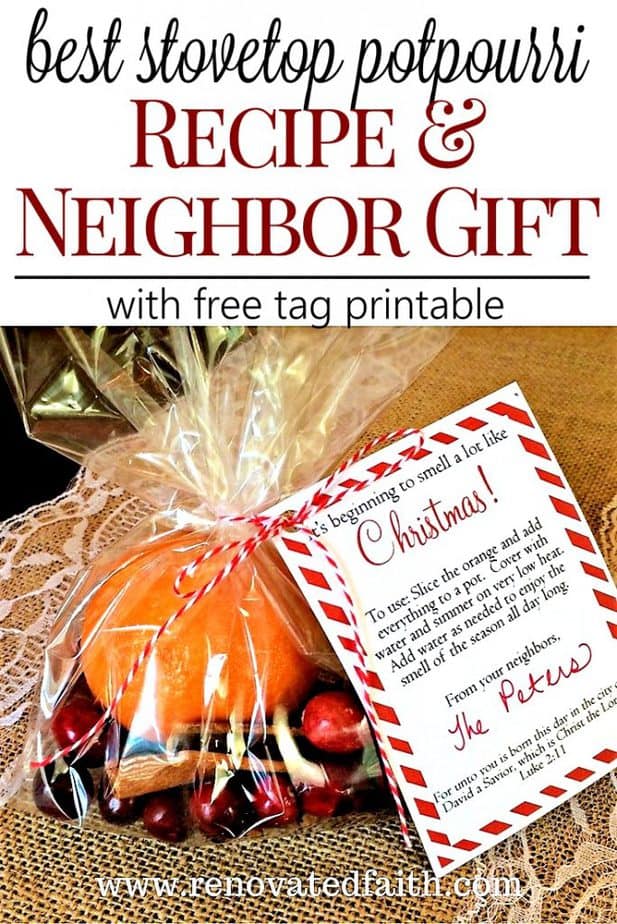 Blessings,

Be sure to follow the fun here!
Welcome to Renovated Faith, where I share about DIY projects, my faith and everything in between! When I'm not spending time with my family, you will find me redoing furniture in the garage or watering plants in my greenhouse. This blog is about transformation. Anyone can renovate a house but only God can transform our hearts!