It sneaks up on you when you least expect it… Somehow my thought life became consumed by lies that elegantly disguised themselves as the voice of wisdom and concern in the form of Mommy Guilt.
Mommy Guilt (mämē gilt) n. – a fact or state of self-degradation based upon the lies or false perceptions of oneself or others. Mommy Guilt is an equal-opportunity affliction. It can affect all mothers in any walk of life, no matter their age, social status or ethnicity;
There are plenty of options today on the Mommy Guilt menu. Here are a few of Today's Specials to pick from
Formula Vs. Breastfeeding
Cloth Diapers Vs. Disposable
Stay-At-Home Vs. Working Mom
and last, but not least. Public School vs. Homeschool
We all know that icky feeling, when your choices seem inferior compared to someone else's. Other moms seem to have it all together or just know something you don't.
As a mom, it's so easy to get swept up in the all-consuming drain of Mommy Guilt. However, Mommy Guilt is something we can overcome in one easy step.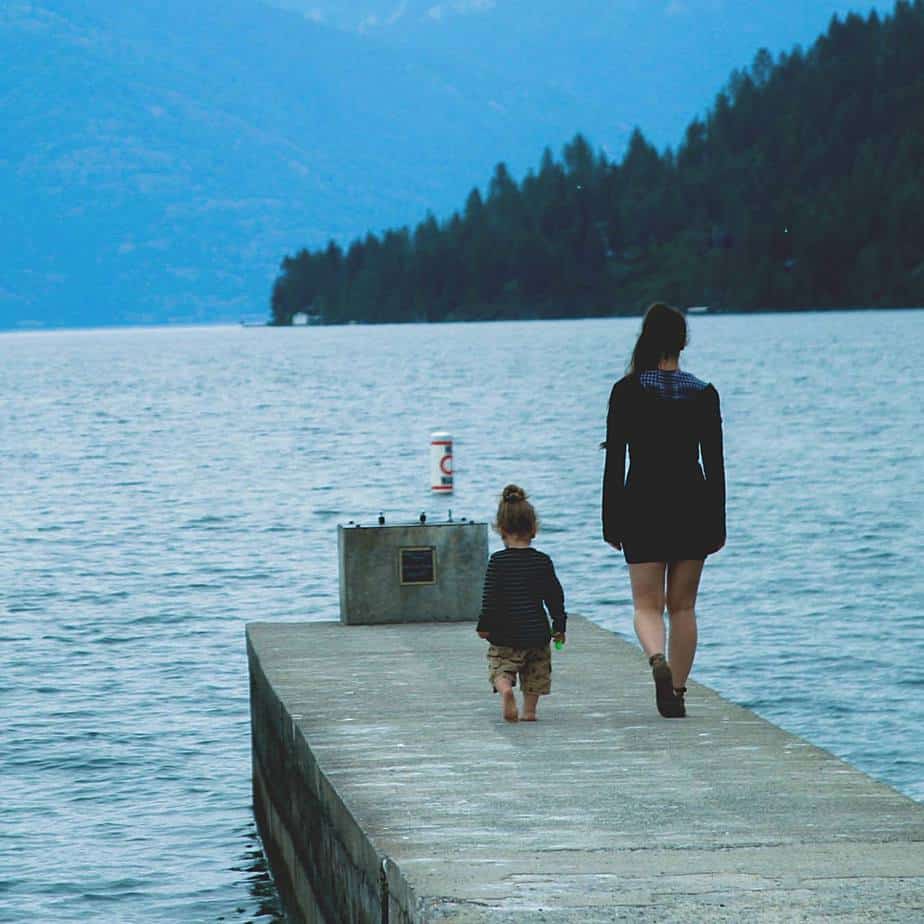 How Do We Know It's Really Mommy Guilt?
When our thoughts are swimming in self-doubt, we must ask if we are dealing with authentic guilt or false guilt (aka Mommy Guilt).
True conviction from the Holy Spirit has two main major criteria:
First, authentic guilt rests on the foundation that God loves us. Jesus does not convict us of sin just to make us feel bad. To do so would fly in the face of our true identity in Him as His dearly loved sons and daughters.
Instead, Jesus convicts us of sin because he recognizes the destructive nature. More than anything He wants to protect us from it! Guilt is like the pain we experience when we touch a hot stove. Ultimately, it is God's way of protecting us from self-destruction." In the same way, Jesus convicts us of sin because he cares about us intensely. He recognizes that sin enslaves us (Romans 6:16) and ultimately leads to death (Romans 6:23).
Second, the conviction we experience from the Holy Spirit is not burdensome but liberating. Paul makes a distinction in 1 Corinthians 7:9-10 between a godly grief, which leads to repentance and spiritual growth, and a worldly grief, which leads to death.
A true sorrow for sin does not leave us feeling oppressed and burdened but it calls us to experience the life of fullness offered in Christ. Paul emphasizes this to the church in Galatia when he writes, "it is for freedom that Christ has set us free. Stand firm, then, and do not let yourselves be burdened again by a yoke of slavery" (Galatians 5:1).
Sources of Mommy Guilt
False guilt (Mommy Guilt) has three entirely different sources than authentic guilt from conviction:
The Accuser – In Scripture, the evil one is repeatedly called the "accuser." Think about that word "accuser" for a second…. Satan has no real power over us so his greatest weapon is deception.
The devil can't steal our salvation from us but he can deceive us into a distorted, destructive view of our standing and relationship with the Father.
Unrealistic Expectations – Whether it is judgement from others, or even the false representation of social media, we let uninspired voices define an unspoken standard for motherhood.
As I wrote in my post The Kind of Mom I NEVER Want to Be, there is not just one way parent. God directs us each specifically in our parenting because He has given us different children with individual needs. Instead of submitting our choices and concerns to the Lord we often look to others for affirmation, only increasing the heavy burden of false guilt on our shoulders.
Personal Standards – When we don't live up to our own personal standards and aspirations, we become our own source of false guilt. My husband almost daily reminds me that I am my own worst enemy because I am so hard on myself, often subscribing to standards God never set for me in the first place.
Sometimes we are so hard on ourselves that we drown out the voice of God. Smith reminds us that "this is not true sorrow for sin, but rather another expression of pride" because our focus is still on ourselves.
The devil can't steal our salvation but He can deceive us into a distorted, destructive view of our standing and relationship with the Father.
Click To Tweet
If we are dealing with true guilt over sin, God convicts out of His love for us knowing that freedom comes from walking in His ways. The answer to true guilt is to confess our sin and He is always faithful and just to forgive us (1 John 1:9). When we don't confess, we make light of the reason that Christ died on the cross – to provide forgiveness of sin.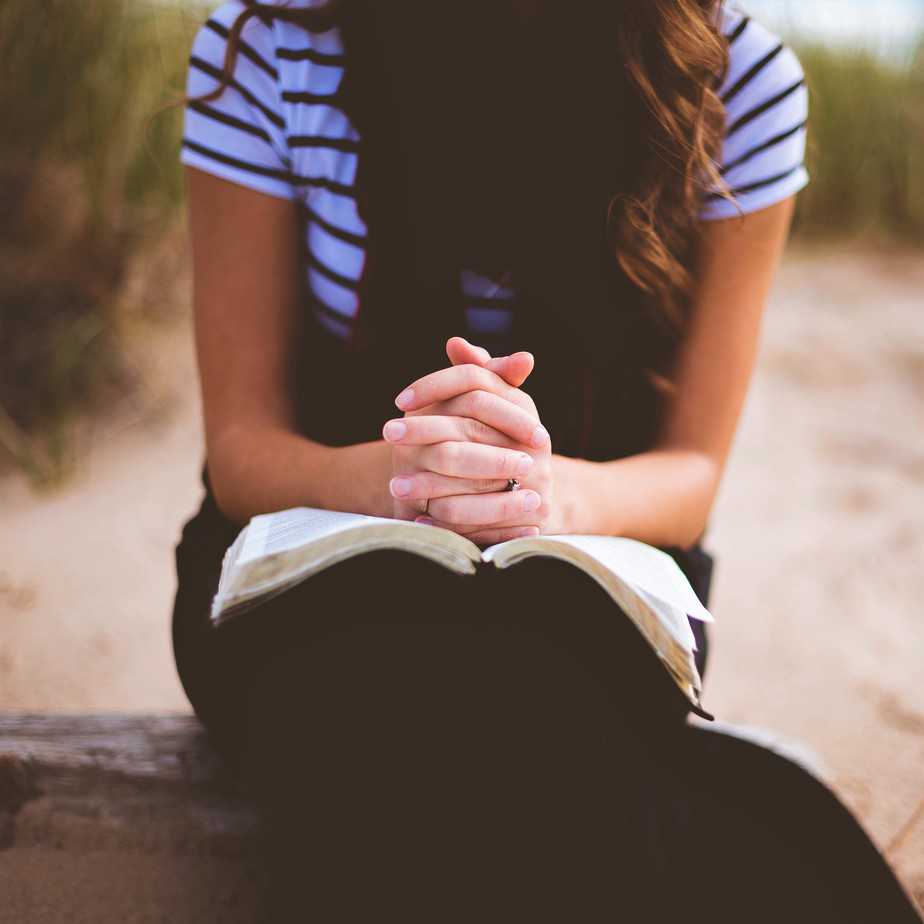 One Easy Step
If we find ourselves struggling with false guilt, we must give those lies over to Him in prayer before they further infiltrate our thinking, mood and actions. Mommy Guilt has no place in thought life because those lies rob us of the benefits of having a relationship with Him.
Here's what that might look like:
"God, I realize I'm thinking lies about myself as a mother that do not line up with your truth. I ask that you will help me overcome this type of thinking. Help me to remember who I really am – Your Creation that You dearly love. Please help me to be aware when these thoughts sneak into my mind and vigilant to hand them over to you in prayer."
And yes, it's just that simple. Obviously your prayer will sound different from mine but we have to repeatedly give these lies over to God so He can give us clarity. As I mention in my guest post How To Cultivate The Habit of Prayer, this also helps us to improve our relationship with God since we communicate with Him more regularly.
I get how easy it is to fall into the Mommy Guilt trap. But remember, it is by no accident that you are the parents of your children. He entrusts your children into your care because He knows that no other earthly parent has the capacity to care for them as you can!
He entrusts your children into your care because He knows that no other earthly parent has the capacity to care for them as you can!
Click To Tweet
Whether we are dealing with true guilt over sin or feelings of false guilt, our reaction should be the same. In both situations, God wants us to overcome our guilt by submitting our struggles to Him in prayer. God did not design our minds to be filled with guilt of any form and in Him alone, we can have freedom.
Application : What about you? What feelings of Mommy Guilt are weighing you down on a regular basis? Are you struggling with false guilt or true guilt? Spend some time in prayer submitting those feelings over to Him.
"Finally, brothers, whatever is true, whatever is honorable, whatever is just, whatever is pure, whatever is lovely, whatever is commendable, if there is any excellence,if there is anything worthy of praise, think about these things." Philippians 4:8
If you want to save this post for later, you can pin it here: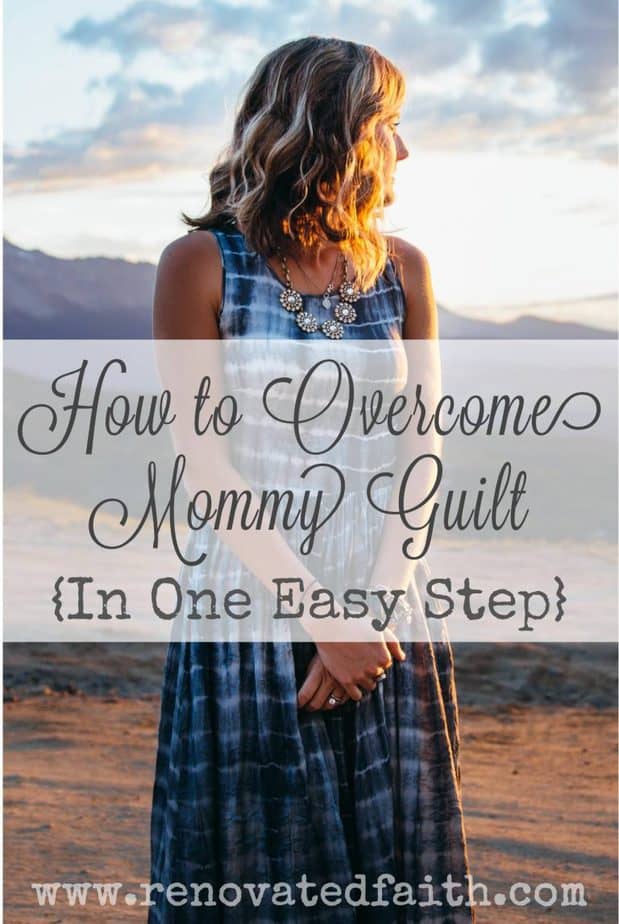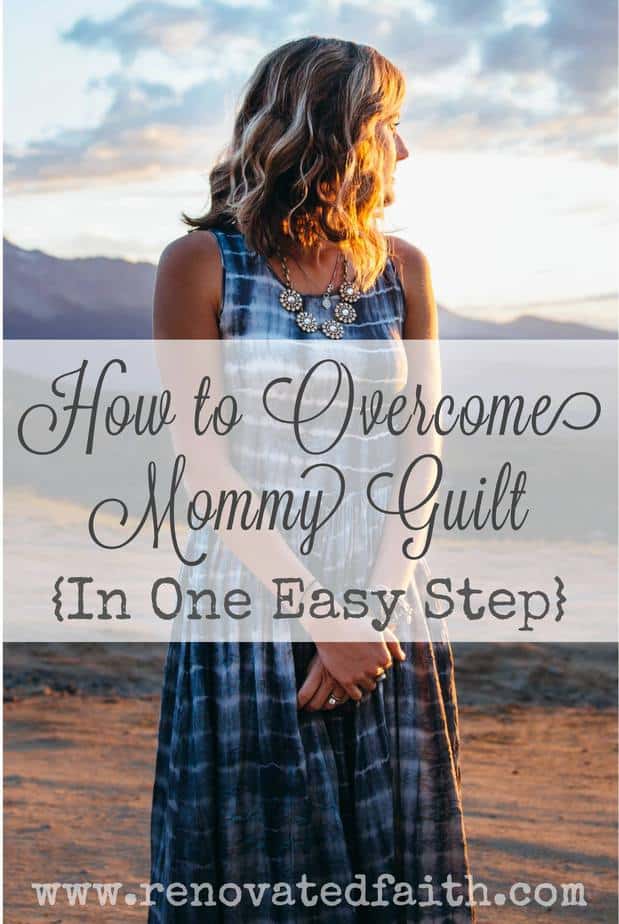 Blessings,

Be sure to follow the fun here!
Email Subscription | Instagram | Pinterest | Facebook | Twitter
Welcome to Renovated Faith, where I share about DIY projects, my faith and everything in between! When I'm not spending time with my family, you will find me redoing furniture in the garage or watering plants in my greenhouse. This blog is about transformation. Anyone can renovate a house but only God can transform our hearts!