When it comes to DIY tutorials, I like very specific, easy-to-follow instructions. Any directions that tell me to "be creative" or "just freehand…" give me an instant stomach ache. This step-by-step process of creating your own easy DIY farmhouse sign allows you to personalize your own wall art without any special equipment, so it looks like it was free-handed by a professional.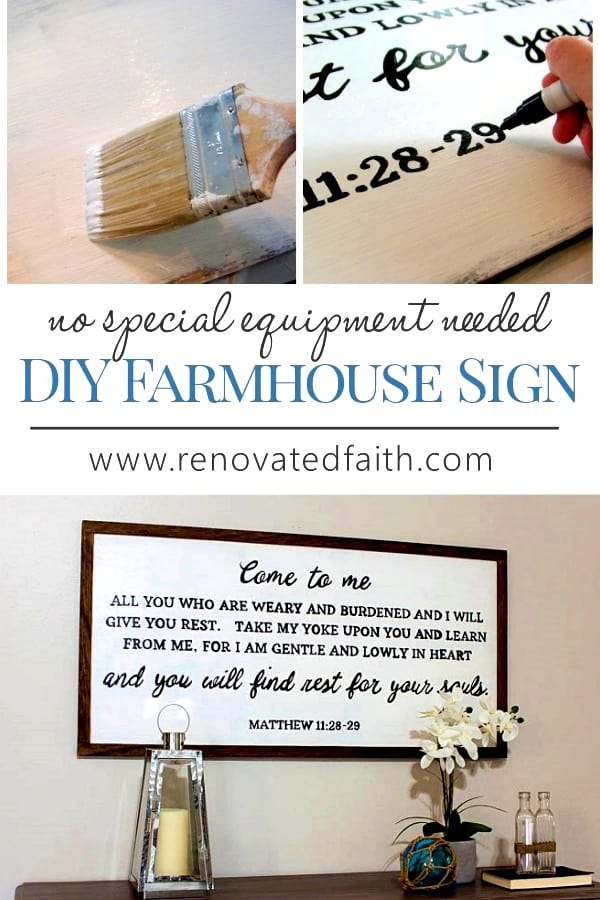 How to Make Farmhouse Style Signs, No Special Equipment Required
Many tutorials on how to make framed farmhouse signs include using a Cricut or Silhouette machine. However, with this tutorial, you can make your own farmhouse sign without special equipment or the added cost of vinyl.
One evening when cleaning out the garage, I noticed the old piece of plywood that my father-in-law had painted for my husband when he was little. Many toy planes had taken off and landed on that old piece of wood, so I couldn't bear to throw it out.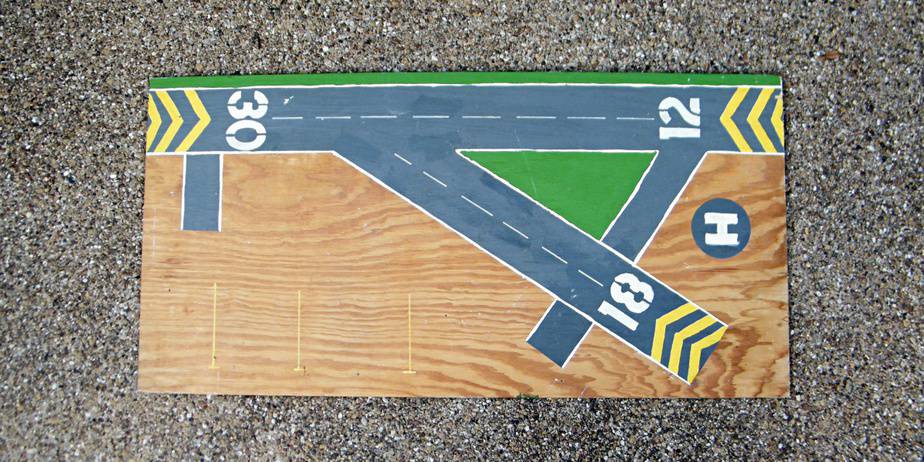 I realized the "runway" was the perfect size for a farmhouse-style sign over the daybed in my office. Using the back of the "runway" for my sign would allow me to keep this spider-infested 'keepsake' intact while freeing up some space in the garage!
Don't you love it when a plan comes together!?!
Supplies Used for your Easy, DIY Farmhouse Sign
(Some affiliate links may be used at no extra cost to you. See my full disclosure here.)
2'x4' piece of plywood (1/2" depth) – like you see HERE.
Sander (optional) – Check out my guide on how to use a sander and sander buying guide.
Sanding Pads (optional)
Hand saw (optional)
White Paint – I used Sherwin Williams in Pure White but any white paint will do.
Small Craft Brush for touch-ups
1" wide trim for the frame – I used 12' of trim.
Stain for Trim – I used Minwax Provincial because I had it on hand.
Paper
Pencil
Scotch tape
Paper Cutter or scissors
DIY Framed Farmhouse Sign – Painting and Staining
Step 1: Prep the Wood
If you don't have a scrap piece of wood, go to Lowe's or Home Depot and look for a 2' x 4' piece of ½" plywood. If you want different dimensions, just ask and they will cut it down for you at no additional cost.
Because the back of my sign was in such bad shape, I had to sand it down quite a bit and prime it. (I had used it for multiple spray paint projects). Normally, you will just want to sand down the surface lightly before applying paint. As always, I used my mouse sander and I show you how to use one in this post.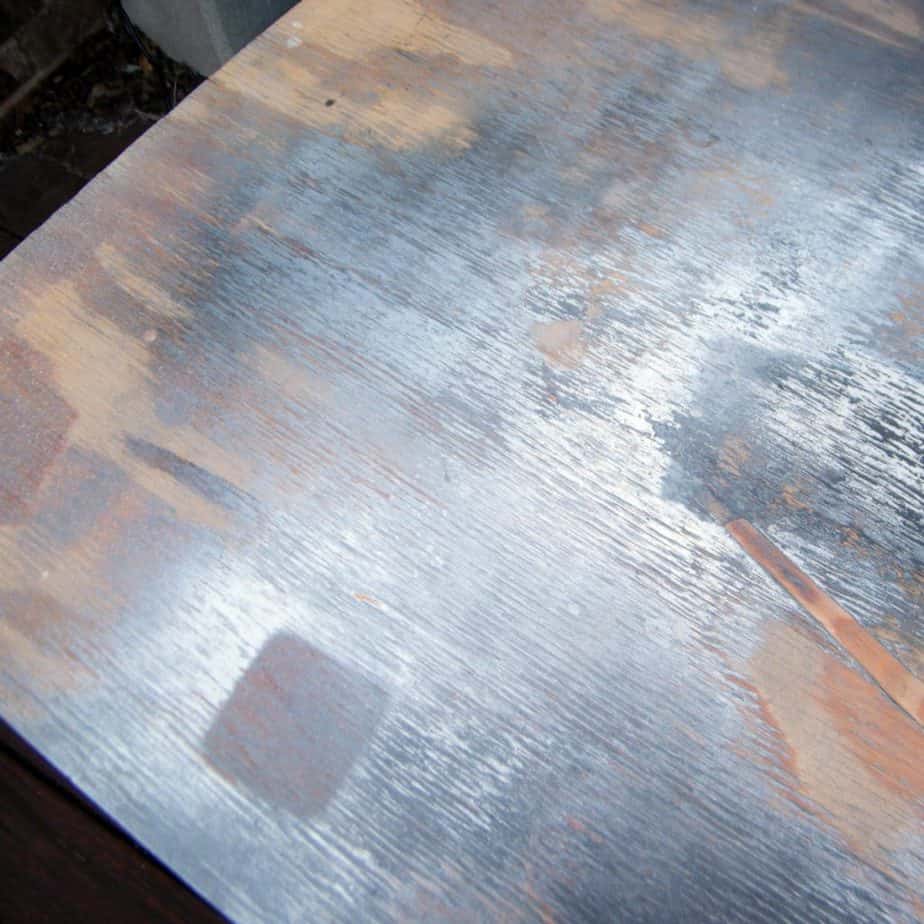 Before you start painting, nail a picture hanger to the back of your plywood in the center. I accidentally bent part of the hanger while hammering it. But in my defense, I had a 12-week old puppy trying to help me out. How can I possibly focus on anything with this cute face around?!?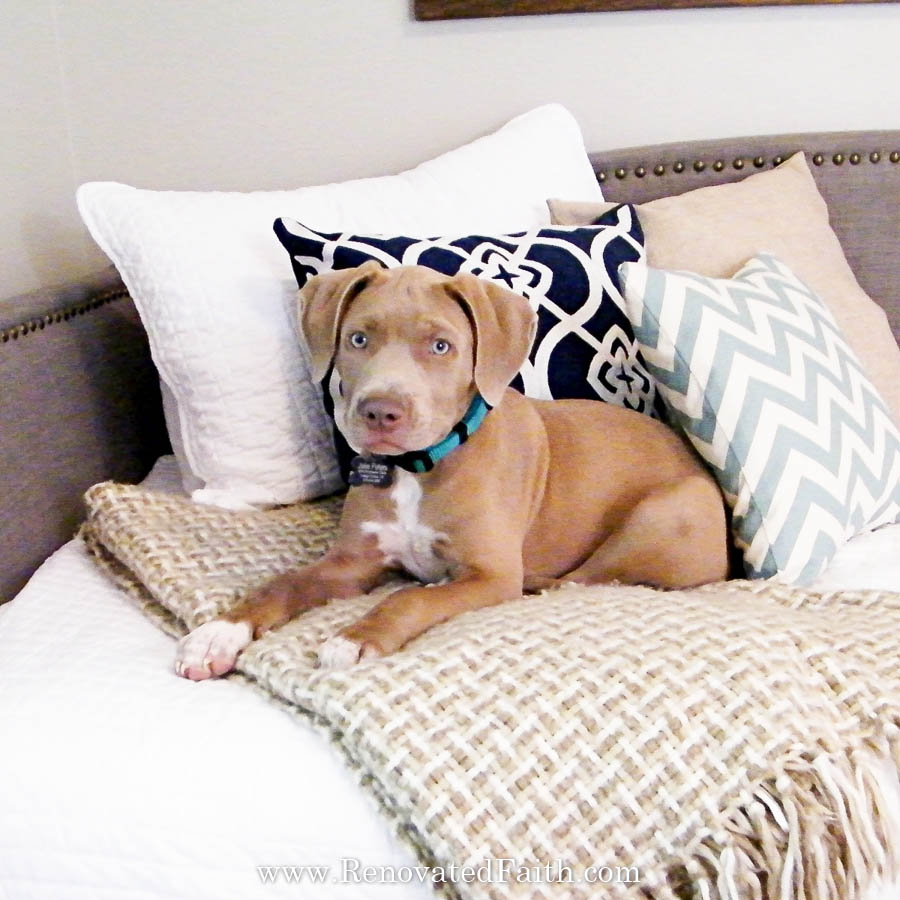 Anyway…Apply a thick coat of white paint and let it dry overnight. You'll notice that you might not have full coverage after just one coat leaving some streaky places, but I kind of liked this as it gave it a rustic, farmhouse feel.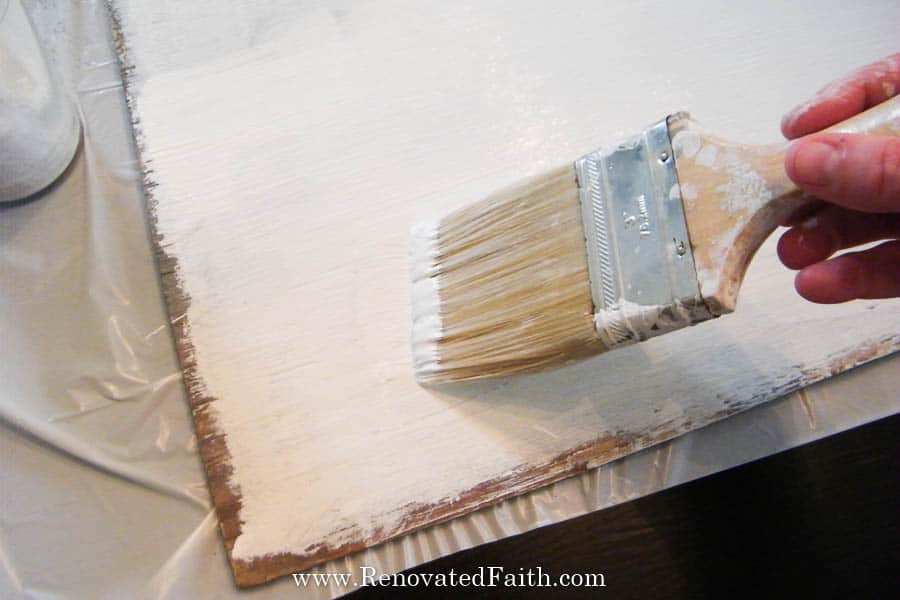 STEP 2: DIY Farmhouse Sign Frame
Cut your frame pieces to the correct size. Remember to always measure twice and cut once! I used my jigsaw (The Easy Way to Use a Jig Saw) but you could have your home improvement store cut it as well.
Just brush on a light coat of stain. When I was sure I was done with staining, I just threw my brush away. This way you don't have to deal with the hassle of cleaning the brush with mineral spirits. Let the stain dry overnight.
Step 3: Make Your Farmhouse Sign Stencil – Template Setup
While the paint and stain dry completely, you can work on the layout of the verse or quote. I used a free program called Photoscape X that you can download HERE. Just click on Windows or Mac and then click "Get the App." Next, it will take you to a screen where you have the option for the Free Trial, which is all you need. (The Photoscape Free Trial lasts forever).
To save you a step, download the blank template HERE or if you want the same verse and layout, you are welcome to my template HERE.
Upload the blank template into Photoscape by clicking "Editor" at the top left and by opening the file on the left-hand side.
Click Edit at the top right and Resize just under it. (Be sure to measure your sign. Although you might have bought a 2' x 4' board, wood shrinks after being dried and treated.)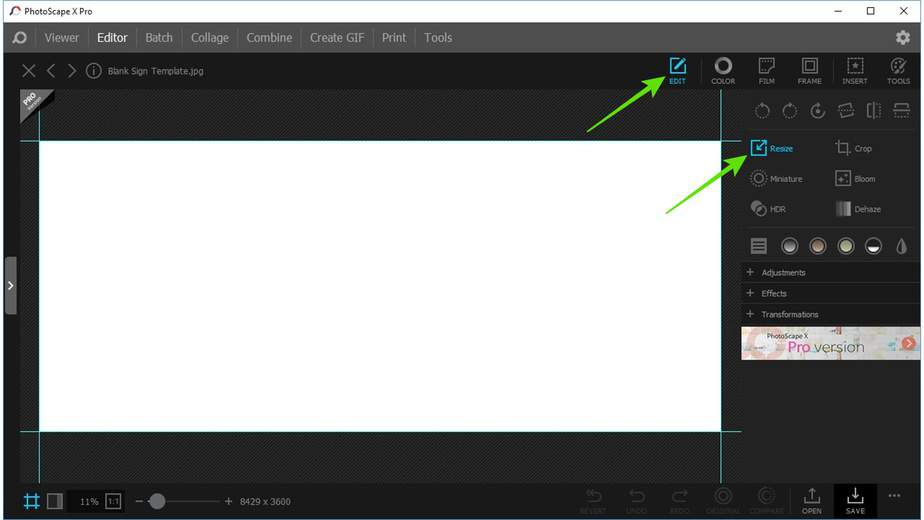 Resize your sign template by clicking the Inches option and entering the size of your sign in inches. Click "Apply".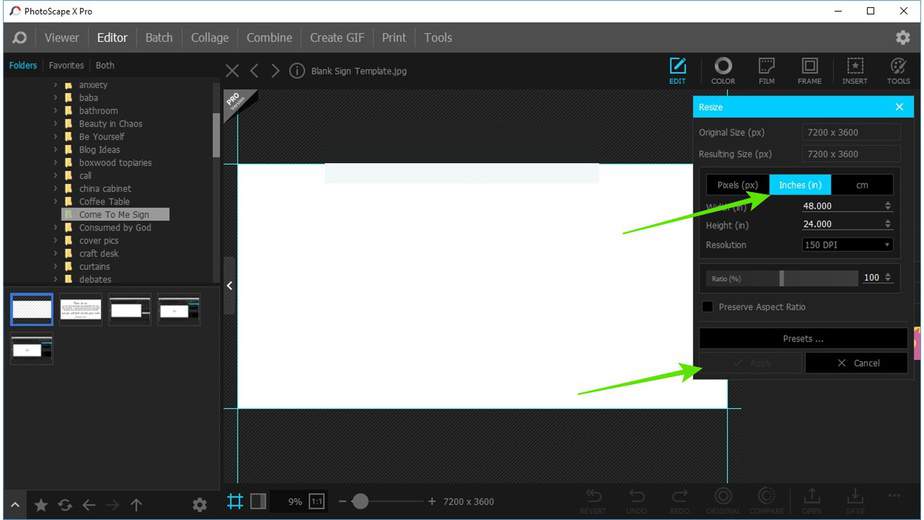 Now start working on your layout by selecting "Insert" at the top right and then "Text" to the right of that. Insert your wording with any fonts already on your computer and expand text boxes easily to get them the size you prefer. Click "Apply" when done and click Save at the bottom right.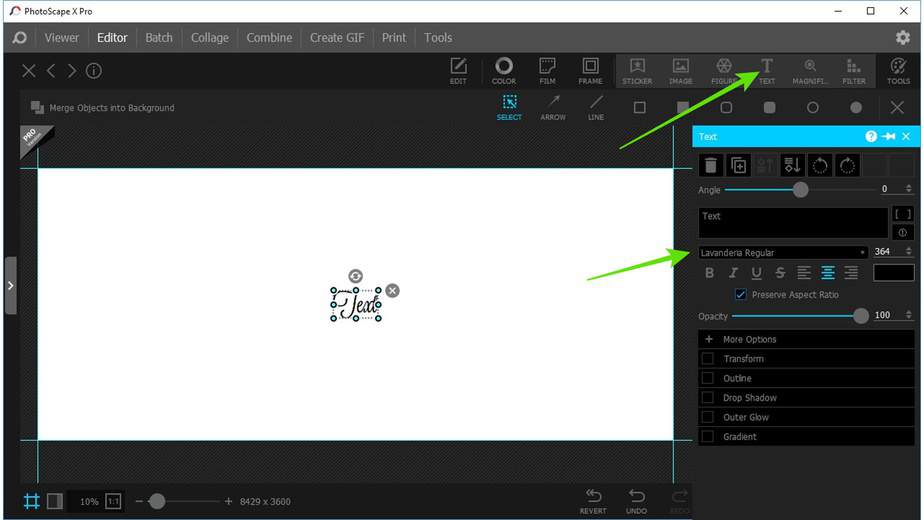 Easy, DIY Farmhouse Sign
Convert your jpg file to a pdf for free by going to zamzar.com. (It has to be a pdf file to open it in Adobe Reader, which allows you to print the poster format). Just upload your file and select that you want a pdf and it will email you the new file. Easy Peasy!
Go to Adobe Acrobat Reader(This is the last program, I promise!) and open the pdf version of your sign. (Download Acrobat HERE if you don't already have it.) Click on the print menu and click on Poster under Page Sizing and Handling and it will set up your sign to print separate pages. You also want to select the option for "Cut Marks". Now, you can print it!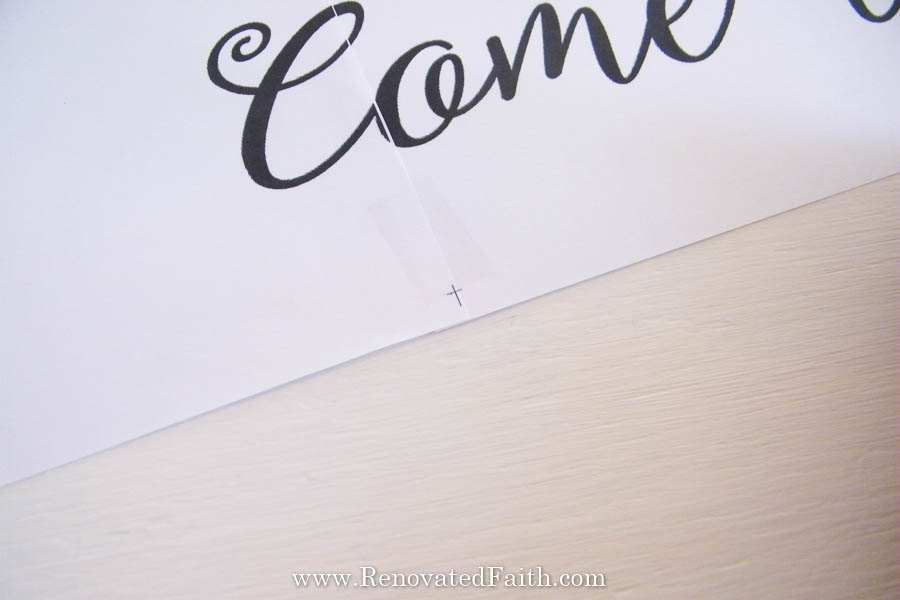 Once they are printed, now cut the TOP and RIGHT sides of each piece of paper along with the marks with scissors or a paper cutter.
Now tape each piece together, lining up the little cross-shaped cut marks.
This image transfer technique is so versatile and I use it in this post also: How to Make A Scroll Sign
Step 4: How to Paint Farmhouse Signs, the Easy Way
Shade over the back of the wording with a sharpened pencil like so.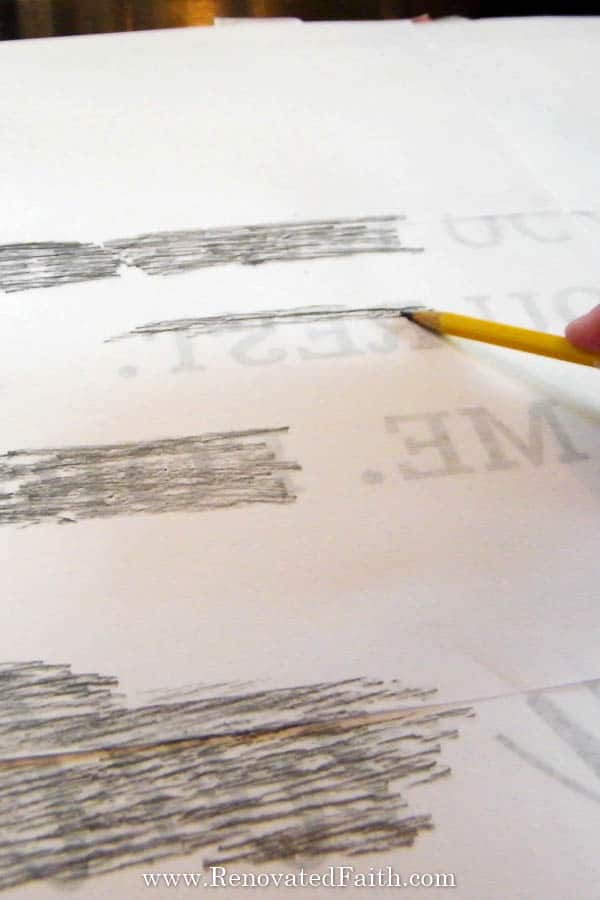 Flip your template right-side-up and position it where you want it on the plywood. Now tape the edges with scotch tape to keep it in place.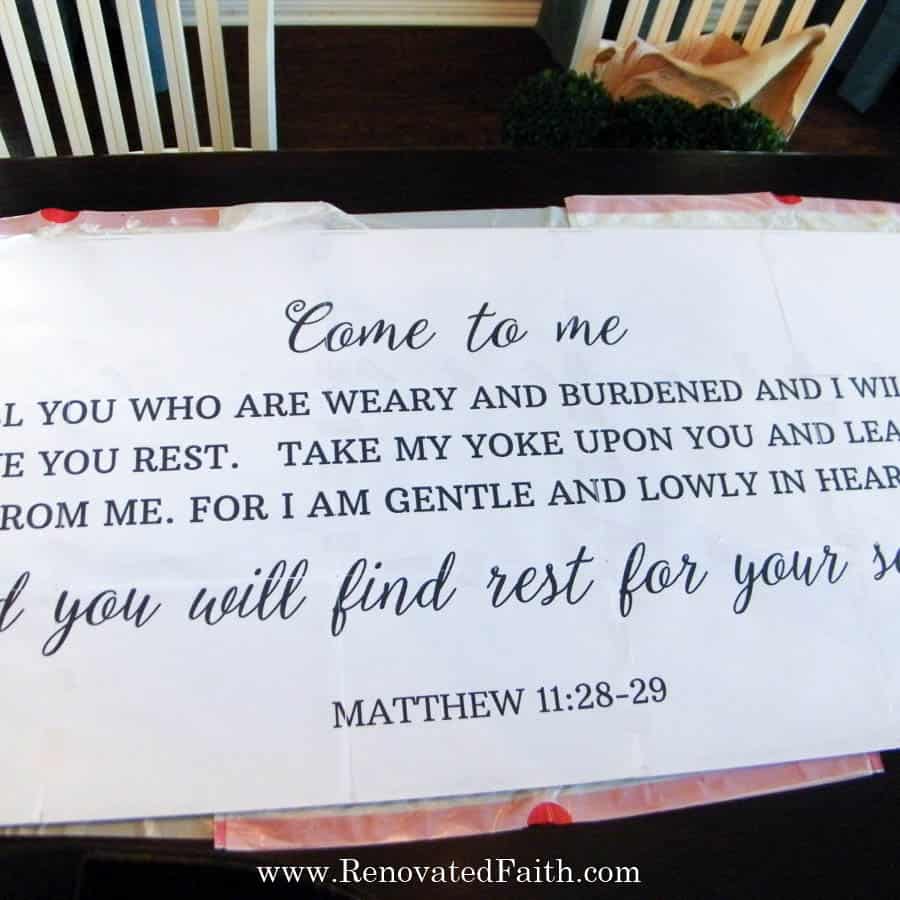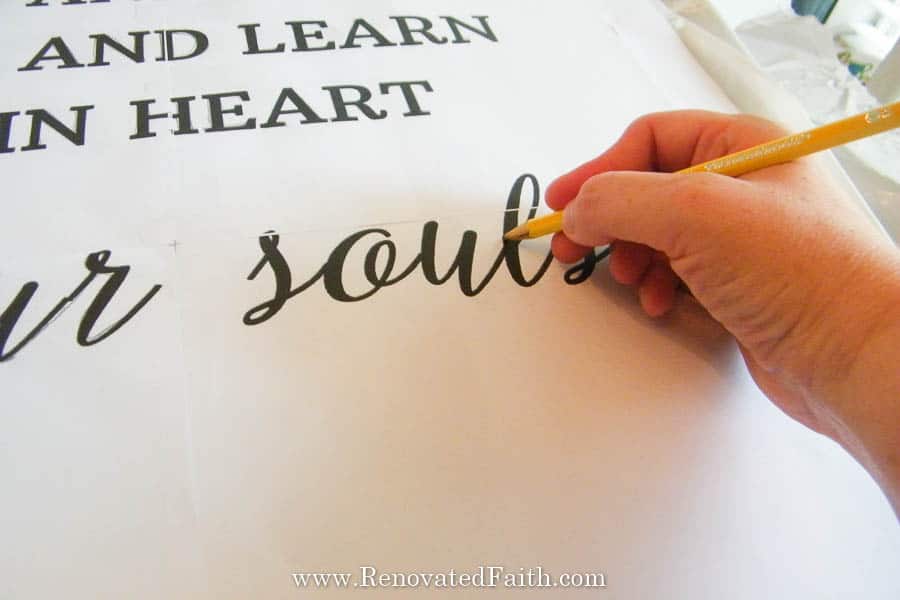 Take a ballpoint pin or pencil and trace over your wording. This will transfer the lead from the paper to your sign, giving you something to fill in. This is a much easier alternative to a farmhouse sign stencil.
Now, take your Sharpie paint pen and start filling in the lettering. Tracing the letters and filling in the letters took me a little over an hour – so half of a Hallmark movie or 1/3 of The Bachelorette finale depending on how you look at it!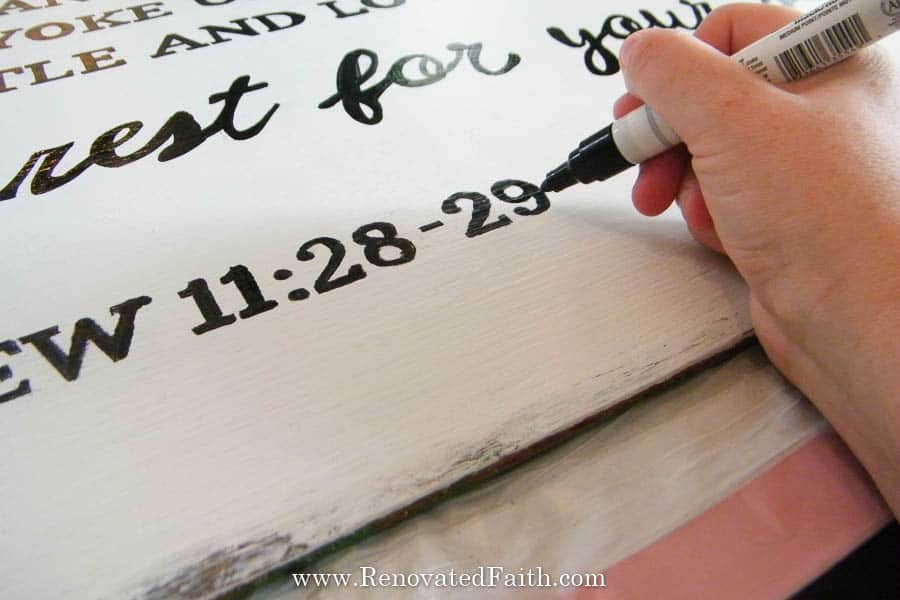 Phew!!! Now that you are done with all that lettering, give yourself a pat on the back, a gold star, or better yet, a pint of Blue Bell! Hey, why not all three!?!
Step 5: Finishing Touches for your Easy DIY Farmhouse Sign
Last but not least, it is time for the frame. Since the frame doesn't serve to provide any support, I just used liquid nails to glue each piece on the edge. My sign was not completely square so I was able to fix that by ensuring my frame pieces were squared up. No one will know the difference!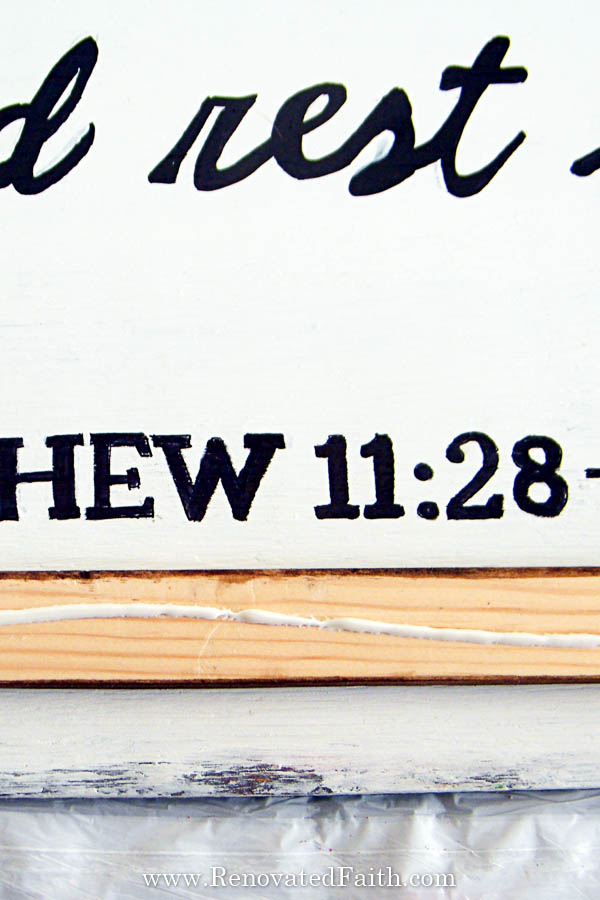 I used some of the white paint and a small brush to touch up some major mess-ups – and there were several!
The beauty of farmhouse style is that it embraces imperfection. As I was filling in my lettering with the paint pen, I was really unsure of how my letters would turn out, but when I stepped back, I was impressed with how it all came together. This was the best part of the whole project!
Another great thing aspect of this process is that it is so cheap! You are bound to have some of the items in the supply list already on hand.
The only thing I didn't have was the wood trim and the paint pens, bringing my cost for this project to $15.12!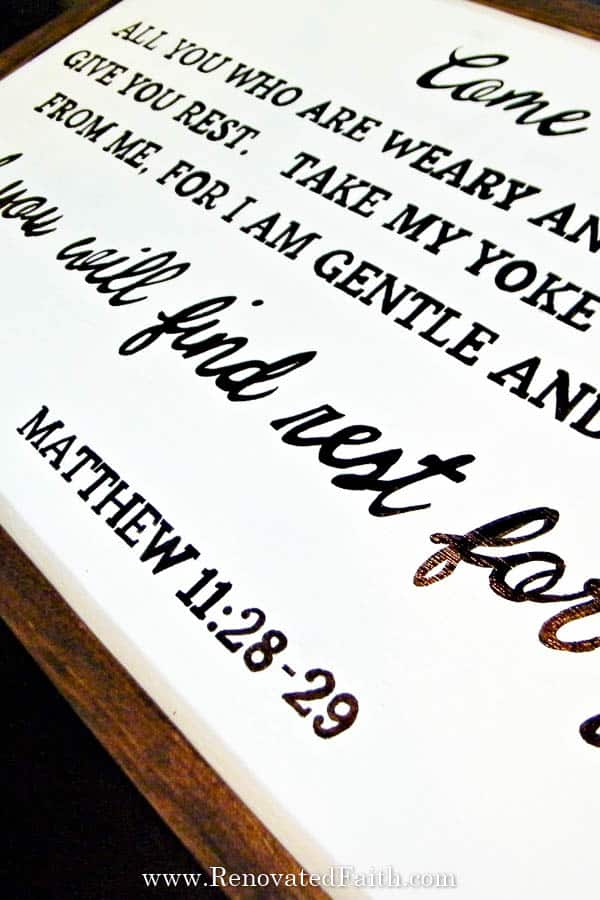 Notice those letters are far from perfect but it only adds to the farmhouse vibe of my sign.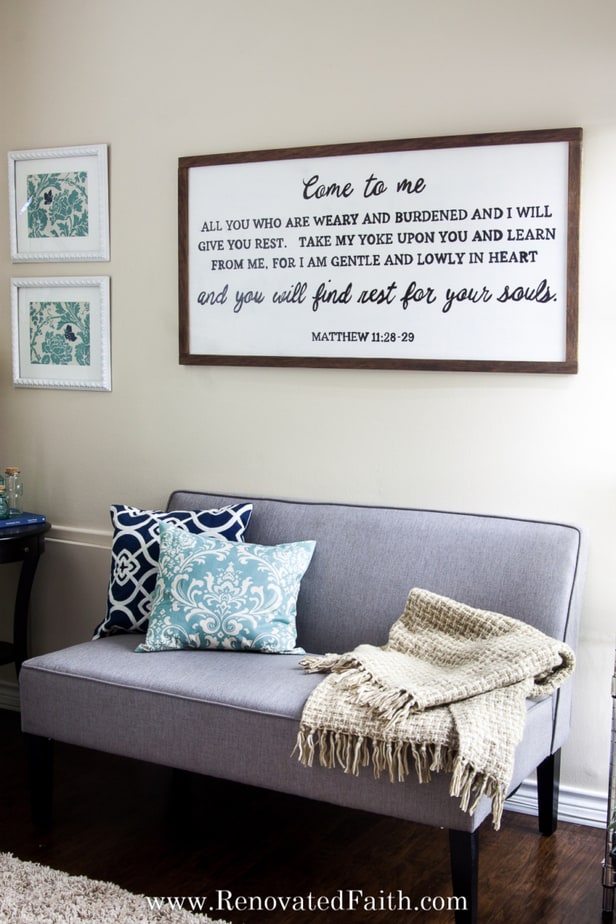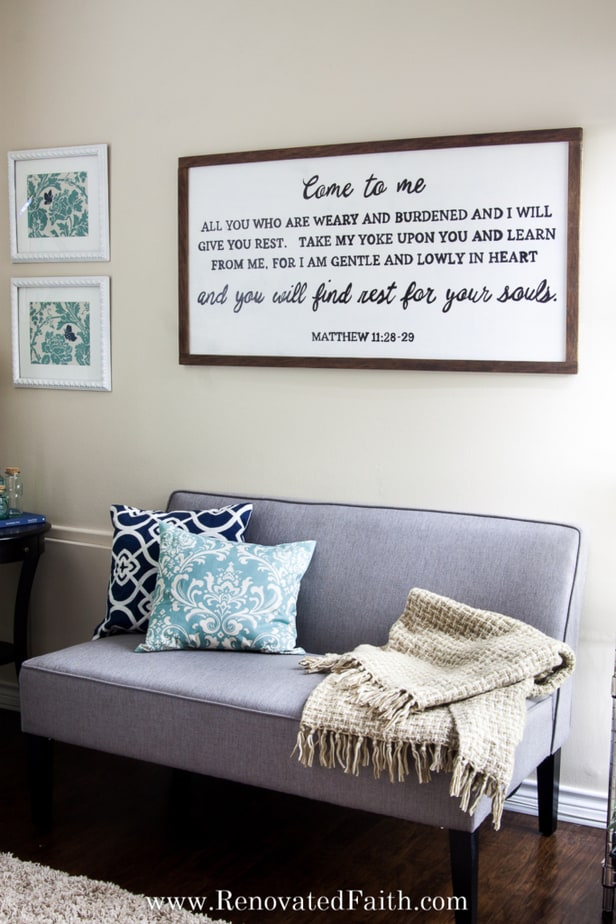 You can see that I have moved this sign around quite a bit. It is currently in my home office. Click here to see the full home office reveal and Home Office Ideas for Women.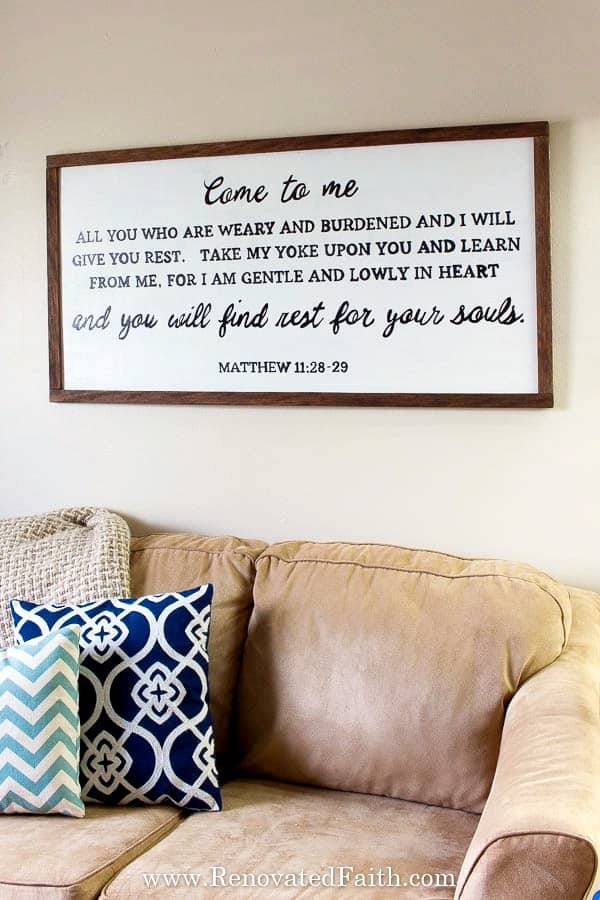 I like to move things around every so often so it now hanging in our living room! You can see more pics in my post about the coastal blue dresser makeover.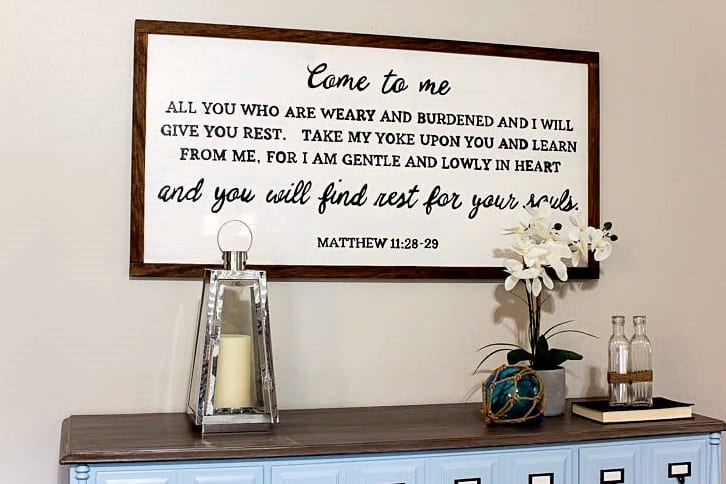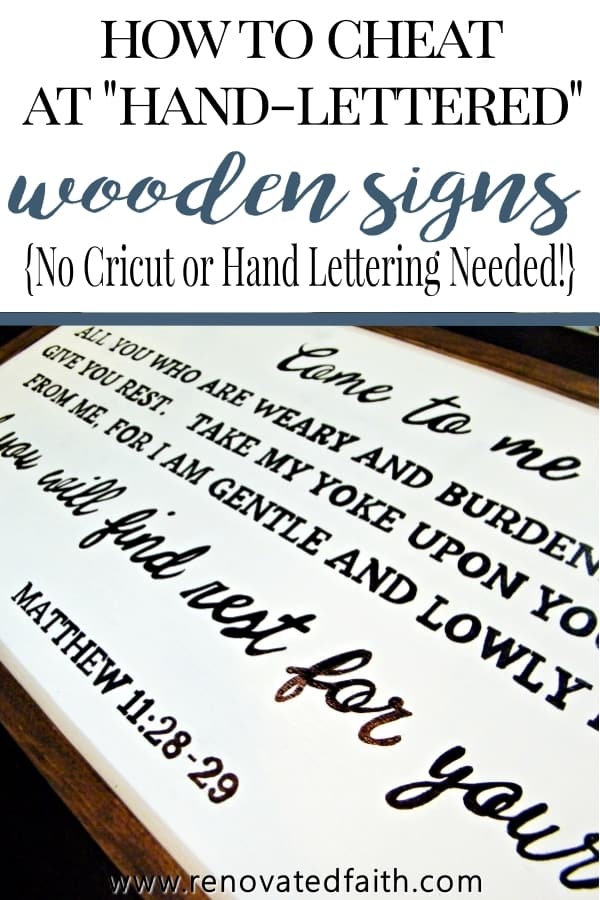 You can see the before and after of my coastal blue dresser makeover here and how I did the DIY driftwood finish here.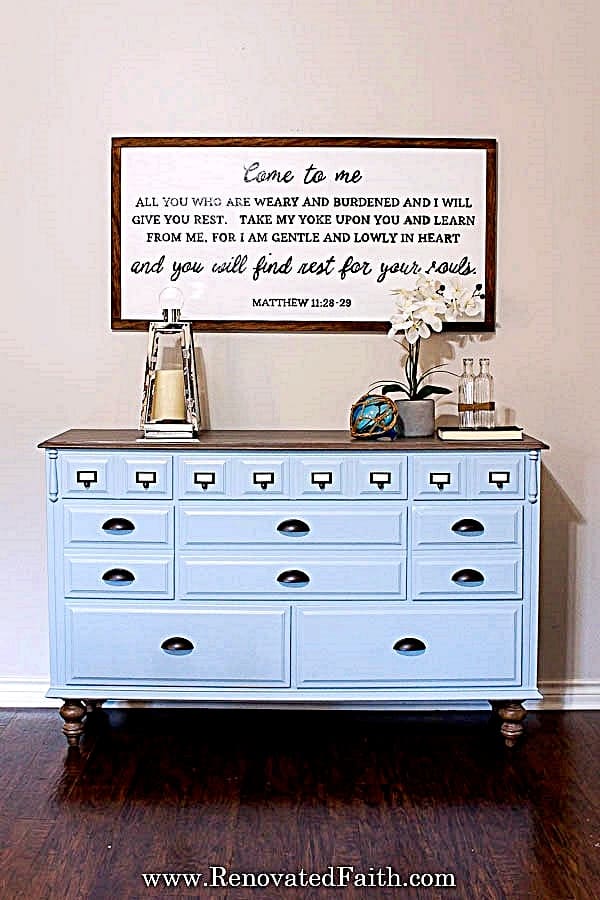 If you like DIY painted signs, you can get the same look by using my free printables. I also give you a couple of tricks to show you how to make them look like they are hand-painted!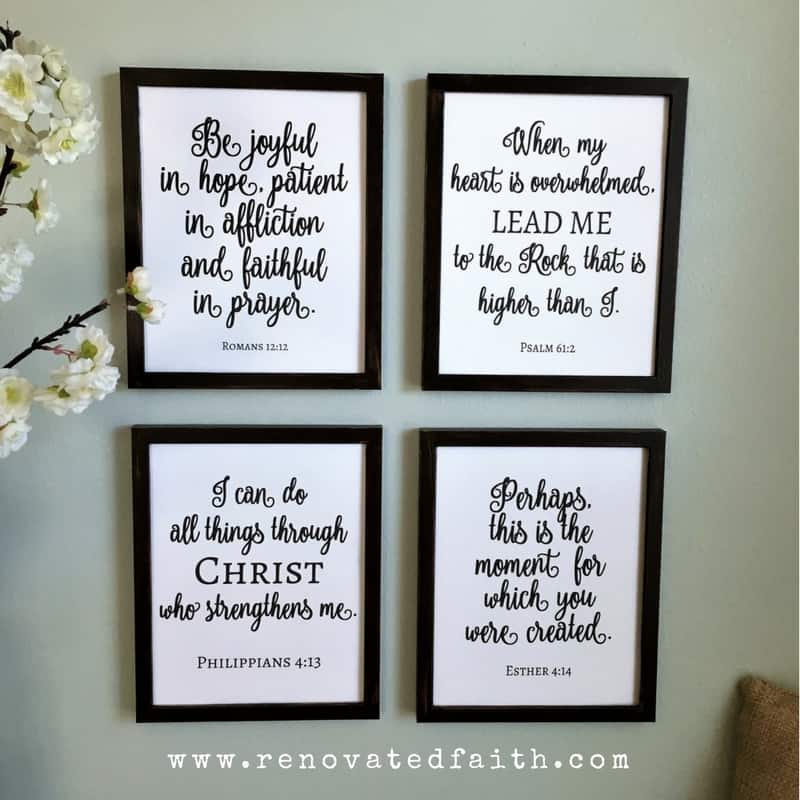 Matthew 11:28-29 is actually my grandmother's favorite verse. She was the spiritual matriarch of our family. As a young girl, she spent her time harvesting cotton from her family's farm. Picking cotton until her hands bled, she knew the importance of work but also about the necessity of rest.
I'd love for you to read more in my post Why You Struggle to Rest and What to Do About It to share why I picked this verse for my DIY Farmhouse Sign!
I use the same process to make this Christmas sign using the same process. You can download the template and also an SVG file here: DIY Letter to Santa Sign
Related Posts:
DIY Fingerprint Wreath Wall Art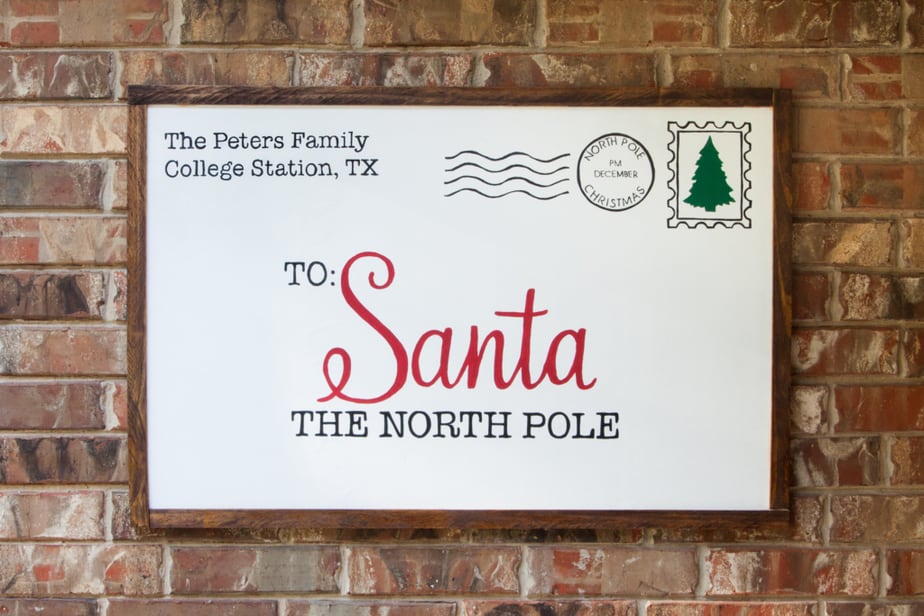 How do you think it turned out? What verse or quote would you love to have on a painted sign?
To save for later, pin it here. Be sure to comment on the pin to let me know how it turned out!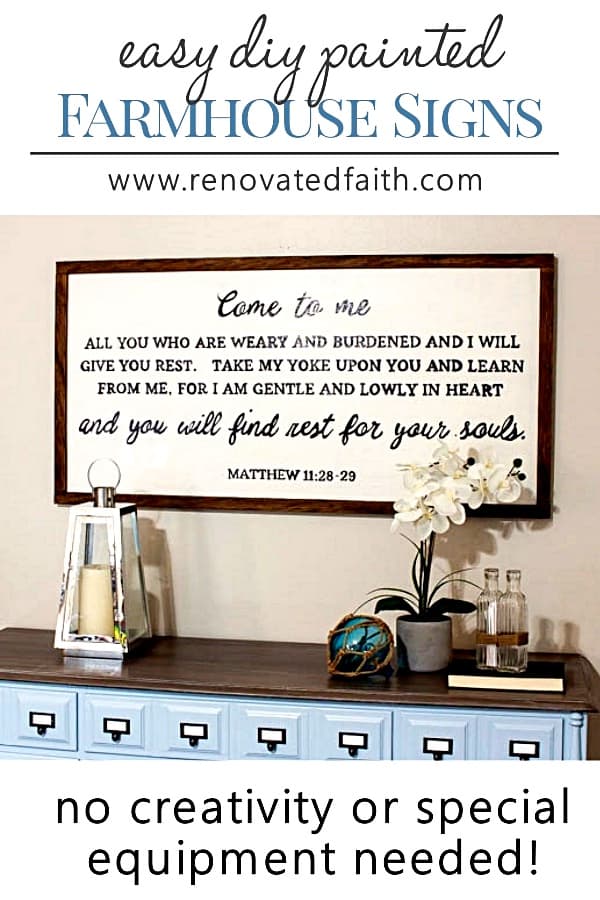 Did you like this post? Be sure to share it with others. Have a wonderful week!
Blessings,

Be sure to follow the fun here!
Welcome to Renovated Faith, where I share about DIY projects, my faith and everything in between! When I'm not spending time with my family, you will find me redoing furniture in the garage or watering plants in my greenhouse. This blog is about transformation. Anyone can renovate a house but only God can transform our hearts!