Why You Struggle To Rest and What To Do About It
The deadlines have passed on projects you've yet to begin.
Thoughts whirl with lists, appointments and projects you had planned to finish weeks ago. Your family says it's time for a break but if "rest" is going to compete with your progress, you want nothing to do with it. If you share these feelings, know you are not alone in understanding why you struggle to rest and what to do about it.
Too afraid to jump off, you keep running frantically on the hamster wheel. The longer one task takes you, the more the next seems to burn a whole in your pocket. Time is money, they say. But unlike money, time has the uncanny ability to spend itself while your head is turned.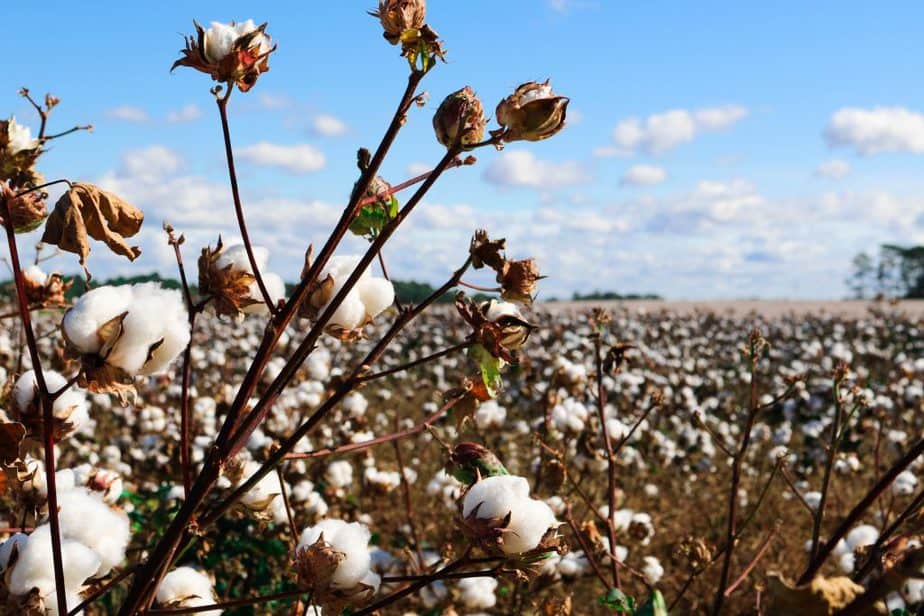 My grandmother's work on the family cotton farm acquainted her with this truth. She often harvested crops until her fingers bled. To understand the complex love/hate triangle between time, work and rest, we will look at her favorite passage of Scripture.
"Come to Me, all you who are weary and burdened, and I will give you rest. Take My yoke upon you and learn from Me; for I am gentle and humble in heart, and you will find rest for your souls. For My yoke is easy and My burden is light".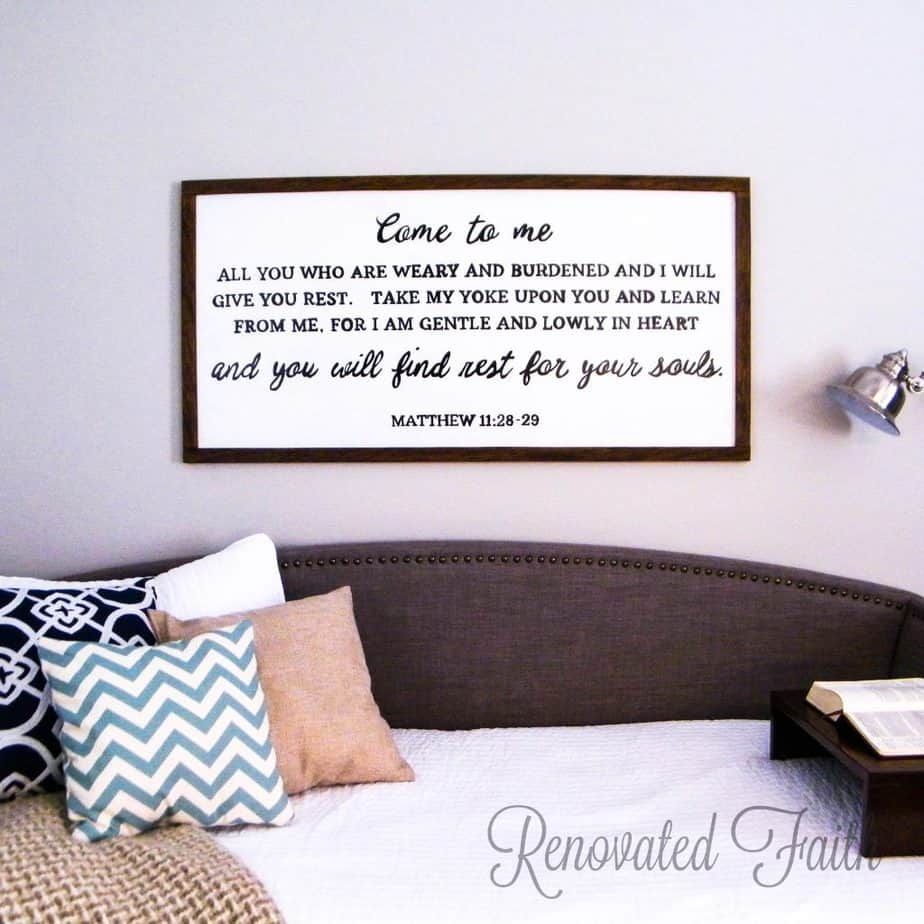 The frame that actually attaches two oxen to one another is the yoke. One of the oxen was a seasoned older animal that was well-trained in plowing. The other ox was often a 'rebellious teenager' whose job was to learn from the older animal.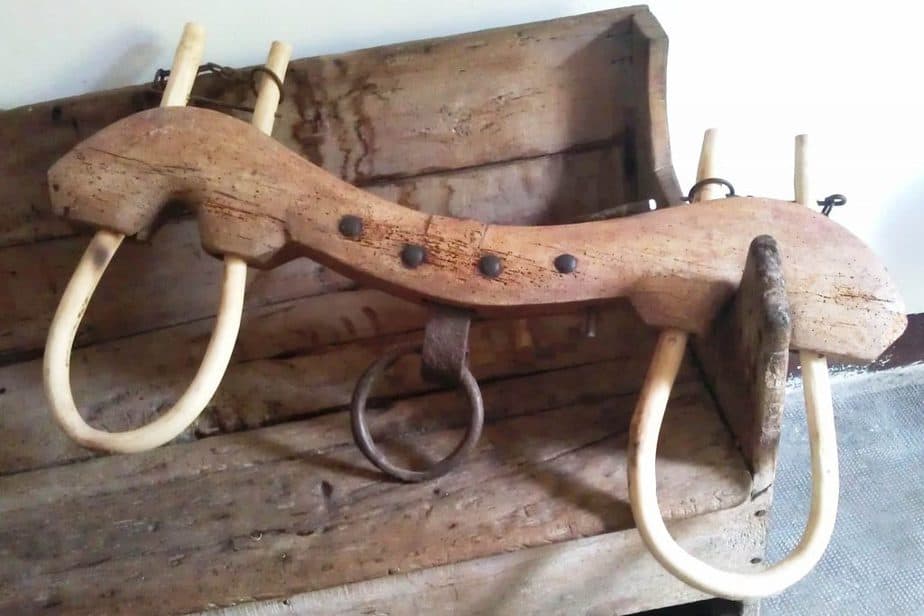 No doubt the younger bull would test his limits by trying to pull ahead in over-zealousness. At other times, he would dig in his hooves when fearful of the terrain ahead.
Regardless, the job of the older bull was to set the pace and pull the majority of the load. No matter how the younger bull rebelled, the more seasoned animal was to act as a teacher while he pulled the plow. His example taught his student the proper pace and method to plow. This was the only way to ensure a bountiful harvest later in the season.
When Christ extends the invitation 'Come to me...take my Yoke', he doesn't just want to help us out. He wants to do ALL the heavy lifting.
Click To Tweet
Just like with the two oxen, Christ intends us to rest in Him by allowing Him to carry our burdens. We are not emotionally, physically or mentally capable of carrying our own load. That's not how we were created. In attempting to do it all, we become frayed and worn on every level.
Fortunately, He shows us the proper way to walk – with our eyes locked on His face and our burdens in His arms.
We are not emotionally, physically or mentally capable of carrying our own load. That's not how we were created.
Click To Tweet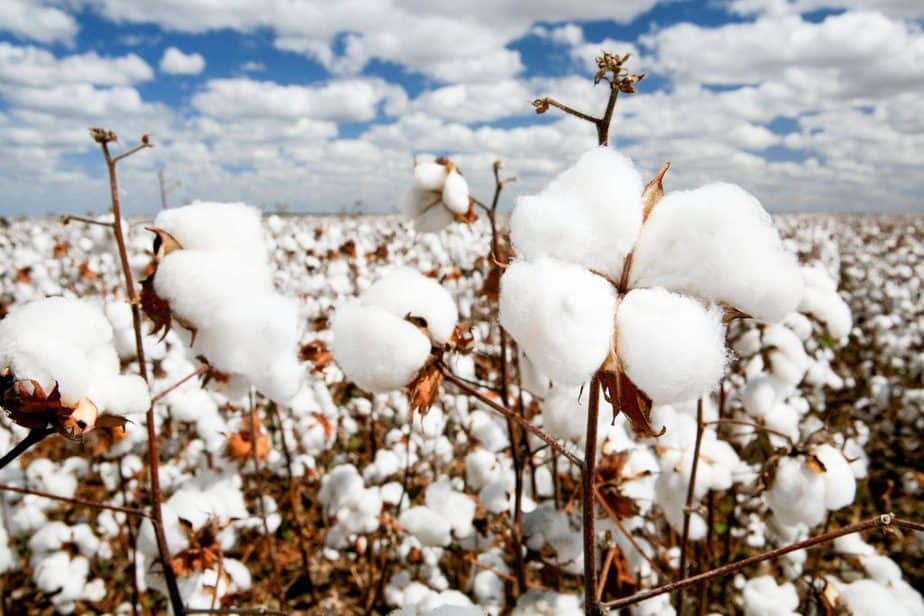 When We Hustle
My tendency is to run ahead of God's plan, trying to carry a load I was never meant to pick up in the first place. In those times, a streak of independence rears it's ugly head as if to say to the God of the Universe "No really, I've got this". As I wrote in How To Escape The Overcommittment Trap, this easily occurs when I don't set God-given priorities for my time.
When We Stall Out
Other times I lag behind in fear, doubt and worry as God drags me along a path that He's already made abundantly clear. Instead of trusting His Voice, I allow the noise of the world to drown out the one thing I can rely on most. Moses knew what it was like to fall behind. He doubted God's ability to speak through him to the people of Israel. He stalled out in fear and as a result God appointed Aaron to talk to the people on His behalf.
Moses' gaze was on the eyes of the people instead of the eyes of God. "When we crave most the eyes of others—their opinions and accolades—we break our gaze with the only eyes that will ever truly see us." – Sara Hagerty,
Right now you don't see the effects of your actions. Maybe you have been running at this crazy pace for so long you don't know any different.
The harsh truth is that whether you run ahead or fall behind, you will eventually get tripped up.
When you rest in Him, you will be amazed at how much smoother life goes. You have new clarity as to what really matters on your to-do list and those items seem to get done faster.
When you rest in Him, you will be amazed at how much smoother life goes. You have new clarity as to what really matters on your to-do list and those items seem to get done faster.
Click To Tweet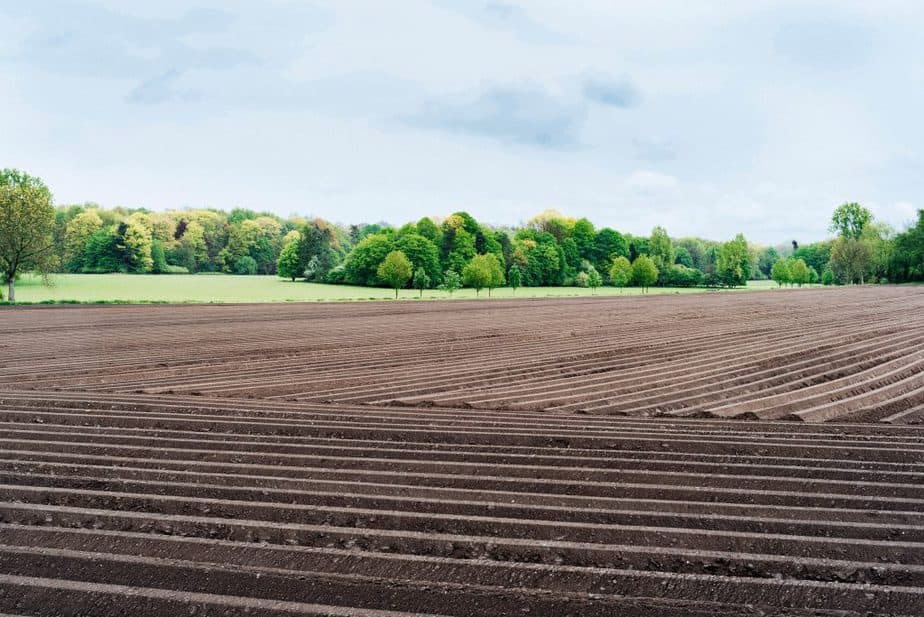 How Do We Rest In Him?
I've been training my 5 month old puppy Jake to walk on a leash. Trainers suggest to walk your dog right beside you with no tension on the leash. That can be difficult when distractions like a bike rider or squirrel arise. Our trainer suggested that I look at Jake and hold a treat in front of my face to help him focus on me – because He couldn't disobey if he was already focused on me.
When Jake keeps his gaze on mine, He stays in step and does not lose his focus.
When we keep our eyes locked on God, we can experience true rest. Keeping our gaze on God requires constant communication and consistent time in His Word. As I mentioned in Why Developing A Habit of Prayer Is Easier Than You Think, we have an incredible resource that allows us to speak with the Creator of the universe at any time of day without evening opening our mouth. Therefore, we should take full advantage of the gift of prayer!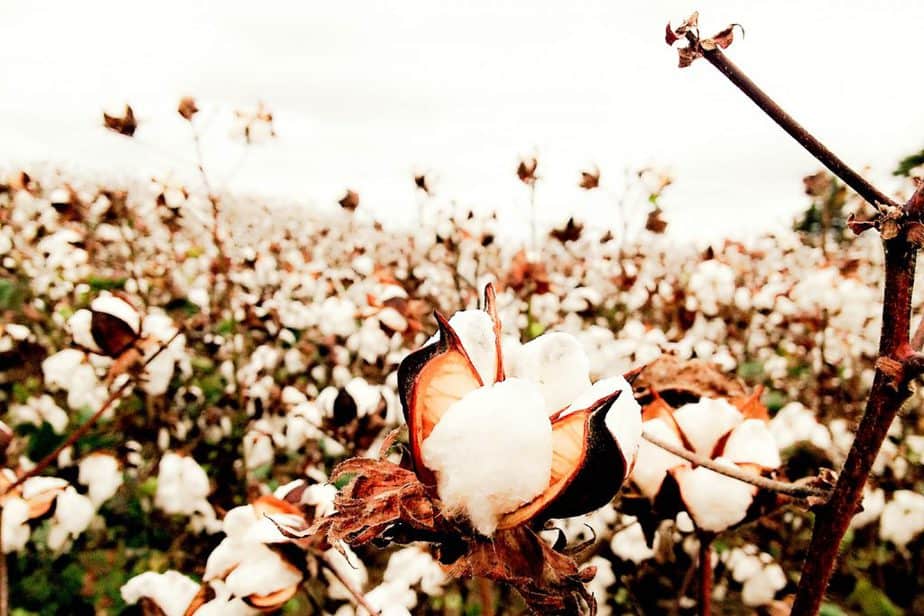 When Should We Rest?
Unfortunately, I had an inside-out understanding of the relationship between work and rest. I struggled to rest on the weekends because I hadn't rested in God during the other 5 days of the week.
Rest isn't just something we do on Saturday afternoons. God wants us to experience His rest during the entire week by giving Him our burdens. When my focus during the week was on my to-do list or my fears, it was difficult for me to redirect my focus on Him on the weekends.
Without understanding what it means to allow the Lord to carry your burdens, all your work will be unsatisfying. "You won't be able to relax even when you are supposed to be resting", states Timothy Keller in Every Good Endeavor. When we carry His easy yoke, we finally have the freedom we were meant to experience. When we allow Him to carry our burdens, whether we are at work or trying to relax, we experience true rest. This is because we lean into God's redemptive work that He has finished in Christ.
We experience true rest when daily we lean into Christ's redemptive work that He finished on the cross.
Click To Tweet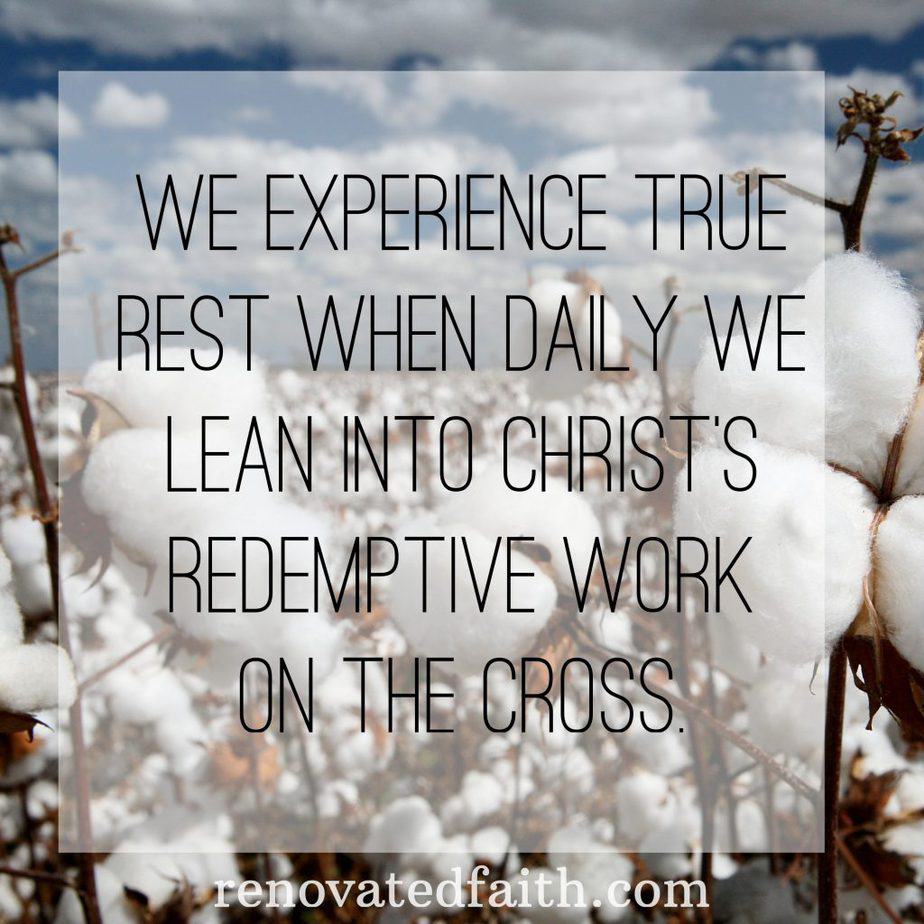 So, let Him hold your burdens… Life's circumstances can be heavy, painful and debilitating when we don't allow Him to carry them.
Let Him hold you… Crawl in His lap and experience God's true rest.
One day from heaven we will see our life as if it was embroidered on an intricate tapestry. Won't it be so much more beautiful if we let God sew every stitch instead of trying to do it ourselves?
Come as you are, fall in His arms and breath…
Where are you in this continuum? Do you have a tendency to rush ahead or fall behind His set pace. I'd love to hear from you as well as any tips to help us rest throughout the week.
If you find yourself struggling on a regular basis, I invite you to read my post How Should Christians Respond to Anxiety and Depression by clicking here.
Further Reading:
Simply Tuesday by Emily P. Freeman
Every Good Endeavor by Timothy Keller
Unseen: The Gift of Being Hidden In A World That Loves To Be Noticed by Sara Hagerty
If you want to save this post for later, pin it here: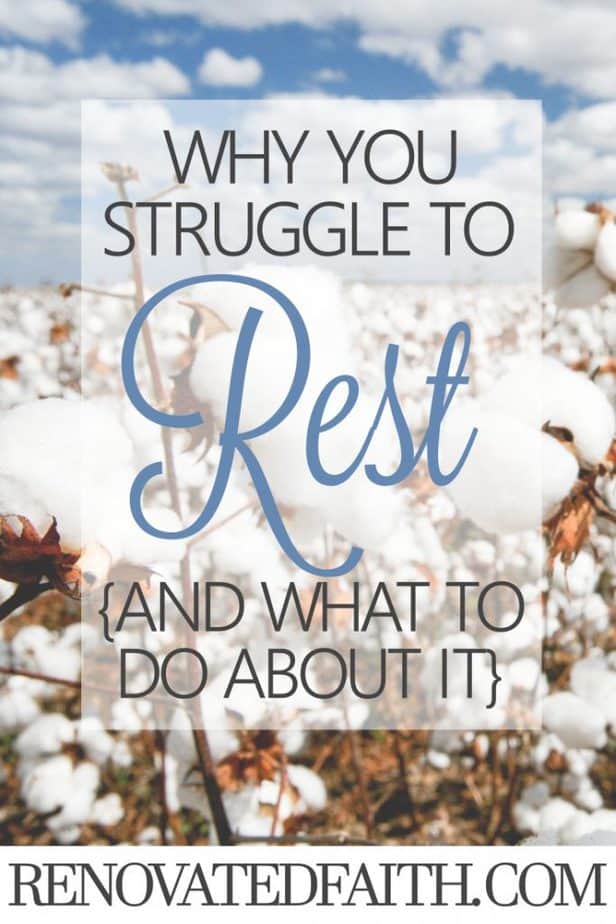 Blessings,

Be sure to follow the fun here!
Welcome to Renovated Faith, where I share about DIY projects, my faith and everything in between! When I'm not spending time with my family, you will find me redoing furniture in the garage or watering plants in my greenhouse. This blog is about transformation. Anyone can renovate a house but only God can transform our hearts!