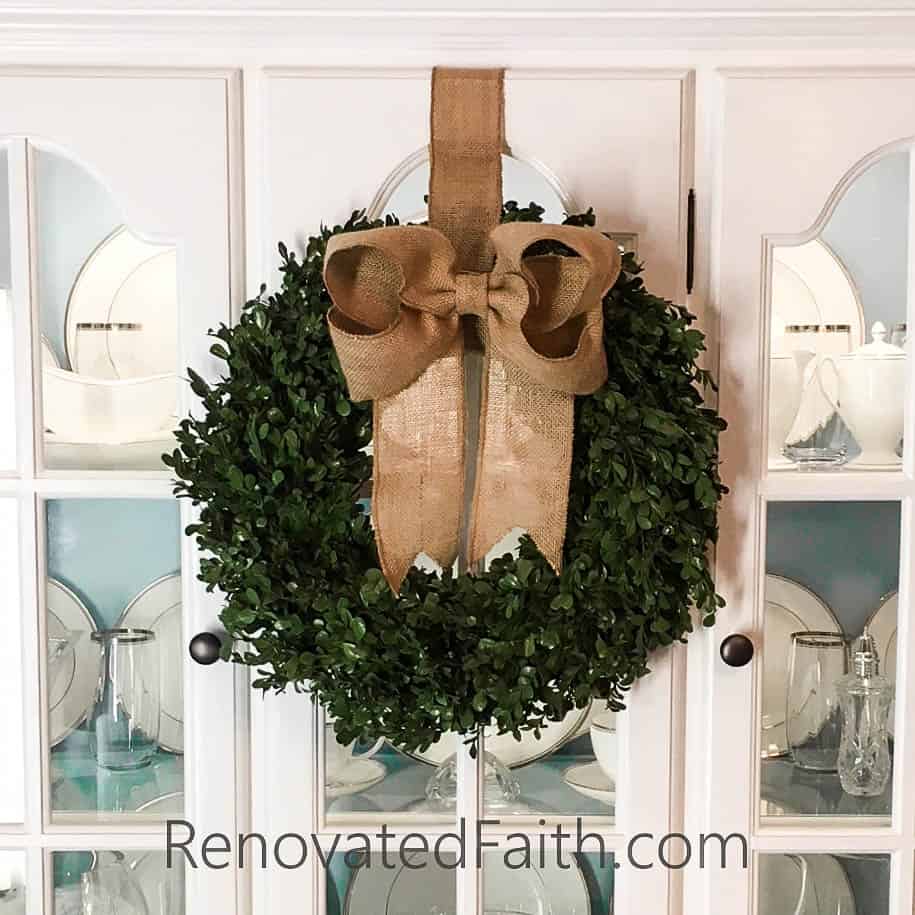 When my daughter Morgan was about 6 months old, I decided that I needed a way to work from home. For some reason, my answer to that dilemma was a hair bow business. This seemed like a really good idea at the time and it lasted about a year. After too many sore fingers and 2am Dr. Pepper breaks, I decided it would be best to take an early retirement from the bow making business. Easy Burlap Bow Tutorial.
Fortunately, I got to work with a really great shop in town called And Sew On. Here are a few of my Aggie bows: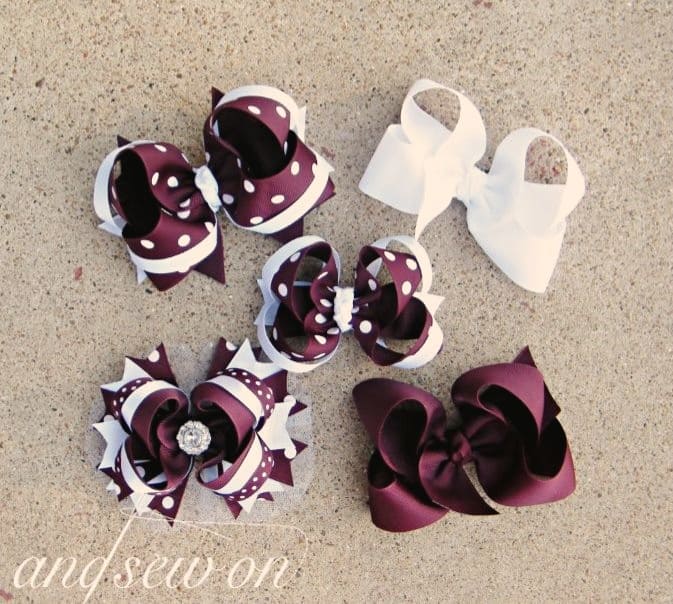 The nice thing about my hair bow venture was that my daughter has an unlimited, almost disposable, hair bow collection. Also, I can make a bow for any and every occasion. My Easy Burlap Bow Tutorial will allow you to make bows for wreaths and any other home decor with little effort!
Burlap Bow Tutorial Supplies
(This blog uses affiliate links. You can view the full disclosure HERE.)
Scissors
Burlap Bow Tutorial – Instructions
1. First, cut 52 inches of your 3″ burlap ribbon. If you wanted it fluffier, add a few inches and if you want it flatter, subtract a few inches. I would consider the bow with the boxwood wreath a fluffier bow and the bow with the cotton wreath to be flatter:
Make a pencil mark at the halfway point of the ribbon to give you an idea where the center is.
2. Make a figure 8 just like below by pulling each end of the piece of ribbon around and to the center. Put a small line of hot glue to hold the figure 8 in place.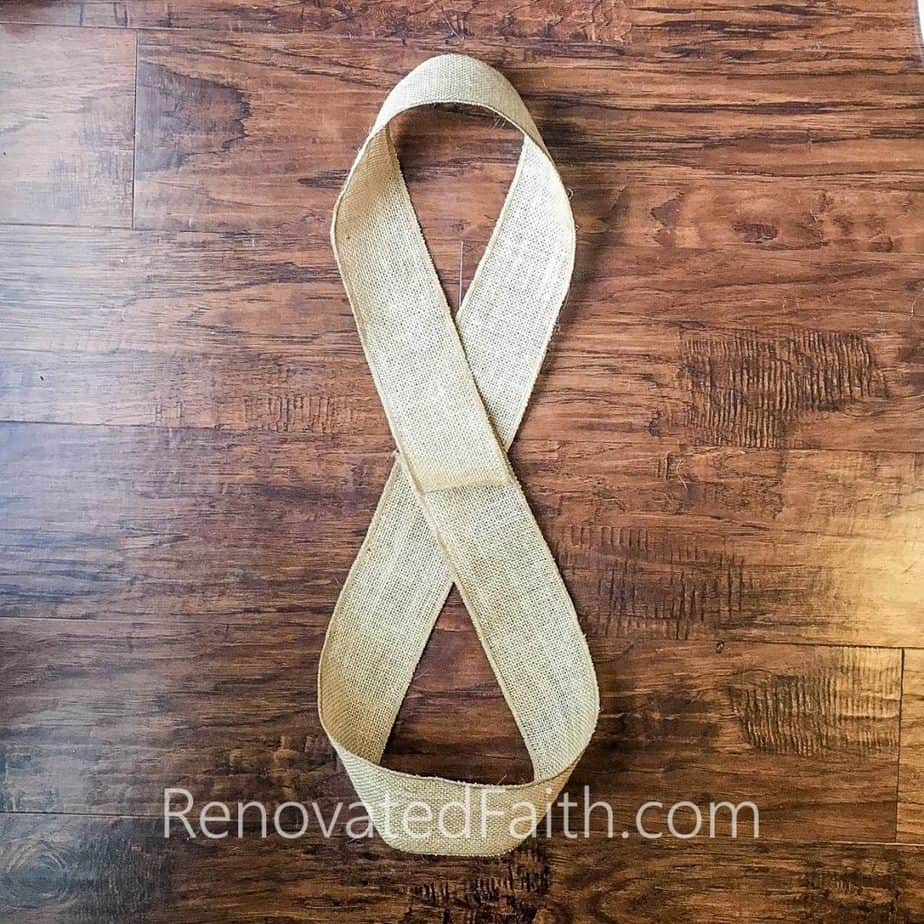 3. Take a second to cut 12 inches of craft wire and have it ready. Now bring each top and bottom of the figure 8 in so it is flat against the center of the 8. It should look like this for one end.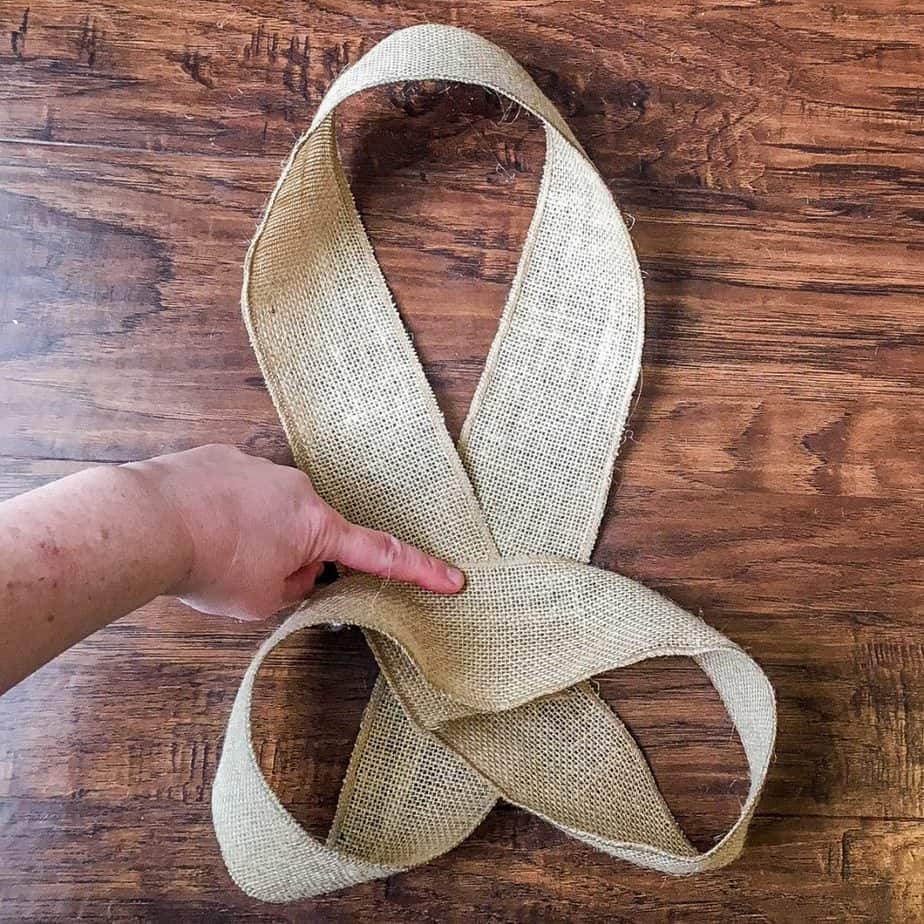 Do the same thing with the other side and you should have something similar to this: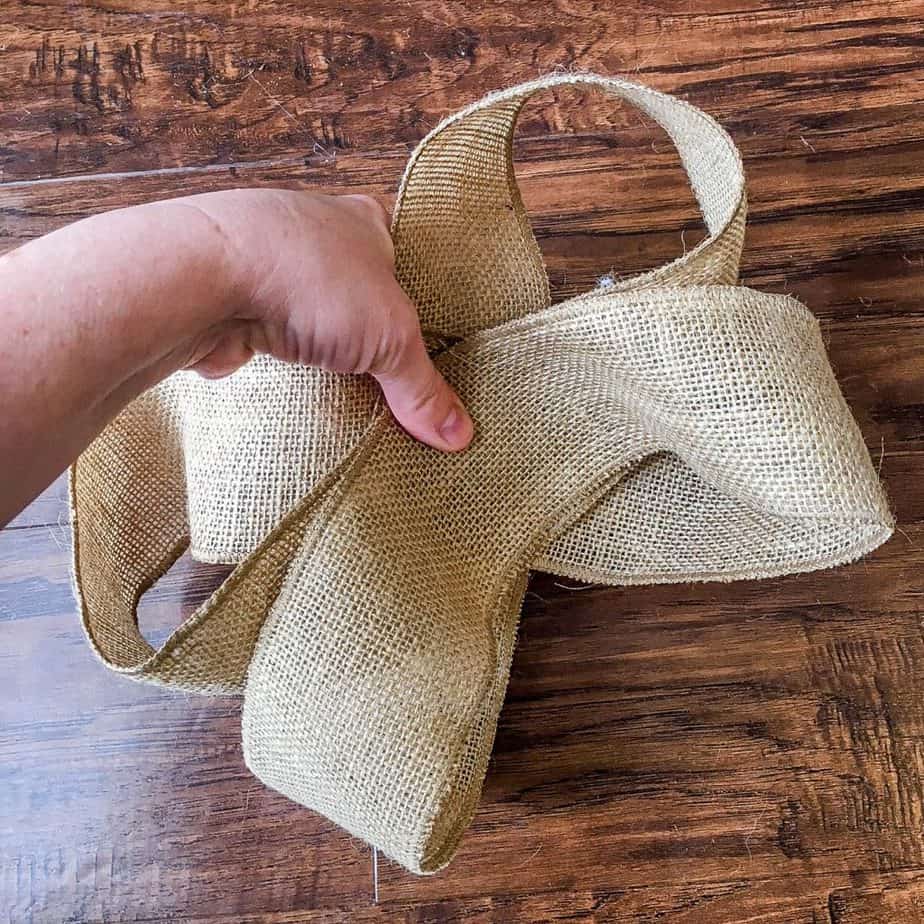 4. Hold the bow in place in the center and flip it over.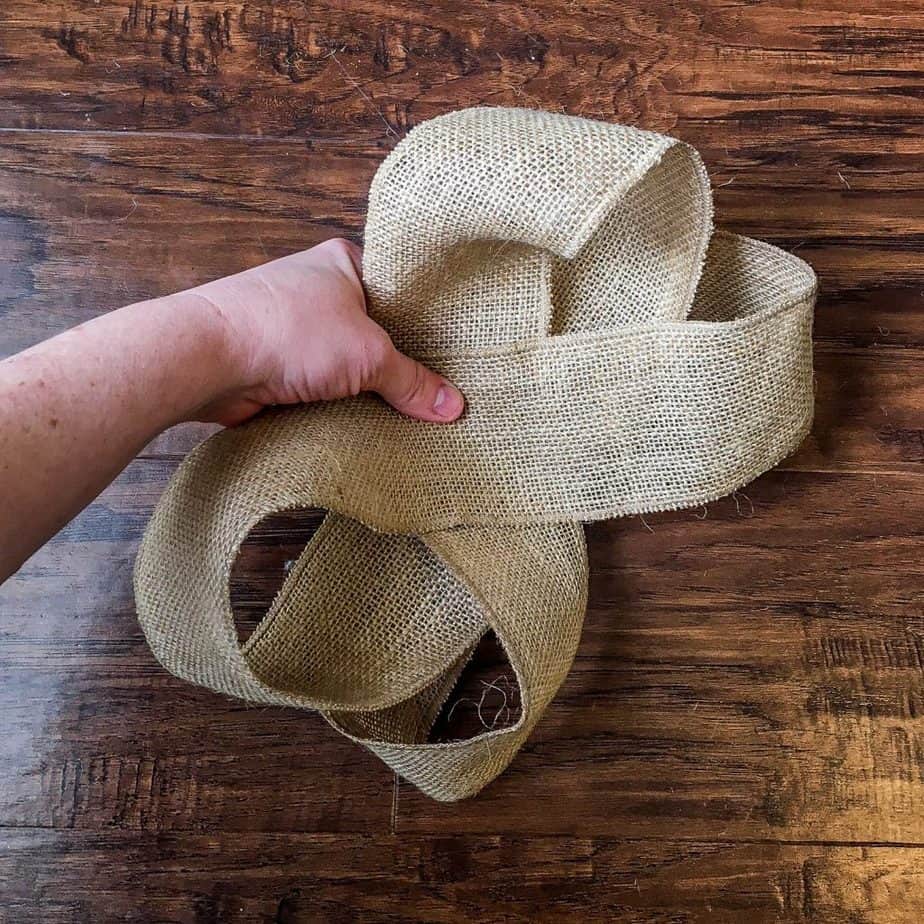 5. While holding the bow tightly, you want to fold the center so that you make three "wrinkles" in it.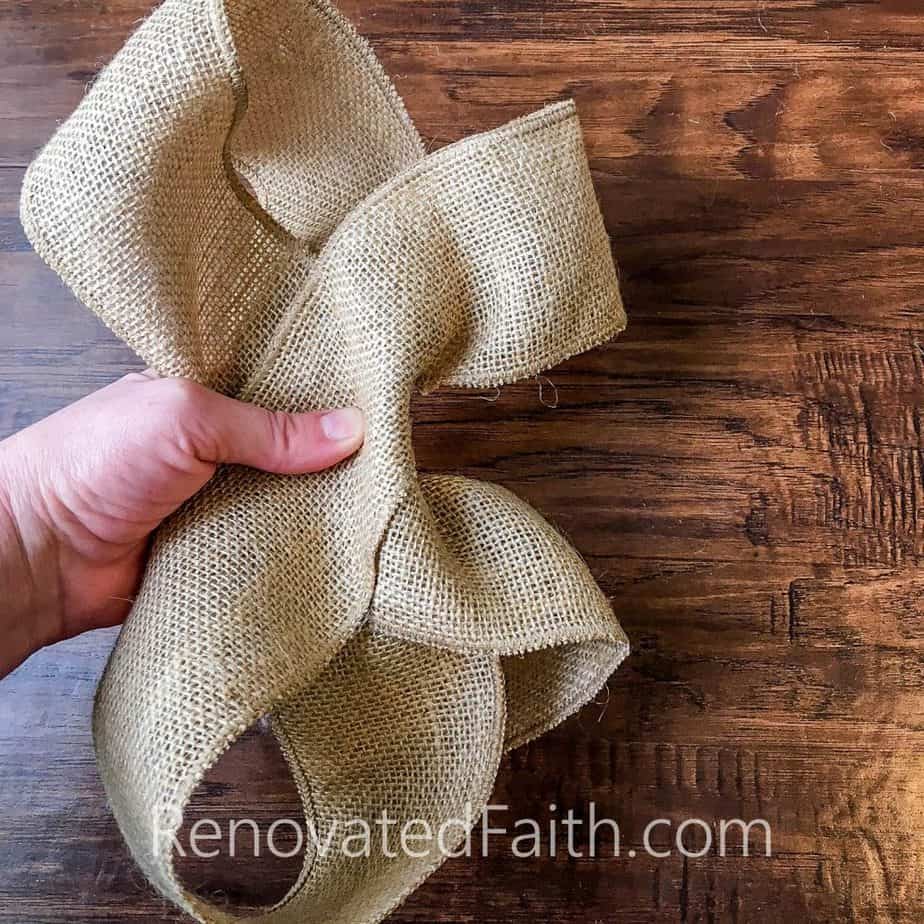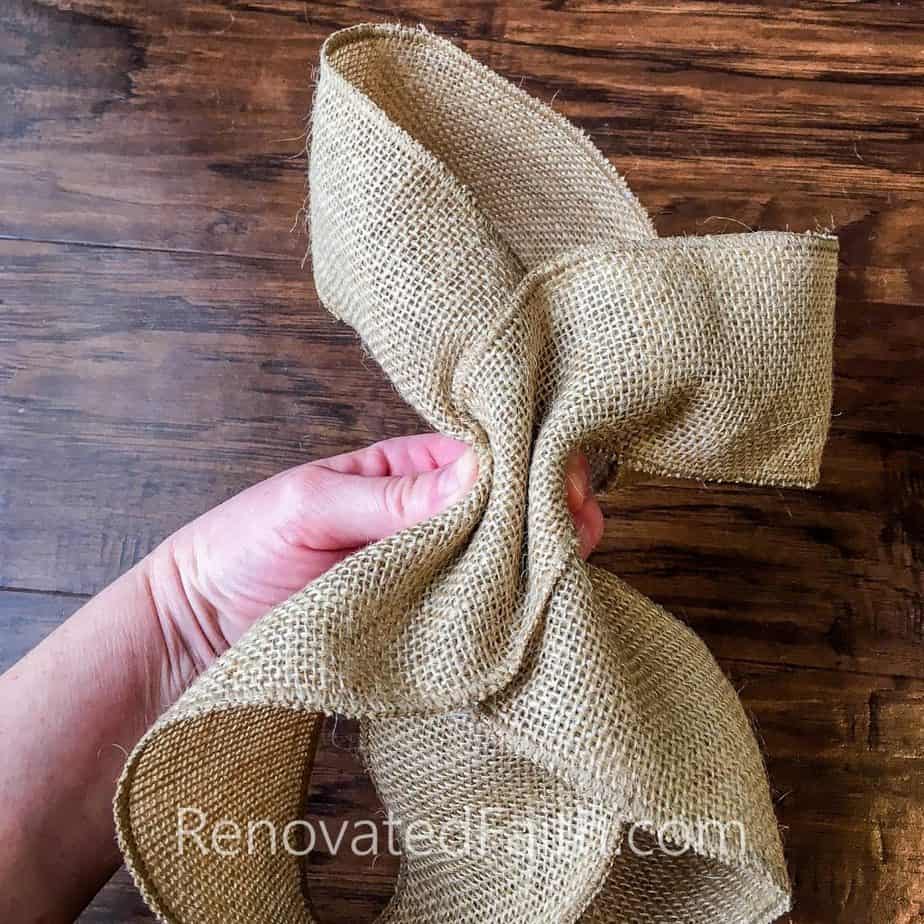 6. Then wrap your wire tightly around the center of the bow to keep the "wrinkles" in place.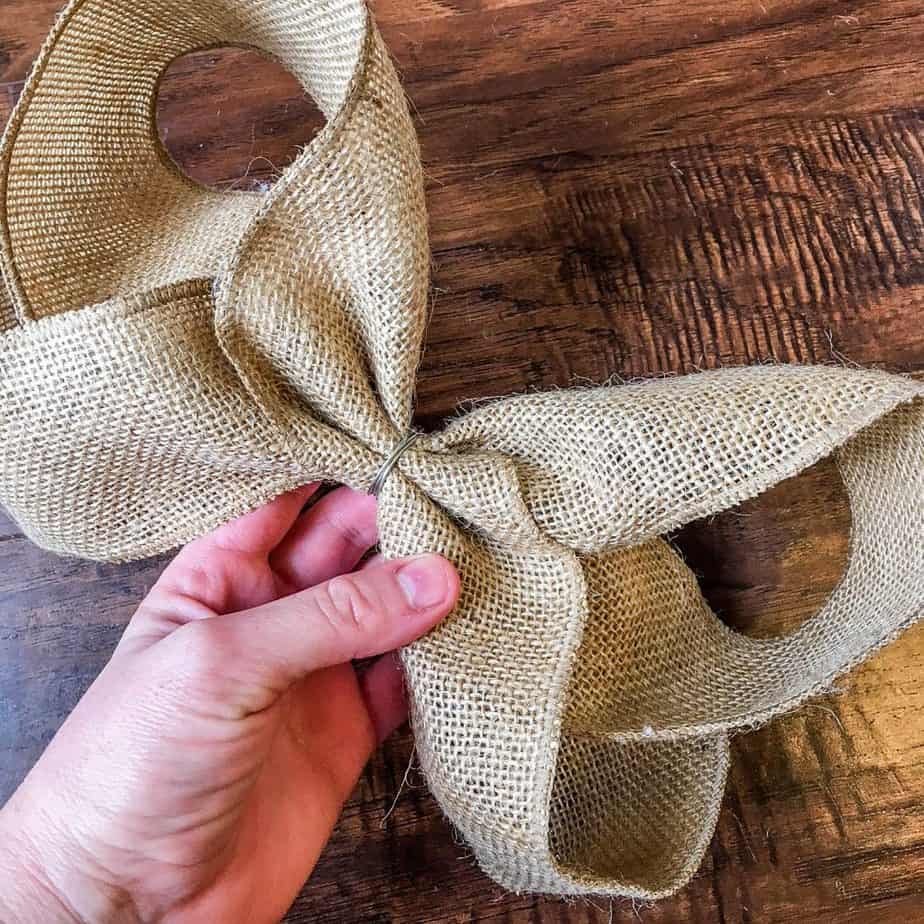 7. You can see the bow starting to take shape. Take a 6 inch piece of your ribbon and roll it up length-wise so it is about an inch wide. Wrap this piece around the center and hot glue the back.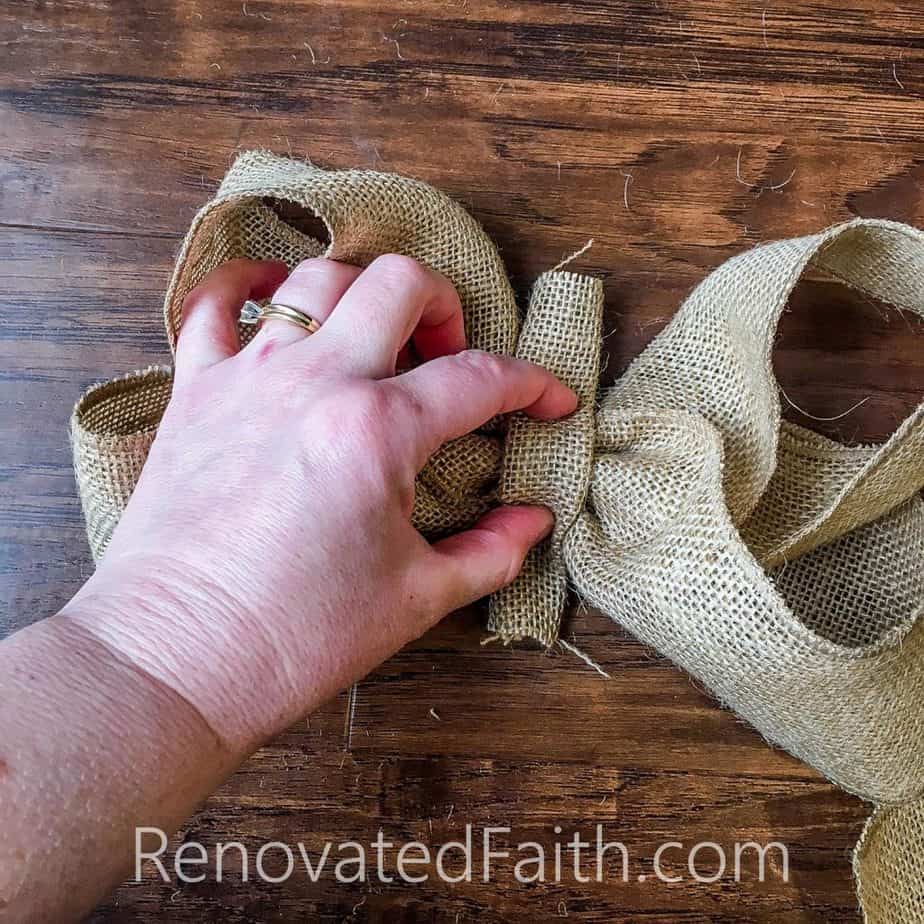 8. This method is different than making hair bows in that I cheat by gluing on long tails that hang down. Finally, cut two 10 inch pieces for the tails like this. Figure out where they would look best on the back of your bow before hot gluing them to the back.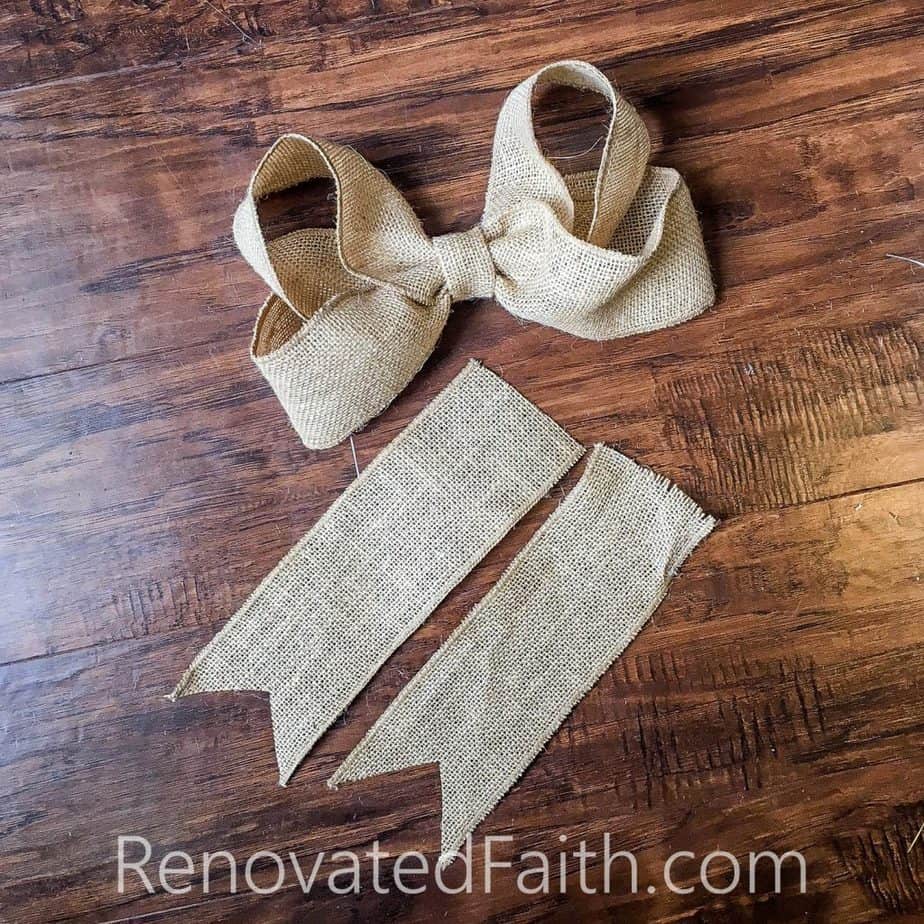 Last, hot glue some wire to the back of your bow and tie that wire snugly around your wreath.
Now you have a perfect burlap bow to attach to any wreath or home decor. You can even use this method for making gift bows.
The method of making hair bows is a little more difficult, which is why we cheat by adding by gluing on the tails in my Burlap Bow Tutorial. I tell a little about my bow business venture in my post
The Kind of Mom I Never Want To Be
.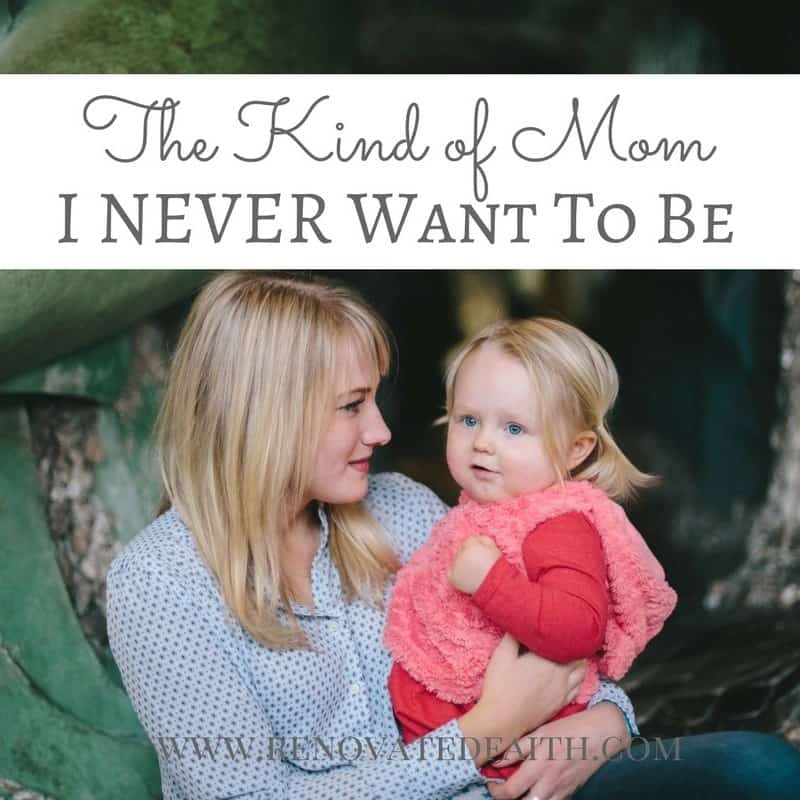 Here's are a few wreaths where I have followed the same instructions above in my Burlap Bow Tutorial: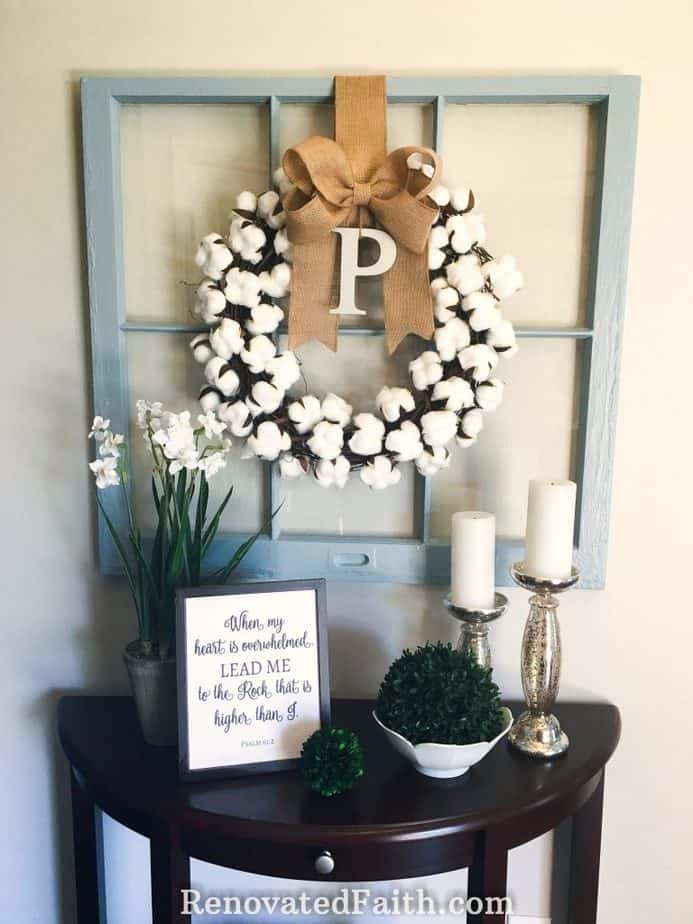 Burlap Bow Tutorial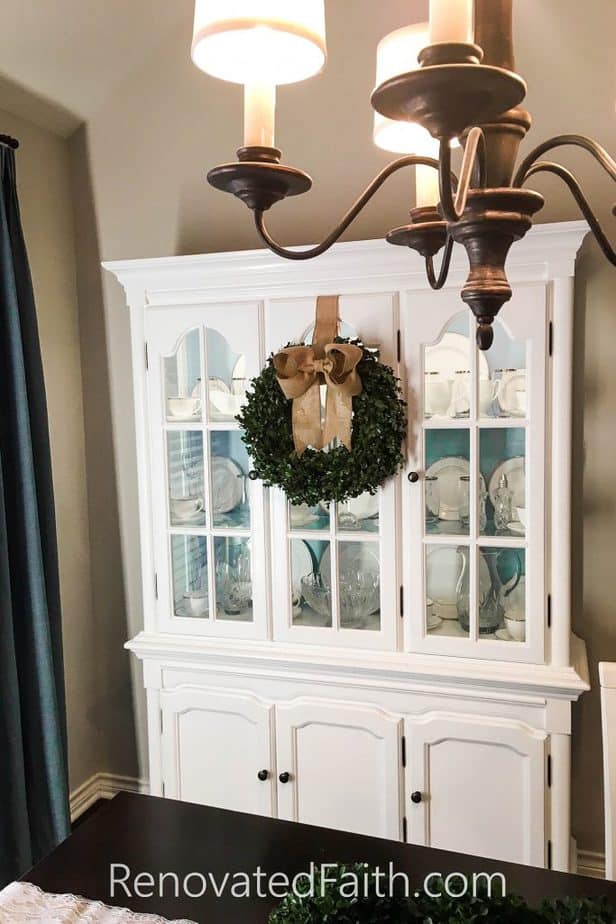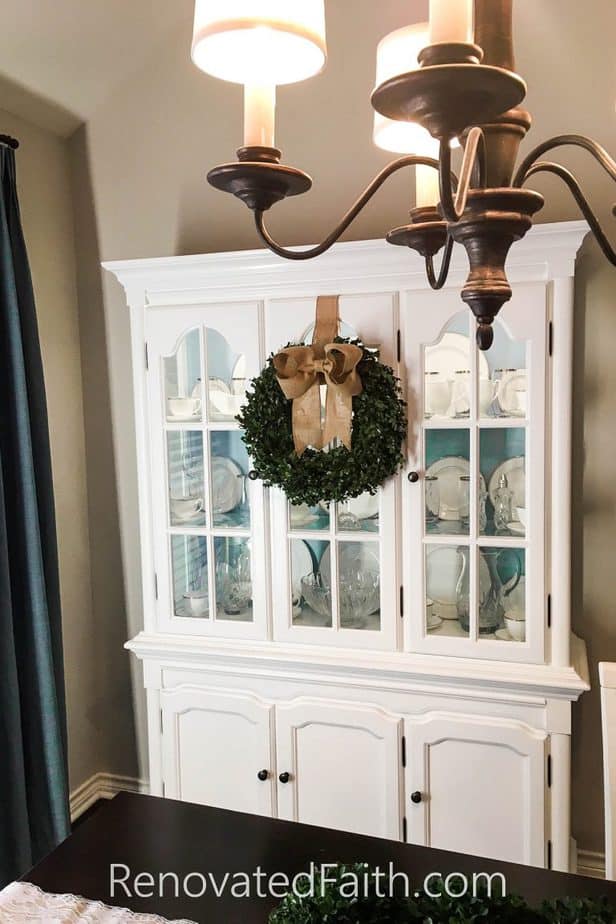 To get this same look, Amazon sells a wreath almost identical to this one: CLICK HERE. Then, just attach your burlap bow and you are done!
To make a bow for Christmas tree toppers and Christmas wreaths, use the same instructions above!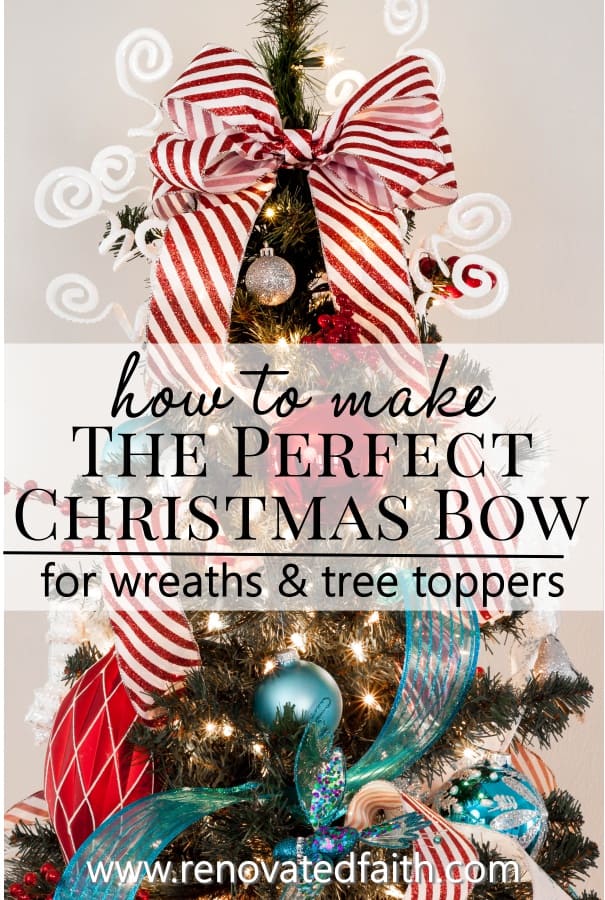 Want to save this post for later? Pin it here: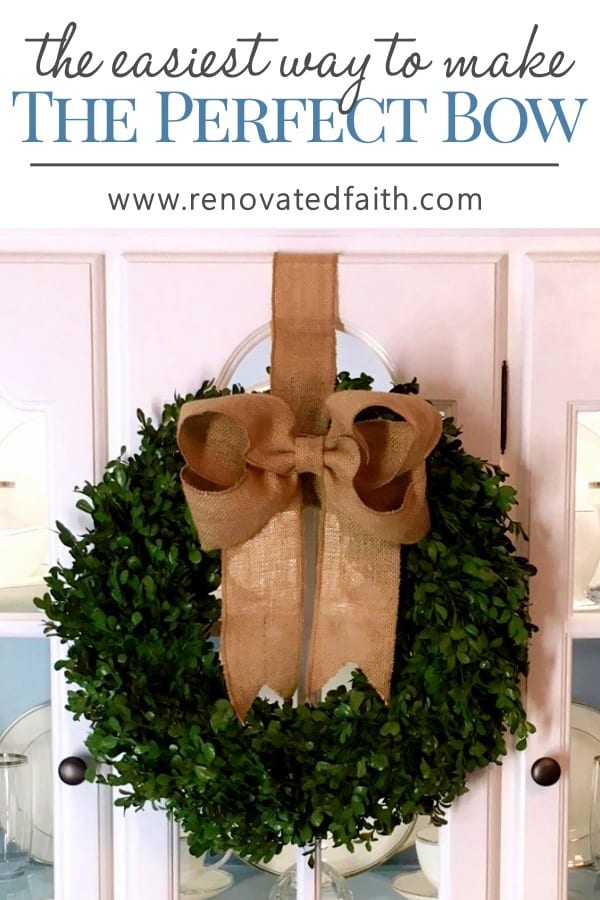 Did you like this post? Be sure to share it with others. Have a wonderful week!
Blessings,

Be sure to follow the fun here!