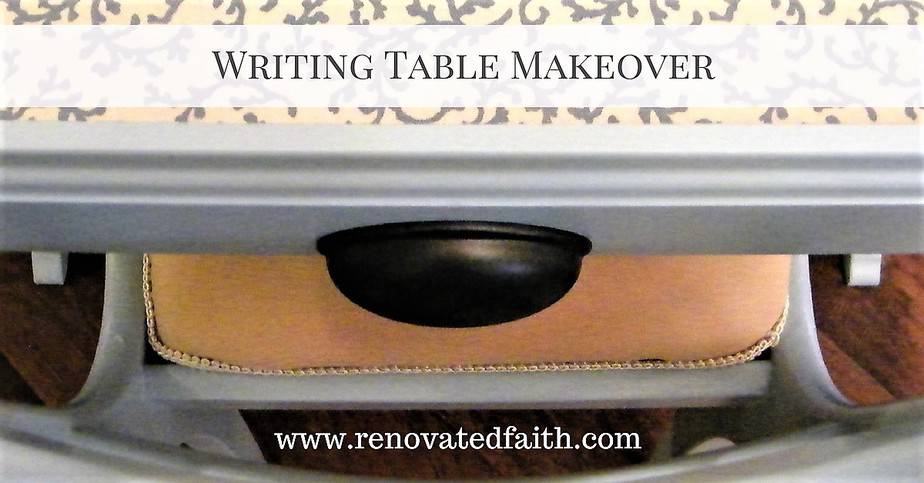 When I stumbled on this antique writing desk, I knew it had incredible potential. The previous owner has painted portions of it in gold acrylic paint. This piece took a lot of sanding with my sander to repair some water damage on the top but the results are well worth the process.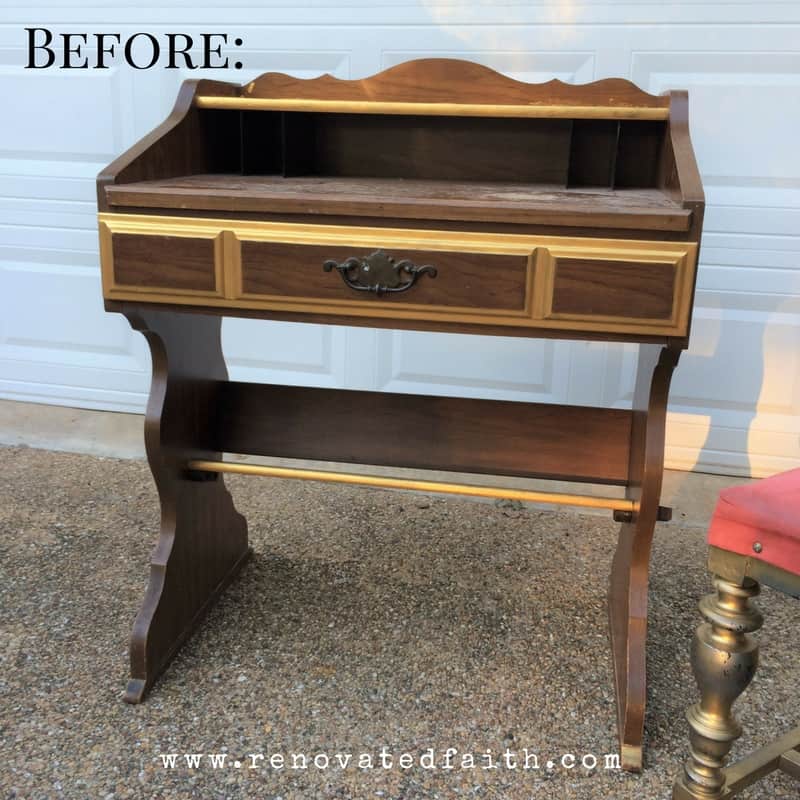 I'm pleasantly surprised with the outcome as it doesn't look like the same table. I also refinished and covered a chair to match.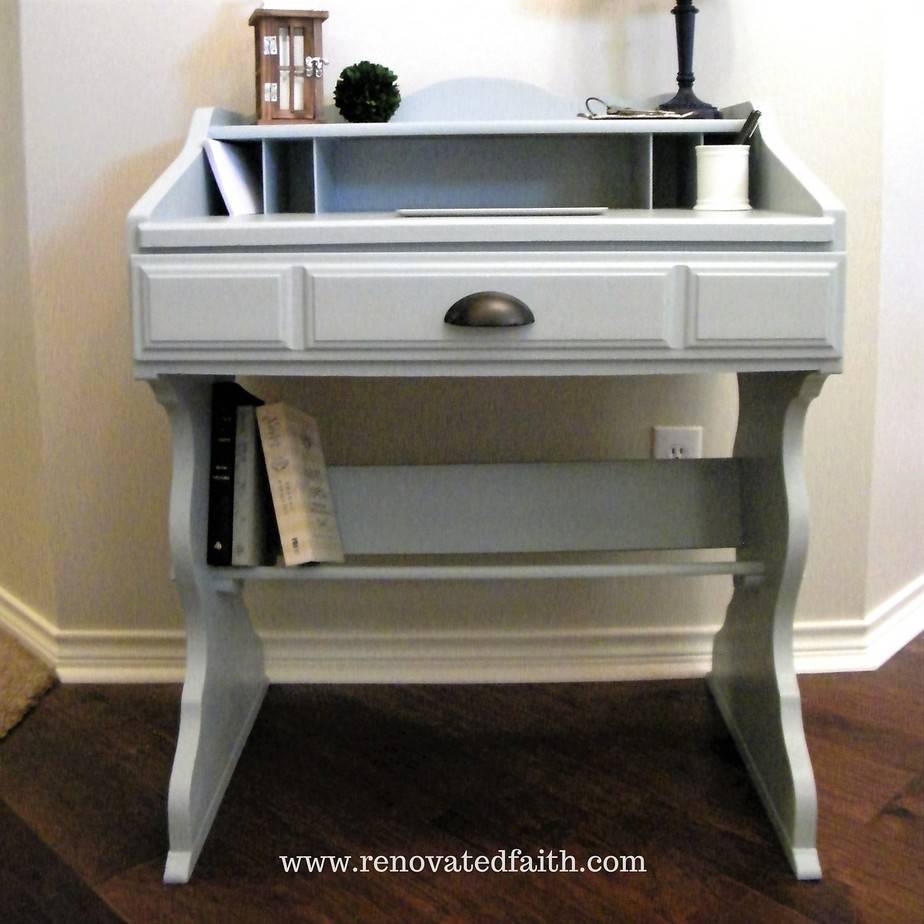 As mentioned, there was an incredible amount of sanding that had to be done on this piece before coating it in Zinnser's Bullseye 123 water-based primer. I painted it on and it was dry in 30 minutes.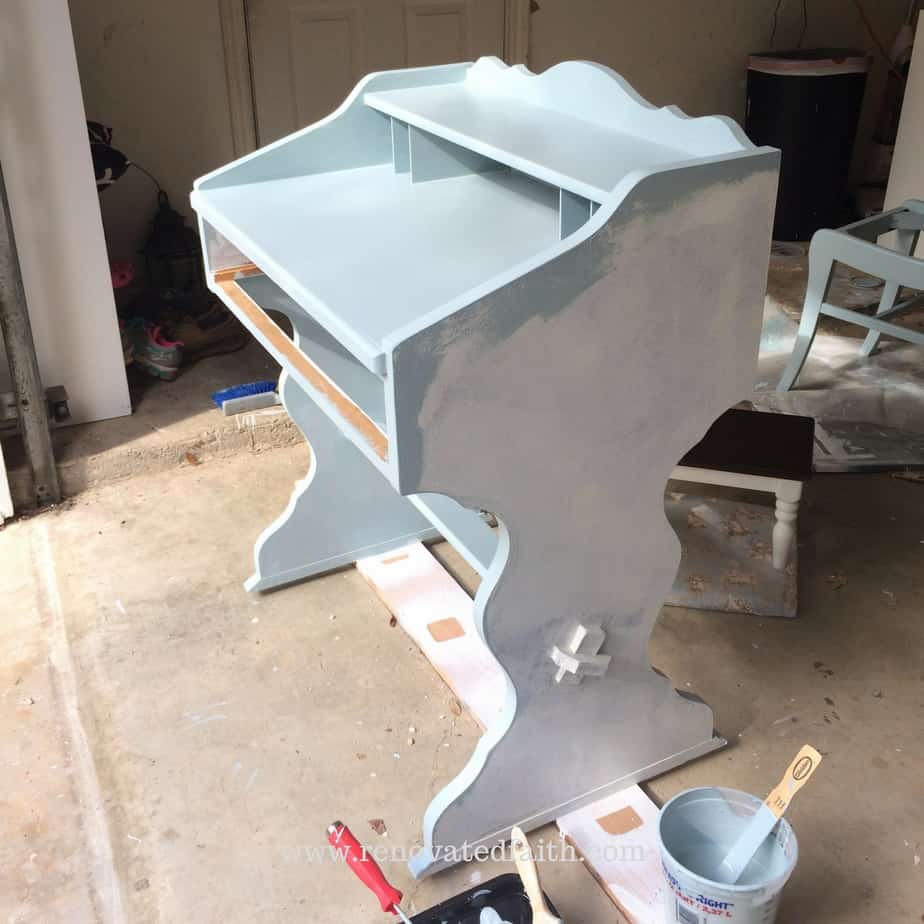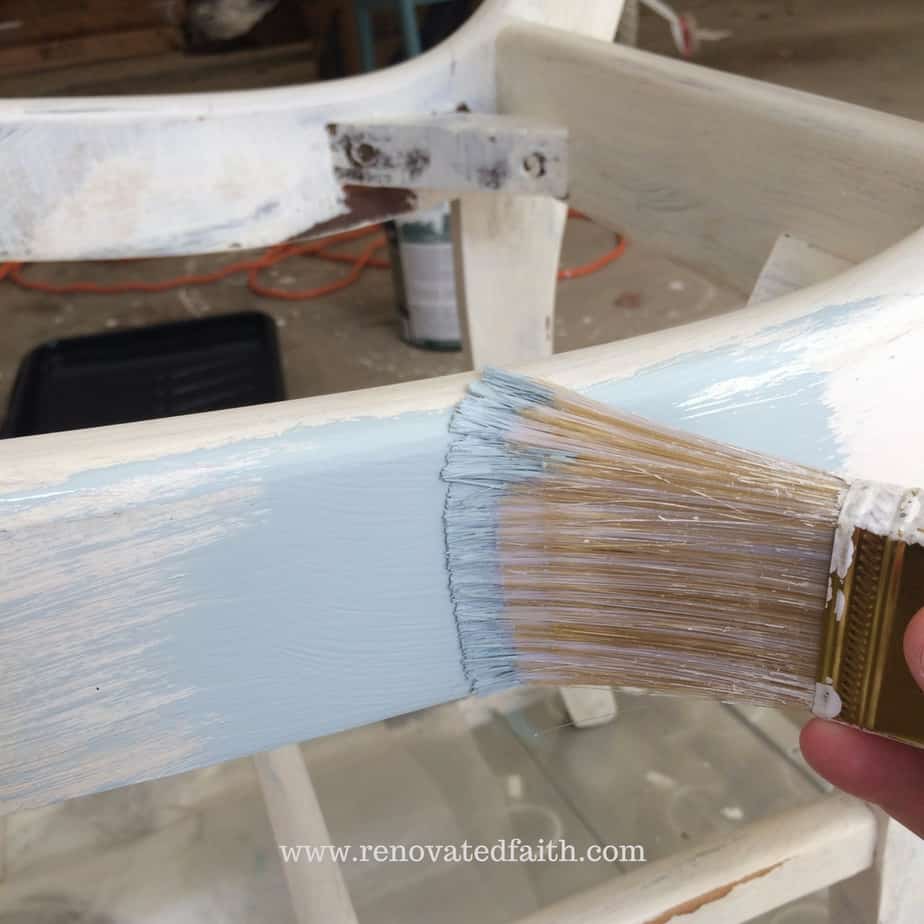 I then put on my first coat of blue paint. I mixed a few colors I had to get just the right shade but it is almost identical to Behr's Sonata Blue, except maybe a tad grayer. After the first coat, I sanded the piece lightly with a fine grit sanding pad on my mouse sander. Then, I added my last coat of blue with some floetrol mixed in to reduce brush strokes.
I thought this desk would be an ideal piece in someone's living room or bedroom as a small work space that was still inviting. My friend Katie bought this piece for her bedroom to do just that.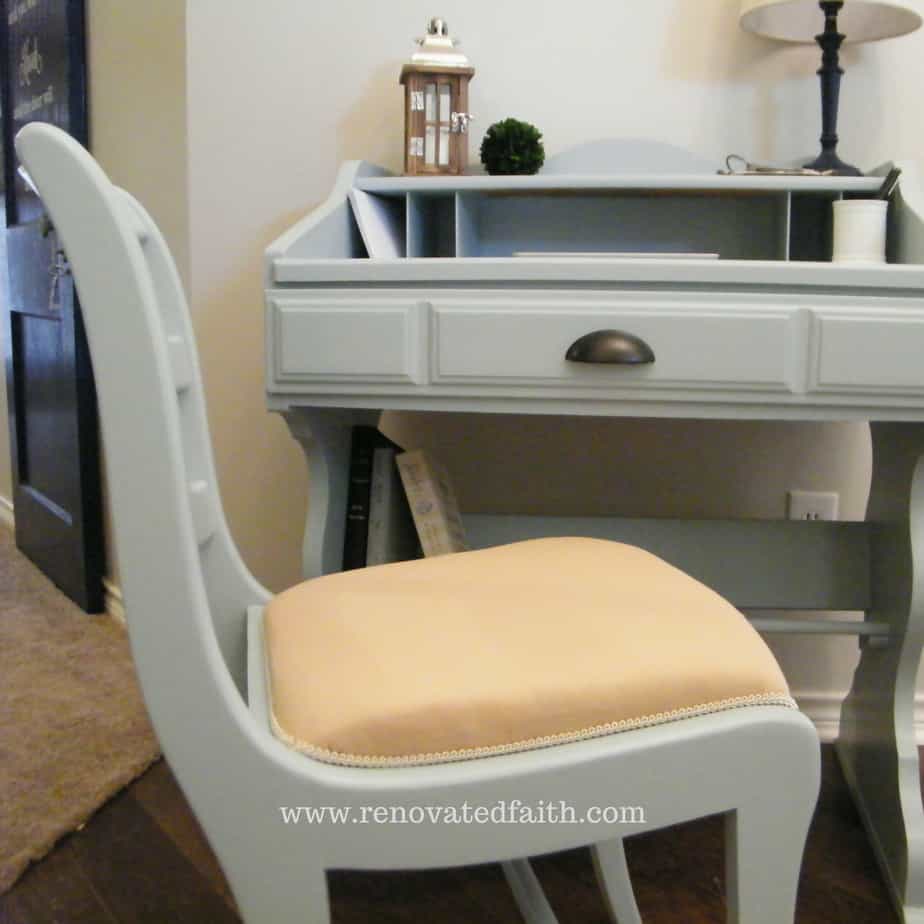 I also recovered the chair I painted to match, adding upholstery trim to give it an extra pop. Miss Mustard Seed would be so proud!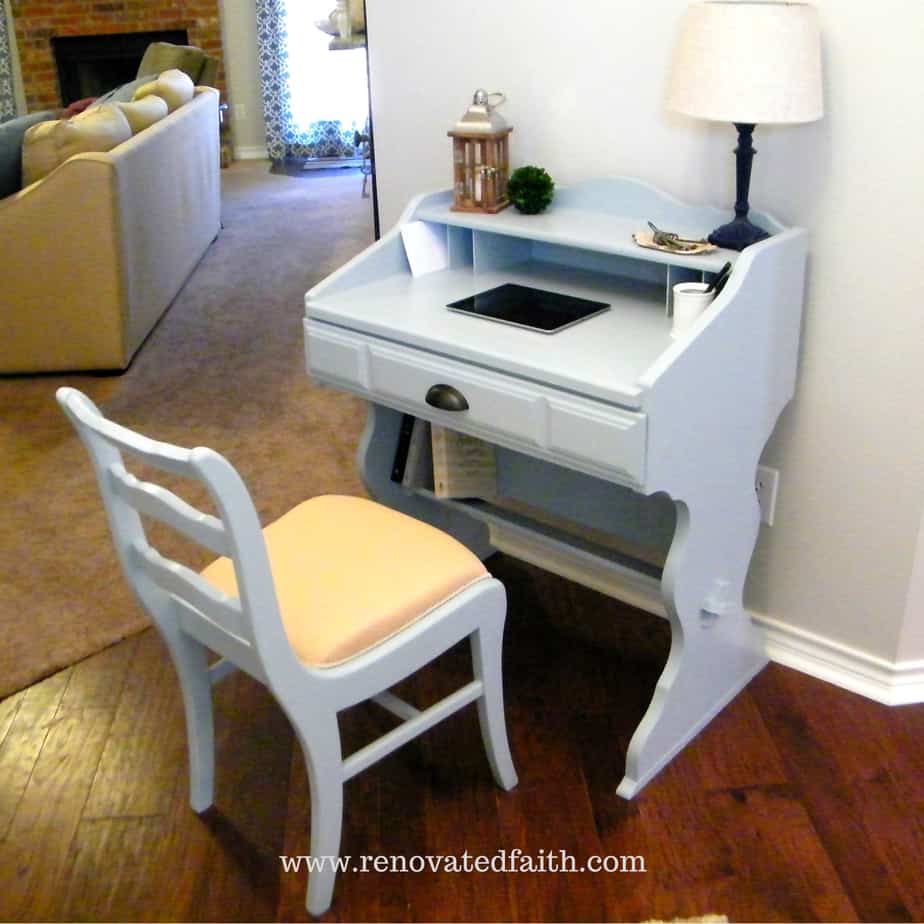 I couldn't find a drawer liner I liked so I used this Waverly fabric instead using my process for making paper-like drawer liners out of fabric. Check out my post showing how to make fabric drawer liners here. I ironed it with lots of spray starch. After cutting it to size, I attached it to the drawer with Elmer's spray glue.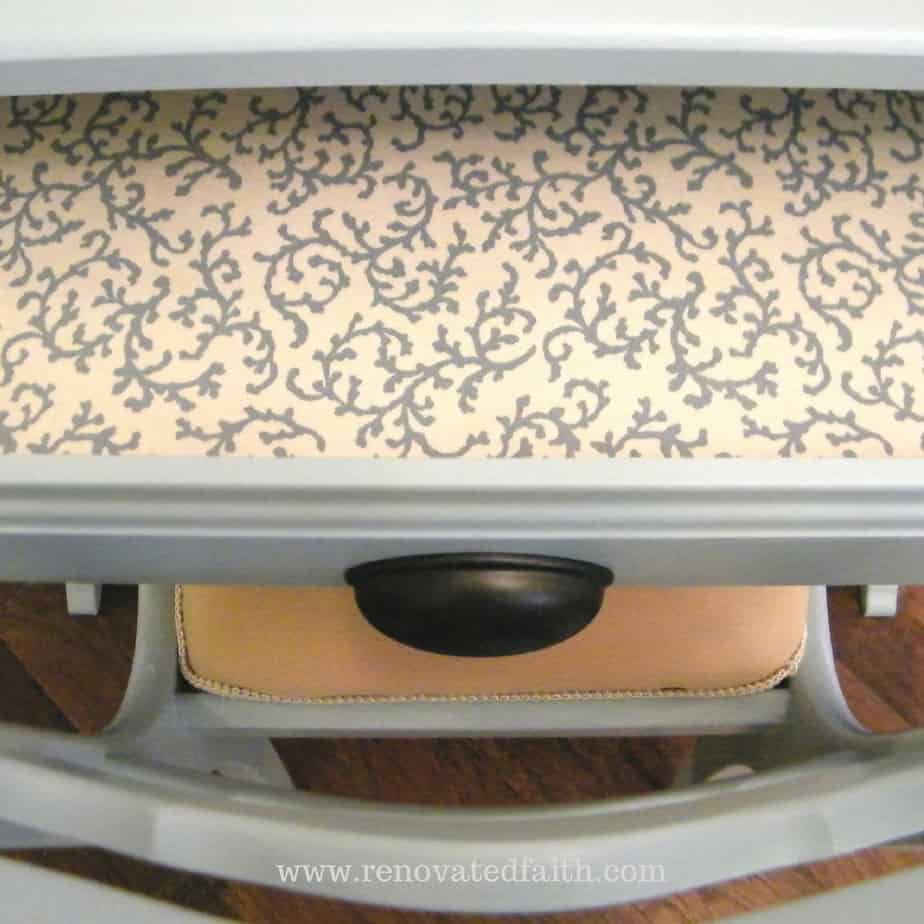 What stands out to me about this project was the massive amount of sanding that had to be done before I started priming or painting. I used my Ryobi sander which made the task much easier. The top had some water stains and I had to let the desk sit in my garage a few weeks to make sure it was dried out. Then, I put on my respirator and started sanding off the damage until I could see a fresh, even wood surface. Here is a picture of said water damage and also how the surface looked when I finished.
I spent so much time sanding but I knew there was no way around this excruciating task. To achieve its beautiful finish, a process had to take place. Rushing the process or skipping over steps would be a detriment to the finished product. Although painful (especially to my sander), this was a step that had to be endured.
In my last post on Goal Setting, I stated that development is a necessary part of the process. If you are waiting for God to work in your life for something you've always dreamed, know that He already is. He has not forgotten you and your current phase in life. Although difficult, your current waiting game and stage of development is vital to see His plan come to fruition.
He knows what we need to learn and where we need to grow. That often comes with some sanding but He also knows the end result is worthwhile.
If you have been waiting for God to bring about His Plans, know that the "when" is just as important as the "what". There is nothing worse than being where God wants you to be before you are truly ready.
Know this period of sanding is just for a time. This too shall pass. For this season, rely on what He has shown you and trust Him for He hasn't yet.
'Til Next Time,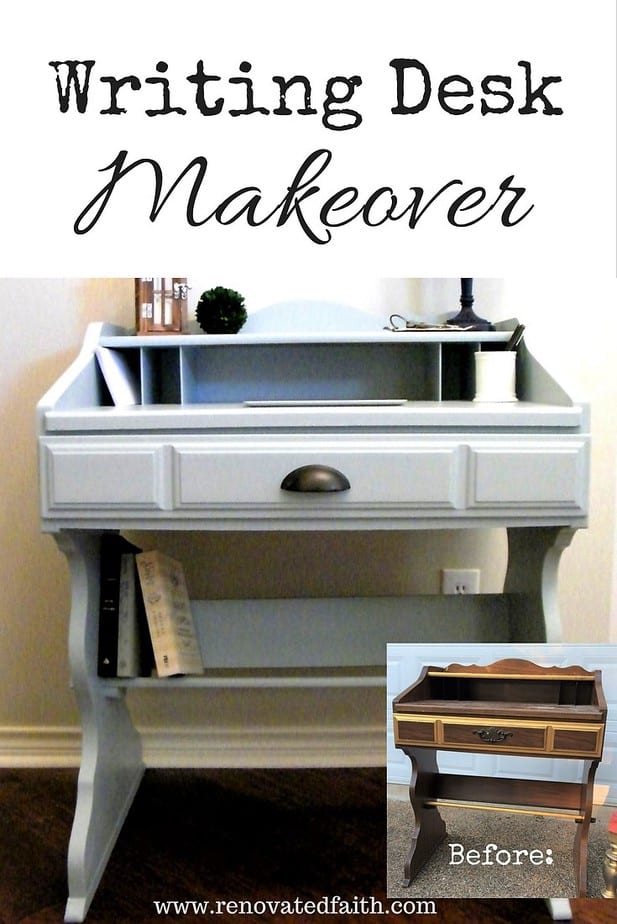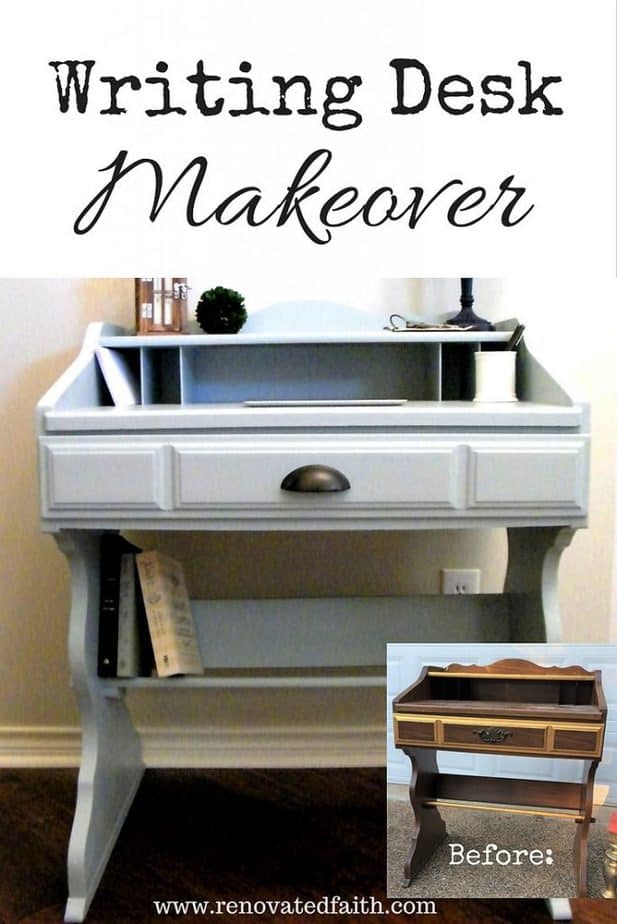 Welcome to Renovated Faith, where I share about DIY projects, my faith and everything in between! When I'm not spending time with my family, you will find me redoing furniture in the garage or watering plants in my greenhouse. This blog is about transformation. Anyone can renovate a house but only God can transform our hearts!