Easy, DIY Cotton Wreath For Less Than $10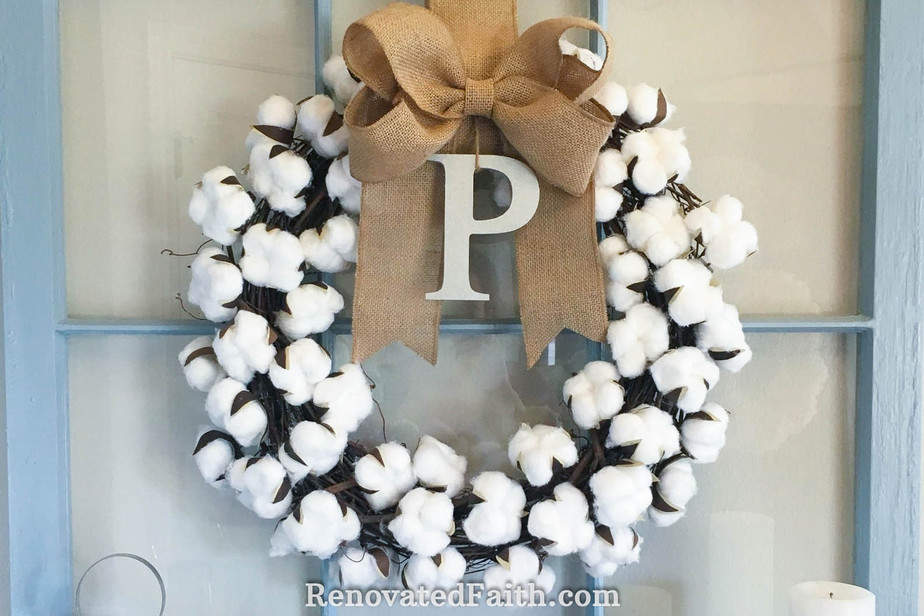 My DIY Cotton Wreath wasn't only inexpensive and easy to make, but I love how it works for any season of the year. For this post, I decorated my entry table for each season to illustrate its versatility. During the process, I realized that the wreath wasn't the only constant in these changing scenes. I'd love to share more with you about what I discovered in my post Easy, DIY Cotton Wreath for Less Than $10.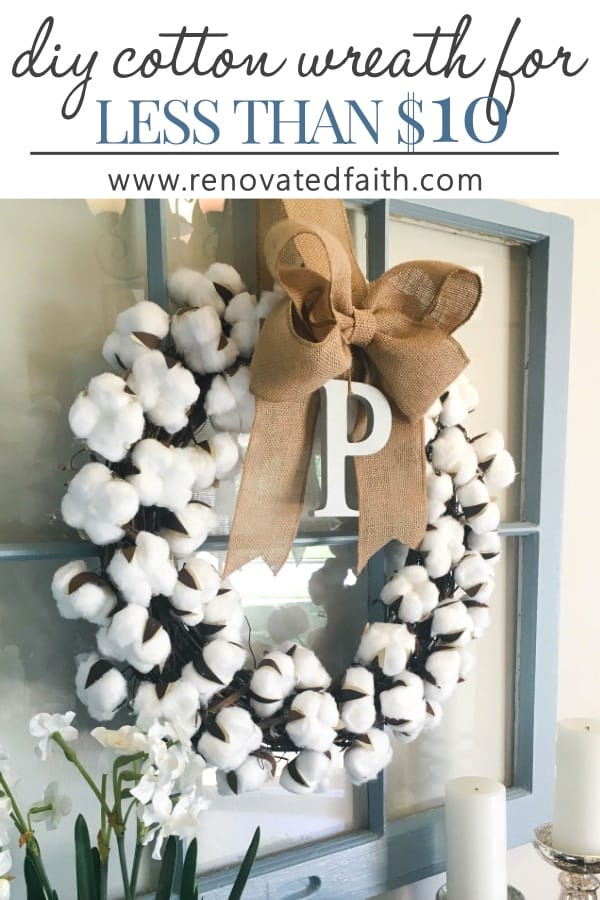 When I made the DIY Cotton Stem Tutorial, I decided the same process can be used to make a wreath for my entry way. After eyeing several cotton wreaths online, I knew I wanted one that was very full and covered in cotton bolls instead of the scraggly ones you sometimes see. Go big or go home, right? (FYI – the fluffy grouping of cotton at the end of the stem is called a cotton boll).
I love THIS one from Magnolia Market but wanted a cheaper option as it would have been $67.00 after shipping. Also, making one allowed me to add some details of my own, as you see below.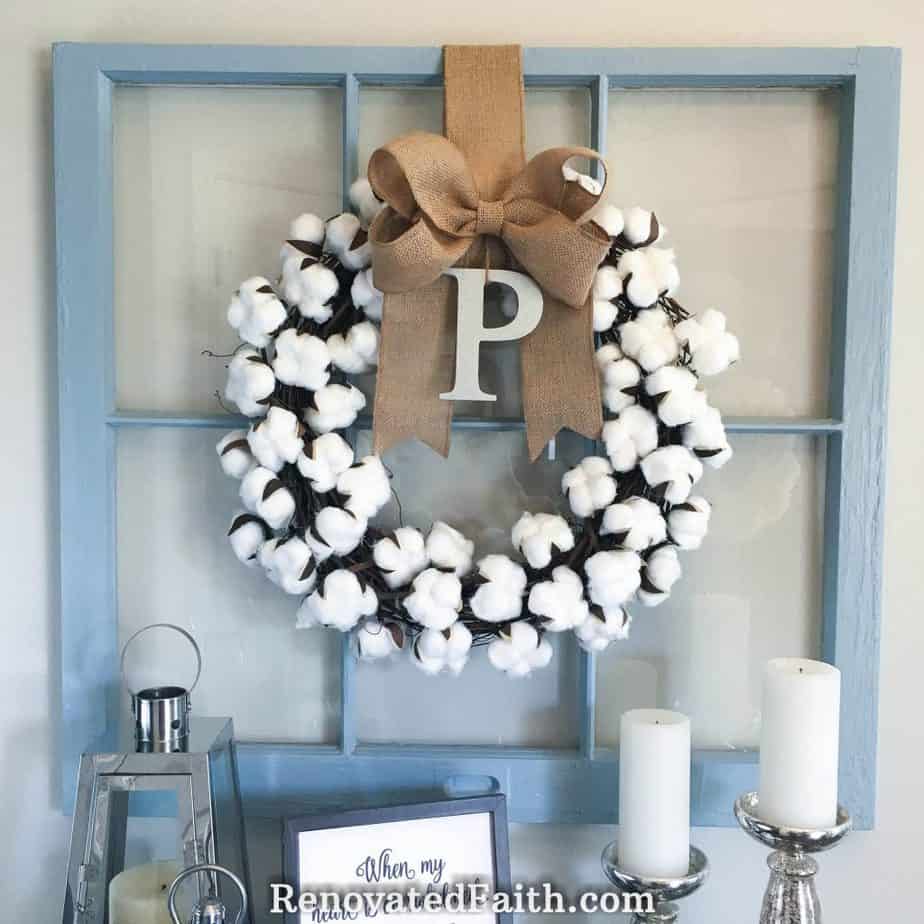 Supplies Needed for your DIY Cotton Wreath
18″ Grapevine Wreath – Get one with lots of small vines as opposed to a few thicker ones. The link is for Amazon but save some cash by going to Hobby Lobby and using a coupon. You can get it for less than $3.00 that way. http://amzn.to/2z2G6dS
Cotton Balls – You will need 4 per cotton boll and I used about 200 cotton balls for my wreath. http://amzn.to/2ivRJE8
Cream Cardstock or Manilla File Folders – You can use cardstock or any manilla file folders you have laying around and I personally think they work better. http://amzn.to/2gQjwh8 http://amzn.to/2gYRTGn
Dark Brown Construction Paper http://amzn.to/2igQQhM
Hot Glue Gun http://amzn.to/2igQQhM
Hot Glue Sticks http://amzn.to/2yhgmyi
Wire cutters or Scissors
Hairspray – THIS is what I used but any will work.
Burlap Wired Ribbon (optional) – This kind is SO easy to work with. http://amzn.to/2ivSz3K
Unfinished Initial (optional) – This is what I used but you can find it a lot cheaper at Michael's. Also, don't forget to print your coupon. http://amzn.to/2z1W9ZH
Rustoleum Satin Nickel Spray Paint (optional) – My favorite brand of spray paint! http://amzn.to/2hFUBxx
Jute Twine (optional) – http://amzn.to/2zSl7Oh
Let's Get Started!
1. Make The Stems
Cut 3″ twigs from your wreath to use as stems for the cotton bolls. The thinner the better. Your wreath will be so full when you are done, you won't even know they are missing. You can also use small sticks from outside but I was just too lazy to go out and find some.
2. Make The Cotton Bolls
Go to my tutorial for my DIY Cotton Stems and follow those directions except use the 3″ twigs for your branches. I made about 45 for my wreath. I almost got through one Hallmark movie and I was done!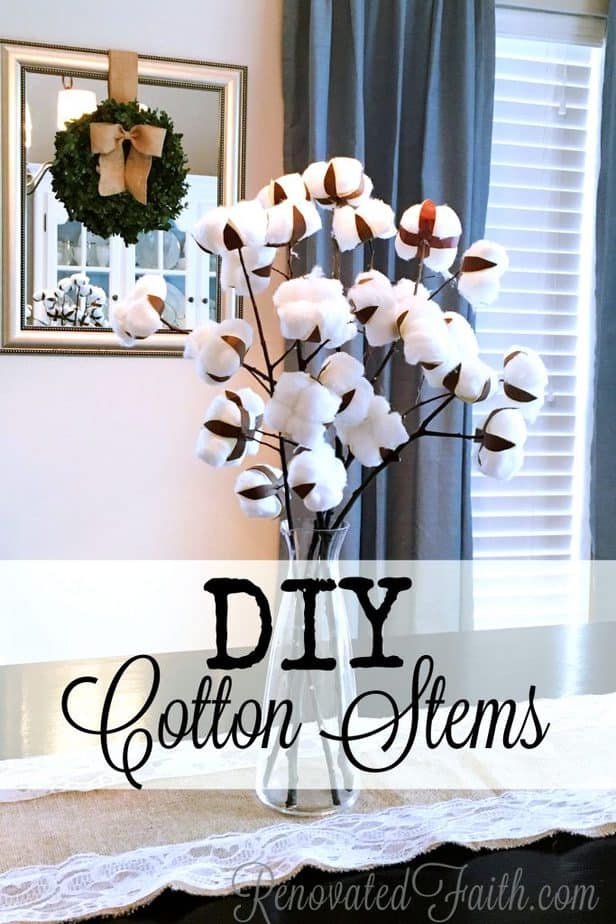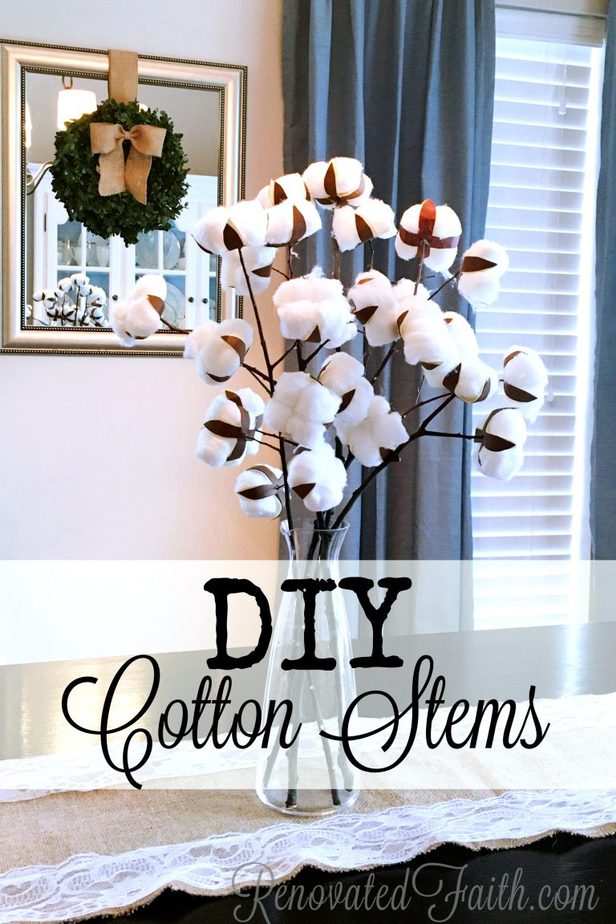 3. Add The Cotton Bolls To The Wreath
Now that you have made all your cotton bolls, it's now time to attach them to your wreath. Below you can see the cotton bolls with short stems and part of my Thanksgiving Tablescape with Blue Pumpkins.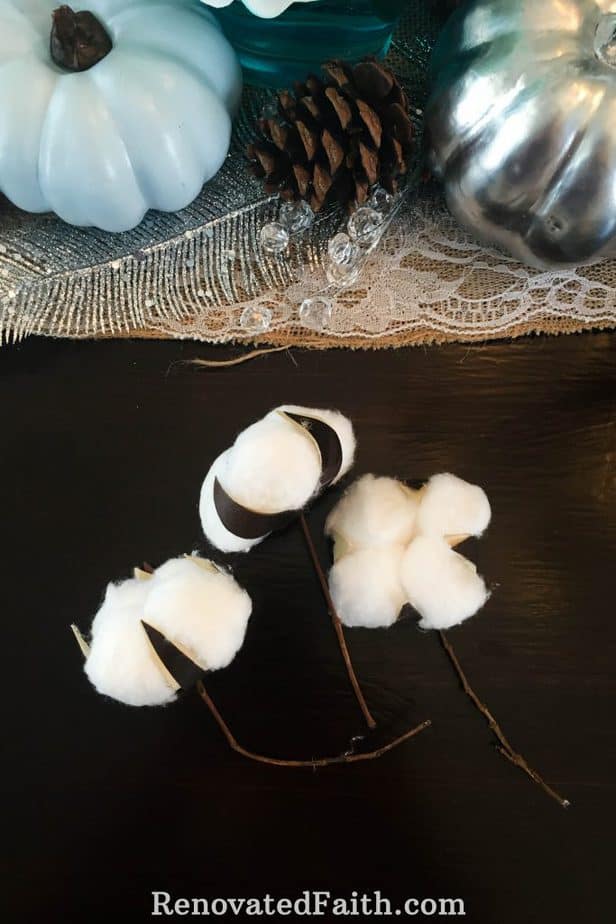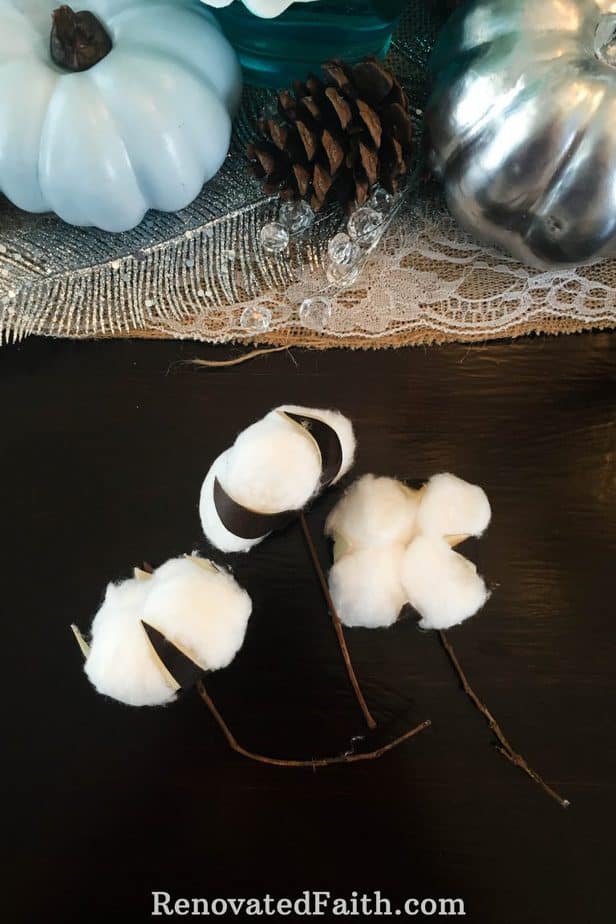 Add each cotton boll to the wreath with hot glue like so, making sure they all lean slightly towards one direction. You will eventually cover the hot glued portions with the tops of other cotton bolls.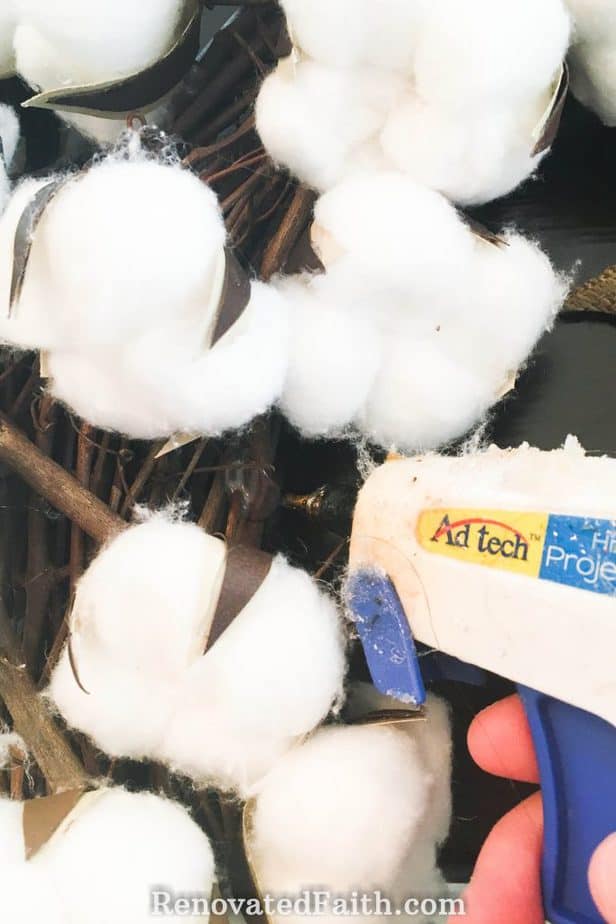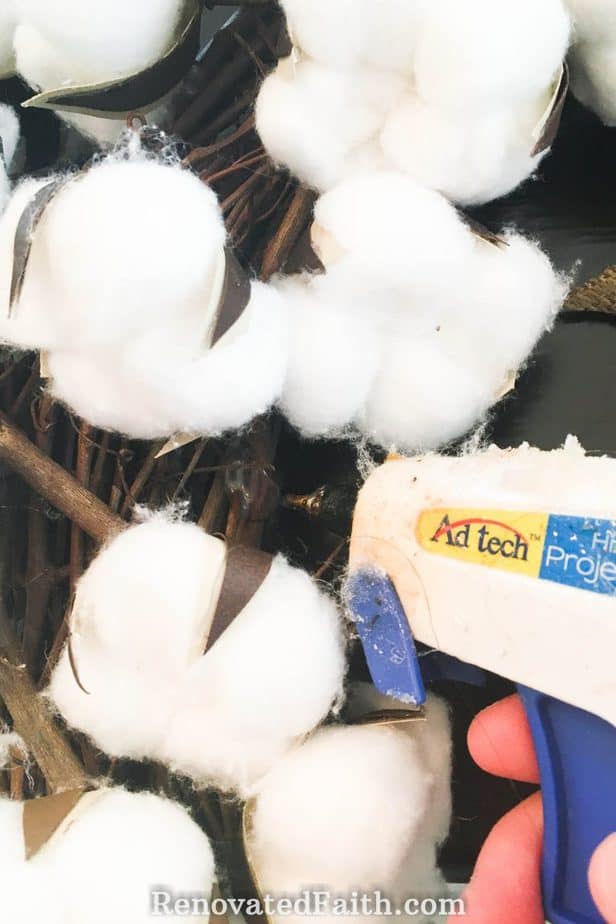 4. Add The Bow and Initial (optional)
Now, use the burlap wire ribbon to make a bow using my Burlap Bow Tutorial. I painted my initial with Satin Nickel spray paint to look like galvanized metal. Let it dry overnight before adding it to your wreath.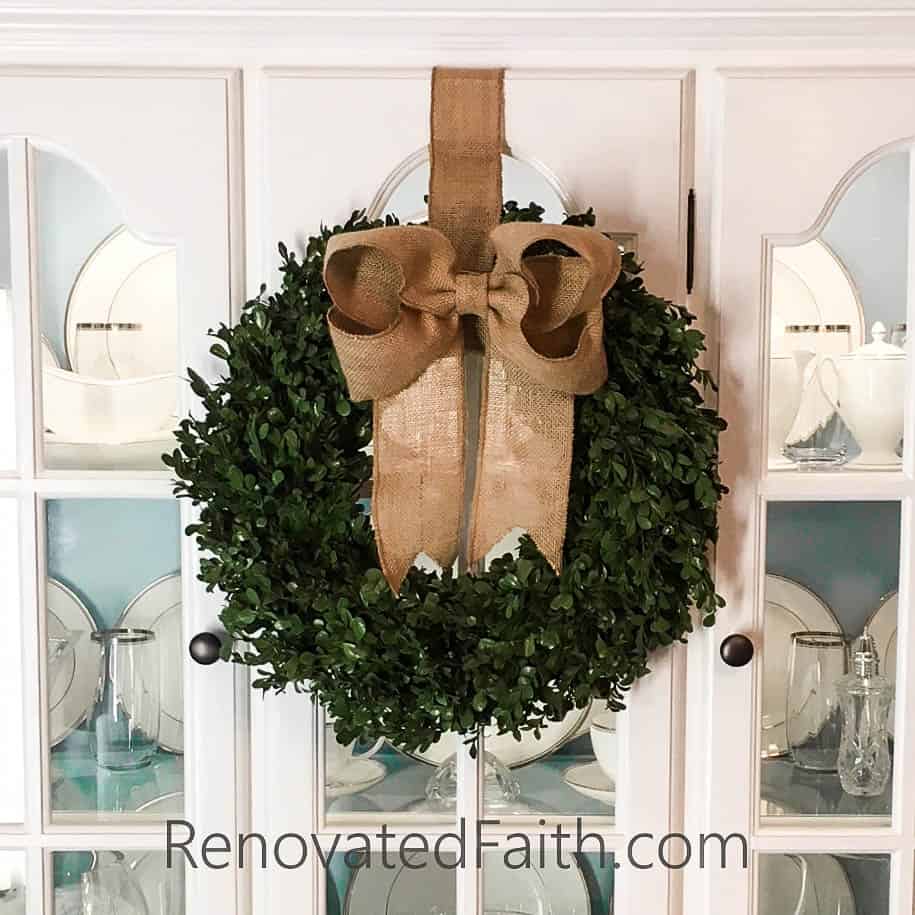 And you're done! I had a few things on hand so the wreath actually cost me less than $5.00. Hard to believe right?!?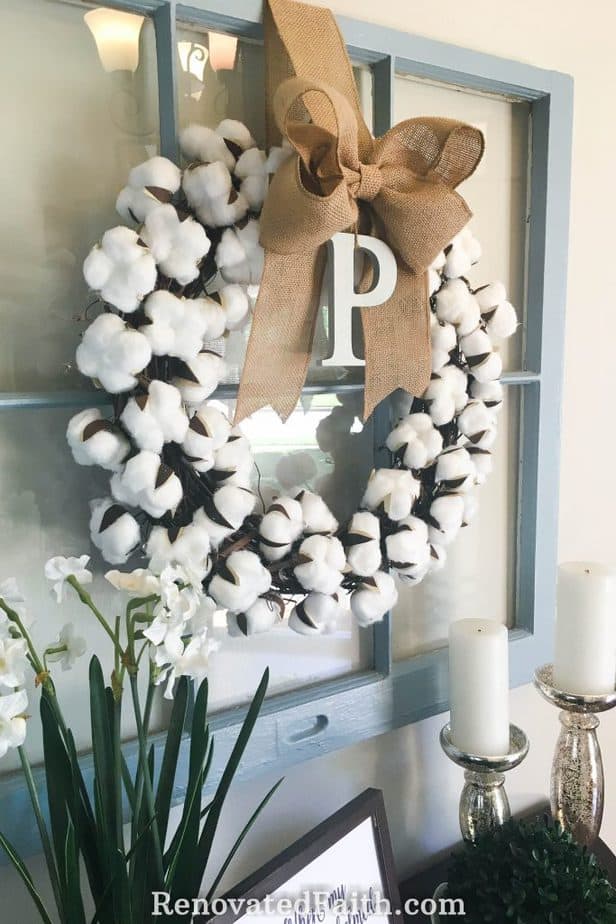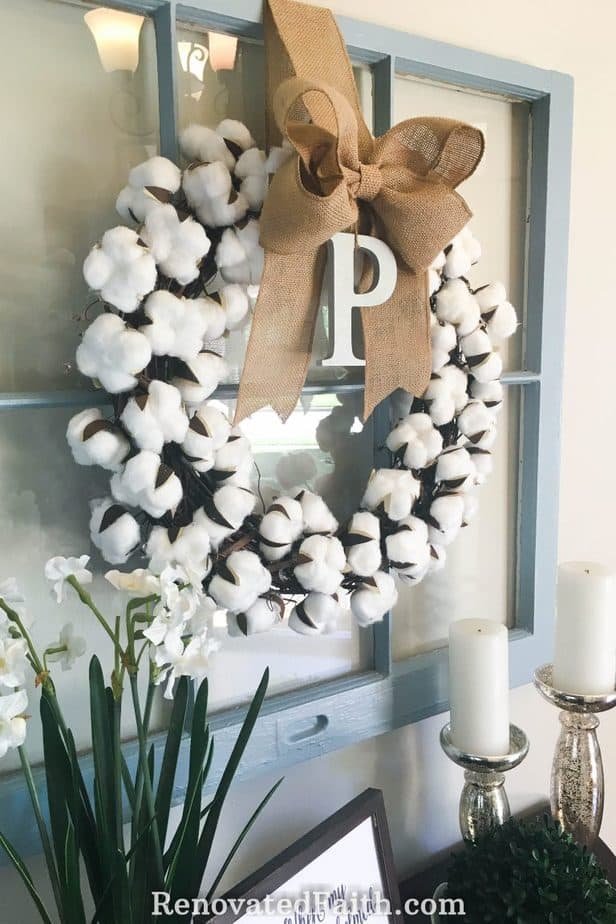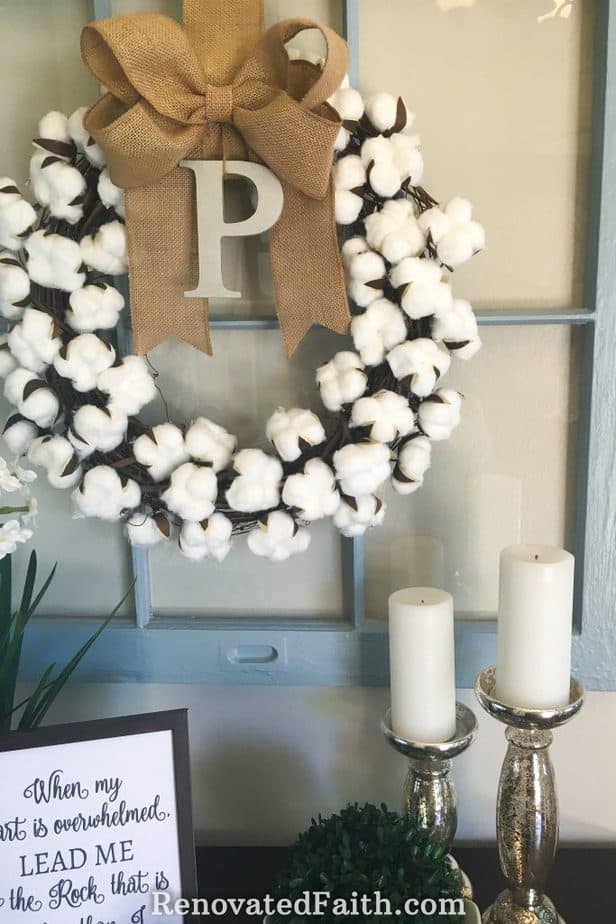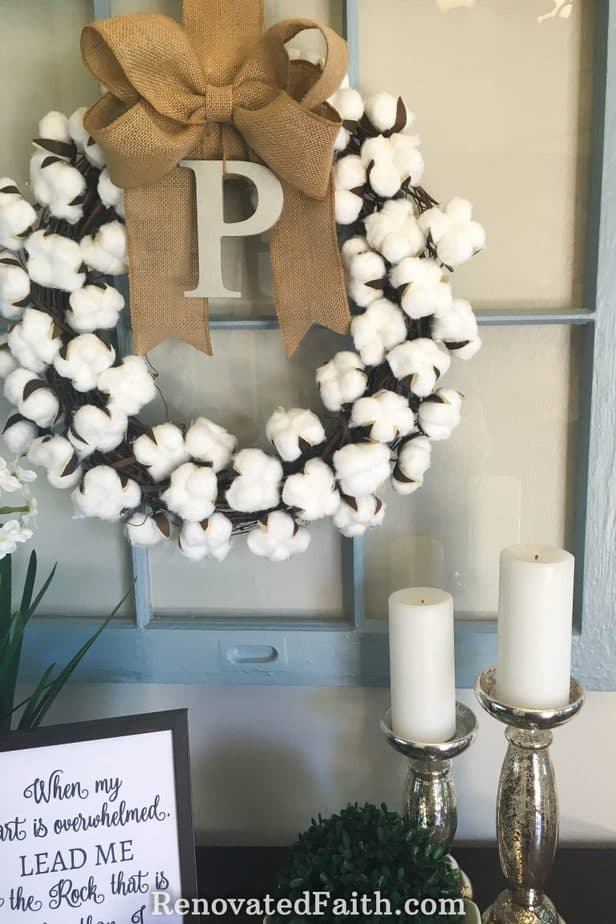 As I mentioned, cotton wreaths work for any season of the year. I switched out a few decor items on my entry table to show a different look for every season. As I mentioned in my post, Why You Struggle To Rest, my grandmother worked on the family cotton farm when she was little so having a cotton wreath in my home year-round reminds me of her.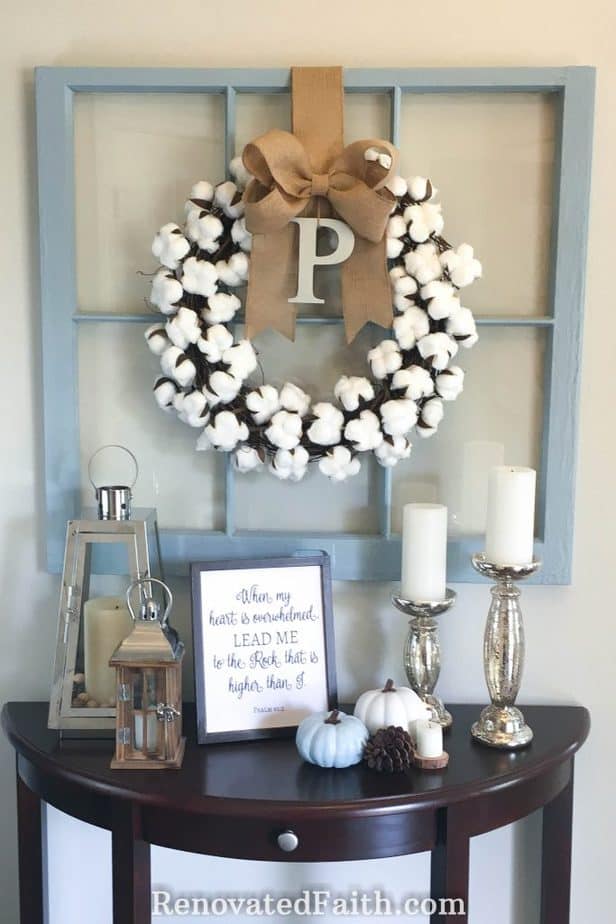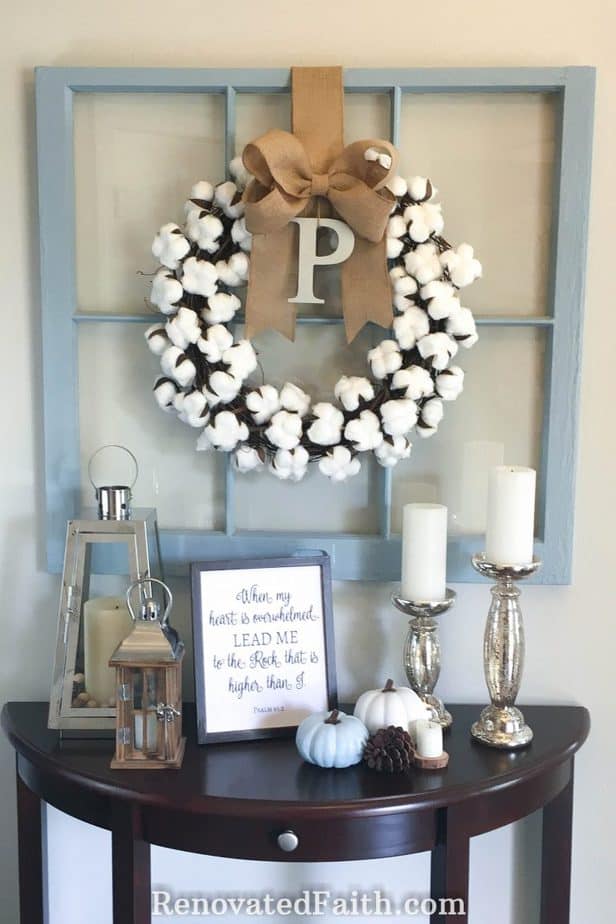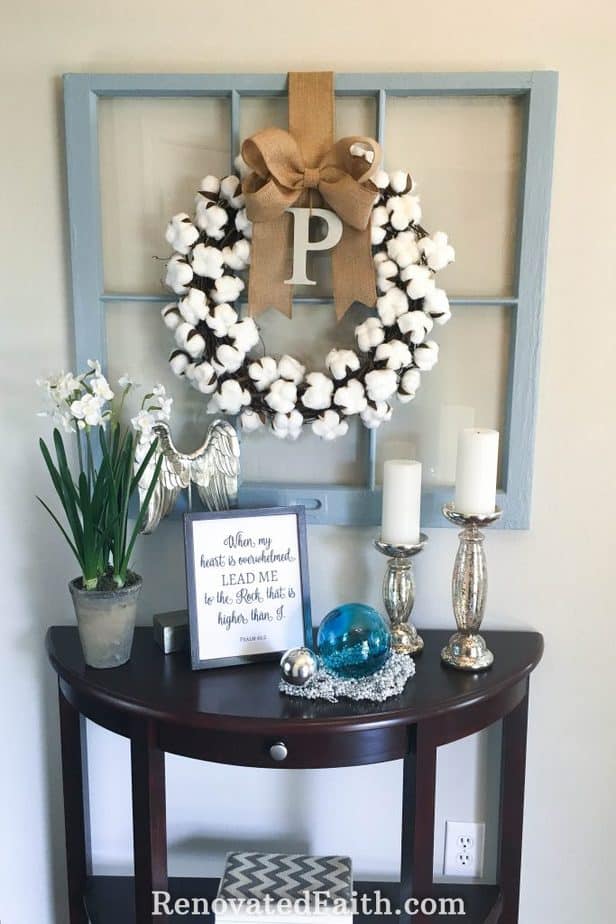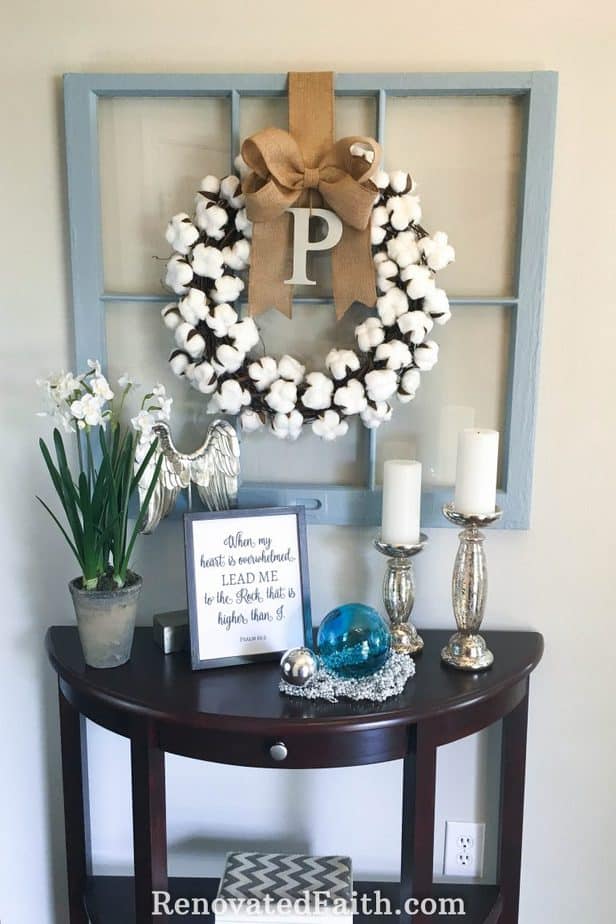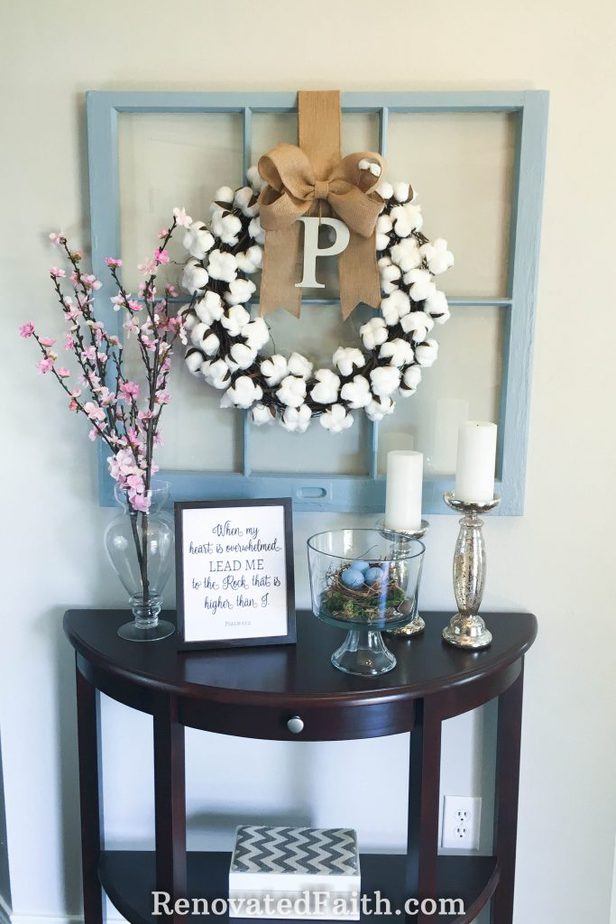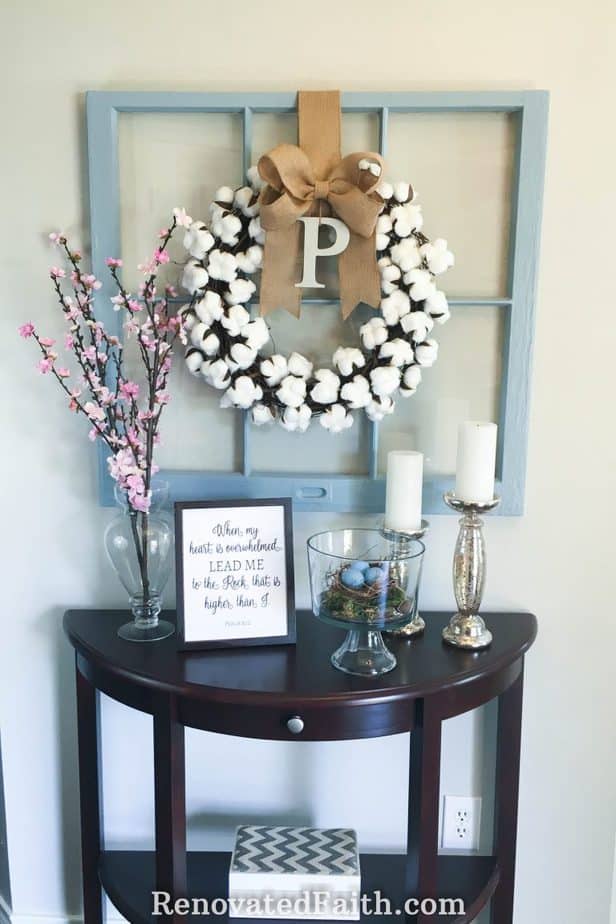 As I went through these different setups taking pictures, I thought about changing out verses before something dawned on me…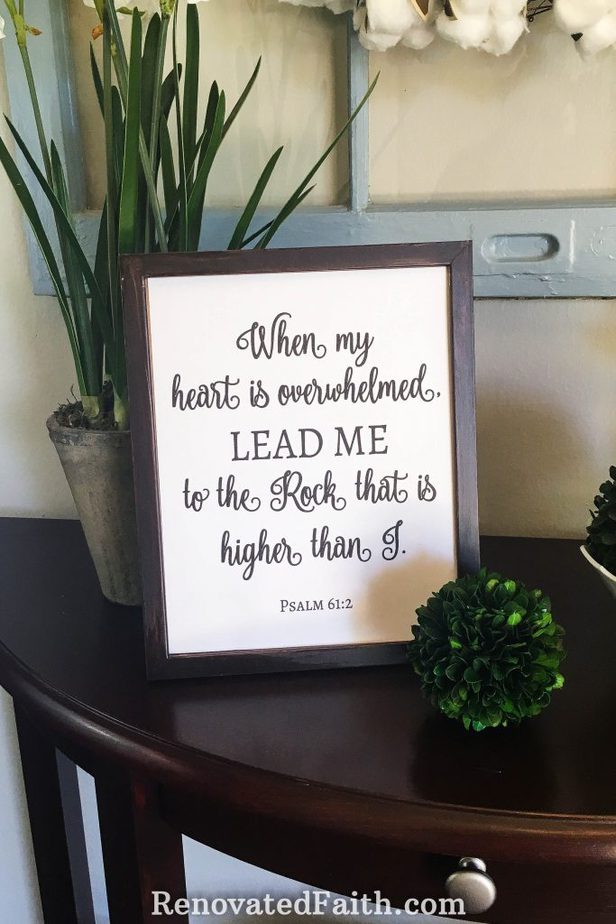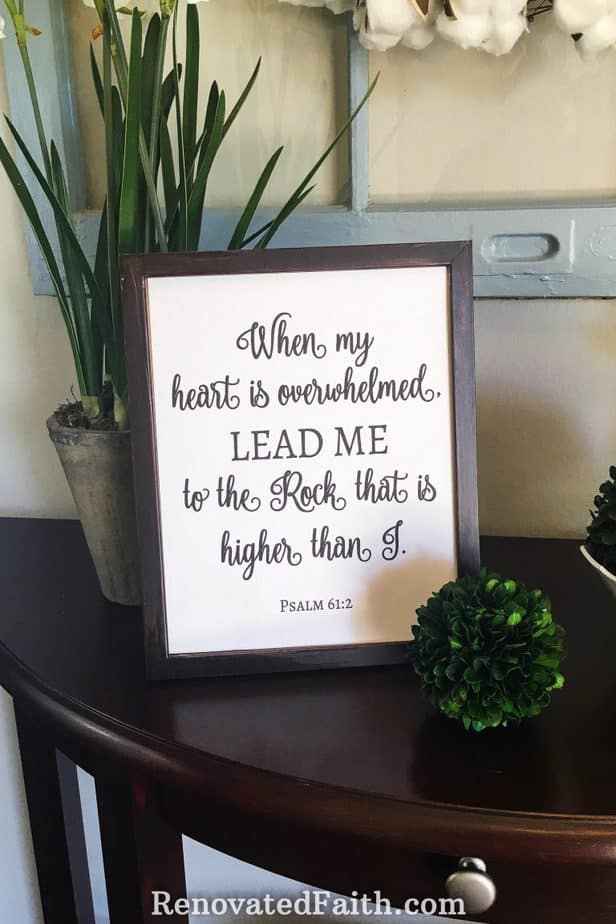 I realized that the one constant through these different scenes was not just the wreath but in what Psalm 61:2 tells us. Even when seasons change, God is our one true source of help. He patiently waits to hear our cries so He can lead us to safety from our troubles.
King David prayed this prayer, knowing he could not find strength within himself or his position, but only as an heir of the true King.
Like David, Daniel was also a Jewish man of high position who cried out for God in desperation and trust. In Daniel 9, we find him reading the prophecy of Jeremiah only to realize that the 70 years of Babylonian exile for him and his people would soon be over.
There was only one problem. Most of the Jews were still living in the same sin that caused them to be exiled in the first place.
Daniel was known for keeping his cool in tough situations. When his friends were thrown in the fiery furnace and even when he had to spend the night in a den of hungry lions, he kept calm as he trusted on God. But this time, Daniel hit his needs in a cry of desperation to His God.
"Now, therefore, O our God, listen to the prayer of your servant and to his pleas for mercy, and for your own sake, O Lord, make your face to shine upon your sanctuary, which is desolate, O my God, incline your ear and hear. Open your eyes and see our desolation, and the city that is called by your name. For we do not present our pleas before you because of our righteousness, but because of your great mercy. O Lord, hear; O Lord, forgive. O Lord, pay attention and act. Delay not, for your own sake, O my God, because your city and your people are called by your name." Daniel 9:17-19.
Basically, Daniel's heart was overwhelmed by this sin of his people and he desperately cried out to the Lord for mercy on their behalf.
When my heart is overwhelmed, lead me to the Rock that is higher than I. Psalm 61:2
Click To Tweet
Before he could even finish his prayer, he saw Gabriel before him. (The same angel that appeared to Mary to share the Good News of the Christ Child was also coming to Daniel with good news.) Gabriel stood before him and reassured Daniel with these words:
"…O Daniel, I have now come out to give you insight and understanding. At the beginning of your pleas for mercy a word went out and I have come to tell it to you, for you are greatly loved…" Daniel 9:22,23
Did you catch that??? At the instant that Daniel started his prayer, Gabriel came "in swift flight" and his plea for deliverance was heard.
Our cries to God are never delayed or muted, but through prayer we have real-time access to the only One who can rescue us from all our troubles.
Our cries to God are never delayed or muted, but through prayer we have real-time access to the only One who can rescue us from all our troubles.
Click To Tweet
Our prayers are not snail-mailed across the galaxy to a spiritual distribution center. They are not sorted and stamped in accordance with their level of holiness. Instead, the second we say a prayer, no matter how seemingly insignificant it may be, it is heard in the very presence of God.
Revelation 5:8 tells us that our prayers are like incense. Imagine your prayers instantaneously lifting up into the throne room of God as a sweet aroma to Him.
As we step into the inevitable craziness that this holiday season brings, know that your prayers are heard every time they are uttered. They are not only heard but they are received with the open arms of a Father who loves His child dearly!
He is not only our salvation in the storm but He is higher, stronger and more fulfilling than anything else that claims to save us.
So no matter the season, no matter what mess you find yourself in, remember your Heavenly Father is anxious to hear from you. In that same moment, God is already working to answer the prayers of His beloved saints.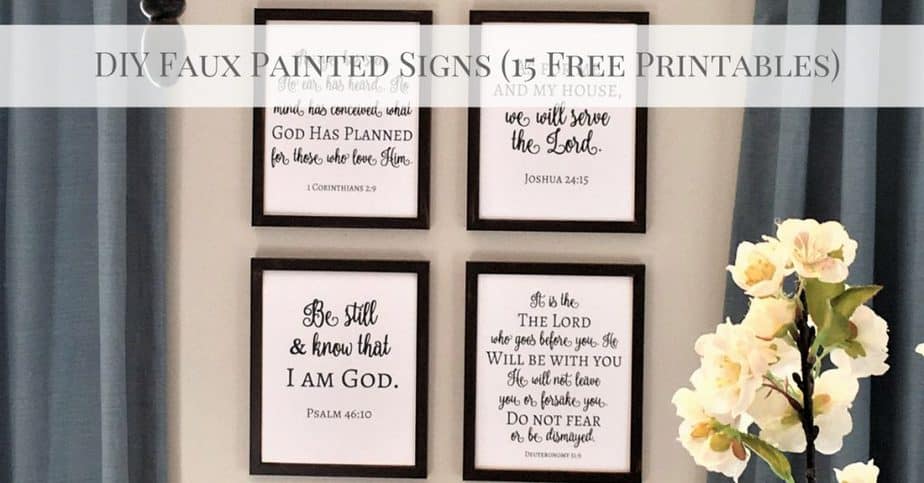 Also, check out my DIY Windmill Wall Decor or Best Entry Table Ideas for more budget-friendly farmhouse decor: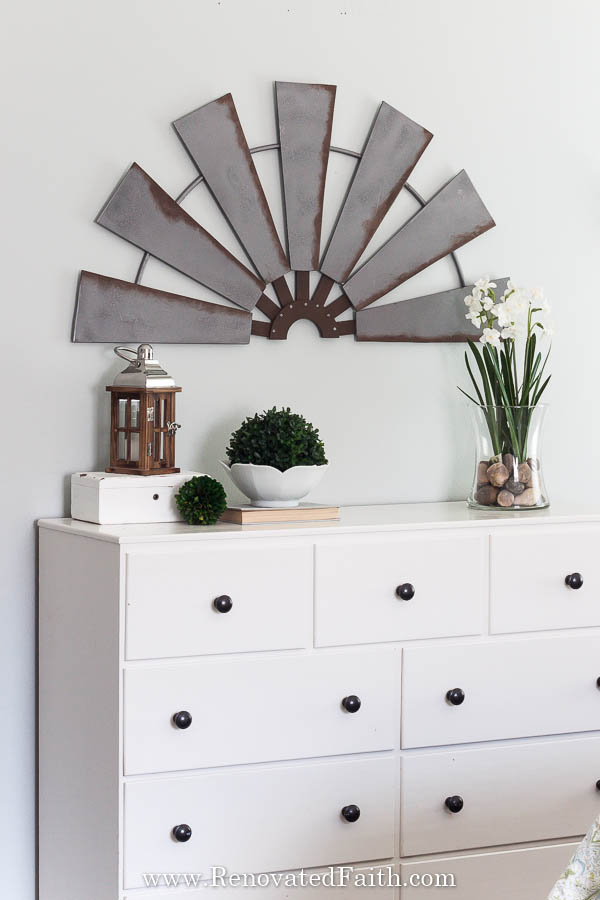 To Save This Post For Later, Pin It Here: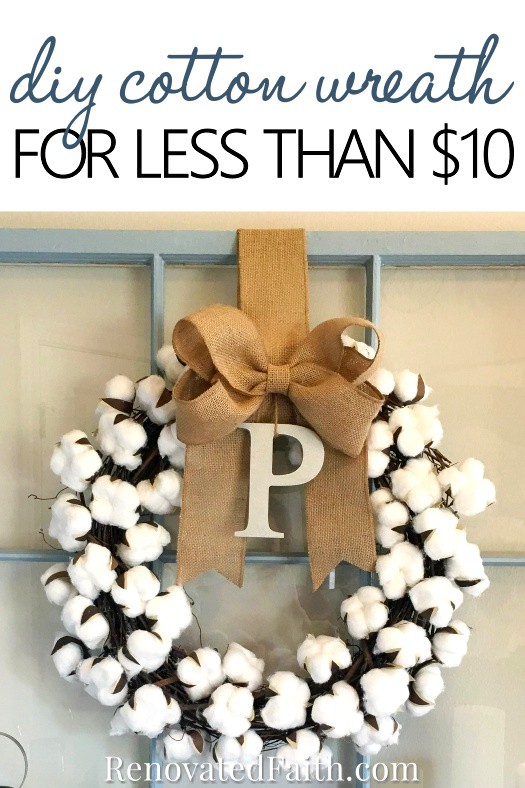 Did you like this post? This blog is my ministry so be sure to share it as a message of God's hope. Have a wonderful Thanksgiving!
Blessings,

Be sure to follow the fun here!
Welcome to Renovated Faith, where I share about DIY projects, my faith and everything in between! When I'm not spending time with my family, you will find me redoing furniture in the garage or watering plants in my greenhouse. This blog is about transformation. Anyone can renovate a house but only God can transform our hearts!