Why Celebrate Advent? {Modern Advent Wreath Ideas}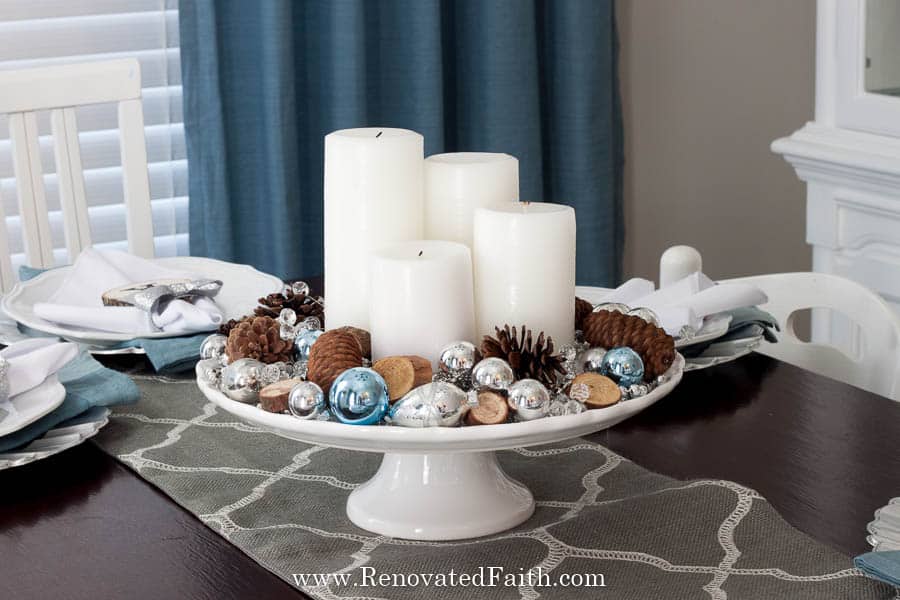 Until recently, this Baptist girl never thought much of the meaning of Advent. The word "Advent" conjures images of a women's events with different-themed tables or one of those Christmas countdown calendars. Normally, when I looked at an Advent wreath with candles, all I saw was a fire hazard. However, this year is different…
A walk through any craft store in July will remind you that Christmas is on the horizon. This year, a stroll down the ornament aisle, revealed some emotions I wasn't expecting.
Surrounded by shiny silver balls and glistening angels, I was overwhelmed by feelings of dread as opposed to anticipation.
But why was I so apprehensive about a season that was intended to bring such joy?
Why Celebrate Advent? (DIY Advent Wreath Ideas)
This post may contain affiliate links at no extra cost to you. See my full disclosure here.
In an effort to extinguish these negative emotions, I sat down that weekend and made a list of what I least looked forward to. After several bullet points, it occurred to me that maybe I shouldn't focus on avoiding the negatives of the season. Instead, I should embrace the true significance of Christmas.
In the midst of my Christmas funk, I decided to pick up a book I heard about from Lauren Gaskill's podcast. It is entitled Unwrapping the Names of Jesus, an Advent devotional by Asheritah Ciuciu. I was immediately drawn to her explanation of Advent and it's forgotten significance.
Until recently, I never stopped to think about what Advent really is and it's purpose. Unfortunately, I'm not the only one. Asheritah explains in her book that Protestants took such a hard stance against the their former way of life that they also discarded some of the early church traditions as well.
So Why Celebrate Advent?
Advent is the 4 weeks leading up to Christmas, a time to reflect on the eternal significance of Christ's birth. Traditionally, many would make an Advent wreath with four candles. One is to be lighted each week of Advent. Often each candle would have a theme such as hope, preparation, joy and love.
Which Denominations Celebrate Advent?
Church historian Stan Norris explains in an article by Baptist Press, that Protestants are now beginning to embrace traditions once thought to be too liturgical or too high church.
Norman states, "The focus on Christ inherent in Advent celebrations is needed in a cultural context in which we are battered on every side to be diverted away from that," Norman said. What was once rejected as being too structured is now embraced amidst a culture of chaos and distraction.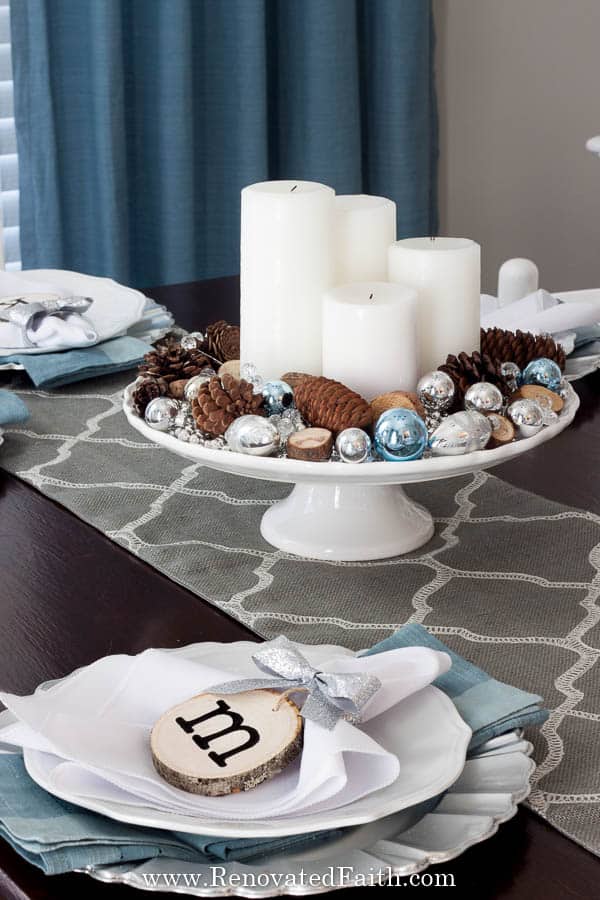 So much of what we either dread or anticipate about the season is not where the true joy of Christmas lies. Christmas gifts, food and décor are all fine and good but their enjoyment quickly deflates when they are not sustained by a focus on Christ. Concentrating on those aspects alone is like eating colored sprinkles with no cake underneath. They are eye-catching and sweet for a time, but they don't fill us up or satisfy what we truly crave.
Christmas gifts, food and décor are all fine but their enjoyment quickly deflates when not sustained by a focus on Christ.
Click To Tweet
Why is Advent an Important Time on the Church Calendar?
When God sent His Only Son in the fullness of time, the Jews were awaiting their Kingdom – their Promised Land. They wanted a forceful king to come in and overthrow Rome so they could enjoy their long-awaited Promised Land of Canaan.
But God had the big picture in mind. So often, as God focuses on the eternal, we set our all too myopic glare on the temporal. Fortunately, God was much more concerned with setting His Love on us through His Son. In this way, the kingdom of Kingdom of God could reside in our hearts for all eternity.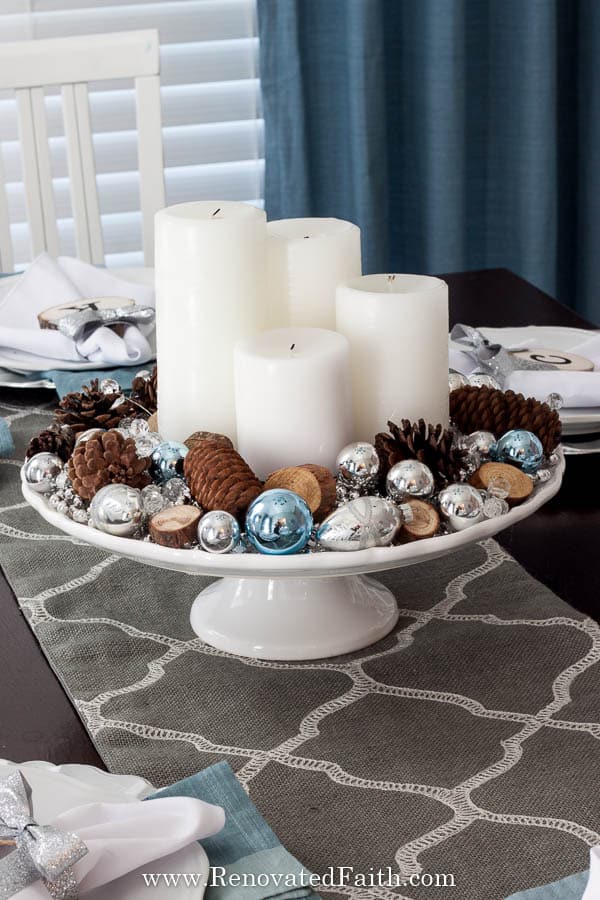 `Just like the Jews, I find myself tempted to trade the joys of the eternal for the fleeting happiness of the world. As Asheritah says in her devotional, "Jesus' perspective is always bigger than ours. His gaze was set on the universal dilemma of sin. His battle was one of cosmic proportions…"
Jesus' perspective is always bigger than ours. His gaze was set on the universal dilemma of sin. - Asheritah Ciuciu
Click To Tweet
Advent in the Bible
Our relationship with the Christmas season is often like the family that took first-time vacation to Florida. They settled in at the hotel and visited the pool in the morning. When it was time to leave the hotel, the kids didn't want to leave the excitement of the pool. Little did they know what their parents had in store for them at Disney World that same day.
The true gift of this season is not the food, the presents or parties. Those aspects are great but they pale in comparison to the gift of knowing Christ more. Ashteritah reminds us, "God promises than when we draw near to Him, He will draw near to us and reward us with more of Himself." For there is no greater gift than Him.
Unwrapping the Names of Jesus has reframed my focus on the true meaning of Christmas. Asheritah, who grew up as a missionary kid in Romania, helps us unwrap each name of Jesus. Like examining each facet of a beautiful diamond one day at a time, we see the beauty of Christ unfold. The devotional also includes tips for application. Her writing reminds us, as Dallas Willard so eloquently states, that we are the ones in whom Christ delights and dwells.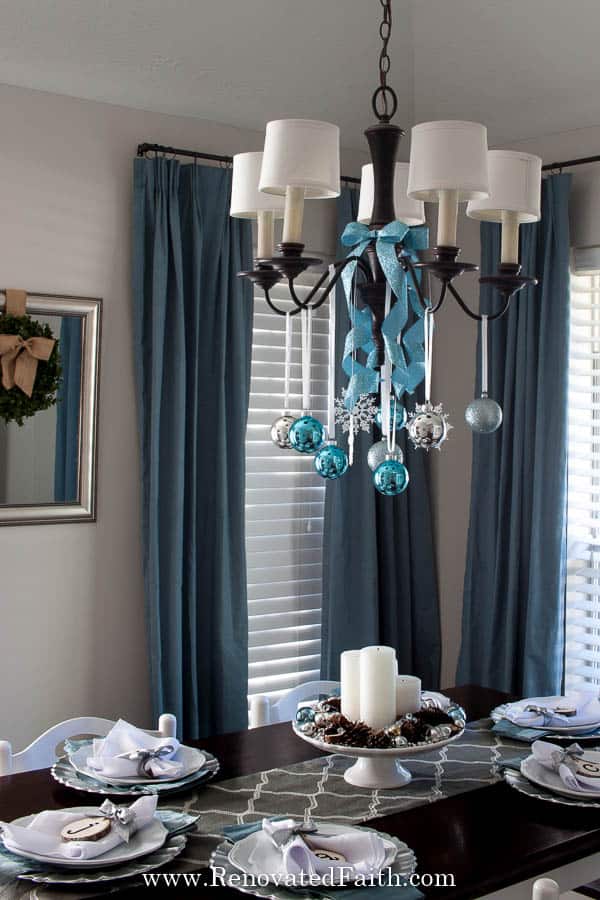 What is an Advent Wreath?
An Advent Wreath is basically a tool to help you to reflect on the gift of Christ throughout the four weeks leading up to Christmas. It helps us to remember the birth of our Lord and anticipate his Second Advent or "Coming".
Important Symbols and Meanings of Advent
Candles – One candle is lit per week and each candle has a theme to help us focus on different attributes of Christ. As His Advent draws nearer each candle is lit and darkness is dispelled a little more helping us to contemplate the birth of God incarnate who came to redeem all of mankind.
Circle – The wreath is shaped as a crown to remember Christ's sacrifice on the cross. Also, the shape of a circle reminds of His everlasting grace, His unending love and our eternal salvation.
Materials – The composition of the wreath can also provide added symbolism according to CatholicEducation.org:
"The wreath is made of various evergreens, signifying continuous life. Even these evergreens have a traditional meaning which can be adapted to our faith. The laurel signifies victory over persecution and suffering. Pine, holly, and yew, symbolize immortality; and cedar, strength and healing. Holly also has a special Christian symbolism. The prickly leaves remind us of the crown of thorns and berries remind us of the blood shed on the cross. Any pine cones, nuts, or seedpods used to decorate the wreath also symbolize life and resurrection."
Modern Advent Wreath: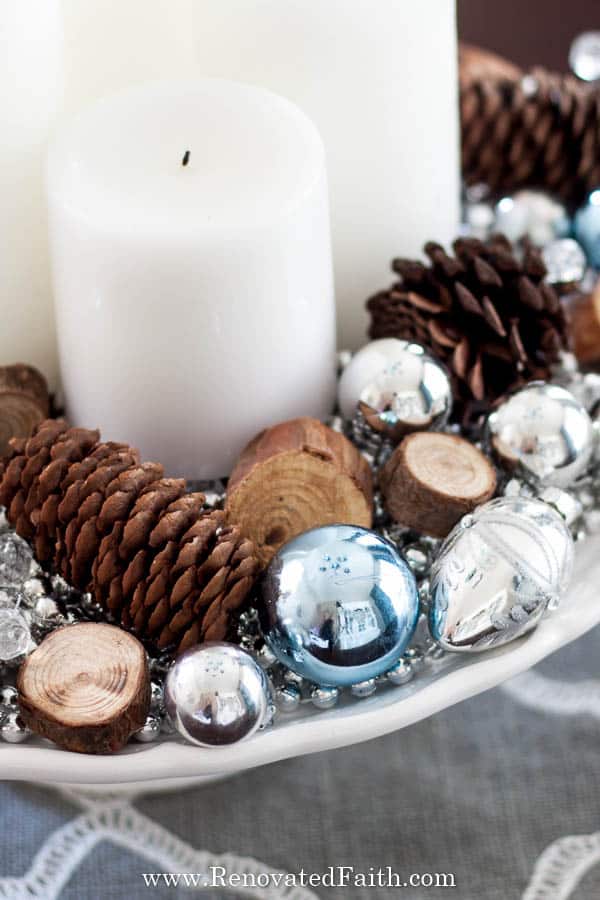 Ideas for Advent Wreath Decor
Upon reading this description, it dawned on me that our modern-day wreaths are ALL based on Advent wreaths. Holly, evergreen, berries and pine cones all symbolize different aspects of Christ's sacrifice.
I've made a lot of wreaths in my time but never a true Advent wreath (or known what to do with one for that matter). However, this year I put together a more modern Advent Wreath. I included some pine tree slices, pinecones, silver beads, and small ornaments.
This "wreath" serves as our table centerpiece as a reminder to keep Christ at the center of our holiday preparation. What a comforting reminder that frees us from the hustle and bustle that this season can bring.
Homemade Advent Wreath Ideas
Here's another idea which include cranberries, which are said to represent the blood Christ shed on the cross. I used cranberry sprigs from Hobby Lobby and tucked them around the candles. No matter your budget, these are great advent wreath ideas for church and home.
If you don't want to make an advent wreath, here are some ideas online in multiple color and style options to match any decor.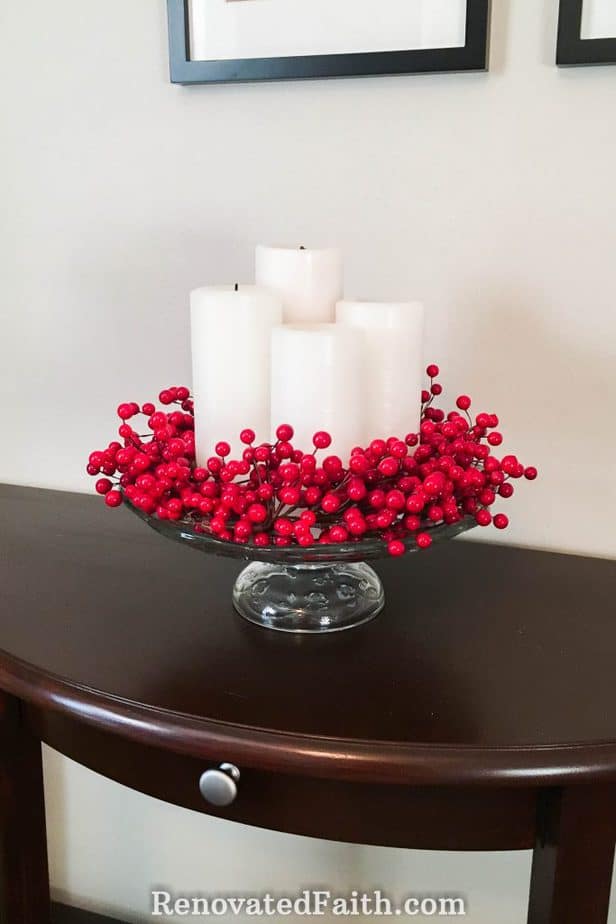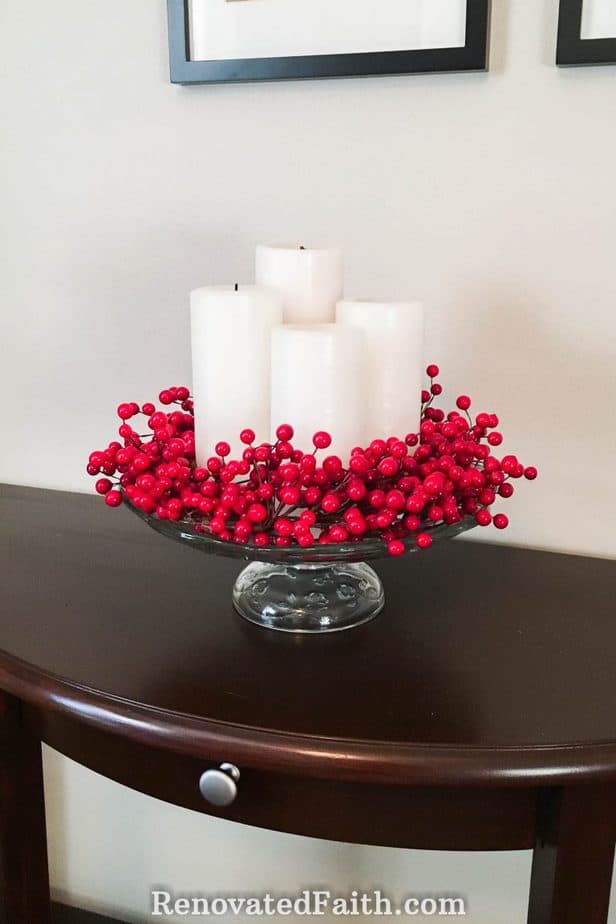 I love this Advent "wreath" from Kristin at Yellow Bliss Road, where she uses mason jars and a simple wood frame on her coffee table.
How is Advent Celebrated?
When I read my devotional and spend time with Him each morning, I light the candles for that week of Advent. It helps me to center my focus on Christ as the true light of the world.
Jesus transcended time and space to save each of us from our sin and to show us a love more abundant than we could ever imagine.
Season of Advent 2018 – What About You?
Do you find yourself dreading aspects of the holiday season? Give those things to Him. What are ways you can focus on the true significance of Christmas? I'd love to hear your thoughts and ideas in the comment section.
How do you celebrate Advent and have you ever used an Advent wreath to help you remember the significance of this season? Please write your experiences in the comments! I'd love to hear ideas!
More Christmas Decor ideas
See the following posts for more faith-filled decor ideas.
How to Decorate a Chandelier for Christmas
Wood Slice Place Cards/Personalized Ornament
How to Add Ribbon to a Christmas Tree
Rustic Glam Christmas Wreath Tutorial
The Best Books for Christian Women
Top Christian Podcasts (That Will Change Your Life!)

Did you like this post? This blog is my ministry so be sure to share it as a message of God's hope. Have a wonderful week!
If you want to save this post for later, pin it here: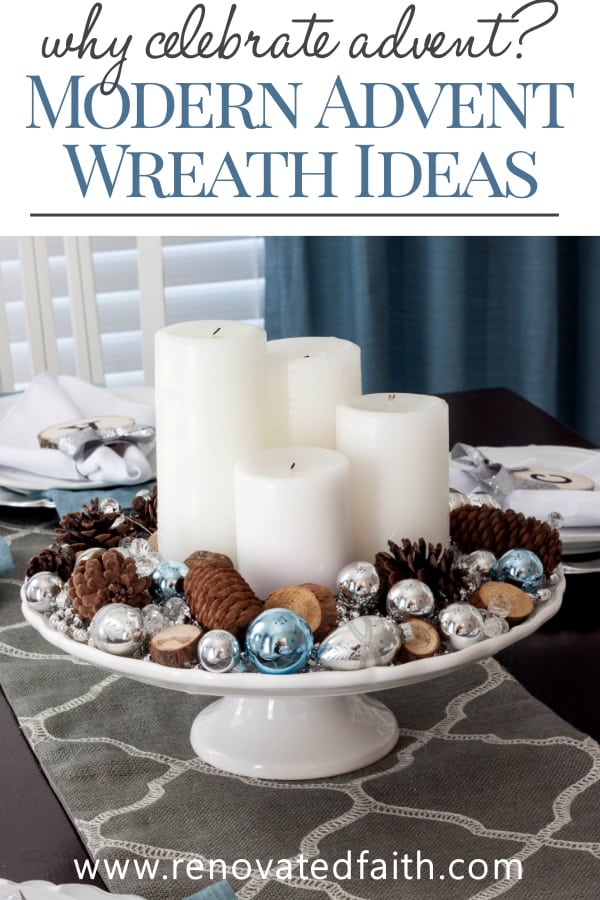 Blessings,

Be sure to follow the fun here!
Welcome to Renovated Faith, where I share about DIY projects, my faith and everything in between! When I'm not spending time with my family, you will find me redoing furniture in the garage or watering plants in my greenhouse. This blog is about transformation. Anyone can renovate a house but only God can transform our hearts!