Intentional Goal Setting Setting (Free Printable)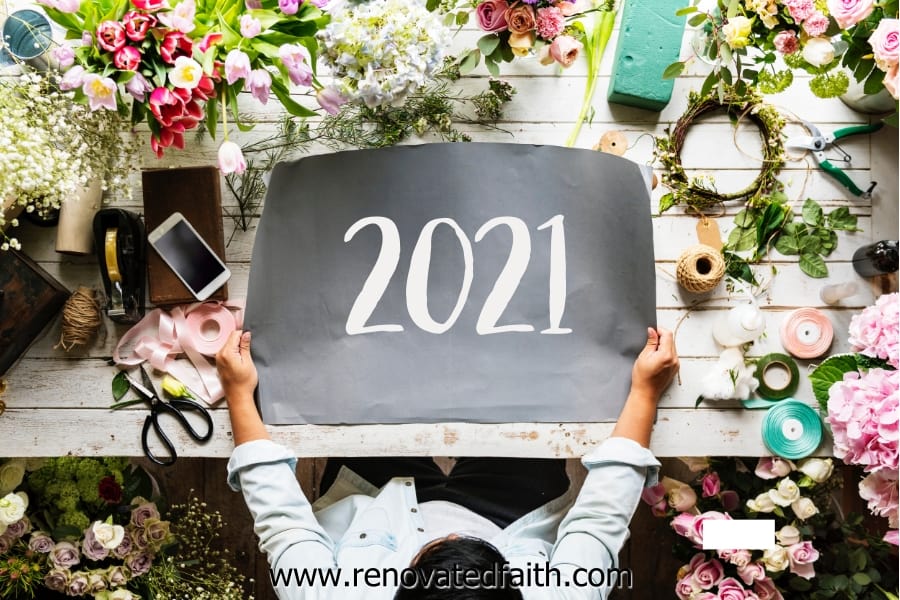 After the hardships and difficulties of this past year, you have probably better realized what matters most to you.  So, let's use that new knowledge to set better goals for this year to come!  Here's a step-by-step guide on setting Godly goals for this year!
God has graced each one of us with unmistakable dreams, desires and plans for our lives.  He has interlaced those dreams with talents, blessings and spheres of influence unique to each and every one of us.  While God is totally in control, work and discipline on our part are still necessary to see our dreams come to fruition.
In the past, I felt it was my job to sit and wait for God to fulfill His plans for me – like maybe I wasn't trusting Him if I tried to work towards those goals.  However, anything worth doing will involve a lot of preparation and character-building on my part – and I can't think of anything more worthy of my time than following God's Will.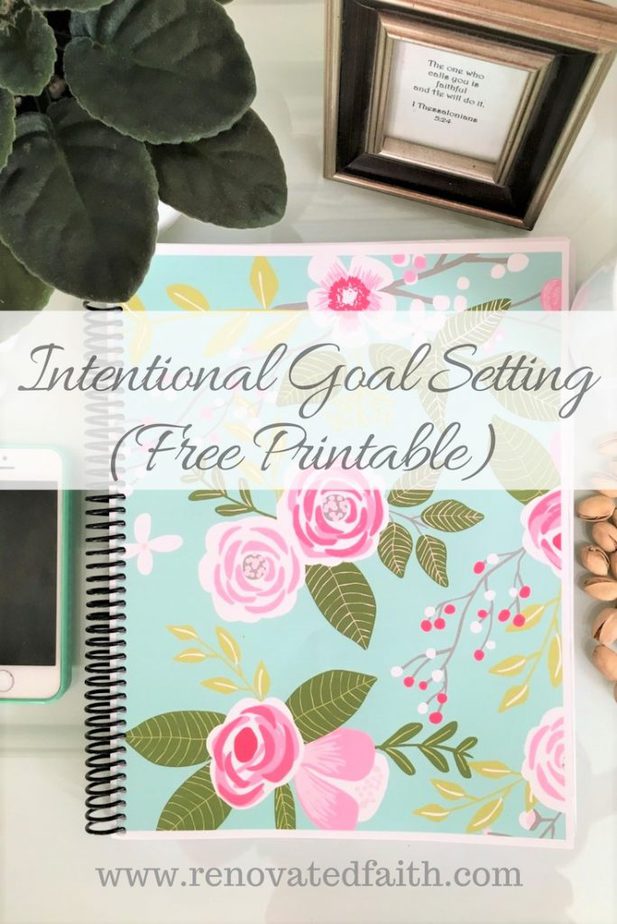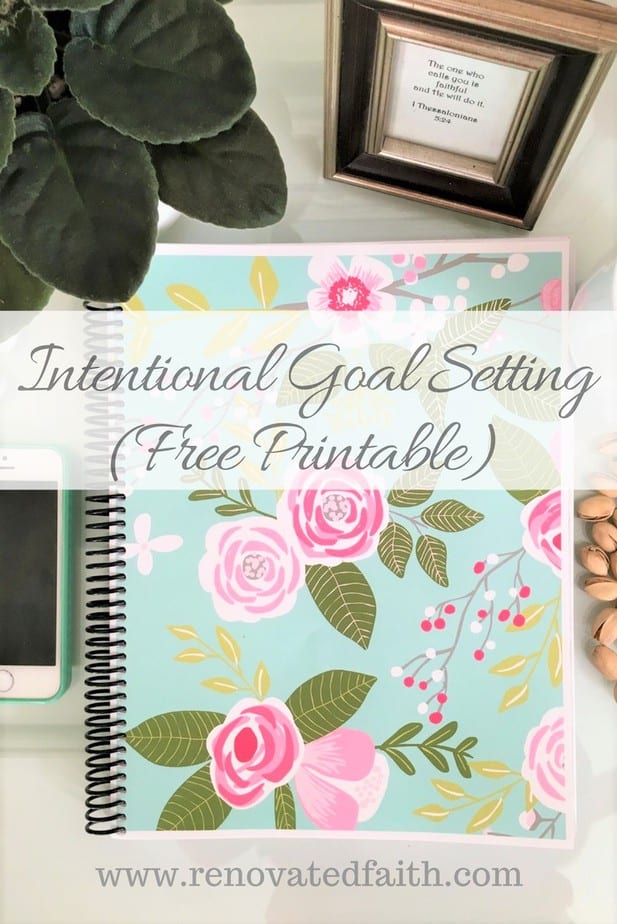 Goal-planning basically involves making a road map to where you know God is leading you.  The Lord wants us to actively participate in His plans for us by relying upon Him to fulfill our God-given dreams and aspirations.  Within the work lies the preparation, growth and character-building that will be necessary when His plans are fully realized.
Development is part of the process because God wants us to be ready for all He has planned.  As Tony Evans once said, "The worst thing you can have is to be somewhere God wants you to be and not be ready to be there."  It's through working towards our God-given goals that He prepares us for the task at hand.
Plan your work and work your plan.   One of my dreams is to be a writer but I'm not going to just wake up tomorrow morning and be an amazing author whose eloquent words just spill onto a blank page.  Not only does it take work to develop the necessary writing skills but also the character-building to be able to handle it when I get there.
Here are fool-proof steps to implement goals:
As mentioned in my post on setting godly goals, fix your eyes on God and He will show you the goals for your future. There is no accident that you are in your current stage or situation.  It's liberating to rest in knowing that God is fully aware of where you are at any moment.  Achieving goals has less to do with control and more to do with surrendering your present and future to Him.
What fears pin themselves between you and your dreams? What is the basis for these fears?  For every fear that comes to mind, write down "I fear _____ because__________."  This is a great exercise to understand what is holding you back.  Give these feelings to God and learn from them.   When we alleviate these fears from our path, we clearly see the next stepping stone God has laid before us.  Allow your fears to be swept away by faith in your Creator, knowing this kind of fear is never from Him (2 Tim.1:7).  
Write down areas in which you would like to set goals. This can be any area you would like to improve or any ongoing commitment.  I've made a printable below to help with this process.  Here are examples of areas I'd like to focus on:
Helping my daughter to try new foods
Becoming a better writer
After setting your focus area, it's time to look ahead to see where you would like to be in 3 months.  I recommend setting quarterly goals and reassessing them after each quarter.  As Shana Shutte has said, "God's revelation is limited and progressive – your goals may change."  Like in Genesis 12 when God tells Abraham to "go to the land He will show him", we don't know the final destination.  God so often shows us to only the next step, whether it's to build our faith or because we are simply not ready to know His full plans.  Here are some examples for goals in three months:
Focus Area:  Helping my daughter to eat more foods
Goal – What I Envision in Three Months: Less whining and table and she is trying food on a regular basis.
Focus Area: Becoming a better writer
Goal – What I Envision in Three Months: I'd like to have read a book on writing and have submitted something to a local Christian magazine.
Notice my goals are not very lofty and some are vague.  There's a reason for that.  Be sure to be kind to yourself during this process.  Nothing sabotages your goals faster than the guilt and discouragement of setting unattainable goals.
Write out action steps. Start with monthly and then narrow the focus down to weekly and then daily.  Record these baby steps in your calendar or planner.  For example, to get my daughter to try more foods, we are going to set up a sticker chart.  When she tries a new food she gets a sticker and when she fills up the whole chart, we are going to do something special.
Now that you have a plan, you want to reassess and repeat the same process every three months.
FREE Intentional Goal Planning Printable
Fill out this short form to help you make the process more streamlined with my free printable worksheet.  The key to goal-planning with God's purpose in mind is surrender.  When we stop to be intentional about following His plans for us, we glorify Him and have greater fulfillment in how we spend our time.
You might also enjoy these posts from Renovated Faith:
Setting New Year's Resolutions that Stick
A Beginner's Guide to Painting Furniture So It Lasts
Free Scripture Printables (Over 2 Dozen To Choose From)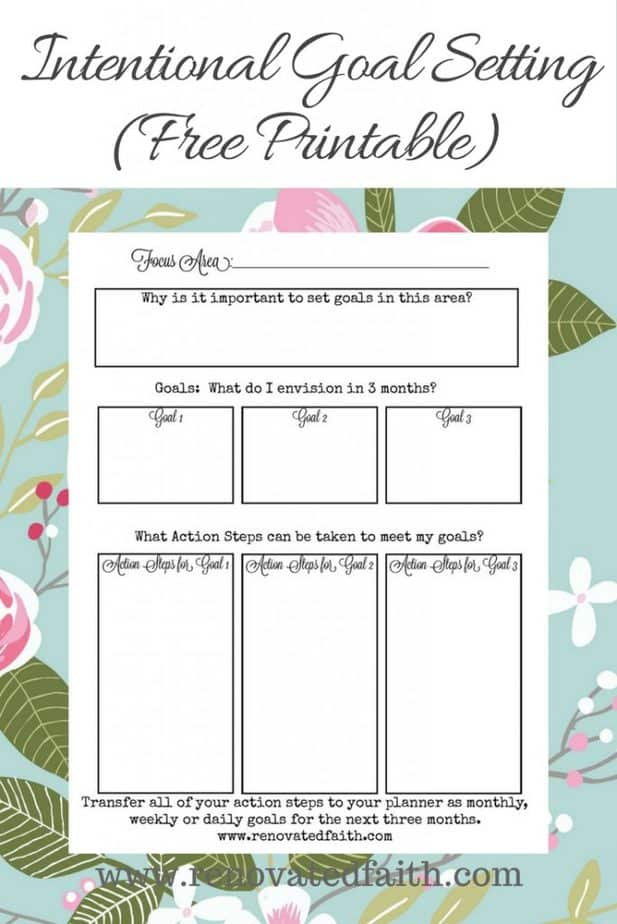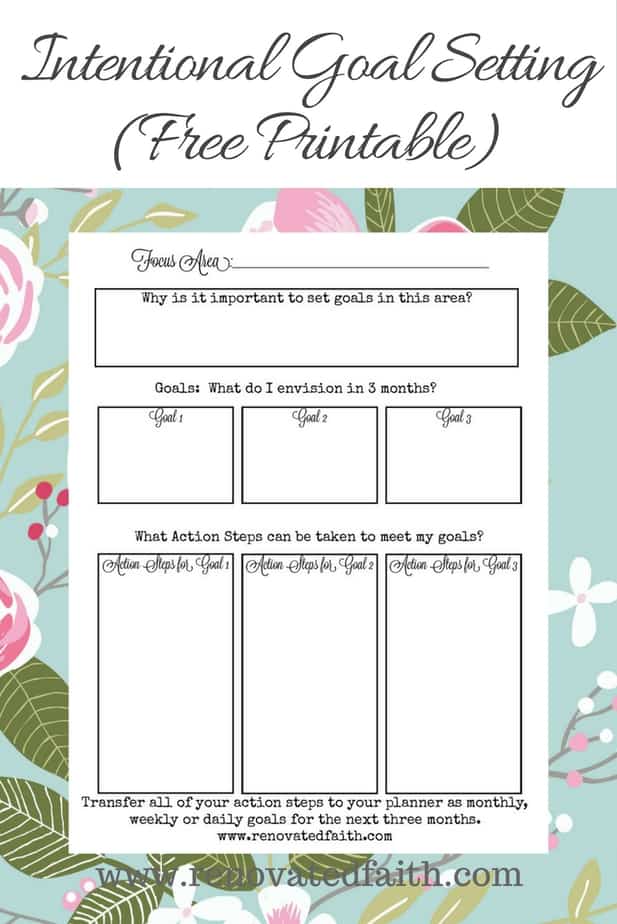 If you think this post will help someone else, please share it!
Til' Next Time,

Welcome to Renovated Faith, where I share about DIY projects, my faith and everything in between! When I'm not spending time with my family, you will find me redoing furniture in the garage or watering plants in my greenhouse. This blog is about transformation. Anyone can renovate a house but only God can transform our hearts!