The Easy Way to Make DIY Painted Signs (Free Scripture Printables)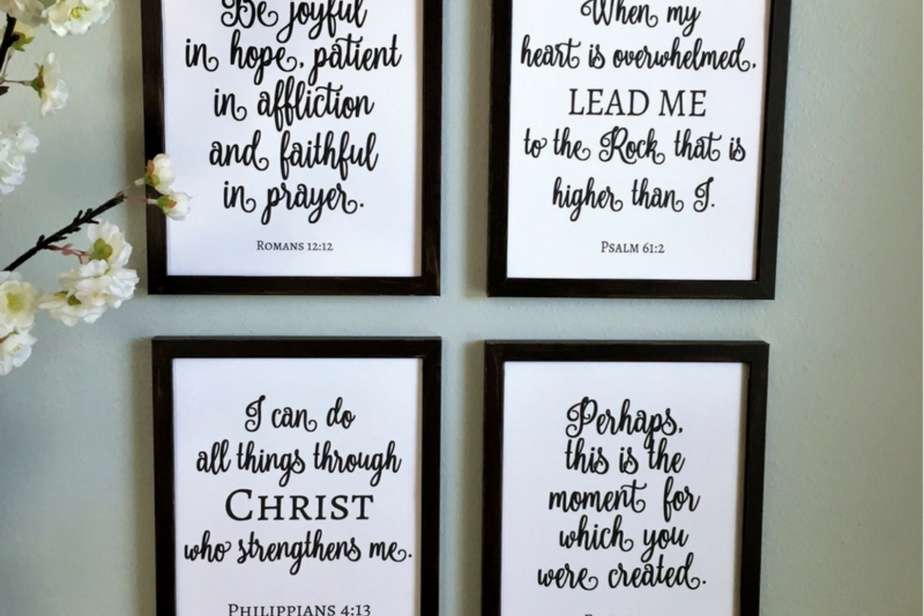 DIY wood signs are such a warm addition to any room no matter your style. However, if the idea of doing free-hand lettering on a sign isn't exactly your cup of tea, know there's an easy and inexpensive work-around for DIY painted signs!
What I love about this process is that we are using printables and making them look hand painted so you don't have to worry about how to paint letters on wood signs. I get a lot of questions about what kind of paint to use on wood signs and with this process, you don't have to bother with that either.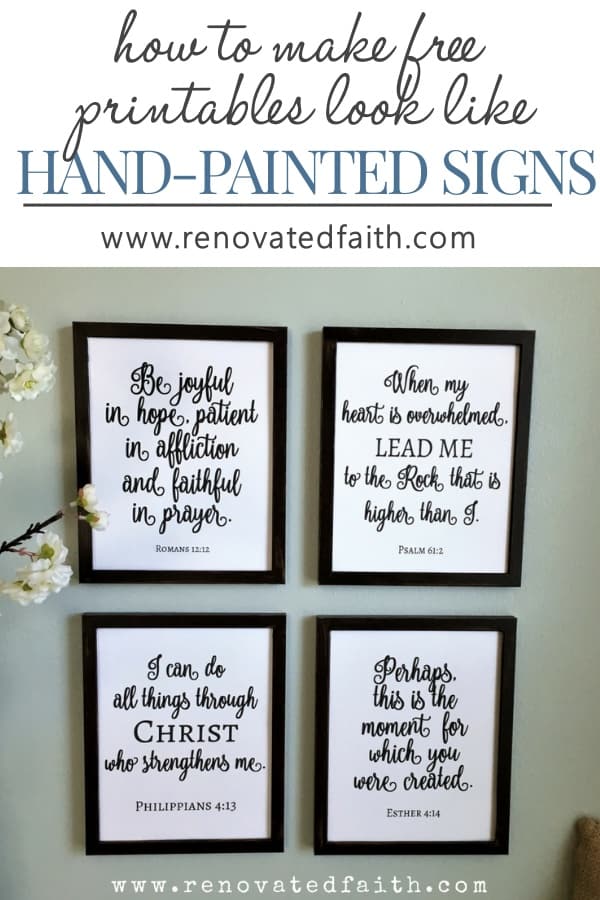 I love to decorate with God's Word as there is nothing more encouraging or transforming, however, my favorite are these Scripture printables because I have printed all two dozen out and can interchange them as I feel like it. 
Many stores are selling these thin wood frames that are reminiscent of the stained wood borders of the painted signs you see around. I have noticed them at Michael's, Hobby Lobby, and even Walmart. I happened to find my frames online here.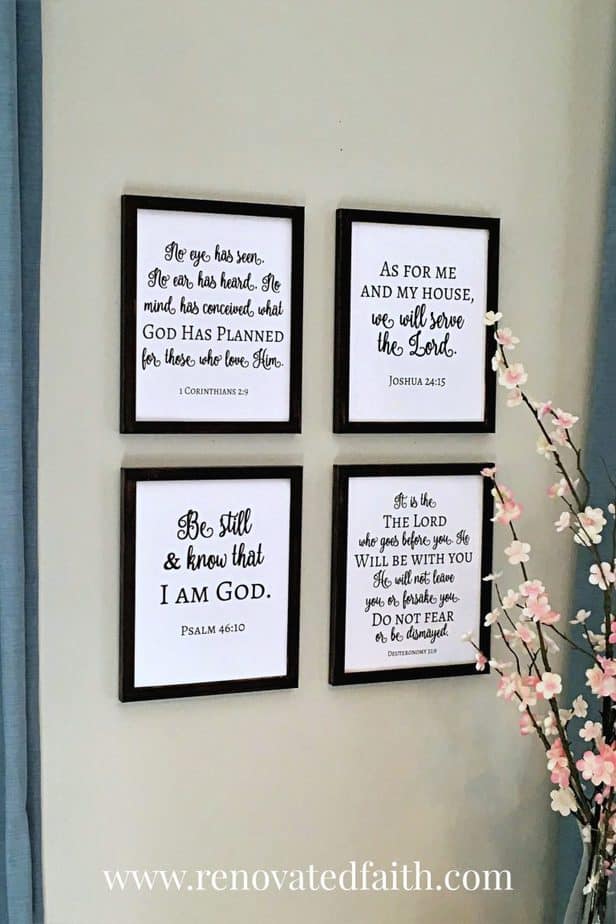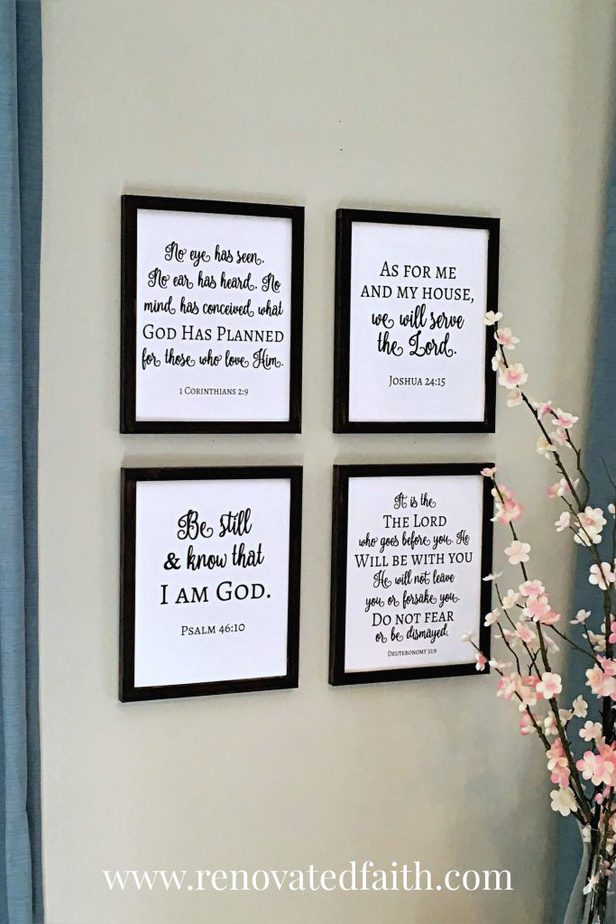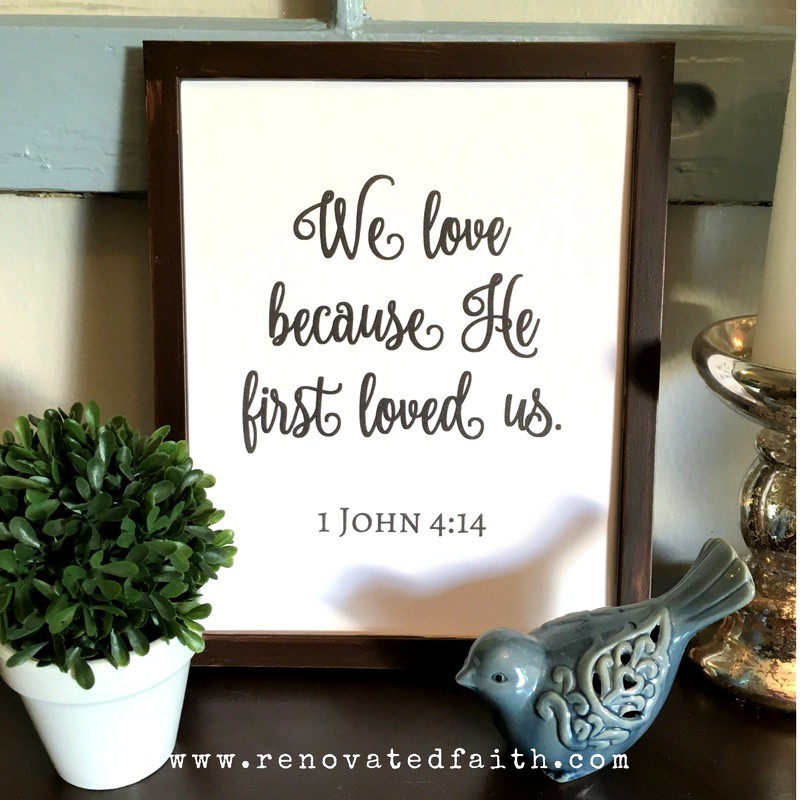 Supplies Needed for DIY Paper Signs:
Thin wood frames
White card stock
Matte Mod Podge
Scissors or Paper Cutter
Download and Print
Print each sign on letter-size card stock using the link below. The heavier the card stock, the better.
These are set up for 8 x 10 frames but if you want a sign larger than 8 x 10, download the file and convert it to a jpg file using a free file converter like zamzar.com. (This will allow you to get a higher resolution image needed for larger signs.) For Zamzar, go to the Convert Tab and select the image you want to download and select "jpg" in the drop down menu for File Type.
I promise it's super easy and the jpg file will come to you in your inbox. From there, you can print a larger copy online (I like Walgreens.com) or take it to a copy store. Make sure it is printed on matte paper in order to get the painted sign effect.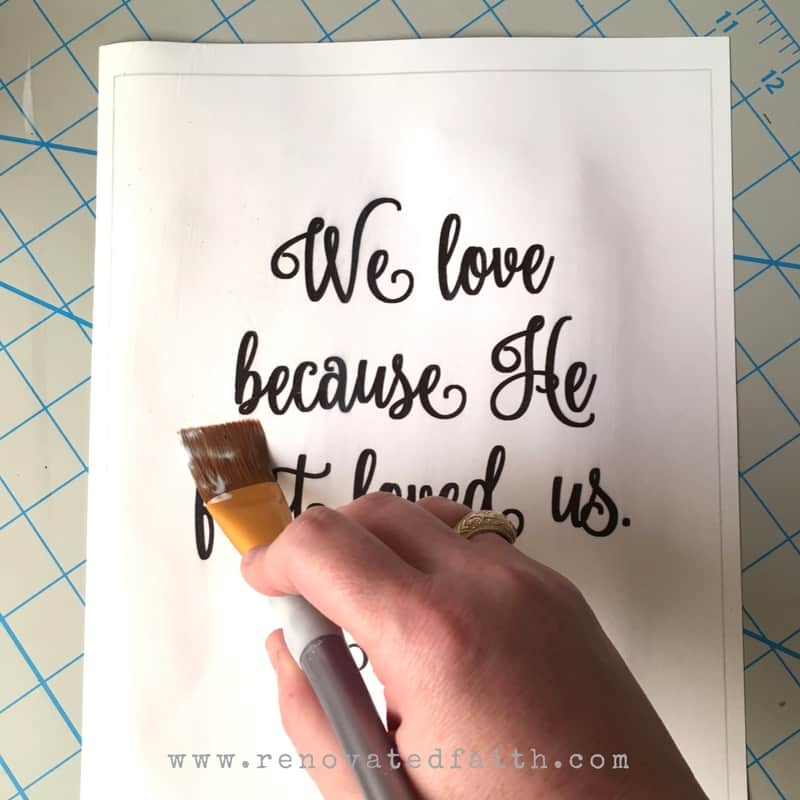 Add Mod Podge
After the printer ink has dried, lay your printed paper on a sheet on a flat surface. Paint a thin layer of Mod Podge over the area within the gray line. Let it dry completely. If the paper curls some, it will straighten when it dries and you can lay a book on it overnight.
We will not use the glass in the frame, so the Mod Podge protects the art from humidity and gives it a painted look. This is probably the only time you'll use Mod Podge that you want brushstrokes!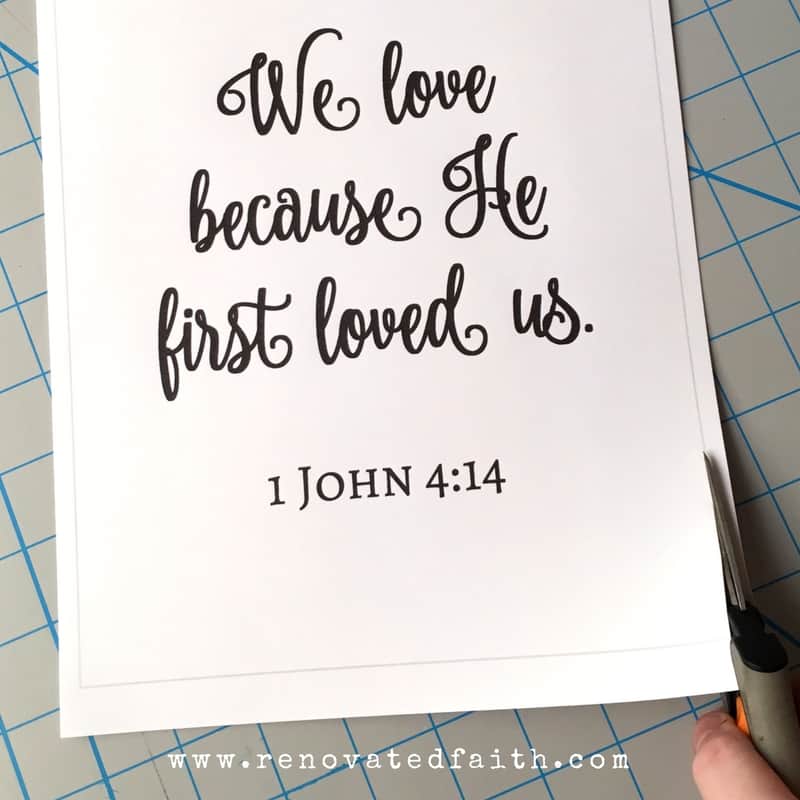 Cut and Frame
Then, cut along the gray line. Take the glass out of your frame before framing your art and you are done! It looks just like a painted sign for a fraction of the cost.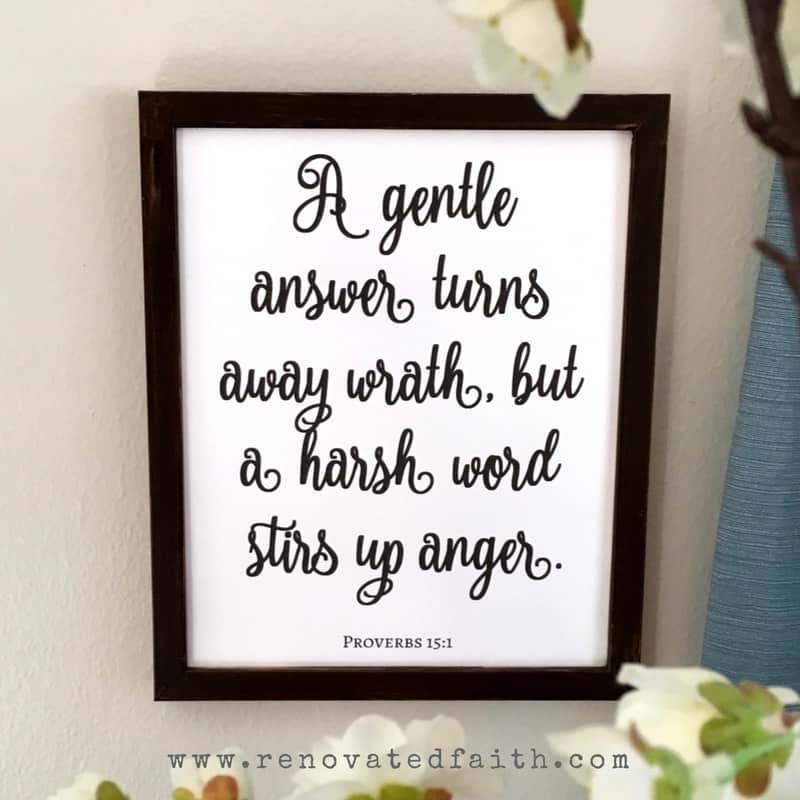 HOW TO DOWNLOAD YOUR FREE SCRIPTURE PRINTABLES
Be sure to subscribe here to Renovated Faith in order to get the password. You will get one email a week with updates on new posts.
If you are already subscribed, go HERE and enter the password. The password is at the bottom of your last weekly email. 🙂 Email me at Karin@renovatedfaith.com if you need help!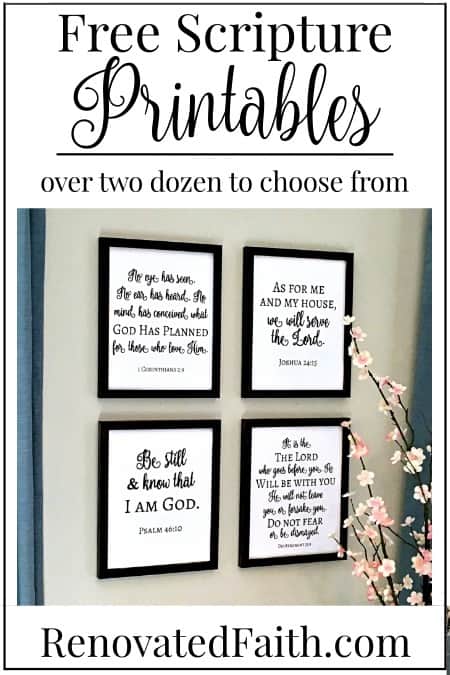 Want to add a DIY framed art rail to any picture collage? Click here DIY Framed Art Hanging Rail (Low-Cost and Hassle-Free)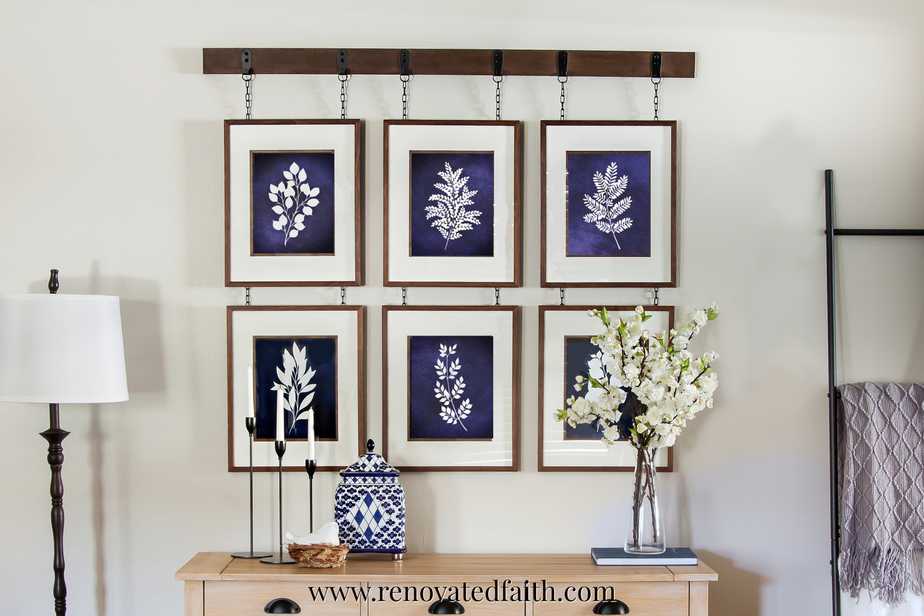 If you are interested in making DIY wood sign stencils, check out my post: Easy DIY Farmhouse Sign (No Special Equipment Needed)
If you like this post you might also like:
How to Hang Pictures Evenly (in Half The Time!)
12 Free Blue Botanical Prints (FREE PRINTABLES)
EASY DIY Picture Hanging Rail (The Low-Cost, Hassle-Free Method)
Easy Ways to Decorate Your Home with Scripture
Light and Airy Master Bath Makeover
Sit A Spell : The Value of Spending Time With The One Who Made It
Delivery Driver Appreciation Ideas
Painted Furniture Before and After Makeovers
Milk Paint vs Chalk Paint vs Latex Paint
I love hearing about how these are used so be sure to comment below with where you have hung them up in your home!
If you want to save this post for later, pin it here: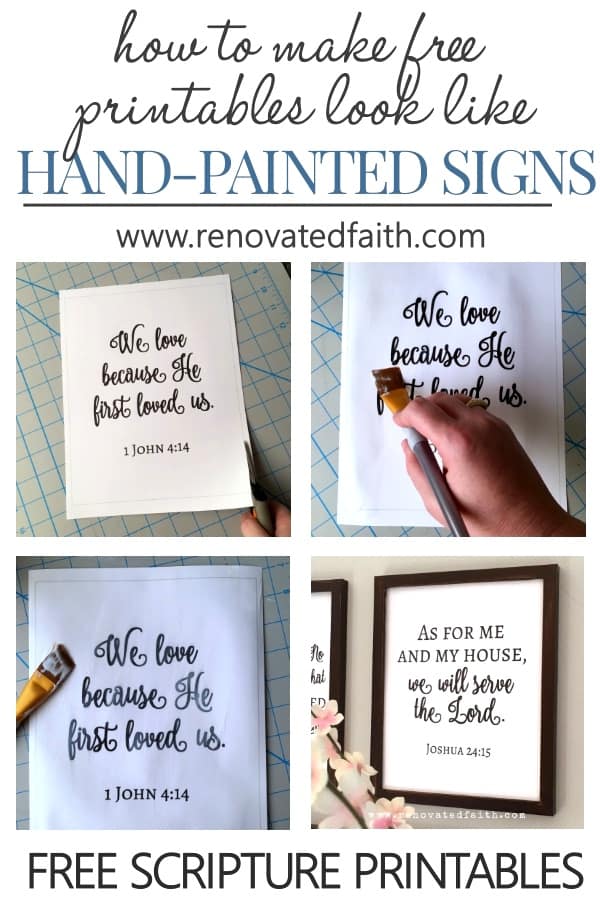 Did you like this post? Be sure to share it with others. Have a wonderful week!
Blessings,

Be sure to follow the fun here!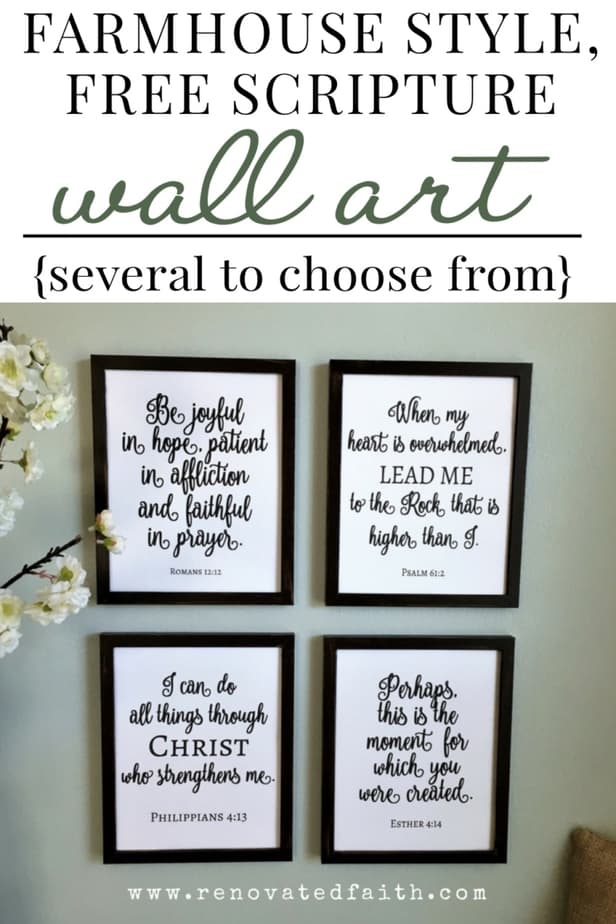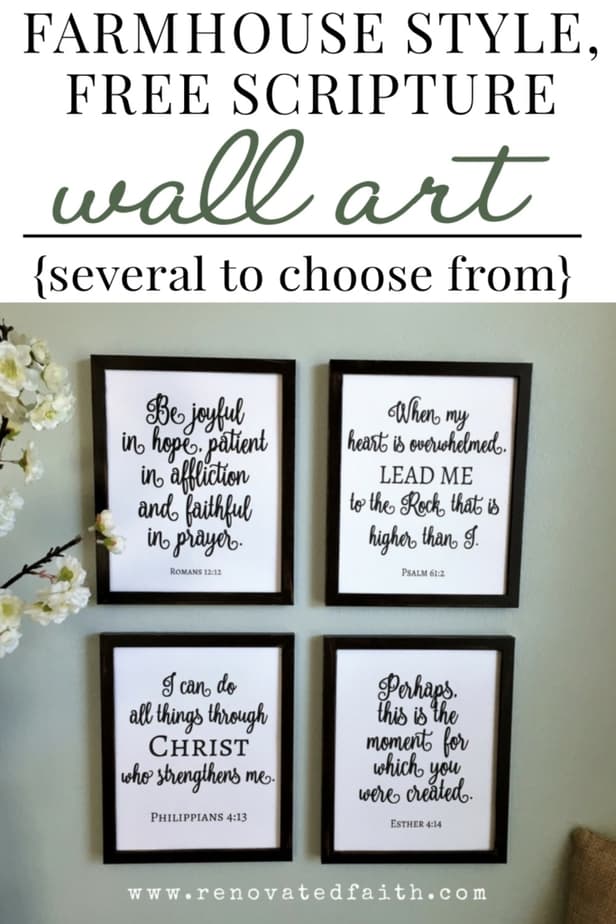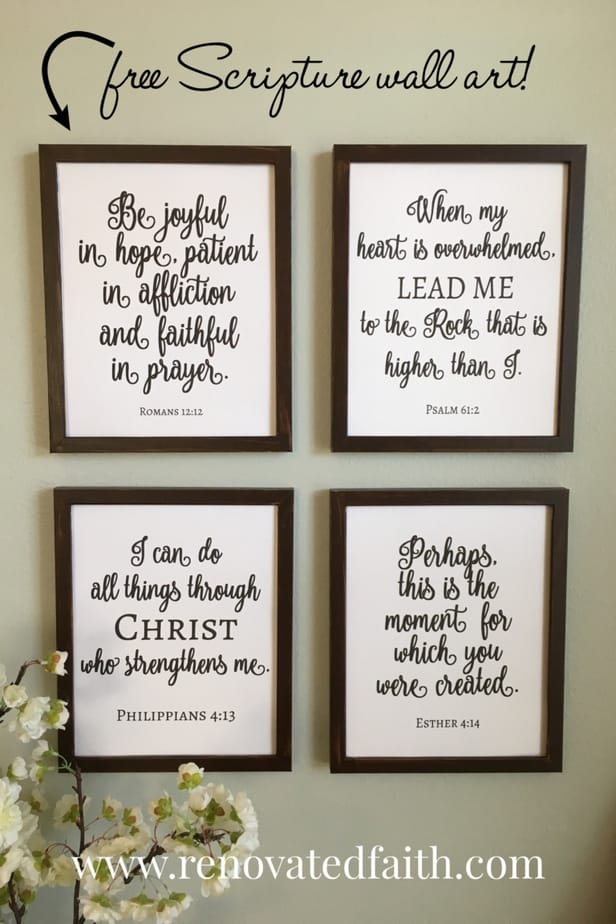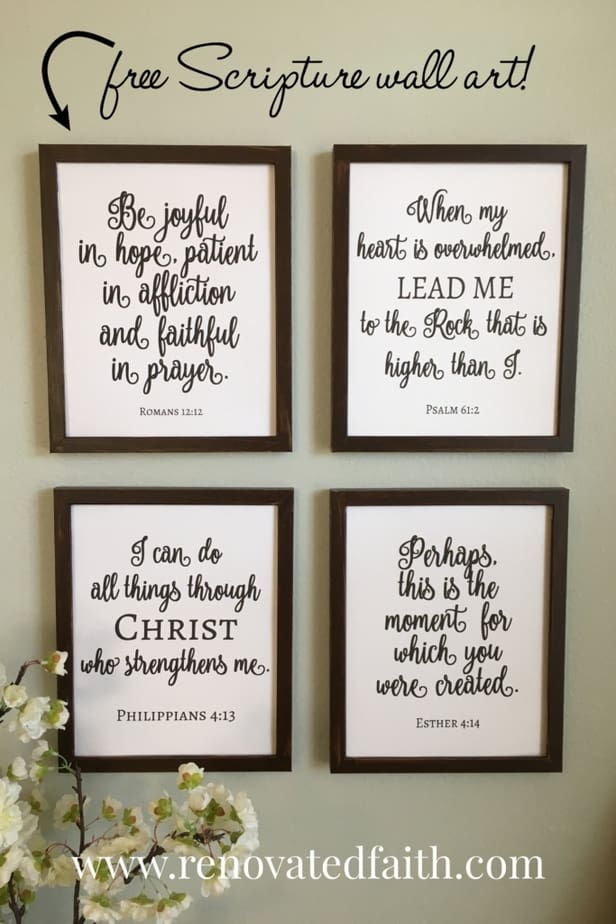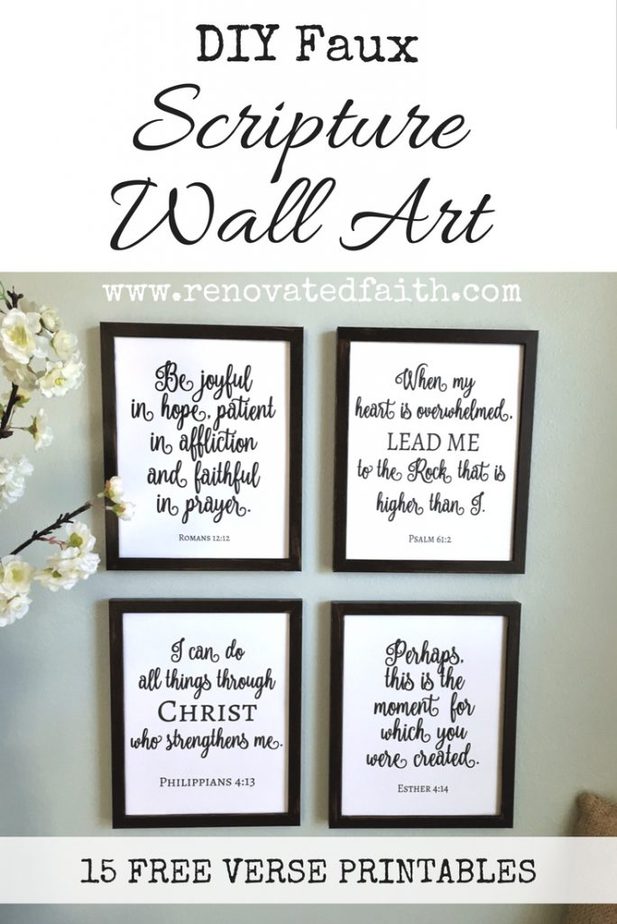 Welcome to Renovated Faith, where I share about DIY projects, my faith and everything in between! When I'm not spending time with my family, you will find me redoing furniture in the garage or watering plants in my greenhouse. This blog is about transformation. Anyone can renovate a house but only God can transform our hearts!