Light and Airy Master Bath Makeover
Of all the rooms in our house that needed a makeover, the master bath was the worst.  Underneath that purple-hued, mauve paint and brass towel bars was a room crying out for renovation. I knew this would be my "sanctuary" at the end of the day so I wanted it to be light, airy and peaceful.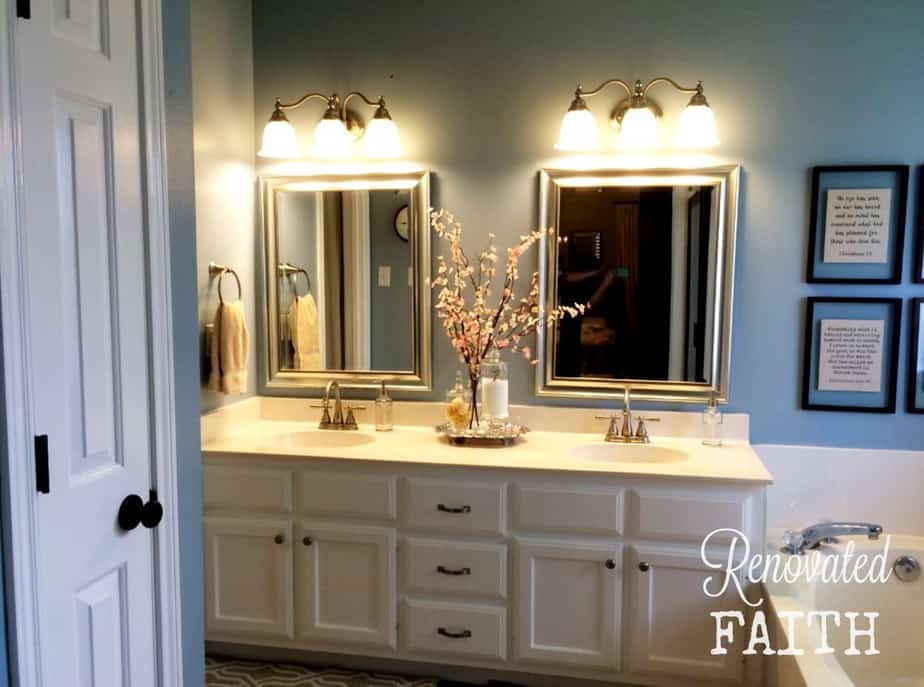 This isn't just bad photography.  After staring at the sad state of our bathroom for months, I knew I couldn't procrastinate any longer.   Notice the taupe cabinets, trim and door that had just a tint of mauve to coordinate  with the mauve walls.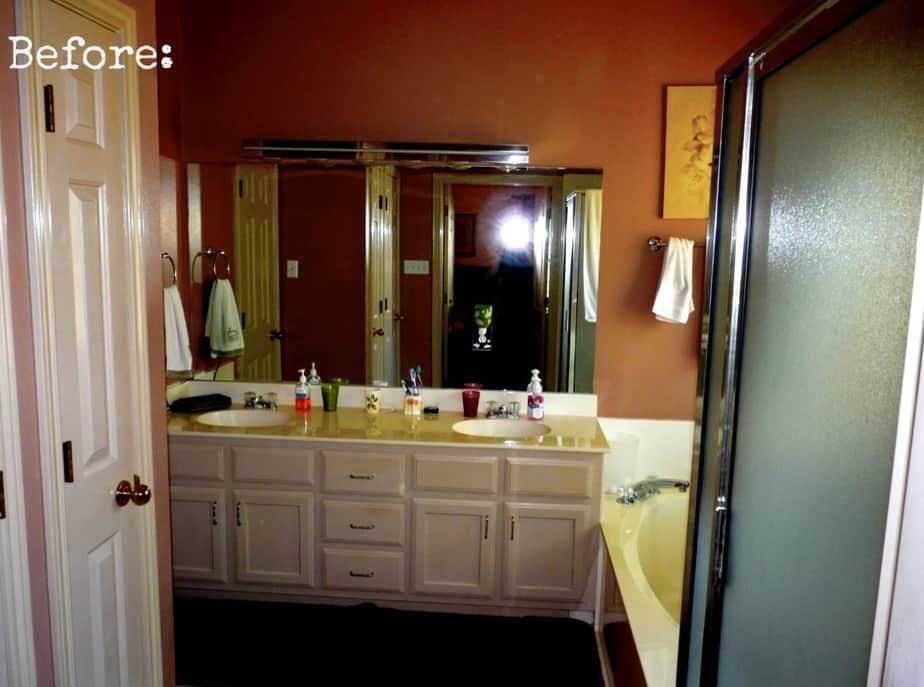 Our house was built in the 1996, the same year this mirror and fixture were installed.  Is it me or does this picture make anyone else nervous?  It reminds me of one of those pics going around the internet where a ghost decided to reveal itself.  I think the light fixture is just as scary though.
The first task was to paint all the cabinetry, door and trim.  This was quite an undertaking but using Floetrol in my paint (Behr semigloss in pure white) helped the paint to settle well for a smooth finish.  I used this roller which is the best I have found for trim and cabinetry. Look for the roller with green lines.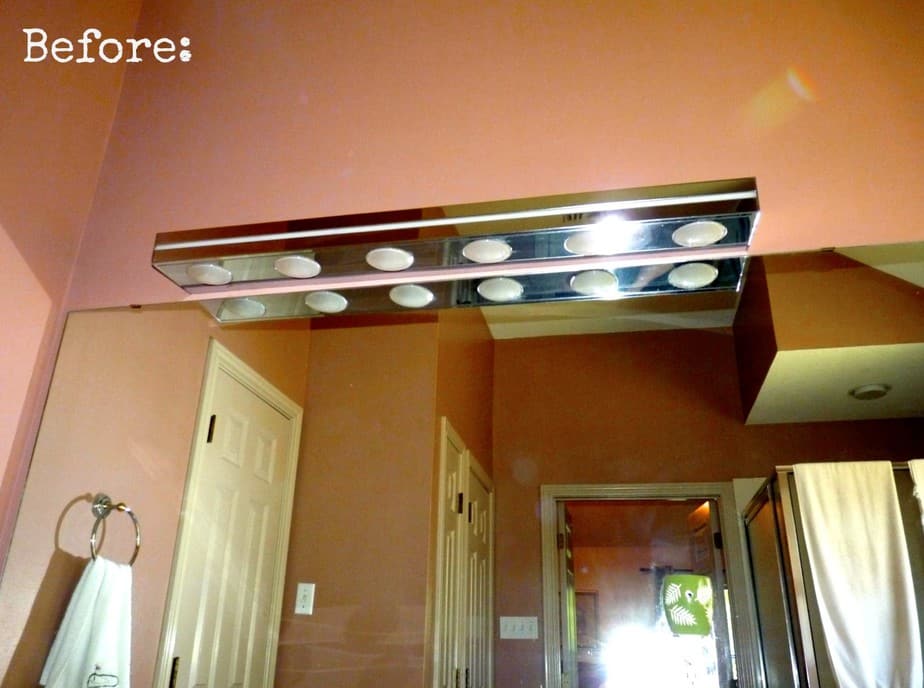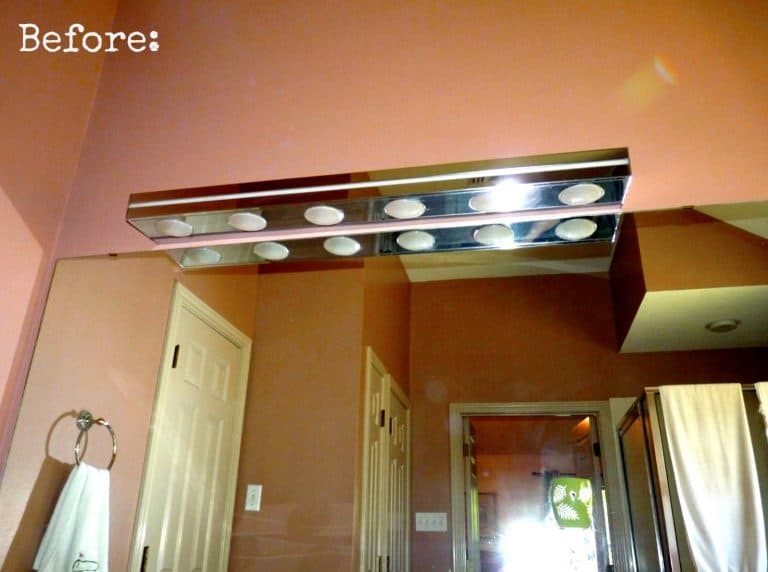 I procrastinated on this project because I knew I had possibly met my match – the shower frame!  The 20-year-old shower had horrible corrosion and no matter how much I cleaned it, that nasty shower frame still looked as gross as the first day I saw it.
Our ideal solution was to replace the shower completely with a frameless shower but we needed room in our budget for the countless other projects on our my list.    Making the shower painless to look at was my objective and I think I achieved it.  To attain this lofty goal, I reached for one of my favorite tools in my DIY arsenal – spray paint!  Yes, I decided I would spray paint the shower frame.   It only cost $80, which included spray paint and blue painters tape, but it was pretty work intensive.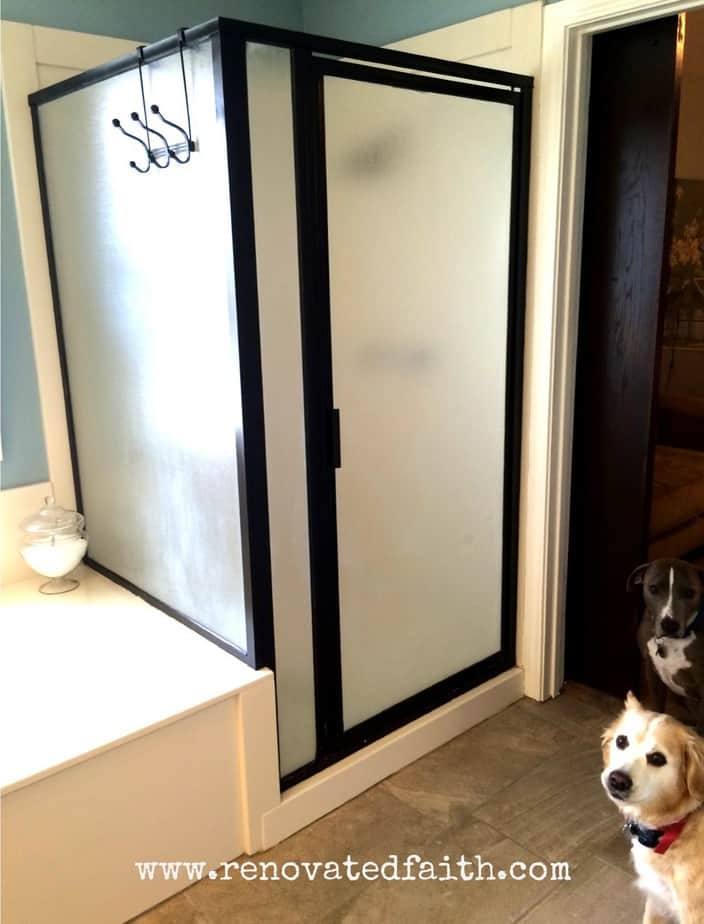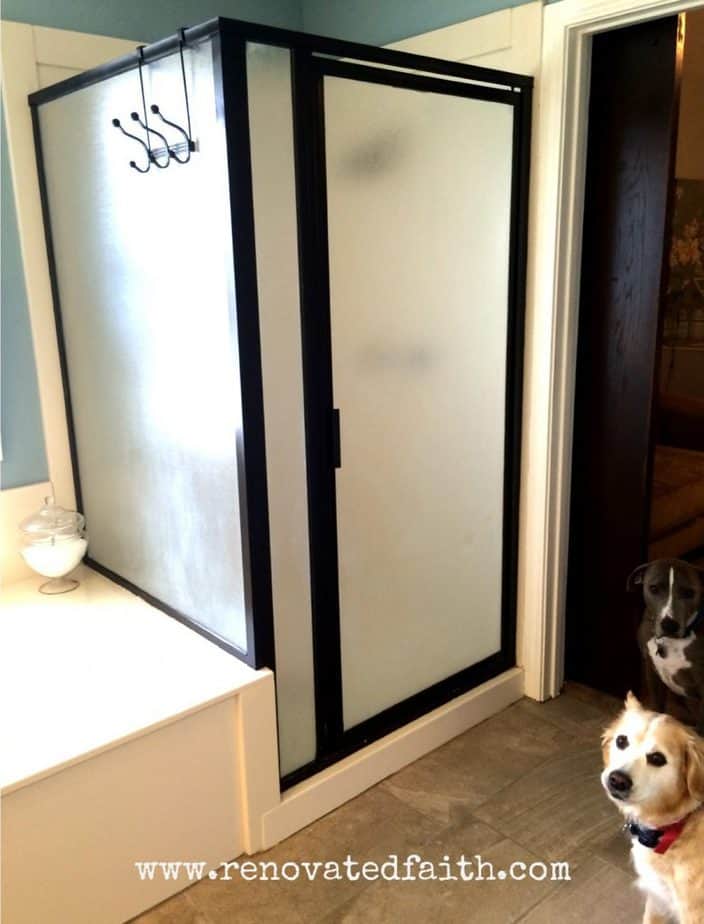 After committing to the idea, I removed all the old caulk (fun times!) and taped off with newspaper all the glass and surrounding tile.  I did not tape or cover the shower floor because any spray paint will be really easy to scrub up with soap and water, right?   WRONG!
The difficult part of this project is that you MUST cover every single square inch of your bathroom with tape, newspaper, old sheets, etc.  What you don't cover will have a fine black powder adhered to the surface.  This is a great project to do right before you replace your flooring, like we did.
After covering and taping everything but the shower frame, I put on my respirator and started spraying the frame with automotive primer. (You have to have a respirator for this project and open all windows.  The smell dissipates quickly but its intense during the process.)
The primer wasn't completely necessary but I wanted good adhesion to the corroded parts of the frame.  Then, I sprayed with three coats of Rustoleum Universal spray paint in Oil-Rubbed Bronze.  24 hours later I took down the sheets that I could, but I waited a full 48 hours before taking the tape off around the frame.
Be sure to score the frame edge with an exacto-knife before you take off the tape.  There were a couple places I had to touch up with spray paint remover as the spray paint got everywhere but overall it turned out better than I thought.  We will eventually get a frameless shower but this will work for now.  Rebar and Kallie seem happy with it.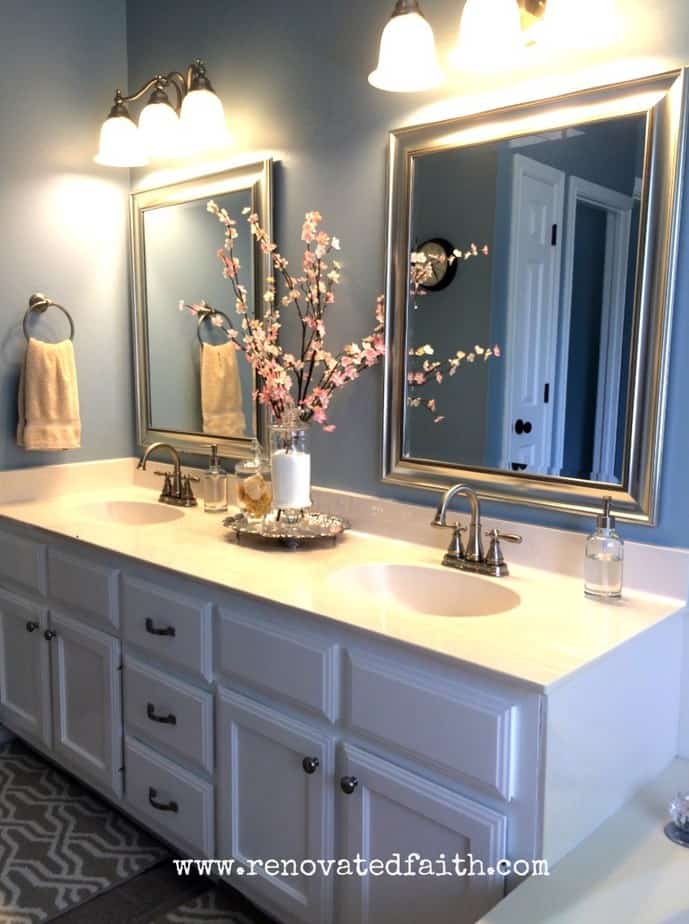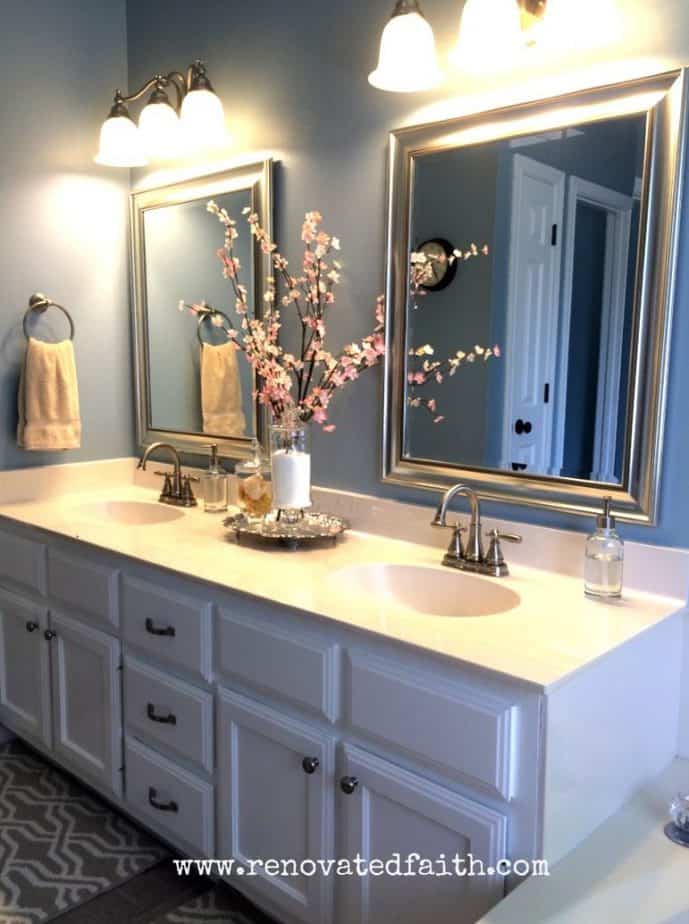 The next task at hand was to paint the mauvish-brown trim and walls.  For the walls, I decided on Behr Ozone in Satin to achieve a relaxed, spa-like feel.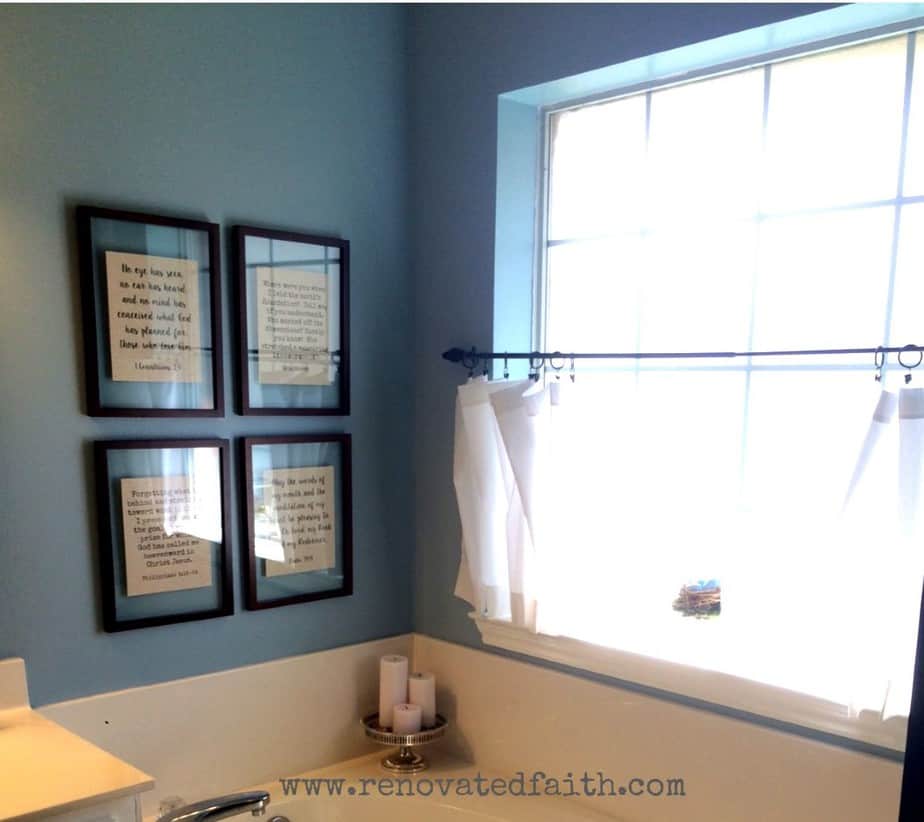 After contemplating what to hang on the wall over the bathtub, I knew whatever I displayed should be relaxing and enjoyable for the end of a long day.    Although a flat screen tv was very tempting, I decided to frame some verses that meant a lot to Jeremy and I.  We each picked two and I wrote more about what these verses mean to us and the process in a previous post.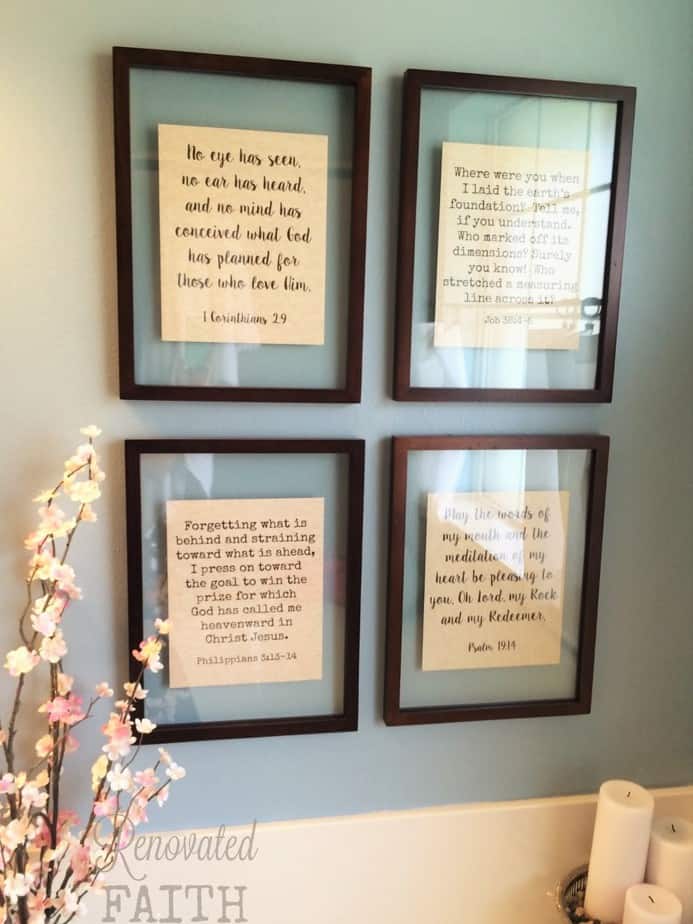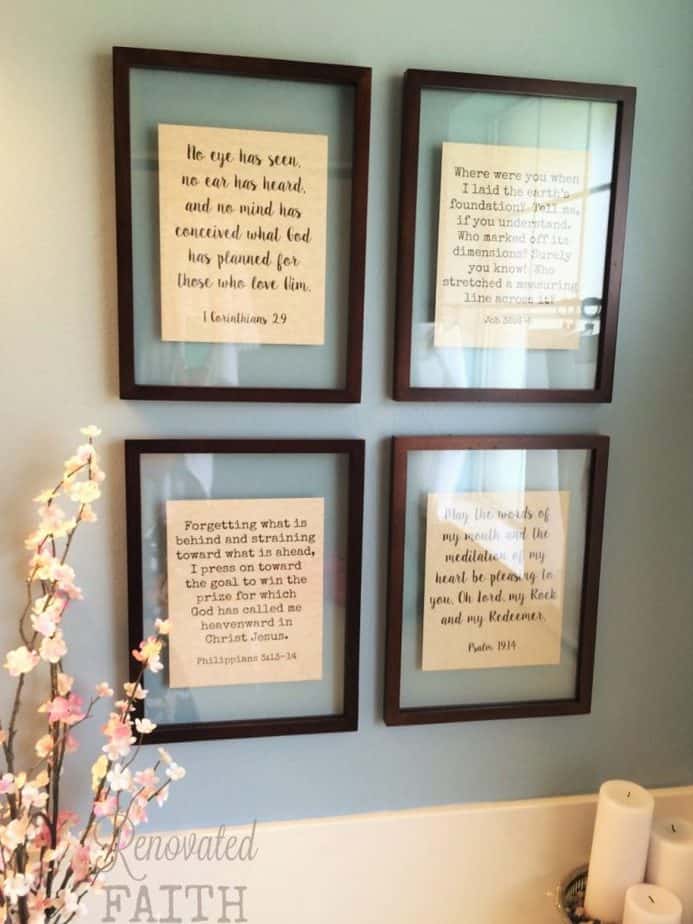 We replaced the builder-grade mirror with two framed mirrors to give the area more interest.  The light fixtures, faucets and new knobs in satin nickel made the space more sophisticated. Notice how much better the shower looks bellow. (For more diy light fixture updates, click here.)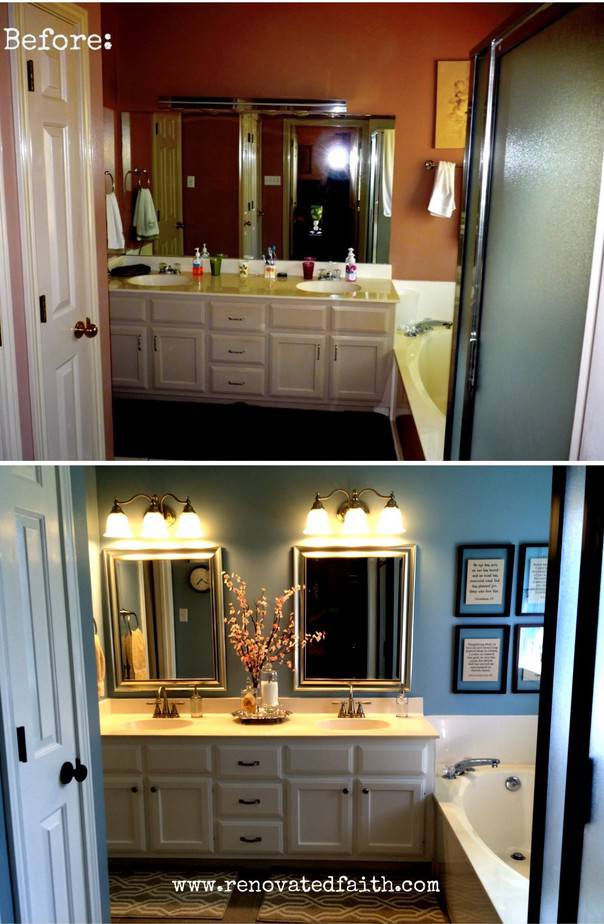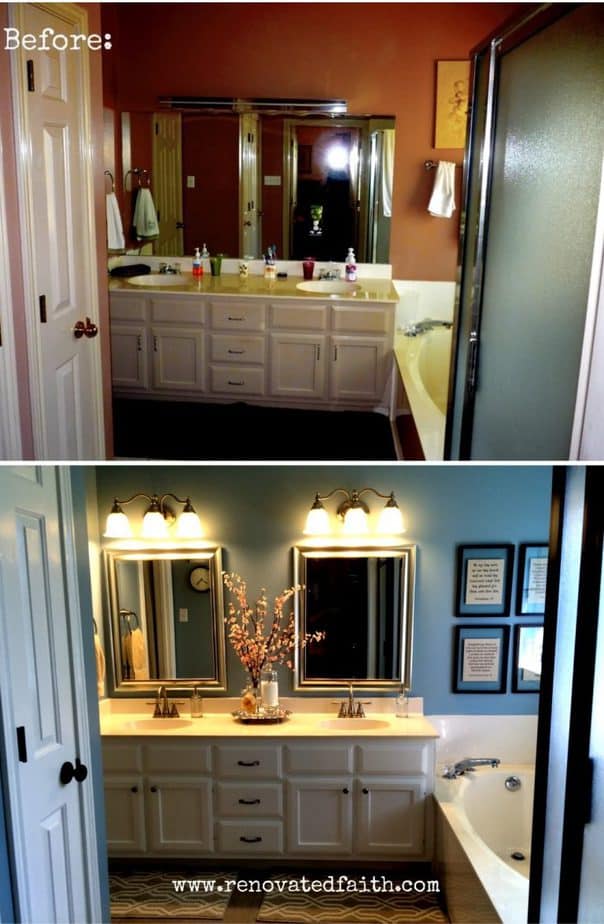 Did I mention we built a door too?  Actually Jeremy built and hung it and I finished it with two coats of Gel stain in Minwax Walnut.  It was a nice alternative to taupe bifold doors with brass knobs.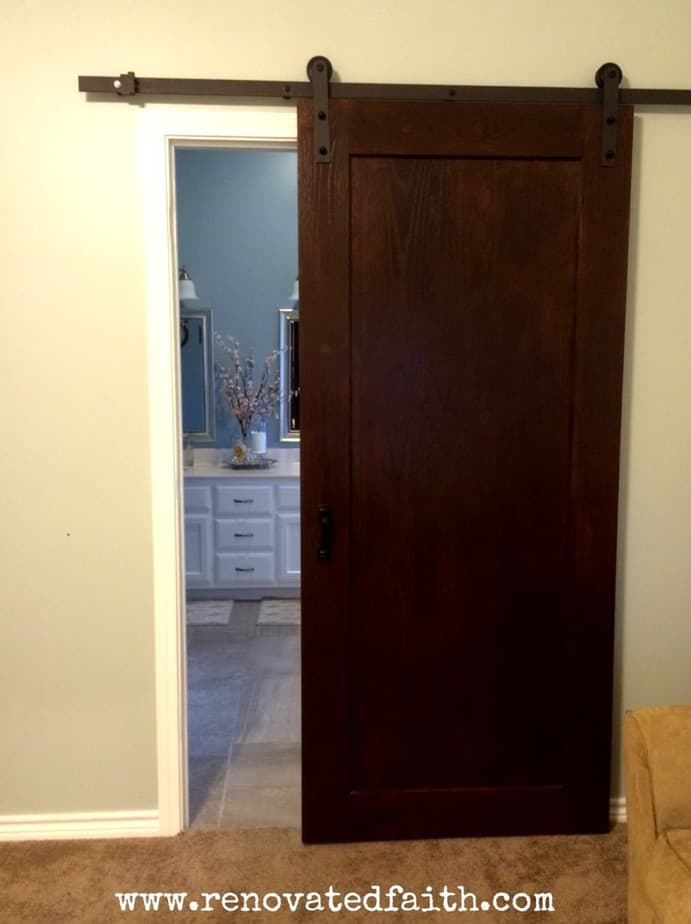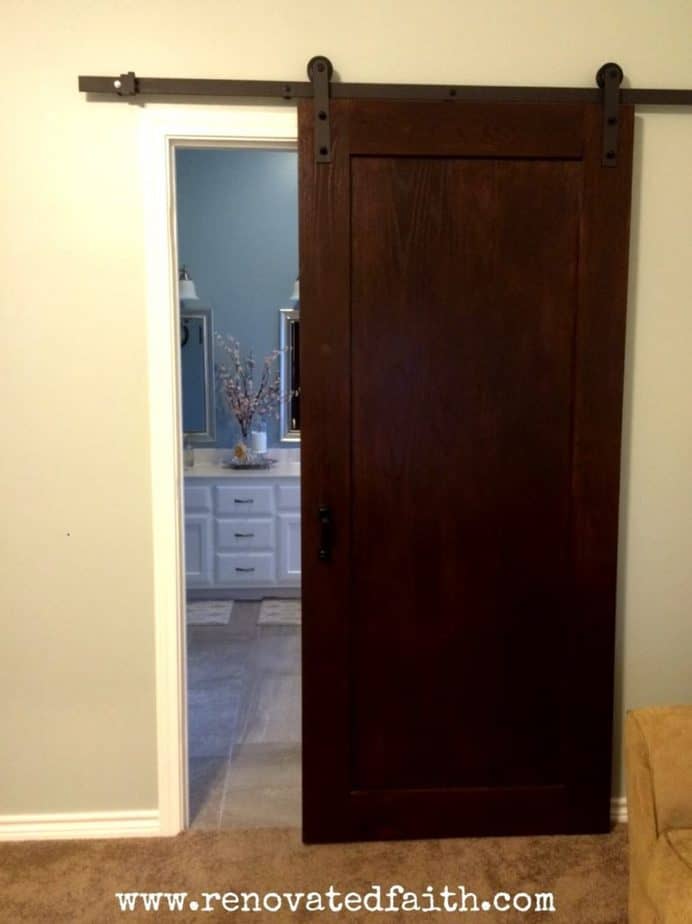 I had a lot of fun accessorizing.  I made some basic white curtains out of sheets from Walmart (cheapest sheer material you will ever find).  I also enjoyed decorating with some apothecary jars and old silver of my mom's.  It is amazing what a little silver polish can do!
As I mentioned, the framed wall verses mean a lot to me.  I picked this verse in particular because it is the heartbeat of my blog.  No matter how many or few read it, I want every word, picture and project to reflect the renovation He has done in my life.  He has fully transformed me from the inside out and I'm so thankful for His great love for us.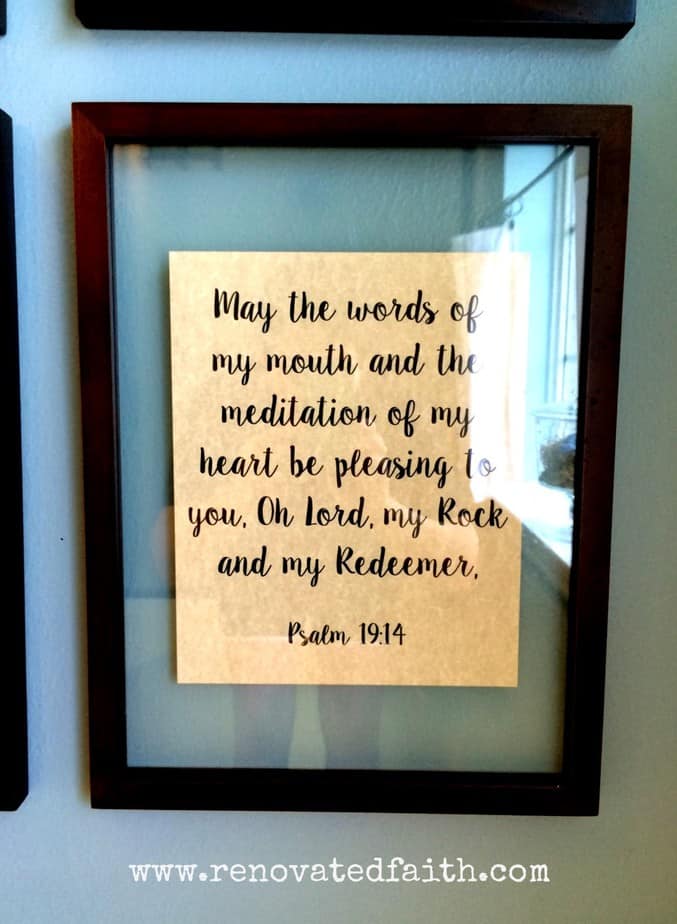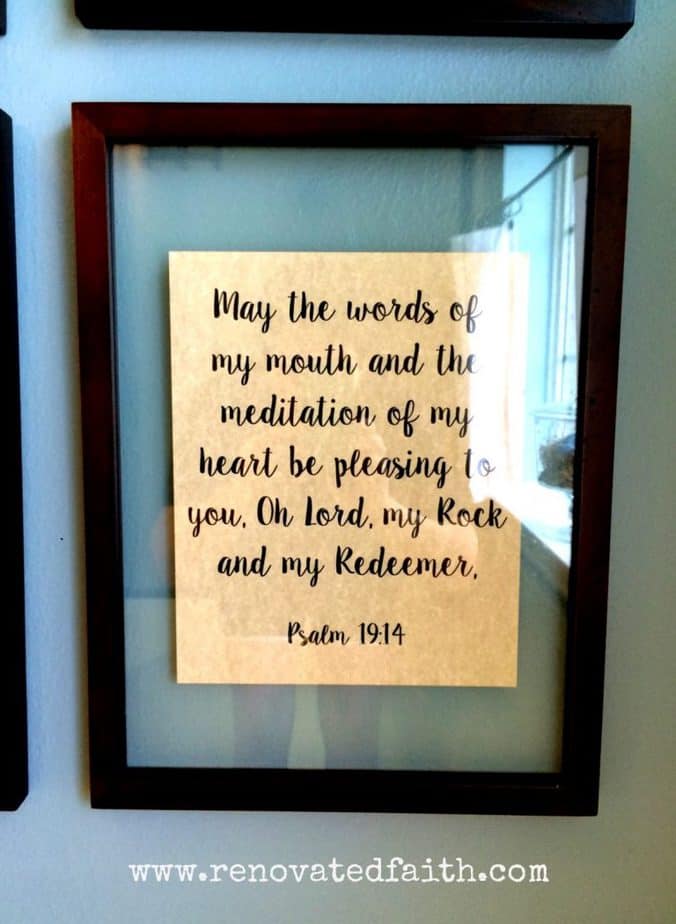 So what do you think? Do you like it? I'm pretty happy with the way it turned out, and more importantly, it did not break the bank. And now that I have the bathroom done, I can start working on the bedroom again. Hopefully I will have another reveal for you soon.
If you like this reveal, you might also enjoy my Landscape Makeover.
Thanks so much for stopping by. I always appreciate your visits and sweet comments. Have a great day!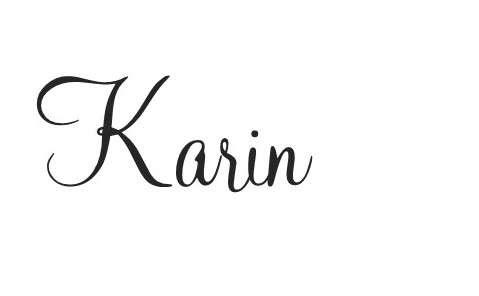 Source List:
Mirrors – Target.com
Light Fixtures – Lowes
Pictures Frames – Target
Sink Fixtures – Home Depot
Welcome to Renovated Faith, where I share about DIY projects, my faith and everything in between! When I'm not spending time with my family, you will find me redoing furniture in the garage or watering plants in my greenhouse. This blog is about transformation. Anyone can renovate a house but only God can transform our hearts!