Easiest DIY Curtain Rods (Conduit Curtain Rods for ANY Window Length!)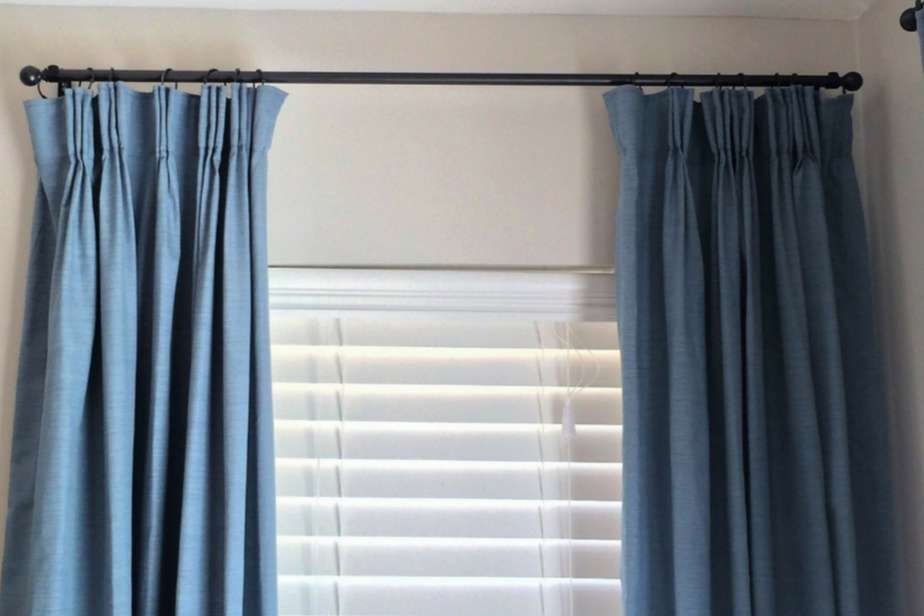 Budget Curtain Rods for Long Windows
Why spend a fortune on curtain rods & finials? Check out my DIY curtain rods tutorial to make conduit curtain rods for ANY window length!
---
Why spend a fortune on curtain rods when you can easily make DIY custom curtain rods that look just like those sold at Restoration Hardware.  I saved over $500 by learning how to make curtain rods out of electrical conduit and here I share a  way to make finials out of furniture knobs giving you endless style options! 
This post may use affiliate links at no extra cost to you. See my full disclosure here.
✅ Here is the link to the cabinet knobs to make your own finials in any color! CLICK HERE (These are clear but they can easily be sprayed in any color of your choice).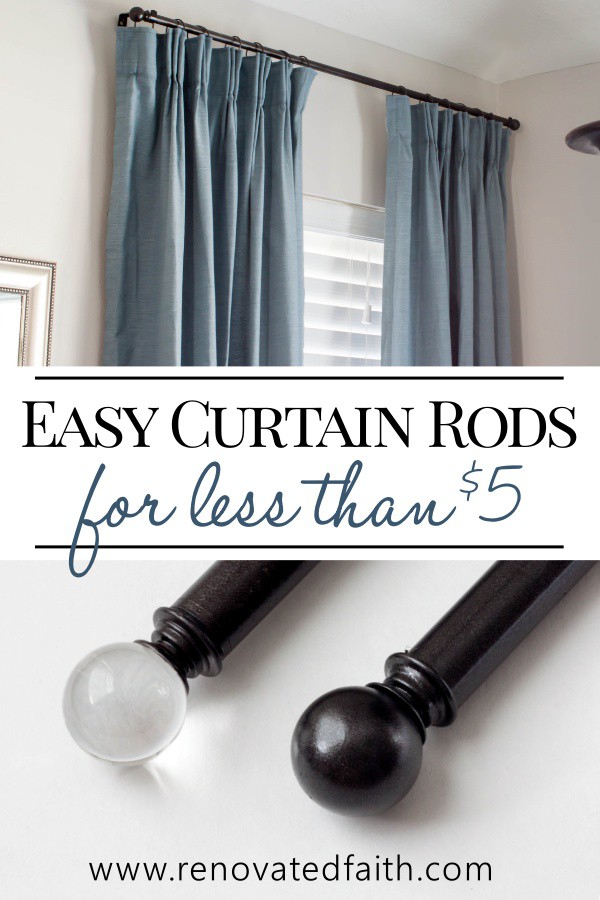 How to Make Curtain Rods out of Electrical Conduit
When we moved into our house, the existing curtains looked like something out of a 1960 Sears catalog and they had to go. Knowing I had 16 windows to buy for, I realized the cost would add up fast for something so simple. Since I wanted to spend more money on curtains, paint, and accessories, I decided to figure out a way to make my own DIY custom curtain rods.
We moved into this house a few years ago knowing we had a LOT of projects ahead. Every room was crying out for a makeover, but honestly, I wouldn't have it any other way. Making curtain rods was another opportunity to put our own touch on a house we love so much.
DIY Curtain Rods – Electrical Conduit vs. PVC
When making DIY custom curtain rods, there are a few different materials to choose from including electrical conduit (galvanized pipe), wooden dowel rods, and also PVC pipe. I decided against the wooden dowel rods because they are three times the cost of conduit and PVC and they also don't come in longer lengths for long curtain rods.
When it comes to electrical conduit versus PVC, I chose the conduit because although they are both cheap and come in long lengths, the PVC requires more brackets. That's because the PVC is much less rigid and can sag easily – not a look you want!
Non-Telescoping Curtain Rod
A non-telescoping curtain rod is one that is not adjustable because it is a custom curtain rod cut to the correct size of your window. Therefore non-telescoping rods are much more professional looking as you don't see that overlap where the rods meet up. The beauty of making DIY curtain rods out of electrical conduit is that you also gain the professional look of custom curtain rods!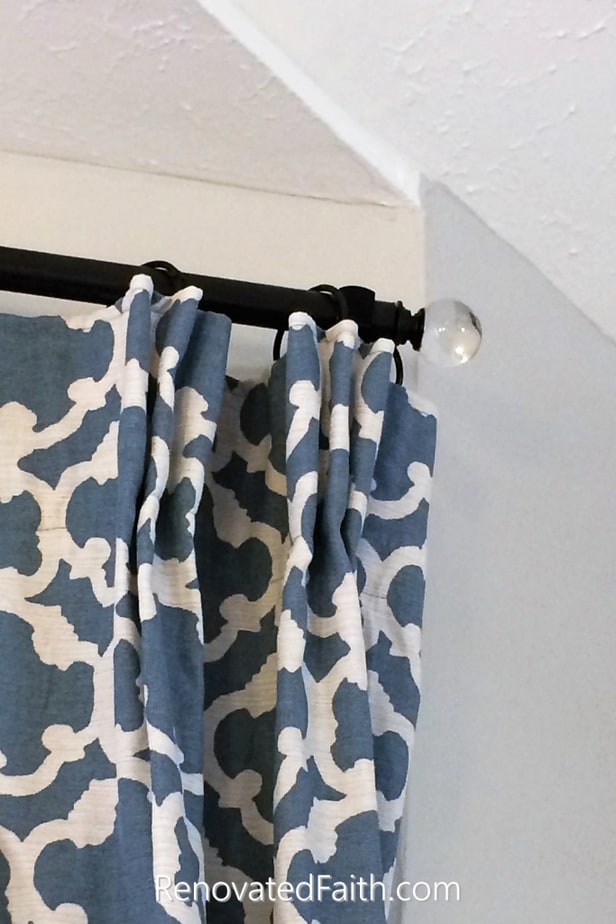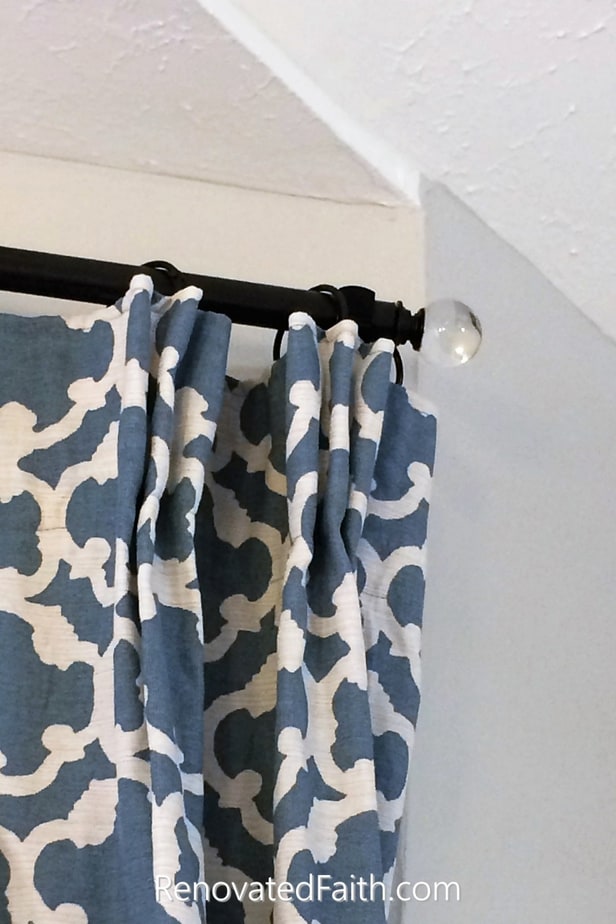 How to Make Curtain Rods Out of Electrical Conduit – Supplies
As you get your shopping list together, be sure to check out my post on DIY Pinch Pleat Curtains where I show you how to make your own curtain rings that are almost free!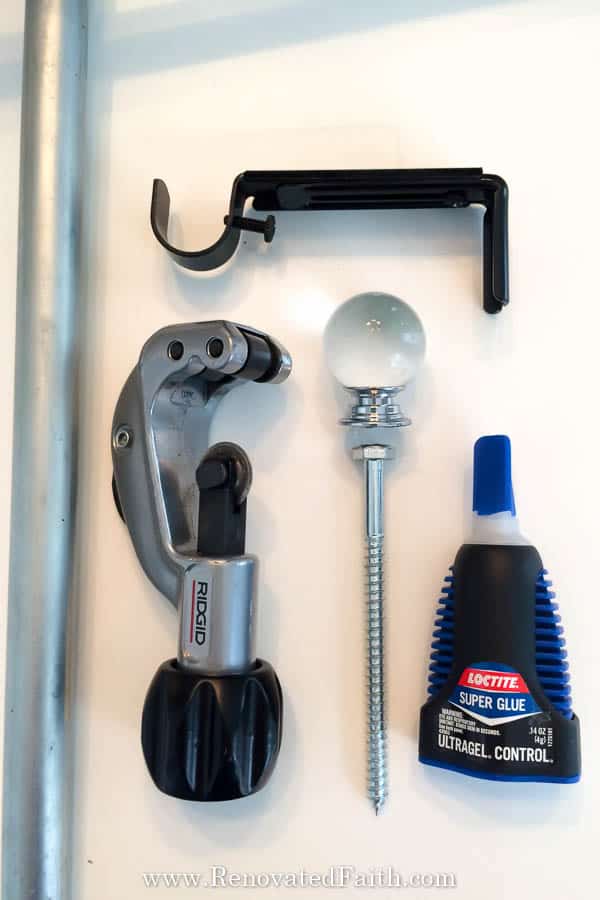 How to Make a Curtain Rod Out of Electrical Conduit – The Process
Step 1: A Unique Alternative to Curtain Rods – DIY Curtain Rods Out of Electrical Conduit
First, go to the electrical section in your favorite home improvement store for electrical conduit. As I said, I had considered wood dowels, but you would see the wood grain when it was spray painted. PVC was another option, but it was too flexible, which is why the electrical conduit was a perfect choice.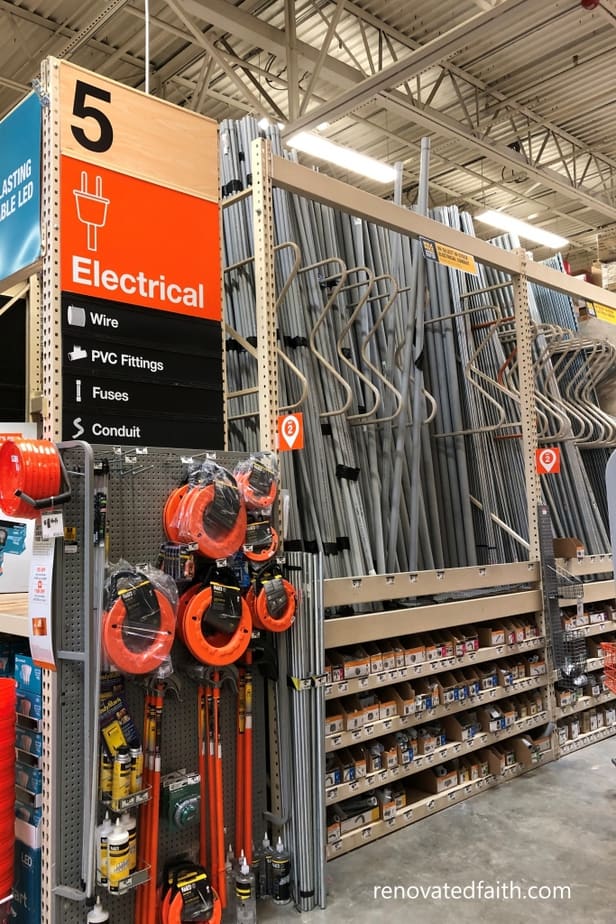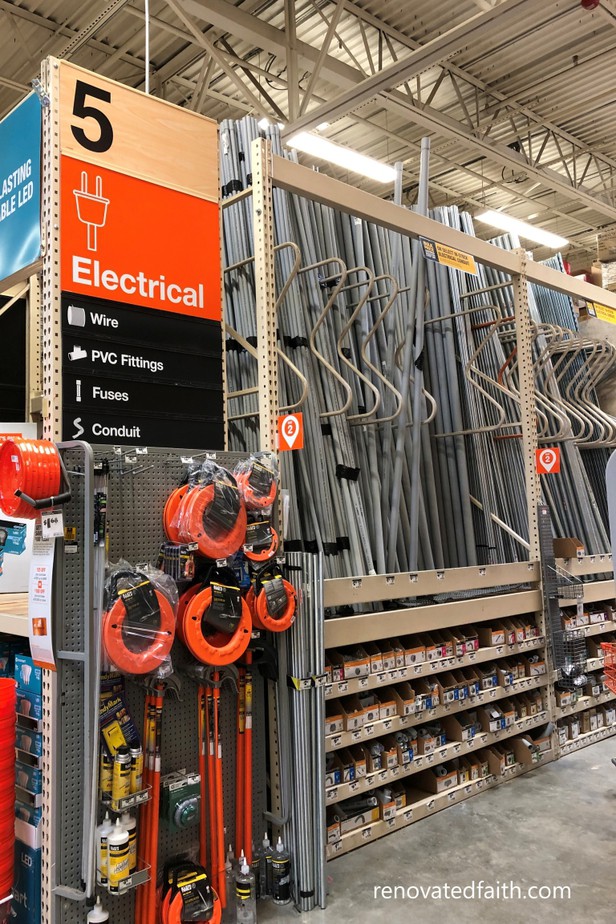 Electrical conduit is my new best friend. Not only is it durable, and easy to cut, but it is also extremely cheap.
A 10' piece of 1/2" electrical conduit will run you less than $4.00! Compare to the Amazon Basics Curtain Rods of the same size that will run you almost $30 each and that's just for a basic rod. These will look just like Restoration Hardware's basic rods that will cost almost $200.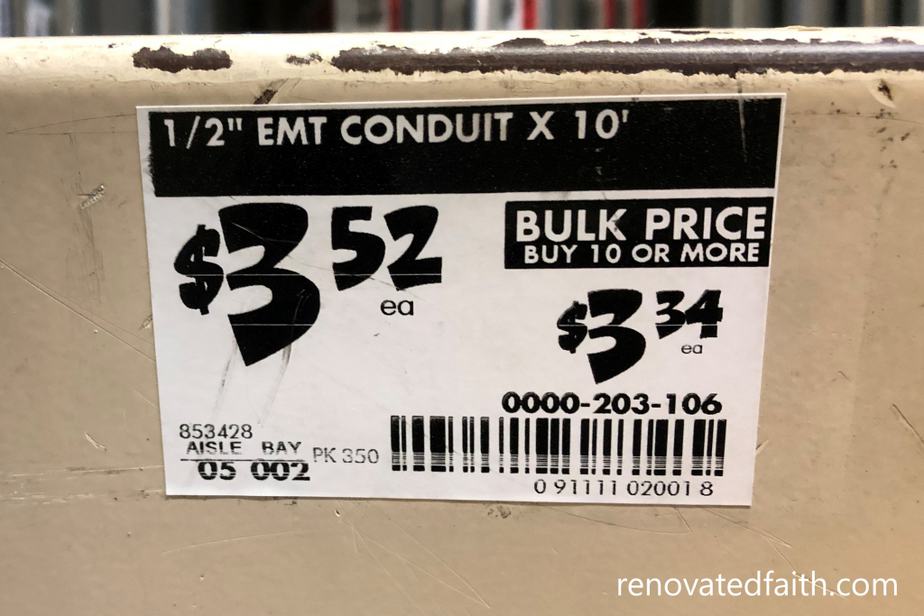 Be sure to pick conduit that is straight as some can be a little bent.
I found curtain rod brackets at Amazon but you can also find them at Home Depot. Make sure your bracket will fit your rod diameter. These worked nicely with the ½" conduit.
Step 2: The Easiest Way to Hang Curtains – Finding the Right Height and Width
Before you buy your new curtains, there are some size options to consider:
How to Determine the Best Width for Curtains
You don't want the length of your rod to be the same or even close to the same as the width of your window alone. We want the curtains to accentuate the window and make it look larger than it really is while letting in as much light as possible!
In other words, you want the inside edge of the curtain to just barely cover the inside edge of the window. This gives the illusion of a MUCH larger window.
In several cases, I extended my rods over a foot on each side of my windows. I did this to make the windows look larger than they actually are and to allow more light in!
Notice how tiny this window is but it looks so much larger when I extended the curtains out as far as they would go.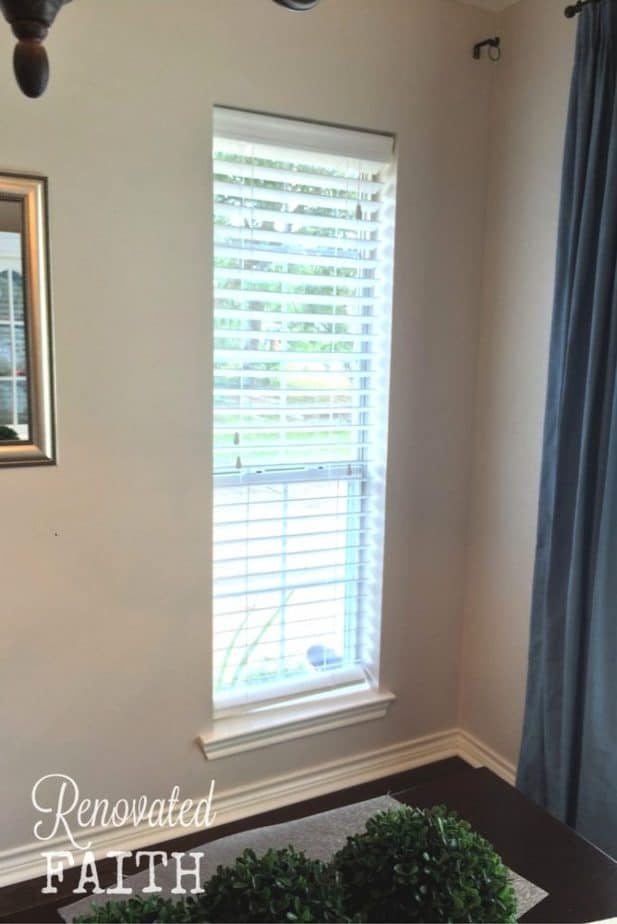 No one would be able to guess how small these windows actually are!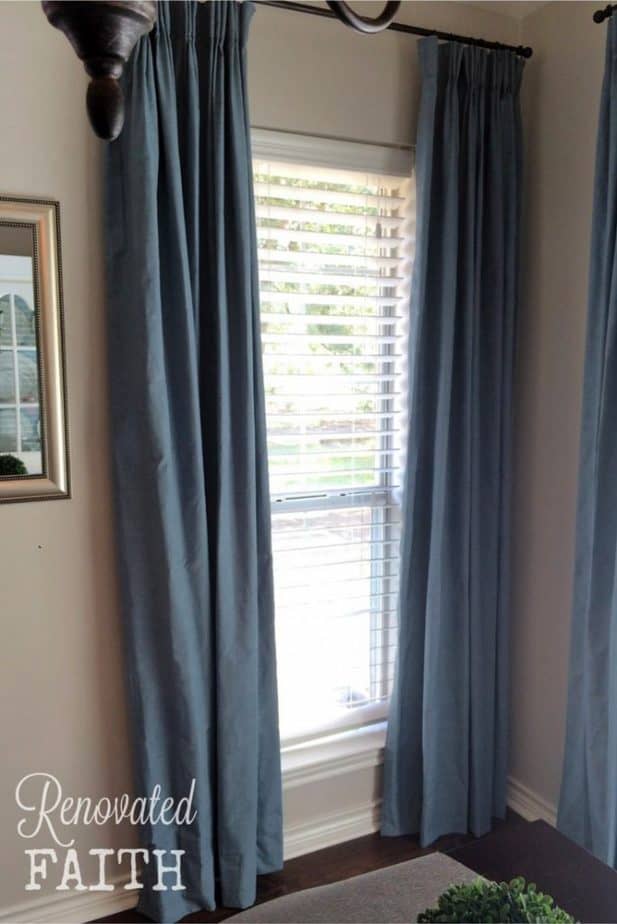 How to Determine the Best Length for Curtains
I like to hang my curtains so they are 4 to 6 inches from the ceiling. Measure away from the ceiling and make a small mark with your pencil there. Now you want to install your curtain rod brackets at the width you decided on earlier and at this height.
In determining the length of my curtains, I like to add 4 inches to this length (from the rod to the floor) because I will actually hang up my extra long curtains on the rod, pin them to the correct length of 1/2″ off the ground and then hem them.
I know what you are thinking, my friend. It sounds like a lot of extra work to rehem curtains but for me, it is easier than the possibility of making a lot of extra holes in the wall trying to get the brackets to be the right height for the rod. I do this because often when I get curtains, one end is longer than the other but this method customizes my curtain to my window. Also, your curtains are now truly customized to your window.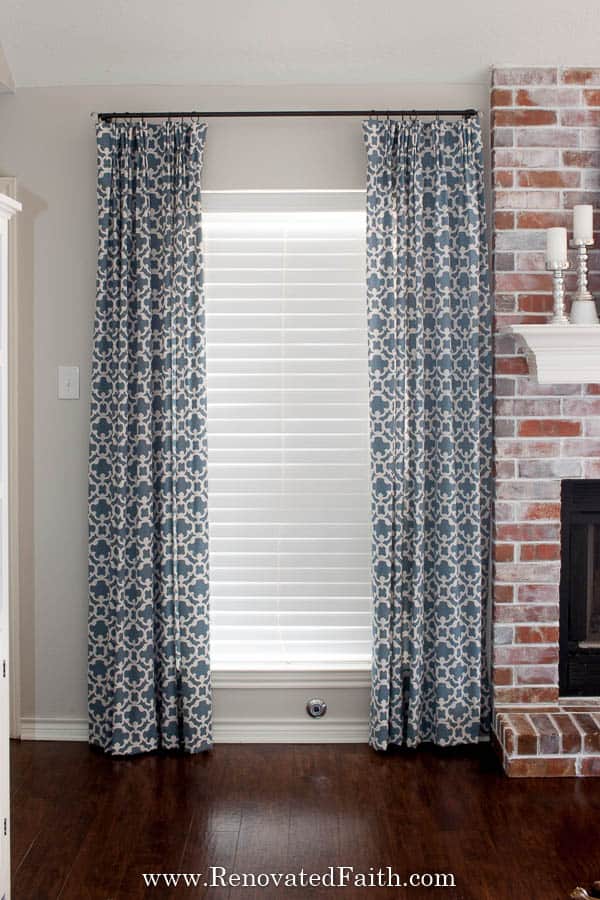 To recap: Measure from 4-6 inches from the ceiling and install your brackets. Next, measure from the rod to the floor and add 4 inches to the curtain length. Then, go shop for curtains that are at that length or longer. Now, you can hang the curtains on the rod, pin them to the right length, and rehem them. (If you don't sew, use this hem tape!)
For example, I bought 110″ curtains from Target which was much easier and cheaper than making them from scratch or getting them custom made. This method is the one sure-fire way to get your curtains the right length without adding a lot of holes in the wall because of misplaced brackets. Plus you have professional looking curtains at a fraction of the price!
Here are the three different curtains I bought for this project!

Step 3: How to Cut Curtain Rods with a Pipe Cutter
Mark the new rod size with a pencil so you know where to cut. To cut the rod, you simply tighten the pipe cutter so the round blade is in line with the line you marked. Tighten it just enough that you can still rotate it around the rod with some tension. Keep rotating the pipe cutter around the rod until it gets loose again, tighten slightly, and continue to spin it. Do this until the groove in the rod is deep enough that the end pops off at the cut. It might take a minute or two but I promise it works!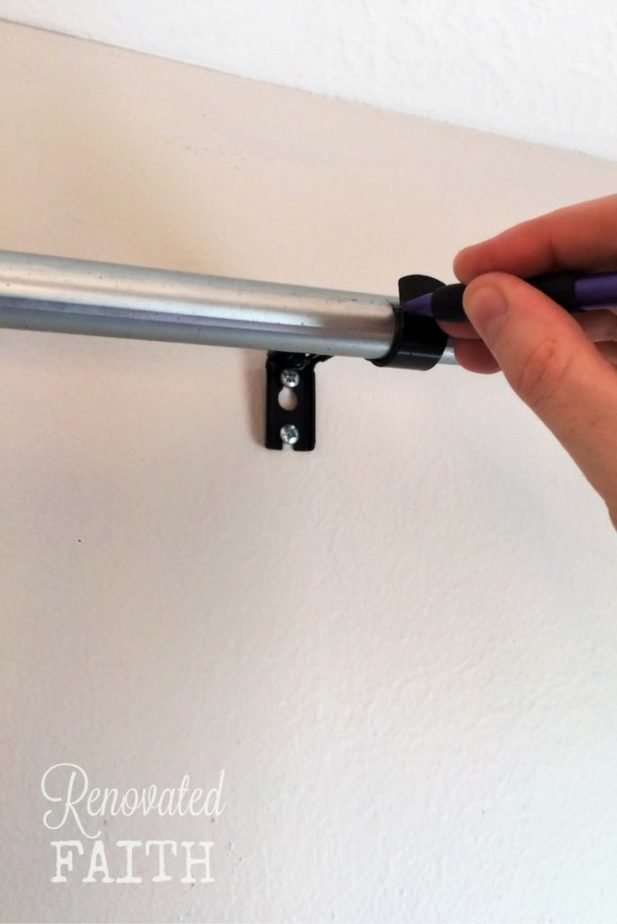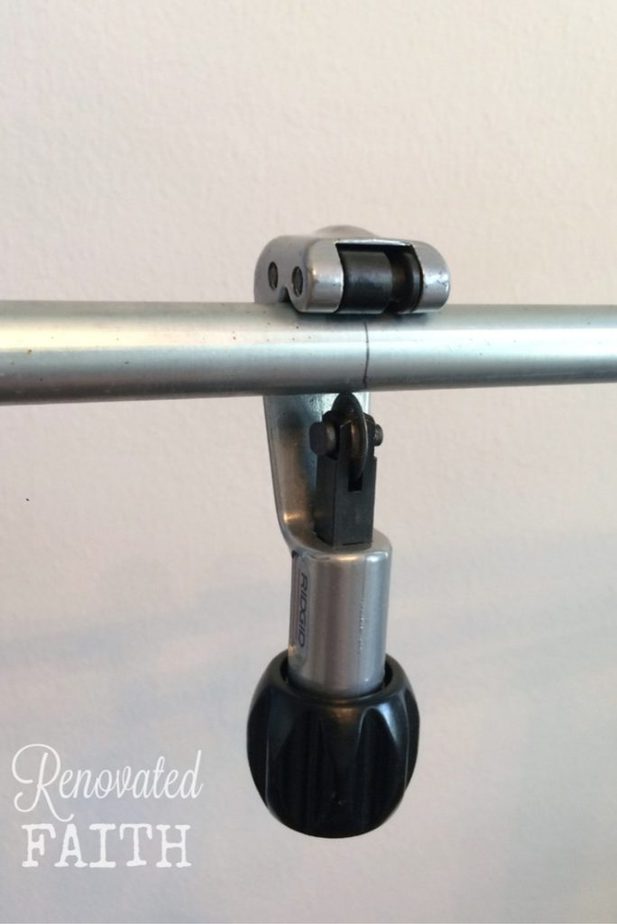 Be sure to check around to see if you can borrow a pipe cutter. They are not very expensive but I bought one for myself, only to find out my husband already had one and my dad had two. Woopsie!
Step 4: How to Make Unique DIY Finials Out of Furniture Knobs
Now it's time to work on the knobs! For the windows in the kitchen and living room, I wanted the look of these round glass finials at Restoration Hardware but wasn't about to pay $80 a pair, especially when I would need so many. So, I stumbled upon these 30mm Glass Cabinet Knobs for just over $1 each. Jackpot!
Superglue the head of the screw to the bottom of the knob.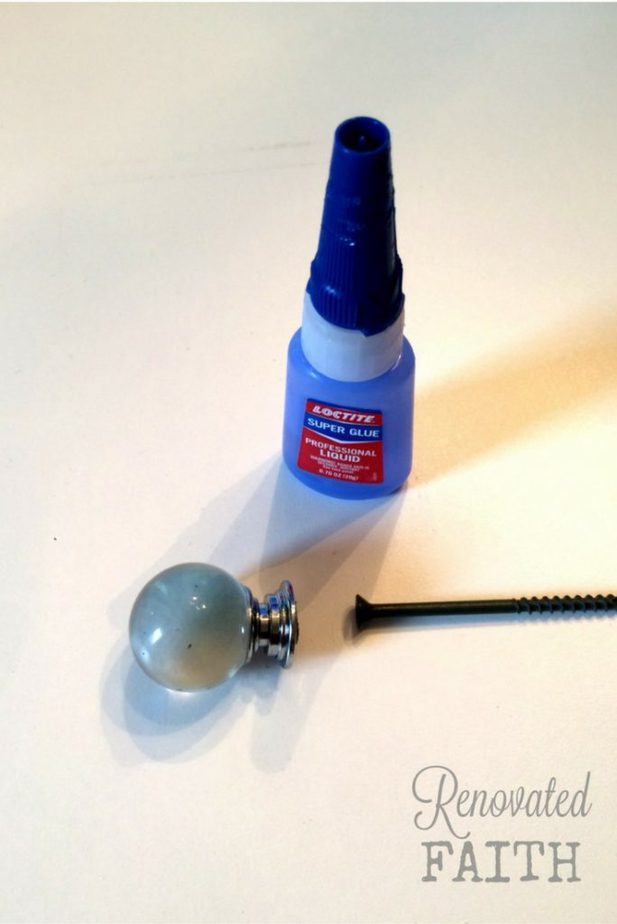 I applied an ample amount of super glue and used an empty egg carton to hold them in place as they dried. As they dry, you will see some white residue from the glue on the base of the knob but the paint will cover that. Let the finials dry 48 hours to be on the safe side.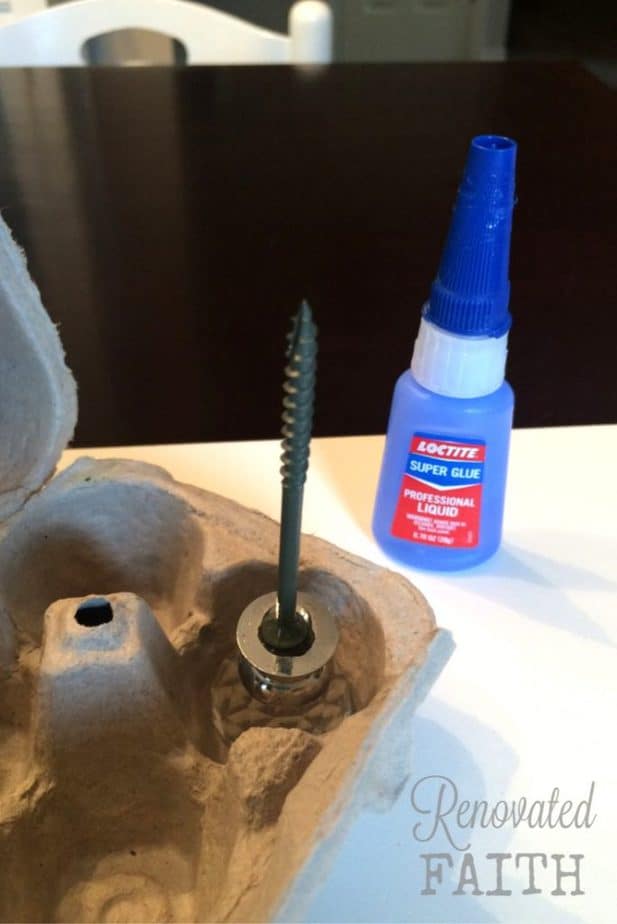 DIY Curtain Rod End Caps
Instead of finials, you can make DIY Curtain rod end caps by buying PVC end caps and spray painting them. Just super glue them onto the ends and no one will know you made them yourself.
Step 5: Time to Paint Your DIY Curtain Rods
We saved this step until now so we didn't ruin the paint finish when cutting the rod or gluing the knobs.
My favorite spray paint for curtain hardware is Rustoleum Oil Rubbed Bronze (click here for the current price). It's very forgiving but read the information on the back about recoat times.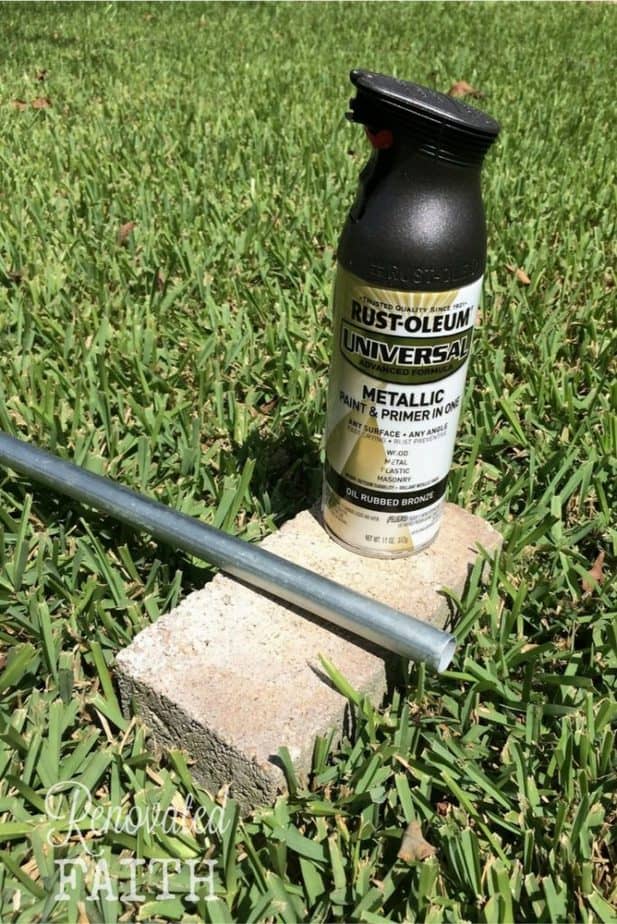 At the same time, you paint your rods, you will also want to spray paint your finials (cabinet knobs) and any other hardware.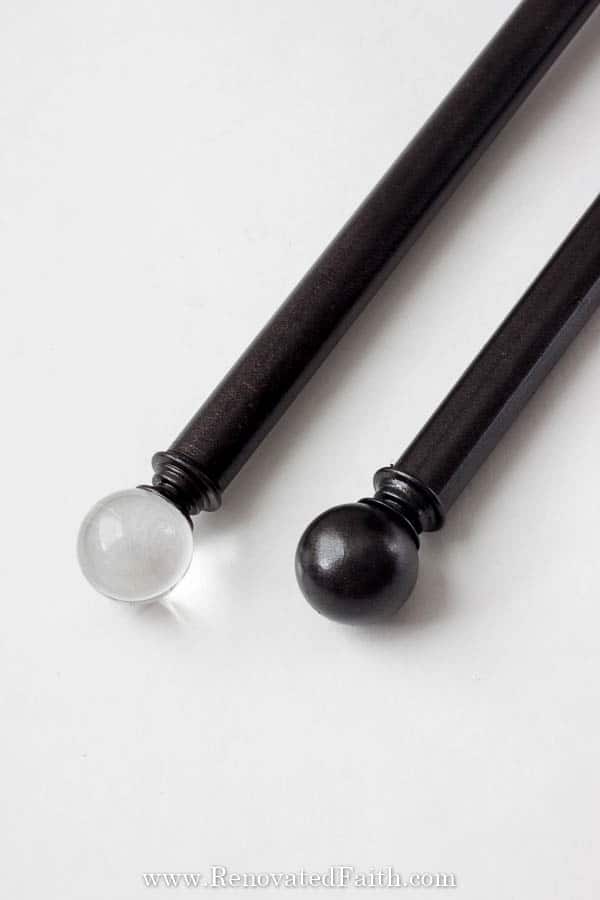 DIY Glass Curtain Rod Finials – To get the look of the Restoration Hardware Glass Ball Finials, you want to tape off the round glass portion with painter's tape, before spray painting.
DIY Oil-Rubbed Bronze Finials – For solid oil-rubbed bronze finials, you will spray paint the entire finial. No one will be able to tell that part of it is metal and the rest of the finial is glass. Once it's spray-painted, the whole finial and rod will look like dark bronze. To get my best spray painting tips to get a flawless finish every time, fill out the form below!
If I had to do this over again, I would have painted the brackets too so they are exactly the same color.

Free Spray Painting Tips & Tricks
To get my free tips on spray painting anything, fill out the form below to get the free checklist and access to my free printable library:
Step 6: How to Make Cheap Curtain Rods Out of Electrical Conduit – Installation
After the paint has have dried overnight, I wrapped electrical tape around the screw so it would fit snugly into the end of the conduit. Be sure to wrap at least 2 rows of tape around the screw. This will take some trial and error as you find the right amount of tape so the finial end fits. You want a snug enough fit so that the finial stays in place.
I just kept adding tape until it was tight enough. Secure it with hot glue if that helps.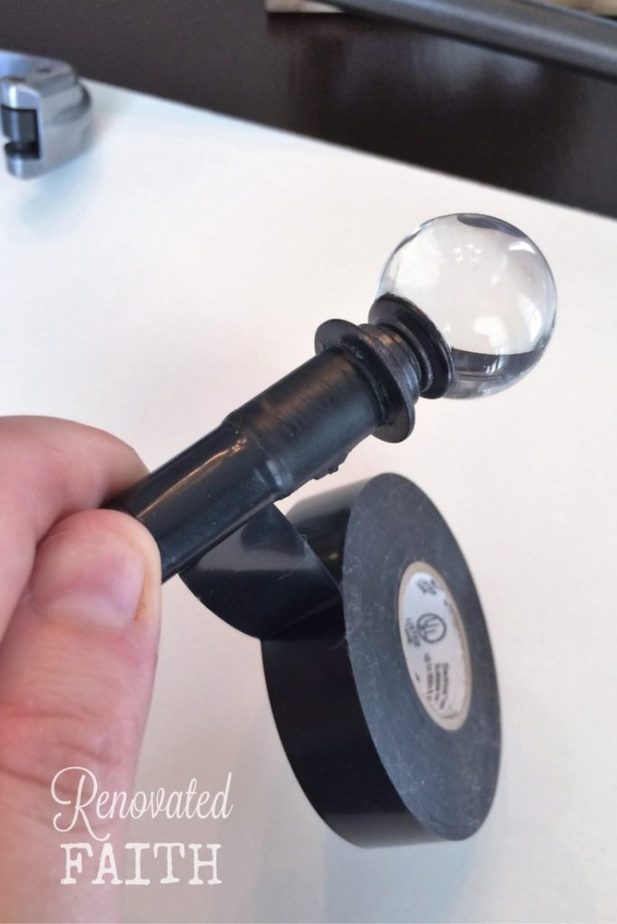 Hang your brackets and rods and you are ready to add your curtains!!!
Here are the rods I made when I made over our master bedroom in Master Bedroom Makeover in Sherwin Williams Silver Strand.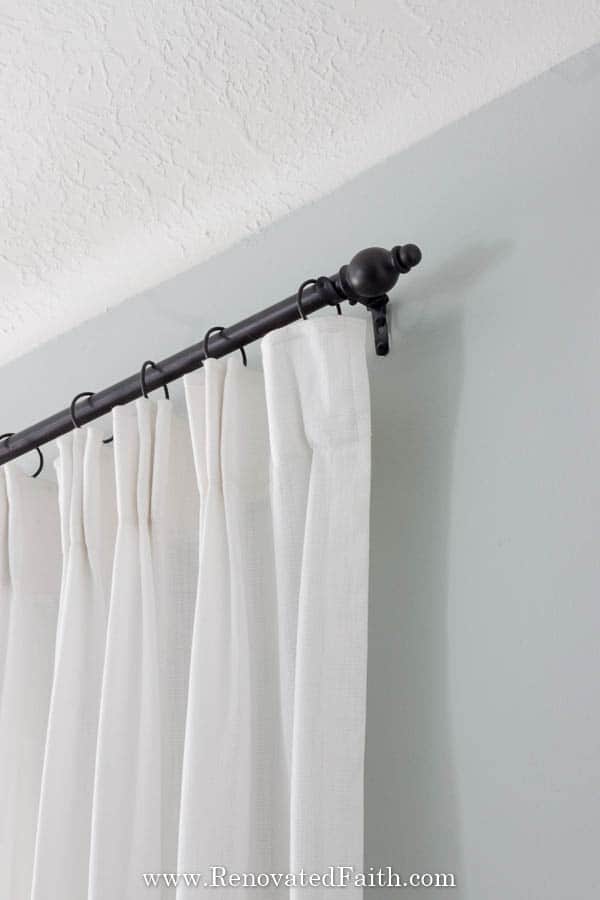 After attaching the finials to the rods, I hung my curtains. I repeated this project for all 16 windows in our house and estimate that I saved a minimum of $500 if I bought all Target curtain rods.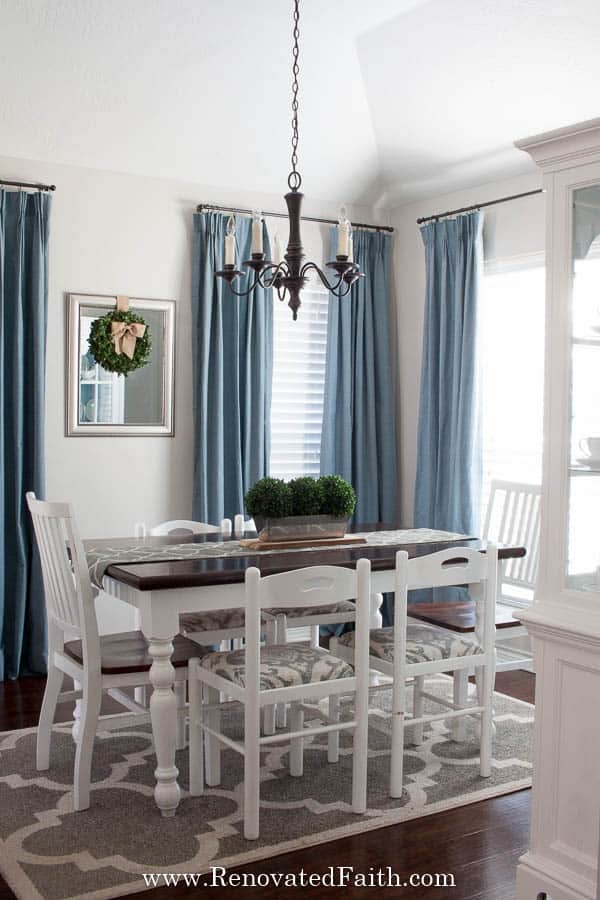 Can you imagine how much I would have saved at a high-end store like Pottery Barn or Restoration Hardware? I'm willing to bet you can't tell the difference between my glass finials and the ones at Restoration Hardware below.
It's hard to believe that each curtain rod with brackets and finials cost me about $10.
To see how I made my own DIY Curtain Rings and also made pinch pleats the EASY way, check out my post How to Add Pinch Pleats to Store-Bought Curtains.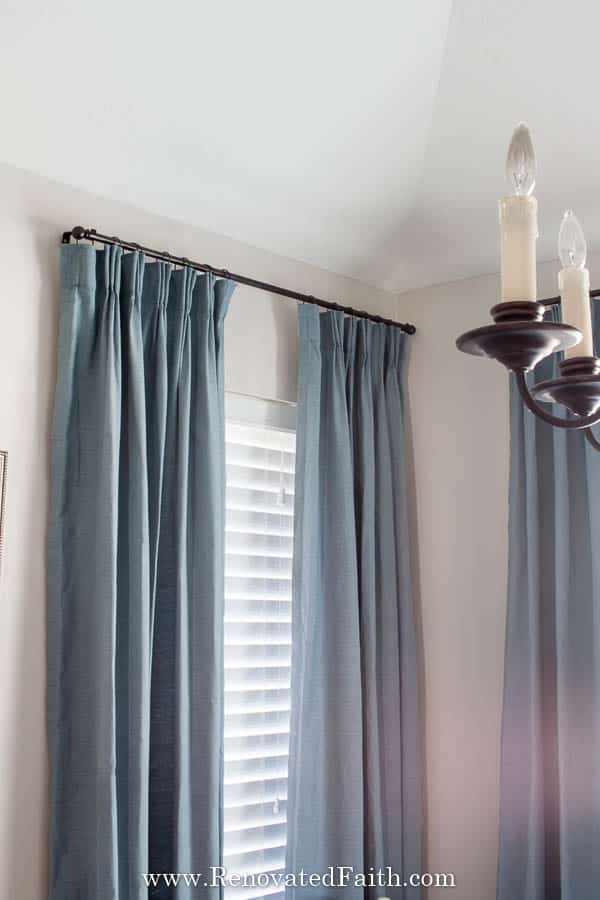 How to Make DIY Curtain Rods – FAQ's
How to Make Conduit Curtain Rods: Bay Window
To make a custom curtain rod for a bay window, you don't have to fork out the high cost of custom bay window curtain hardware. Instead, cut the electrical conduit into three different sections according to the length of each window. Then you will join each rod with this connector here. To ensure the end of the connector fits into the curtain rod, you are going to wrap the end with electrical tape as you did above.
Once your brackets are installed and you are sure everything is cut to the right size and fits properly, you can spray paint your connectors to match the rods.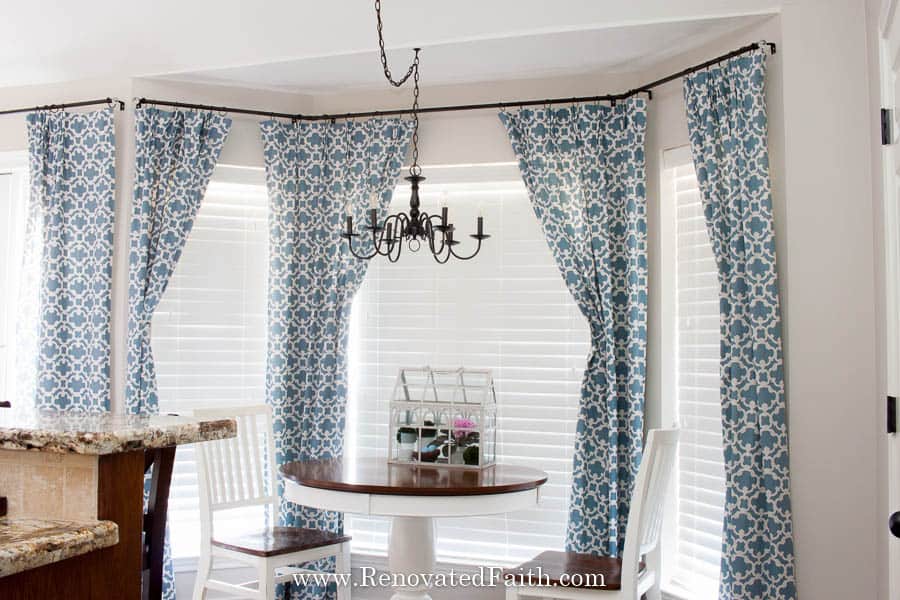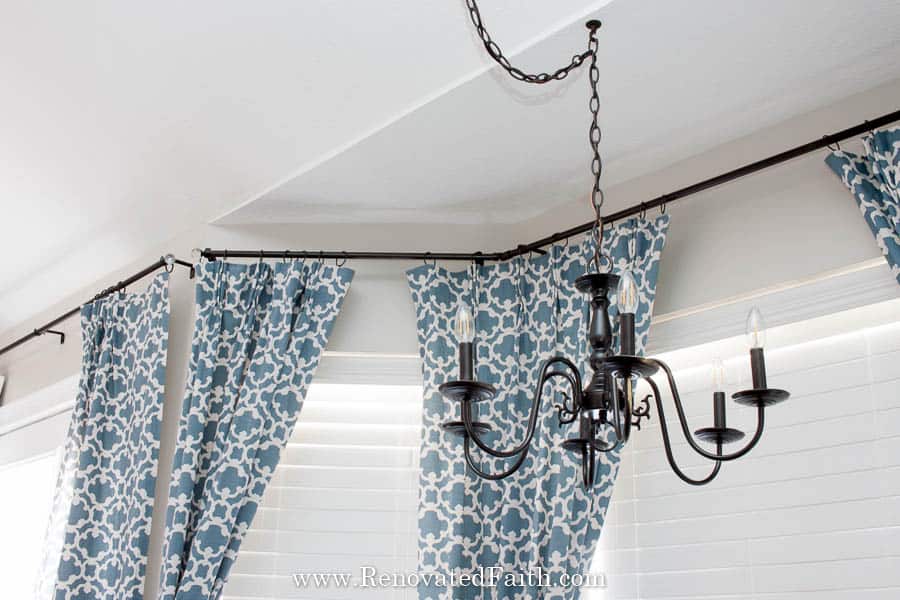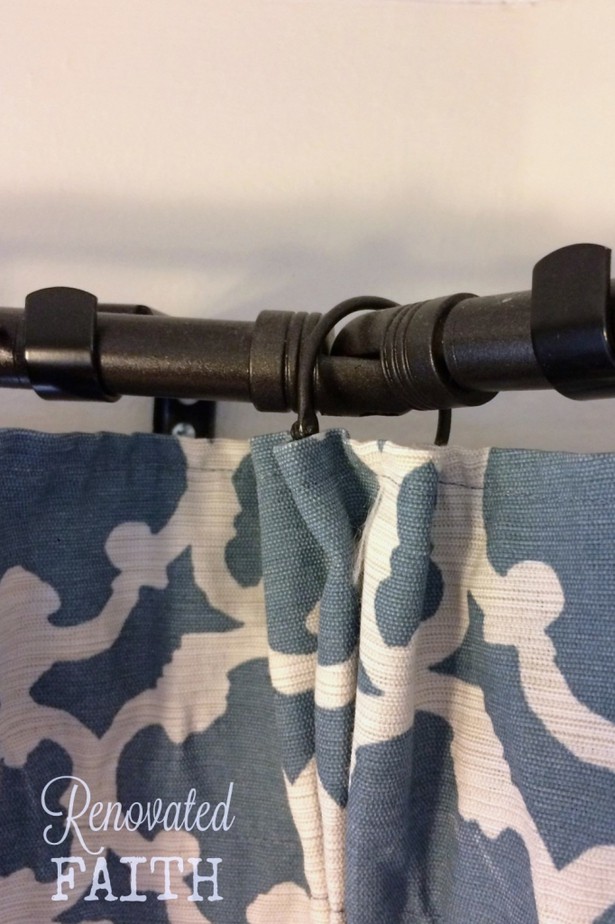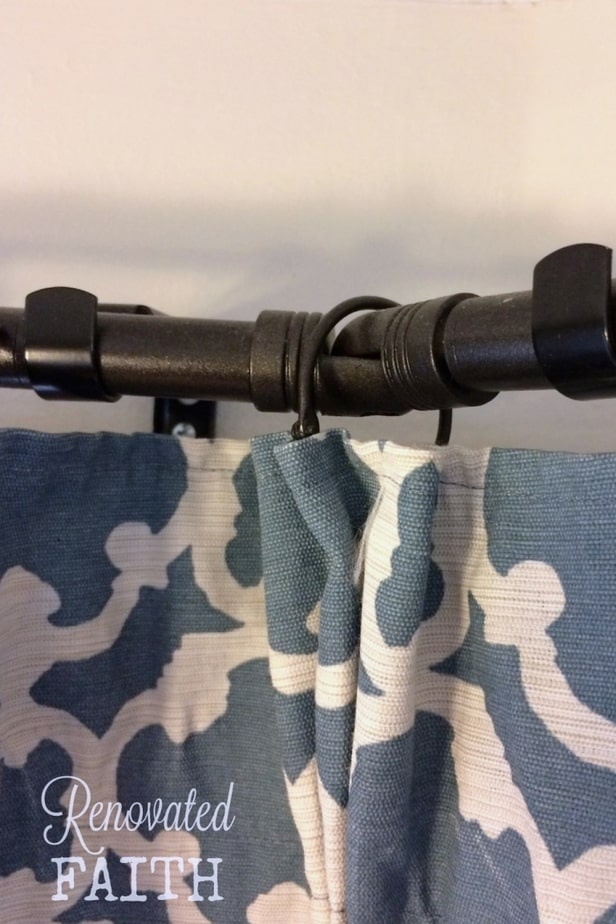 DIY Curtain Rods for Sliding Glass Doors
To continue the look of the long curtains in our living room, I used the same process above to make some curtains for our french doors. This would also work well for sliding glass doors, where you want to ensure privacy but don't want the look of verticle blinds.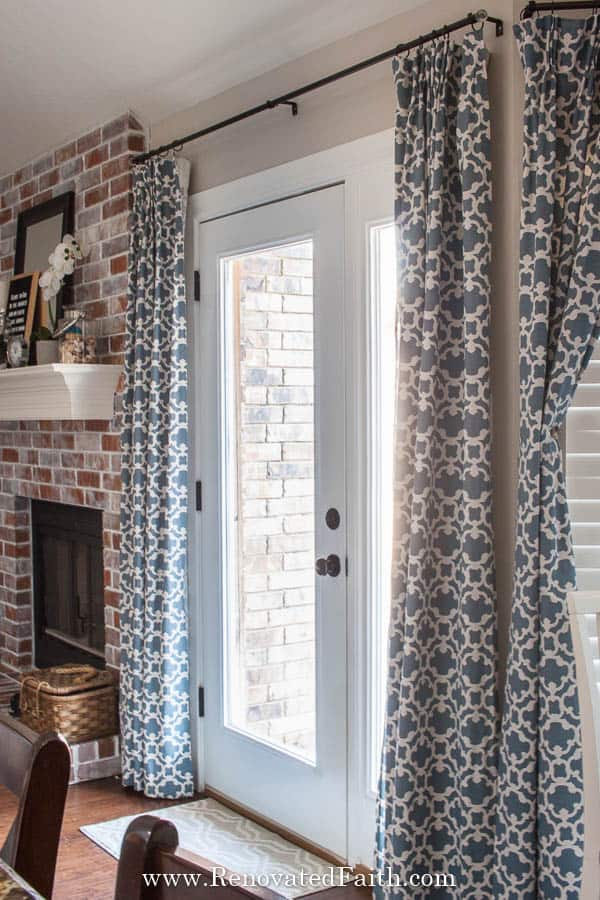 How to Make Extra Long Conduit Curtain Rods
Because the electrical conduit comes in lengths up to 10 feet and sometimes longer, you have a lot of options for extra long curtain rods. You just want to make sure to add enough brackets as any curtain rod will sag without enough support in the middle.
How to Extend a Curtain Rod That is TOO Short
If you have an existing curtain rod that is too short and needs extending, it will be easy to cut a piece of electrical conduit and spray paint it to the color of your existing brackets and finials. For less than $4 you now have a longer curtain rod that fits with your existing style.
DIY Corner Curtain Rods
If you have corner windows and need an easy solution for DIY corner curtain rods, use the same connector as I used in the bay window instructions but only cut two pieces of conduit. Now you will hang them so that there are three curtains (one on each side and one in the middle with your connector in the middle. It is best to use 4 brackets (two on each wall) and use rings for your curtains since you are using the connector.
DIY Double Curtain Rods
If you like the look of sheers behind your curtains, you will want to make a DIY double curtain rod which is just as easy as making a single. You will just cut double the pieces of conduit and need double the finials but for brackets, you will use these double brackets that will work well with the 1/2″ conduit.
When Do Curtain Rods Need a Center Support?
A curtain rod needs center support if the curtain rod is over 6 feet long. If you feel like you will see some sag, even for curtain rods less than 6 feet, go ahead and add a center support. It is better to add one to be on the safe side than to not add one and risk the conduit sagging. Fortunately, the electrical conduit is very rigid, unlike PVC pipe which almost always needs a center support.
How To Make Curtains for Doors
To make curtains for doors, follow the same steps above, I'm used the same tutorial to make curtains on rings for my french doors and after 5 years, the paint is not scraped off the rod – even though it's pulled open and close every day.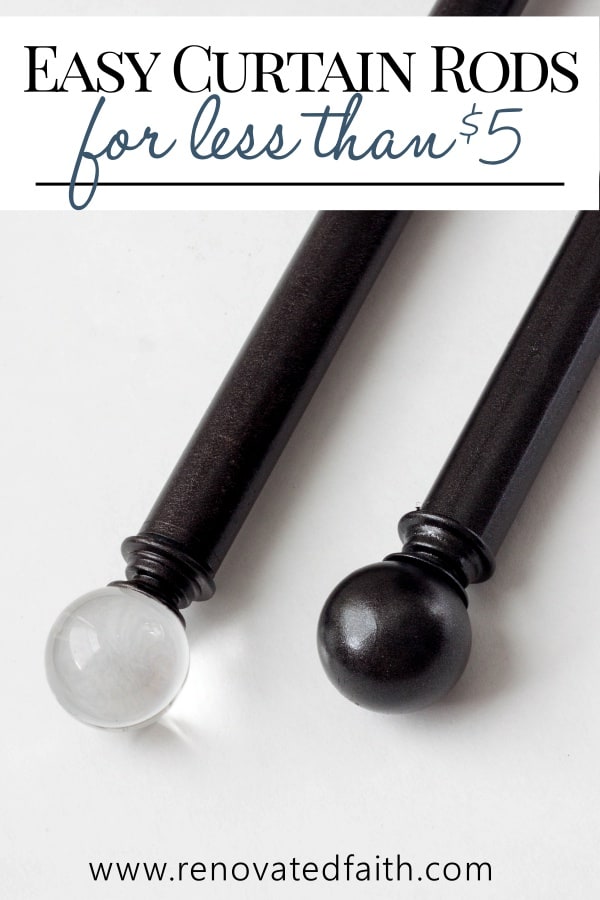 Related Posts to DIY Curtain Rods
Easy, Pinch-Pleat Curtains (No Sewing Required!)
The Ultimate Guide to Painting Kitchen Cabinets White
21 Tips for Flawless Spray Painting
A Beginner's Guide to Furniture Painting (Vanity Reveal)
Why I No Longer Use Chalk Paint on Furniture
Benjamin Moore Hale Navy Review
Sherwin Williams Silver Strand Review
Easy Pinch Pleat Curtains Without The Hassel
Blessings,

Be sure to follow the fun here!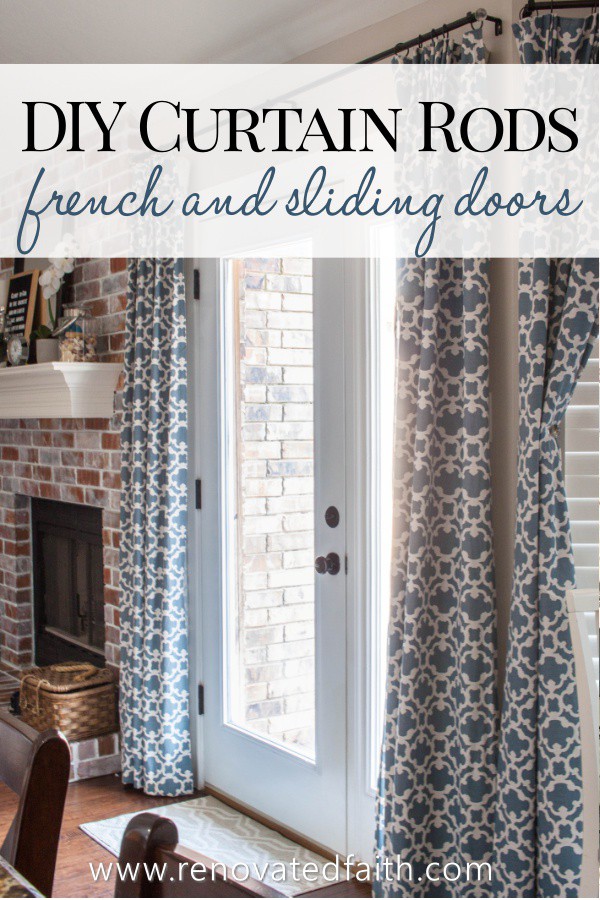 How TO Make Conduit Curtain Rods Any Length
Welcome to Renovated Faith, where I share about DIY projects, my faith and everything in between! When I'm not spending time with my family, you will find me redoing furniture in the garage or watering plants in my greenhouse. This blog is about transformation. Anyone can renovate a house but only God can transform our hearts!