"What do you have against orange pumpkins, Mama?" my daughter asked as we slathered blue latex all over the orange plastic. My DIY Thanksgiving tablescape helped me to remember that life doesn't always give us orange pumpkins but we can be confident that God will still bless us through the unexpected.
I've just never been a fan of orange personally. Maybe it's because most of my house has blue décor. Or maybe it's the fact that I'm a Texas Aggie and our long-time rival's color is burnt orange. But these days orange is just "NOT my color", as my daughter Morgan would say.
When I pictured our Thanksgiving table I thought blue pumpkins would mesh well with the classy white and silver pumpkins we spray painted last year. Sometimes you just need that extra pop of color to set everything off – which I've realized is not only true in dining room decor.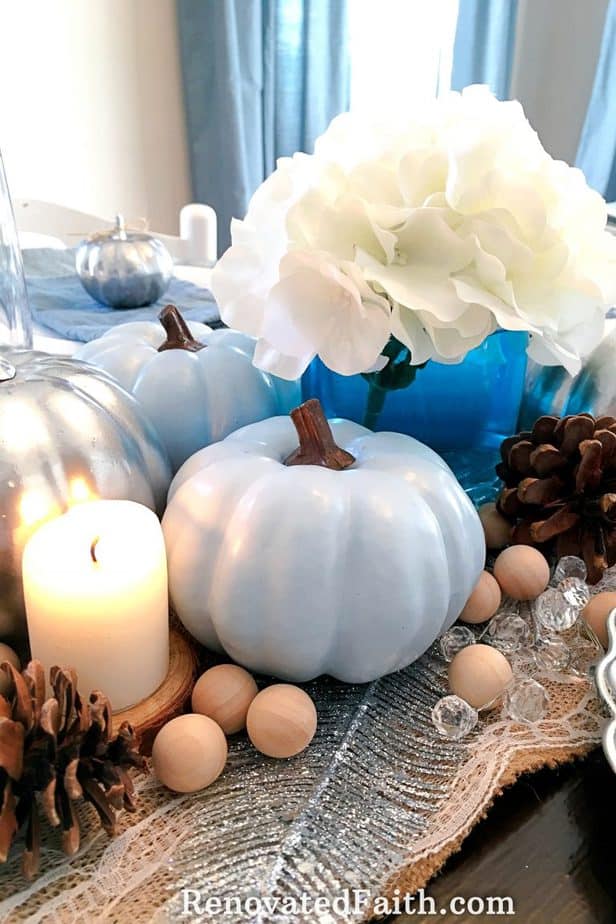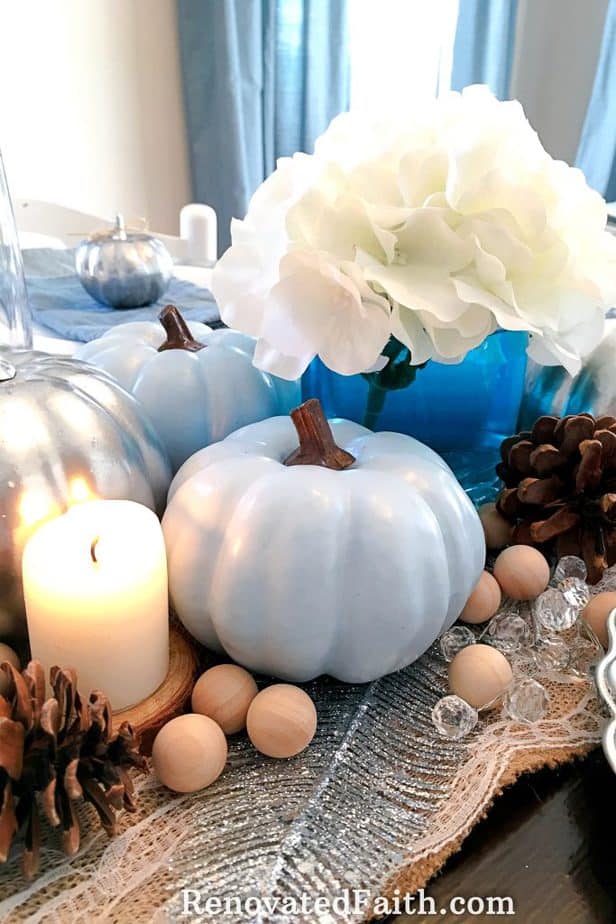 Growing up, we decorated our home with orange pumpkins just like everyone else did. They were the expected and familiar staple of our Thanksgiving décor.
I've never been a fan of change but recently I've realized how many of life's blessings first come to us an unexpected changes.
Before Morgan was born, I worked in a large church where my full-time job was to oversee Home Groups, Sunday School and later on Women's Ministry. Hours of seminary classes (91 of them to be exact) prepared me for that job. The role of Adult Education Director became familiar and comfortable, like that favorite pair of running shoes that you've finally worn in.
After Morgan was born, she acquired a rare autoimmune disease as I wrote about in my post Coping When Your Child Has A Chronic Illness or Disability. I stepped down from my role and stayed home with her in the duration. Upon her remission, I was obviously most thankful for my daughter's health, but I was also anxious to step back into what I had defined as 'normalcy.'
However, to my dismay, every part-time church job and even some volunteer opportunities fell through. Filled with shame and frustration, I continually sought out and fought with all my might for the "orange pumpkin" I was so accustomed to.
It finally occurred to methat these opportunities for ministry were eluding me because God was giving me a big, fat resounding "No."
"What do you mean 'no'? This is what I'm trained for. This is how you've always used me in the past…" I kept looking all around me for my comfortable and familiar orange pumpkin while I was ignoring the big blue pumpkin sitting in my lap.
"Whether you turn to the right or left, you will hear a voice behind you say "This is the way; walk in it." Is. 30:21
Then something bizarre began to happen.
In my time with God, through friends and family, and even random circumstances I began to get ideas for blog posts.
There was only one problem…. I didn't have any blog or any plans to start one.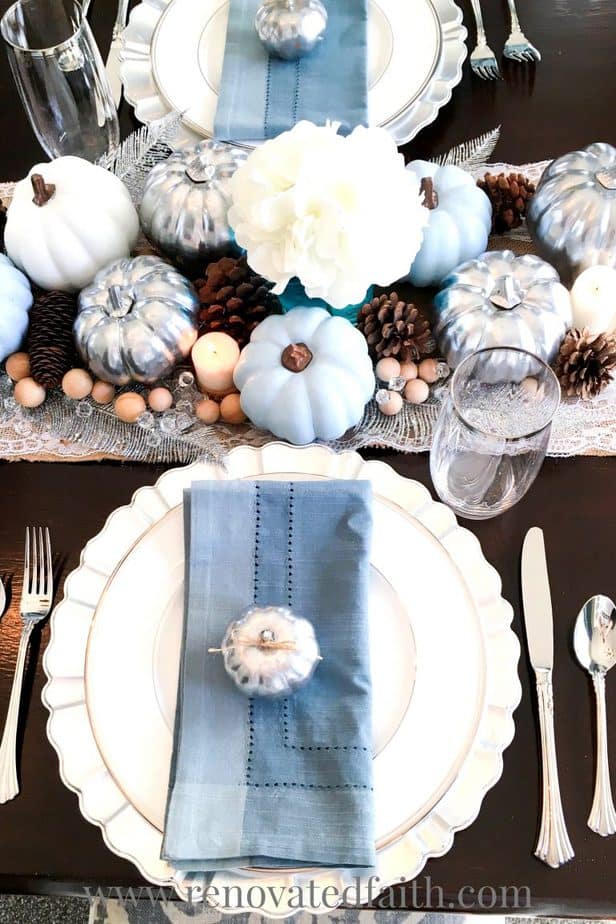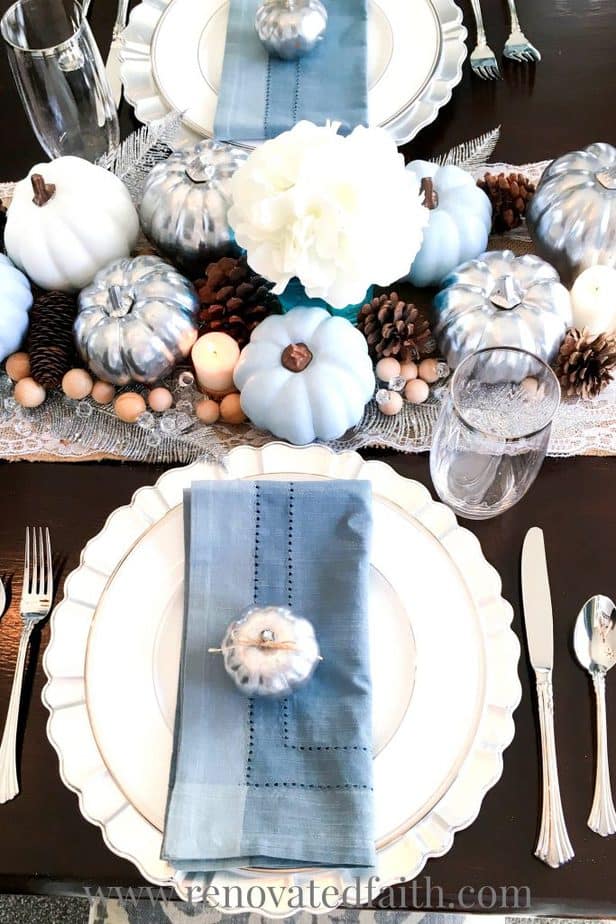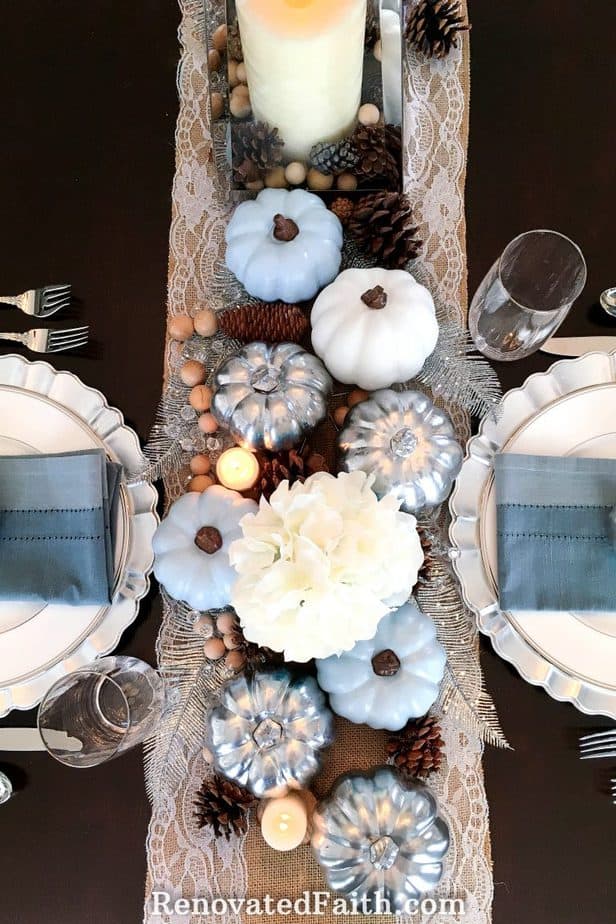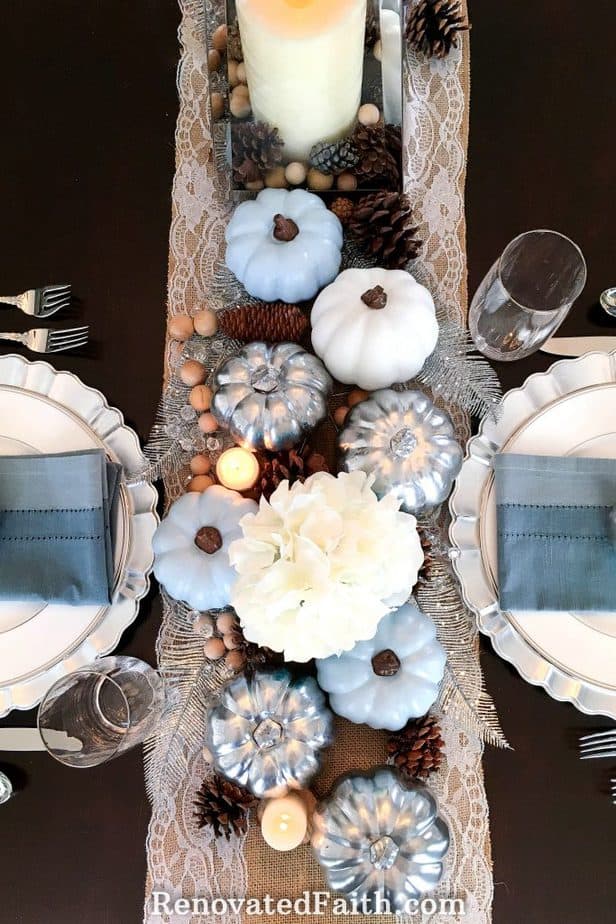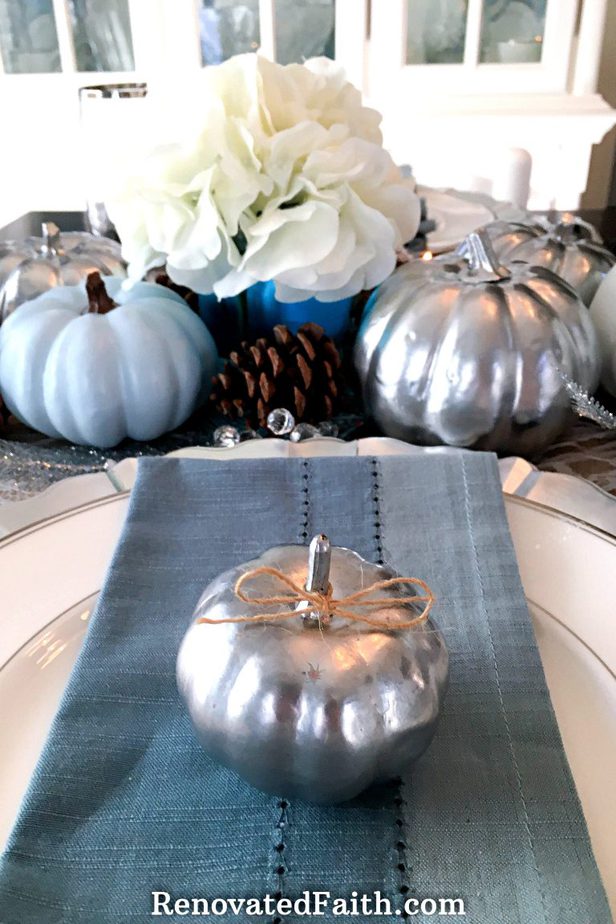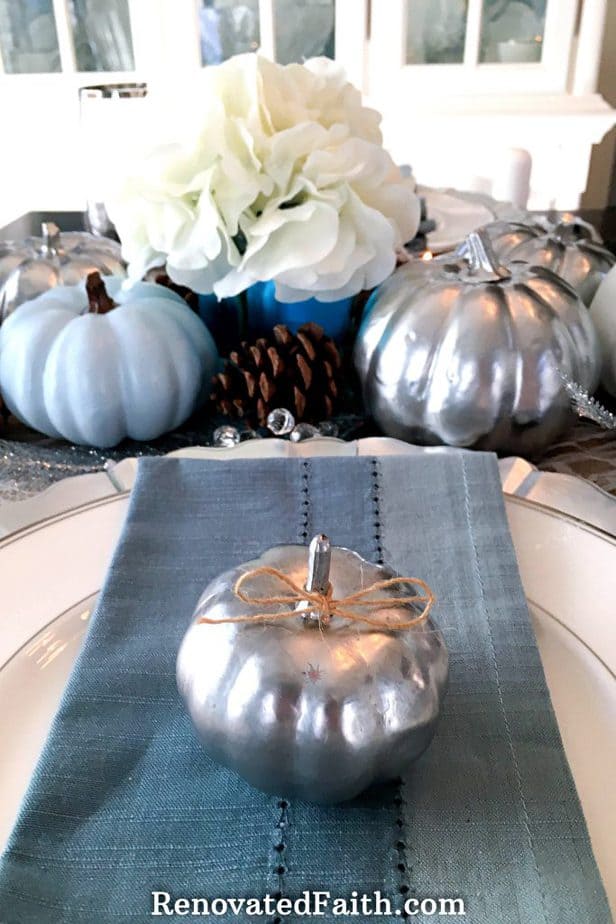 The more I rebelled the more He thankfully persisted by telling me I needed to write…"just write."
In tears, I finally stopped my search for the familiar and begin following His call to something completely foreign to me. I felt inadequate, unprepared and was overwhelmed by my fear of failure. But this is when God does His BEST work…
In Romans 15, we see that Paul's initial ministry was to the Jews but later God called him to the Gentiles (non-Jews) as His primary long-term mission field. Before Paul's conversion, he was a Pharisee among Pharisees who he had studied all his life under Gamaliel, one of the premier teachers of Judaism at the time.
It seems like Paul would have been a perfect candidate to minister to the Jews as he could fully relate to their way of life, not to mention recite the Jewish Law backwards and forwards. But that's not where God put him. God had far greater plans for Paul…
The apostle writes in Romans 15:18-21, "I will not venture to speak of anything except what Christ has accomplished through me to bring the Gentiles to obedience—by word and deed, by the power of signs and wonders, by the power of the Spirit of God—so that from Jerusalem and all the way around to Illyricum I have fulfilled the ministry of the Gospel of Christ; and thus I make it my ambition to preach the gospel, not where Christ has already been named, lest I build on someone else's foundation, but as it is written, "Those who have never been told of him will see, and those who have never heard will understand."
I don't know about you, but to me this doesn't sound like a guy that is questioning God's change of course. His confidence in God's plans are palpable and His desire to move forward in God's new direction is unmistakable.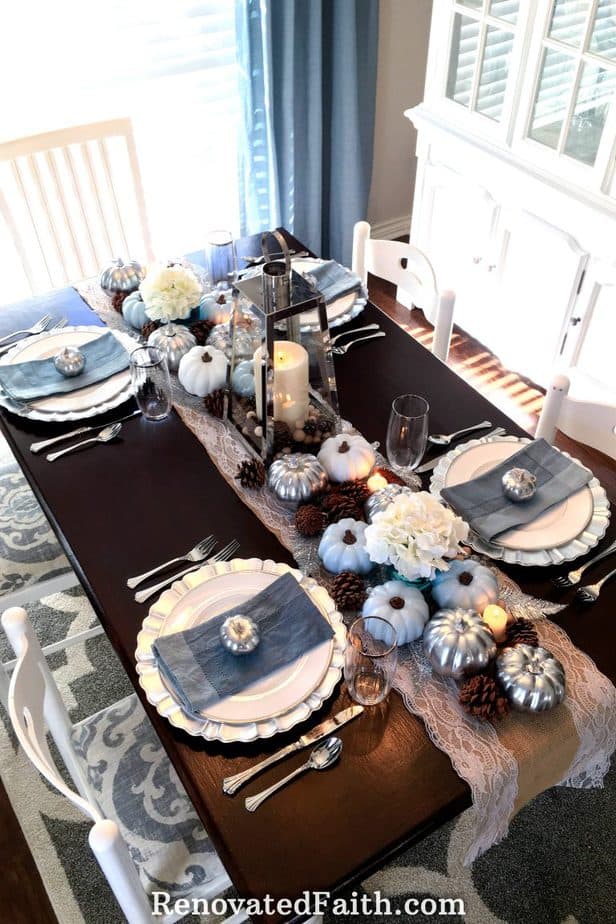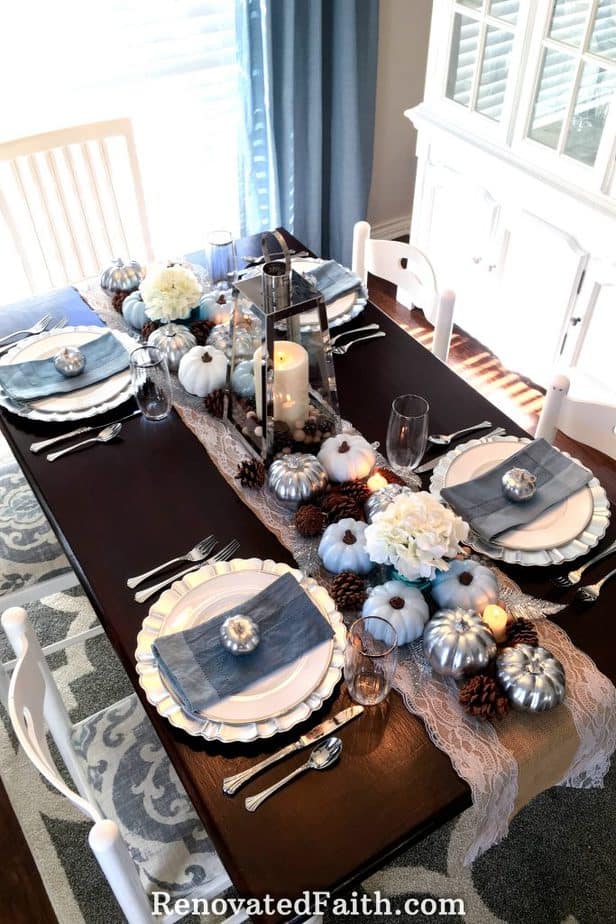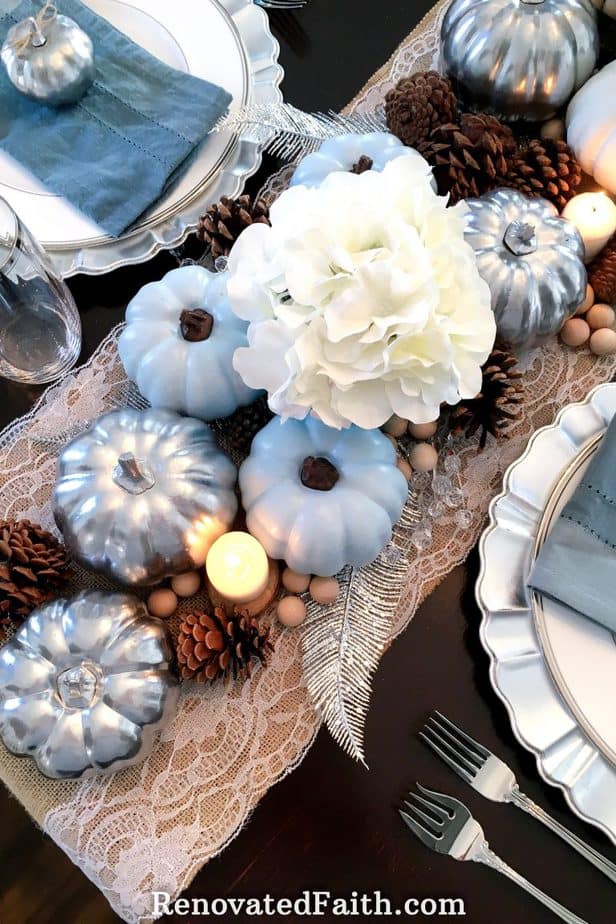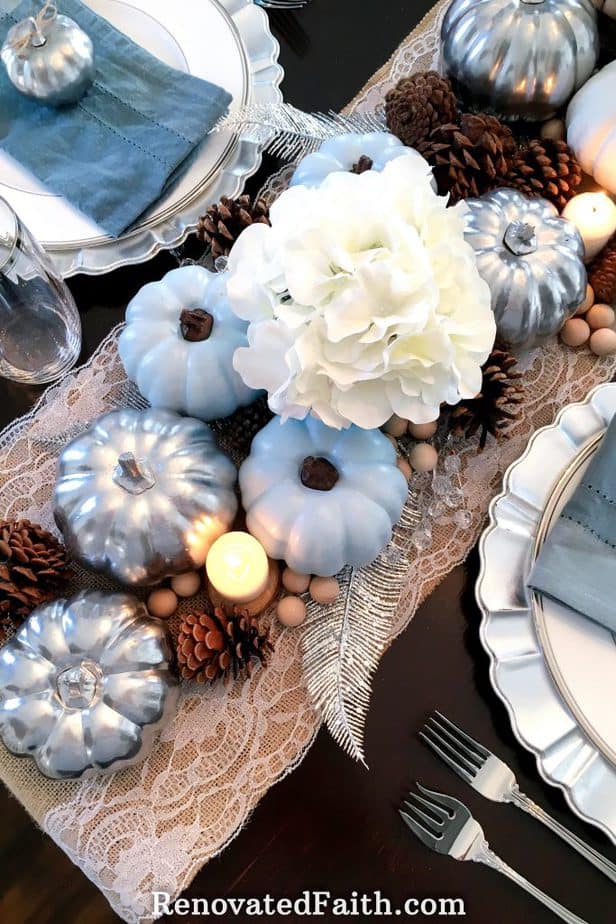 Instead of questioning a major pivot point, Paul rested in the fact that God is a finisher. He always carries out His work in us until it is complete, especially the work He's done in us (Romans 8:28).
No matter how 'out of the blue' His plans may seem, they are no surprise to Him. In fact, He has carefully crafted a plan for your life – plans far better than you could have ever imagined.
"No eye has seen, no ear has heard, no mind has conceived what God has planned for those who love him." 1 Corinthians 2:9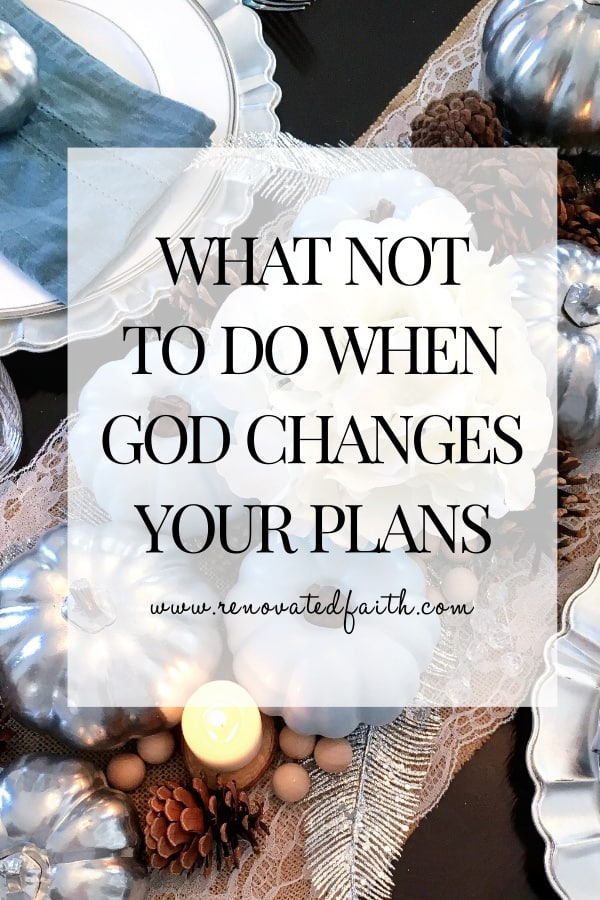 As Timothy Keller says in his book Every Good Endeavor, "Our job is to serve the work that has been given to us by the Father. God is fully aware of where you are at any moment. By serving the work you've been given you are serving Him." Life's pivot points have not emerged by accident. God is merely working out the plans He's had for you since the beginning of time.
The reality is that sometimes life gives us blue pumpkins. However, we can rest in knowing that although life's unanticipated events undo us at times, they have always been on His radar. He works all things for His glory, and therefore, our own best interest. (The Blessing of 'No'). Our Heavenly Father works all things for the good of those who love Him (Romans 8:28, 29).
Our former path is never wasted but is sometimes used in a completely different manner then we anticipated. God uses our former training, preparation and experiences in ways we could have never dreamed possible.
It took me a while to settle into this new role as a blogger. I feel completely insufficient and ill-equipped. Ironically, my feelings of inadequacy help me to lean into Him even more, knowing I have nothing to give of myself (Why You Struggle To Rest In Him).
I'm willing to bet Paul felt the same way. His was in unfamiliar territory so He had no other choice than to rely on God's power, strength and ability. Also, in his new role with the Gentiles, he was able to share about His past training. The depths from which he had fallen helped them to understand their new freedom from the bondage of the Law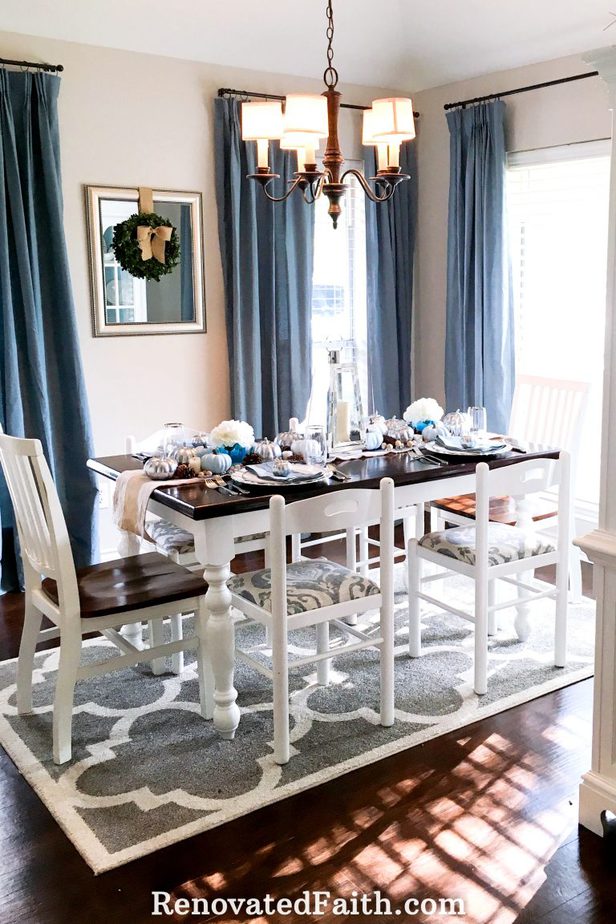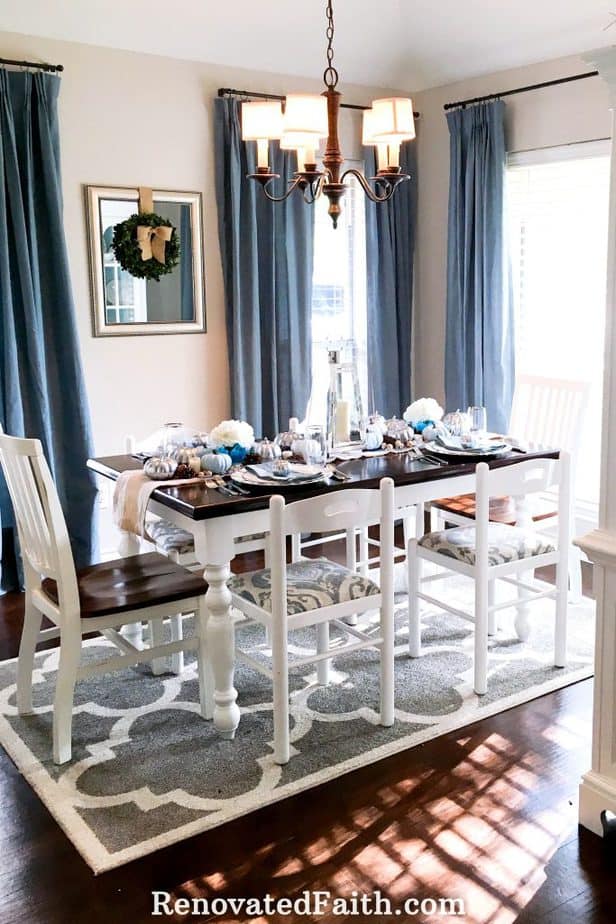 Usually that first step in a new direction is the hardest one. What blue pumpkin have you been handed? Are you struggling to let go of your former plans?
As I sit here typing, I am so relieved that my original plans didn't fall into place. God gave me a tremendous opportunity to grow through this blog. God wants to transform our hearts to be more and more like Him and I'm excited about this new calling.
I never pictured myself here, but I'm thankful that God saved me from my own plans.
God prepares us for new seasons of life but in ways we never would have expected.
Rest in Him, friend. Before long you will abandon your orange pumpkins knowing the new freedom of following plans too beautiful to imagine.
Read below for my supply list to make your own elegant Thanksgiving tablescapes…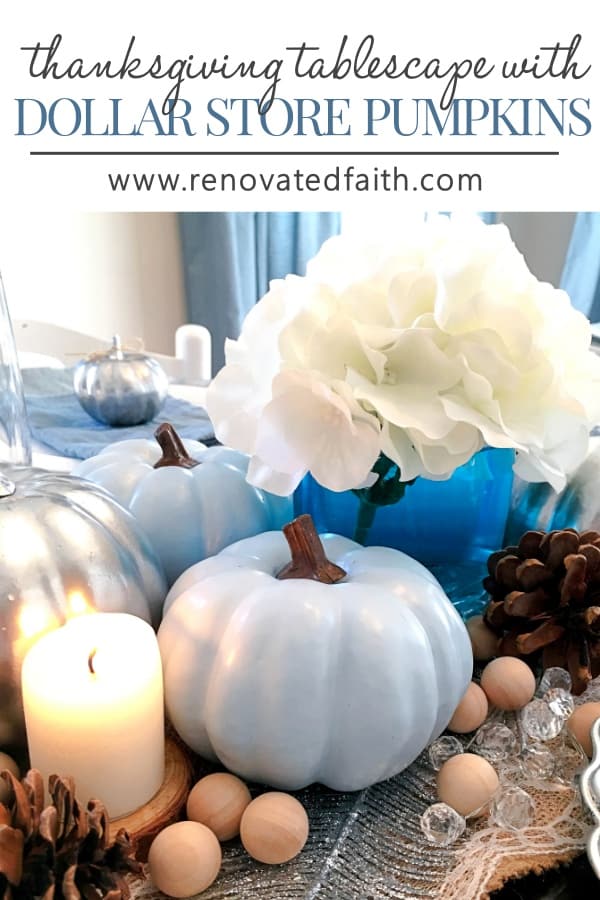 Source List for my Easy Thanksgiving Table Decorations with Blue Pumpkins
(This blog uses affiliate links. See my full disclosure policy HERE.)
My Thanksgiving Tablescape with Blue Pumpkins allows you to have a different twist on traditional thanksgiving table centerpieces. Using painted plastic pumpkins from the dollar store, I was able to customize the look of our dinner table using budget-friendly decor!
Sometimes unexpected plans give a pop of color to our lives, just like the blue pumpkins in my tablescape. Last year, I spray painted white and silver pumpkins but they still needed a little something. After looking through thanksgiving tablescape ideas, I decided to do something a little out of the ordinary by incorporating some blue.
The pumpkins I used are just the cheap plastic ones you can find at the dollar store, a great source for inexpensive thanksgiving table decorations. My daughter Morgan helped me to paint them the same blue latex I used on the inside of my China Cabinet. We didn't even have to sand them!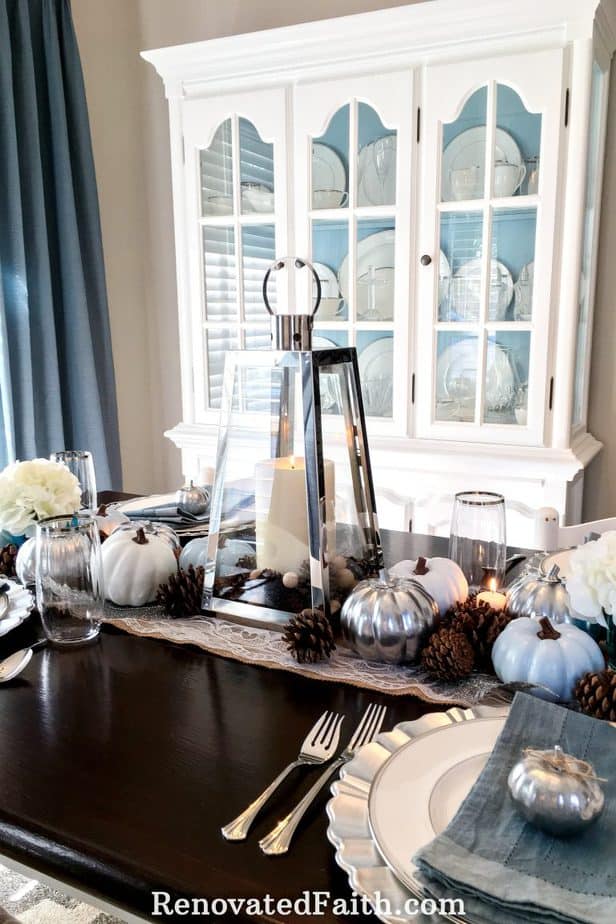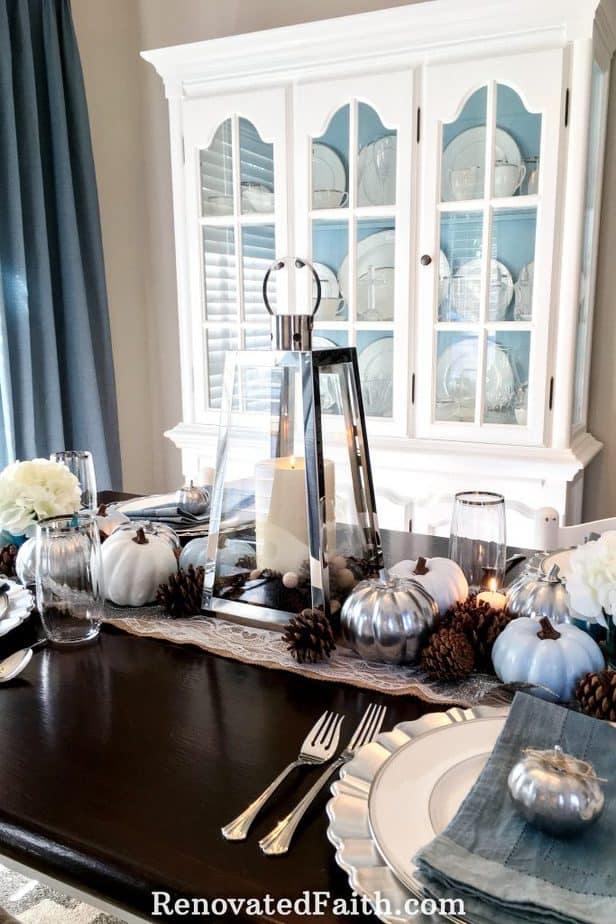 Blue Pumpkins Decor – Supply List
This post may contain affiliate links for your convenience at no extra cost to you. See my full disclosure here.
Blue Latex Paint – I used Behr Premium Plus Ultra Interior Satin in Sonata.
Silver Spray Paint – I've tried several and this is hands-down my favorite shiny silver spray paint! http://amzn.to/2yxy0Km
White Spray Paint – This is my favorite brand of regular spray paint. It has great coverage and is easy to get a smooth finish. https://amzn.to/2C2AnL4
Large Silver Lantern – Very reasonable price for such a large lantern! Similar here – https://amzn.to/2BVVlLJ
Wood Balls – Great for decorating! http://amzn.to/2yyXDdr
Burlap and Lace Table Runner – Super inexpensive and you can pick your length! http://amzn.to/2hro2TS
Silver Feathers, Hydrangeas and Crystals from Hobby Lobby
Plastic Pumpkins from the Dollar Store. Proof that beautiful Thanksgiving table settings don't have to be expensive!
Blue vases – They are actually small glasses that each have water and one drop of blue food coloring. How's that for being resourceful?!? Or maybe just cheap.
Thank you so much for stopping by! Hopefully my post has given you some Thanksgiving table setting ideas. Feel free to share this post to encourage others.
Related Posts to Decorating with Blue Pumpkins
How to Add Ribbon to a Christmas Tree (The EASY Way!)
Easy Step-By-Step Tips for Decorating Your Tree
Christian Podcasts You Don't Want To Miss
Best Christian Books For Women
If you want to save this post for later, pin it here: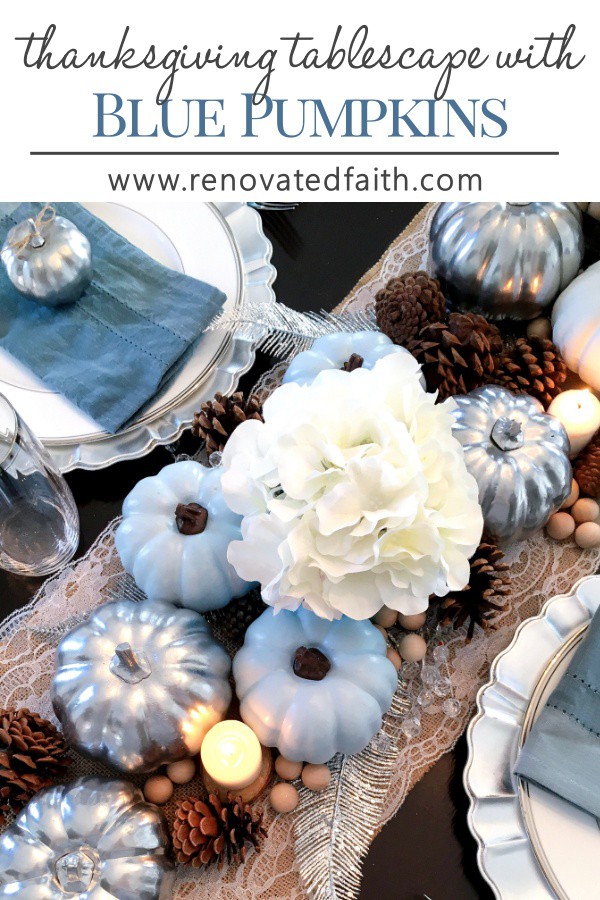 Did you like this post? Be sure to share it with others. Have a wonderful week!
Blessings,

Be sure to follow the fun here!

Welcome to Renovated Faith, where I share about DIY projects, my faith and everything in between! When I'm not spending time with my family, you will find me redoing furniture in the garage or watering plants in my greenhouse. This blog is about transformation. Anyone can renovate a house but only God can transform our hearts!