DIY Scroll Wall Decor in 5 Easy Steps
If you love the look of DIY scroll wall art but don't have fancy handwriting or a Cricut, check out this tutorial on how to make a scroll sign the easy way!
Scroll wall decor has been popping up quite a bit lately but often times the wording is hand written. I don't know about you but, I couldn't freehand a verse or quote if my life depended on it!
Fortunately, there is an easy work-around for this issue and I use this fool-proof transfer method on every sign I make now. I spent a whopping $5 on my scroll sign and love the way it turned out!
This tutorial is a great option if you:
Don't have stellar hand lettering skills (like myself!)
Don't own a Cricut or Silhouette (or don't want to pay to have the vinyl made!)
Love the look of farmhouse scroll wall art
Want wall decor that can be easily changed out
Like paying less than $5 on home decor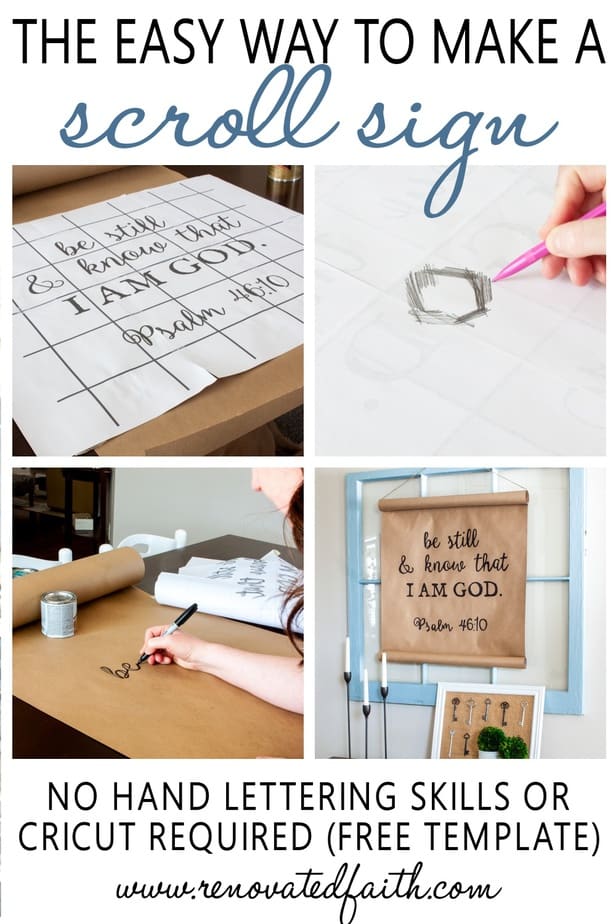 (As an Amazon affiliate I earn from qualifying purchases. Please see my full disclosure HERE).
How to Make a Kraft Paper Scroll – Supplies Needed:
You probably already own several of the items on this list. I only had to buy the kraft paper for this project, so I only paid $4.97 on the entire project. If only every project was this inexpensive!
Kraft Paper – I cut down a roll of kraft paper I got here: 30″ Kraft Paper
Sharpies – If you don't have a black sharpie, I love this set for a hand lettered look: Assorted Sharpie Set in Black
Pencil
Scotch Tape
White Copy Paper
Rotary Cutter – I love this one for making long cuts but you can also use scissors!
How to Make a Brown Paper Scroll into Wall Art – The Process:
Step 1: How to Make a Paper Sign the Best Size for Your Decor
The kraft paper I bought was 30″ wide but you can make your paper scroll decor any width you want to match your space.
For example, I wanted mine to be about 21″ wide to go over my blue vintage window that was already hanging.
Trace a straight line and then use your rotary cutter up against the ruler or a straight edge as you cut. Be sure to leave about 8-12 extra inches on the top and bottom to have extra paper to work with when you curl up the ends.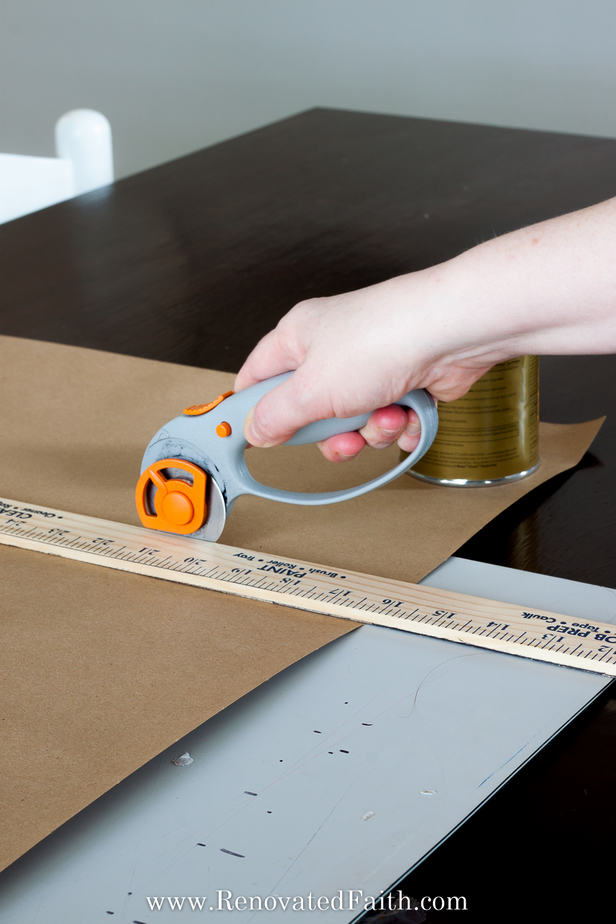 Step 2: How to Make a Craft Paper Scroll with a Template
You have two options for making your template. You can use my free download of the Be Still and Know Template by subscribing here: Be Still and Know (Psalm 46:10) Scroll Template See the print instructions further down.
OR you can make your own using the instructions below!
How to Add Your Own Verse or Quote to Your DIY Scroll Wall Decor
Make your template using a free program called Photoscape which you can download here: Photoscape X. Just click on the Windows or Mac option. Then, it takes you to a screen where you have the option for the Free Trial, which is all you need. (The Photoscape Free Trial lasts forever).
To save you a step, download the blank template by subscribing HERE or if you want the same verse (Be Still and Know…) and layout, you are welcome to my template by subscribing here: Be Still and Know (Psalm 46:10 Template)
Download the blank template on your computer and upload it into Photoscape by clicking "Editor" at the top left and by opening the file on the left-hand side.
Click Edit at the top right and Resize just under it. We are doing this to set the template to the actual size of our paper scroll (the uncurled portion).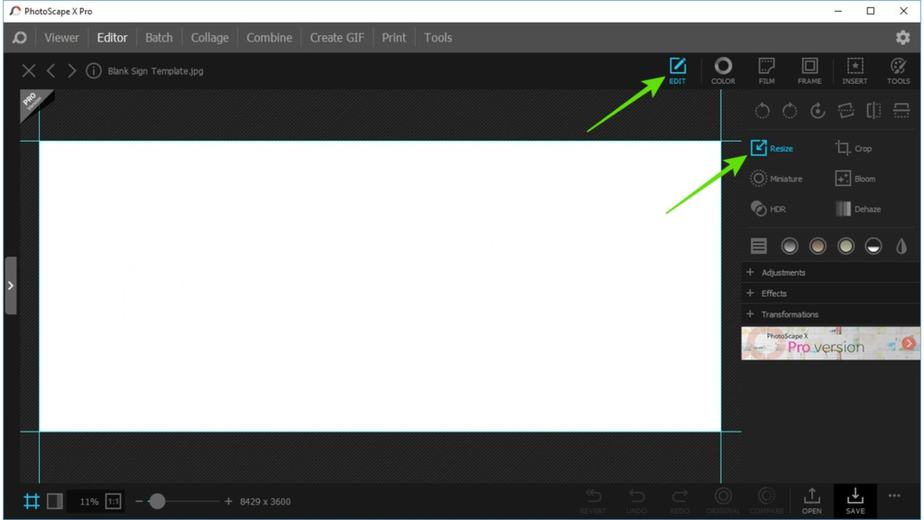 Resize your sign template by clicking the "Inches" option and entering the size of your sign in inches. Click "Apply". (You might have to un-check Preserve Aspect Ratio.)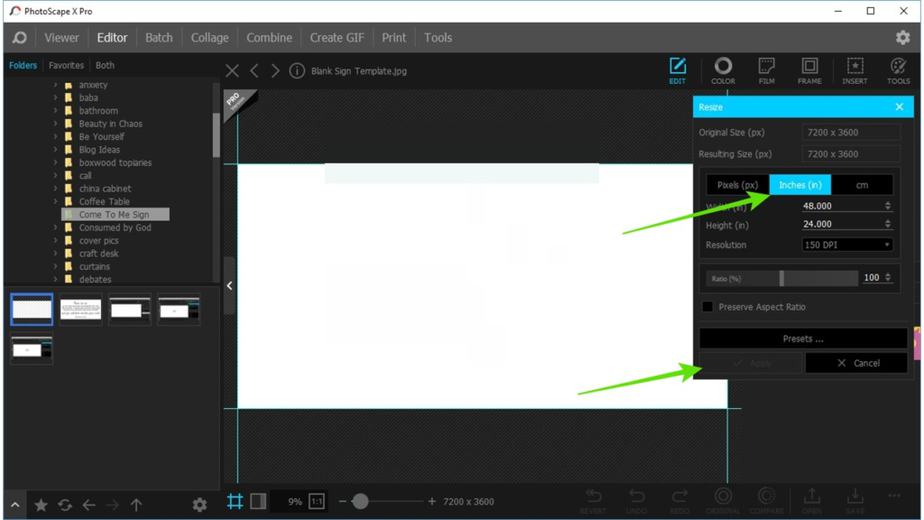 Now start working on your layout by selecting "Insert" at the top right and then "Text" to the right of that. Insert your wording. Click "Apply" when done and click Save at the bottom right.
If you don't like the fonts on your computer, you can some great ones at this site: Free Hand Lettered Fonts Just be sure to close out Photoscape and reopen it so the fonts will appear in the font option window.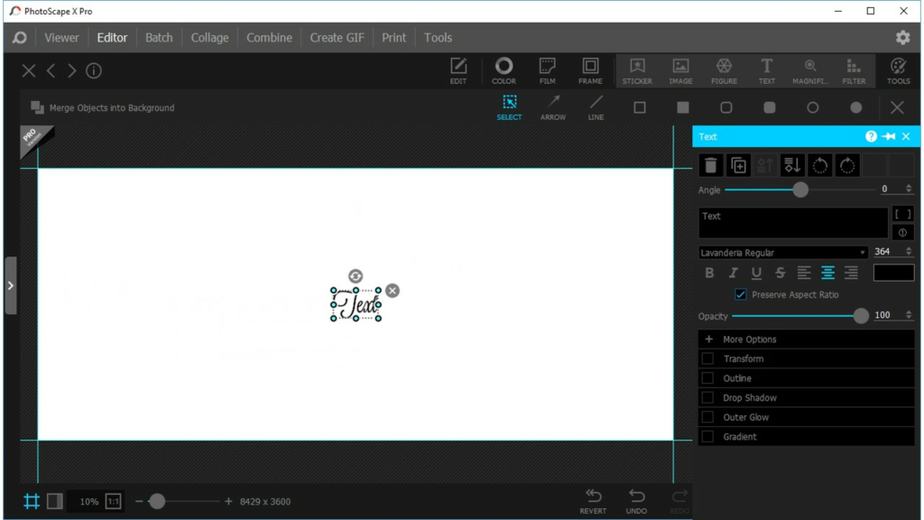 After you design your template file, save it as a jpg.
Convert your jpg file to a pdf for free by going to zamzar.com. (The file has to be a pdf file to open it in Adobe Reader, which allows you to print the poster format). Just upload your file and select that you want a pdf and it will email you the new file. Easy Peasy!
Go to Adobe Acrobat Reader (I promise this is the last program) and open the pdf version of your scroll sign there. (Download Acrobat HERE if you don't already have it.) Click on the print menu and click on Poster under Page Sizing and Handling and it will set up your sign to print separate pages. Now, you can print!

How to Use the FREE Be Still and Know (Psalm 46:10) Template for Your Scroll Sign
Download the free template by subscribing here: Be Still and Know Scroll Sign
Open the file in Adobe Acrobat Reader. (Download Acrobat HERE if you don't already have it.) Click on the print menu and click on "Poster" under Page Sizing and Handling and it will set up your sign to print separate pages. Now, you can print!
Cut your sign to 21″ x 21″(uncurled portion) for this template.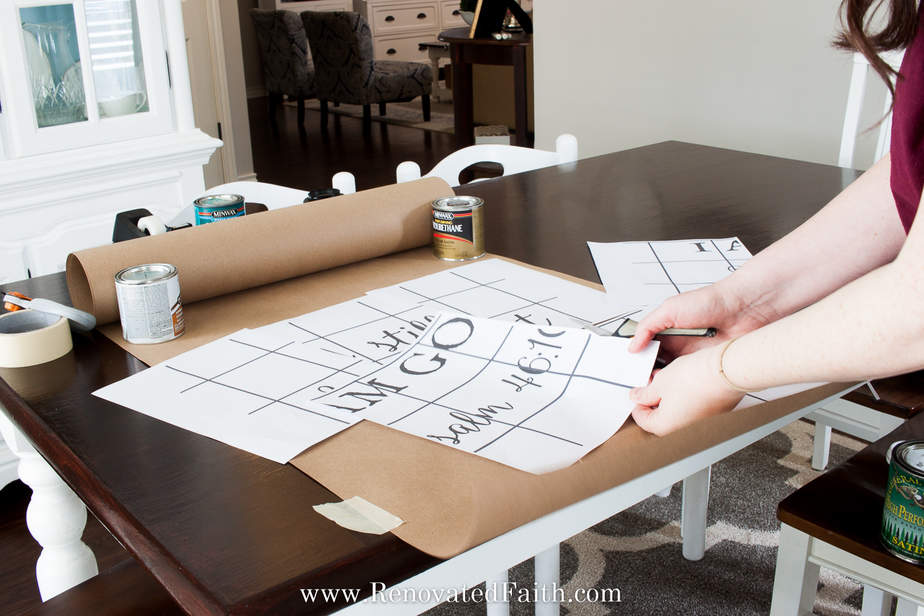 Once they are printed, now cut the TOP and RIGHT sides of each piece of paper with scissors or a paper cutter. (Cut off right where you can see the ink stop.)
Now tape each piece together, lining up the lines and text. (The free template has lines solely for the purpose of lining up the sheets of paper. You won't trace this part.)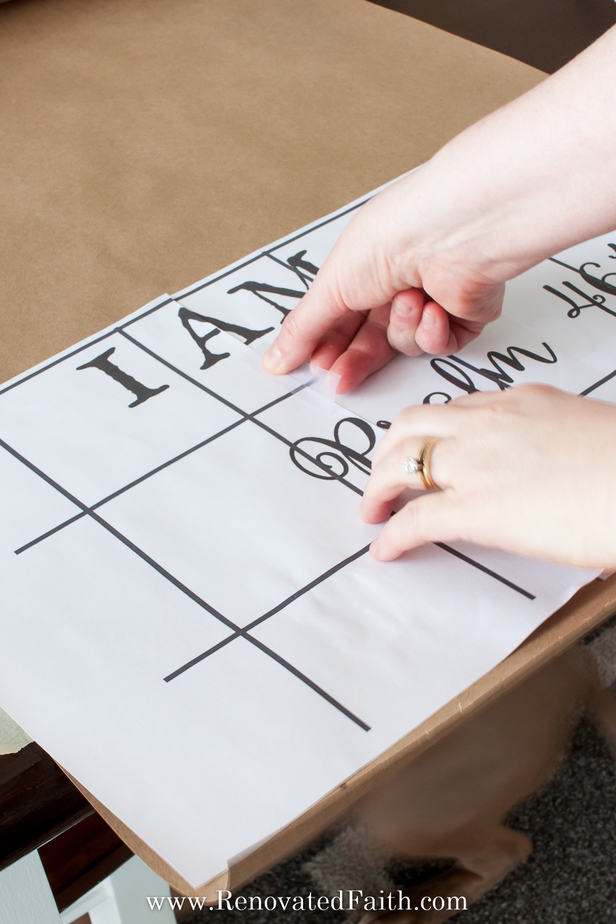 Step 3: How to Transfer an Image to Your DIY Craft Paper Scroll
After you have taped together your template, flip it over and shade over the backs of the letters. You will be able to see them through the copy paper. (Ignore the lines.)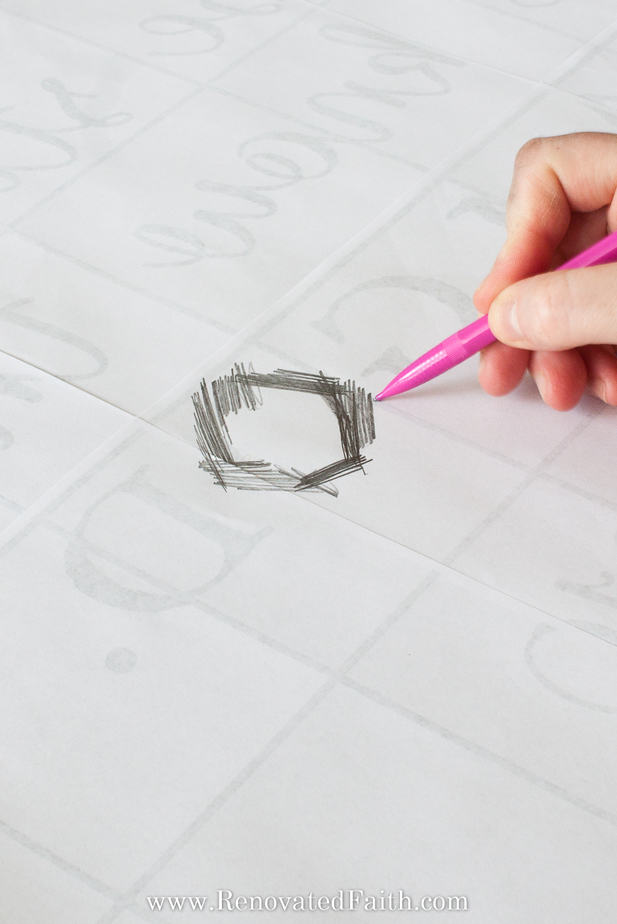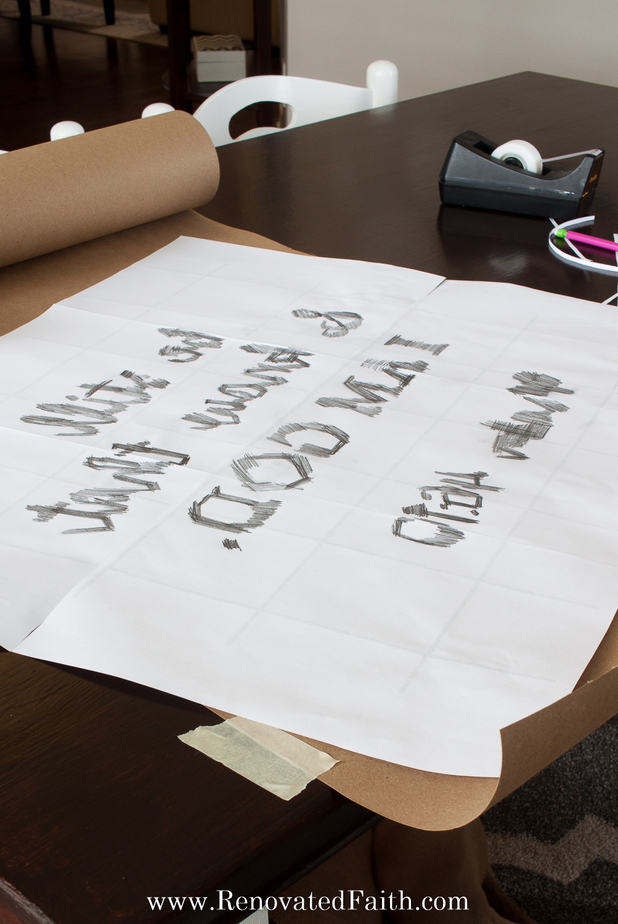 When you're done, flip the paper right side up and line it up as straight as possible on top of your sign. You can tape it to the kraft paper with painter's tape so it stays in place.
Now use a pen or pencil and just trace the outside of the letters while pressing down pretty hard. The pencil lead will transfer to the kraft paper.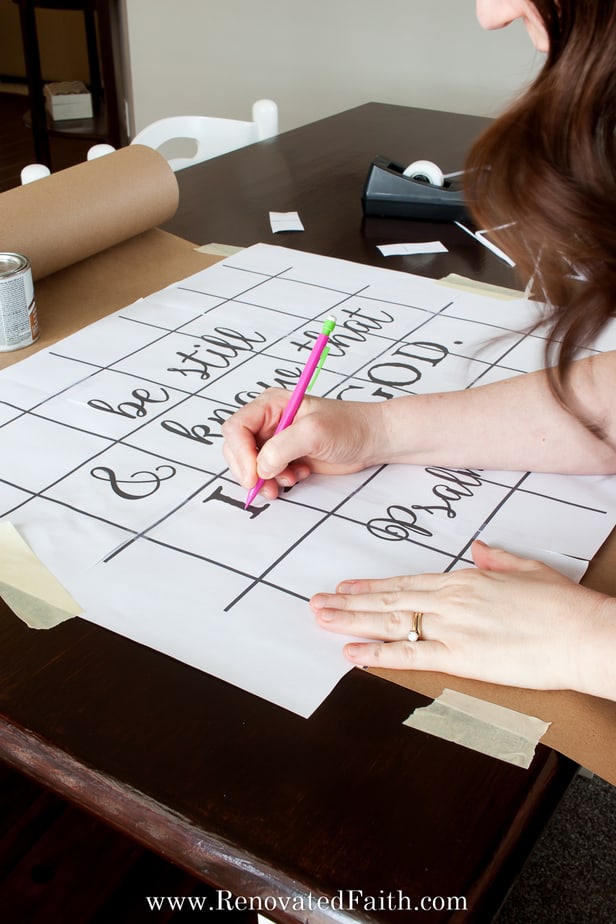 If the outline isn't very dark, that's fine. You just want it dark enough that you can see it to trace with the sharpie.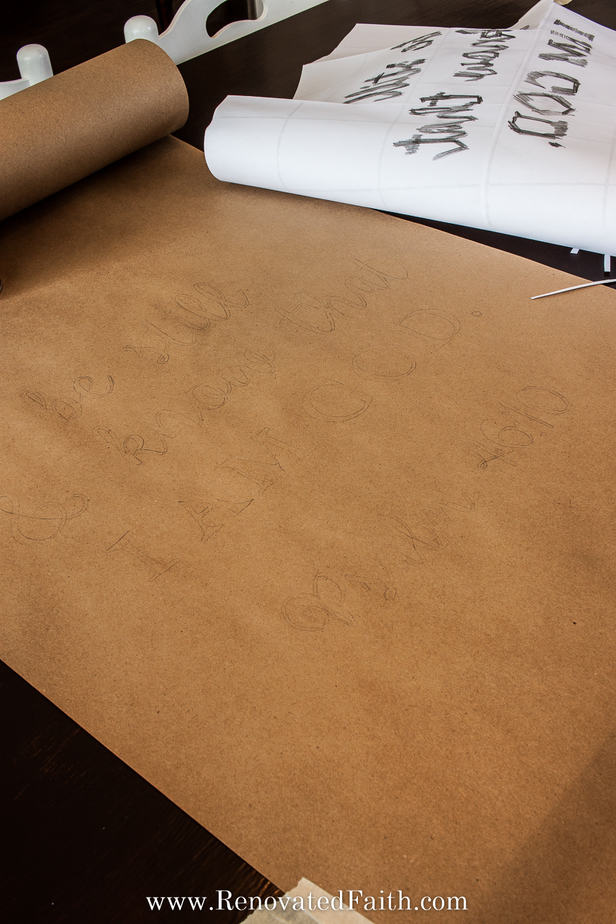 Step 4: How to Make A Scroll With Just Paper and a Sharpie
Pull up the template and now you can start to fill in the letters on the scroll sign with a black sharpie. I like to outline the outside edge and then go in and fill in the rest, one letter at a time.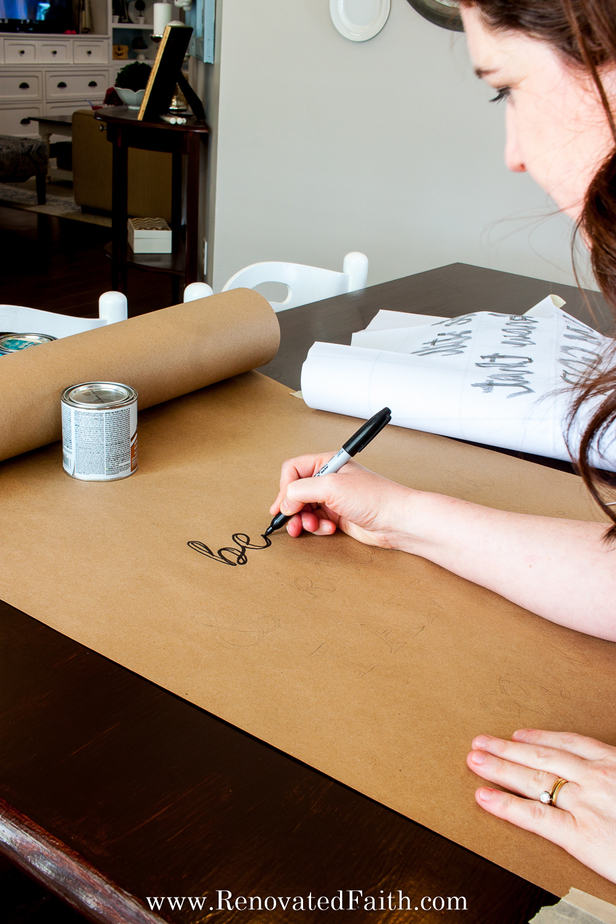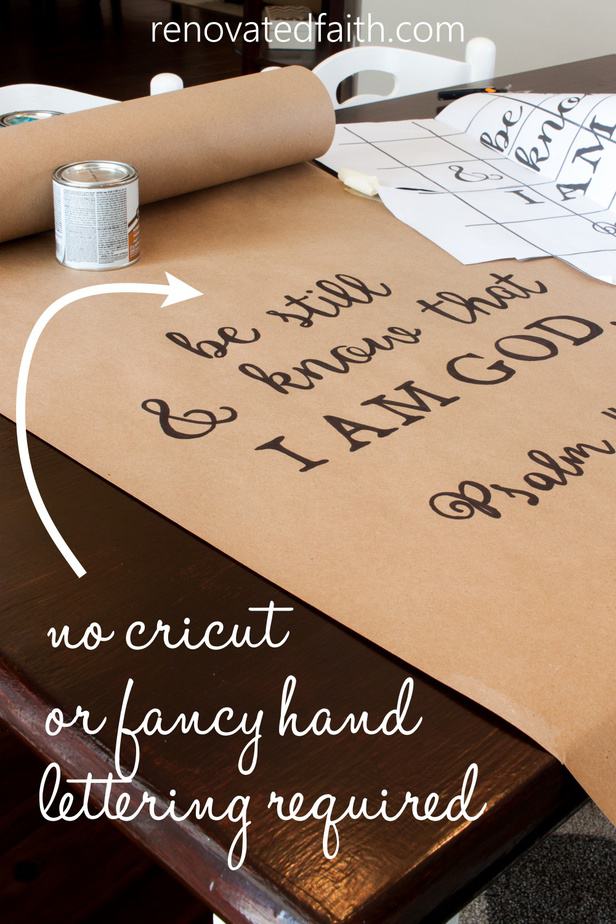 Step 5: Final Touches on Your Paper Scroll Wall Decor
Now, curl up the ends and secure them with scotch tape at each end.
To hand the paper scroll sign, I just ran the jute through the top roll and attached it with a flat thumb tack to the top of my blue window.
Now stand back and admire your beautiful art work!!!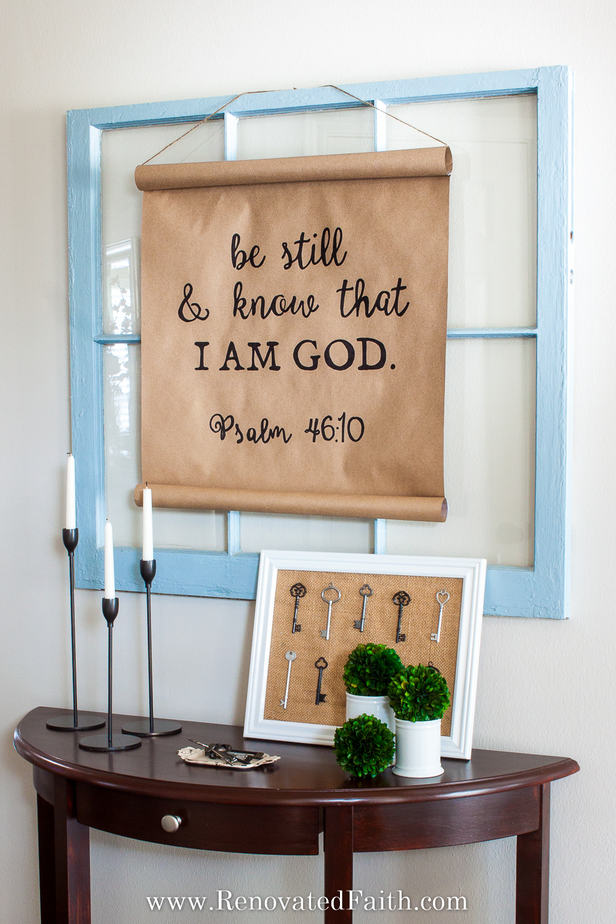 DON'T FORGET TO TAKE A PICTURE OF YOUR PAPER SCROLL DECOR!
Now that you are done, I'd love to see how it turned out! Post your photos here!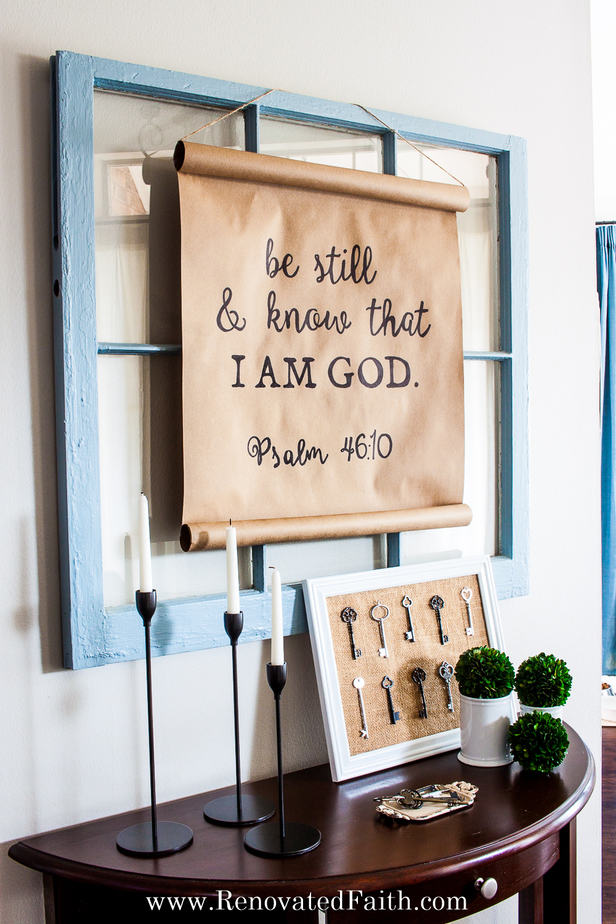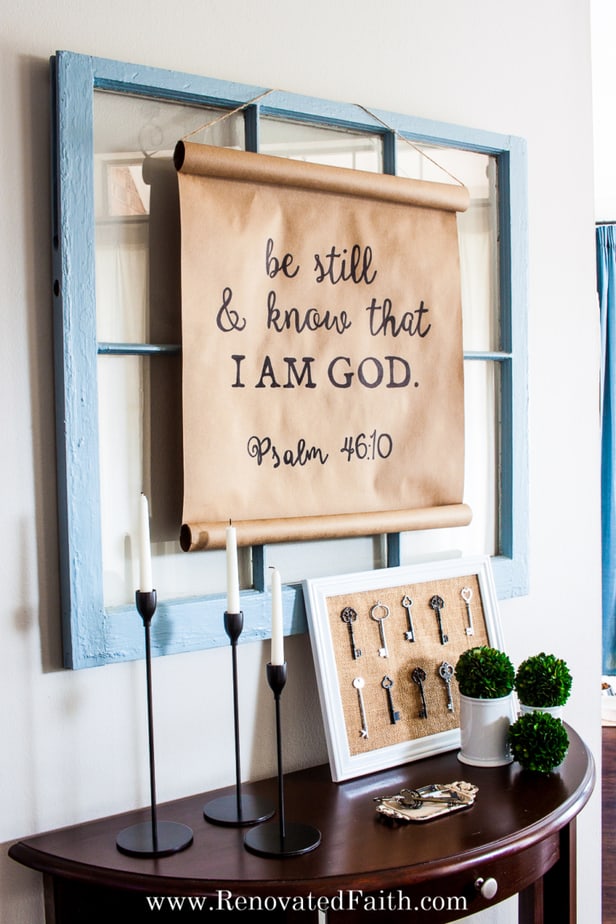 Renovated Thinking – DIY Scroll Wall Decor:

Soon after hanging the sign, I walked through the entry way into our dining room with dozens of anxious thoughts swirling through my head all concerning my daughter's dyslexia and the horrible school year we've had. It was right then that my daughter noticed the sign for the first time and read aloud "Be Still and Know that I am God".

My intention was to sit in the dining room with the sun streaming through the windows to work on the outline for this very post. But her sweet voice reminded me that what I needed most was to bask in the message of the words on the sign itself.

This amazing verse is towards the bottom of Psalm 46 and you have to read the whole chapter in order to grasp WHY we have the ability to be still:

1 God is our refuge and strength, an ever-present help in trouble. 2 Therefore we will not fear, though the earth give way and the mountains fall into the heart of the sea, 3 though its waters roar and foam and the mountains quake with their surging.

4 There is a river whose streams make glad the city of God, the holy place where the Most High dwells. 5 God is within her, she will not fall; God will help her at break of day. 6 Nations are in uproar, kingdoms fall; he lifts his voice, the earth melts.

7 The Lord Almighty is with us; the God of Jacob is our fortress.

8 Come and see what the Lord has done, the desolations he has brought on the earth.

9 He makes wars cease to the ends of the earth. He breaks the bow and shatters the spear; he burns the shields with fire. 10 He says, "Be still, and know that I am God; I will be exalted among the nations, I will be exalted in the earth."

11 The Lord Almighty is with us; the God of Jacob is our fortress.

The words "be still" actually better translate from the Hebrew to "cease striving." Isn't that perfect? When I found myself lost in a whirlwind of anxious thoughts, my default mode is to strive! The words strive means to "struggle vigorously." So, the meaning of be still is "cease struggling vigorously."

But in reality, that's exactly the opposite of what I do. Like a woman in a straight jacket, I often try to escape my trials by my own strength, will and determination. All the while the only person that holds the key stands right there in front of me waiting for me to call out to Him.

That's not to say that God will always take away the trial. But, He PROMISES to be our refuge and strength, holding us tight in His arms until the storm passes and it's safe to go outside again.

In Psalm 46, we see that even if the earth gives way or the mountains are moved into the heart of the sea, "God is in the midst of her; she shall not be moved; God will help her when morning dawns."

What are you upset about? What is consuming your thoughts? What are you striving against?

Make a long list so you can get it out of your mind and onto paper. Now, take a moment to pray about each item on the list. As you pray, trust God with each bullet point. Give it to Him, knowing that He is your fortress and a very present help in trouble.

More Posts Related to How to Make A Scroll Sign:
Farmhouse Scrolls on Etsy
If you don't have time to make a scroll sign, there are several options for farmhouse signs on Etsy. Just click here : Farmhouse Paper Scroll Signs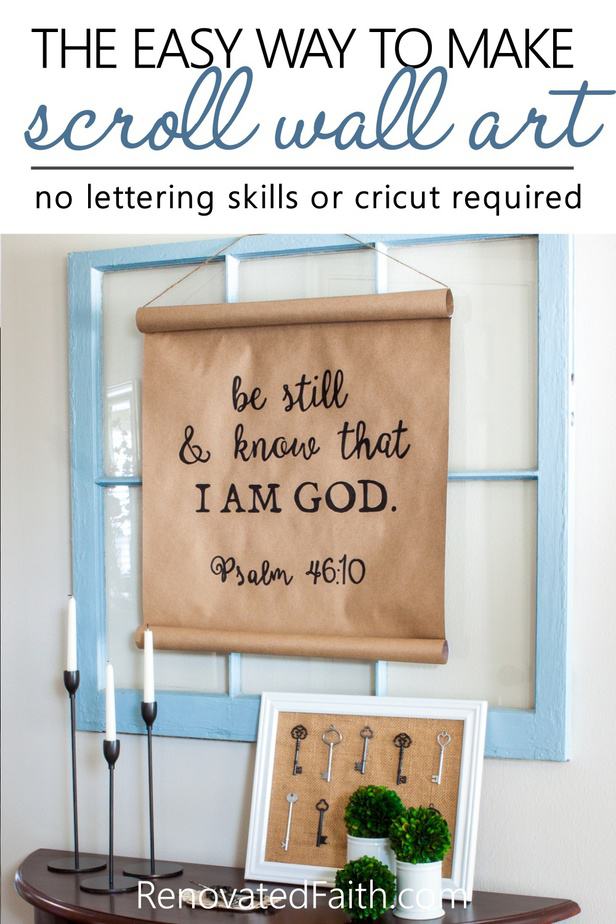 FAQ's on DIY Hanging Paper Scrolls:
What if my DIY Paper Scroll Sign is Crinkly?
We've had a lot of rain lately, and I wondered if the humidity would just make my craft paper sign crinkle up. The more I looked at farmhouse scrolls online , the more I realized they are all crinkly and it just contributes to that farmhouse look.
That's what I love about farmhouse decor. It definitely embraces imperfection and who couldn't use more of that attitude in life?!?
If you absolutely don't want the paper to crinkle, you can glue a stained strip of wood to the top and bottom like this scroll wall decor here: Paper Scroll Sign
Can I Make My Scroll Wall Art with Butcher Paper?
If you have butcher paper already on hand to make your scroll sign, then use that! More commonly butcher paper has a red hue but if you find some that is brown, that would be a great option for your diy scroll wall art!
How to Make a Paper Scroll Sign with Vinyl
If you do have a cricut or silhouette, here is an easy tutorial on how to make a scroll sign with vinyl:
Final Thoughts on Paper Scroll Art
As you can see, this wall art is more than just a cute inexpensive project, but it's a wonderful reminder of a verse that is near and dear to my heart. As life can be full of trials and hardship, it's important to remember that there is one thing that never changes. No matter what you have to endure, God can be your mighty fortress in the storms of life if you trust in Him. Now, go grab your kraft paper and start working on your own encouraging scroll wall art!
If you want to save this post for later, pin it here: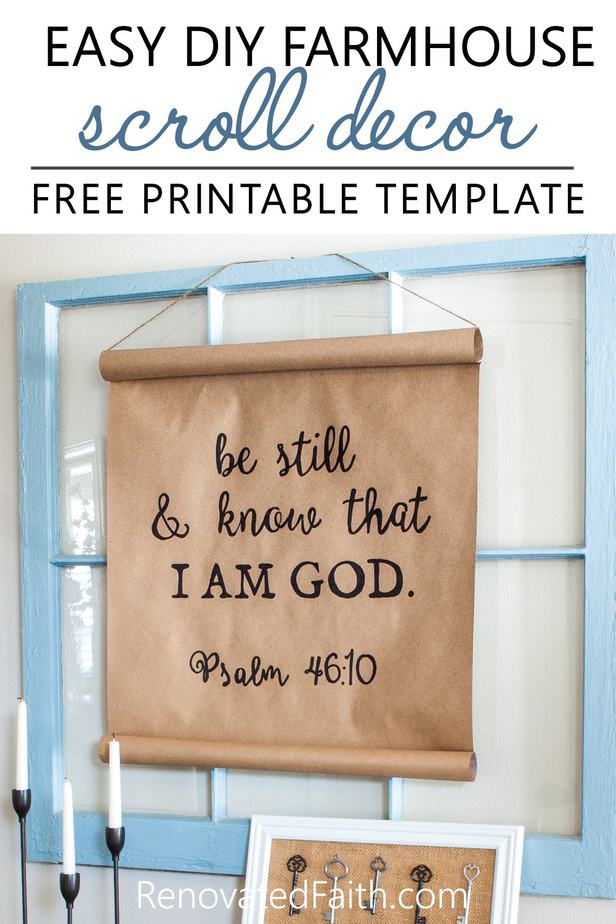 What are your thoughts, my friend? Do you think this project was worth it? What verse or quote would you add to your diy scroll sign? I would love to hear your thoughts! Scroll down to leave a comment and I WILL reply! ❤️
Blessings,

Be sure to follow the fun here!
How to Make a DIY Craft Paper Scroll