EASY Christmas Front Porch Ideas on a Budget!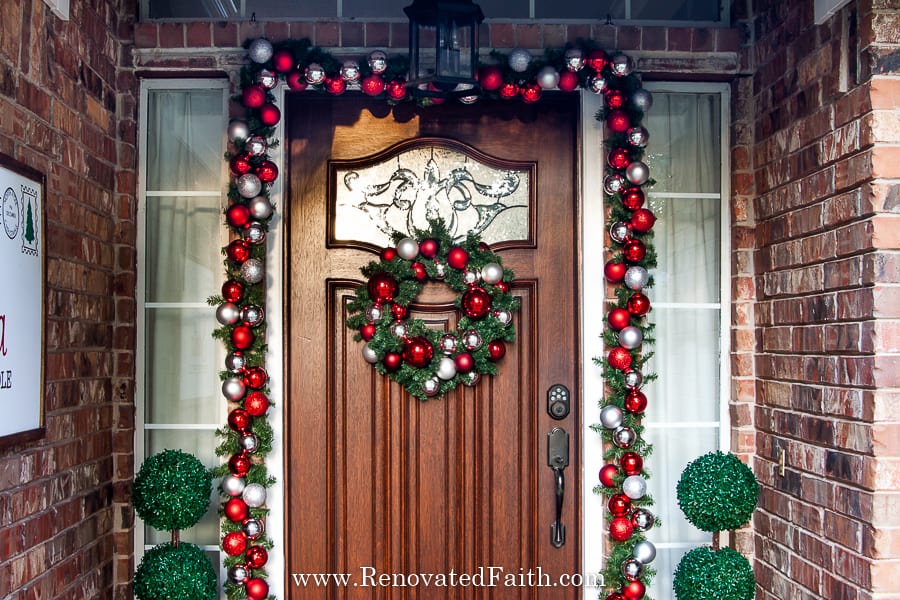 These simple and easy ideas to decorate the holidays will give you a stunning Christmas front porch that won't break your budget!
Whether you like rustic farmhouse decor or something a little more elegant, you can customize each of these ideas to work well for your style. These DIY tips and tutorials will ensure you have a festive front porch that you can be proud of!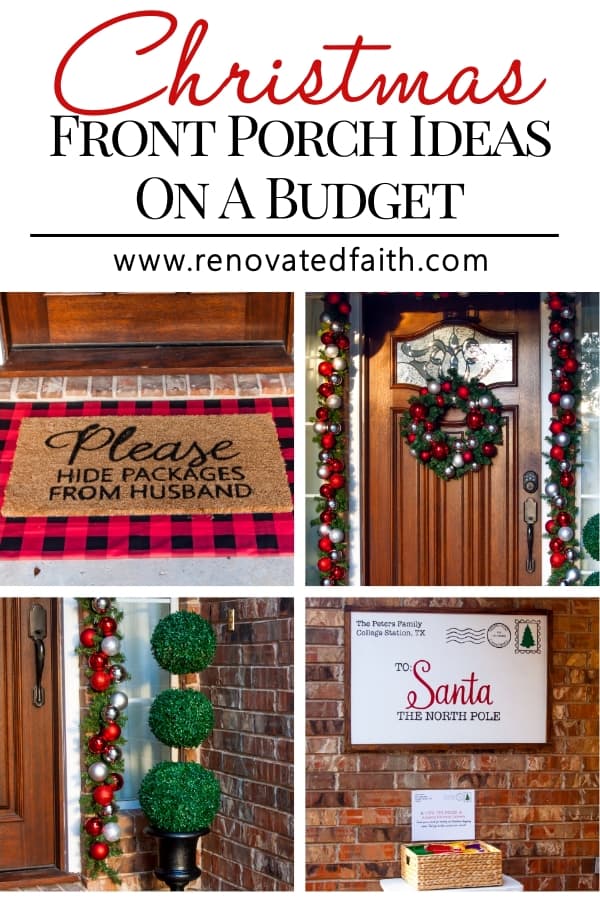 Christmas Front Porch Ideas on a Budget
Here is video showing you how all of the components of my front porch come together: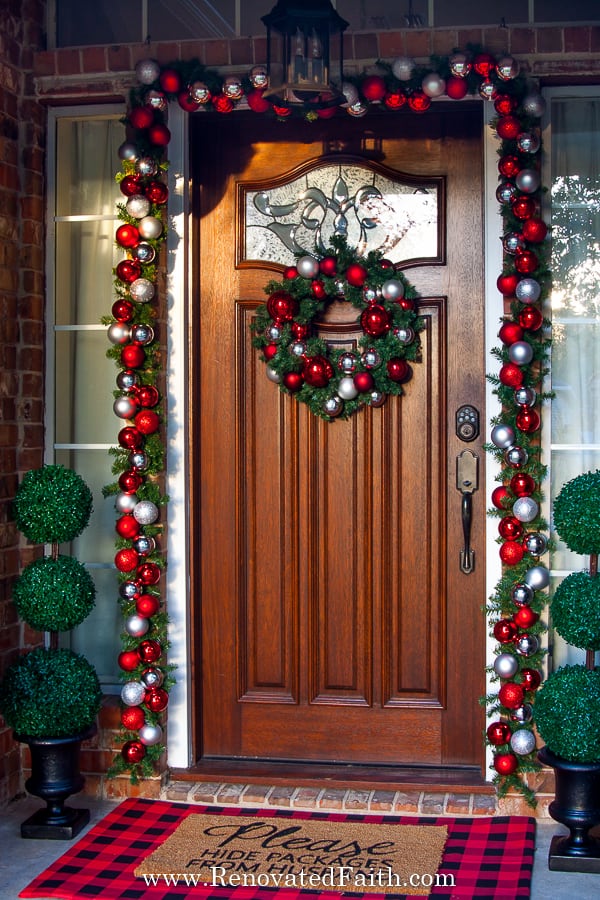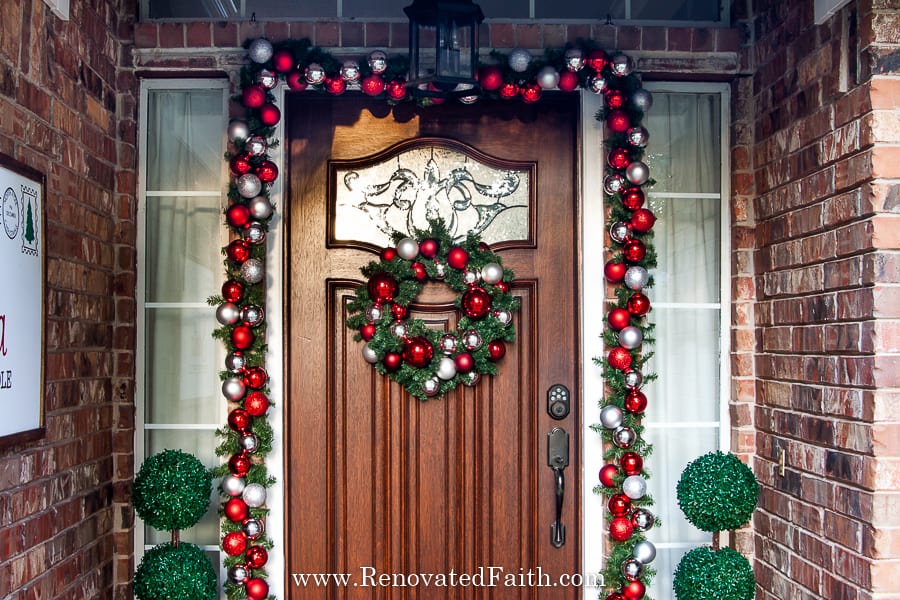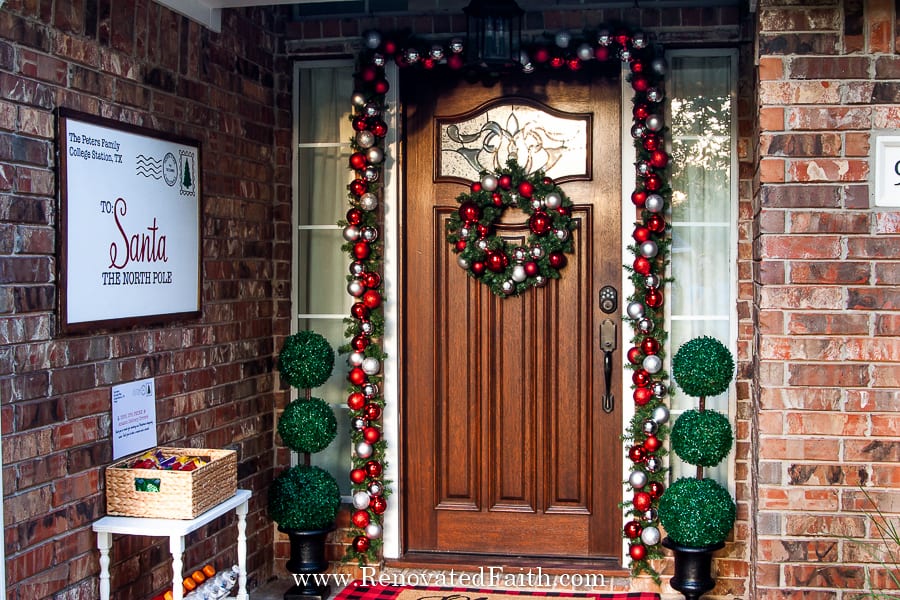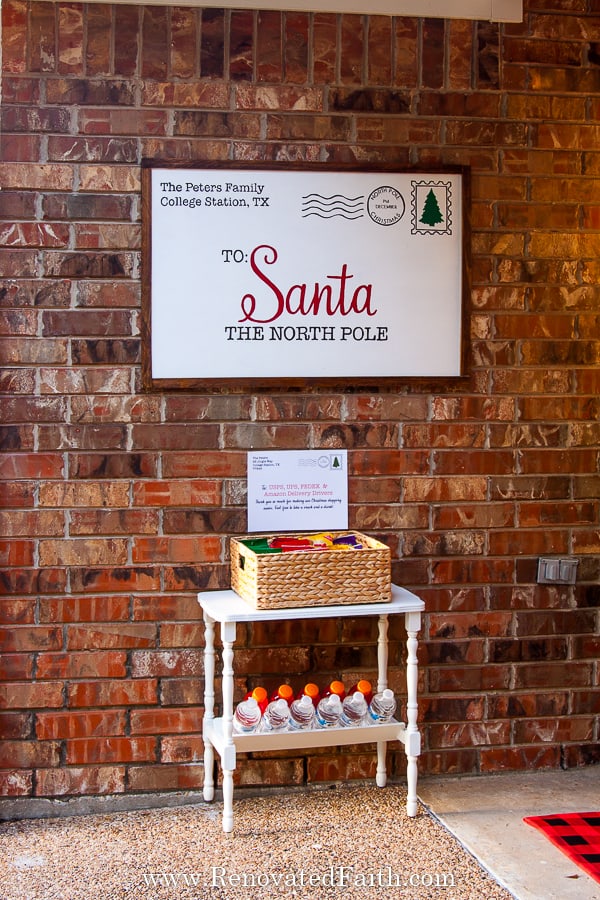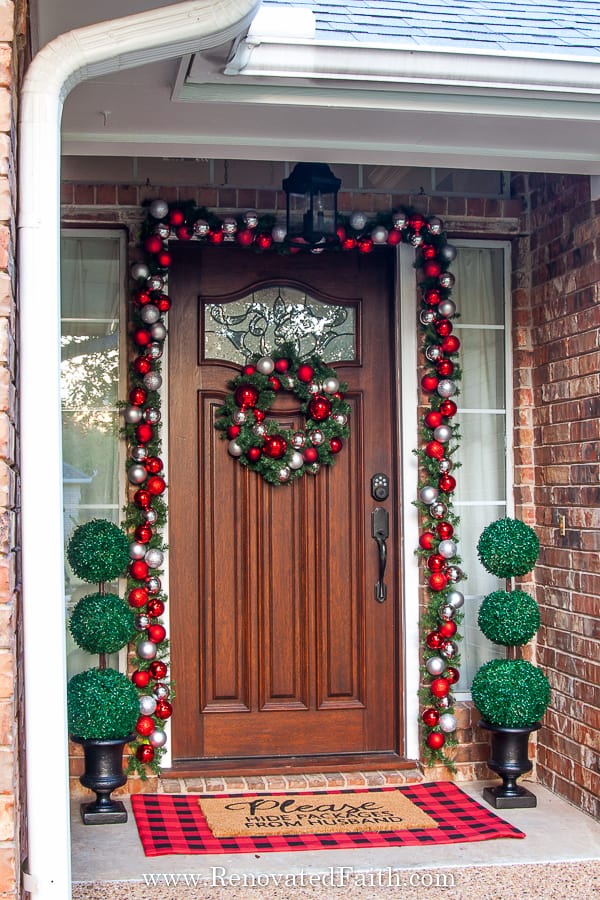 Christmas Topiaries for Your Front Porch
One of my favorite aspects of my front porch is actually a staple that stays up all year round. These DIY topiary trees work well for Christmas but are also lovely with a hydrangea wreath for Spring.
But Back to Christmas! I made these a few years ago and they have held up incredibly well. If you have ever checked on the price of other big boxwood topiaries online, you no doubt had sticker shock! But you can make these with the tutorial below at a fraction of the cost and customize them to the exact size you need!
You can get a better look of them in the video above and see the full tutorial here: DIY Topiary Trees on a Budget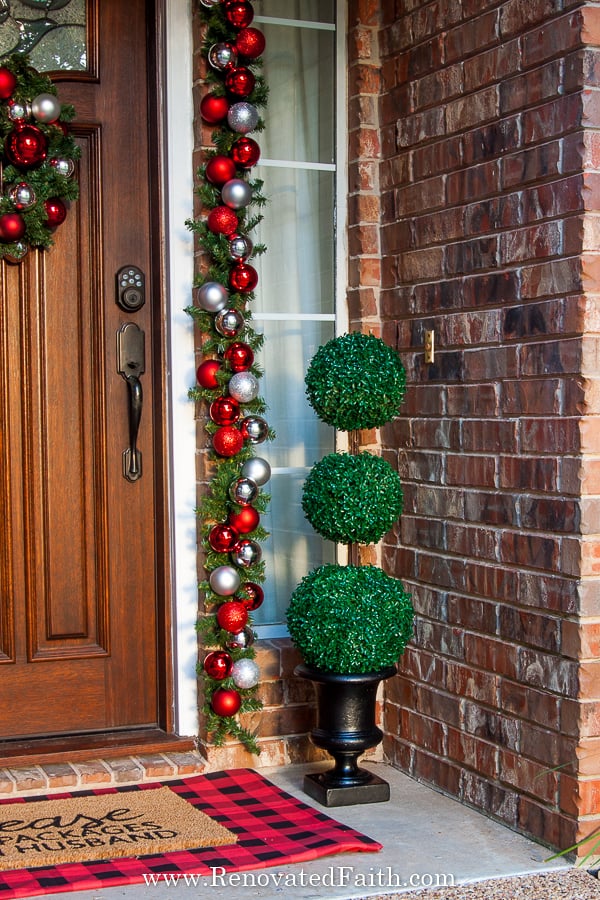 Christmas Layered Doormats – The Easy Way
This doormat is one of many I've made using the same technique. I found a way to change out the layered doormat easily with weatherproofed fabric that can easily be washed and changed out.
This stencil is one of multiple Christmas doormat downloads I have available. I include fill instructions if you don't own a Cricut and also the SVG files if you do own one.
You can find my full tutorial on how to make layered doormats on a budget by clicking here: Easy Layered Doormats for Christmas (FREE Stencils & Cut Files!)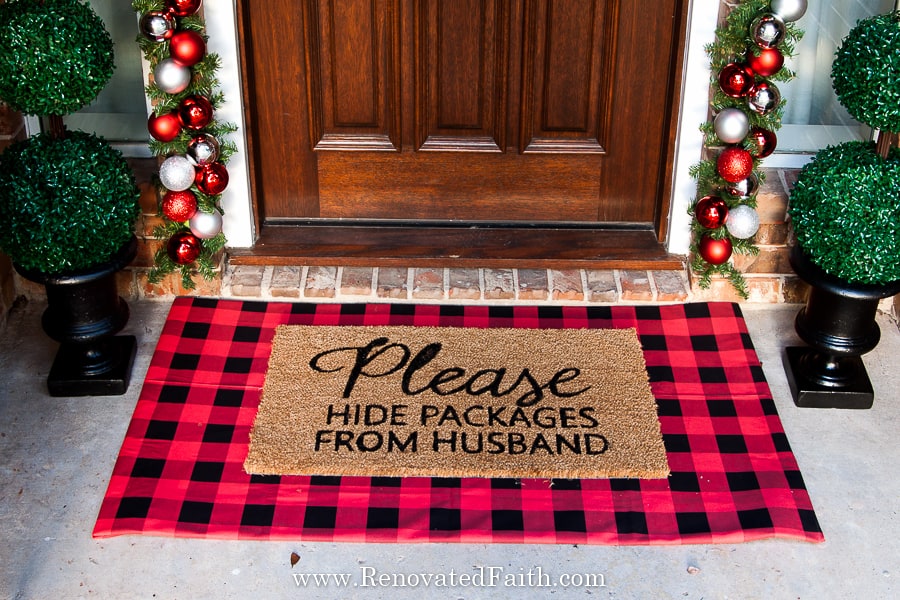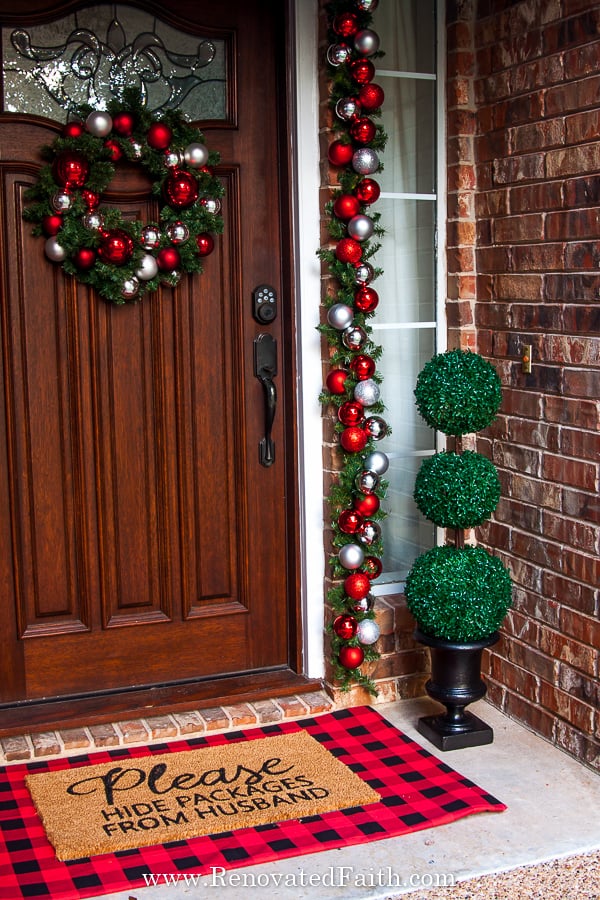 Easy Letter to Santa Wooden Sign
As you see in the video above, this easy sign is a cute way to add some Christmas cheer to your porch or mantel. I use materials you can have cut at your local home improvement store and my tutorial includes instructions if you don't own a Cricut!
This wooden Christmas sign can also be customized with your own address! To see how to make your own, you can see the full tutorial here: DIY Letter to Santa Sign (No Cricut Required!)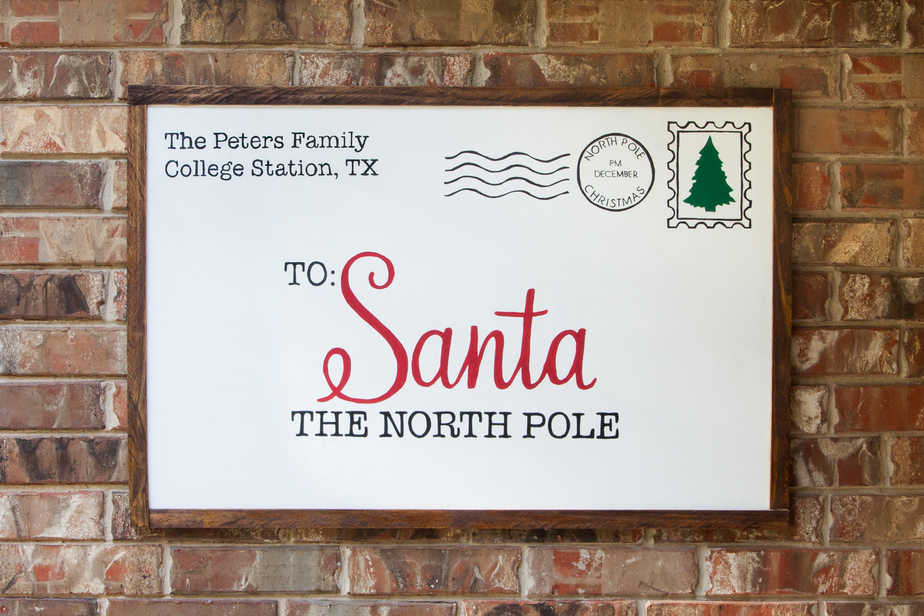 Delivery Driver Appreciation Snacks
To match the wooden sign, I've included a post on fun ways to show appreciation to our delivery drivers for making our Christmas shopping SO much easier! Fortunately with the advent of online shopping, we don't have to drag kids out in horrible weather and we can do all of our shopping from the comfort of our couch.
This project is a SUPER easy way to show some appreciation to our delivery heros for all their hard work delivery our packages.
My free printable matches the wooden sign and there are also free printable signs from other bloggers. You can see them all here: EASY Delivery Driver Appreciation Ideas (Free Printables!)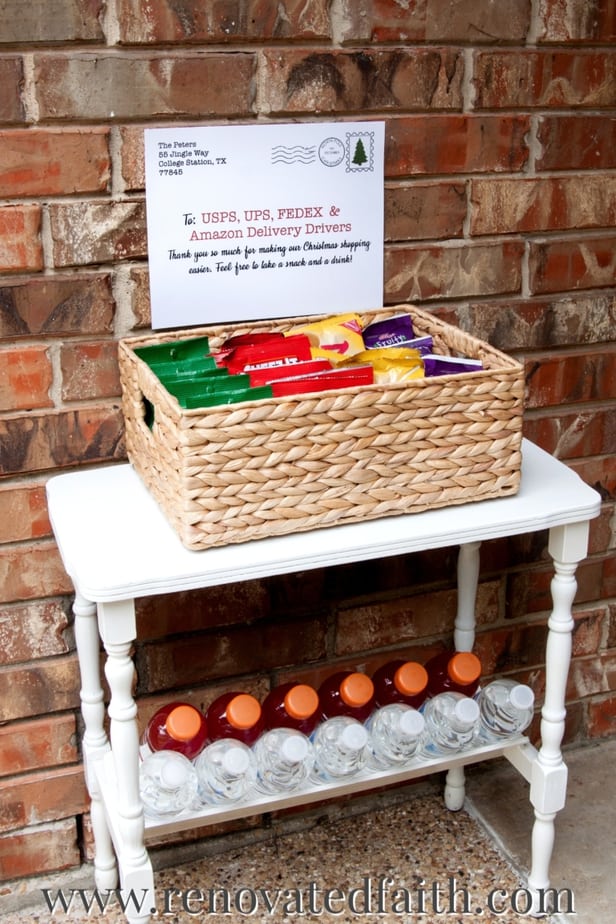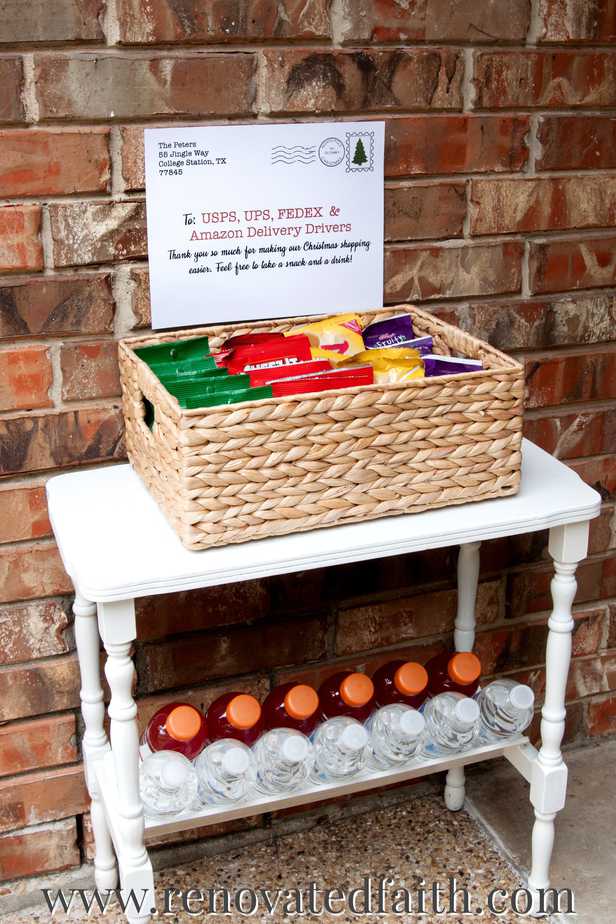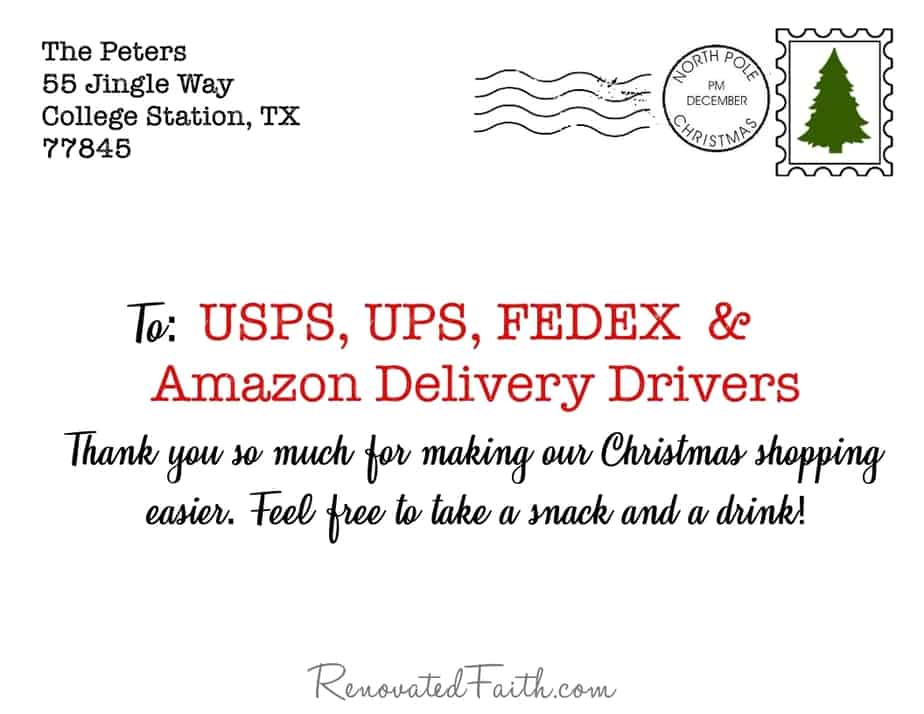 Pottery Barn Inspired Ornament Wreath and Garland
I've always admired this Pottery Barn wreath but didn't always love the pricetag. I decided to make my own for a fraction of the cost and show you how to do the same!
After making the wreath, I decided that my front door needed something extra so I figured out how to make the ornament garland as well. I love how these colors look together and coordinte with the rest of my porch. But you can easily use any color options to customize the wreath and garland to your own decor.
You can access both the wreath and garland tutorial here: Knock Off Pottery Barn Ornament Wreath & Garland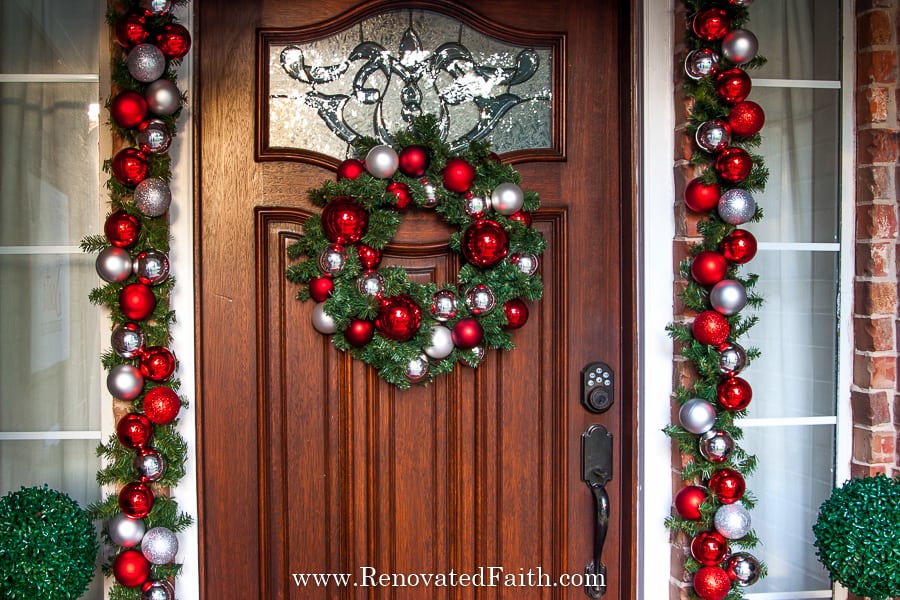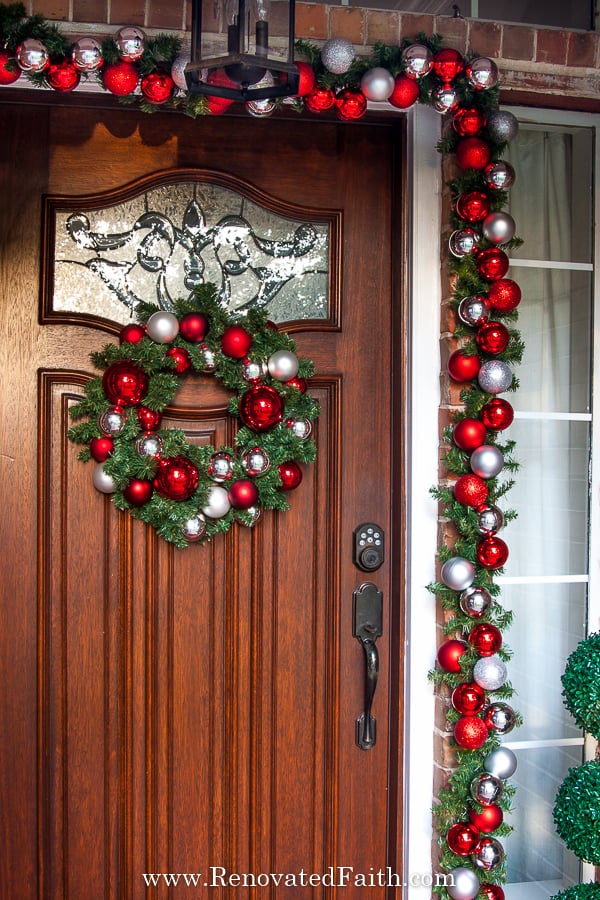 DON'T FORGET TO TAKE A PICTURE!
I'd love to see how your own porch turned out! ❤️ Post your before and after photos here!
RENOVATE YOUR FAITH: A Time of Pruning
As I took down my lemon wreath from this summer, I thought about how my porch changes from season to season. Before I know it, it will be spring and I'll get out my hydrangea wreath again. I suddenly realized that for a person that writes a blog on the theme of transformation, I don't really like change all that much.
However, I'm learning that change is the very essence of transformation. If we want to be transformed by our Creator, we are going to have to expect some change. Like refinishing a piece of furniture, there will be sanding, priming, waiting, some more sanding and finally a coat a paint before the transformation is complete.
Right now, I'd say I'm going through a time of sanding. God has told me that He is pruning me and that there is great joy ahead. I so appreciate His encouragement and direction, from where I stand today, pruning is painful…
I was reminded by a friend that in John 15 the vinedresser has to prune the grape vines periodically. But when the vinedresser takes out His pruning shears, it is not to cut off small shriveled leaves. On the contrary, the vinedresser has to cut off long, leafy stalks of green growth.
The irony is that although these lush vines look healthy, they are actually detrimental to the plant's ability to produce. Leaving them will ensure that there will be no fruit developed for next season.
So, the branches are trimmed of their long spindly growth so they can focus on their one purpose. That purpose is to cling to the vine.
Although pruning is painful, it is necessary and vital to the branch's ability to bear fruit in the upcoming harvest.
This newly trimmed branch now looks bare, but it is in prime condition to focus on it's one role – getting strength and sustenance from the main vine. It has no other job to focus on – not even bearing fruit because that is the job of the main vine.
In the same way, we have one role – to cling to our Heavenly Father by leaning into Him for strength, comfort and direction.
Maybe you are going through a time of pruning right now. Perhaps right now you are in the thick of it and you are faced with the pain of those sharp pruning shears.
But friend, know your Heavenly Father is right there with you to grab hold of. He never likes to cause you pain but knows that this time of pruning is in your best interest right now so you can bear abundant fruit later.
Maybe you feel dry, broken and wounded right now. But know He is right there by you and will use this time to strengthen you, encourage you and prepare you for ALL He has in store. God wastes nothing and your suffering is not in vain.
Before you know it, what was once broken, weak and jagged will be strengthened, repaired and smoothed.
This time has a purpose and will be far worth what you are enduring right now. So, don't lose hope, dear friend. This too shall pass and before you know it, you will realize the amazing plans He has been preparing you for all along. You will have new habits and strengths that will lead to greater contentment in Him.
And so often a setback is the point right before great progress.
So don't lose hope.
Keep the faith. There is great joy ahead…
For more spiritual encouragement, click here for the rest of my Renovate Your Faith Posts.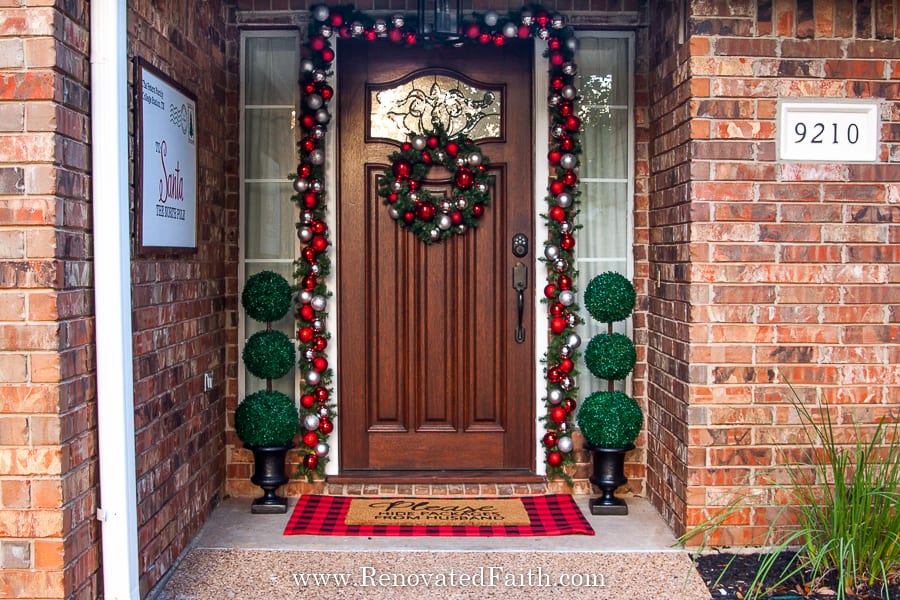 More Posts Related to Christmas Front Porch Ideas
How to Decorate a Christmas Tree Like a Professional
Knock-Off Pottery Barn Wreath & Garland Tutorial
How to Add Ribbon to a Christmas Tree
Red and Aqua Christmas Decor Ideas
Rustic Glam Christmas Decor on a Budget
Final Thoughts on Easy Christmas Front Porch Ideas
You don't have to spend a lot to have a welcoming front porch that looks stunning! These easy tips and ideas help you to decorate your outdoor Christmas decor while not spending a lot of money. Hopefully these Christmas front porch ideas will give you some ideas to customize your front porch to your own style and color scheme without breaking the bank!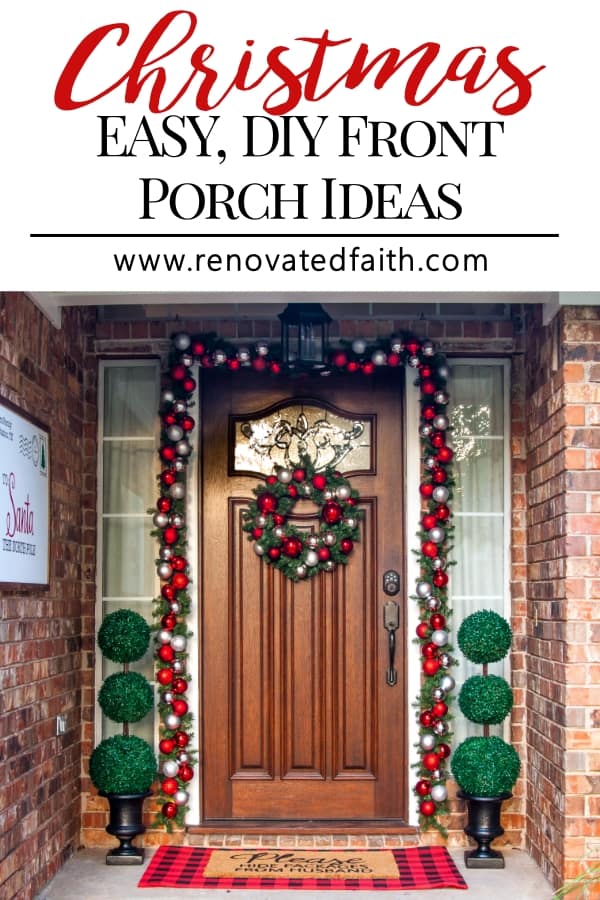 Christmas Front Porch Ideas on a Budget: YouTube Video
I love to hear your thoughts and questions! Scroll down to leave a comment and I WILL reply! ❤️
Blessings,

Be sure to follow the fun here!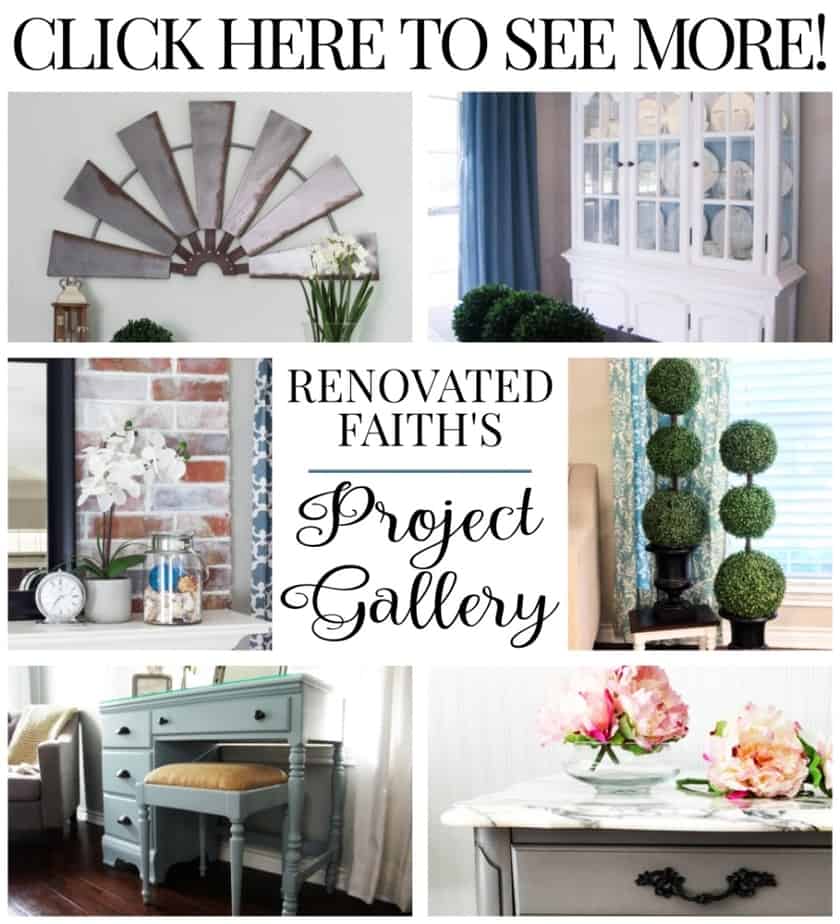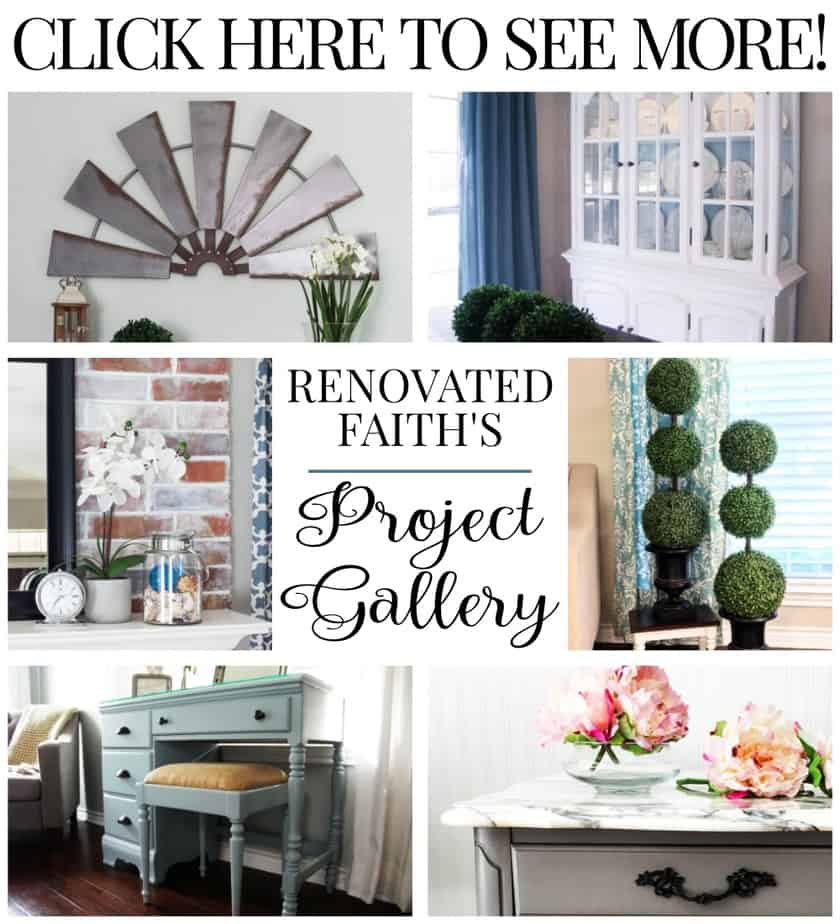 Easy Steps and Ideas to Decorate Your Front Porch for Christmas
Welcome to Renovated Faith, where I share about DIY projects, my faith and everything in between! When I'm not spending time with my family, you will find me redoing furniture in the garage or watering plants in my greenhouse. This blog is about transformation. Anyone can renovate a house but only God can transform our hearts!