Red and Aqua Christmas Décor (with Silver, Red and Turquoise Christmas Ornaments)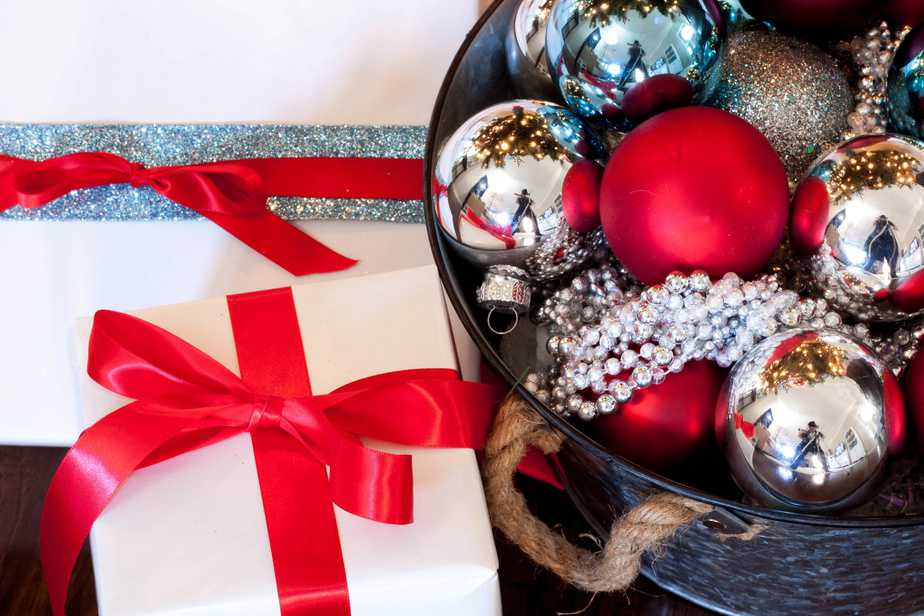 Red and aqua Christmas decorations have always been my favorite as they incorporate easily with the blue décor already in my home. See how I fill our home with Silver, red and turquoise ornaments to give our décor a whimsical, yet classy feel.
Red and Aqua Christmas Decorations
Disclaimer: Because I'm not truly sure of the difference between different shades of aqua, teal, turquoise and even tiffany blue, I'll be using them interchangeably in this post.
I adore lots of color in my décor as it makes life interesting. While farmhouse Christmas décor and buffalo check are great, I'll take aqua and red Christmas décor all day long.

Don't forget to get your free printable on how to update the look of your tree without getting all new decor: The EASIEST Way to Flock a Christmas Tree!
Aqua and Red Christmas Tree Decorations
This year I added large snowflakes and I like the way they look with my aqua blue Christmas ornaments. I love that the tree looks classy but is still fun and whimsical for my eight year-old daughter.
In my new post How to Add Ribbon to your Christmas Tree, I show you step by step how I added the red and aqua ribbon so it looks like it's weaving in and out of the tree. You will be amazed at my one trick that makes it SO stinkin' easy!
Glass or Plastic Ornaments?
A few of you have asked me if I prefer glass or plastic ornaments. I prefer plastic honestly because of course they aren't breakable but most of the time you can't tell the difference. This time I used plastic red and silver ornaments but used turquoise glass ornaments because that's all Hobby Lobby had.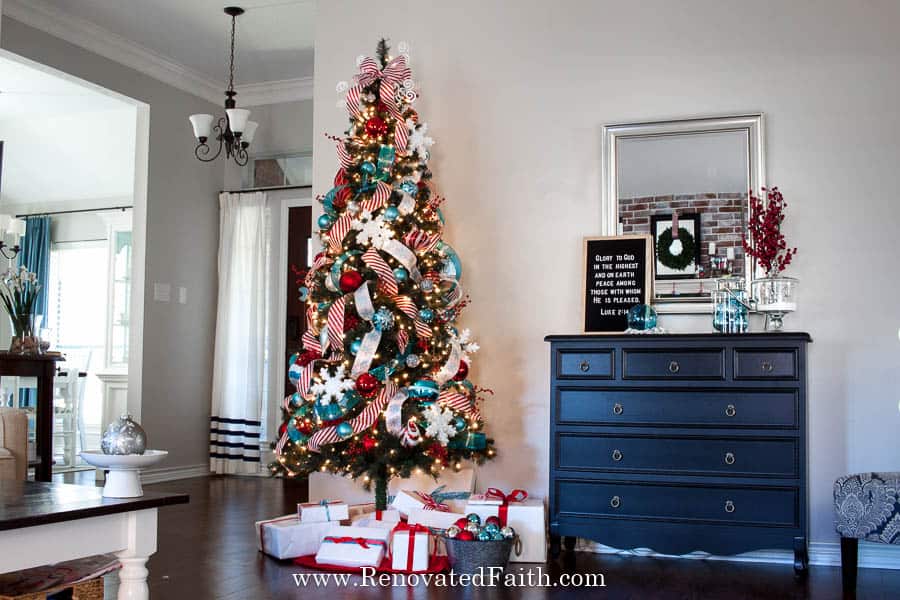 Aqua and Red Christmas Décor for the Mantel
I recently whitewashed my mantel to give it the look of a mortar wash or german shmear but with paint. You can see how I painted it here.
Now I love decorating what was once a drab eyesore. I hung my boxwood wreath from a mirror with the same red and white striped ribbon I used on the tree. (You can make your own boxwood wreath like I did here but I highly suggest you buy one like this – check the current price here).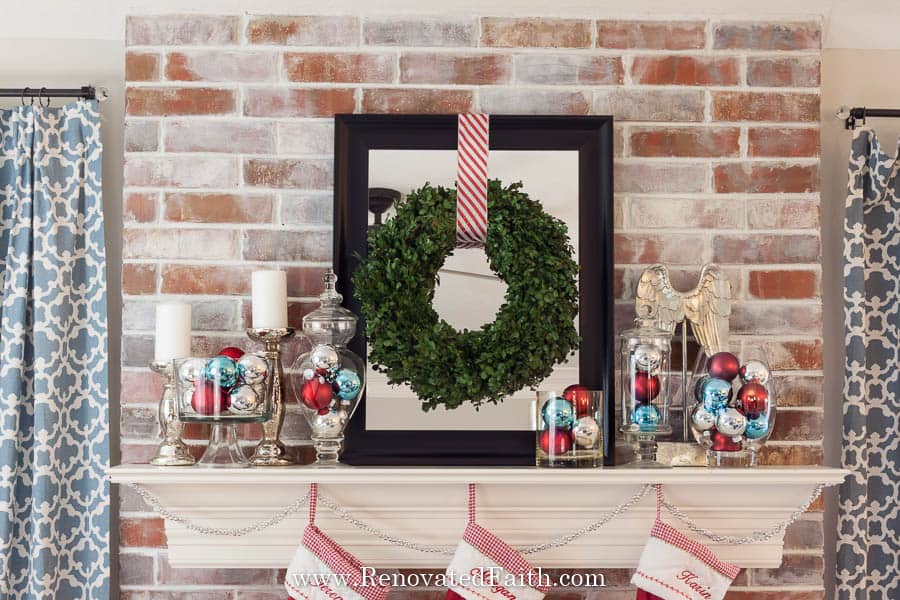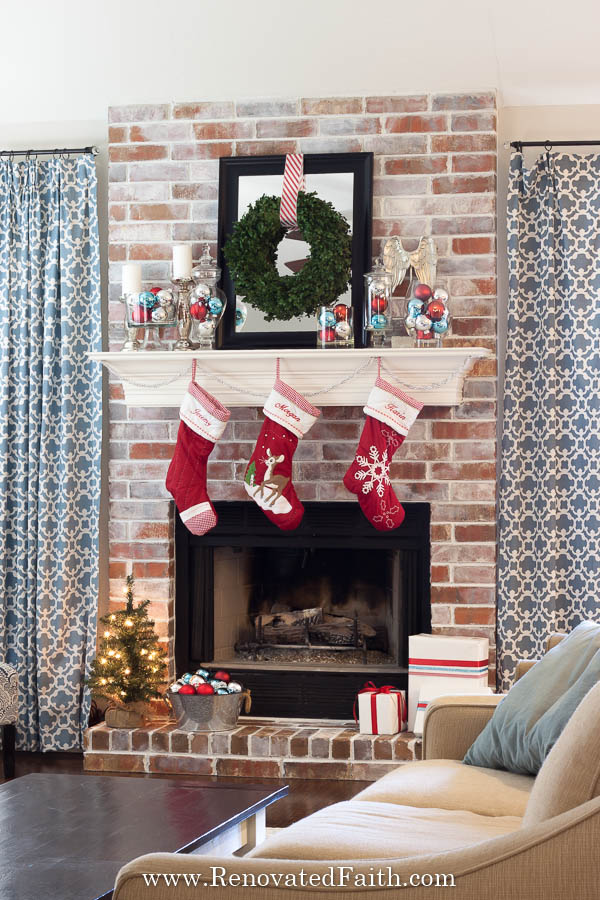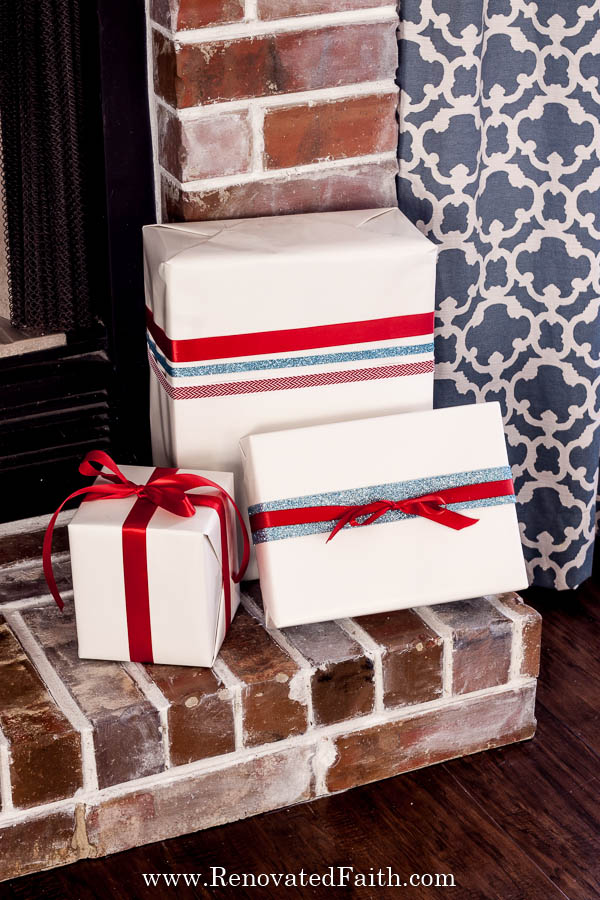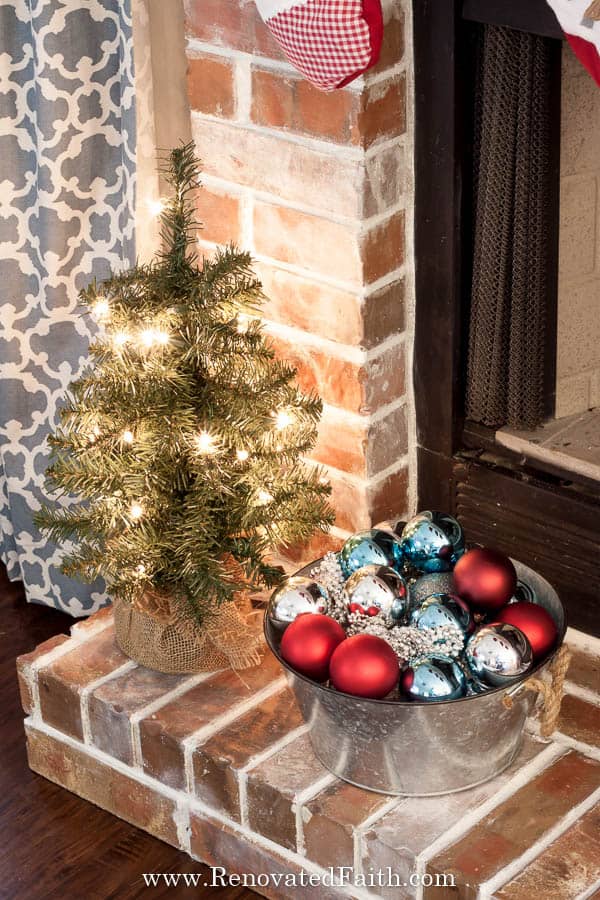 Red White and Aqua Christmas Décor – Gift Wrap
This year I wanted my gifts to coordinate with the tree's red and teal Christmas décor. I saw on Pinterest how someone wrapped their gifts in all white and then used fancy ribbon for a touch of color to coordinate with my red and aqua Christmas decor.
I was pleasantly surprised with how much I liked wrapping my gifts this way. Yes, it's super cute but I also loved that I got out one big roll of white paper to wrap my gifts. I didn't have twenty rolls of half cut wrapping paper and it just make gift wrapping so much simpler. Also, I don't think it took away from the beauty of gifts but the simplicity added to it!
I like my galvanized bucket of red, silver and Aqua blue Christmas ornaments as it adds another touch of bling to the base of the tree.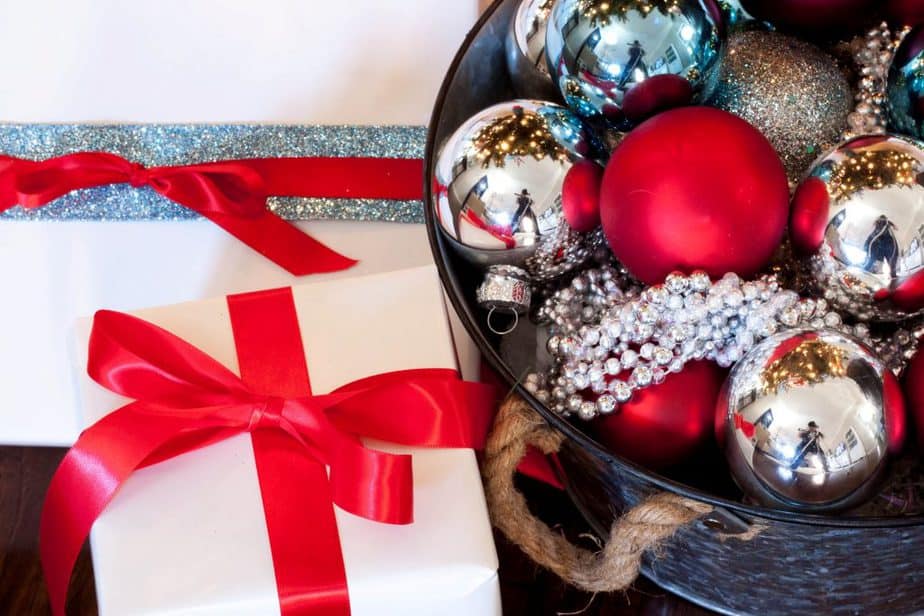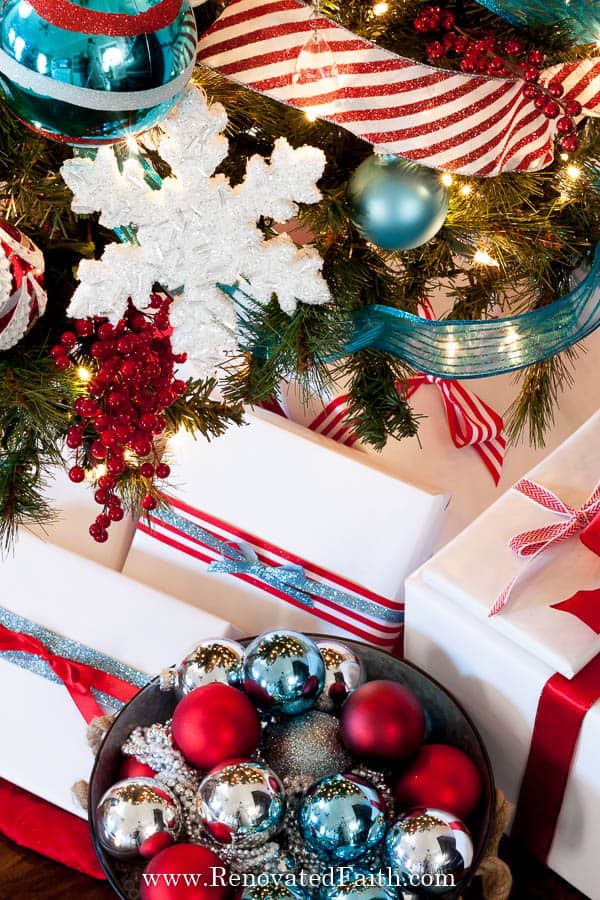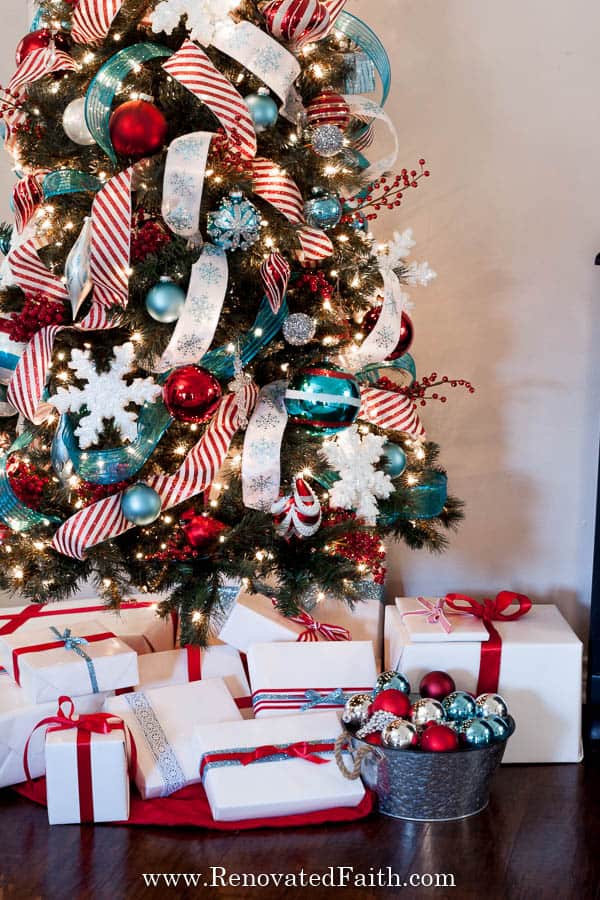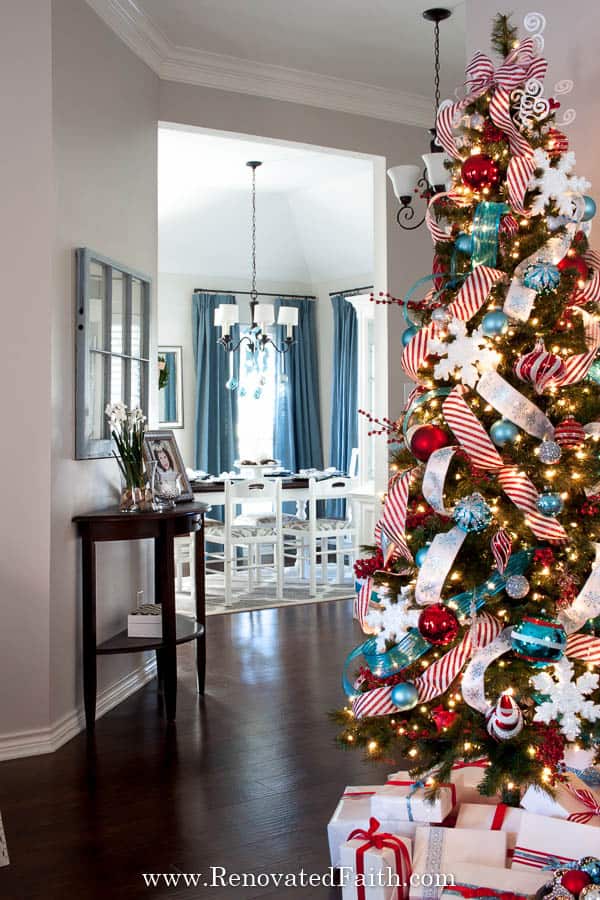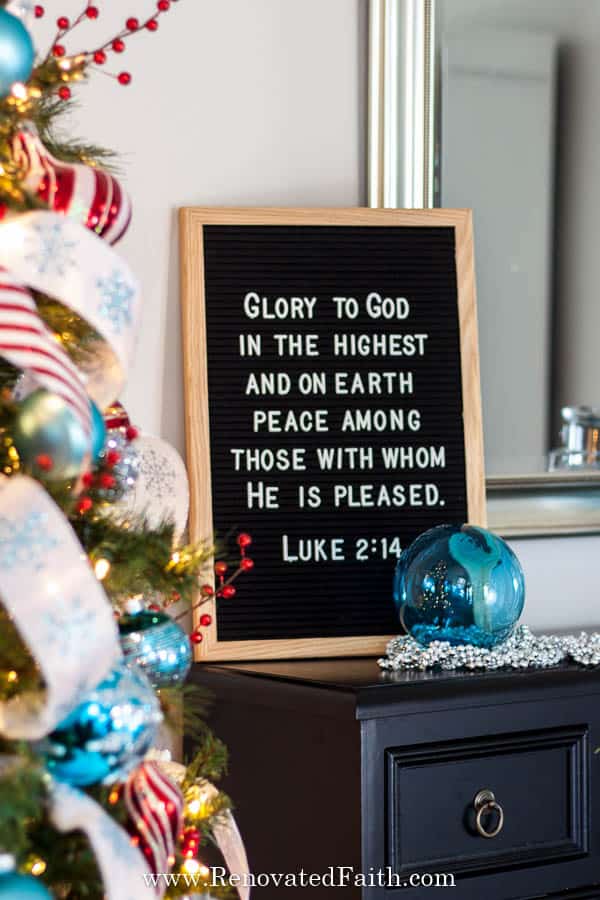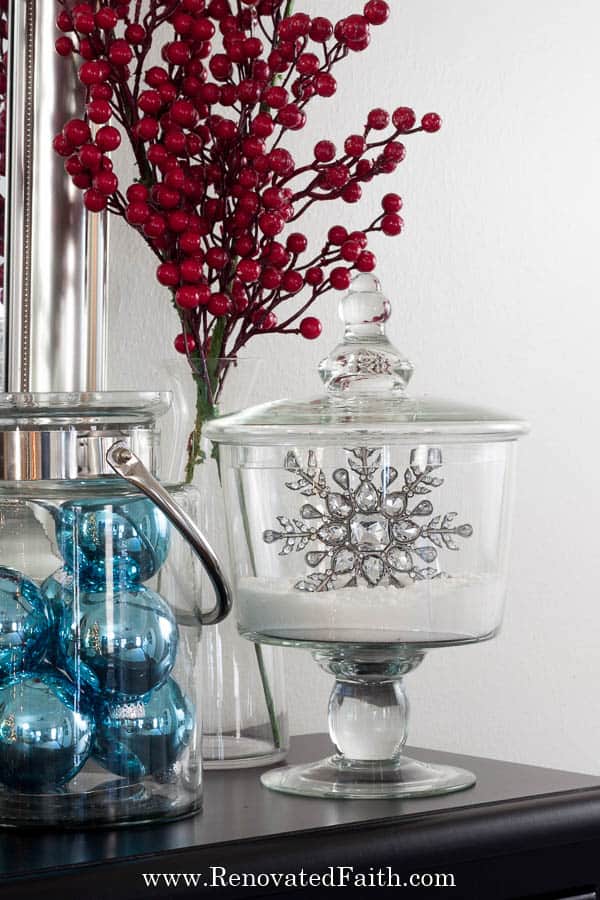 Chandelier with Turquoise and Silver Christmas Ornaments
I love how the aqua blue ribbon looks with the snowflakes and silver and aqua Christmas ornaments. It gives the dining room a touch color and bling with elegant accents including my DIY Rustic Glam Christmas wreath you can see HERE.
Driftwood and silver really compliment one another so I made wood slice place cards that also double as personalized wooden ornaments for my gifts. See how easy they are to make HERE.
I also included some silver and teal Christmas ornaments in my advent wreath. Last year was the first year I have had an advent wreath and it was fascinating and so meaningful to add into our décor and Christmas traditions. You can read more in my post Why Celebrate Advent? (Modern Advent Wreath Ideas).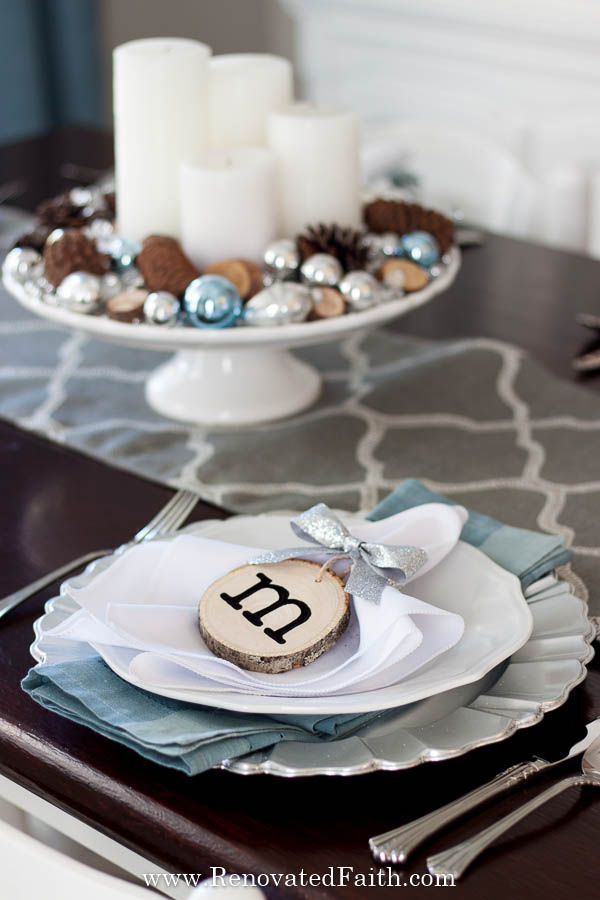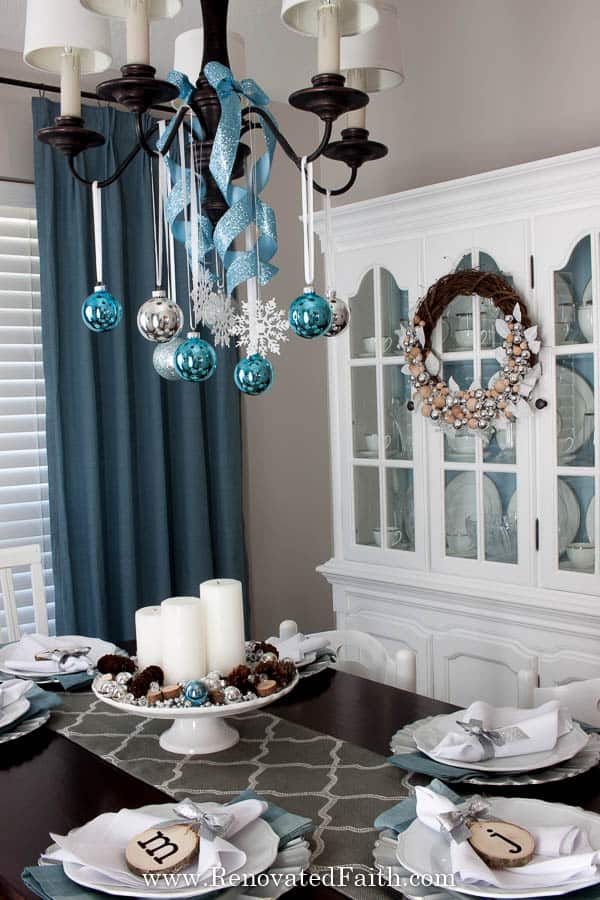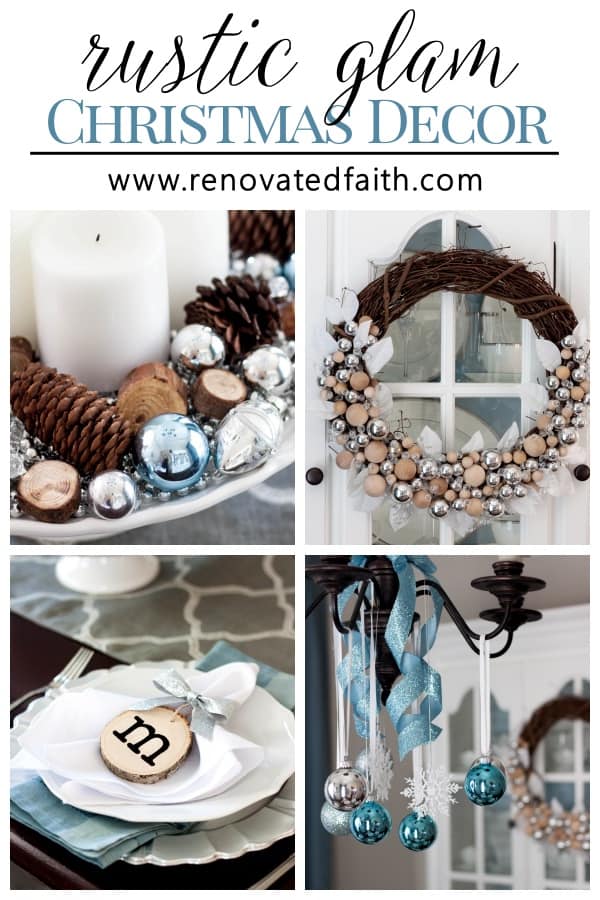 You can also see how I made a super cute Christmas sign on a budget here: DIY Letter to Santa Sign
Related Posts to Red and Turquoise Christmas Decor
How to Decorate a Christmas Tree Step-By-Step
The EASY Way to Add Ribbon To A Christmas Tree
How to Give an Outdated Nativity Set a Stunning Makeover
Rustic Glam Christmas Decor on a Budget
For more inspiration is a video of Blue Christmas Decor Ideas:
To save this post for later, pin it here: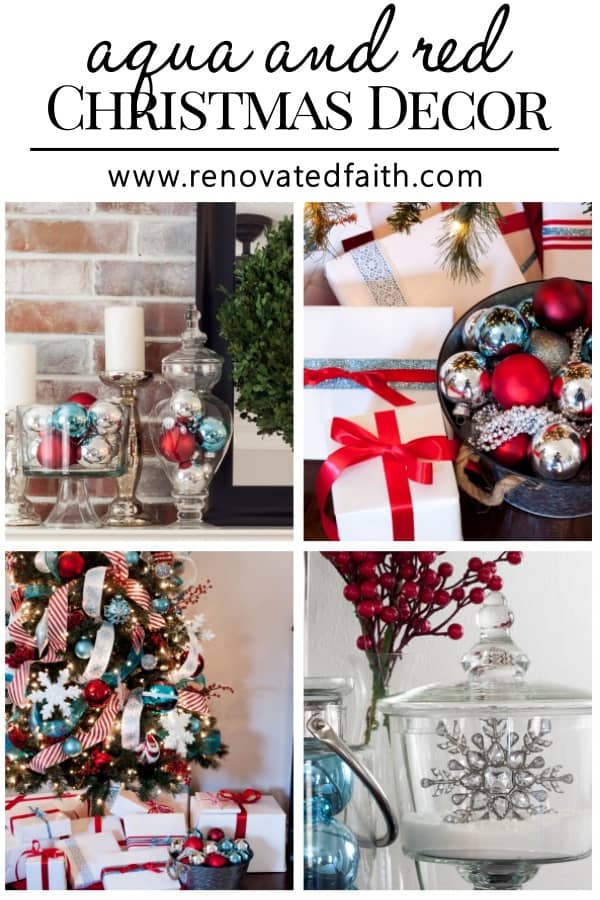 Did you like this post? Be sure to share it and comment below to let me know what your favorite Christmas decor includes!
His,
Karin
Be sure to follow
the fun here!

Welcome to Renovated Faith, where I share about DIY projects, my faith and everything in between! When I'm not spending time with my family, you will find me redoing furniture in the garage or watering plants in my greenhouse. This blog is about transformation. Anyone can renovate a house but only God can transform our hearts!