How To Make New Year's Resolutions That Stick in 2022: Setting Godly Goals for the New Year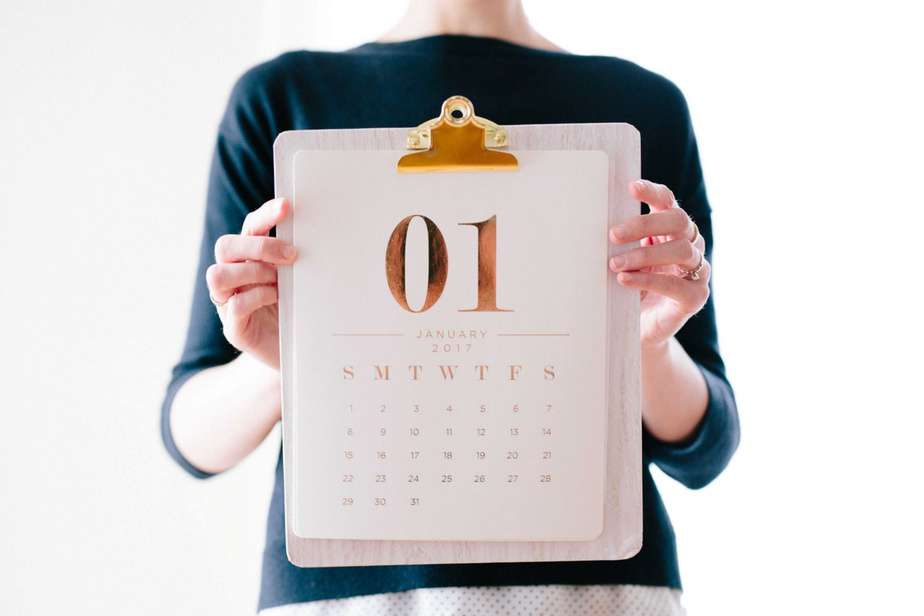 In a normal year, New Year's resolutions so often crash and burn before Valentine's Day.   But after the hardships of this year, give yourself a break!   After this rough year, you are more prepared to focus on what REALLY matters in 2022!
Here are some tips on how to make New Year's resolutions that stick by making godly goals for the new year.
So, what is the best way to accomplish our goals?  On Pinterest, you can download any number of "goal-setting" printables to keep you focused in the year ahead.  However, I've realized that my difficulty in setting goals was not just sticking to them but in how I defined my goals.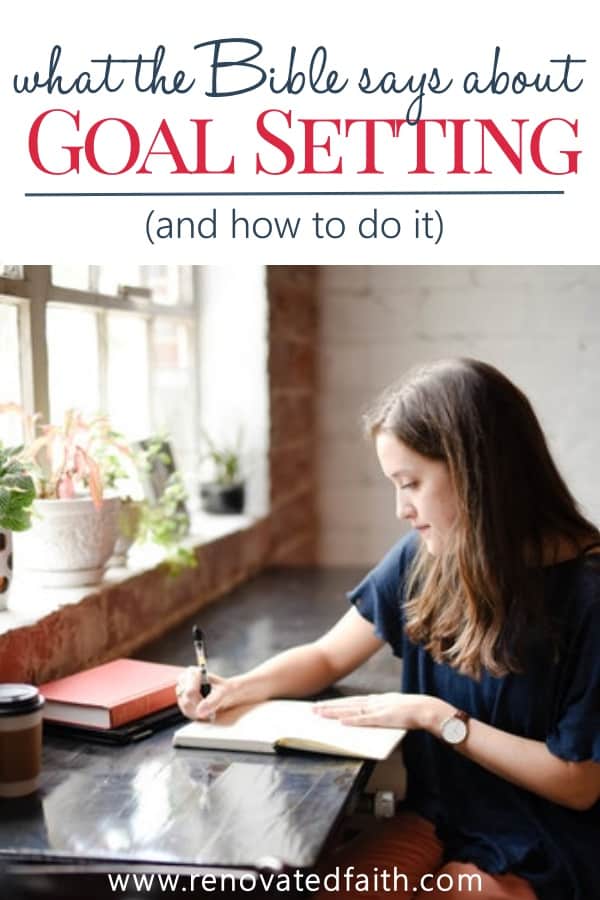 When we allow God to infuse our goal-planning with His purposes and direction, we have real hope in accomplishing our resolutions.  By seeking His direction, we can marvel at the possibilities of using our talents, gifts and skills in the way they were ultimately intended.  Even the most well-intentioned goals cannot come to full fruition if they are not based on God's plans for us.
Even the most well-intentioned goals cannot come to full fruition if they are not based on God's plans for us.
Click To Tweet
Some affiliate links may be used in this post at no extra cost to you.  See my full disclosure here.
God's plans promise to always be better than ours.  God is the divine initiator of all of our future endeavors.    Isaiah 49:16 says we are engraved on the palms of His Hands.  Our Heavenly Father loves us too much to encourage us to strive after "goals" that will eventually be hurtful or ineffective.   Without seeking the Lord's plans, we face inevitable frustration and disappointment.  In order to see the best plans for our lives, we must hold our every dream, goal and aspiration to the light of God's will.
In college, my goal (although I didn't always realize it) was to one day be successful and wealthy as an aerospace engineer.  Nevermind the fact that I was miserable and that my gifts were not well-aligned for that occupation.  I'm so thankful that He stepped in when my goals weren't aligned with His best, and therefore my best.
"And we know that for those who love God all things work together for good, for those who are called according to his purpose." Romans 8:28
Balance in Biblical Goal Setting
The Bible shows the importance of exercising balance in goal setting and we see that in Jesus's illustration of building a tower in Luke 14 and as Proverbs 6:6-11 states:
"Go to the ant, O sluggard;
consider her ways, and be wise.
Without having any chief,
officer, or ruler,
she prepares her bread in summer
and gathers her food in harvest.
How long will you lie there, O sluggard?
When will you arise from your sleep?
A little sleep, a little slumber,
a little folding of the hands to rest,
and poverty will come upon you like a robber,
and want like an armed man."
The Bible is clear that one should be wise in setting goals so as not to lose windows of opportunities.  It also emphasizes the importance of our work, that while God does bless us, work is a necessary part of creation and we are not to be wasteful of our resources.
However, it also warns that just because we make a plan and work the steps, it doesn't mean that our goals will always be met.
Instead our plans should be submission to God's ultimate will as it says in James:
"Now listen, you who say, 'Today or tomorrow we will go to this or that city, spend a year there, carry on business and make money.' Why, you do not even know what will happen tomorrow. What is your life? You are a mist that appears for a little while and then vanishes" (James 4:13-14).
So, one extreme is that the Christian is lazy without working towards a goal and the other extreme is that a the Christian works heartily towards a goal that is not God's.
If we are working towards Goal A and God causes us to pivot at some point to work towards Goal B, we have to be humble enough to realize His ways are best and His plans will ultimately succeed.  Doing that means leaving room for the unexpected and loving God's will more than our own.
Setting Godly goals means leaving room for the unexpected and loving God's Will more than our own.

Biblical Goal Setting Principles – What does the Bible say about Goals and Planning?
Step 1:
Take a step back to see yourself as He does. When we stop to think of the great sacrifice He made for us, we automatically gain some perspective.  All of our time, talents and resources are ultimately His.
As Timothy Keller writes in Every Good Endeavor, "If you see Jesus not as an example but as a Savior doing these things for you personally, then you will see how valuable you are to him.  Meditate on these things, and the truth will change your identity.  It will convince you of your real, inestimable value.  And ironically, when you see how much you are loved, your work will become far less selfish."
Seeing our work in light of His sacrifice makes the concept of sacrifice second nature to us and we gain clarity to see the Christian's life goal – to live a life that honors Him.  When we see our intrinsic value as dearly loved children for whom He made the ultimate sacrifice, we have new clarity.
Step 2:
Prayer is the simplest but most important step. Pray for guidance in setting goals, that He will show you every step of the way, or at least the next step.  Ask Him how He wants you to use your time in the coming year and He will be faithful to guide you.  "In their hearts, humans plan their course, but the Lord directs their steps (Proverbs 16:9)."  
I've become frustrated in times He doesn't show me the final destination but only the next step.  Looking back, though, seeing how far He wanted to bring me in so many areas, I know I wasn't ready to know the final destination.  It would have seemed too daunting and He knew I was only ready to hear that next step.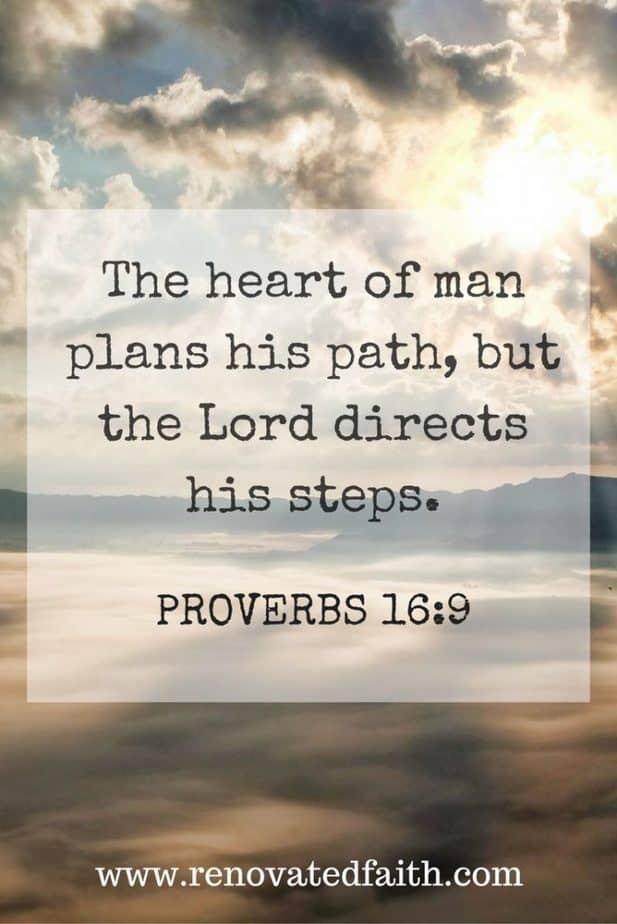 Step 3:
Rely on His power in every step towards completion.  Relying on His grace and strength is crucial and the outcome will be so much better.  Relying on God means praying, "God, I can't do this without you…I need you to take it and use me in it, even in spite of my fears."  God is so faithful to redeem my many shortcomings to honor Him.
Our lives seldom go the way we have planned…and that's ok.  It can be difficult to redirect our thoughts from "where we thought we would be" to "where we go from here".  However, God sees life's twists and turns well before we do.  Not only does He prepare us for them but He holds us in the midst of them.
God always sees life's twists and turns well before we do. Not only does He prepare us for them but He holds us in the midst of them.
Click To Tweet
Scriptures on Vision and Purpose
Biblical Goal Setting – Spend some time reading over the following verses and ask God what He has in store for the following year.  Ask him to show you what your goals should be for this year and what areas need your attention.  You will be pleasantly surprised to see how He so gracefully and unmistakably directs your path.
"I can do all this through him who gives me strength." Philippians 4:13
 "But the plans of the Lord stand firm forever, the purposes of his heart through all generations." Psalm 33:11
 "In their hearts humans plan their course, but the Lord establishes their steps." Proverbs 16:9
"I press on toward the goal for the prize of the upward call of God in Christ Jesus." Phil. 3:14
 "Trust in the Lord with all your heart and lean not on your own understanding; in all your ways submit to him, and he will make your paths straight." Proverbs 3:6
 "All who are prudent act with knowledge, but fools expose their folly." Proverbs 13:16
 "Commit to the Lord whatever you do, and he will establish your plans." Proverbs 16:3
"Unless the Lord builds the house, the builders labor in vain." Ps. 127:1 
 "Many are the plans in a person's heart, but it is the Lord's purpose that prevails." Proverbs 19:21
 "The plans of the diligent lead to profit as surely as haste leads to poverty." Proverbs 21:5
 "Where there is no vision, the people are unrestrained, But happy is he who keeps the law." Proverbs 29:18
"Suppose one of you wants to build a tower. Won't you first sit down and estimate the cost to see if you have enough money to complete it?" Luke 14:28 
"Do not conform to the pattern of this world, but be transformed by the renewing of your mind. Then you will be able to test and approve what God's will is—his good, pleasing and perfect will." Romans 12:2 
 "For I know the plans I have for you, declares the Lord, plans for welfare and not for evil, to give you a future and a hope. Then you will call upon me and come and pray to me, and I will hear you. You will seek me and find me, when you seek me with all your heart. I will be found by you, declares the Lord, and I will restore your fortunes and gather you from all the nations and all the places where I have driven you, declares the Lord, and I will bring you back to the place from which I sent you into exile."  Jeremiah 29:11-14
Bible Characters who Set Goals
Here are several spiritual goal setting examples to help you with your list of spiritual goals for the new year.
Nehemiah – Planned how to get King Artaxerxes to allow him to rebuild Jerusalem and then he built the wall in 56 days.
Abraham – As the Father of Isreal, Abraham was given the goal from God, to travel to a distant land and settle there. He traveled from Mesopotamia to the Canaanite lands, now known as Israel and Palestine. This is a great example of how sometimes God gives us an agenda but we don't know what the final outcome will look like.  We just have to trust that His way is always best.
Paul – The apostle set a goal to testify of Jesus to the Caesar of Rome. As apart of accomplishing this goal, he probably did not realize that he would get arrested, be threatened by mob violence and was tried several times.  Regardless of the circumstances, his focus remained the same.
Jacob – In Genesis 29, Jacob had worked 7 years for Rachel's hand in marriage and then we was tricked by her father who he had married her sister Leah instead.  So, Jacob set the goal to work 7 more years for Rachel.  In Genesis 30:25–43, he worked within an agreement with his father in law, earning a portion of the sheep herd for his own.
What are your Spiritual Goals for 2022?
After reading over the spiritual goal setting examples above, what are two goals you would like to focus on?
What are some goals that would help you improve your day with God?  Which of the following do you need to do more of?
Disclaimer: Don't be overwhelmed by this list.  I can assure you that just about every believer can improve in all of those categories.  
But pray about what your focus should be and which one or two need to be a focus for this coming year.  
Now that you have an area you want to focus on, make a list of activities that can help you achieve that goal.
For example, if I want to memorize more Scripture, I could try to memorize one small verse a week by writing it out once each morning.
If I want to get in the habit of spending time with God, I can set an alarm on my phone each morning and find a good Bible study or devotional  to do during that time. (Check out some women's Bible studies here).
What about Spiritual Goals for my Child?
It's is important to expose children to the truth of God's word and show them that church is a place where they can see the love of God.  For a fabulous resource on building your child's faith, check out this post by group.com.
Spiritual Goal Planning Worksheet:
In my post on Intentional Goal Setting, I share a great strategy and it includes a free goal setting printable.  You can use that printable for your spiritual goals in the link below.  Be sure to read this post for a helpful strategy in how to use your free goal setting checklist:  Strategic Goal Planning for 2022
Sermon on Goal Setting:
Be sure to subscribe to Renovated Faith for next week's post on how to tackle and accomplish our God-given goals.
If you want to save this post for later, pin it here: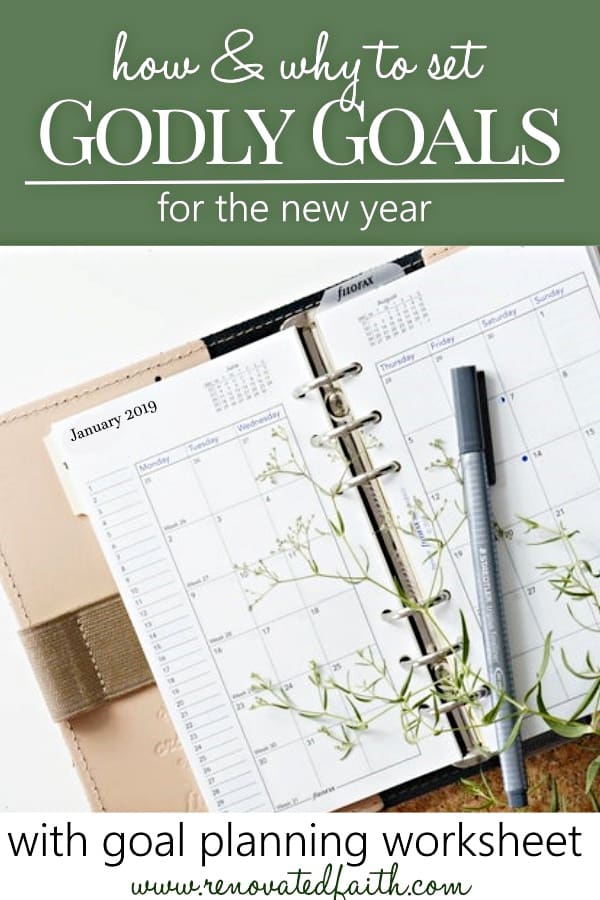 Did you like this post?  This blog is my ministry so be sure to share it as a message of God's hope.  Have a wonderful week!
His,
Karin
Be sure to follow the fun here!
Welcome to Renovated Faith, where I share about DIY projects, my faith and everything in between! When I'm not spending time with my family, you will find me redoing furniture in the garage or watering plants in my greenhouse. This blog is about transformation. Anyone can renovate a house but only God can transform our hearts!