"Thank you Delivery Drivers" Sign Printables and Snack Ideas
Show your delivery driver appreciation for making your holiday shopping easier! Here are the best delivery driver snack sign ideas & printables to thank them!
How on earth did we ever get everything done before online shopping? Whether it is dragging the kids out, fighting crowds, or searching for a parking spot…no thank you! The world of online shopping has made life SO much easier!
And think about ALL of the many packages your UPS, Fedex, USPS and Amazon drivers bring to your driver during the Christmas season. Now consider how many packages they deliver to everyone in your community compounded with late hours, horrible weather and sore muscles.
Your postman or delivery driver would really appreciate a treat when they drop off all those Amazon boxes on your porch. Here are some easy ideas to supply snacks and drinks in order to show them some appreciation for all their hard work! (To get the rest of my porch ideas, click here: Easy DIY Christmas Front Porch Decor.)
Each idea has a free holiday sign that you can use to coordinate with your front porch decor!
(Pssst…If you don't have an Amazon Prime account yet, you can get a 30-day FREE trial here! Believe me, it is the best money ever spent! FREE 2-day shipping all year long + free streaming music + free streaming tv shows and movies + free kindle books! Click here for the free trial and discount!)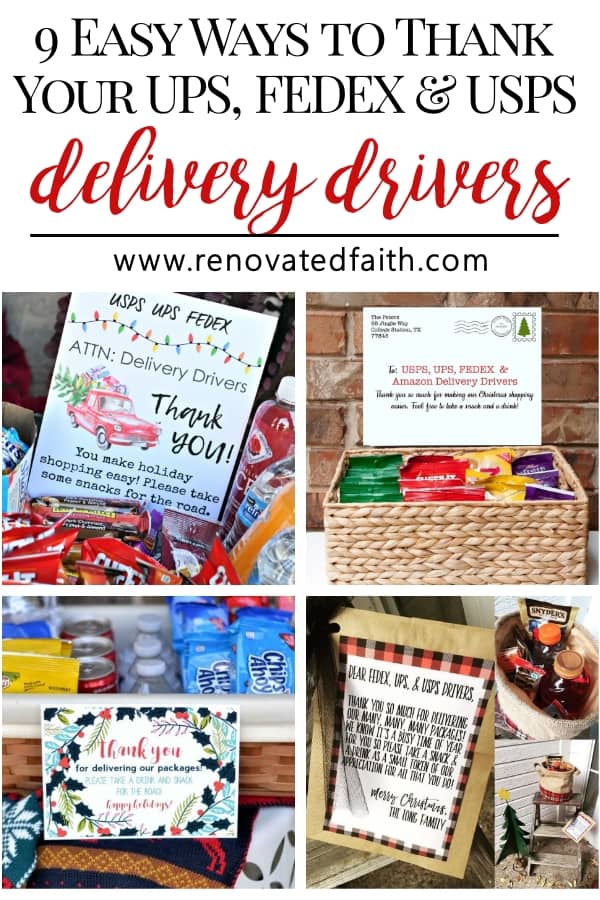 (As an Amazon affiliate I earn from qualifying purchases. Please see my full disclosure HERE).
Christmas Delivery Driver Snack Sign Ideas & FREE Printables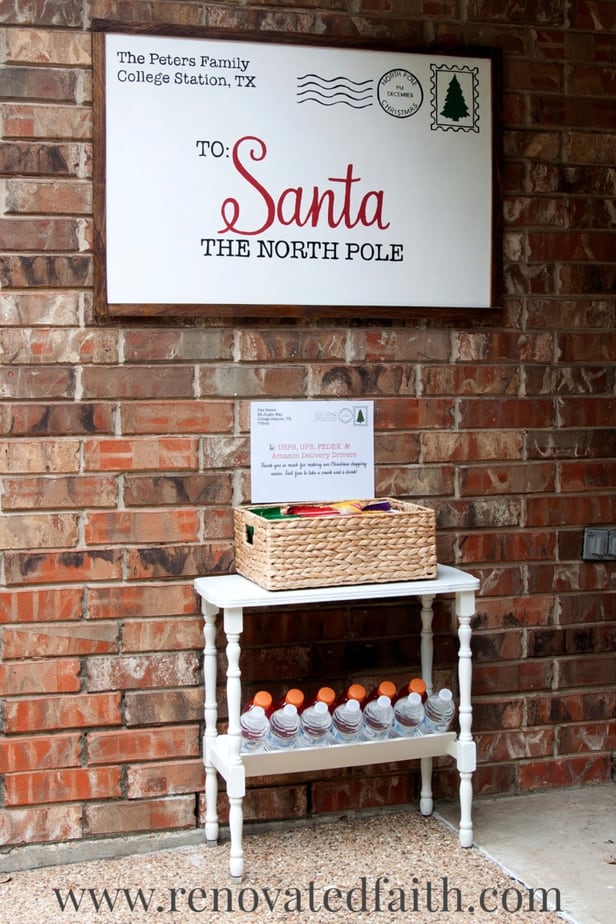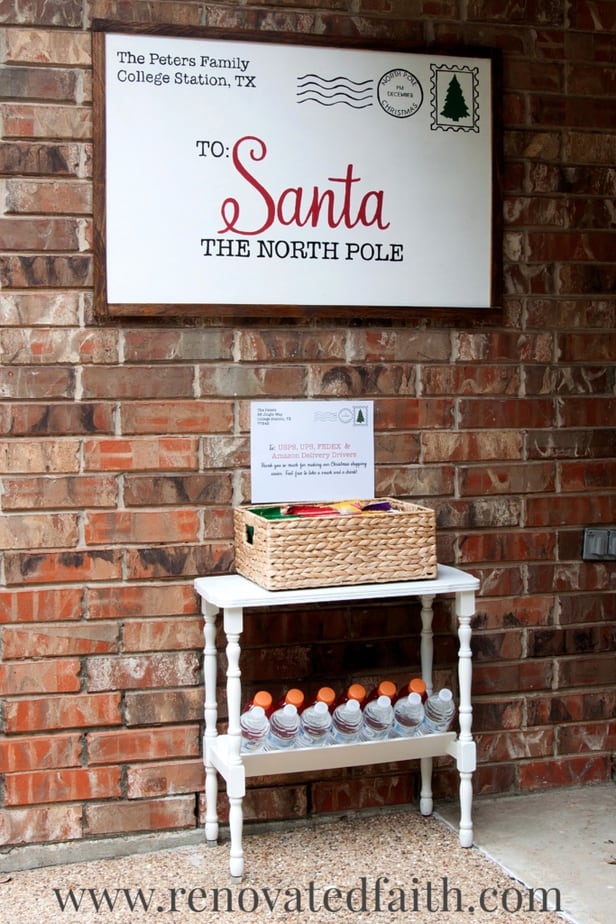 Why They Deserve a "Thank You" For Delivery Our Packages
As difficult as 2020 was, we wouldn't have made it without essential workers. While health care workers deserve appreciation for their life-saving efforts, there are other heroes that work hard to get us what we need even in the midst of a pandemic.
Hardworking delivery drivers brave all types of weather throughout the year to bring us lots of packages. Not only do they work long hours, but as online shopping has increased so does their workload.
So often, the packages they are delivering aren't just the mindless Amazon purchases but life-saving medicine, food or gifts from loved ones. Especially during the Christmas season, they work long days to ensure that we get what we need. Whether they are UPS, USPS, Amazon delivery drivers or food delivery people deserve a thank you for their faithful service whether it's in the form of a small snack, thank you note, or little gift.
Do Delivery Drivers Appreciate Snacks?
Delivery Drivers so appreciate when people take the time to not only let them know that their hard work is noticed and appreciated but to also give them a snack to make their day a little easier. We ended up doing this to bless the delivery drivers but we didn't realize how much it would bless us as it's been a fun way for my family to watch their reactions! (Here's the camera last year that is like a Ring but cheaper: Arlo Security Camera)
One Driver's Reaction To The Snacks
My friend Paula caught her UPS driver with her camera and it was so much fun to watch on social media:
What Snacks Do Delivery Drivers Like?
When it comes to picking the right treats for delivery drivers, snack and drinks preferences of your favorite delivery are going to vary. With that, be sure to offer healthy options like granola bars in addition to fun options like candy bars. Some fun snack options are beef jerky, protein bars, chips, or homemade treats.
In addition to yummy snacks, be sure to add lots of drink options like bottled water or Gatorade. You could include sodas or iced coffee drinks with your delivery driver snacks as I'm sure the caffeine is appreciated. You can even ask your delivery drivers what they like as this person did: Delivery Driver Snack Preferences
When To Have Your Package Delivery Sign and Snacks Out
You can put your snack station on your front porch at any time during the holiday season but I like to have mine out a couple of days before Black Friday. That gives them time to see it before the craziness of online ordering is upon them!
How To Set Up Your Own Delivery Driver Snack Station
Your basket of snacks can be as simple or detailed as you want! No matter your style, what matters is the huge smile that your basket of snacks will put on the face of your delivery driver.
Any basket will work and you can get plenty of basket ideas here: Delivery Driver Goody Baskets on Amazon. You could even use a box or galvanized steel bucket/container. Dollar Tree is another great source for low-cost baskets or just use something around the house!
This year, I decided to make a Letter to Santa Sign(click here for the tutorial) for my front porch. Underneath I put a basket of snacks and a sign that coordinates with my wooden sign above. In my basket, I included several different snacks, Gatorade, and water bottles by my front door so they can have plenty to choose from.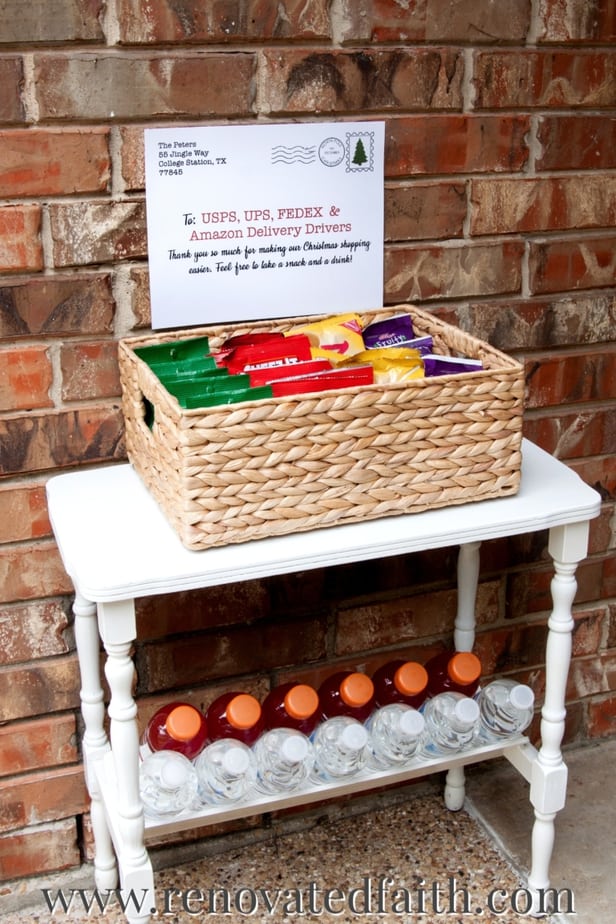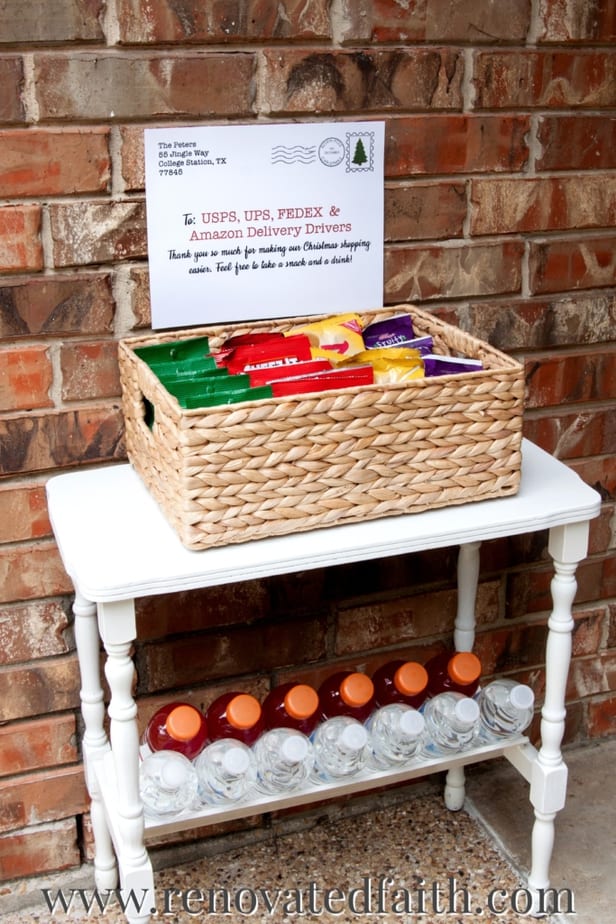 Christmas Front Porch Ideas on a Budget
Check out the video below to see the Letter to Santa Sign, my delivery driver snacks, free printable and also the rest of my front porch decor here: Easy Christmas Porch Decor Tutorials
Supplies Needed: Christmas Delivery Driver Snacks
A Basket or Bin
FREE Christmas Delivery Printable (below)
Laminator (optional) – I love this one and it's super cheap!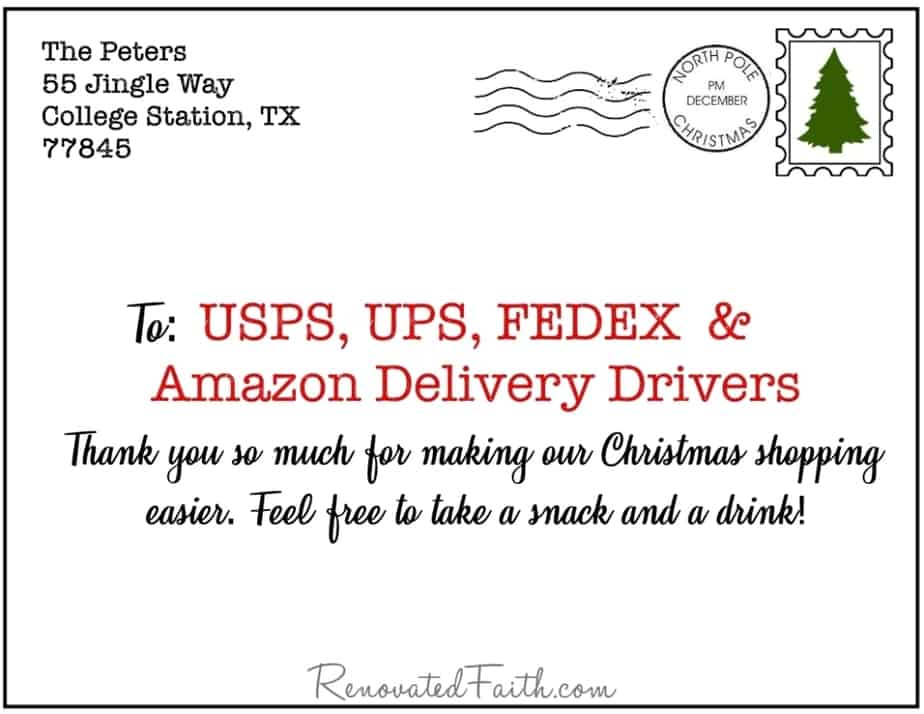 You can get your free printable sign by filling out the form below with your email address:
The printable is set up to print as a full page. To add your own address, set up a Word document with narrow margins and with a landscape orientation (both in the Layout Menu). Then, add your address to the top left in Linowrite (download it for free here) with a font size of 24. Just run your printed sign through the printer to add the address to the top left.
The BEST Delivery Driver Snack Sign Printables
Here are more super cute delivery driver appreciation ideas for your front porch from several other bloggers. You can easily pick a sign to coordinate with your front porch Christmas decor!
Delivery Driver Porch Snacks Printable by Sweet Blessings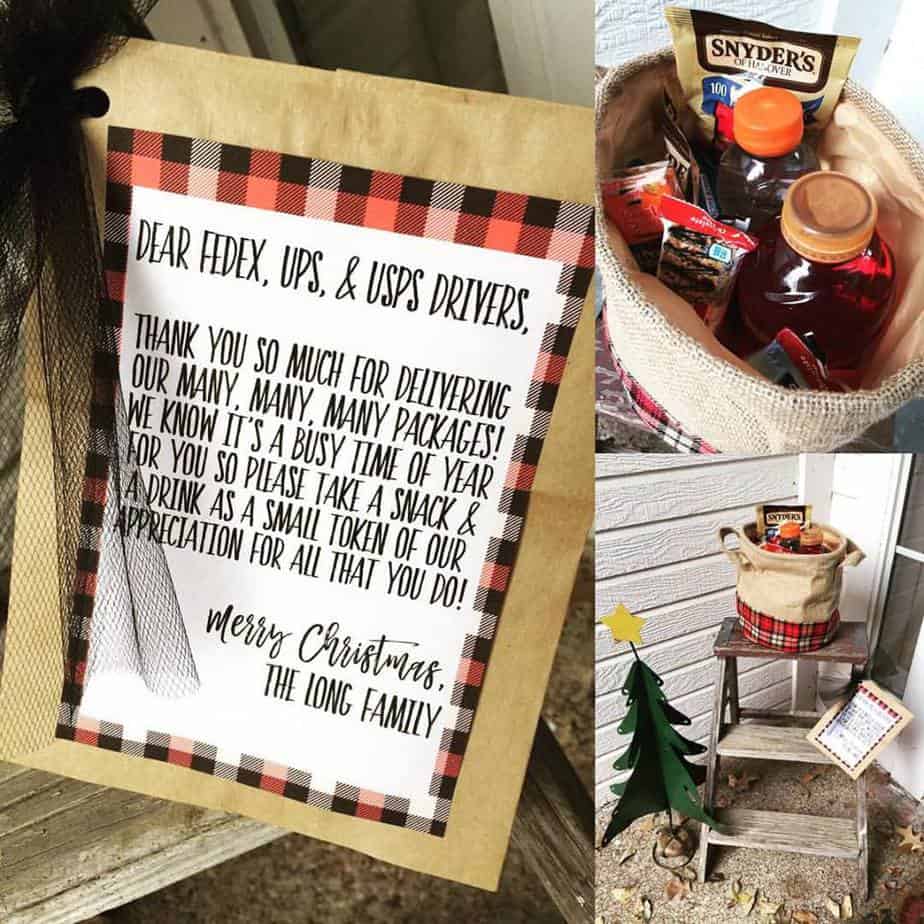 Knowing she would get four deliveries on one Saturday alone, my friend Shannon made these adorable treat bags to show appreciation to her delivery drivers! She also put some in a basket she got at Target's Dollar Spot.
Shannon says in her post that the drivers seemed to take a lot of Gatorade so be sure to stock up! You can get her free printable to make your own treat bags and lots of posts on other random acts of kindness here: Sweet Blessings Delivery Driver Treats
Delivery Driver Thank You Printable from Hip2Save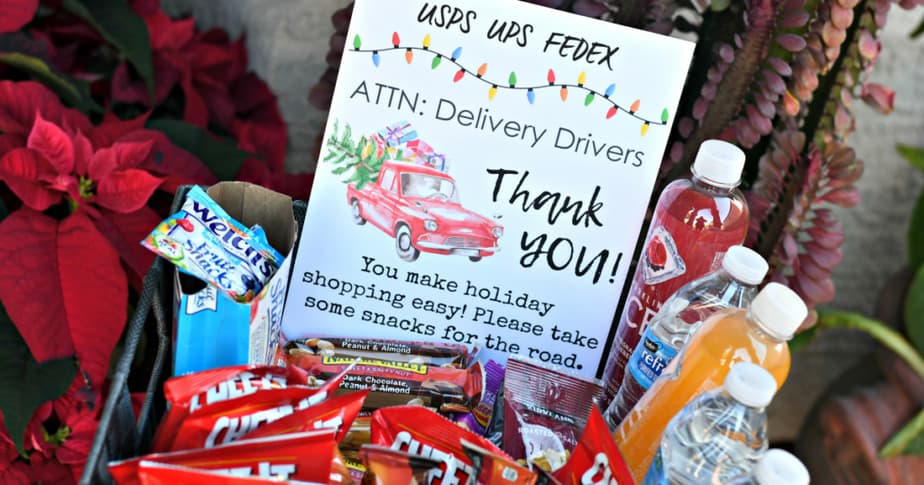 Michelle at Hip 2 Save shares a fun and easy way to thank your hard-working delivery drivers with her basket of snacks and free printable!
What I love about her post is that she includes the doorbell video feed of the drivers picking treats out of the baskets!!! She said every single driver got something! How cool is that?!? To print out Michelle's free printable sign, click here: Delivery Driver Thank You Sign from Hip2Save
Free Thank you Delivery Drivers Printable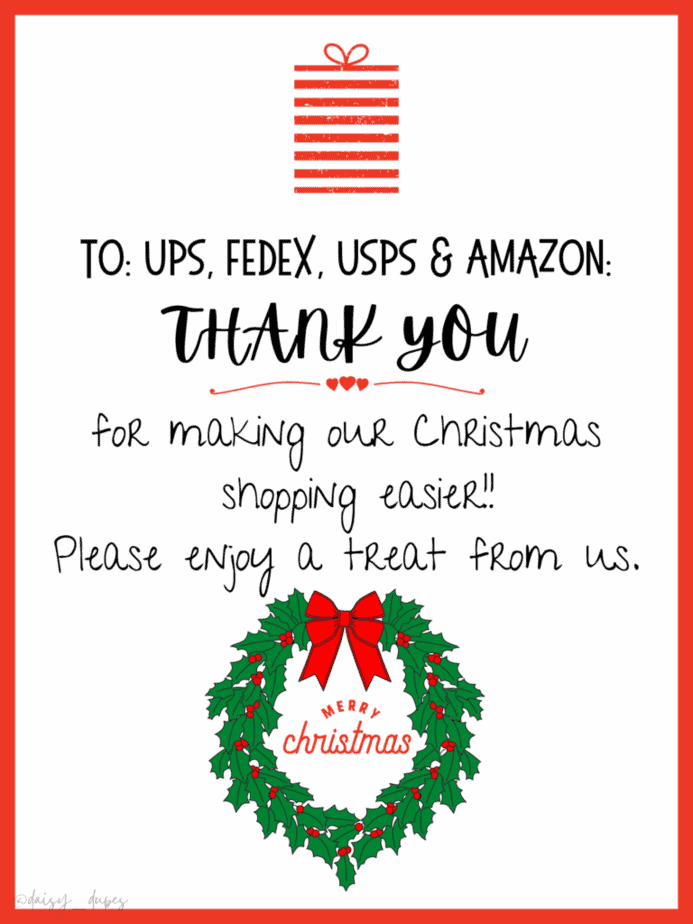 Thank you Delivery Drivers Sign Printable (Free) with See Vanessa Craft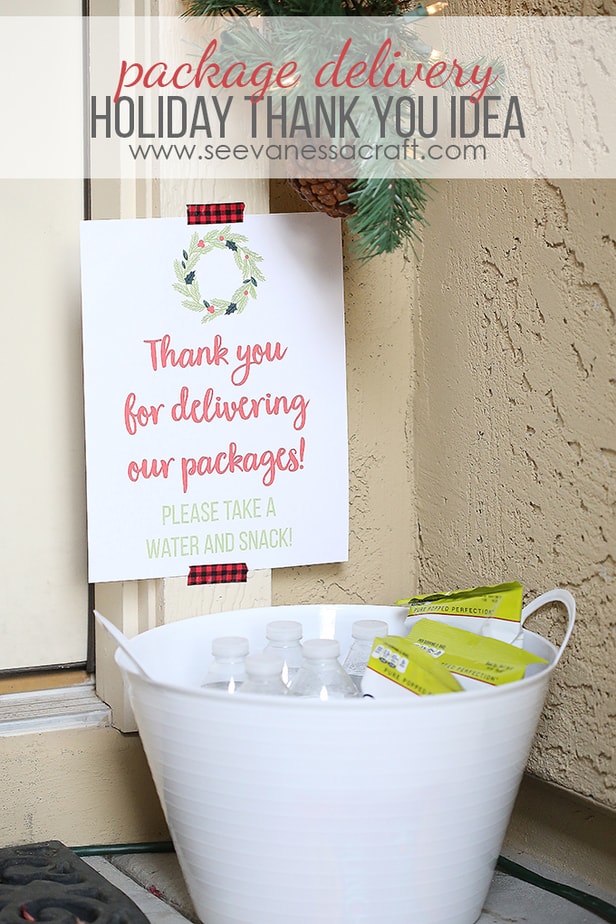 Vanessa at See Vanessa Craft shares about paying it forward to her hard working delivery drivers by putting out snacks and water with this free printable sign. You can download this sign and a second option in her post here: Thank You Idea for Package Delivery with See Vanessa Craft
Delivery Driver Snack Sign Printable from Burlap and Blue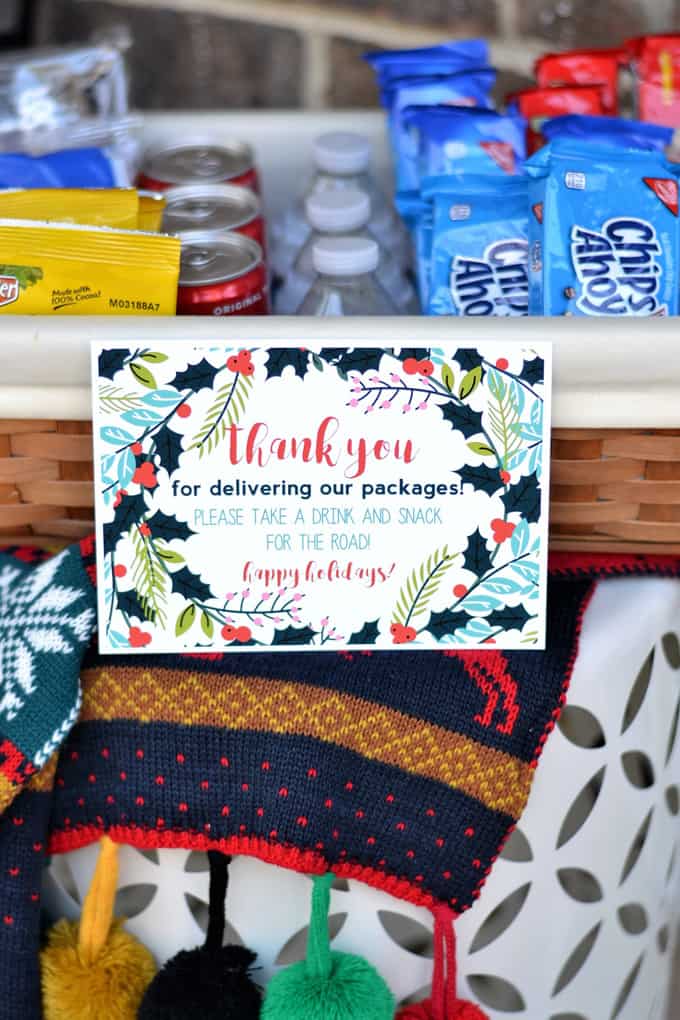 Linda from Burlap and Blue made this gorgeous printable to honor her favorite holiday heroes. I love how she makes even pre-packaged snacks look festive! You can print your own here: Holiday Thank You Printable from Burlap and Blue
Delivery Drivers Thank You Sign & Poem by What Che Said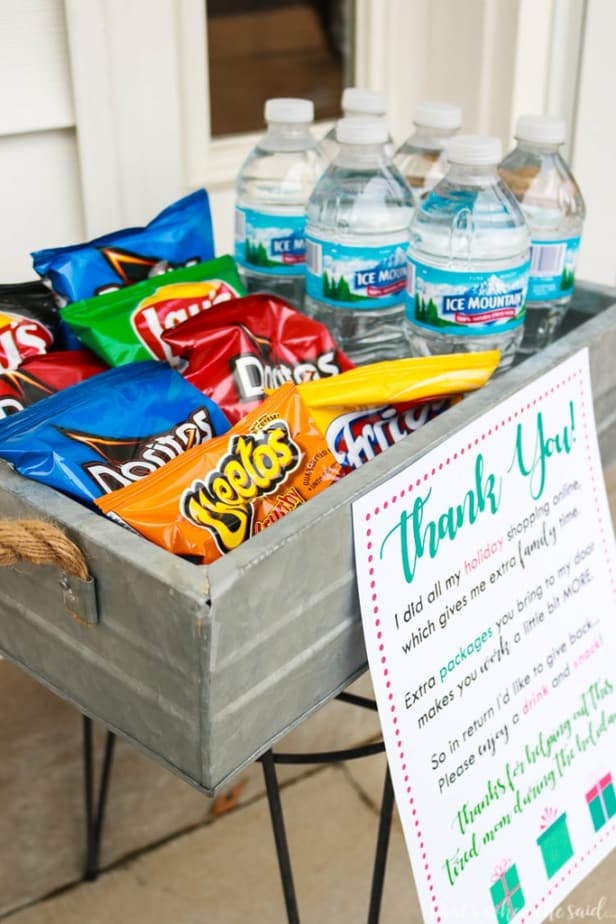 I think this printable wins the award for cuteness! Cheryl at What Che Said went the extra mile and made up a poem to thank her delivery drivers! To ensure your delivery drivers leave with a snack AND a smile, you can download her sign printable here: Holiday Delivery Printable Poem by What Che Said
Free Delivery Driver Sign Printable By Giggles and Galore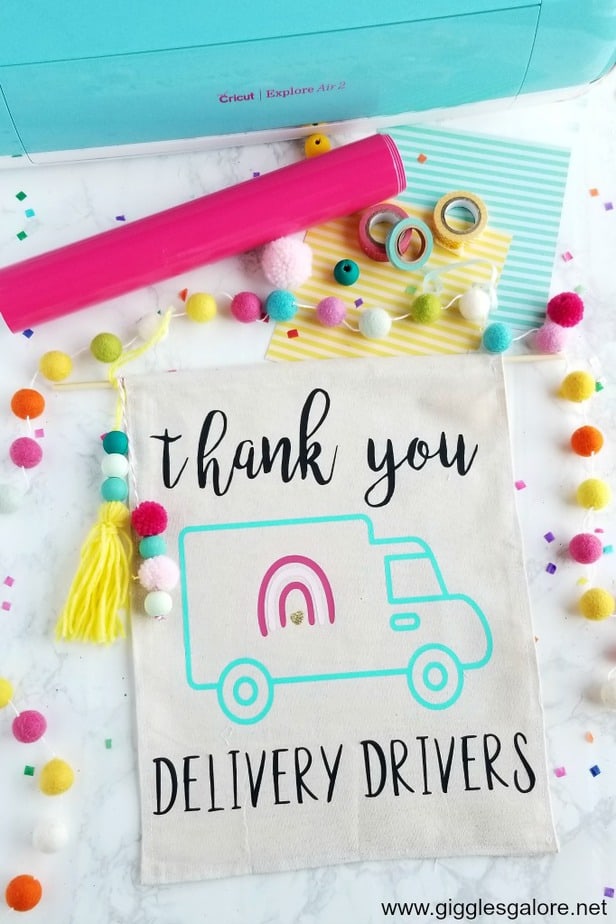 While this isn't exactly a free printable its a very low-cost sign for those of you who love to use a Cricut! Mariah from Giggles and Galore shows you how to make it here: DIY Thank you Sign for Delivery Drivers
Free Delivery Driver Printable Sign with Gift Tags by The Savy Sparrow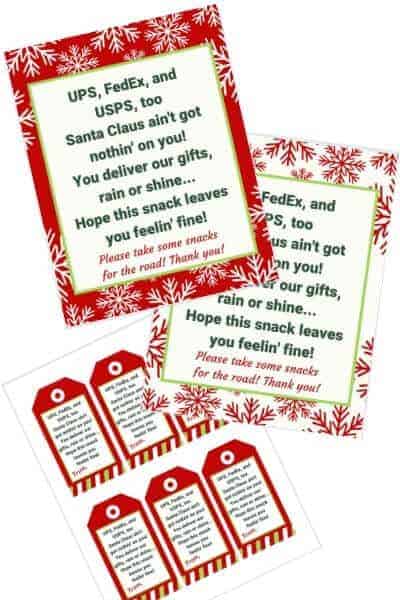 I love the matching gift tags and sign from The Savy Sparrow! If you have a favorite mail person or delivery driver you can gift her one of the gift options below with this free gift tag attached. I know our poor mail lady deserves a little something extra with all those Amazon orders I place! You can get Amy's free sign and gift tag printables here: Thank you Delivery Drivers Sign and Tags
Thanksgiving Delivery Driver Sign Printable by Craft With Christi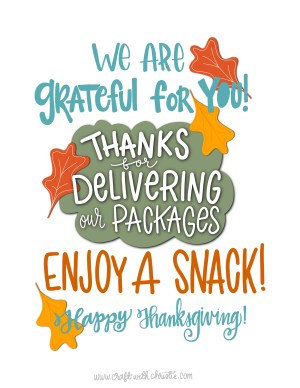 If you want to get a jump on appreciating your favorite delivery drivers, here is a fall themed delivery snack sign for you to download here: Free Fall Delivery Driver Sign
Printable Delivery Driver Snack Signs from Laguna Lane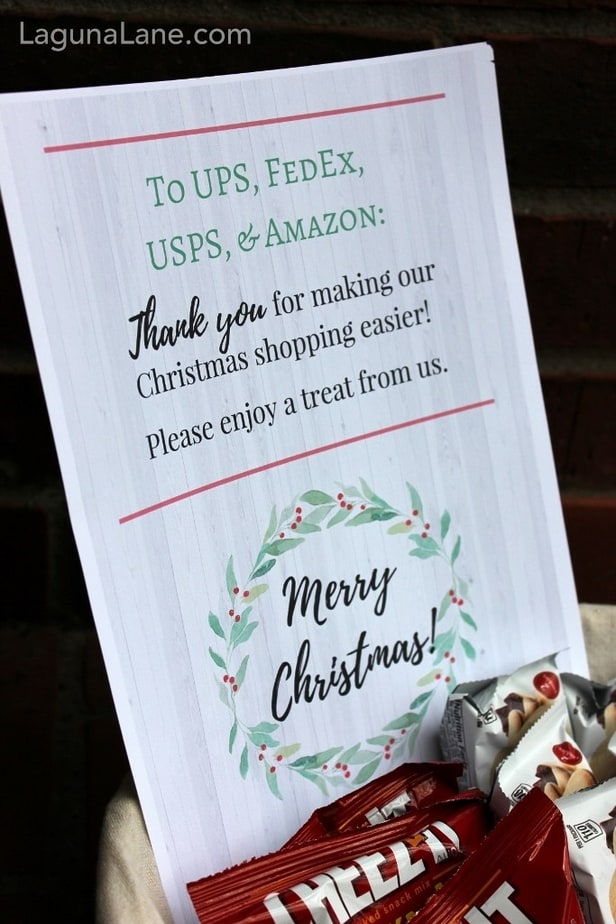 Meredith at Laguna Lane gives you a couple of options to choose from including this farmhouse style printable and a reindeer printable. You can download your own here: Delivery Driver Snack Printable from Laguna Lane.
More Printable Signs for Delivery Driver Snacks
Here are some more printable signs for your delivery drivers. These are not free but they are low-cost and too ridiculously cute not to include. You can print a new one year after year with the same file, and many of these can be personalized with your family's name!
Delivery Drivers Thank You Wood Sign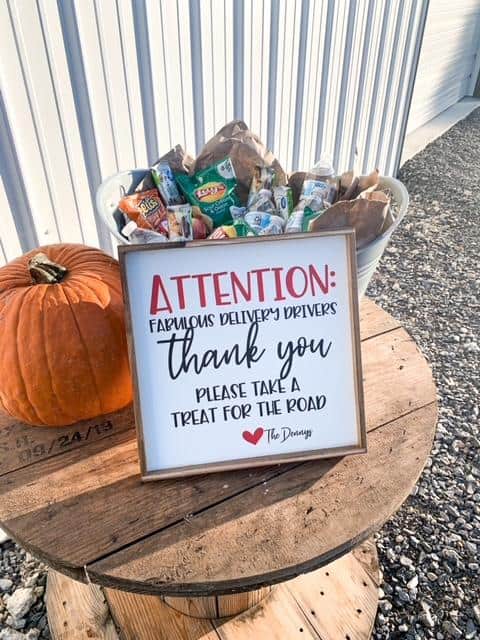 I really like this sign because it gets their attention while still being cute. You can select the size and color options for your sign here: Customs Signs by Simply Stained Shop
Delivery Driver Snack Chalkboard Sign
Appreciation Gifts & Other Ways to Thank Delivery Drivers
If you are interested in offering other treats for your delivery drivers or have a favorite delivery driver in mind, here are some great options of low-cost gifts to let them know you appreciate their hard work!
Delivery Driver Holiday Hand Sanitizers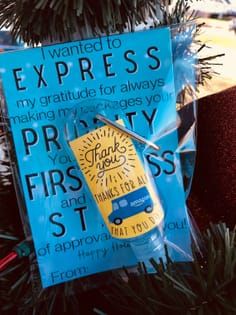 ANY delivery driver will appreciate these individual hand sanitizers. Kerstin also has UPS, USPS and other types of hand sanitizers in her shop here: Delivery Driver Appreciation Hand Sanitizer
Delivery Driver Thank You Mug
This awesome delivery driver mug is great for filling with a treat bag of candy and setting in your mailbox or on your front porch. You can select your mug size here: Delivery Driver Definition Mug
Individual Treats for Delivery Drivers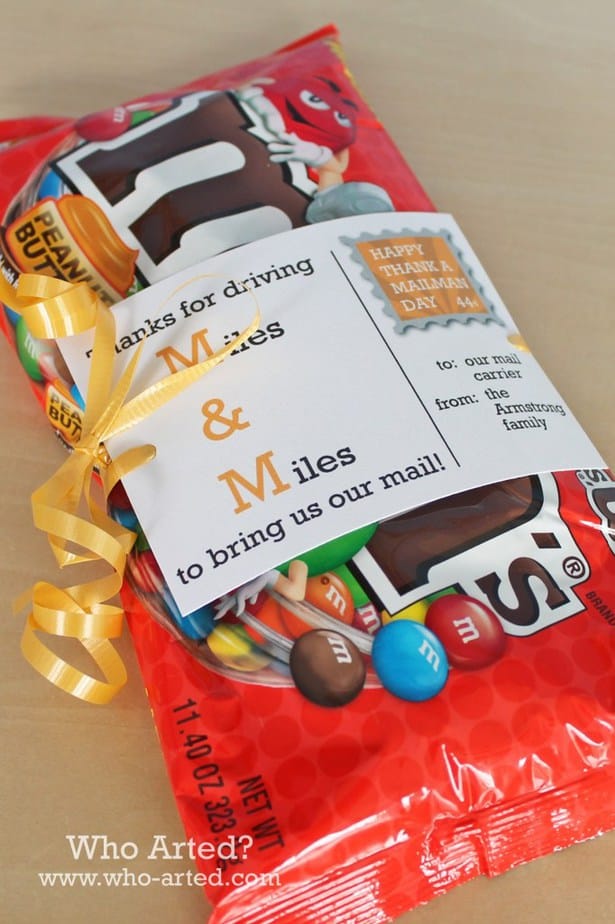 Becca at Who Arted had the super cute idea to appreciation her mailman by attaching this printable to a bag of M&M's. This could easily be adapted to other delivery drivers for the holidays and you can print out your own tags at her site here: Thank Your Mailman by Who Arted
DON'T FORGET TO TAKE A PICTURE!
Now that you are done, I'd love to see how it turned out! ❤️ Post your before and after photos here!
RENOVATE YOUR FAITH: Sealed with the Holy Spirit
One thing in common with every letter or package that comes to your front porch is that they are sealed. Whether with packing tape or adhesive, they are all sealed so the contents can never come out.
In addition, all packages and mail have a postage seal of some sort giving them a stamp of authenticity showing them to be officially part of the postage system.
I know what you're thinking…"Where are you going with this, Karin?" Well, the same thing occurs when we come to know Christ. At the point that we trust in Him for salvation, Scripture tells us that we are sealed with the Holy Spirit:
"And you also were included in Christ when you heard the message of truth, the gospel of your salvation. When you believed, you were marked in him with a seal, the promised Holy Spirit." Ephesians 1:13
In being sealed with the Holy Spirit, we are promised that He will never leave us. For eternity, the Holy Spirit will reside in our hearts and guide us in our everyday lives. Nothing can begin to separate us from the love of God once we are sealed with the Spirit. What a tremendous blessing as New Testament believers who have the living God dwelling within us at ALL times.
And just like mail has an authentic postage seal, the Holy Spirit also seals us as a guarantee and sign of authenticity. The Holy Spirit is a sign of God's Work in our lives that is also God's trademark ensuring us of our spiritual inheritance in heaven.
Last, the Holy Spirit seals us in a way to protect us from evil which wouldn't dare enter a person marked as God's very own possession.
God tells us that we are sealed with the Holy Spirit because He wants to assure us that we are secure in his love and power. He puts His Holy Spirit in us as a seal and a guarantee.
So even if you are going through a trial right now, know that God gives us a guarantee that He has redeemed us, saved us, blessed us, forgiven us, restored us, healed us and crowned us. And because of that we can have joy even in the midst of tribulation.
"May the God of hope fill you with all joy and peace as you trust in Him, so that you may overflow with hope, by the power of the Holy Spirit." Romans 15:13
For more spiritual encouragement, click here for the rest of my Renovate Your Faith Posts.
To see how the rest of the porch turned out, click here: Christmas Front Porch Decor on a Budget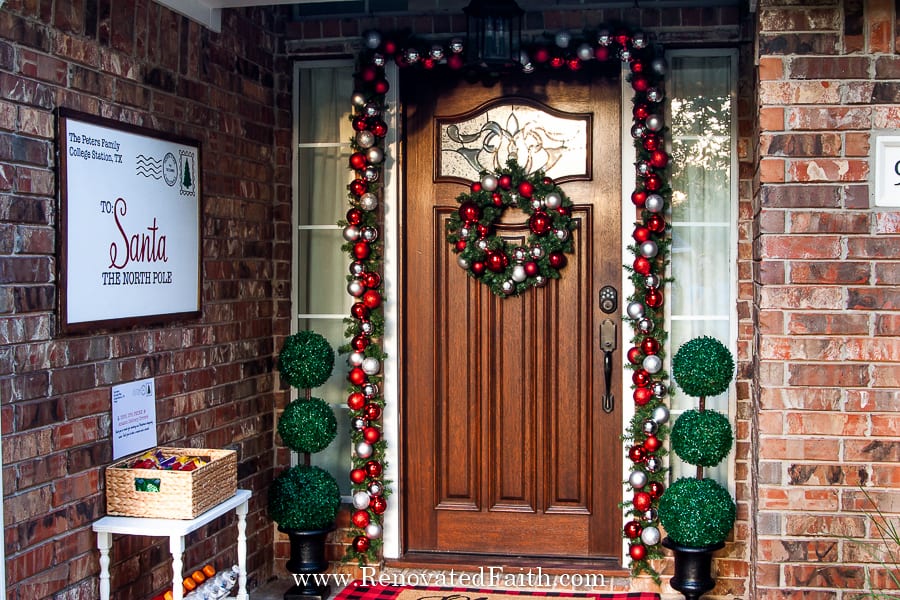 FAQ's About Free Printable Delivery Signs
Are delivery drivers allowed to accept gifts?
If you are wondering if you can give your mailman a Christmas gift, you are allowed to give drivers a gift of up to $20 per special occasion per the USPS. I'm assuming the same can apply to other delivery drivers like USPS, Fedex, and Amazon delivery drivers.
How do you appreciate a delivery driver for Walmart or other grocery stores?
You can use the exact same sign and snack basket for grocery delivery drivers. My Walmart drivers usually knock before they leave, which is a good time to show them the snacks if they didn't grab one already!
What are healthy snacks for delivery drivers?
Delivery drivers can benefit from healthy snacks to give them energy during long days and cold weather. Granola bars, protein bars, packages of almonds, and fruit are great examples of healthy goodies for delivery drivers.
How to Thank Delivery Drivers During Covid
The individual hand sanitizers are a nice way to thank delivery drivers during the pandemic as they will definitely come in handy. Also, prepackaged snacks are a great idea instead of homemade treats to prevent the spread of germs.
More Posts Related to Christmas Delivery Driver Snack Sign Ideas
Christmas Front Porch Ideas on a Budget
Knock-Off Pottery Barn Ornament Wreath & Garland
The Easy Way to Add Ribbon to a Christmas Tree
DIY Interchangeable Layered Doormats for Christmas
Rustic Glam Christmas Decor on a Budget
Best Tips and Tricks for Curb Appeal On A Budget
Life-Changing Christian Books for Women
Final Thoughts on the Best Delivery Driver Appreciation Ideas
These delivery driver snack sign ideas and printables area great way to help your delivery driver feel appreciated durint such a busy season. Online shopping is such a blessing as we can stay at home, read reviews, beat the crowds and don't have to worry about finding a parking place. But, we want to make sure we pay it forward to the delivery persons making our lives so much easier!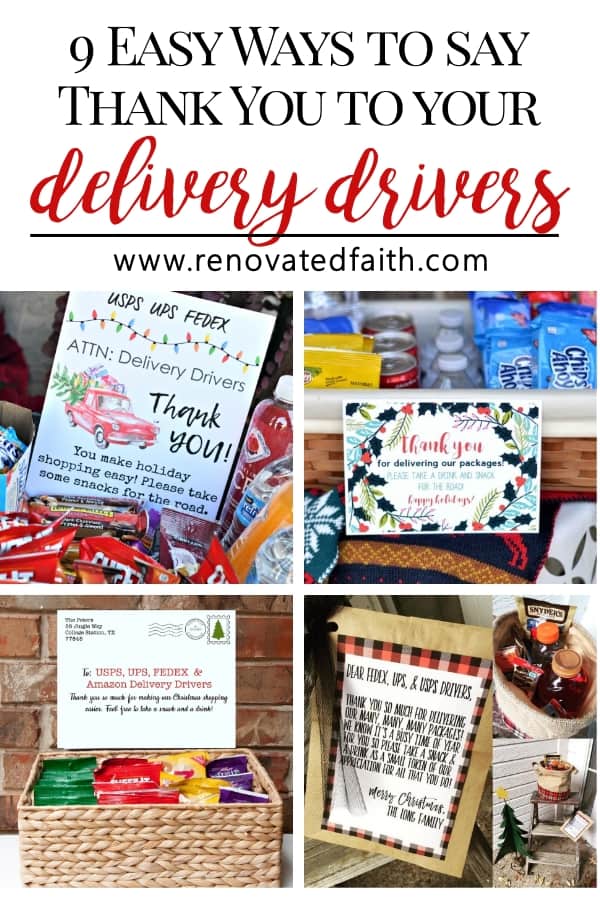 I love to hear your thoughts and questions! Scroll down to leave a comment and I WILL reply! ❤️
Blessings,

Be sure to follow the fun here!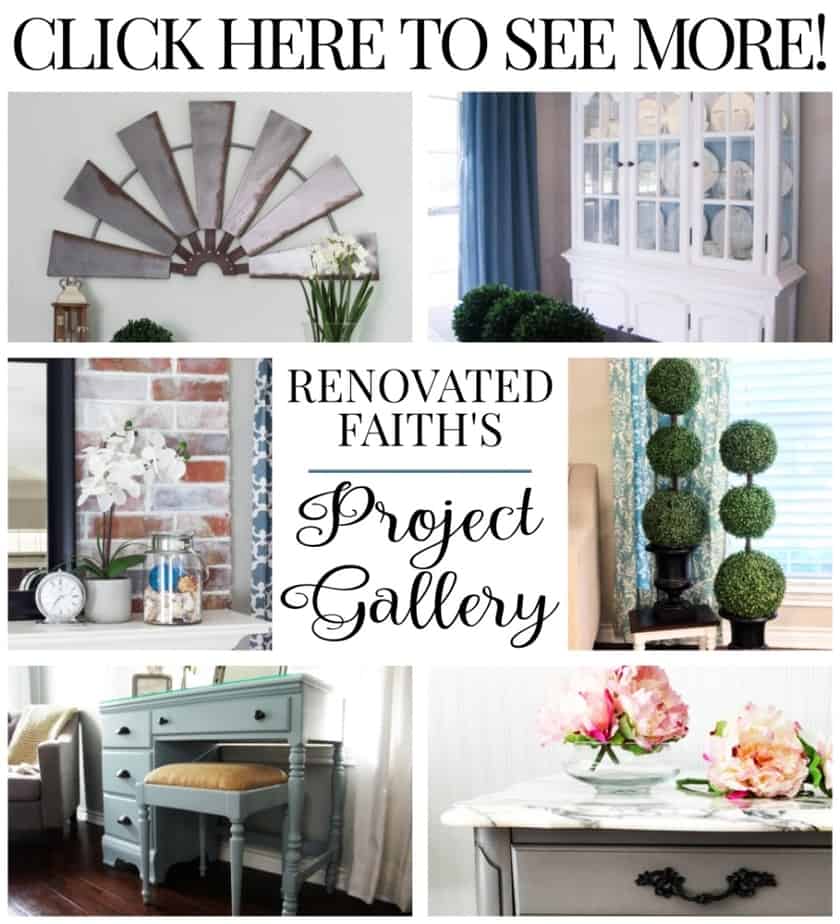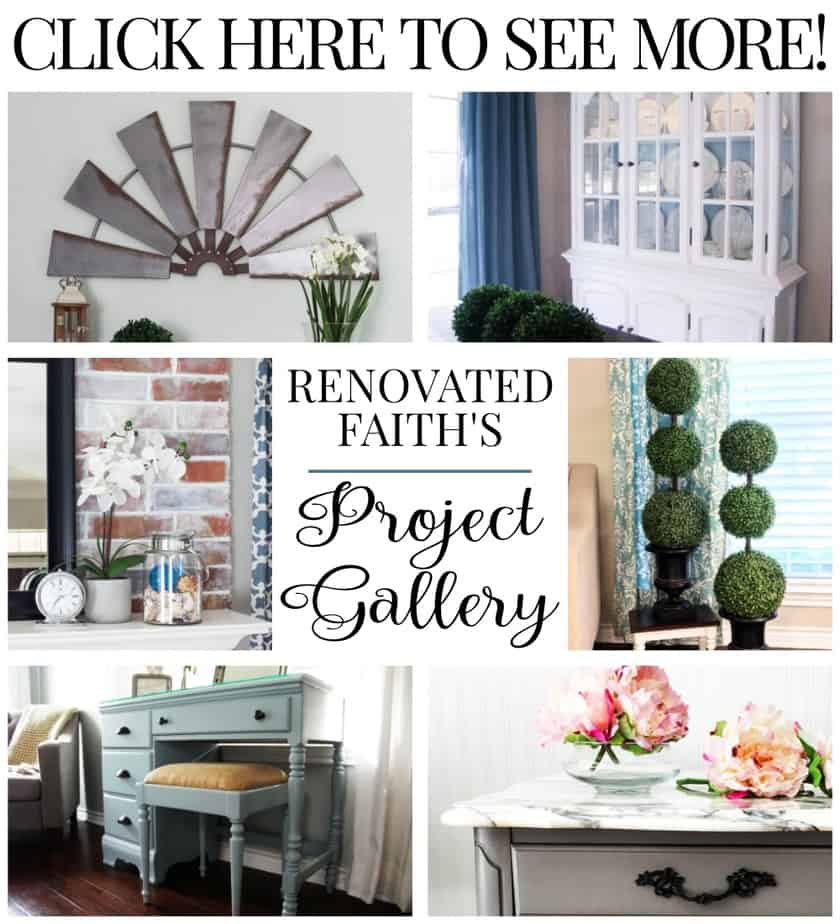 Delivery Driver Snack Sign Printable, YouTube
Thank You Delivery Driver Printables
Welcome to Renovated Faith, where I share about DIY projects, my faith and everything in between! When I'm not spending time with my family, you will find me redoing furniture in the garage or watering plants in my greenhouse. This blog is about transformation. Anyone can renovate a house but only God can transform our hearts!