NO-BUILD DIY Entertainment Center with Bookshelves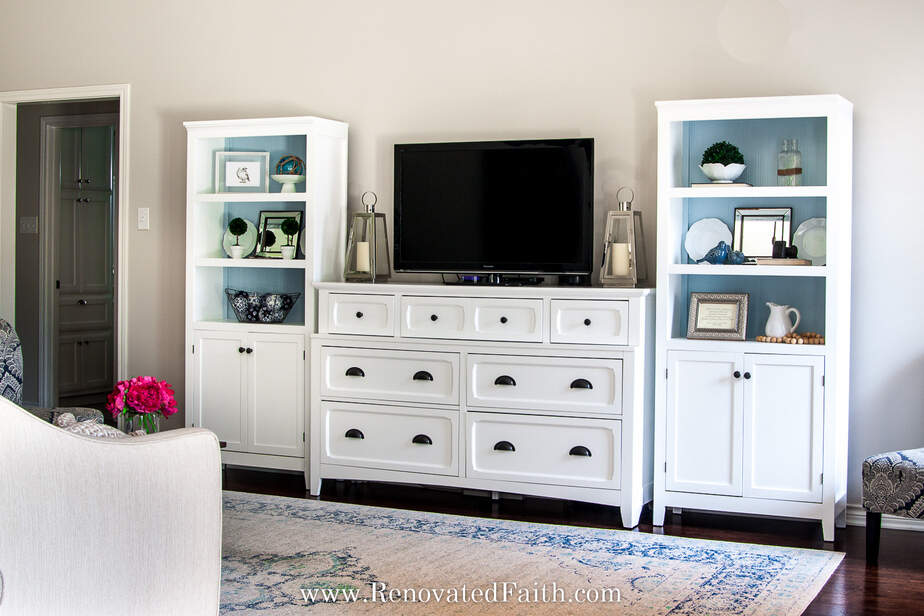 DIY Media Center Hack (Without Building a Thing)!
With this tutorial, I show you how to make a No-Build DIY Entertainment Center with bookshelves and a dresser. This DIY media center hack has tons of storage with minimal cost and effort! It also works well with any style of decor!
What would you say if I told you it's possible to make an entertainment center without using any heavy-duty power tools? How would you feel if it was a fraction of the cost of those sold in stores?
When we moved into our house, the only logical place to put the tv was the tallest/largest wall in our living room. It looked really empty with just a media console so I needed a way to fill up the wall without going over budget. And since entertainment centers can cost well into the $1,000's, I needed a better solution!
You can see how it looked when we first saw the house. (If the former owners of our home are reading this, please forgive me for making your decor the 'before' pic!)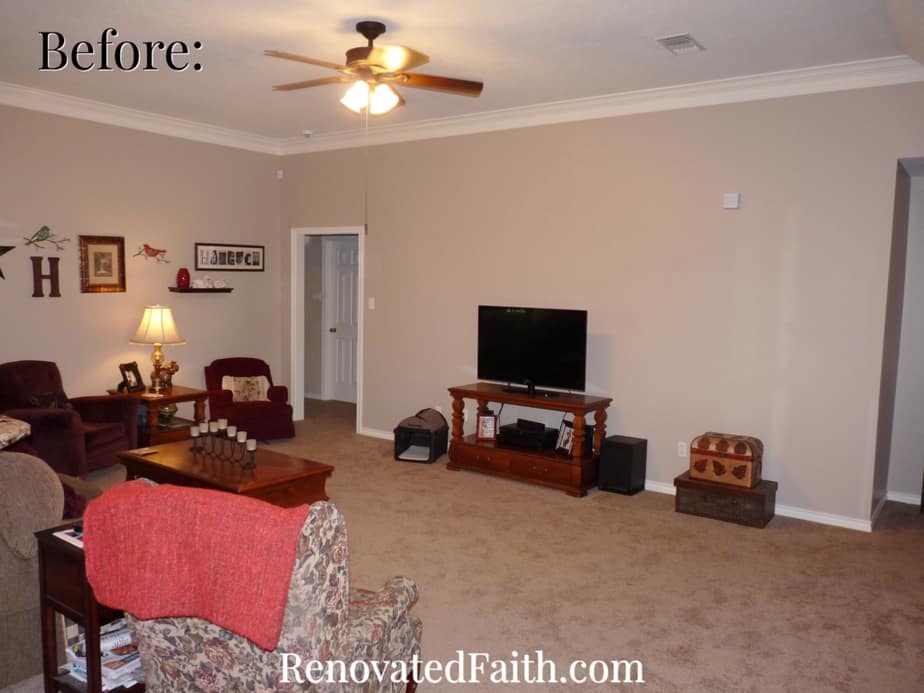 Also, I liked the idea of having shelves to decorate and also some extra storage for my daughter's toys.
This is a great tutorial for you if you:
need a low-cost alternative to high-priced entertainment centers
want a versatile media unit that has shelves to decorate as well as storage
need to fill a large wall where a small media console would look awkward
need help painting or decorating your current entertainment center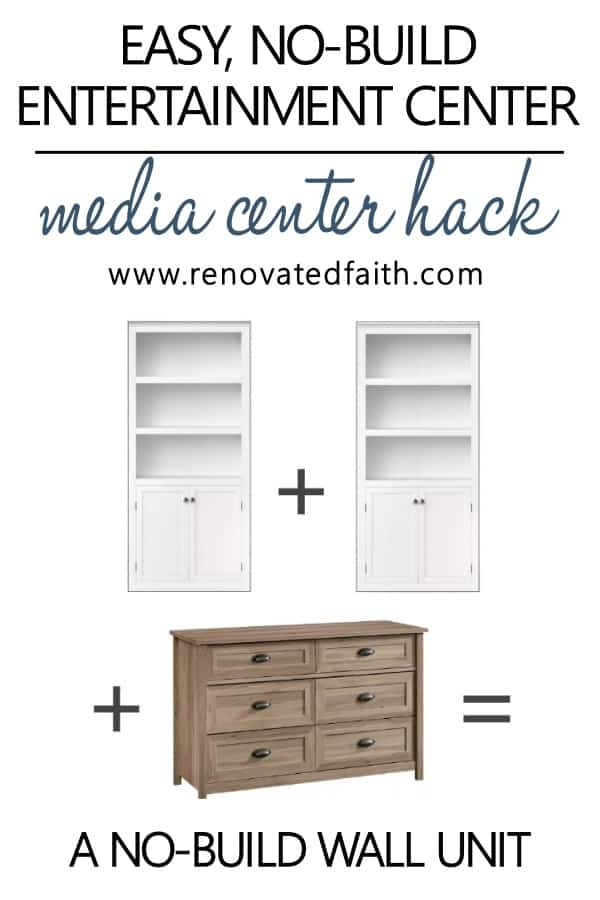 Supplies Needed: How to Make a DIY Entertainment Center from a Dresser and Bookcases
Furniture for Your DIY Media Center Hack
☑️ If you are curious or in a hurry, here is a quick link to the furniture pieces to make your own media wall unit:  2 White Bookshelves and Dresser Options
How to Make An Entertainment Center with Bookshelves and a Dresser
Our game plan is to order and assemble the two white bookshelves and then paint a dresser to match the same shade of white. You also have the option to add beadboard wallpaper to the bookshelves!
Step 1: Pick the Right Furniture for Your DIY Entertainment Center with Bookshelves
When I first got the idea to use two bookshelves and a dresser for our entertainment center, I knew they would have to have similar styles so they tied in together. You will see later on how I use the decor on the shelves to coordinate the pieces even more!
The two bookshelves are from Target and they are great because they allow open shelving to decorate but also have cabinets for storage. You can find them here: 72″ Bookcases in White
The dresser I got was on clearance at a furniture store in town. I liked that the details were very similar to those on the two bookshelves. I got it at a pretty good price, but I think I could have come out cheaper with the options below.
Picking the Right Dresser for Your DIY Media Center Hack:
You are going to paint your dresser no matter where you get it, so keep in mind that you don't have to get one that's white!
Option 1: Go to a used furniture store and pick out a piece of furniture there that will work well for your TV. (For reference, my dresser is 66″ x 40″ x 16″ and my TV is 40″ and the height including the base is 26.5″)
Option 2: Buy a low-cost dresser online and paint it.   Think of it as an IKEA hack.  Here are some options for some great dressers that would coordinate with the bookshelves: Dresser Options
Final Dimensions for Entertainment Center:
Be sure to keep the height of the entertainment center into consideration for your TV. You don't want your TV to be higher than the tops of the bookcases. When you are deciding on a dresser, keep in mind the size of your TV. You can always fill space on either side as I did with the lanterns.
BEFORE YOU ASSEMBLE: After you get in your Target bookcases, it's time to get your paint. Be sure to take a part of one of the bookshelves, like a door, into Benjamin Moore or Sherwin Williams for them to color match it exactly.
I know this sounds a little weird, but trust me – people do this all the time! Have them also match the sheen. Just say, "I need a gallon of your Benjamin Moore Advance color-matched to this door and the same sheen." Check it before you leave the store just to make sure but they usually get it to match EXACTLY!
Now it's time to assemble your furniture pieces!
DIY ENTERTAINMENT CENTER COST COMPARISON: To get an idea of how much money you are going to save, you can see the prices of similar wall units here:
For my project, the white bookcases were out of stock and I ended up getting two espresso brown bookcases and painted them to match the dresser. But for your project, it's much less work to paint the dresser to match the same white as the 2 bookshelves.
Also, by using either of the two options I outlined above, you will save a lot more than I did!

Step 2: Prep Work for Painting Your Media Center
Now that you have your shelves assembled (and dresser, if you bought one online), it's time to sand and prime!
Because each of these pieces is laminate, we want to be sure to do a little extra prep work to ensure that our paint adheres.
First, use your sander to rough up the surface of the dresser. You are NOT sanding off the top layer of laminate. You are just scuffing up the surface to remove the shine so that the primer and paint adhere.
For tips on sanding your DIY entertainment center with bookshelves, check out my post: How to Sand Furniture in 5 Minutes
After a light sanding, wipe down the furniture with a damp rag to remove extra dust so it doesn't get in your paint finish.
Now, use your four-inch roller to roll on your primer.  I use Zinsser Cover Stain for laminate furniture.  Although it is oil-based, it doesn't have a strong odor and it adheres really well to laminate and veneer.  Let it dry a few hours before painting.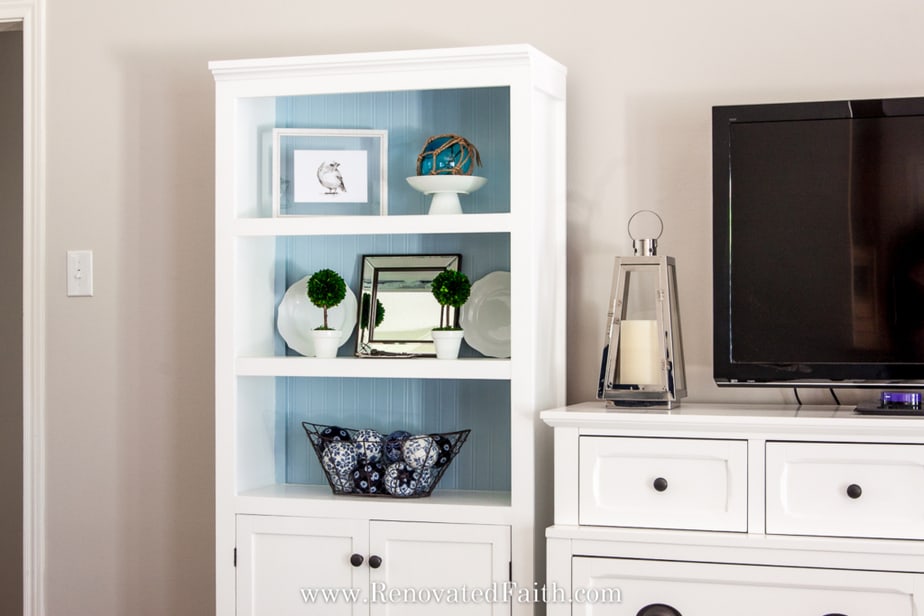 Step 3: How to Paint a Laminate Entertainment Center
For this project, you will paint the dresser to match the same white as the bookcases. If your dresser is alrighty white, you might wonder why you are having to paint it white again. That's because there are eleventy thousand shades of white and they will look more cohesive if they are the exact same shade and sheen.
(If you feel that furniture pieces match well enough already then you have lucked out, my friend, and don't have to paint your dresser!)
Now it's time to paint the dresser to match the bookcases.
To make sure you have a super smooth finish, you can lightly sand the primed dresser with a 320 sanding pad just to even out the primer. Paint on the latex paint with your roller.
For my best tips to get a super smooth, professional-looking finish, you can sign up for my Must-Have Painting Tips at the bottom of this post.
Step 4: Paint Your Hardware
The knobs on the bookcases are silver, so you'll want to spray paint them to match the pulls on the dresser with my favorite spray paint: Rustoleum Oil Rubbed Bronze. Unscrew them, spray them and give them at least 24 hours to dry.
TIP: If your dresser needs some new hardware, here are a couple of my favorite options: Oil-Rubbed Bronze Furniture Hardware
My Best Tips for Spray Painting
For my favorite tips and tricks on getting a flawless finish every time with spray paint, click here for your free checklist: Best Tips & Tricks for Spray Painting Anything
Step 5: Add Beadboard Wallpaper to Your DIY Entertainment Center with Bookshelves
Because of that long seam down the middle of the back panel, the laminate bookcases look very, well...laminate.
That pretty much ruins the whole look we are going for. But fortunately, I have an easy way to upgrade the bookcases and also customize them to fit your style and decor!
Add some beadboard wallpaper(see the current price here) to the back of each bookcase. You can see my full tutorial here with video instructions here: How to Add Beadboard Wallpaper to Furniture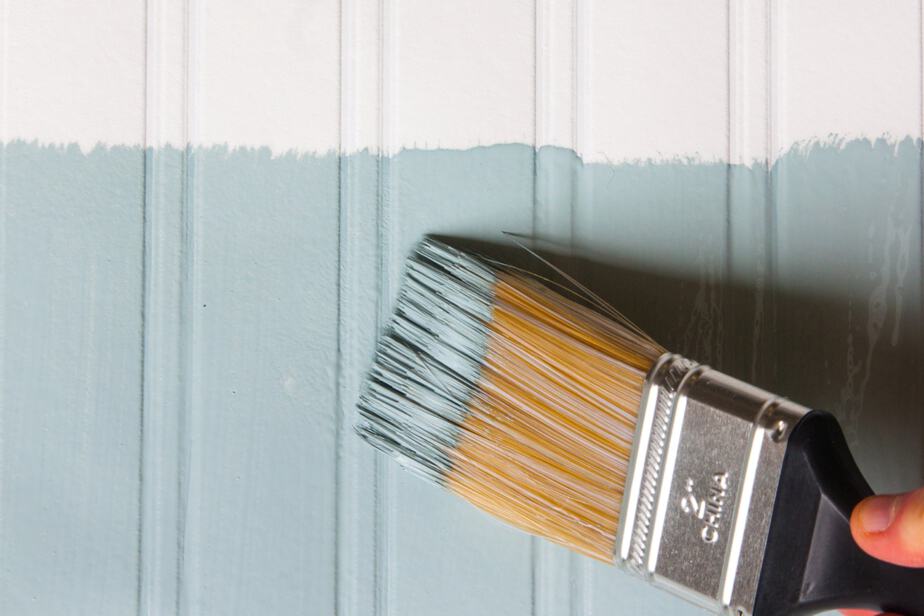 Follow the instructions in the tutorial above to caulk around the edges, just like it shows you in the video. If you need to do any touch-ups, just use the paint you used for the dresser since it was color-matched to the bookshelves.
This is also a fun opportunity to add a pop of color to your bookshelves! I chose to paint my beadboard wallpaper in Behr Sonata! I just love how it is a nice contrast against the white and how it accentuates my shelf decor.
After your knobs have dried at least 24 hours, you can add them back to the bookcases.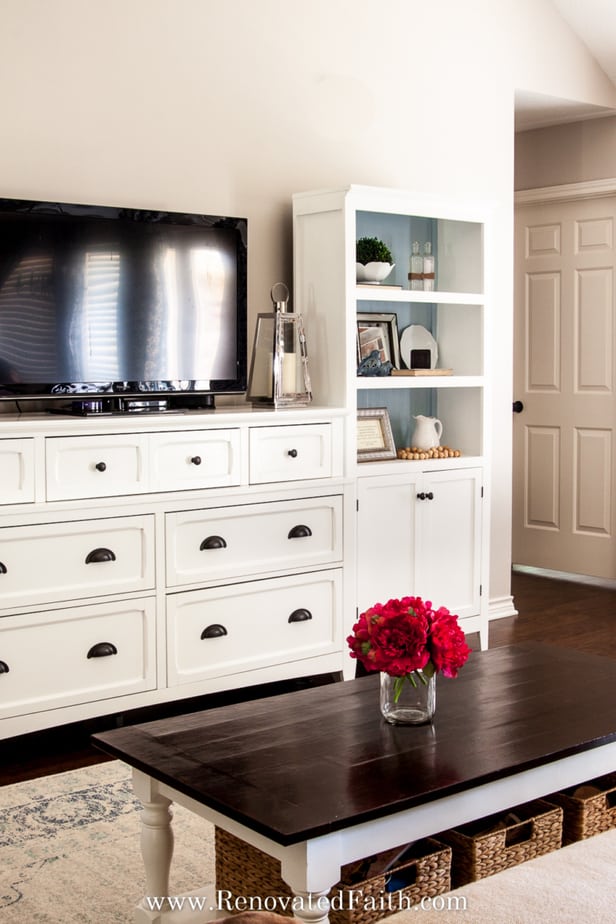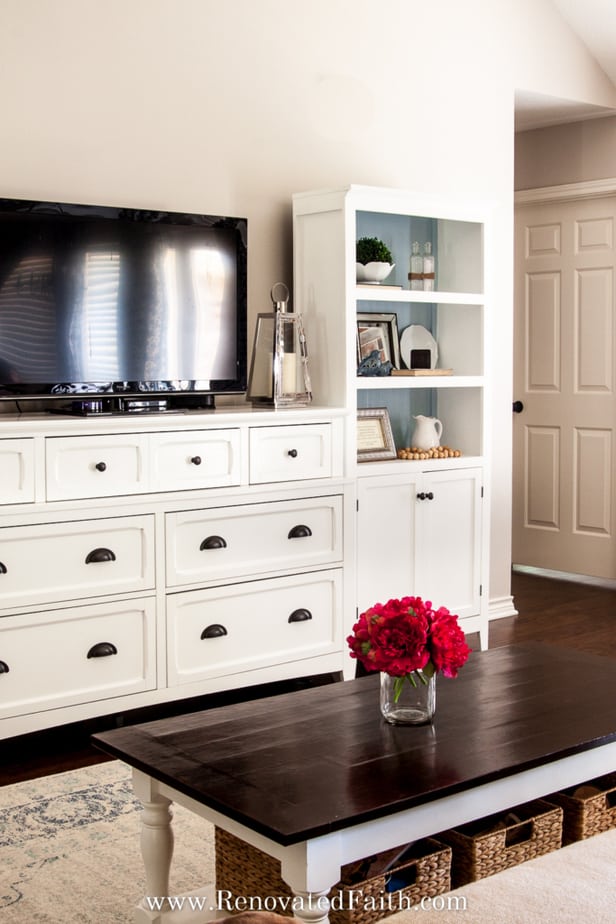 Step 6: Add Final Touches to Your Painted Media Cabinet
Now we want to use shelf decor to help the three pieces of furniture tie in even more.
I was inspired by this image I found online where these decorative mirrors are used to tie into one another:
After lots of searching, I found those same mirrors online, and let's just say they were WAY out of my price range at nearly $200 each. So, I went to Kirkland's and found little square mirrors for around $10 each – definitely more my speed!
I also used these white salad plates from Walmart on either side of the mirrors: White Scalloped Plates
By having the same mirrors and plates on both shelves, you are basically saying visually that both of these bookcases "match". This bookends the look of the whole unit and coordinates all three pieces together.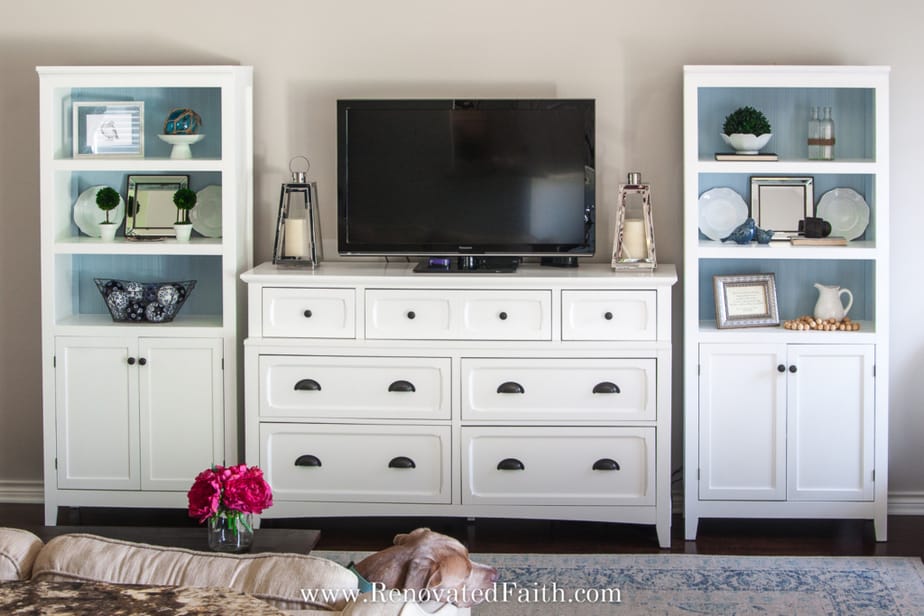 It gives really nice adhesion to the whole entertainment center. You'll also notice that I used many of the same colors, materials, and textures on both shelves.
I love these lanterns and they are a nice filler when your TV doesn't quite fill the space over the dresser. They are also fun to fill with ornaments at Christmas time. You can find a similar one here: 15″ Chrome Lantern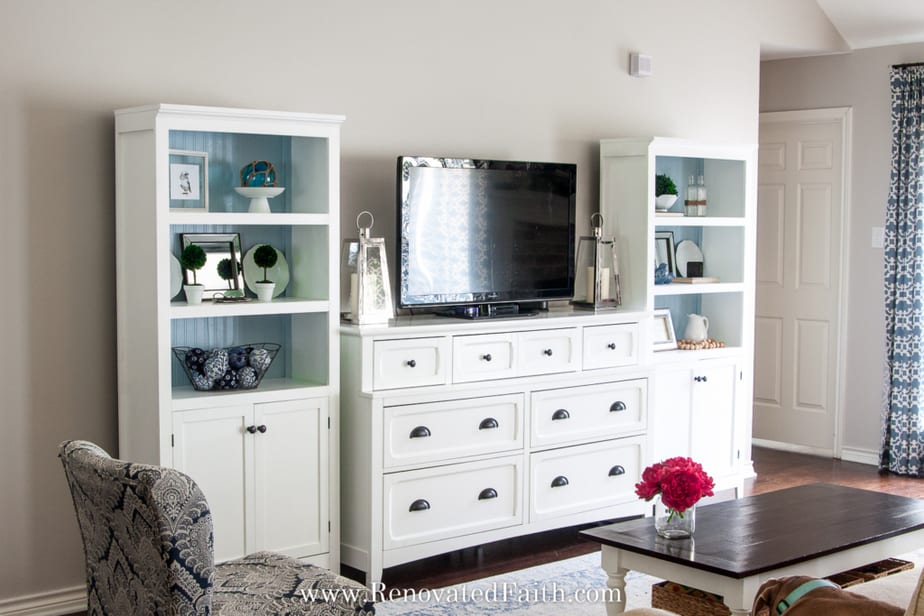 Here is some inspiration to help you decorate your own shelves to match your decor and style:
Farmhouse Entertainment Center Ideas & Tips
How to Decorate Entertainment Center Shelves
How to Decorate a Media Center that Doesn't Look Cluttered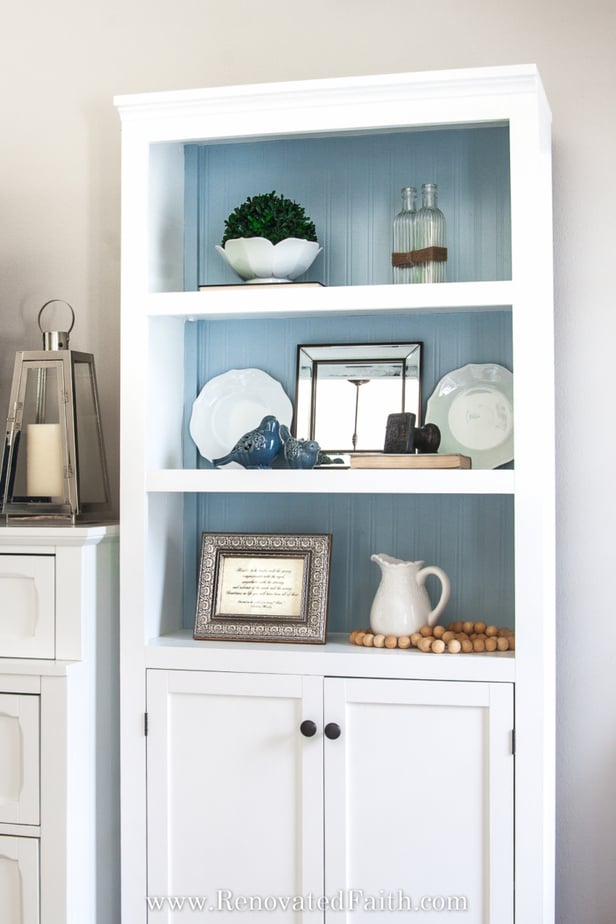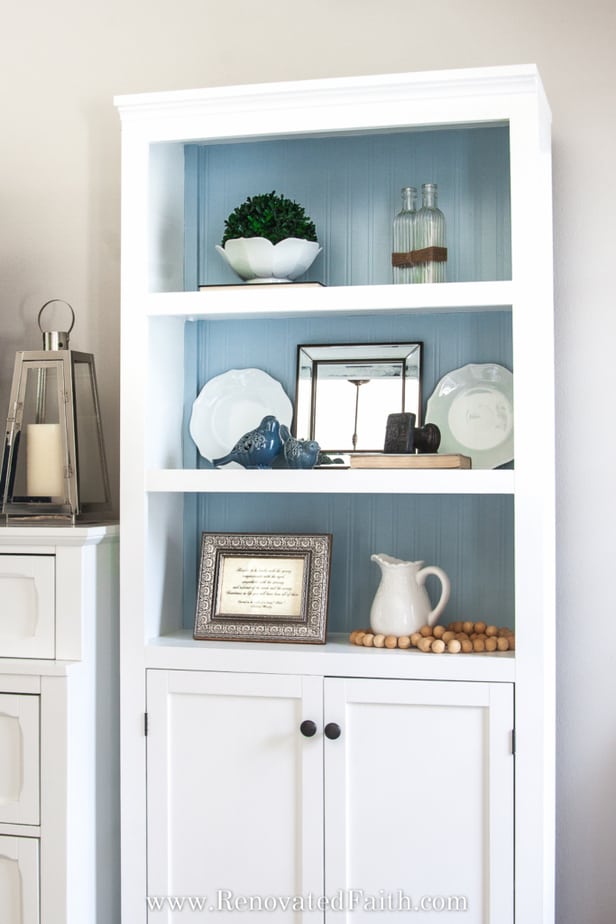 DON'T FORGET TO TAKE A PICTURE!
Now that you are done, I'd love to see how it turned out! ❤️ Post your before and after photos here!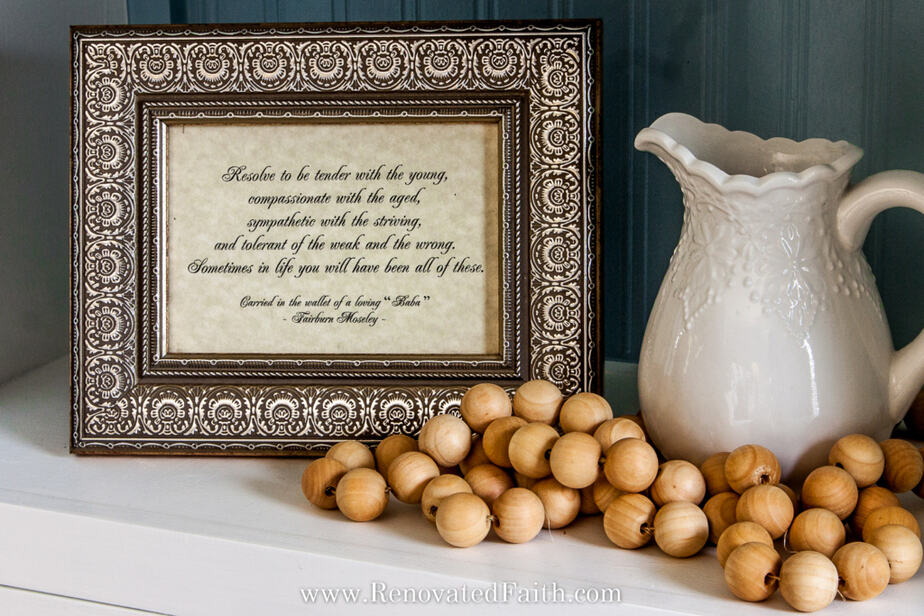 RENOVATE YOUR FAITH:
My favorite accessory on my entertainment center is this framed quote. Not long after he passed away, my mom found this saying in my grandfather's wallet in the form of a newspaper clipping:
"Resolve to be tender with the young, compassionate with the aged, sympathetic with the striving, and tolerant of the weak and the wrong. Sometime in life, you will have been all these."
He was such an example of godly character and his life personified this saying as He was always kind and considered others as better than himself.
No matter their age, social status, or intelligence, he loved others with the very love of Christ.
Because of my relationship with my grandpa, whom I called 'Baba', I was able to better understand the same kind of characteristics in God. – that He approves of me, He never leaves me and He wants to spend time with me.
So often I struggle as a parent to know if I'm doing enough to encourage my daughter's faith. But in reality, the biggest impact I can make on her is focusing on my own faith – spending time with Him and allowing her to see Him in me.
Your greatest parenting strategy is nurturing your own relationship with God.
The greatest impact you can make in the life of another person is loving them well by allowing them to see Christ in you. True ministry means getting out of God's way in order for Him to intercede through us to offer grace, mercy, and love to a lost and dying world.
Leaving a legacy of faith means desiring to give someone your best, but recognizing the best we can give is not of us. We make our greatest impact on others by living a life that points to Him. God designed us to reflect His characteristics by leaving a legacy for others like a bright light for others to see. Through an attitude of mercy and humility that comes from God Himself, we can do that.
As I pass by this quote on the bookcase, I'm reminded not of the words on the page but the man who made them come to life. I only knew him for 12 years but the lessons He taught me about how God cares for His own will last me an eternity.
For more spiritual encouragement, click here for the rest of my Renovate Your Faith Posts.
FREE MUST-HAVE PAINTING TIPS FOR FURNITURE
Get the password for the library with my best tricks for painting furniture by filling out this form:
Jake was also excited about the entertainment center being done!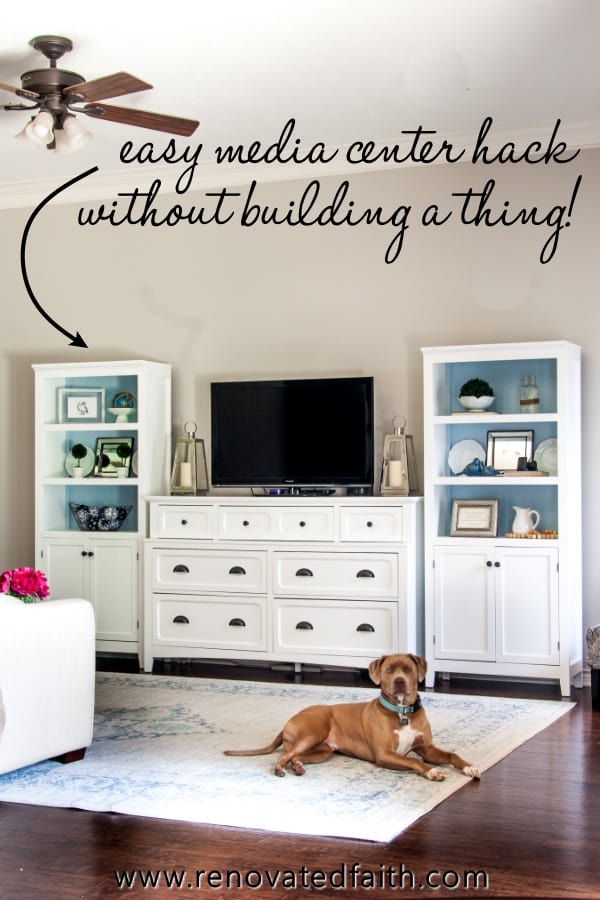 Those blue eyes…They help him get away with SO much!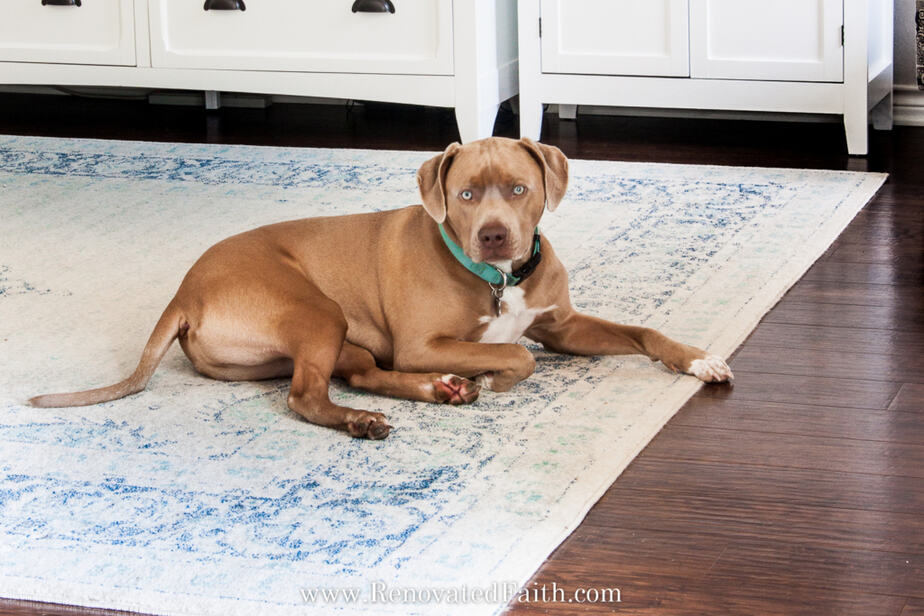 And this is what he does when he's tired of me taking pictures and wants his chest rubbed!

Only a face a mother could love. OH, how I love this dog!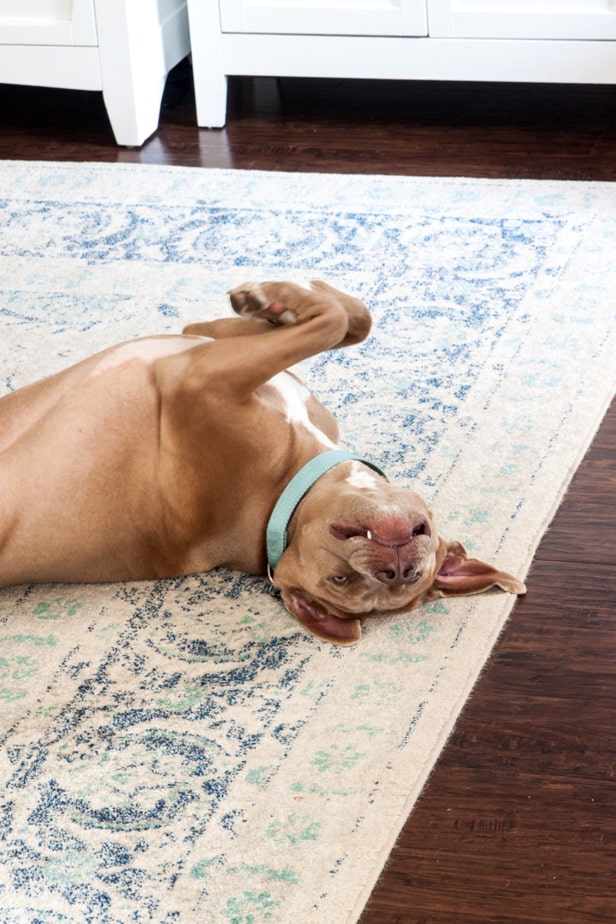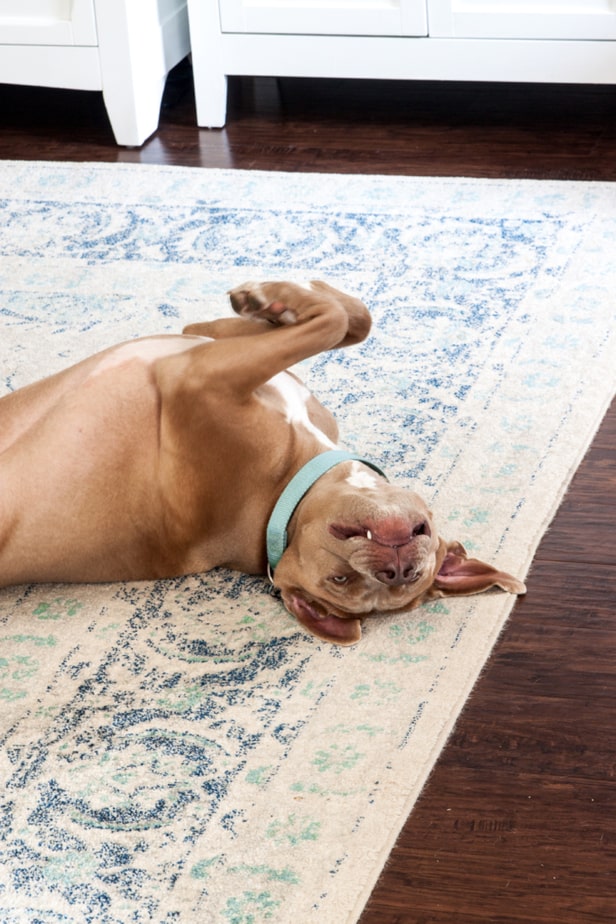 DIY Entertainment Center with Bookshelves – Related Posts:
How to Install Beadboard Wallpaper
How to Paint Laminate Furniture
Must-Have Painting Tips for Furniture
The Best Paint for Furniture Projects
Milk Paint vs. Chalk Paint vs. Latex
A Beginner's Guide to Furniture Painting
How to Perfectly Stencil on Wood Every Time
Best Christian Books for Women (That Will Change Your Life!)
Last Thoughts on Your DIY Bookcase Entertainment Center
Whether you need to fill a large wall in your living room or just want an entertainment center that doesn't break the bank, this DIY media center hack is so EASY! I love that it gives you room for extra decor but also storage you want to keep out of sight! It's amazing to think that such a large furniture unit could be so cost-effective and this project doesn't even require hard-core power tools!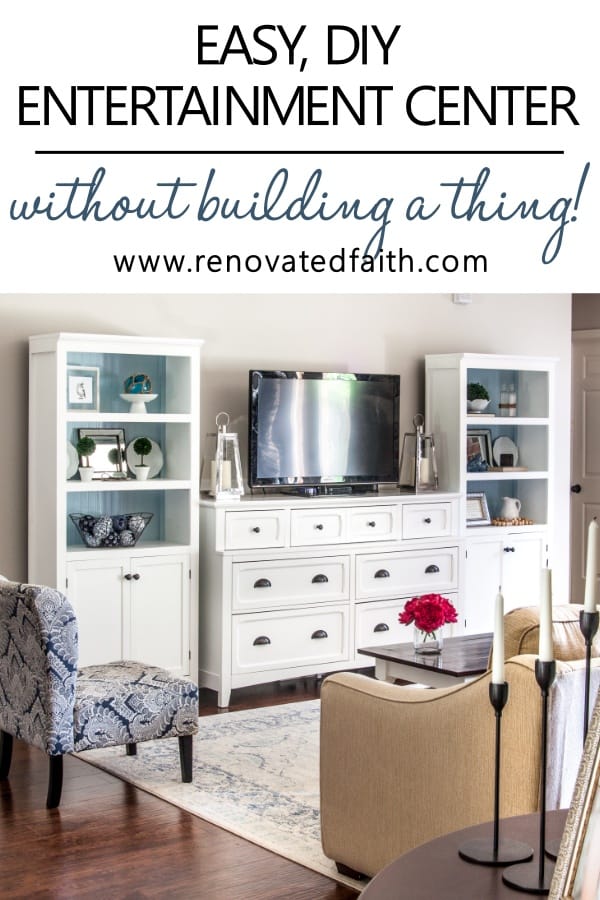 I love to hear your thoughts and questions! Scroll down to leave a comment and I WILL reply! ❤️
Blessings,

Be sure to follow the fun here!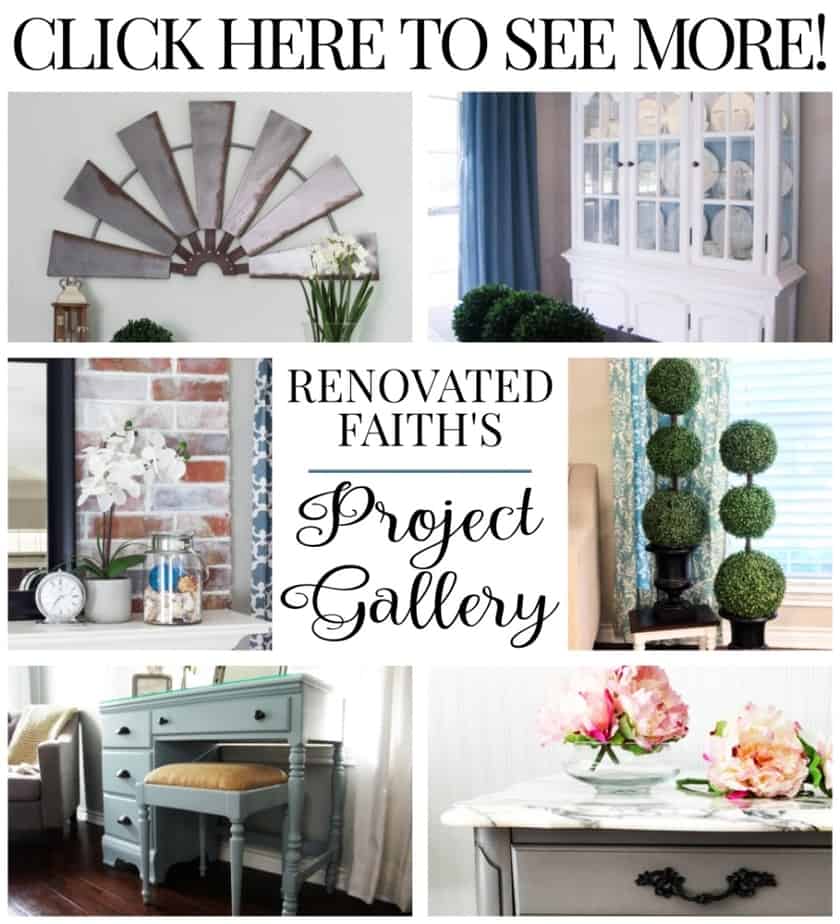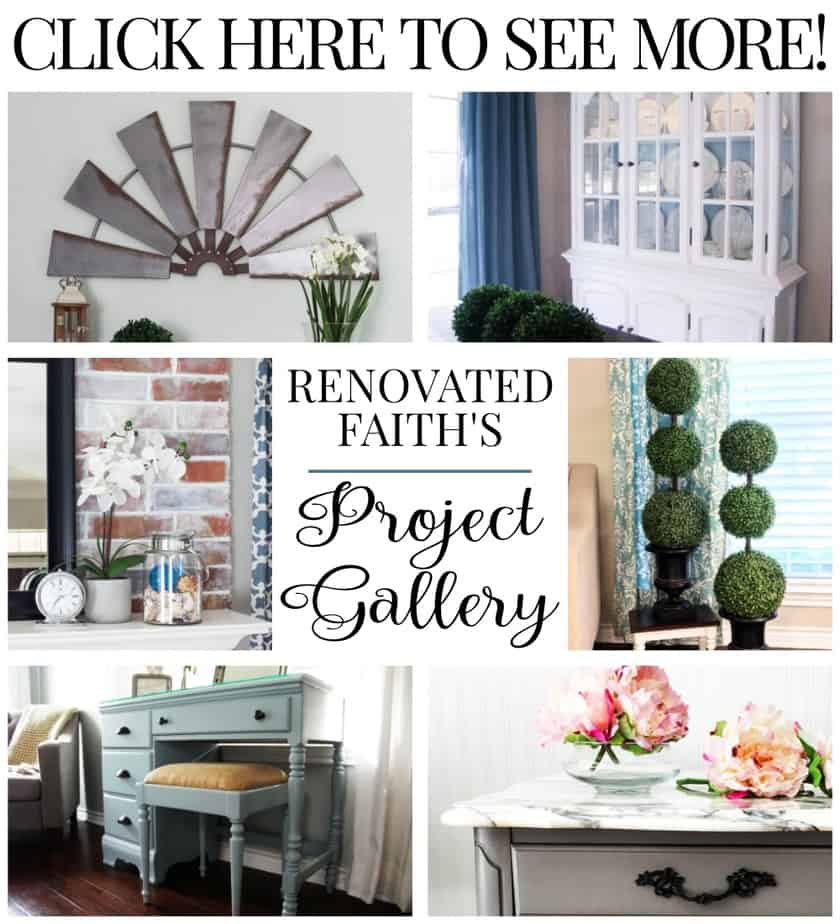 DIY Bookshelf Entertainment Center
Welcome to Renovated Faith, where I share about DIY projects, my faith and everything in between! When I'm not spending time with my family, you will find me redoing furniture in the garage or watering plants in my greenhouse. This blog is about transformation. Anyone can renovate a house but only God can transform our hearts!