DIY Lemon Wreath Tutorial (How to Make a Citrus Wreath the EASY Way!)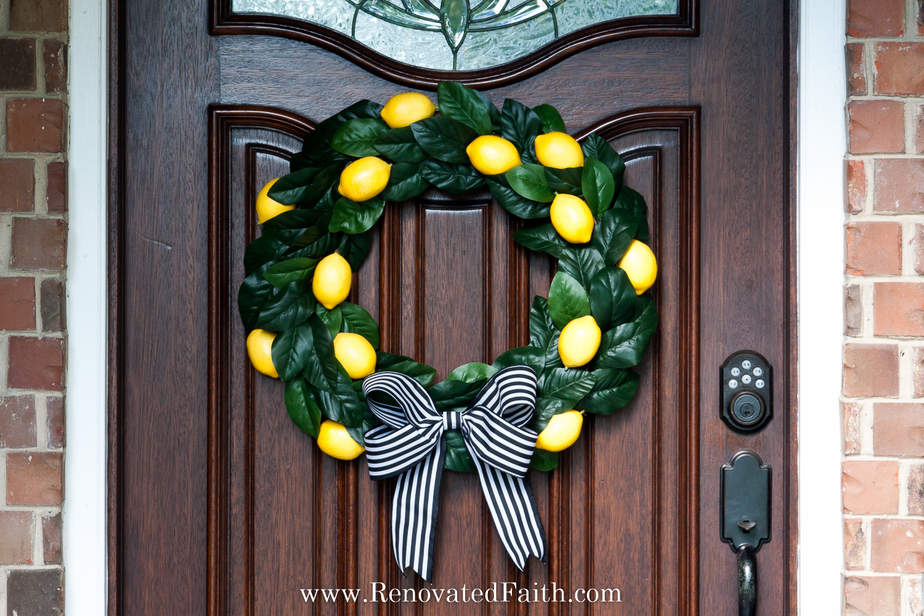 How to Make a Lemon Wreath on a Budget
Don't you love the classic look of lemon wreaths? They are so versatile as they're beautiful on your front door, in your kitchen or over a fireplace. Although I love the look, I don't love the price tag of many you see online! This DIY lemon wreath tutorial will show you how to make a citrus wreath the EASY way!
You might like this easy tutorial if you:
don't have a crafty bone in your body but want a cute front door wreath!
want a fresh look for your front door for the summer
like the look of citrus wreaths for Christmas
love the farmhouse look of lemons and fresh greenery for your kitchen
want a budget friendly alternative to wreaths you see online!
How to Make a Citrus Wreath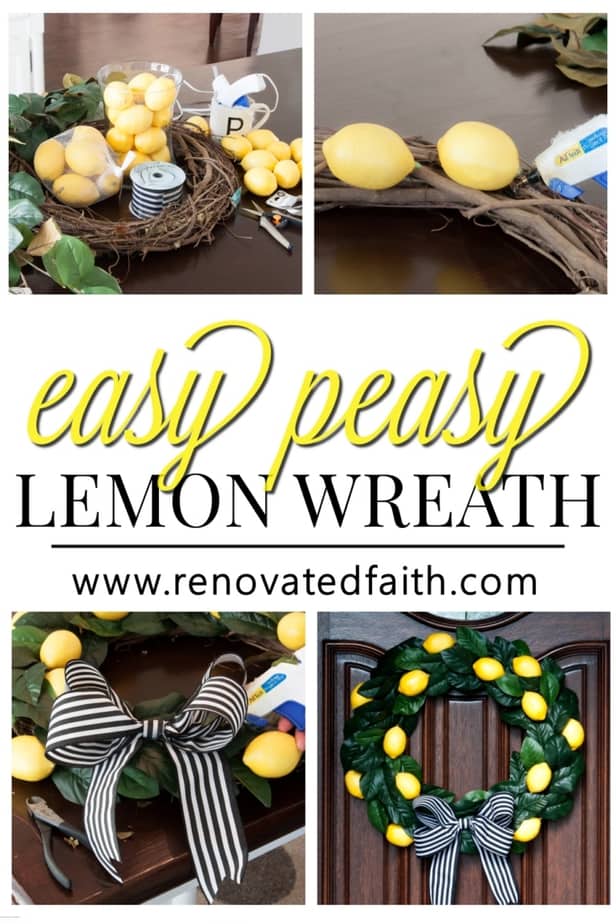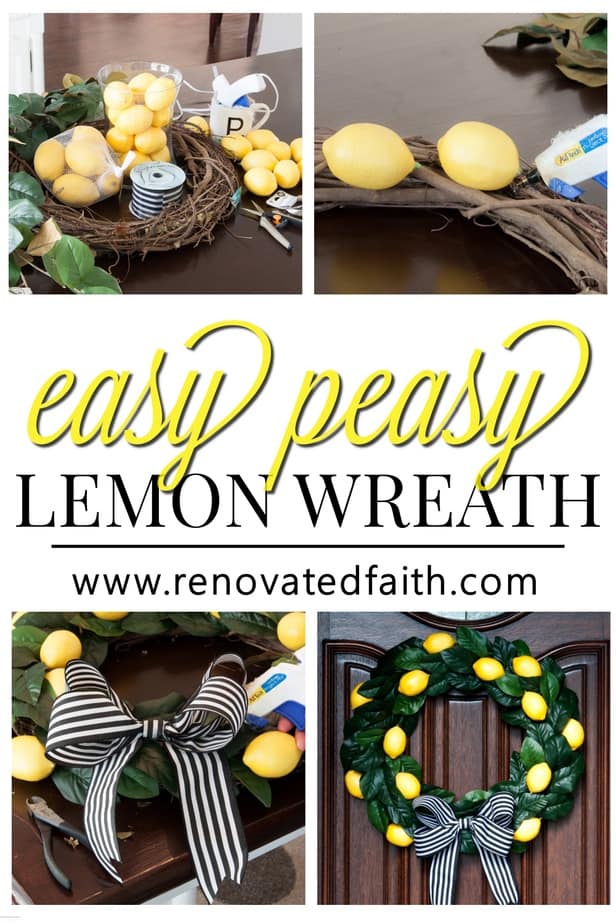 (As an Amazon affiliate I earn from qualifying purchases. Please see my full disclosure HERE).
DIY Faux Lemon Wreath Supplies
18″ Grapevine Wreath – You can get them at any craft store or buy online here: Grapevine Wreath for Crafts
Faux Lemons – Here are the cheapest I found: 20 Artificial Lemons
Faux Greenery – Here is what I used from Hobby Lobby: Magnolia Greenery Garland
Hot Glue Gun – I like the tip on this one: Adtech Hot Glue Gun
Glue Sticks – You will use a lot of hot glue: Mini Glue Sticks
Wire for the Bow – 28 Gauge Wire
Wired Ribbon – Here is what I used: Vertical Stripe Ribbon
Small Piece of Wire or Big Paper Clip
Large paperclip for Wreath Hanger
Scissors – These are my favorite:Craft Scissors

EASY DIY Lemon Wreath Tutorial
Step 1: How to Hang a Front Door Wreath for Summer
Stop! Before you do anything…take a before pic. When you are done, post the before and after pics here, so I can see the amazing work you've done! ❤️
Before I do anything, I like to add a leaf hanger to the back of the wreath. I used a piece of wire (you could also use a large paperclip) and twist the ends together like so.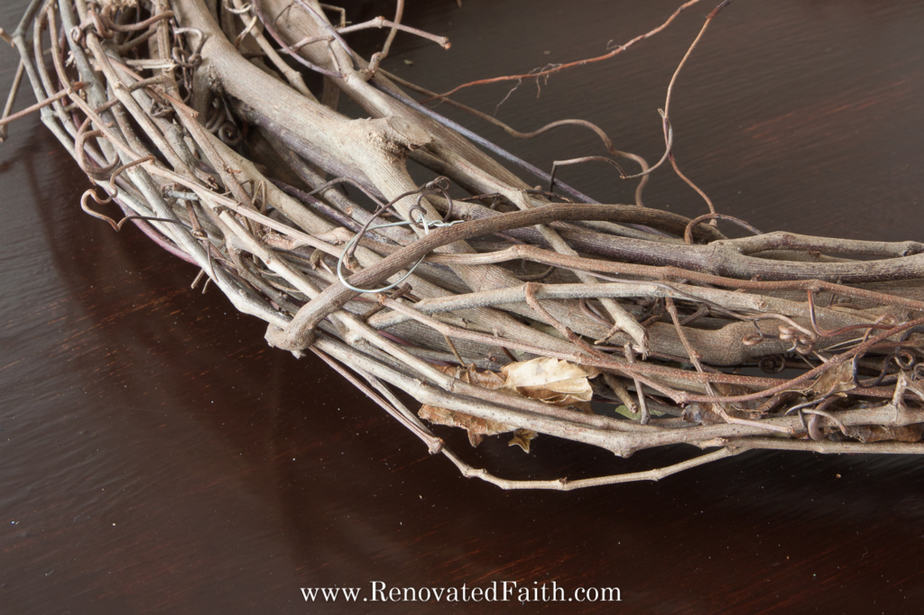 Step 2: How to Make a Front Door Wreath with Lemons
Now flip your wreath back over and put it on top of some newspaper or a large cutting board so the hot glue doesn't drip on your table.
I like to add the lemons first as they are easier to adhere to the wreath that way. Hot glue the lemons in random locations around the wreath. You will need a lot of hot glue.
You might have to hold the lemons in place for a second. I like to prop up items against the lemons so I don't have to hold them and wait.
I found that adding some lemons on the outside will make the wreath look fuller.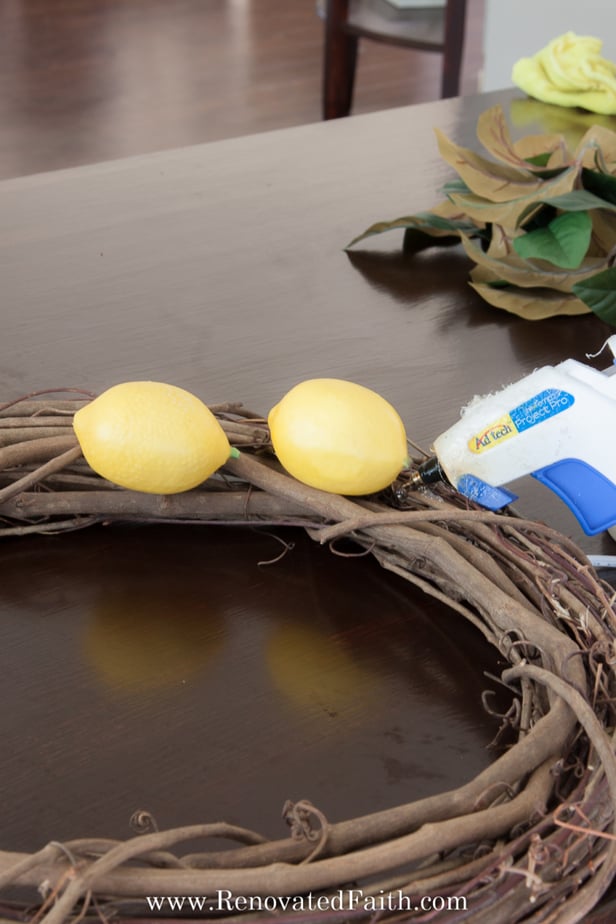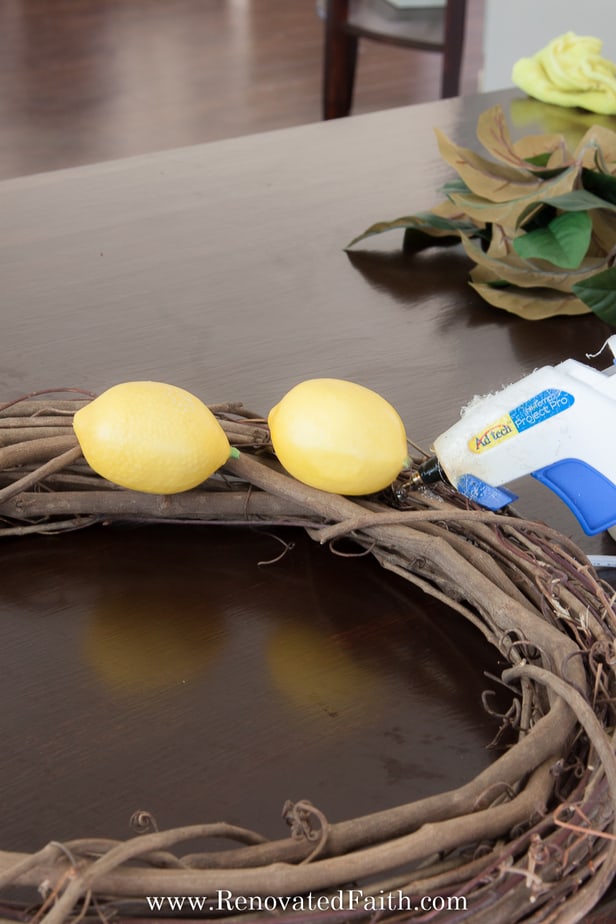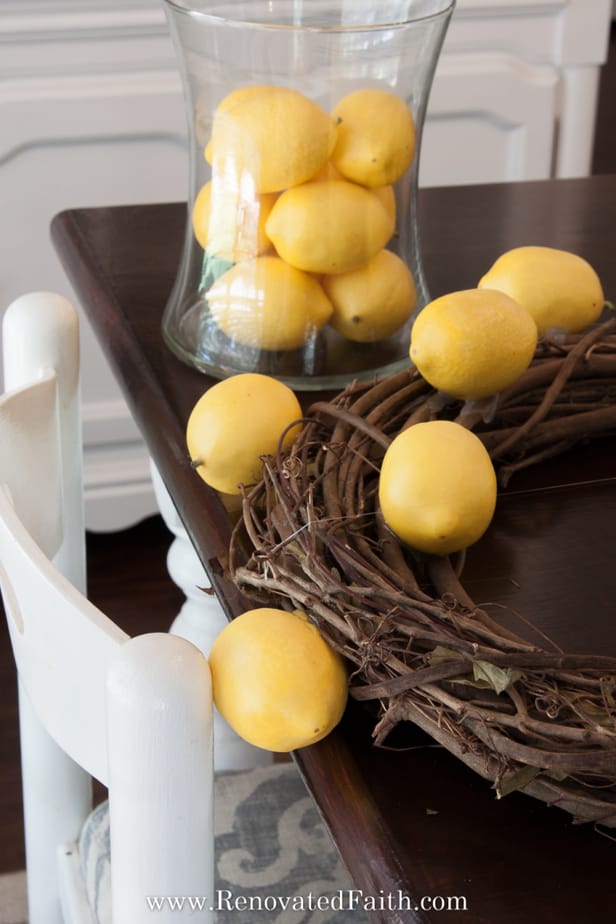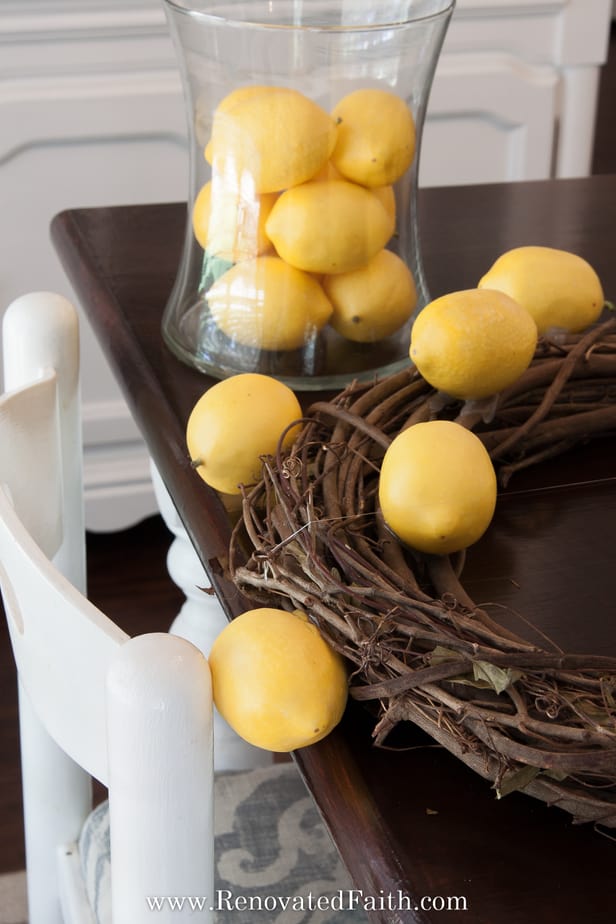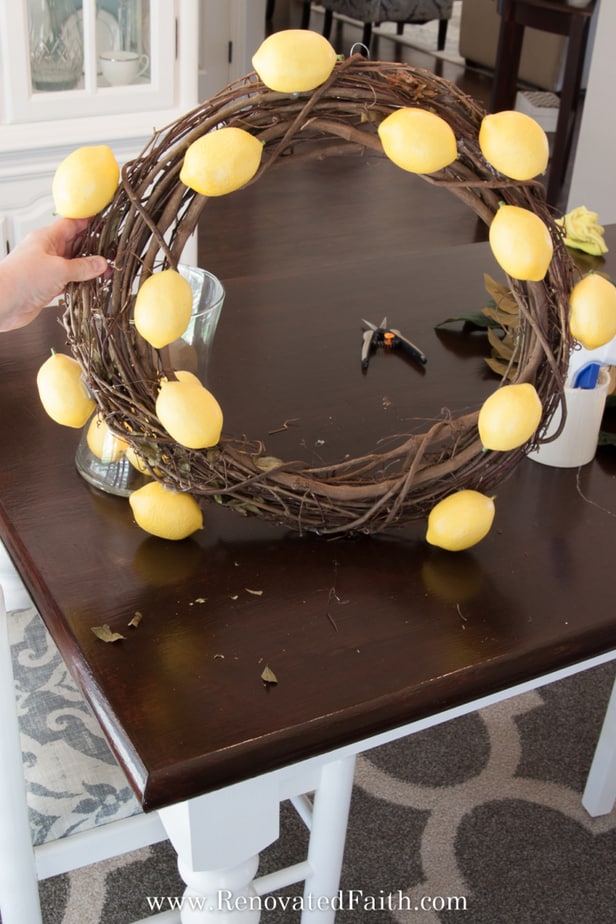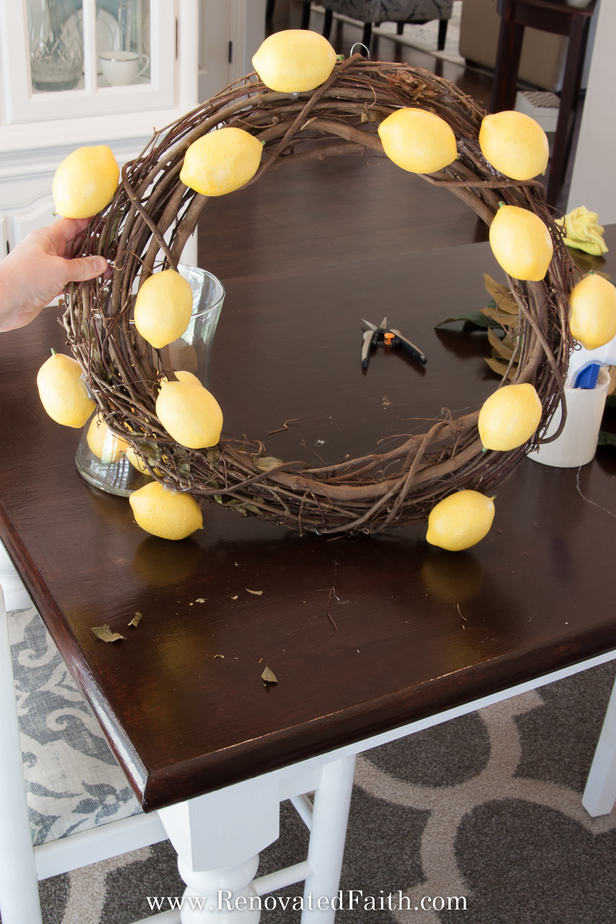 Step 3: Adding Leaves to Make an Elegant Front Door Wreath
Now that you've added your lemons to the wreath, it's time to fill in with greenery. I used magnolia leaves but to make them look more like lemon leaves, I cut off the top edges to make them look more pointy and less rounded.
Once I trimmed all the leaves that needed it, I started inserting the ends of the leaves around the lemons and added hot glue to the stems. I covered all of the wreath vines so you couldn't see them and had all the leaves going in one direction.
As you are putting the leaves on, remember to leave a space open at the bottom center for the bow.

How to Make a DIY Lemon Wreath – Video Instructions
Step 4: Add a Bow to your DIY Summer Lemon Wreath
Use this super easy tutorial to make your bow: How to Make a Burlap Bow
Once you've made your bow, hot glue it to the bottom of your wreath and then fill in to cover any of the vines with leaves.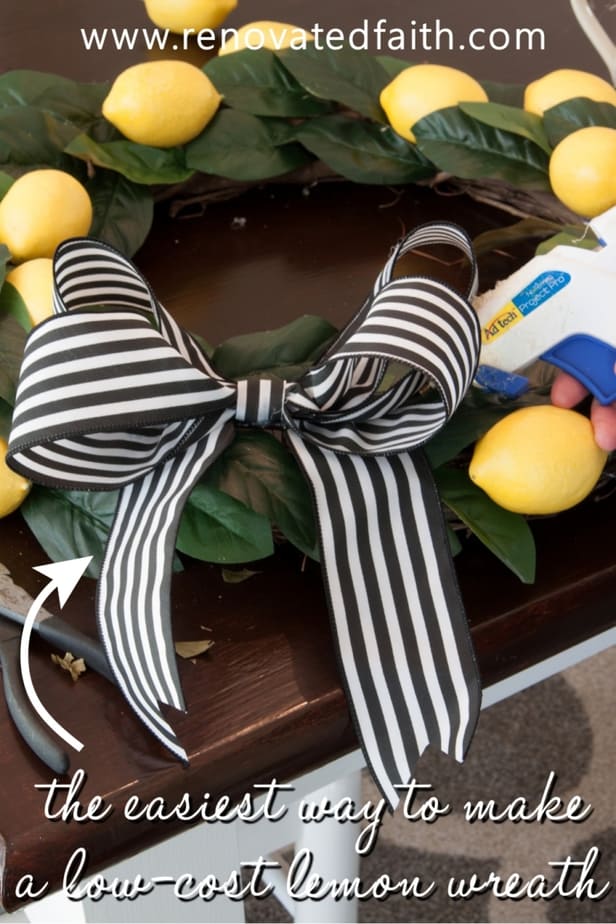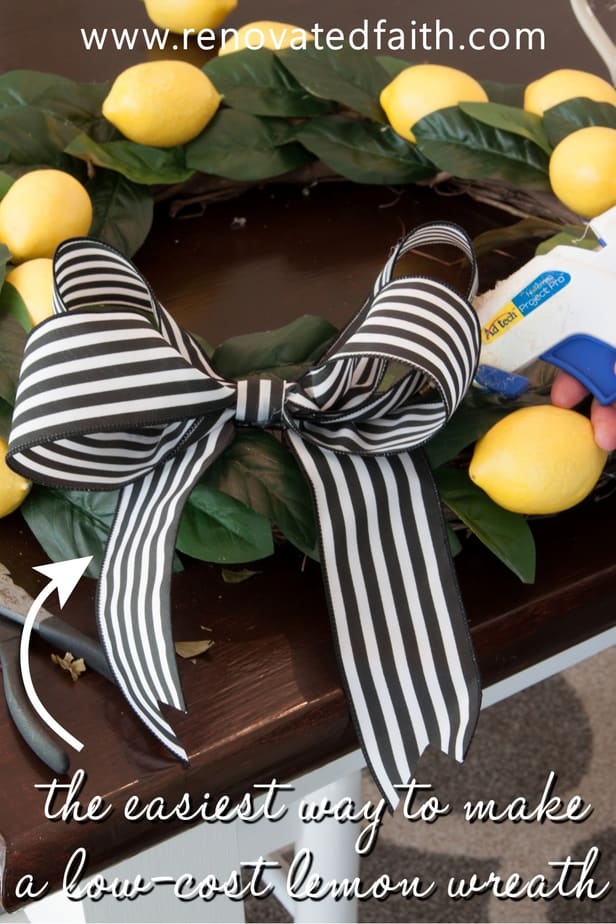 Now that you are done, you can even add a couple drops of lemon oil to the lemons to give your diy lemon wreath an authentic smell! Here is my favorite: Plant Therapy Lemon Oil
DON'T FORGET TO TAKE A PICTURE!
Now that you are done, I'd love to see how it turned out! ❤️ Post your before and after photos here!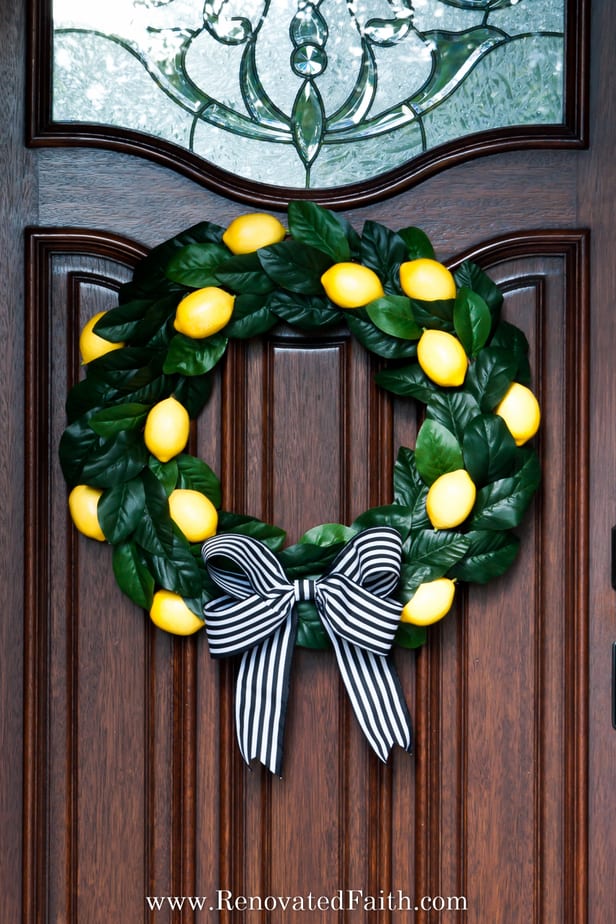 Ideas for Making Summer Wreaths
You can easily customize this wreath to add your own touches including some limes or oranges, flowers or even a letter initial like these. You can also change up the ribbon to make a burlap bow or use other colors like these: 2.5 inch wired ribbon. Here are some more ideas for summer wreaths for you to personalize your DIY lemon wreath:
How to Make a Citrus Wreath for Christmas
If you are wondering how to make a citrus wreath for Christmas you can easily transition your diy lemon wreath into a fruit wreath for Christmas. Just hot glue on some cranberries and a few small oranges and then you have a whole new wreath for the holidays!
Fruit Christmas Wreaths Online

RENOVATED THINKING: Lemon Wreath Meaning

Lemons are known for their bright, cheery, yellow color. Their fresh smell is thought to be beneficial to mood, increase energy, and even concentration.

Lemons have so many beneficial uses. It's been said that if a garden has no other fruit-producing tree, it should have a lemon tree! Some of those uses include food flavoring, medicine, disinfectant, odor reduction, and cleaning. The list goes on and on. As I write this, I have lemon juice in my water.

The valuable health-giving properties of citrus fruits were appreciated in very ancient times, in the citron or etrog tree, which is where our current-days lemons came from.

The etrog was used during the Feast of Tabernacles mentioned in Leviticus 23:40, which says, "And you shall take on the first day the fruit of splendid trees, branches of palm trees and boughs of leafy trees and willows of the brook, and you shall rejoice before the Lord your God seven days."

"Fruit of Splendid trees" is referencing the ancient citrus fruit and can be better translated as "Fruit of Glory". The people offered God the "first fruits" of the spring harvest, as a thanksgiving offering for His provision of their physical and spiritual needs.

"Firstfruits" refers to the first portion of the harvest which is given to God. Most notably the firstfruits are:

the first to come in time;
a pledge or hope of the greater harvest to come; and also
a portion dedicated to God.

By giving God the firstfruits, the Hebrews acknowledged that God is the source of all that is good and that all of their spiritual and physical blessings come from Him. It was also a way to express faith in God's continued provision for the rest of the needed crops.

Christians are especially dedicated to God in the manner of firstfruits. As it is written in James 1:18, "Of His own will He brought us forth by the word of truth, that we might be a kind of firstfruits of His creatures." We need to be mindful, just as God wanted Israel to be mindful, that we and all we own belongs to God.

Christ in His resurrection is "the firstfruits of those who have fallen asleep" (I Corinthians. 15:20-23). Jesus gave His life as our Passover lamb on the fourteenth day of the first Hebrew month, Nisan. He rose from the dead on the sixteenth of Nisan, the Feast of Firstfruits.

In addition to the fact that God has promised that we, too, will be raised from the dead, in Romans 8:23, Paul says that as redeemed people we possess the "firstfruits of the Spirit." "Paul is saying here either that the measure of the Holy Spirit that we now have is but a foretaste of the greater measure there will be in the age to come, or that the gift of the Spirit now is a foretaste of the many other blessings we will have in due course (Constable)."

As I researched the meaning of a lemon wreath, I had no idea of the ancient connection between our modern-day lemon and the etrog used in the Festival of Firstfruits.

By having a lemon wreath on our front door – the first thing anyone sees when coming into our home, we can have our own reminder of God's faithful provision. We can remember to have an attitude of thanksgiving for his constant faithfulness to provide spiritual and physical blessings.

Moreso, God gave us the Holy Spirit as our firstfruits to guarantee the amazing blessings that are to come as His beloved children (2 Corintians 1:22).

For me personally, this wreath reminds me to give credit where credit is due. Our home and it's furnishings are great but they mean nothing without the foundation of Christ's love and His grace. Because of Him, and through Him, I have the capacity to enjoy every other earthly and spiritual blessing.

In response, God's people should give Him a token of what His blessings have produced in their lives and also help others that are less fortunate.
Every DIY or Home Decor post with spiritual encouragement has a Renovated Thinking section. You can see more of those posts by clicking here and can subscribe to the weekly newsletter by clicking here.

Here's a way to make your own DIY layered doormats that can be changed out for any season. I also include 6 free stencil downloads and instructions here: DIY Doormat Tutorial
DIY Lemon Wreath Tutorial – Related Posts:
How to Make a Professional-Looking Bow for a Wreath
Easy Hydrangea Wreath Tutorial
DIY Topiary Trees for Your Front Porch
Final Thoughts on How to Make a Citrus Wreath
You can use this diy lemon wreath tutorial for a fun summer wreath or a citrus wreath for Christmas. This is such an EASY project even if you don't have a crafty bone in your body or if you are a die-hard crafter! It's also such a cute wreath to pair with a buffalo print door mat or other farmhouse accessories. This simple and budget-friendly lemon wreath can be a such a cute addition to your front door, fireplace or kitchen!
Be sure to save this pin so you can comment on it later with your before and after pics! Pin it here: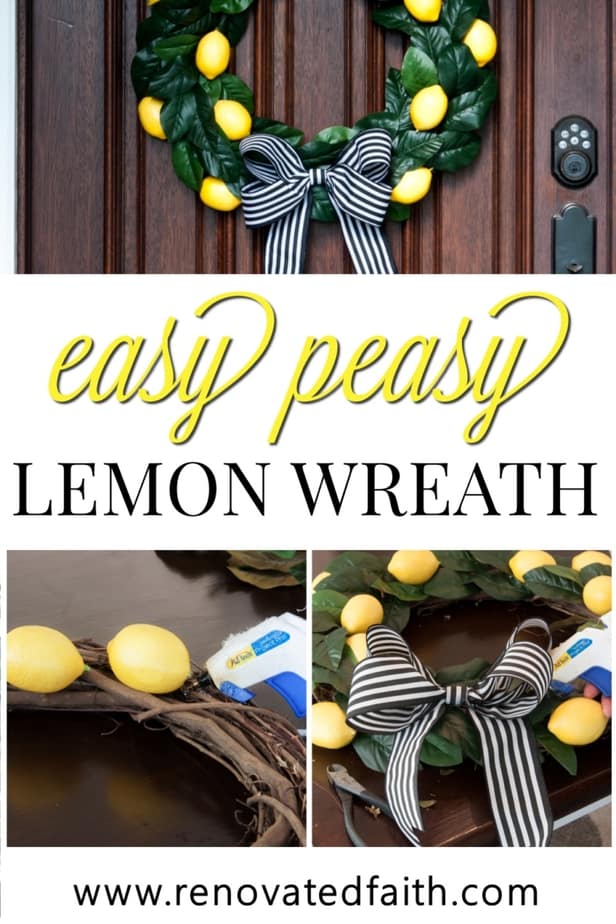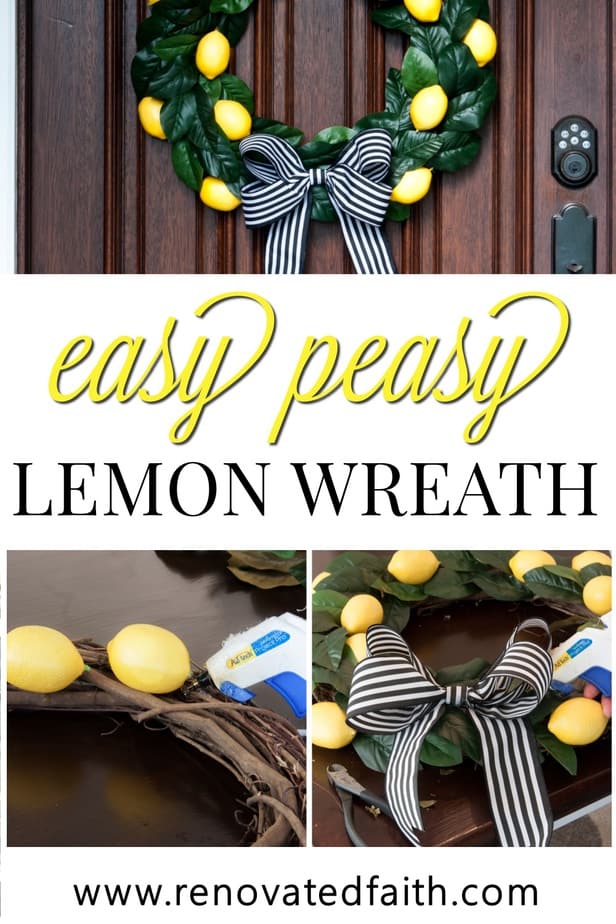 What are your thoughts, my friend? Would you add anything to your wreath? I love to hear your thoughts and questions! Scroll down to leave a comment and I WILL reply! ❤️
Blessings,

Be sure to follow the fun here!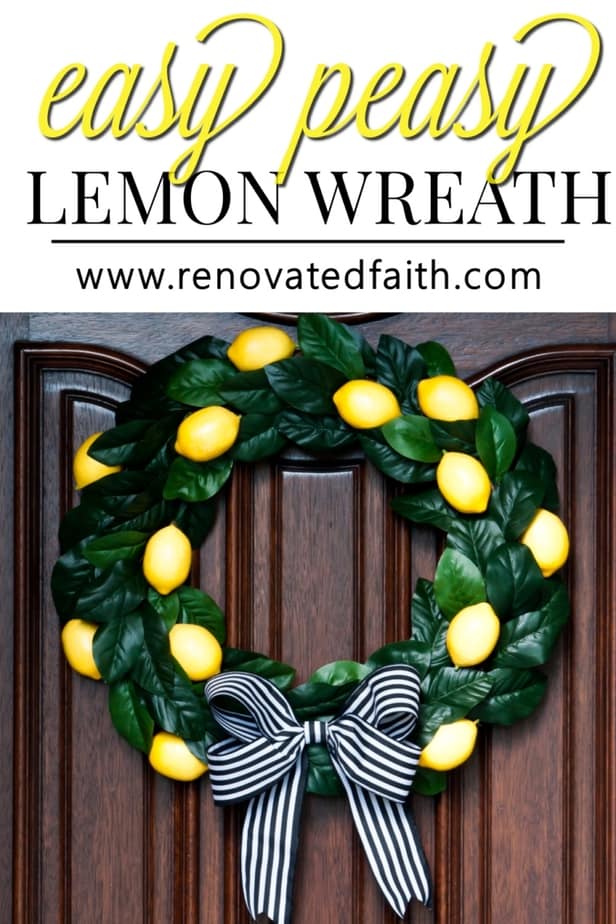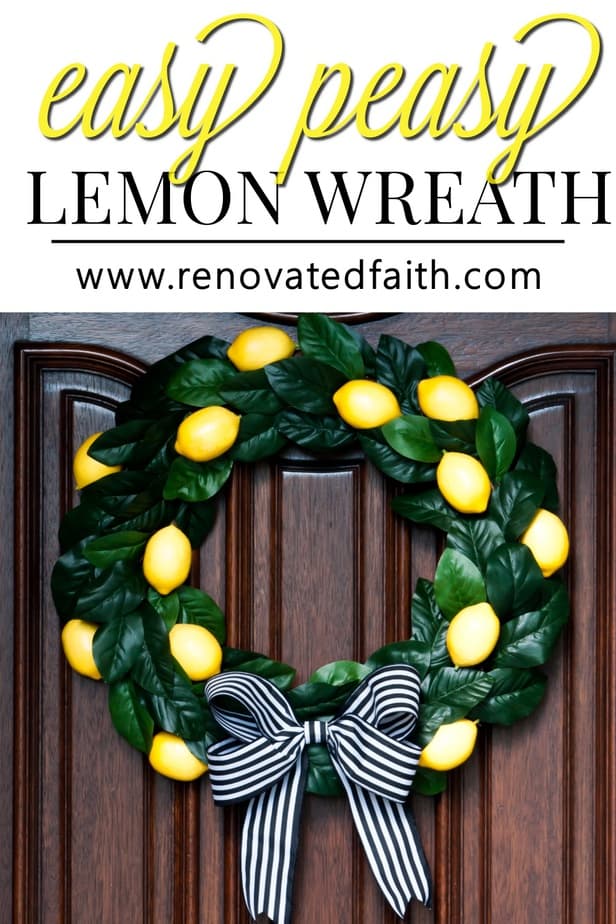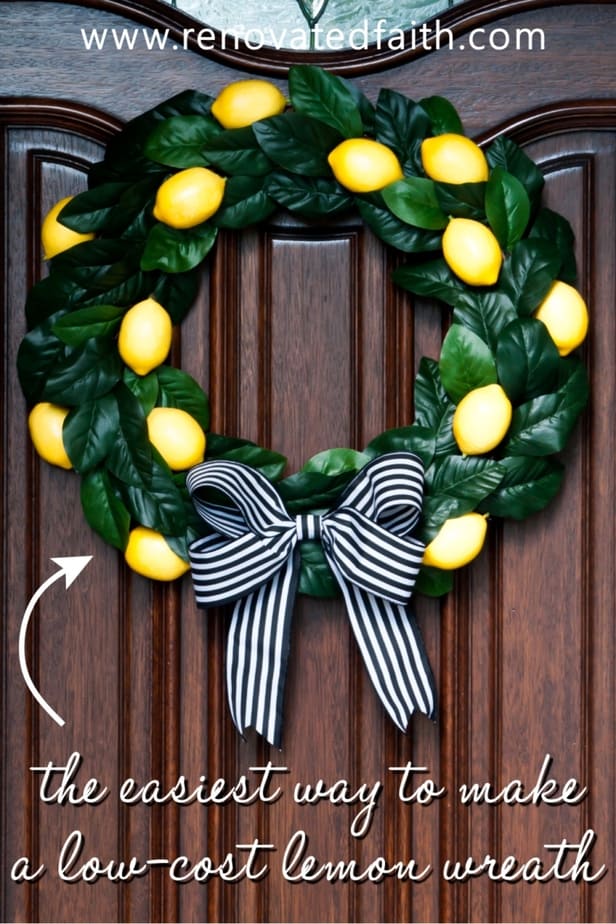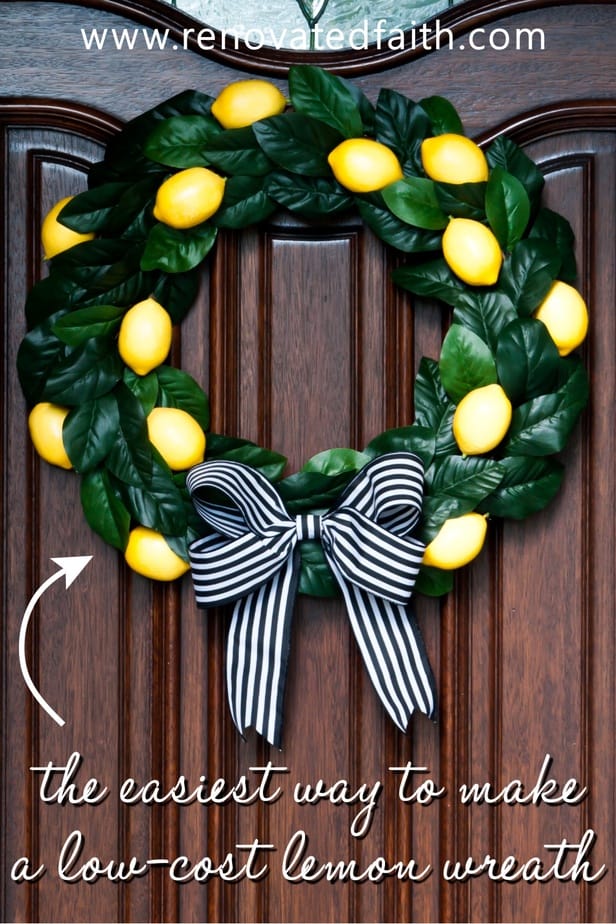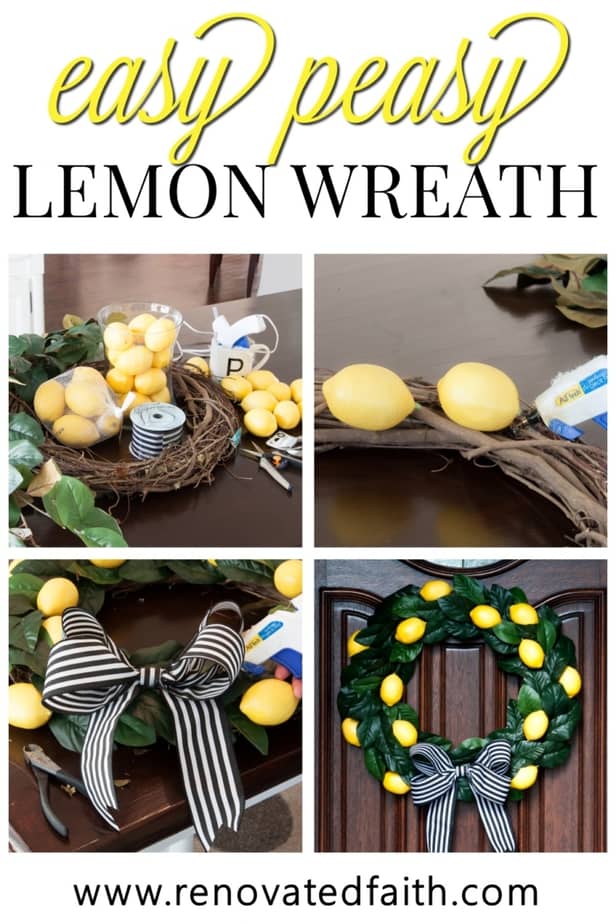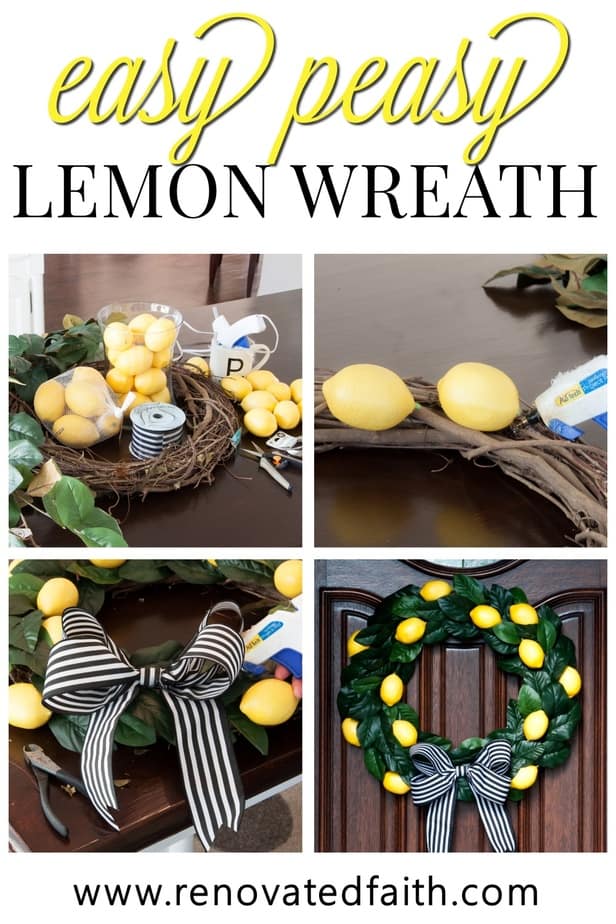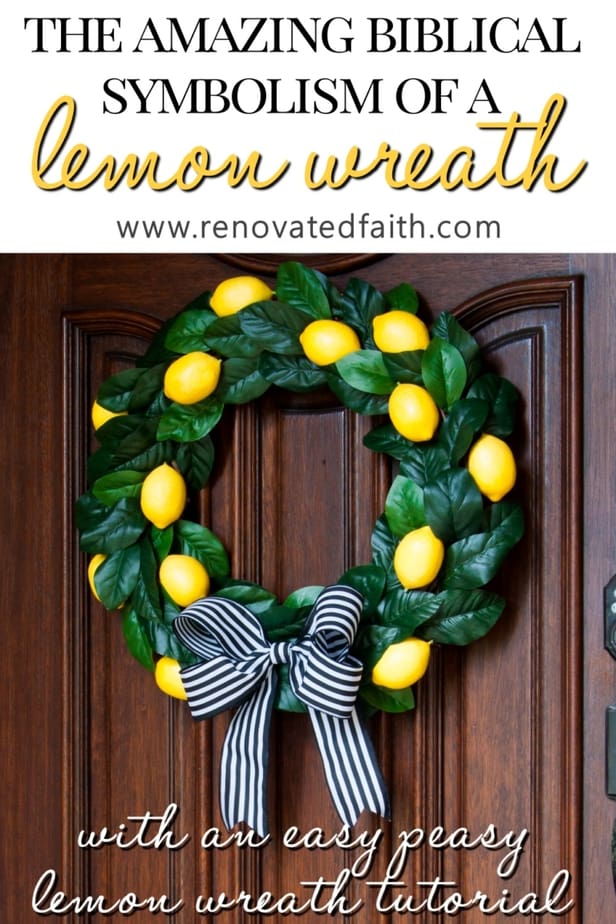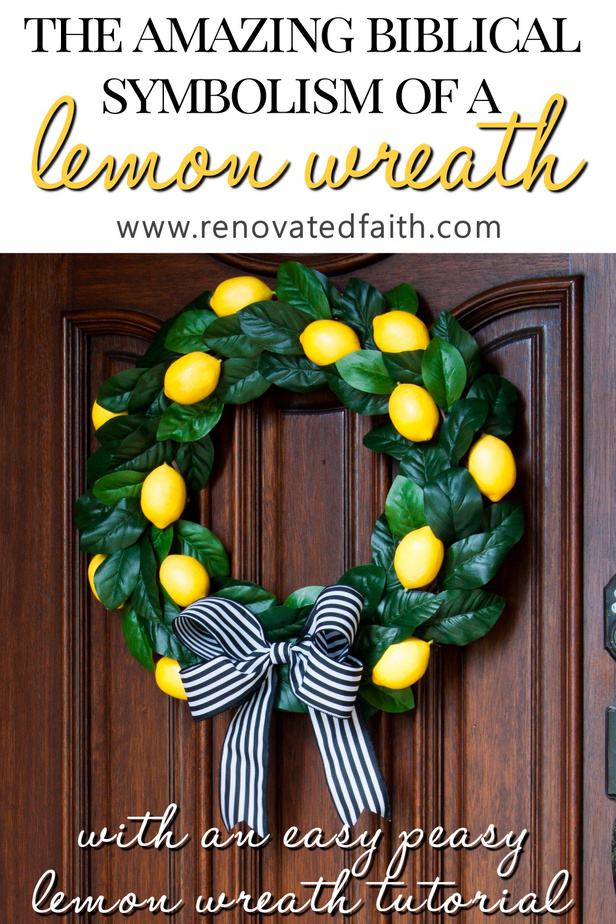 Lemon and Leaves Wreath Tutorial
Welcome to Renovated Faith, where I share about DIY projects, my faith and everything in between! When I'm not spending time with my family, you will find me redoing furniture in the garage or watering plants in my greenhouse. This blog is about transformation. Anyone can renovate a house but only God can transform our hearts!