7 Home Office Ideas for Women on a Budget (and Feminine Home Office Checklist!)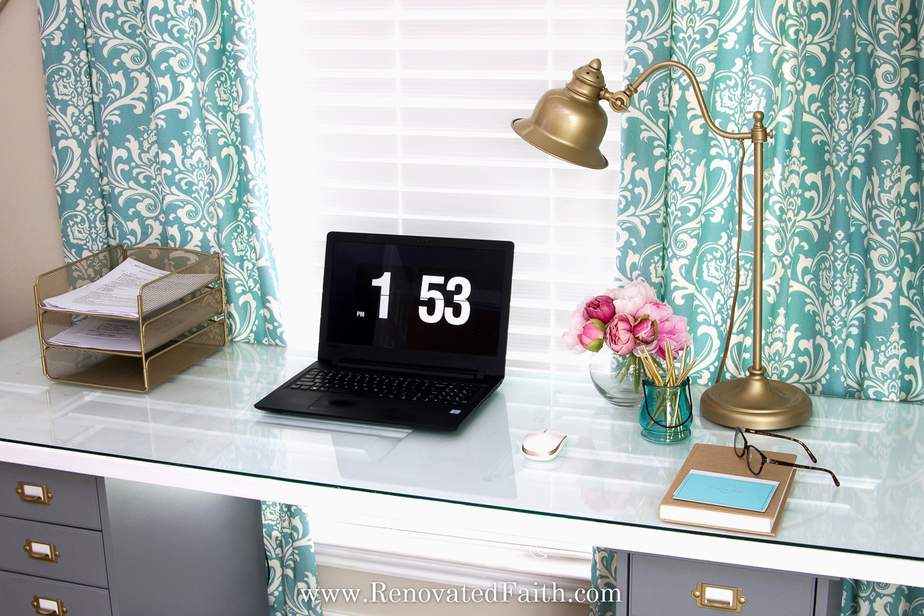 The Home Office Checklist for a Functional & Beautiful Workspace
Whether you work at home full time or use your home office as a weekend crafting oasis, your home office should have all the essentials to make your time productive and enjoyable!   These home office ideas for women on a budget will give you a fun and feminine home office checklist to make the most out of your space!
Your surroundings have an impact on your mood and if you are spending a lot of time in a dreary home office space, chances are, your work will not be as productive and enjoyable as it could be.
One's home should be a representation of their tastes and personality and that's especially the case in a space you spend so much time – your home office!  Not only does this home office checklist give you lots of cute decor ideas, but it also includes essentials to make sure your office is as functional as it is beautiful.
We all know that women are great multitaskers.  We are versatile and flexible to handle all the many hats we wear!  The same should be said about your home office as it should be easily adaptable to your needs.  Whether your office is also a craft room, sewing space, or guest room you should have all you need to seamlessly transition between these activities without taking up additional space!
This is a great post for you if you:
Want a feminine home office space that makes even work fun!
Need a versatile space that can also double as a craft room or sewing room
Want a home office checklist to makeover your office on a budget
Love feeling encouraged and inspired when you spend time in your office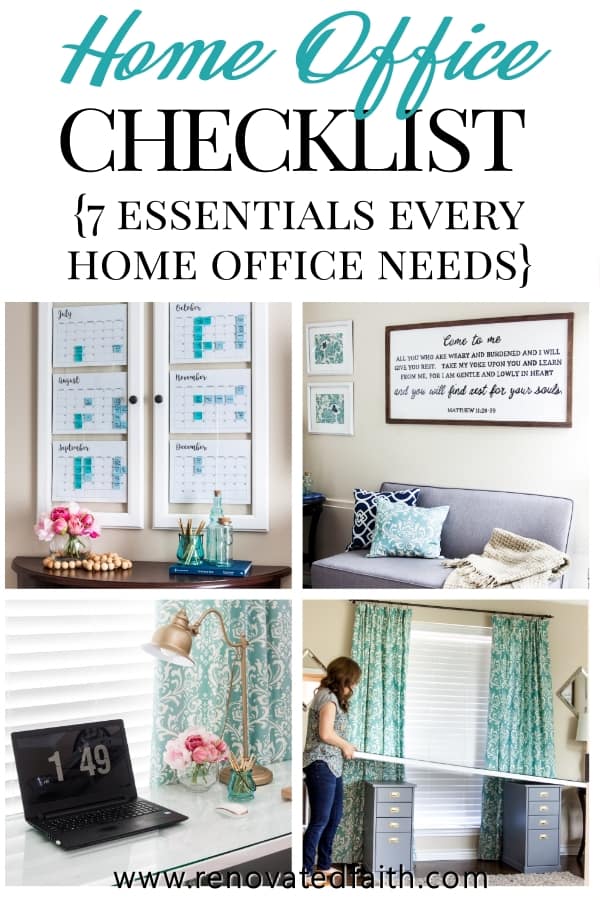 (As an Amazon affiliate I earn from qualifying purchases. Please see my full disclosure HERE).
Home Office Makeover on a Budget
Fortunately, it doesn't take a lot of money to have a feminine home office you love.  Every tip from the checklist below is also low-cost so you can stay on budget!
And here is a quick tour of my office that I did as a Facebook Live.  To be part of our Facebook community, click here.
Feminine Home Office Ideas & Essentials Checklist
Home Office Essential 1:  A Desk Tailored to Your Needs
First things first!  What would a home office checklist be without a desk?  Many home offices are small so it is important to think about where the best location for your desk should be and the best-sized desk for that space.
Look at the room and determine the best location.  First, decide what direction you want your desk to face: either into the room with your back facing the door, facing out of the room?
Is there a window that you want to put the desk in front of?  Do you want to situate your desk in the corner to give you more space?  What about an L-shaped desk?  These are important considerations and there are lots of different desks and desk configurations to suit your needs.
If you need more inspiration on layouts for a small space, click below: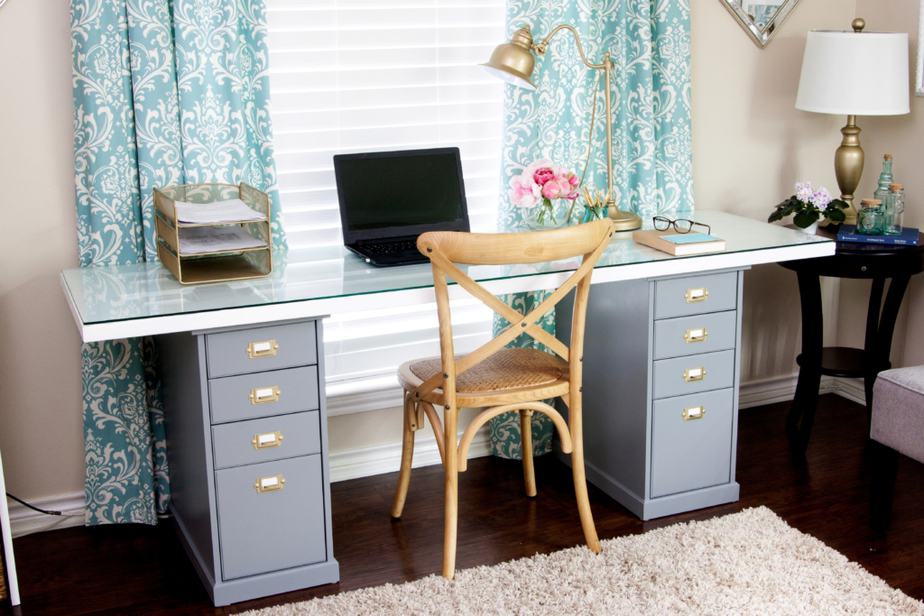 Home Office Storage Considerations
For a long time, I had a long craft desk that had large fabric pins underneath.  Most of the craft supplies I have are small and they would just get lost in those big bins.  I realized what I needed most was lots of little drawers to help me stay organized.  That's why I painted these two IKEA Klimpen drawer units (How to Paint IKEA Furniture).   You might need large file drawers for your home office so take these things into consideration.
How to Make a DIY Desk Custom-Made for Your Office
Here is my desk that I made out of a door that also doubles as a craft desk.  I like that it gives me plenty of space to work and I love that you can see the details of the door panels through the glass.
The glass is also super functional as I don't have to use coasters for drinks and any messes just wipe right up.  To find out more about using glass as a desk surface or making your own desk out of a door, click here:  DIY Desk Out of a Door
DIY Desk Ideas for Small Spaces
Most home offices are small especially if you are combining your home office with a craft space, guest room, or converting a dining room into an office.  That makes desk size an important consideration.  Think about the space you really need to work and the right desk to accommodate your needs.  Here are several ideas to get you on the right track while still staying on budget:  Desk Ideas Perfect for Small Spaces
Home Office Essential #2: A Comfortable Chair
Comfort is key when it comes to a chair for your home office.  But you don't have to sacrifice beauty for comfort.  There are plenty of options of beautiful chairs that live up to the classy aesthetic of your office space but are also comfortable and supportive to your back!
My chair is a Modway Crossback Chair, whose ergonomic design makes sitting comfortable.  Its sleek lines are a fun addition to the design of the room and these x-back chairs work well for a variety of decor styles including farmhouse, traditional, coastal, or modern home office ideas.
To find out how to get the best deals on a cross back chair like this one, click here: Best Deals on Crossback Chairs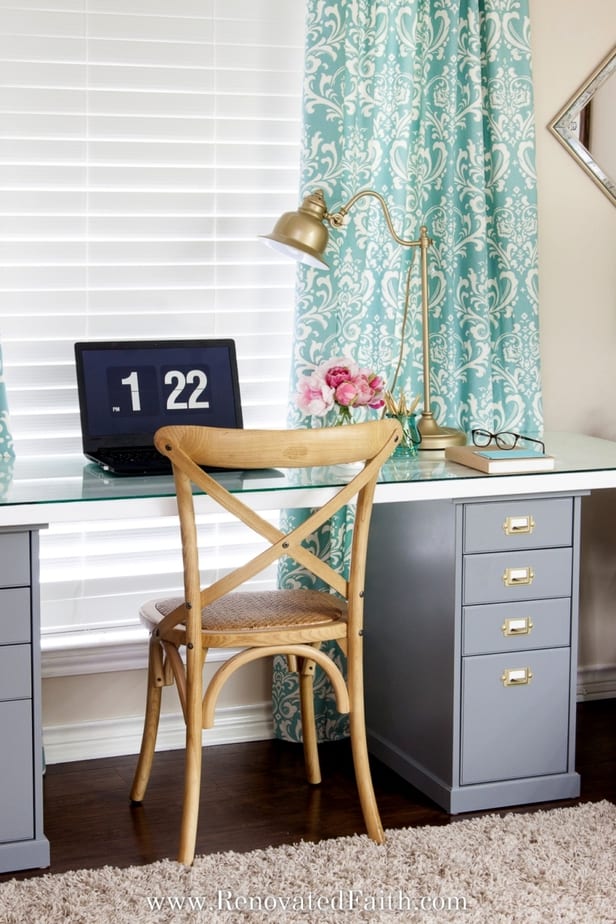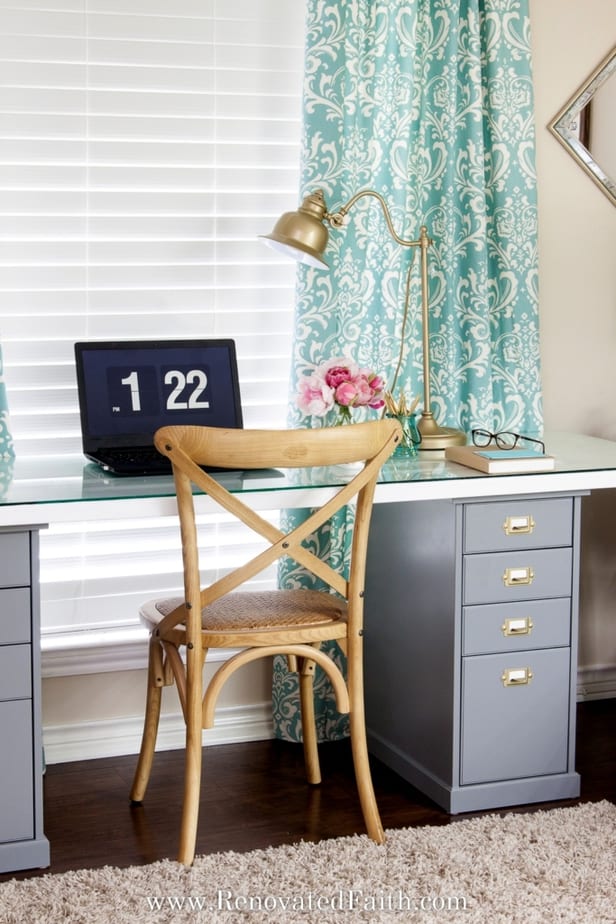 Home Office Essential #3 – Cord Organization for a Decluttered Home Office Layout
The last thing you want in your snazzy home office is clutter and nothing makes a room look more cluttered than a nest of cords in the corner.  You are sure to have lots of cords for your various electronics which may include a monitor, printer, PC, lamp, etc.
For this reason, you need a game plan to organize your cords.  I knew that I was going to have a small printer stand next to my desk so I decided to make good use of the space underneath for cords.  So I put all the cords through the back handle slot of one of the baskets and connected them to the power strip in the basket.  I also put any extra "cordage" (is that a word?) in the basket to take up the slack of the cords.
Here is how it turned out!  Such an improvement from what looked like a rat's nest of cords in the corner.  If you look to the left you can see that two cords are visible so I just used these cord clips (see the current price here) to attach them to the baseboard so they weren't as obvious.
For more ideas for cord organization, click here: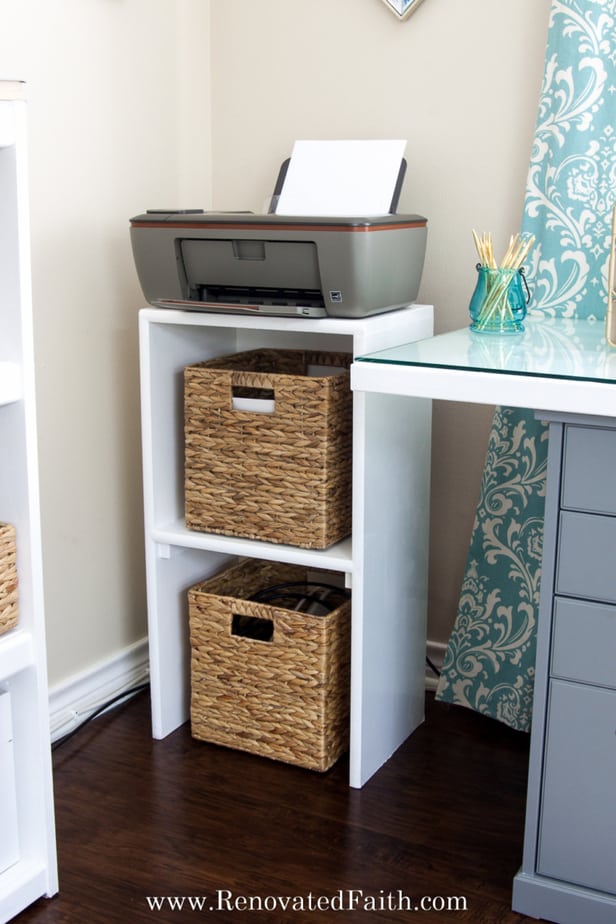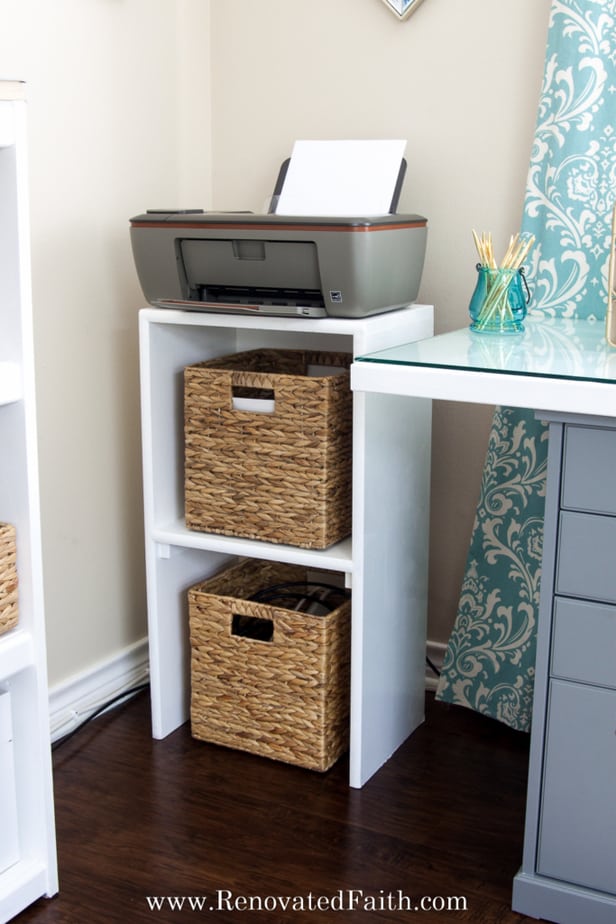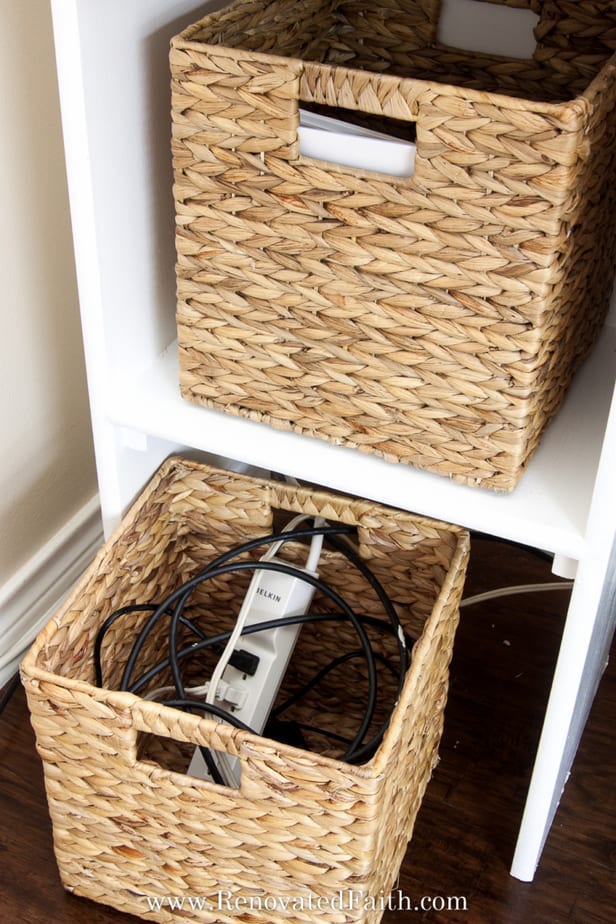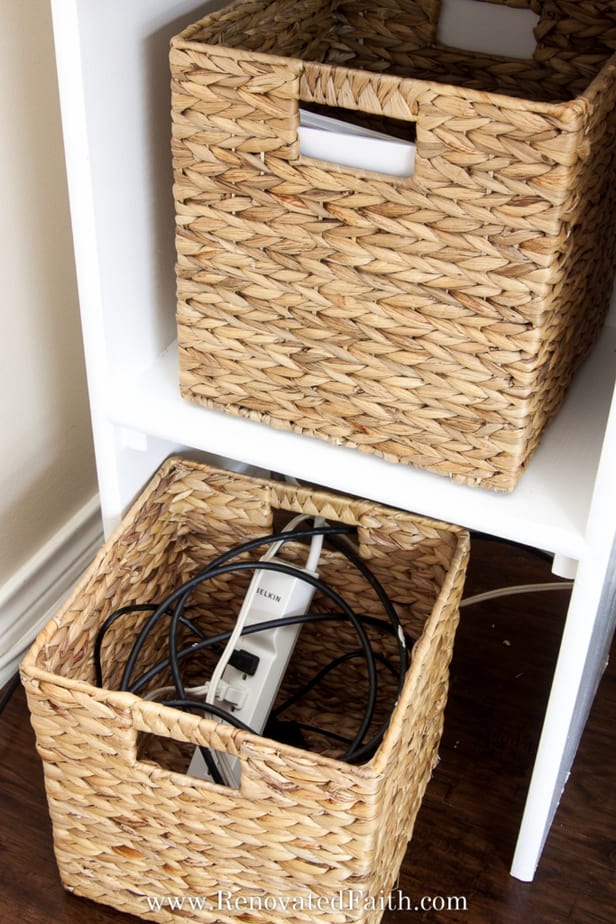 Home Office Essential #4: Get Organized with a Wall Calendar
Item #4 on our home office checklist is a calendar!  To keep your important dates, appointments, and deadlines in front of you, I recommend a wall calendar.  I prefer a dry erase calendar so it's easy to erase any changes.  Because life happens and plans do change so it's important to have a versatile calendar!
I made this wall calendar out of two old cabinet doors that were originally for my daughter's secretary in my post How To Paint Laminate Furniture.  I used a similar cabinet door for my DIY Prayer Board as well.  I opted to leave them off the secretary and held onto them for just the right project.  As it turns out, they worked out perfectly for my wall calendar.  (Below I'll include details on how to make your own version even if you don't have cabinet doors).
After painting the cabinet doors, I attached wall anchors (like these) to the top back of each.  I then used drywall anchors and screws (like these) to attach them to the wall since they are pretty heavy.  The original knob was pretty dated so I replaced it with an oil-rubbed bronze cabinet knob  (see some options here).
For the calendar itself, I simply printed out a free 2019 calendar on white cardstock here:  2019 Calendar Printable, Free Template
To attach them to the back of the glass without showing, I used some small pieces of shipping tape because shipping tape was the least visible option over those little zots and also clear wall-mount adhesives.  Just stick some little strips of shipping tape on the back of each corner so that not very much shows.
The little squares are different colors of cardstock that I cut into strips with my paper cutter and attached with double-sided tape.  The double-sided tape makes them stick but not so much that I can't move them around easily.
I love that this wall calendar gives me a classy way to see what is coming up in the weeks and months ahead.  To make your own, you can use old windows or cabinet doors from your local Restore (click here to find one nearby) or two longer picture frames like these.   Then, paint them your choice of color (See my favorite paint brand here), screw in any cabinet knobs of your choice, and you are done!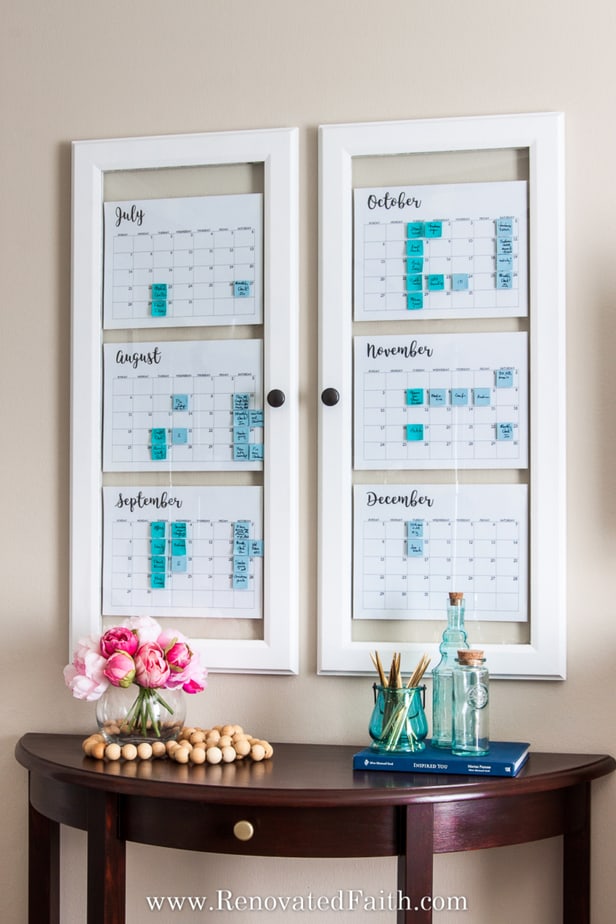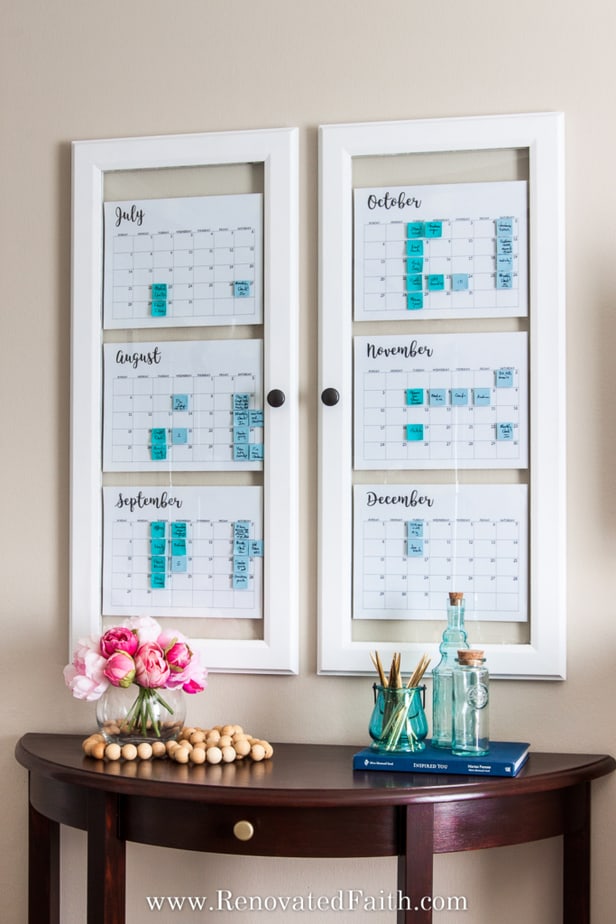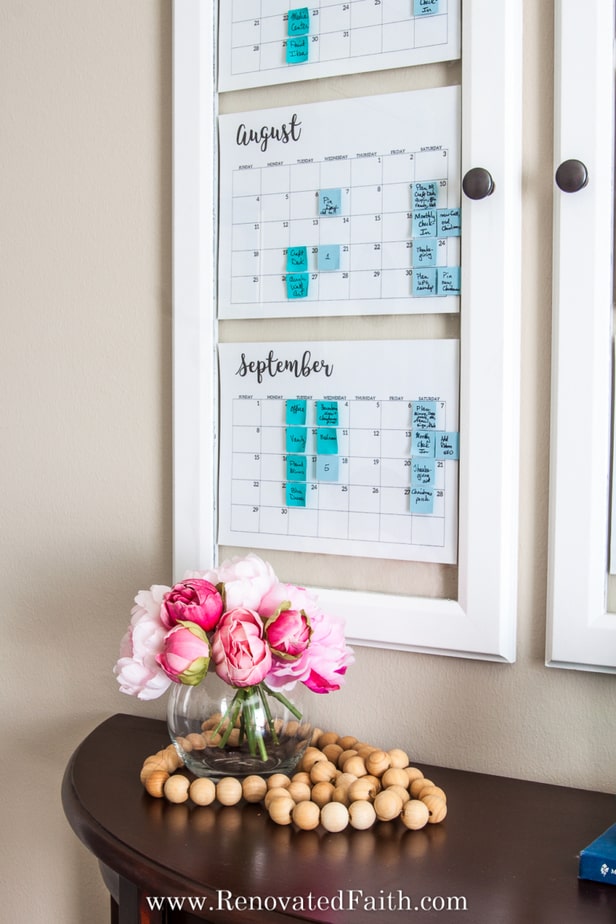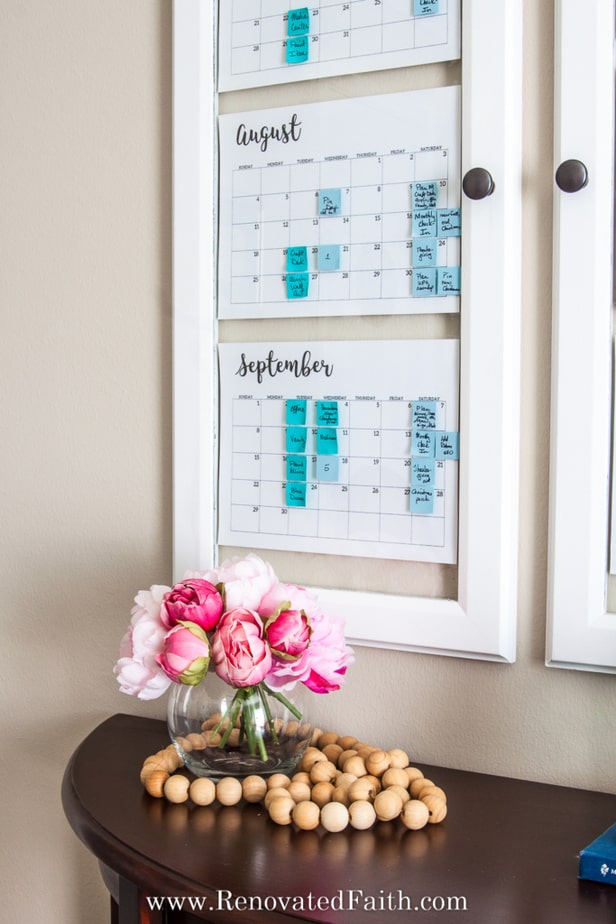 Home Office Essential #5: Small Office Decorating Ideas for a Beautiful Home Office
When we first moved into our current home, the bathroom was a brownish mauve color.  I had the hardest time relaxing in the tub because I just couldn't get past the color as it made a definite impression on my mood – and not in a good way!
For that reason, make your home office a reflection of your personality.  Also, decorate with some of your favorite color combinations and textures.  You will be spending a lot of time in this space so make SURE it is enjoyable!
You can get ideas on how to coordinate colors for home offices here: Feminine Home Office Ideas For Her – Pinterest
Once you have an idea of what you want your office to look like,  you can start to think about how to coordinate colors with curtains, home office rugs, and furnishings.
Here are links to more home office ideas for women: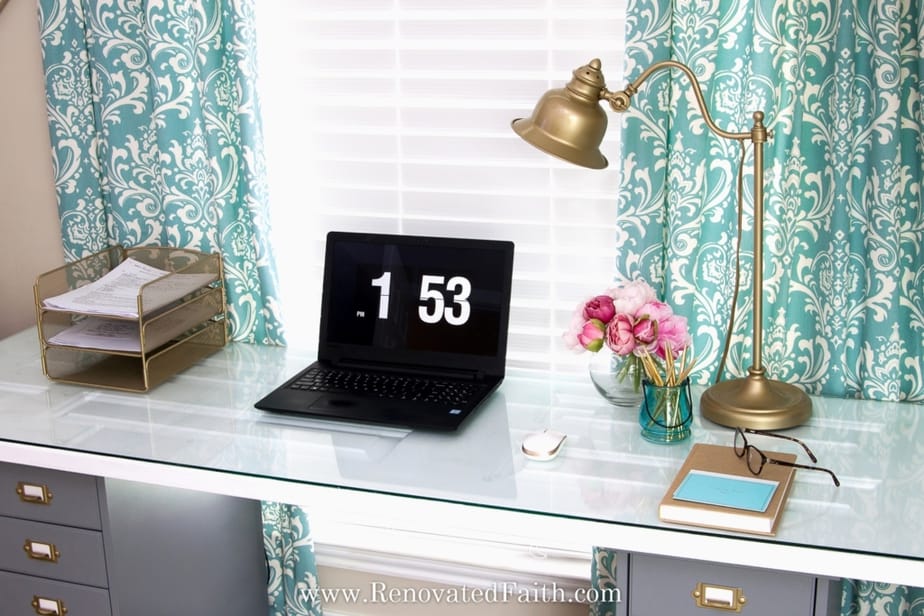 Home Office Ideas on a Budget
Don't think that you have to spend a lot to have a gorgeous home office.  Here are some tips to have a stunning space without breaking the bank.
 Make Classy Curtains on a Budget – Pinch pleat curtains are absolutely stunning.  You see them a lot in Ballard Designs and Pottery Barn catalogs as they give a tailored classy look to any space.  Here's a tutorial to show you how to make your own at a fraction of the cost:  How to Cheat at Pinch Pleat Curtains  I also have an easy tutorial on how to make your own curtain rod and hardware here:  DIY Curtain Hardware on a Budget
Paint Used Furniture instead of Buying New:  Don't think you have to buy brand new furniture from a furniture store.  You can have your own unique piece by painting an antique.  It will be of higher quality than what you would most likely buy in a furniture store new and it will coordinate perfectly with the space because YOU will pick the color.  Here's my best process for painting furniture: A Better Alternative to Chalk Paint.  And here's a tutorial on how to paint IKEA (and all laminate furniture): How to Paint IKEA Furniture the Right Way
Don't Underestimate the Power of Spray Paint – For my home office makeover, I wanted all gold desk accessories which would match the hardware on my Desk Made From a Door.  So, I spray painted my desk lamp, end table lamp, and paper organizer.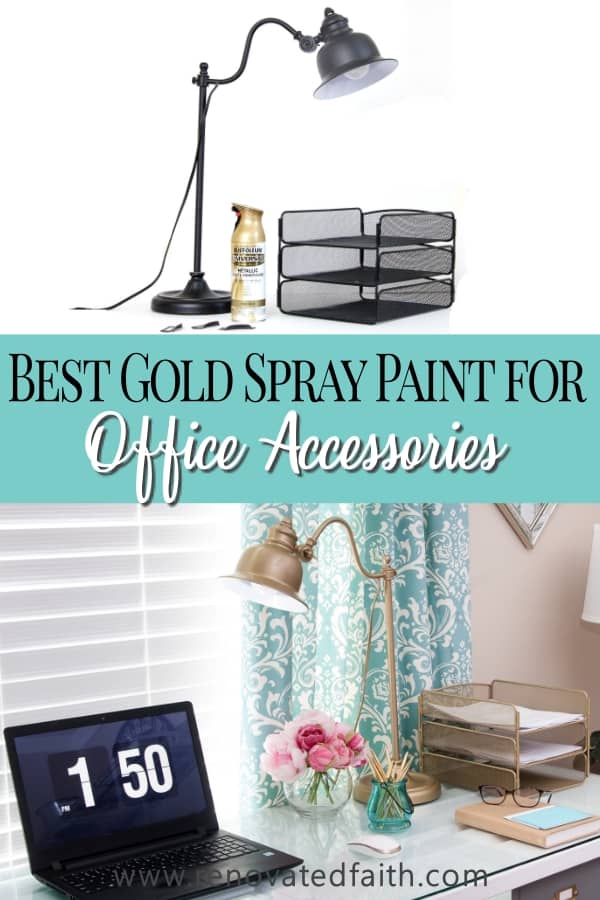 My Favorite Gold Spray Paint
My favorite gold spray paint is Rustoleum Metallics Pure Gold.  I like this spray paint because it's not an in-your-face gold or overly shiny.  It's subtle and very classy!
You can see how the gold accessories look in action below and here is the link to my mouse with gold accents: Slim Wireless Mouse in White and Gold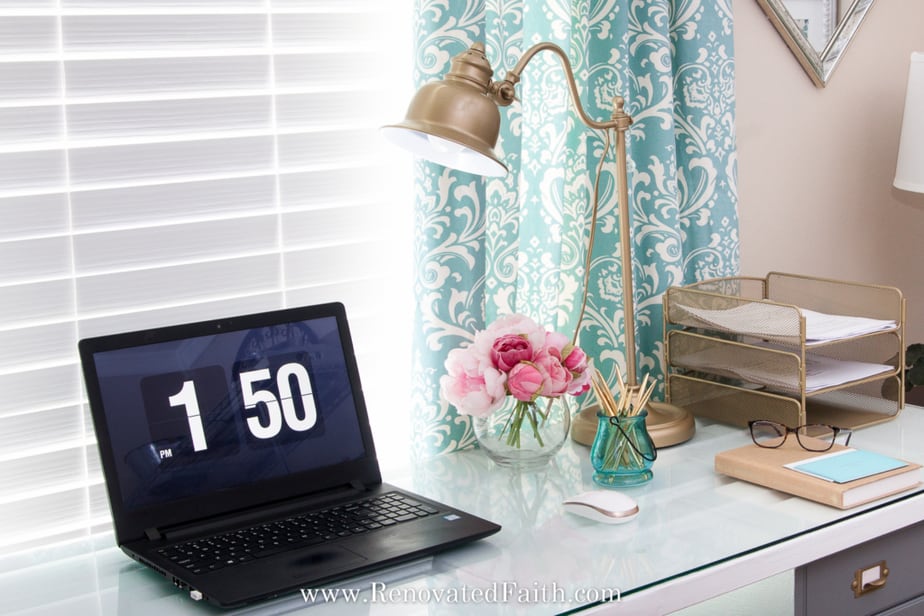 Home Office Essential #6:  Home Office Wall Decor that Encourages Your Heart
Your home office is where you will be spending a LOT of time so you should be surrounded by what encourages you the most!
The greatest source of encouragement for me is Scripture and I share about how God is the foundation of my life in the Renovate Your Faith section below.  Last week, I posted about my butterfly wall art and how God used butterflies as a reminder to trust Him during a time of anxiety: (Click HERE for my post on DIY Butterfly Wall Art from Fabric)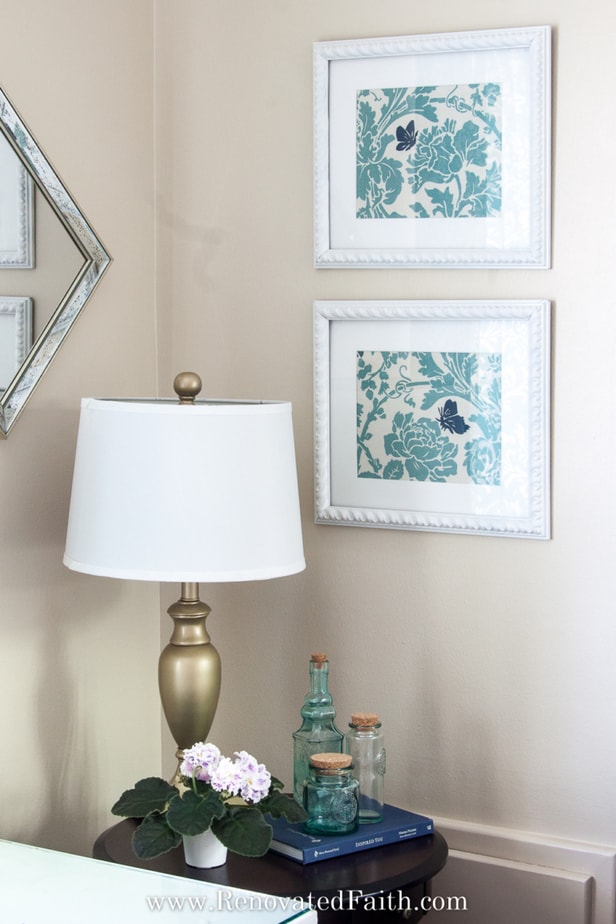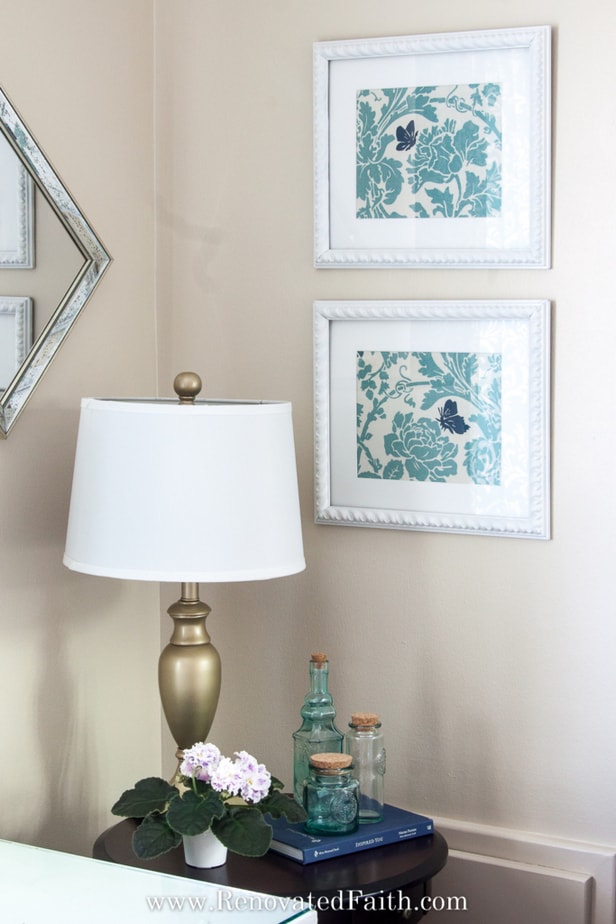 Also, I love how this farmhouse sign turned out!  It features my late grandma's favorite verse.  She was a woman of faith and understood the value of going to our Heavenly Father with whatever burdens her.  I made this sign the easy way, with no freehand lettering skills or even a Cricut required.  See how to learn the same technique here:  Easy DIY Farmhouse Sign Tutorial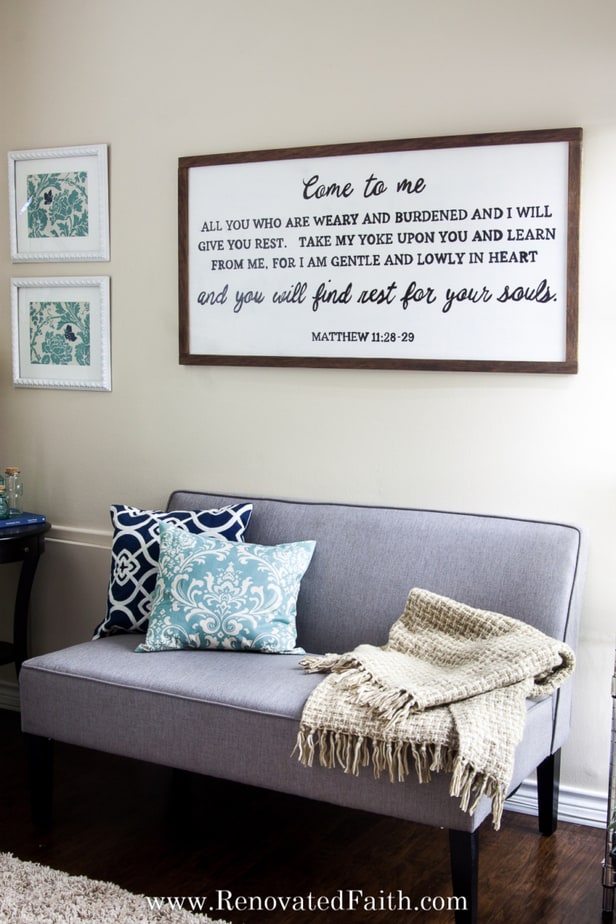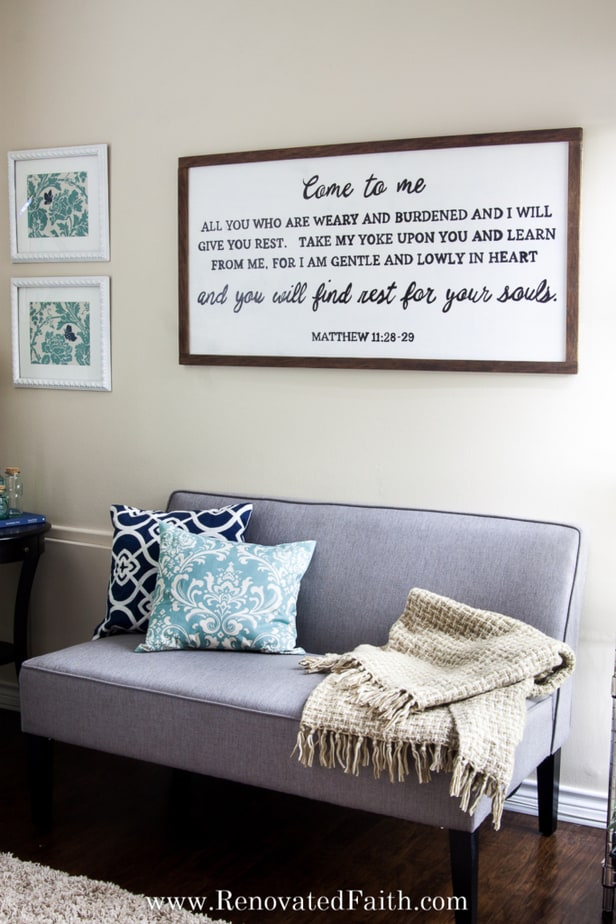 Last but not least, I have this sign hanging on the wall in my office.  I absolutely love this quote by Erin Hanson.  I'm always so quick to ask "but what if I fall?" and my husband is always quick to remind me "but what if you fly?"  You can download your own version of this sign with a navy background or a white background (with black lettering) by subscribing to the blog in the sign-up form below.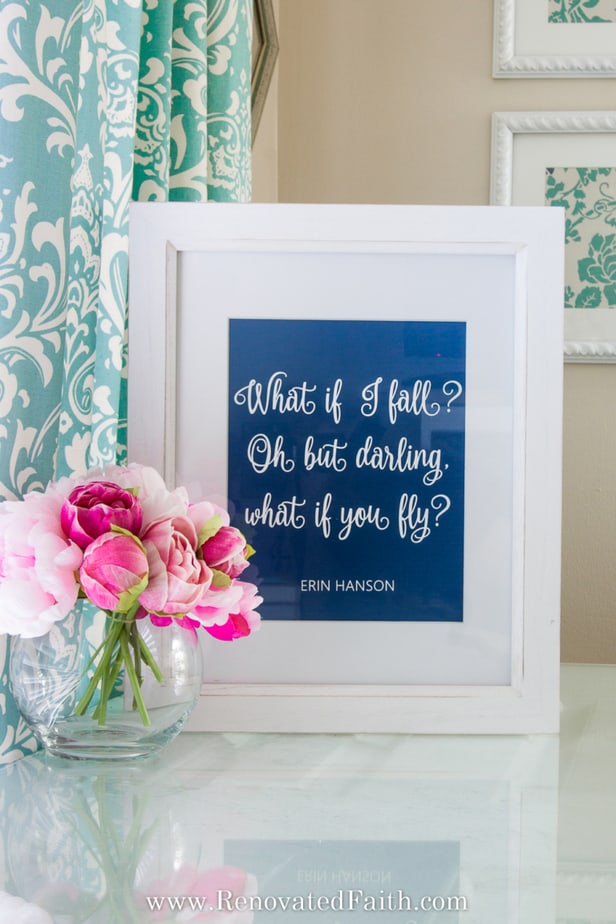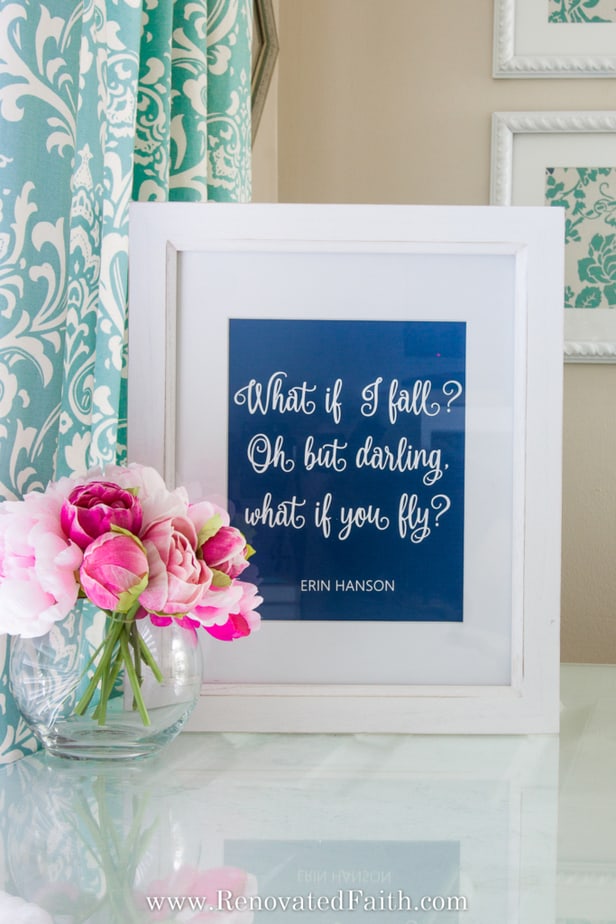 Home Office Essential #7: Home Office Ideas for Women that Need Rest Too
God rested on the 7th day so I figured our office essential number # 7 should be related to rest!  Whether you are a stay at home mama or a single gal that works in an office, you need a place at home to relax.  So, your home office should incorporate ways to rest from your busy workload.
Rest is critical to your health and mental state, not to mention you will actually get more work done if you rest.  To read more about the relationship between rest and work, check out this post:  Why You Struggle to Rest & What to Do About It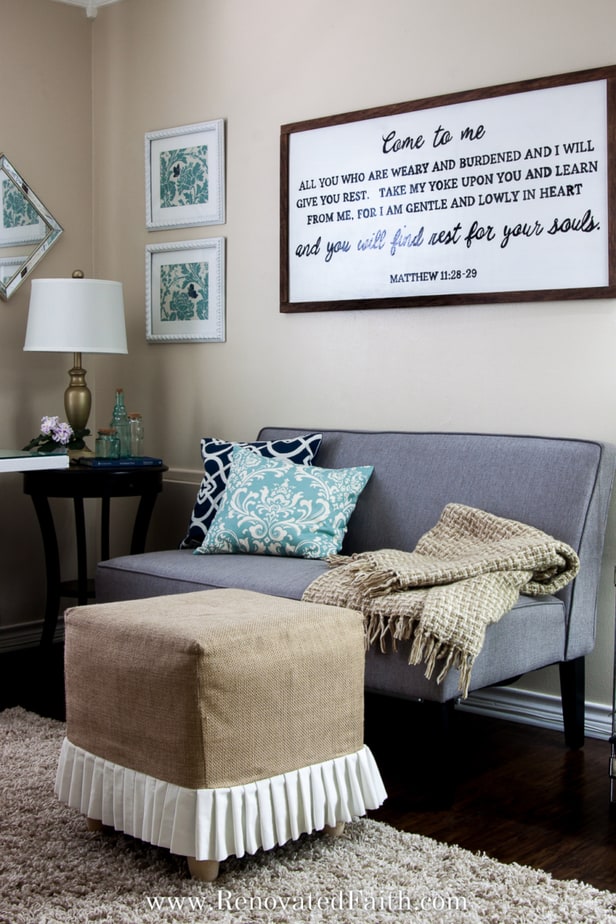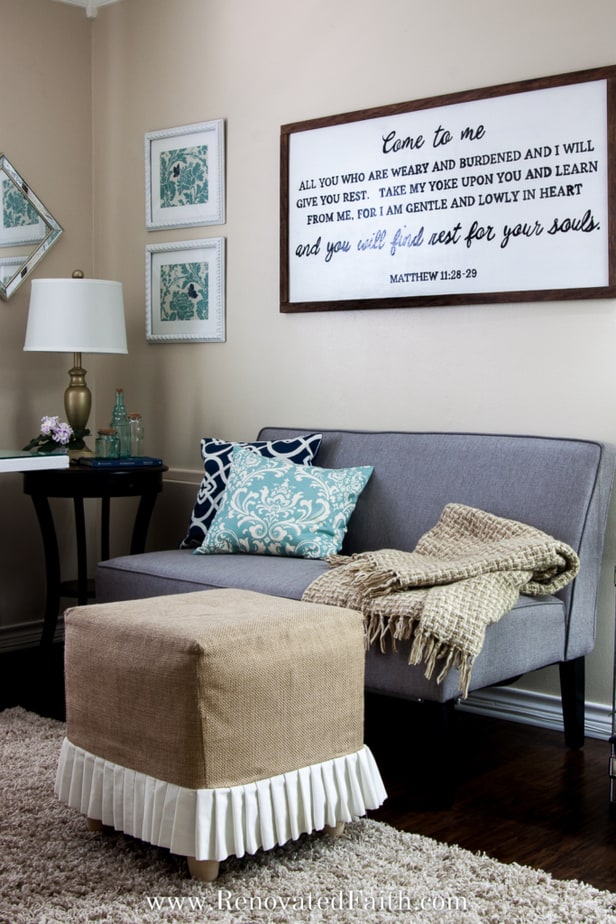 I like having this loveseat (see the current price here) in my office and added some comfy throw pillows and blankets.  It's nice to take a break from my work and watch tv for a few minutes.  Also, when I'm doing something that doesn't take much brainpower, I like putting something on Netflix to watch in the background or listen to some of my favorite Christian podcasts on my phone.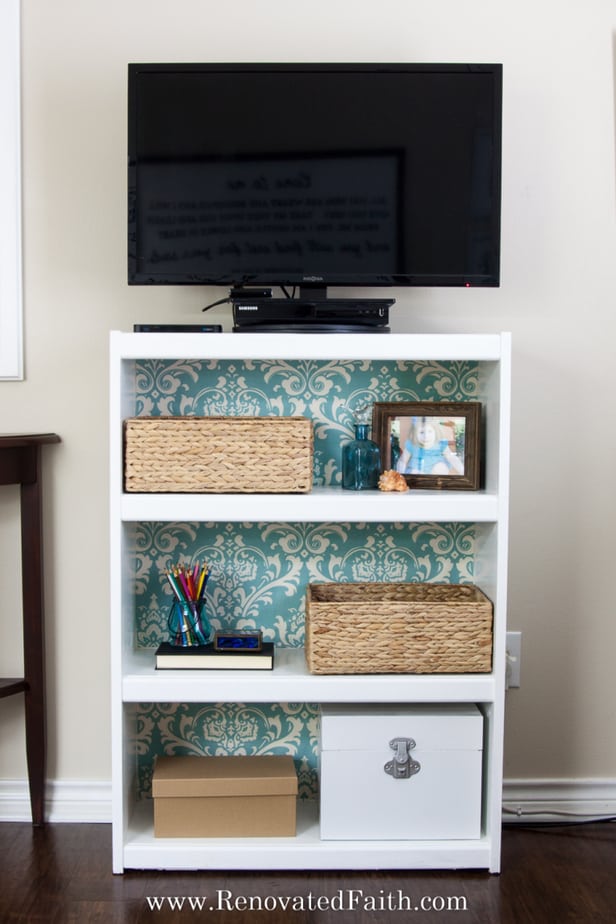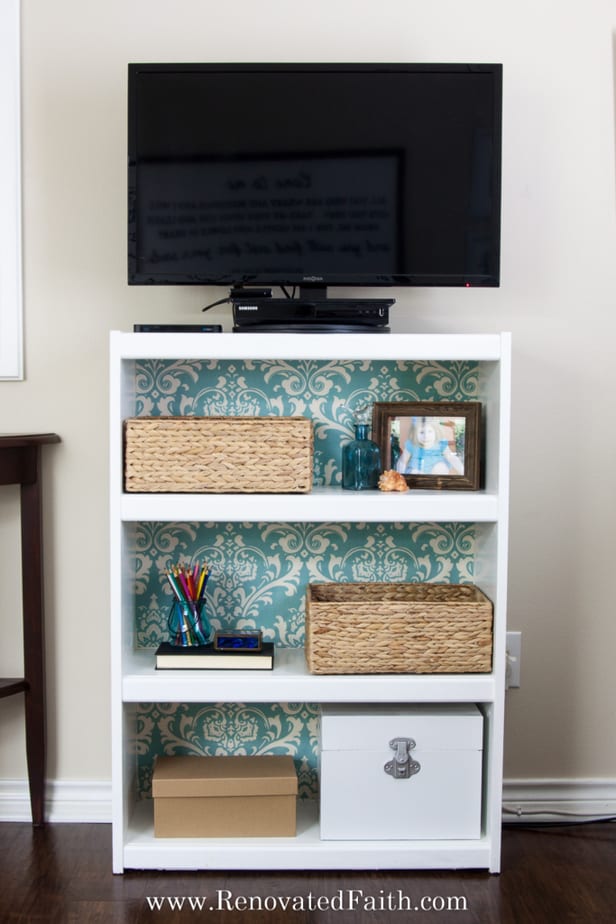 Here is an old laminate shelf that I painted using this process and then added fabric to the back for an extra pop of color!  I arranged my tv so it is across from the loveseat and to the left of my desk so I can see it well from either location.
DON'T FORGET TO TAKE A PICTURE!
Now that you are done with your own home office makeover, I'd love to see how it turned out! ❤️  Post your before and after photos here!
RENOVATE YOUR FAITH:  What's Really First on Your Checklist?
Recently I've been studying the book of Haggai.  There is a wealth of wisdom in this little gem of an Old Testament book.  This small letter is written by the prophet Haggai at the time that the Israelites were told to rebuild the temple after they had resettled in Jerusalem.
God gave them specific instructions (Haggai 1:7) to go up into the mountains to bring down timber to use as siding for the temple.   Think of this hard-to-find siding as their own version of shiplap! 
The Israelites were faithful to go up to the mountains and bring down timber.  However, instead of using their beautiful wood siding for the temple as God commanded, they used it to build their own houses.   While they lived in their paneled houses, the Lord's house was in ruin.
For 17 long years, the Lord patiently waited for them to build the temple but instead, they put precedence on their own house instead of the Lord's.  During that time, they planted much but harvested little, they made clothes that were too thin to keep them warm, and they ate but could not get full.  It even says in Haggai 1:6 that they would earn wages only to put them in purses with holes.
Because of their disobedience, they were not reaping the rewards of their hard work. 
The Israelites, in their desperation, to avoid poverty, put their priorities before God's.  But they poverty they were actually trying to avoid by not building the temple, God brought on them for not building it. 
They had put an emphasis on their agenda instead of God's and as a result, God withholds blessings from them.
I feel like I often do the same in terms of work and rest.  I love blogging and God has put it in my life as a ministry and job.  But if I put it before my relationship with Him, it will not reap the benefits that it could have if I had put Him first.
I've felt convicted lately that the same applies to rest.  God commands us to rest one day a week as He did in creating the heavens and the earth.  But if I use my day of rest to finish up a blog post I'm running behind on, I'm being disobedient and will actually accomplish less in the long-run.
The same applies when we procrastinate in putting off what God has commanded us.  Procrastination is the universal human tendency to put off what God requires.  But we are not only postponing God's blessings but we could be forfeiting them altogether.
When I struggle with this principle I realize that the root of my problem is a lack of trust in God's provision.  When we set our hearts on being obedient to the Lord in all He asks, He will surely bless our work!
Bring the whole tithe into the storehouse, that there may be food in my house. Test me in this," says the LORD Almighty, "and see if I will not throw open the floodgates of heaven and pour out so much blessing that there will not be room enough to store it. Malachi 3:10
For more spiritual encouragement, click here for the rest of my Renovate Your Faith Posts.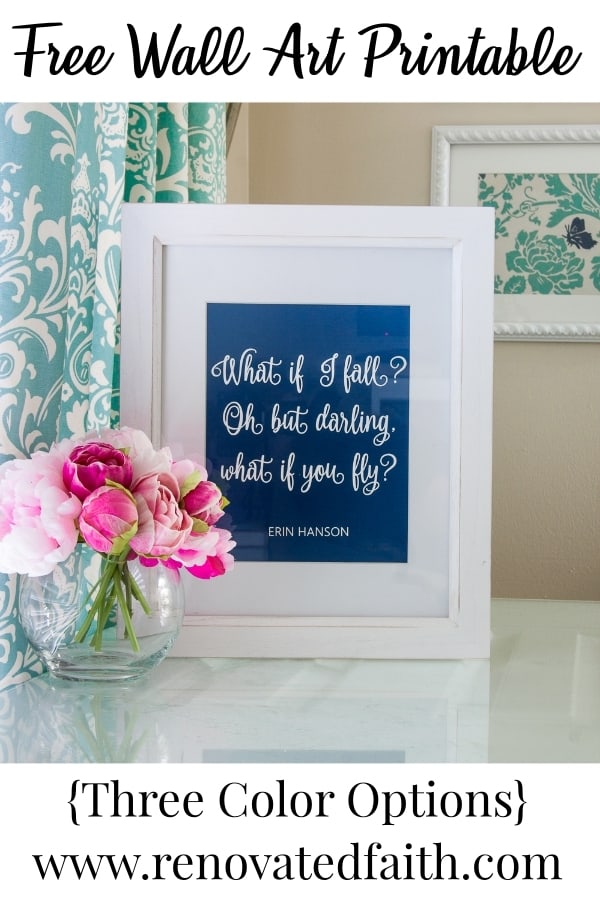 FREE "What If I Fall?" Printable
Get the password for the library with the free pattern and SVG files here by filling out this form:
Feminine Home Office Tour: YouTube Video
Setting Up a Home Office & Checklist: Related Posts-
Fabric Wall Art with Acrylic Paint
Easy Cloffice Transformation: How To Add A Desk to Any Closet
The Ultimate Greige – Agreeable Gray
Sherwin Williams Silver Strand Review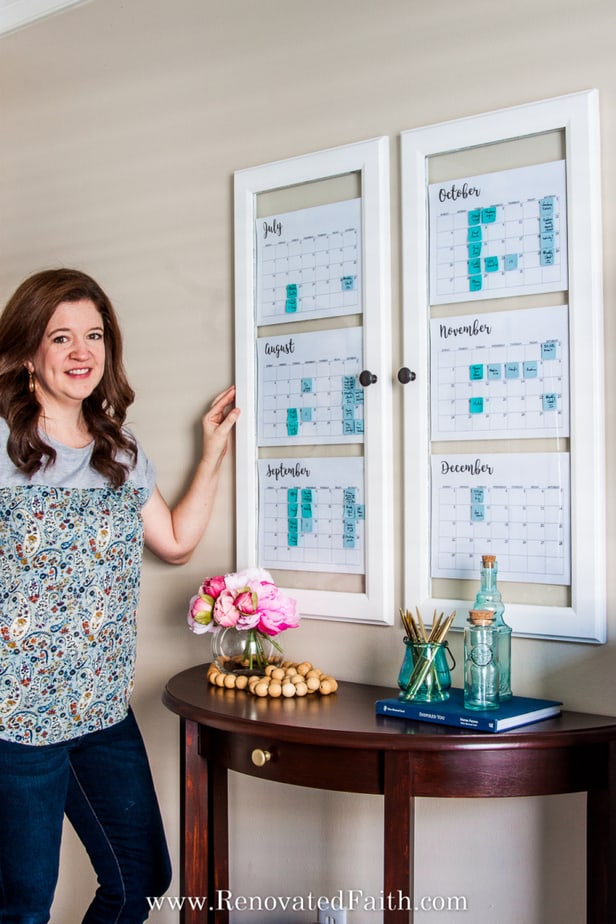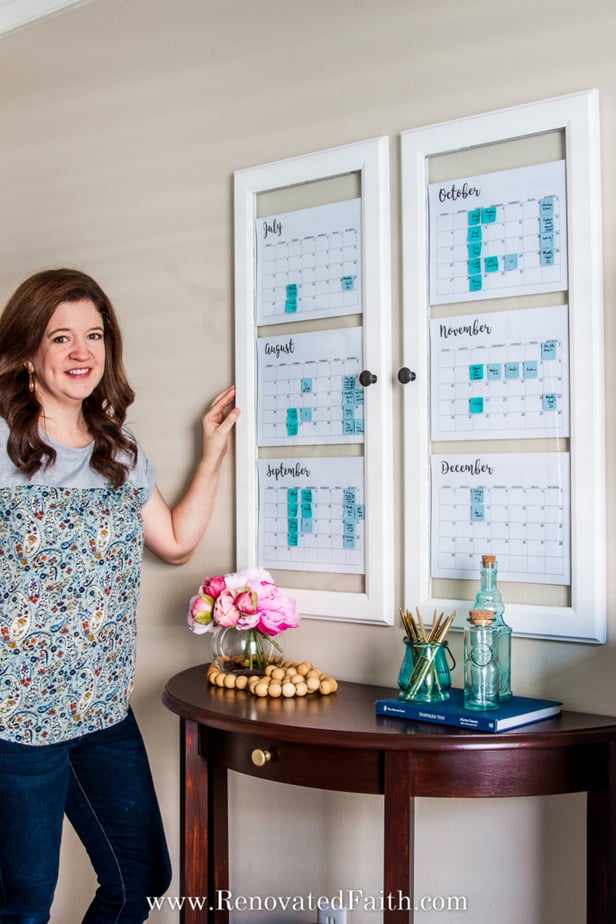 Feminine Home Office Checklist – Final Thoughts
Setting up a home office requires a balance of functionality and beauty to provide a space that works well for your needs also inspires you.  These home office ideas for women will give you a good foundation for a home office or craft room you love.  Whether your home office is where you work from 9:00 to 5:00 or allocated for hobbies, this home office checklist will help you create the perfect space.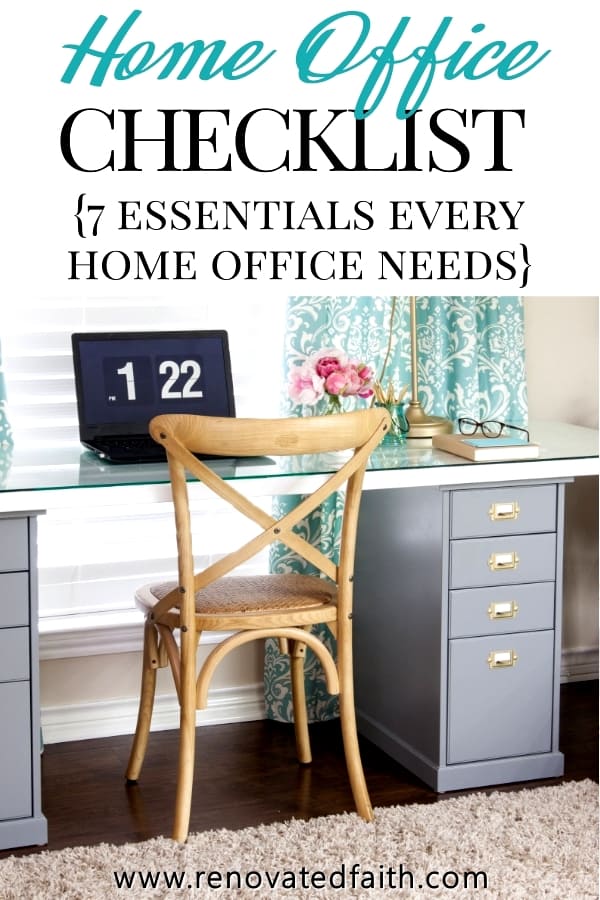 I love to hear your thoughts and questions!  Scroll down to leave a comment and I WILL reply! ❤️
Blessings,

Be sure to follow the fun here!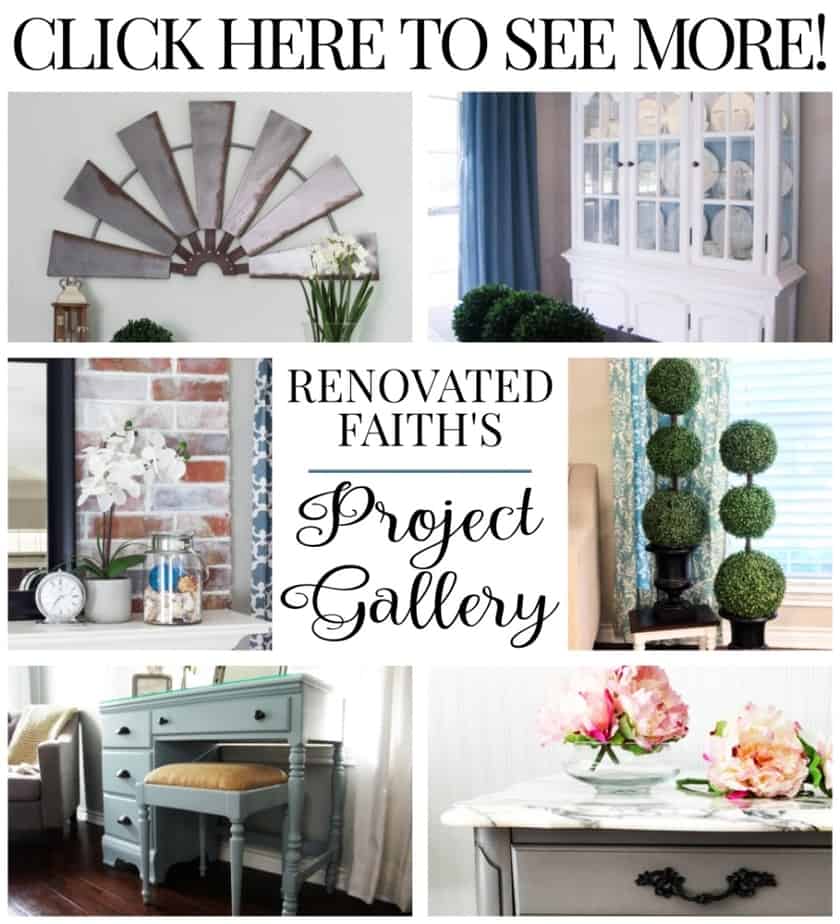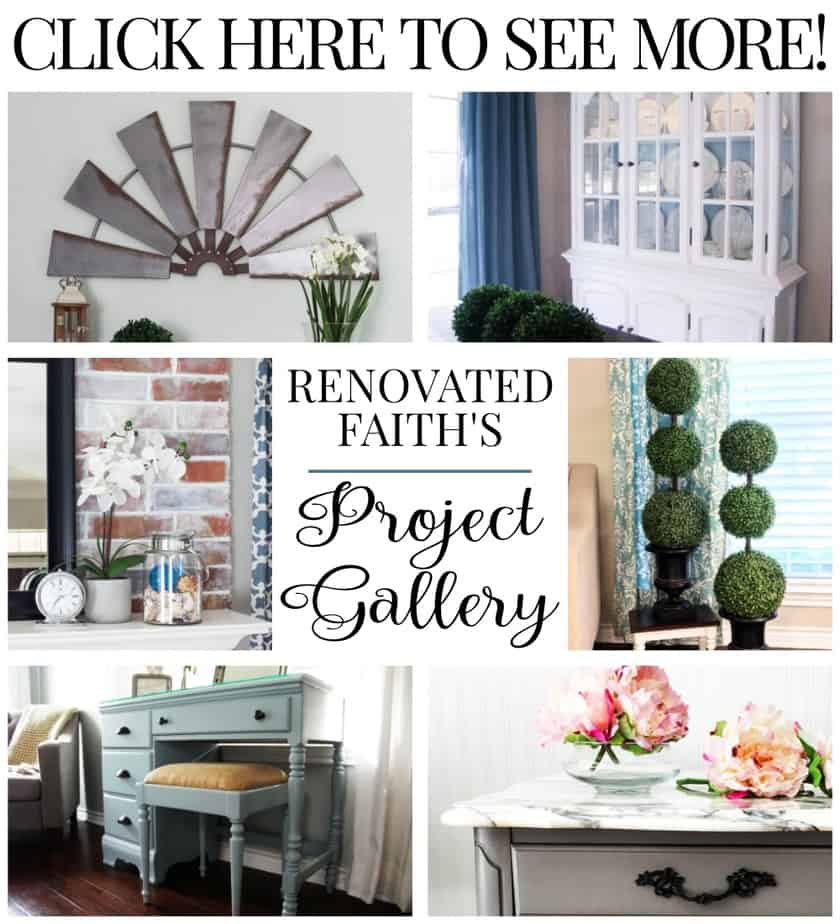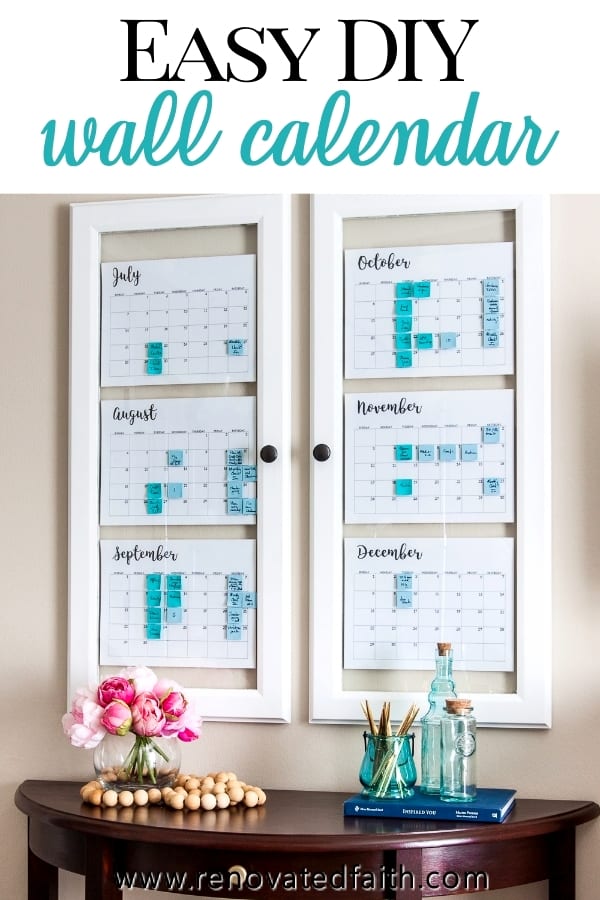 Small Home Office Ideas for Women on a Budget
Welcome to Renovated Faith, where I share about DIY projects, my faith and everything in between! When I'm not spending time with my family, you will find me redoing furniture in the garage or watering plants in my greenhouse. This blog is about transformation. Anyone can renovate a house but only God can transform our hearts!