How to Paint Mason Jars with Spray Paint
Here are the easiest and fastest ways to paint mason jars in a variety of styles and colors including chalk paint, vintage blue, frosted and sea glass.
There are several different methods to paint mason jars but the most convenient is with spray paint! Spray paint is not only fast but it gives you a very smooth finish in a variety of sheens, colors and tints. In this post, I'll show you how easy it is to spray paint mason jars and the best products to use!
LET ME SHOW YOU:
The best method for painting mason jars
How to paint mason jars without drips or streaks
A method for making mason jars look vintage
How to tint mason jars in any color
The best way to add glitter to mason jars
How to make mason jars look like sea glass and milk glass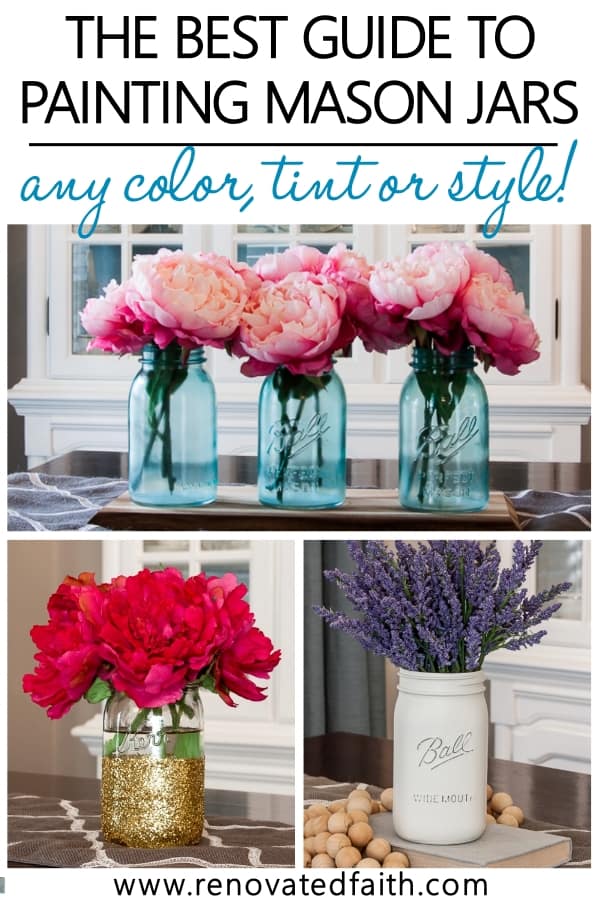 (As an Amazon affiliate I earn from qualifying purchases. Please see my full disclosure HERE).
Supplies Needed For Painting Mason Jars
Mason Jars – Lots of Great Options HERE.
Rubbing Alcohol
Paper Towels
Spray Paint – See the individual tutorials below for the best paint for the look you want, whether it's chalk paint, tinted, solid colors, faux milk glass, sea glass or frosted glass. Here's a link to all of my favorite spray paints for glass: Favorite Mason Jar Spray Paints
Paint Respirator – When spray painting, I highly recommend you use a respirator like this one: Painting Mask
A Well-Ventilated Area Outside
How to Spray Paint Mason Jars
In this tutorial, I'll give you general instructions on how to spray paint any kind of mason jar or glassware. Below, I will give details on getting the look you want – whether tinted, chalk painted, sea glass, etc. However, the basic steps for spray painting glass are the same for any color. Here is a step-by-step video tutorial also:
Step 1: Prep for Painting Mason Jars
In this particular example, I'm showing how to paint mason jars with blue stained-glass paint but the same steps apply to spray painting with any type or color of spray paint. (More details about tinting mason jar blue and making the lids look vintage are below.)
Be sure to find a well-ventilated area outside to spray your mason jars. If you spray on a driveway, be sure to lay down a very large sheet or tarp underneath so as not to get overspray on the concrete. Also, cover more area than you think you need to, because the overspray can travel pretty far. I usually make sure the driveway is about 4 feet on all sides of the object I'm painting.
For this reason, I usually paint over a grassy area and just put a piece of wood under the mason jar being spray painted. Your grass will get spray paint on it, but it will be cut away the next time it is mowed. If it's winter, just be advised you'll have to live with some spray-painted lawn until spring comes around again.
Always, be sure to wear a respirator mask that actually filters the air of paint particles and not just a foam mask. You can get one for less than $20 here: Paint Respirator Mask. In my opinion, it's a very worthwhile purchase to protect your lungs from spray paint particles in the air. Also, you will be able to use it for all sorts of projects later on!
Step 2: Prep Your Mason Jars with Rubbing Alcohol
How do you paint mason jars that don't chip? Most chipping occurs when there is dirt or oil on the surface of the glass.
To prevent chipping, simply wipe down your mason jar with rubbing alcohol. When you are done wiping down the jars, just let them dry for a few minutes before spray painting.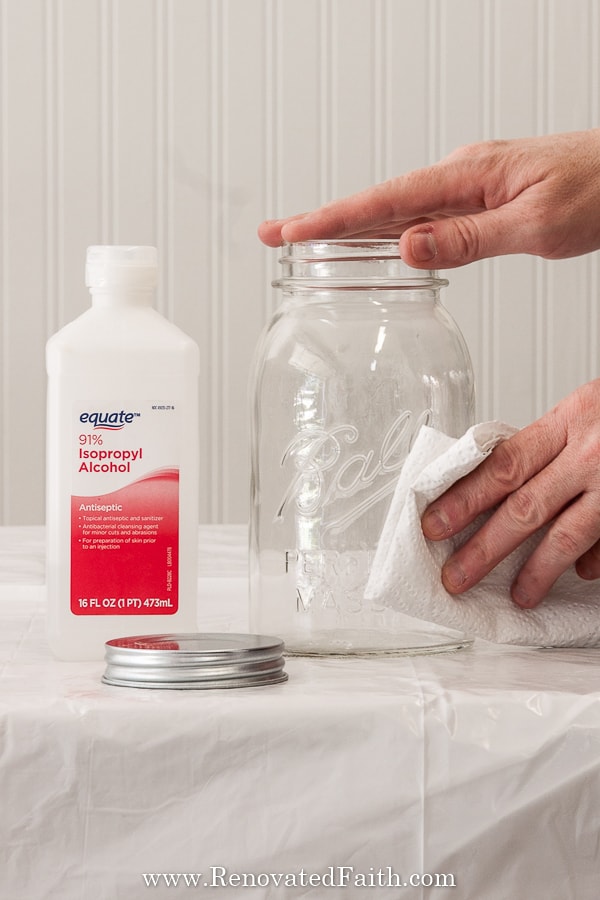 Step 3: How to Paint Mason Jars with Spray Paint
Spray painting glass isn't difficult, but there are some important tips you need to know. But once you can spray paint glass, you can spray paint anything!
Before you start spraying, you want to shake the can for about a minute to ensure the paint comes out in an even stream and isn't blotchy. You also want to make sure the temperature outside is not lower than 50 degrees.
I put my mason jar on a plastic flower pot so that it's easier to aim the spray paint at the bottom edge of the jar.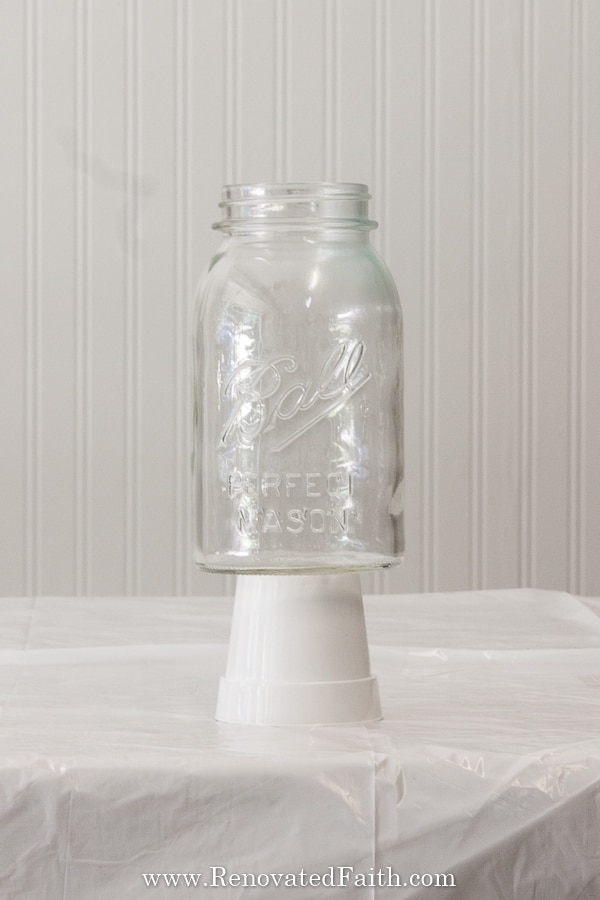 How to Spray Paint A Mason Jar Without It Running
The most important tip for spray painting glass is to spray in light coats.
After you are done shaking the can, you also want to move the can back and forth as you spray. You can see how I do this in the video above. Also, spray several light coats instead of getting the surface covered in one or two thicker coats. This is the key to getting a great finish every time when spray painting.
Spray on the first coat on your mason jar. It WILL LOOK very transparent and spotty. You will be tempted to get full coverage on the first coat but don't! That's a recipe for lots of drips.
I like to let each coat dry for about 15 minutes. But past 4 hours, you have to wait 24 hours for additional coats, so make sure you get your coats on within that 4-hour window of one another.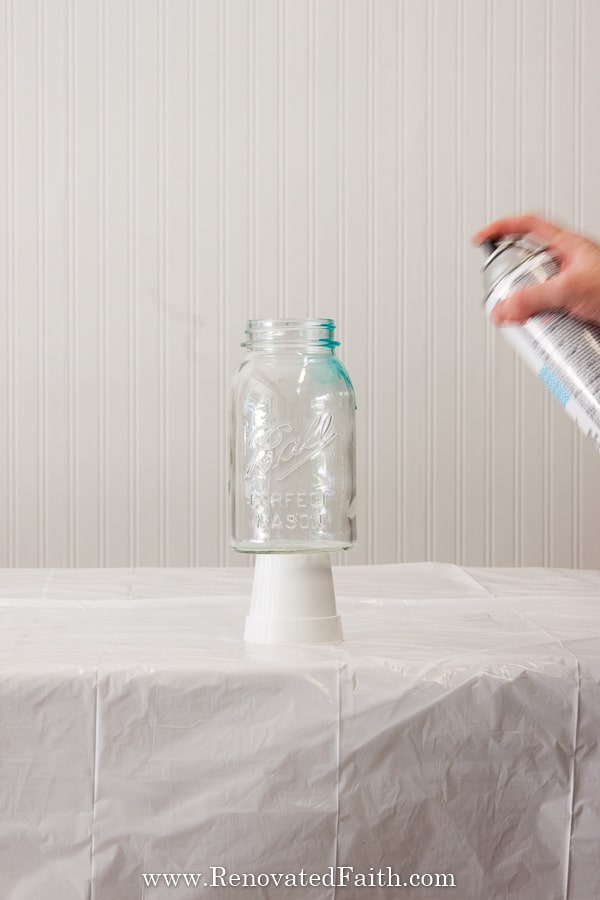 Step 4: Continue Painting Your Mason Jar with Light Coats
Be sure to shake the can before each additional coat. Keep spraying your mason jar in light coats of spray paint until you get full coverage. Just like before, I sprayed on a coat, set the time on my phone for 15 minutes, did something inside and then came back outside to spray the next coat. In most cases, it will take 3 coats.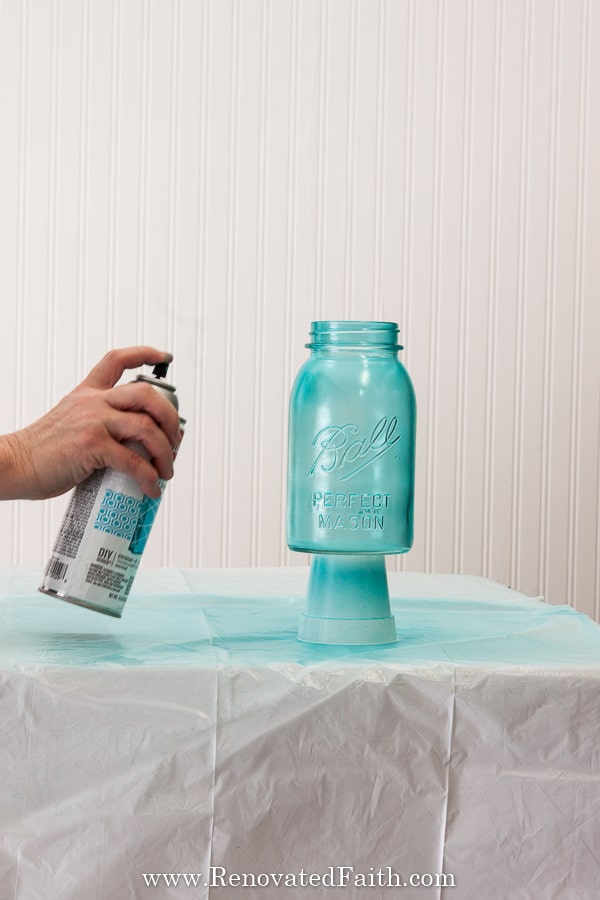 How do you fix drips in spray paint?
If you spray a little bit heavy in one area and it looks runny, take a small art paint brush and immediately smooth out the drip. If there are any little brush strokes from the paint brush, your next coat of spray paint will smooth them out. Also, be sure you are shaking the can enough before each coat. (Use a cheap art paint brush so you can just throw it away afterwards).
What if a bug flies in my spray paint?
It's happened more than once that a gnat will fly into my freshly painted surface. So frustrating! But don't worry, it's fixable!
If this happens, leave your new little friend on the surface and let that coat dry. Before painting on the next coat, knock the bug off of the dried surface with the edge of a piece of paper. Continue with the rest of your coats. If you try to get the bug off before the paint is dry, it will make a bigger mess in the finish… Ask me how I know!
Step 5: Let Your Spray-Painted Mason Jars Dry
Let your mason jars dry for a good 24 hours before using them or going onto your next step like mod podge or glitter. I usually let them dry to the touch and then bring them in the garage to dry the rest of the way. Don't forget about them and leave them in your yard over night so they are covered in dew the next morning – not that I've ever done that, of course. 😉
Here is my final mason jar after 5 coats of the stained glass spray paint. Most spray paints will take about 3 coats but this took more because it's a tint. See more specifics about the best tint spray paint to use below.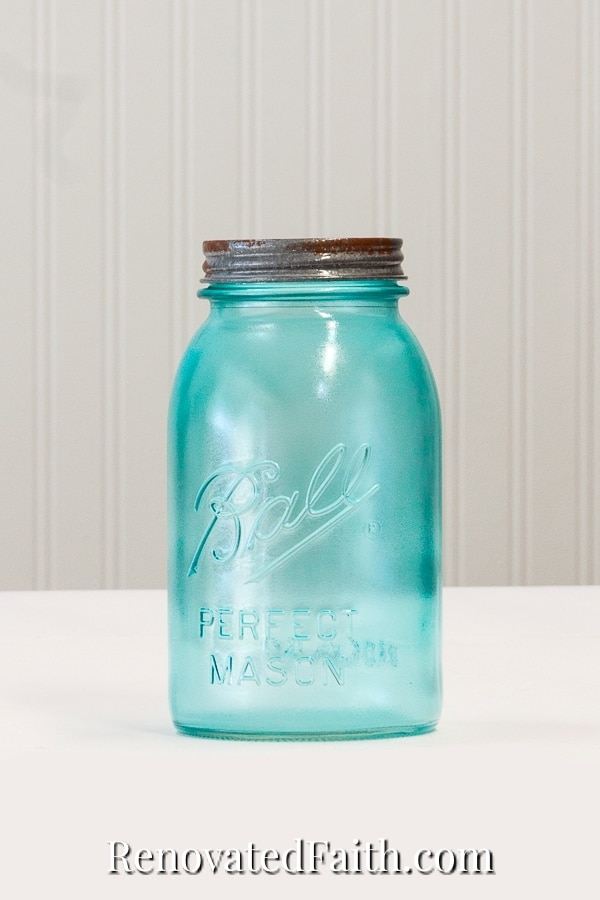 More Mason Jar Painting Ideas
Because apparently I don't know when to stop, I decided to show you several different options for painting mason jars including tinted, frosted, gold, sea glass and even how to add glitter. For each idea, you'll spray paint the jars the same way I mention above!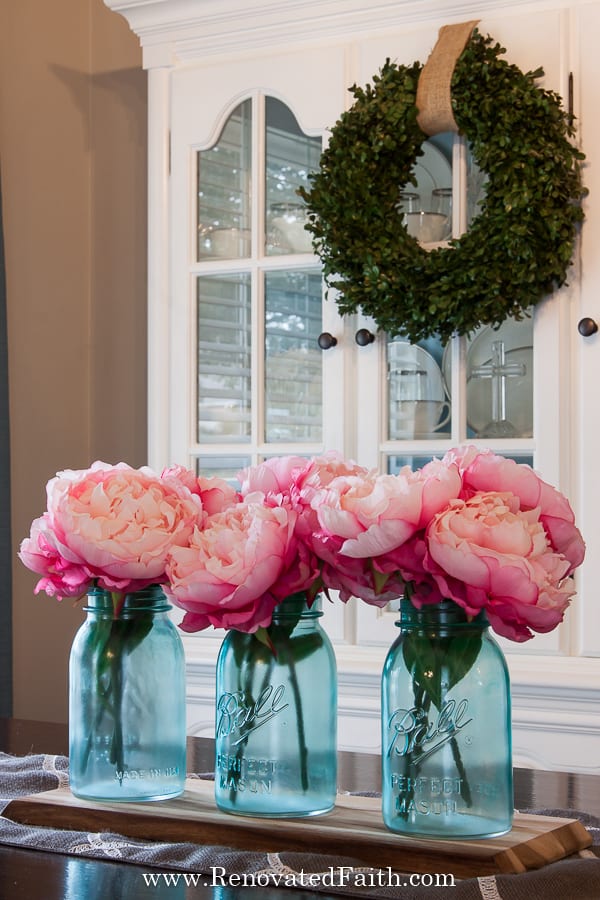 How to Paint Mason Jars Blue
If you want to get the look of those vintage blue mason jars, you have come to the right place! There are a few different ways to color mason jars blue, but I have found the easiest way which also tints them permanently!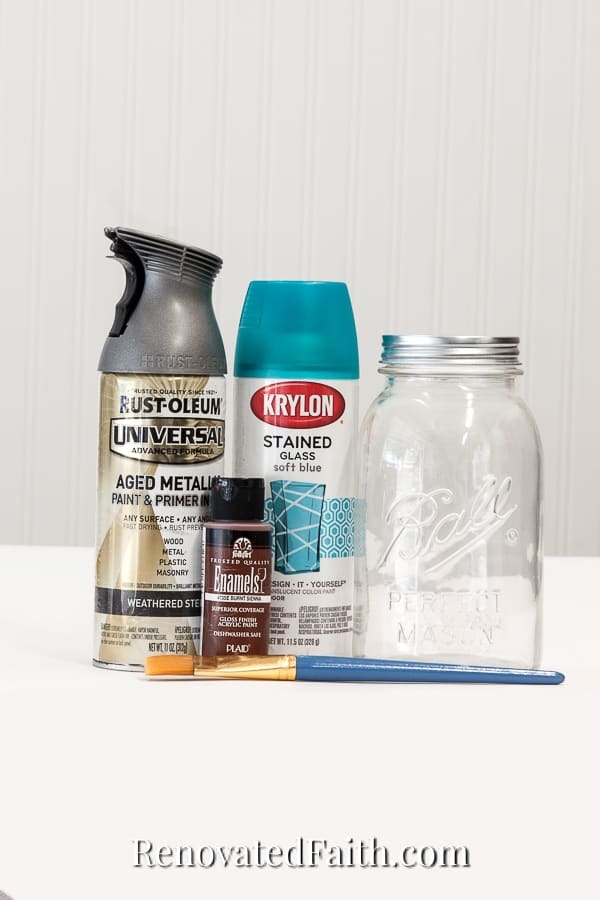 3 Ways to Paint Mason Jars Blue – Choose Wisely!
Painting Mason Jars with Elmer's Glue or Mod Podge – This is one common way to tint mason jars and glassware, but it is not an easy process and it's not permanent. It entails mixing large amounts of food coloring with Elmer's glue or ModgePodge and painting it on the jar. Then, you have to put the jars in the over under low heat. Next you repeat this process over and over until you get the depth of color you want. This process is messy, takes forever and the coloring on the mason jars is not very permanent.
Adding Colored Water to Mason Jars – One easy way to tint mason jars is to add water and food coloring. So, basically they look tinted because the water is colored. This is super easy but of course isn't permanent. Also, remember that 3rd grade science experiment where you colored flowers with food coloring? If you are using your mason jars as a vase, your fresh flowers will eventually turn blue from the food coloring in the water. No bueno!
The Easiest Way to Tint Mason Jars Blue – Fortunately there is an easy and permanent way to paint mason jars blue so they look gorgeous every stinkin' time!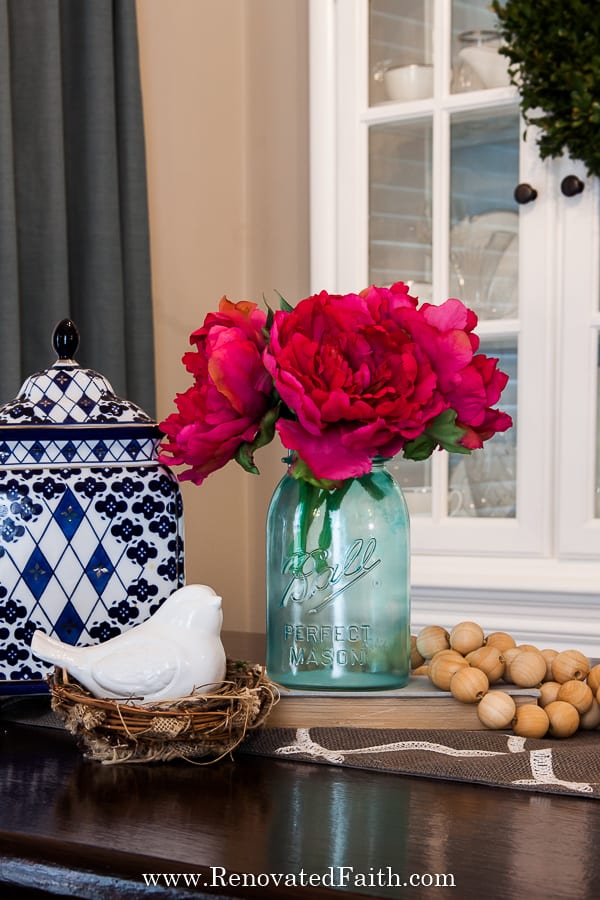 The Absolute Best Method for Tinting Mason Jars Blue
So how do you paint mason jars blue? The best method is with spray paint but not just any will work. This spray paint gives a clear even finish every single time: Blue Spray Tint for Mason Jars. (There is a very similar product on the market that gave me poor results every time so make sure you get this one!)
Just spray it on very lightly as I mention in the general process above. Here you can see how many coats it takes to get a specific shade of blue. See how to give the lids a vintage look below!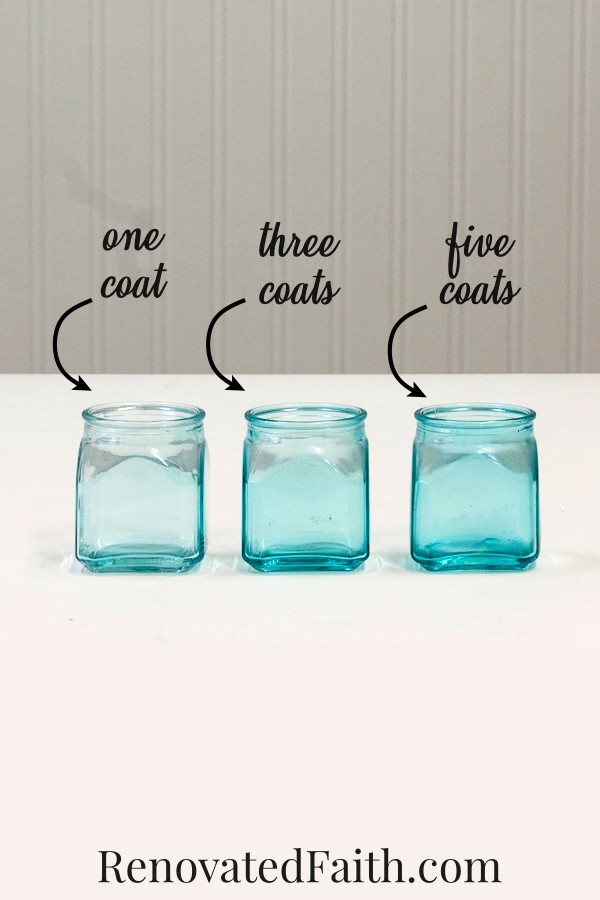 Best Spray Paint for Coloring Glass:
If you want green, yellow, purple or pink painted mason jars, you can use the other colors of this stained glass spray paint: Best Spray Tint for Mason Jars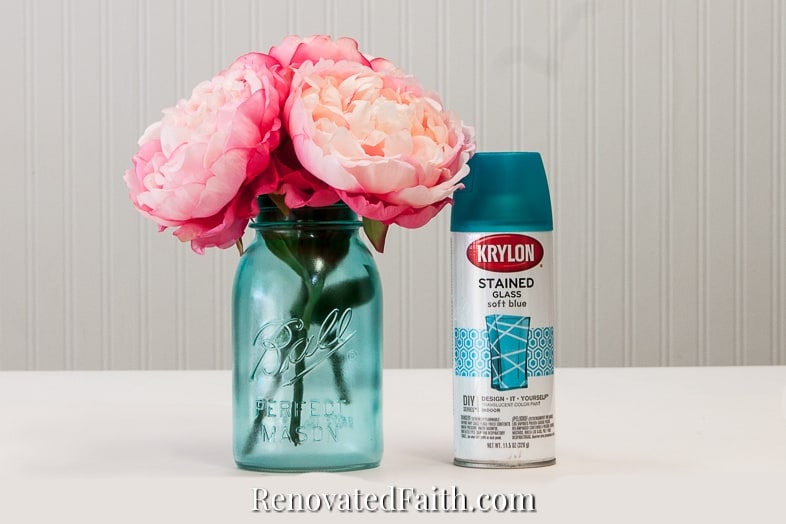 (Click here to check the current price on Krylon's Stained Glass Spray Paint)
How to Make Mason Jars Look Old (How to Paint Metal Mason Jar Lids)
To make your mason jars look even more rustic, you can paint the lids!
Spray paint the lids the same way you painted your mason jar with this spray paint: Rustoleum Weathered Steel Spray Paint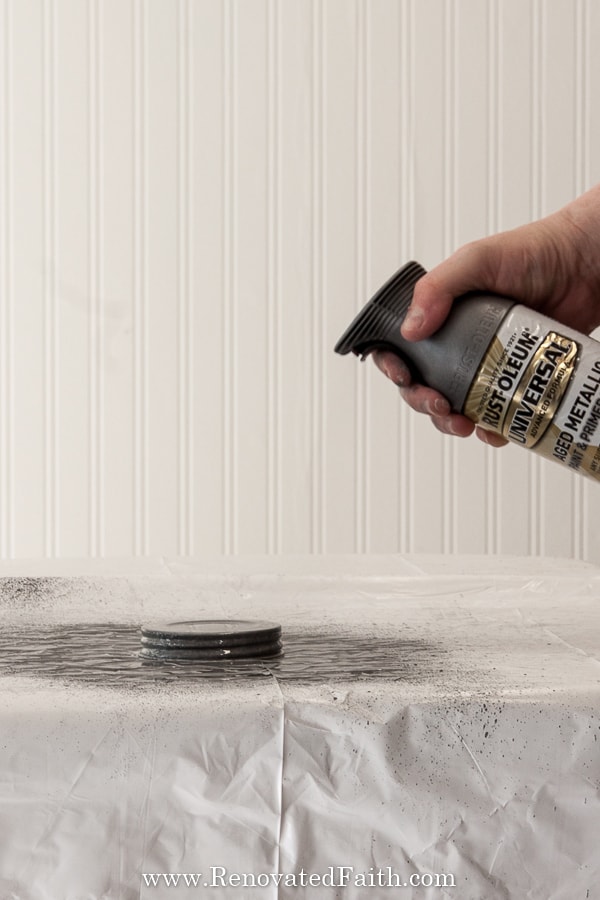 (Click here to see the current price on Rustoleum's Weathered Steel Spray Paint).
After the spray paint has dried 24 hours, you can dry brush your lids with a little acrylic paint to look like rust. To do this, I used this Burnt Sienna Acrylic Paint along the edges.
The trick to making it look realistic is to put some paint on your brush and then wipe all the excess off onto a paper plate. Then, dry brush the paint on the edges as I show you in the video. This is the same method I used to mimic rust on my Windmill Wall Art and it looks authentic every time.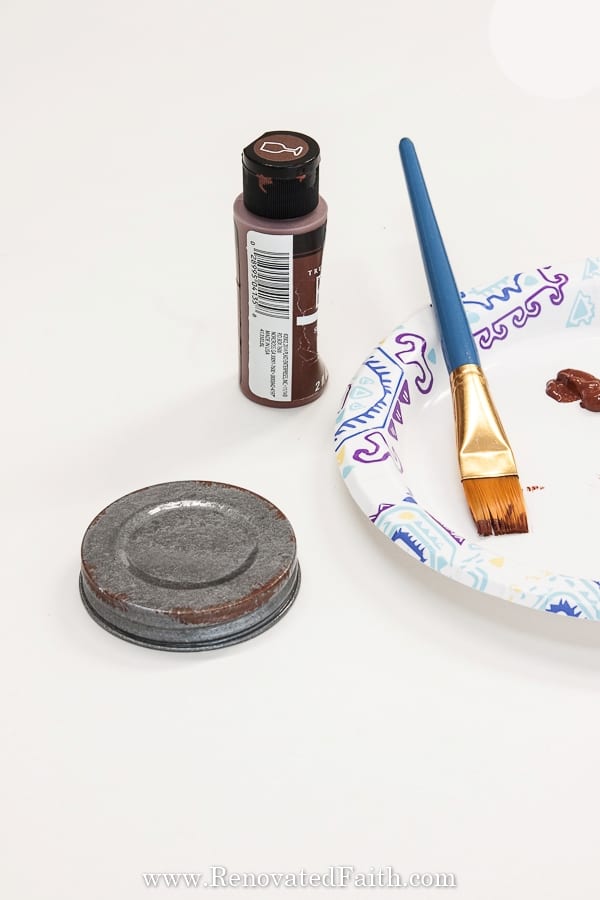 (Click here for the current price of rust-colored acrylic paint.)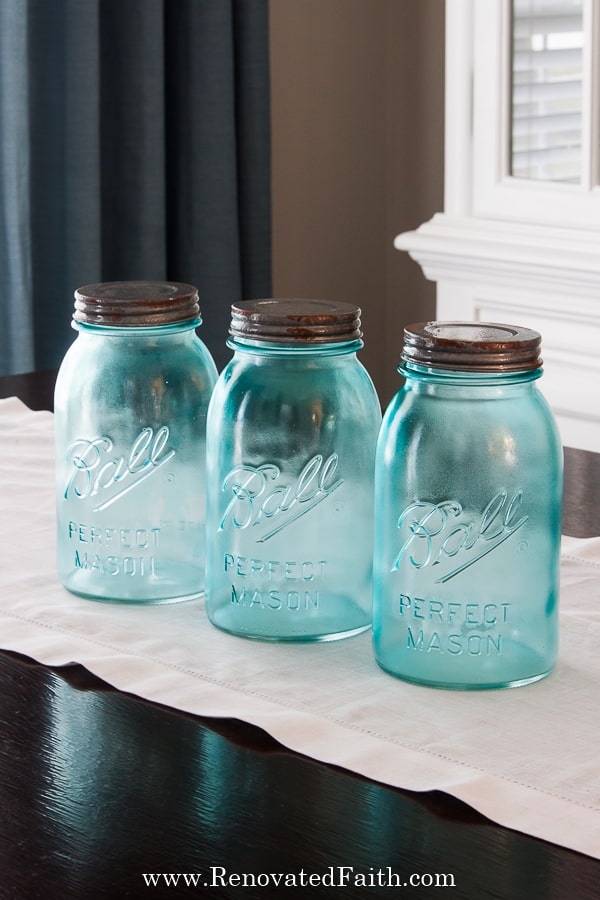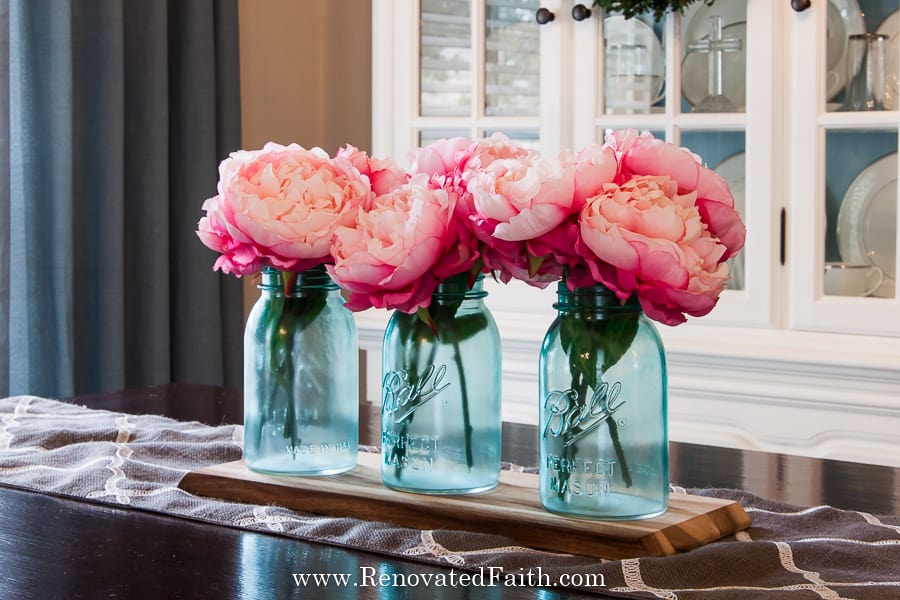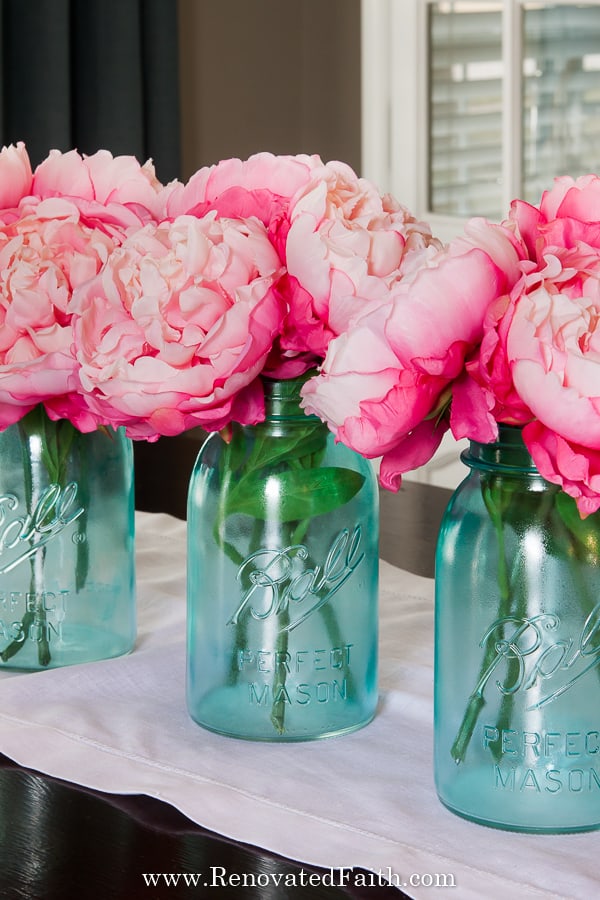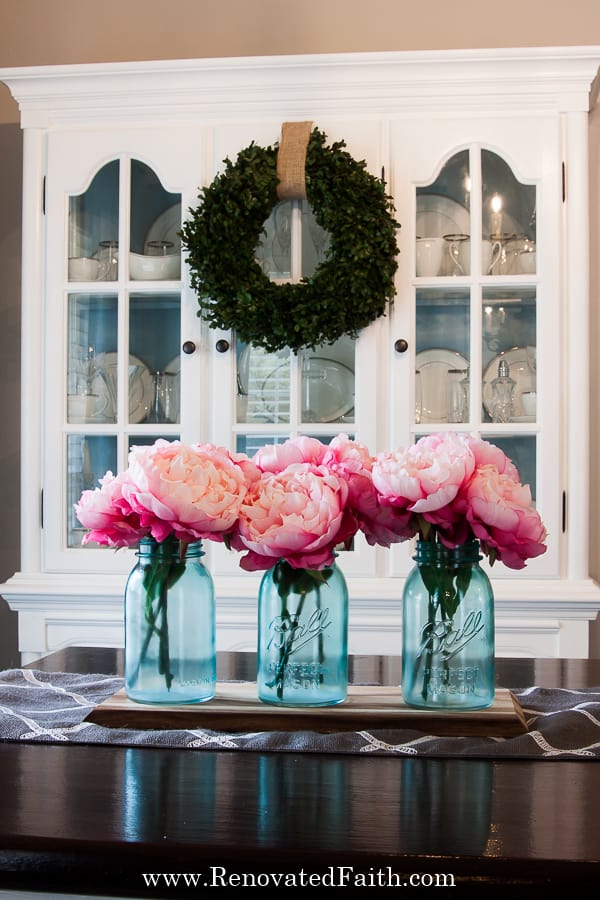 Chalk-Painted Mason Jars with Spray Paint
You can absolutely brush chalk paint onto mason jars. But you will have to use a matte clear coat as chalk paint is not very durable (See why I don't use chalk paint on furniture here).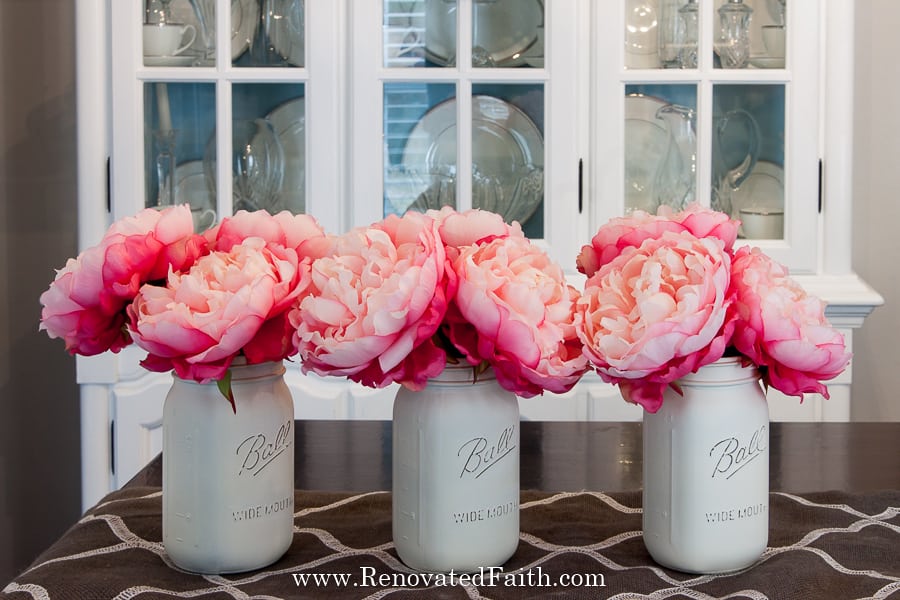 Another easier and more durable option is actually a spray chalk paint. It gives you the matte look of chalk paint but adhere's really well to the glass without brush strokes. Also, I don't really see a need for a matte clear coat as it is very durable. Plus, it's very sandable!
How to Paint and Distress Mason Jars with Chalk Paint
Use a good chalk spray paint on mason jars using the same general process I outline above. Again, use light coats until it is covered.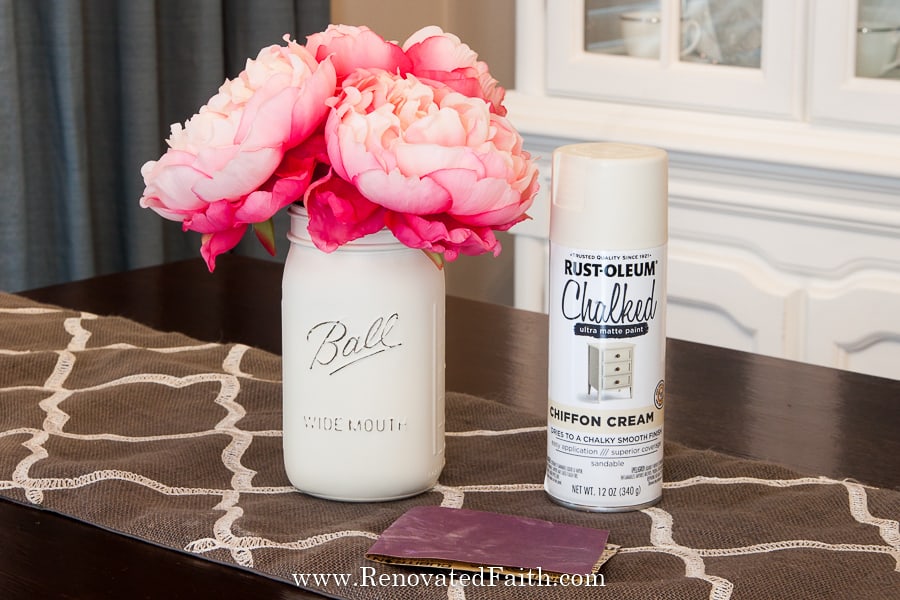 Best Chalk Spray Paint: Rustoleum Chalked Spray Paint (see the current price here)
This chalk spray paint comes in several chalk paint color options but if you don't see the color you want, use this spray paint : Matte Spray Paint with More Color Options. Rustoleum's Painter's Touch line in a flat sheen will look identical to chalk paint and give you more color options for spraying mason jars. I tested both and came out with the same results!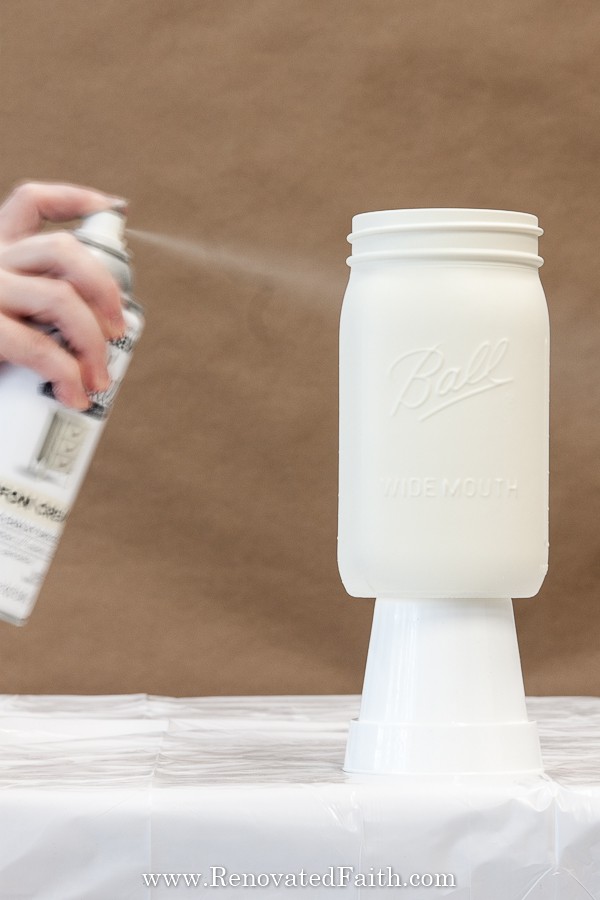 Both lines of spray paint I mention above distress really well! After your jar has dried 24 hours, use a sandpaper with a high number (fine grit) to distress your jar. I lightly sanded over the lettering of my chalk painted mason jars.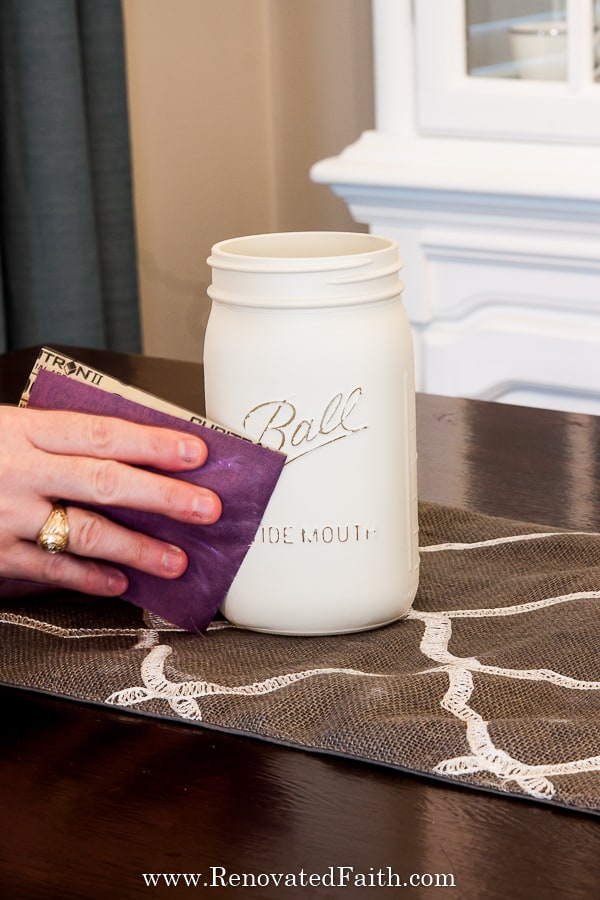 Should you clear coat distressed mason jars?
After sanding my mason jars, the spray paint seemed to be really durable and wasn't peeling where the jars were distressed. If you want to make sure the surface is extra durable, you can spray it with a matte clear coat(see the current price here) after sanding.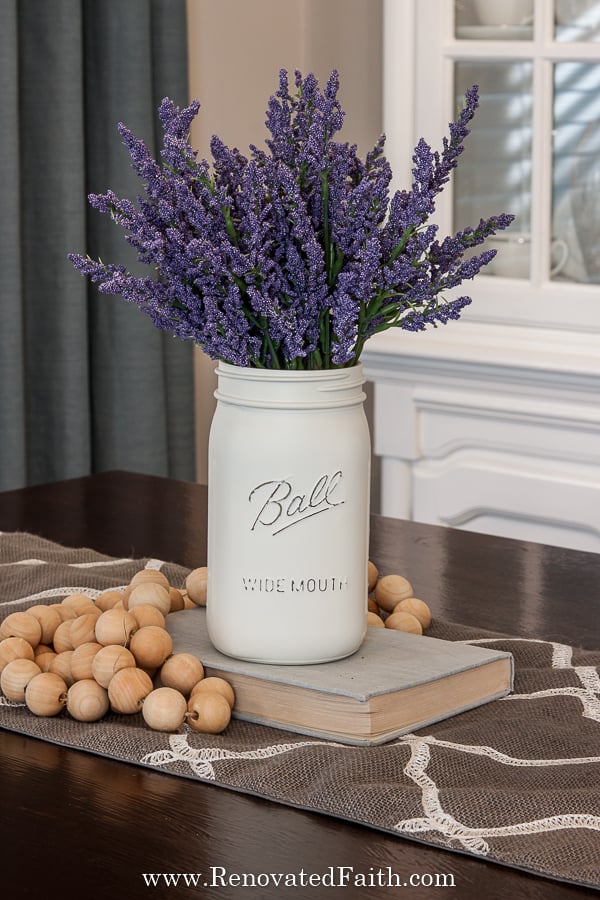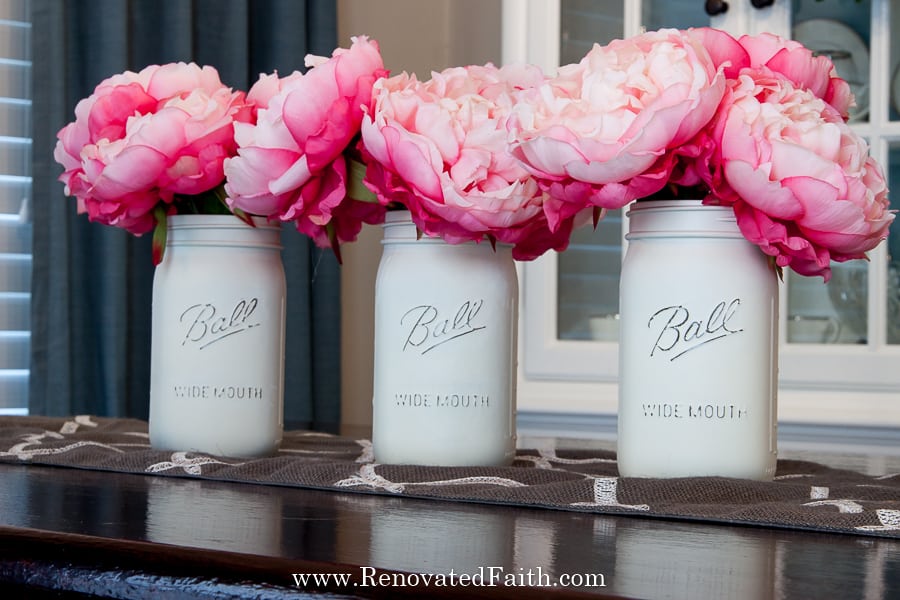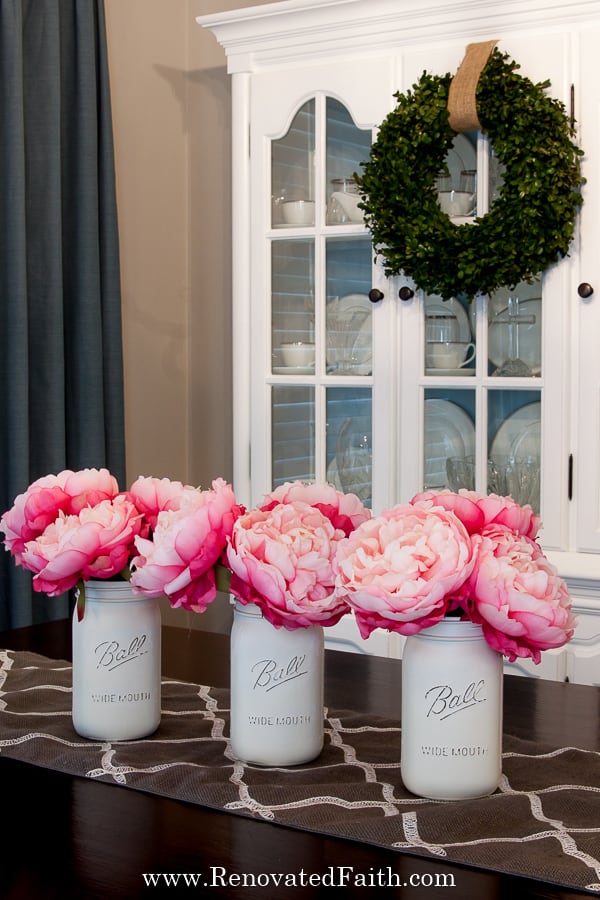 DIY Faux Milk Glass with White Spray Paint
To get the look of milk glass, you can use this spray paint: Rustoleum High Gloss. Just spray in light coats like I describe above in my instructions for spraying mason jars. Once you are done, let it dry for 24 hours. Now you have a budget-friendly vase that looks the same as vintage milk glass. (To get the look of hobnail glass, you can check out this tutorial here: Dollar Store DIY Hobnail Milk Glass )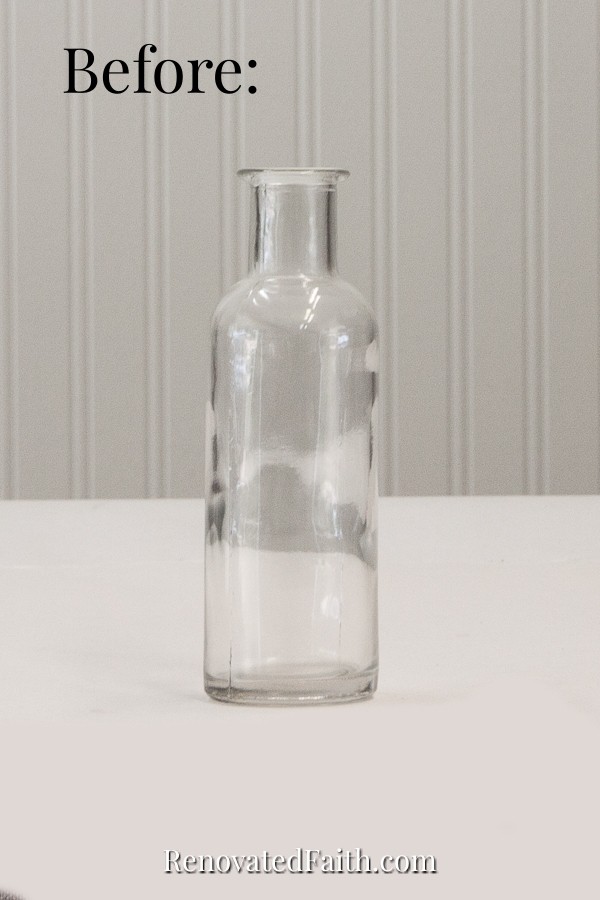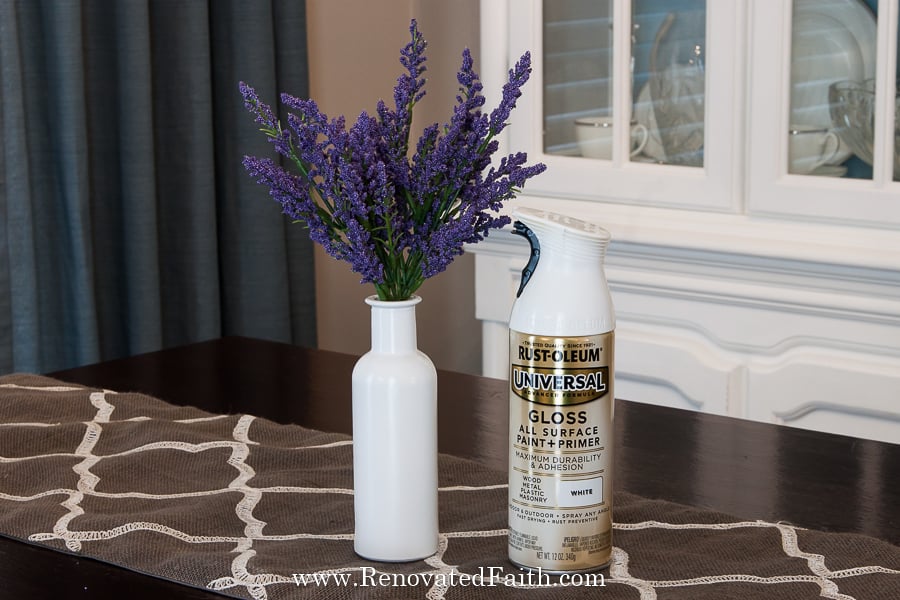 (Click here for the current price on the best Faux Milk Glass Spray Paint.)
You can also paint ceramic items to look like porcelein using the same spray paint. That's what I did with the birds below. Can you believe they used to be bright orange and green? It's amazing the difference a coat of paint can make!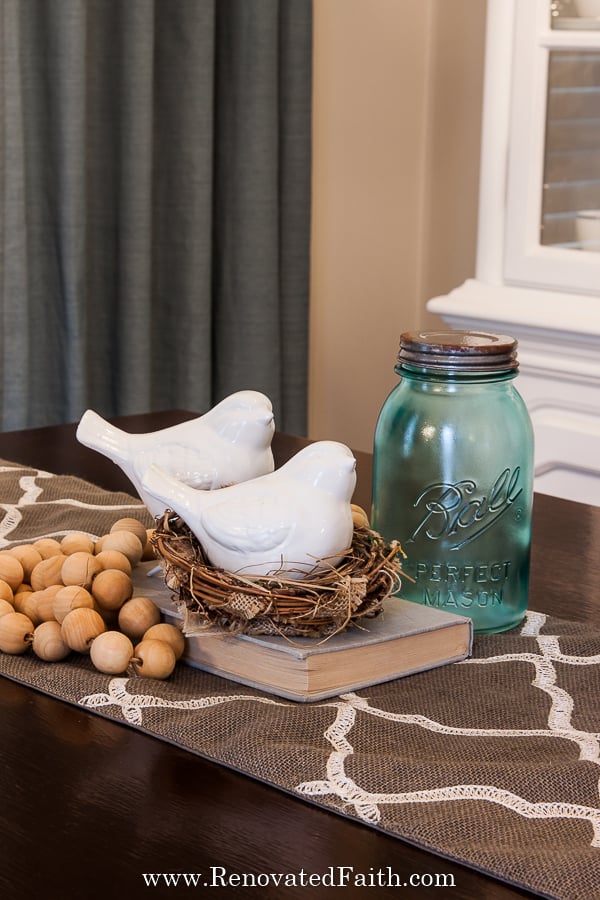 How to Spray Paint Mason Jars Gold
Spray painting mason jars is the best way to color them gold because you can get a consistent finish and it's also super easy. The gold I used below is this: Gold Spray Paint for Mason Jars.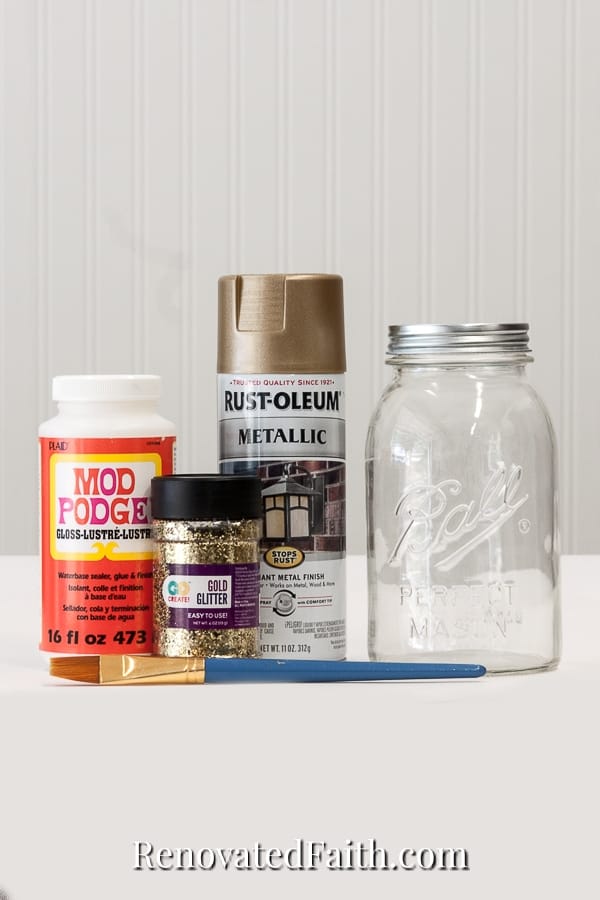 Just spray it on it light coats as I show you with the blue paint in the video. Gold mason jars are such a fun touch for weddings, baby showers or flower vases around the house.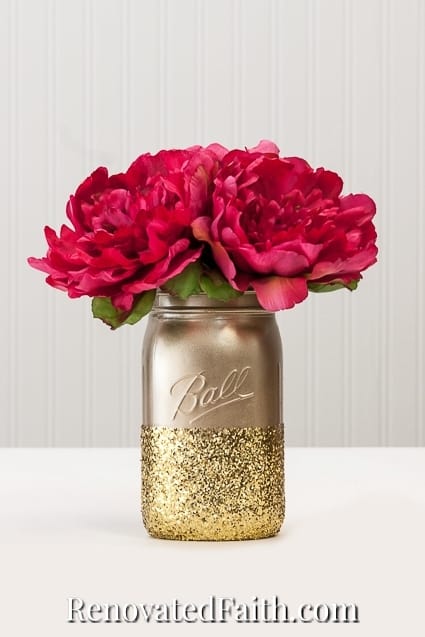 (Click here for the current price on the best gold spray paint for mason jars.)
How to Paint Stripes on Mason Jars
If you want to paint stripes on your mason jars with gold or any other paint color, simply add painter's tape (I like this brand) to the areas you want to be striped. Do this after wiping the jar down with alcohol. Do several light coats. About thirty minutes after the jar has dried, take off the painter's tape. That will give you an opportunity to do any touch ups before it completely dries. Let the jar dry completely for 24 hours.
How to Paint Mason Jars with Metallic Paint
You can also paint mason jars silver, copper or rose gold. My favorite line of metallic paints is Rustoleum Universal Metallics which you can find here: Best Metallic Spray Paint for Mason Jars
How to Glitter a Mason Jar
On the gold mason jar above, I also added some glitter! You can do this over some spray paint or just over the clear glass itself like the picture below.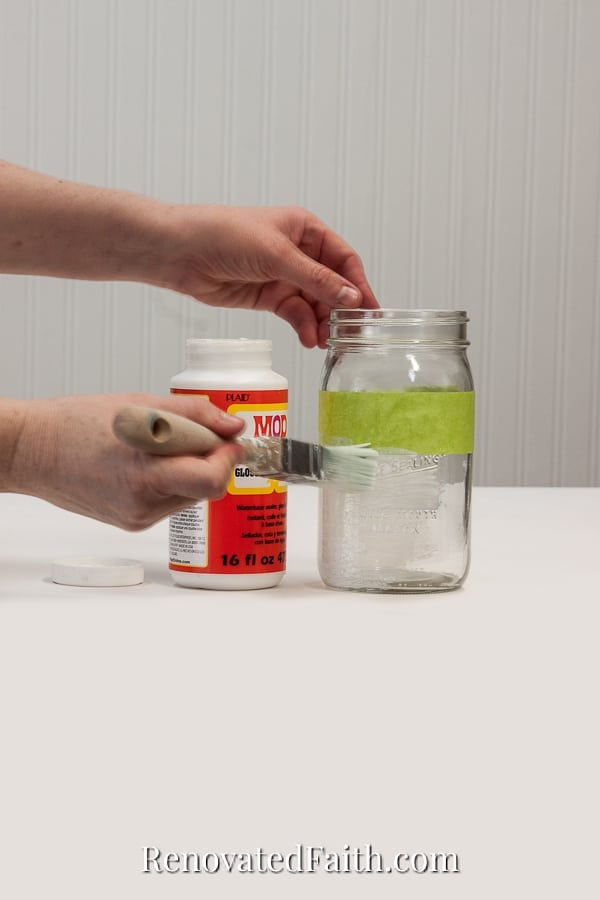 To glitter a mason jar, you will need mod podge (see the current price here), a brush and glitter. You can pick chunky glitter if you like the look of mine below!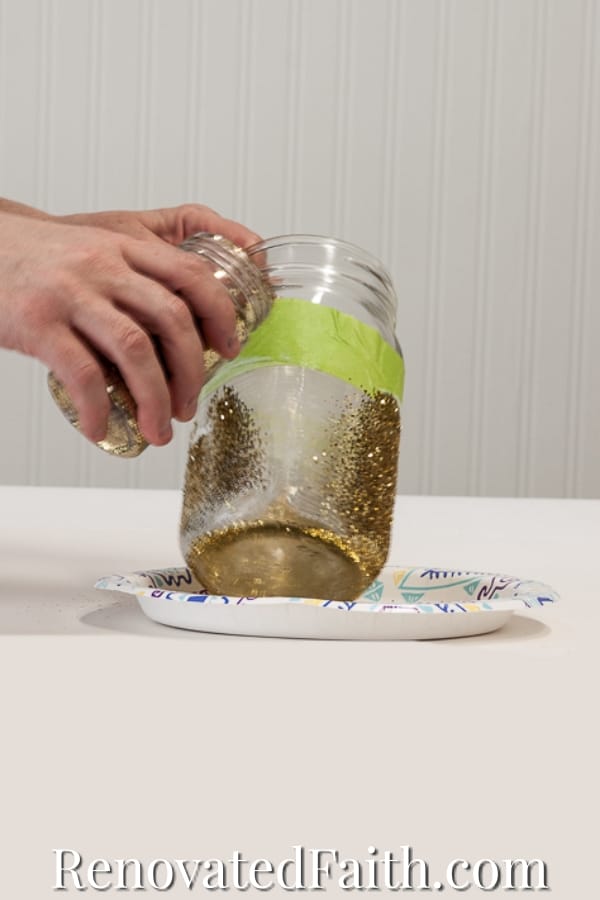 If you are putting glitter straight onto a clear jar, you can use painter's tape to help you make a line of where the mod podge and glitter will stop. After wrapping your painter's tape all the way around, just paint on the mod podge with a brush. After painting the mason jar with mod podge, shake the gold glitter on the mod podge until you can't see the glass. I strongly recommend you doing this over a plate and outside!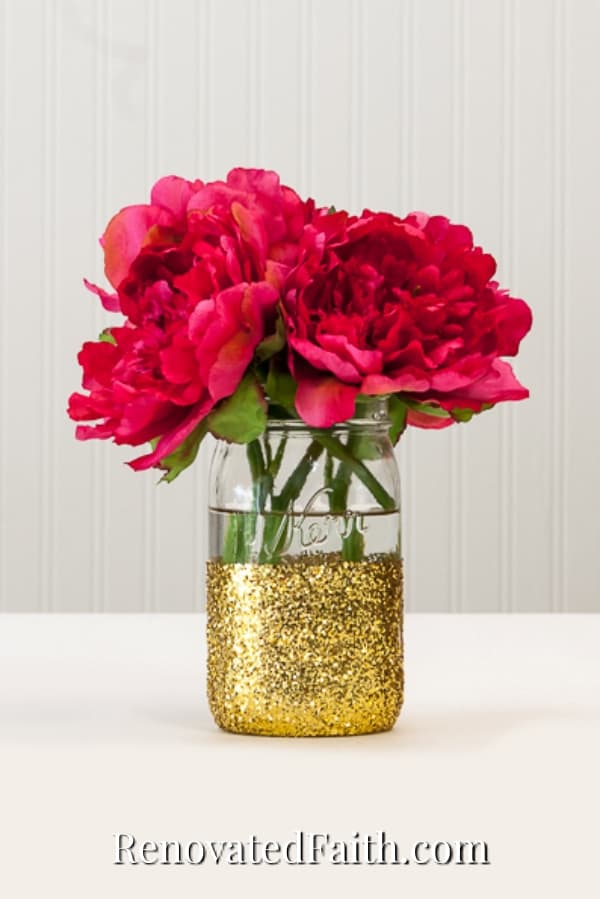 Let the jar dry for 24 hours and when it's done drying, brush a dry brush over the glitter to remove any excess before bringing it inside.
How to Paint Frosted Mason Jars
Many people will use elmer's glue to frost mason jars but I have a much better option: Rustoleum Frosted Glass Spray Paint. Just spray this on as I show you in the video in very light coats. It took three coats to get the amount of "frost" as the vase below.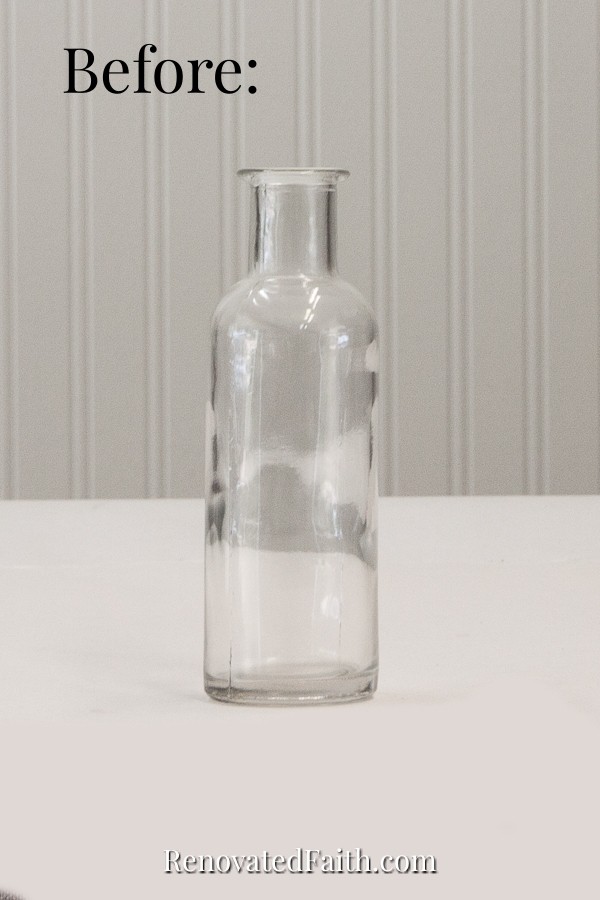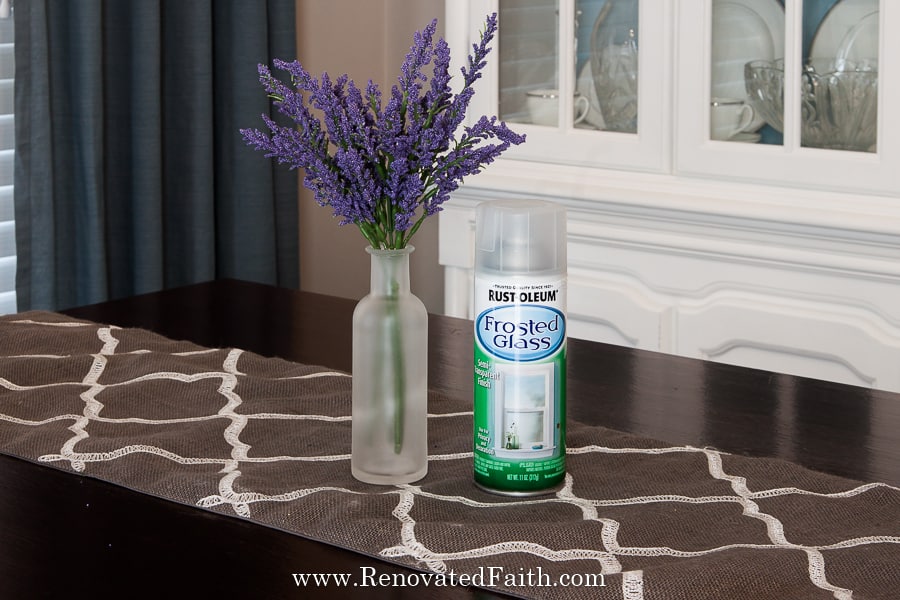 (Click here for the current price on Rustoleum's Frosted Glass Spray Paint.)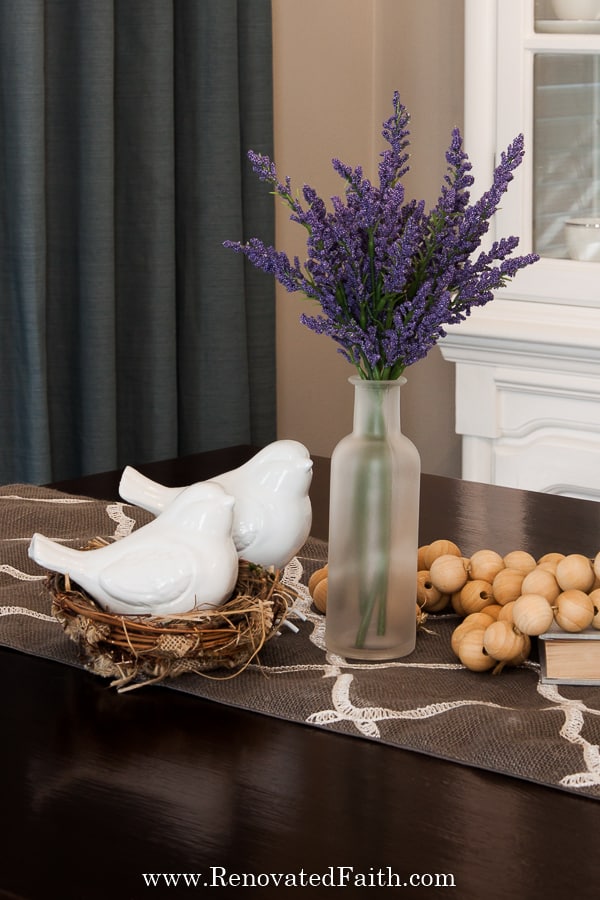 How Do You Make Mason Jars Look Like Sea Glass?
I tried a spray paint that was specifically created to spray on a sea glass effect. But after two cans, I had SO much trouble with the paint splattering that I decided it was not a good option for sea glass. (I even shook the can for two minutes straight.)
However, I found a fail-proof way to create sea-glass by combining a couple of the spray paints I used above. First, spray on the Stained Glass Spray Paint (See the current price here). Do not use the spray paint that says "Sea glass".
After spraying on the stained glass spray paint, then use a coat or two of the Frosted Glass Spray Paint (See the current price here) to give it an opaque effect.
For the shade of green as the vase below, I sprayed on two coats of the green stained glass (not sea glass) spray paint and then one coat of the frosted glass spray paint.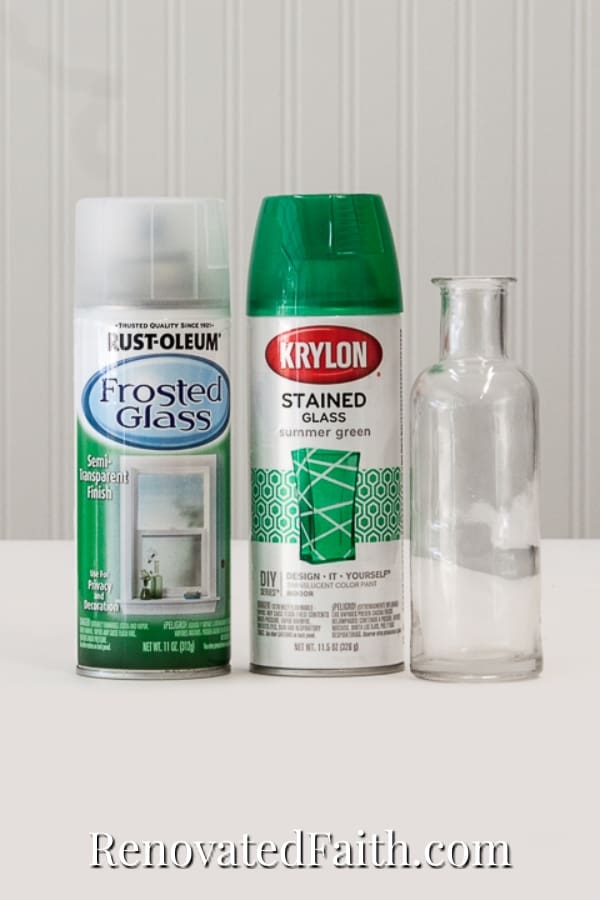 Green Stained Glass Spray Paint | Frosted Glass Spray Paint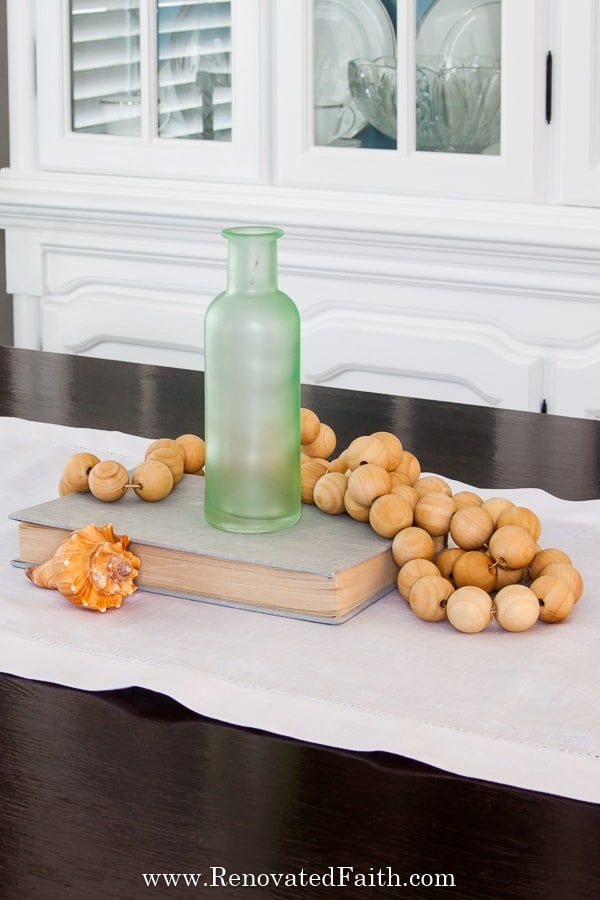 How to Paint Mason Jars for Candles
To get the shade of the blue candle holder, I sprayed on three coats of the blue stained glass (not sea glass) spray paint and then one coat of frosted glass spray paint. Then, I just tied on some jute twine, added a candle and now it's a super cute sea glass candle holder!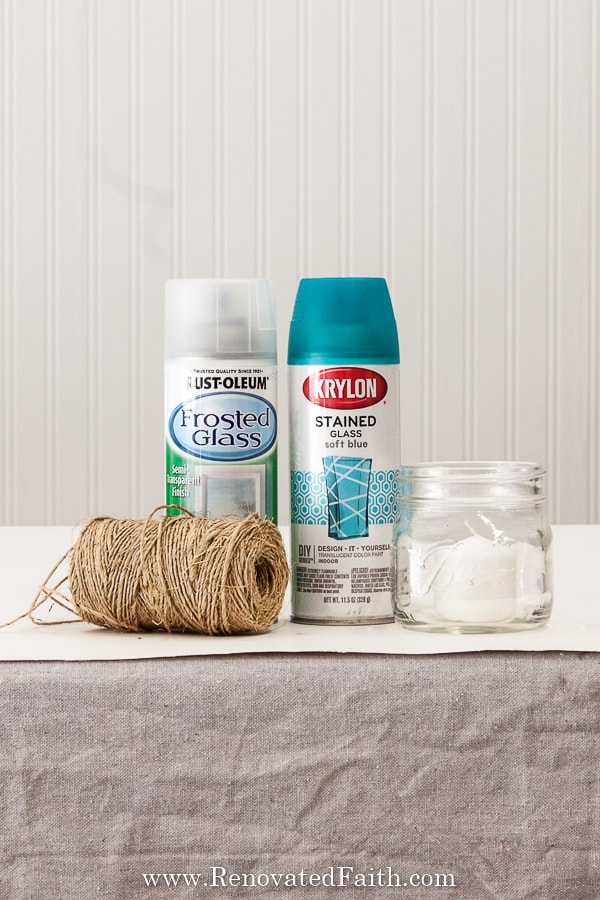 Blue Stained Glass Spray Paint | Frosted Glass Spray Paint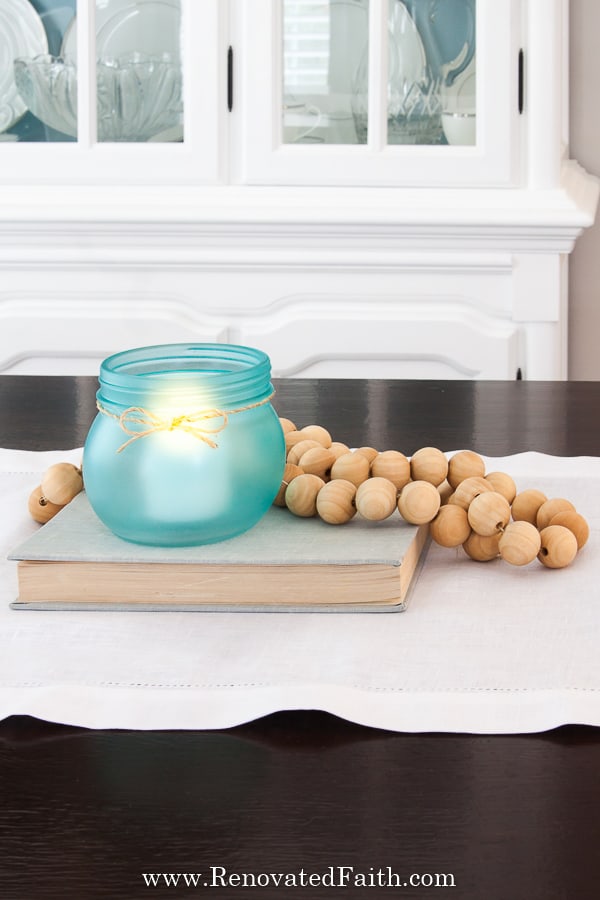 DON'T FORGET TO TAKE A PICTURE!
Now that you are done, I'd love to see how it turned out! ❤️ Post your before and after photos here!
RENOVATE YOUR FAITH: The Pitfall of Perfectionism
As a perfectionist in recovery, I find that it's still easy to default to my old ways. As I took videos and photos of the mason jars in their various colors, it was difficult to not get wrapped up in getting the perfect shot. Before I knew it I was retaking video after video, because the first one wasn't 'just right'.
The "p" word still haunts me from time to time because too often I use the excuse that I want to do something with excellence. But hat reasoning only allows my perfectionist tendencies to have free reign in this brain of mine.
However, a friend pointed out to me lately that there is a BIG difference between doing something with perfection verses doing something with excellence. And the difference is in your focus.
With perfectionism, the focus is on yourself and how you are perceived. However, when someone is doing something with excellence, the focus should be on others and how to better serve them.
Whenever I test this theory, I am quick to find that I'm much more joyous when my focus is on serving others. I'm much less stressed when I focus on taking pictures with the intent to help readers understand the process as opposed to wanting perfect images for perfection's sake.
When my focus on His kingdom and His capacity to work through even me, my perfectionist tendencies lose their power to paralyze me with thoughts focused on my own performance.
Instead, I'm given the freedom to allow Him to work through me to serve and love others around me. I can allow even blog posts, photography and craft projects to each be life-giving acts of worship instead of a crippling appeal to my own selfish desires. And when I have the intention to serve God and others, the final product is always more beautiful.
Thank you God for giving us the freedom to serve you and others through the gifts you give us.
"But seek first his kingdom and his righteousness, and all these things will be given to you as well." Matt. 6:33
For more spiritual encouragement, click here for the rest of my Renovate Your Faith Posts.

FAQ: How to Spray Paint Mason Jars
How do you Paint Mason Jars without Streaks or Drips?
When painting mason jars you might be tempted to get full coverage with the first coat of spray paint, but this is a recipe for lots of drips and streaks on your glassware.
Instead, do very light coats, with a 15 minutes dry time in between. This will ensure that you get light even coats for a beautiful finish on your mason jars or glasswear. If a drip does form as your are spray painting, quickly brush it off with a small paint brush. Any brush strokes will be minimized on the next coat of spray paint.
Do You Need to Prime Mason Jars Before Painting?
All of the spray paints I have listed above have a primer already included with the paint. Before painting, I recommend wiping the glass down with rubbing alcohol as this removes any dirt or oils that might prevent the paint from sticking to the surface.
Can You Put Water in Painted Mason Jars?
Because we are spray painting on the outside of the mason jars, you can put water in these for vases or floating candle holders! However, I would not use them to drink out of for obvious reasons.
How to Paint Mason Jars Glossy
Some people will add paint to the inside of mason jars so the outside of the glass still looks glossy. This same look is really easy to achieve by adding a gloss clear coat to your painted mason jar.
You can add it within 4 hours of your last coat of paint. If you don't, be sure to wait 24 hours before adding the clear coat. My favorite glossy clear coat for mason jars is this one: Rustoleum American Accents in Clear Gloss
How to Remove Spray Paint Off Mason Jars
To touch up mason jars, use a q-tip and a couple drops of Peppermint Essential Oil (I like this kind for removing paint) and it will come right off. I also use this same brand to remove spray paint off my hands.
How to Paint Mason Jars for a Baby Shower
You can tint mason jars pink using this Cranberry Red Stained Glass Spray Paint (see the current price here). Just use one coat to get a pinker color in the same way I show you in the video. You can also tint them blue or add glitter for a fun and low-cost addition to your baby shower decor!
Should You Paint Inside or Outside of Mason Jars?
Some people prefer painting mason jars by pouring paint in the inside and brushing it around. This can get really messy and uses a lot of paint. Also, if you paint mason jars on the outside with spray paint, it is not only easier and faster, but the color will be permanent and water-proof.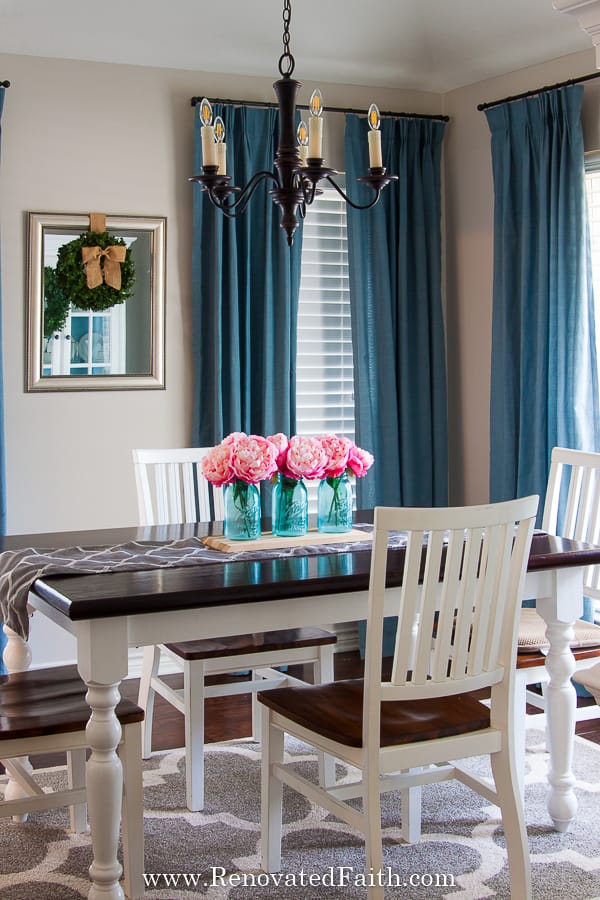 Mason Jar Décor Ideas
Here are some fun ideas for mason jars with spray paint. You can decorate them for almost any occasion or type of home decor including farmhouse, coastal or even industrial decor.
DON'T FORGET TO TAKE A PICTURE!
Now that you are done, I'd love to see how it turned out! ❤️ Post your before and after photos here!
More Posts Related to How to Paint a Mason Jar
How to Update Door Knobs with Spray Paint
A Beginner's Guide to Refinishing Furniture
DIY Farmhouse Windmill the Easy Way
Final Thoughts on How to Spray Paint Mason Jars
Whether you are chalk painting a mason jar for your bathroom shelves or glittering one for a baby shower, painting mason jars is an easy way to decorate on a budget. Now that you how how to spray paint mason jars, you have so many options and know the best spray paints to use without spending a lot!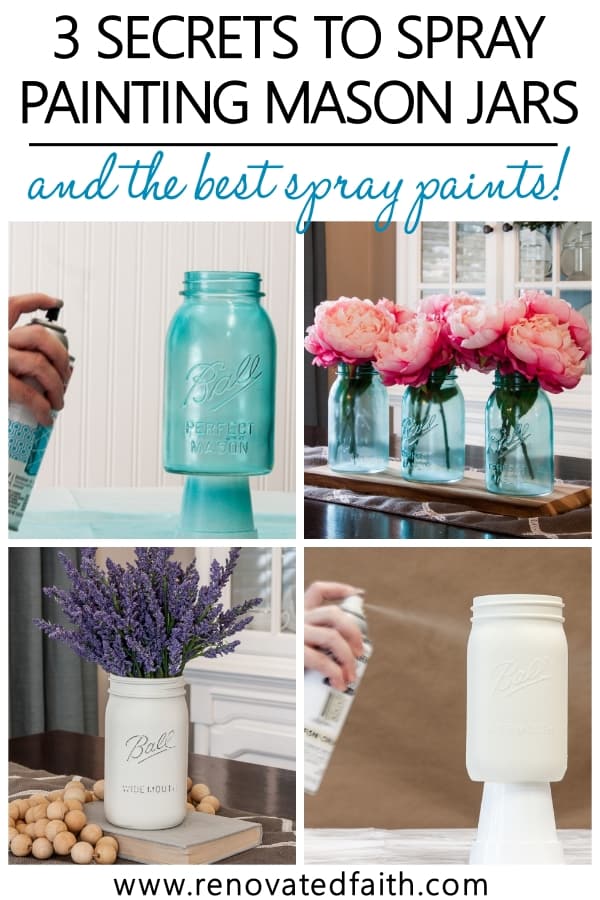 I love to hear your thoughts and questions! Scroll down to leave a comment and I WILL reply! ❤️
Blessings,

Be sure to follow the fun here!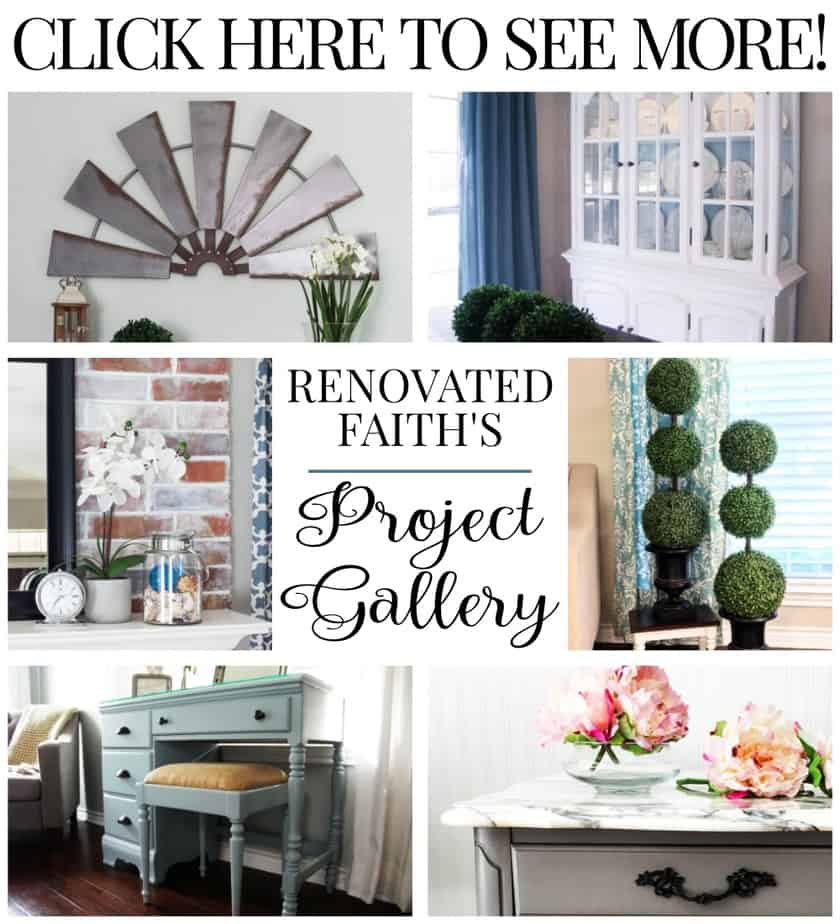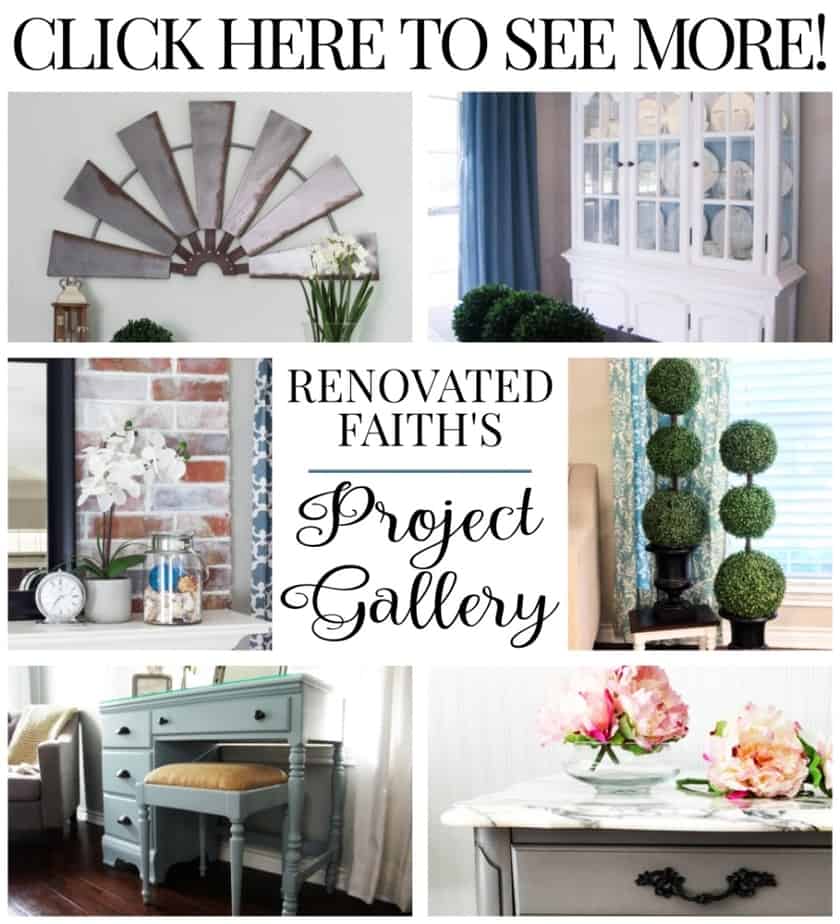 How to Paint a Mason Jar, YouTube Video
Ultimate Guide to Painting Mason Jars
Welcome to Renovated Faith, where I share about DIY projects, my faith and everything in between! When I'm not spending time with my family, you will find me redoing furniture in the garage or watering plants in my greenhouse. This blog is about transformation. Anyone can renovate a house but only God can transform our hearts!