How to Paint Furniture White (The Fastest Way!)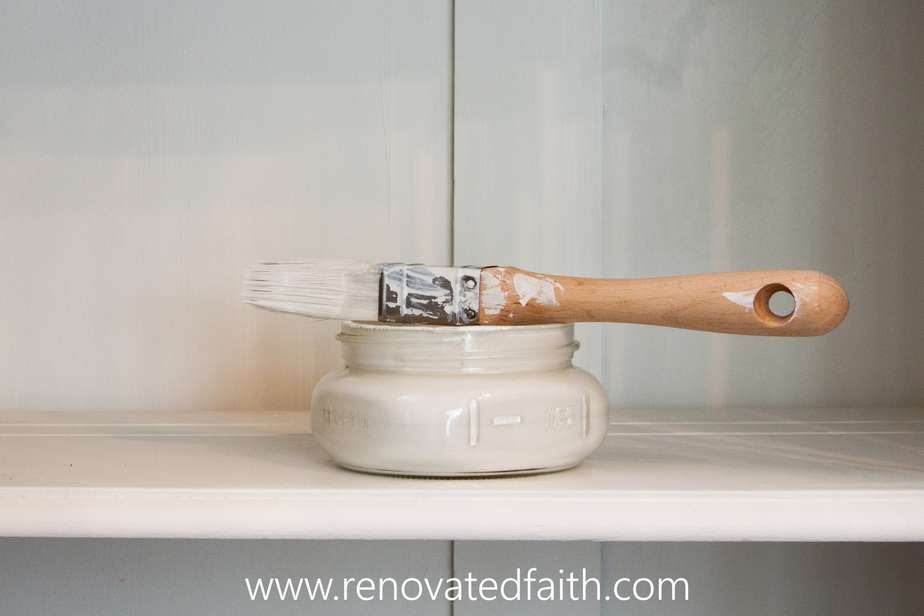 The Ultimate Guide to Painting Furniture White
White paint is so crisp and clean on furniture but it is the trickiest color to get right. This step-by-step tutorial shows you how to paint furniture white without brush strokes and with fewer coats.
---
One coat turned into four and four coats turned into ten. Before I knew it, I had painted thirteen coats of white paint onto the kitchen cabinets of our old house. After several days of painting hours on end, I could hardly move my wrist because it was so sore!
Needless to say, painting my kitchen cabinets in white was much more of an undertaking than I initially thought. Fortunately, after doing it the hard way, I have learned several important tips when it comes to painting wood white.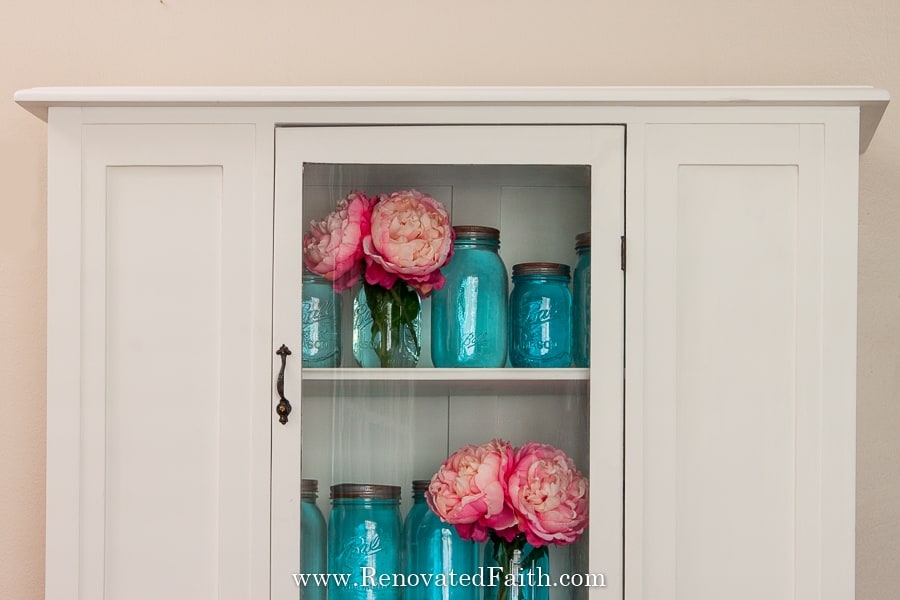 In this post, I'll show you how to paint your own furniture white with a step-by-step tutorial and video as I refinish my grandmother's china hutch – you won't believe the transformation! (You can also download my Furniture Painting Cheat Sheet by filling out the form at the bottom of this post!)
How Do You Paint Furniture White Without Brush Strokes?
White is so classic and clean but it is one of the toughest colors to get right when painting furniture.
But why is that? For one thing, white paint has very little pigmentation, so it doesn't cover nearly as well as other colors. Also, the fact that shadows show up more on white surfaces can make any irregularities or brush strokes really stand out.
Also, when you are on a budget, the cheapest paint isn't really the cheapest paint. Our low-cost choice of paint was as thin as milk…Skim, not 2%! Therefore, we had to spend a lot more on paint than we would have if we had bought higher-quality latex and didn't have to use as many cans.
Excessive coats meant more brush strokes. And 13 coats worth of brush strokes means an uneven, not-so-lovely surface.
Whether this is your first time painting furniture or you are an old pro, using the right paint is so important. Not only do I share my favorite brand of paint, but I also show you my pick for the best white paint for furniture.
Since practice makes perfect, I've learned lots of tricks along the way and the best products for painting wooden furniture white so you get a smooth finish the easy way!
LET ME SHOW YOU:
The best products to use when painting antique furniture white
Why you should use a roller instead of a brush for a smoother paint job
The best white paint for furniture
Tricks to minimize the number of coats and still get the perfect white finish
How to trust God with your future in this week's Renovate Your Faith devotional at the end of this post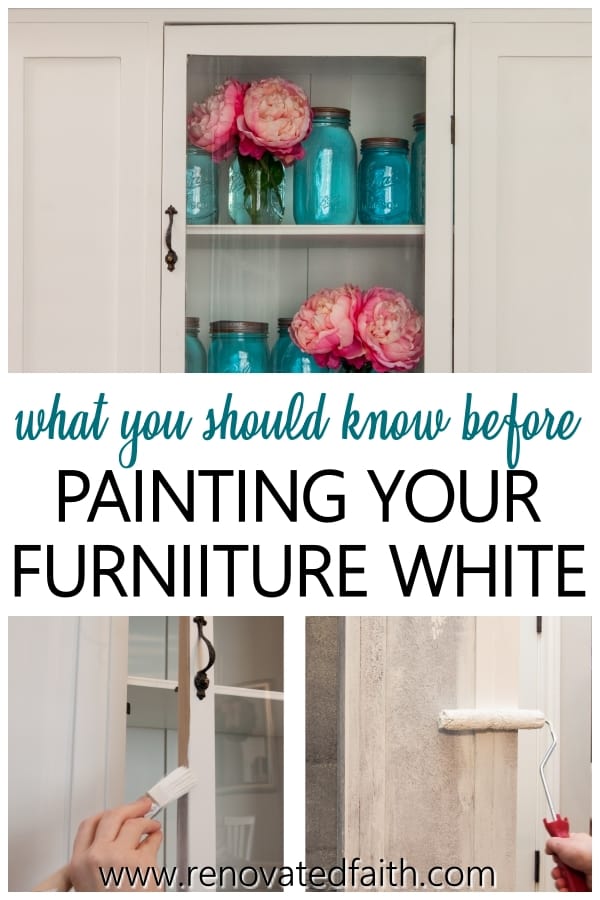 (As an Amazon affiliate I earn from qualifying purchases. I only use affiliate links on items I use and love. Please see my full disclosure HERE).
What is the Best Way to Paint Wooden Furniture White?
Multiple techniques can be used to paint furniture white but with every furniture painting project, I learn a new trick! As you will see with my china cabinet, you don't have to spend a lot of time or money to get a flawless paint finish on white furniture.
After lots of experimenting (Milk Paint vs. Chalk Paint vs. Latex), I prefer latex paint when painting furniture. Chalk paint is very popular and while it can adhere well to furniture, its smoothness and durability leave much to be desired.
This process includes the use of a coat of primer so that your finish adheres well, but then you have the flawless and durable finish that only latex can give you.
Because primer is replacing a coat of paint, you aren't adding an extra step and your finish will hold up better in the long run. Also, dark color stains tend to bleed through white paint easily, but the right primer helps you to avoid this problem altogether. Trust me, it's a win-win!
Some types of white paint will yellow over time, so I also share what brands of latex and clear coat will keep your white furniture white.
Although white is such a common color for furniture, it can be the hardest to get right if you don't know the best process and products to use! I show you all my secrets in this step-by-step guide and video tutorial below!
Therefore, the best way to paint furniture white is to lightly sand, primer with an oil-based primer, and paint with latex paint as opposed to chalk paint. (Why I Don't Use Chalk Paint On Furniture)
How to Paint Furniture White – Supplies Needed:
White Latex Paint – After I blind-tested and reviewed 24 furniture paints, I recommend Benjamin Moore Advance. You can see the full results for each paint brand here: The Absolute Best Paint for FurnitureYour local Benjamin Moore store has other brands of paint in their computers. Just tell them the name at the paint counter. Here are some great white paint ideas: Best White Paint Colors for Cabinets
Cover Stain Primer – This is an oil-based primer but is very low on fumes. See the current price here: Cover Stain Primer in White
Sander – I wouldn't redo a piece of furniture without a sander. You can read more in my post The Best Sanders for Furniture about why this one is my favorite and is so budget-friendly (see the current price here): Black and Decker Sander
Sanding Pads – These range from a finer grit like 220 grit sandpaper (higher numbers are finer) to a rougher grit like 60 (lower numbers are rougher). I like this assortment and it's low-priced also: Sanding Pads in Various Grits
4 Inch Foam Roller – UPDATE: Since writing this post, I have had better success getting a smooth finish with this 4 inch foam roller: My Favorite Paint Roller
Paint Brush – This set works well for me and is super low-cost: Presa Paint BrushesBut my all-time favorite brushes for furniture are these: Zibra Paint Brushes (I like this square brush for details).
Tack Cloths or Baby Wipes
Drop Cloths
Spray Primer (optional) – It will save you time if you have long, spindly legs like my hutch. I recommend this brand: Rustoleum Ultra Cover in Flat White
Wood Filler (optional) – If your project has any large holes or scratches, you want to use this wood filler: Wood Filler
White Caulk (optional) – Sometimes seams separate on old pieces of furniture and those gaps show up easily on white furniture. It is super easy to fill them with this caulk: Dap Caulk
Spray Paint for Hardware (optional) – I like to spray paint my hardware because it is cheaper and easier than buying new and I like this brand: Rustoleum Universal Metallics in Oil Rubbed Bronze
Felt Furniture Pads – Add these to the bottom of your furniture legs so they don't scratch the floor. See the current price here: Felt Pads for Furniture
FREE Furniture Painting Cheat Sheet – This free printable is available in my resource library. Get access to it and all my other free printables, templates, and wall art by filling out the form at the bottom of this post.
IMPORTANT: If furniture has any damage like deep scratches, gouges, gaps, or chipped drawers, check out this post for an easy fix: How to Fix Damaged Wood Furniture (The Ultimate Guide)
Step-By-Step Guide to Painting Furniture White
Here is a full step-by-step video showing the process from start to finish. You won't how my grandmother's stained china hutch turns out!
STEP 1: How to Paint Wood Furniture White – Prep Work
Stop! Before you do anything…the first step is to take a before pic. When you are done, post the before and after pics here, so I can see the amazing work you've done!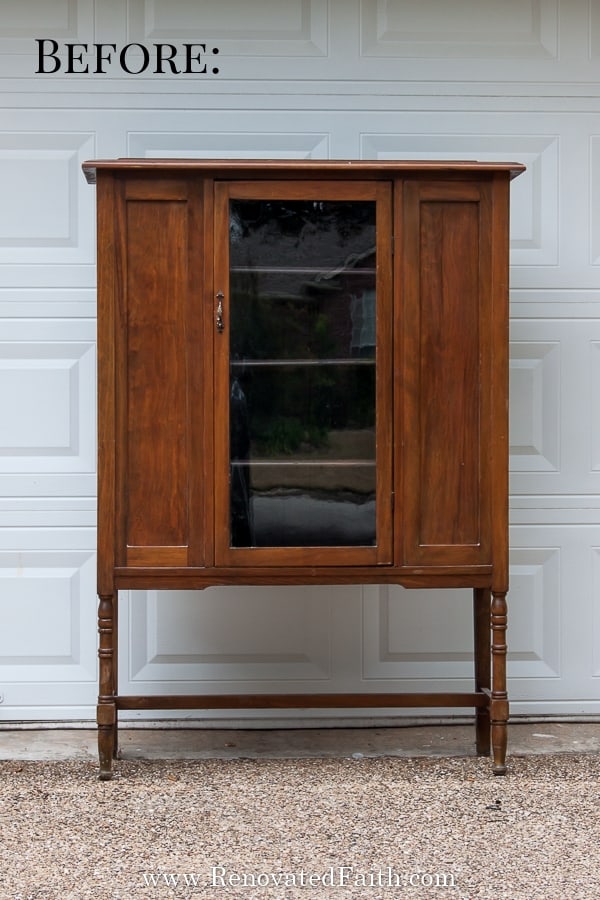 Prep work includes cleaning, a light sanding and priming. Old furniture pieces can collect lots of grease and dirt after years of use. At this point, it doesn't hurt to wipe down the piece with a damp cloth and some Simple Green or Krud Kutter to give it a good cleaning.
Related: How to Remove Musty Odors and Cigarette Smell From Old Furniture
If you need to fill any holes in your piece, do that now. I like this wood filler on furniture. Just add enough so that it is higher than the surface of the furniture. You can sand it level when you sand the piece as you see in the video above.
Take off any doors and hardware. Be sure to put the hardware in a baggie to keep it all together. If not, you might be looking for the world's tiniest screw under the world's heaviest washing machine. Ask me how I know!
First things first… You want to prep your furniture the correct way the first time so you don't have to completely redo your project later on.
Be sure to lightly sand your furniture piece with a rougher sanding pad (60-80). Remember you don't need to sand off the top layer. You are just taking the sheen off the surface so that the primer adheres well.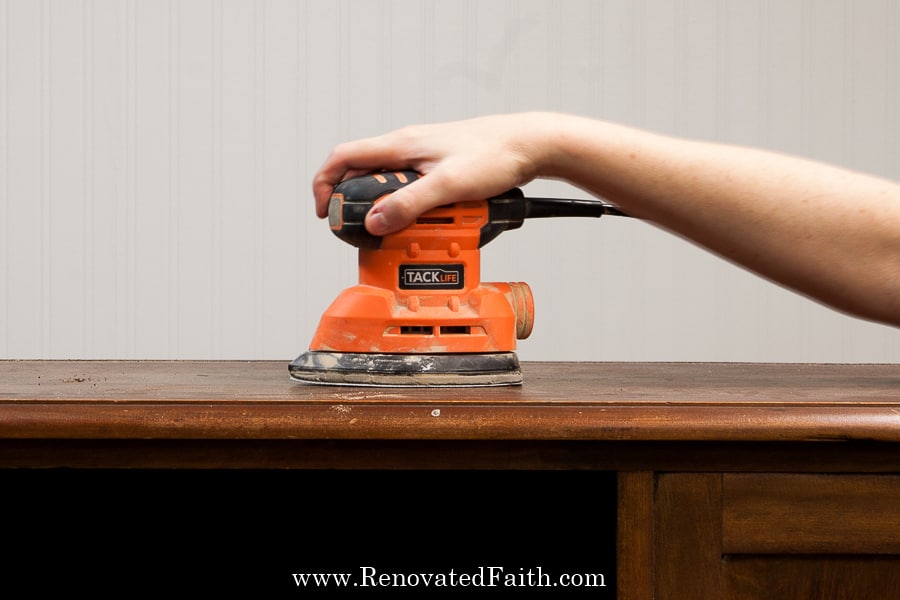 For sanding, I like to use this mouse sander and I have a complete tutorial on how to sand furniture here: How to Sand Furniture in 5 Minutes. I promise that it's super easy and if you know how to iron, you already know how to sand. Except I'll take sanding over ironing any day of the week and twice on Sunday! (You can also use an orbital sander if you have one one hand).
Sand over the surface of the piece lightly and then wipe off the dust with a damp rag or baby wipe. (Don't forget to download your FREE Furniture Painting Cheat Sheet by filling out the short form at the bottom of this post!)
Can You Paint Furniture White Without Sanding?
You can try painting furniture without sanding, but the only way you can be sure if it needs to be sanded is if your paint doesn't peel.
And by the time you get to that point in the project, it's too late. Then, you will have to do even more sanding to remove the peeling layer of paint before redoing the entire project. So, I always recommend sand over your furniture piece and you can see how to do that in less than 5 minutes here.
Renovated Faith: What's in a Name?
God never leaves a project half-done…He continually works on each one of us, as a lavish expression of His amazing love and grace. So many of my DIY projects remind me of how God renovates our hearts. If you are a work-in-progress, just like I am, check out the Renovate Your Faith Devotional at the bottom of this post. Click here to get a weekly reminder of new posts by email.
STEP 2: How to Paint Over Dark Stained Wood – Always Use Primer!
DON'T FORGET: If your project has curvy, spindle legs, I highly recommend using a spray primer on them. This is because brushing paint on curvy legs is very time-consuming and the paint drips really easily. With spray primer, it's fast and you can get a smooth professional finish in a fraction of the time.
Spray paint your legs first outside and then prime the rest of the piece with a foam roller. (Check out my spray painting cheat sheet here.)
What is the Best Primer for Painting Dark Furniture White?
There are good water-based primers on the market but the best primer for stained wood is an oil-based primer like Zinsser Cover Stain because it can seal out oil-based wood stains and most wood tannins from seeping through the base coat. Put on a thick coat of primer and after it dries, if you see any pink or reddish stains coming through then, add a second coat of primer. It's rare that this won't block out tannins but if it doesn't, use BIN Shellac Primer. BIN primer has a stronger odor but it will block out the existing finish from coming through the paint.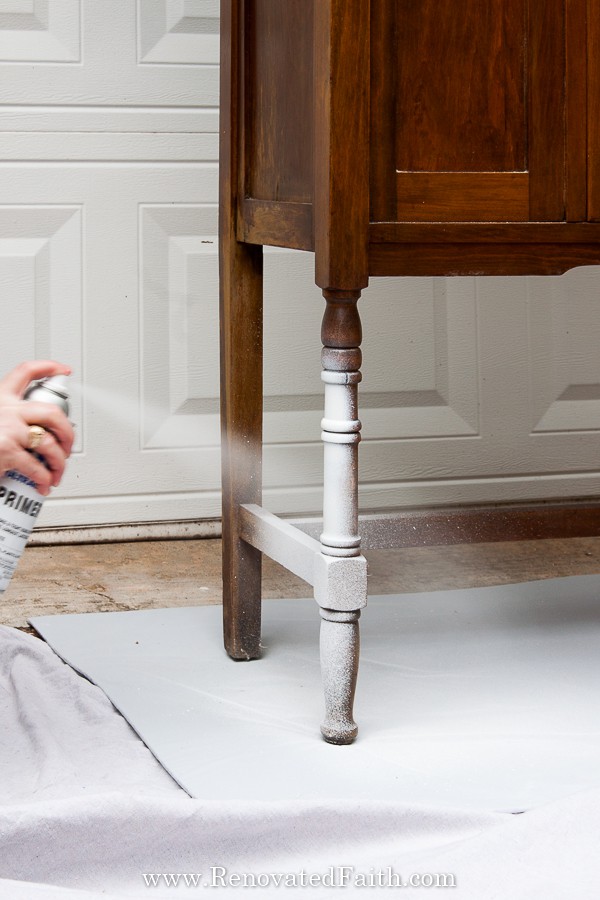 At this point, I also did some experimenting with how I was going to decorate the inside of the hutch. I LOVE the way it turns out!!!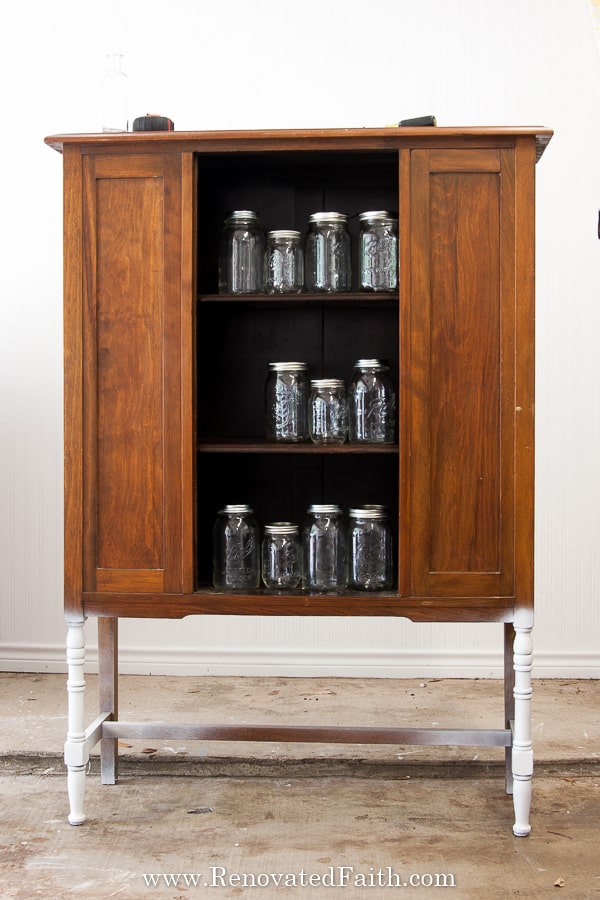 Primer is always important when painting furniture, especially when using white paint. For one thing, primer helps the paint to stick to your furniture's surface no matter what color you are painting with.
Also, I recommend an oil-based primer for white furniture because it will cover better than the water-based option. Also, this primer will prevent any bleed-through from stain. If you are painting a previously-painted furniture piece with knot holes bleeding through, use a shellac primer like BIN.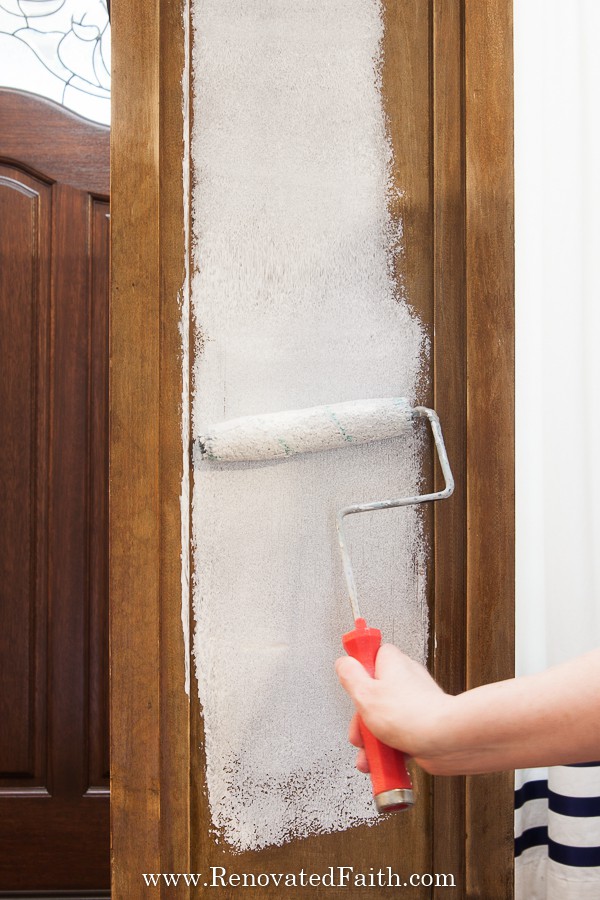 For furniture with glass doors, place index cards between the edge of the glass and the wood border. Then, secure them with painter's tape as I show you in the video.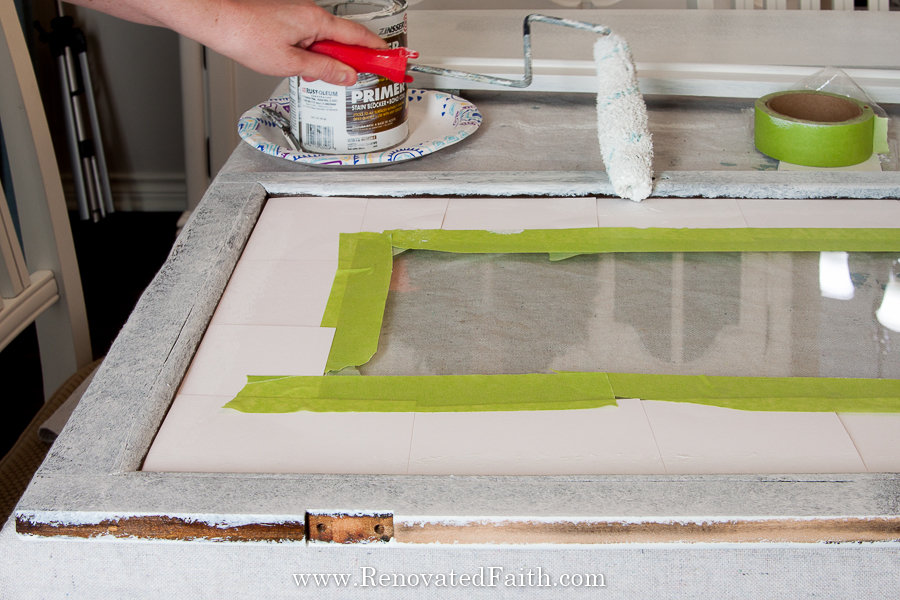 You can see how I do use the index cards to prevent paint bleed in detail here: Vintage Vanity Makeover
IMPORTANT – Leave the edges of the doors unpainted as you will paint these at the very end because the edges often get scratched when you reinstall them.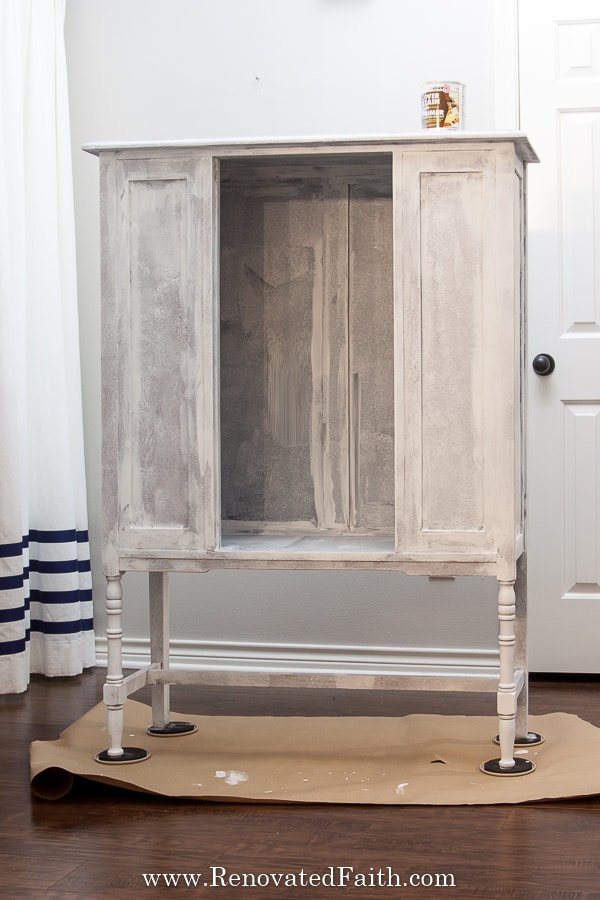 Is it Better to Paint Furniture with a Brush or a Roller?
I like to use this microfiber roller because it gives me a really smooth surface with primer and paint. It is also SO much easier because it gets more paint on the surface faster than a brush.
Because this is an oil-based primer, you can either throw away the roller cover after you use it or you can clean it with miracle spirits.
Just like in the video, roll on your primer so that you get a thick but smooth layer all over the surface of your piece. Since this primer is oil-based, I like to let it dry overnight.
PRO TIP: If you like the look of beadboard, you can add beadboard wallpaper onto the inside back of your project if it's a bookshelf, china cabinet, or media center. This will save you from having to prime/paint most of the inside while adding tons of character. You can see how here: How to Hang Beadboard Wallpaper on Furniture
☑️ MY ALL-TIME BEST FURNITURE PAINTING TIPS (FREE PRINTABLE)
Want to transform a piece of furniture but don't know where to begin?  Download the FREE step-by-step printable checklist that shows you the exact process I've used on dozens of furniture pieces while saving you time and money! And it costs you nothing. #confetti toss  Click here to access your checklist now: FREE Must-Have Painting Checklist
STEP 3: How to Paint Furniture White
Now that your primer is dried, it's time to apply your first coat of paint. Because this is white paint which has very little pigmentation, you are going to have to paint on a second coat. Fortunately, the paint we are using covers really well and the roller will prevent brush strokes. (Use your brush on any details the roller can't reach.)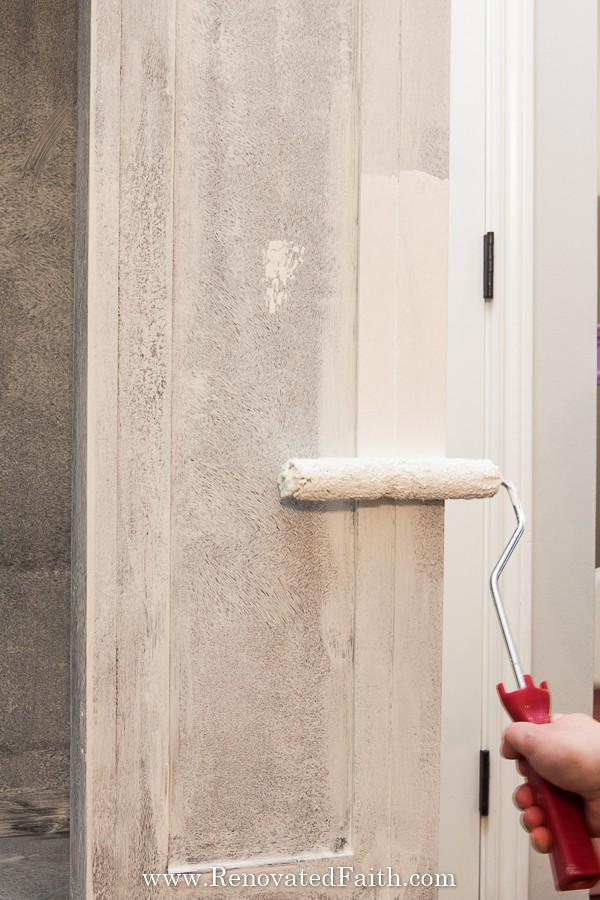 Paint on enough light coats of white paint (2-3) until you get almost complete coverage because we are going to do just one more coat in the next step. Let your paint dry at least two hours between coats
What is the Best White Paint for Furniture?
After testing over 24 brands of furniture, the top-performing latex paint was Benjamin Moore Advance. It is a water-based acrylic latex hybrid which means it has a lot of the leveling and durability features of oil-based paint without the mess and fumes. Time after time, I've had the best results with this brand and you won't believe how great it looks on the hutch when it's complete. To see the full results of my testing, click here: The Best White Paint for Wood Furniture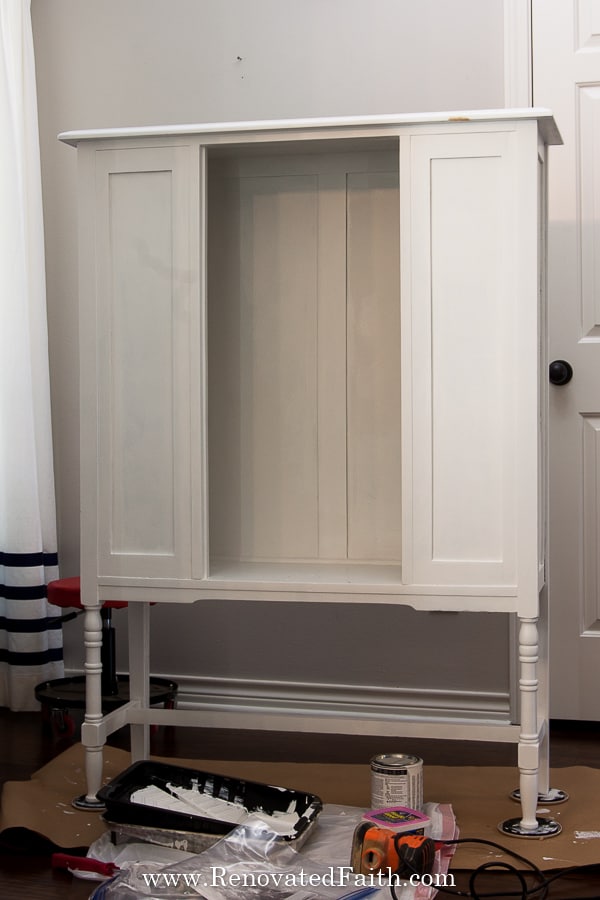 What is the Best White Paint for Furniture?
My favorite white paint for furniture is Benjamin Moore Advance, Satin Finish, color-matched to Sherwin Williams Pure White. It is not too stark but still white enough to be more of a white than a farmhouse-y (is that a word?) cream. You can't go wrong with this paint color on furniture or trim. It will never let you down!
STEP 4: Reinstall the Door and Sand One Last Time
If your furniture piece has any doors, be sure to re-install them at this point. "But Karin, I'm not done painting yet!" Yes, that's exactly the point, my friend!
While adding hinges and doors, I often scrape the edge of my door accidentally and get frustrated when I have to get out a brush and my can of paint again. By installing the door now, we can touch up any scratches in the paint at the end of the process.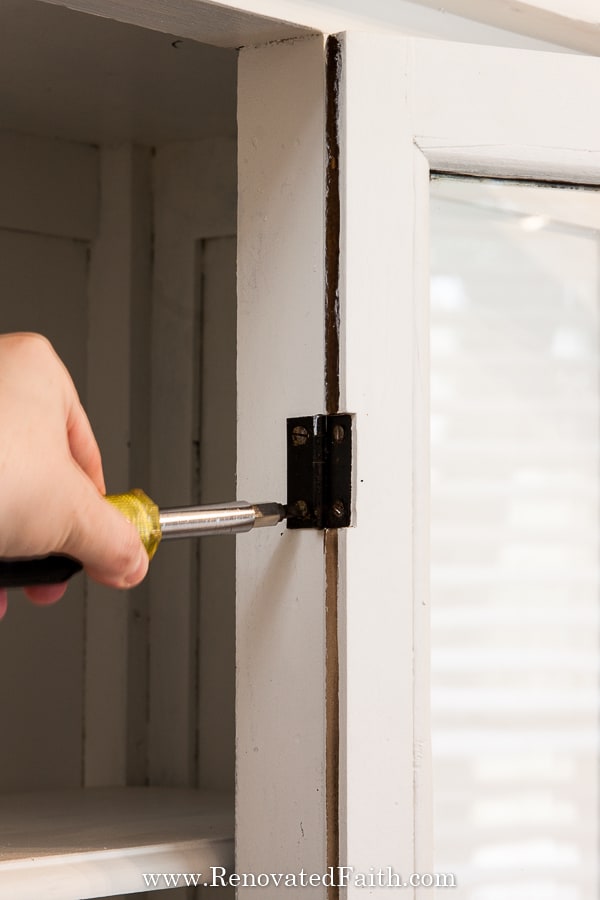 Also, the door on my grandmother's hutch was a little snug before painting. So, a couple of coats of paint made it so tight that it wasn't able to close well. This is often the case when painting furniture, not just because of the paint but over time, antiques warp and don't fit together the way they once did.
But, no worries! It's very fixable. I used my sander to sand the edge of the door so it closed without sticking. Just sand with a rough sanding pad (60-80), testing to see how the door closes as you go. In no time, the door closed perfectly thanks to my sander!
Now, you are going to put the finer sanding pad (180-240) on your sander and run your sander carefully over the entire piece. I know, I know – you're wondering why I'm having you sand this piece after you just spend all this time painting it.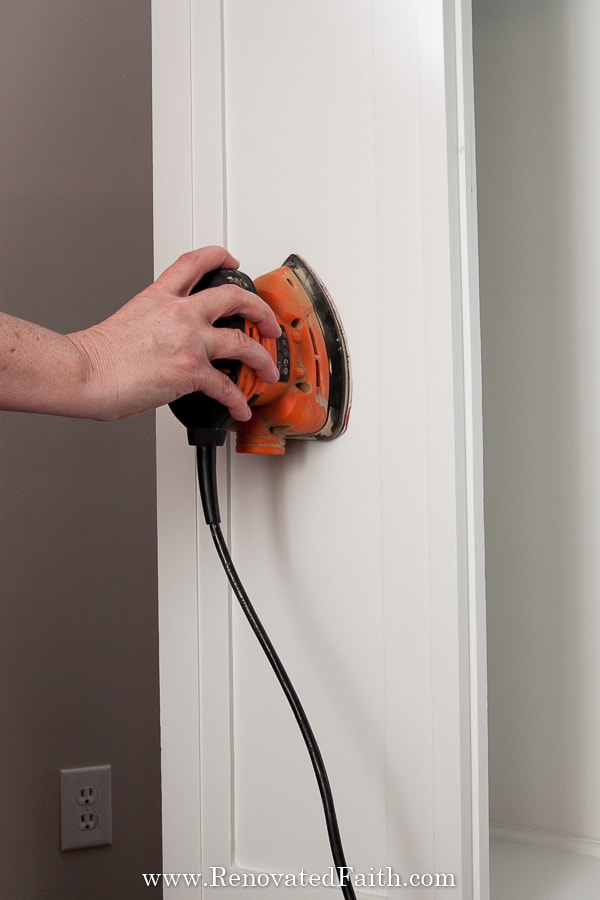 But this time, you are sanding even lighter than before is to smooth out the surface before you add one last coat of paint. This is an important step if you want a professional finish because it will remove any brush strokes and your entire piece will look fabulous!
Wipe down the furniture piece to remove any sanding dust.
STEP 5: How to Paint Furniture White without Brush Marks – The Final Coat
One way to ensure you don't have brush strokes in your final finish is to lightly sand the piece, as we did in the last step.
But before the final coat, we are going to add some Floetrol (or Flood) to the paint for the last coat. This product reduces does a beautiful job of smoothing out the final coat.
Follow the instructions on the bottle and mix that amount with your paint in a separate container. (For more tips on painting furniture, check out my Furniture Painting Cheat Sheet by clicking here)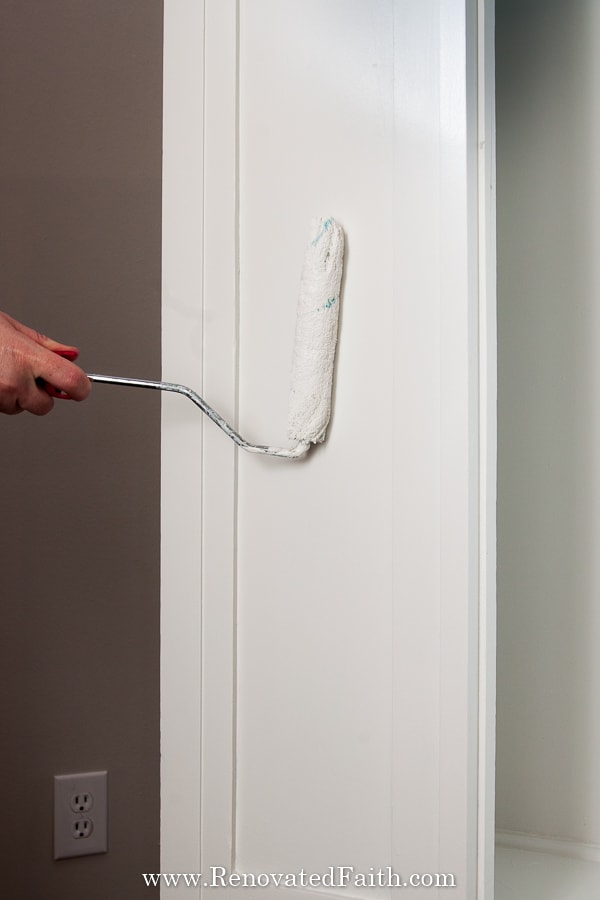 Now, roll that paint mixture on your piece as the last coat.
If you have any seams that are showing, now is a good time to caulk those areas as I show you in the video. Just caulk the seams and wet your finger before running it over the caulk to smooth it out.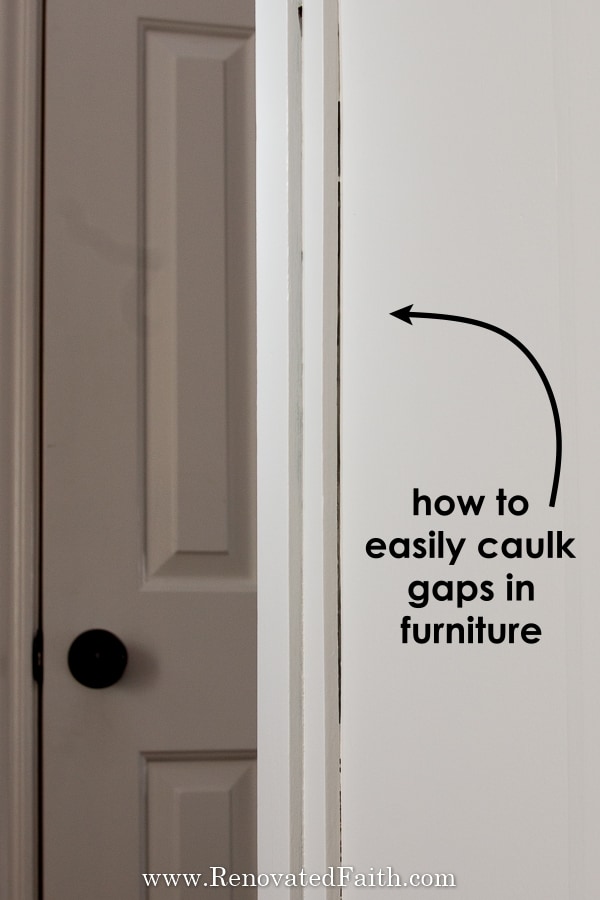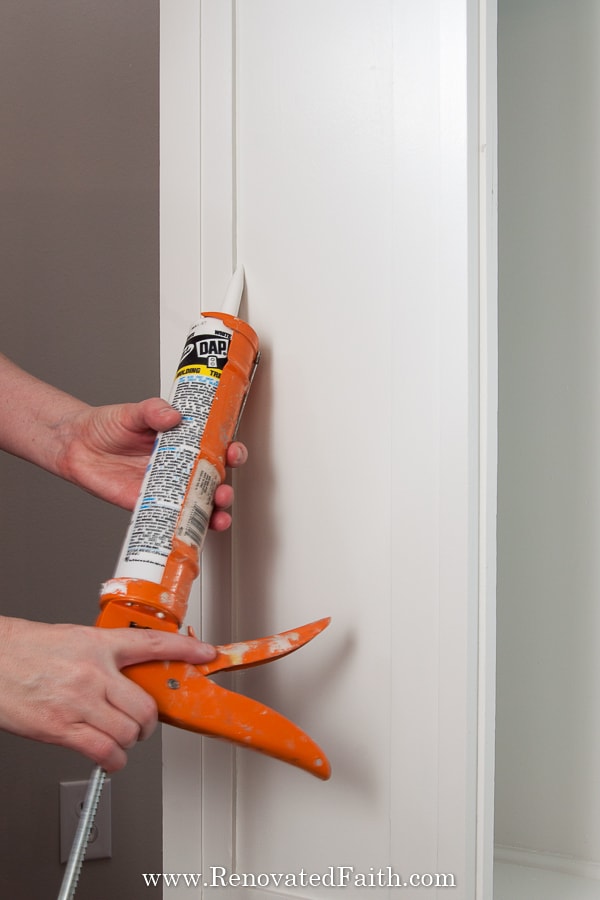 Wipe your finger on a baby wipe or wet paper towel before smoothing again. (Keep a small trash bag nearby for your baby wipes with caulk.)
STEP 6: Final Touches on Your White Painted Furniture
Reinstall any additional hardware like knobs or pulls.
Finally, take your brush and paint any areas that were caulked with the paint/Flood mixture. This is because unpainted caulk will attract dust and that's the last thing you want on your crisp, white furniture piece.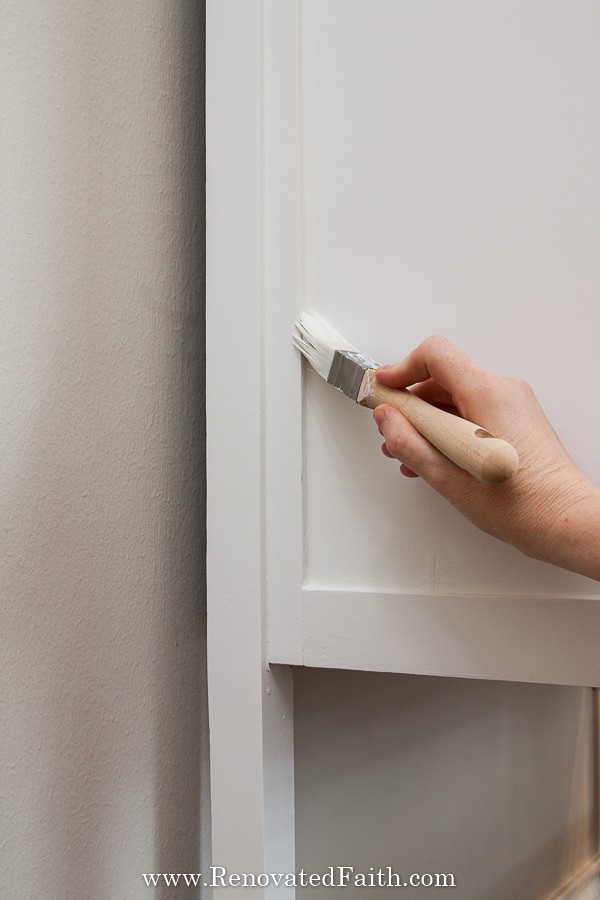 Also, take this opportunity to touch up any spots the roller missed. This is also the point that you want to use your brush to paint the edges of your doors.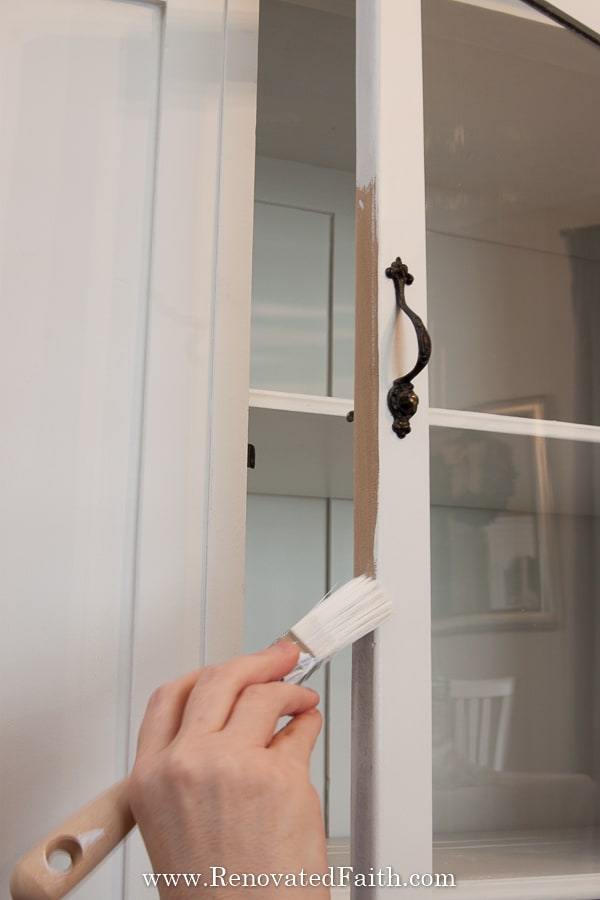 Use your brush to paint latex over the legs that you spray primed earlier.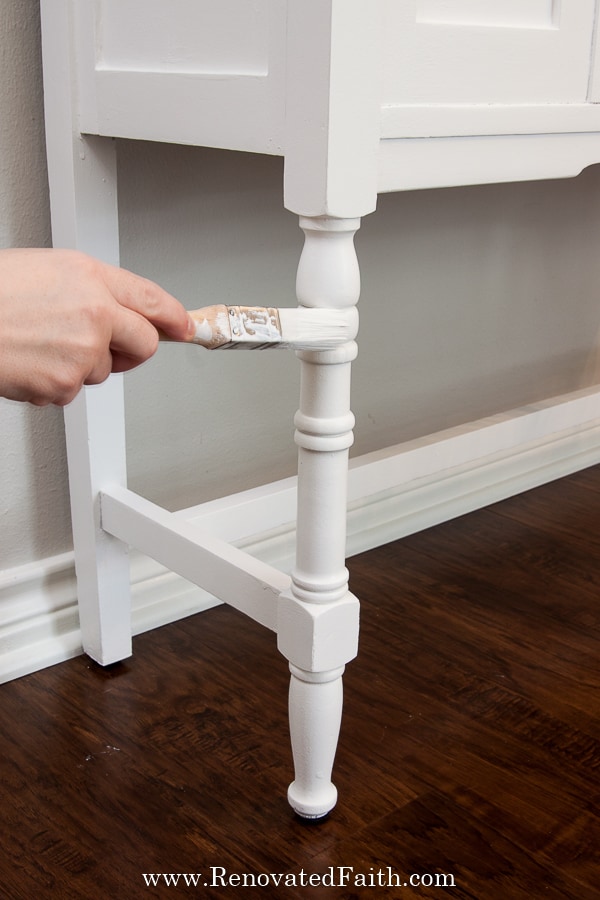 Leave the door open and let the piece dry completely for at least 24 hours.
STEP 7: Optional Clear Coat
A clear coat isn't necessary as the paint we are using is extremely durable. The only exception might be a piece of furniture that gets heavy daily use like a dining room table, coffee table or a table in a kids' playroom.
My favorite product is Varathane's Water-Based Polyurethane, Matte Finish as it will not yellow when applied on white furniture. After comparing and testing different brands of protective topcoats including furniture wax, Varathane's product came out of top because it gives furniture pieces a clear even finish and it's the perfect alternative to clear wax.
Use a clear coat on high-use pieces like table tops or to seal in your hard work on faux finishes. The one thing to remember to get a smooth finished product is to apply thin coats with a foam brush. Don't sand in between even though it says to on the can. Varathane can also be used on brand new pieces and you can find it here: Varathane Water-Based Clear Coat, Matte Finish
How Do You Seal White Painted Furniture So It Doesn't Yellow?
If you do decide to clear coat your white furniture piece, be sure to use a topcoat that will not yellow over time. Oil-based clear coats are notorious for this but after lots of experimenting on the best clear coat for furniture, the top option was actually water-based: Varathane's Waterbased Clear Coat. I have had great success with this top coat after trying several and it will not yellow your white furniture over time!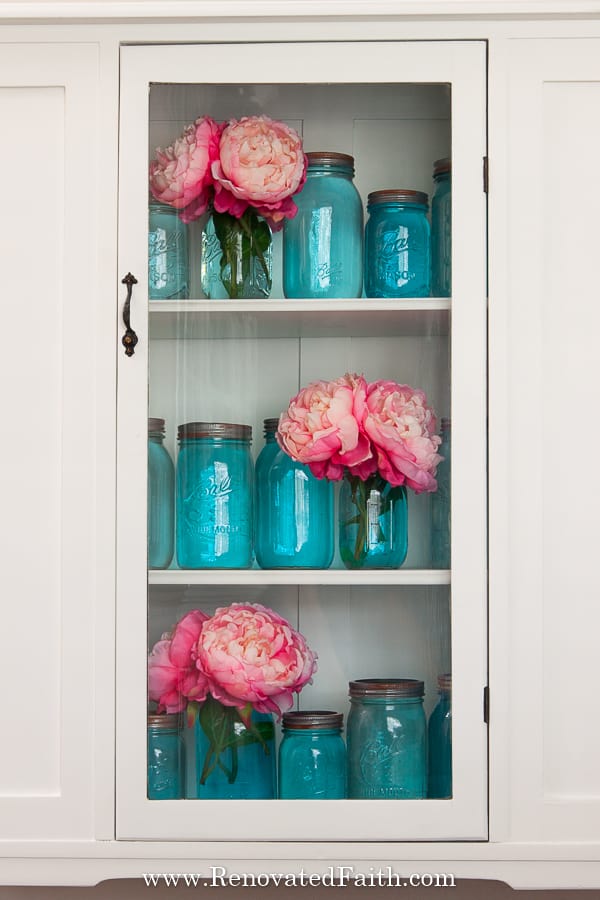 DON'T FORGET TO TAKE A PICTURE!
Now that you are done, I'd love to see how it turned out! ❤️ Post your before and after photos here!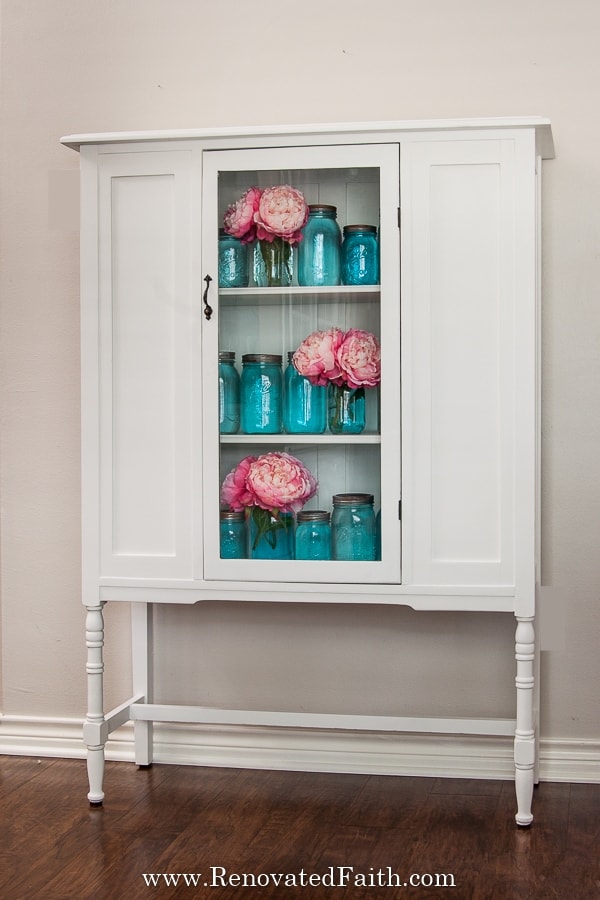 If you like the look of the tinted mason jars, check out my blog post How to Paint Mason Jars.
RENOVATE YOUR FAITH: The Secret To Trusting God with Your Future
One of the reasons I like white furniture is that it's always crisp, classic, and clean. I use the same shade of white on all my white furniture so that if something gets scratched, I can easily touch it up with the same faithful shade of "Pure White".
Touching up an old piece of furniture makes it look new again. In the same way, God gives us a new start every single morning. Lamentations 3:22-23 tells us:
"Because of the Lord's great love we are not consumed, for his compassions never fail. They are new every morning; great is your faithfulness."
I've heard that God's compassions are new every morning, but it wasn't until recently I realized what that actually meant. I have always been a worrier, especially when it comes to visualizing my future self in a horrible circumstance. It turns out there is actually a name for this:
Catastrophizing is defined as irrational thinking that something will turn out much worse than it actually does.
I find I do this when I see something horrible happens on the news or to someone I know in real life. Then, I imagine how I'd react if the same terrible situation happened to me. I think I do this to try to prepare myself if something horrible were to actually happen. But it does the exact opposite. It only makes me more afraid and anxious about something that will probably never happen.
While bad things do happen, we often discount the grace that God will give us when we encounter those times. God's grace is new every morning according to what we will actually need for the day at hand.
So, when we try to visualize ourselves in future catastrophes, we can never accurately anticipate what it will truly be like or how we react because we often leave out "future grace".
Future grace is a concept explained in Ed Welch's book Running Scared.
Just like God rained down new manna each day to the Israelites, He gives us new mercies every day in accordance with what we need – and even in an abundance of what we need.
"There is no sense in devising future scenarios now because God will do more than you anticipate," Welch writes.
This is the major factor that worriers never account for in their false prophecies: We will receive grace in the future.
Scripture is clear that there will be suffering in life. It is to be expected. What we can also expect is that God will give us abundant grace in the suffering.
Therefore, you cannot project the grace onto tomorrow that you have today. Today's grace is today's grace and God will give us the grace we need for tomorrow.
Are you worried about the future? You are looking at the future as if it was a final exam and it's only the first day of class. Of course, you panic at the thought of the exam, but you haven't considered that you will go through the class before you take the final. You will be given all the grace you need when you need it!
For me, knowing that there is grace for tomorrow has made the most noticeable difference in my own anxieties and fears. The hurdle that was always in front of me was that I limited God to the size of my own imagination.
Now, I know that I could never imagine that grace because I have yet to receive it. As a result, I am beginning to look forward to days of final exams rather than dread them.
To read more of Ed Welch's Running Scared on how to overcome fear and anxiety, click here.
For more spiritual encouragement, click here for the rest of my project posts that also include Renovate Your Faith devotionals.
Painting Furniture White, Before and aFter REveal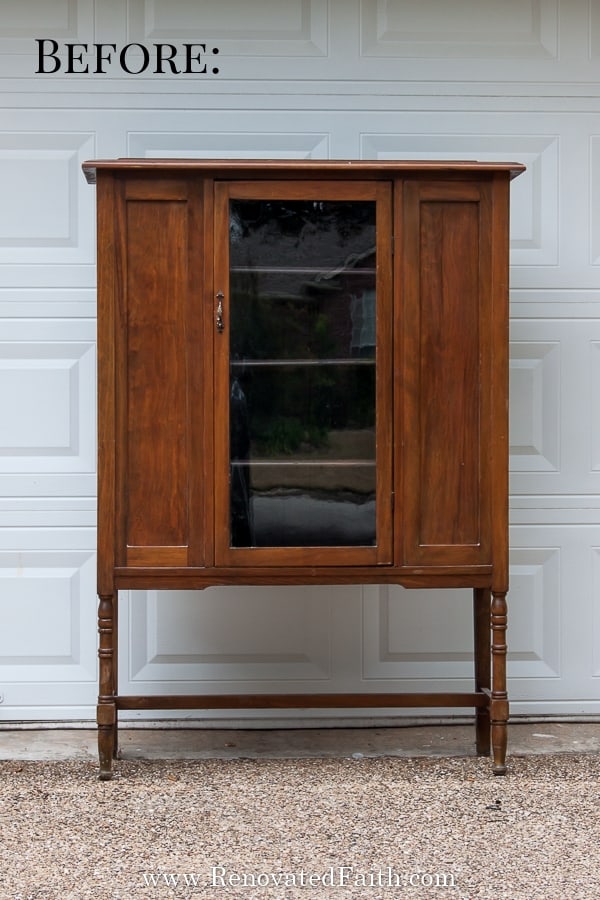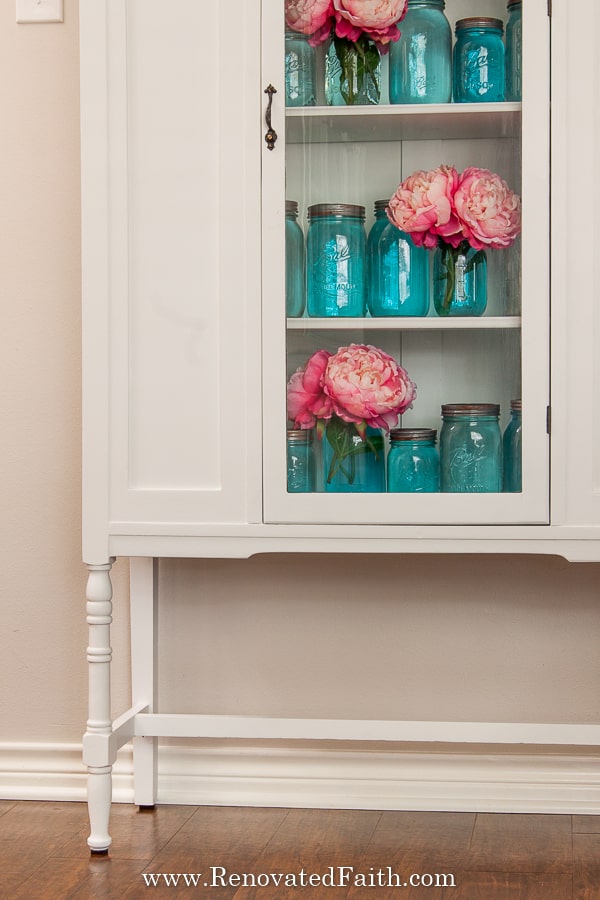 ☑️ My All-Time Best Furniture Painting Tips & Tricks (FREE PRINTABLE)
Don't forget to download the FREE step-by-step printable checklist that shows you the entire process I've used on dozens of furniture pieces while saving you time and money!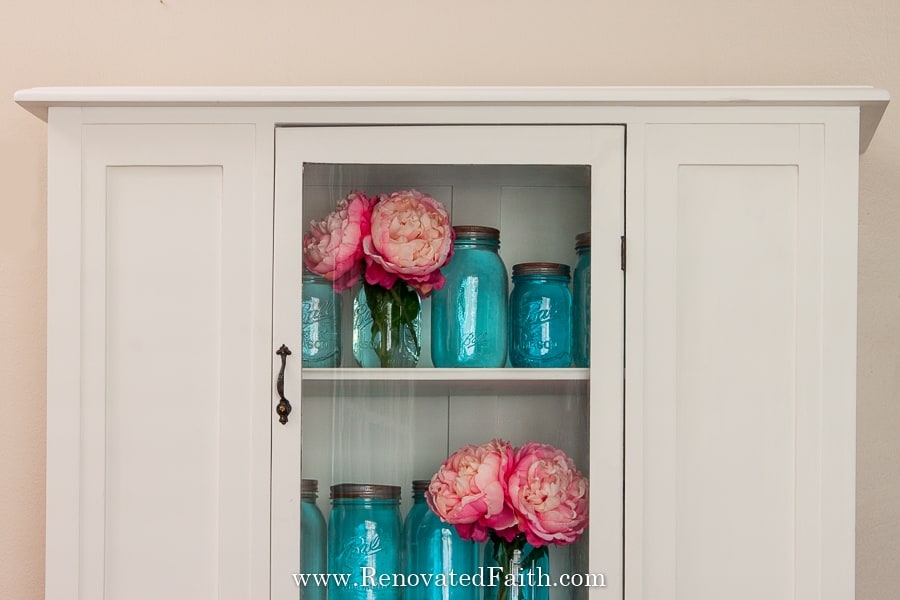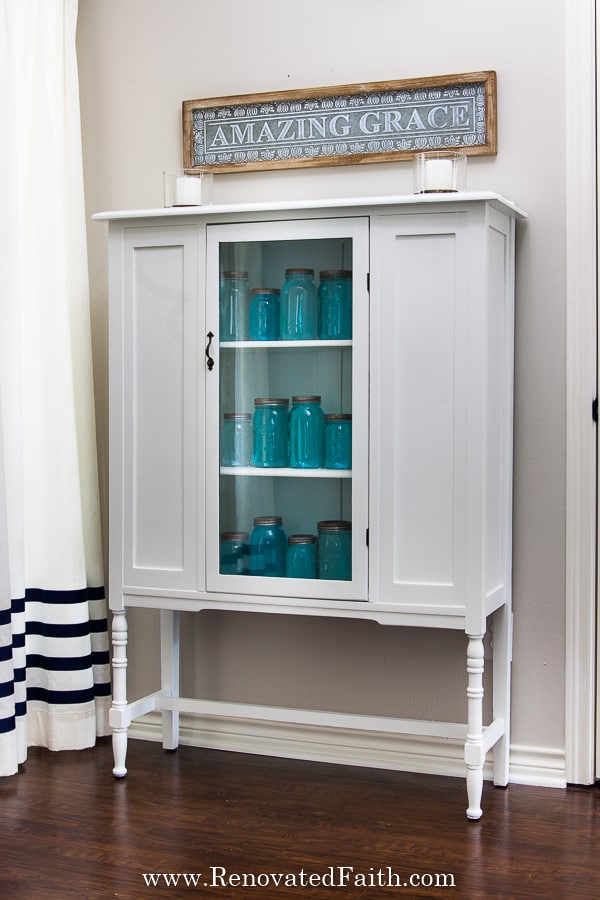 If you like the look of the tinted mason jars, check out my post How to Paint Mason Jars.
FAQ's: Can Wood Furniture Be Painted White?
How to Paint Black Furniture White: Can I Paint Dark Wood Furniture White?
You can paint any color of furniture white, even dark pieces. Just know that black or dark furniture will take a coat or two more but you will get full coverage easily by using the process above.
What About Painting White Furniture with a Distressed Look?
You can easily get a distressed look by using white latex paint and sanding. The best latex paint for distressing is the Sherwin Williams ProClassic that I mention above. When it distresses, the paint sands off without peeling so you can easily control how much is distressed. Just paint the piece as normal and using a sander or sandpaper to scuff edges for a distressed look.
What Kind of Paint Do You Use on Wood Furniture?
After researching the best paint for furniture (Milk Paint vs. Chalk Paint vs. Latex), I found that latex performed best in terms of durability and smoothness. It was also the easiest to use and had the best coverage.
What is the Best Brand of Paint for Furniture?
The kind of paint you use will make or break your project. After blind testing over 24 different brands of paints, including Annie Sloan Chalk Paint, Dixie Belle, General Finish Milk Paint, Mineral paints and even different options used by professional furniture painters, Benjamin Moore Advance came out on top. It is a hybrid latex paint and will give any surface a great finish. This type of paint has many of the helpful features of an oil paint without the negatives. For one thing, this brand settles out really well so it doesn't show brush strokes. It is also as durable as oil-based paint but doesn't has easy clean-up and the low VOC's of water-based paints.
Can You Spray Paint Furniture White?
Spray painting furniture white is an option but most of the time it is cost-prohibitive, especially since it takes more cans of paint to get coverage with white. However, this is a great option for a small piece of furniture like a stool or small end table. For my best tips on using spray paint, click here: 21 Tips for Spray Painting (Free Checklist)
Can You Use a Paint Sprayer to Paint Furniture White?
You can absolutely use a paint sprayer to paint furniture white but don't try to get full coverage in the first couple coats. White paint, especially sprayed on, will take several coats and using light coats with your sprayer or brush will help you get the smoothest finish possible..
What About Painting Black Furniture White?
If you are painting black furniture white, you can still use the exact process above but you will need more coats of latex paint.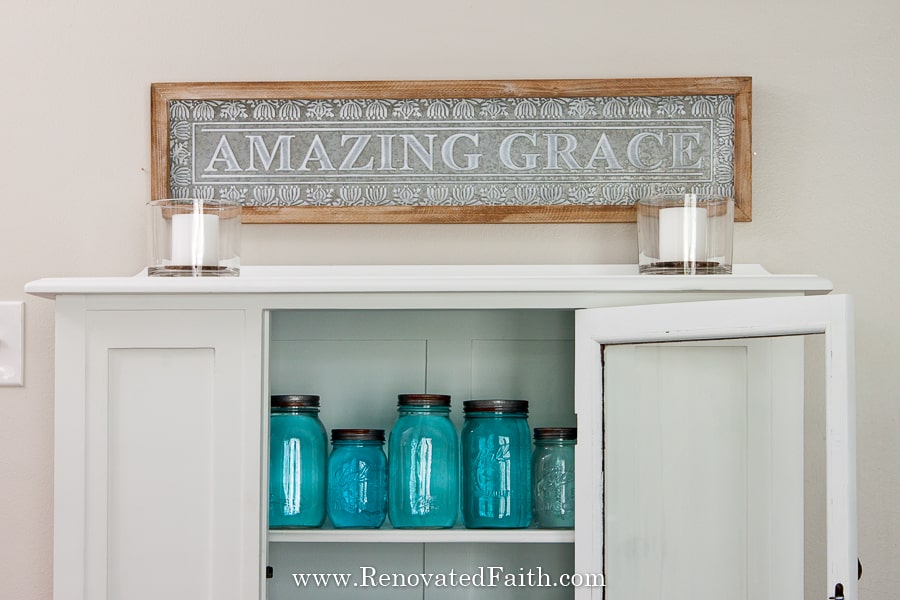 How to Paint Wood Furniture White: YouTube Video
If you have trouble with the video not popping up in this blog post, you can click below to view it from my youtube channel: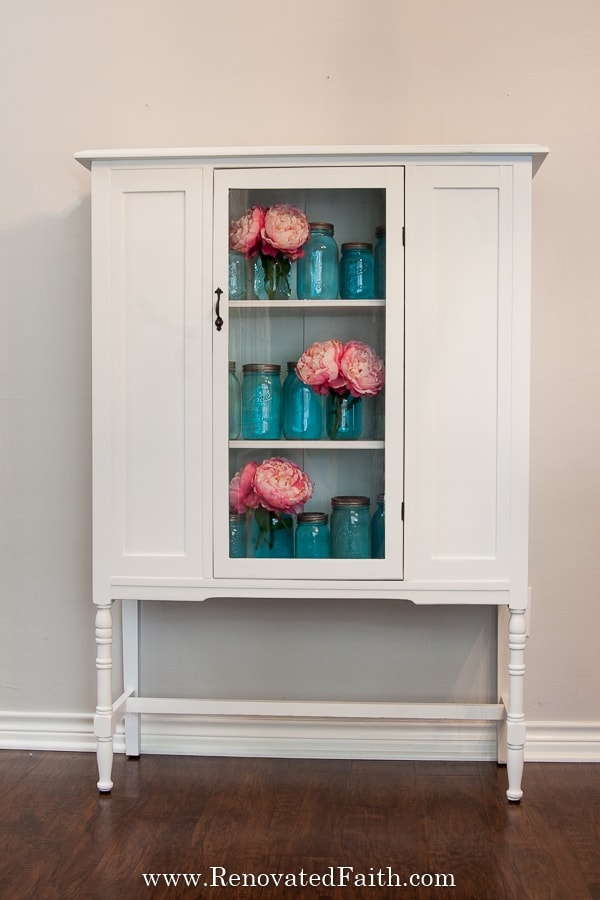 DON'T FORGET TO TAKE A PICTURE!
Now that you are done, I'd love to see how it turned out! ❤️ Post your before and after photos here!
More Posts Related to How to Paint Furniture White The Right Way
The Best Way to Paint Furniture (Vintage Vanity Reveal)
Why I Stopped Using Chalk Paint on Furniture
Tips for Painting Furniture in Darker Colors
A Great Way to Paint A Rolltop Desk
How To Paint White Furniture To Look Like Wood
The Easiest Way to Paint Mason Jars
Easy DIY Furniture Refinishing Guide
How to Paint Furniture to Look Like Bare Wood
The Best Furniture Makeovers from Renovated Faith
The Best White Paint Colors for Furniture and Kitchen Cabinets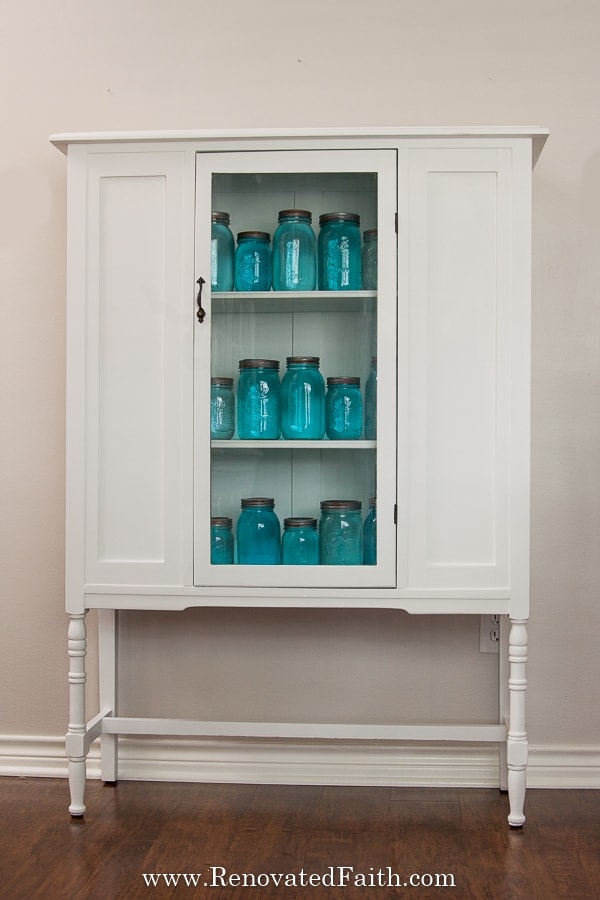 Final Thoughts on How to Paint Brown Furniture White
It's amazing what a fresh coat of paint can do! Don't forget to download my Free Furniture Painting Cheat Sheet. To get your printable, sign up for my weekly newsletter which also grants you free access to my resource library full of wall art printables, checklists, and project plans!
Before this post, you may not have realized that painting furniture white could be such a headache! If you don't use the right paint and roller, you could find yourself spending a lot more time and money than you planned on. But with a few simple steps, you can give new life to that thrift store find or family heirloom and get great results in less time.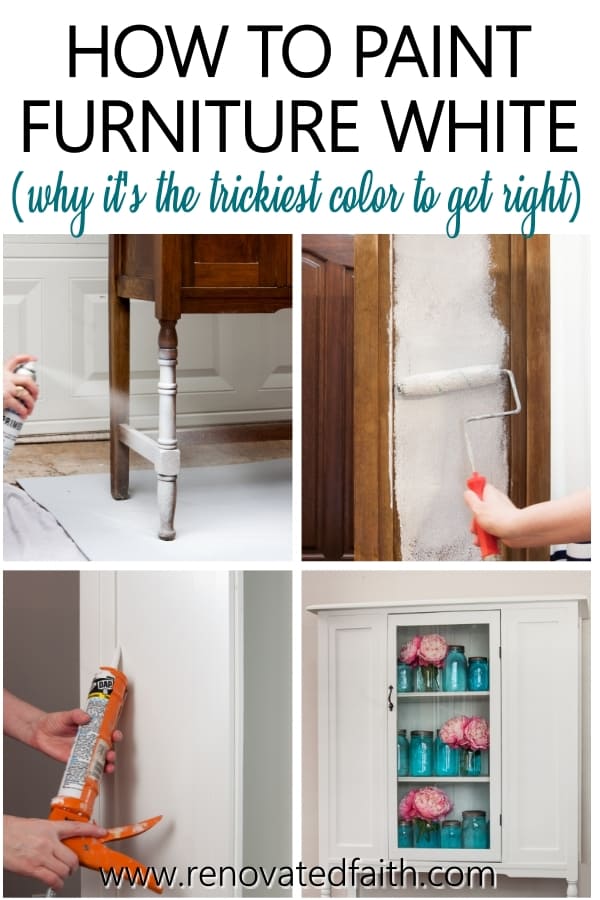 I love to hear your thoughts and questions! Scroll down to leave a comment and I WILL reply! ❤️
Blessings,

Be sure to follow the fun here!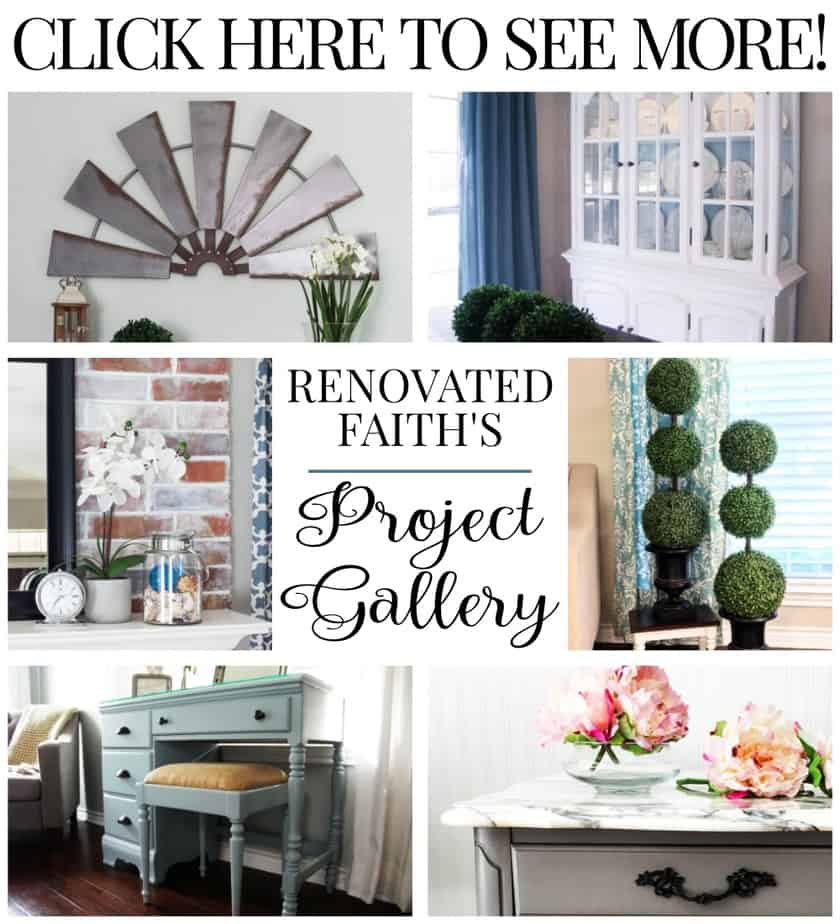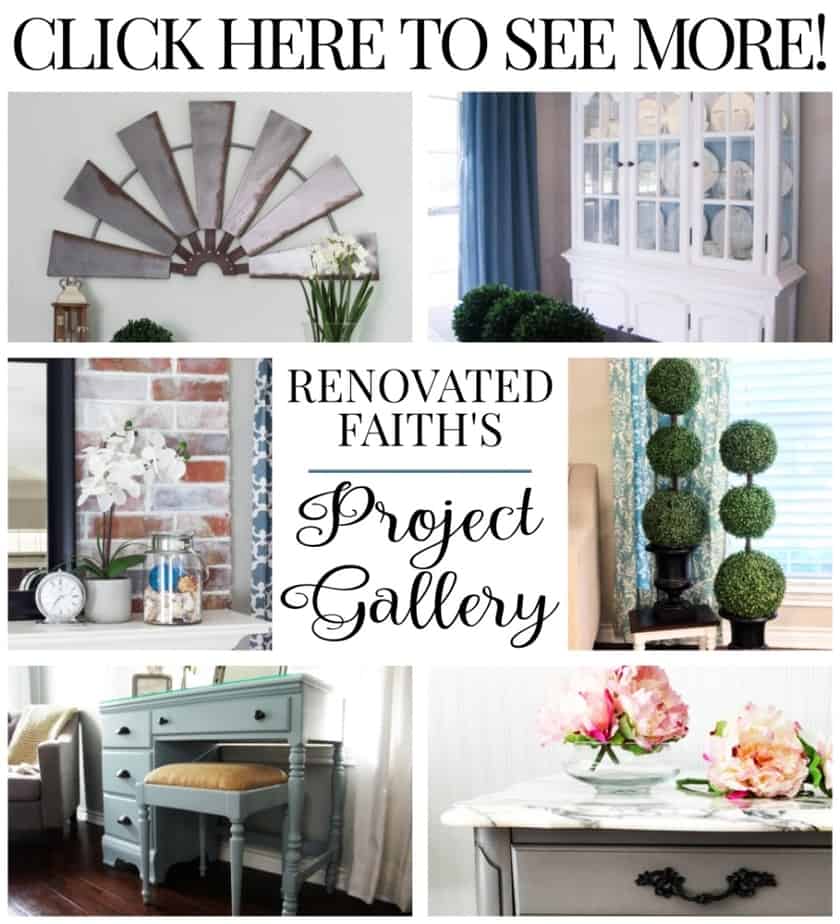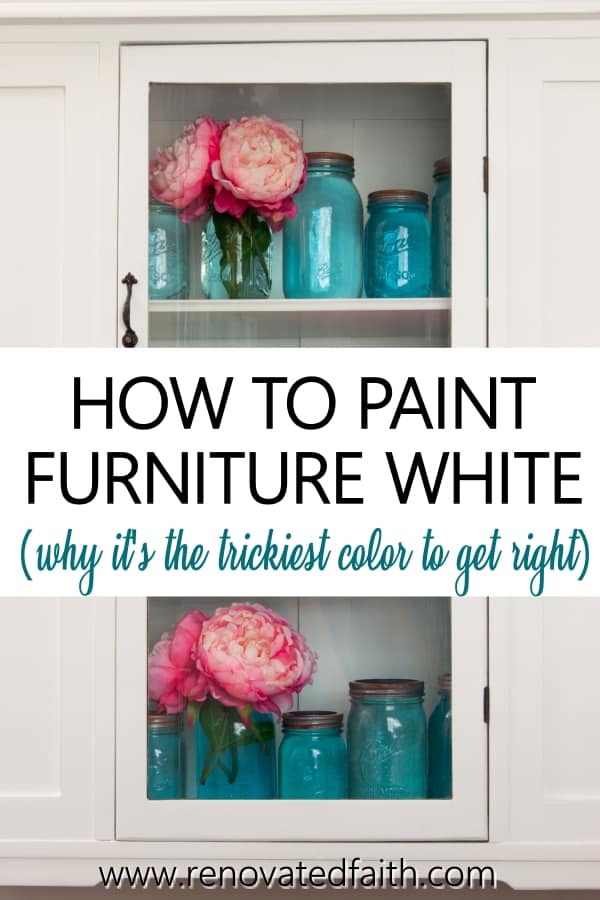 How to Paint Brown Furniture White
Welcome to Renovated Faith, where I share about DIY projects, my faith and everything in between! When I'm not spending time with my family, you will find me redoing furniture in the garage or watering plants in my greenhouse. This blog is about transformation. Anyone can renovate a house but only God can transform our hearts!