How to Waterproof Acrylic Paint on Fabric
You can absolutely use regular acrylic paint on fabric with this one easy trick! Whether you are making fabric wall art or painting a stencil on living room curtains, I'll show you how to paint on fabric permanently with this simple step-by-step tutorial!
Can Acrylic Paint Be Used On Fabric?
Acrylic paint is so versatile but if you want to use it for fabric, there are a few things you should consider. For one thing, it is designed to be used on a wide range of smooth surfaces but it isn't flexible enough for fabric. The hardness and thickness of the paint will eventually lead to the dry paint cracking and peeling off, especially when there are multiple layers of paint. Also, even if the paint doesn't peel off, it can uncomfortable stiffness under the painted areas.
However, you can have all the benefits of washable fabric paint by adding a couple of simple steps to your craft or DIY projects. There are so many fun projects that require painting on fabric but they can be easily ruined if you don't have the right water-resistant fabric paint! For this tutorial, I'm showing you how to make budget-friendly wall decor with fabric and paint.
This is a great tutorial for you if you:
Want to use acrylic craft paints that you have on-hand to paint fabric
Like the color options of acrylic paint
Want to ensure that your painted fabric projects won't crack or fade
Would like to know the best way to make low-cost fabric wall art in less than 10 minutes!
☑️ Before we get into details, you'll want to go ahead and purchase a high-quality fabric medium. After using several options, here is a durable, flexible, and inexpensive textile medium for any craft project where you need the paint to be permanent: The Best Choice for Fabric Medium for Acrylic Paint (Click here for the current price.)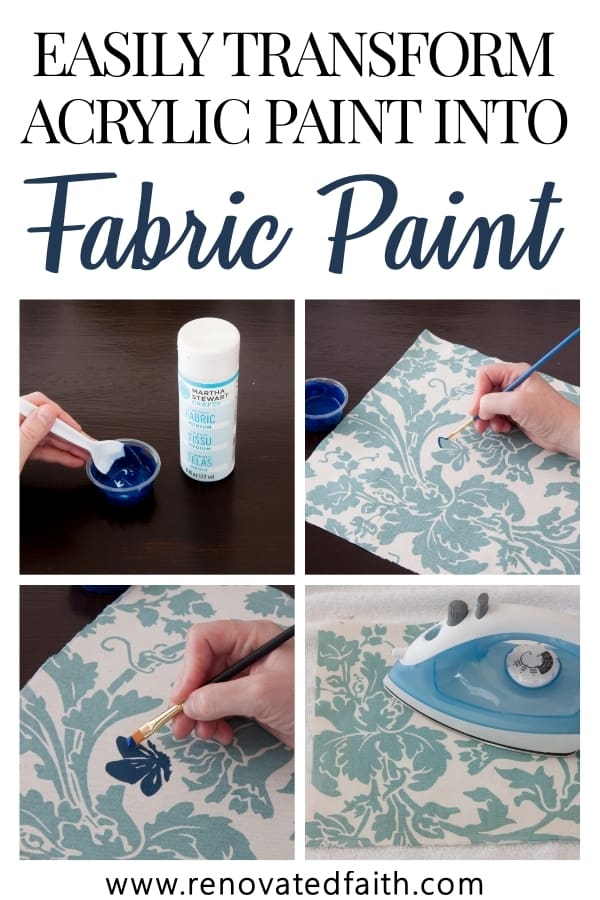 (As an Amazon affiliate I earn a small commission from qualifying purchases. Please see my full disclosure HERE). I only use affiliate links on products I love using.
Best Permanent Paint for Fabric
Before we get started, it's important to define terms. Acrylic craft paint is sold in the little bottles in any craft store or wherever you find craft supplies. They come in hundreds of color options so you can get the exact color you're looking for. Also, each bo usually less than $1.00 each which makes them an inexpensive option for art projects.
Acrylic Paint is a fast-drying paint made that is made of synthetic pigments suspended in acrylic polymer emulsion. Washable acrylic paints are usually used for arts and crafts projects and are more expensive than the acrylic latex paint you might use on your walls or furniture (Check out my post on the Best Paint for Furniture).
Acrylic Color Options
The number of acrylic paint colors is almost too many to count. No other type of paint has more versatility of brillant colors except for maybe latex. Also, you can even get opaque paints, metallic colors or glittered paints.
While acrylic paint has good adhesion and dries fast but the properties of acrylic polymer don't always make it the best paint for fabric. For one thing, the properties that make it fast drying, don't make it very flexible and workable.
How To Paint On Fabric Permanently
The easiest and most versatile to paint on fabric permanently is by adding a fabric medium to any color of acrylic paint. There is a big advantage to using acrylic paint to make permanent fabric. Because you are using acrylic paint, there are countless colors of DIY fabric paint to choose from. Also, it can be found at any fabric store or online and is very inexpensive. Painting fabric has never been so versatile with this easy technique!
What is Fabric Medium?
For any kind of acrylic paint work on fabric, it is best to use fabric medium to make acrylic paint permanent on fabric. For one thing, it improves the flexibility and adhesion of the paint onto the fabric. It also enhances blending and workability on all textiles and unprimed canvases. Fabric medium also makes the material softer even where the paint is applied.
Most importantly, it makes the painted fabric permanent after washing no matter if you're painting on cotton fabrics, poly-cotton blends or other fabric types. The main ingredients in fabric medium are water-based binders which make your paint more flexible and workable no matter the fabric use. It will easily interlock between the fabric fibers to make a web of paint that won't crack or flake off on most fabric types. Also, fabric medium helps to retain the depth of pigments so you can enjoy the same vibrant colors even after several washes.
Why Not Use Acrylic Paint on Fabric without Medium?
Acrylic paint has tons of uses but I don't recommend it on fabric by itself. If you don't use a fabric medium your painted fabric surface will crack because acrylic paint on its own isn't very flexible. Also, the medium makes your acrylic paint more workable – by this, I mean that it makes the dry time a little longer. This is an important consideration for fabric painting because it can take a little longer to paint even small sections of fabric. The workability of the fabric medium allows you to go back and smooth out any paint on the fabric so that it doesn't dry and get clumpy on you.
How to Make Acrylic Paint Stay on Fabric
The fabric medium also makes the painted surface softer and less abrasive, making it more comfortable for the wearer. But more importantly, the fabric medium prevents cracking, which makes the acrylic paint stay on fabric.
To ensure that the acrylic paint stays on fabric for as long as possible, be sure to wash your fabric on your washing machine's gentle cycle with fabric softener and hang it to dry. Also, be sure to use cold water especially for darker fabrics.
This is my favorite way to protect painted fabric and keep it looking like it was freshly painted for years to come. Because of this technique, you can use your DIY fabric paint not only on white t-shirts but other project types like curtains, duvet covers, pillow cases, throw pillows, terry cloth robes, and wall art as you will see below.
Best Acrylic Paint Fabric Medium
There are several fabric mediums on the market but the Delta Fabric Medium (click here for the current price) is the only one that can be mixed with any brand of acrylic paint. Paints mixed with the Delta Fabric Medium hold up to washing time and time again. Also, I haven't seen any color fading as the medium is very opaque. Last it makes the painted area very soft, almost like the painted portions are just part of the fabric.
☑️ PICK YOUR PERFECT PRINTABLE
– Here's where you can get access to all of my FREE wall art printables as well as my Must-Have Furniture Painting Tips and The 31 Easiest DIY Projects To Increase Your Home's Value.
Get the password for the library with FREE printables including wall art, checklists, and templates by clicking here: 
FREE PRINTABLES
How to Make Framed Wall Art with Fabric
In this tutorial, I'll show you how to make acrylic fabric paint from acrylic paint for some framed butterfly wall art! I've actually had these hanging in my office for some time but figured it was time to do a tutorial on them because every time someone comes into my office, they are the first thing they notice – which surprises me because I thought the first thing they would notice would be the desk made out of a door.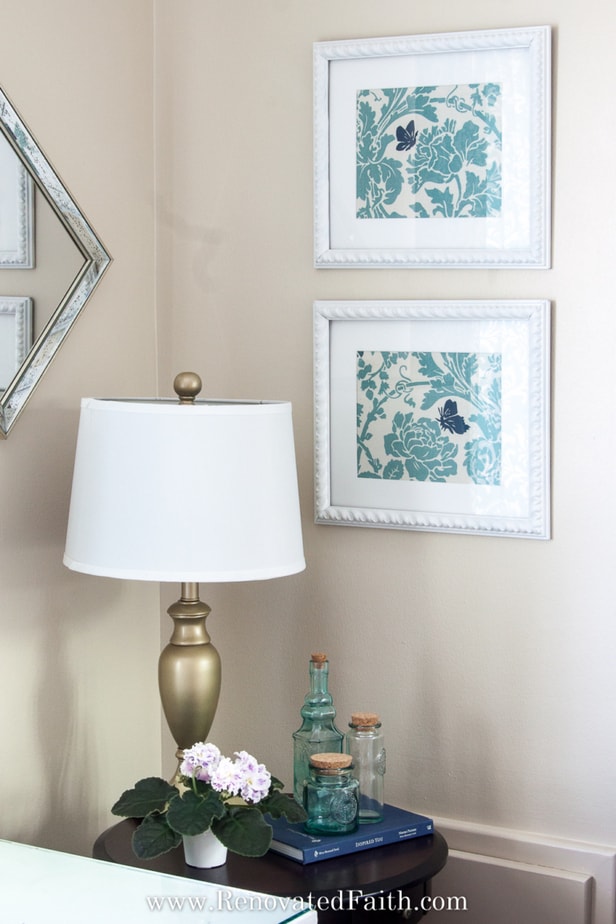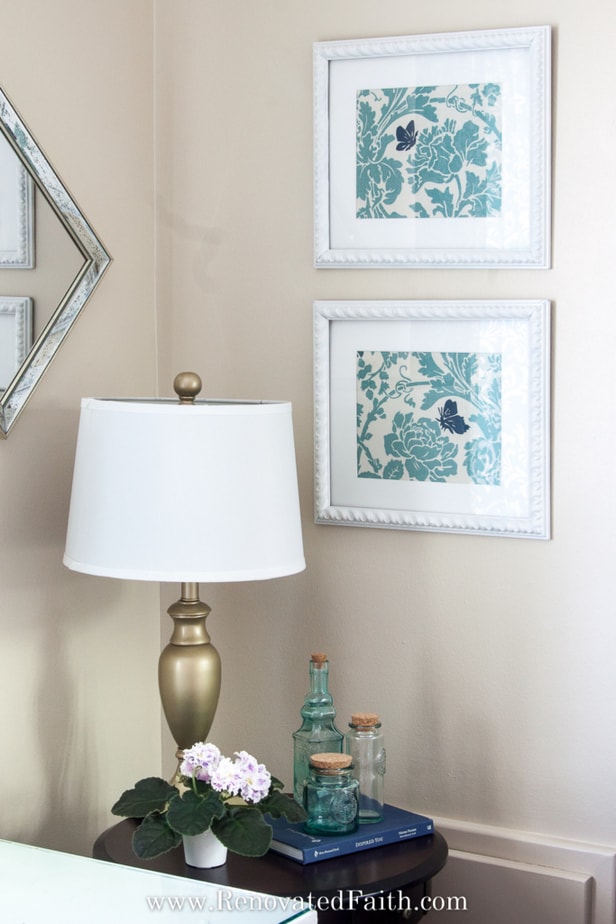 How to Make the Best Permanent Paint for Fabric – Butterfly Wall Art Supplies:
How to Make Wall Art with Fabric – Tutorial