The EASIEST Hack to Use Acrylic Paint On Fabric (So It's Permanent!)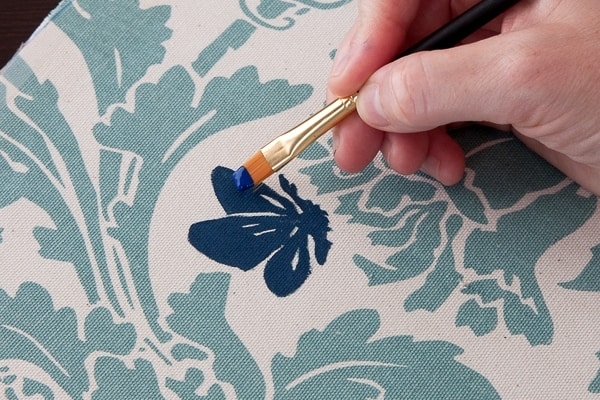 How to Waterproof Acrylic Paint on Fabric
Whether you are making fabric wall art or painting a stencil on living room curtains, I'll show you how to paint on fabric permanently with acrylic paint!
Can Acrylic Paint Be Used On Fabric?
Acrylic paint is so versatile but if you want to use it for fabric, there are a few things you should consider. For one thing, it is designed to be used on a wide range of smooth surfaces but it isn't flexible enough for fabric.
But by adding this fabric medium (click here to find it on Amazon), you can use any acrylic paint on fabric. This tutorial will show you how!
The hardness and thickness of acrylic paint alone will eventually lead to the dry paint cracking and peeling off, especially when there are multiple layers of paint. Also, even if the paint doesn't peel off, it can uncomfortable stiffness under the painted areas.
How To Make Painted Fabric Wall Art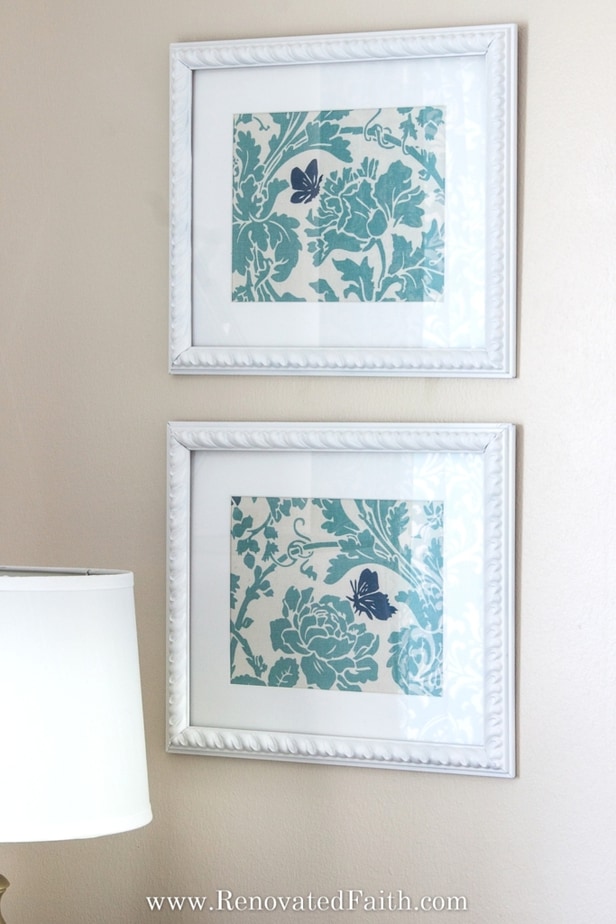 However, you can have all the benefits of washable fabric paint by adding a couple of simple steps to your craft or DIY projects. There are so many fun projects that require painting on fabric but they can be easily ruined if you don't have the right water-resistant fabric paint! For this tutorial, I'm showing you how to make budget-friendly wall decor with fabric and paint.
This is a great tutorial for you if you:
Want to use acrylic craft paints that you have on-hand to paint fabric
Like the color options of acrylic paint
Want to ensure that your painted fabric projects won't crack or fade
Would like to know the best way to make low-cost fabric wall art in less than 10 minutes!
Encouragement when you're struggling with worry or anxiety in this week's Renovate Your Faith devotional
☑️ Before we get into details, you'll want to go ahead and purchase a high-quality fabric medium. After using several options, here is a durable, flexible, and inexpensive textile medium for the best results on any craft project where you need the paint to be permanent: The Best Choice for Fabric Medium for Acrylic Paint (Click here for the current price.)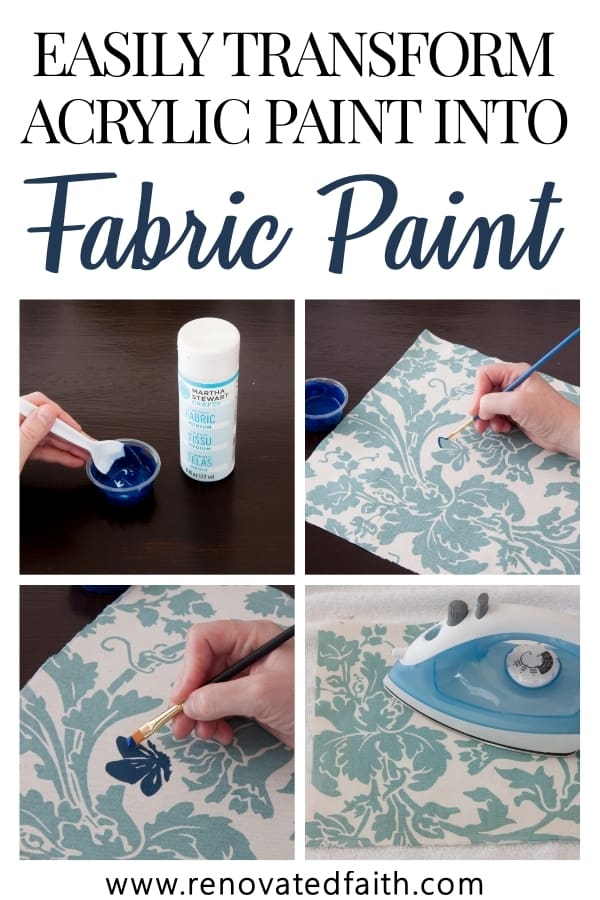 (As an Amazon affiliate I earn a small commission from qualifying purchases. Please see my full disclosure HERE). I only use affiliate links on products I love using.
Best Permanent Paint for Fabric
Before we get started, it's important to define terms. Acrylic craft paint is sold in the little bottles in any craft store or wherever you find craft supplies. They come in hundreds of color options so you can get the exact color you're looking for. Also, each bo usually less than $1.00 each which makes them an inexpensive option for art projects.
Acrylic Paint is a fast-drying paint made that is made of synthetic pigments suspended in acrylic polymer emulsion. Washable acrylic paints are usually used for arts and crafts projects and are more expensive than the acrylic latex paint you might use on your walls or furniture (Check out my post on the Best Paint for Furniture).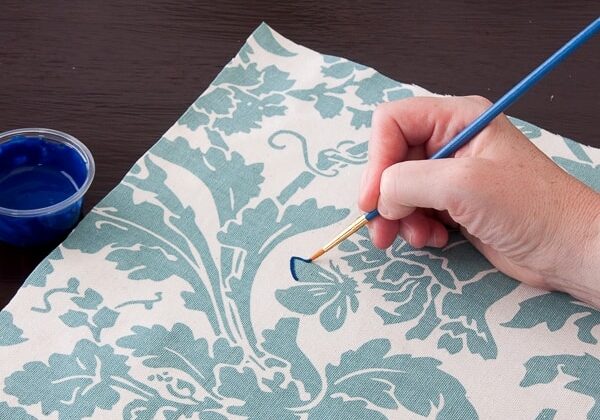 Acrylic Color Options
The number of acrylic paint colors is almost too many to count. No other type of paint has more versatility of brilliant colors except for maybe latex. Also, you can even get opaque paints, metallic colors or glittered paints which you can't find in all lines of fabric paints.
While acrylic paint has good adhesion and dries fast but the properties of acrylic polymer don't always make it the best paint for fabric. For one thing, the properties that make it fast drying, don't make it very flexible and workable like most textile paints.
How To Paint On Fabric Permanently
The easiest and most versatile to paint on fabric permanently is by adding a fabric medium to any color of acrylic paint. There is a big advantage to using acrylic paint to make permanent fabric. Because you are using acrylic paint, there are countless colors of DIY fabric paint to choose from. Also, it can be found at any fabric store or online and is very inexpensive. Painting fabric has never been so versatile with this easy technique!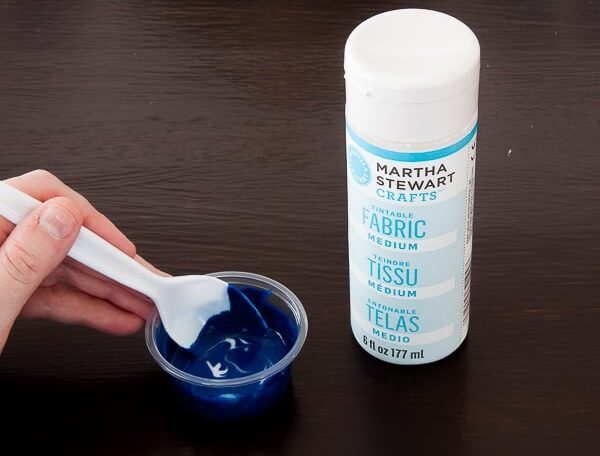 What is Fabric Medium?
For any kind of acrylic paint work on fabric, it is best to use fabric medium to make acrylic paint permanent on fabric. For one thing, it improves the flexibility and adhesion of the paint onto the fabric. It also enhances blending and workability on all textiles and unprimed canvases. Fabric medium also makes the material softer even where the paint is applied.
Most importantly, it makes the painted fabric permanent after washing no matter if you're painting on cotton fabrics, poly-cotton blends or other fabric types. The main ingredients in fabric medium are water-based binders which make your paint more flexible and workable no matter the fabric use. It will easily interlock between the fabric fibers to make a web of paint that won't crack or flake off on most fabric types. Also, fabric medium helps to retain the depth of pigments so you can enjoy the same vibrant colors even after several washes.
Why Not Use Acrylic Paint on Fabric without Medium?
Acrylic paint has tons of uses but I don't recommend it on fabric by itself. If you don't use a fabric medium your painted fabric surface will crack because acrylic paint on its own isn't very flexible. Also, the medium makes your acrylic paint more workable – by this, I mean that it makes the dry time a little longer.
This is an important consideration for fabric painting because it can take a little longer to paint even small sections of fabric. The workability of the fabric medium allows you to go back and smooth out any paint on the fabric so that it doesn't dry and get clumpy on you.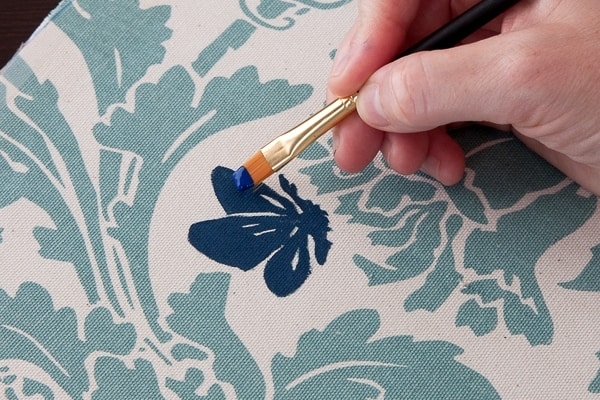 How to Make Acrylic Paint Stay on Fabric
The fabric medium also makes the painted surface softer and less abrasive, making it more comfortable for the wearer. But more importantly, the fabric medium prevents cracking, which makes the acrylic paint stay on fabric.
To ensure that the acrylic paint stays on fabric for as long as possible, be sure to wash your fabric on your washing machine's gentle cycle with fabric softener and hang it to dry. Also, be sure to use cold water especially for darker fabrics.
This is my favorite way to protect painted fabric and keep it looking like it was freshly painted for years to come. Because of this technique, you can use your DIY fabric paint not only on white t-shirts but other project types like curtains, duvet covers, pillowcases, throw pillows, terry cloth robes, and wall art as you will see below.
Best Acrylic Paint Fabric Medium
There are several fabric mediums on the market but the Delta Fabric Medium (click here for the current price) is the only one that can be mixed with any brand of acrylic paint. Paints mixed with the Delta Fabric Medium hold up to washing time and time again. Also, I haven't seen any color fading as the medium is very opaque. Last it makes the painted area very soft, almost like the painted portions are just part of the fabric.
☑️ PICK YOUR PERFECT PRINTABLE
– Here's where you can get access to all of my FREE wall art printables as well as my Must-Have Furniture Painting Tips and The 31 Easiest DIY Projects To Increase Your Home's Value.
Get the password for the library with FREE printables including wall art, checklists, and templates by clicking here: 
FREE PRINTABLES
How to Make Framed Wall Art with Fabric
In this tutorial, I'll show you how to make acrylic fabric paint from acrylic paint for some framed butterfly wall art! I've actually had these hanging in my office for some time but figured it was time to do a tutorial on them because every time someone comes into my office, they are the first thing they notice – which surprises me because I thought the first thing they would notice would be the desk made out of a door.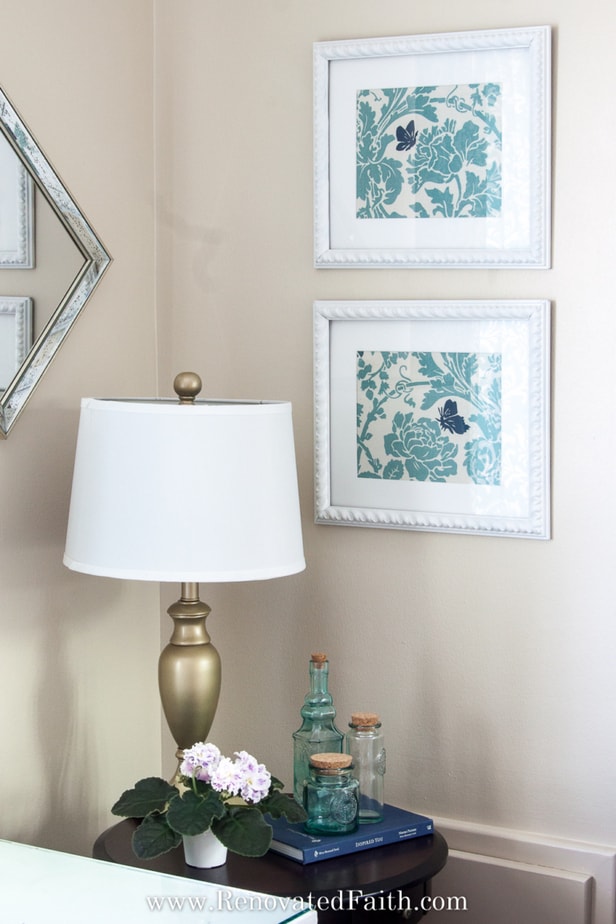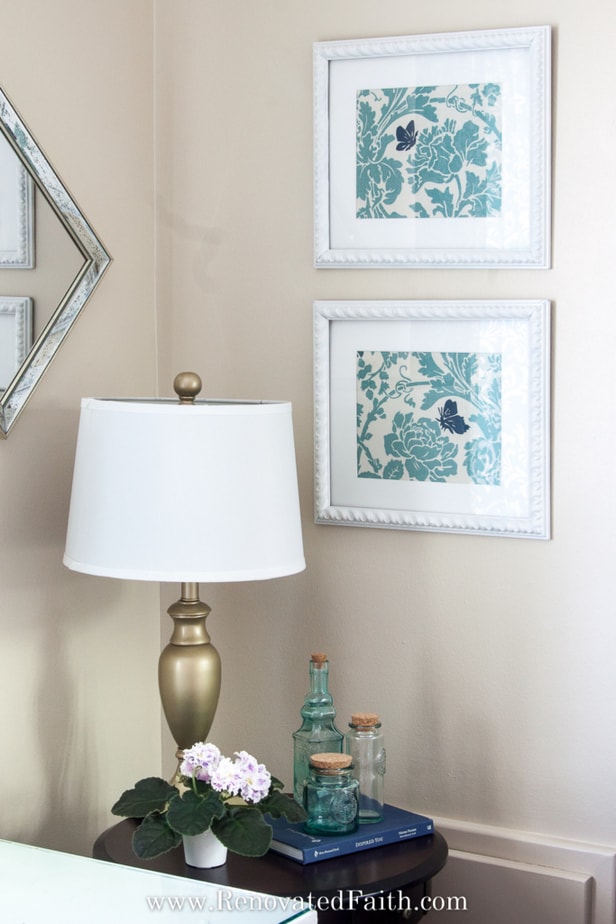 How to Make the Best Permanent Paint for Fabric – Butterfly Wall Art Supplies:
How to Make Wall Art with Fabric – Tutorial
Step 1: How to Paint on Fabric Permanently
The first step is picking your fabric pattern. You can use just about any fabric with acrylic paint and fabric medium but you want to pick something fairly durable so it holds up to washing. I like to use upholstery fabrics and you can find small amounts for paint projects like this in the fabric links in the supply list above. Sometimes fabric stores will have bins of materials that are samples. Depending on your project size, you might be able to score some really nice upholstery fabric this way.
IMPORTANT: Before you paint your fabric, be sure to wash and dry it so it does any shrinking BEFORE you paint it. If it shrinks after being painted, the painted area could come out distorted. Ask me how I know!
TIP: As I mentioned above, I love the Premier Print fabrics because they offer coordinating color sets of fabrics so you can easily coordinate a pillow or curtains to go with your wall art. You can see color options here: Premier Print Color Collections And you can buy very small quantities here, just search for the fabric name: Where to Buy Premier Prints
I found fabric with butterflies already in the pattern of the fabric and just painted the butterflies. The fabric is called Barber Bird Village Blue Natural and you can find it here. You can easily do the same with floral fabrics where you just paint an individual flower and frame the fabric piece around that flower. Another option is to get a stencil and stencil a butterfly over a floral pattern with a chalk pencil. You can see lots of stencil options here: Flower & Butterfly Stencils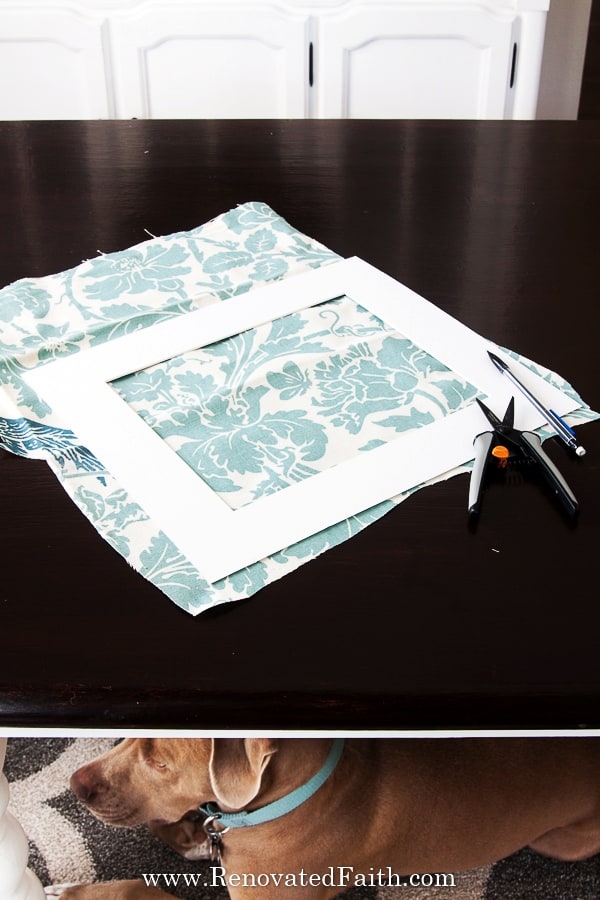 Step 2: Cut Your Fabric Before Painting
Once you have picked your paint color and fabric, it's time to cut your fabric to size. Cut it just larger than the frame edge or matte of the frame (if you use a matte as I did). You don't have to cut it straight but just make sure it's bigger than the matte or frame edge.
IMPORTANT: If you use old picture frames, now is the time to spray paint them as the drying time is 24 hours. You can see my best spray painting tips here.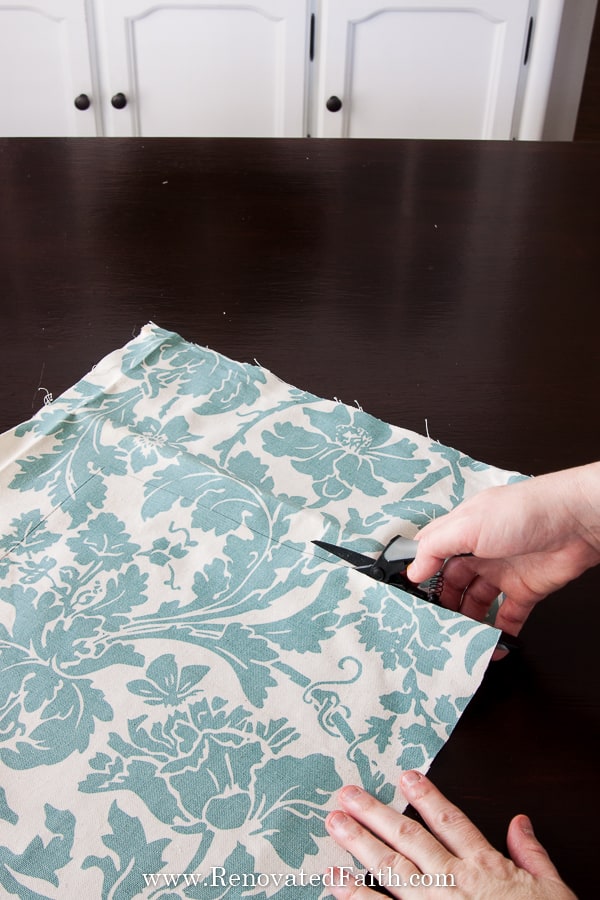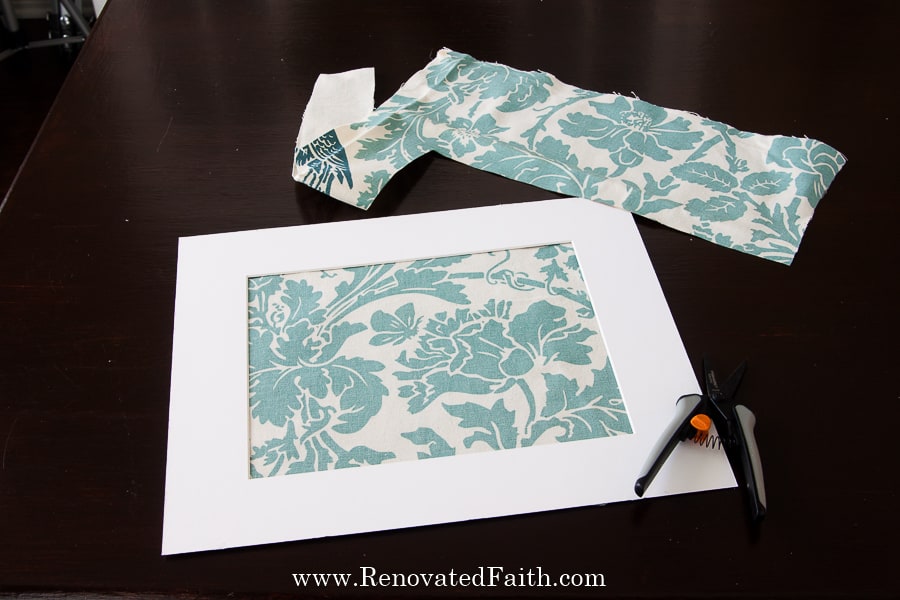 Step 3: Mix the Acrylic Paint Fabric Medium Mixture
I like to use a one-to-one ratio of acrylic paint to fabric medium although the instructions say to mix two parts paint to one part medium. Combine both and mix them well. Sometimes the consistency of acrylic paint can be too thick, so if you have trouble brushing the paint mixture on the fabric, you can add a little bit of water.
TIP: I like to use condiment cups (see the current price here) for mixing paint because they are disposable and you can see if your paint is mixed well. They also have lids so you can store any extra paint that wasn't used.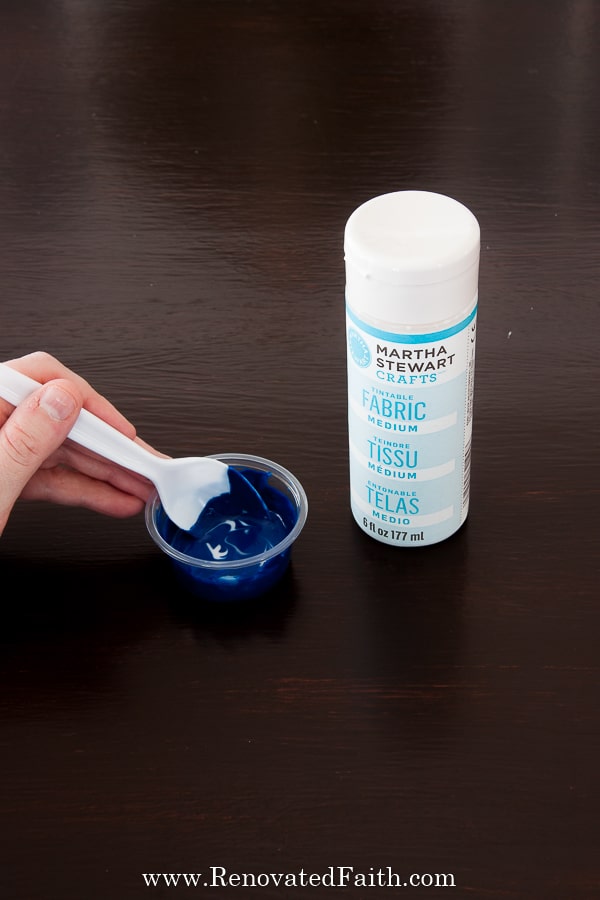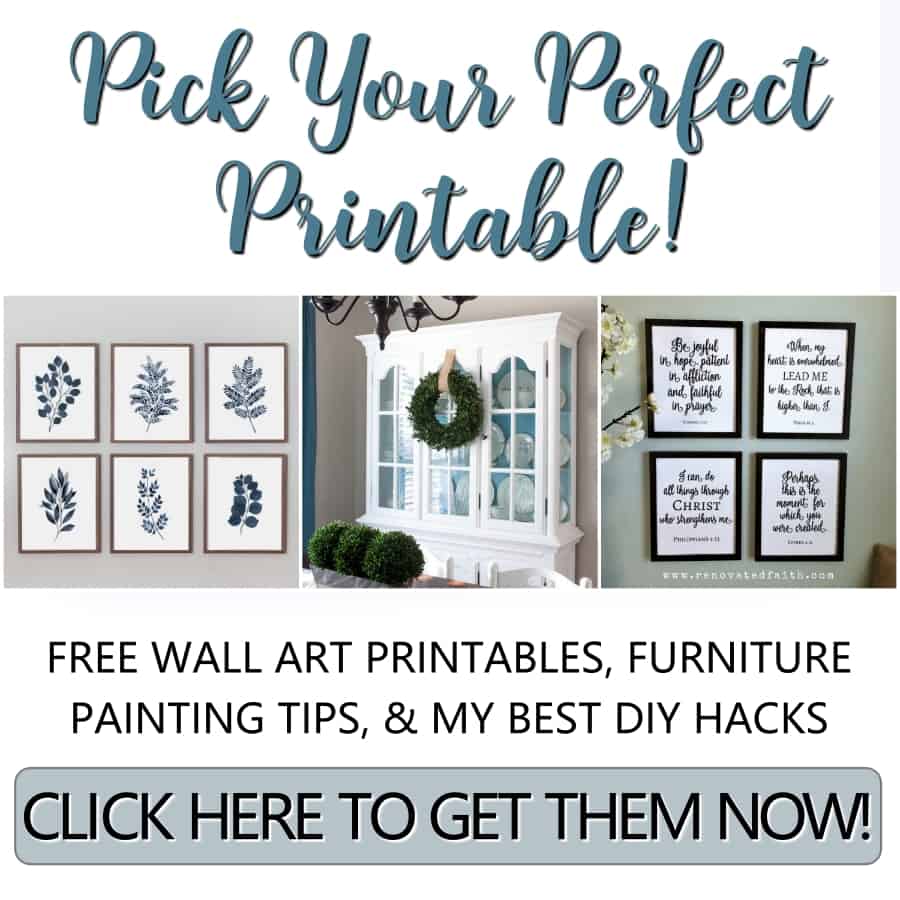 Step 4: How to Apply Acrylic Paint on Fabric
IMPORTANT: Before you start painting on the surface of the fabric, be sure to put something under your fabric because there's a good chance the paint will soak through. Freezer paper isn't always waterproof so I prefer foil or a piece of cardboard wrapped in plastic wrap for any kind of acrylic painting.
After experimenting with how to paint on fabric permanently, I've found it's best to paint a thin border the first time. Using a small brush, I like to outline the edges of my butterflies. I'd do the same if I was using a stencil.
Once the edges are outlined, I fill in with a larger brush so the first coat of paint goes a little faster. Sometimes darker shades or brighter colors need two coats of paint but make sure they are thin coats.
For thin details or smaller designs, it is easier to use fabric markers instead of a thin brush.
Let the let paint dry overnight and don't be tempted to dry acrylic paint with a fan. Instead, it will settle out more smoothly if you let it dry on its own.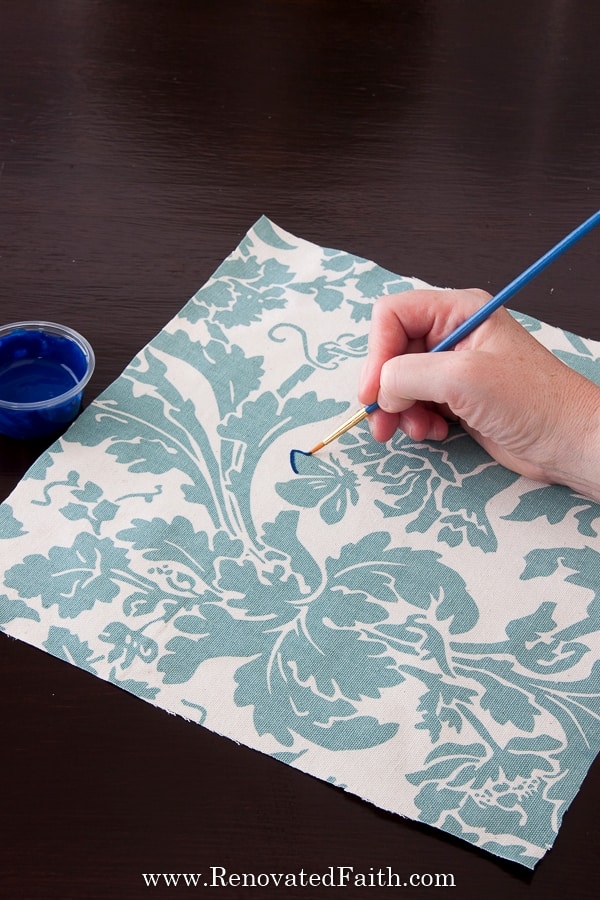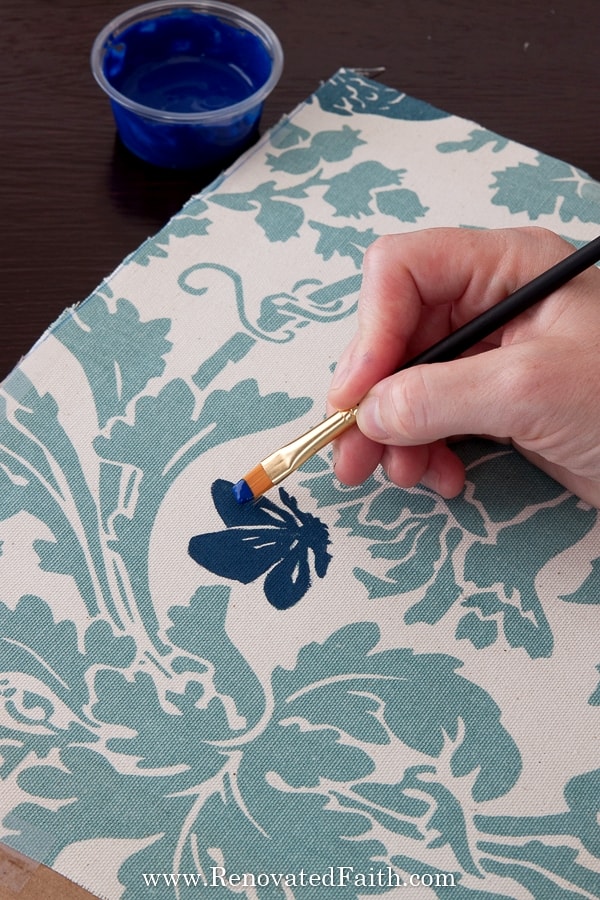 Step 5: How to Seal Acrylic Paint on Fabric
After the second coat has dried for 24 hours, it's now time to iron over your painted fabric to seal in the dried paint. Put your iron on low to medium heat and iron over the painted areas, keeping your iron moving so you don't burn the fabric.
By applying heat to the painted fabric, you are allowing the paint to completely cure into the fabric fibers making it more durable and waterproof.
TIP: To give extra protection to your painted fabric, you can lay a thin piece of fabric between your iron and the painted fabric if you feel more comfortable.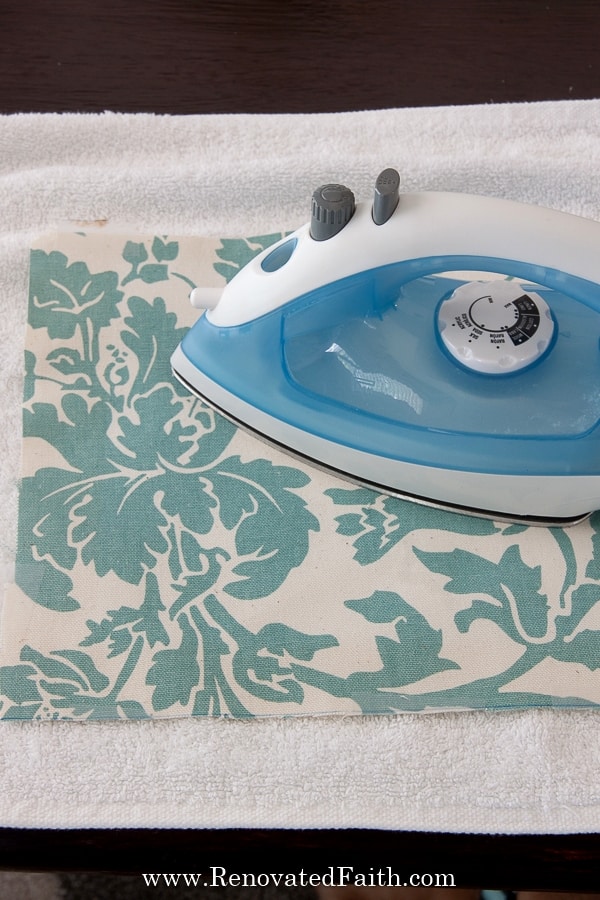 How to Heat Seal Fabric Paint
There are a few different ways to heat seal fabric paint that I wanted you to be aware of. Once you heat-set the painted fabric, it's there forever!
Iron – This is the easiest by far as long as you make sure your iron isn't too hot. Simply iron over the painted area just like you'd iron any other piece of fabric
Oven – You can place your fabric in the oven for a few minutes as long as you don't set your oven temperature over 250 degrees. For obvious reasons, I don't recommend this method!
Dryer – The biggest difference with the dryer method is that it takes longer but it is super easy. Just place the fabric in the dryer on medium-high heat for 40-50 minutes. If you have very delicate fabrics, you might want to stick with the ironing method.
How to Seal Acrylic Paint on Fabric Without Medium
If for some reason you don't want to use an additive to your paint, the methods below will help you seal acrylic paint on fabric without medium. They will still help the paint to cure faster but the medium gives it more durability for long-term wear.
How To Seal Fabric Paint on Shoes
If you are painting shoes with this technique, there is a better and easier fabric paint sealer. Simply use the protective spray that is made specifically for shoes: Fabric Paint Sealer Spray
Step 6: The Final Step to Apply Acrylic Paint on Fabric
Ironing also serves the purpose of making your fabric straight and stiff so it's easy to frame. Simply place your fabric into the frame. You can add some scotch tape to the edges if you are concerned it won't stay in place against the matte.
I love the way my framed fabric turned out! This was such an easy, low-cost painting project and you can make artwork in any style or color scheme.
DON'T FORGET TO TAKE A PICTURE!
Now that you are done, I'd love to see how it turned out! ❤️ Post your before and after photos here!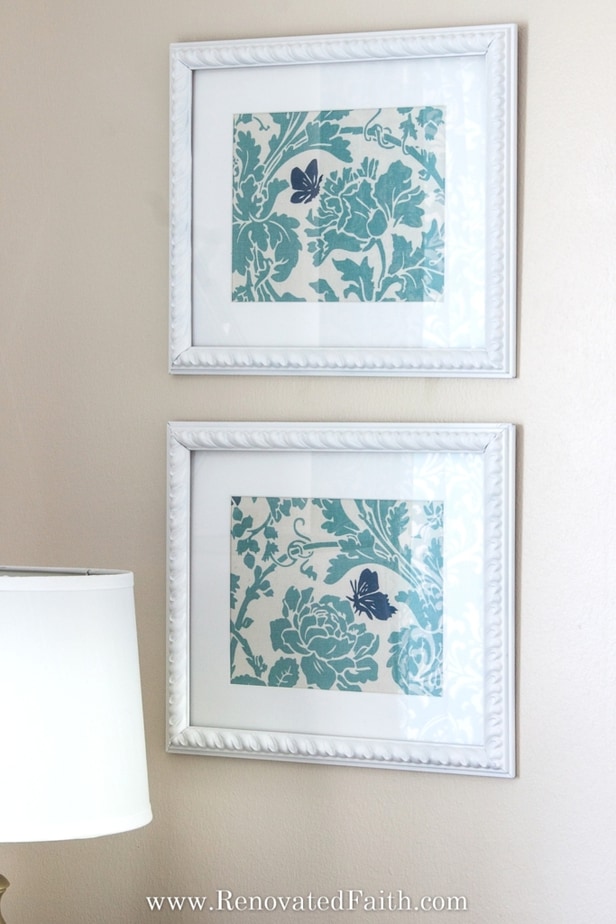 RENOVATE YOUR FAITH: Surround Yourself with Reminders of God's Faithfulness
I made these frames about 5 years ago but I am just now getting around to doing a tutorial. Soon after that time, I had a tremendous struggle with anxiety as I detail in my post: How to Overcome Anxiety & Depression
I made the frames early that year and my struggle was not until October. At the time, I saw a Christian counselor who was vital to help me replace thoughts of fear and worry with thoughts based on the truth of God's Word. One day at the end of a session, she told me to look for God's blessings around me.
Around that time, I remember seeing lots of butterflies, which is odd because it was getting cold, even in Texas. Everywhere I went, I saw butterflies – in the car, in the backyard, and even artwork at my child's school.
The more I thought about butterflies, the more I realized God's capacity to turn even the darkest situations into seasons of hope. Just like a butterfly was once a caterpillar, He can turn any ugly situation into one of beauty and purpose.
God turns darkness into light, discouragement into inspiration, despair into hope, hurt into healing, and sorrow into joy.
So every time I saw a butterfly, it was like a kiss on the cheek from God Himself. It was an unmistakable reminder during a rough season of anxiety that He saw me, knew I was hurting, and longed to transform my fear into trust.
So here I sit today, looking back at that horrible time of desperation and fear. I can see how God not only prepared me for the situation but He was there ahead of me.
"He is before all things and in Him, all things hold together." Colossians 1:17
These butterfly prints were already hanging on the wall by my desk and He knew I would need these reminders of hope. He was already in that horrible season ahead of me, waiting to comfort me. Because He knew I would need that encouragement and it was hanging there on my own wall waiting for me to look up.
Nothing surprises God. He knows the troubles we will face and prepares a way out well in advance. He not only wants to ease our pain and deliver us from trouble but He is already there waiting for us in the storm.
If you find yourself in a difficult situation, know that He was prepared away before you and He will be there for you to rely on every step of the way!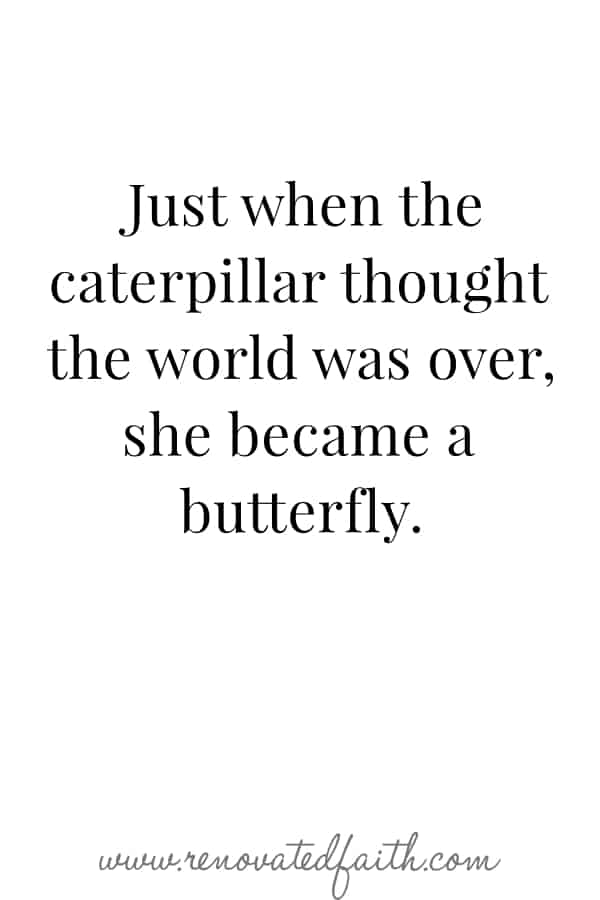 If you want to learn more about how God helped me overcome anxiety, click here: How Should Christians Respond to Anxiety & Depression
To give you some encouragement on dealing with trials, click here: Trusting Christ in Tough Times
For more spiritual encouragement, click here for the rest of my Renovate Your Faith Posts.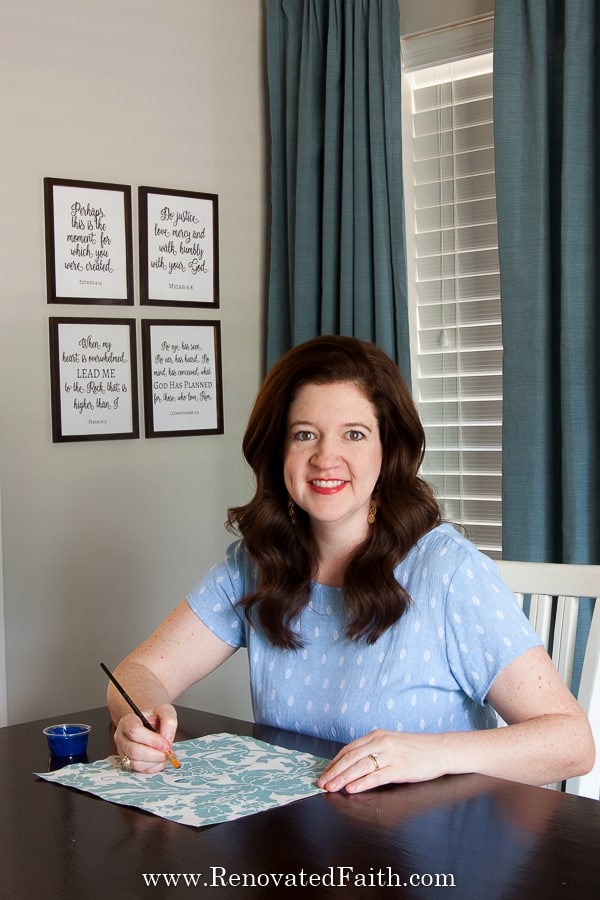 How to Make Fabric PaintS Last Longer ON CLothes & Crafts – Painted Fabric Care:
Even though this process will give you a beautiful and durable home décor or craft project, extra care should always be taken when washing and drying painted fabric. Use the cold gentle (or handwash) cycle on your washing machine. And if you don't have to put it in the dryer, don't. Just air dry and then go over it with a low iron if needed.
TIP: Even if you don't plan on ever putting your fabric in the dryer, be sure to wash and dry the unpainted fabric before you start your project. This is because even if you have it dry-cleaned fabrics can shrink and you don't want your painted fabric to look distorted because of shrinking.
How to Make Acrylic Paint on Fabric Permanent – FAQ's:
Can you use acrylic paint on clothes?
Because the combination makes such a versatile medium, you can use this method to get the same soft feel on clothes whether you are working with natural fibers or synthetic fabric. When washing clothes without a tight weave (like denim) it's a good idea to use a lower washer and dryer setting.
What is the best acrylic paint for fabric?
My two favorite kinds of acrylic paint are Apple Barrel and Delta. Both are made by the same manufacturer, Plaid. Since Apple Barrel is usually cheaper, I'd opt for them. However, a good reason to use Delta acrylic paint is their product selection. Delta comes in a lot of cool sheens and different shades that Apple Barrel doesn't include glitter paints, pearls, and metallics:
Apple Barrel Craft Paints (Click Here for the Current Price)
Delta Craft Paints – (See the Current Price Here)
Martha Stewart Craft Paints – Glitter Paints (See the Current Price Here)
Martha Stewart Craft Paints – Satin Colors (See the Current Price Here)
Delta also has a selection of oil paints to choose from.
Can I Use Acrylic Paint on Fabric? Is Acrylic Paint Washable?
A reader asked, "Is Apple Barrel paint washable?" On its own, acrylic paint is washable and can be used on fabric. It will stain clothes even if left on them for a few seconds. The reason you want to mix a fabric medium with acrylic paint is so that the paint does crack, peel or chip over time. Also, without fabric medium, the acrylic paint makes clothing stiff and uncomfortable.
Can you use acrylic paint on fabric shoes?
You can use acrylic paint on any fabric shoes to make acrylic paint designs – whether it's shoes, uggs, aprons, wall hangings, curtains, etc. The options are endless with this fabric painting technique!
Is there a fabric medium for latex paint?
You can mix latex wall paint and fabric medium to paint fabric. On smaller projects like an apron, wall art, or even a pattern on curtains, I would use the Delta fabric medium I listed above.
But on larger fabric painting projects like upholstery, where you are going to be painted in a very large area, I recommend this: Delta Fabric Medium
I recommend this product because it is thinner which is what you want for painting a solid piece of upholstery and it is cheaper than the other one. Kim at kimandsix.com gives all the details on this process and you can see how well her chair turned out here: How to Paint Upholstery
How to Seal Acrylic Paint on Fabric Without Medium
If you paint on fabric without using a fabric medium, you can still seal your fabric using the above method with the iron on a low heat setting.
How to Paint on Fabric without Bleeding
Bleeding paint is a problem with fabric-specific paints when either the paint is too thin. Fortunately, if you are using acrylic paint and fabric medium, you won't run into this problem. Both acrylic paint and acrylic fabric medium have a thick consistency that will prevent bleeding.
How to Turn Acrylic Paint Into Fabric Paint Without Medium
Does acrylic paint work on fabric without medium? There's no way to turn acrylic paint into fabric paint without a textile medium. If you are painting on fabric with washable acrylic paint alone, it will eventually crack and peel because the medium is needed to make it more flexible.
How to Make Fabric Dye with Acrylic Paint
If you want to dye fabric, one of the easiest ways is with acrylic paint and fabric medium as opposed to more expensive enamel fabric paints. This method of coloring fabric doesn't work well to achieve dark colors but is great for watercolor-like effects and tie-die. Simply mix 1 part acrylic paint, 1 part fabric medium, and 7 parts water. Add extra water if you want a more washed-out look. Let the paint soak into the fabric for two hours in the acrylic paint wash, wring out any excess water and hang the wet fabric up to dry. Use rubber bands for a tie-dye effect. Use can also you this same mixture in a spray bottle to create a sprayed-on effect that will give you better results than fabric dyes.
Can You Use Acrylic Paint On Fabric That Is "Dry-Clean Only"?
You can use acrylic paint on fabric before it is dry-cleaned. In fact, the painted fabric will hold up better than being washed on cold in the gentle cycle and air-dried.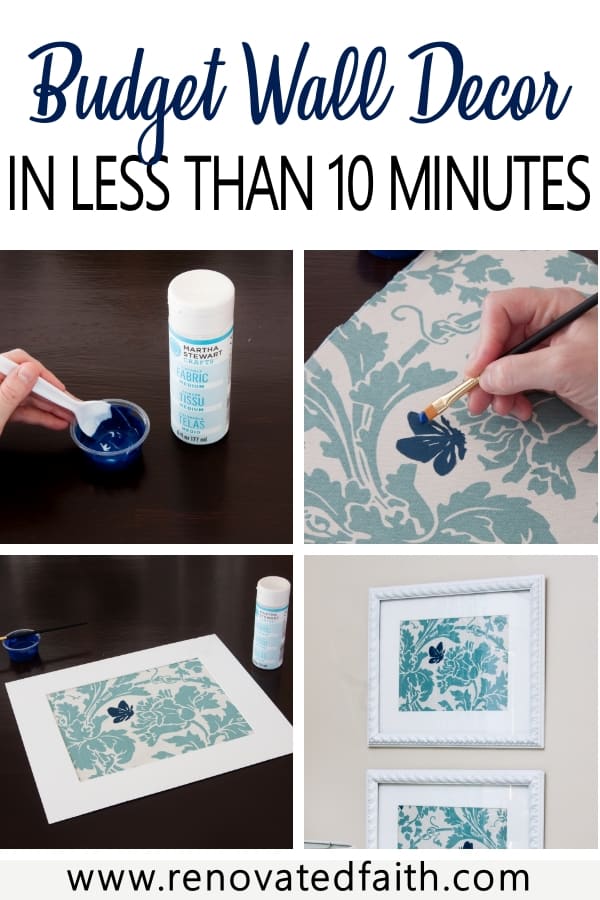 Can You Use Acrylic Paint On Fabric? – Related Posts:
FULL OFFICE REVEAL – Home Office Checklist for Women
Free Spray Painting Checklist: My Best Tips & Tricks for a Flawless Finish
The Best Paint for Furniture (Chalk Paint vs. Milk Paint vs. Latex)
How to Make a DIY Desk Out of a Door
Custom Curtain Rods on a Budget
Farmhouse Lighting Makeovers on a Budget
Best Top Coat For Painting Projects
A Beginner's Guide to Painting Furniture
The Best Navy Paint Color – Hale Navy
CAN YOU USE Acrylic Paint on Fabric?, YouTube Video

How to Use Acrylic Paint on Fabric – Final Thoughts
Now that you know how to paint on fabric permanently, you can use the same process to paint fabric wall art, shoes, denim, or any wall hanging. This process will give you better results with lots of budget-friendly color options making any project turn out beautifully and last a long time!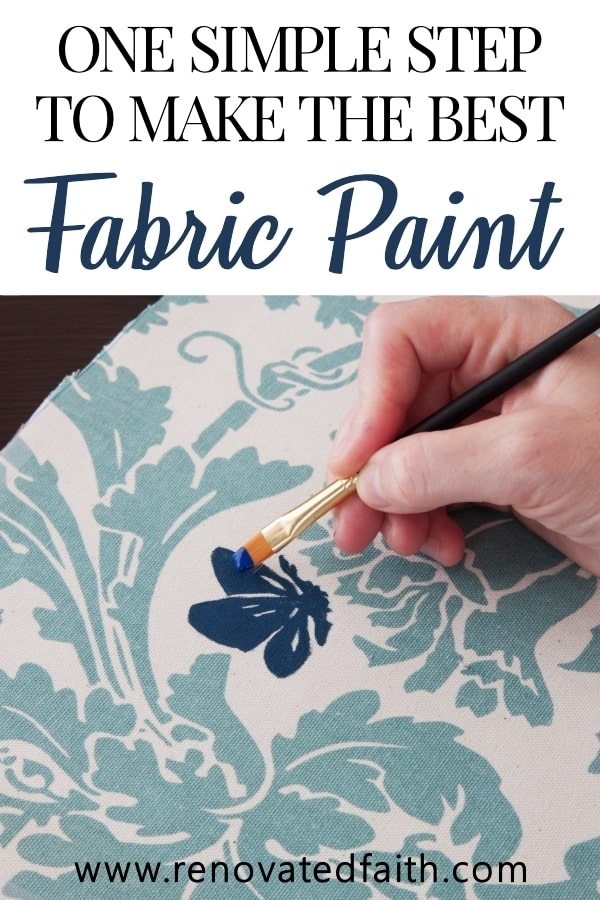 I love to hear your thoughts and questions! Scroll down to leave a comment and I WILL reply! ❤️
Blessings,

Be sure to follow the fun here!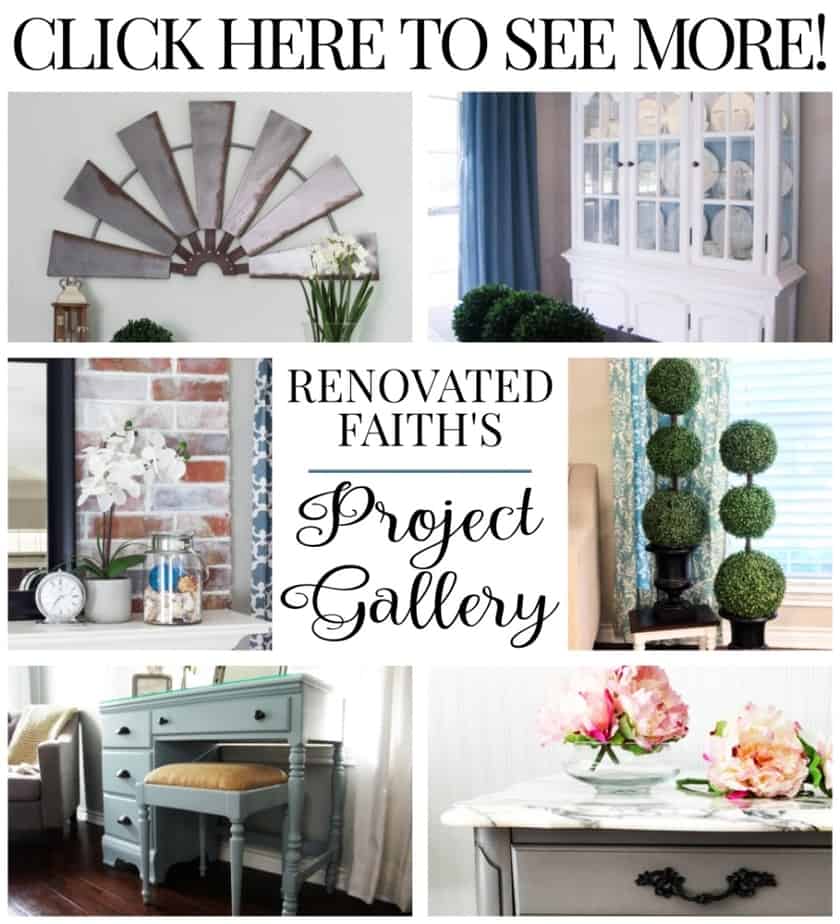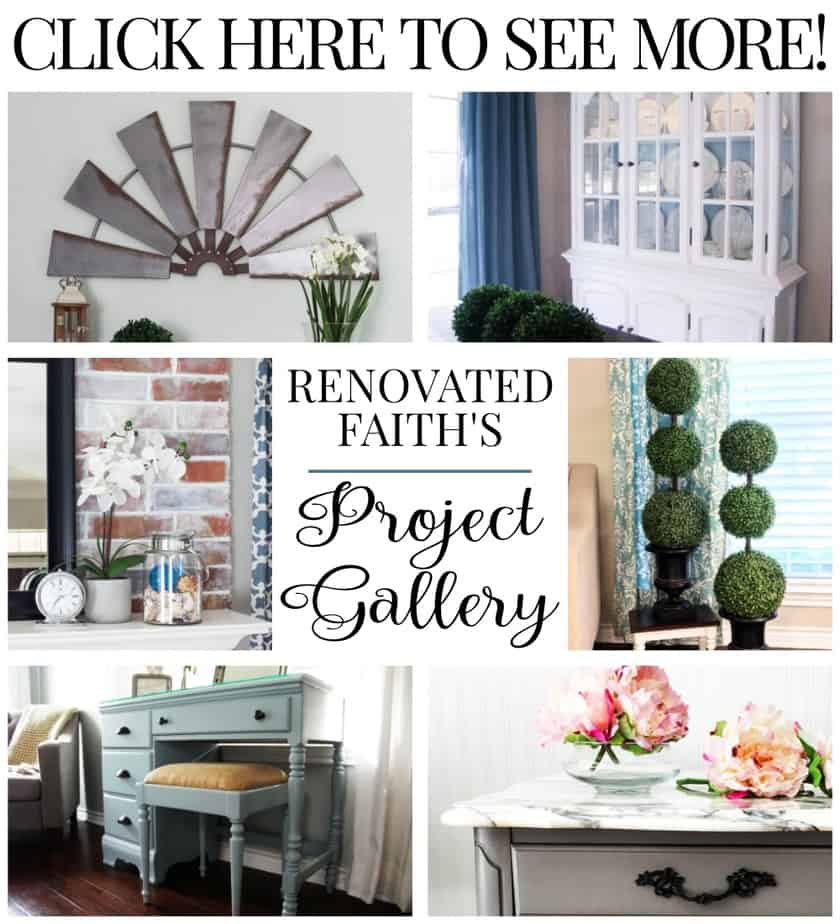 Can You Use Acrylic Paint on Fabric?
Welcome to Renovated Faith, where I share about DIY projects, my faith and everything in between! When I'm not spending time with my family, you will find me redoing furniture in the garage or watering plants in my greenhouse. This blog is about transformation. Anyone can renovate a house but only God can transform our hearts!