The Best Spray Paint for Glass (2023 Guide & Video For a Perfect Finish)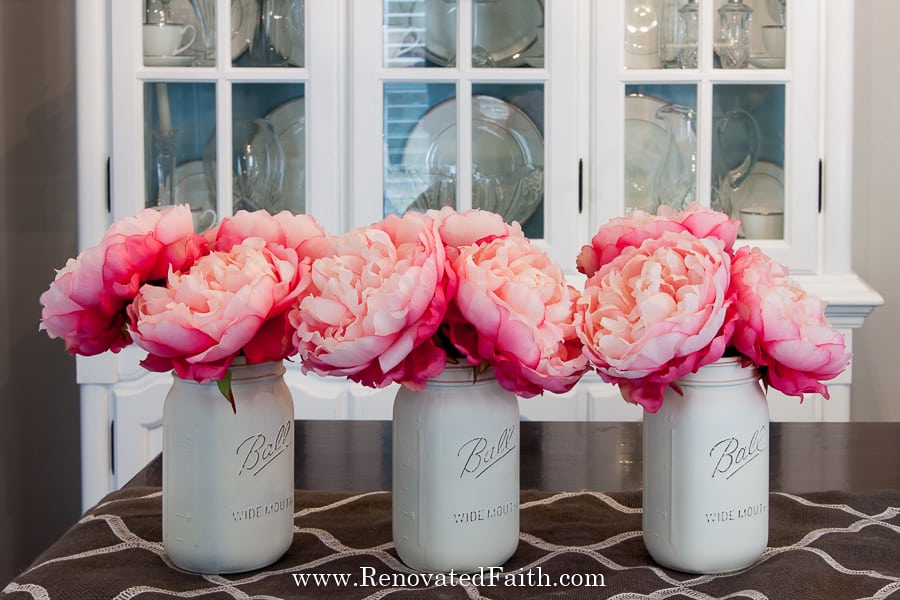 Can You Spray Paint Glass?
You can absolutely spray paint glass as long as you have the right product! Here are simple tips and the best spray paint for glass to get a perfect finish that lasts.
---
One of the easiest and least expensive ways to transform any home decor item is with spray paint! But whether you are spray painting mason jars or an outdated vase, the wrong paint could turn your glassware into a drippy mess.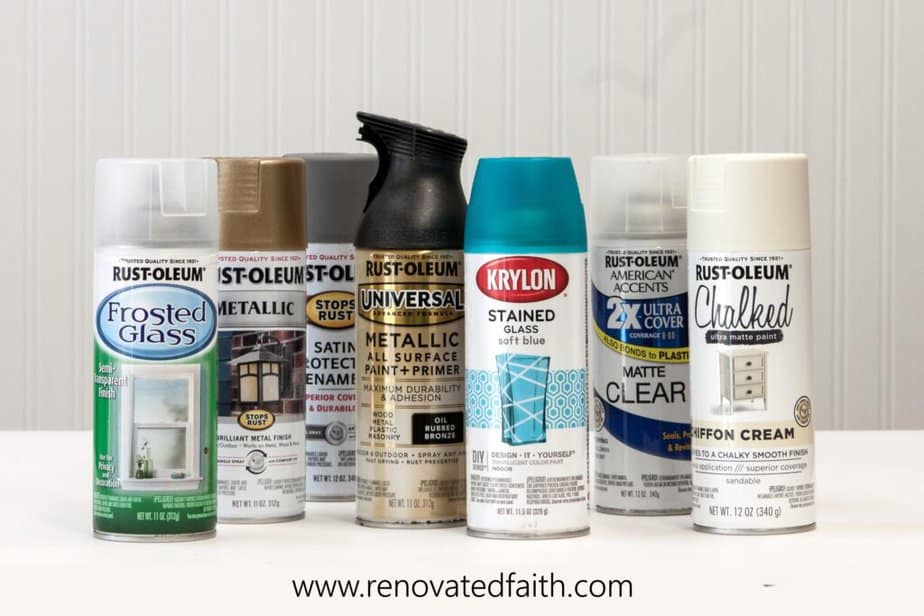 Fortunately, with the right spray paint options and a few easy tips for painting glass, you can get a drip-free, flawless finish easily on your next project!
When I first discovered the transformative power of spray paint, I felt that I had a magic wand that could instantly transform any home decor item on a budget!
So outside I went with a ceramic lamp, several vases, and some antique figurines. The backyard looked staged for a yard sale as I spread them out in the grass on old pieces of wood
Can You Spray Paint Glass?
What I failed to realize was that all spray paint is NOT created equal – especially when it comes to glass.
When I was finally done, I was ready to have an actual yard sale with all of the home decor items that were now covered with dried-on spray paint drips and runs. The key to spray painting glass is using the right spray paint!
Fortunately, I've done lots of experimenting since Spray Paint Gate and have learned the best spray paints to achieve any look you want on glass! (Be sure to download my free tips that will change the way you spray paint by filling out the form at the bottom of this post or clicking here).
Check out this guide and video on how to transform any home decor item easily and inexpensively with spray paint!
LET ME SHOW YOU:
The best spray paints for painting glassware
How to tint glass easily and permanently with the best results
The simplest tips to spray paint glass and give it new life
Budget-friendly ideas for transforming home decor items you already own with spray paint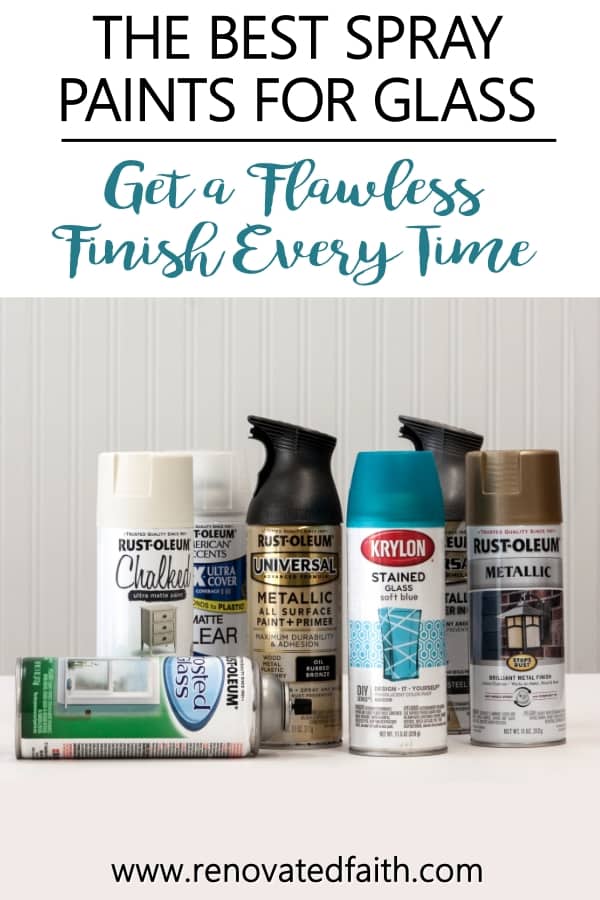 (As an Amazon affiliate I earn from qualifying purchases. I only use affiliate links on products I use and love. Please see my full disclosure HERE).
The Best Spray Paint for Glass
What is the best Type of Paint for Glass?
The right paint for glass should give you a smooth, consistent, and permanent finish. Because spray paint is oil-based, it is a much better option than acrylic paints for glass. If you want to get the look of custom lettering, you can easily use a stencil with spray paint to get a perfect finish that won't wash off.
Problems with Spray Painting Glass
Glassware is probably the most difficult material to paint. Because of its smooth surface, you are more likely to have runs, drips, or peeling.
Glass's slick surface doesn't give the paint much to grab and hold onto. Therefore, the paint accumulates easily onto itself and causes cracks, drips, and runs.
For this reason, many prefer to paint glass with a brush, but that leads to lots of brush strokes on what was previously a very smooth surface. (I mention this tip in my free checklist to help you spray paint like a pro. You can get it by filling out the form at the bottom of this post).
I don't know about you, but if I'm going to take the time to hand paint something, I want it to look good!
That's why using the right spray paint is so important!
What Spray Paint Will Adhere to Glass?
Spray paint quality can vary drastically from one product line to another and some are easier to use on glass than others. Also, certain nozzles are better suited for an even spray, which is critical for spraying glassware.
Some paints better stick to glass than others but this post will show you the perfect glass spray paint for your project!
WARNING: Spray painting can be addictive. Once you see how easy it is to transform old home decor, you will soon realize other home decor items that will benefit from a makeover with spray paint!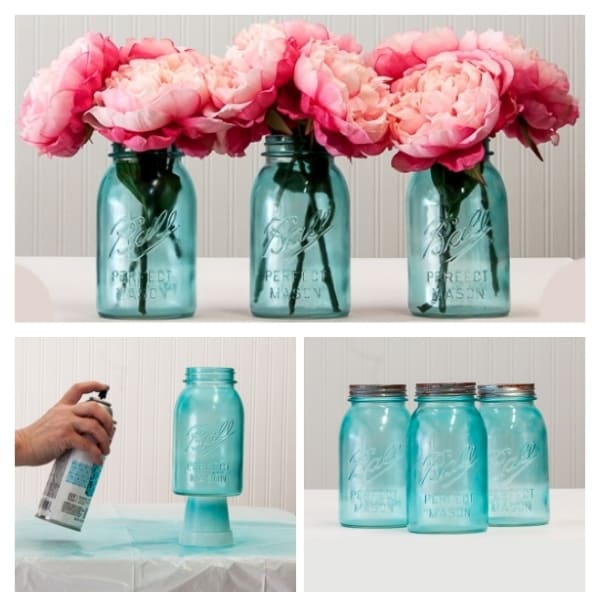 Considerations for the Best Spray Paints for Glass
Several considerations should be taken into account when reviewing and deciding on the best spray paints for glassware.
Drips – Drips are the bain of my existence in any painting project. Those dreaded drips can ruin a perfectly good vase in no time.
As I mentioned above, glass is more susceptible to drips because it is so slick and smooth. However, using the right spray paint can ensure you get the perfect finish every time. What affects the smoothness is the quality of the paint and the type of nozzle.
Unevenness – Sometimes even if you don't have drips, the type of nozzle can cause the paint to come out unevenly. Or, it can make spray paint particles that are too big and don't appear smooth on the surface of your glass.
Sheen – Keep in mind the sheen you are going for. For example, you want a high-gloss sheen if you are painting faux milk glass and if you want the look of chalk paint you want a very matte sheen.
Dry Time – You want a short dry time so that there isn't as much opportunity for dust to land on your newly spray-painted surface.
Price – The spray paints I recommend in this post are all $5-7. There are cheaper cans of spray paint but they will not give you the results you are looking for on glass.
They also cover well which means you won't have to use much and that means fewer spray paint cans to purchase.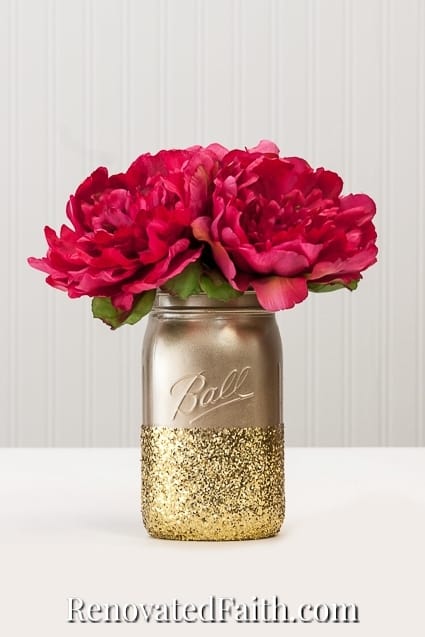 Different Options for Spray Painting Glass:
Renee Witherspoon once said, "If it's not moving, monogram it." But my version is probably, "If it's not moving, spray paint it." In my garage, you will currently find over 30 cans of spray paint in all their glorious shades, tints, and sheens.
I've spent years spray painting items around the house which means I have learned from lots of mistakes and the best spray paints to use for various surfaces.
In this post, I'll show you the best spray paints for each of these finishes:
Chalk Painted Glassware
DIY Faux Milk Glass
Tinted Glass (For example Vintage Blue Mason Jars)
Sea Glass
Metallic Finishes
Best Spray Paints for Solid Colors in any sheen: Matte, Satin, Semi-Gloss & Gloss
What is the Best Spray Paint for Glass?
Several different spray paints are great for glass, depending on the look you want. But the same line that is great for metallic colors isn't great for tints, so I have listed the best spray paints for glass pieces by the look you are going for!
(Don't forget to check out the video above on how to spray paint mason jars to see these paints in action!)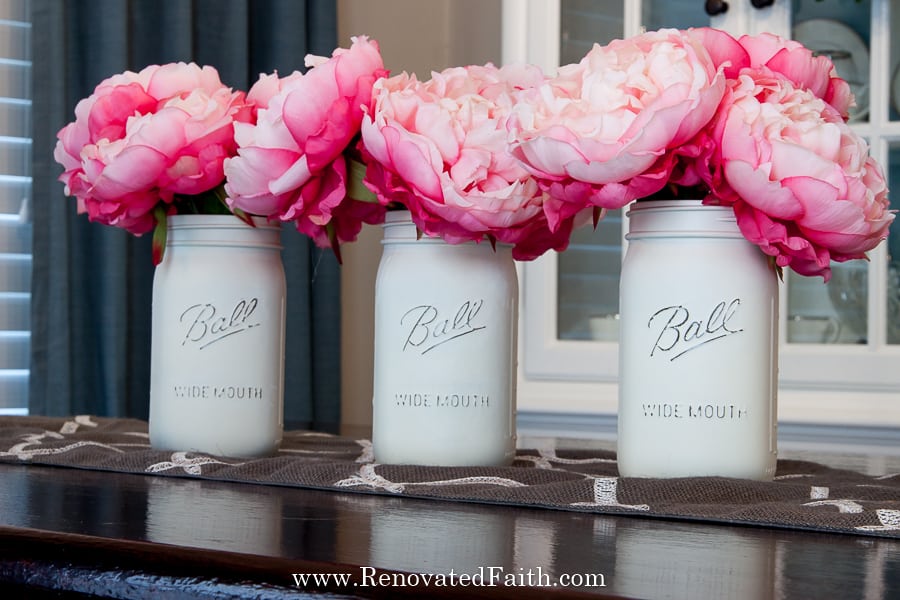 Best Spray Paint for Glassware: Chalk-Painted Look
If you love the look of chalk-painted and distressed mason jars, there is one clear option: Rustoleum Chalked Spray Paint
I love this spray paint because it's a really nice matte chalk finish that adheres really well to the glass. Also, it sands easily without peeling for a distressed look.
To get the distressed look, spray paint your jar or glassware in several light coats of spray chalk paint.
After it has dried for at least 24 hours, take a 180 grit sandpaper or higher and sand off the areas that you want to look distressed. I show you the whole process in the video here: How to Paint Mason Jars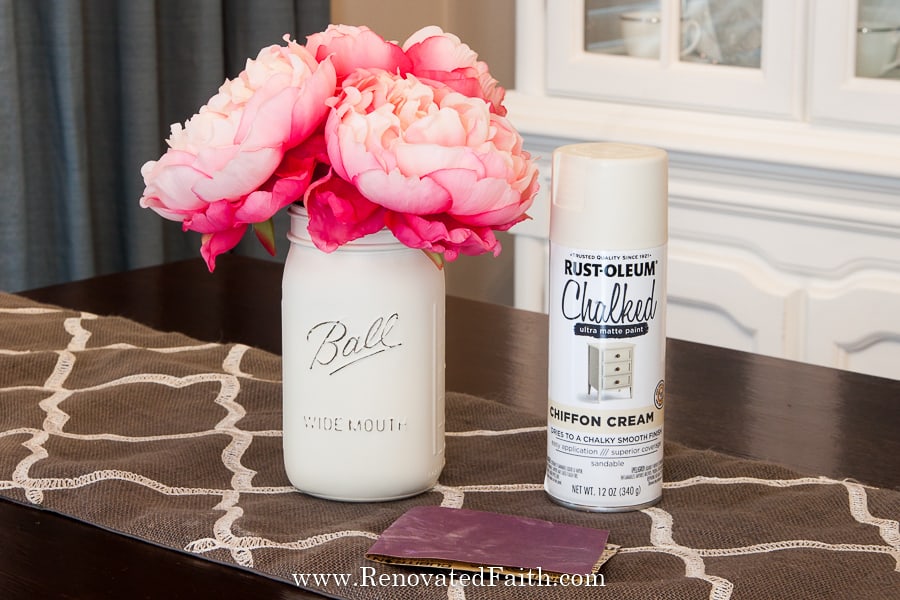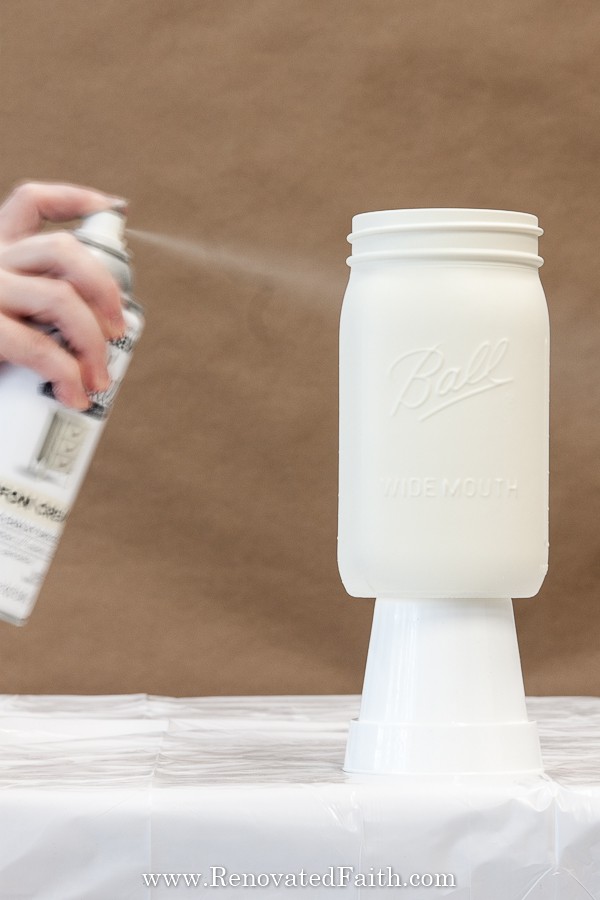 The chalk paint especially doesn't require much paint so spray on light coats. For a full tutorial and video on how to paint mason jars, click here: How To Spray Paint Mason Jars in Any Color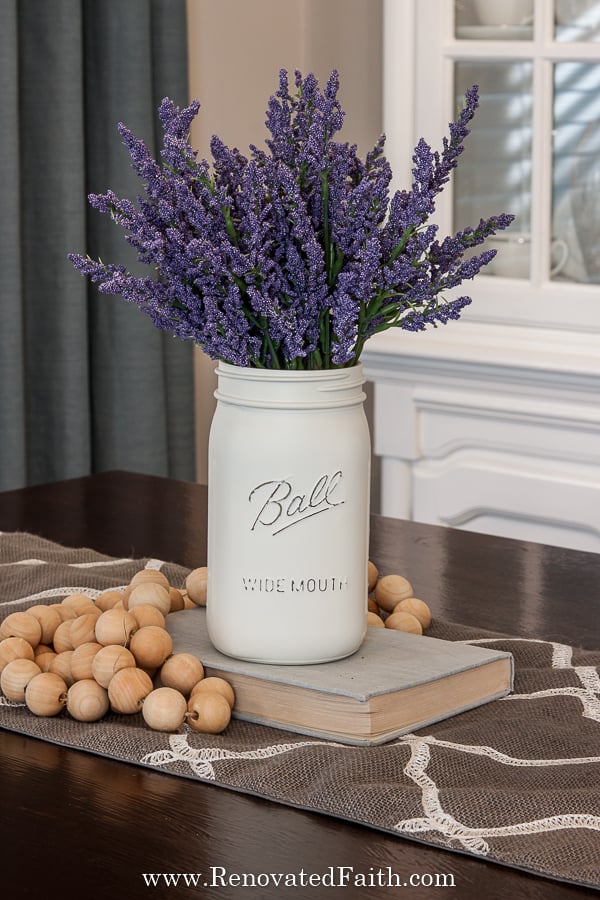 Best Spray Paint for Glass: Frosted Glass Spray Paint
If you want to make a clear glass vase or jar opaque, you can do that very easily with Rustoleum Frosted Glass Spray Paint.
This paint has given me a flawless finish time and time again. This product gives you lots of great options for spray paint projects including making lanterns out of jars or even making a bathroom window opaque.
Simply spray the glassware in very light coats being sure to tape off any area that you don't want to be painted.
Give it 24 hours to dry before using it. Rustoleum's Frosted Glass Spray is the best one on the market and gives you an even finish every time.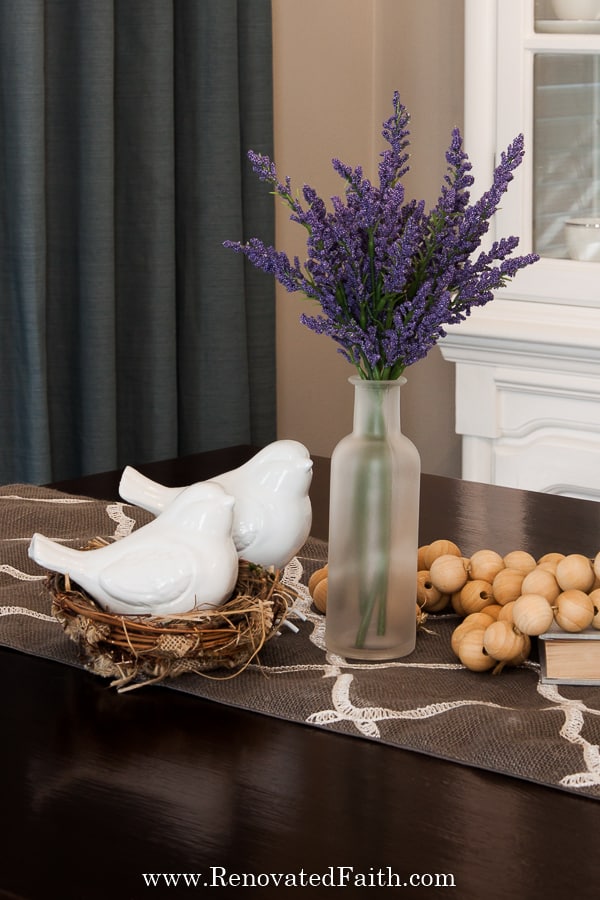 Renovated Faith: What's in a Name?
Renovated Faith is focused on the process of transformation. Along with DIY projects, I explore the transformative power of God to help us reach our greatest potential in Him. God never leaves a project half-done…He continually works on each one of us, as a lavish expression of His endless love and amazing grace.
If you are a work-in-progress, just like me, check out the Renovate Your Faith Devotional at the bottom of this post. Click here to get a weekly reminder of new posts by email with free access to my printables library.
Best Spray Paint for Glass: Sea Glass Finish
There are spray paints on the market that are specifically for a sea glass finish – one product in particular.
But after three cans of the same product, I could not get an even finish. The paint splattered and pooled all over my glass vases no matter how much I shook the can!
But, I found a great way to create a sea glass effect that is flawless every stinkin' time. To do this, it will take a couple of cans of spray paint. First, spray on Krylon's Stained Glass (NOT Krylon's Sea Glass Spray Paint) in a few light layers to get the depth of color you want.
Then, after about 20 minutes of spraying your last coat of Krylon's Stained Glass, spray on a coat or two of Rustoleum's Frosted Glass.
The difference between the stained glass look and the sea glass look is that sea glass surface is more opaque. So, we are just adding a frosted finish to stained glass to create a sea glass effect.
Yes, I know you are having to buy another can of spray paint but I assure you that this will give you a beautiful, even sea glass finish on glass every time! You can see the process in detail in the video above.
Below you can see how I sprayed a vase with Krylon's Summer Green Stained Glass Spray Paint and Rustoleum's Frosted Glass. I also made a candle holder out of a mason jar by spraying on Krylon's Soft Blue Stained Glass Spray Paint and then Rustoleum's Frosted Glass Spray Paint on top.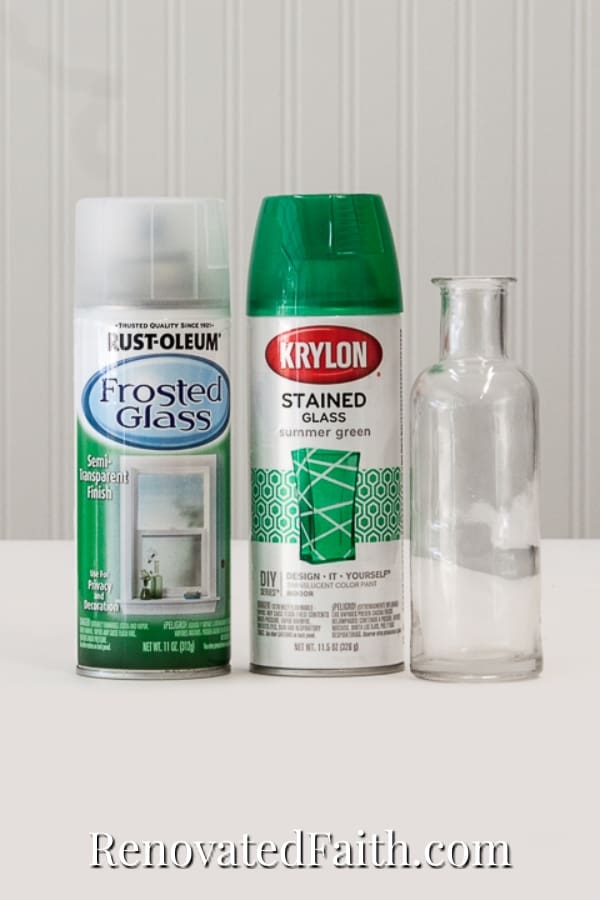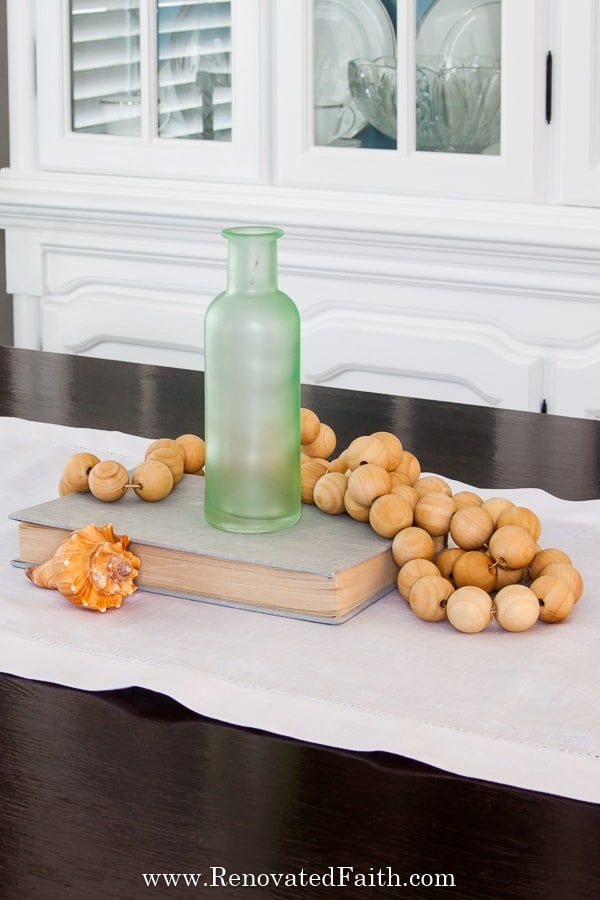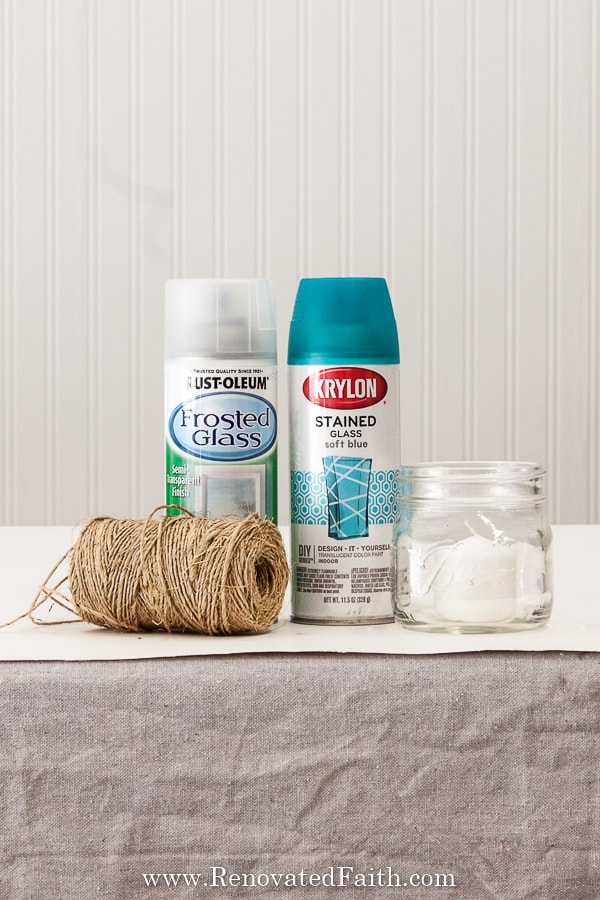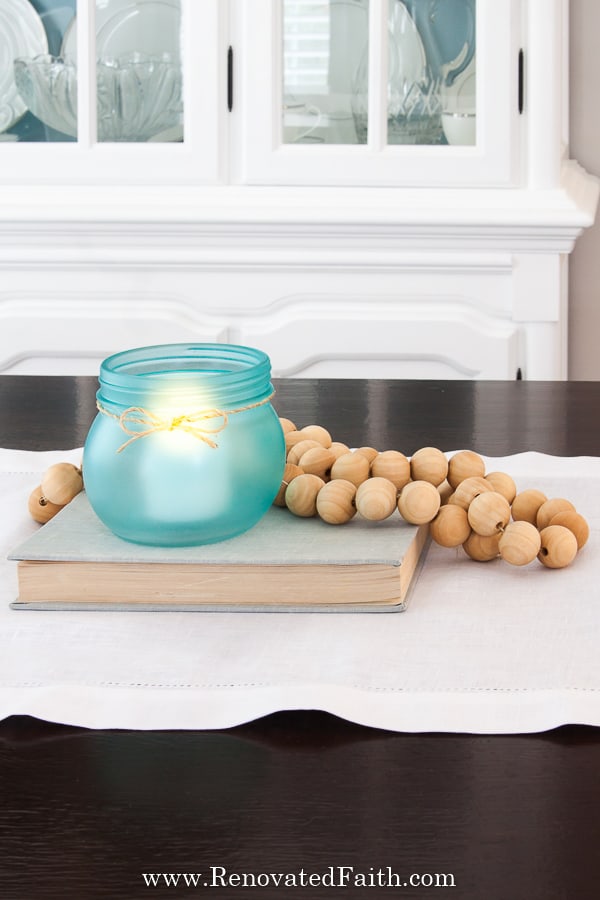 Best Spray Paint for Glass: Metallic Colors
Whether you need gold spray paint for clear glass bottles or rose gold spray paint for a thrift store vase, here are several high-quality paint options that are a good value – no matter the metallic color you're looking for!
Metallic spray paints are available today in any local home improvement store but they are not all created equally.
I have tested several different brands and the Rustoleum Universal Metallic spray paints seem to always come out on top. Here are my favorites for each shade of metal surfaces:
Best Rose Gold Spray Paint for Glass (Check the current price here)
Best Champagne Gold Spray Paint for Glass (Check the current price here.) – See the hardware on this Navy Dresser.
Best Gold Spray Paint for Glass (Check the current price here.) – See the gold mason jars in this post on Spray Painting Mason Jars.
Best Satin Nickel Spray Paint for Glass (Check the current price here.)
Best Copper Spray Paint for Glass (Check the current price here.)
What is the Best Chrome Spray Paint for Glass?
Chrome spray paints can vary quite a bit. Some can go on smoothly and have a beautiful finish but can rub off easily when touched.
Others might interact with the oils on your hand making those parts less shiny. However, I have always had good luck with the finish and durability of this option which makes it an excellent choice:
Best Silver/Chrome Spray Paint for Glass (Check the current price here.)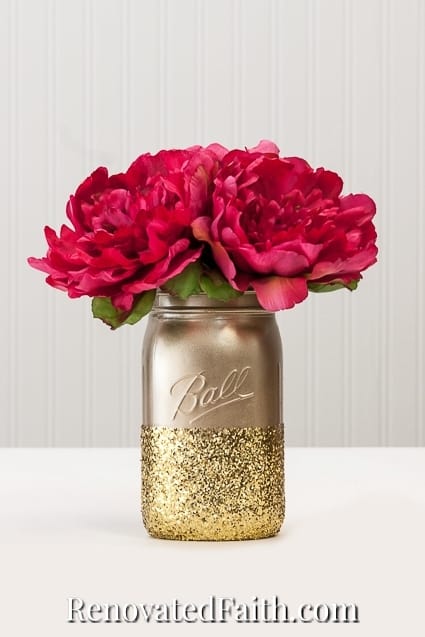 To see how to add glitter to glassware, check out this post: How to Paint Mason Jars
Best Spray Paint for Glass: Based on Sheen
Here are some options if you are looking for solid colors based on their sheen.
Matte Spray Paint for Glass (Check the current price here on Rustoleum Ultra Cover Paints.)
Satin Spray Paint for Glass (Check the current price here.)
Semi-Gloss Spray Paint for Glass (Check the current price here.)
Gloss Spray Paint for Glass (Check the current price here.)
Spray Paint for Glass in Black (Check the current price here.)
Great Solid Blue Spray Paint – Satin Lagoon (Check the current price here.)
Best Spray Paint for Glass and Ceramic: Faux Milk Glass Spray Paint
If you love the look of milk glass, you can get the same look by spray painting glass objects and ceramics with a high gloss white spray paint.
The Best White Spray Paint for Glass
There are several white gloss spray paints on the market but white spray paint for glass has to spray on evenly with a short dry time.
White spray paint will show flaws and unevenness much more than darker colors. That's my why top pick for faux milk glass is this one: Rustoleum Universal Gloss in White
This brand is a good choice not only because it sprays a light even coat but the nozzle is the best type for even coverage to avoid drips and runs – especially since gloss paints are most susceptible.
DON'T FORGET: Just spray on light coats of this spray paint about 15 minutes apart. You will be tempted to get full coverage on the first coat or two but go really light to avoid drips!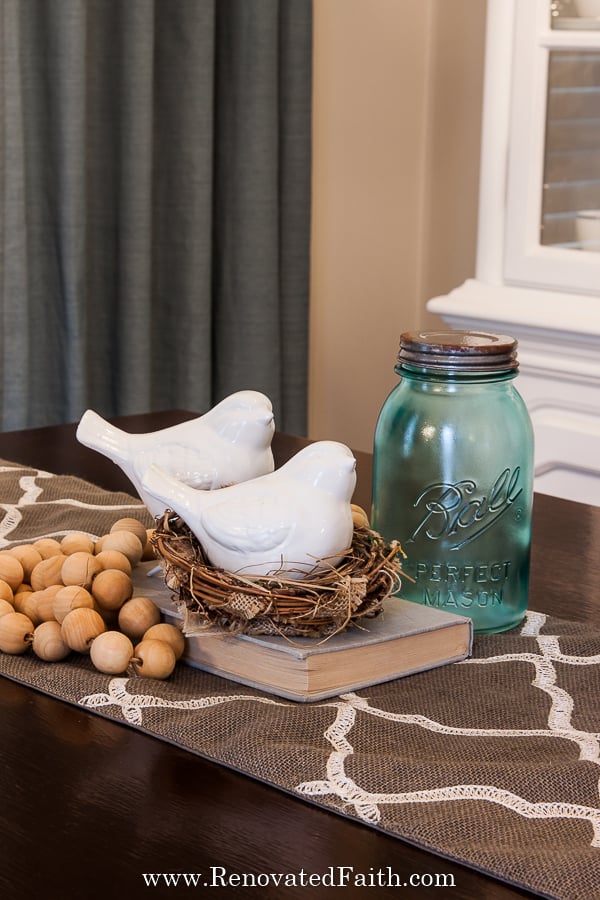 I spray-painted these birds to look like white ceramic or porcelain. It's hard to believe they were bright orange and green before I painted them!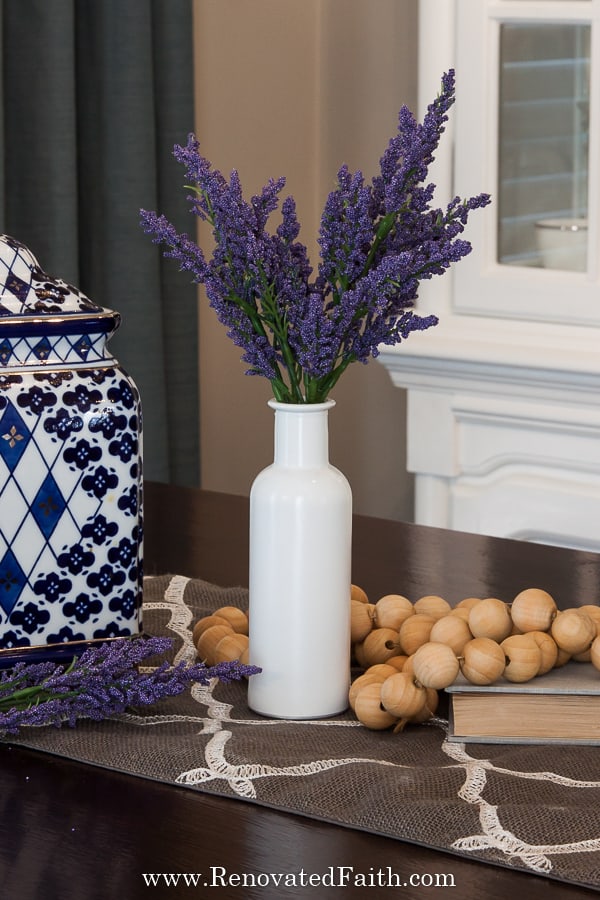 Best Spray Paint for Glass: Waterproof Stained Glass Paint
Sometimes you want to spray paint mason jars or glass items with a translucent tint instead of a solid or opaque frosted color. The perfect spray paint for that is Krylon's Stained Glass Spray Paint (see the current price here).
This product is fabulous and I was able to get a beautiful blue tint on mason jars that now look like vintage antiques! It is very light so it will probably take several coats if you want a deep tint.
Fortunately, that's the most important attribute for spray painting glass – light even coats!
I love these vintage blue mason jars that are now a permanent fixture in my white hutch that used to be my grandma's.
I did a full tutorial and video on spray painting mason jars here. This product line includes several vibrant colors that work beautifully!
Soft Blue(what I used below) | Canary Yellow | Cranberry Red | Royal Purple | Smoke Gray | Cobalt Blue | Summer Green | Tangerine Orange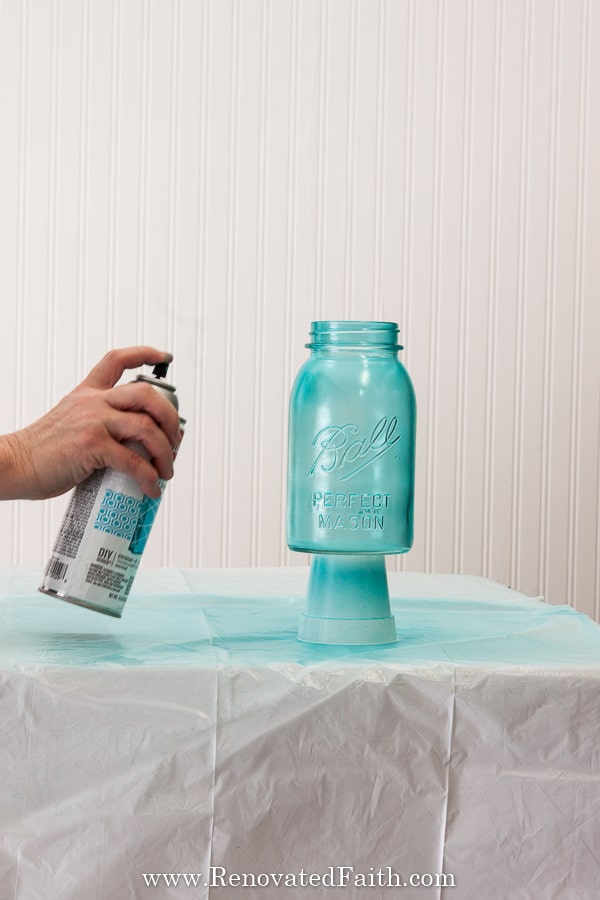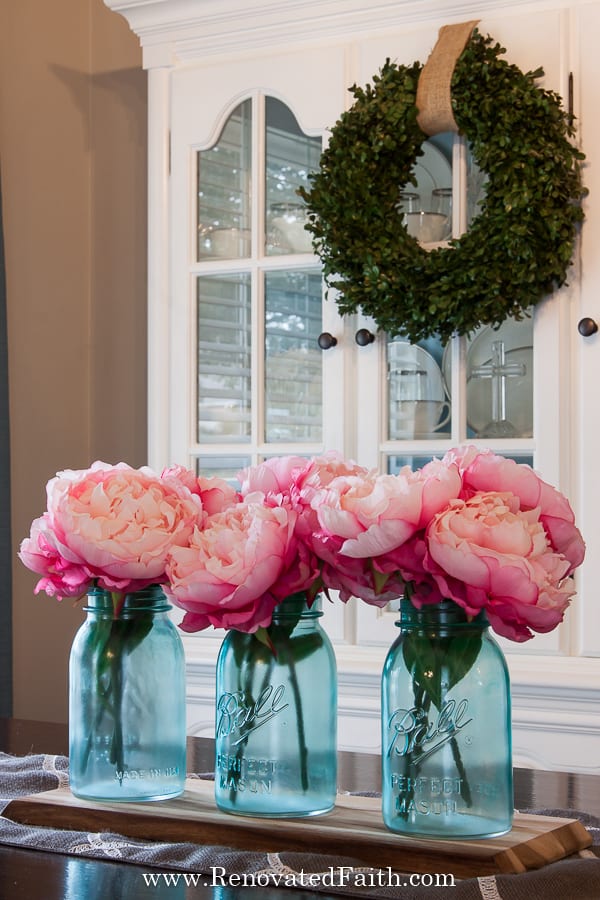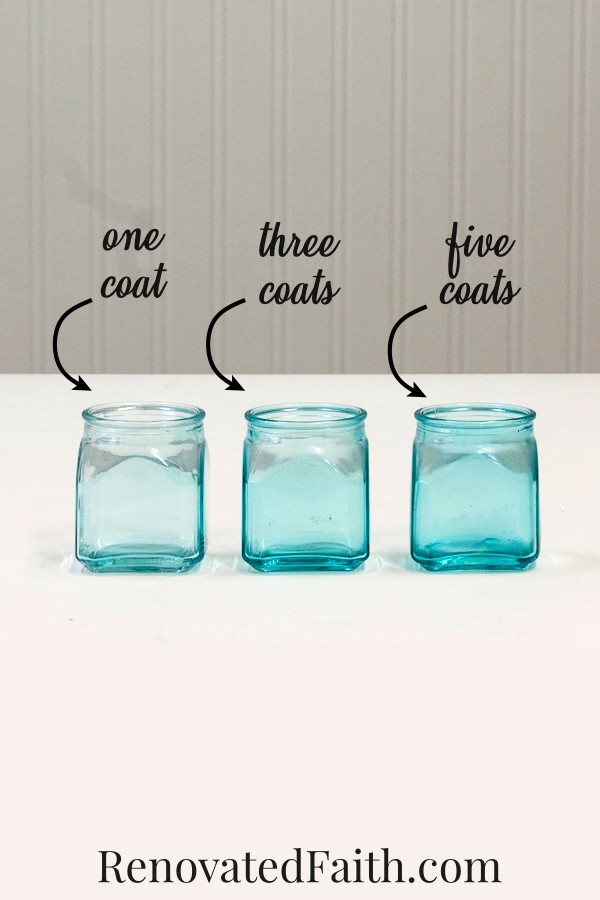 The number of coats determines how much color. You can even achieve a pink tint with one or two light coats of Cranberry Red.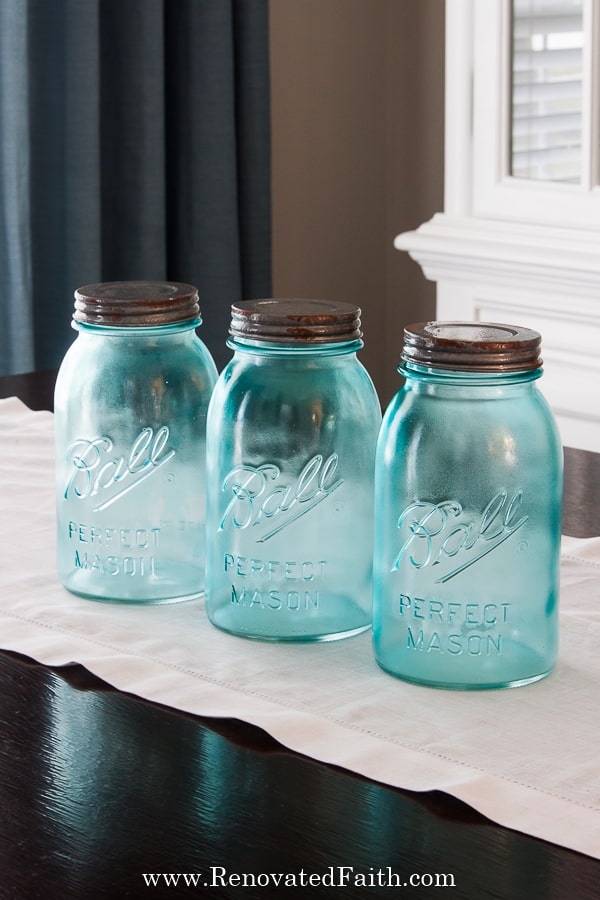 To see the full post on how to tint mason jars blue, you can click here: How to Spray Paint Mason Jars Blue I also include instructions on how to make the lids look rustic, as you see above!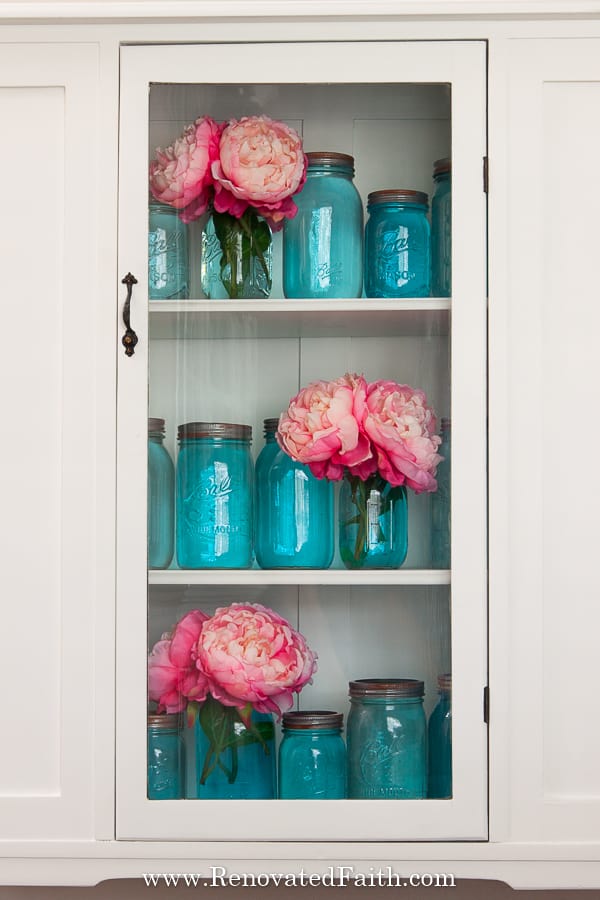 I used the same process to tint these jars in my china cabinet transformation here: How to Paint Furniture with White Paint
How To Spray Paint Glass
Be sure to check out the video tutorial to show you exactly how to spray paint glass. If you have trouble finding it, you can also find it here: How To Paint Glass, YouTube Video
"How do you permanently paint glass?"
Using the right spray paint is key but you also want to use the right method of spray painting to ensure a smooth, even finish on your glassware that is also water-proof.
To spray paint any type of glass, ceramic, or porcelain, wipe down the surface with rubbing alcohol to remove any dirt or adhesive on the surface of the glass that would prevent the paint from sticking.
Be sure to cover your work area with old sheets or drop cloths (Don't use plastic trash bags because spray paint will permeate the plastic.)
If this is your first time spray painting, cover more area than you think you'll need protected for good measure, since those spray paint dust particles travel and stick to things.
After the alcohol has dried, shake the spray paint can for about a minute. You can start spraying the glass in light coats 15 minutes apart.
How to Spray Paint Glass Without Drips
IMPORTANT TIP: On the first coat, you will be tempted to get full coverage but don't! That's a recipe for drips.
It's a good idea to air on the side of using not enough paint for each layer than spraying on too much. This is especially important for spray painting vertical surfaces where drips are more likely.
The easy way to spray paint glass is with several light coats. Spray on a very light first coat and know it will be translucent and spotty.
Keep spraying light coats 15-20 minutes apart until you get full coverage. For a video of how to spray paint glass, check out this post: How to Spray Paint Mason Jars. And to get my best spray painting tips, fill out the form at the bottom of this post.
How to Fix Spray Paint Drips on Glass
If you are wondering how to fix spray paint runs on glass, you've come to the right place! Once you start to see a drip or runs form, stop spray painting that coat.
While the paint is wet, get a small art brush and just brush out the drip with one quick stroke. It might leave some brush strokes on the surface but you will cover them with the next coats of spray paint.
Let the current coat dry for 15-20 minutes and continue your additional coats, making sure to shake the can before each.
Can You Use Spray Paint On Glass Jars?
The spray paints listed in this review are also the best spray paint for glass jars, candlesticks and any other glassware in your home. Spray paint can be used to transform so many pieces of home decor to have a whole new updated look.
In my last post, I did a video tutorial and detailed instructions on how to spray paint glass jars and even add glitter. Mason jars make great vases, home decor, lighting sconces, and party centerpieces. You can get any look you want with the details and video in this post: How to Spray Paint Mason Jars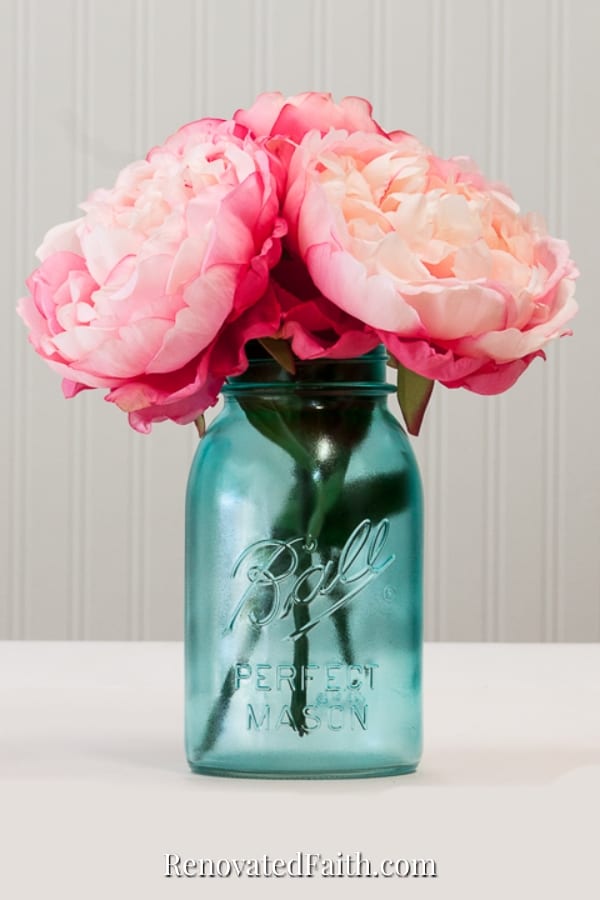 Can You Use Rustoleum Spray Paint on Glass?
You might have noticed that I use mostly Rustoleum products when it comes to spray painting glass. That's because I've personally seen more consistency in their products in terms of even spray, making their spray paints really easy to use.
What About Krylon Spray Paint for Glass?
Although I usually prefer Rustoleum Spray Paint for Glass over Krylon, I do really like their stained glass paint. It is an amazing product whether you are creating a tinted effect or a sea glass finish on glassware.
You can also control the depth of color by how many coats you spray on. You can see all the color options here: Krylon Stained Glass Spray Paint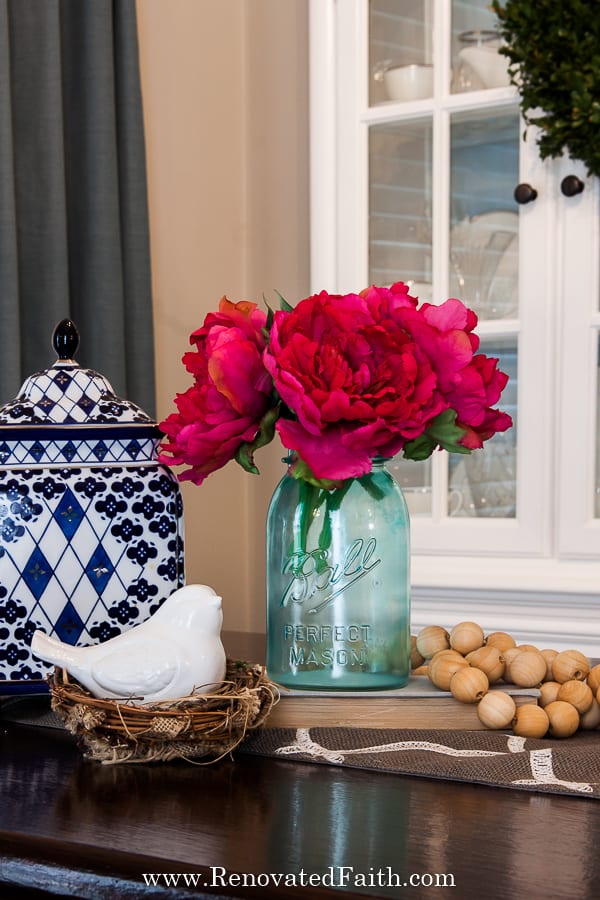 RENOVATE YOUR FAITH: Broken But Redeemed
Jen Wilkin writes in her book "In His Image" about the time when she saw a beautiful green vase at a thrift store. Since she loved the details on the vase and green is her favorite color, she bought it for the price of $10.
She was so excited about her new find and after turning it over, she saw that it had the name "McCoy" imprinted on the bottom. After she did a little research, she found her green vase was actually worth 4 times what she paid. But Jen was mostly excited about her vase because of its beauty and she loved the thought of putting flowers from her garden in it – form and function in harmony.
Jen's children were all young about 15 years ago when on one fateful day the vase she loved so much fell to the tile and shattered. She managed to piece it back together with superglue, but its days of holding water were over.
The closer you stand to it, the more easily you see the cracks in the finish. She couldn't get $10 for it today, but she still values it although its ability to do what it was created to do is now limited.
We are all like that cracked vase in some very important ways. In Genesis 1, God created the world and made man in His own image, stamping us with His mark. We were created to be representatives of Him.
But soon came the catastrophe of Genesis 3. The fall left all of humanity as broken vessels, leaking at every crack and crevice. We still hold value to our Creator – although we can not work, play, or worship in the way we were initially intended.
As Jen Wilkin points out, God redeems His image-bearers by sending Christ into the world. "God's will is that the cracks in the image we bear be repaired so that we represent Him as we were created to do so that we grow to look more and more like our brother Christ in whom form and function display themselves flawlessly."
But how do we allow him to fill the cracks? Col. 1:15 states, "For to this you have been called, because Christ also suffered for you, leaving you an example, so that you might follow in his steps. If we want to look like Him, we need to walk in His steps.
In her book In His Image, Jen Wilkin shows women how to walk like Christ by illustrating 10 ways God calls us to reflect His character. You can find her book here: In His Image by Jen Wilkin
For more spiritual encouragement, click here for the rest of my project posts that also include Renovate Your Faith devotionals.
If you aren't used to spray painting, I have good news!  Find out all my best tips and spray painting hacks by downloading this free checklist of Best Spray Painting Tips and Tricks.  Get the password for the library with all of my free printables including wall art, checklists, and templates by filling out this form:
FAQ's: The Best Type of Spray Paint for Glass
Is there such a thing as waterproof spray paint for glass?
If you need spray paint for a glass vase, all of the spray paints I mention above are permanent and can withstand some water. For example, I accidentally left one of the mason jars out in the rain overnight and the stained glass spray finish looked great even though it had just been painted less than 24 hours before.
Is spray paint dishwasher safe?
I wouldn't say that spray-painted glassware is dishwasher safe because the paint can't hold up to the quick changes in temperature. Also, you probably don't want spray-painted items in your dishwasher with dishes you eat off of anyway.
Can you spray paint glass candle holders and glass candlesticks?
You can absolutely spray paint glass candle holders and candlesticks using any of the spray paints above. Be sure to use face masks and tape off any areas you don't want to be painted with painter's tape.
You can get both at Home Depot or any local store. Here is a link for some inspiration: Easily Make Your Own Mercury Glass Votives
How do you fix spray paint on glass?
There are a couple of ways to do this. If you are spray painting glassware and you notice a drip form, stop spray painting and quickly brush off the drip with a small art brush in one stroke.
You will have some brush strokes in your finish but let the paint dry 15-20 minutes before continuing with the next coat. The next coat will even out the brush strokes. Continue spray painting as normal.
Another option is to let the spray paint dry for 48 and sand it out by hand very lightly. Once you sand out the drips or runs, you can spray paint it again.
Can you spray paint a glass chandelier?
You can absolutely spray paint a glass chandelier although it can be challenging depending on how detailed the glass is. I'd recommend taking off the glass crystals and hanging them on a long string or piece of twine in between a couple of ladders over a grassy area.
Then, go down the line spray painting them. Once they are dry you can reattach them to the chandelier. To see how I turned a chandelier into a hummingbird feeder, click here: Easy Chandelier Hummingbird Feeder
Can you spray paint for glass windows?
You can spray paint glass windows to give them an opaque or frosted effect. If you go this route, be sure to tape off and cover the entire area so spray paint particles don't adhere to nearby surfaces. Another easier option is window film which you can find here: Window Film for Privacy
Can you Spray paint a glass tabletop?
You can use any of the above spray paints to paint a glass tabletop but I would recommend spray painting the side that comes in contact with the table.
That way you don't risk scratching a spray-painted surface. To do this, spray paint one side of the glass, and let it dry for 48 hours.
If your glass table top is outdoors, use Rustoleum Universal Metallics because it's the best spray paint for a glass table top that has to endure temperature changes.
Then, use these glass spacers (check the current price here) to separate the glass from the table slightly. I learned with my DIY Desk Made Out of a Door that if you don't use the spacers, the glass will creak against the tabletop every time you lean on it.
How to Paint Tempered Glass
You can paint tempered glass the same way you would paint normal glass. Just make sure to cover it in very light coats as you can see in this video: How to Spray Paint Glass
What is the best translucent spray paint for glass?
If you are doing a craft or DIY project where you need transparent spray paint for glass, I'd go with Rustoleum's Clear Coats/Top Coats.
You can click on the link for the best sheen for your project. Translucent sheens for glass can include gloss, semi-gloss, satin, and matte depending on how shiny you want it. The flatter sheens might also look more opaque on glass than they do on solid color options.
Can I Spray Paint Glass With Acrylic Paint?
There are two main types of paints to use on glass painting projects: acrylic enamels and spray paints. Several tutorials online entail how to use acrylic paint to paint glass by painting it on and baking it.
The problem is that this is not nearly as permanent as spray paint and you can't get a consistent finish even if you put the acrylic paint in an aerosol spray bottle somehow to make acrylic spray paint. Also, applying the paint, baking the glass without breaking it and letting it cool is a lot of hard work.
Therefore spray paint is the best kind of paint and spraying it on in light coats in one of the easiest ways to color glass projects so they last a long time.
Can I Spray Paint Glass indoors?
I don't recommend spray painting indoors because there are a lot of spray paint dust particles that float in the air and then attach themselves to whatever they decide to land on. When I spray painted our shower, spray paint particles landed in our closet which was almost 20 feet away.
What is the best spray paint for glass vases?
For glass vases that will be filled with water, use the spray paints listed above, but I don't recommend putting them in the dishwasher. Instead, hand wash them gently and let them air dry. Also, when you spray paint them, you'll only want to spray paint the outside of the vases.
Can you Spray Paint Light Bulbs To Change Their Color?
A reader asked if I could spray paint glass light bulbs and I don't see a problem. Just make sure to tape off the metal with painter's tape and it might take some experimenting to get the right light color or kelvin from each light bulb.
More Posts Related to How to Spray Paint Glass
My Best Tips for Spray Painting (Free Checklist)
How to Spray Paint Mason Jars in Any Color
The Best Options for Updating Light Fixtures with Spray Paint
The Easiest Ways to Paint Furniture (& The Best Paint)
The Best Faux Brick for A Backsplash (PVC Panels for Walls!)
How to Give an Outdated Nativity Set a Stunning Makeover
Why I Don't Use Chalk Paint on Furniture
A Better Alternative to Chalk Paint
How to Paint Glass, YouTube VIdeo
Final Thoughts on Spray Painting Glass Permanently
Don't forget to download my FREE checklist that will change the way you spray paint by clicking here. To get your printable, sign up for my weekly newsletter which also grants you free access to my resource library full of wall art printables, checklists, and project plans!
Now, you are truly prepared to haul those vases, jars, and ceramics into your backyard to give them a whole new look on a budget with spray paint! With this guide, you can be confident that you are using the best spray paint for glass so your project has a smooth, flawless finish!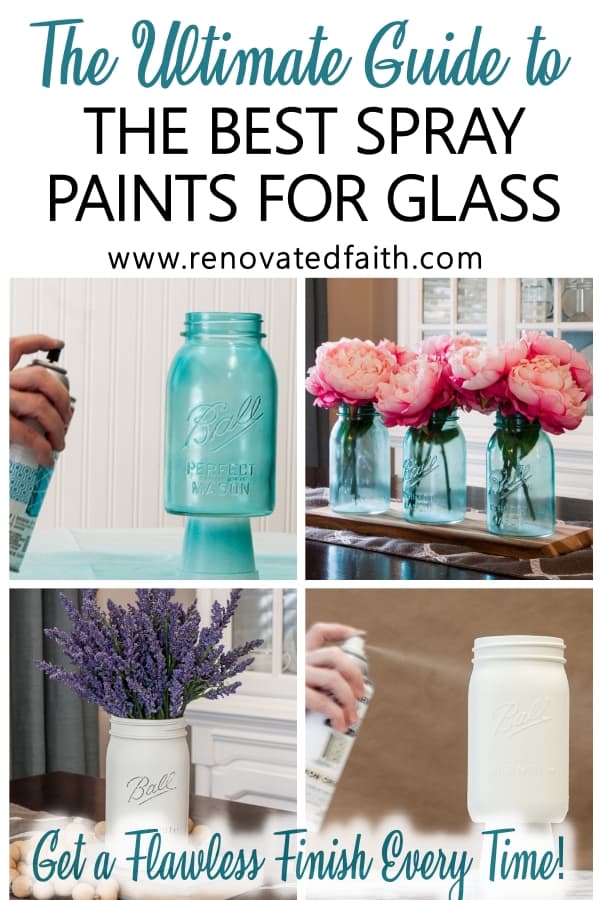 I love to hear your thoughts and questions! Scroll down to leave a comment and I WILL reply! ❤️
Blessings,

Be sure to follow the fun here!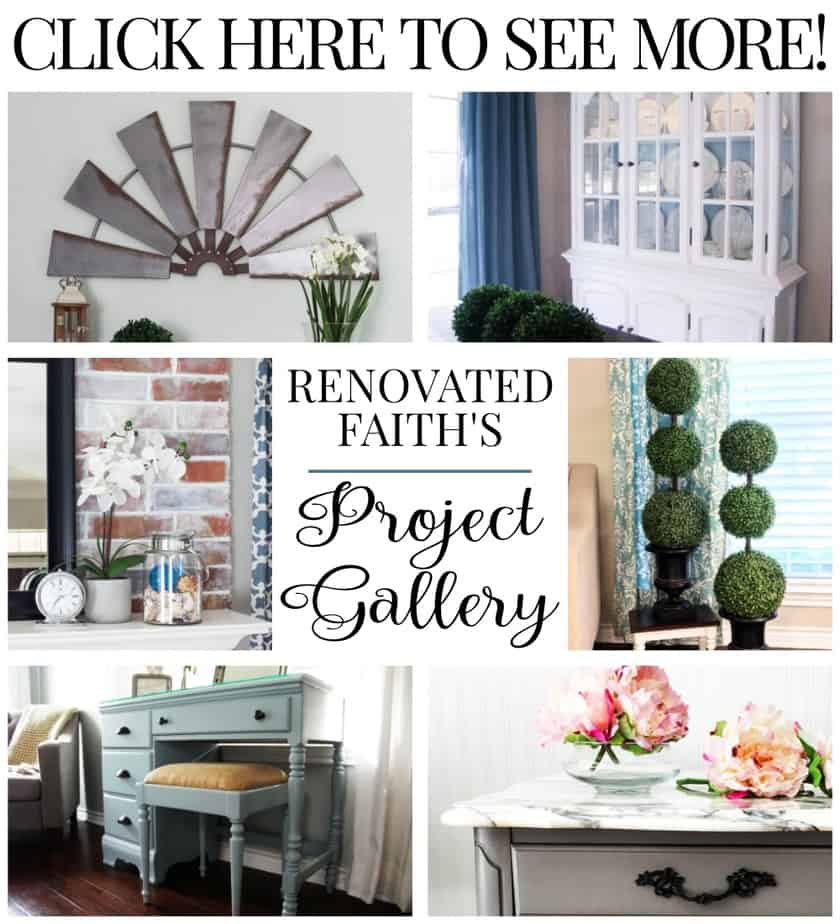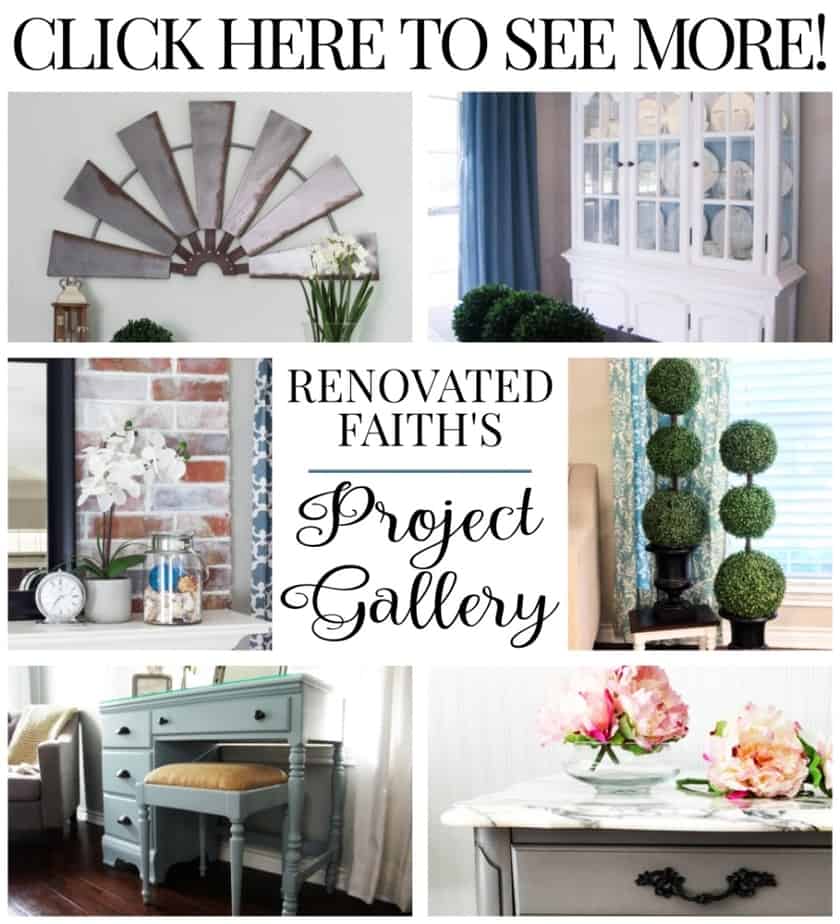 The Best Spray Paint for Glass Surfaces
Welcome to Renovated Faith, where I share about DIY projects, my faith and everything in between! When I'm not spending time with my family, you will find me redoing furniture in the garage or watering plants in my greenhouse. This blog is about transformation. Anyone can renovate a house but only God can transform our hearts!