How to Restore Metal Outdoor Furniture (So It's Better Than New!)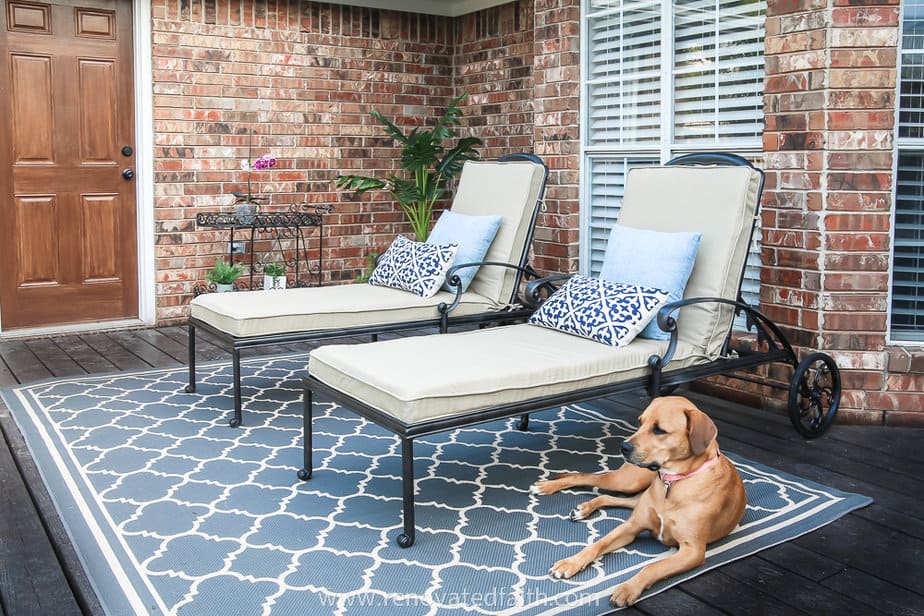 Easy Patio Furniture Refinishing on a Budget
Is your patio furniture dull, depressing, and worn out? This tutorial will show you how to restore metal outdoor furniture so it looks better than new without spending a lot!
---
No matter where you live, daily weather conditions can take a serious toll on your outdoor patio furniture. Before you know it, that pristine metal furniture you paid an arm and a leg for can look so drab and depressing, you'll want to take it out to the curb.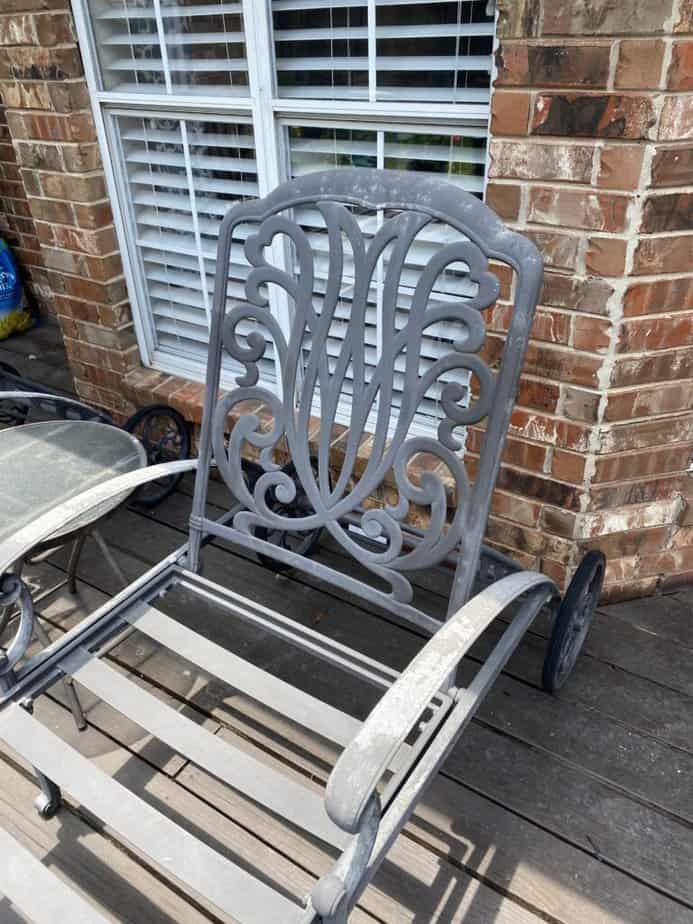 Fortunately, with a few cans of spray paint and the right tips, you can upgrade your existing patio furniture so it looks better than new.
You be the judge if this makeover really transforms these chaise lounges back to new!
LET ME SHOW YOU:
How to restore patio furniture in a day
Why patio furniture refinishing should only be done with spray paint
Easy tips to restore aluminum patio furniture so it looks better than the day you bought it
Why shame is such a paralyzing force in this week's Renovate Your Faith devotional at the end of this post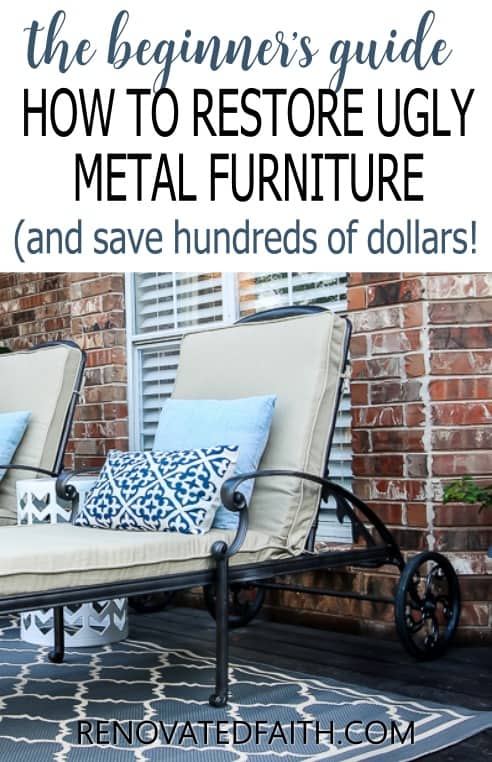 How to Paint Metal Patio Furniture
Spray paint is really the best option for painting metal outdoor furniture. It's reasonably cheap, goes on super smooth, it's fast and it provides a durable finish for years to come!
If you are thinking about having a professional powder coat your old furniture, I encourage you to give spray painting a try.
Once I had a piece of furniture "professionally refinished" only to find out he used Rustoleum oil-based paint in a can in a paint sprayer. Essentially it was spray painted. The brands of spray paint I use will give you the same durability as powder coating but without the high cost.
FREE CHECKLIST OF My BEST SPRAY PAINTING TIPS & TRICKS
☑️ Spray painting is simple and easy when you know a few hacks to get a perfect finish every time. To get my FREE checklist, click this link here: My Best Spray Painting Hacks
My Sad Aluminum Chaise Lounges In Need of A Makeover
I found these chaise lounges on Facebook Marketplace for $50 total. They aren't much to look at but I could tell they were in structurally good shape.
I had a feeling that they were initially high-end chaise lounges that has just been out in the Texas sun for a long time. What these pieces needed most was a new coat of paint to give them new life!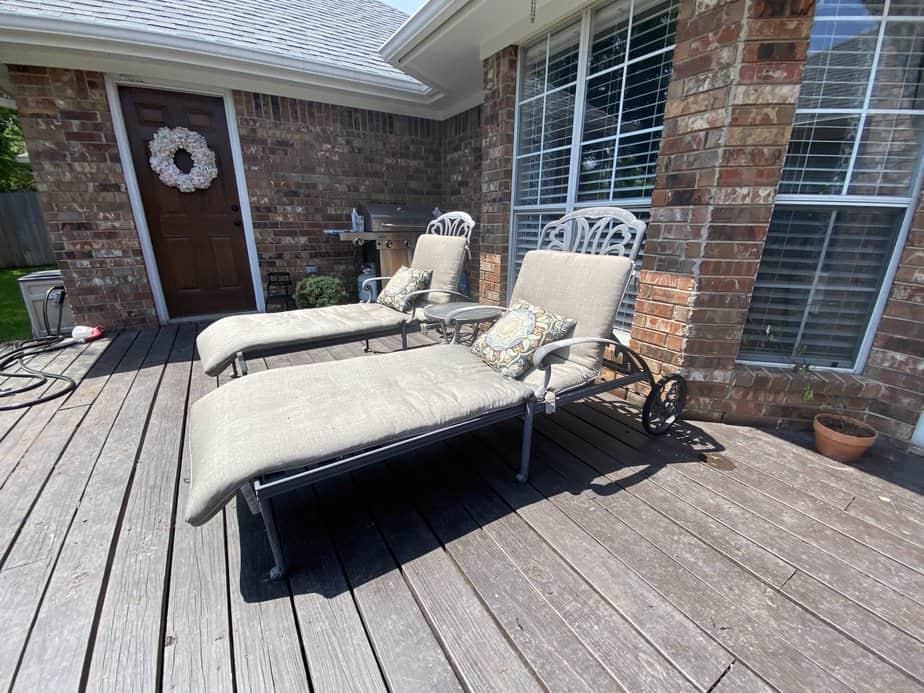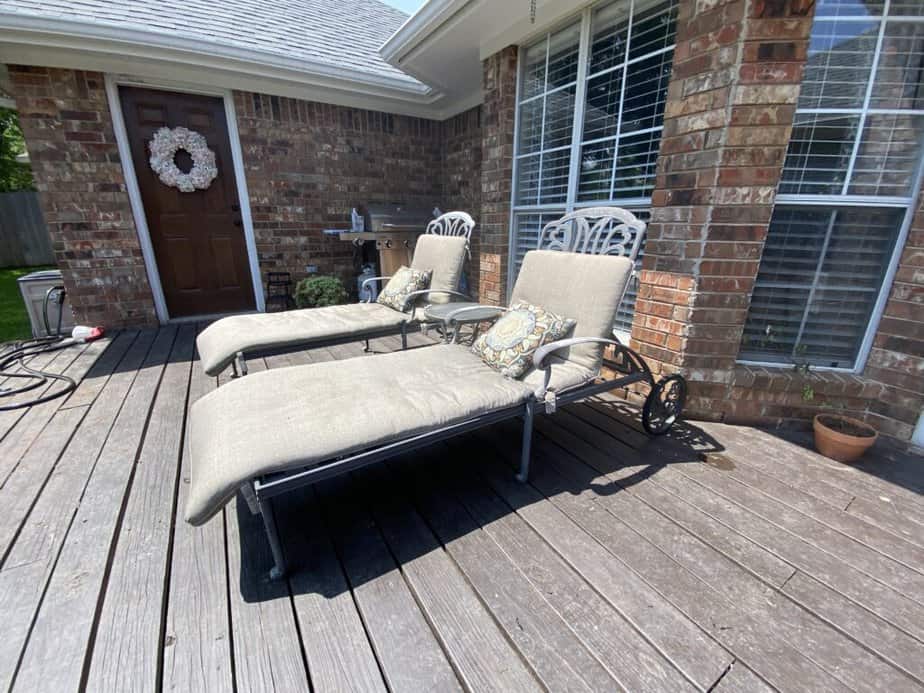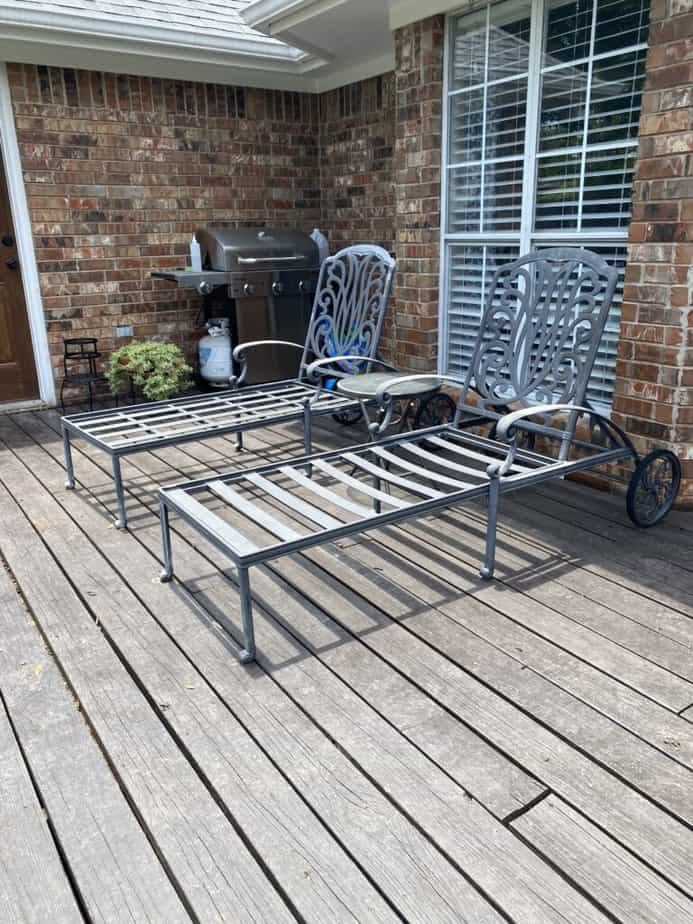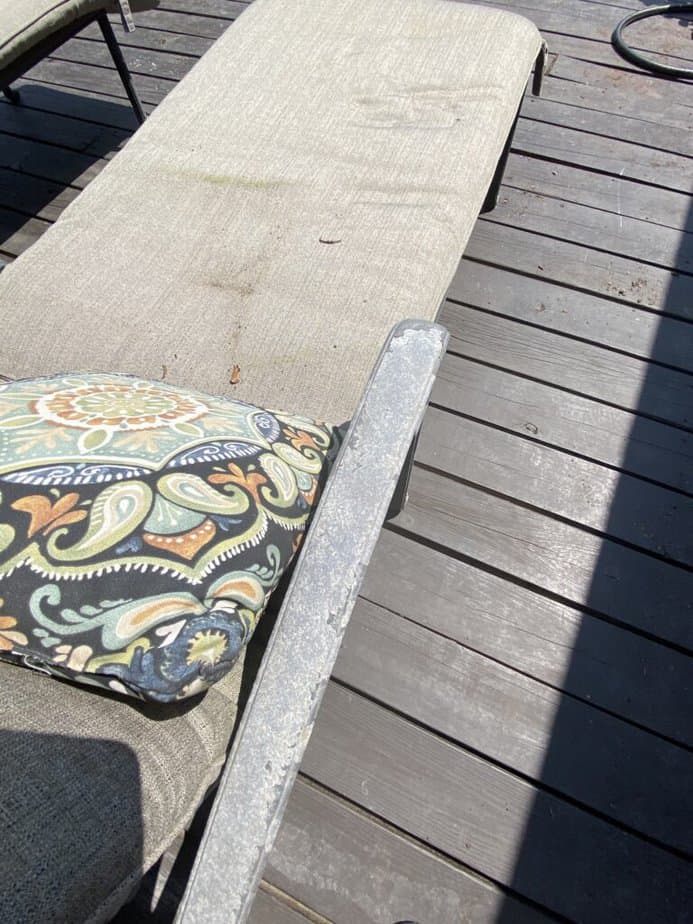 Fortunately, my hunch was right and I was able to track them down online. With a quick Google search, I found out that these chaise lounges came from Home Styles for $899.99.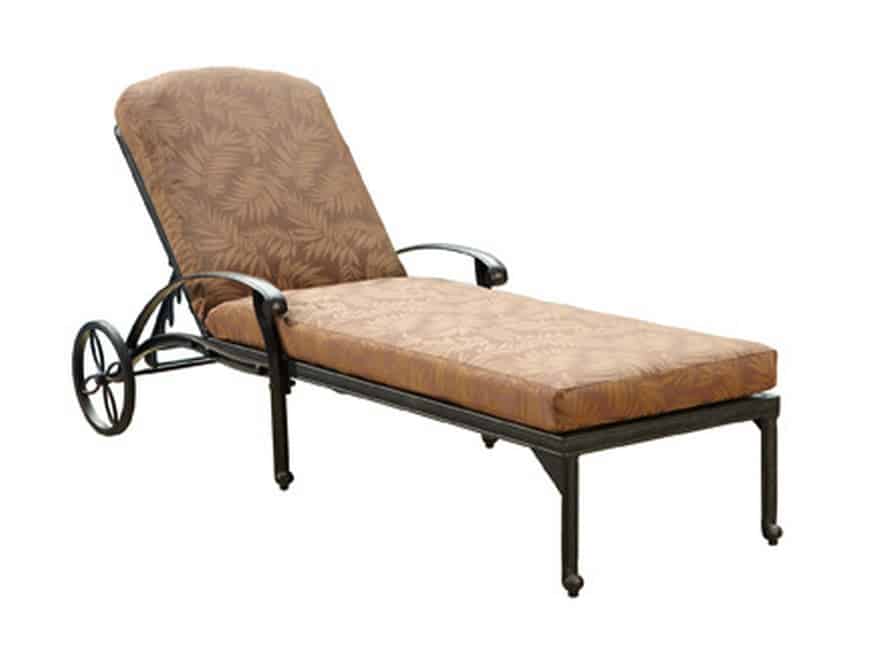 Let's see if I can get my $50 chaises back to their original state with a little spray paint and some new cushions!
How to Paint Metal Patio Furniture with a Brush
If you are considering painting metal patio furniture with a brush, think again. Painting detailed metal with a brush would be like trying to eat ice cream with a fork. A brush has its purpose in painting furniture but not for painting outdoor furniture.
Using a brush on metal furniture is so frustrating because it's a recipe for drips as a brush will easily accumulate too much paint on intricate, smooth metal surfaces.
How to Restore Powder-Coated Patio Furniture
If your outdoor metal furniture was initially powder-coated, it doesn't need powder-coating again to fix the damage. Oil-based spray paint will sufficiently seal worn powder-coated surfaces for a fraction of the cost
Supplies Needed: How to Restore Metal Patio Furniture
Spray Paint – See my Favorite Products Link for my favorite fail-proof brands.
Krud Kutter Cleaner for Outdoor Furniture
Tack Cloth or Old Rag
Wire Brush
Electric Sander – Click here for my favorite sander and you can see where I tested sanders here.
120 Grit Sandpaper Pads
Plastic Sheeting or Drop Cloth
Mask 
Optional – Use Painter's Tape or Masking Tape to mask off any areas that don't need paint.  You can get it cheap at Home Depot or Lowe's.
PRO TIP: Use soup cans to elevate your project off the ground.  You can also use the tops of your spray paint cans.  I use a few 5-gallon buckets for this project
My Best Spray Painting Tips & Tricks:  The free printables are available in the resource library.  Get access to it and all my other free printables, templates, and wall art by filling out the short form at the bottom of this post or go here:  My Best Tips for Spray Painting Furniture
What is the Best Paint to Restore Outdoor Metal Furniture?
Metal garden furniture has to endure the daily effects of direct sunlight and constant temperature fluctuations. For that reason, you need a really durable paint for patio furniture. I wholeheartedly recommend Rustoleum Universal Metallics so much so that I don't bother with a primer.
However, if the Universal Metallics line doesn't have the color you need, I like to use Rustoleum Ultra Cover which comes in numerous shades and sheens. My favorite primer is Rustoleum Bonding Primer. You can't go wrong with any of these products.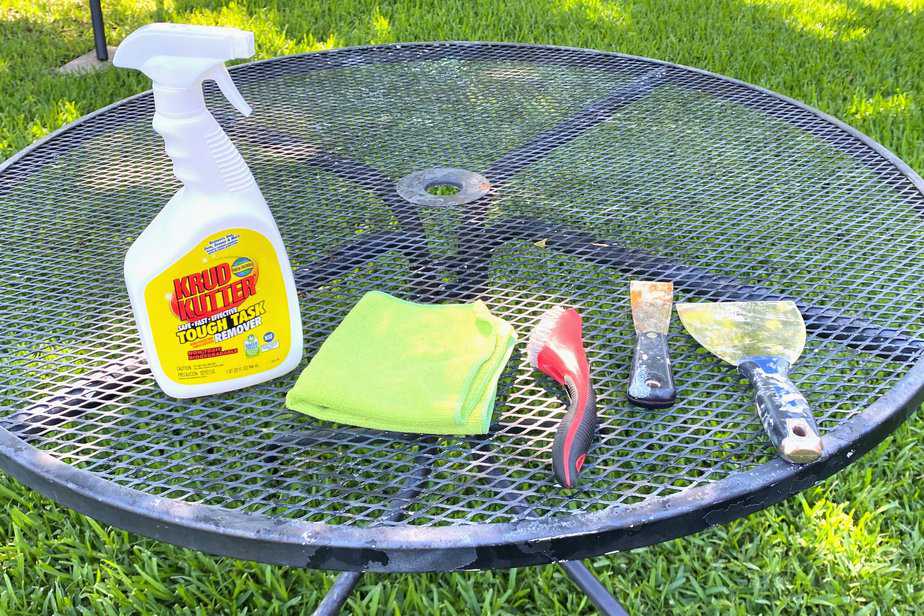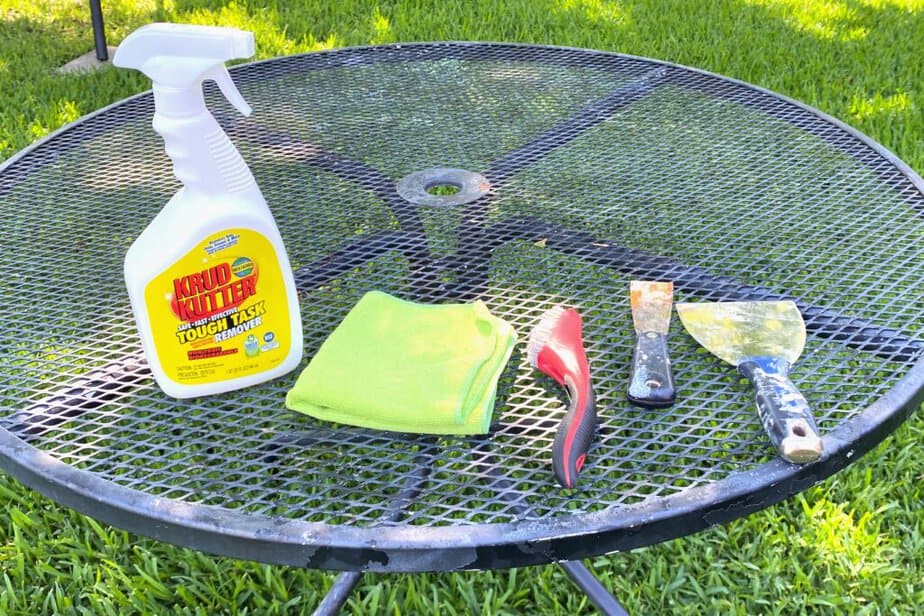 How to Restore Patio Furniture Easily
This tutorial works on any kind of metal project whether it's aluminum furniture, cast iron furniture, or wrought iron patio furniture! You can see the same process in video form when I refinished my outdoor dining table and metal chairs.
If the video doesn't pop up on its own, you can also find it on my YouTube channel here: Easy Patio Furniture Refinishing
Step 1: How To Clean Patio Furniture
While tempting to skip, cleaning is an important step that will give you the best results possible. I like to use Krud Kutter for Tough Tasks (you can find it here) to clean my patio furniture before spray painting.
Removing dirt and mold with Krud Kutter will help to ensure that the paint adheres well to the bare metal.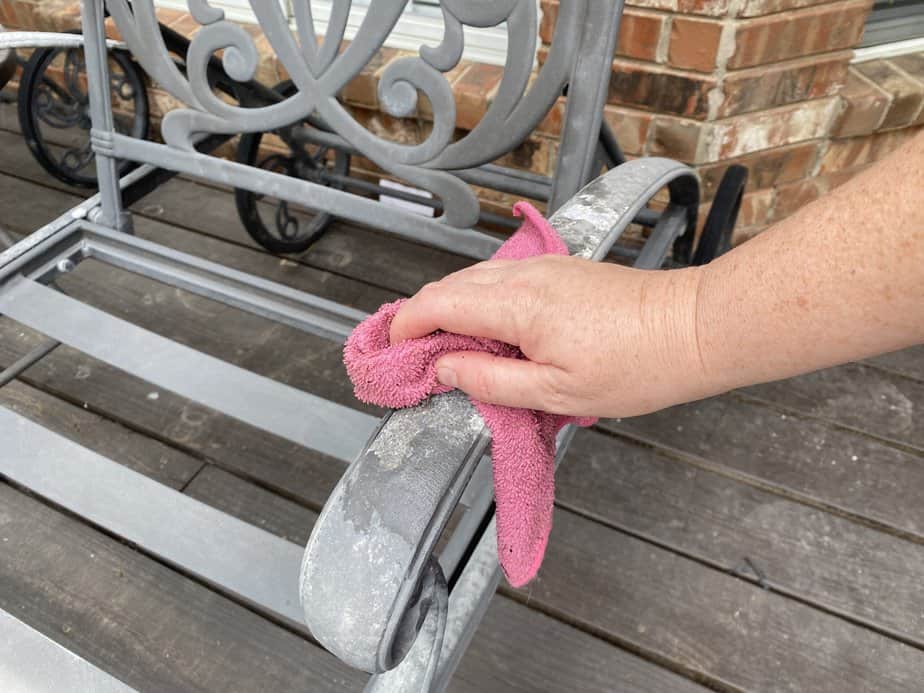 You can also use white vinegar mixed with warm water in a spray bottle or a pressure washer but I feel like Krud Kutter is the best bet to remove grime and mold.
RENOVATED FAITH: WHAT'S IN A NAME?
So many of my restoration projects remind me of God's capacity to transform our brokenness and restore our hearts. If you are a work-in-progress, just like me, check out the Renovate Your Faith Devotional at the bottom of each DIY and home décor post. Click here to get a weekly email of new posts.
Step 2: Lightly Sand Your Metal Patio Furniture
The next step is to remove any loose paint that is actively peeling or in the process of falling off. You are not sanding to remove all the old paint, just paint flakes that are loose.
My electric sander makes this step quick and easy and you can find further information on my favorite low-cost sander here: Black and Decker Sander
Run the electric sander with a fine sandpaper pad on the surface in a circular motion. If you don't have a sander, you can use a little elbow grease and fine-grit sandpaper or a wire brush. Pay special attention to rusty areas.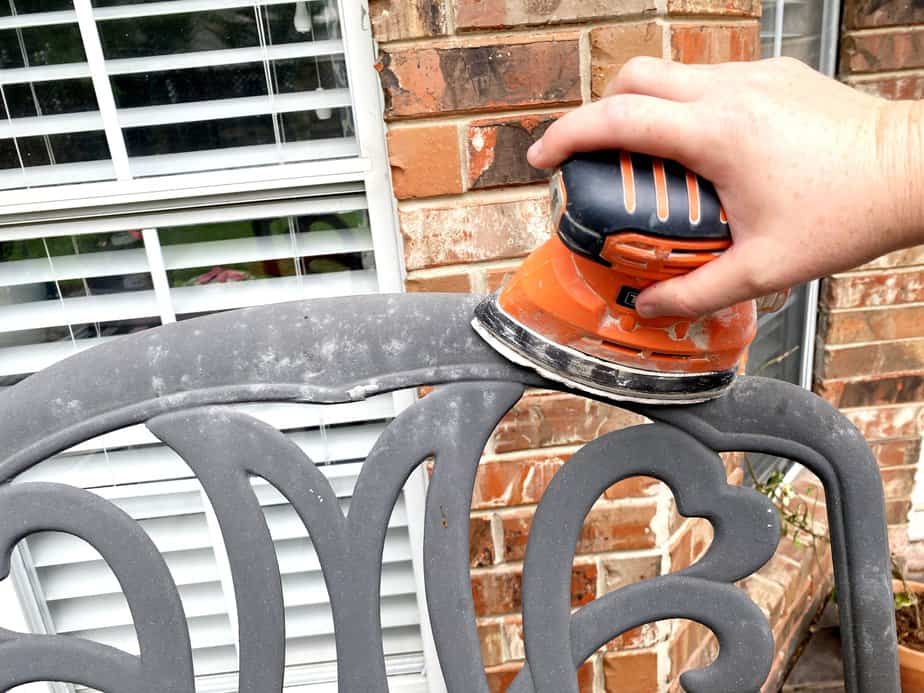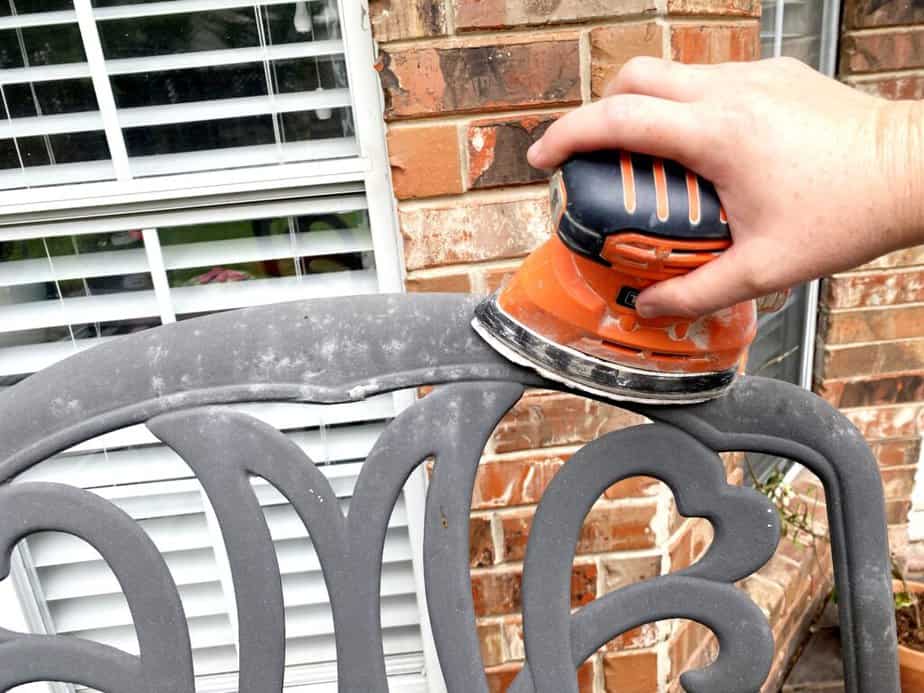 If you use a wire brush, go over the whole surface in a circular motion.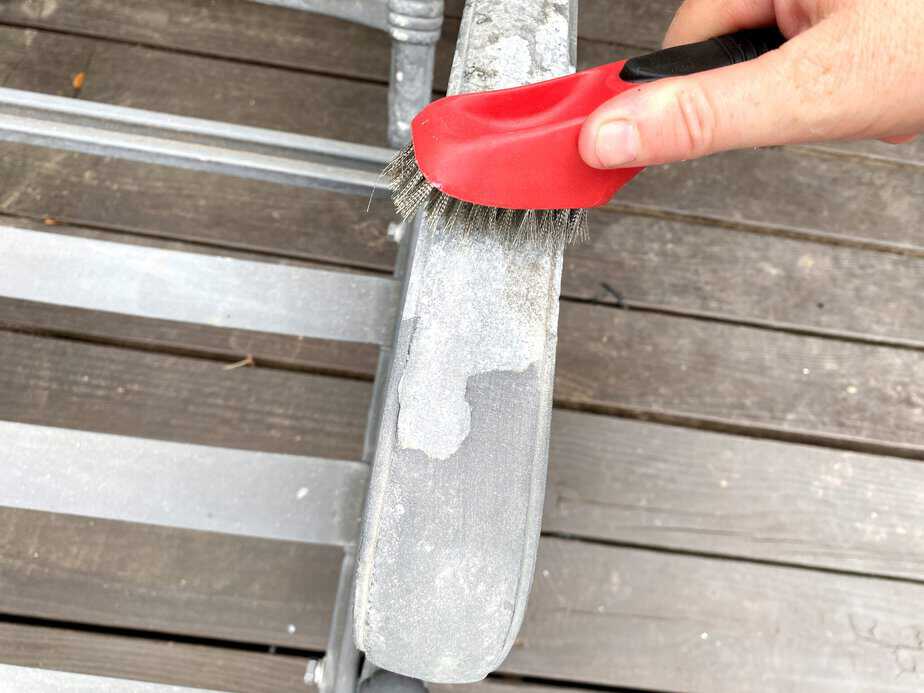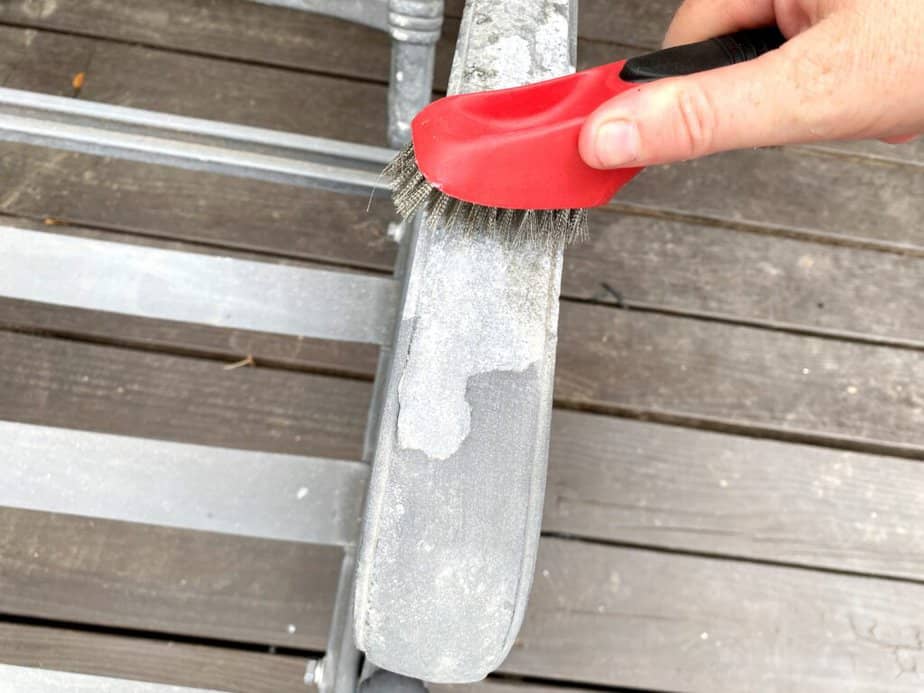 You can also remove flaking paint with a putty knife or paint scraper if that's easier.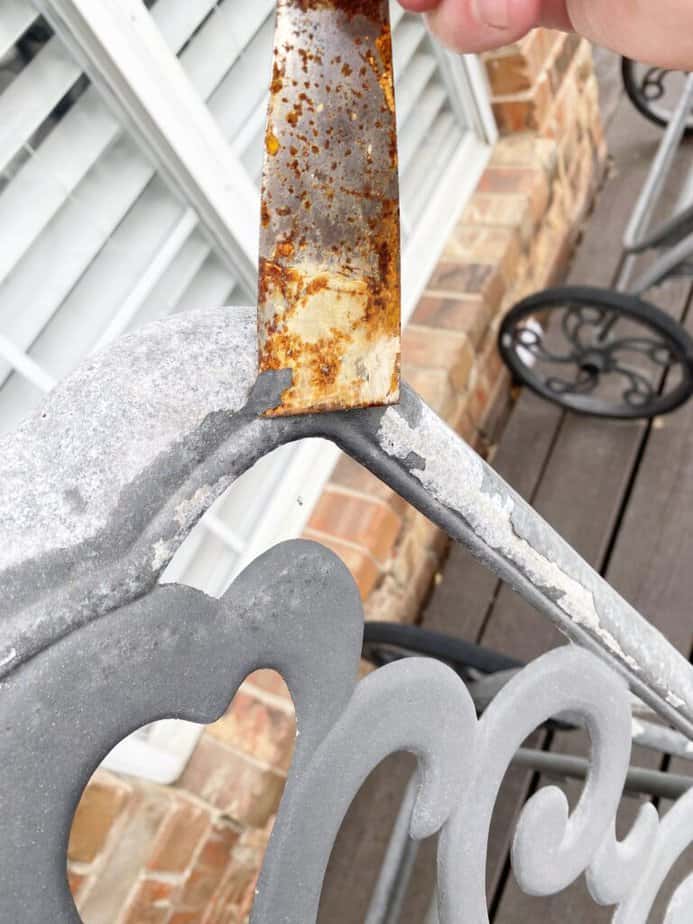 Step 3: Prep Your Spray Paint Area
The first step of spray painting is to prep your work area. Spray paint is only for outdoor use so spray in a well-ventilated area. If you spray during a hot summer, make sure to spray in the shade like I'm doing here under a tree.
An important part to getting a good finish is spraying the bottom of the piece first. Then, flip it to spray the top last. This way if you get fingerprints in the finish, they will be on the bottom where no one sees anyway.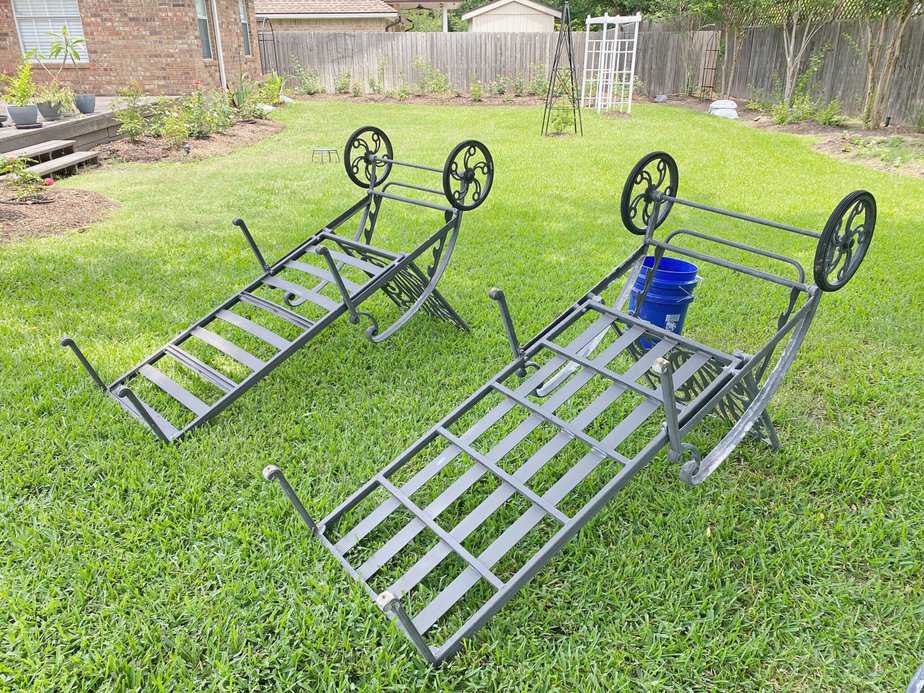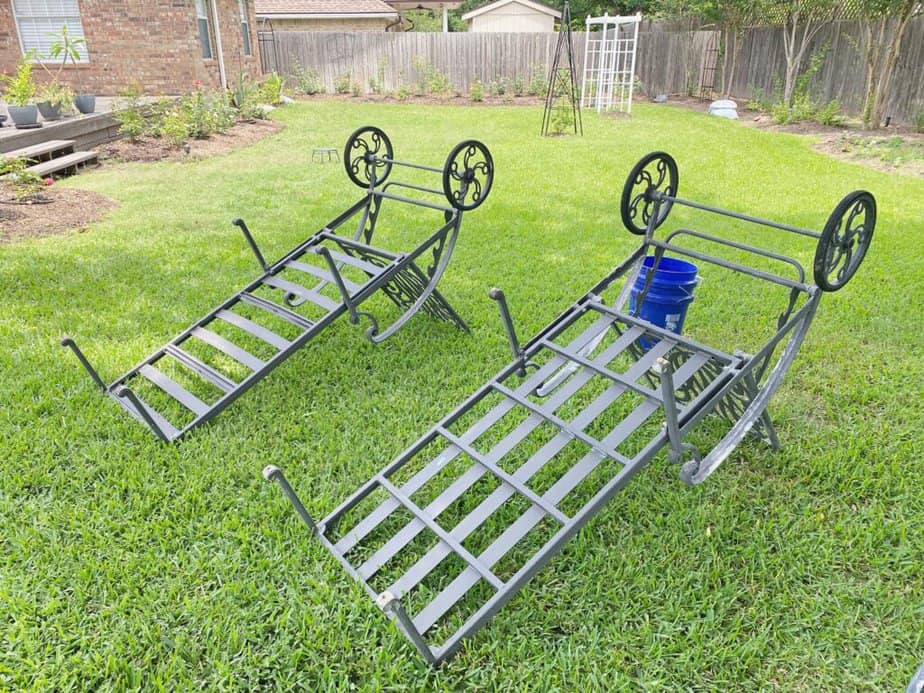 A Note About Using A Primer:
The spray paint I'm using for this project is Rustoleum Universal Metallics and because it's such a good spray paint, I don't worry about using a metal primer, especially if the piece is in good condition.
For my patio table and chairs, I used a rust-resistant primer because the color of spray paint I wanted to use didn't come in the Rustoleum Universal Metallics line. Also, since the table was not in good shape, as it had a lot of rust damage, I felt like spraying on a primer was a needed step.
If you go with a primer, I recommend this metal primer as it works really well for rust-damaged outdoor furniture. I recommend getting a primer color close to your final finish color. For example, for metal garden furniture I want to spray a lighter color, I like to use a white primer. For darker colors, I use a dark gray primer.
Step 4: How to Restore Patio Furniture With Spray Paint
Spray paint is one of the cheapest ways to transform furniture. Not only does it give you the best finish but it gives the entire piece a preventative finish against rust and other types of corrosion.
The secret to the best finish painting with painting metal or plastic furniture is to use light coats. You can see this best in the video but start by shaking the can for about a minute before spraying.
Your first coat will be very thin and won't be anywhere close to giving you full coverage. That's what you want because spraying in several thin coats is your best insurance policy against drips. Try to spray in an even, consistent spray pattern.
After the first coat, wait 15-30 minutes before the second light coat. Keep taking a 15-30 minute break in between each layer of paint. This project took me about three coats of spray paint to get full coverage. That might be more or less for your furniture depending on the color of the furniture and spray paint.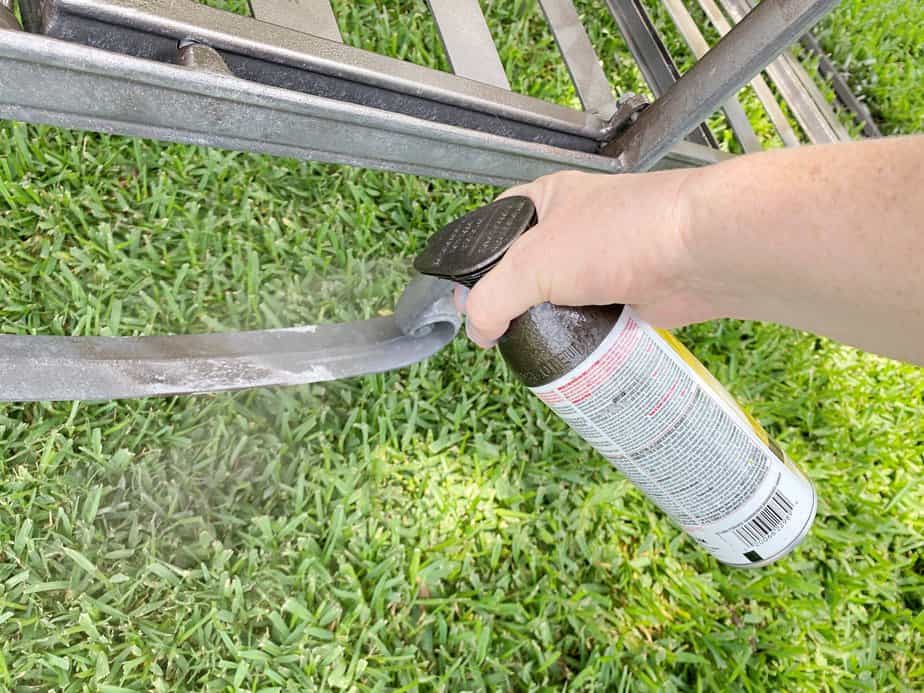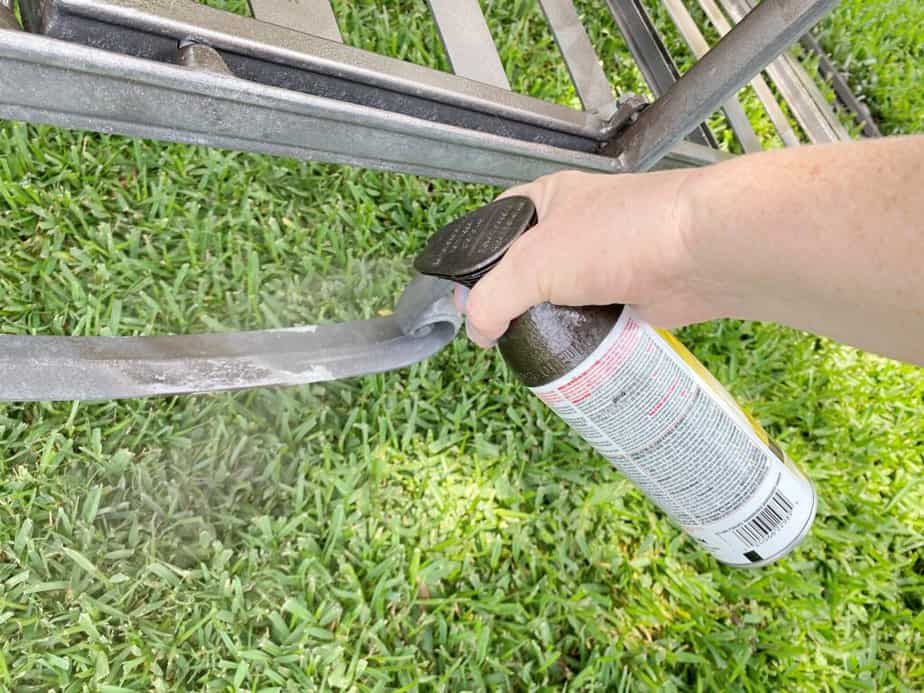 Do the thin coats on the bottom, waiting 15-30 minutes in between. Then flip it over to do the same to the top surface.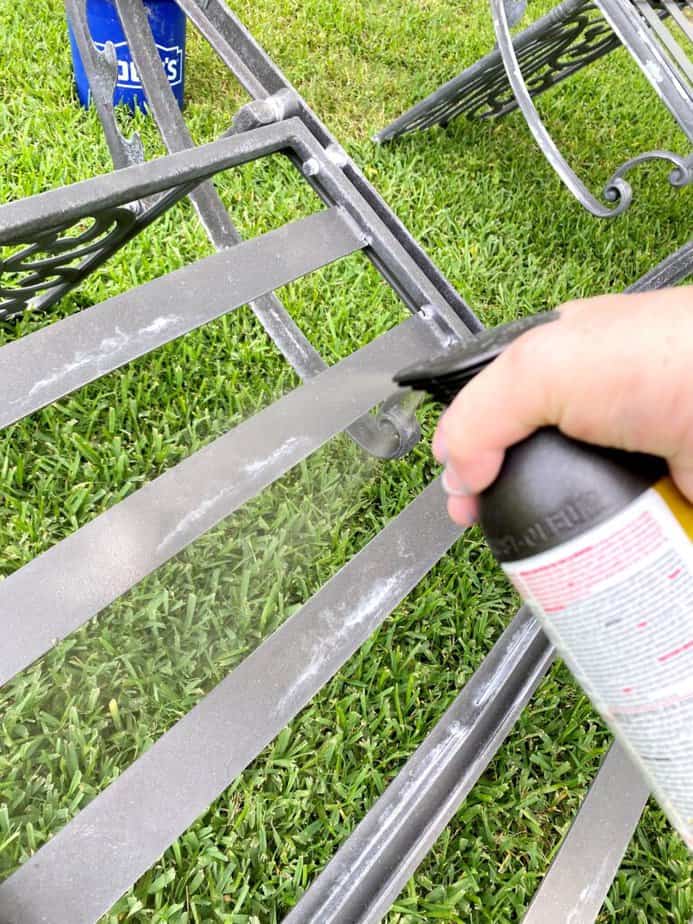 Here is how the chaise lounges look after their final coat of spray paint.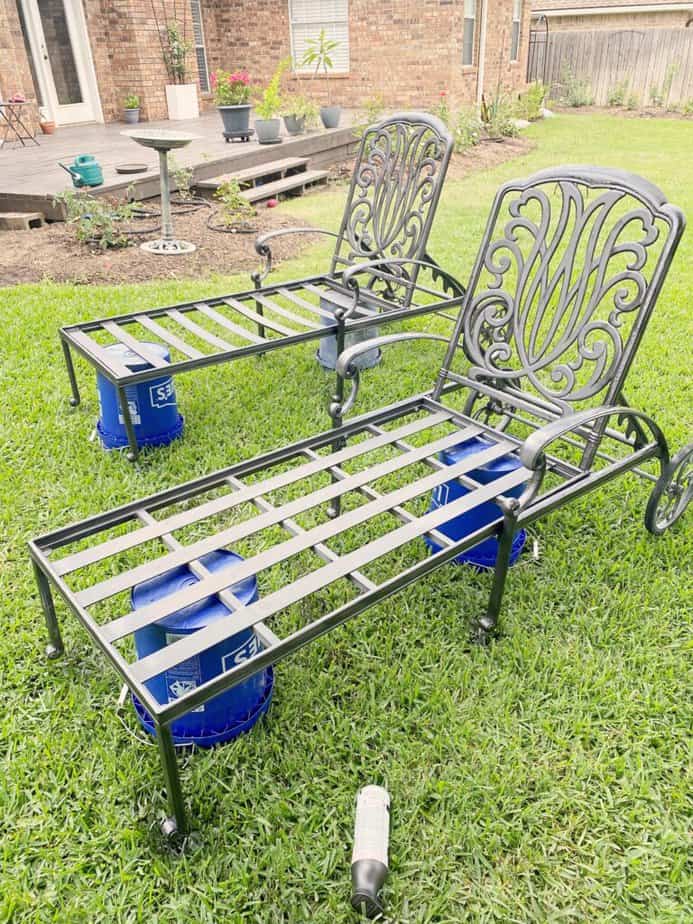 How to Fix Drips on Metal Outdoor Furniture
Rustoleum Universal Metallics spray paint is SO user-friendly and I rarely have trouble with drips but here are some tips to remove drips before they form.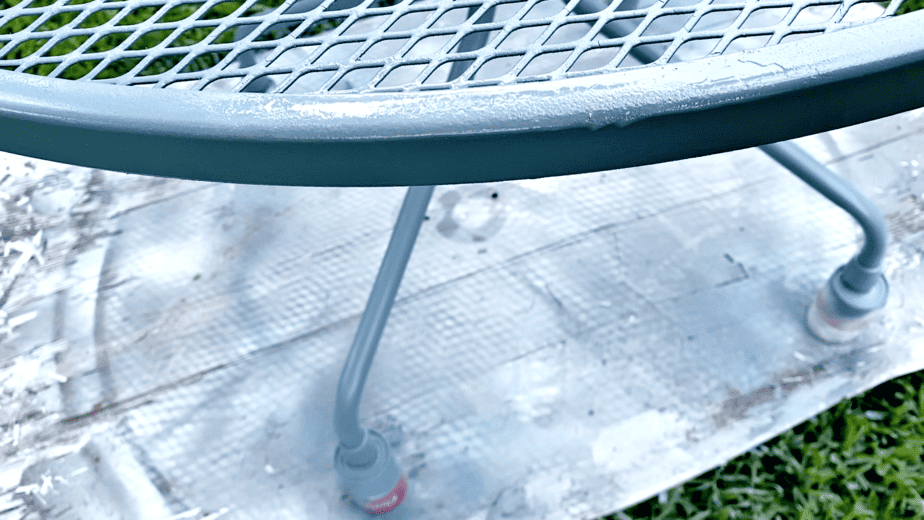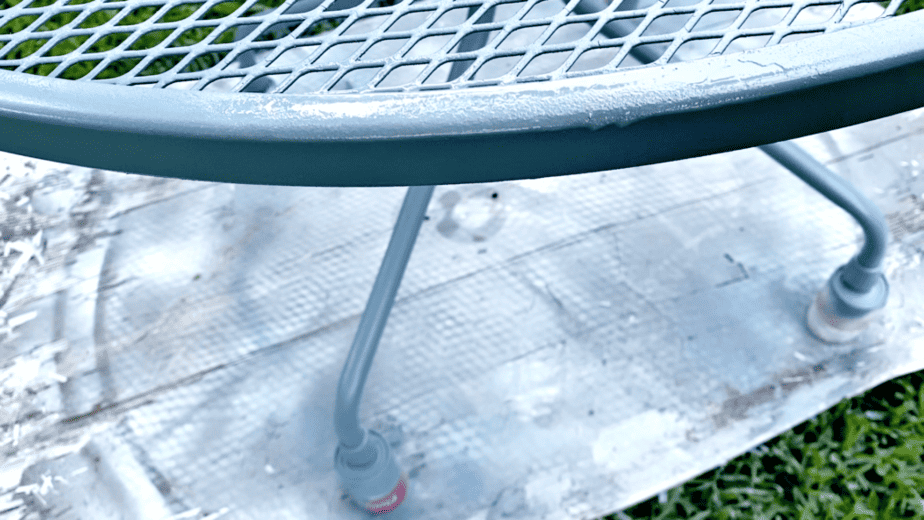 If while you are spraying you see an area with tiny bubbles, that means there is too much paint in that area and it will probably turn into a drip. Right after you spray that area and notice the little bubbles, swipe off the excess paint with a gloved finger as you can see in the video. Again, you have to catch these bubbles right after you spray that area.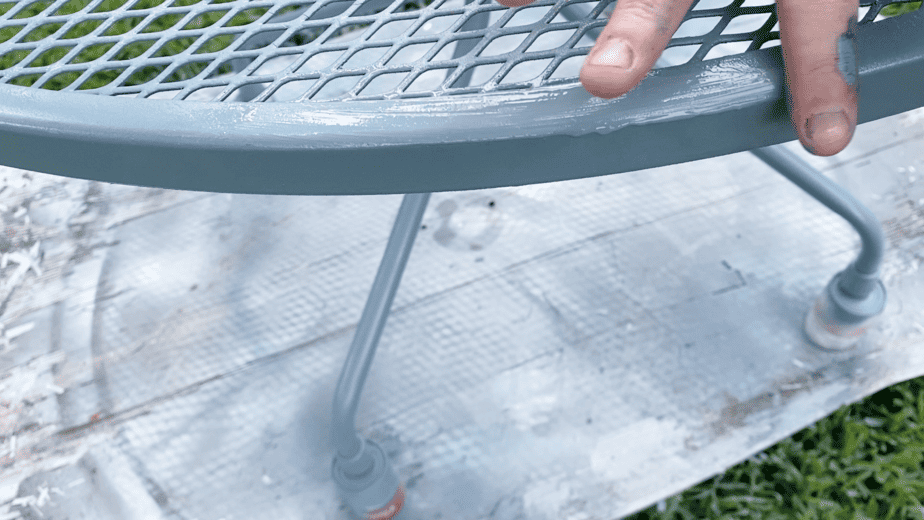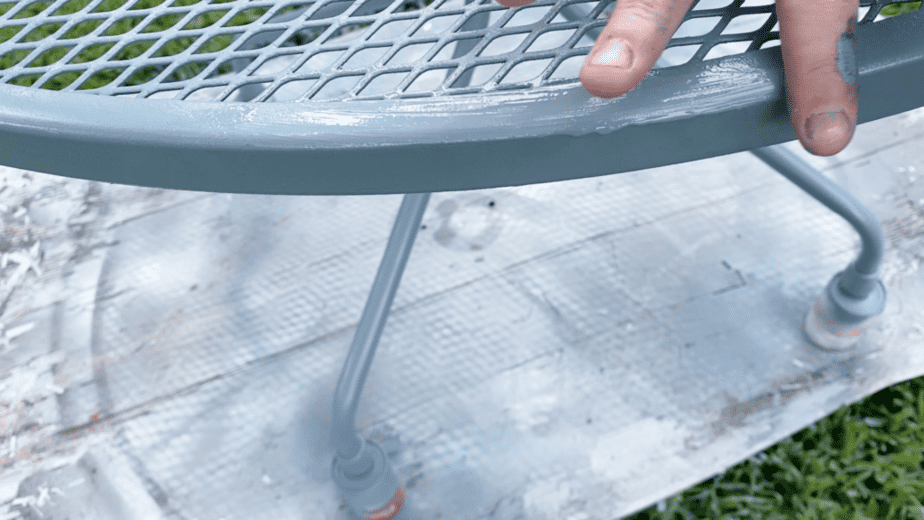 Once you wipe over that area with your finger, wait 15-30 minutes and just spray it as normal on the next coat
Step 5: Add new Cushions to Your Outdoor Furniture
Apparently, chaise lounge cushions can be pretty pricey but I found some reasonably priced at Lowe's here: Chaise Lounge Cushions
I'm so happy with how they turned out! What do you think? Do they look like they did originally?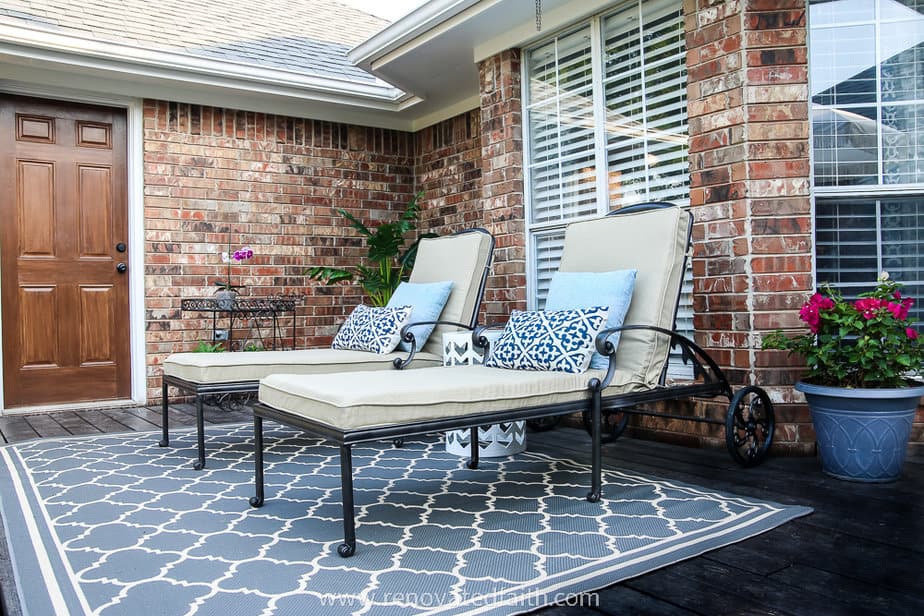 It's amazing the change that a little spray paint and some new cushions can make!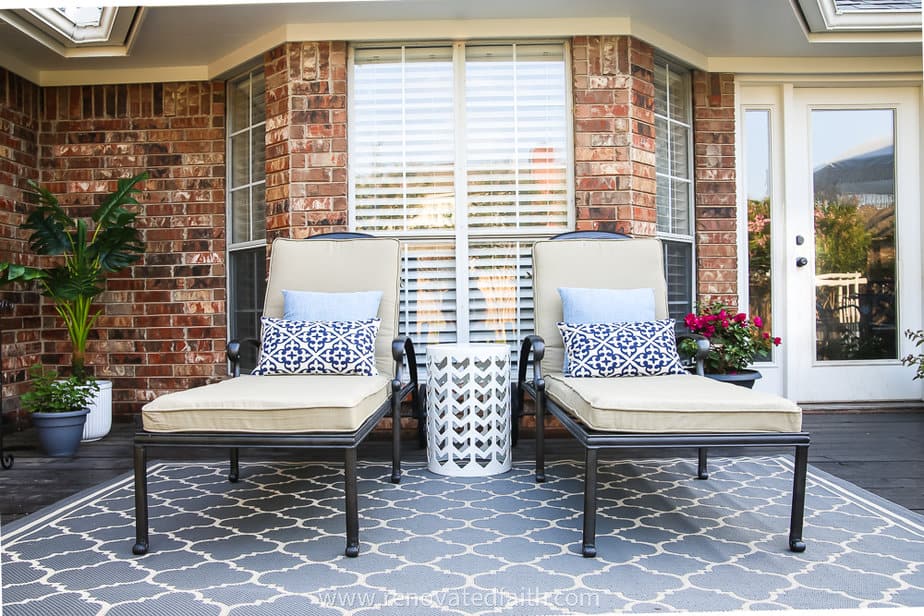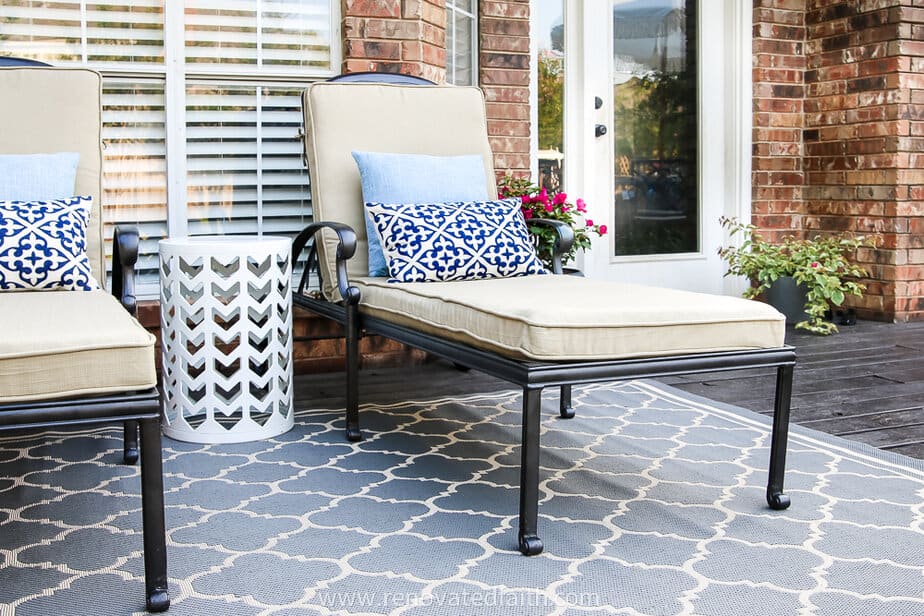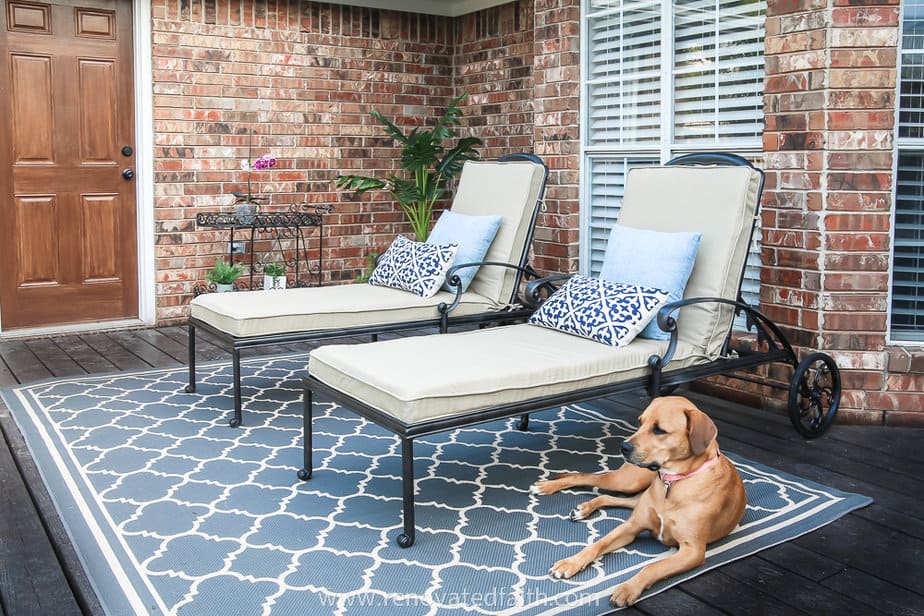 RENOVATE YOUR FAITH: Moving Past Shame
More than a few times, I have mentioned that the closest thing to a magic wand is a can of spray paint. But in reality, that's only partially true.
If you have been around this blog for any amount of time, you know that I like to compare our lives to DIY projects where God can turn our brokenness into something beautiful and beneficial.
But I think there's a major way that my analogy breaks down. In most DIY projects, I am covering up flaws. Even if I fill a hole in a wood tabletop, the hole is still there. Even when I spray paint metal furniture, the rust is still hidden underneath. It is contained but just because you can't see it doesn't mean the flaw is no longer there.
But in contrast to DIY projects where I'm just covering the blemishes, God changes us from the inside out. From the second you put your trust in Jesus for the forgiveness of sin, your sin is gone. It's forgotten.
To say that we have been pardoned from sin is inaccurate because someone pardoned is still a criminal but one that is excused from the consequence. Instead, we are justified which means "just as if I never sinned."
When God looks at us, He doesn't see a spray-painted version of ourselves where the sin is still there but just covered up. When He looks at us, He doesn't see our sin. Instead, He sees us with the same love He has for His perfect Son.
"I have been crucified with Christ; it is no longer I who live, but Christ lives in me; and the life which I now live in the flesh I live by faith in the Son of God, who loved me and gave Himself for me" Galatians 2:20
Yes, the Christian life is messy and we will make mistakes. But don't allow yourself to wade in shame. If you have sinned, ask forgiveness and move on to the next thing God wants you to do.
Shame is caused by a failure to see yourself the way God does. Guilt says "Your action was bad" but shame says "You are bad."
Allowing shame to fester can be a powerful obstacle that will hinder us from following God's call on our lives if we let it.
Any lingering feelings of shame are not from God and are only a hindrance in experiencing God's blessings for your life.
"Therefore, there is now no condemnation for those who are in Christ Jesus, because through Christ Jesus the law of the Spirit who gives life has set you free from the law of sin and death." Romans 8:1
For more spiritual encouragement, click here for the rest of my project posts that also include Renovate Your Faith devotionals.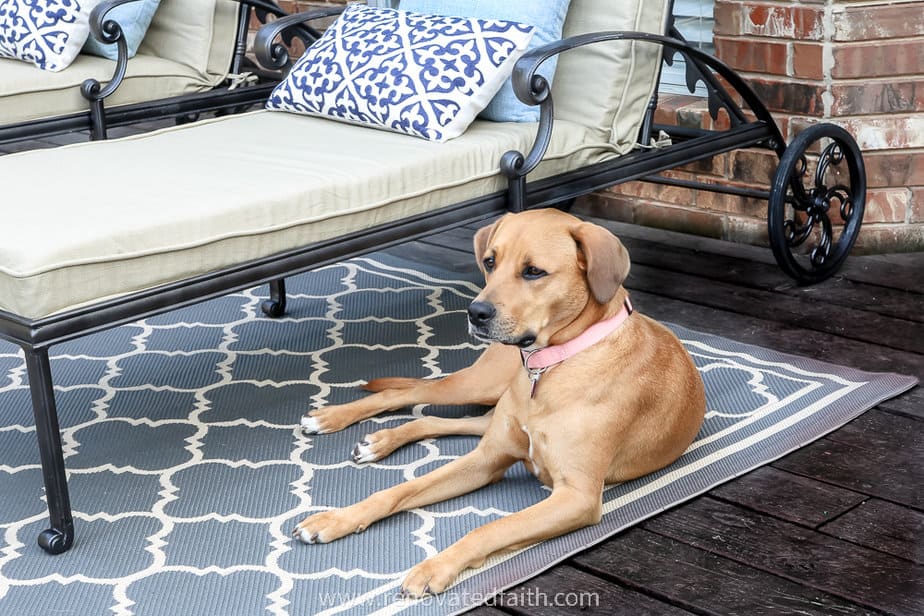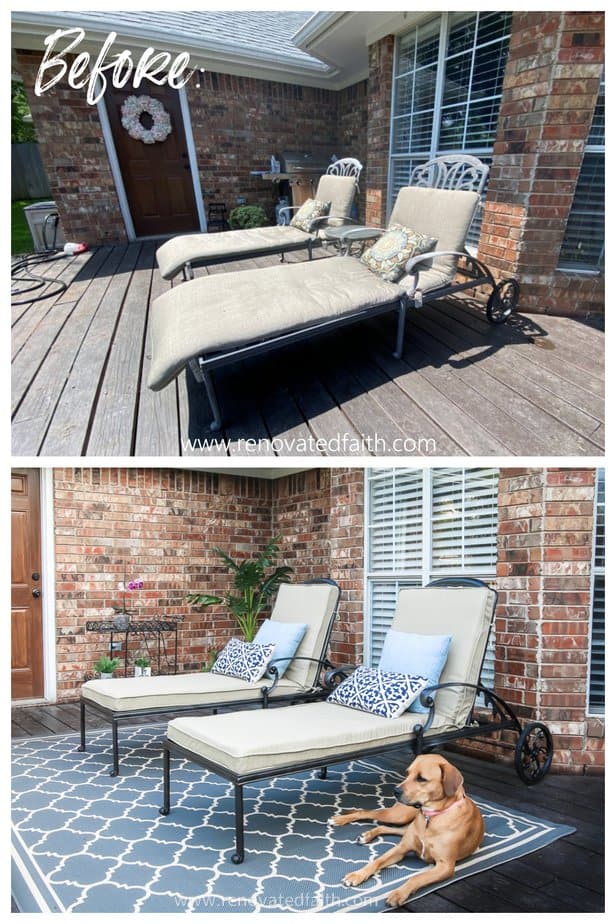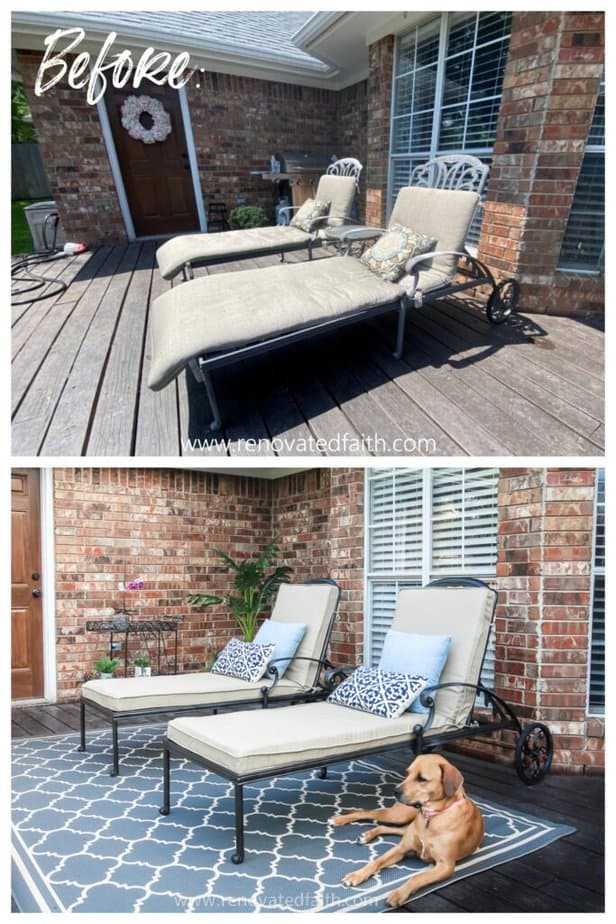 More Outdoor Projects From Renovated Faith
How To Spray Paint Patio Furniture Like A Pro (Outdoor Table and Chairs Reveal)
How to Spray Paint Wrought Iron Furniture (Glider Reveal)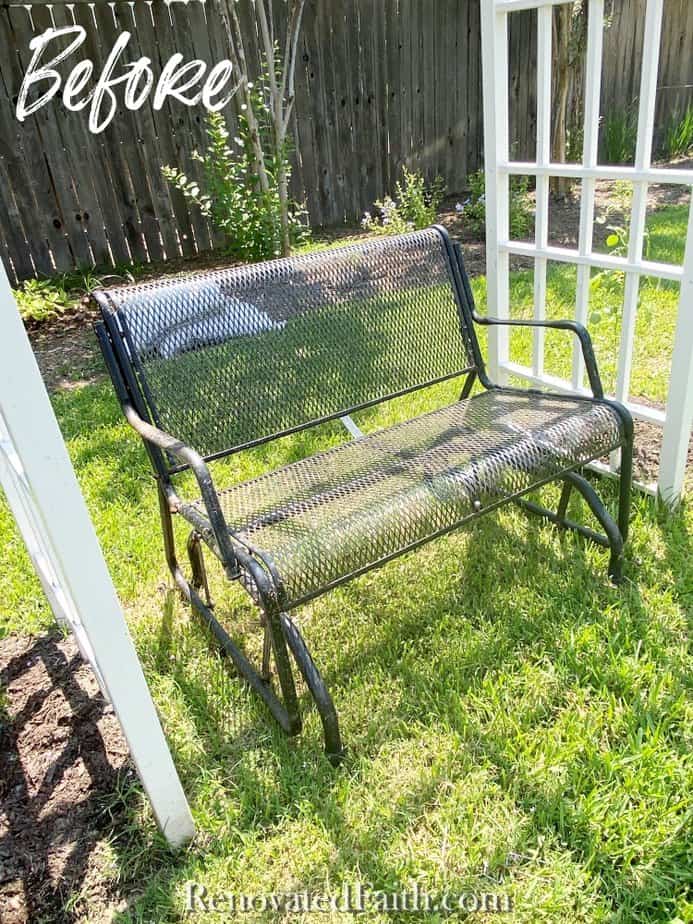 My Best Spray PainTing HAcks – Get The Free Checklist!
To get the best results possible, check out my best tips and tips for spray painting whether it's metal furniture, outdoor garden decor or home decor. Get the password for the library with all of my free printables including wall art, checklists, and templates by filling out this form: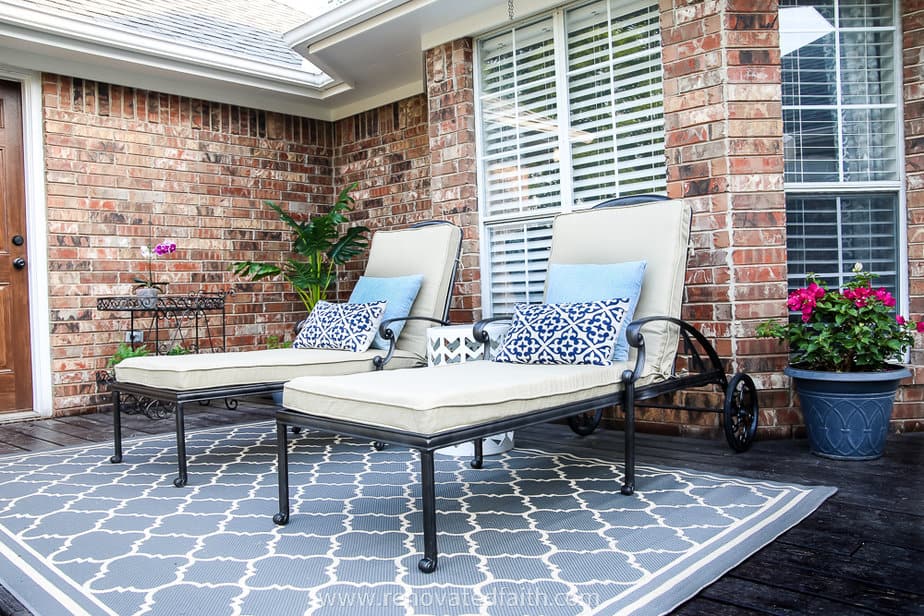 FAQ's: How Do You Make Metal Outdoor Furniture Look New?
HOW DO YOU RESTORE FADED WROUGHT IRON PATIO FURNITURE?
Spray paint is your best option for making metal outdoor furniture look new. Not only is it cheap but it's easy and quick to use. The Rustoleum Universal Metallics line has so many options that you are sure to match the original finish of your outdoor furniture or you can try a whole new look!
How do you revive aluminum outdoor furniture?
Aluminum furniture does not rust (iron oxide) like iron does but it is still susceptible to corrosion and peeling paint even if it's been powder coated. A simple cleaning will not be enough to restore aluminum to its original state because weather conditions damage the coating. Fortunately, the process for restoring rusted furniture is the same for aluminum furniture. If you don't want to recoat aluminum furniture with spray paint you can try oxalic acid (Bar Keeper's Friend) to remove corrosion and stains.
How do you restore a rusty metal outdoor table?
I just did a post showing how to restore a rusty wrought iron patio table and you can see the results and tutorial here: How to Paint Patio Furniture
how to restore black metal patio furniture
When restoring black metal patio furniture, I like to use Rustoleum Universal Metallics Oil-Rubbed Bronze instead of solid black. Their oil-rubbed bronze is very black and has a little more dimension than standard flat black paint. Also, the little flicks that give it dimension also help to hide imperfections in the surface of the metal.
How to Remove Spray Paint
Since spray paint is oil-based enamel, you will need a paint stripper or mineral spirits to remove the paint. If you get spray paint on your hands, use an essential oil like orange oil or peppermint oil and it will slide right off.
Related Posts on How to Restore Metal Outdoor Furniture
How to Paint Patio Furniture Like a Pro
The Best Way to Paint Wood Furniture
How to Spray Paint Brass Door Knobs
Easy Light Fixture Makeovers with Spray Paint
How to Restore Aluminum Patio Furniture, Youtube Video
Final Thoughts on How to Restore Metal Outdoor Furniture
Now you know how to get your outdoor decor a new paint job that will not only last a long time but transform the look of your whole outdoor space! Sometimes outdoor furniture can look awful but the only issues are purely aesthetic. Spray painting patio furniture is such an easy way to get "brand new furniture" without paying hundreds of dollars!
CLICK BELOW TO SAVE THIS PIN ON HOW TO RESTORE ALUMINUM PATIO FURNITURE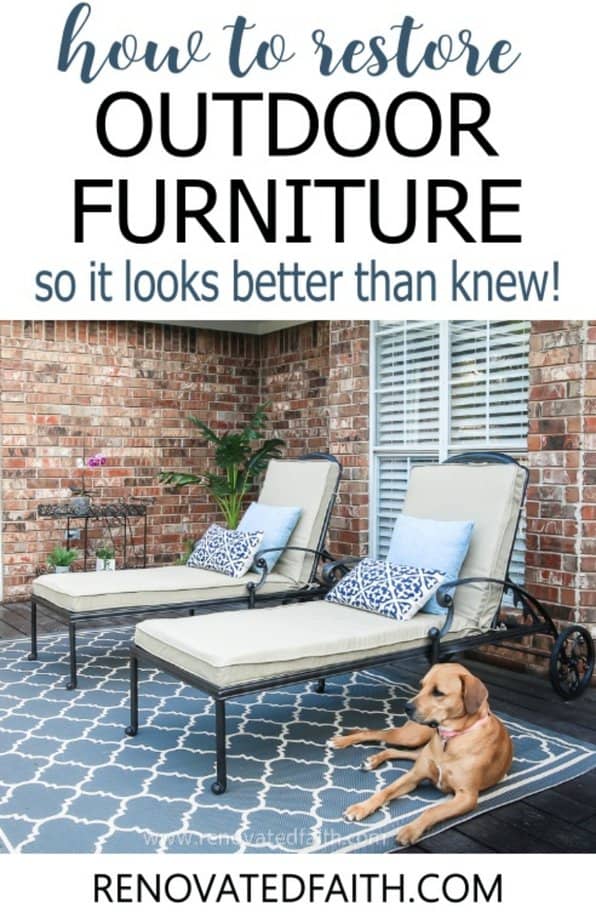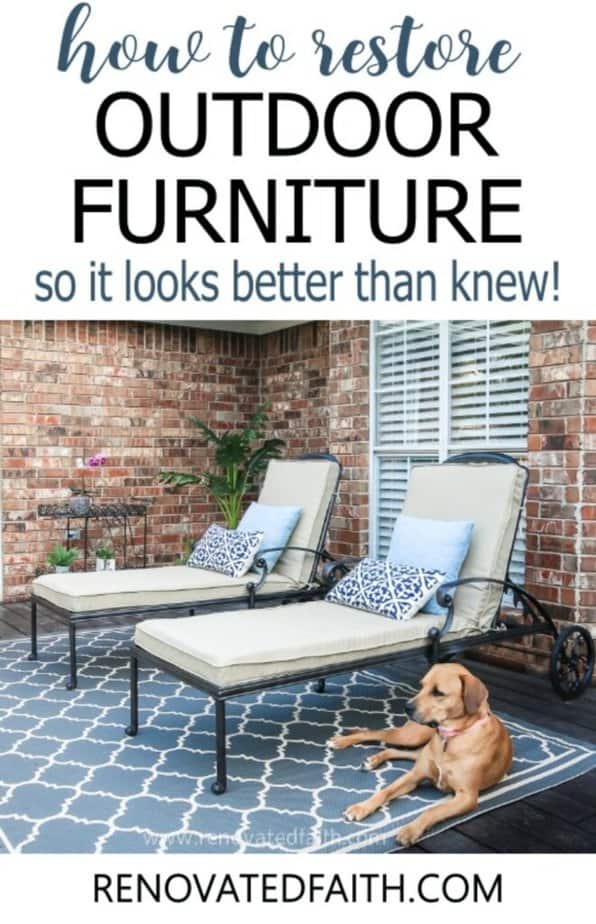 I love to hear your thoughts and questions! Scroll down to leave a comment and I WILL reply! ❤️
Blessings,

Be sure to follow the fun here!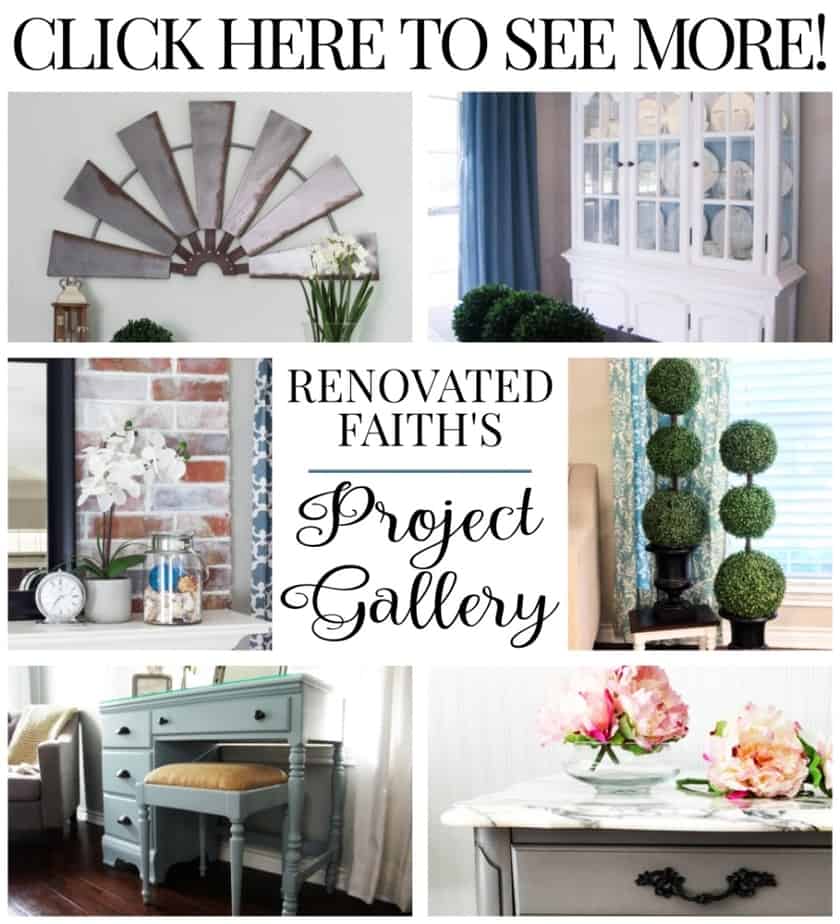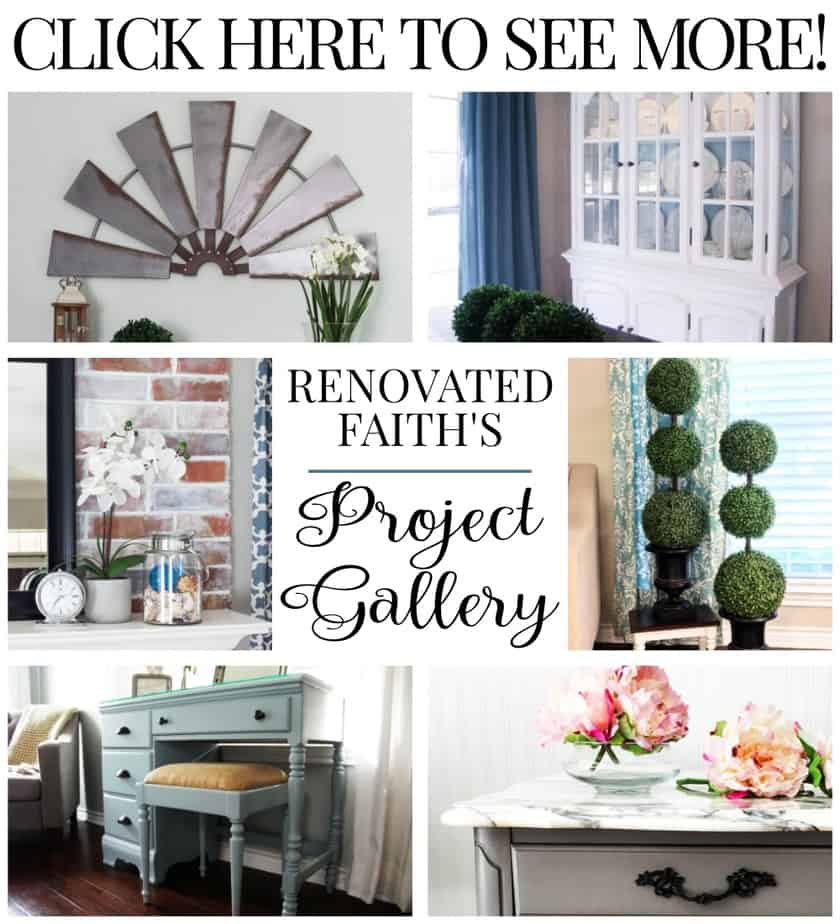 How to Restore Aluminum Patio Furniture
Welcome to Renovated Faith, where I share about DIY projects, my faith and everything in between! When I'm not spending time with my family, you will find me redoing furniture in the garage or watering plants in my greenhouse. This blog is about transformation. Anyone can renovate a house but only God can transform our hearts!