How to Study the Bible For Beginners (Free Inductive Bible Study PDF)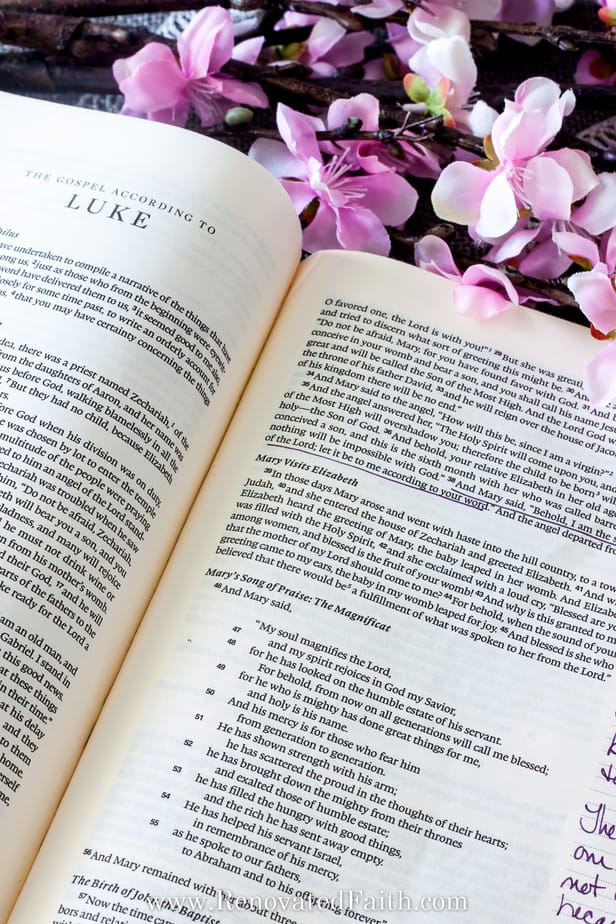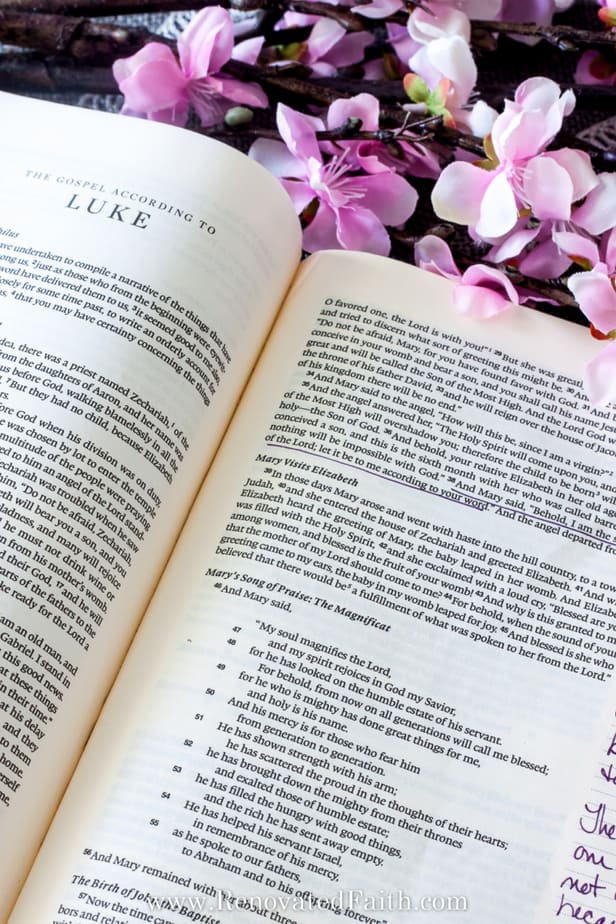 What Is the Easiest Way to Study The Bible?
Studying the Bible doesn't have to be intimidating. This easy tutorial on how to study the Bible for beginners will walk you through every simple step!
---
Maybe you are a new believer or maybe you have been in church all your life but don't know how easy it is to dive into God's Word with the simplified inductive Bible study method.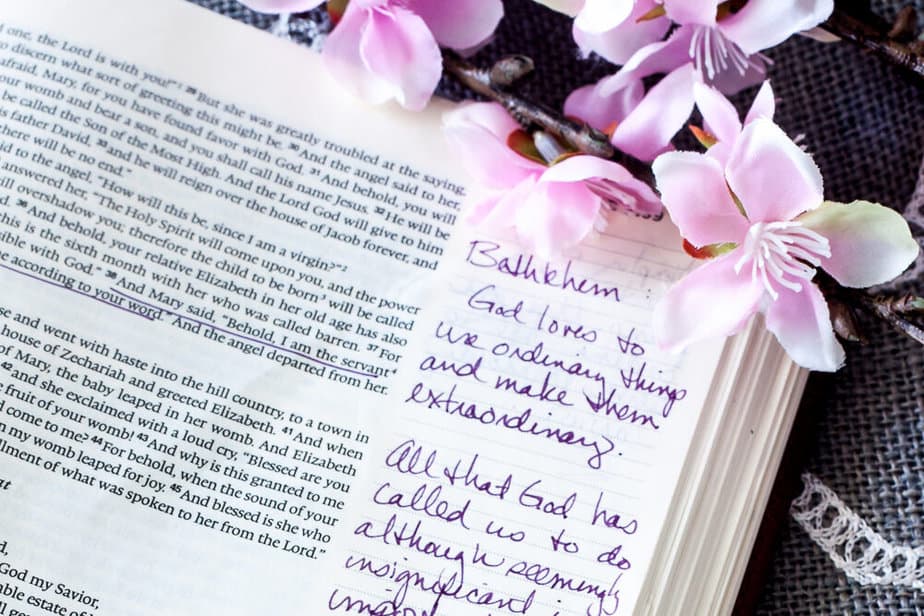 This is a great post for you if you:
Want to get the most out of God's Word without being overwhelmed
Don't enjoy studying the Bible but wish you did
Need a simplified version of the inductive Bible study
Want an easy free "cheat sheet" to help walk you through this method on your own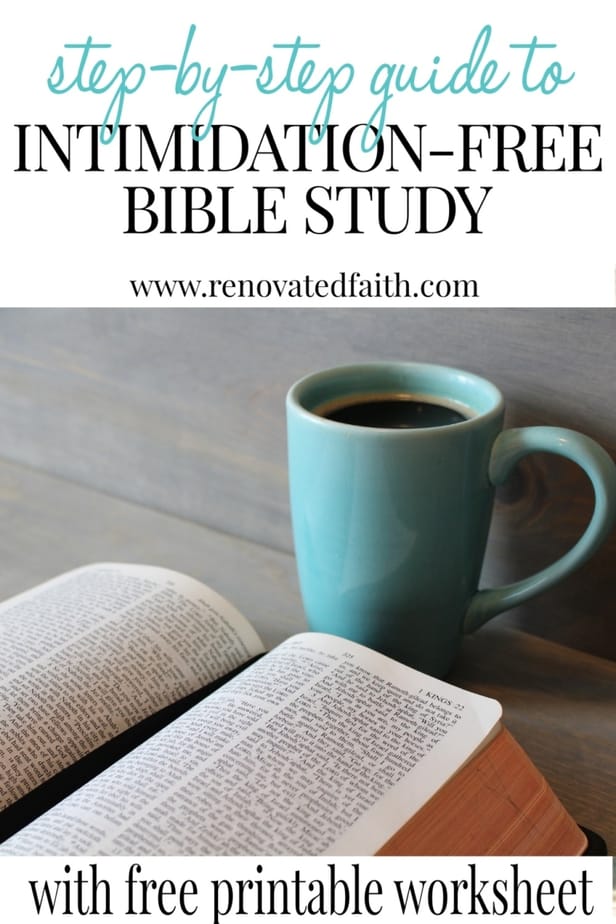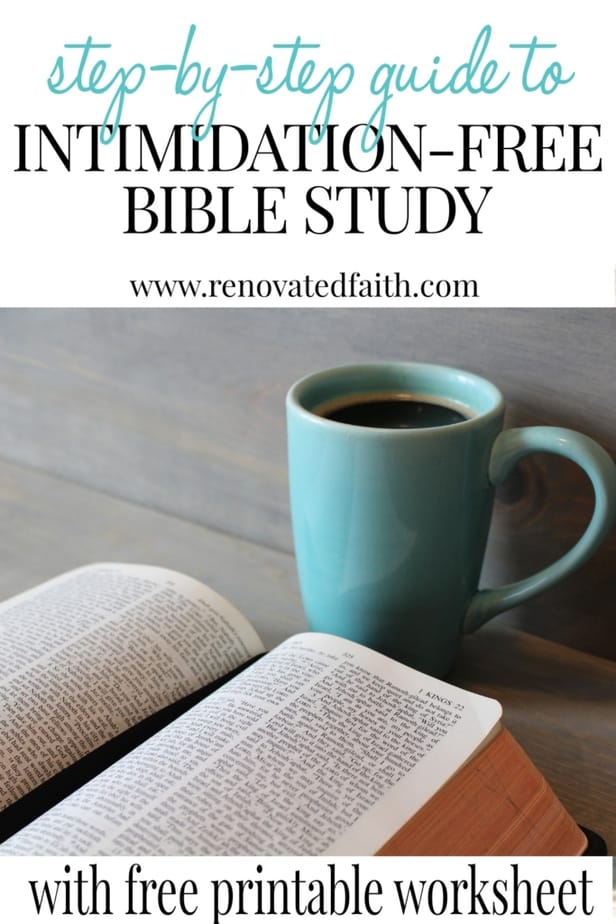 (As an Amazon affiliate I earn from qualifying purchases. I only use affiliate links for products I use and love. Please see my full disclosure HERE).
Why Study The Bible
My favorite part of the day is the time I get to spend in God's Word. But this was not always the case.
I went through a phase where I did Bible study because I felt like it was the "right" thing to do and I felt obligated. I unintentionally looked at Bible study as a way to stay in good standing with God even though I knew rationally I was already in good standing with God because of the sacrifice of His Son. (Eph. 2:8-9)
Fortunately, the more I learned about God, the more I realized how much He deeply loves me (and YOU!) and the more I wanted to learn about Him.
I love Psalm 34:8 which says, "taste and see that the Lord is good." Sometimes we have to first taste the Word of God before we can realize we love it.
Just like I tell my daughter, you have to try something 8 times before you know if you like it. SO, if you don't love time in God's Word or feel it's overwhelming, keep tasting and the more you read of your Father's love, the more you will enjoy time with Him. He absolutely loves spending time with you!
Since I use my desk for blogging, I created this DIY closet desk that is just for Bible study purposes. It allows me to have all my Bible study stuff out and be messy and no one sees it.
Before I started Renovated Faith, I worked at a church full-time and also graduated from seminary with my M.Div with biblical languages. I guess you could say that gives me some credibility to write about studying the Bible, but what I learned most about time with the Lord wasn't from school but from sitting with Him.
How Studying The Bible Transforms Us Like Nothing Else
In many of my posts, I share how God transforms our brokenness in the same way one can rehab an old piece of furniture. But I can't begin to talk about how God renovates our lives without sharing the importance of spending time studying His Word.
The Bible is the story of God. As my favorite seminary professor, Dr. Paul Chen, would often state, God's Word it is the definition of History because history is "His-Story!"
The Bible is not only a book but is the personal revelation of Jesus Christ to His people. Through it, we can receive hope, hear of His love for us, understand how to be more like Him, and gain insight into making the best decisions in any aspect of life.
The Bible isn't just a history book or even a self-help book. The words within its pages are the inerrant and inspired words of God, and they are useful in every aspect of our lives (2 Timothy 3:16). Within the pages of Scripture is the key to radical transformation to be more like Christ.
"Do not conform to the pattern of this world, but be transformed by the renewing of your mind. Then you will be able to test and approve what God's will is—his good, pleasing and perfect will." Romans 12:2
How to Study the Bible for Beginners PDF Printable:

If you are just curious or in a hurry, here is a quick link to subscribe and get my free inductive bible study pdf that I explain later in the post. Click here to download: Bible Study for Beginners PDF Download. (If you are already a subscriber, click here for the library of free printables.)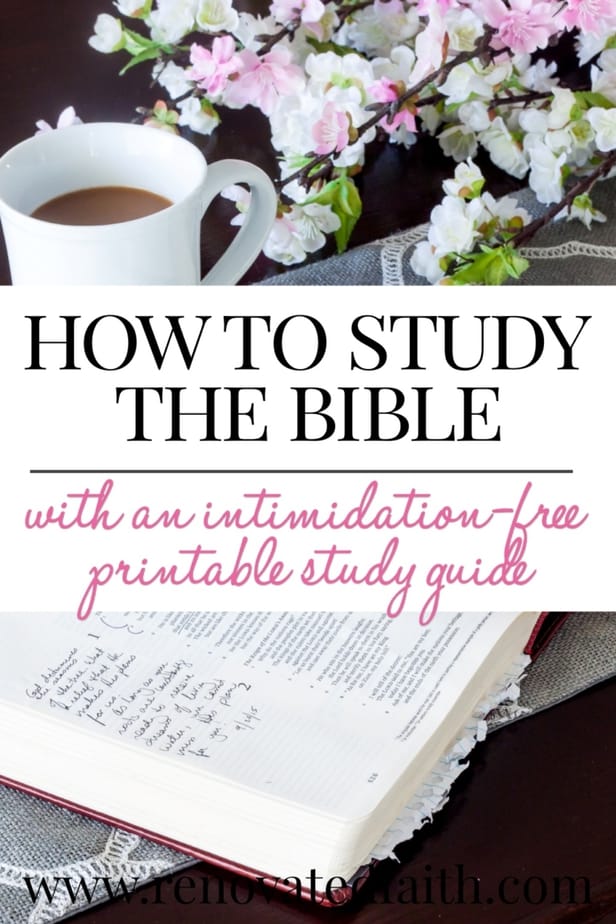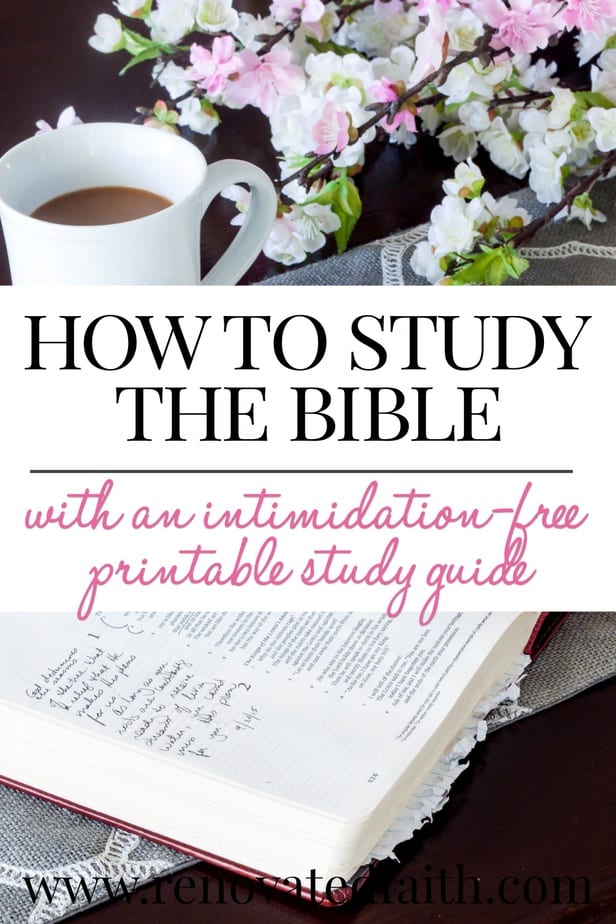 (As an Amazon affiliate I earn from qualifying purchases. Please see my full disclosure HERE).
How to Study the Bible for Beginners
Studying God's Word is the key to understanding His Will so our lives can be transformed, renewed, and restored in light of those truths.
No matter if you are a brand new believer or have been to church all your life, you can't truly grow in your relationship with God if you don't spend time in His Word.
"Anyone who lives on milk, being still an infant, is not acquainted with the teaching about righteousness. But solid food is for the mature, who by constant use have trained themselves to distinguish good from evil." Hebrews 5:13,14
We all start out as babies in our relationship with God but we don't want to just stop there. We need to continue to grow and mature in our walk with God so we can have greater spiritual insight to understand the "unsearchable riches of Christ"(Ephesians 3:8).
How DO I Start To Understand The Bible?
"Do your best to present yourself to God as one approved, a worker who does not need to be ashamed and who correctly handles the word of truth." 2 Timothy 2:15
The goal of Bible study is not just to gain greater knowledge but to apply the truths of the Bible to everyday life.
"For if anyone is a hearer of the word and not a doer, he is like a man who looks intently at his natural face in a mirror and, after looking at himself, goes away and immediately forgets what he looks like." James 1:23-24
The reason we study Scripture is so we can apply it. With every insight we learn from God's Word, we should prayerfully consider how it should be applied in our own lives. Not allowing God's Word to result in action is as unnatural as looking in a mirror and quickly forgetting what you look like according to James 1.
So no matter where you are in your journey set a daily appointment with God. Then commit to spending time every day studying the Word.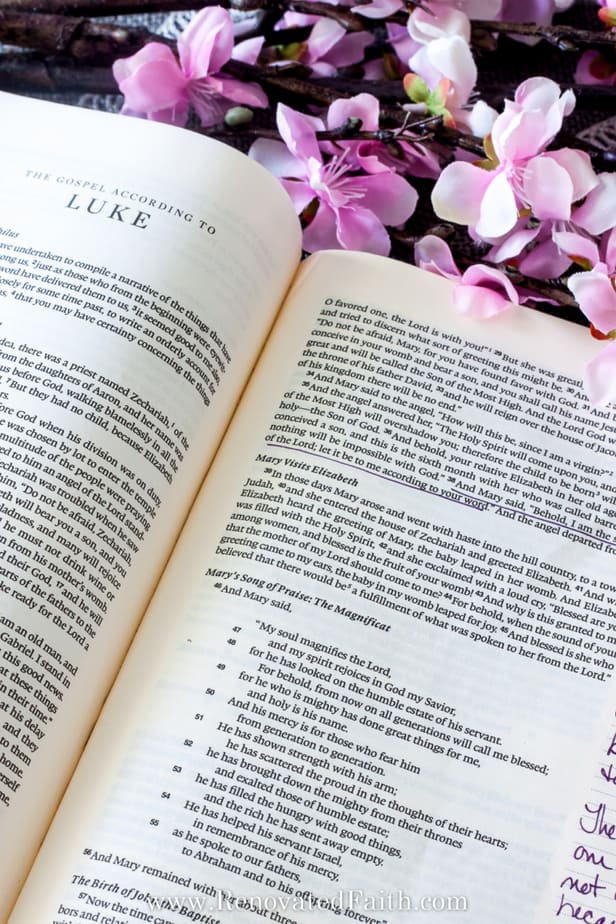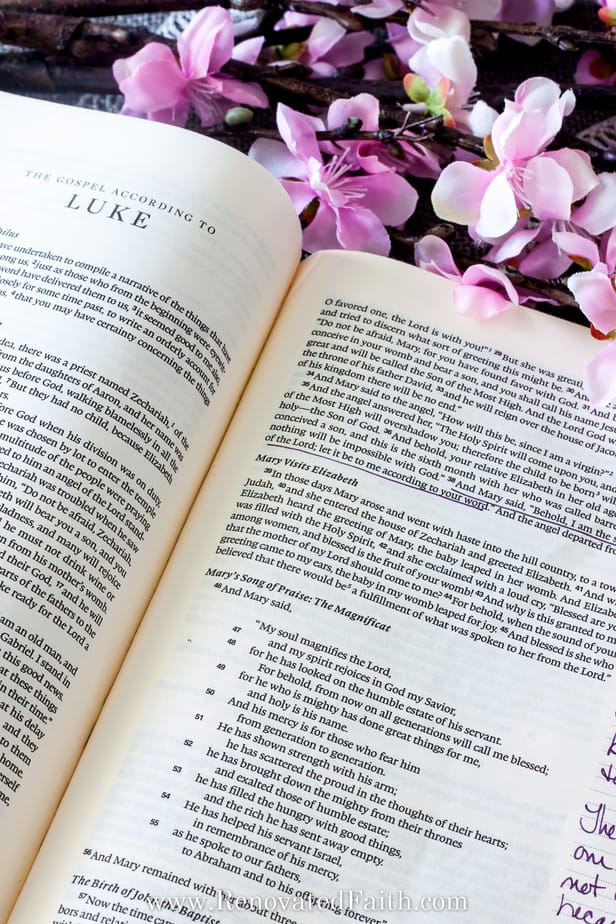 How to Study the Bible For Yourself
Simply knowing how to read the Bible isn't enough but it's important to know how to study the Bible for yourself. Don't get me wrong, reading God's Word is important but in studying God's Word, we dig deeper to understand the background of the passage, the meaning in its original context, and then how we can apply it within the context of present-day.
Maybe you are going through a trial and want to do a topical search on some aspect of Scripture. That's a great idea and there are definitely times we need to study topically.
But on a regular basis, I recommend going through small chunks of Scripture verse-by-verse so you can see God's Word in context.
Unlike a topical study of God's Word, studying expositionally (one verse at a time) prevents us from being tempted to pick out what topic we want to hear most as opposed to maybe what we need to hear.
That's why I give a step-by-step overview of the inductive Bible study method in this blog post because it's a great way to study God's Word in context.
When you study a random verse, there is so much information you miss out on when you don't take into account the setting, authorship, and the particular situation.
Inductive Bible study method looks at the passage more in-depth and works well for different learning styles.
How to Get Quiet With God
Find a quiet place that's comfortable where you will be less likely to be distracted. For me, it used to be my dining room table by the window until I made a DIY Prayer Room in a small closet. But your quiet time can be anywhere! Keep the following items in that location so they are ready every day.
TIP: Leave your phone in another room so you aren't tempted to check it!
Beginner Bible Study Supplies
A Bible – A journaling Bible gives you plenty of room to write notes in the margins which are encouraging later on. This is a great one: ESV Journaling Bible (Grey with Navy Flowers) Right now, I'm enjoying this ESV Study Bible for Women (Click here to see the current price.)
A Daily Appointment– Set aside a regular time each day. You will be amazed how everything else will clamor for your time but the most important time of your day is your time spent with Him. You wouldn't miss a coffee date with a friend so don't miss this appointment with your Heavenly Father.
Pen
Commentary – My favorite commentary is one that is online and it's free: Dr. Constables Expository Bible Notes
Concordance (Optional) – Some Bibles don't include one.
Bible Study for Beginners, PDF Download: Click here for the daily Bible study worksheet printable: How to Study the Bible PDF. If you are already a subscriber, click here for the free printable library and use the password at the end of your last weekly newsletter.)
3 Ring Binder: Print copies of your free printable and make a daily Bible Study Notebook! For some really cute binders, click here: 3 Ring Fashion Binders by Bloom
Which Version of the Bible is Best for Bible Study?
Bible translations fall into two different types. There are formal equivalencies like the English Standard Version (ESV), New American Standard Version (NASB), and informal equivalencies like the New International Version (NIV), The New Living Translation (NLT), and the King James Version (KJV).
Formal equivalences are a more accurate translation as they do the best job they can to keep word order close to the original Greek or Hebrew. Informal equivalencies put a higher priority on what sounds more natural.
So, while formal equivalencies sound a tad awkward in the English language because they are a very literal translation, it's a good practice to use them for Bible study. Informal equivalencies are more geared to sounding like modern language.
Don't be overwhelmed with all the different translations out there, but I highly recommend the ESV because it adheres closely to the original version but is very natural sounding.
Here is a great ESV option: ESV Study Bible for Women
A Disclaimer: The Perfectionism/Procrastination Trap
Before you get started, keep in mind that there is no ONE right way to do Bible study. Therefore, don't feel defeated if you have a busy day and don't get through the steps I have listed below.
God is most concerned about your relationship with Him and just wants to spend time with you. He understands that you are busy and is fully aware of what season of life you are in. Even if your time with God is a hot mess, He will honor your efforts and desire to know Him better.
I came to know Christ at a young age and soon after praying to receive Christ, I attended a discipleship class for kids. The focus was to learn the importance of spending time with God. We got our summer Bible study books that walked us through little devotionals for each day.
An older couple taught the class and during the first meeting, they told us to pick when we would do our Bible study time and come ready the next week to share what time we each picked.
She meant that we should pick the time of day we were going to do our Bible study but I misunderstood and thought she meant to pick which day of the week we would do our Bible study.
I spent all week trying to decide the perfect day to do my quiet time. After much scrutiny, I decided Thursday would be the perfect day!
When I shared this with the Bible study leaders the next class time, their eyes got a little big and they smiled as they explained that I was supposed to pick what time of day and not just which day of the week.
I share this story for two reasons.
First of all, my insistence on finding the "perfect day" caused me to procrastinate. Don't allow your focus to be on studying the Bible perfectly or you may find yourself putting it off.
Instead, focus on your relationship with Him and knowing Him better instead of following steps. The steps are just a tool and the focus is God.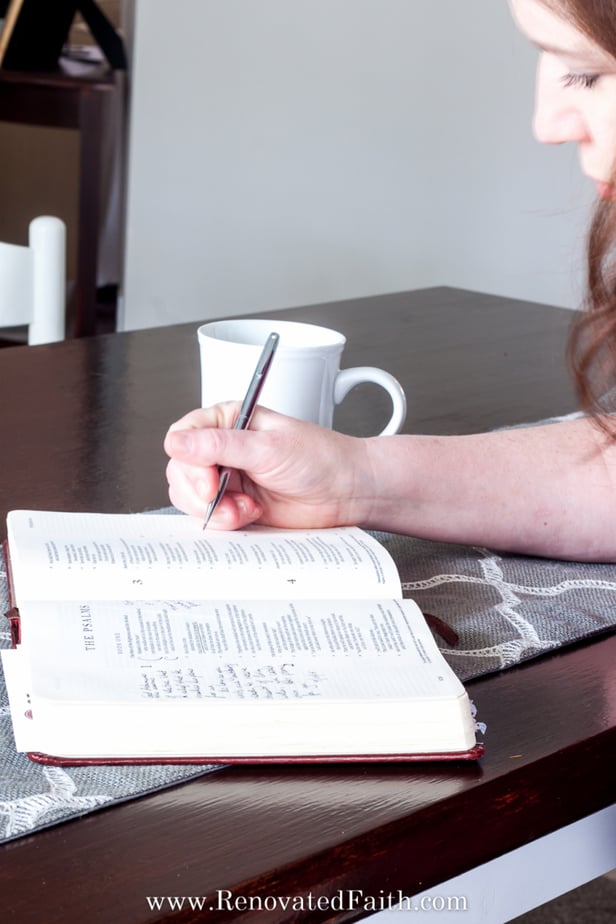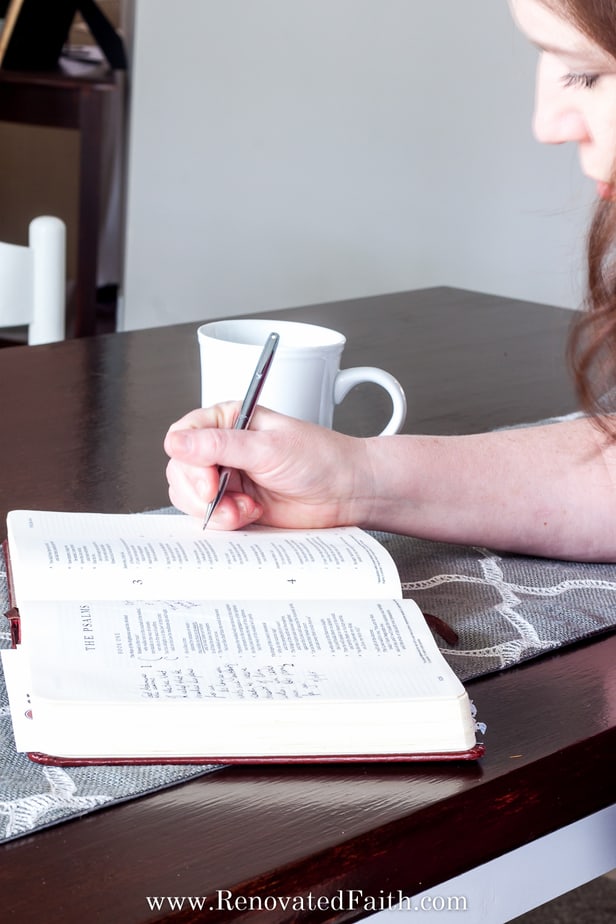 Should I Study the Bible Every Day?
The second reason I share that story is because my mental response to my teacher was "you mean you expect me to study the Bible every single day?"
At the time, that seemed overwhelming and it still can be at times. But honestly, the days that I seem to have greater joy, peace, and connection to my purpose are the days I have spent time with God.
I feel most "at home" when I am in God's Word and although my trials might not change I have greater peace in the midst of them because Scripture reminds me of where my hope lies.
Man does not live on bread alone but by every Word that comes from the mouth of God. Matthew 4:4
How to Study the Bible Effectively: Inductive Bible Study Method PDF
I feel the best way to grow in your understanding of God's Word is through "inductive" Bible study. There are many different ways to study the Bible but I believe this is one of the most effective methods because it helps you to see every dimension of God's word.
The inductive method makes observations on a passage of Scripture and then helps the reader to interpret the passage before drawing conclusions on the passage. Here are the three basic steps in your How To Study The Bible PDF:
Observation: What does Scripture say?
Interpretation: What does Scripture mean?
Application: How does Scripture apply to my life?
How To Study The Bible for Beginners, YouTube Video
Here is a video that explains the whole process and samples of how to apply these steps can be seen below using Psalm 46. If it doesn't pop up, you can also see it here with my other videos: Bible Study for Beginners, YouTube Video

How to Study the Bible: Background
When you start to study a chapter of the Bible, the first step is to get some background information about the book. If you have a study Bible like this one (ESV Study Bible), you can look in the notes at the beginning of the book or you can go to my favorite online commentary: Dr. Constables Expository Bible Study Notes
Find out who wrote the book, its purpose, its cultural context in history, the date it was written, and any other pertinent background information. (You will not need to do this step every time you sit down to study God's Word – just when you start a new chapter.)
Here is how we would apply background study to Psalm 46:1-11:
Background of Psalm 46

Authorship – Who wrote the book ? While many Psalms were written by King David, some suspect that King Hezekiah wrote this psalm after God's deliverance from Sennacherib according to Dr. Constable's Commentary.

Why was the book written? The Psalms are the inspired responses of human hearts to God's Word. It is a collection of prayers and praises. The song praises God for being a refuge for His people and expresses trust in Him.

Date Written: Unknown for this particular psalm but the book as a whole was written during a span of 1400 – 400 B.C.

How to Study the Bible for Beginners: Observation
The observation step starts with reading through the passage for basic understanding. For this next step, you are looking at what the verse has to say at face value.
Inductive Bible Study Observation Questions
Paraphrase the passage in a way that makes sense to you. Just put the passage in your own words.
Ask the questions who, what, and why and record your answers.
Take note of any questions you have and you WILL have questions. I do all the time and I've found that the most confusing parts of Scripture are often where I get the MOST out of Scripture upon finding the answer.
Take note of any repetition or cause and effect words (For Example: And, But, If/Then, Therefore). Take note of any other new insights
Inductive Bible Study Sample – Observation of Psalm 46

Paraphrase the passage: For example, I reworded verse 1 to say " God is our hiding place and strength and a continual help in hard times."
Who: God and His people What: the river, mountains, the sea, kingdoms Why: God protects us because He loves us.
Questions I Had: Who is the river in this passage? Is he referring to the river when the author says "her"?
Words to Take Note of: "Therefore" in verse 2. It is interesting that in verse 10 the writer uses "says" in the present tense.
Inductive Bible Study Symbols
Some studies will promote the use of drawing colored symbols over words to help you better recognize main themes and repetition of words. For this post, we are keeping it simple but to learn more about that, click here: Inductive Bible Study Symbols
How to Study the Bible for Beginners: Interpretation
Interpretation is discovering the actual meaning of a passage and what the author was trying to convey. During this part, we will try to answer any questions that arise from our observations.
Inductive Bible Study Interpretation Questions
Cross References – Let Scripture interpret Scripture. In other words, when you are unsure about a verse, let other passages in the Bible shed light on the passage you are looking at. Scripture will never disagree with Scripture so we can use other parts of God's Word to refine our understanding.
If your Bible doesn't include cross-references, this tool is a great resource: Strong's Concordance
Bible Commentary – After you have spent some time looking at cross references to answer your questions, you can look at a commentary. Commentaries aren't meant to replace our study of Scripture but to enhance it with background information and grammatical insights.
My Favorite Online Commentary
Perhaps my favorite commentary is one that is free online called Dr. Constable's Expository Bible Study Notes.
Dr. Constable's Notes, authored by Dr. Thomas L. Constable, provide commentary on all 66 books of the Bible and contain over 12,000 pages of material in PDF format.
Dr. Constable taught at Dallas Theological Seminary for 45 years, and served as the Chairman of its Bible Exposition department for 13 years. He now spends most of his time upgrading these notes. They are a wealth of information and he makes them very easy to understand and apply.
You can access all of his notes by clicking here: Free Online Bible Study Commentary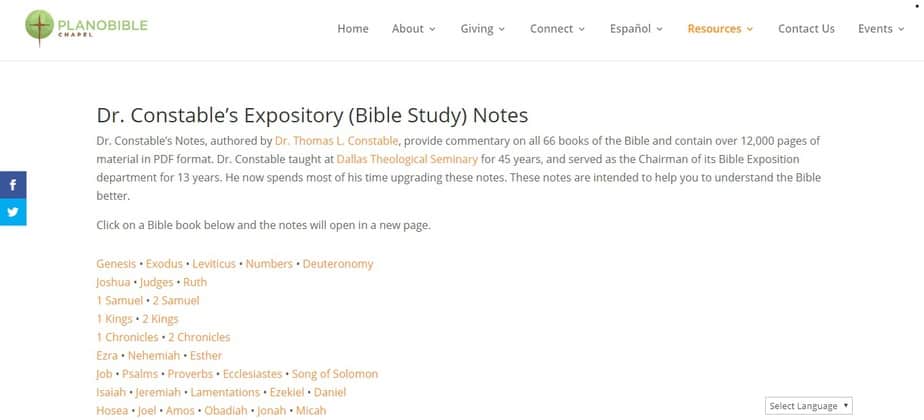 Other Bible Study Commentaries & Study Tools for Further Study:
Bestcommentaries.com – This site gives recommendations on the best commentaries for each book of the bible and is great to help you do a word study.
The NIV Application Commentary – These are excellent and great for beginners in Bible Study but I also know many pastors that use them.
New American Commentary – These are a little more exegetical and technical.
Bible Dictionary
Inductive Bible Study Example – Interpretation of Psalm 46

Check cross references to see what other passages tell you about this passage: I questioned who the river symbolized. When I looked at the cross reference for verse 5, it told me to look at Isaiah 12:6 which refers to God working among the people of Jerusalem. Therefore, I can conclude that the river is God and "she" is Jerusalem.

Check a commentary for more information on the passage: In checking Dr. Constable's commentary, I learned some really interesting background information. It mentioned that Warren Weisbe thought that the author of this Psalm was King Hezekiah and he was referencing God's deliverance from Sennacherib:

In 2 Kings 18-19, you can see a progression on both sides:
• Sennacherib's demands become increasingly less direct, moving from military threats to just correspondence.
• You can also see how Hezekiah's responses become increasingly based upon trust as he moves from acquiescing to the threats and paying the tribute, to refusal and seeking the counsel of Isaiah, and ultimately to a complete trust in God's saving ability as expressed in his magnificent prayer.
• The reference to this battle gives greater illustrate Hezekiah's gradual growth of trust in God and to justify its earlier evaluation, "He trusted in the LORD the God of Israel; so that there was no one like him among all the kings of Judah after him, or among those who were before him" (18:5).

The Assyrian army is supernaturally defeated at night, forcing Sennacherib to return to Assyria where he is murdered by his own sons.

I also found in the commentary that a better translation for "be still" is actually "cease striving"

It also mentioned that God's presence in Jerusalem was similar to that of a peaceful, life-giving river rather than a raging sea. Old Jerusalem had no actual river but because God abode in the city, it experience safety and security in Him.
How to Study the Bible for Beginners – Application
This is the most important aspect of Bible study because we have to apply the truths we learn to our everyday lives. The purpose of our study is application which leads to transformation so we can be more like Christ. Without application, we are merely storing up knowledge.
Inductive Bible Study Application Questions
You'll want to ask the following questions of every passage of God's Word that you study:
How does the truth revealed here affect my relationship with God?
How does this truth affect my relationship with others?
How does this truth affect me?
The application step is just a matter of answering these questions but the key is to put God's Word into practice. God doesn't expect us to be perfect but we are to seek to apply God's Word in our daily lives, relying on Him for strength and guidance. When you seek to apply God's truth to your life, God will be faithful to bless your efforts with spiritual growth – transforming you to be more like Christ.
When you are done with your Bible study time, be sure to pray for His help in walking out His truth.
Therefore, if anyone is in Christ, he is a new creation, old things have passed away; behold, all things have become new. 2 Corinthians 5:17
Sample of Inductive Bible Study – Application of Psalm 46

How does the truth revealed here affect my relationship with God and others?

Although life can be full of chaos and hardships, we can rest in knowing that we can safe and secure because God is in us like a peaceful river in the heart of Jerusalem. He might not calm the situation, but we can experience true peace even in the midst of disorder.

Our role is to trust Him and respond to the sound of His voice.

Verse 10 was a key verse for me and I notice it's in present tense meaning that it applies to today. God tells us to, "Be still and know that He is God." The term "be still" actually means to "cease striving" which as I mentioned in my Scroll post is a great mental picture of how I often struggle to solve my own problems instead of allowing the very Creator of the Universe to deliver me.

One thing the commentary mentioned was that it took Jerusalem a couple years to rebuild but afterward they experienced a magnificent harvest. It made me think about how God's trials might require a waiting period but we can be sure that HE WILL deliver and preserve His people.

This is a fabulous Psalm to read where your world seems to be falling apart.

I will apply this passage to my daily life by: realizing that although my life might seem like it is full of chaos, I can "be still" in the midst of it because as a child of God, He resides in me like the calm river that runs through Jerusalem. There may be a wait involved but God WILL deliver me from whatever comes my way. I can remember "this too shall pass" and He will have victory, restoring me as only He can.
|
Renovated Faith: What's in a Name?
God never leaves a project half-done…He continually works on each one of us, as a lavish expression of His amazing love and grace. DIY projects remind me of how God renovates our hearts. If you are a work-in-progress, just like I am, be sure to check out the Renovate Your Faith devotionals at the bottom of every DIY post. Click here to get a weekly reminder of new posts by email.
To help you with your Bible study time, I've created a free inductive bible study PDF download where you can simply follow the steps and answer the questions I mentioned above.
You can print one for every day of your study time and even make a Bible study notebook by putting the pages in a binder! You can download your own free inductive Bible study PDF printable here: How to Study the Bible for Beginners PDF Download
If you are already a subscriber, click here for the library of free printables and use the password at the end of your last weekly newsletter.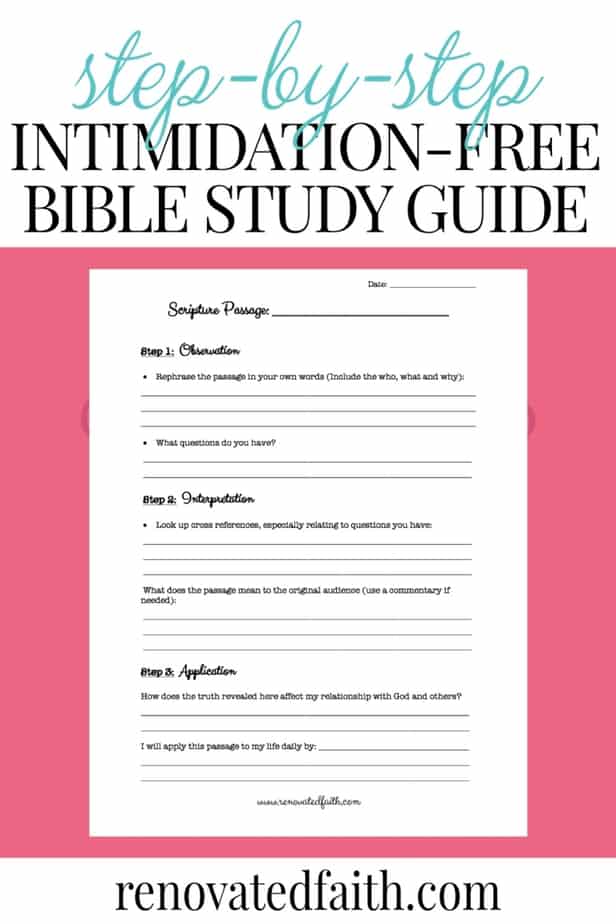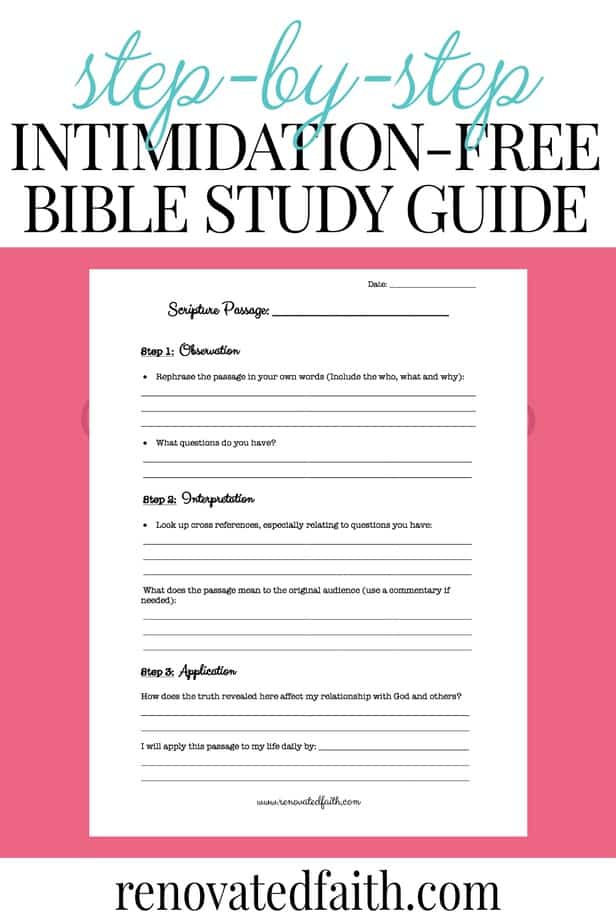 How to Get the Most out of God's Word
Before studying Psalm 46, I had heard the passage several times before but had never known about the background of Hezekiah in 2 Kings. That was all just from the online commentary resources I linked to above.
I say that to show you that you don't need to be a Bible scholar to study the Bible. All the information is right at your fingertips so don't get overwhelmed!
Also, don't cover too much at a time. I would recommend going through the inductive Bible study steps with only 6 to 8 Bible verses at once. There is where studying is very different than reading. Your priority should be quality, not quantity!
How To Start Studying The Bible
You can start anywhere in the Bible and while it seems like maybe you should start with the Old Testament or in chronological order, I don't want you getting bogged down in the Books of the Law like Leviticus and Numbers while you are getting started.
The best place to start is with one of the small books of the New Testament with a shorter book like 1 Thessalonians, Philippians, Colossians or 1 and 2 Timothy. James is one of my favorite books so that's also a great place to begin. Another good place to start is with the Gospel of John or any of the other Gospel books (Matthew, Mark and Luke).
I chose an Old Testament passage as a sample for our inductive Bible study to show you how easy it is to get background information from commentaries.
How Not to Study the Bible
Context is Key – When you don't understand a verse, read the context. The paragraph, chapter and book will give you lots of clues to the meaning. If we imply a meaning to a verse that isn't really there, we misunderstand the meaning of the passage and it's misapplication can be harmful to us and others. God takes very seriously the correct interpretation of His Word and we should too!
Don't Compare Your Walk with Others – Your spiritual journey does not consist of rungs on a ladder. If someone is studying more than you are, that's fine. But you aren't them. Don't let someone else's relationship with God in any way deter you from spending time with Him.
Be Doers of the Word – If we are hearers of the word and not doers of the word, James 1 tells us that we deceive ourselves. Don't be like the Pharisees who didn't apply God's Word or applied it incorrectly. Focus on God and not just attaining knowledge for your own purposes.

How to Study The Bible Effectively for Beginners PDF – FAQ:
Does my Quiet Time Need to be First Thing in the Morning?
Scripture doesn't give any instructions on WHEN our study time with God should be. It just says we should regularly spend time in the Word. I would recommend setting a time each day so you can make Bible study a regular appointment in your schedule but the time of day is completely up to you.
What if I Don't Understand Parts of Scripture?
There WILL be parts of Scripture you don't understand. Welcome to the club! Fortunately, the most confusing parts of Scripture have been the places in God's Word that I have found to be most rewarding. Sometimes it's when Scripture seems to contradict itself is when we dig further to discover the gem of God's truth that is hidden there.
What if I Have No Knowledge of the Bible?
That's absolutely fine! God is absolutely thrilled that you want to spend time studying His Word. You can get Bible tabs (like these) to help you find your way in God's Word. Don't forget that there is a table of contents with page numbers. Although I have been to seminary, I was not at all familiar with the story of Hezekiah's victory over the Assyrians in 2 Kings. So, what you don't know you can find with your cross references and with commentaries.
What Are The Different Sections of The Bible?
The Old Testament is the first of two main portions, which covers the beginning of the Earth and ends right before the rise of the Roman Empire and Alexander the Great. His reign during the intertestamental period made the Greek language much more widespread. This actually facilitated the writing of the Gospel in one language that more people could understand. The Old Testament is written in Hebrew, the language of the Jews, God's chosen people.
The New Testament covers the life of Christ Jesus, the Son of God, and His work on earth and where we get to experience the power of His Words.
What is The Best Study Bible?
I am a big fan of the English Standard Version and I am currently using this study Bible and love it: ESV Women's Study Bible
It includes several female author commentaries so it is refreshing to get input from literal "women in the word". I also enjoy the background study guide before each chapter. I've used it for just over two years and it has proved to be a really good study Bible
How To Study the Bible Like a Pastor
Most pastors use the inductive Bible study method to study God's Word formally in informally because it helps us to see the truth of God's Word and the purpose it was written.
But if this is your first time studying the Bible, don't let that discourage you. These steps show you exactly how to break it down to get the most out of your study time. Also, don't forget to download the printable Bible study guide for beginners that will remind you of the steps.
What is the best way to read the entire Bible?
There are several different daily Bible reading plans that will help you read entire books of the Bible and eventually the entire Bible. You can find a great one here: Daily Bible Reading Options
Bible Study Guide for Women – Related Posts:
41 of the Best Gift Ideas for Christian Women
Best Christian Podcasts for Women
41 of the Best Christian Books & Bible Studies for Women (That Will Change Your Life in 2022!)
10 Steps to Affordable Curb Appeal
A Beginner's Guide to Refinishing Furniture
Online Bible Studies for Women
How to Overcome Anxiety as a Christian
Final Thoughts: Bible Study for Beginners FREE PDF
Has your Bible study time felt overwhelming in the past? The good news is that this guide will walk you through every step. Don't let fear get in the way of the most transformational time in your day. God's Word is the most important book of all time which helps us heal, fix our brokenness and grow in our walk with Him. Only through it can we better understand how to live our lives and make wise decisions.
What an amazing blessing to have God's Words in written form to access any second of the day! With the Holy Spirit's leading, these tips and a little bit of practice, you can feel more at ease in making Bible study part of your daily routine. Now, get a cup of coffee, your Bible and your Bible study guide pdf, and enjoy some time with Him!
If you want to save this post for later, pin it here: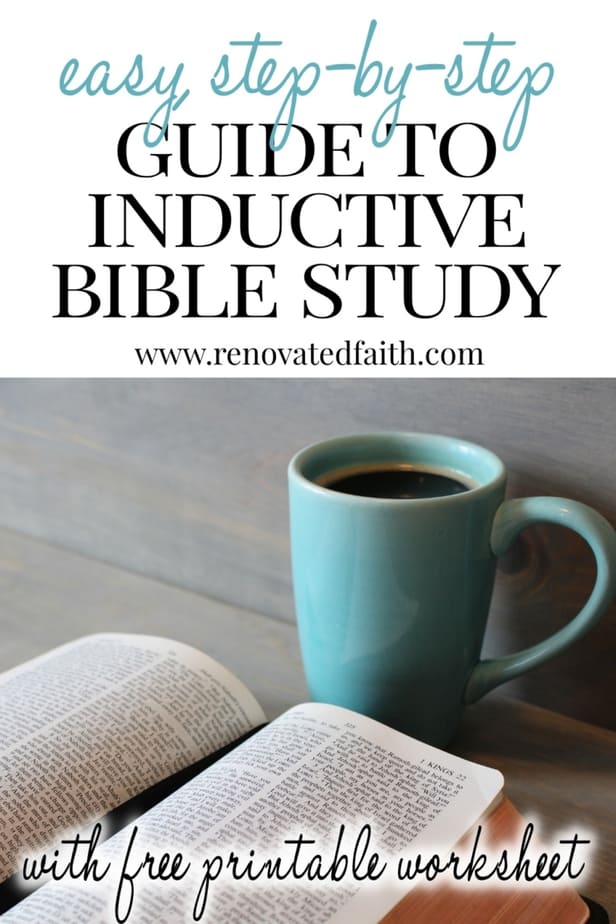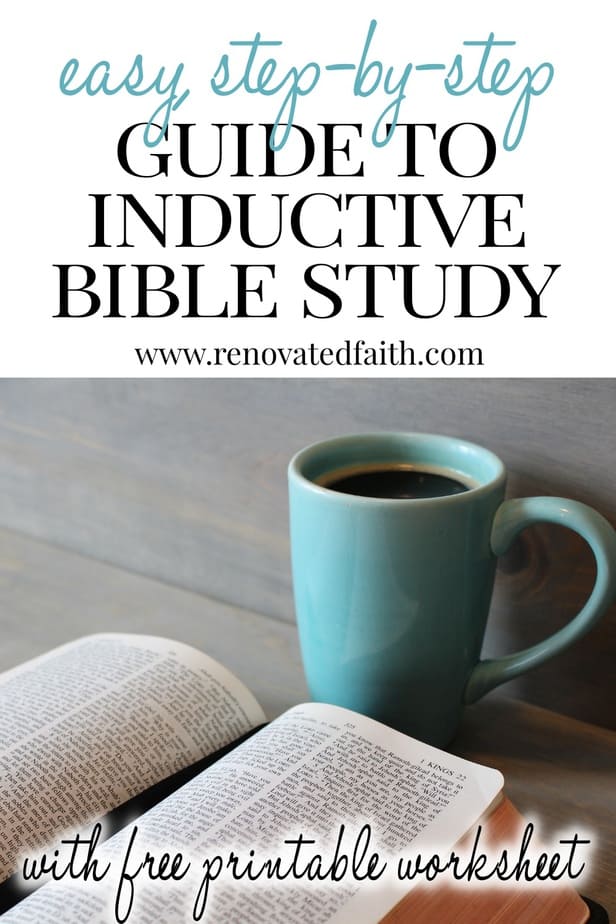 What are your thoughts, my friend? I love to hear your thoughts! Scroll down to leave a comment and I WILL reply! ❤️
Blessings,

Be sure to follow the fun here!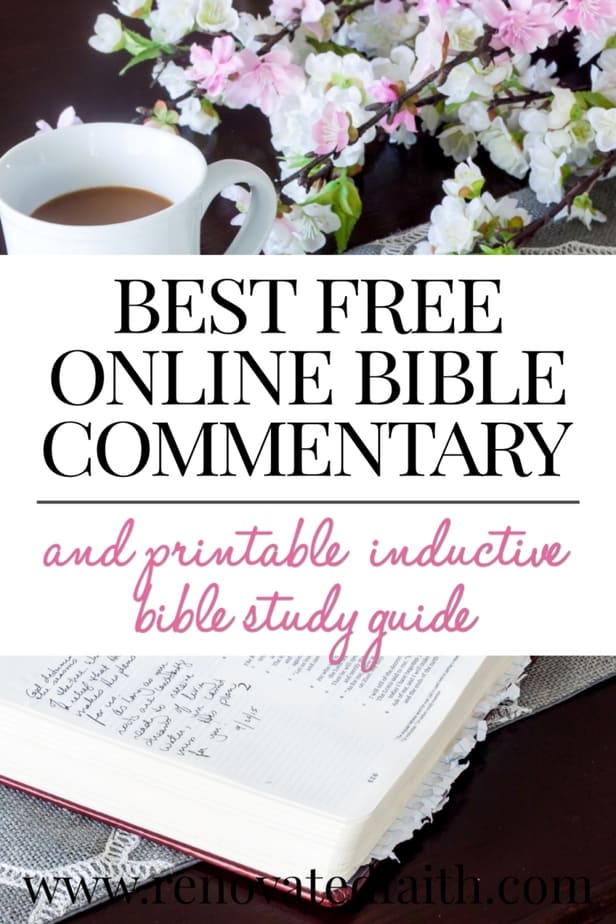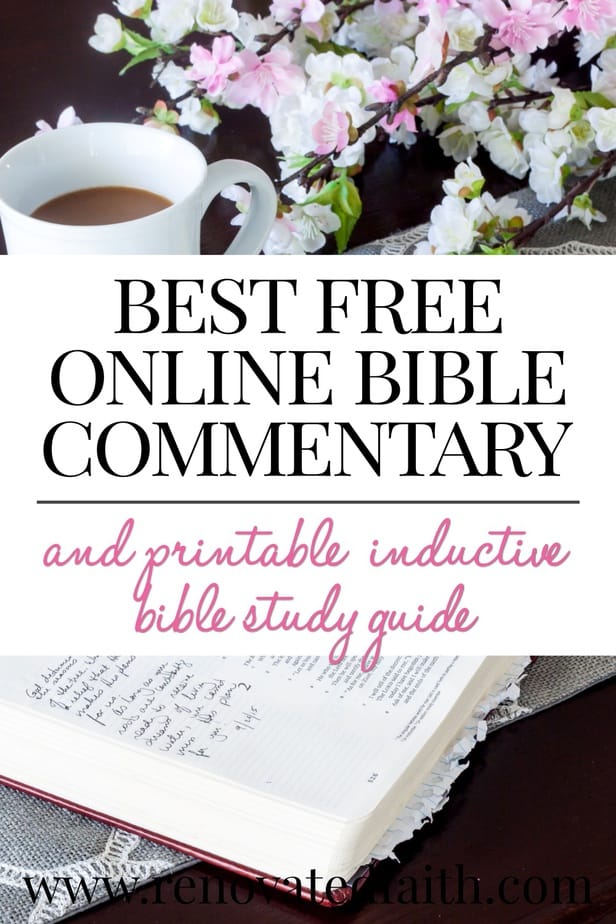 How to Study the Bible for Yourself: Inductive Bible Study PDF
Welcome to Renovated Faith, where I share about DIY projects, my faith and everything in between! When I'm not spending time with my family, you will find me redoing furniture in the garage or watering plants in my greenhouse. This blog is about transformation. Anyone can renovate a house but only God can transform our hearts!