Easy Turned Leg Farmhouse Table: Step-by-Step Instructions and Video
New to woodworking? No problem! This simple step-by-step tutorial & video shows you how to build a farmhouse table with pocket holes the easy way.
---
Did you know there is actually a name for a fear of power tools? It is called Ergalilektriphobia. If the name was a little easier to say, I might form a support group for recovering ergalilektriphobs, like myself.
My fear of power tools raised its ugly head was when we built our farmhouse coffee table about 10 years ago. I had never considered that I could build a piece of furniture, much less use something called a Kreg jig (click here to see the current price).
But after one project, I was hooked! Just like most of my experiences with power tools, I was nervous about using it for the first time, but it was so much easier than I thought! Suddenly woodworking was only slightly harder than building with Legos. (So, I realize a Kreg jig is not technically, a POWER tool, but I was intimidated nonetheless.)
In this post, I can't wait to show YOU how can you build your own farmhouse table while spending a fraction of the cost you'd spend on a new table in a furniture store.
With building a table yourself, not only can you customize the finish and size for your home, but you get a huge amount of satisfaction from building it yourself!
LET ME SHOW YOU:
How to build a dining table with modern farmhouse style for less than $150
The easy way to build a tabletop with these simple farmhouse table plans
Why a faux stain can save you a ton of money (and from a few headaches!) on woodworking projects
Some encouragement for when events in life cause us to resort to our "Plan B's" (Check out the Renovate Your Faith Devotional at the bottom of this post.)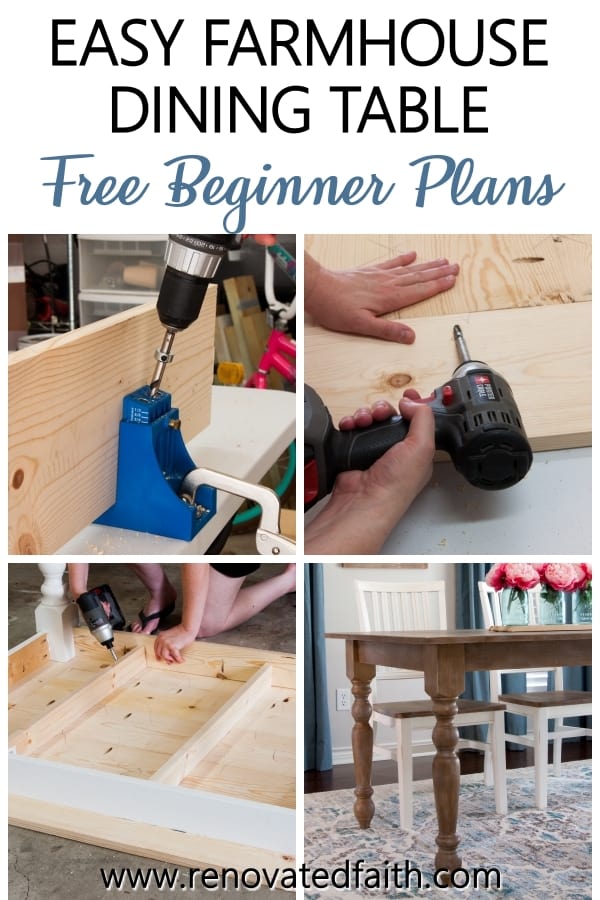 (As an Amazon affiliate I earn from qualifying purchases. Please see my full disclosure HERE).
☑️ If you are curious or in a hurry, here is a quick link to the Kreg jig I used for this table: K4 Kreg Jig It is a great tool for beginners and also seasoned woodworkers. If you want a lower-cost version, click here: Kreg Jig 320 With Clamp or Kreg Jig 320 Without Clamp
DIY Farmhouse Table With Turned Legs
When we built our previous dining table, we used an old butcher block top attached to a table apron and 4 turned legs I bought online. Unfortunately, the dense, heavy wood of the butcher block top was way too heavy for those dainty turned legs and our table was sort of a safety hazard.
"Plan B" was to reuse the same legs and build the rest of the table with a Kreg jig (click here for the current price). And thus, our DIY Farmhouse Table Plans were born.
JUST FYI: Our table legs are painted white because they are reused from a previous table I had painted. For the same of this tutorial, I'll be explaining this as if we are building the table from scratch – since we essentially are.
Fortunately, our Plan B turned out SO much better than Plan A. I don't usually say this about my own projects but I am SO stinkin' proud of how it turned out! I love the look of this table much more than the old one! It's probably not a good idea to get emotionally attached to furniture, but every time I pass by it, it puts a big smile on my face!
What To Know Before Building a Farmhouse Table
If you want farmhouse table plans for beginners, you have come to the right place, my friend! These instructions explain how to build a farmhouse table with pocket holes. In other words, you will use a Kreg jig (click here for the current price) to join together pieces of wood with pocket hole screws.
One consideration is how thick you want your tabletop. These plans on how to build a farmhouse table are for a tabletop with 1 x's (the wood was an inch thick before it was milled and now is really 3/4″ thick). Many farmhouse kitchen table plans use thicker wood for the tops.
However, I love how the thinner top matches the sophisticated look of the turned legs. Because the top is a little thinner, it's important to add stringers underneath the table for extra support so your boards don't warp. This is super easy with the Kreg jig and my farmhouse dining table instructions will show you exactly what to do.
You can save a lot of money by building a farmhouse dining table yourself instead of buying new. But you can save even more money by just getting common grade pine instead of the higher-grade pine or oak. In the past, I have opted for the higher grade wood because I don't like the look of knotholes in my furniture pieces. Common pine always has lots of knotholes and irregularities. It's just a strong but not as pretty.
COST-SAVING TIP: The higher-grade wood is quite a bit more expensive so I decided to buy common pine (knot holes and all!) and use a faux stain with paint to cover the knotholes. A traditional stain will always allow knot holes to show through but my faux stains give the look of a very high-grade wood while spending quite a bit less on common pine. Here's where you can see all my options for traditional faux stains and the Restoration Hardware stain is coming next week on the blog!
You won't believe how great the table looks when it is done – all thanks to low-grade pine and latex paint!
Also, a traditional stain can be pretty unpredictable as it doesn't always absorb the same on pieces that have been sanded more than others. Uneven moisture levels in the wood can also cause issues with unevenness is the absorption of traditional stains. With my faux stains, you have total control of what your final product will look like.
How Much Does it Cost to Build a Farmhouse Table?
The total cost breakdown using common pine and a faux stain to hide knotholes was less than $150. The legs are by far the greatest expense. If I used a higher grade wood like oak without knot holes, the table would have cost.. to build. Most similar farmhouse tables online cost anywhere from $500 to $2000 or more.
How to Build a Farmhouse Table with Pocket Holes
Before I first used a Kreg jig, I was so intimidated but once I started I was amazed at how much time it says, how precise the hole placement was, and also the strength of the joints. The Kreg jig is an amazing tool that is simple to use which gives you a strong joint every time.
After using a Kreg jig to build furniture, I'd never consider another method of furniture building. It is that easy and you can be confident your furniture piece will last for years to come.
NEW TO WOODWORKING? The first step is setting up your Kreg for the thickness of the wood. I used 1x 8's for my tabletop so I adjusted the Kreg jig to wood with a thickness of 3/4″. That also meant that I would need … pocket holes. You can see some great instructions here to get you started: How To Set Up and Use a Kreg Jig
DIY Farmhouse Table Dimensions
Height – 30″
Width – 36.5
Length – 60.25″
*These dimensions can be adapted to your own dimensions to best fit your space needs. Just add the same length to the lengthwise tabletop boards and to the long aprons.
Shopping List: DIY Farmhouse Dining Table Plans
3.5″ wide turned coffee table legs – I use these farmhouse table legs in pine from Osborne Wood.
4 – 1×8 @ 8 feet long
2 – 1×4 @ 8 feet long
1 – 1×3 @ 8 feet long
Paint to Faux Stain Your Coffee Table (CLICK HERE For My Traditional Faux Stains and you can CLICK HERE for the Restoration Hardware Finish).
FREE MUST-Have Painting Tips For Furniture – These are my all-time best tips for painting furniture and you can download them here free.
*HOW I SAVED A TON ON LUMBER – Because I knew I was going to use a faux stain on my dining table, I saved a lot of money by getting common boards instead of higher-end wood. With a traditional stain, any imperfections in the wood like knotholes would show through, but I'm using a faux stain with latex paint which will hide every little imperfection.
Common Materials For Building a Farmhouse Table
Cut List: How to Make a Farmhouse Table
5 – 1×8 @ 45.5" (tabletop boards)
2 – 1×8 @36.5" (breadboard ends)
2 – 1×4 @ 48" (long aprons)*
2 – 1×4 @ 24.5" (short aprons)
3 – 1×3 @ 28 1/8" (stringers)
*Cut 1 short apron and 1 long apron out of each 8 ft. 1×4.
Tools Needed to Build a Farmhouse Table
How to Build a Farmhouse Table: Easy Instructions for Beginners
This process is so easy but so you can better see the details of this woodworking project, I've included a video. We were able to finish the entire table in a couple hours. After a break from the heat, I started the faux stain process the next morning. You won't believe how great it turned out!
Here is a full step-by-step video showing from start to finish:
Step 1: How to Build a Farmhouse Table Top
Lay out your cut boards side-to-side. I like to alternate the grain direction of my boards as this will help to ensure the top does not board. See how each board's grain is going in the opposite direction of the one next to it.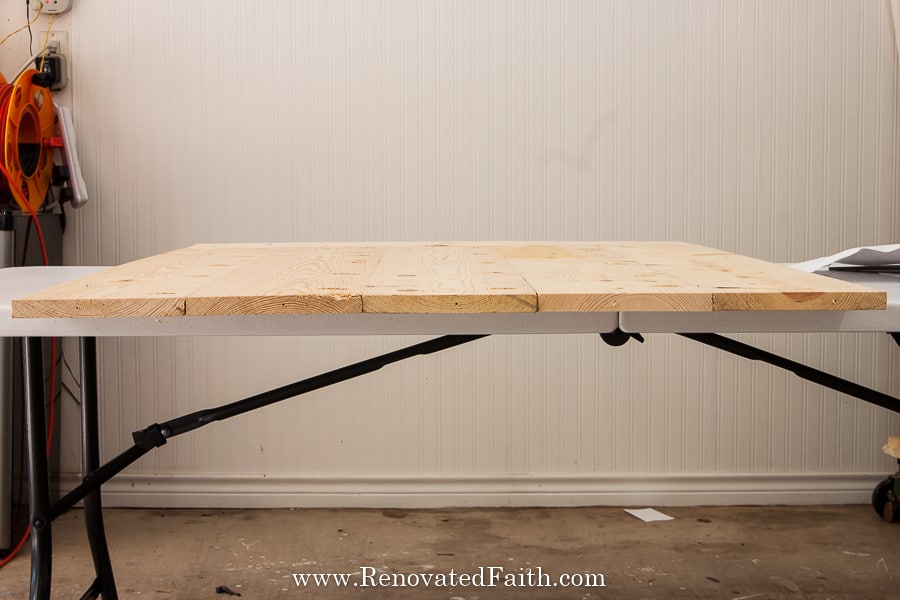 If you are brand new to the concept of building a farmhouse table with pocket holes, check out this video: How to Use a Kreg Jig
Now it's time to drill your 3/4″ pocket holes into all of the boards except one as shown in the diagram below. Once you have drilled holes in each board, you can join them together with your 1 1/4 pocket hole screws. I like to use the Kreg jig clamp (click here for the current price) to overlap the boards as I put in the screws to ensure the top is as smooth as possible.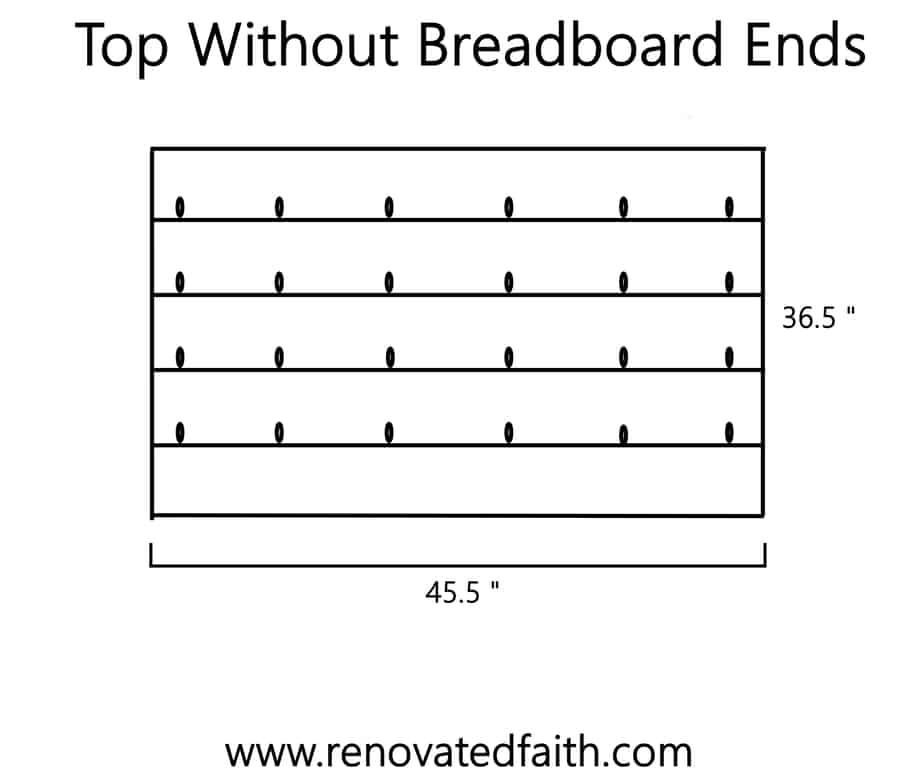 We used a compound miter saw (this one) to make our cuts. If you are using a circular saw and the ends of the tabletop boards aren't exactly the same, you can simply trim off the extra lengths with your circular saw.
Should You Glue Pocket Hole Joints?
Before you join your wood together, you have the option to add some glue in between each board for an even stronger joint. If you do, make sure to wipe off the excess that squeezes out between the boards
Renovated Faith: What's in a Name?
God never leaves a project half-done…He continually works on each one of us, as a lavish expression of His amazing love and grace. So many of my DIY projects serve as a reminder of how God renovates our hearts. If you are a work-in-progress, like I am, be sure to check out the Renovate Your Faith Devotional at the bottom of this post. Click here to get a weekly reminder of new posts by email.
Step 2: Farmhouse DIY Table Build with Breadboard Ends
The breadboard ends are the boards of wood at each end (how 'bout that!). It helps to give the top a cleaner look.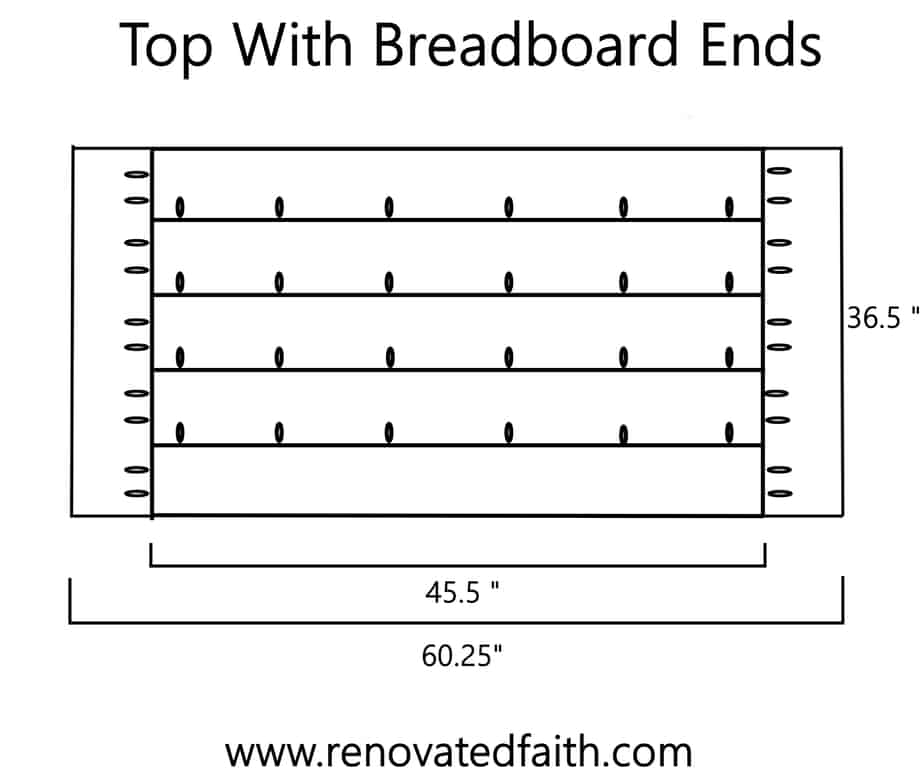 IMPORTANT TIP: Hold each breadboard end to the edge of the table and mark where your pocket holes should be. Make sure to avoid putting holes where the other table top boards meet. We put extra holes in the breadboard ends because you are drilling into the end of the wood and the screws are slightly more apt to strip out. With the extra holes, it doesn't matter if one or two strip out because you've built in some insurance for yourself.
Once you have made holes in each of your breadboard ends, you can attach those ends to the table with your pocket hole screws. Use a clamp (or a friend) to hold the boards even.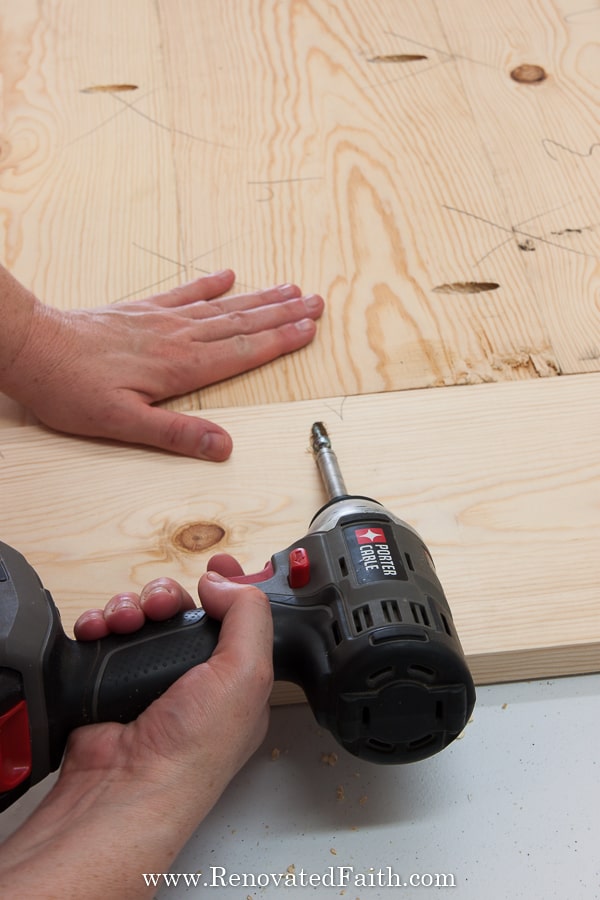 You can now see your farmhouse dining table taking shape. Most of the work is done and you won't believe how great your table will look when it's done!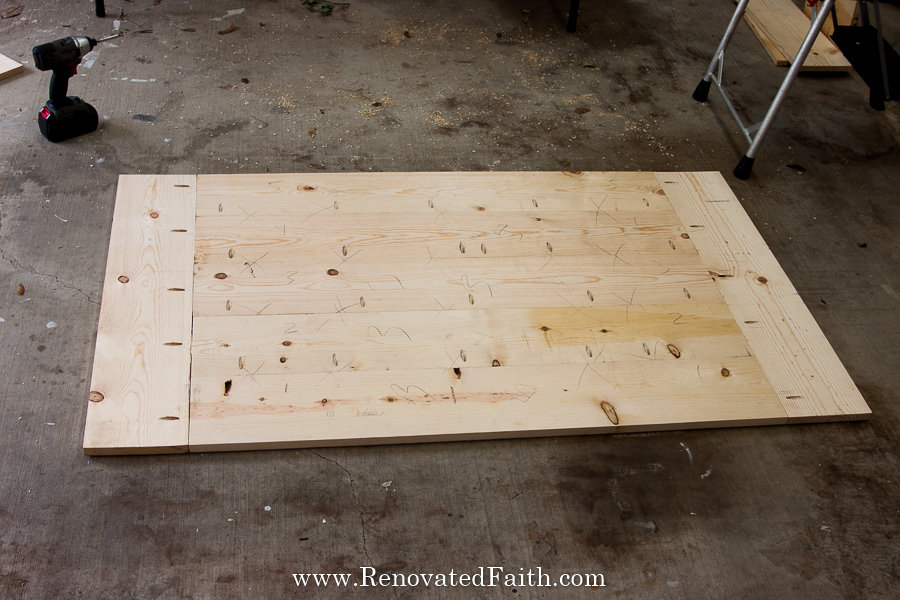 Step 3: How to Build a Farm Table Base
Now that you are finished with the top, it's time to move on to the frame which includes the legs and 4 aprons. Add pocket holes to your apron boards like so: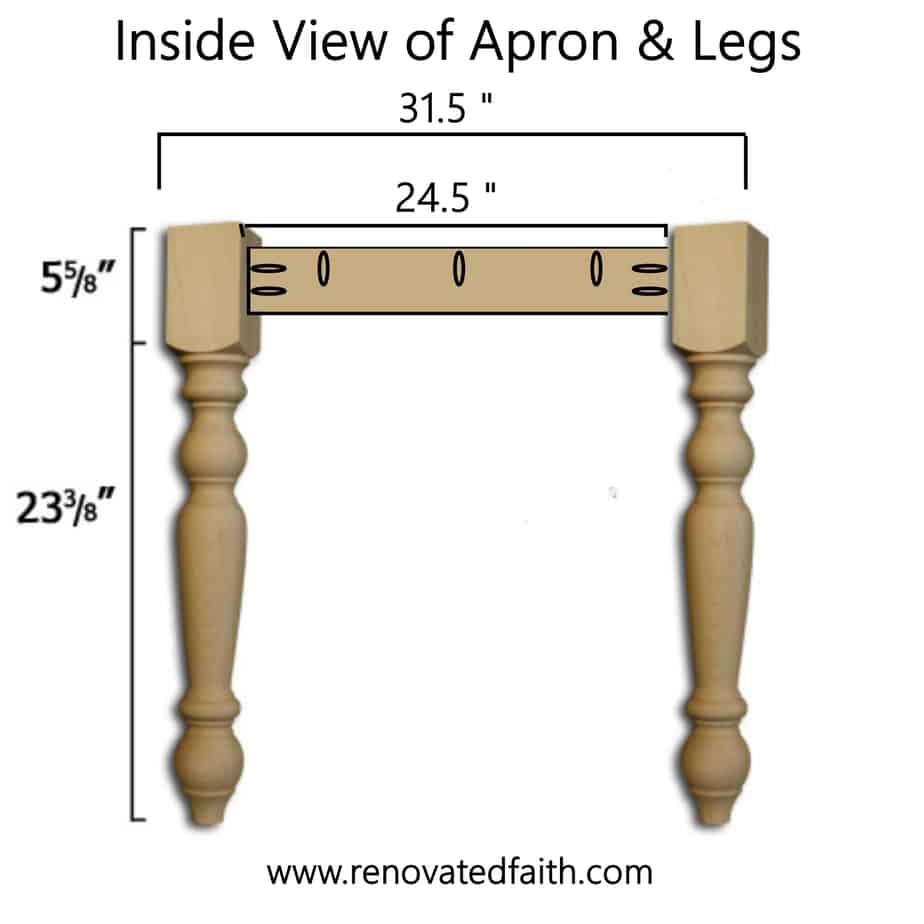 When it was time to attach the aprons to the legs, we used a scrap piece of wood that was 3/4″ deep to offset the apron from the leg. You can better see how we did this in the video.
Do the same with all four legs and apron boards.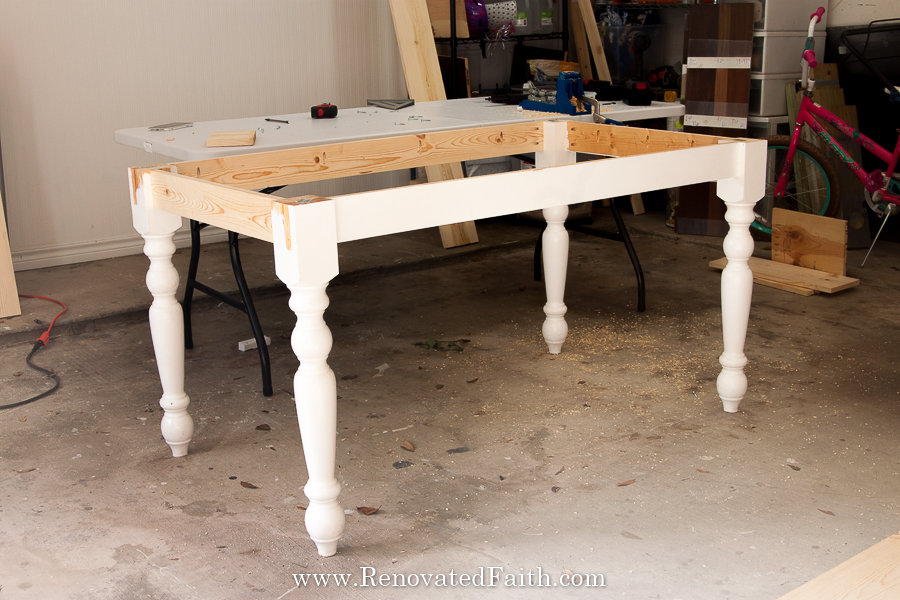 Where to Find Legs for a Farmhouse Dining Table
My favorite place to buy table legs is Osborne Wood. No matter your style, they have unlimited choice in legs for any woodworking project. You can see the full selection of turned dining table legs here: Turned Farmhouse Dining Table Legs
Step 4: Attach the Top to the Frame of Your DIY Farmhouse Table
Finally, you can attach your tabletop to your frame. Lay the tabletop (bottom side up) on the grown and put the frame on top as shown in the video.
Center the frame and then attach it to the top with pocket hole screws.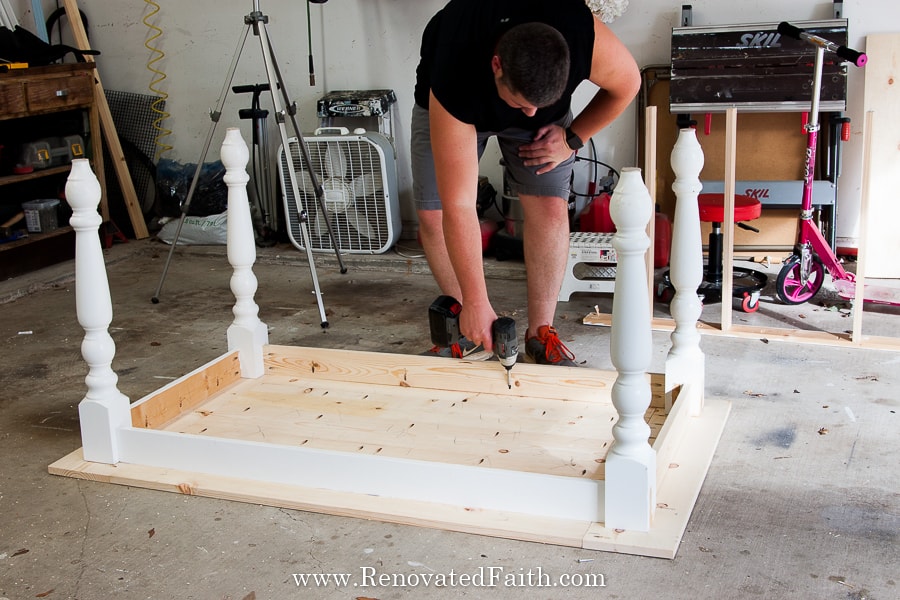 ☑️ MY ALL-TIME BEST FURNITURE PAINTING TIPS (FREE PRINTABLE)
–
Want to transform a furniture piece but don't know where to begin?  Download your FREE step-by-step printable checklist that shows you the exact process I've used on dozens of furniture pieces while saving you time and money! And it costs you nothing. #confetti toss  Click here to access your checklist now : FREE Must-Have Painting Checklist
Step 5: How to Properly Build a Farmhouse Table That Won't Warp – Add Supports
Support stringers are simply cross pieces under the tabletop that help to ensure the top boards stay in place and do not warp over time. For our farmhouse dining table, we added 3 supports. Add pocket holes to each support stringer as shown in the image above.
Once you've added the pocket holes, attach each to your dining table frame.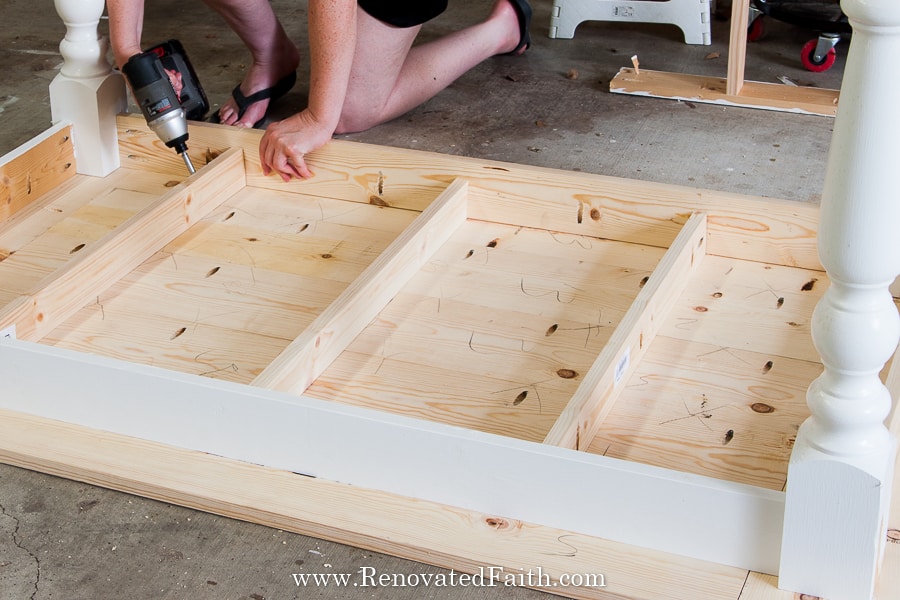 Step 6: How to Build a Farm Table – Final Touches
Now it the time to prepare your table for stain – whether it is a faux stain like the one on my table or a traditional stain.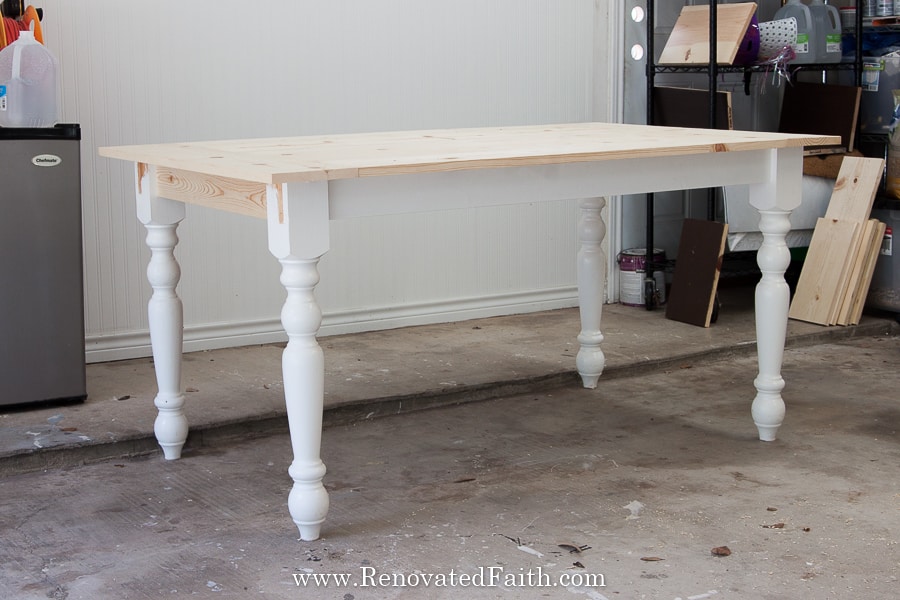 Prep When Using a Traditional Stain:
Use a stainable wood filler to fill any holes. You will still be able to see the hole because oftentimes the stainable wood filler doesn't match the wood exactly.
Prep When Using a Faux Stain With Latex Paint
Use wood filler to fill any holes, large gaps and knot holes to your heart's content. Even the knot holes will not show through the final faux stain. If you are painting your piece white, go over knot holes with Zinnser BIN primer. I used a primer over the whole piece but this is optional when you are working with raw wood or a piece painted with latex paint.
Sanding Your DIY Dining Table
Sand the table evenly with a high-grit sanding pad on your mouse sander. This is to remove any splinters and make the surface smooth. I also like to run the sander over each corner of the tabletop a couple of times to round sharp edges. If you are unsure about how to use a mouse sander, check out this post here: How to Sand Furniture in Less Than 5 Minutes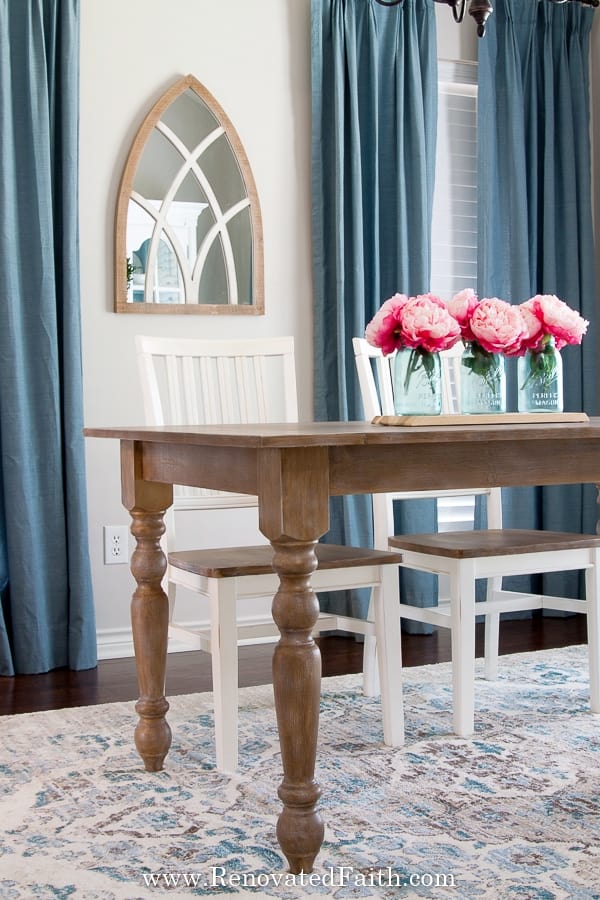 How to Build a Farmhouse Table: Easy Faux Stain Technique
Here is the full tutorial for the Restoration Hardware-Style Faux Stain that you see on my table: Coming Soon! It is so easy and you can easily make the stain lighter or darker. I also have some more traditional stains to choose from here: Faux Stain Techniques with Latex Paint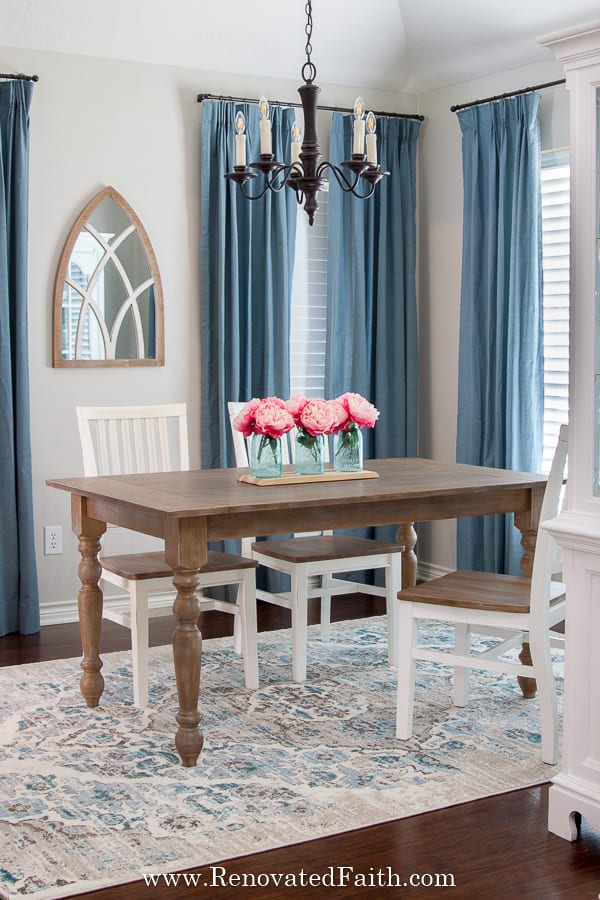 DON'T FORGET TO TAKE A PICTURE!
Now that you are done, I'd love to see how it turned out! ❤️ Post your before and after photos here!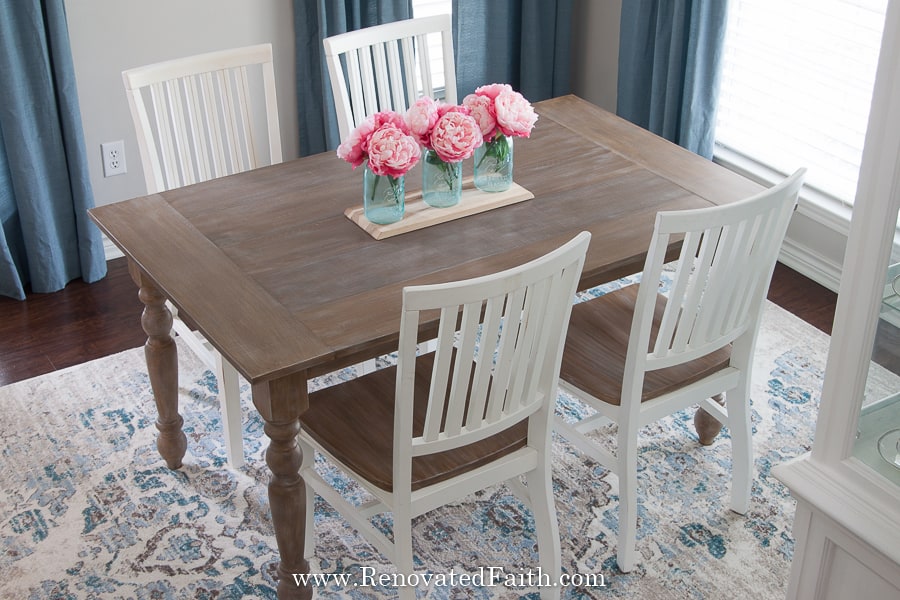 RENOVATE YOUR FAITH: Embracing "Plan B"
As I mentioned earlier, the plans for this farmhouse table were born out of our previous table whose butcher block top was way too heavy for these turned legs.
If the first table was never wobbly and unstable, we would have never built our current dining table which I actually love so much more.
I don't know about you but I like to mentally have my ducks in a row. I find great joy in list-making and planning because it gives me a sense of control. But when plans fall through and I have to resort to another path, I get frustrated and thrown off balance.
So often I can identify with Peter in the Bible because he is always a man with a plan.
This was definitely the case on the Mount of Transfiguration. In Matthew 17, we see Jesus taking Peter, James and John up the mountain by themselves:
"There he(Jesus) was transfigured before them. His face shone like the sun, and his clothes became as white as the light. Just then there appeared before them Moses and Elijah, talking with Jesus."
And at this moment, when the other two disciples stook in awe, Peter said to Jesus:
"Lord, it is good for us to be here. If you wish, I will put up three shelters—one for you, one for Moses and one for Elijah. While he was still speaking, a bright cloud covered them, and a voice from the cloud said, "This is my Son, whom I love; with him, I am well pleased. Listen to him!" When the disciples heard this, they fell facedown to the ground, terrified. But Jesus came and touched them. "Get up," he said. "Don't be afraid." 8 When they looked up, they saw no one except Jesus."
In this midst of this moment of divine splendor, Peter got so carried away with his "big plan" that God The Father had to step in and say, "This is my Son, whom I am well-pleased. LISTEN TO HIM."
Peter practically had everyone's suitcases packed for them to live together on the mountain in perfect harmony. Maybe he figured they could walk on water together in their spare time.
But Peter's "Plan A" was not God's plan.
With the uncertainty of the world today, I'm willing to bet that a lot of us are having to pivot and resort to our "Plan B's".
This year is not at all like we thought it would be. Maybe you are a teacher that is nervous about what this coming school year will bring. Possibly you have been furloughed from your job. Or perhaps your small business is at risk.
Regardless, we can rest in knowing that when God escorts us to "Plan B", it's because He loves us too much to waste eternal blessings for our temporary sufferings.
"And we know that in all things God works for the good of those who love him, who have been called according to his purpose." – Romans 8:28
In other words, God has the big picture in mind. He can see over the horizon of this valley of uncertainty onto blessings that will be well worth the wait.
But at the same time, God doesn't make light of our suffering but hurts alongside of us. Psalm 56:8 says, "You keep track of all my sorrows. You have collected all my tears in your bottle. You have recorded each one in your book."
As you navigate through the unexpected obstacles of 2020, know that God is working for your good. He is not indifferent to your pain but cares in detail about what's troubling you. Know that He knows you better than you know yourself and He can be a source of rest and peace during this difficult time.
For more spiritual encouragement, click here for the rest of my project posts that also include Renovate Your Faith devotionals.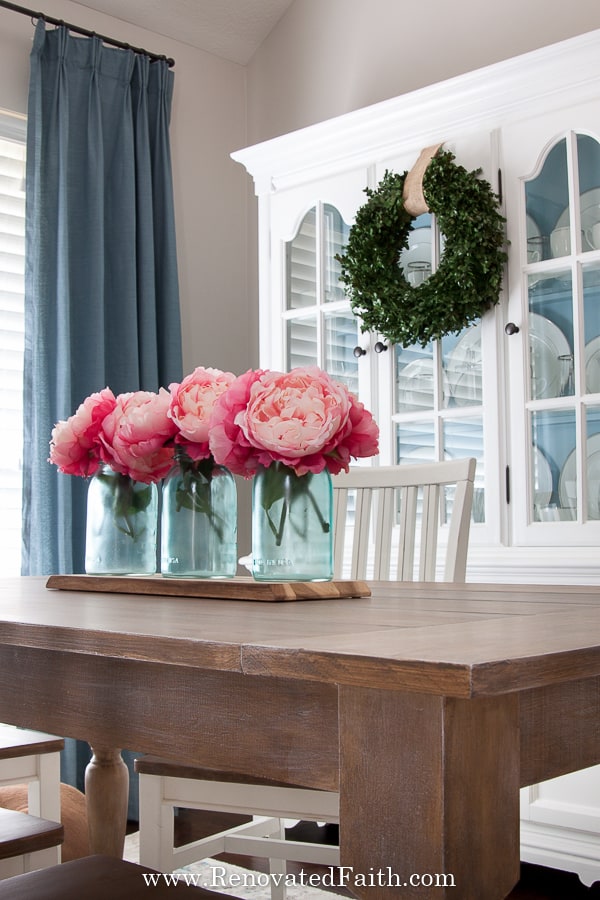 Modern Farmhouse Dining Table Decor
What farmhouse dining table would be complete without some cute farmhouse decor to compliment it. If you want to paint mason jars and use them as flower vases, check out this post here: How To Spray Paint Mason Jars You can also find a pre-made table decor here: Farmhouse Centerpieces and Decor I got the peonies (click here) and cheese board (similar here) from Target.
For more options as far as table linens, click here: Farmhouse Dining Table Runners and Placemats
One easy way to achieve a farmhouse look is to add a little oil-rubbed brass hardware.  My old chandelier was brass so I updated it and a few other light fixtures with spray paint in this post here: Farmhouse Light Fixture Makeovers
Another way to accent your beautiful new farmhouse table is with a rug. You can see the rug I recently bought here: Distressed Cream and Blue Area Rug and other farmhouse rugs here: Farmhouse Rugs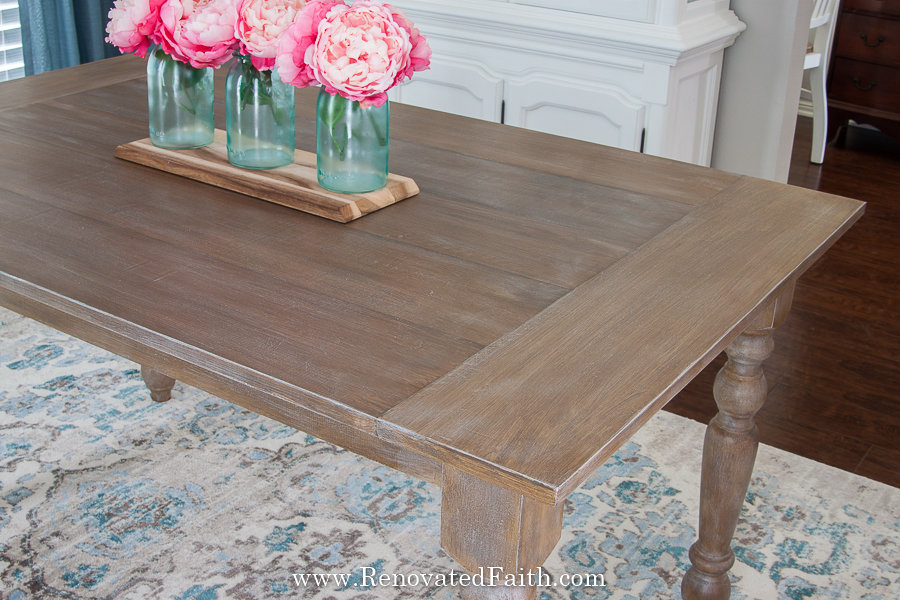 ☑️ My All-Time Best Furniture Painting Tips & Tricks (FREE PRINTABLE)
Don't forget to download your FREE step-by-step printable checklist that shows you the exact process I've used on dozens of furniture pieces while saving you time and money!
FAQ's: How to Build a Farmhouse Table with Pocket Holes
How to Build a Farmhouse Table for Outside
You can use these same plans to build a farmhouse table for outdoors. While the building process is the same, you need a tougher clear coat for an outdoor farmhouse table. I highly recommend this topcoat for outdoor furniture:
When Are Pocket Holes An Appropriate Wood Joinery Technique
Pocket holes are not only strong and an easy woodworking technique but they are great for beginners. If you make a mistake with the placement of a pocket hole screw, you can easily unscrew it and add a new pocket hole. For beginners, this is really appealing because it gives you a lot of flexibility other than more permanent joinery methods. This particularly came in handy as we used the legs from our old table to build this table. It was really easy to simply unscrew the old pocket hole screws.
What Kind Of Wood Should I Use To Build a Farmhouse Table?
You can use any kind of wood to build a farmhouse table. Your biggest limitation is of course cost. I used common pine on this table and my coffee table instead of a higher-grade wood. The faux stain technique I used covered all of the knot holes and blemishes giving me the look of high-end wood but with a low-cost price tag.
How Do You Make a Small Farmhouse Table?
The farmhouse table in this build is on the smaller wide as our dining room is small and there's only three of us in our family. However, you can use the plans to make the table as long as you'd like if your space allows. Simply adjust the length of your tabletop boards and 2 long aprons.
How Wide Should A Farmhouse Table Be?
A farmhouse table should be between 36″ and 40″ wide which gives you ample space for placemats and a centerpiece.
How Thick Should a Wood Tabletop Be?
Most farmhouse tables are made with 2x's but there weren't many options online for a farmhouse dining table with a 1x top. I love the thinner top because it better accents the sophisticated turned legs of this particular dining table. For a 1x top, add at few stringers to ensure the top doesn't warp. This is my second table to build with a thinner top and I've never had any problems.
How Do You Make a Cheap Table Look Fabulous?
No matter how many knotholes or how orange the stain, you can make a cheap farmhouse table look amazing with a new faux stain. With these methods, you don't have to strip off the old finish and it covers all blemishes in the wood: How to Faux Stain Wood With Latex Paint
How Do You Make Wood Look Rustic?
To add more of a weathered look, you can add a driftwood finish to your farmhouse table. Here are the step by step instructions to add a weathered look with latex paint: Easy Driftwood Finish on Furniture
More Posts Related to Farmhouse Tables, Decor and Woodworking
Insanely Easy DIY Industrial Shelves (Wire Shelving Hack)
Easy Farmhouse Light Fixture Makeovers on a Budget
The Fast and Easy Way to Paint Curvy Table Legs
The Best Clear Coat For Furniture
The Easy Way to Whitewash a Brick Fireplace
Related Links: Instructions On How To Build a Farmhouse Table with Turned Legs
How to Build a Farmhouse Table with a Kreg Jig
The Best Type Wood for Dining Tables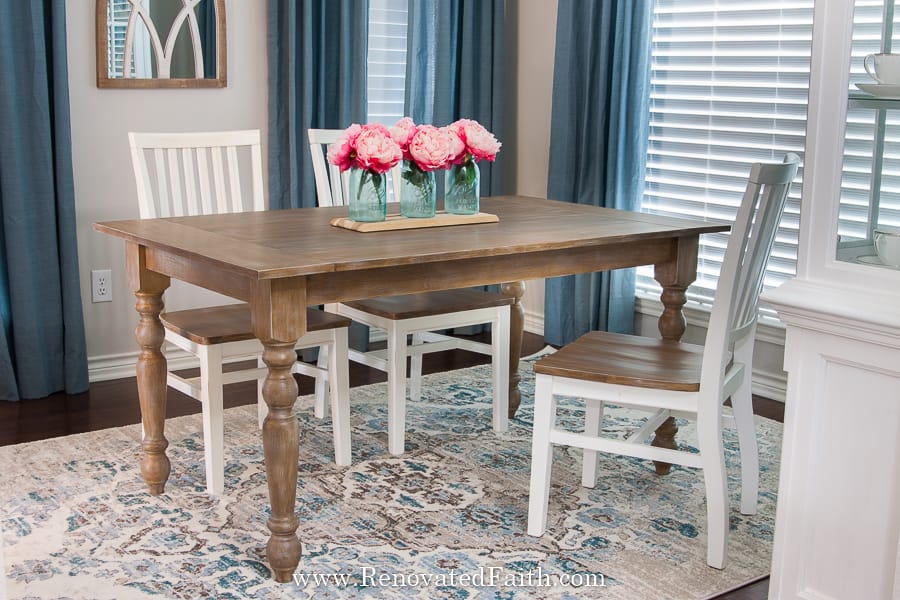 Final Thoughts on DIY Dining Table Plans
Don't forget to download my Free Furniture Painting Cheat Sheet. To get your printable, sign up for my weekly newsletter which also grants you free access to my resource library full of wall art printables, checklists, and project plans!
Before this post, you may not have realized how easy it is to build your own farm table. I hope this project will help you feel empowered to tackle more woodworking projects in the future. You will no longer have to endure a phobia of power tools when you have a project like this under your belt!
I love to hear your thoughts and questions! Scroll down to leave a comment and I WILL reply! ❤️
Blessings,

Be sure to follow the fun here!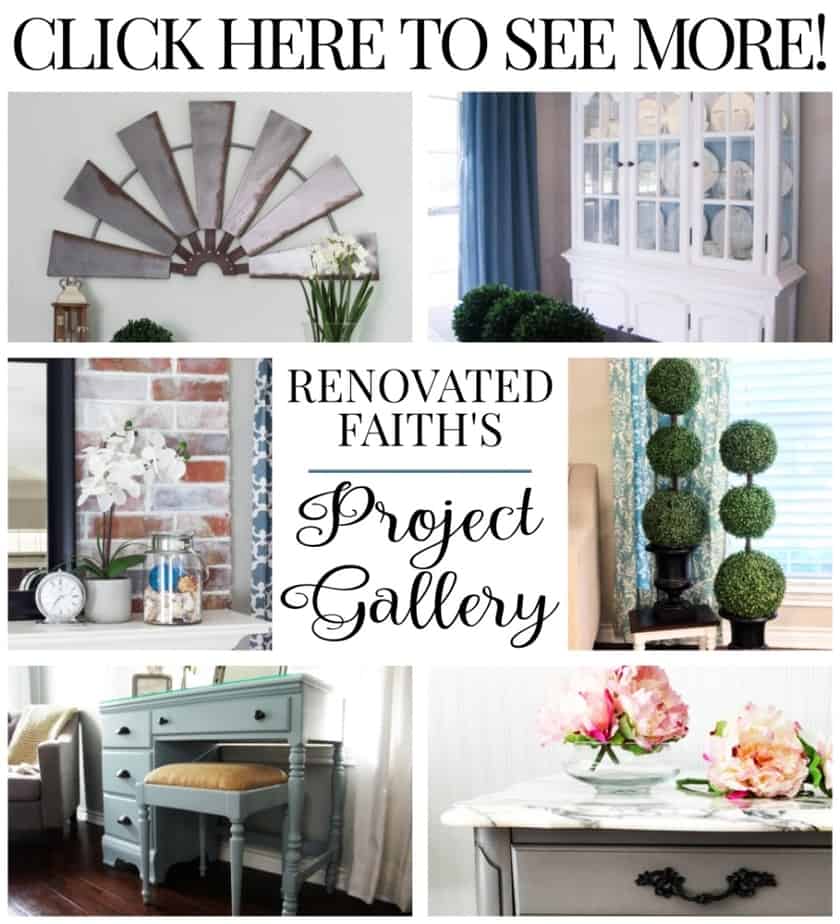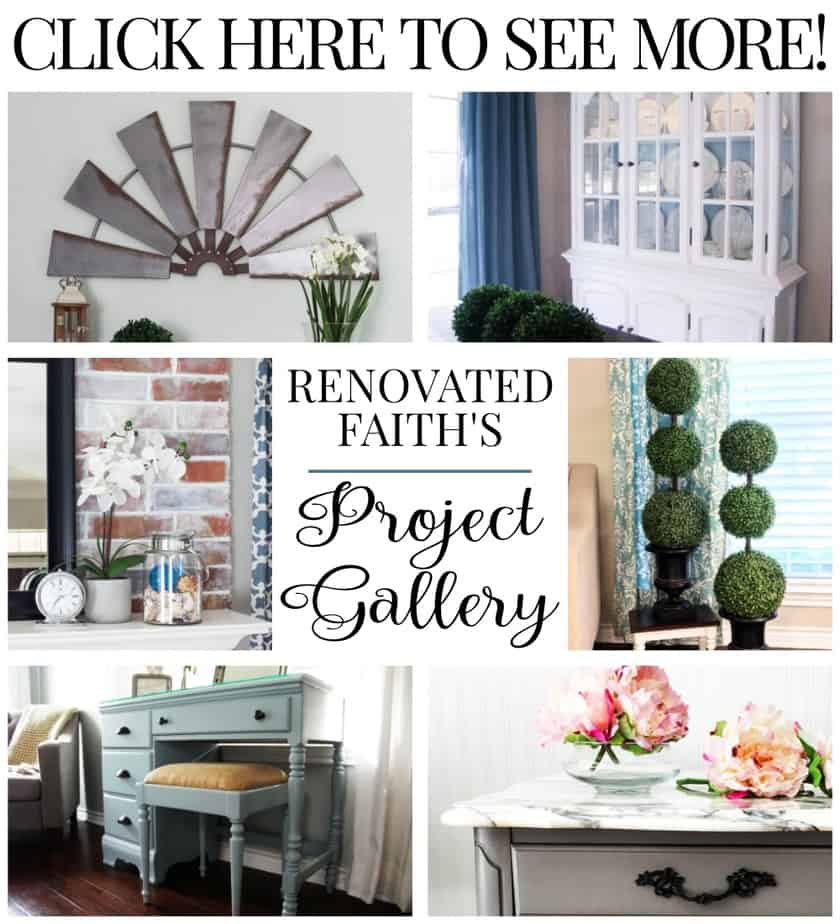 How To Build a Farmhouse Table: YouTube Video
How to Build a Farmhouse Table With Pocket Holes: Step-By-Step Tutorial
Welcome to Renovated Faith, where I share about DIY projects, my faith and everything in between! When I'm not spending time with my family, you will find me redoing furniture in the garage or watering plants in my greenhouse. This blog is about transformation. Anyone can renovate a house but only God can transform our hearts!