The Best Sander for Furniture Restoration, 2024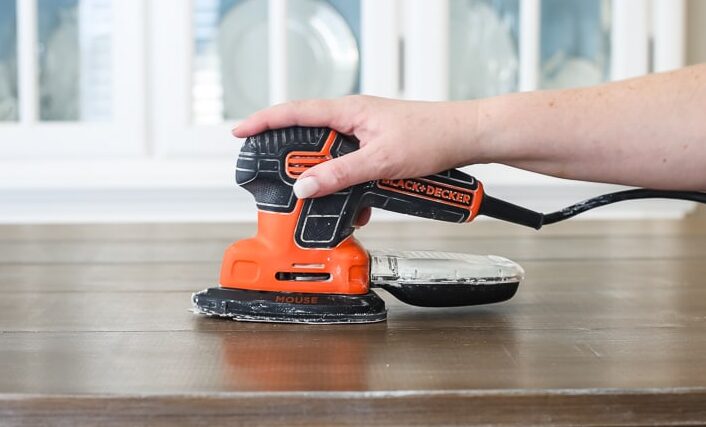 Refinishing furniture with an electric sander is SO easy, low-mess, and hassle-free. Here's the absolute best sander for furniture restoration.
---
Sanding has gotten a bad rap in the last several years as chalk paint has come on the scene.  What many don't realize is that the vast majority of furniture pieces need to be sanded, even ones that are chalk-painted.
But did you know that taking 5 minutes to sand your furniture piece with the right electric sander will ensure the finish is gorgeous and it lasts for years to come? And skipping this step could possibly mean you have to completely refinish the furniture piece.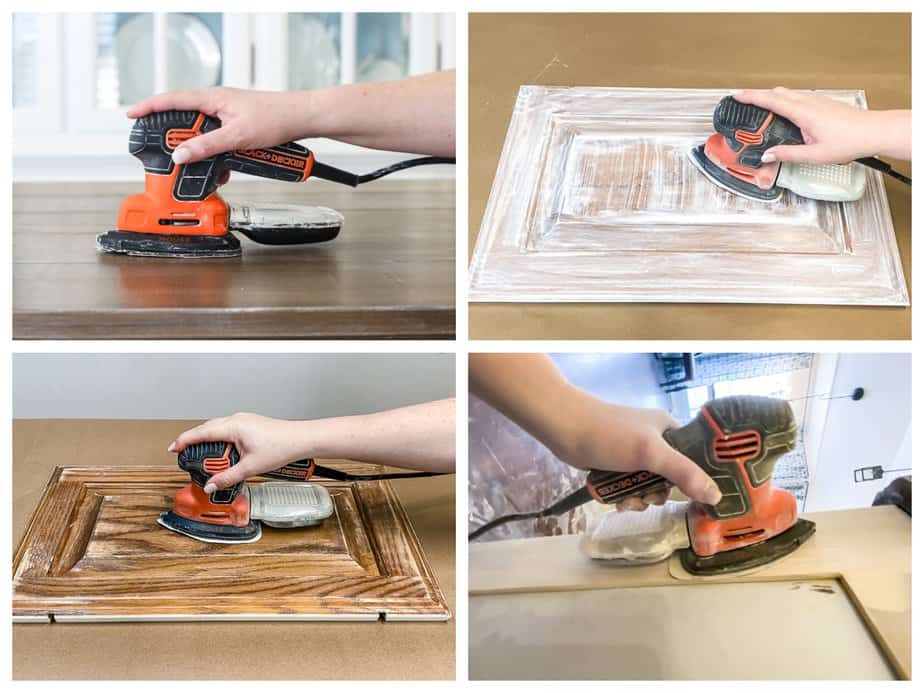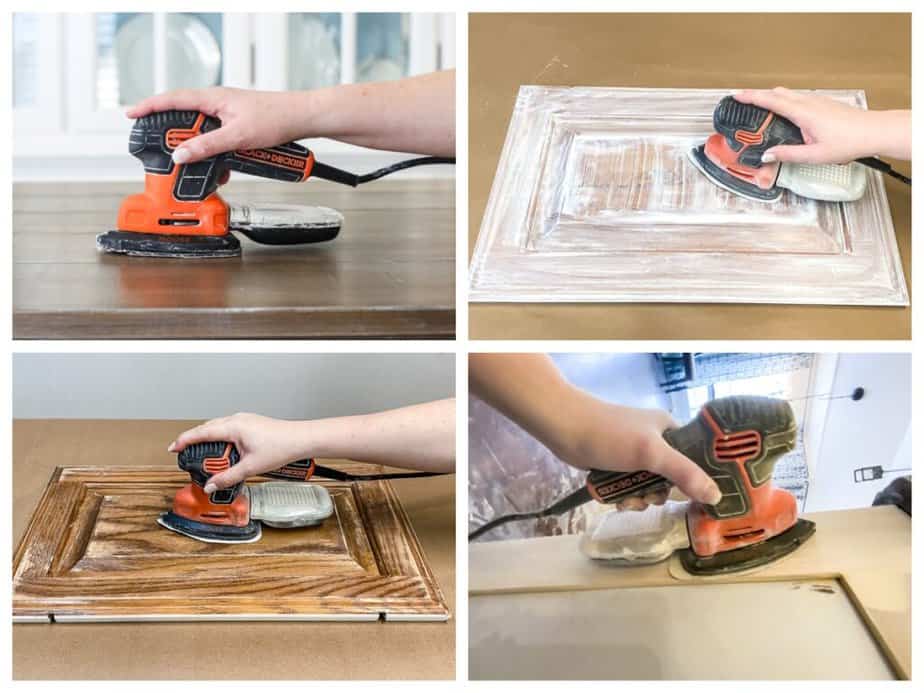 An electric sander is an inexpensive way to sand furniture quickly, easily, and without a big mess. In this post, I'll show you the best sander for your next project.
LET ME SHOW YOU:
Why sanding is important but oh-so-easy with an electric sander
The best furniture sander for you at an affordable price
How to sand furniture in less than 5 minutes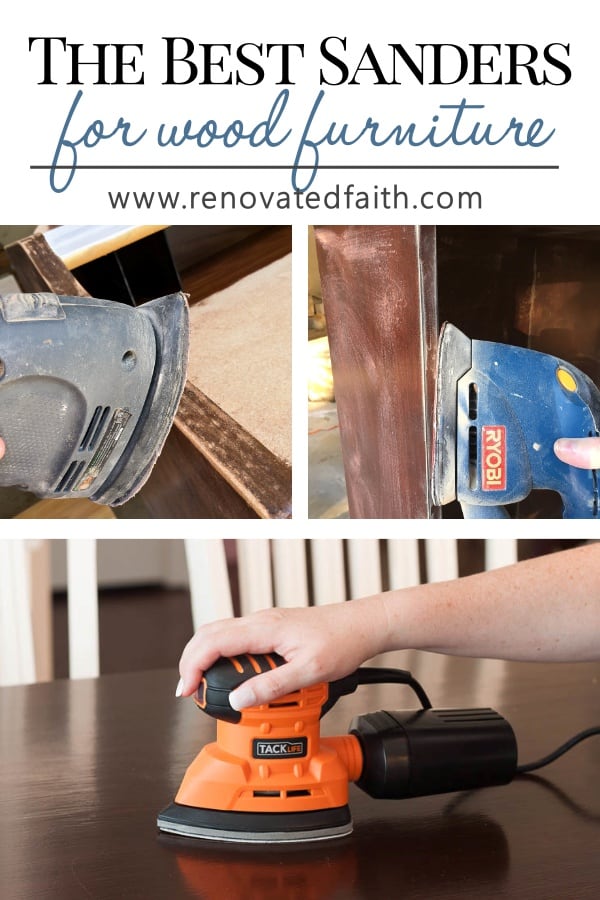 Why YOu Need a Sander for Refinishing Furniture
Whether you use chalk paint, latex, or any specialty furniture paint, there's a good chance you will have to sand your furniture piece and an electric hand sander makes it so much easier than sanding by hand!
Related Post: The BEST Furniture Paint (24 Brands Blind-Tested & Reviewed)
Before we get started, know that sanding is not the big deal it's made out to be!
Sanding wooden furniture only entails roughing up the surface of the wood so that new paint sticks.
You are not sanding off the old finish! In fact, if you are sanding furniture the right way, it should take more than 5 minutes.
What Kind of Sander do You Use to Refinish Furniture?
There are a few different types of sanders but my favorite sander for refinishing furniture is a hand sander because you have more control in order to get a really smooth surface.
An electric hand sander (sometimes called a mouse sander or palm sander) makes the process quick and painless and it is the best sander for furniture restoration.
Electric Hand Sander = Palm Sander = Mouse Sander
When I bought my first sander, I was absolutely shocked at how easy it was to use. It took WAY less effort than sanding by hand and the dust bag collected most of the sanding dust. Also, you can use your electric sander on any type of furniture – painted, stain, raw wood and even laminate furniture.
What is the best way to sand wood furniture?

If you can iron a shirt, you already know how to use an electric sander. First, set the sander down with the grit pad attached to the velcro underneath (see the chart below on which grit level to use). The weight of the sander does most of the work for you. Just move it back and forth in a circular motion – just enough to take the sheen off of the furniture. You just want the wood surface roughed up enough so that the new paint grabs onto the old surface. When you have sanded the surface, the next step is to wipe the furniture piece down with a moist rag or clean cloth and you are ready for primer. See my full post on How To Sand Furniture In 5 Minutes HERE.
Considerations When Buying a Furniture Sander
Something to consider when buying a sander is how it feels in your hand. Are the tip and bottom plate surrounded by plastic or is it metal? Does it have a removable tip and is that tip likely to break? Does it have the detachable Velcro for easy removal of sanding pads? Does it use generic-size sanding pads? Does it have a dust catcher and how effective is it? I took all these things into consideration as I reviewed these sanders below to determine the best sanders for wood.
Which is the Best Palm Sander For Furniture? – Electric Sanders Buying Guide
As an Amazon affiliate, this post contains affiliate links and you can see the full disclosure here.
I used this same sander to refinish all of my kitchen cabinets (see the cabinet reveal here). I was impressed with it's performance, durability and ease of use. This sander is a workhorse at a VERY reasonable price (CLICK HERE FOR THE CURRENT PRICE AND REVIEWS)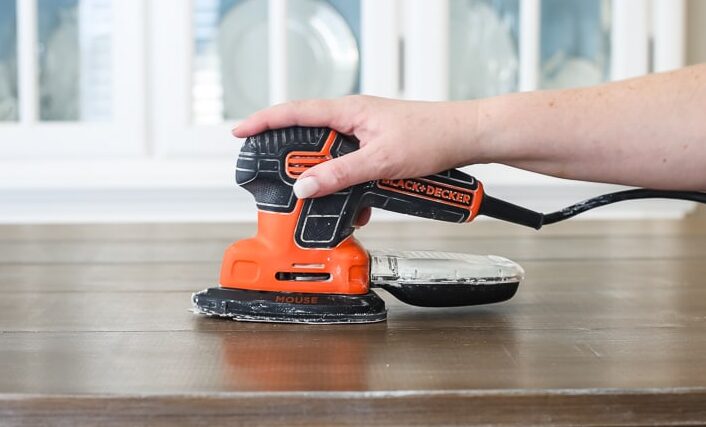 The head of this sander is slightly undersized so standard mouse sander pads are a little bit big. It's compact design has a huge advantage when it came to sanding in the grooves of the cabinet door trim.
Because the sanding pad wrapped around the edge somewhat, it gave me so much for flexibility for sanding detail areas and tight spaces without paying hundreds of dollars for a Surfprep sander.
This mouse sander has a compact size and ergonomic stability for easy sanding but also offers some other important features. With a high-performance micro-filtration dust collection system, you don't have to attach it to your vacuum or shop vac.
The Black+Decker BDEMS600 has a convenient 3-positional tip for versatility depending on the furniture project you are sanding. It has a detail finger attachment for getting in small spaces but some reviewers said this attachment broke off after several uses.
This sander is unique in that it has a trigger switch instead of a toggle switch and features different speeds and a high quality powerful motor.
This is the best low-cost finishing sander for cabinets and furniture because it's durable and you have plenty of control for sanding detail work.
The WEN 6301 allows for easy sanding to get a very smooth finish on your latest DIY project as it's small size and ergonomic handle is great for sanding find details. The one amp motor ensures even sanding while the suction adaptor allows for vacuum attachment. Like other sanders, it has a hook and loop base for each attachment of sandpaper pads.
Reviewers say this sander is sturdy and well-built even considering the price. They also state that it comes with a dust collection bag if you don't want to attach the sander to your vacuum cleaner.
A few reviewers state that the tip of the sander is somewhat delicate so one should be careful to always keep it level. It might not be the best choice for a large cabinet project but would be a good option for furniture. Check the current price and read reviews HERE.
The BDCMS20 gives you the same convenience as the last model but without the power cord. It also has an ergonomic design that gets in tight corners. The detail finger attachment can be easily interchanged to make sanding smaller spaces even easier.
One complaint was that it was somewhat heavy but that is going to be the case with all cordless sanders. However, for that reason, it is probably the best sander for sanding stained wood to restain because the extra weight will work in your favor.
It comes with a battery as its power source, charger, and dust collector for easy clean-up. It has plenty of power and long battery life for your furniture project. If you are concerned about whether it can work for long periods of time, one reviewer remarked that she used it for all of her kitchen cabinets while only having to stop and recharge once. I found that pretty amazing considering the scope of that project.
It has a dust-sealed switch and a high speed motor making it a good choice and great value for any project. Check the current price and read reviews HERE.
This power sander offers pressure control which helps maintain a more even finish. It even includes 8 detail sanding attachments to access tough-to-reach corners making it the best detail sander.
The SKIL Octo has a clear-view dust canister which allows you to see how much dust has been collected, removing the guesswork for when to empty the container.
The microfiltration helps to capture smaller dust particles you might now normally catch. The price and size make this a good sander but some reviews complained about the functionality of the attachments. However, its versatility, ergonomic design, and filtration system make this sander a great tool for the price although it doesn't have variable speed control. Check the current price and read reviews HERE.
TACKLIFE Mouse Sander – PMS01A
This sander has an ergonomic design much like its contemporaries but the top allows you to get a better, more even grip than others. The main feature of this sander is its high-performance dust collection which traps the vast majority of dust, even allowing you to sand indoors.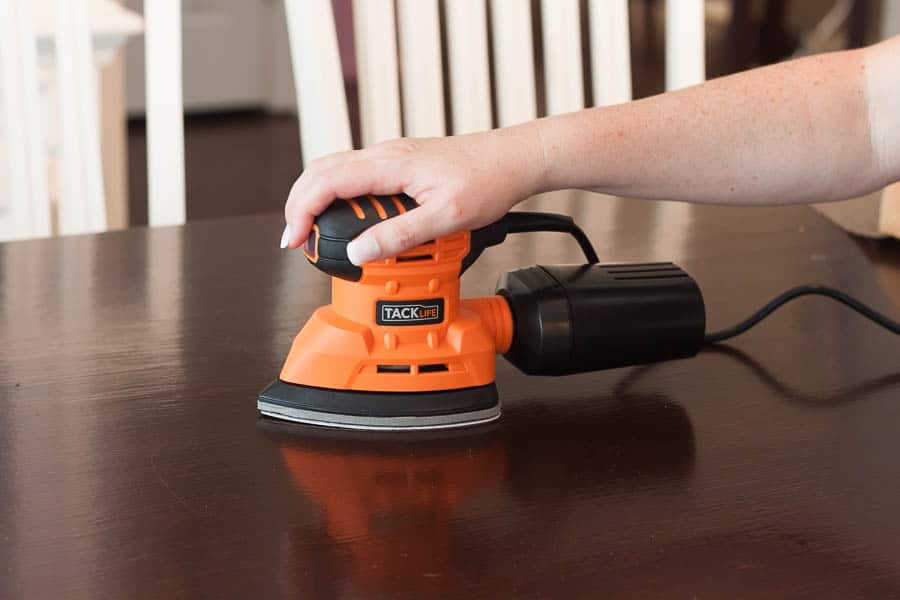 HOWEVER, although this is a really sturdy sander that will last a long time, I didn't love that the dust trap would sometimes fall off mid-sanding leaving a mess on my work area. For that reason, it's a great option for attaching to a vacuum cleaner because it is a really stout sander overall.
The sander runs at 12,000 RPM with 1.1 amps of power. It even comes with an assortment of sandpaper pads. This palm sander also has an adaptor to a vacuum hose in addition to the filter bag. This is a very flexible and compact sander that allows comfortable sanding of furniture pieces with very little mess. You can find it in your local hardware store or Home Depot.
The Overall Best Sander for Furniture Restoration, 2024
The Black and Decker 1.2 Amp Detail Sander has more than enough features to sand and refinish even the most detailed furniture projects. The grip placement allows for comfortable and even sanding of furniture surfaces because of the weight distribution.
This palm sander, although powerful is also very light and you can't beat the price making it the best sander for furniture refinishing.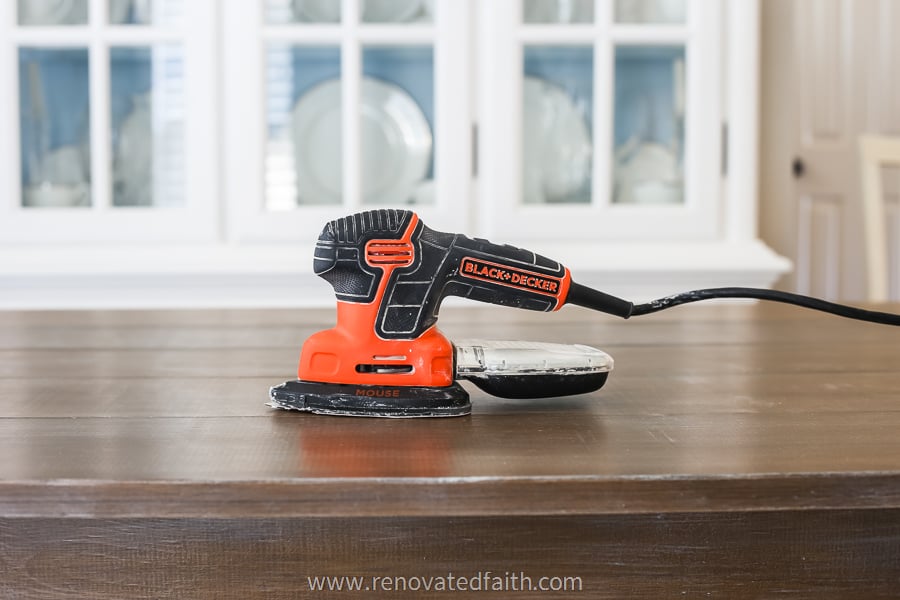 Unlike some of the hand sanders in its class, it does not offer a removable tip for detail areas but I find this is a plus because these tips oftentimes break off easily. Also, the standard tip is angled enough to get into small spaces on its own.
I would also say this is the best sander for doors or any other project you might want to tackle indoors.  There will still be some dust but not a lot.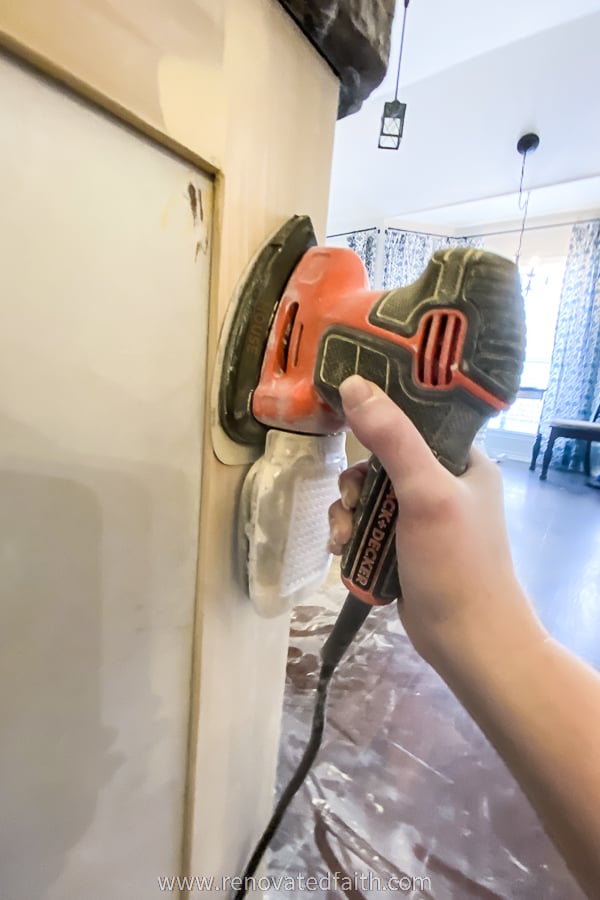 I love the dust collection unit and while there is still some dust, the Black & Decker detail sander removes and collects the vast majority of it. You can check reviews and see the current price for this sander here.
Also, you'll notice it comes with a vacuum cleaner adapter for attachment to any vacuum cleaner.
If you are doing some serious sanding and know you will also be around paint fumes, you might want to get a mask like the one that I have on below. For regular sanding, all you really need is one of these.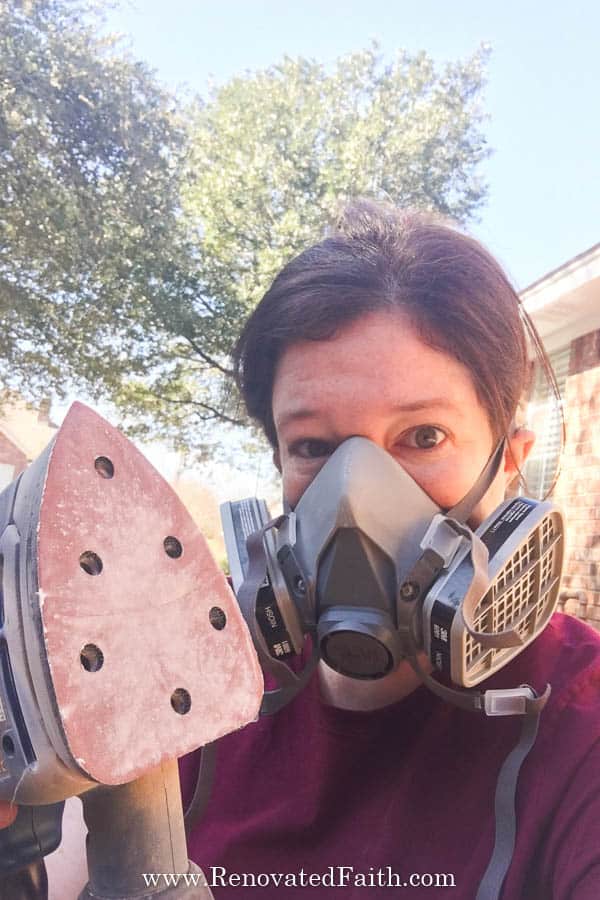 Related: The Ultimate Guide to Refinishing Furniture (The ONLY Tutorial You'll Ever Need!)
I've included this handy wood sandpaper grit chart to help you buy the correct grit or coarseness of sandpaper for your project. You can see the best option for sandpaper HERE.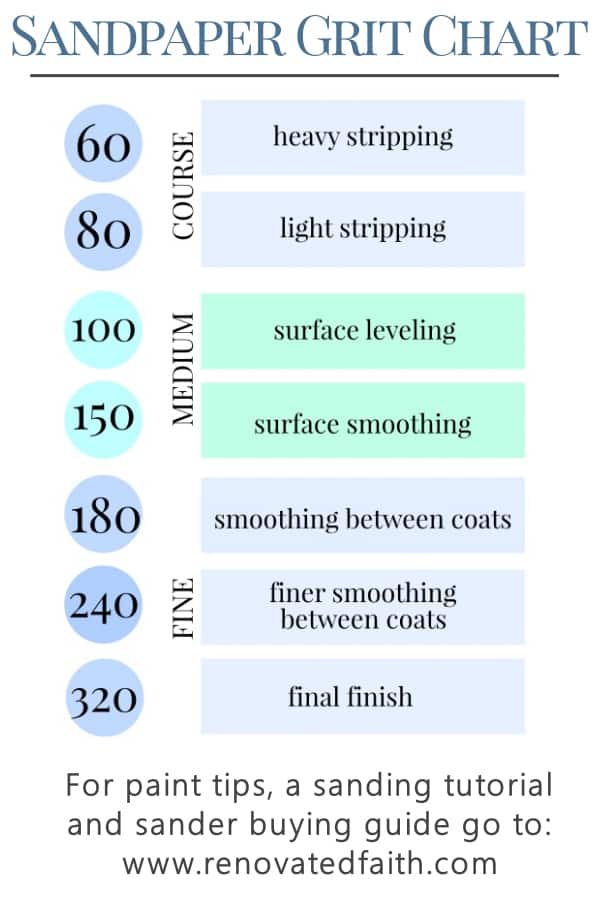 The Best Flexible Sander for Furniture – That's Not Expensive!
When sanding furniture, there are going to be times you need to get into grooves of trim and that's challenging with a typical palm sander. This is the point when many furniture painters will recommend an expensive Surfprep sander.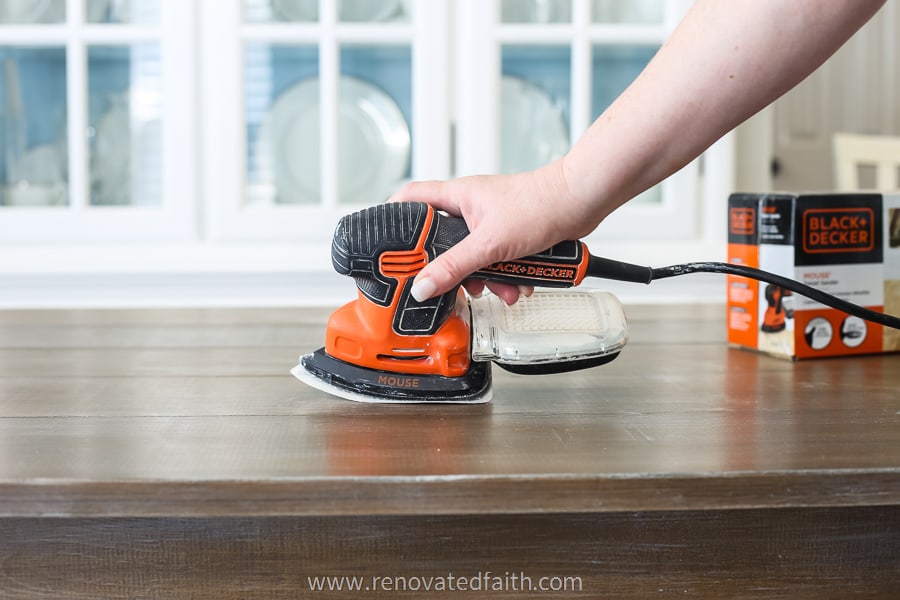 HOWEVER, my top pick, the Black and Decker Detail Sander has a slightly smaller sanding head. This means that standard sanding pads are a little big and the sanding paper wraps around the edge of the sander head making it easy to get into grooves and wood details.
So, the best flexible sander for furniture is the Black and Decker sander that you can get for a fraction of the price of the Surfprep. Click here for the CURRENT PRICE OF THE BLACK AND DECKER SANDER.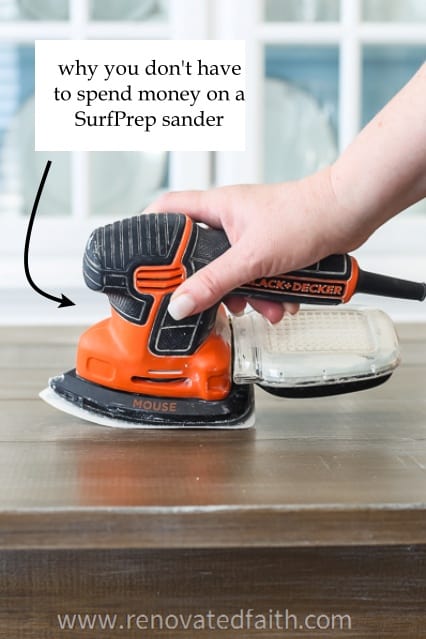 The Best Sander for Table Tops
There are several kinds of sanders that all work well on furniture projects. I like to use a palm sander for furniture but if you need to sand large rough surfaces, you should try a belt sander on furniture.
Belt sanders make great table sanders because they cover a lot of area in a short amount of time.
Another type of sander that is more heavy-duty than a palm sander is a random orbital sander. Because of the rotating motion of the disc, one of the best uses for an orbital finishing sander is evening out rough flat pieces of wood. Disc sanders are, however, not a good fit for small areas and tight spaces.
It has a rotating sanding disk and therefore does a little more of the work for you. I don't love random orbit sanders for detail work but they are great for large areas.
FAQ's on The Best Sander for Furniture Flipping
What is the best sander for stripping wood?
For big jobs where you have to remove the existing finish, I recommend using a chemical stripper. BUT if you are wanting to go from a painted piece of furniture to a stain, you can do that without sanding off the old stain finish or stripping off old paint here: Easy Faux Furniture Stains
What is the best sander with a vacuum attachment?
Several of the hand sanders mentioned have a vacuum attachment. The best one for use with a vacuum would be the Wen sander which makes sanding quick and easy at a very low price.
What causes swirl marks when Using an Electric Sander on Furniture?
Swirl marks can be caused by a few different reasons. First of all, if you want a super smooth final finish, make sure you are using finer sandpaper with a higher number. Course sandpaper can easily cause swirl marks on a smooth finish. Swirl marks are most often made because you are not applying even pressure on the sanding disc at high speeds. To prevent this, position your hand lower on the sander and try to apply pressure more evenly.
What do you use to sand old furniture with lots of detail?
Your best bet for ornate details especially on a family heirloom is a piece of fine sandpaper folded in a small square or wrapped around a sanding block. For intricate details on antique furniture or small projects, you don't want to risk sanding down the details with the tip of your electric sander. However, the sander is a great bet when sanding trim because you can run the edge or back edge along the length and use it on low vibration.
Can you use regular sandpaper with a detail sander?
Quarter sheet sanders like the Bosch GSS20-40, Bosch ROS and the Dewalt DWE6411 have a square based with the same compact size that allow you to use regular sandpaper. This is great because if you want to use an especially fine or courser paper that doesn't come in a sanding pad, you can just use the paper. I miss the circular shape of the palm sanders and orbital sanders because sometimes the corners will make gouges once you take a closer look. Also make sure you are sanding in the direction of the grain.
Can you use a sander to fix damage on furniture?
If you need to fill holes or gouges use a putty knife to fill the hole with wood filler. You can read all about how to fill in furniture damage including small cracks and holes here: How to Fix Damaged Furniture.
What is the Best Sander For Removing Paint From Wood?
All the sanders mentioned above are great for removing paint from wood as long as you use a course sanding pad or sanding belt. Just remember that 9 times out of 10, you don't have to strip the old furniture surface. Just lightly sand to rough up the old paint or stain and then add paint or a faux stain: A Beginner's Guide to Furniture Painting | How to Faux Stain With Latex Paint
Related Posts to The Best Hand Sander For Furniture:
The Best Tools for Beginning Woodworkers
Milk Paint vs. Chalk Paint vs. Latex
DIY Craft Table Made Out of a Door
A Great Way To Sand Furniture Quickly and Easily
How to Stain Furniture with Gel Stains
How to Build a Coffee Table (The Easy Way!)
How To Spray Paint Patio Furniture
Click below to save this post on the Best Sander for Wood Furniture: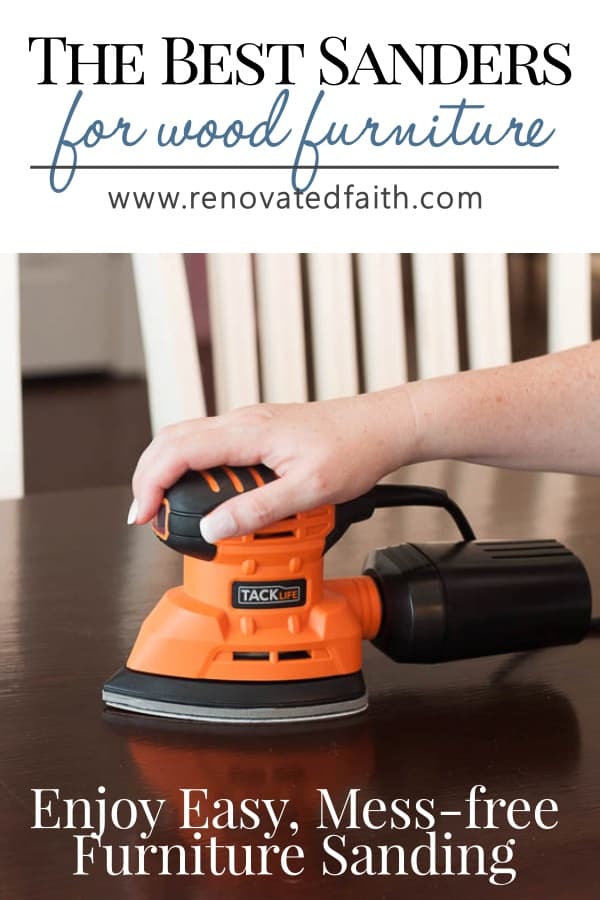 To save tons of time on your next painting project, be sure to download my free Must-Have Furniture Painting Tips to make the process go much smoother. You can also check out my post, A Better Alternative to Chalk Paint where I discuss my best process for painting furniture.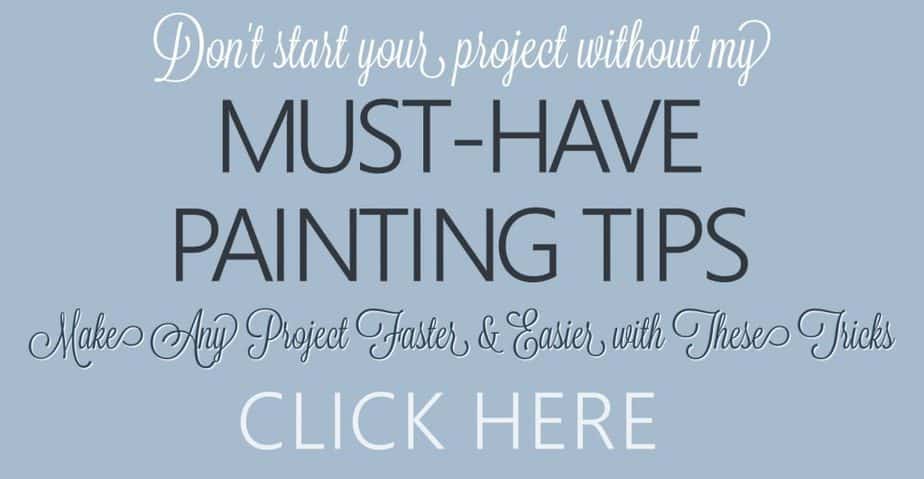 Final Thoughts on The Best Sander for Refinishing Furniture
The best thing about using an electric sander is that it makes what could be a lot of work, almost effortless and much less messy. In this post, I show reviews on several different sanders to help you find the best tool for your project. Whether you want the right sander for a one-time furniture project or the right tool for large projects like cabinets, you can go wrong with the top sanders in the post. Be sure to check out this post on easy tips on sanding your next DIY project: How to Sand Furniture in 5 Minutes or Less
Did you like this post? Be sure to share it with others. Have a wonderful week!
Blessings,

Be sure to follow the fun here!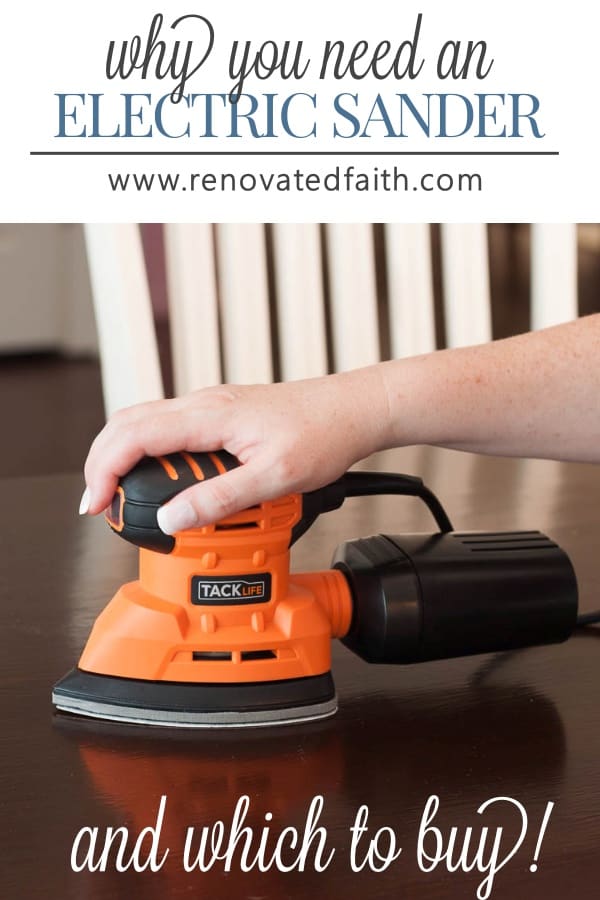 The Best Electric Sander for Wood Furniture

Welcome to Renovated Faith, where I share about DIY projects, my faith and everything in between! When I'm not spending time with my family, you will find me redoing furniture in the garage or watering plants in my greenhouse. This blog is about transformation. Anyone can renovate a house but only God can transform our hearts!