How to Use a Jigsaw (EASY Beginner's Guide & Video)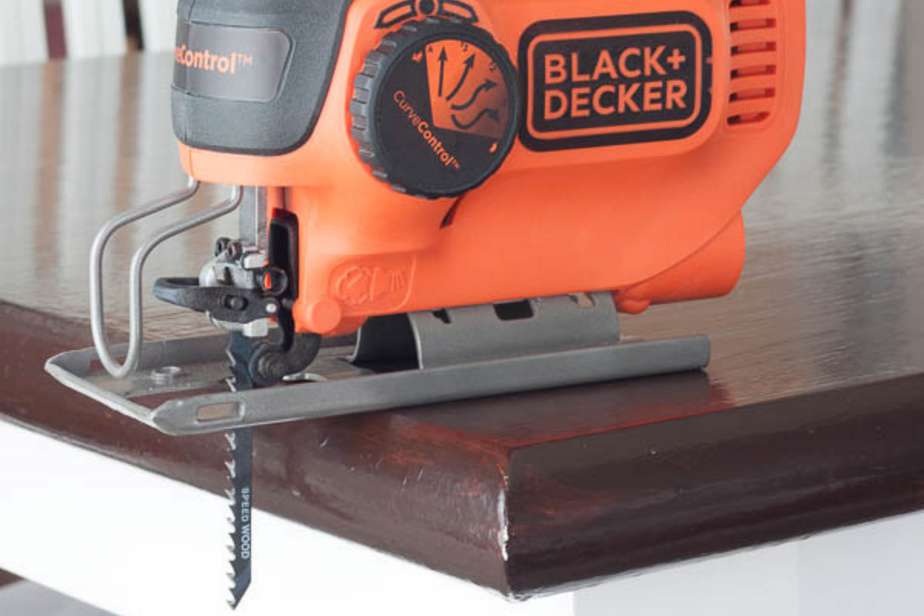 If your next DIY project involves a jigsaw, this beginner's tutorial offers a video and step-by-step tips for anyone just learning to use woodworking power tools. I show you how to cut curves as well as how to cut a straight line using various thicknesses of woods in a few simple steps. Don't let power tools intimidate you. Learn some safe short-cuts and simple tips in my tutorial How to Use a Jigsaw, Step-by-Step Beginner's Guide.

How to Use a Jigsaw, Step-by-Step Beginner's Guide
The jigsaw is a great beginning woodworking tool great for cutting curved lines in wood but also easy enough to use for straight lines. You can cut wood, metal, and even plastic with this fabulous power tool.
Are you a victim of PTI? Power Tool Intimidation? Every single time that I prepare to use a new power tool, I think it is going to be so difficult. But fortunately, the opposite always happens. The tool that I was sure would be a struggle to use ends up being a fantastic addition to my DIY arsenal. With these simple tips, you'll be using with confidence in no time. (You can also check out my post on How to Sand Furniture and Renovated Faith's YouTube channel).
Jigsaws are perfect for cutting shapes into wood or cutting straight lines when you don't want to bother with getting out a more heavy-duty saw for quick cuts.  I use mine for almost everything where cutting is involved.  Also, jigsaws are relatively inexpensive in comparison to other woodworking tools like circular saws, miter saws, and especially table saws.  You can find them from $24 on up to $160 for a more professional model.
Supplies Needed:
CLICK HERE FOR MY FAVORITE WOODWORKING TOOLS INCLUDING MY FAVORITE JIG SAW
Jig Saw
Blades
Mask
Safety Glasses
Here you can see a diagram of my jigsaw, the Black and Decker BDEJS600C Smart Select Jig Saw, 5.0-Amp.
The trigger starts the action of the blade. The blade is what actually does the cutting and the teeth face outward towards your cutting surface. This model uses t-shank blades which I highly recommend. These blades have an easy blade release. Other models require a separate tool to remove or put in a new blade and can be pretty time-consuming.
The shoe is the metal part at the bottom that is to be kept level with the cutting surface. You'll also notice a speed adjustment. The faster setting is best for straight lines and the slower setting is great for curves.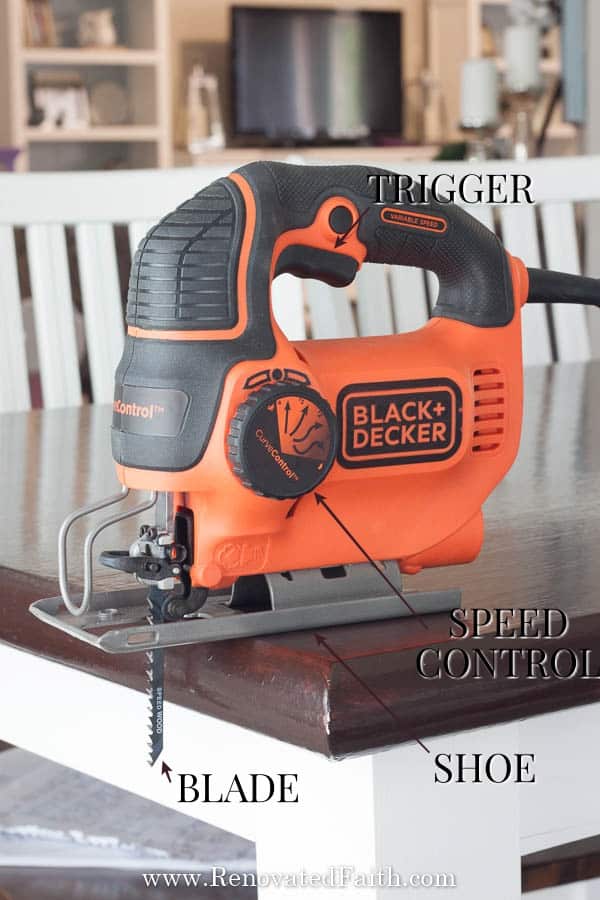 How To Use a Black and Decker Jigsaw
Step 1: Safety First
Be sure to put on your safety glasses and also your mask just in case. When using a jigsaw, you need to have some sort of line to follow so trace out your cut line with a pencil beforehand. Be sure to have a steady surface to saw on, preferably a workbench of some sort.
Step 2: Insert the Blade
While your jigsaw is still unplugged, insert the blade by pulling up on the quick release. Then insert the blade in and let go of the release. Slightly wiggle the blade to make sure it is tight, being careful of the teeth. I highly recommend getting a jigsaw with a t-shank blade as they all don't have this quick release option.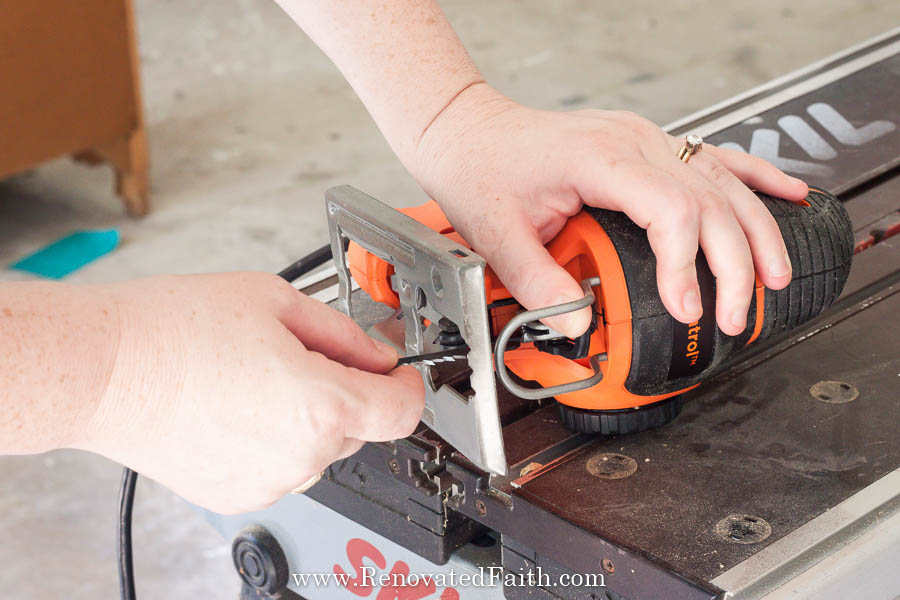 Step 3: Set the Speed
Plug in the jigsaw and set your dial to the correct speed. For curved lines, do a slower speed, and for straight lines use a faster speed.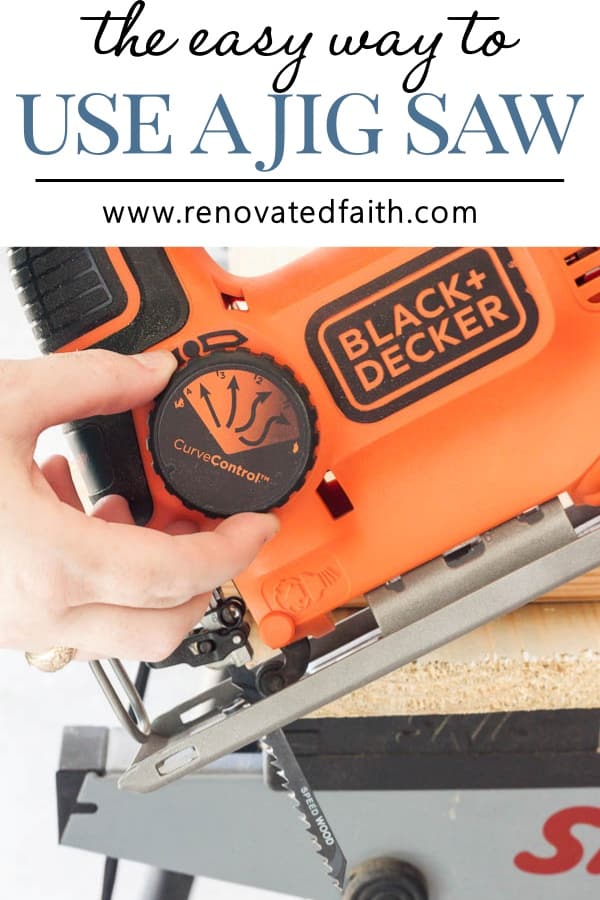 Is a Jigsaw Safe?
A jigsaw is one of the safest power tools you can goal and is great as a "beginner saw" However, as well all power tools you want to take precautions to ensure jigsaw safety. Always wear safety glasses and it is best to wear a mask to prevent breathing in sawdust. You also want to be aware of where your hand and blade is at all times while using a steady surface to place your cutting materials on.
OBLIGATORY DISCLAIMER

The viewer assumes all responsibility and liability associated with the hazards of woodworking. Renovated Faith is not responsible for any errors or omissions that may be present in this tutorial. She also assumes no liability for any action or inaction of a viewer.

Please use extreme caution when using power tools. Read your tool manual thoroughly and wear protective safety gear. Take your time familiarizing yourself with a tool before using it.

Please recognize that I have tried to put together a basic jig saw usage tutorial to get you started. I have tried my best to show the safest way to use a jig saw. That being said, I am not a professional (I only play one on this blog .)
Step 4: Make a Cut
If possible, clamp down your piece of wood. You want to put the blade of the saw up against the edge where you will first start your cut. I like to barely press the trigger which will make the blade move slowly before going into the piece of wood. Then once it starts to cut into the wood, I depress the trigger more to speed up the blade.
Using a jigsaw is kind of like sewing for me. With sewing, you start the needle slowly to get your barrings at first and then speed up along the line you are stitching. It works the same way with a jigsaw. Another similarity is that it helps to focus your eyesight about a centimeter ahead of the blade to keep your blade on the line as opposed to watching the blade itself.
Ironically, I use a jigsaw much better than I sew. Granted, I use the word "sew" loosely because I can only sew things with straight lines like pillows or hemming curtains.
If you are using a jigsaw for the first time, this is a video to get you started. Here I don't use a clamp because the ceiling fan blades are so thin but use clamps if possible.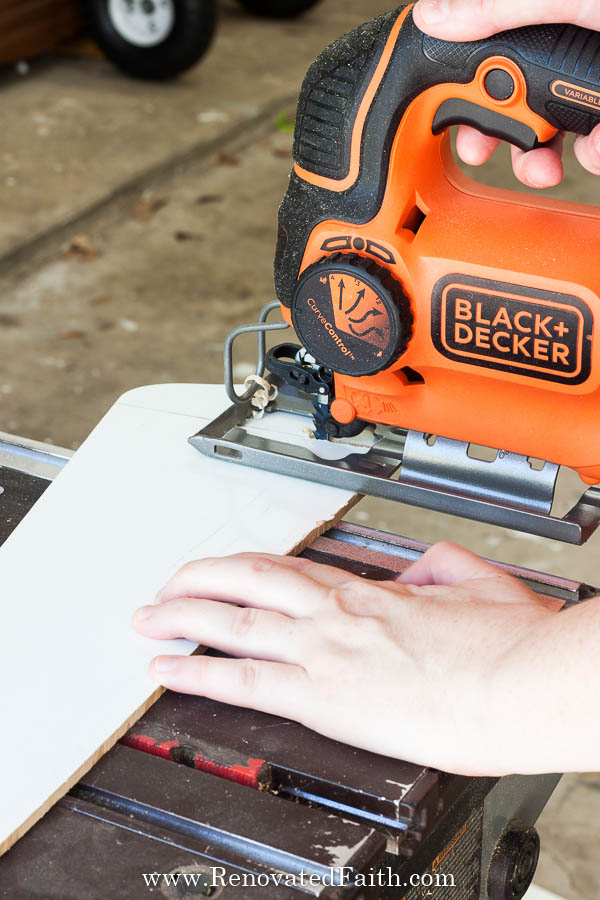 How to Make an Internal Cut with a Jig Saw
Every once in a while I have to make an inside cut. Unfortunately, a jigsaw only allows you to start from one edge of the cutting surface instead of from the middle. So I actually drill a hole first where I want to start my cut.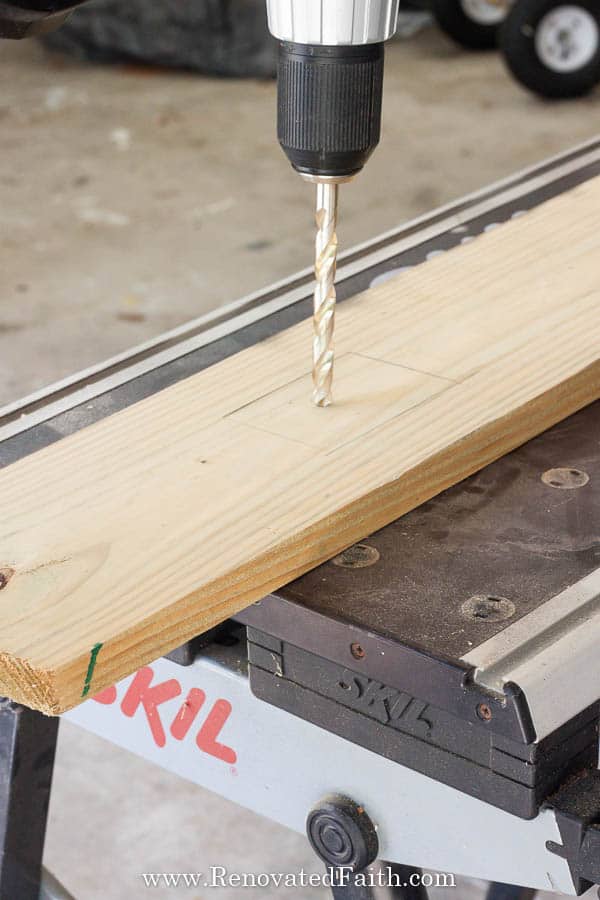 Be sure to drill a hole larger than your jigsaw blade. Then, I insert the blade into the hole and start cutting to the edges of the shape I am cutting out. Easy Peasy!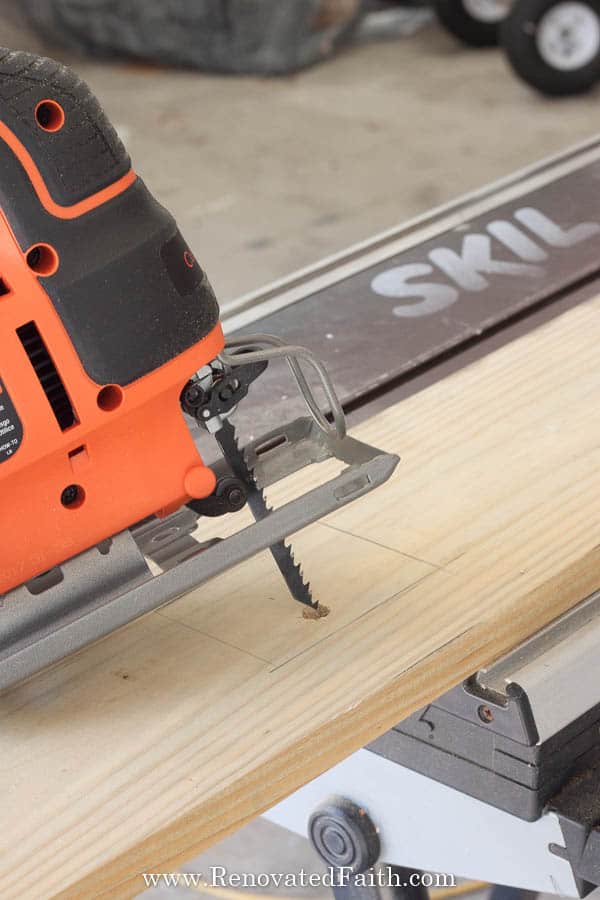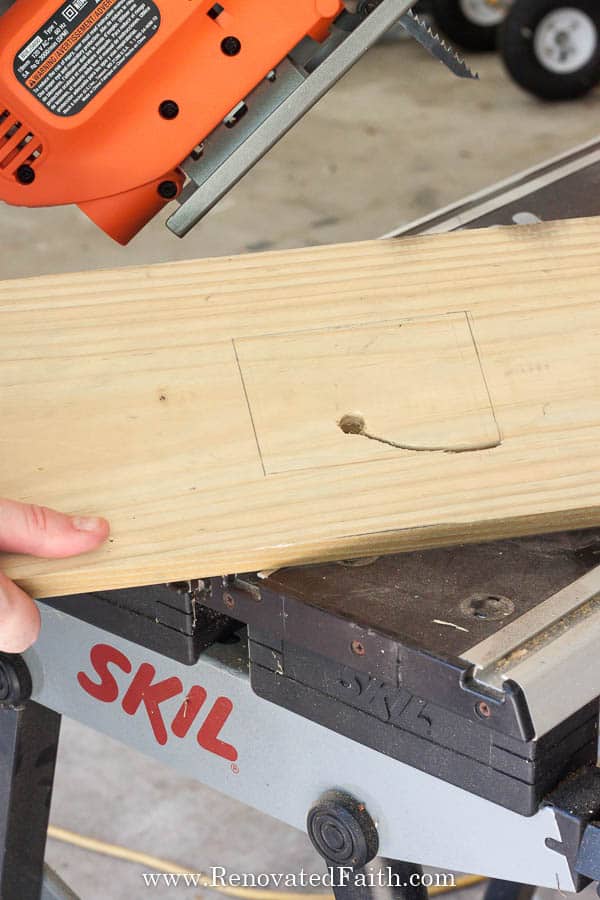 You can also do something called a plunge cut but the above method is a better bet for beginners.
How to Use a Jigsaw to Cut a Circle
You want to trace a perfect circle using a protractor or trace something circular on your piece of wood. Then, do the same as above when drilling a hole inside your cut-out.
Drill a hole larger than the jig blade just inside the circle. Insert your jig blade and slowly cut around the perimeter of the circle. If you are wondering how to use a jigsaw to cut curves, the key is to keep the speed on a lower setting and it doesn't hurt to do a practice cut on a piece of wood beforehand.
How To Use a Jigsaw to Cut a Straight Line
First, mark your straight line on your cutting material using a straight edge. Line up the piece of wood parallel to the workbench.
On your jigsaw, measure the distance from the side of the blade to the edge of the shoe. Now clamp a 1 by 4 or other straight edge so that it is that same distance from your cutting line. Be sure to clamp it on both ends tightly.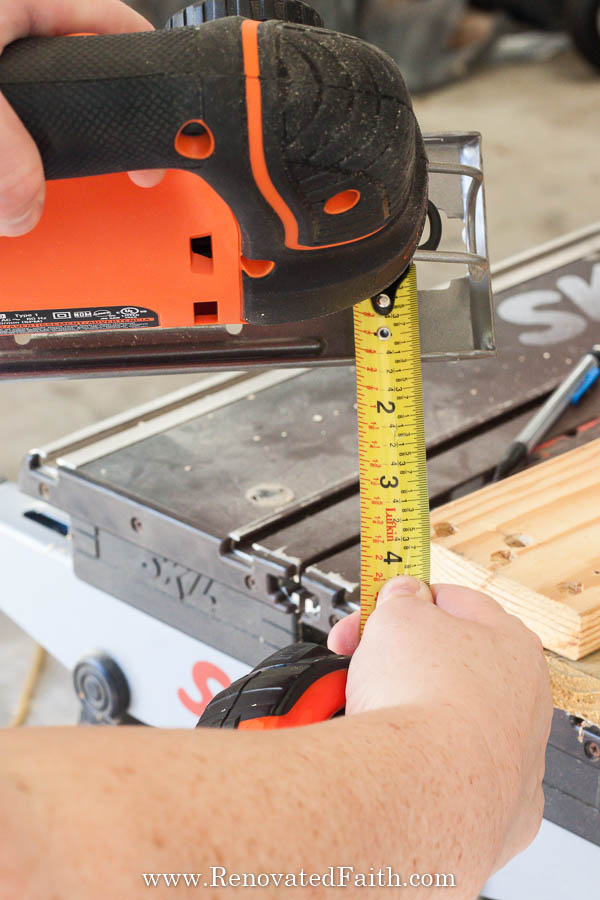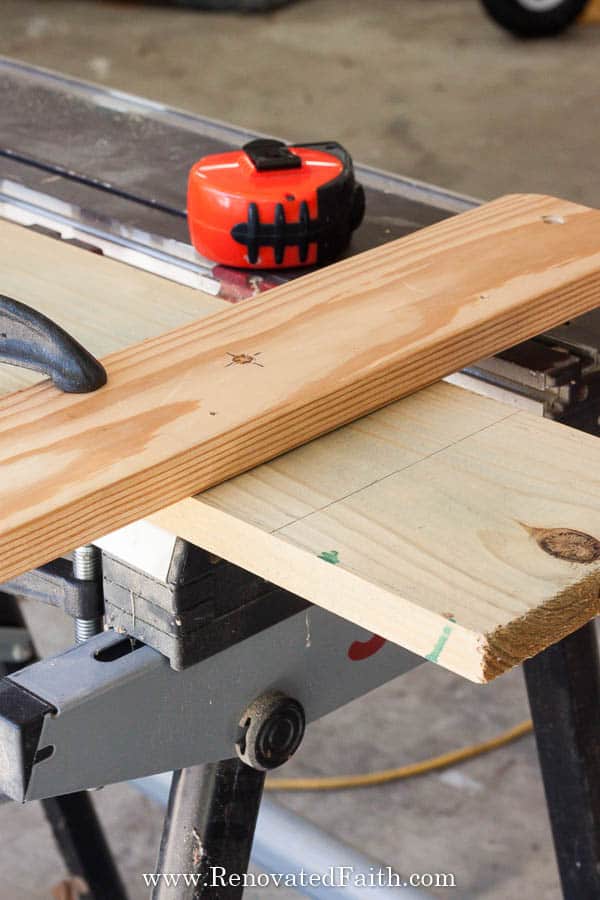 Now your blade should line up perfectly with the line. If not, readjust and clamp again.
Cut along the line as normal but this time you want to hug that 1 by 4 with your saw, making sure the edge of the saw's shoe slides along that edge.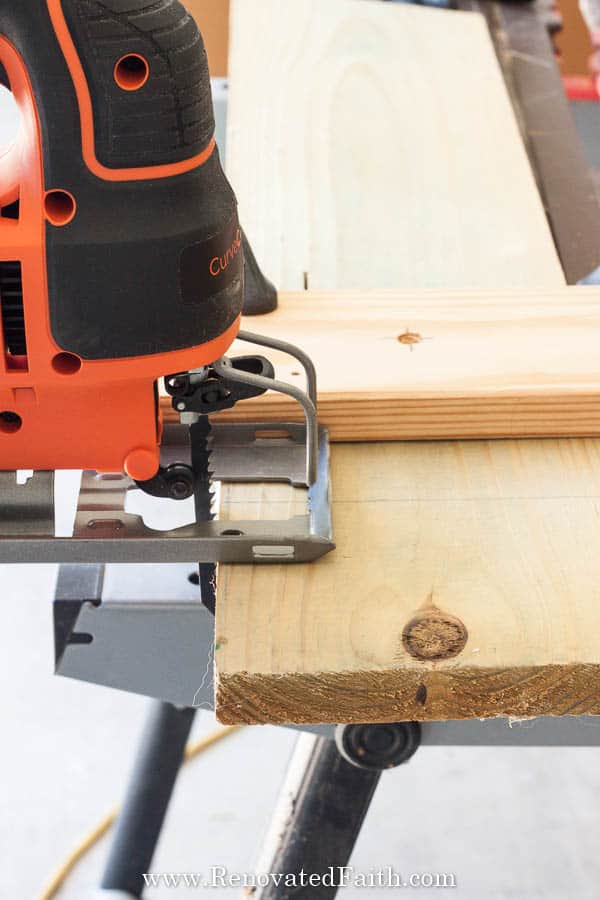 Now you have a perfectly straight cut!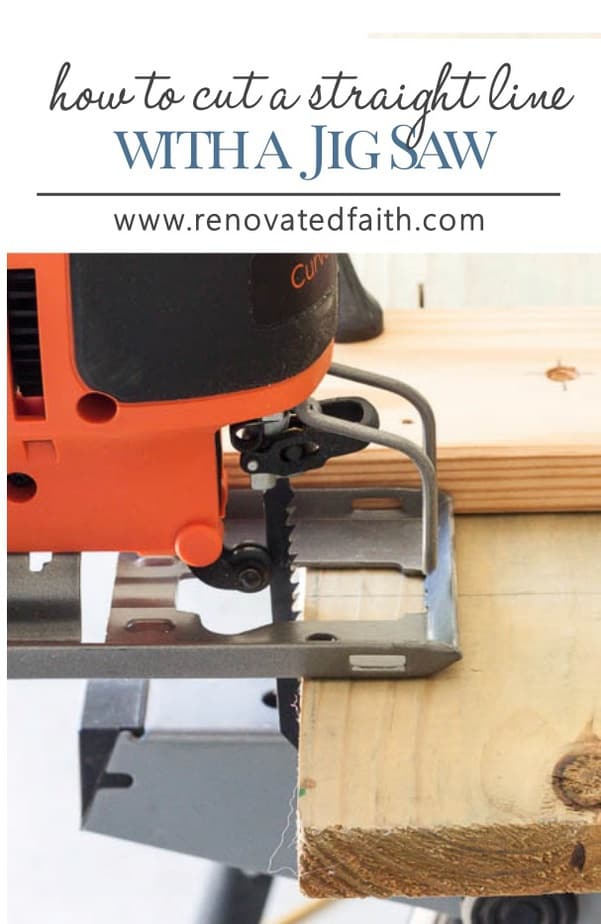 What Blade Do I Use for a Jigsaw?
Jigsaws aren't only for cutting wood. Here you can even find a jigsaw blade for cutting plastic and these are great for cutting metal.
This set of blades gives you lots of options. Remember to use blades with tiny teeth for thinner materials like the ceiling fan blades in my DIY Windmill Decor and blades with larger teeth for thicker woods.
One of the disadvantages of a jigsaw tool is that it isn't best for thicker pieces of wood but using a sharper blade with bigger teeth can help. You never want to force the blade through your material. Let the blade go at its own pace.
Why is my Jigsaw Jumping?
If you are feeling some kick-back on the saw when trying to cut a surface, it is usually one of two problems. Either your blade is too short or the teeth on the blade are too big. Also, take it slow and let the blade do the cutting; don't force it.
Be sure to check out my post on furniture painting tips below. They will definitely save you some time and help you to get a smooth, beautiful finish on your next furniture project.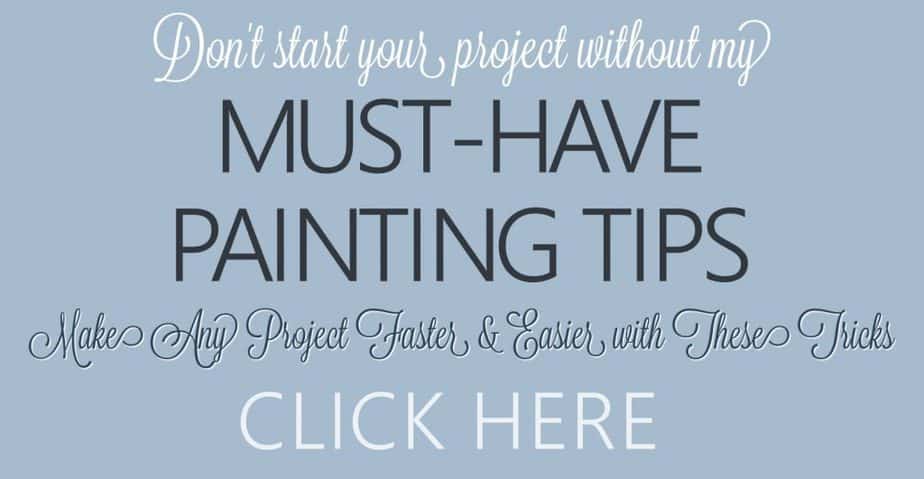 Related Posts to Using a Jig Saw
Best Power Tools for Beginner DIYers
How to Perfectly Stencil on Wood
How to Sand Furniture in Less Than 5 Minutes
Best Furniture Sanders (Tested and Reviewed)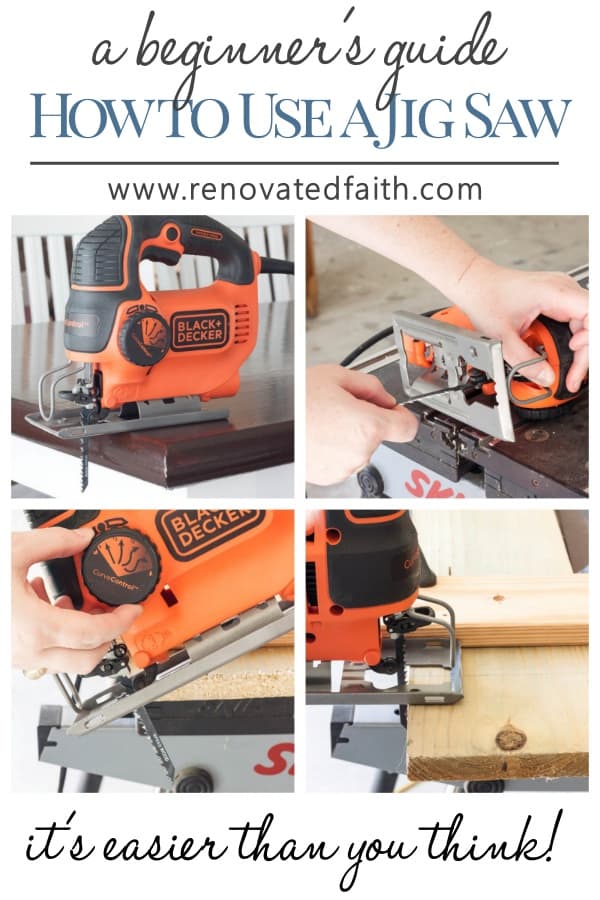 Did you like this post? Be sure to share it with others. Have a wonderful week!
Blessings,

Be sure to follow the fun here!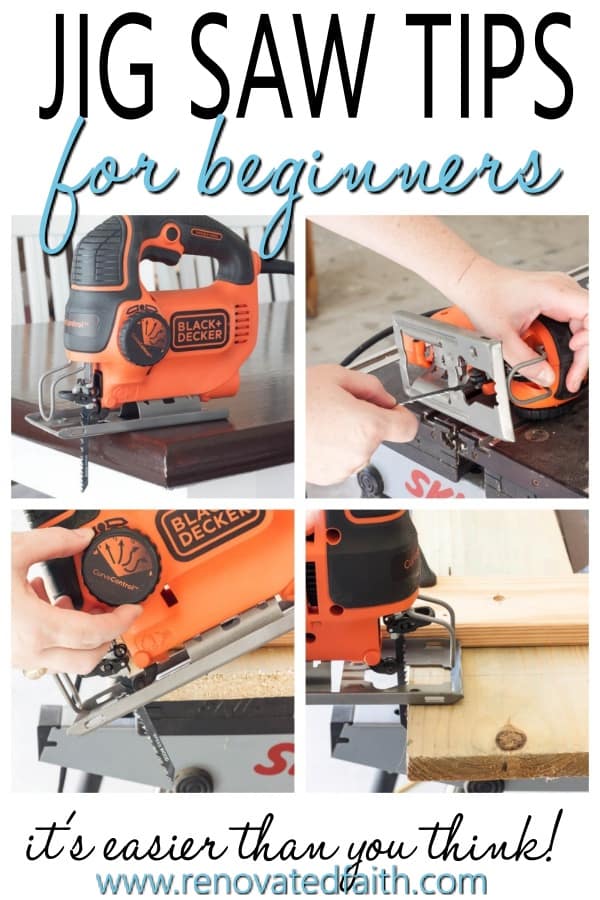 How to Use a Jig Saw Easily
Welcome to Renovated Faith, where I share about DIY projects, my faith and everything in between! When I'm not spending time with my family, you will find me redoing furniture in the garage or watering plants in my greenhouse. This blog is about transformation. Anyone can renovate a house but only God can transform our hearts!