How To Stencil on Wood (Ultimate Guide & Video, 2023)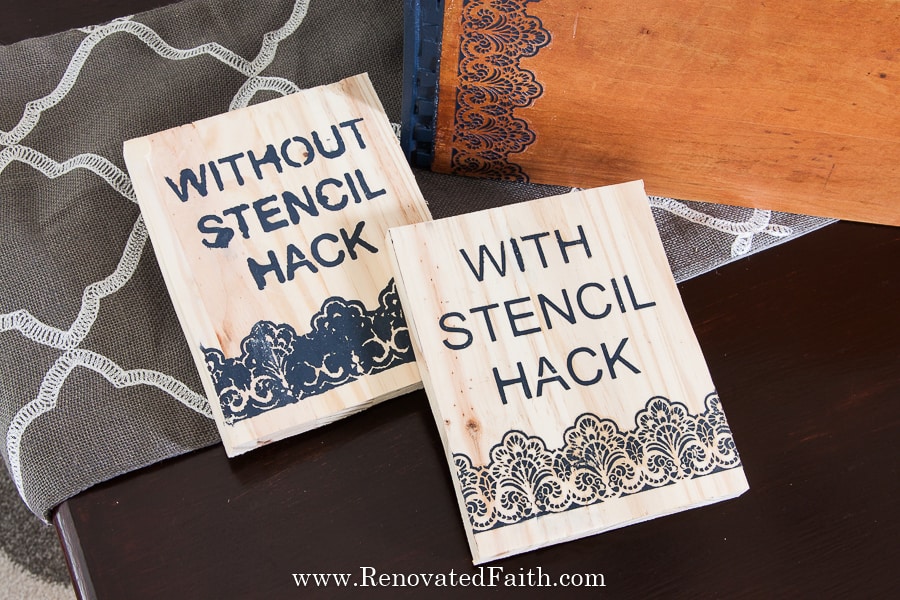 How Do You Stencil on Wood Without Bleeding?
Stenciling wood without bleedthrough is easy with a few simple hacks! In this post, I show you how to stencil on wood perfectly every time.
---
Imagine yourself sitting down in front of your favorite Netflix series on a Saturday afternoon for some craft time. You plan on adding a stencil to a stained family antique or even a sign made of reclaimed wood.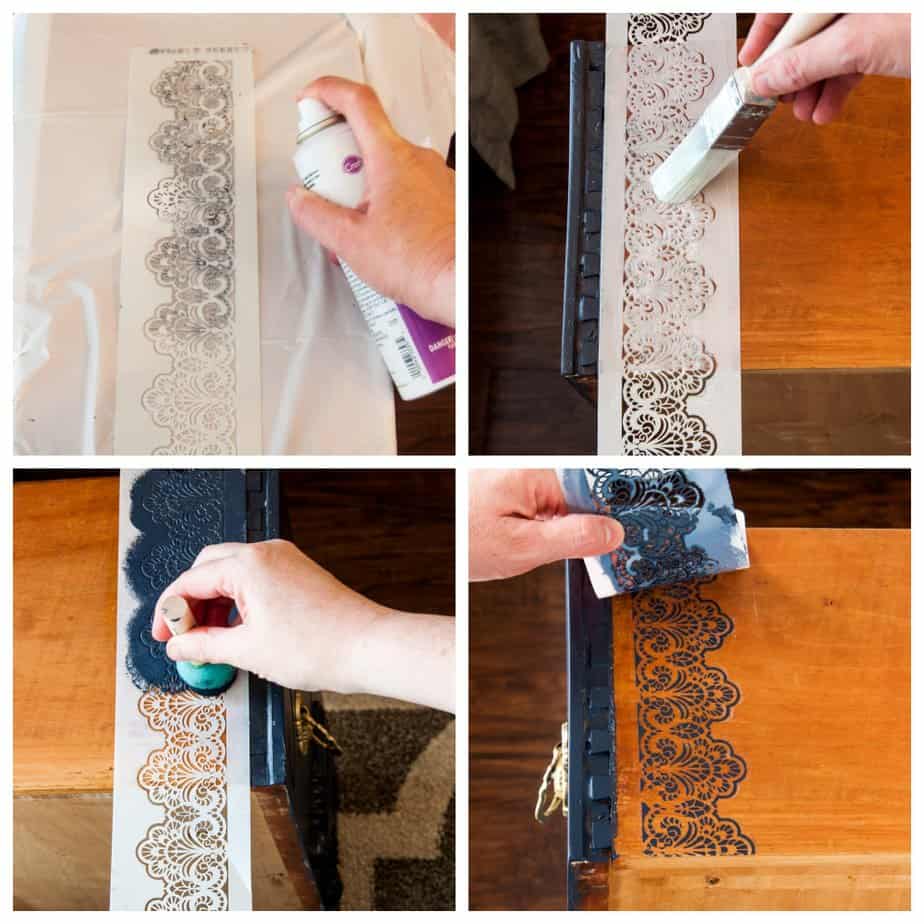 But after you paint over the entire stencil and pull it up, you finally realize the paint bled underneath the stencil and now you have to start all over again!
After LOTS of experimenting, I found the best way to ensure the paint doesn't bleed through your stencil, giving you great results on any project!
With these simple tips, you can use even the most detailed laser stencils without frustrated bleedthrough.
LET ME SHOW YOU:
How to stencil on uneven surfaces like Barnwood
The best paint to use for stenciling on wood
How to keep stencils from bleeding on wood signs
Why you don't need to get your act together before seeking the Lord (Check out the Renovate Your Faith Devotional at the end of this post!)
CLICK BELOW TO SAVE THIS PIN FOR LATER!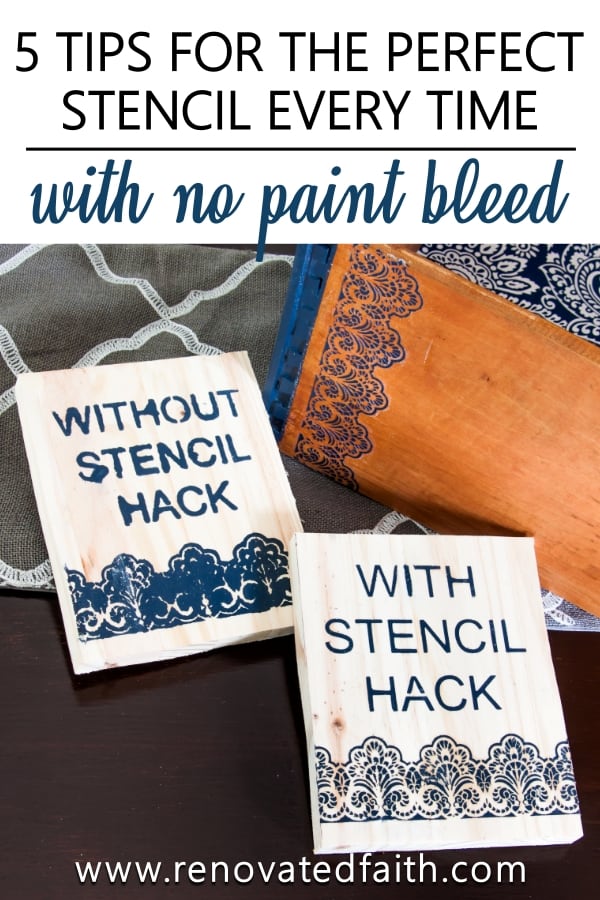 (As an Amazon affiliate I earn a small commission from qualifying purchases. I only use affiliate links for products I love and use. Please see my full disclosure HERE).
☑️ If you are curious or in a hurry, here is the quick link to my two top supplies for perfect stencils every time: Click Here for the Current Price of Both.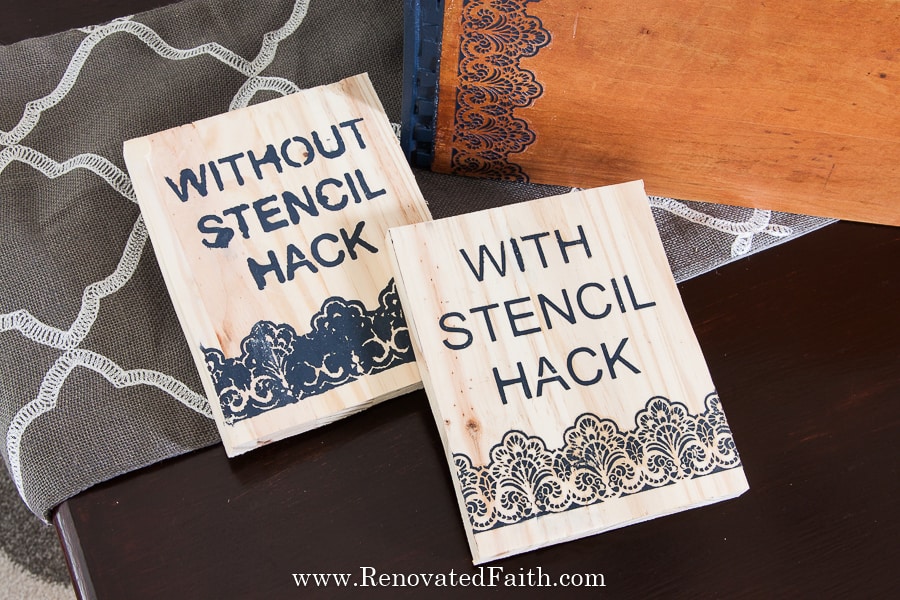 How to Stencil on Wood without Bleeding
On my grandmother's old dresser (see the full reveal here), I decided that I wanted to stencil lace onto the side of every drawer.
My grandma, Cornelia Mosely, was a seamstress and as I mention in the video, I specifically remember her sewing fancy lace on the hems of dresses. I even have a container of some of her old lace as a keepsake.
Because of this special memory, I wanted to add a lace stencil on each drawer of her old dresser.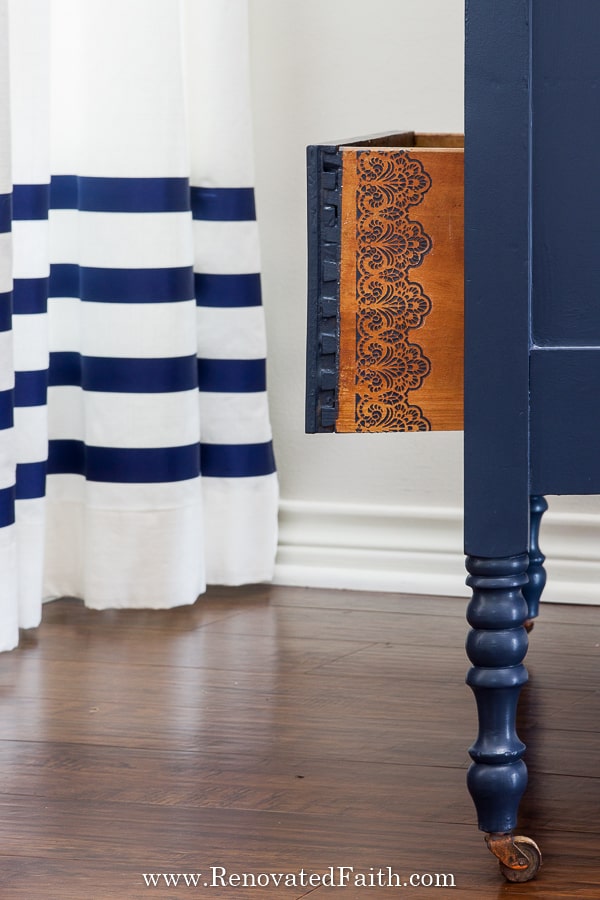 Can You Stencil Over Stained Wood?
Adding a stencil to stained wood is not an easy feat. For one thing, you can't touch up mistakes with paint as you could on a painted piece of furniture or sign.
The wood on the sides of the drawers was pretty old and had minor water damage making it uneven and cracked in spots. I wanted to leave the sides of the drawers in their original state so that would mean I had to get the stencil right the first time, without any paint bleed.
What made this process a little more difficult was the fact that the stencil I chose was SO DETAILED. I think I probably picked the most ornate laser stencil in existence.
Detailed laser stencils are more prone to bleedthrough, unfortunately, but fortunately, there are some easy stencil hacks to help you get great results on your next paint project!
The Best Way to Stencil on Wood
Because I tend to overdo things, I did a lot of experimenting with every stencil hack I could find. Then, when I discovered the ones that worked best, I found out which ones worked well in combination for a perfect stencil every time. I have no doubt that you will have the same success with your own project!
How to Stencil on Wood Furniture without Bleeding – Craft Supplies:
☑️ Where To Buy Stencils for Wood
How to Stencil on Wood Without Bleeding – The Process:
Here is a full step-by-step video showing from start to finish. There is also a video tutorial that goes along with this post and if it doesn't pop up you can access it and my other DIY videos here: How To Stencil on Wood, YouTube Video
Step 1: How to Stencil on Old Barn Wood – Surface Prep
Barn wood, pallet wood, and reclaimed wood are usually very uneven with prominent grain marks or cracks. This rustic look is great but it makes it really hard to stencil on uneven wood without the paint bleeding.
The first step is to prep the surface before you start painting to ensure as few uneven areas as possible when it is time to paint.
When to Sand before Stenciling on Wood (Optional)
If you are adding a stencil to a painted sign or painted furniture piece, be sure to sand before the first coat of paint. (This will also work for new raw wood but not stained wood).
Sanding will ensure the wood surface is already as even as possible and the paint can't bleed through any cracks. Sanding is so easy and I would be lost without my electric stander. To find out how easy it is to sand signs and furniture, click here: How to Sand in Less Than 5 Minutes.
HOw TO Stencil on Rough Wood – Add a Clear Coat (Optional)
Whether you are working with furniture from a thrift store or a piece of barn wood, many of the hard surfaces you want to stencil will have deep wood grains.
For paint projects where you are worried about stencil bleed on rough wood, you can use a clear coat to prevent the new paint from seeping into those cracks.
Like the dresser drawers on my Grandma's old dresser, I wanted to leave the sides in their completely natural state. So for that reason, I didn't want to sand the sides of the drawers.
Instead, I brushed on my favorite clear coat (see why here) before stenciling for two reasons. For one thing, it will fill in uneven areas in the wood where paint could bleed through. Also, it seals the wood so that if I do have some bleedthrough, I can easily wipe it off of the clear-coated wood surface.
This step is totally optional but if you can't sand, you can protect the wood while avoiding stencil bleed with this polyurethane: Varathane Water-Based Clear Coat (click here for the current price).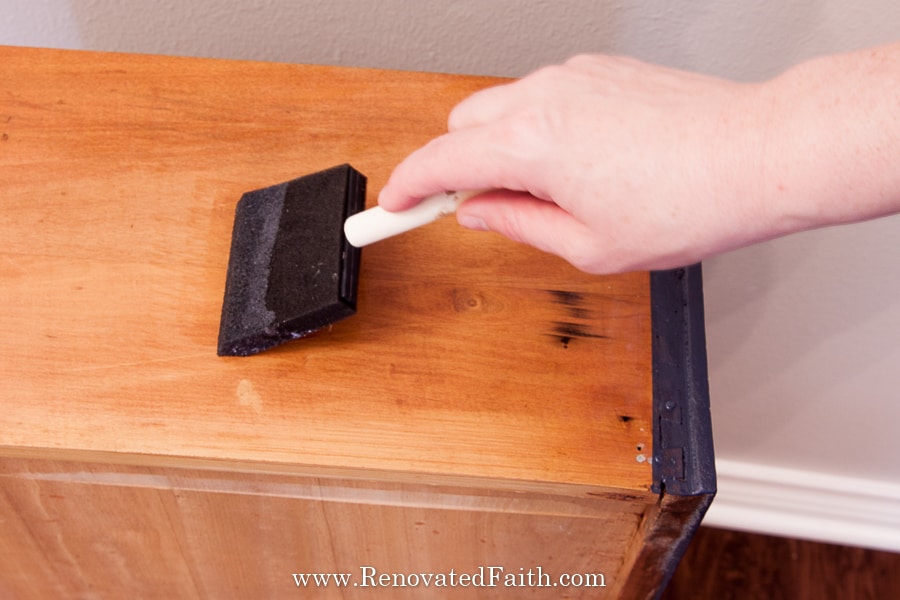 Renovated Faith: What's in a Name?
God loves us too much to leave a project half-done…He continually works on each one of us, as a lavish expression of His amazing love and grace. DIY projects remind me of how God renovates our hearts. If you are a work-in-progress, just like I am, check out the Renovate Your Faith Devotional at the bottom of this post. Click here for a weekly reminder of new posts by email.
Step 2: How to Prevent Bleeding with Wood Signs & Furniture with Spray Adhesive
To temporarily attach your stencil to the wood surface, you want to use a spray adhesive. But not all spray adhesives are created equally.
Initially, I used one that worked great at first but when I reused my stencil, the spray gunked up my stencil and I couldn't remove it even with mineral spirits.
So, using the right stencil adhesive will ensure that your stencil sticks to the surface and you can reuse the stencil over and over. My favorite is this one: Repositional Stencil Adhesive (see the current price here).
When you are ready to place your stencil on the wood, spray a light coat of spray onto the underside of the stencil keeping the can about 12 inches away. Be sure to spray your stencil over the sink or a trash bag as I do in the video.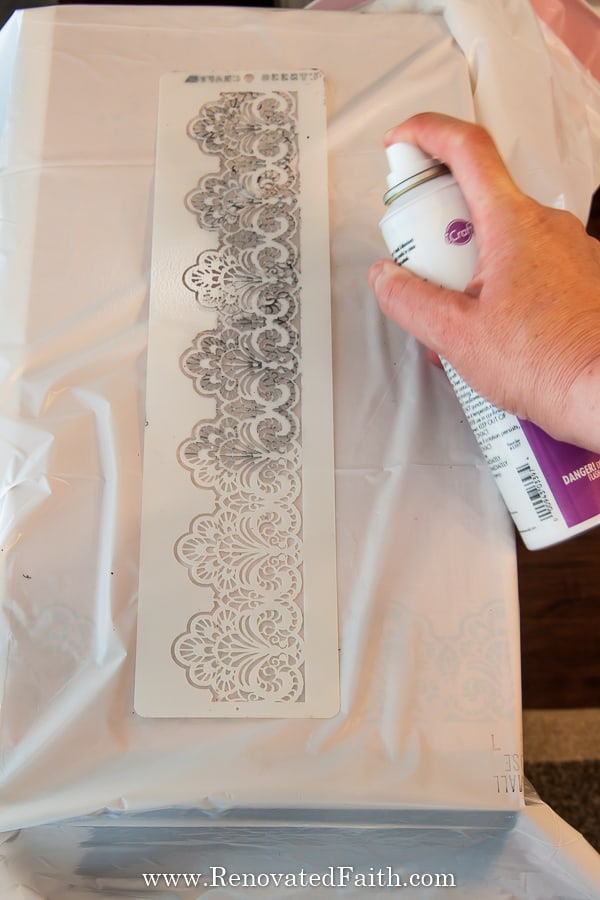 Step 3: Applying the Stencil on Wood or Furniture
For the next step, place the sprayed stencil on your wood surface. I like to press down in the middle and then wipe towards the outside of the stencil to make sure it is nice and flush so no paint can bleed underneath.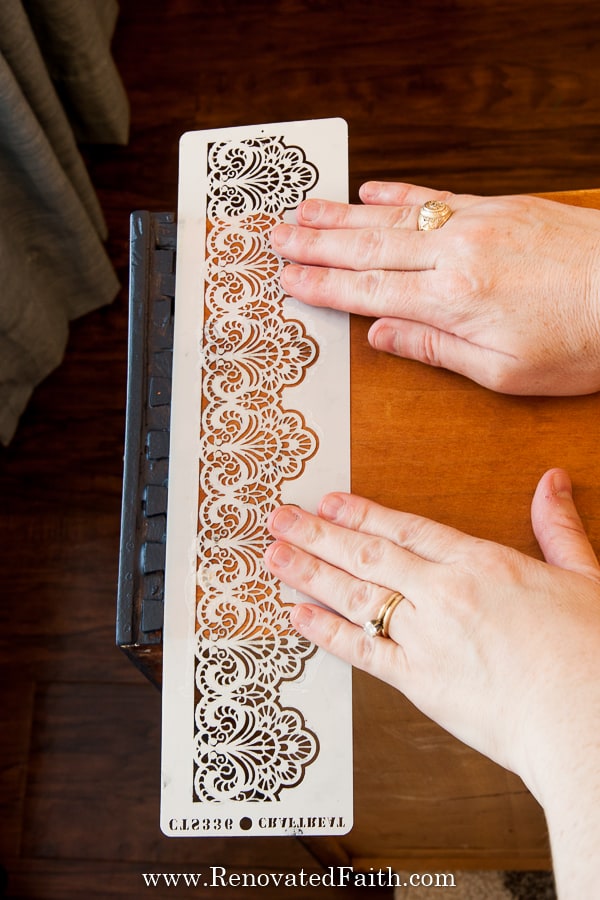 Step 4: How to Stencil on Wood with Mod Podge
The best way to stencil on wood always involves this important step using mod podge!
The mod podge creates a barrier between the edge of the stencil and the paint and since it dries completely clear you can't see it. It keeps paint from seeping under the stencil and creates a crisp edge so you get the best results every time.
Use a brush to apply a thin layer of mod podge. You'll notice in the video that I brush lightly but in all possible directions to get mod podge in any cracks and crevices that might be hiding under the stencil.
Let the mod podge layer dry for at least 40 minutes. You can also use a hair dryer to help it dry faster but honestly, I had better results letting the mod podge air dry. (This step also works well on stenciling curtains).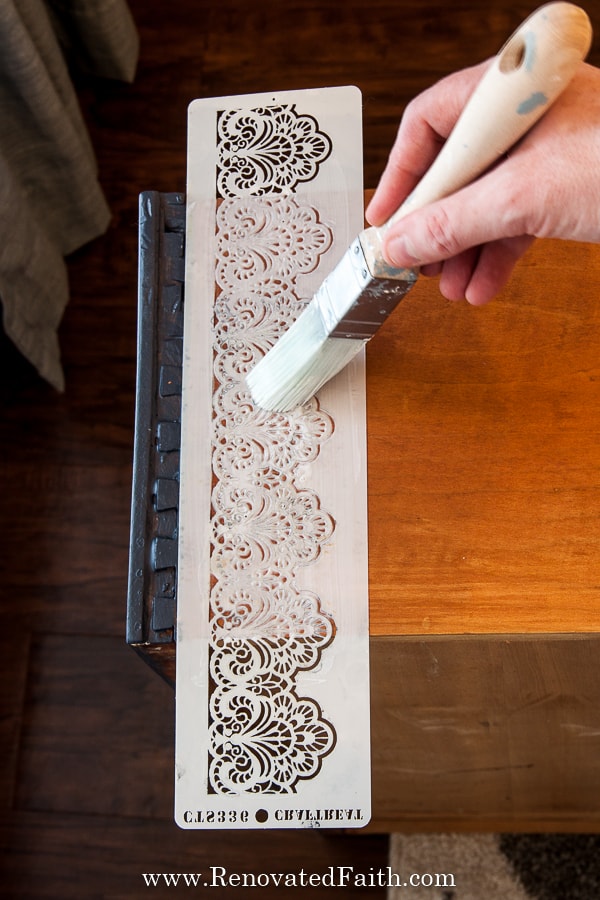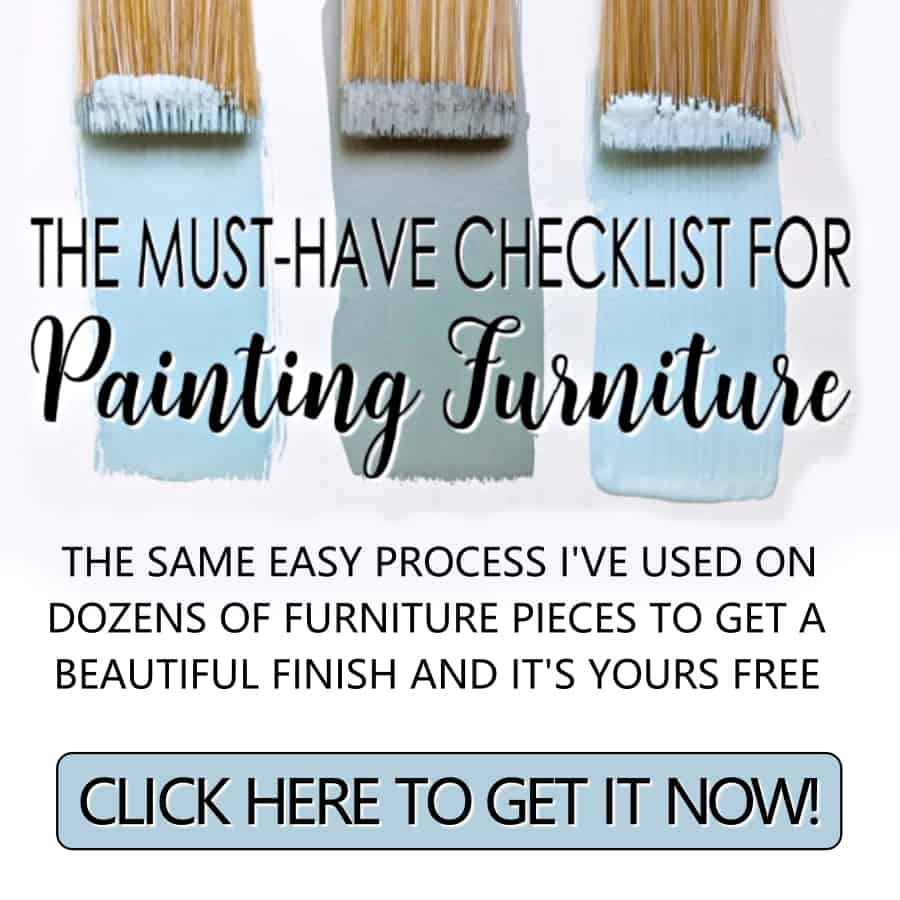 Step 5 – How To Paint With Stencils on Wood Using a Spouncer
What Kind of Paint Do You Use to Stencil On Wood?
There are several different paint options for stenciling. For my grandmother's dresser, I used latex paint in Benjamin Moore Hale Navy because that's what I used to paint the rest of the dresser and I wanted it to match exactly.
You can also use acrylic paint too as both work well.  For my favorite acrylic paint, click here.
As far as my favorite overall type of paint, I prefer Benjamin Moore Advance after testing over 24 brands of paint here: The Best Paint for Furniture (24 Paints Blind-Tested and Reviewed)
Benjamin Moore Advance comes in quart containers in their local stores and then sample sizes that you can buy online. This is a great option if you want to match a specific paint color. Also, this paint is great if you are looking for a super smooth finish without brush strokes.
How to Stencil on Wood with Latex Paint
Instead of a brush, be sure to use a spouncer (see the current price here) for the paint. Dip the spouncer in paint and then wipe off the excess. You want to paint on a light coat by using up and down motions as I do in the video.
Keep adding a little paint at a time until all the stencil holes are painted. Make sure there isn't extra paint just sitting on the surface.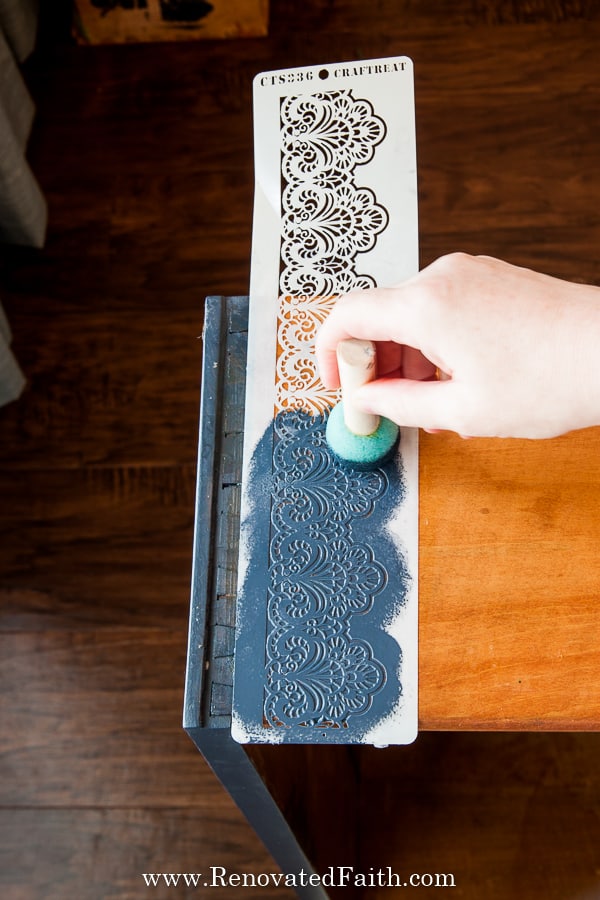 Do You Let Paint Dry Before Removing Stencil?
Now it's time to remove the stencil and it's best to do this before the paint dries. Carefully lift the stencil from one end to another.
Since the paint is still wet, it will be easy to fix any bleed-through, although you shouldn't have any. Pulling up the stencil before the paint dries is also the best way to keep the paint from peeling with stencils.
If you have any white areas, that is just mod podge that has not dried. You can let it dry or dry it with a hairdryer to speed up the process.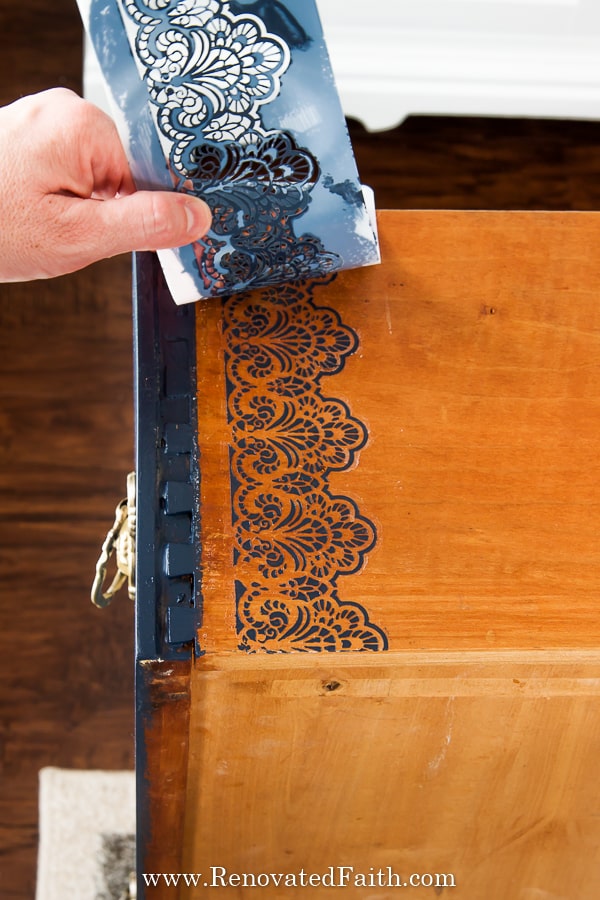 How to Fix Stencil Bleed on Wood
With this process, you shouldn't have to fix stencil mistakes but if you do, they can easily be removed. Dip a q-tip in water and dab the area that has bled through. The wet paint should come right up!
Let the paint dry according to the instructions on the can or bottle.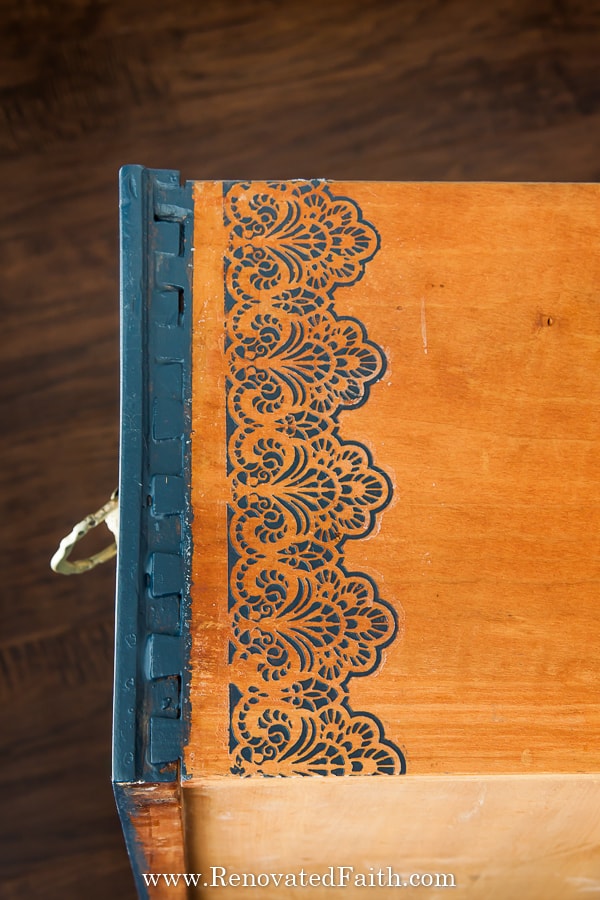 DON'T FORGET TO TAKE A PICTURE!
Now that you are done, I'd love to see how it turned out! ❤️ Post your before and after photos here!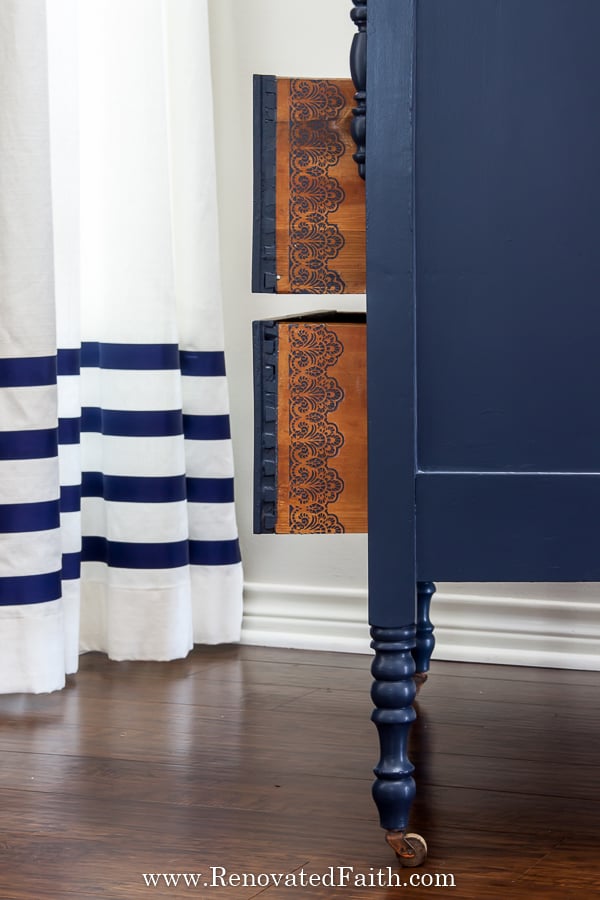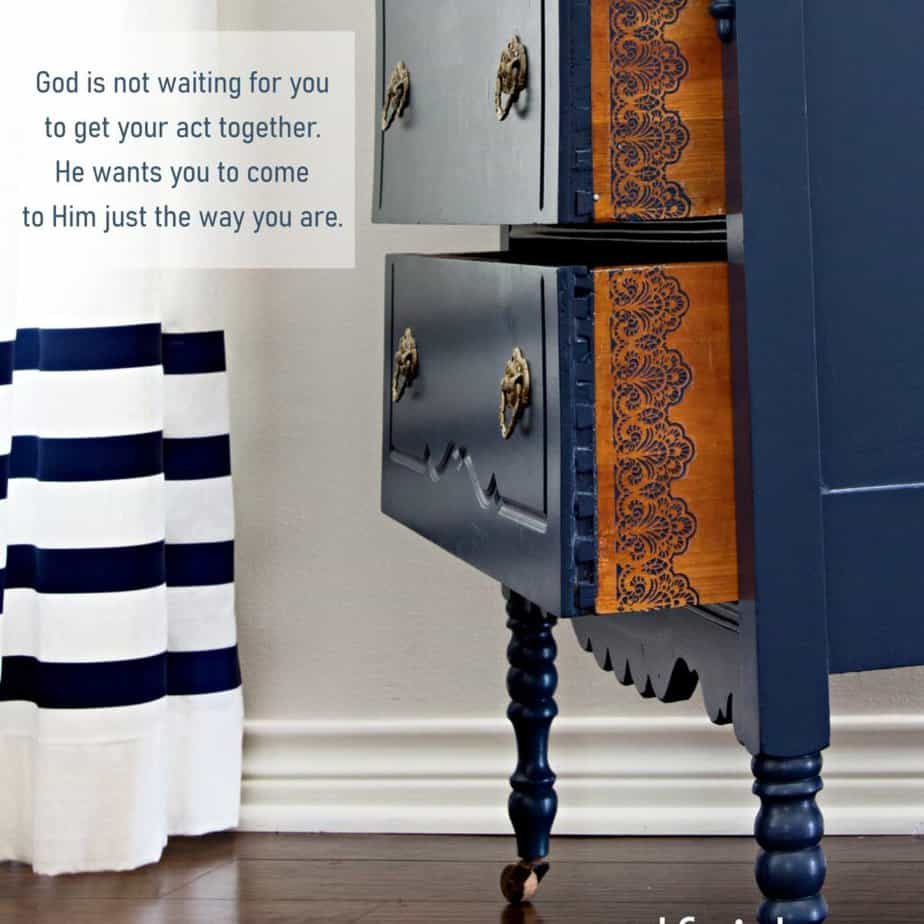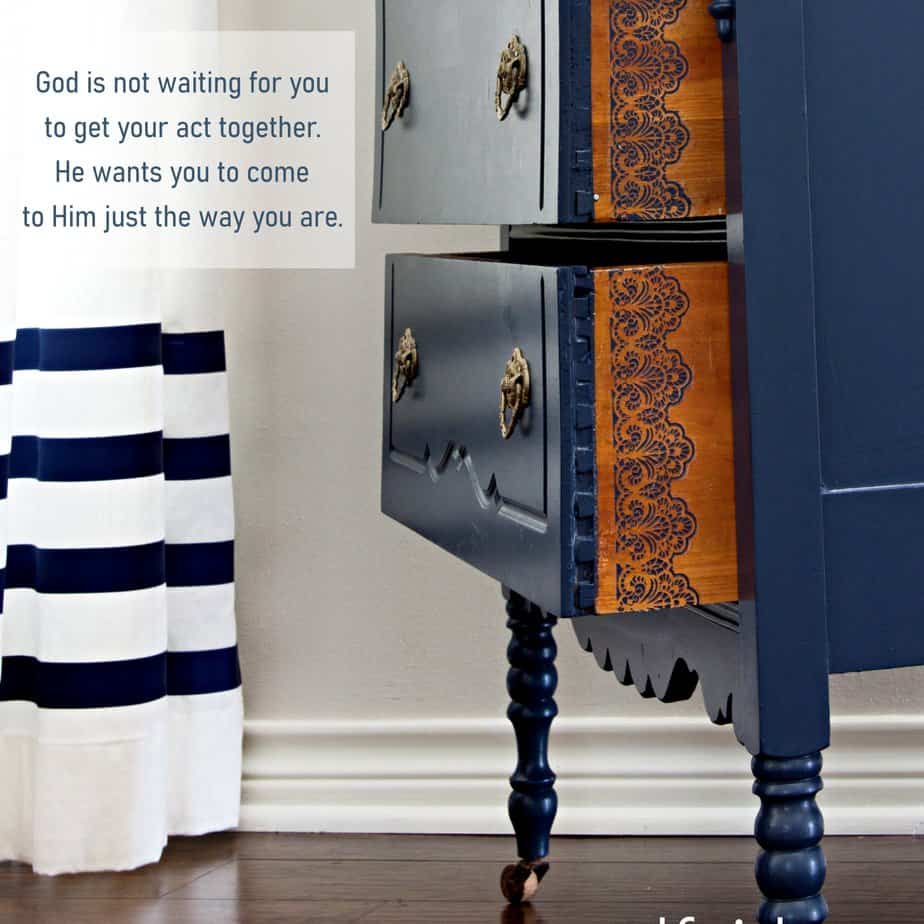 RENOVATE YOUR FAITH: God Delights in Your Details
When I picked out the stencil for my grandmother's dresser drawers, I didn't realize that a detailed stencil would be harder to use than one that is simpler. It took a lot of experimenting with such an ornate stencil to figure out what would work so the paint would not bleed through.
To be honest, there were times during the process when I was more than a little frustrated, wishing I had picked something simpler that would have been easier and taken less time and energy on my part.
But fortunately, God doesn't work that way. He doesn't look at His children as overly-complicated DIY projects. He is not overwhelmed with details or discouraged by our flaws. God doesn't wait until we are in a future, transformed, more fruitful version of ourselves to start to love us.
When I first get a furniture piece to refinish it, I must admit, I look at it in terms of its potential. I pick a piece to refinish based on what it will one day become. When I find an antique I want to refinish, I am often repulsed by the smell and can't wait to get a coat of primer to forever lock in the dirt and grime underneath.
But God does the very opposite with His children.
Before we even realized we needed saving, He loved us in our own filthy, smelly state, flaws and all.
Romans 5:8
tells us, that God demonstrates His love for us in that while we were still sinners, Christ died for us. We had no potential in and of ourselves.
Not only were we the thrown-out furniture on the side of the road, but we were also the "reject furniture" that passers-by wouldn't even slow to get a look at. Although we were destined for a trash heap, God called us His Beloved. He is not overwhelmed by our details. We do not leave a bad taste in His mouth and He is not waiting for us to make something of ourselves before He loves us.
No, God was well-aware of who He was sending His only Son to die for. He knows the number of hairs on our heads and he is intimately acquainted with all our ways. He knew He was getting the raw end of the deal and sent His Son to die for us anyway.
Don't ever assume God is waiting for you to get your act together. He loves you just the way you are in your current state and knows that any transformation in your path is a result and not a contingency of His love. He treasures you. He loves our intricacies and He is never exasperated by them. Instead of projects labeled "broken beyond repair", we take His breath away as masterpieces created by Him.
For more spiritual encouragement, click here for the rest of my Renovate Your Faith Posts.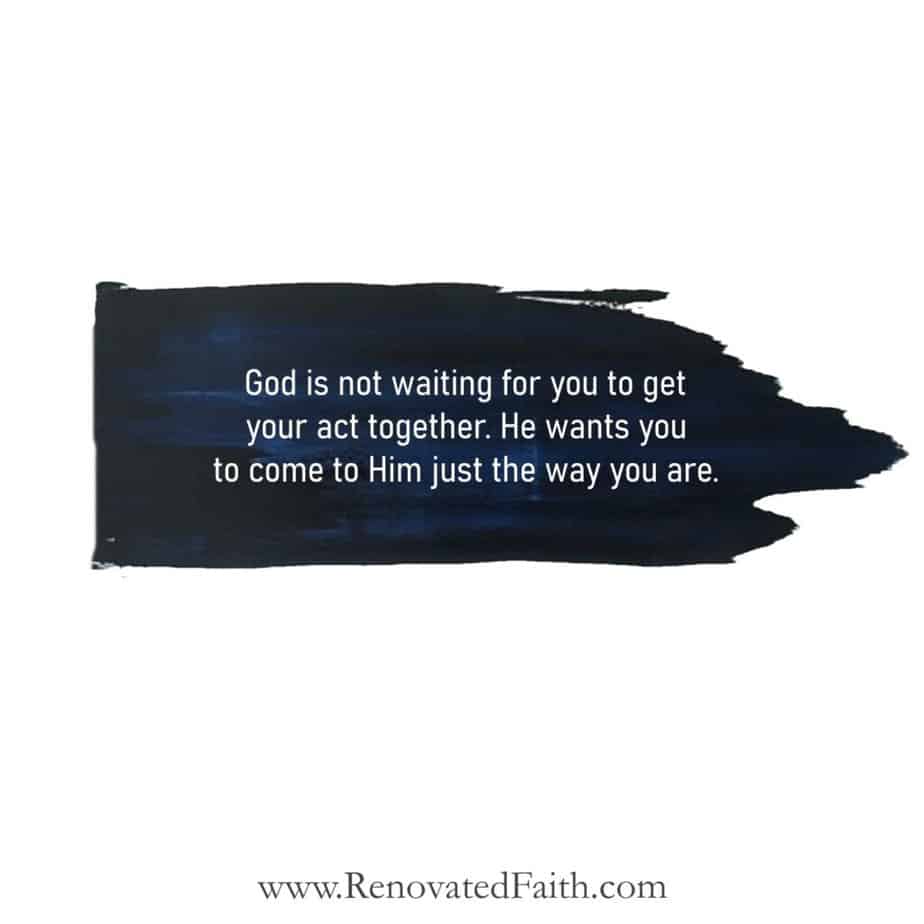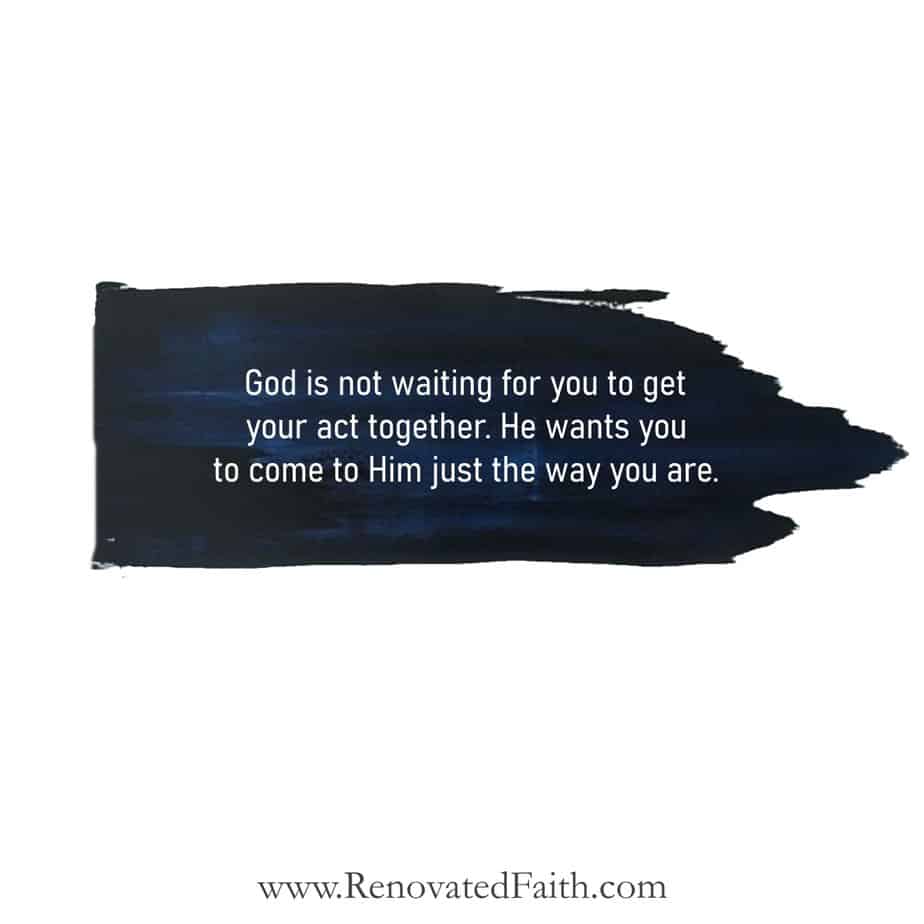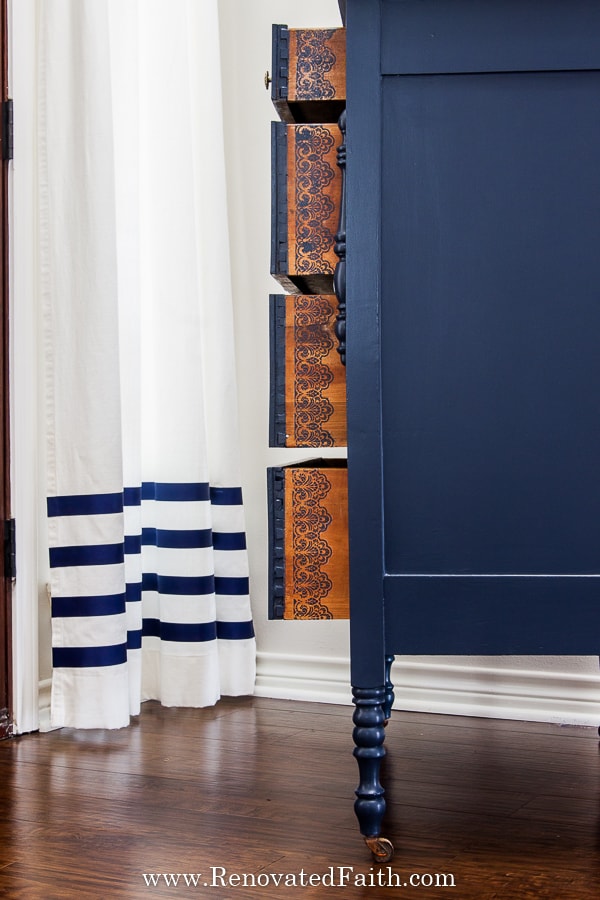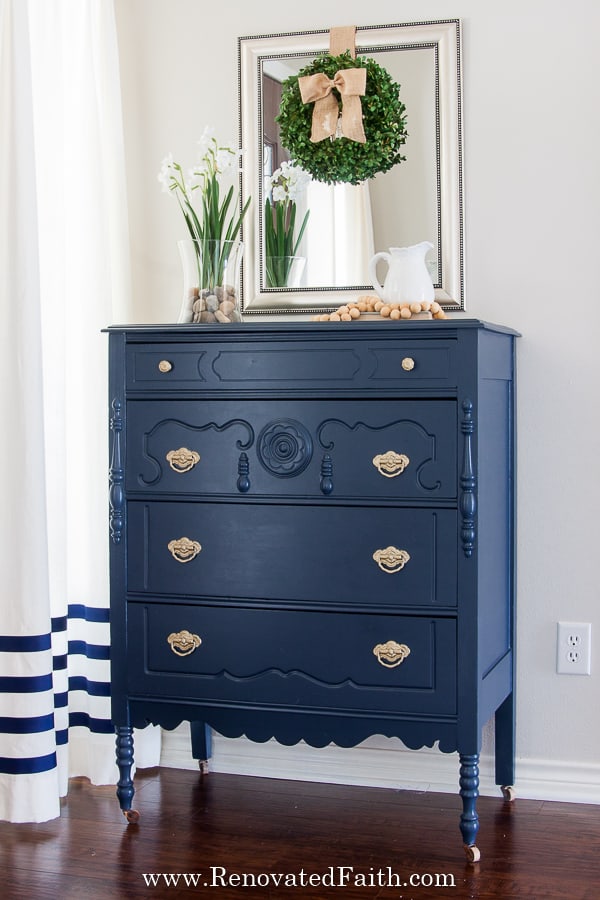 The Best Way to Paint With Stencils
I love the way the stencils turned out on my grandmother's dresser. I especially like how they line up when all of the drawers are pulled out. It serves as such a sweet reminder of my grandmother and her love for sewing.
To read more about my grandmother and what she stood for, you can click here: Why You Struggle to Rest (And What to Do About It)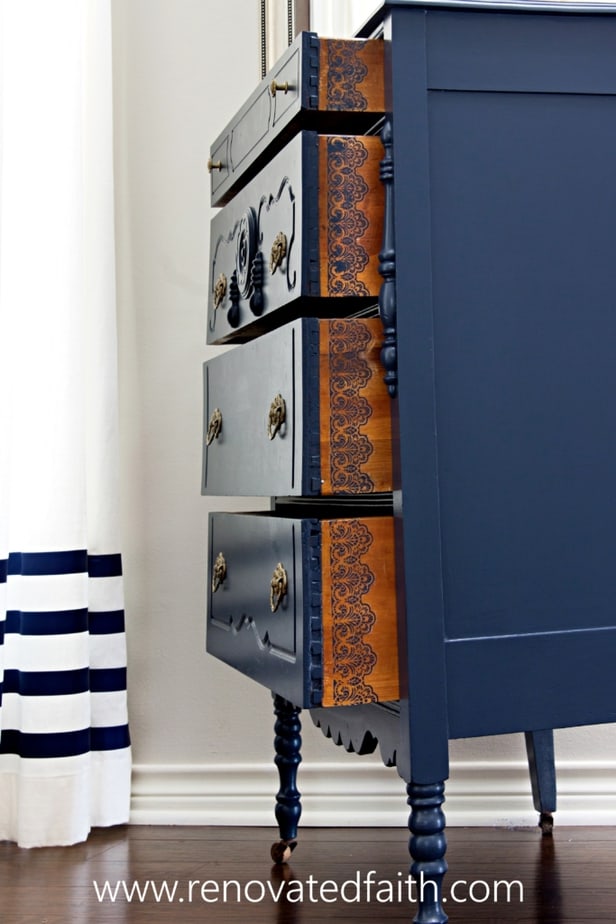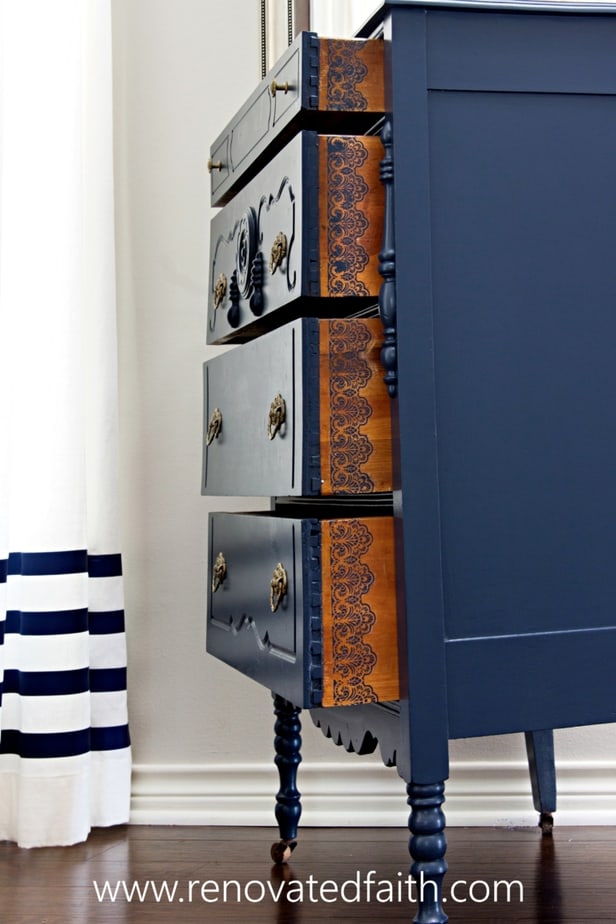 How to Stencil on Wood Signs
You can use the same process for wooden signs, whether the wood is painted or on raw wood.  Remember to sand first or use a clear coat to fill any cracks in repurposed wood boards. Follow the same process in the tutorial above for any wood sign stencils.
Free Printable Stencils for Wood Signs
Here is how to make your own stencil for wood signs and this method doesn't require paint at all! You can read the full step-by-step tutorial on how to make any wording stencil as well as an easy way to ensure there is no bleed-through. Download the free template and see the instructions here: How to Make Wood Signs The Easy Way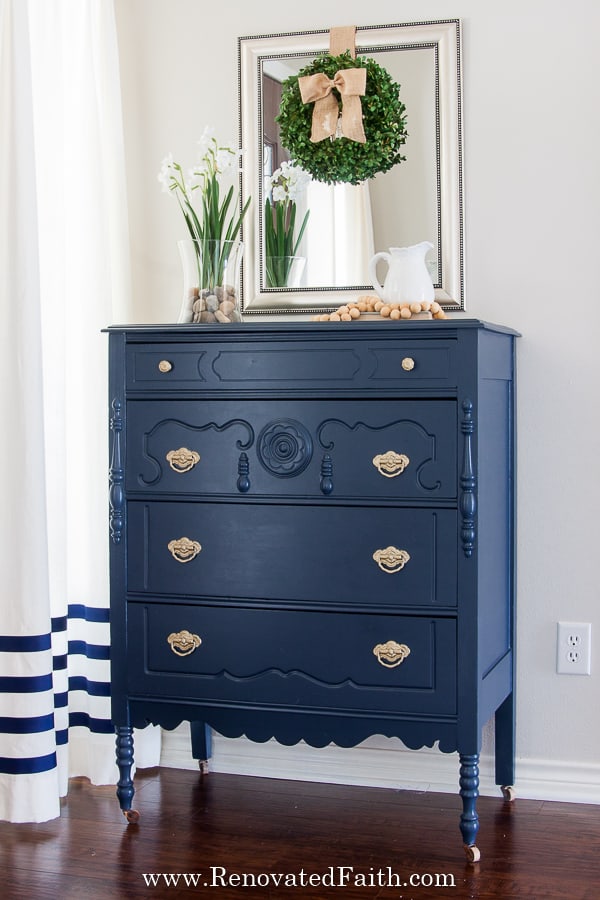 To see my best tips for painting with dark colors, click here: Benjamin Moore Hale Navy Dresser Makeover.
☑️ My All-Time Best Furniture Painting Tips & Tricks (FREE PRINTABLE)
Don't forget to download the FREE step-by-step printable checklist that shows you the entire process I've used on dozens of furniture pieces while saving you time and money!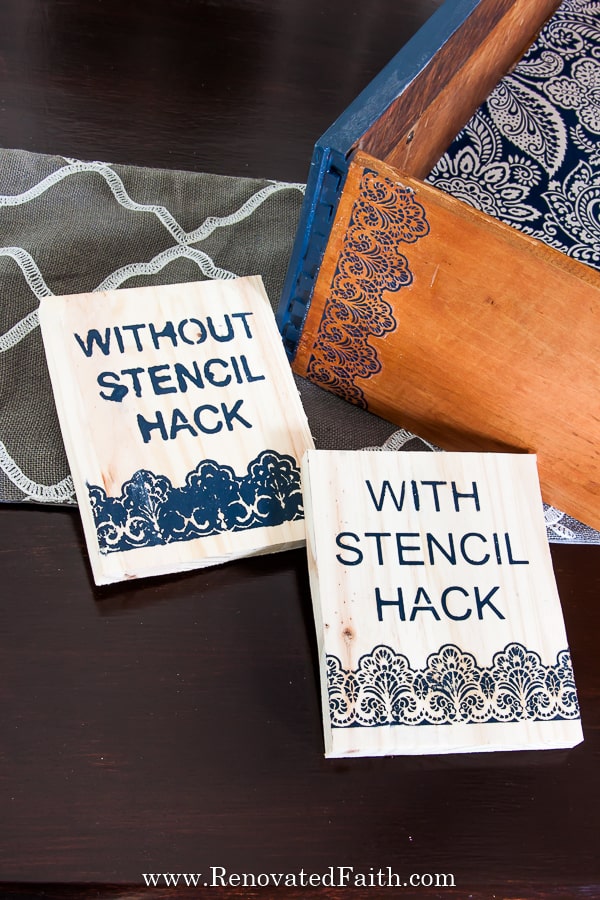 You can see how to make fabric drawer liners that are paper-like, scented, and stain-resistant here: The Easy Way to Make Fabric Drawer Liners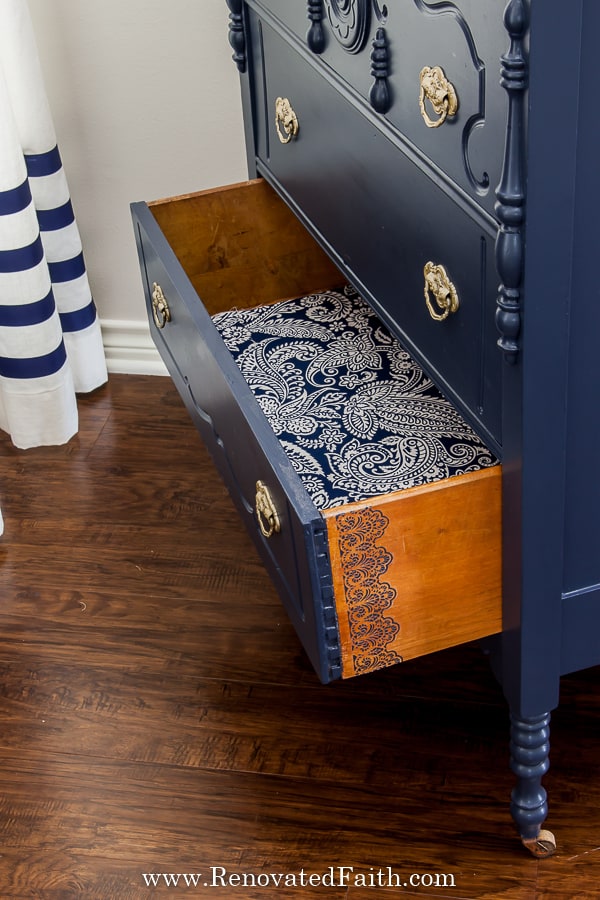 More Posts Related to The Best Way to Paint with Stencils
Benjamin Moore Hale Navy Dresser (Tips for Painting with Dark Colors)
DIY Fabric Drawer Liners that are Paper-Like, Scented & Stain-Resistant
Must-Have Tips for Painting Furniture
Why I Stopped Using Chalk Paint on Furniture
The Easiest Way To Turn Acrylic Paint Into Fabric Paint
Easy Christmas Front Porch Decor on A Budget
The Best Wood Grain Filler for Oak Cabinets
Easy Raw Wood Finish With Latex Paint
Easy Painted Wood Sign Tutorial (A Simple Technique Without A Cricut)
Easy DIY Closet Ideas for An Extra Office or Craft Room
FAQ: How Do You Get Clean Lines with Stenciling on Wood?
How To Stencil on wood with Chalk Paint
If you are wanting to use chalk paint for your stencil, be sure to use a good clear coat or wax on top of the stencil. As I described in my post, Why I Stopped Using Chalk Paint On Furniture, you will need to protect the chalk paint somehow. That's especially the case if you are stenciling on a furniture piece that might get some wear and tear.
How to Stencil on Wood with Acrylic Paint
I happen to use latex paint with this project but 9 times out of 10 I use acrylic paint when stenciling. It's actually a little easier to use acrylic paint when stenciling wood because it's slightly thicker and less likely to bleed under the stencil edge. Still, make sure that a small amount of excess paint doesn't settle on the inside edges of the stencil pattern. This will ensure you have smooth, crisp lines after your stencil paint dries.
To avoid this, use light coats of acrylic craft paint with your spouncer or foam brush. If you do get too much paint on the stencil, wipe extra paint off your brush and brush the edges of the stencil until there's not much paint. Pull up the stencil after a few minutes and let the acrylic paint completely dry for a couple of hours.
How To Stencil on Wood Signs Without Bleeding
You can use this same blog post tutorial on DIY wood signs. I have had so much fun making my own wood signs with important Scripture verses and quotes using this technique: How To Make Your Own Wooden Signs (No Equipment Needed)
When it comes to making your own stencils, using a Silhouette Cameo or Cricut is a such an easy way to cut vinyl for stencil projects like painted wood signs. For beautiful signs without bleedthrough, be sure to add a clear cut to hard surfaces that have a lot of wood grain.
How To Get a Rustic Look With a Stencil
One of my favorite ways to get a rustic-aged look on stencils is with a dry brush technique. You can paint on your base color just like this tutorial details. Leave the stencil attached to the board and let it dry for at least an hour.
Then dab a brush in a little gray paint and use a paper towel or paper plate to wipe off most of the paint. Next, brush the gray onto the surface working consistently in the same direction. This will give you more of an aged, rustic look to make your sign look older.
How to Clean Stencils
Sometimes the mod podge and paint can dry on the back of your stencil but the good news is that you can use an old credit card (or a scraper like this) to remove it. Just let the stencil soak in warm water with dawn a few minutes to soften the paint and then scrape it off the stencil.
How to Stencil on Wood With Spray Paint
You can also use spray paint to stencil but know that the paint will probably permanently adhere to your vinyl stencil. Adhere the stencil to your surface, skip the mod podge step and spray paint your project outdoors. Make sure to cover all the rest of your project that you don't want to be painted because spray paint can drift pretty far.
How to Stencil on Wood for Woodburning
When stenciling for woodburning, you will have to use a pencil to trace the inside of your stencil before using the wood burner. The woodburner can't come in contact with the stencil because it will melt the stencil.
What is Better for Stenciling, a Brush or Sponge?
How Do You Attach a Stencil to Wood?
When making your own custom stencil, you can still make the back of the stencil sticky by spraying on Pixie Spray in a light coat. You can also use a large piece of transfer tape or print your design on contact paper before cutting it out.
How Do You Stencil On A Custom Design?
To make your own custom stencils, you have a few options. You can make a custom stencil design by uploading it into the Cricut software and using your Cricut cutting tool to cut the actual stencil. You can also use this method that doesn't require any special equipment to make a special stenciled design: How To Make A Custom Stencil Easily For Your Own Wood Signs
Final Thoughts – What is the Best Way to Stencil on Wood?
With these tips, you can prevent paint from bleeding through your stencil, no matter how detailed! These hacks are super helpful especially when you are painting on uneven surfaces like Barnwood, repurposed wood, or vintage furniture. These tips on how to stencil wood will ensure your project turns out perfect every time!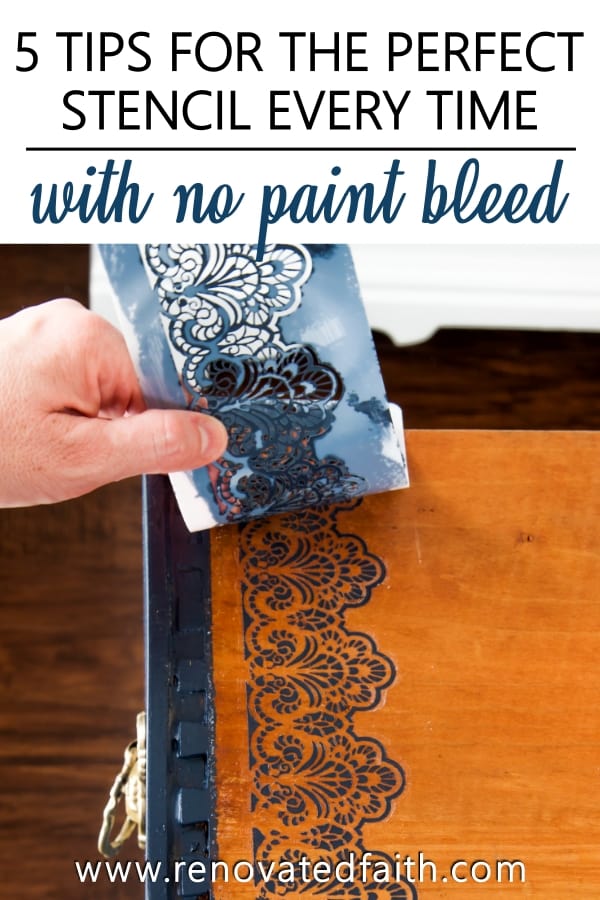 I love to hear your thoughts and questions! Scroll down to leave a comment and I WILL reply! ❤️
Blessings,

Be sure to follow the fun here!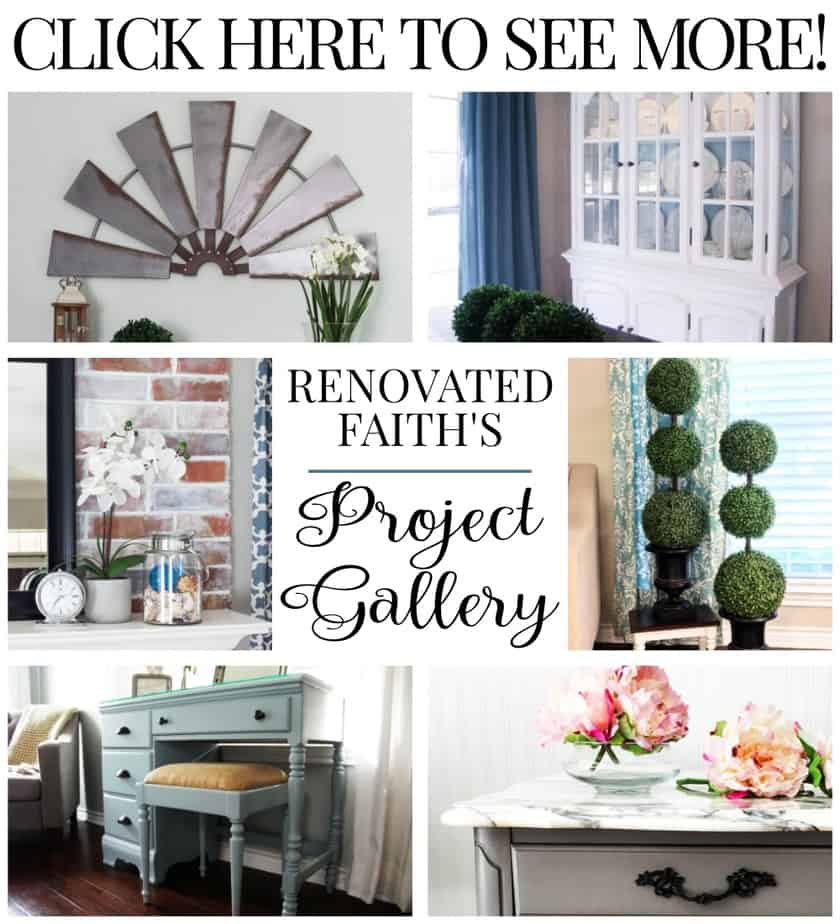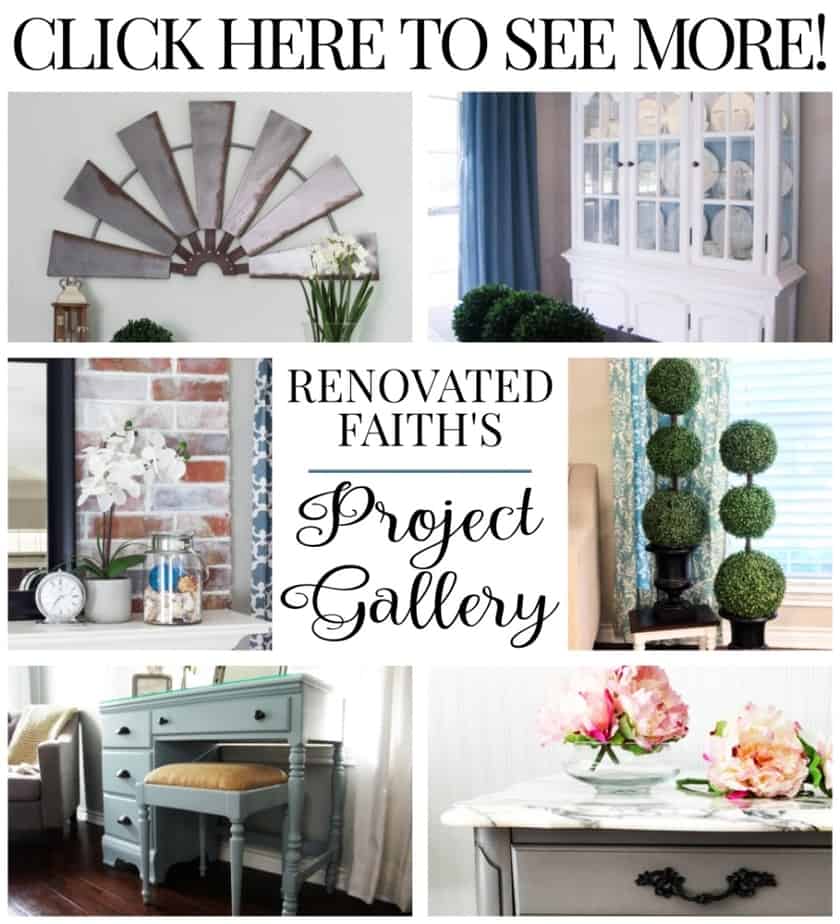 How to Stencil on Wood, YouTube Video:
How to Stencil on Wood Without BLeeding
Welcome to Renovated Faith, where I share about DIY projects, my faith and everything in between! When I'm not spending time with my family, you will find me redoing furniture in the garage or watering plants in my greenhouse. This blog is about transformation. Anyone can renovate a house but only God can transform our hearts!