7 Essential Tools for Beginner Woodworkers (You Can't Live Without!)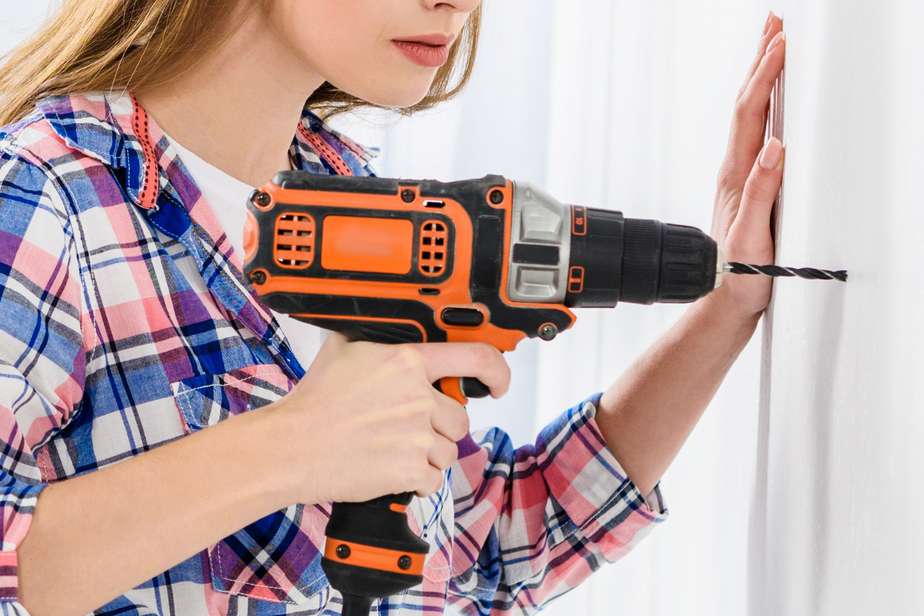 Must-Have Woodworking Tools for Beginners
Overwhelmed by the selection and price of power tools on the market? This woodworking starter kit is a list of high-quality but affordable beginner woodworking tools!
---
When you see so many woodworkers online with their fully-stocked workshops, it's not hard to be intimidated when it comes to picking out your own power tools!
But as someone who was nervous about every single power tool the first time she used it, I can tell you some beginner-friendly tips for buying your own tools and my low-cost recommendations.
These power tools are so much easier to use than they might seem and I've linked to great beginner tutorials for each. Not only are they easy-to-use and affordable, but each item on the list is high-quality so you won't "outgrow" them as your woodworking skills improve.
Using the right tools makes all the difference in whether woodworking becomes a fun and enjoyable hobby or wasted time on the weekends dealing with frustrating projects that don't live up to your expectations.
LET ME SHOW YOU:
Non-intimidating power tools to start your own woodworking starter kit
Easy tips and hacks on how to use them most efficiently
Tools that are affordable but also high-quality that you won't outgrow as you become more advanced
Encouragement on how to handle our fears in this week's Renovate Your Faith Section at the bottom of this post.
(As an Amazon affiliate I earn from qualifying purchases. Please see my full disclosure HERE).
How To Start A Woodworking Starter Kit Of Your Own
Why is woodworking good for you?
Woodworking is such a rewarding hobby as you get a deep satisfaction from building your own furniture or doing home improvement projects yourself. Not only can you save a ton of money by building projects and customizing them to your exact specifications, but there are also several mental and physical health benefits!
Woodworking is a great stress reliever and lowers your blood pressure. Requiring you to carry wood for each project, it can give you needed exercise and tone your muscles. Mentally, woodworking keeps your mind sharp and boosts mood because of the sense of fulfillment you get when you're done. Now, let's get started on creating your own woodworking starter kit!
Woodworking Starter Tools
The current selection of power tools in any big box store or online is staggering! It can be overwhelming to try to find the right tool for your current skill level that will also grow with you as you become more advanced in woodworking.
If you were to walk into your local home improvement store, you will see a combination of professional tools and consumer-grade tools. Consumer tools are for weekend warriors and DIYer's, who are the target audience of this post. Advanced woodworking or professional woodworkers will opt for commercial-grade tools.
Consumer Grade Or Professional Tools?
The woodworking starter kit below is curated for beginners but some of the tools like your drill and miter saw are worth spending a little more on because you will use them for the rest of your life!
I don't want to include a cheap drill on the list that will only last you a year or two. At the same time, I am looking at options that will fit your budget while still providing a high-quality power tool!
If you use a tool more frequently, you might consider spending a little more. For example, I use my sander all the time so I wanted to spend a little more on one that would be comfortable and last a long time. But I seldomly use a router, so buying a cheaper option was a good fit for me.
Where Should I Set Up My Workshop?
Before buying your woodworking starter kit of tools, it's important to scope out the best location in your home for woodworking projects. If you live in an apartment, you can get creative by using a spare room, outdoor balcony, or even a closet. It's much easier in a home where most people use their basement or garage.
The basement has the added advantage of isolated from outdoor temperatures but a garage is usually easier to access. Where ever you decide to work on DIY projects, make sure to claim a portion for your workbench and tools.
The 7 Best Woodworking Tools for Beginners
What woodworking tools should I buy first?
When getting started in woodworking, there are some essential tools you need for just about every project and others can be added later. After talking with other woodworkers, here are our top picks to create a basic woodworking starter kit.
1. Power Drill – The Most-Used Tool In Your Woodworking Starter Kit
Everyone needs a good cordless drill! This is a power tool you don't want to skimp on because you will use it more than any other tool and want it to last! Fortunately, this drill is really durable and long-lasting at a very reasonable price. For some tips on using a power drill/driver, click here: How To Use a Power Drill

This Black & Decker Drill is compact and lightweight while having a longer battery life than many of its competitors at higher price points. This is a 2-speed drill giving you a lot of versatility. It has a 24 position clutch and uses the Black and Decker Lithium batteries that are interchangeable with many other power and lawn tools.
What's Included? 1 battery and charger are included. See the link below for the drill and driver bits.
Spare Batteries – One a big project, the last thing you want is to stop in the middle to recharge your dead battery. It's a good idea to have one or two extra batteries on hand. You might want more if you are working on a big project like a deck or you can alternate using an impact driver later one.
The listing below is for 2 batteries which is a better deal than buying one:
Black And Decker 20 V Battery – 2 PACK (Click HERE for the Current Price)
Don't forget your drill and driver bits! This listing has them all together in one set:
Black and Decker Drill and Driver Bit Set (Click HERE for the Current Price).
2. Mouse Sander
There are a couple of different types of sanders on the market. A mouse sander or palm sander is for more detailed work and random orbital sanders are for larger projects that are less detailed. Belt sanders are the biggest workhouse of the sander family but you have a lot less control.
I prefer a mouse sander because I have the most control and can still sand large surfaces in a small amount of time. To learn all about how to use a mouse sander, you can read my post here: How To Sand Furniture in Less Than 5 Minutes.
After doing a lot of testing on the best mouse sander (see my post here on The Best Sander For Furniture) I prefer the Tacklife Detail Sander with dust collection system.
This sander has an ergonomic design much like its competition but the top allows you to get a better, more consistent grip for projects with lots of sanding.
The main feature of this sander is the high-performance dust collection which traps the majority of fine dust, allowing you to sand indoors.
What's Included? The Tacklife Mouse Sander comes with a dust collection system and a 12-piece sandpaper grit set. You can find the best deal on this sander here: Tacklife Detail Mouse Sander with Dust Collection (Click Here for the Current Price.)
3. Compound Miter Saw
What is the best saw for a beginner?
It just so happens that the saw that is by far the easiest to use is also the most-intimidating looking. But don't let its looks fool you! Although a compound miter saw is a large power tool, it makes perfectly straight cuts on pieces of wood in very little time.
Literally, all you do is mark your board, put it under the blade, start the wheel turning and bring it down and you are done! Here is an easy tutorial on using a miter saw for the first time: How To Use A Miter Saw
Click this link for a limited time offer on the saw I recommend and use: DeWalt 12″ Compound Miter Saw (Click Here for the Current Price).
This is the absolute best miter saw for the money! Several reviewers are carpenters and said theirs is still going strong after decades.
Our brother-in-law used this saw to completely rebuild all of my in-laws' kitchen cabinets. This won't be the cheapest power tool in your arsenal but it is worth saving up for to easily get very precise angled cuts on wood. We also used it to cut our deck boards when we were rebuilding our deck. It cut through 2″ thick boards with no problem at all.
What's included? It comes with a carbide blade, dust bag, blade wrench, vertical clamp and has comfortable side handles in the base.
Need a Cheaper Option? Try the Metabo 10″ Compound Miter Saw (Click Here for the Current Price.)
4. Kreg Jig
The Kreg jig is an absolute essential for the carpentry starter tool kit. I had never considered that I could build a piece of furniture, much less use something called a Kreg jig. But after one furniture project, I was hooked!
Just like most of my experiences with power tools, I was unsure about using it for the first time, but it was so much easier than I thought! Suddenly woodworking was only slightly harder than building with Legos.
A Kreg jig joins two pieces of wood together quickly and easily, making a much stronger joint than other, more difficult wood joinery techniques.
There are different types of Kreg Jigs. At first, I had an R3 Kreg Jig but quickly realized the K4 Kreg Jig was well worth the extra price. I wish I would have just gotten the K4 in the first place. Here is a great tutorial: A Beginner's Guide to Using a Kreg Jig You can find the jig I use and recommend here: Kreg K4 Pocket Hole System

The Kreg jig requires no glue and no small army of clamps. It can work on various thicknesses of wood creating very strong pocket hold joints easily. The K4 Kreg Jig System has a large clamping recess to secure your jig.
What's Included? Kreg Jig K4, stepped drill bit, 6-inch square driver, starter Kreg Screw set, pocket-hole plug set
Want a Cheaper Option? Here's the Kreg Jig R3 With The Classic Clamp (Click HERE for the Current Price.)
5. Brad Nailer
A brad nail gun is a specialized nailer that is designed for small or detailed wood applications like trim, moldings, and cabinets. Brad nailers are designed to fire brads, which are basically a thin-gauged nail that is ideal for binding lightweight wood.
You might be wondering why I wouldn't just use a hammer and nails? A brad nailer gives you the luxury of quickly inserting a nail with just one hand. It can make a task that needs to be precise quick and painless instead of awkward and painstaking. Here's an easy guide to using a pneumatic brad nailer: 5 Beginner Tips For Using a Brad Nailer You can find one here at a great price: Workpro 18-Gauge Pneumatic Brad Nailer (Click HERE for the Current Price)

The WORKPRO 18-Gauge Pneumatic Brad Nailer is well built, handles well, and is super easy to use. It's compatible with 3/8″ to 2″ brads and any brand will work. Many reviewers stated that it wasn't bulky and was comfortable to grip.
6. Circular Saw
A circular saw (sometimes called a skill saw) is a utilitarian workhorse and very useful addition to the woodworking starter kit of any DIYer. It is most commonly used to make cuts in a straight line on pieces of lumber. Here's is a beginner's guide with some tips to get you started: How To Use a Circular Saw You can find the top pick here: Black & Decker 7 1/4″ Circular Saw with Laser (Click HERE for the Current Price.)
This is a great saw and the laser line makes cutting straight lines easy. Many reviewers recommended getting a new blade because the one that comes with the saw isn't the best quality. However, they said the saw cuts straight lines like a champ. You can look at a selection of 7 1 /4″ blades: Circular Saw Blades (Click HERE for Current Prices)
The motor is powerful and it's easy to operate! Although this is a 7 1/4 inch saw, it's lightweight and easy to hang onto. Whether you are cutting fence pickets or making a bookshelf, this is a great saw that will last for years!
What's Included? This saw comes with a blade and wrench, but be sure to buy a replacement blade as I mention above.
One tool that is especially helpful for cutting large sheets of wood in a straight line is the Kreg Rip Cut Circular Saw Guide (Click HERE for the Current Price.) With this guide, you can make cuts as straight as if you had made them with a table saw.
7. Jig Saw
A jigsaw is not necessarily essential but it is nice to have on hand for detailed or curved cuts. It is super easy to use and you can read some quick tips in my post: A Beginner's Guide To Using A Jig Saw The jigsaw I love to use is the
What I like most about this jigsaw is the curve control technology which allows you to adjust the saw's orbit in 1 of 4 settings. You can even make 45-degree bevel cuts because the shoe is adjustable. Also, it's really easy to change blades. I have had a good experience with this set of blades and they are at a great price: Integra T-Shank Jigsaw Blade Set (Click HERE for the Current Price.)
What's included? An extra blade is included with this saw
The Best Woodworking Hand Tools For Beginners
For a woodworking hand tools starter set, I'd include all of the following as they make woodworking so much more efficient.
1. Level
A level is a must-have for making sure that surfaces are in the same horizontal plane. Smaller levels, often called torpedo levels (Click HERE for the Current Price), are great for making sure each step of your woodworking project is lined up correctly before moving on to the next. A longer level is often called a box beam (Click HERE for the current price) and can also be used as a straight edge as well.

Tape Measure
I always temporarily lose my tape measure so it's nice to have two on hand. This two-pack is the same price as one: Lexivon (2-Pack) 25 Ft Tape Measures (Click HERE for the Current Price).
Clamps

Different sizes of clamps are great to have on hand, especially for woodworking projects. They hold two different pieces firmly in place while glue dries or as you drill holes/set screws. These smaller camps work well for me and are a super low price: Heavy Duty Muslin Clams (Click HERE for the Current Price). It's also a good idea to have a couple of bar clamps on hand: Mr. Pen 4-inch Bar Clamps (Click HERE for the Current Price).
A Speed Square

A speed square helps you mark surfaces for precise cuts on boards. You can also use it as a protractor or tri square. This is the one I use: Swanson 7-inch Speed Square (Click HERE for the Current Price) or you can opt for a combination square here: Irwin Tools Combination Square (Click HERE for the Current Price)
Hand plane
I use my hand plane for trimming portions of wood that would take a lot of time to sand down. For example, warped doors on an old china cabinet can be planed down to fit better. I like this smaller hand plane (Stanley Hand Tools Trimming Plane) or you can go with a larger block plane.
Toolbox
This is not a necessity but it's nice to have one location for all your hand tools. More considerations to keep in your toolbox are a hammer, nails, wood glue, screwdriver, and safety glasses. I'm using an extra toolbox of my dad's but this one looks like it would be great at keeping everything organized and has a reasonable price: Apollo Metal Toolbox (Click HERE for the Current Price)
Renovated Faith: What's in a Name?
More Tools For Your Woodworking Starter Kit
The Best Wood Router for Beginners
A router is used to route or hollow out portions of wood. They are often used on table edges and cabinets to give a specific finish. Here is a great tutorial on using a router for woodworking: A Beginner's Guide to Using a Router A really reliable router for beginners is this one: DeWalt 20V Max Cordless Router (Click HERE for the Current Price.)

When buying a router, it's also important to get the best beginner router bit set: Koowood 24-Piece Router Set (Click HERE for the Current Price).
Everyone's woodworker starter kit will look a little different based on their interests. If you have an interest in woodturning, there is a great starter set on Amazon to help you pick up the basics. This truly is the best wood lathe for beginners because it is low cost but very similar in design to an industrial or professional lathe but on a smaller, easy-to-use scale: Wood Turning Lathe Starter Kit (Click HERE for the Current Price.)
Workbench
A good beginner workbench is one that offers storage space and keeps everything in its place so it's easy to come back to later on. You might consider a tool board to hang tools on to free up space in the drawers of your workbench. As far as a first workbench you can build your own with this beginner plan: Or there are some pre-made workbenches here: Workbench Options (Click Here for Prices).
Work Table
I like having one of these plastic folding tables on hand to work. Our garage floor is not level so I needed a level surface when working on tabletops. You can get them just about anywhere and they fold away for easy storage: 6-Ft Folding Table (Click HERE for the Current Price.)
Best Woodworking Tools for Safety
Be sure to use safety gear every time you are working on a project.
Safety Glasses – Eye protection is essential in woodworking. I like the durability and comfort of these: Bolle Safety Glasses (Click HERE for the Current Price)
Respirator – Next in line of priority is a respirator. I like getting a chemical respirator because it won't just protect my lungs from airborne particles but also paints with high VOC's that can be chemical irritants. I highly recommend this mask: Half Face Respirator Mask (Click HERE for the Current Price).
Ear Protection – For a noisier project where you are using a circular saw or even a miter saw, it doesn't hurt to protect your hearing as well. I like the comfort and effectiveness of these: Noise Reduction Safety Ear Muffs (Click HERE for the Current Price)
Sharpened Tools
Make sure all the blades on your tools are sharp. For blades that cannot be replaced, you can easily have them sharpened. This will ensure that your tools work as they were meant to and you have maximum control.
RENOVATE YOUR FAITH: Let Fear Ride Shotgun
For more spiritual encouragement, click here for the rest of my project posts that also include Renovate Your Faith devotionals.
How To Start Woodworking
How can I teach myself woodworking?
Woodworking is an EASY hobby to pick up on your own because there are so many tutorials online and the woodworking community is incredibly helpful. I recommend checking out Ana White's site here to get you started: Ana White Woodworking Projections
Is woodworking hard to learn?
It's not hard but like anything it takes practice. Don't try to take on too big of a project. You want to ENJOY this hobby for the long-term so work your way up in the difficulty level of your projects as you learn. Here are a few of my own woodworking projects: Furniture Projects from Renovated Faith
What is a good first woodworking project?
Some people recommend that your workbench should be one of your first woodworking projects. For me, I needed something smaller and less daunting if I were to screw it up.
What was my first project? It was a birdhouse! I needed something small that I could take my time on so I could get my feet wet. A workbench doesn't need to be the first tool in your woodworking starter kit. Just focus on learning and enjoying the process.
Woodworking Starter Kit FAQ's
Is woodworking an expensive hobby?
Woodworking can be expensive at first as you are acquiring tools but keep in mind that you will be saving money on furniture and home repairs as you get more comfortable with your new skills.
Can you learn carpentry on your own?
Woodworking is easy to learn on your own. There are tons of videos and tutorials online and the woodworking community is very helpful and willing to help beginners. For true "carpentry", you would need to attend a trade school for cabinet or furniture making.
Should you operate used power tools?
When you get started, it's a good idea to borrow power tools from a reliable source as you don't need to get every tool in your woodworking starter kit at once. This will help to offset your expenses. However, be wary of buying new power tools from unknown sources as this can be a safety concern.
More Posts Related to Basic Woodworking
A Beginner's Guide to Furniture Painting
How To Build a Farmhouse Table (EASY Beginner's Guide With Video)
DIY Farmhouse Coffee Table with Turned Legs (Free Plans)
Best Sanders for Wood Furniture 2020
How to Use a Jig Saw, Step-By-Step Beginner's Guide
OBLIGATORY DISCLAIMER

The viewer assumes all responsibility and liability associated with the hazards of the power tools listed in this woodworking starter kit. Renovated Faith is not responsible for any errors or omissions that may be present in this tutorial. She also assumes no liability for any action or inaction of a viewer.

Please use extreme caution when using power tools. Read your tool manual thoroughly and wear protective safety gear. Take your time familiarizing yourself with a tool before using it.

Please recognize that I have tried to put together a basic jig saw usage tutorial to get you started. I have tried my best to show the safest way to use a jig saw. That being said, I am not a professional (I only play one on this blog .)
Final Thoughts on Must-Have Woodworking Tools
Don't forget to download my Free Furniture Painting Cheat Sheet. To get your printable, sign up for my weekly newsletter which also grants you free access to my resource library full of wall art printables, checklists, and project plans!
There are so many power tools on the market and it can be challenging to know which to pick as a beginning DIYer. This woodworking starter kit lists tools that are not only affordable and easy to use but are also will work great for more advanced projects as you skills grow. Now you can be confident you have the right tools, you will have the best time beginning your woodworking hobby and never ever have to fear power tools again!
I love to hear your thoughts and questions! Scroll down to leave a comment and I WILL reply! ❤️
Blessings,
Be sure to follow the fun here!
Woodworking Starter Kit for Beginners