The 33 Most Popular Colors To Paint Kitchen Cabinets (In REAL Homes!)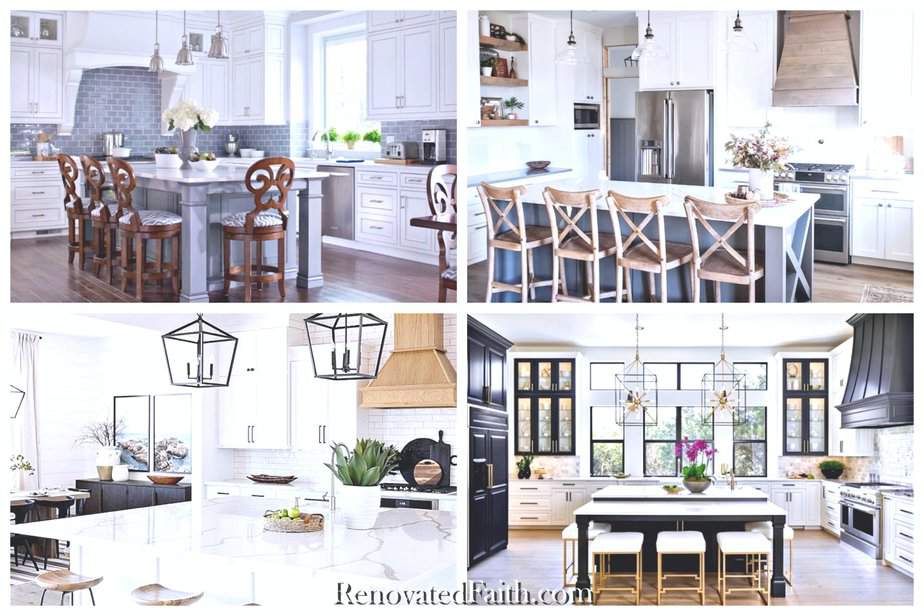 How to Choose A Paint Color for Kitchen Cabinets Easily
This list of the most popular colors to paint kitchen cabinets will help you find the perfect shade to transform the look of your kitchen!
---
Changing the color of your kitchen cabinets is such an easy way to add beauty to the most important room in your house.
Randomly picking a paint sample for a sample deck is risky business. Any undertones you can't see on that tiny paint swatch are going to be all too apparent when you get them on your cabinets!
The result is either going to the trouble of repainting or living with a cringe-worthy cabinet color.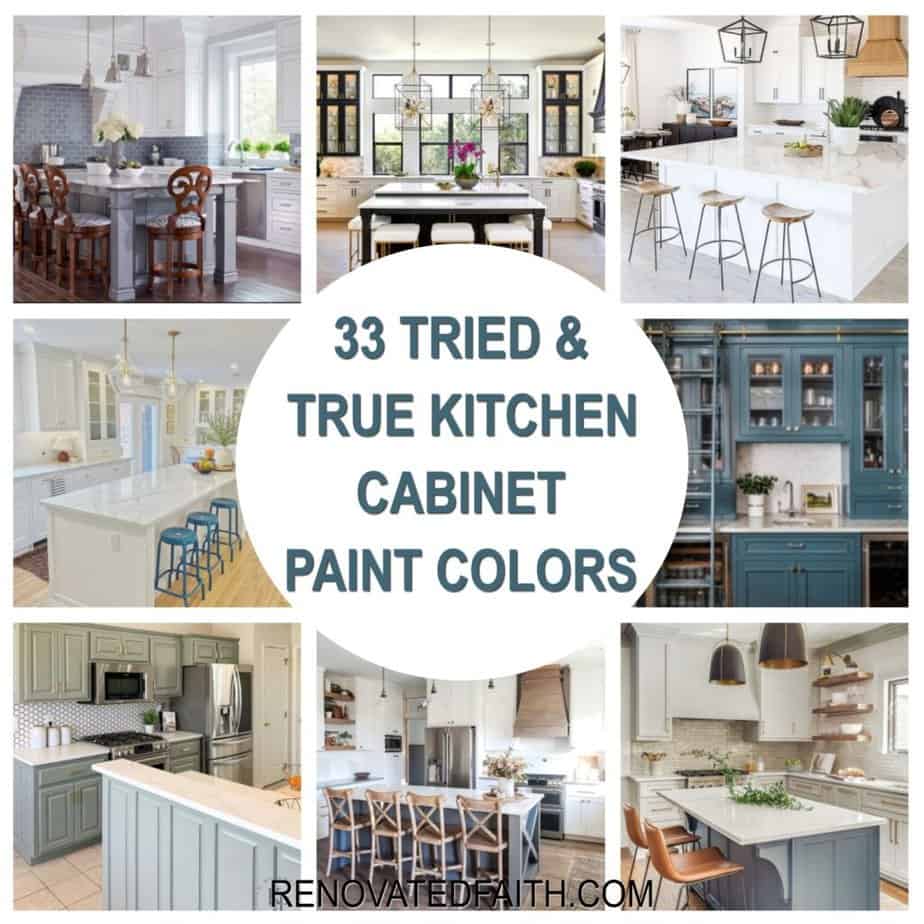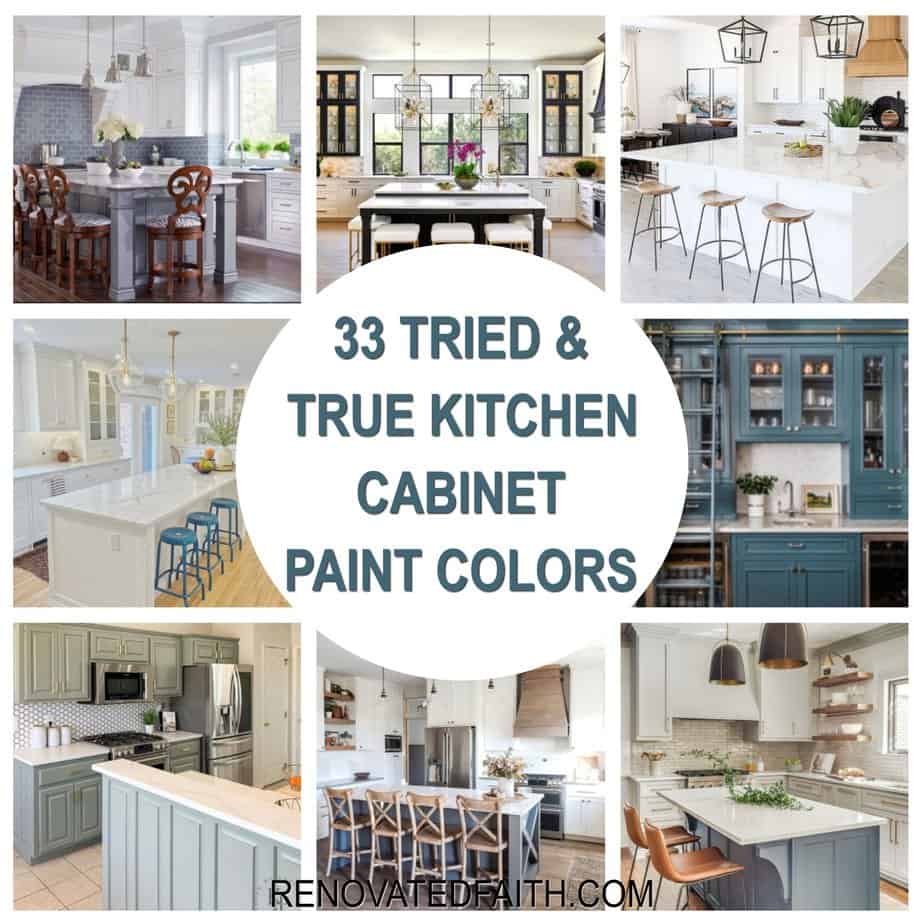 Fortunately, this post will give you the safest, tried-and-true colors for each color category that won't leave you with any surprises on painting day! (Don't forget to check out my step-by-step DIY guide on painting cabinets like a pro and the results of blind-testing 24 of the best cabinet paints!)
LET ME SHOW YOU:
The most reliable paint colors for kitchen cabinets for each color category
Timeless looks and trending colors for 2022
What you need to consider when picking the best cabinet color for YOUR home
Why God's ways are always better in this week's Renovate Your Faith devotional at the bottom of this post
CLICK BELOW TO PIN THE MOST POPULAR COLORS TO PAINT KITCHEN CABINETS!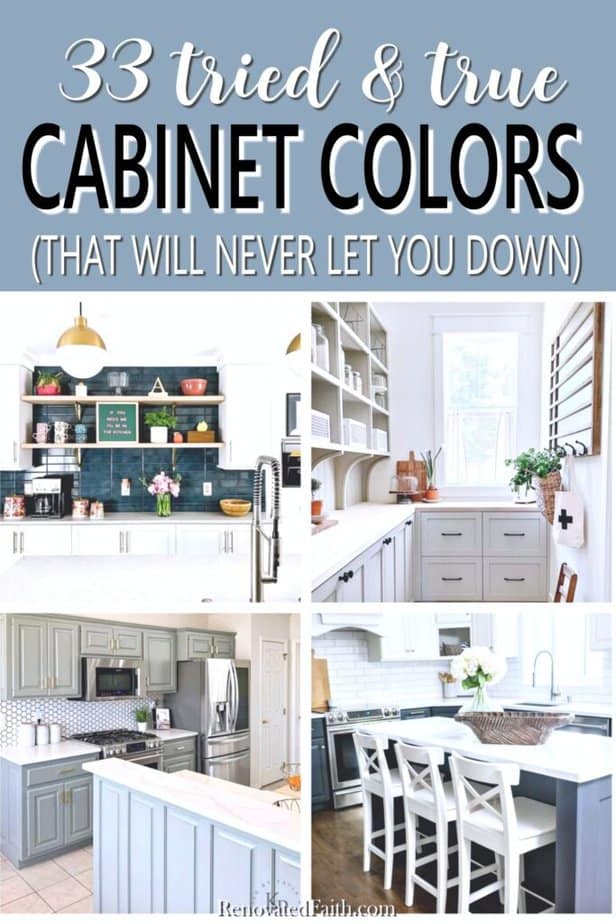 (As an Amazon affiliate I earn from qualifying purchases. Please see my full disclosure HERE).
Important Considerations: What Color Should I paint my Kitchen Cabinets?
Whether you want something timeless and traditional, modern with a pop of color, or a little of both, these interior designer favorites will give your kitchen a new look you will love!
But there are some things you should consider before you delve into searching for a cabinet color. Not every color is going to work for every space and style:
The Style of Your Cabinets and Home
The style of your cabinets and overall decor will influence what color to paint your kitchen cabinets. For example, cabinet doors and boxes with detailed traditional trim are going to look out of place if you paint them a deep turquoise.
Vibrant colors work better for modern and contemporary cabinet styles with straight lines and simple molding.
Make sure your cabinet style is consistent with the paint color you choose so that every aspect of your kitchen's style is seamless.
Also, make sure that your cabinet color relates well to the style in the rest of your home. I'm not saying you can't go from farmhouse decor in your living room to a slightly more coastal feel in your kitchen. But incorporate neutral colors and finishes that provide for a smooth transition from room to room.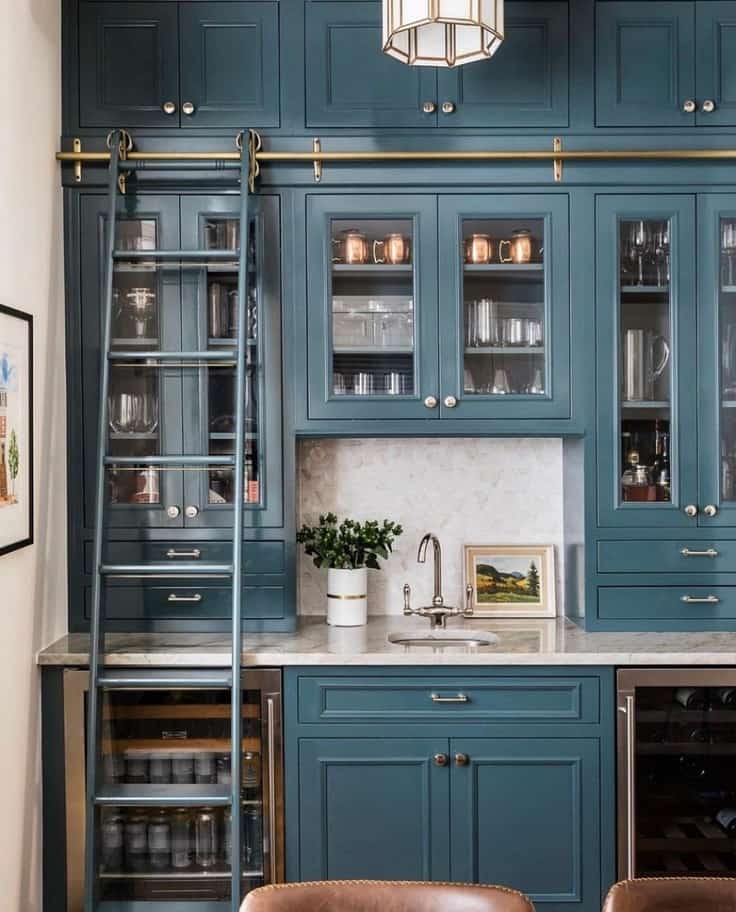 Should you Paint Your Island or Lower Cabinets A Different Color?
A really popular trend is going with a neutral like white or light gray on your cabinets and then adding a bold color to your island. I love this style because it gives your kitchen some personality without being tied down to a single bright color.
If you go this route, you can get away with a slightly brighter shade on your island. For example, in my kitchen, I thought about painting all of my cabinets a blue-gray.
And in a few years, if trends change, it's so easy to just repaint your kitchen island instead of all the cabinetry.
If you are painting all of your cabinets a brighter color, you want to lean hard into the most neutral and subtle shades of that color tone because a wall of cabinets in a shade that is too bright will be overwhelming.
But you can get away with a slightly brighter color on the island because it works as an accent color. That's why I went with Benjamin Moore Van Courtland Blue on my island. If I had put it on all of my cabinets this color would be way too bright but with it just on the island, the pop of color was contained.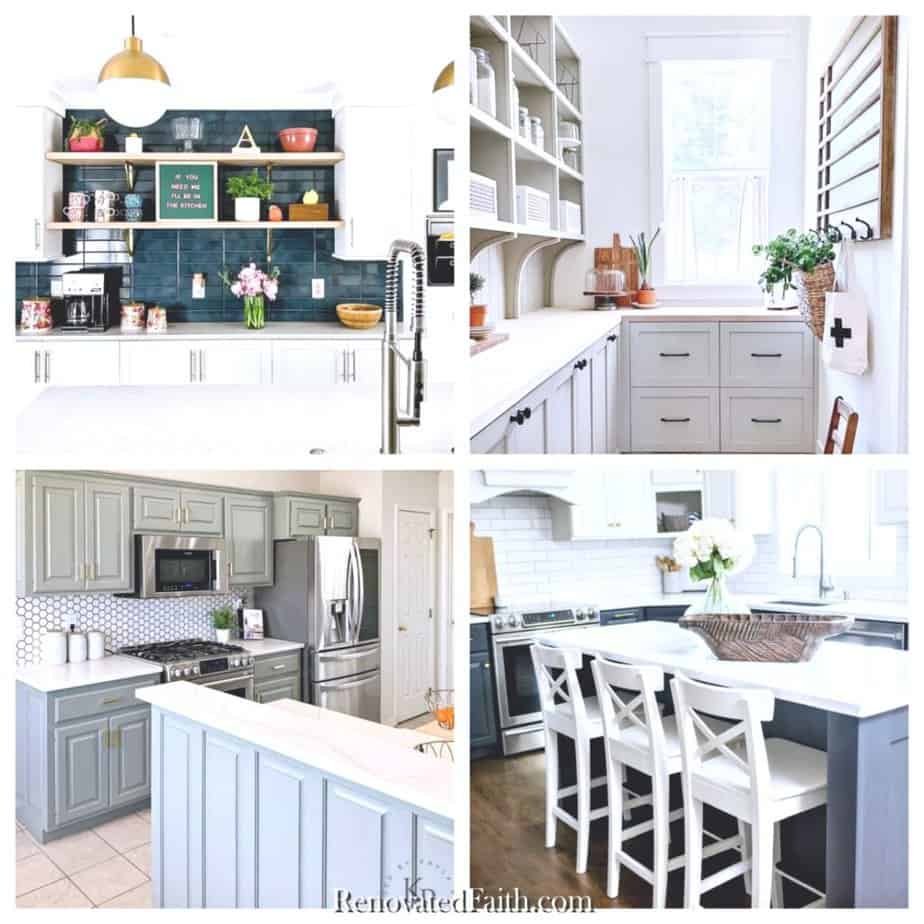 Thinking of Painting Your Upper and Lower Cabinets a Different Color?
Painting your upper cabinets and lower cabinets a different color is another modern look. If you do this, you have to be very careful that both shades coordinate and that one is not more overpowering than the other.
I'm not saying you have to hire an interior designer to get this look, but make sure the two shades complement each other without being too close in color or too contrasted.
The above pictures illustrate that if you go with a darker color on part or all of your cabinets, you need to balance the look with a lighter floor. This kitchen provides nice contrasting while embracing the warmth of the lighter flooring with gold accents.
The Size of Your Kitchen
If you have a small kitchen, consider a light color like a crisp white or light gray. Lighter colors open up small spaces, making them feel light and airy.
A deep navy or black in a small kitchen will likely make it feel cavernous. If you go with a dark color, make sure that there are lighter finishes in your home to provide some balance.
RELATED: How Much It Costs to Paint Kitchen Cabinets (DIY or Hire a Pro?)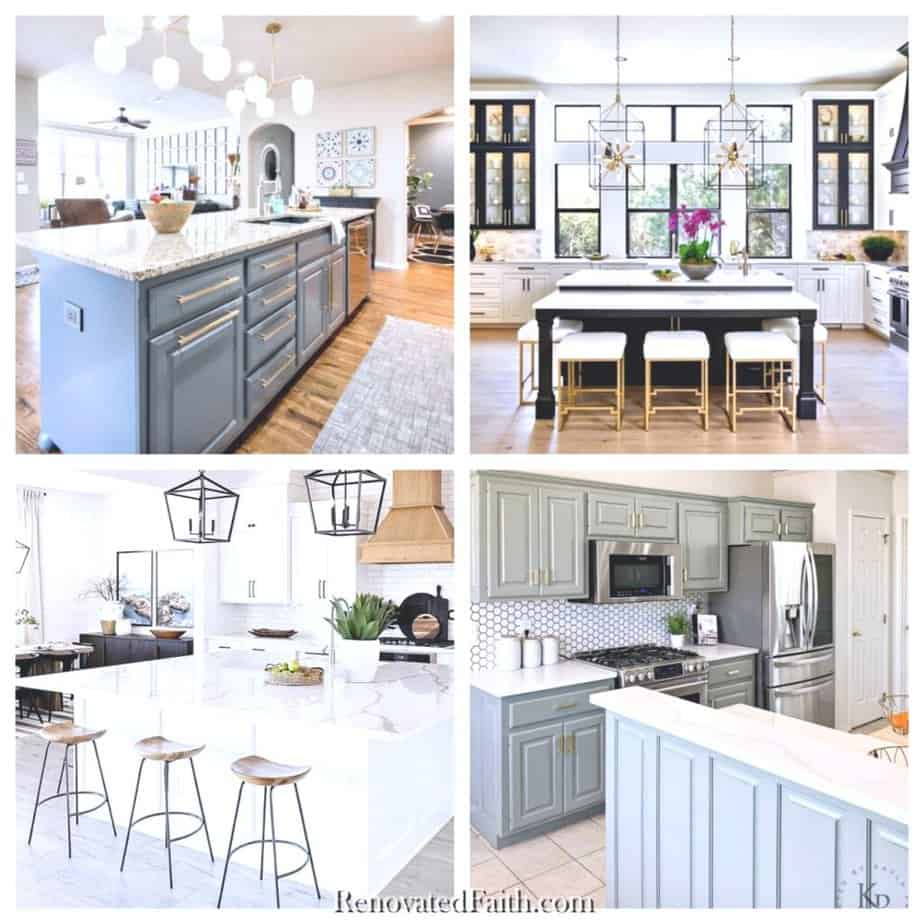 The Natural and Artificial Lighting in your Kitchen
You can't achieve "light and airy" without light and if you don't have enough light coming in your windows, you'll need to add brighter lighting that fills the space evenly.
Good lighting can make all the difference in the feel of a kitchen but not all of us are blessed with big windows. I recommend using daylight LED bulbs because they do a good job of creating light that resembles sunlight as opposed to soft white bulbs that can be too warm.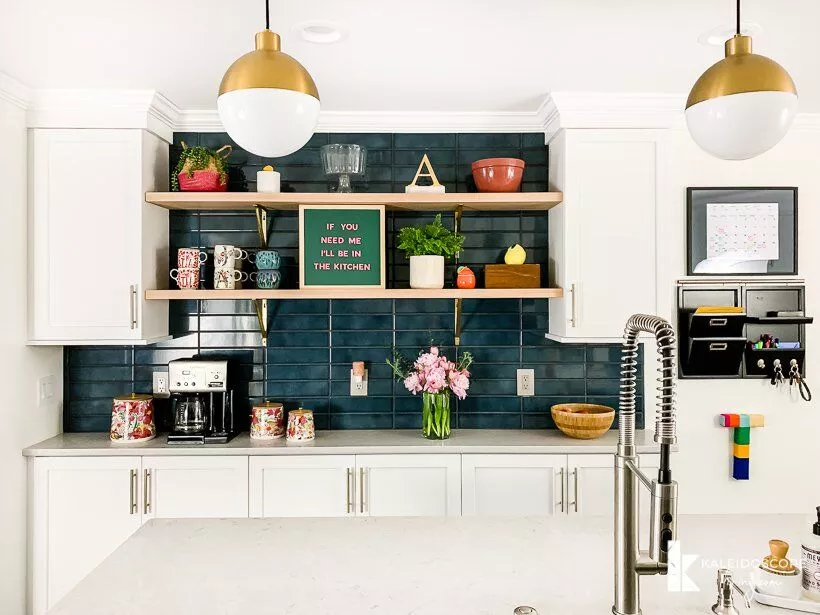 The Colors of Your Finishes
Be sure to consider the colors of your flooring, walls, and appliances. If you have dark floors, don't choose a dark cabinet color because your kitchen will look like a cave. Instead, opt for light colors!
Also, you want to have enough contrast to make the space look interesting. If you have really light floors your kitchen can handle darker cabinets.
Always take your backsplash and countertop colors into account when picking your cabinet paint colors. For example, a cool gray is not going to go with granite cabinets with warm, amber undertones. But you can go with a greige which gives you the look of gray while still neutral enough to coordinate with your countertops.
Do Your Research to Find YOUR Favorite Cabinet Paint Colors
Trends are great as long as you love that style even when it's not trending. In other words, go with a look you absolutely love and you will be sure to find a cabinet color that will be happy with for years!
Spend some time online to get plenty of ideas. Pinterest and Google are great sources for pictures of painted kitchen cabinet ideas to help you get a feel of what you like and what would work well with your style and kitchen layout.
☑️ Wondering the best order to paint your door fronts, door backs and cabinet boxes? Don't start your cabinet painting project without these time-saving tips the pros use. You can get them free by subscribing to the weekly email here:
FREE STEP-BY-STEP CABINET PAINTING ROADMAP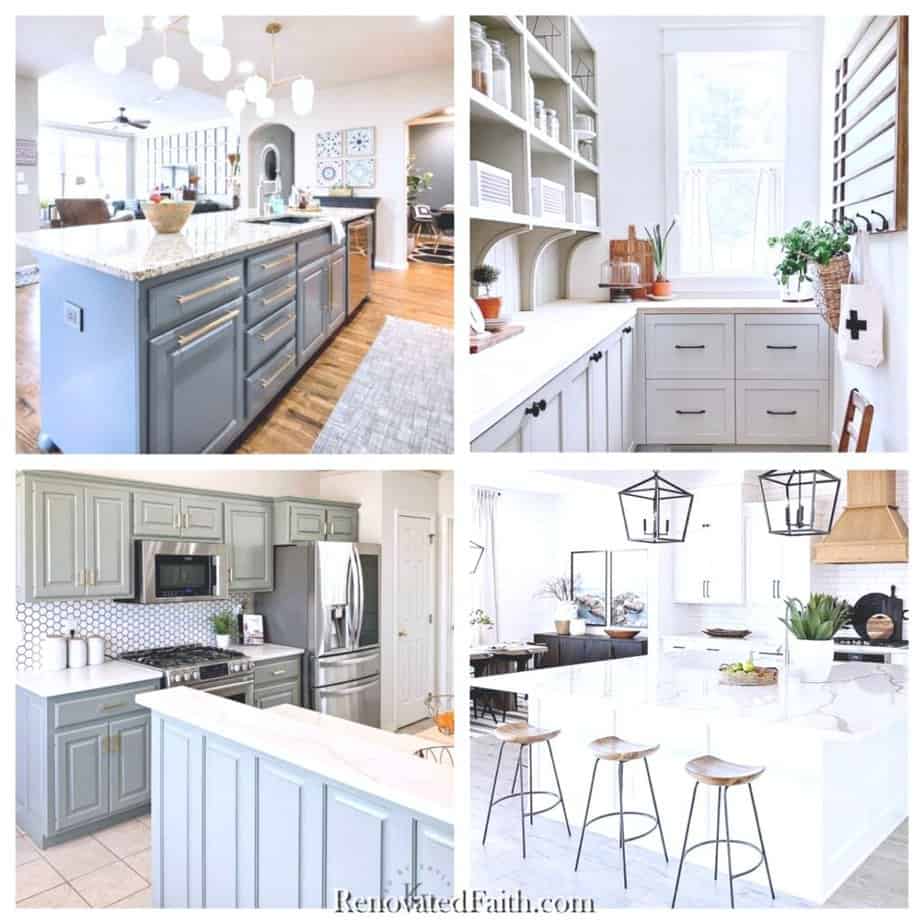 The Best Colors for Kitchen Cabinets 2023
Now that you know some different options for kitchen cabinet paint colors, you can use the color categories below to zone in on particular shades.
Don't forget to check out the video that goes along with this post as well as my other videos for DIY projects: Popular Paint Colors to Paint Kitchen Cabinets, YouTube Video
The Best Neutral Cabinet Colors
Neutral color options are always a safe bet that will give you a timeless look with lots of character. This category includes mostly grays, greiges and white paint colors.
Gray and Greige Cabinets
Gray cabinets are not only the most trendy color today but they also have a lot of benefits over white is you want a classic, traditional look.
Gray shades show brush strokes and dirt much less than white paint. Also, light gray paint colors don't wash out the look of your kitchen easily.
Sherwin Williams Amazing Gray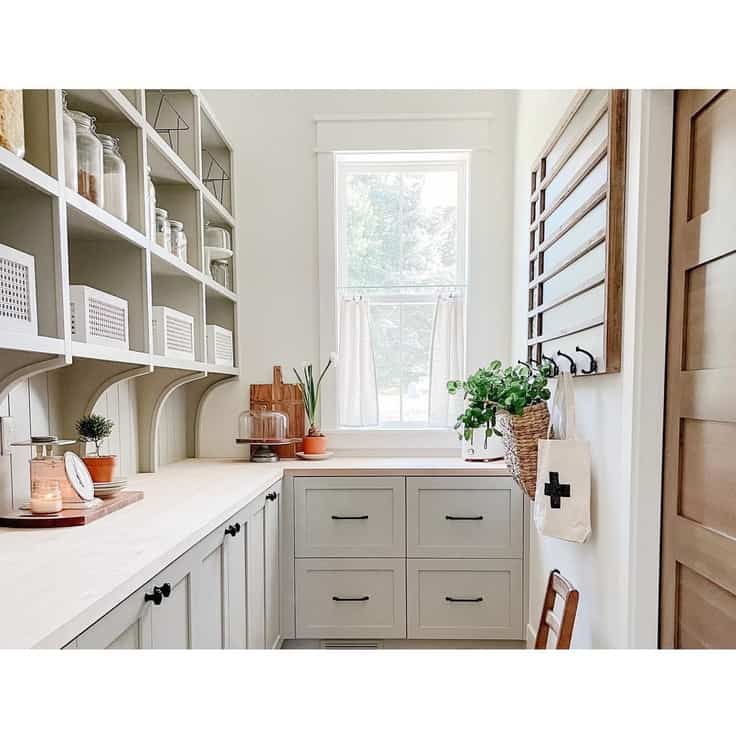 Grays and greiges are an extremely versatile color group as they come in an array of warm and cool undertones so you can be confident there is a perfect shade for you!
Sherwin Williams Passive Gray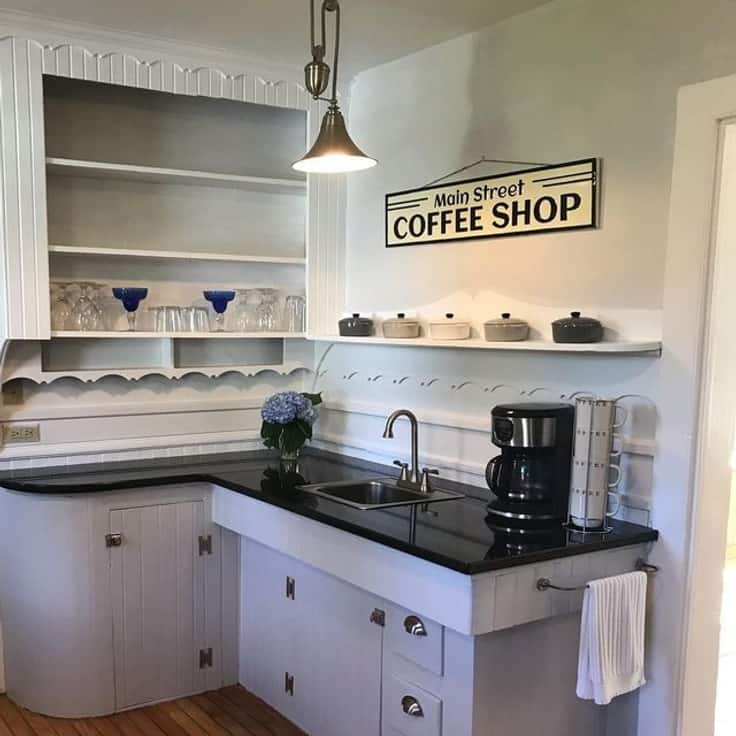 Sherwin Williams Mindful Gray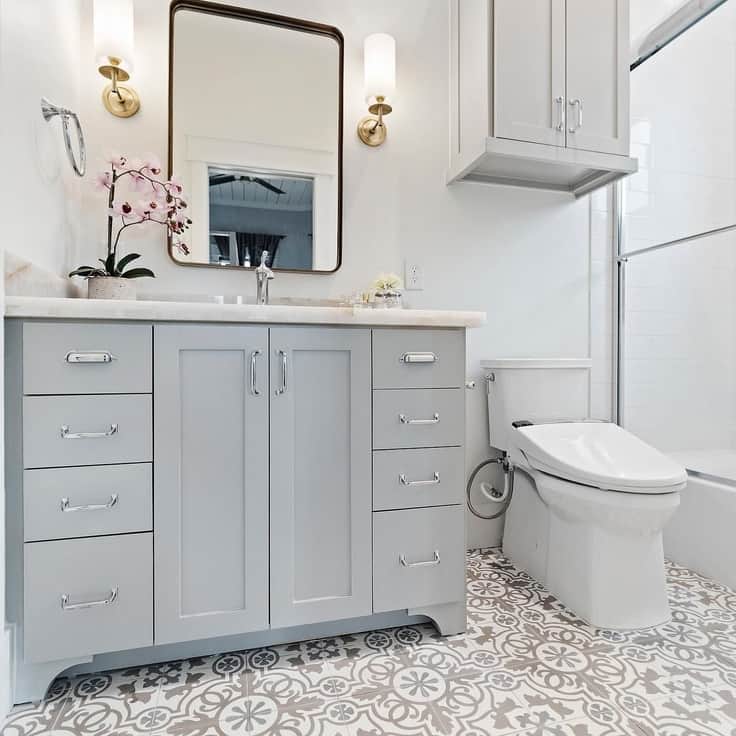 Warm Grays are a great option because they are more warm and inviting than cooler grays and allow your kitchen to look light and airy without looking too cold or sterile.
Sherwin Williams Light French Gray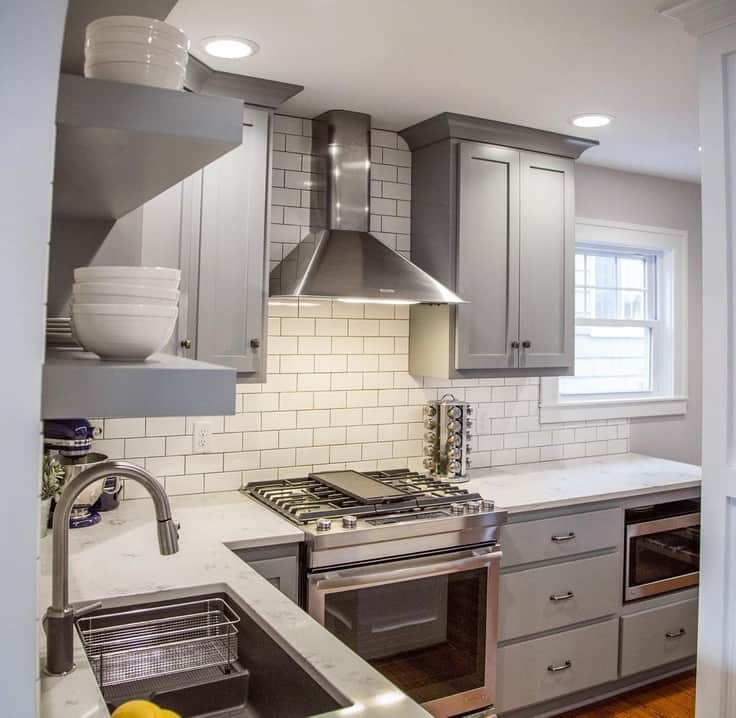 Sherwin Williams Agreeable Gray
Sherwin Williams Agreeable Gray holds a special place in my heart, and you can see why here: Agreeable Gray Review It has an incredibly balanced color between warm and cool undertones making it one of the most versatile colors for cabinets and walls.
Sherwin Williams Agreeable Gray at 50%
For the look of shaded white, I personally prefer Agreeable Gray at 50% over Benjamin Moore Swiss Coffee because I feel like Agreeable Gray has more gray undertones without being too cool. It all depends on the look you are going for as they are both gorgeous cabinet colors. Fortunately, BM Swiss Coffee works as a warm gray without overdoing the yellow undertones.
Other great gray and greige paint options are Sherwin Williams Repose Gray, Benjamin Moore Stonington Gray, and Benjamin Moore Revere Pewter
Renovated Faith: What's In A Name?
God never leaves a project half-done…He is always working on each one of us, as a lavish expression of His amazing love and grace because he loves us too much not to transform us. So many of my DIY projects remind me of how God renovates our hearts. If you are a work-in-progress, just like I am, check out the Renovate Your Faith Devotional at the bottom of this post. Click here to get a weekly reminder of new posts by adding your email address.
The Best Colors for White Cabinets
White cabinets come in an array of different shades. You can choose a crisp color like Sherwin Williams Pure White or something more shaded like Benjamin Moore Swiss Coffee.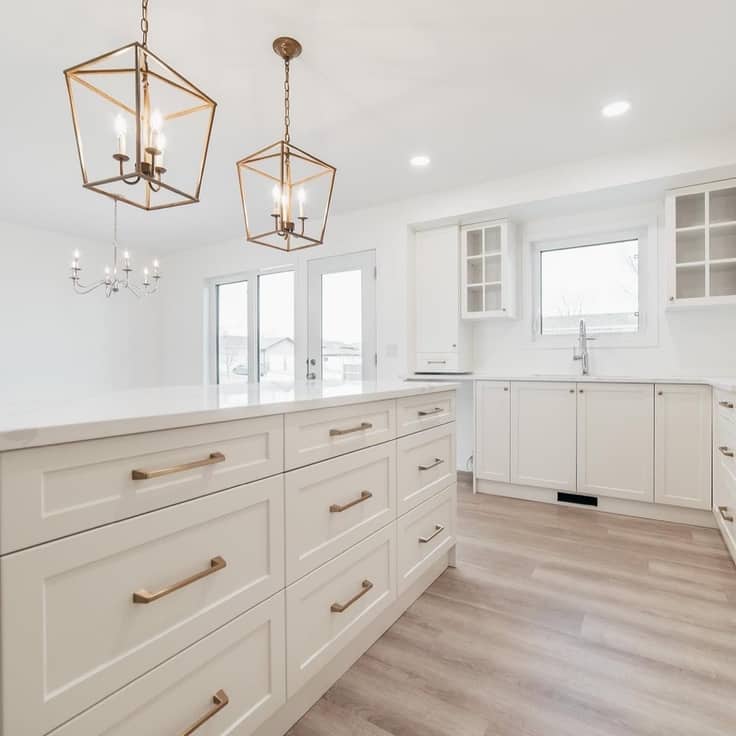 The important thing to remember about white kitchen colors is that you need to pick a white shade with the right undertone for YOUR kitchen. I show you exactly how to do that here: 25 Popular Kitchen Paint Colors With White Cabinets
For example, I picked Sherwin Williams Alabaster for my kitchen with SW Agreeable Gray Walls because I needed a color that slightly warm without a real creamy yellow undertone.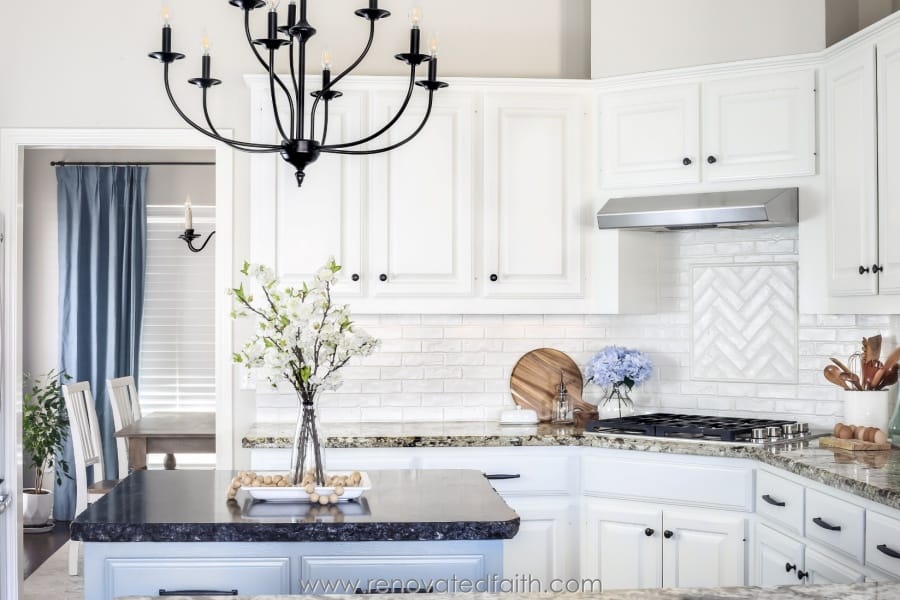 Picking the best white with the right undertone deserved a post in itself. Here is the ultimate guide:
How to Pick The Perfect White Kitchen Cabinet Color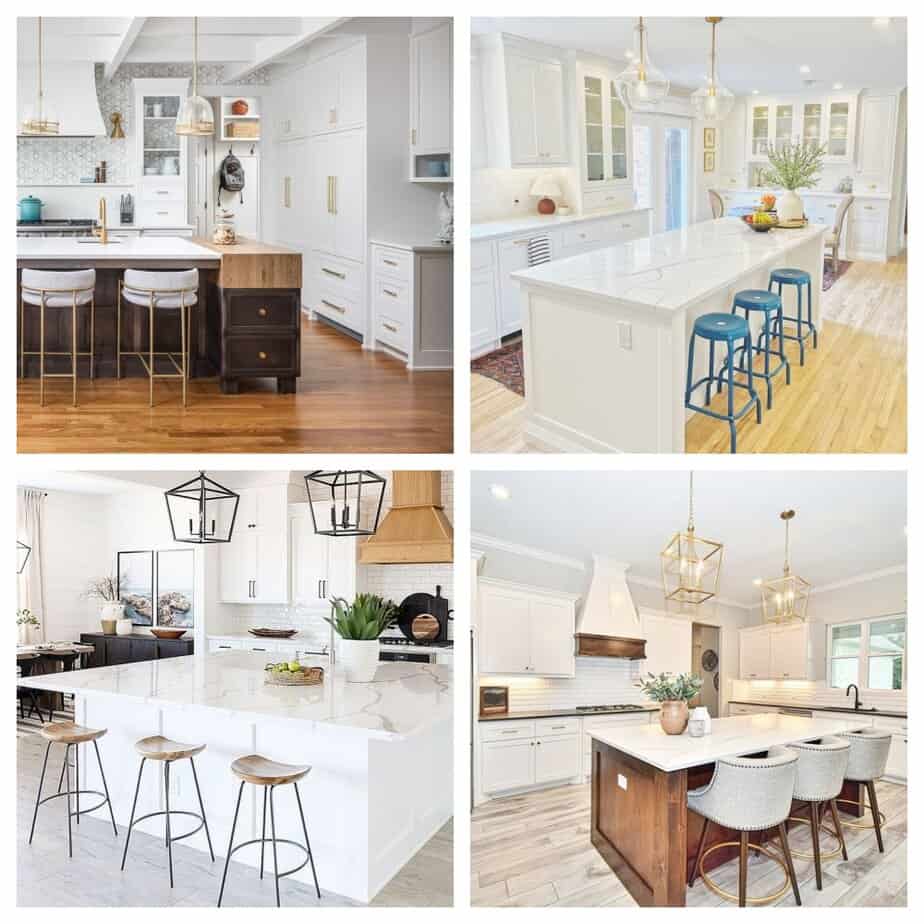 White is the most popular color for kitchen cabinets not only because it gives even the smallest kitchens a light and airy look, they also give you lots of flexibility with your decor.
Also, don't forget to check out this post where I blind tested over 24 different white paints: The Best Paint for White Kitchen Cabinets
The best colors to paint kitchen cabinets for resale
The most popular paint colors for resale are going to be crisp whites, shaded whites or greiges. These are all colors that appeal to a wide audience and can accommodate different decor styles. If you want to go for a pop of color, paint the island a blue-gray or mid-tone green. This will give your kitchen lots of personality and if the new buyers don't love it, it's very easy to change.
Popular Colors to Paint Kitchen Cabinets Green
Mid-tone greens have a soothing, natural appeal that has made them one of the most popular kitchen cabinet colors today.
Green can have a calming effect to even the busiest of kitchens, especially with a restful gray undertone.
Here are some of my favorite greens that are a popular choice for any kitchen, no matter your style.
Sherwin Williams Adaptive Shade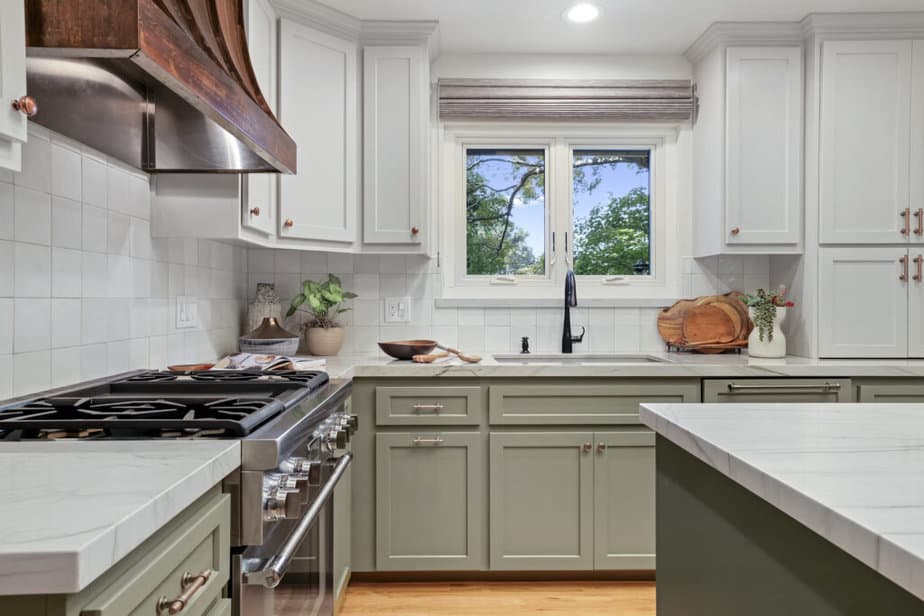 This kitchen by @kbcrate shows how to execute green in your kitchen so it works as a neutral and gives you a pop of color on the island. They use SW Adaptive Green on the lowers and Sherwin Williams Worldy Gray on the uppers for just enough contrast.
Sherwin Williams Halcyon Green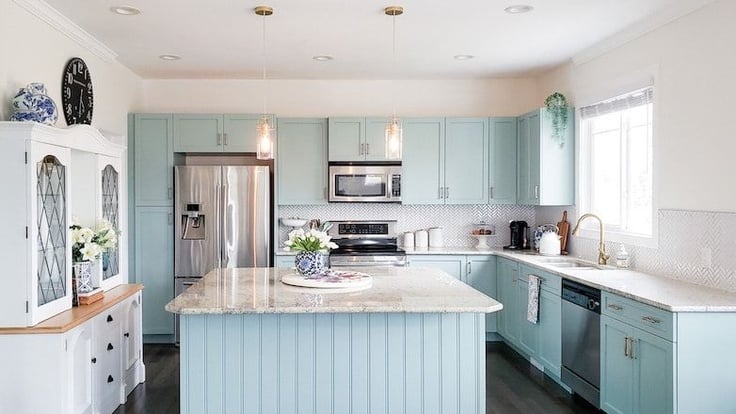 SW Halcyon Green is a great option when you want to dress up your kitchen with a green shade that has a blue undertone. I love how fresh and colorful this kitchen looks without being too bright!
Sherwin Williams Palm Leaf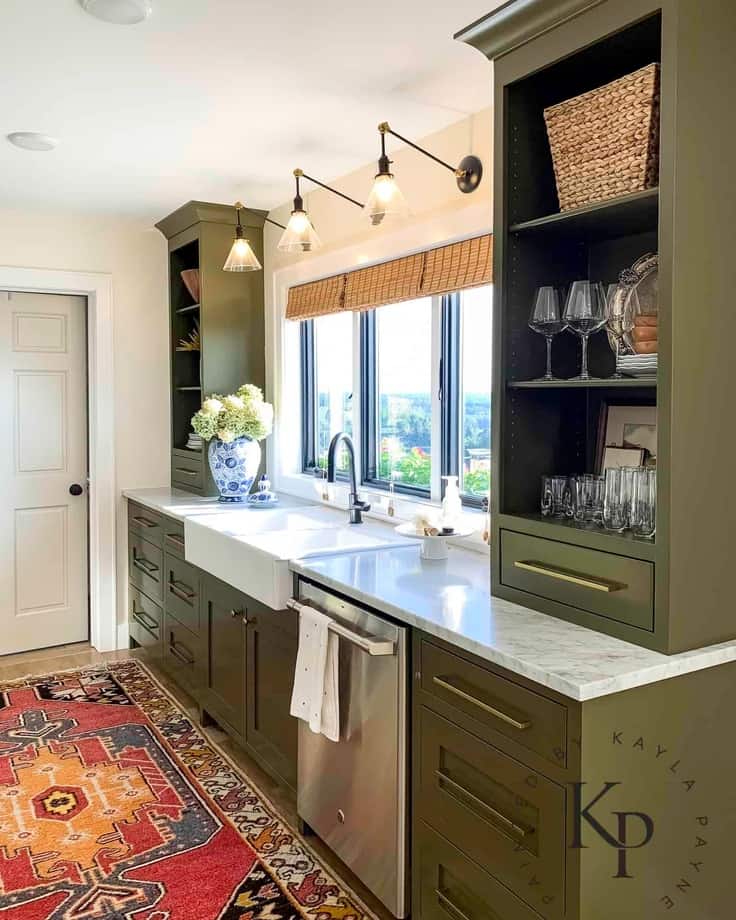 Kayla knocked these kitchen cabinets out of the park with these upper and lower cabinets in Sherwin Williams Palm Leaf. It is a stunning green if you want an olive green that works well with warm accents.
Sherwin Williams Oyster Bay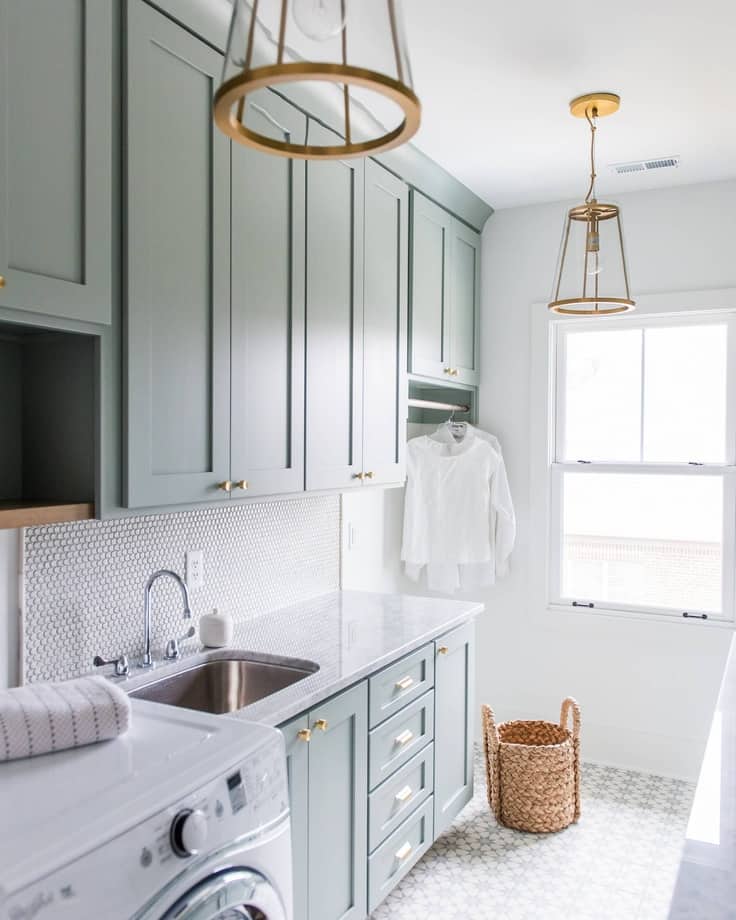 This laundry room by MAWR design group shows how Sherwin Williams Oyster Bay looks in a room with lots of natural light. I love how balanced SW Oyster Bay is in cool and warm undertones making it my favorite mid-tone green paint color.
Sherwin Williams Evergreen Fog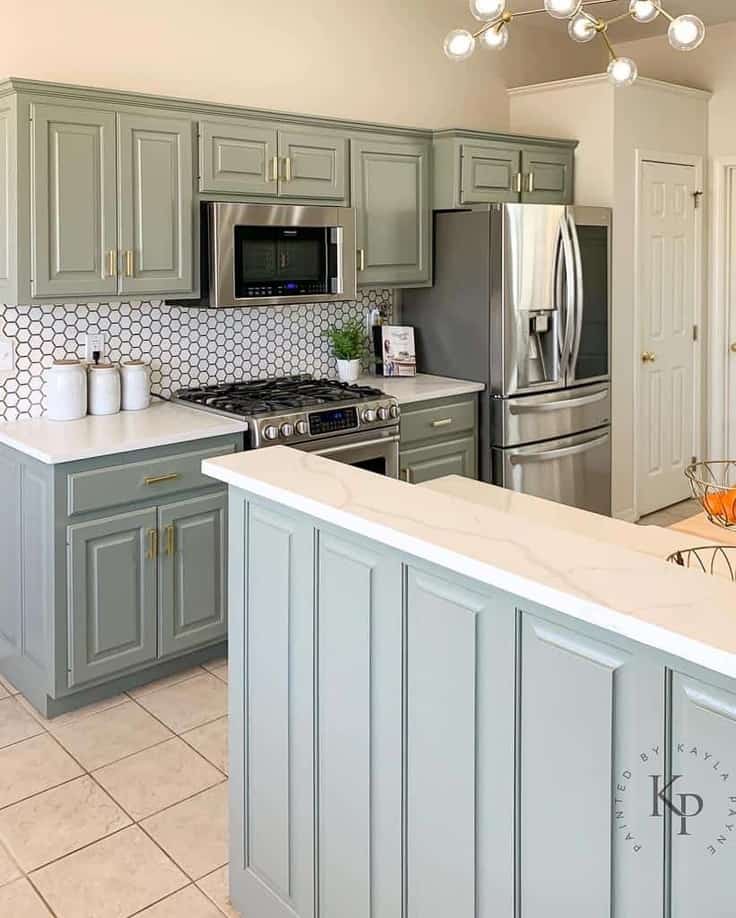 Some other gorgeous greens are Benjamin Moore Enchanted Forest, Benjamin Moore Hunter Green, Benjamin Moore Intrigue, Benjamin Moore Hillside Green and Farrow & Ball Green Smoke.
Blues and Blue-Gray Color Choices for Cabinets
One of the biggest trends is painting cabinets in a blue or blue-gray shade. Because of the gray undertone, it gives these grays a more neutral quality and makes for an absolutely dreamy kitchen in any home.
A word of advice though, if you go with a blue for all of your kitchen cabinets, go with one that leans heavy to the gray side. Sometimes colors don't look very bright on a tiny paint swatch but when you get them on an entire wall of cabinets, they can be too much. So go with grayer blues if you are doing all the cabinets.
Seaside by Fusion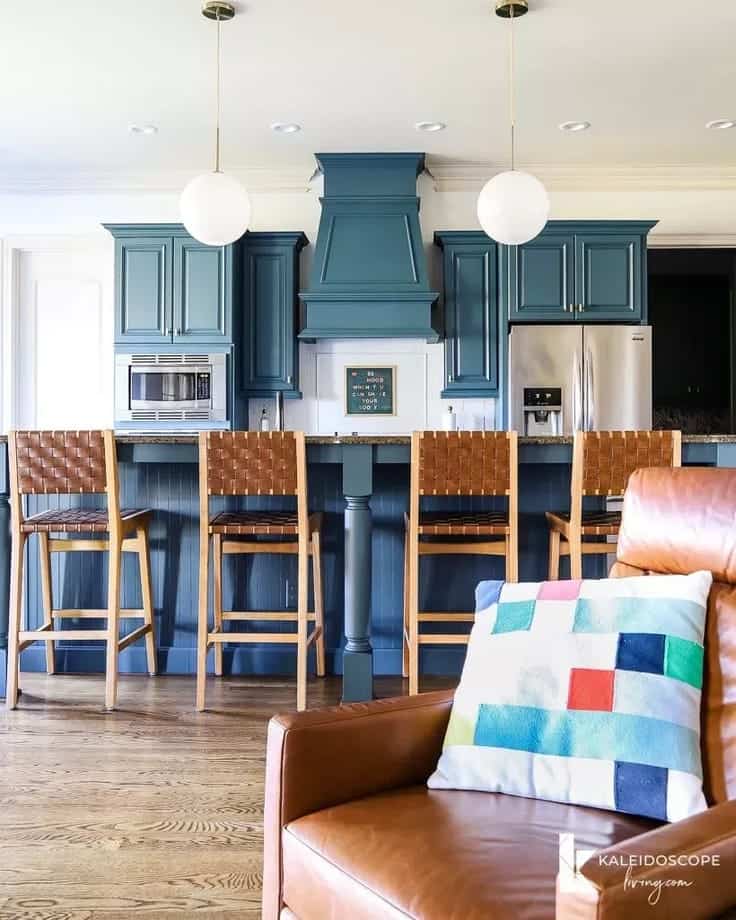 For an island, you can get away with a brighter blue like I did with my own kitchen. When you go with a smaller amount of blue on an island, it works more as an accent color and gives lots of personality to any kitchen!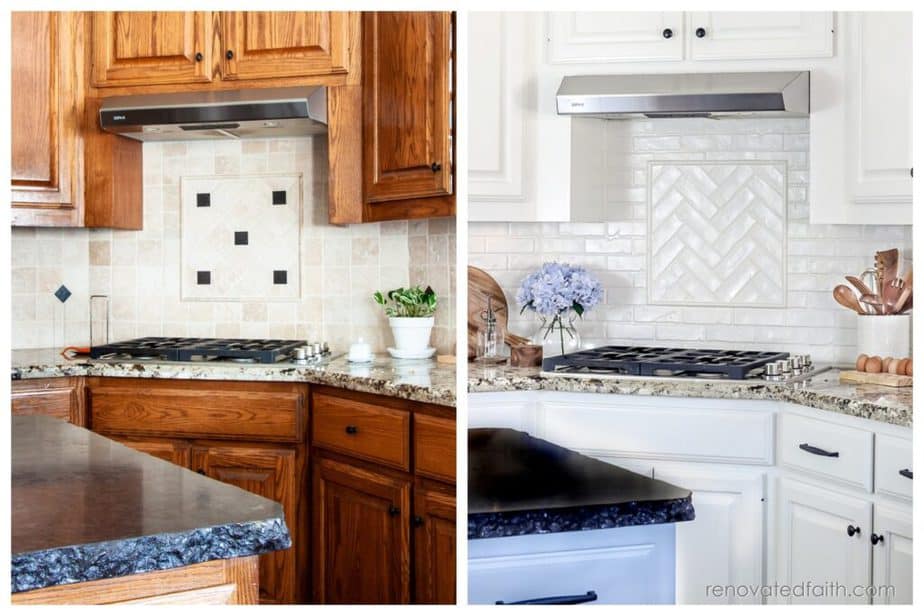 Because blue is my hand-down favorite paint color, I have an entire post on blue and blue-gray paint colors that will show you everything you need to know about picking the right shade:
The Best Blue and Blue Gray Cabinet Paint Colors
Popular Colors to Paint Kitchens Dark Gray
Don't be afraid to go with a darker shade to give your space drama and sophistication. But if you go with a darker gray or navy on your cabinets, you'll want to make sure you have lighter finishes.
Sherwin Williams Gauntlet Gray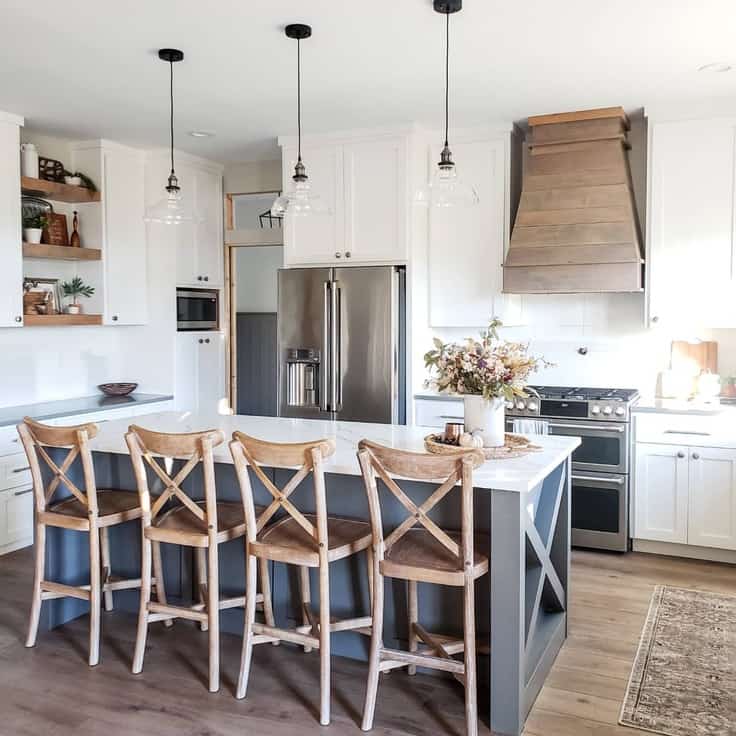 A white backsplash or white oak flooring are the perfect compliments to ensure that the dark cabinets aren't too overpowering. Too many darker colors in one space will make it look smaller and drab.
Benjamin Moore Amherst Gray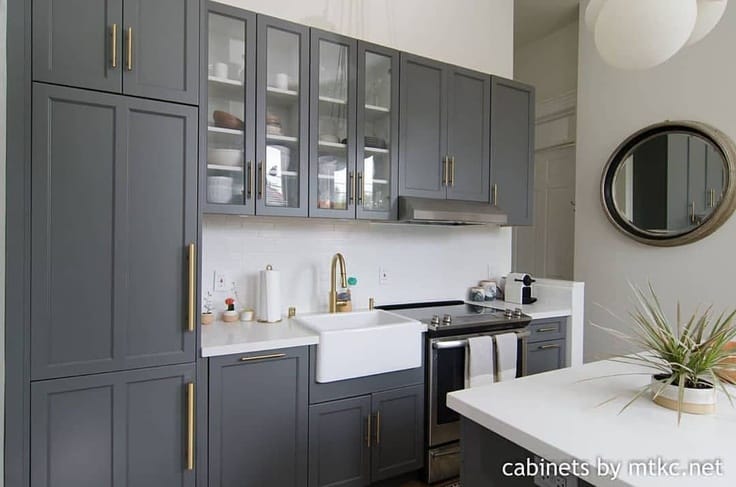 MTKC does an excellent job of incorporating a darker gray on their cabinets without making the room look too dark. They accomplish this with the white backsplash, white countertops and a light greige wall color.
Sherwin Wiliams Dorian Gray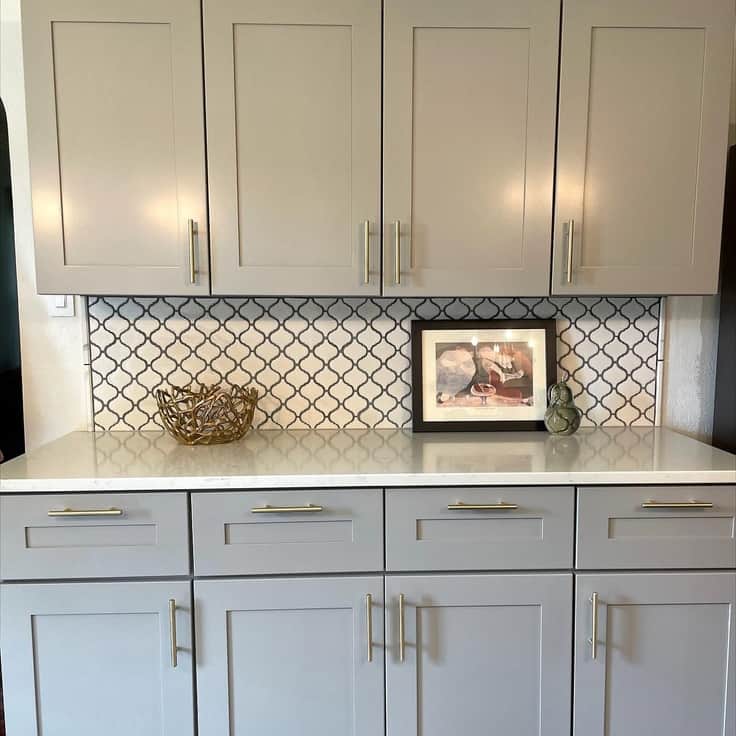 You can also go with a more detailed backsplash and a lighter gray to give your kitchen personality without looking too busy.
Benjamin Moore Cheating Heart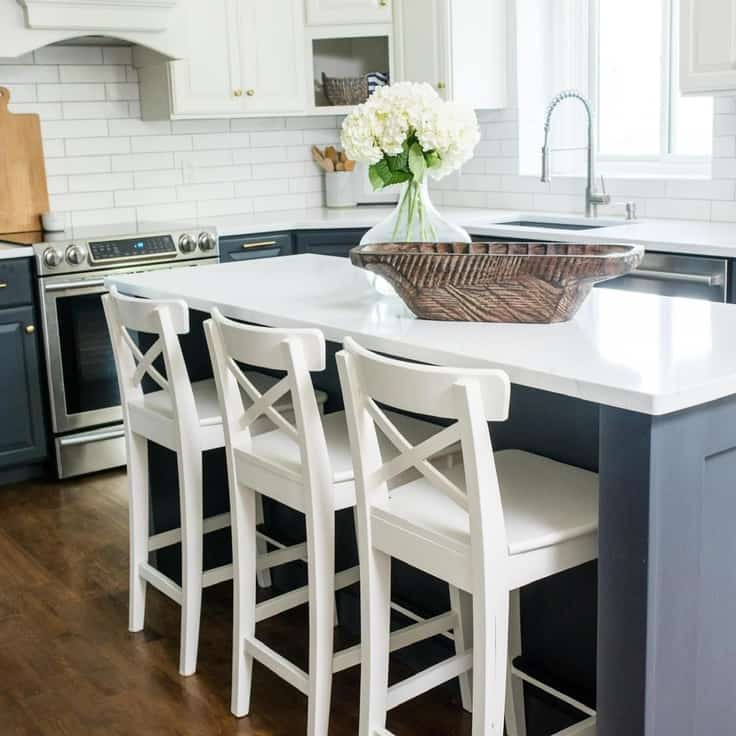 Theissan Design Company opted for a dark gray only on the lowers and island. This gorgeous kitchen just goes to show that balance is key when going with a darker gray cabinet color
Benjamin Moore Wolf Gray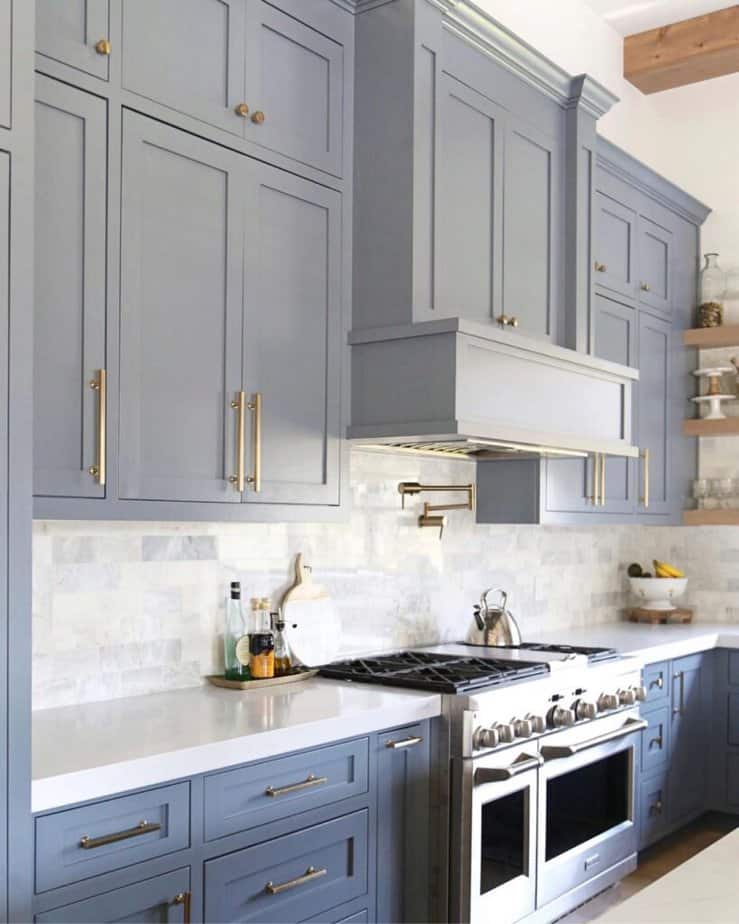 The blue undertones of BM Wolf Gray make this kitchen a room you'll never want to leave. The matte gold hardware adds the cherry on top of this stunning kitchen.
Popular Colors to Paint Kitchen Cabinets Black
Black is another great option if you want your kitchen to look moody but classic and sophisticated. I love the way black paint makes gold hardware pop for a classy feel in any kitchen.
Cole Black by Fusion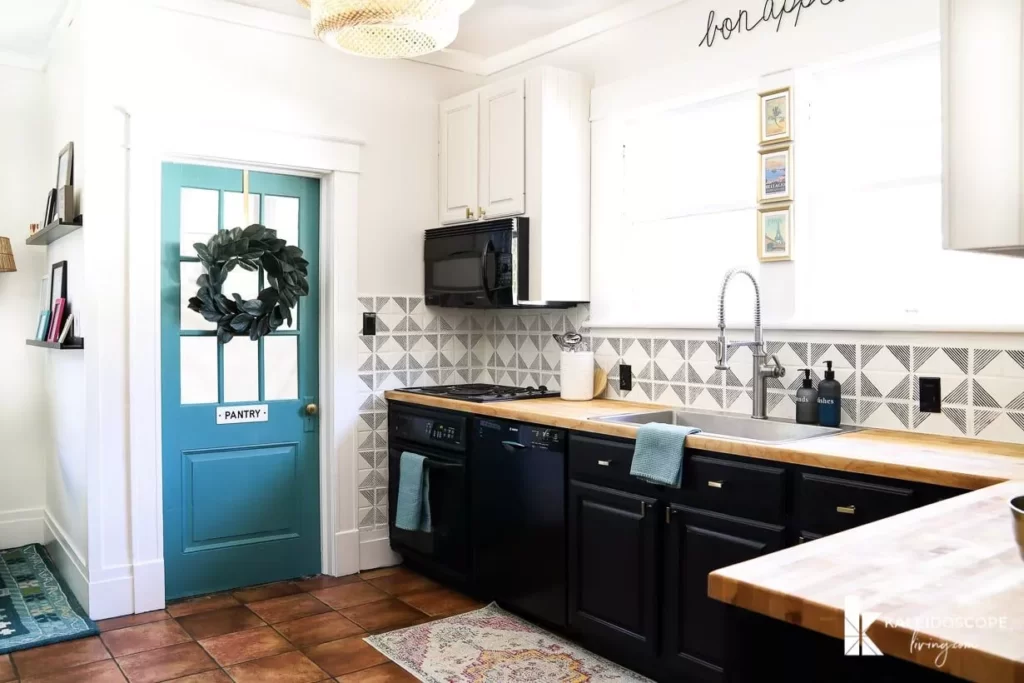 As I mentioned with dark gray, black cabinets have to fit in an existing space with lighter elements in order to balance the room. If you don't have lighter elements, go with a lighter gray to get the same dramatic feel.
Benjamin Moore Onyx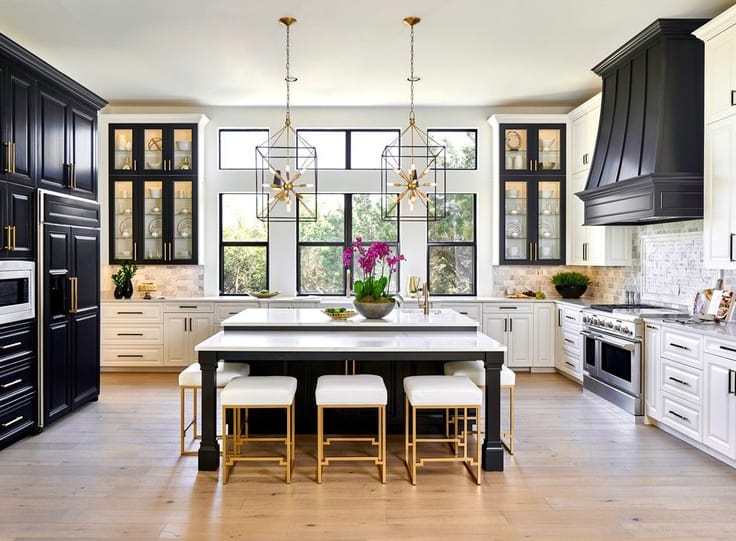 This kitchen by Paper Moon Painting is the perfect example of incorporating black in your kitchen while still achieving "light and airy". The matte gold hardware and warm lighting in the upper cabinets go a long way in making this black and white kitchen cozy and comfortable.
Sherwin Williams Tricorn Black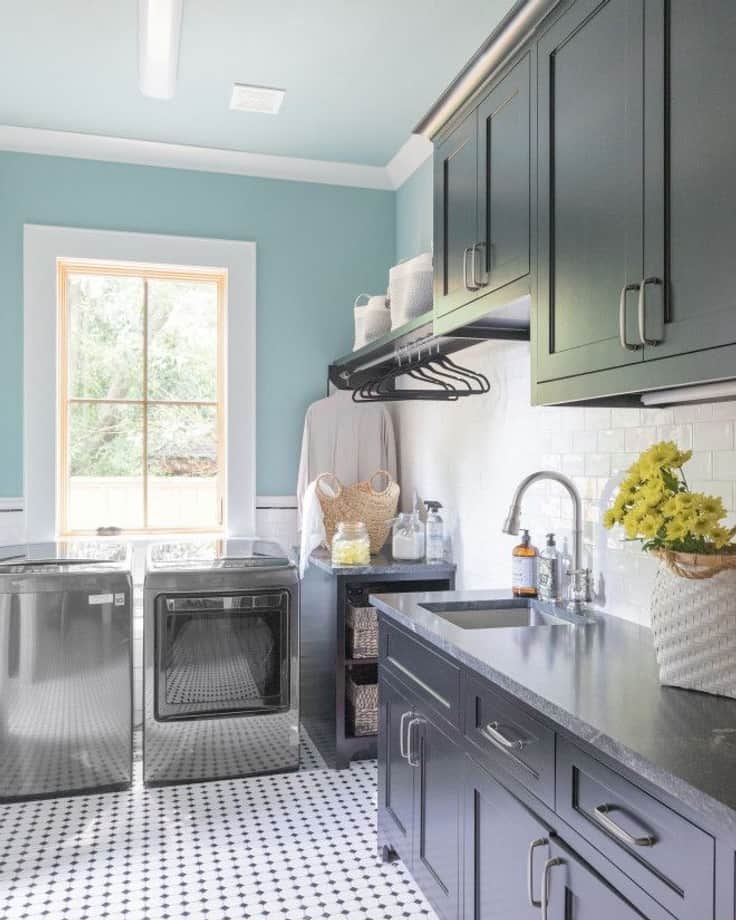 For a splash of color, don't forget that using a brighter shade on your walls is a great way to give your kitchen personality without being overpowering. This laundry room by Chairma Design Group even makes doing laundry seem fun!
Sherwin Williams Black Magic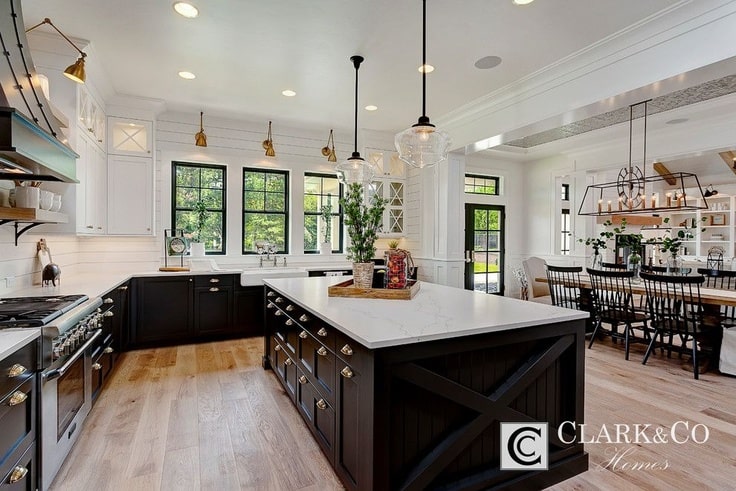 More great shades of black paint are Benjamin Moore Iron Mountain, Benjamin Moore French Beret and Benjamin Moore Wrought Iron.
Have You Considered Painting Your Cabinets Yourself?
You can get professional results and save thousands with my free guide. Download my free cabinet painting roadmap to get you started!
Navy blue has unrivaled timelessness in today's trends as one of the most classic kitchen cabinet colors. Its popularity ebbs and flows through the years but it is always in style!
What is it about navy that has allowed it to remain so popular through the years? Not only is it a classic color but it also has an uncanny ability to work as a neutral unlike any other popular color!
Not every home is perfectly suited for navy blue but here are some versatile options that will never let you down.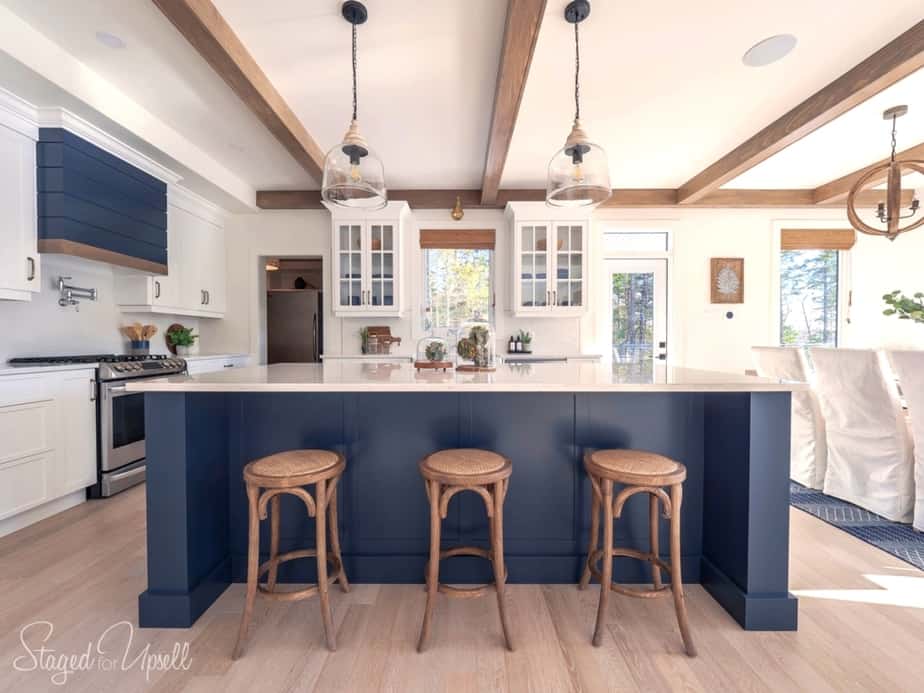 Because it is a dark navy, Staged for Upsell used BM Hale Navy only on part of their cabinets so it wouldn't be too bold. This shade has great neutral undertones which makes it extremely versatile.
Benjamin Moore Hale Navy is my favorite shade of navy paint as you can see here: A Full Review of Benjamin Moore Hale Navy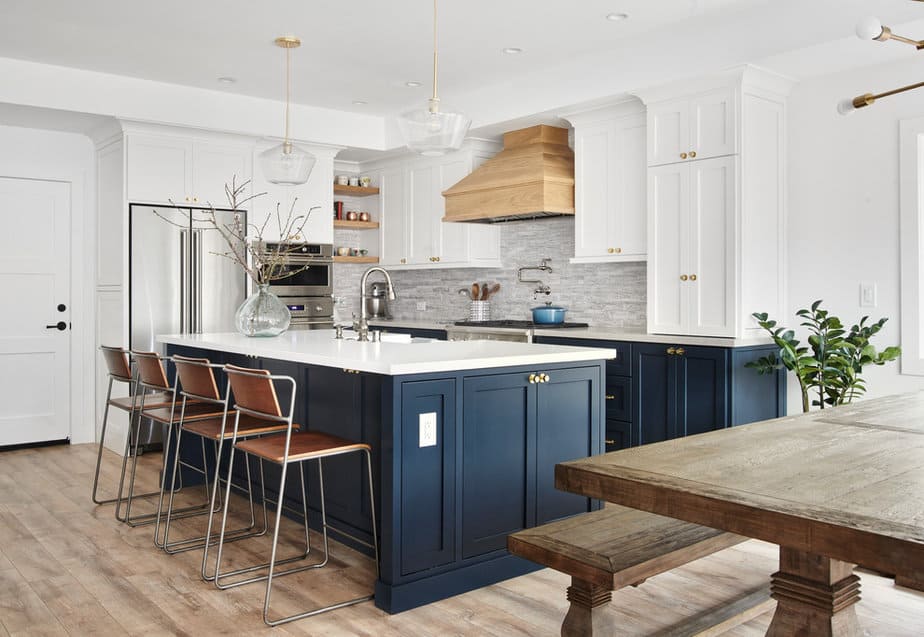 For a truer navy, this kitchen by KBG design shows how stunning SW In The Navy looks on the lower cabinets and island.
Mariner by Pratt and Lambert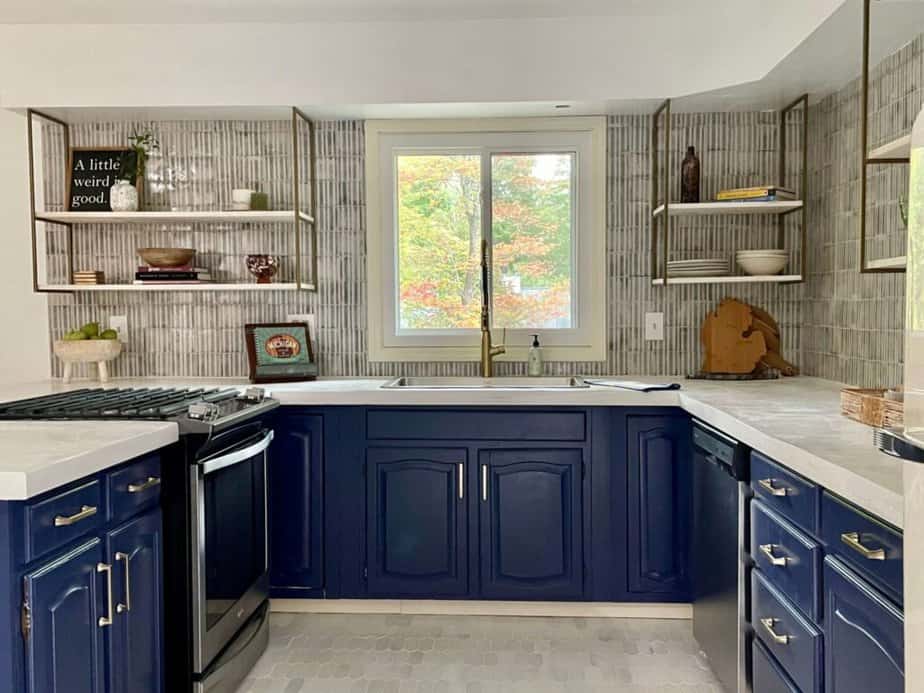 Renovated Faith: What's In a Name?
Stained Cabinets for a Traditional but Trendy Feel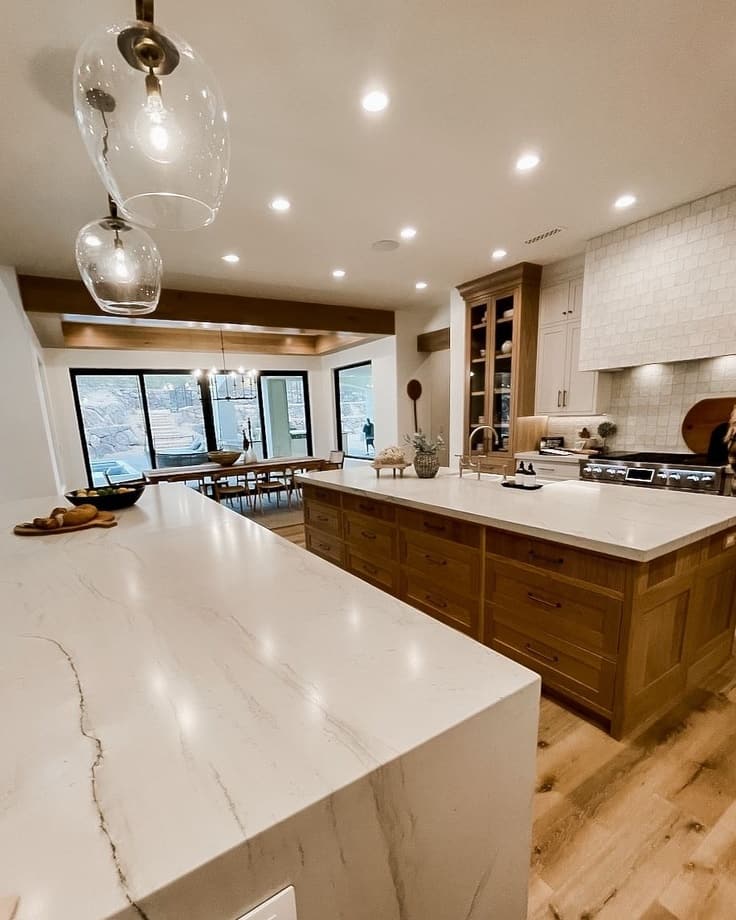 More and more kitchens are turning to stains as long as they aren't too warm or dark. This kitchen by Design Dazzle shows how appealing a stain can be when it's integrated with the right paint color. She is using SW Agreeable Gray at 50% for the painted cabinetry.
RENOVATE YOUR FAITH: Why God's Best is Our Best
Lately, my friend challenged me to ask myself two questions at the end of every day:
What filled me up?
What drained me?
So, I got a journal and put it by my bed so I could record how each day went. It was interesting to see some trends on both lists:
Examples of What Fills Me Up:
Writing down worries to pray about

Smelling my new roses that are blooming
Going slow enough in my day so I don't feel rushed and stressed
Taking time to spend time with God even if I'm just venting to Him
Examples of What Drains Me:
Worrying about keeping up with the pace of other bloggers
Feeling shame about not cooking enough
Complaining about my work
Getting a speeding ticket
I realized that most of these items have to do with an emotion and while emotions shouldn't always have the final say, it's important to listen to them. (Someone told me once that emotions should have a seat at the table but not sit at the head of the table.)
For most part, this is what these emotions told me: I noticed that the things on the "filled up" list were things that God already wants me to do and the things on the "drained" list are things that God tells me not to do.
God wants me to hand over my worries to Him and He wants me to spend time with Him and to not be so rushed that I don't notice He is with me.
On the flip side, God doesn't want me comparing myself to other bloggers or complaining excessively. He also doesn't want me to shame myself.
It made me realize that the things God wants for me are really the best things for me – the things that help me to thrive and truly live instead of missing out on God's goodness.
NOW, I have to be careful here. I am not saying that God only wants us to do fun things we like and never wants us to do anything uncomfortable or hard. That's contrary to what Scripture says as we know the Christian life WILL have struggles and hardship.
But what this list told me is that I can trust God and the things He tells me to do. God is not sitting on His throne with a plastic ruler ready to slap my hand when I screw up. He wants me to obey Him and follow His commandments because what is best for Him is also best for Me.
Sure, there will be things that God allows in my life that are temporarily draining but are for Him (and my) ultimate fulfillment. For example, I didn't love getting a speeding ticket but ultimately He wants me to obey so that I am safe and don't cause harm to others.
As my Creator, He has wired me to be best fulfilled by the things of Him. And we can know what God's Will is by reading the instruction manual from our manufacturer – His Word.
He knows me better than I know myself. He knows what fills me up and what drains me. And when He does allow something in my life that is draining, I can rest in knowing it is ultimately for my good.
Even when life seems difficult or daunting, I can trust Him to know that He knows me better than I know myself. He knows the number of hairs on your head and before you were even in the comb, He knew you! (Jeremiah 1:5)
Because God is your loving Father, you can trust that He works all things for His good. He wants the best for you and He can be trusted even in the midst of life's difficulties.
"What, then, shall we say in response to these things? If God is for us, who can be against us?" Romans 8:31
For more spiritual encouragement, click here for the rest of my project posts that also include Renovate Your Faith devotionals.
FAQ's: What is the Most Popular Color for Kitchen Cabinets?
What are the most popular Benjamin Moore Cabinet Paint Colors? What Are the Most Popular Sherwin Williams Cabinet Paint Colors?
Several of the colors above are Benjamin Moore Cabinet Colors, but if you see a Sherwin-Williams paint color you love, you can give them the name at your closet Benjamin Moore paint store's paint counter. The same goes for Sherwin-Williams colors. Just give them the name of another brand's paint color and they usually have the paint color code on their computer.
What color to paint kitchen cabinets with light floors?
Light floors give you a lot of flexibility and freedom. You can go with a darker color like a charcoal gray or navy. Light gray also looks well-balanced with light floors. If you go with a light neutral or white, make sure to bring in some contrast with darker neutral colors in your other finishes like your backsplash, counters or appliances.
What is a good color to paint kitchen cabinets with a small kitchen?
Go for light neutrals to make your kitchen look larger. White and light gray are great choices to make it feel more spacious. Adding a wall mirror or extra lighting is another great way to make your kitchen appear larger.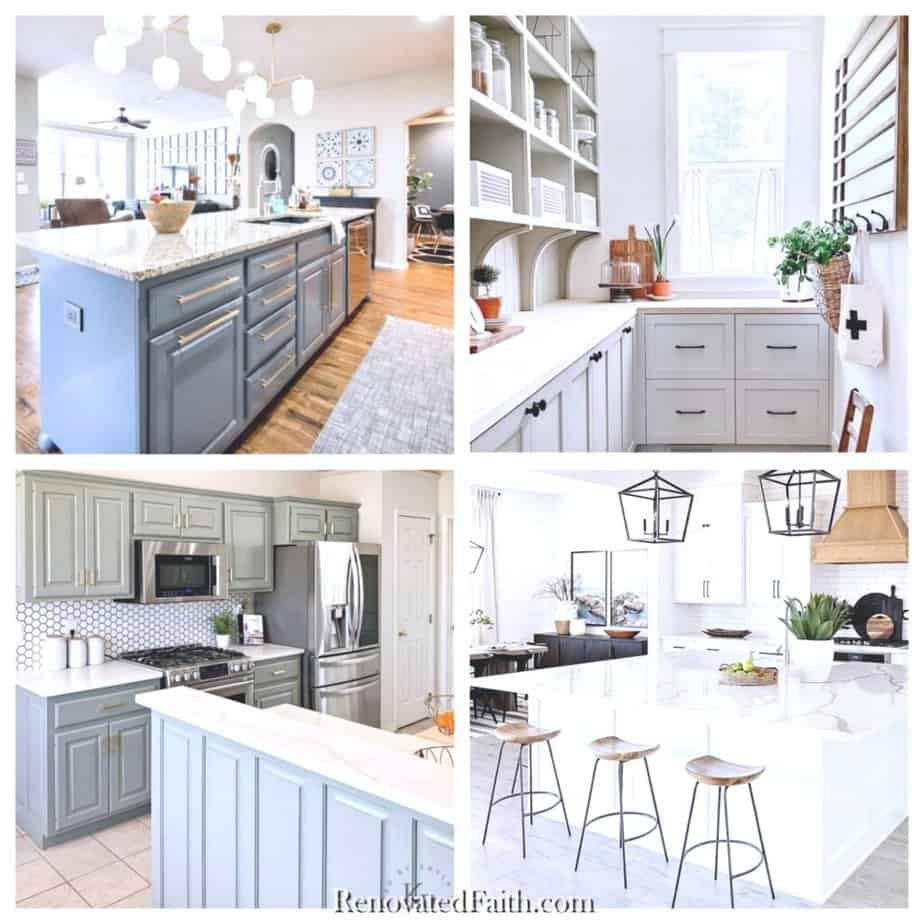 More Posts Related To Popular Colors to Paint Kitchen Cabinets
Best White Kitchen Cabinet Colors (And Which is Best For YOUR Kitchen!)
Popular Blue and Blue Gray Cabinet Colors
How To Paint Cabinets Like a Pro
The Easiest Way to Install Cabinet Hardware
My Absolute Favorite Light Greige Paint Color
How to Fill the Deep Grain in Oak Cabinets Before Painting
Final Thoughts – What Are the Most Popular Kitchen Cabinet Colors for 2022?
Painting kitchen cabinets is such a great investment of your time and money. Not only does it update the most used room in the house but it allows you a reno-free way to enjoy a fresh new look easily.
Finding the perfect color can be tricky but all of the shades above show you exactly how they will look in real-life homes. Not only are these colors interior designer favorites but you know know the color options that are the perfect fit for your unique kitchen. Now that you know the best shade of paint, you can find out the best type of paint for your cabinets here: The Best Paint for Cabinets: 24 Cabinet Paint Brands Blind Tested and Reviewed
Popular Colors for Cabinets, YouTube Video
CLICK BELOW TO SAVE THE BEST COLORS FOR KITCHEN CABINETS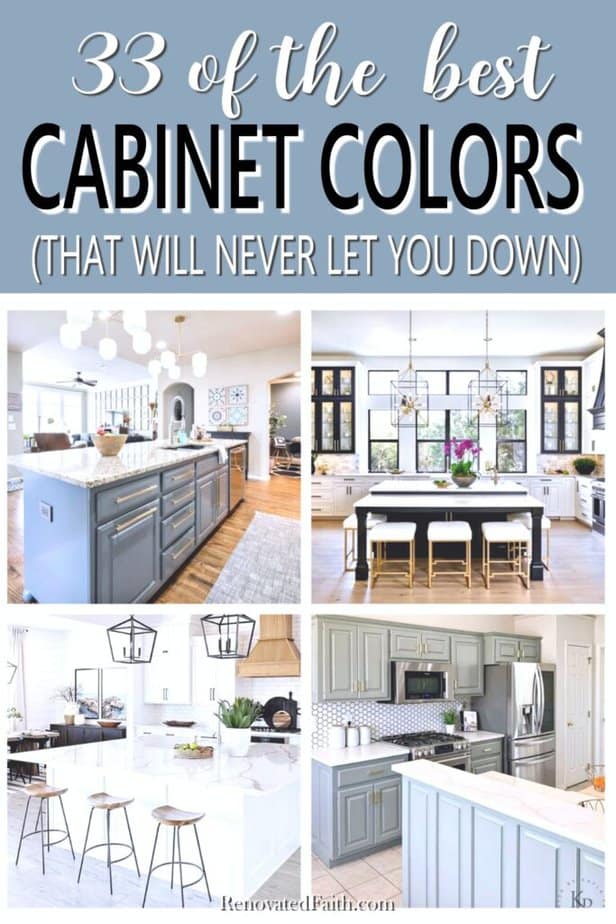 I love to hear your thoughts and questions! Scroll down to leave a comment and I WILL reply! ❤️
Blessings,

Be sure to follow the fun here!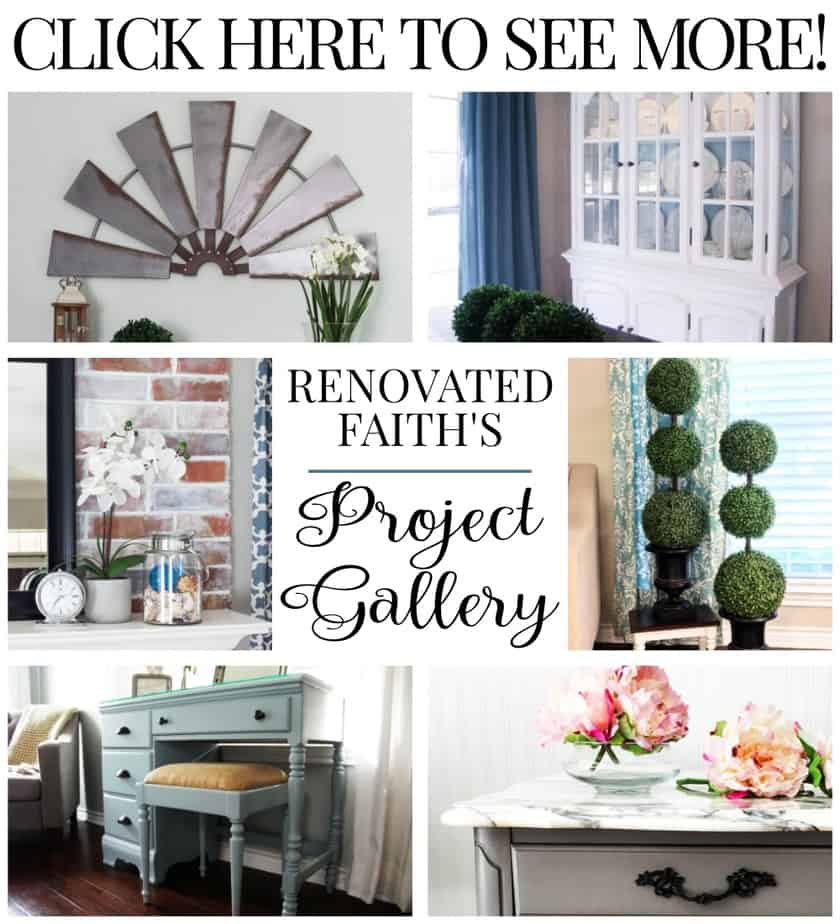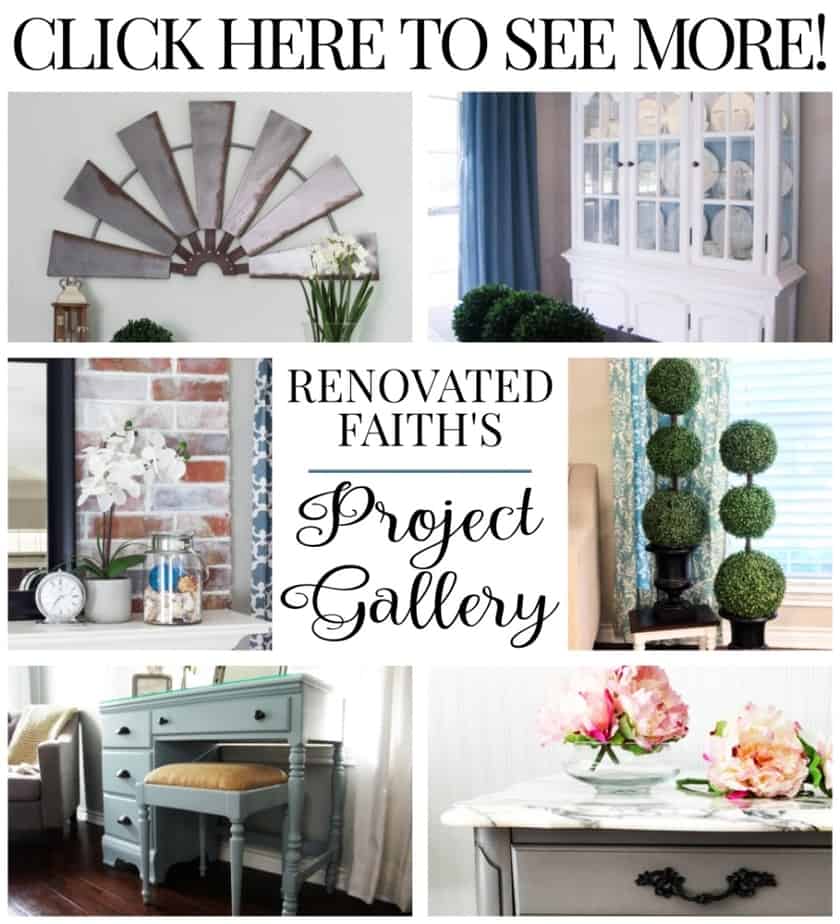 Most Popular Color Kitchen Cabinets
Welcome to Renovated Faith, where I share about DIY projects, my faith and everything in between! When I'm not spending time with my family, you will find me redoing furniture in the garage or watering plants in my greenhouse. This blog is about transformation. Anyone can renovate a house but only God can transform our hearts!