12 Free Blue Botanical Prints (FREE PRINTABLES)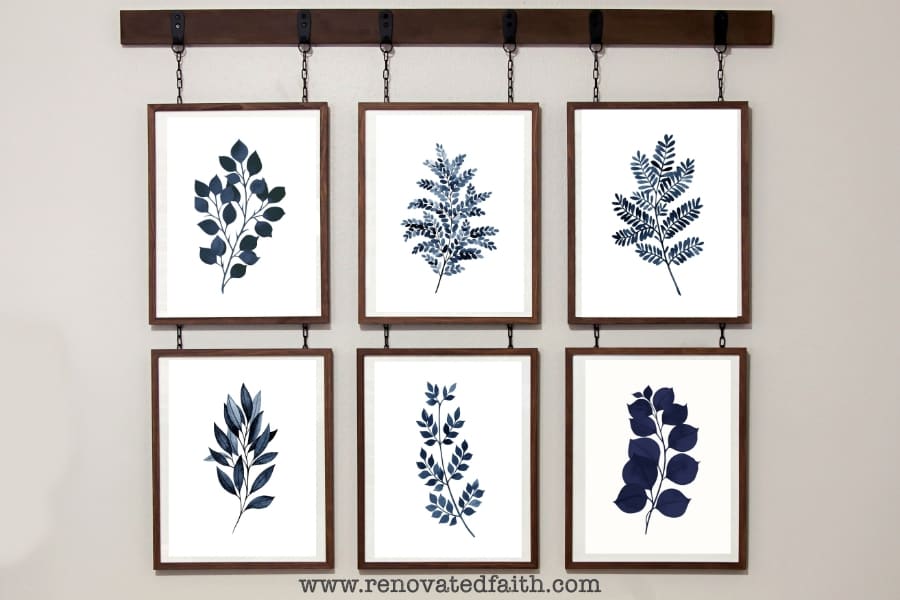 Blue and White Botanical Prints With Two Background Options
These free blue botanical prints work well for any style of home decor and you don't want to miss my best tips for hanging gallery wall art!
---
Blue and white decor is timeless! Not only does it look amazing on china, but it is also stunning on botanical wall art.
As a kid, my family always went to Galveston every summer to go to the beach. We would also check out the touristy shops on the strand and visit the old-fashioned ice cream parlor downtown. I have the best memories of going there with my grandparents!
Because of those Galveston memories, I like to incorporate a little bit of coastal decor into our home. These free printable botanical prints give you the look of coastal blue fern wall art and also have a vibe of farmhouse decor.
These free blue and white botanical prints are super versatile and also provide a low-cost way to fill a large wall with framed art that you can be proud of!
LET ME SHOW YOU:
How to get your free blue botanical prints in your choice of background.
The fastest way to get your free botanical prints framed
Tips for hanging gallery wall art and how to add a framed art rail easily
How God really sees us in this week's Renovate Your Faith devotional at the end of the post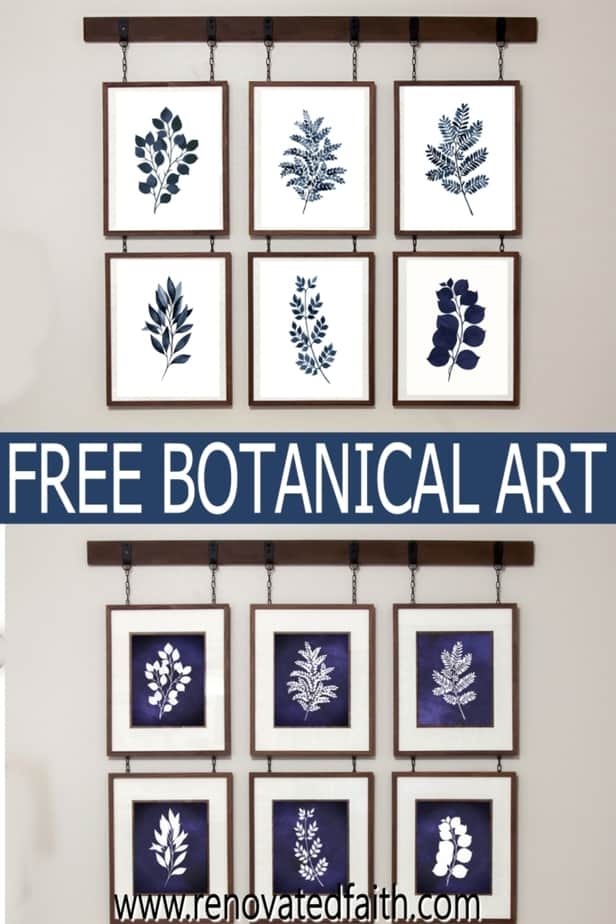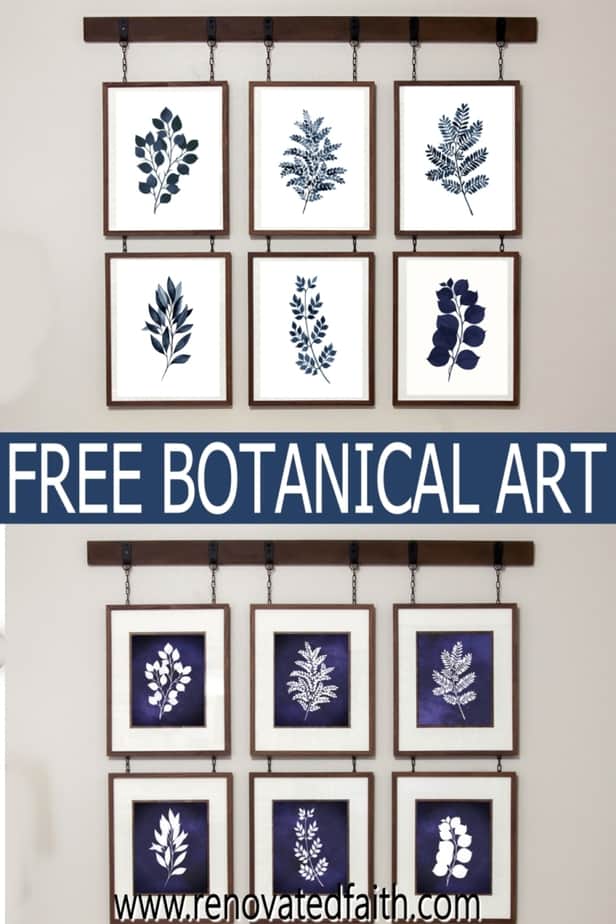 (As an Amazon affiliate I earn from qualifying purchases. Please see my full disclosure HERE).
☑️ If you are curious or in a hurry, here is a quick link to the free botanical prints in either color option (6 designs to choose from): Blue and White Botanical Printables
Supplies Needed: Tips for Hanging Your Free Blue Botanical Prints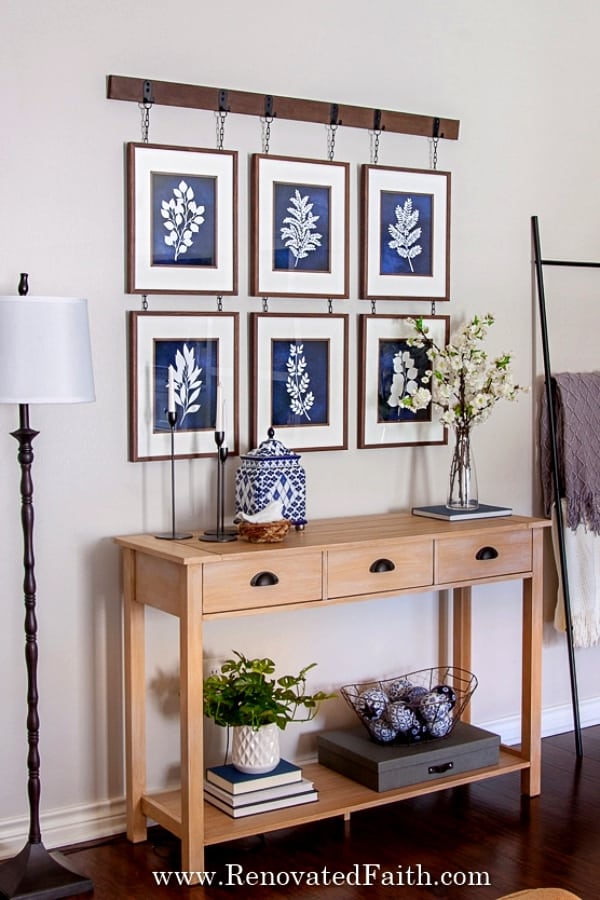 How to Hang Botanical Prints EASILY
You can also see the video with this post to show you the best picture hanging hacks and how to hang up an art rail.
Step 1: Download Your Free Printable Botanical Prints
You can download your free printables by filling out the short form below. Choose between 6 different blue botanical prints in either blue or white background. You also get access to my free printable library!
I personally like the prints with the white background but the ones with the navy background are the best botanical prints when you need to add some contrast to light decor.
Renovated Faith: What's In a Name?
Step 2: Send Your Free Downloads to Walgreens.com
You can use any photo printing site, but I like to use Walgreens.com. Just upload your images and pick whatever size you want. Also, be sure to do a google search for a Walmart prints coupon code as they usually have one for at least 40% off.
Any pictures up to an 8×10 are considered prints and are really low-cost even without the coupon code.
Step 3: Picking Frames for Your Free Blue Botanical Prints
Here are the 8×10 frames I used for my wall art collage: 8×10 Frames. My favorite place to get frames is Michael's because they run really great deals regularly and have a huge selection: Click HERE to see their collection of frames.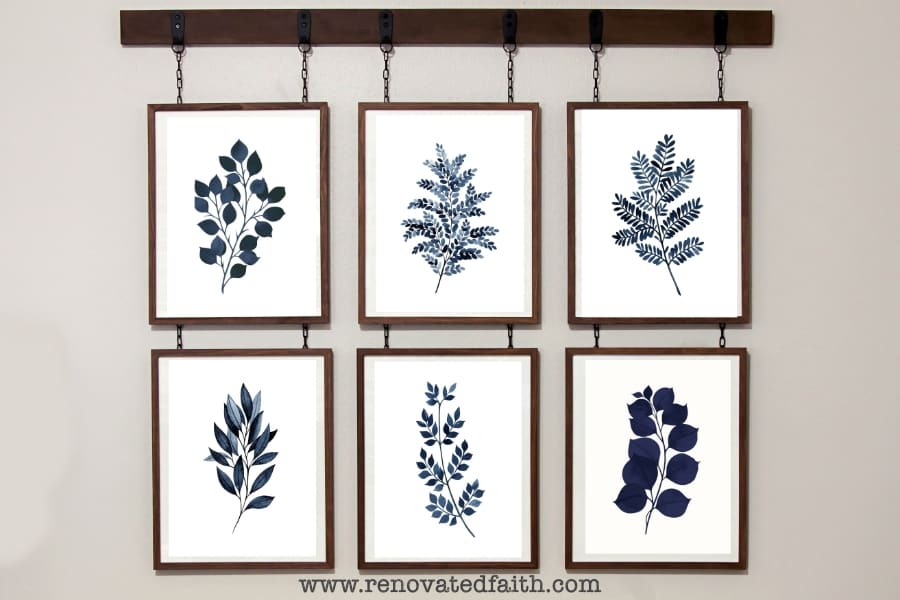 Step 4: A Tip for Framing Your Blue and White Botanical Prints
When you frame prints, it can be brutal to get them straight when using a matted frame but I have saved so much time with this tip.
I like to save the faux picture (you know the piece of paper with the fake photo). This piece of paper shows you exactly where to put the photo so that it centers up in the matte.
Lay your print on top of the fake picture. Line it up the best you can and put a small piece of scotch tape on the edge of your print. Only allow the scotch tape to overlap the print a tiny bit, like 1/8 of an inch.
Put your print (taped to the faux pic) in the frame so that your wall art will be centered perfectly!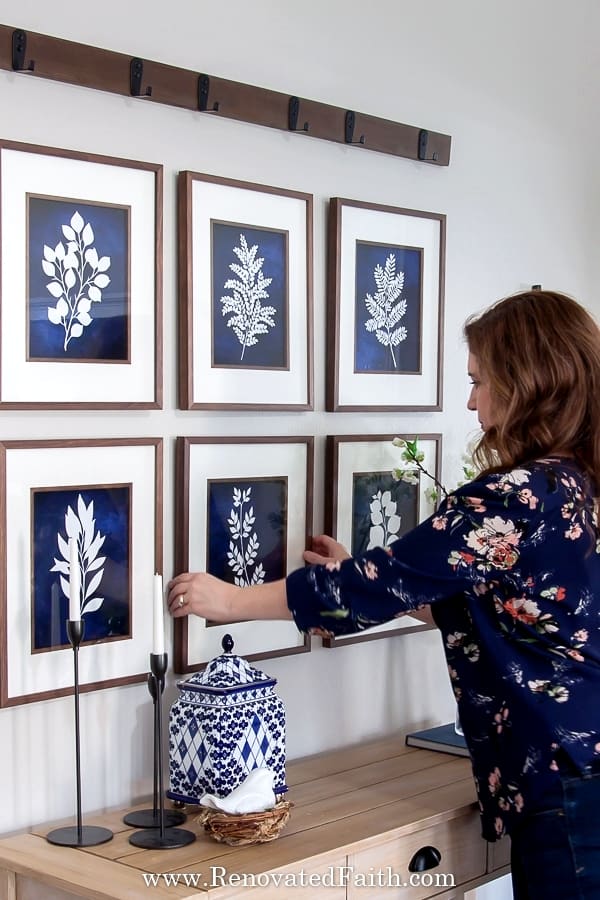 Stop! Don't forget to take a pic. When you are done, post the pic on Instagram and tag me @renovatedfaith! ❤️
Step 5: The Frustration-Free Way to Hang Your Free Blue Botanical Prints
Sometimes hanging a wall collage can be a little tricky. So hanging your blue botanical prints doesn't take you all day, here is my frustration-free guide: How To Hang Wall Art Evenly Every Time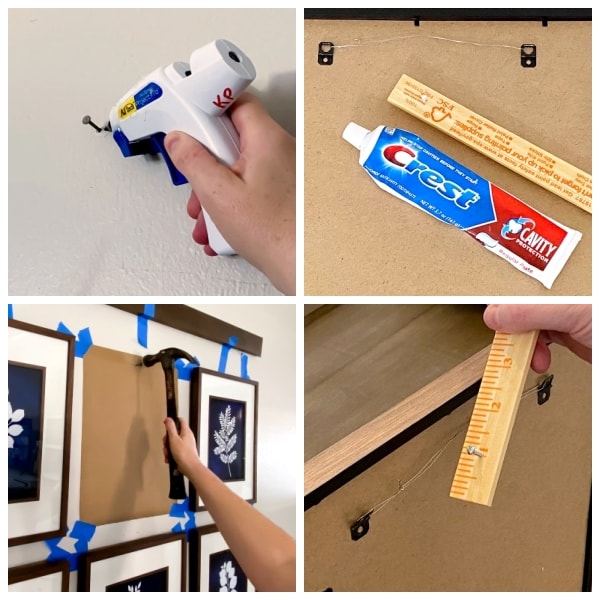 Want to Add a Framed Art Rail To Your Blue Vintage Botanical Prints?
You might have seen the picture hanging frame at Pottery Barn, but this is the DIY version that you can add easily to any existing wall collage for less than $30: Easy Framed Art Rail (The Low-Cost, Hassle-Free Way)
It is such a low-cost way to make your gallery wall art look more cohesive and to add an industrial farmhouse look!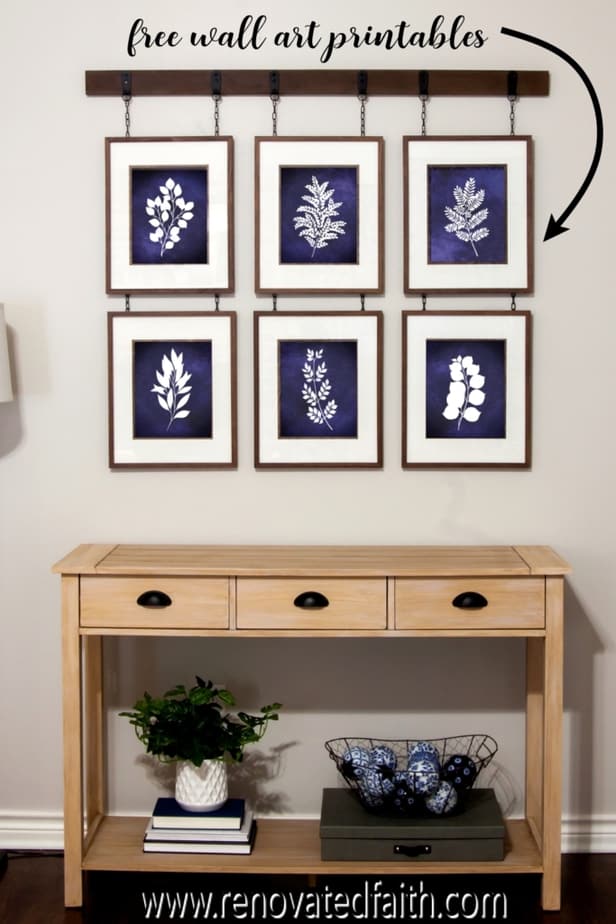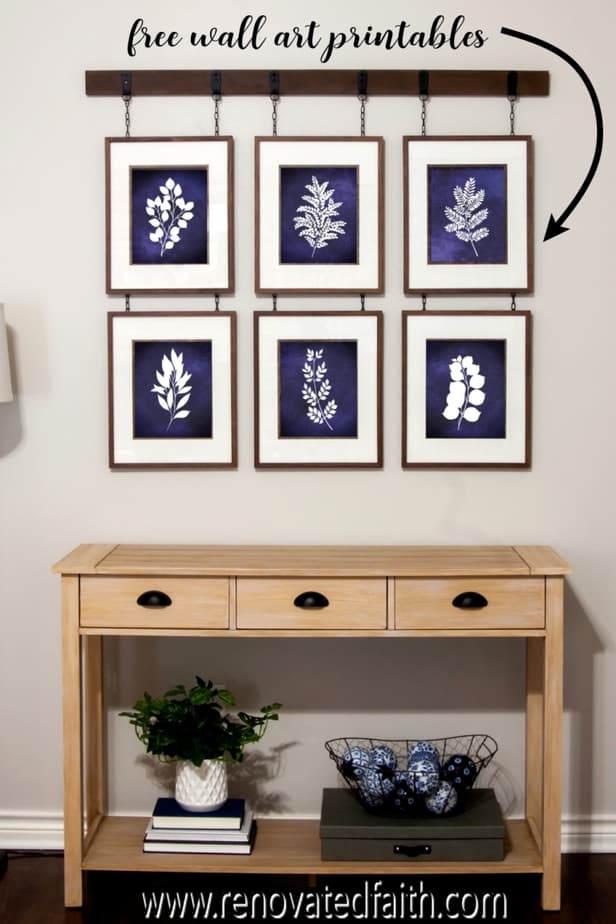 RENOVATE YOUR FAITH: How God Really Sees You
Yesterday we got 5 inches of snow in Texas which is a real rarity – especially since the snow actually stuck. It reminded me of how I decorated around the spray-painted nativity scene at Christmas by adding a little fake snow.
To make my pictures of the nativity scene Pinterest-worthy, this recovering perfectionist tried to push the snow around with her fingers to try to make it look smooth and natural.
But I could never get it to look quite right.
I kept seeing holes in the light feathery "snow" where my fingers touched it.
Finally, I realized that the snow looked best when I sprinkled the snow around the nativity figurines from above. When the snow was untouched by my fingers after falling, it looked just the way it should – like freshly fallen snow.
It reminded me that when God sees us, He doesn't see our faults, failures, and shortcomings. No, He sees us through the lens of His Son's perfect righteousness. He sees us like we are – as white freshly fallen snow.
And then it hit me! So many times I feel like I'm not measuring up…like my Pinterest photos aren't pretty enough, like I'm not exactly killing it in the mom department, or that I'm overall just not 'good enough'.
But God doesn't see that when He looks at you. If you have a relationship with Him, God sees you as good and pure – perfectly white, like newly fallen snow.
"Come now, and let us reason together, saith the Lord: though your sins be as scarlet, they shall be as white as snow; though they be red like crimson, they shall be as wool." Isaiah 1:18
God knew you could never be perfect. Only Jesus was, which is why God sent Him to save you in ways you could never save yourself. If you have a relationship with Christ, His spotless Son has redeemed you, washing away 100 percent of your sin.
When God looks at you, He doesn't see your flaws and shortcomings, He only sees His Son's righteousness.
He looks at you as freshly fallen snow – untouched, unblemished and untainted by anything in this chaotic world.
We can't do anything to make God love us more or love us less since our relationship status has been taken care of solely through Christ's finished work on our behalf.
He doesn't see the dirty dishes, the untouched to-do list, or even the fact that your home looks like a frat house. He sees YOU, your struggles, and what is heavy on your heart.
He looks at you as a proud Father who wants you to bring your concerns to Him.
With what's going on in our world today, there's a good chance you are running on empty. Let Him fill you up and show you that as a child of God, you are now and forever made perfect in Him! YOU ARE ENOUGH!
(If you are unsure if you have a relationship with Christ, or want to know what that means, please don't hesitate to email me at karin@renovatedfaith.com so I can answer any questions.)
For more spiritual encouragement, click here for the rest of my project posts that also include Renovate Your Faith devotionals.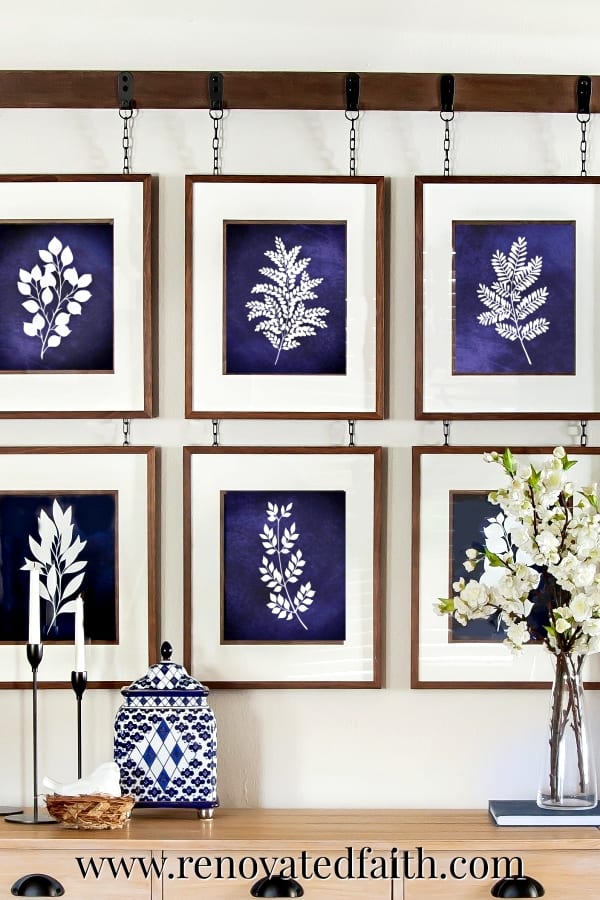 FREE Blue Botanical Prints
Here's where you can get my free blue and white botanical prints. You can pick between the white background with blue watercolor botanicals or the blue background with white garden botanicals. Get the password for the library with all of my free printables including wall art, checklists, and templates by filling out this form:
FAQ's: Free Vintable Botanical Prints
Blue and white is timeless! The great thing about these blue botanical prints is that they can be used with any decor including farmhouse, coastal, traditional, or boho.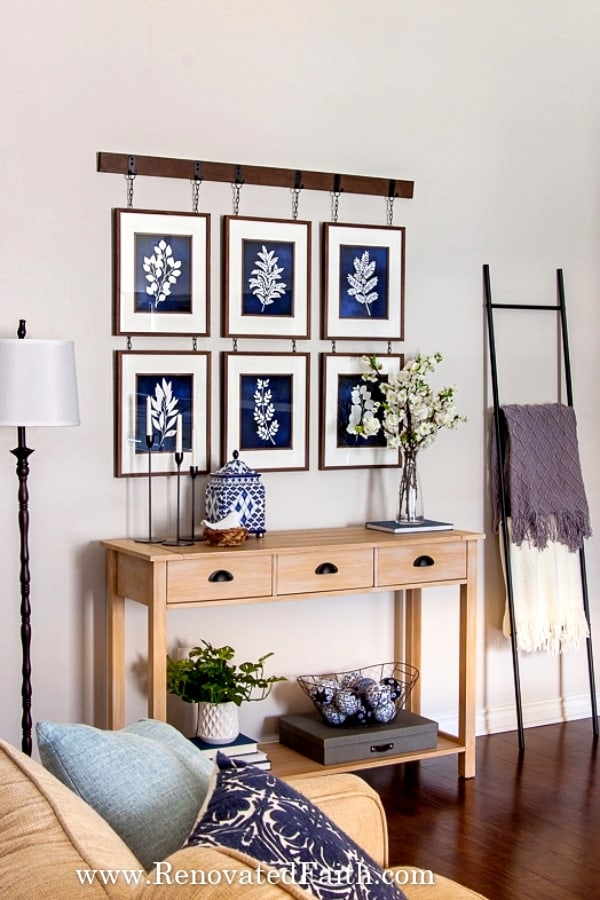 Free Printable Black and White Botanical Prints?
If you want a black and white version instead of the indigo botanical prints, simply click the grayscale option when you go to print them at walgreens.com.
Where to Buy Botanical Prints
If you don't like these prints, you can find lots of other low-cost options here: Blue and White Floral Botanical Art Prints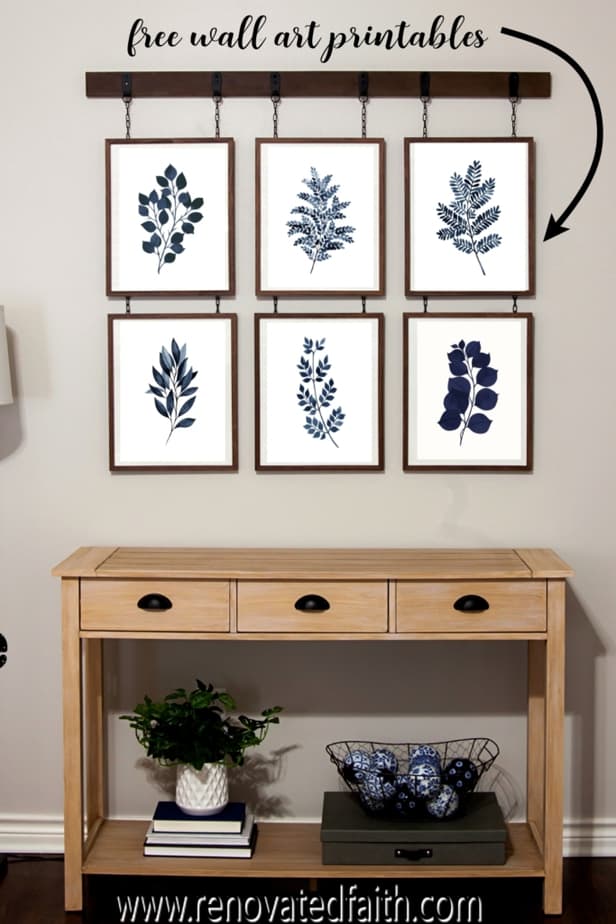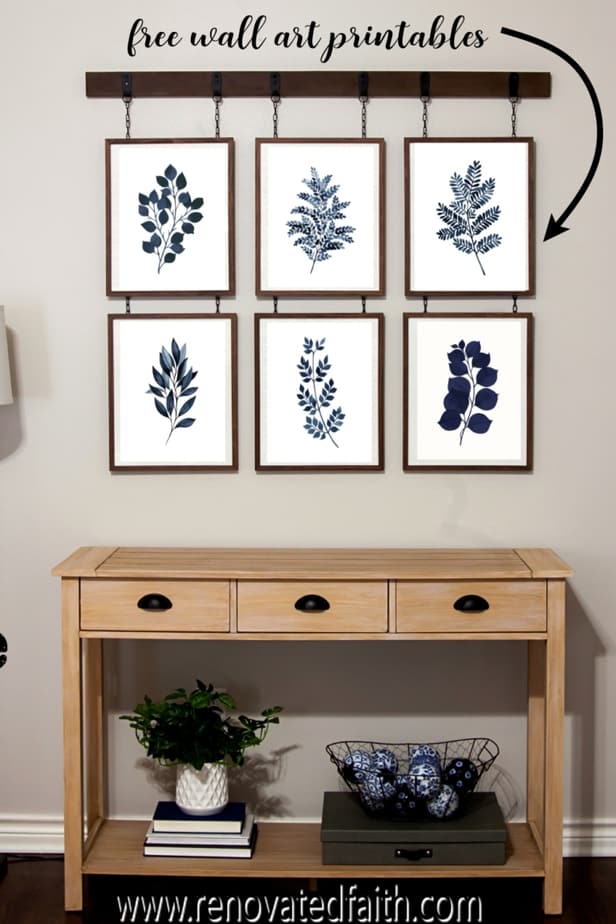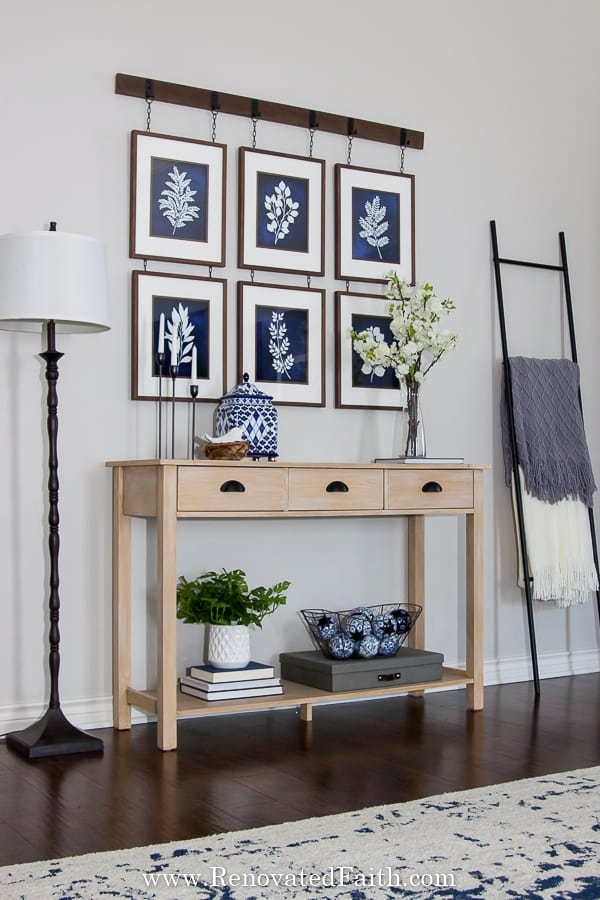 More Posts Related to Blue Botanical Prints (Free Downloads)
Best Tips to Hang Gallery Wall Art Easily
Easy DIY Picture Hanging Rail (Low-Cost and Hassle-Free)
How to Create a Raw Wood Finish (No Bleach or Furniture Stripper Required!)
Free Scripture Printables (How to Make Printables Look Like Farmhouse Signs)
How to Make Windmill Wall Decor From Ceiling Fan Blades
Easy Gel Stain Over Paint Technique
How To Perfectly Stencil on Wood
The Best Christian Podcasts for Women
Final Thoughts on Free Farmhouse Botanical Printables
These free blue botanical prints give you a budget-friendly way to fill a large blank wall space. Also, you can use my tips for hanging gallery wall art and add a low-cost art rail to add more cohesion to your collage. Be sure to check out the other free printables including furniture painting tips, a curb appeal checklist, and several wall art printables.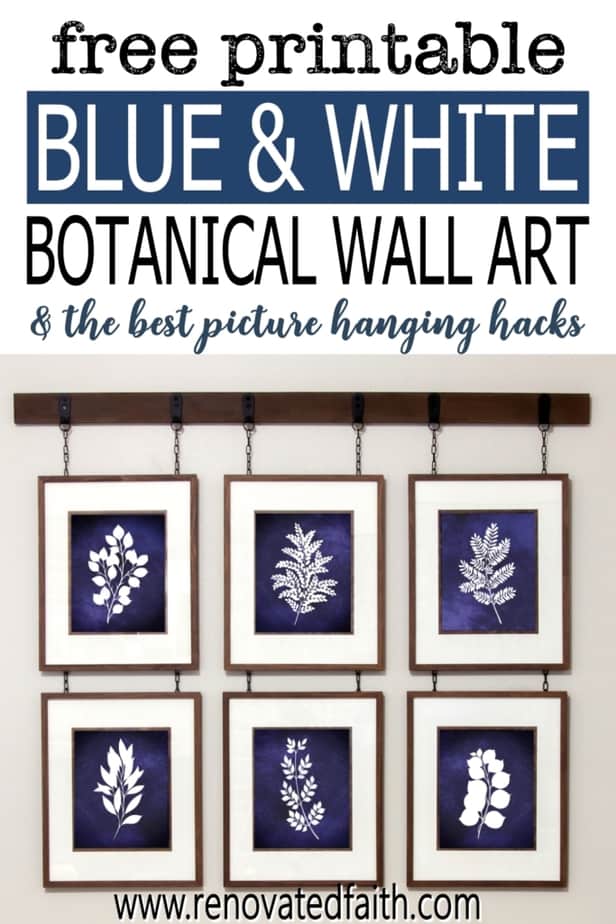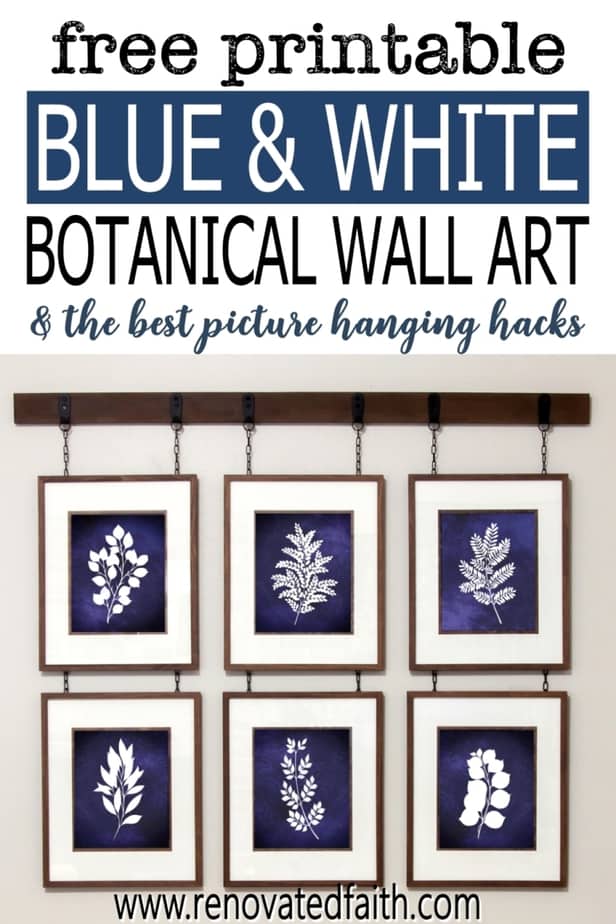 I love to hear your thoughts and questions! Scroll down to leave a comment and I WILL reply! ❤️
Blessings,

Be sure to follow the fun here!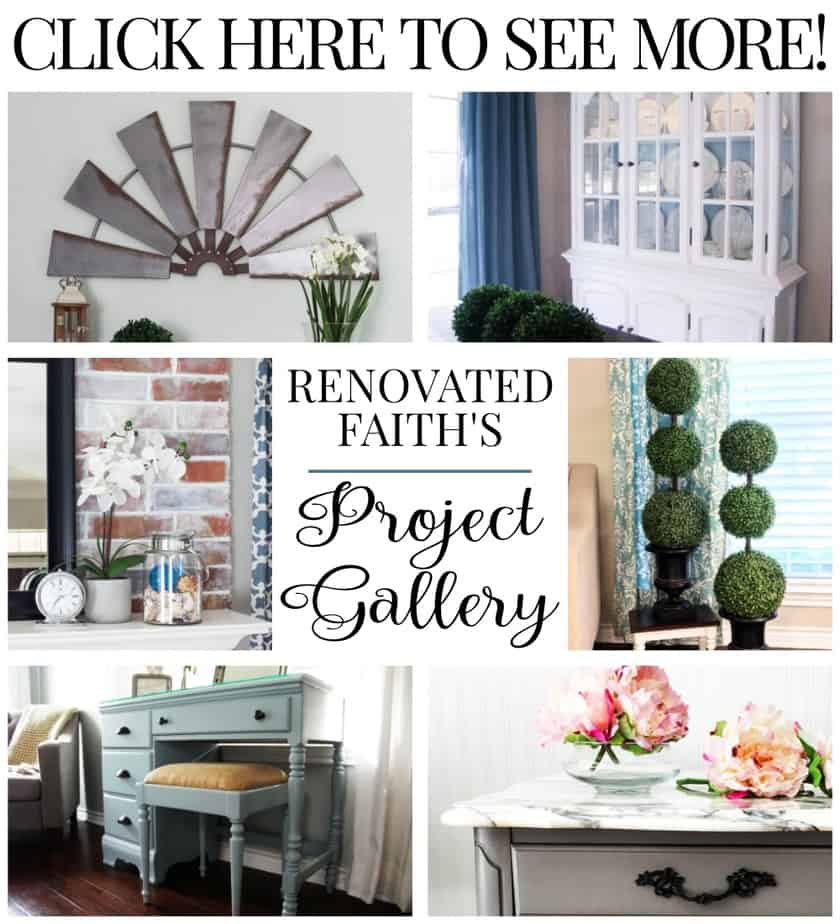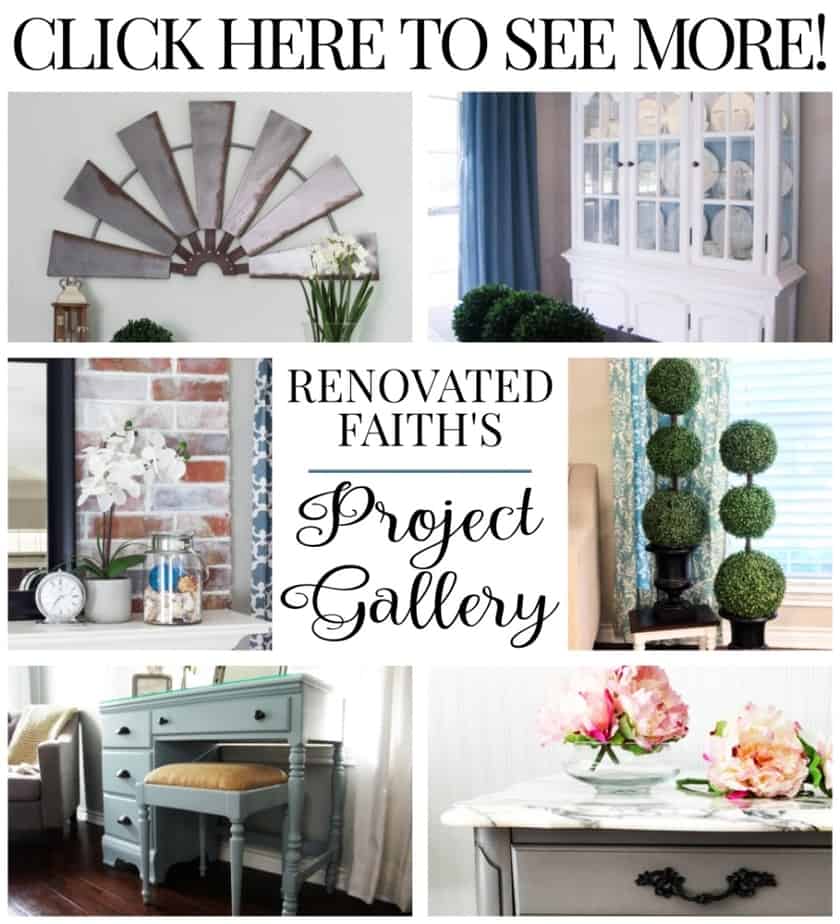 Blue and White Botanical Prints Free PDF Printable
Welcome to Renovated Faith, where I share about DIY projects, my faith and everything in between! When I'm not spending time with my family, you will find me redoing furniture in the garage or watering plants in my greenhouse. This blog is about transformation. Anyone can renovate a house but only God can transform our hearts!