Easy, DIY Raw Wood Finish On Any Surface
Put the bleach and furniture stripper away! This easy tutorial will show you how to get a gorgeous raw wood finish with latex paint.
---
Today's biggest trend in furniture is a natural, raw wood, farmhouse finish. The only problem is that you can't exactly get this finish with a can of stain from your home improvement store.
There are several tutorials online that help you achieve a raw wood look with bleach, furniture stripper or both. But your results will always hinge on the type of wood hidden underneath that stain or paint.
In other words, stripping or bleaching is risky because you can never be sure of the finish you'll end up with. And who wants to be elbow-deep in furniture stripper or bleach!?
Fortunately, after lots of experimenting, this step-by-step tutorial shows you how to get a stunning raw wood finish with latex paint on ANY surface. That includes painted surfaces, stained wood, laminate and even metal.
The console table in this tutorial is actually white laminate but I think you would agree that the final reveal is pretty impressive!
LET ME SHOW YOU:
How easy it is to get a raw wood finish on any surface
The easy way to customize this look to your style
How you can get this look without volatile chemicals – just low-cost latex paint and glaze
Some encouraging news about God's love for you in this week's Renovate Your Faith tutorial at the end of this post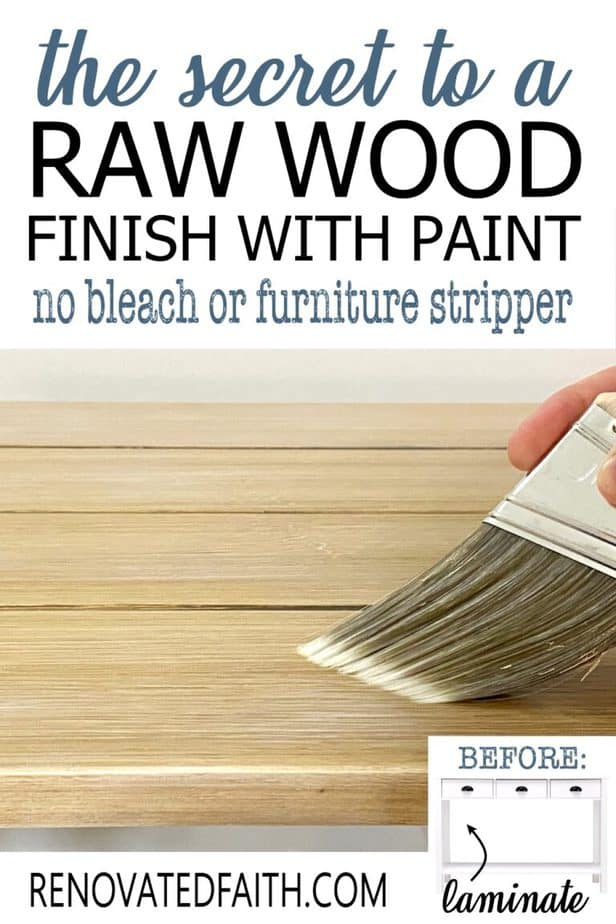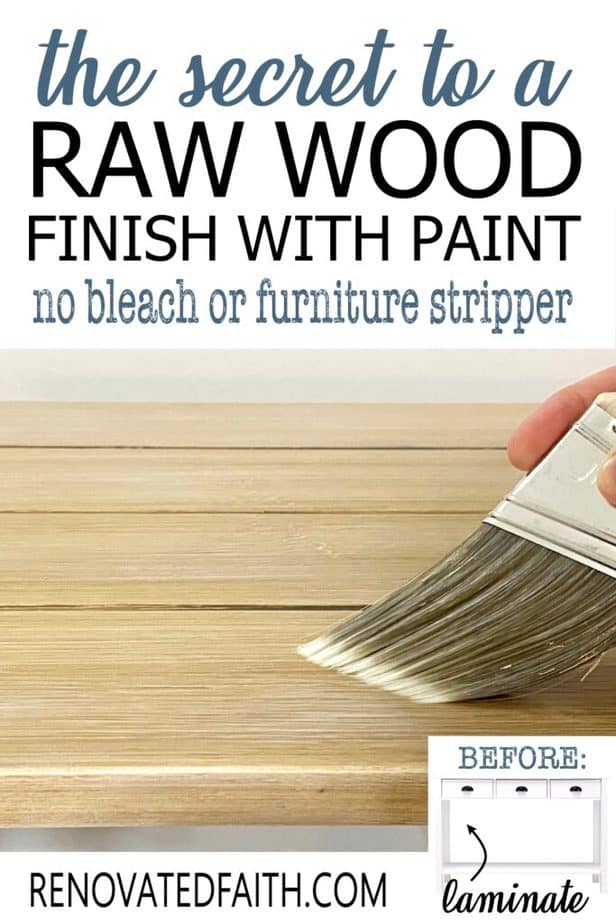 (As an Amazon affiliate I earn from qualifying purchases. Please see my full disclosure HERE).
You can open any home decor magazine to see stunning pieces of raw wood furniture. But unfortunately, this has not been an easy look to replicate in the past.
Like I mentioned, refinishing would mean stripping off the old paint or stain to get to the original raw pine with furniture stripper. Some also add some bleach for a more vintage, whitewashed look.
When I do furniture projects, it's not just to have a beautiful piece of home decor that reflects my tastes without crushing my budget. Furniture refinishing is like cheap therapy for me as I so enjoy the process itself, not just the result.
But if I have to get a headache from the furniture stripper and bleach, then, that's not my idea of a good time!
This post will show you everything you need to know to add a raw wood finish to any home decor using just latex paint and clear glaze.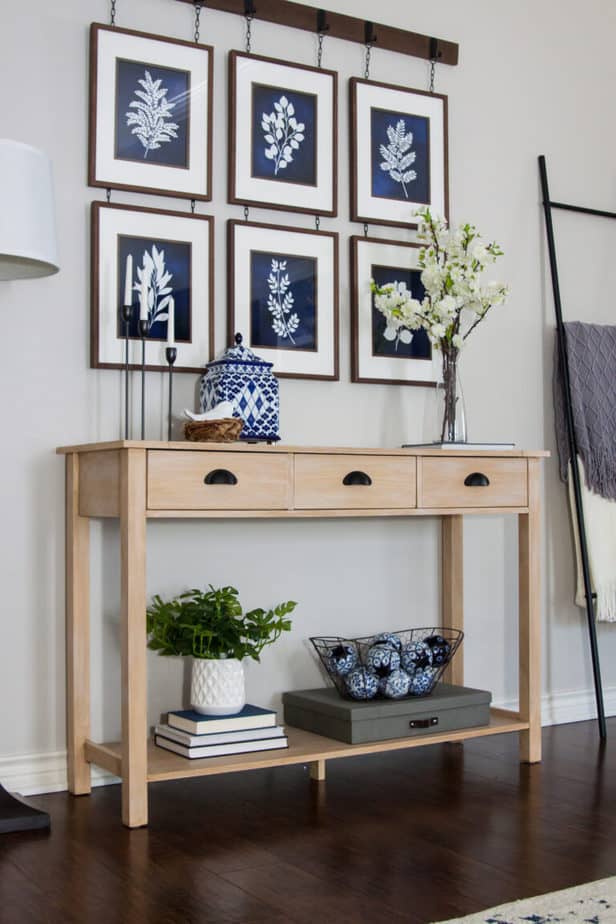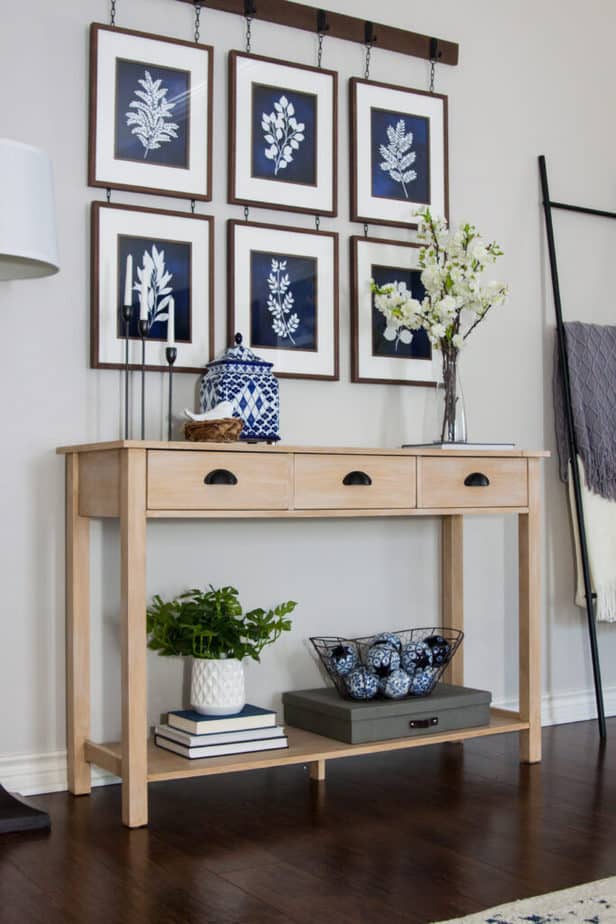 Supplies Needed For the Best Raw Wood Finish
Brushes: I like this set because it gives you quality, low-cost brushes in a few different sizes: Great Brushes for Furniture Painting
Sander and Sanding Pads: This is my favorite low-cost sander and it comes with pads: Tacklife Electric Sander
Sherwin Williams Flax Seed in Satin
Clear Mixing Glaze – You can find my favorite glaze here: Valpar Clear Mixing Glaze
Sherwin Williams Van Dyke Brown in Satin
Huggies Natural Care Wipes – Some wipes have chemicals that will remove the base coat, but I KNOW that this brand works well for our faux raw wood finish.
Sherwin Williams Pure White in Satin or Flat (Sample container) *
Painter's Tape* – My favorite painter's tape is this version: Yellow Frog Tape
Varathane Waterbased Polyurethane in Matte * – This clear coat will give you a beautiful flat finish: Varathane Waterbased Polyurethane Top Coat in Matte It works better than any oil-based top coat I've ever used and is so much easier to use than clear wax.
FREE Must-Have Painting Tips for Furniture – This free checklist is available in my resource library. Get access to it and all my other free printables, templates, and wall art by clicking here.
*Optional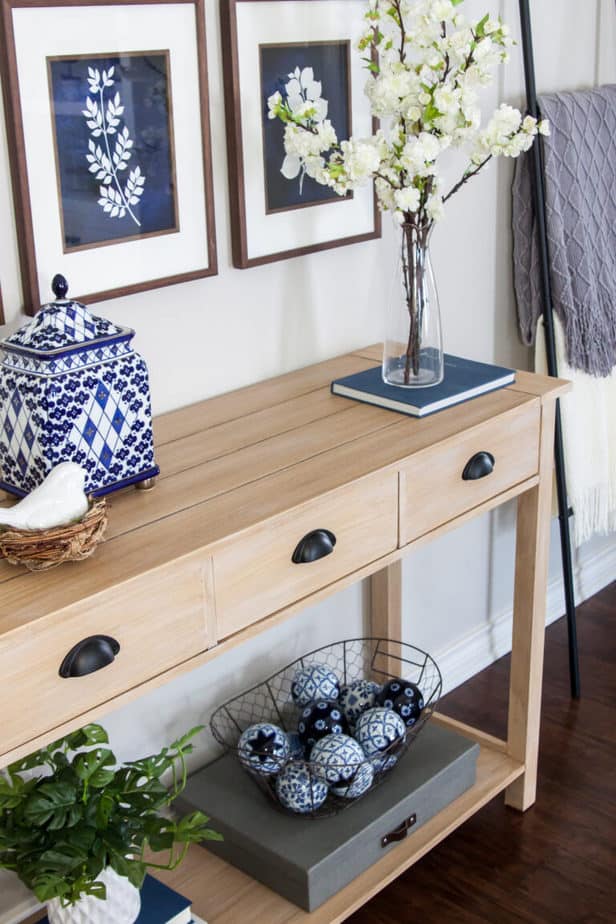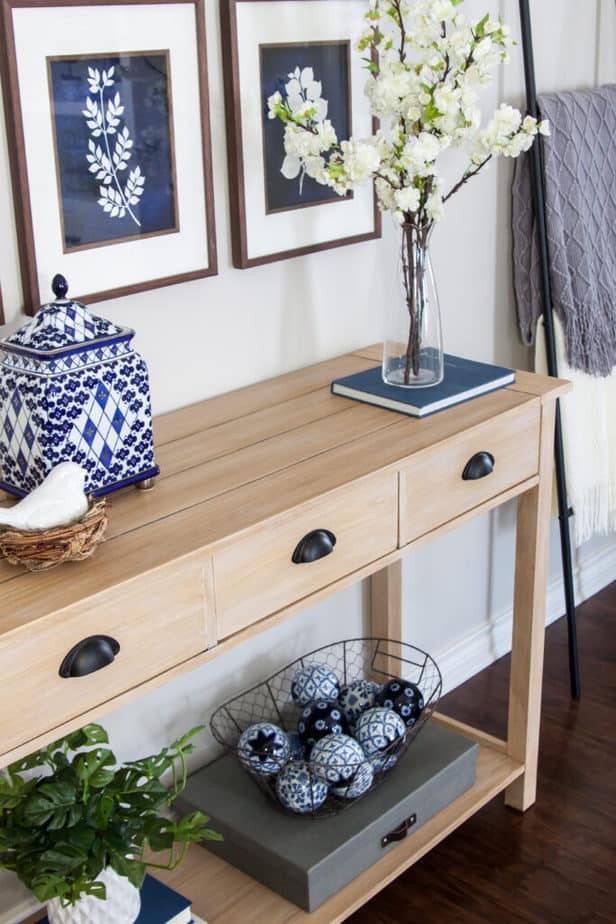 How to Create a Raw Wood Finish With Latex Paint
You can also see the video with this post to show you the best picture hanging hacks and how to hang up an art rail for a farmhouse look. The video will appear as a pop-up but if you have trouble seeing it, you can see the YouTube version at the end of this post.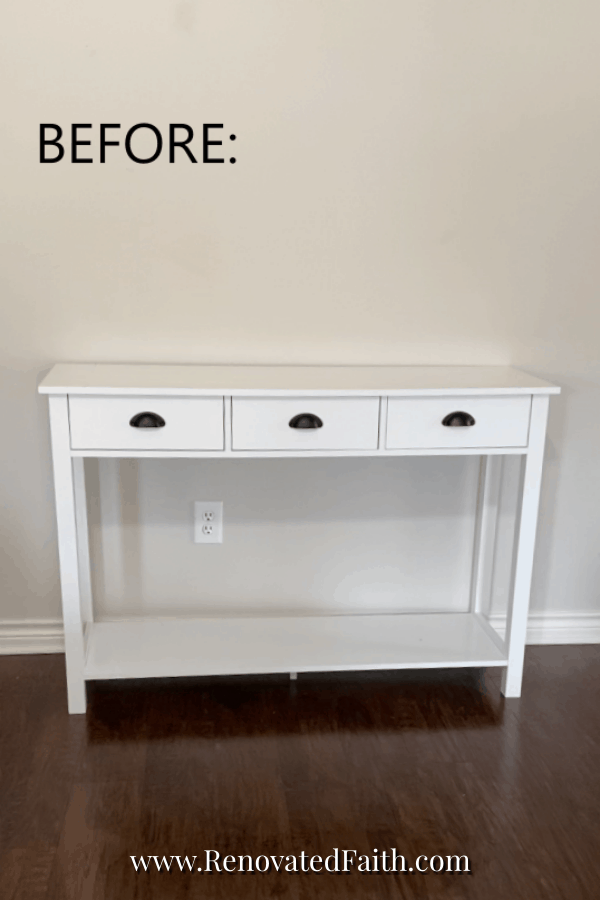 Step 1: Lightly Sand Your Furniture Piece
Stop! Don't forget to take a pic. When you are done, post the pic on Instagram and tag me @renovatedfaith! ❤️
If your furniture piece is stained or painted wood, go over the surface with your sander and a fine sanding pad (220 or higher) as I demonstrate in the video. If you don't have a sander you can also use steel wool.
The purpose is just to smooth out the old finish unless you want more of a rustic look with irregularities. YOu can read my post here for tips: How to Sand Furniture in Less Than 5 Minutes.
If your piece is laminate, sand with a rougher sanding pad (80 or lower) to make the surface less slick so that the primer can adhere well.
Renovated Faith: What's in a Name?
Step 2: To Get The Raw Wood Look, Prime First
Before you get started, you want to be sure to prime the existing surface with Zinsser Cover Stain. (Use this even if you are painting on raw wood because otherwise the glaze will soak into the wood too easily making it hard to work with…ask me how I know!)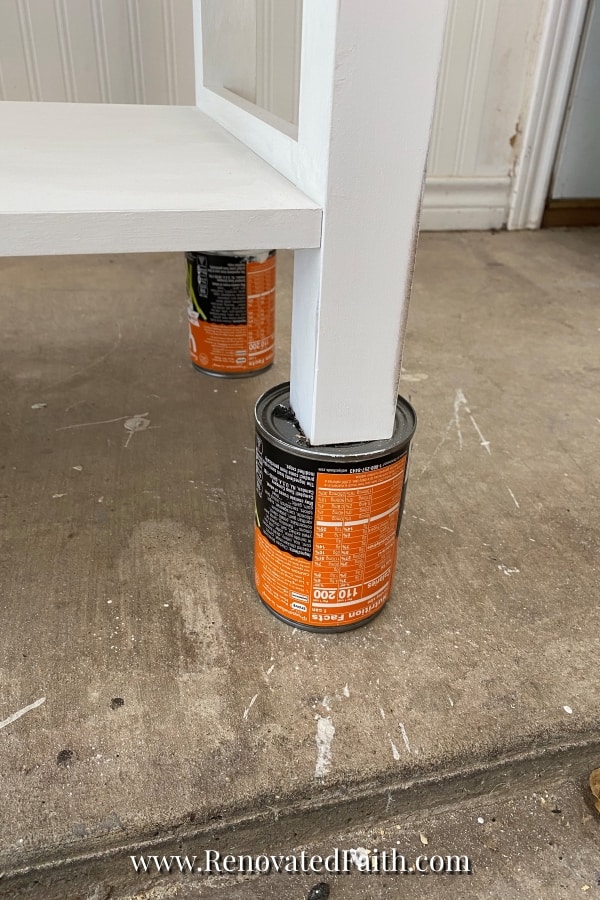 You can use this process on any material including painted wood, stained wood, laminate or even metal. But we want to make sure our new raw wood finish adheres well to the existing surface.
Brush the primer on in the direction of the grain. The brush strokes will resemble the raised surface of wood grain. (If your piece is laminate or metal, it won't have a true wood grain, so brush along parallel to the longest edge.)
Let this coat dry 4 hours before adding the base coat.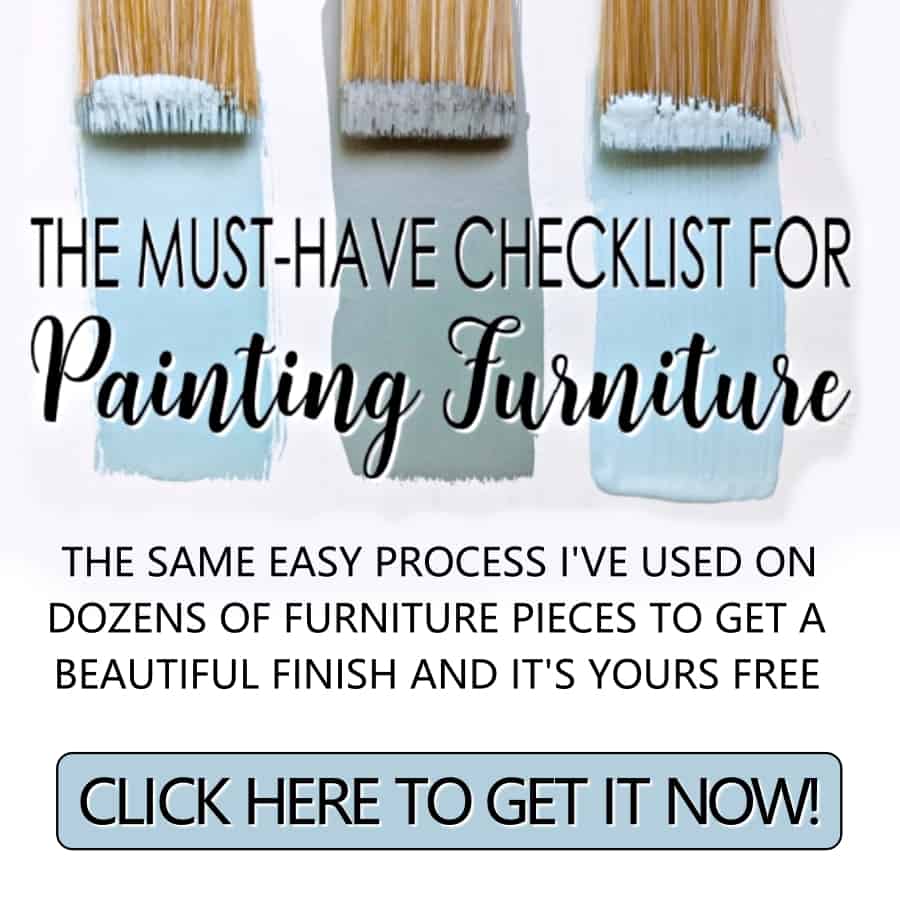 Step 3: Apply the Base Coat of Your Faux Natural Wood Finish
Brush on a thick coat of the base coat (Sherwin Williams Flax Seed) in the direction of the grain. If it doesn't completely cover and a little of the primer seeps through, that's completely fine. That will add to the final look of our raw wood finish and you shouldn't need a second coat.
COST-SAVING TIP: Lowe's carries their own line of Sherwin Williams paint and they also have sample containers of most of the paint brands. That's why I get one or two sample containers because it is so much cheaper than the paint at a Sherwin Williams store.
Also, I'm not sure if Sherwin Williams has sample sizes. (If you're already at Home Depot, they should have the code for SW Flax Seed in their computer system.)
Let the base coat dry overnight.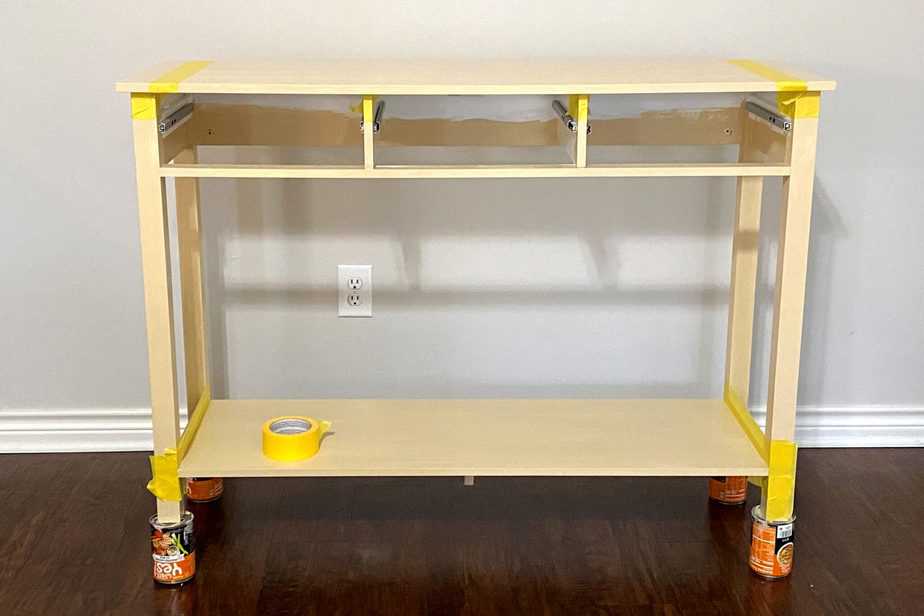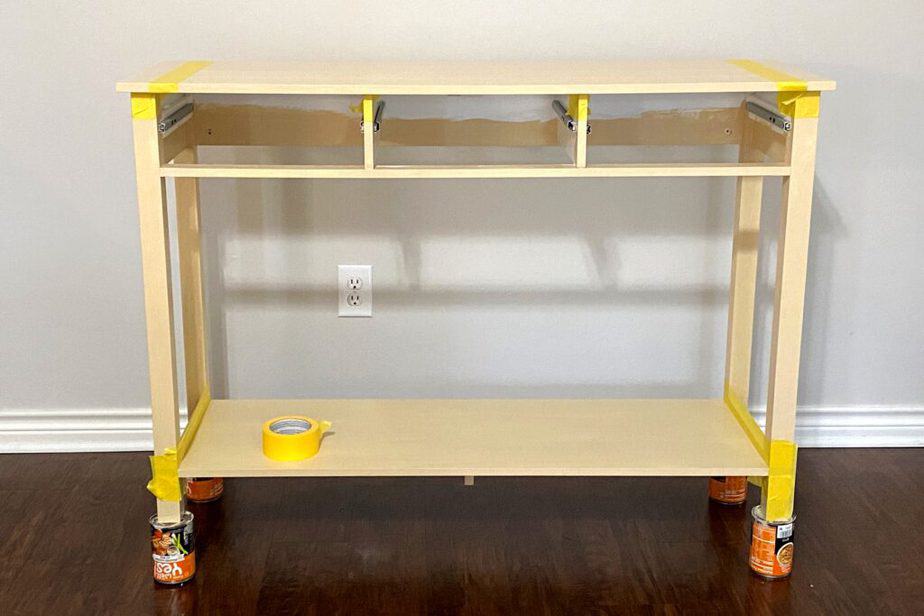 Step 4: Tape Off Portions To Make Painting Easier (Optional)
After doing a few pieces of furniture in the finish, I found a way to make this finish look even more efficient. Our next step will be the glaze but if we try to glaze adjacent parts of the furniture piece, we will accidentally touch other glazed parts that are still wet.
For that reason, I used this painter's tape to prevent glaze from getting on other parts of the furniture. I recommending taping it so you can do the top and bottom shelf first. (I spend more time explaining this in the video. )Then after 30 minutes, the glaze will be dry enough to take off the tape and tape the rest.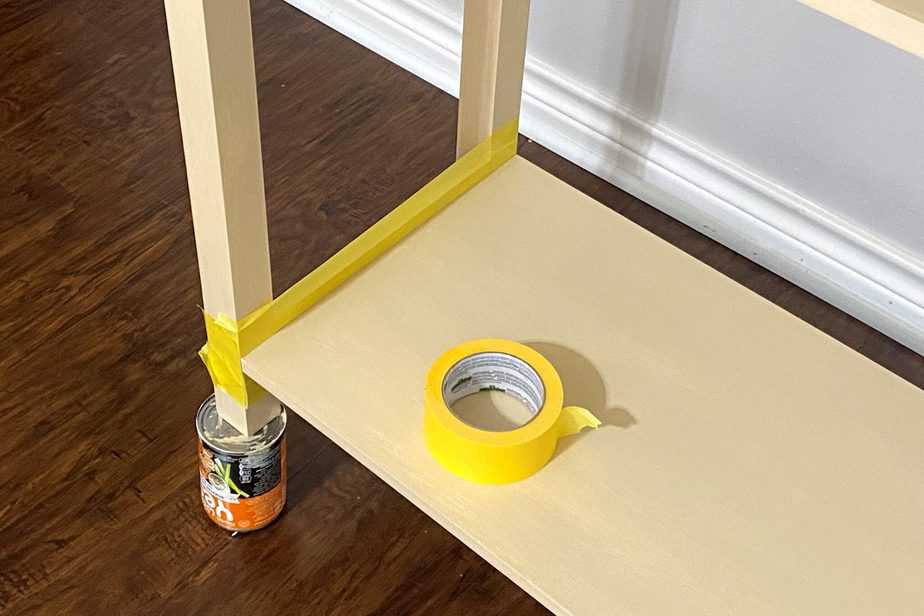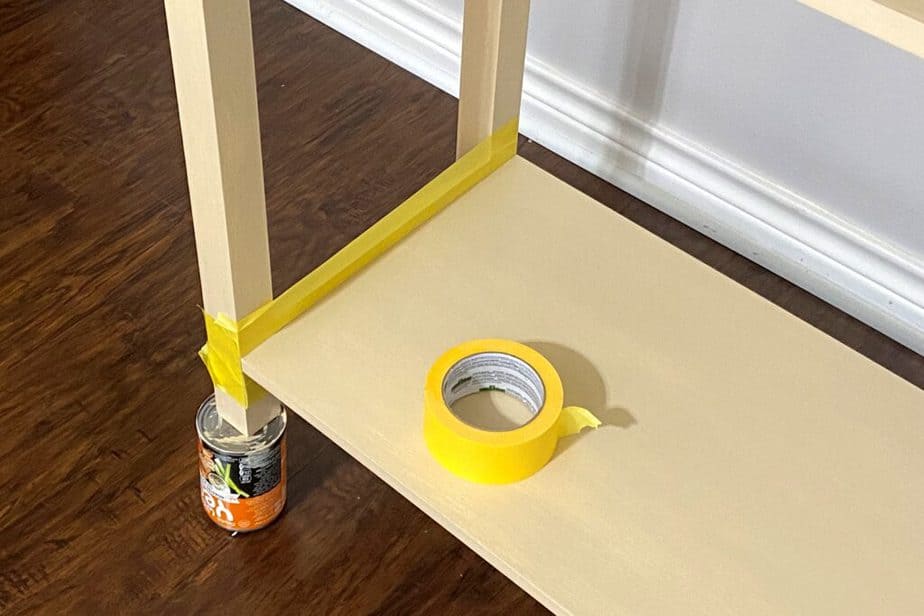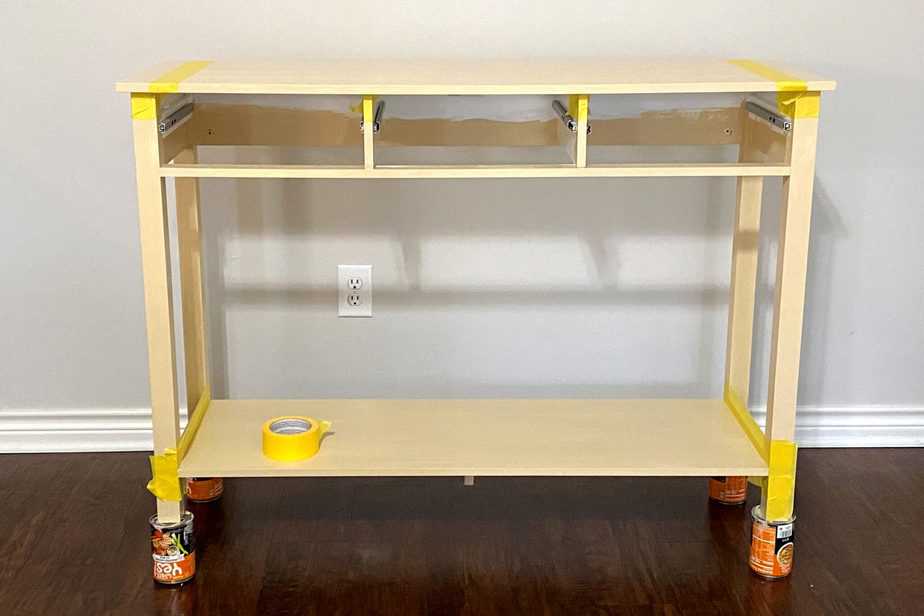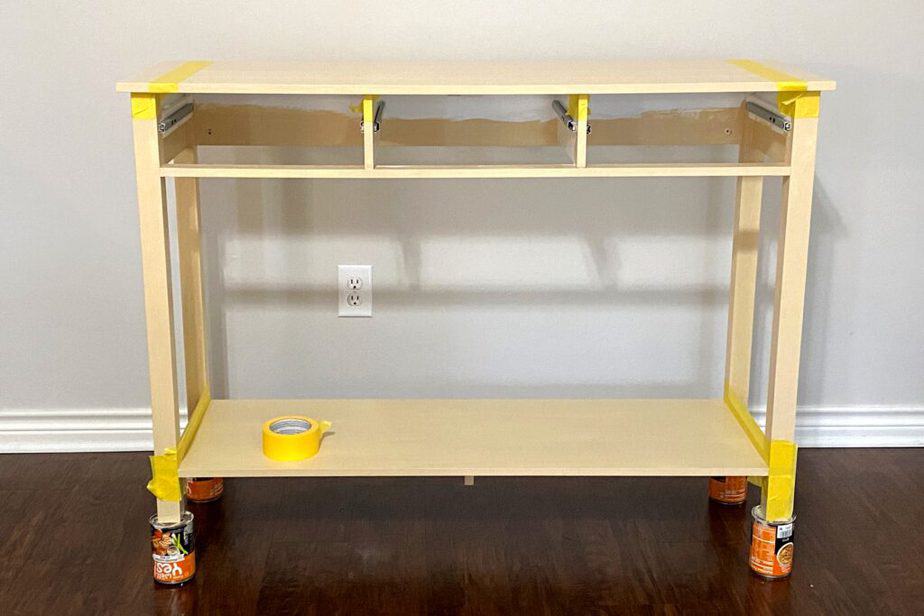 Step 5: Applying the Glaze to Get a Natural Raw Wood Finish
To make our glaze mixture, we will need a sample container of Sherwin Williams Van Dyke Brown in Satin from Lowe's, Valspar's Clear Mixing Glaze and water. Mix the following:
Raw Wood Finish Glaze Mixture
After mixing the glaze mixture, use your brush to wipe a coat on to one surface. Do one surface or section at a time. Right now, you are just trying to get the paint on that section and cover it. It doesn't even matter what direction you brush on the glaze at this point.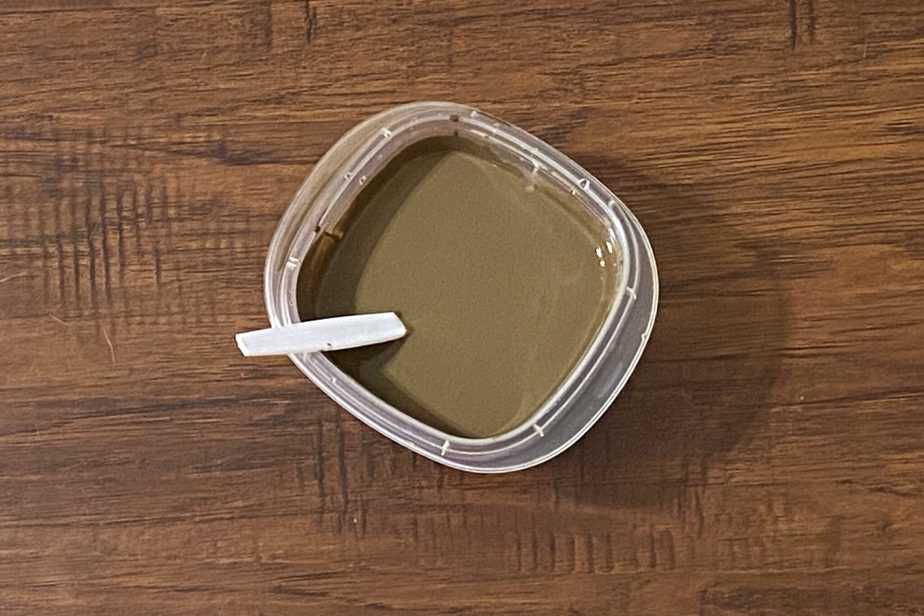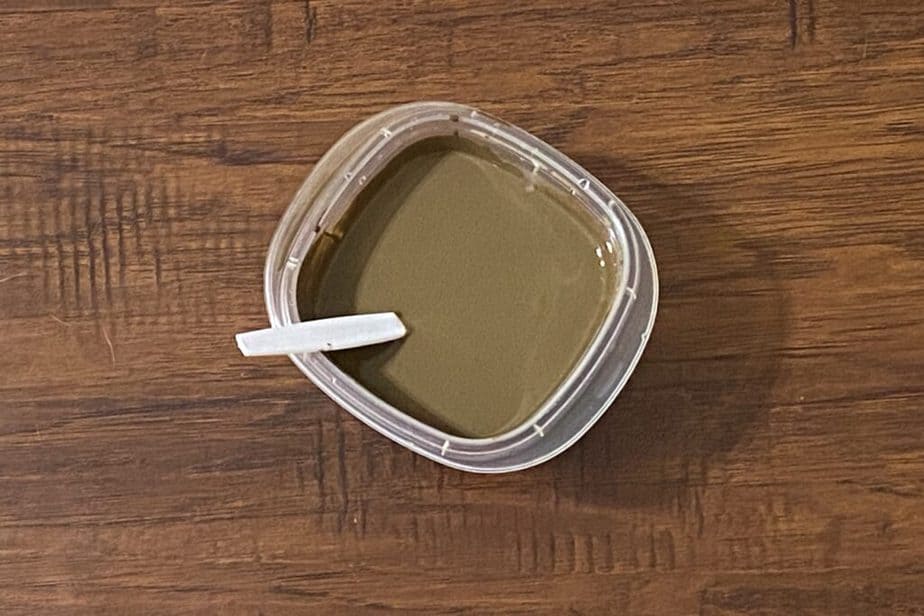 Once you have painted the glaze mixture onto the surface you are currently working on, take your Huggies Natural Wipes and fold it over until you have a small square.
Now you are going to wipe in the direction of the grain back and forth. Use one wipe per section (in other words, don't just keep getting new wipes or you'll wipe off too much.)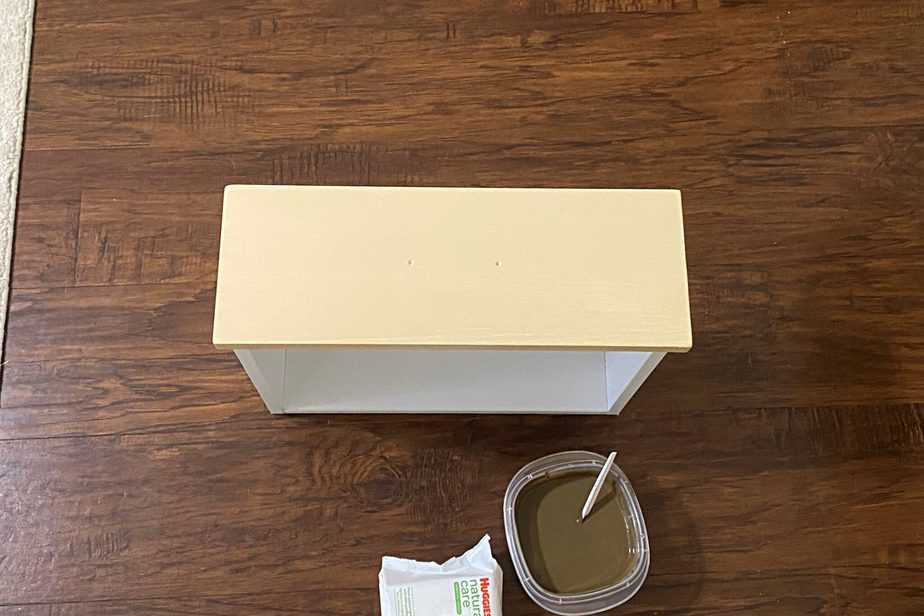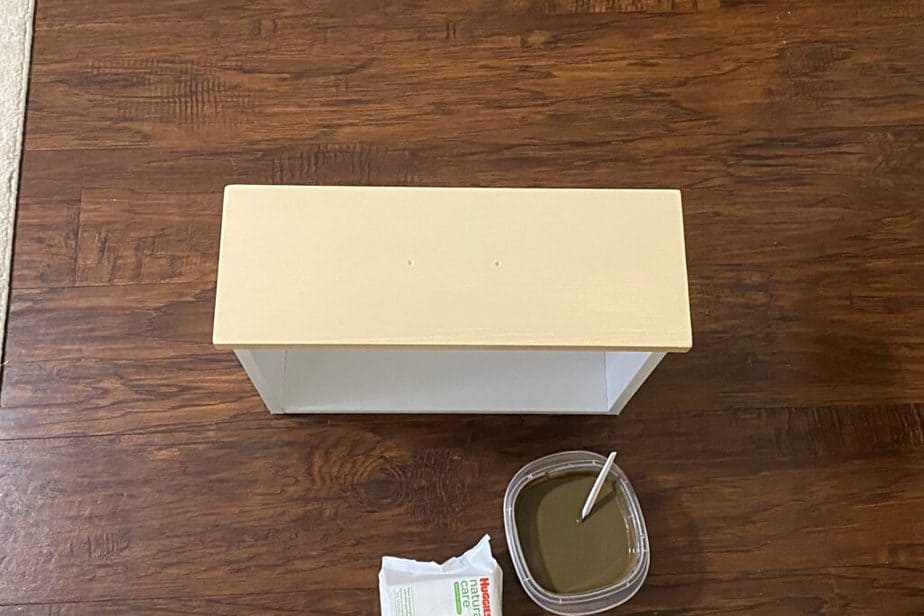 As you can see in the video, keep wiping back and forth with your same wipe. You will be amazed to see the look of raw wood grains peak through the glaze!
Do the above glaze step to one surface at a time. In other words, don't brush on the glaze over the whole piece and then try to wipe it all off at once. Wipe the glaze on a drawer face, wipe it off with the wipe and then go on to the next drawer and so forth.
After 30 minutes, your glaze will be dry enough to retape the rest of the surfaces of your furniture piece and glaze/wipe them.
Let the glaze dry overnight.
Step 6: Dry Brush With White For A Rustic Wood Finish (Optional)
If you want your finish to have an aged, whitewashed look, you'll want to do this easy step. Mix a little SW Pure White with an equal ratio of the Valspar Clear Mixing Glaze.
COST-SAVING TIP: Any white or off-white latex paint will work in case you already have some on hand!
Dab a tiny amount of the white paint/glaze mixture on your brush. Now take a paper plate (a bright plate works best) and wipe off as much of the paint as you can.
Now, brush back and forth in the direction of the grain as I do in the video. The white paint will be subtle but you will keep brushing back and forth to get the whitewashed look you want.
Step 7: Protect Your Natural Looking Wood Finish (Optional)
If your furniture piece will endure lots of use (like a kitchen table), I recommend adding a clear coat to the top. My favorite clear coat after lots of testing is Varathane's Waterbased Polyurethane (click here for the current price.) I highly recommend the matte finish to better simulate raw wood.
I love this clear coat because it is great at sealing raw wood and painted pieces while still maintaining a flat sheen.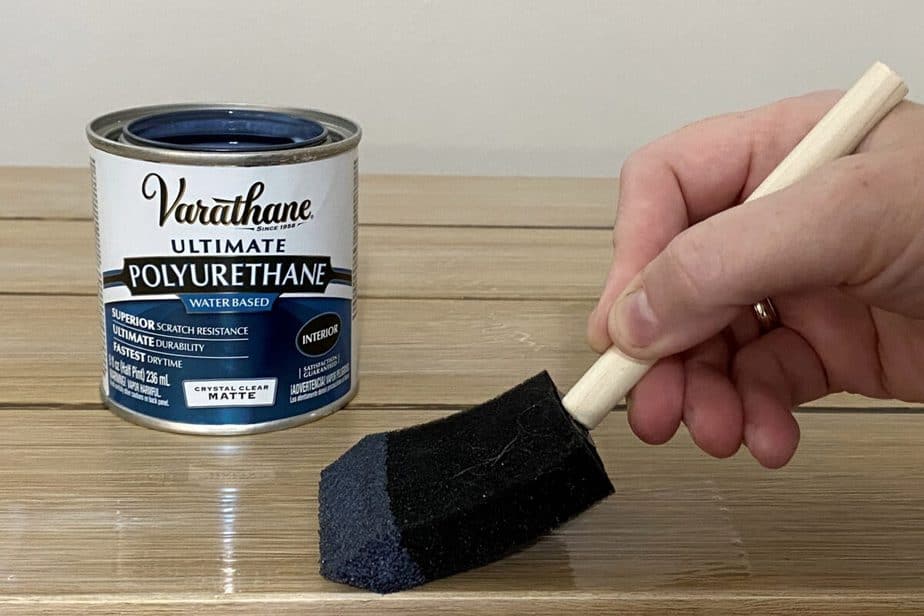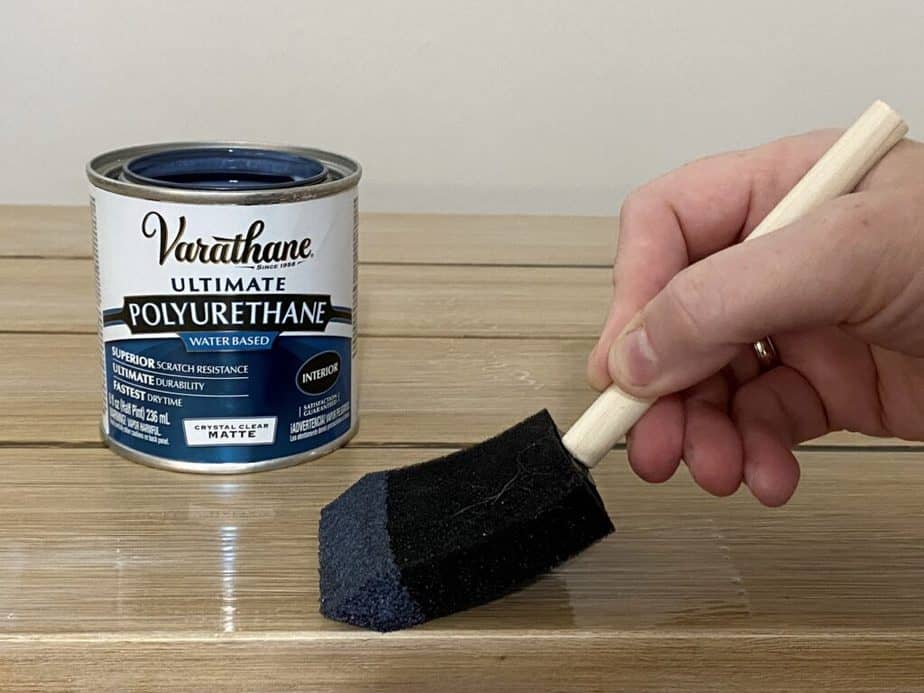 Now that your clear coat is dry, you can enjoy your gorgeous raw wood finish! Isn't it beautiful?!?
I love how it looks like a vintage piece that has stood the test of time. Who knew latex paint could make such a great raw wood finish?!?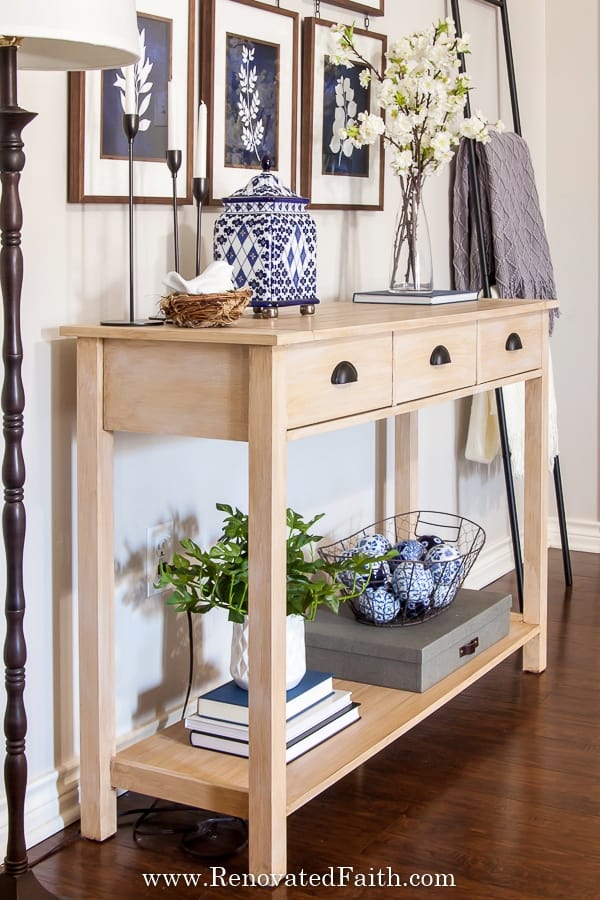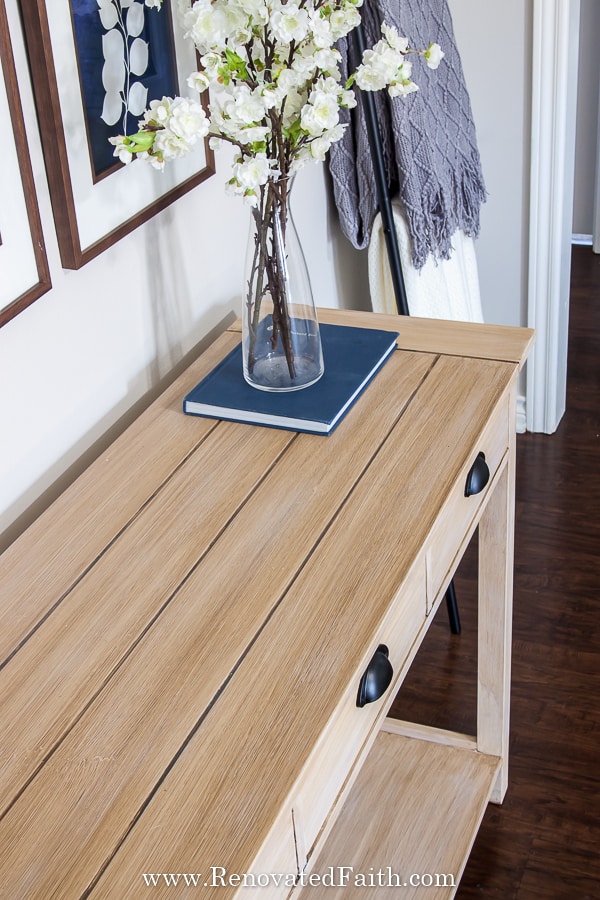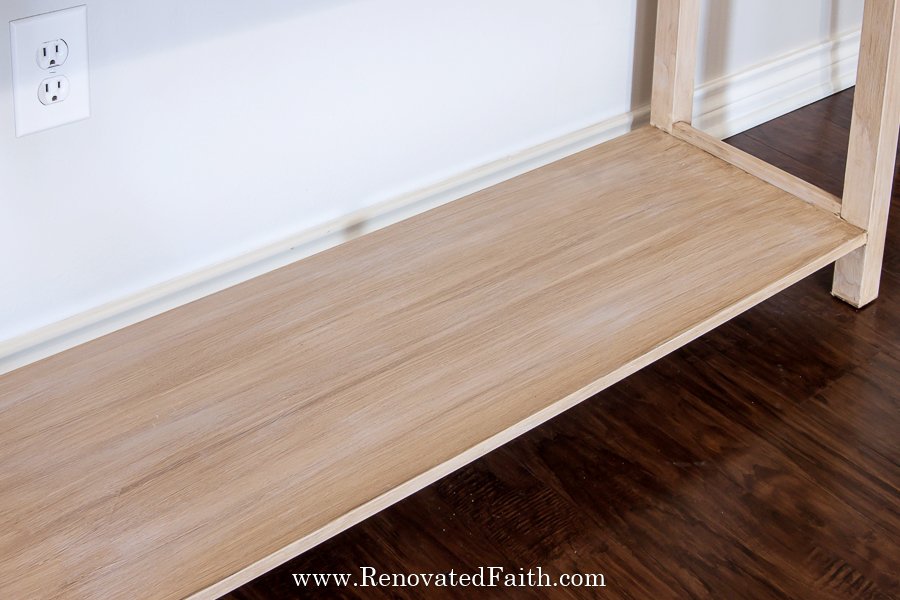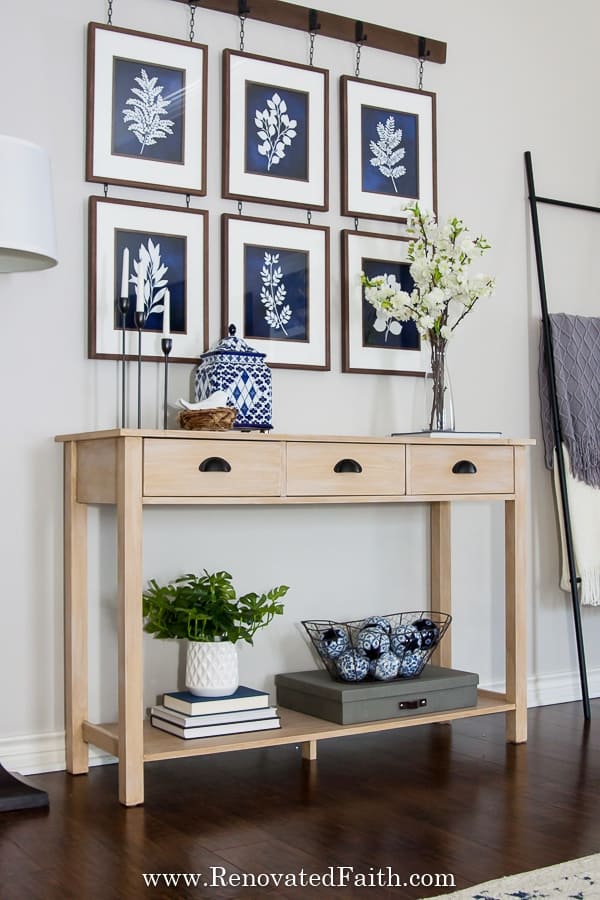 RENOVATE YOUR FAITH: Recognizing The Voice of God vs. Your Inner Critic
I've been a Christian for the vast majority of my life. I was brought up in church, and even attended seminary after college so that I could work in full-time church ministry.
I've known about his love for me from a young age. But now I'm beginning to see with new eyes what it truly means that He loves me. So often, I try to use human characteristics to parse God's love for me and then my view of His love becomes distorted. Because God's love isn't earthly at all!
The parable of the lost sheet in Luke 15 has been on my mind as I'm trying to grasp God's love for me from His perspective, not just from my human, American worldview.
Then Jesus told them this parable: "Suppose one of you has a hundred sheep and loses one of them. Doesn't he leave the ninety-nine in the open country and go after the lost sheep until he finds it? And when he finds it, he joyfully puts it on his shoulders and goes home. Then he calls his friends and neighbors together and says, 'Rejoice with me; I have found my lost sheep.' I tell you that in the same way there will be more rejoicing in heaven over one sinner who repents than over ninety-nine righteous persons who do not need to repent.
Sheep don't have many responsibilities and their job isn't very difficult – they eat grass and move with the flock.
I'd be willing to bet that the absolute worst thing a sheep can do is wander off.
If you were the lost sheep, how would you expect the shepherd to react when finding you?
But notice that upon finding the sheep on it's worst day, when it was most disobedient, Jesus rejoices in finding you. The Good Shepherd doesn't pull a rope tight around your neck, scold you and pull you back the flock while grumbling.
The Good Shepherd's reaction is the total opposite. His eyes light up upon seeing you and a big grin appears on His face. He scoops you up in His gentle arms and rejoices to neighbors that His precious lost sheep is found!
I've come to realize my inner critic is very loud – often berating. Sometimes I assume that Christ would act in the same way I would in a circumstance. At times I think I get the voice of my inner critic and God's confused.
My inner critic says to me on my worst day, "You've done it this time. You have really screwed this up. You will have to be extra good to get in the Shepherd's good graces again!"
But fortunately, God's voice and the voice of my inner critic are very different. God loves Me unconditionally and not on human terms of work and reward. His grace has already covered my every sin on the cross and Holy Spirit permanently resides in me.
When we let the voice of our inner critic be the prevailing voice in our head, sometimes we assume that the Lord's voice sounds similar. But God's voice is never one of exasperation and scorn.
Thankfully God's ways are not our ways. You have His full attention and even on your worst days you are the apple of His eye. You are precious to Him, created in His own image. You are fearfully and wonderfully made and preciously held even now by your Good Shephard. He loving refers to you as His Beloved.
Don't let your inner critic tell you otherwise.
For more spiritual encouragement, click here for the rest of my project posts that also include Renovate Your Faith devotionals.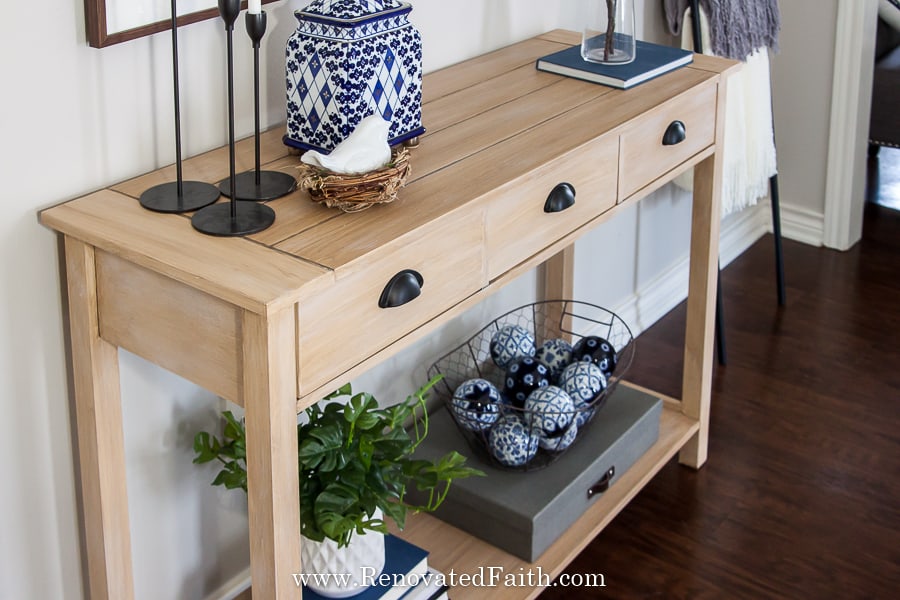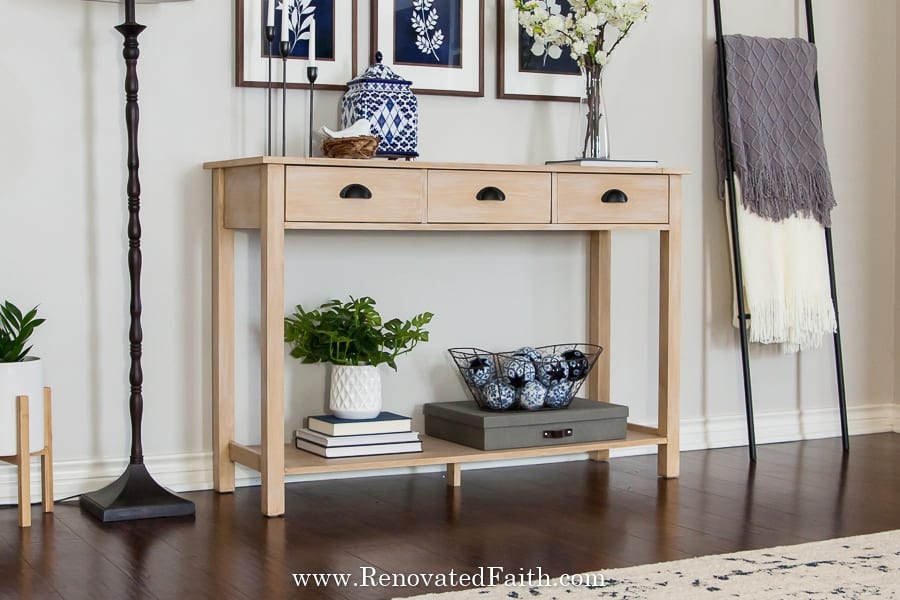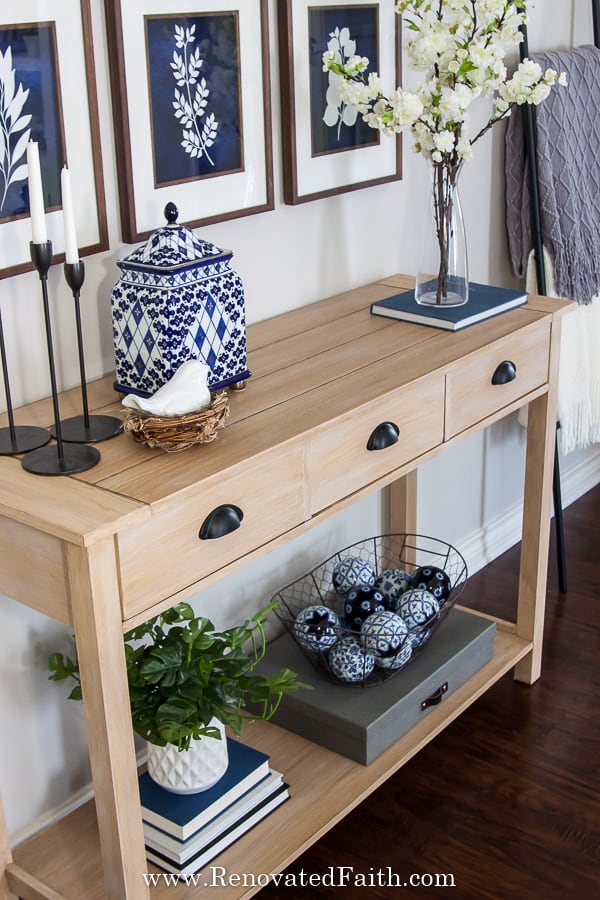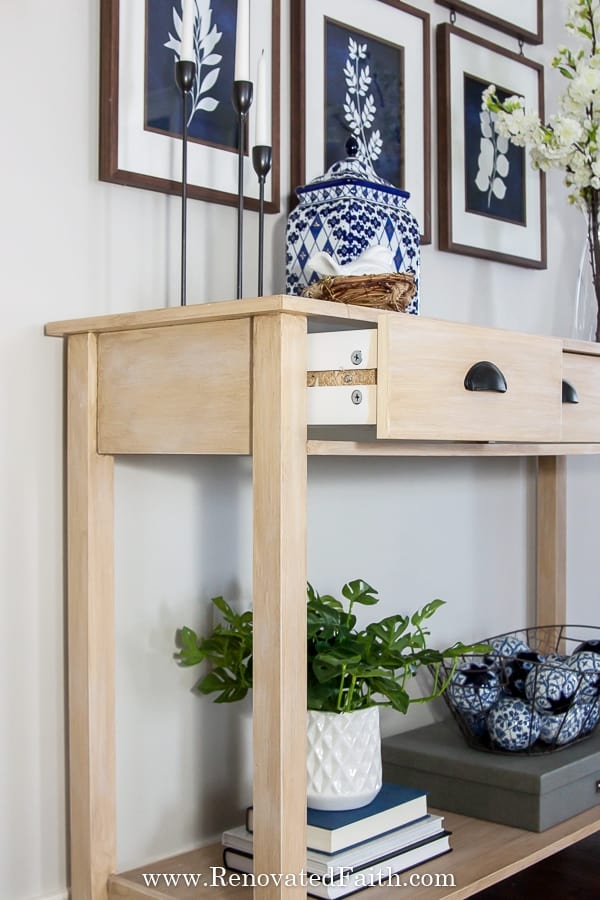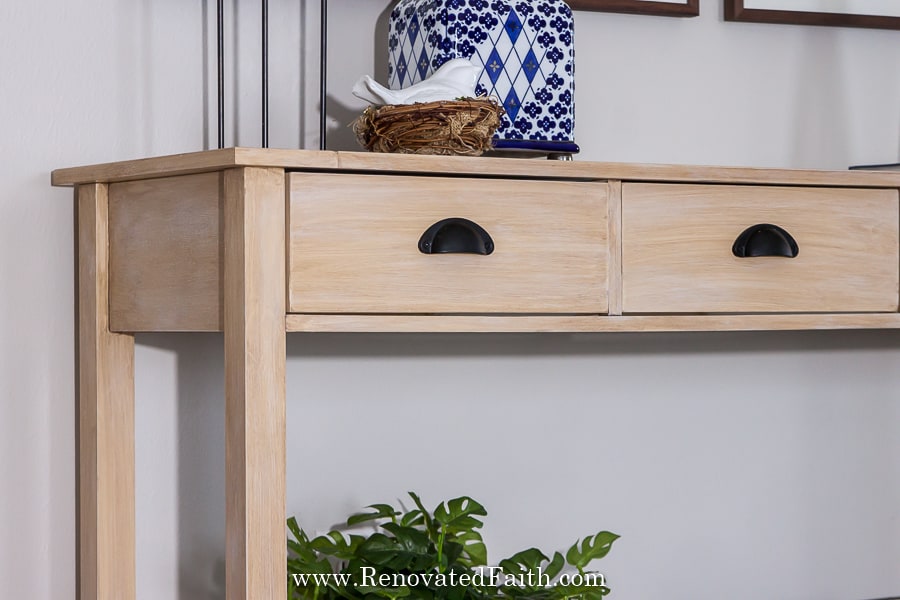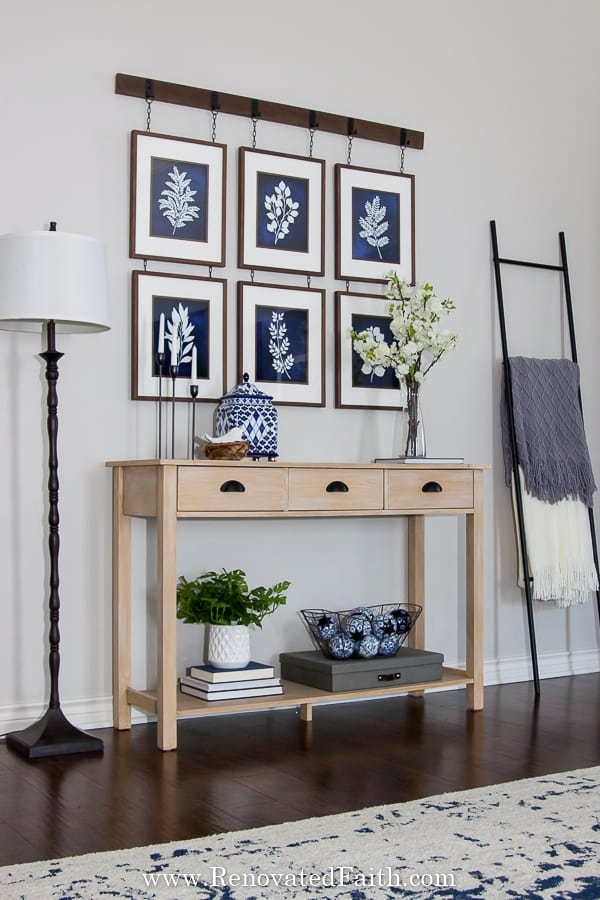 FREE Must-Have Painting Tips for Furniture
Here's where you can get my best tips for saving time and money on furniture painting, while getting a beautiful finish every time! Get the password for the library with all of my free printables including wall art, checklists, and templates by filling out this short form:
How To Paint a Metal or Fiberglass Door to Look Like Wood
Did you know you can use any faux stain on a metal or fiberglass door to make it look like its made out of real hardwood? To see how I painted my metal back door, click here: The Easy Way To Paint Any Metal Door To Look Like Wood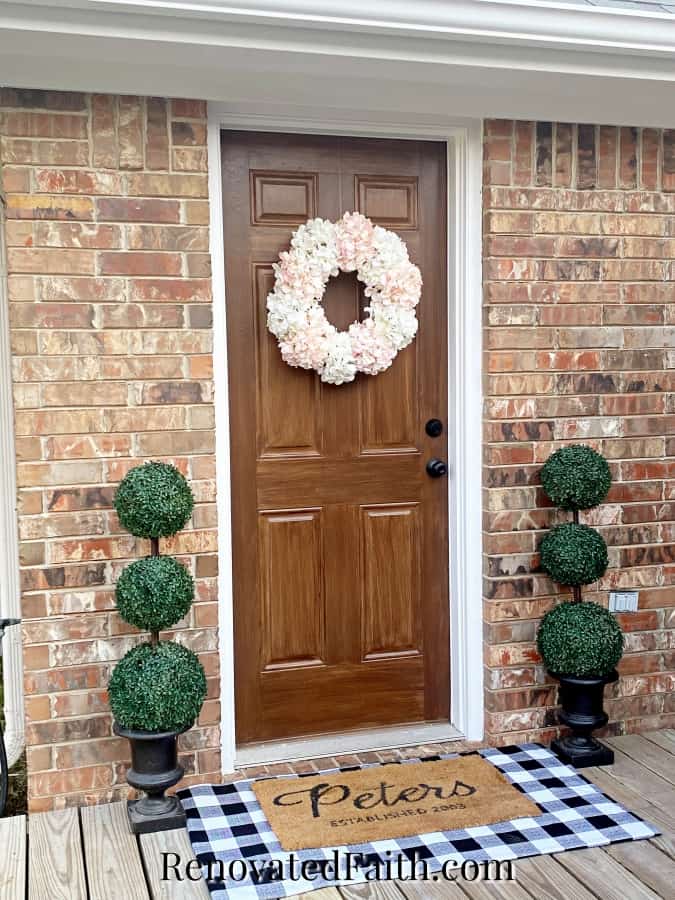 FAQ's: How to Get a Raw Wood Finish
What decor goes with a raw wood finish?
Any style including industrial farmhouse, coastal, and modern decor work well for furniture with a raw wood finish.
How to Seal Raw Wood without Changing the Color?
If you are looking for a clear finish that won't darken wood, the Varathane water-based polyurethane in matte works really well. It might make the grain slightly more contrasty but it will not make it darker. My experience is that it just give the existing surface more character.
This is the perfect topcoat if you are wanting to get a matte finish on wood and you can find it here: Varathane Waterbased Polyurethane in Matt
More Posts Related to a DIY Raw Wood Finish
The Absolute Best Furniture Paint (24 Brands Blind-Tested & Reviewed)
Best Tips to Hang Gallery Wall Art Easily
How to Apply Paint that Looks Like Stain (6 Stain Shades to Pick From!)
How to Paint and Stain Laminate Furniture Easily
EASIEST Gel Stain Over Stain Technique (How to Gel Stain Over Paint!)
EASY DIY Picture Hanging Rail (The Low-Cost, Hassle-Free Method)
12 Free Blue Botanical Prints (FREE PRINTABLES)
How To Create A Raw Wood Finish: YouTube Video Tutorial
Final Thoughts How To Create a Raw Wood Finish with Paint
Don't forget to download your Must-Have Painting Tips to help any painting process go smoother. You can get them and access to all the free printables in my library by adding your email to the form above.
This step-by-step tutorial gives you an easy way to get a raw wood finish without the use of furniture stripper or bleach. I absolutely love this finish and it amazes me that even laminate furniture can look like vintage raw pine. With this process, you won't only love the results but you'll have fun during the process too!
I love to hear your thoughts and questions! Scroll down to leave a comment and I WILL reply! ❤️
Blessings,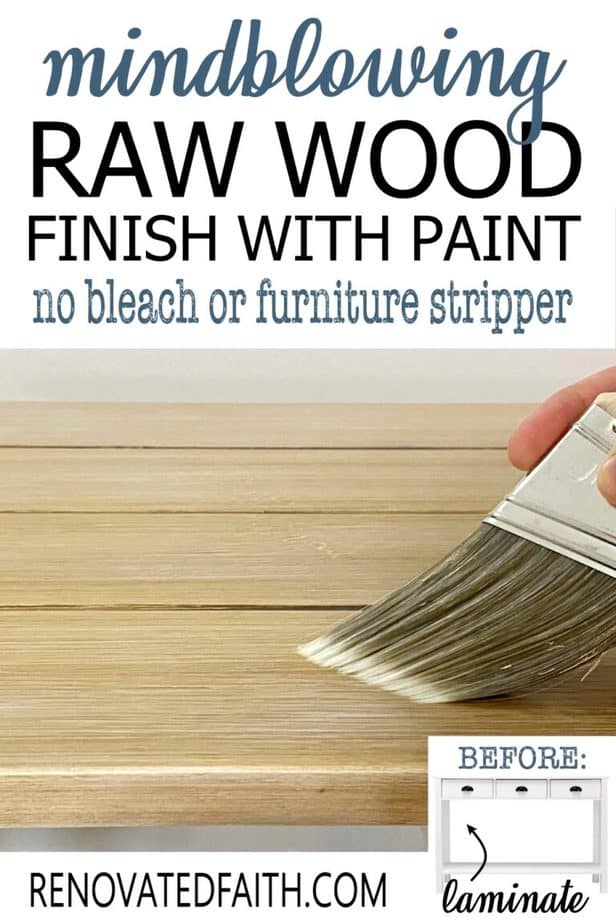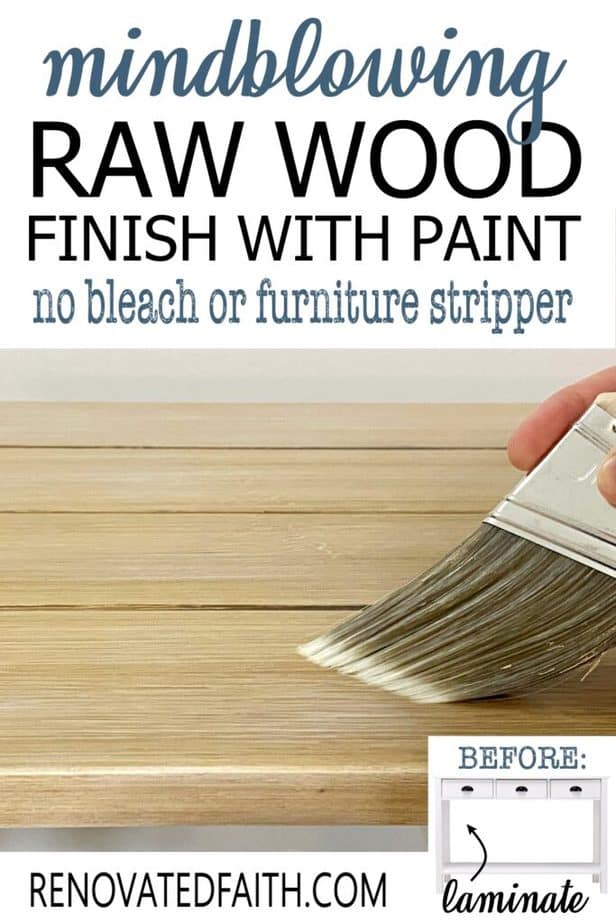 Be sure to follow the fun here!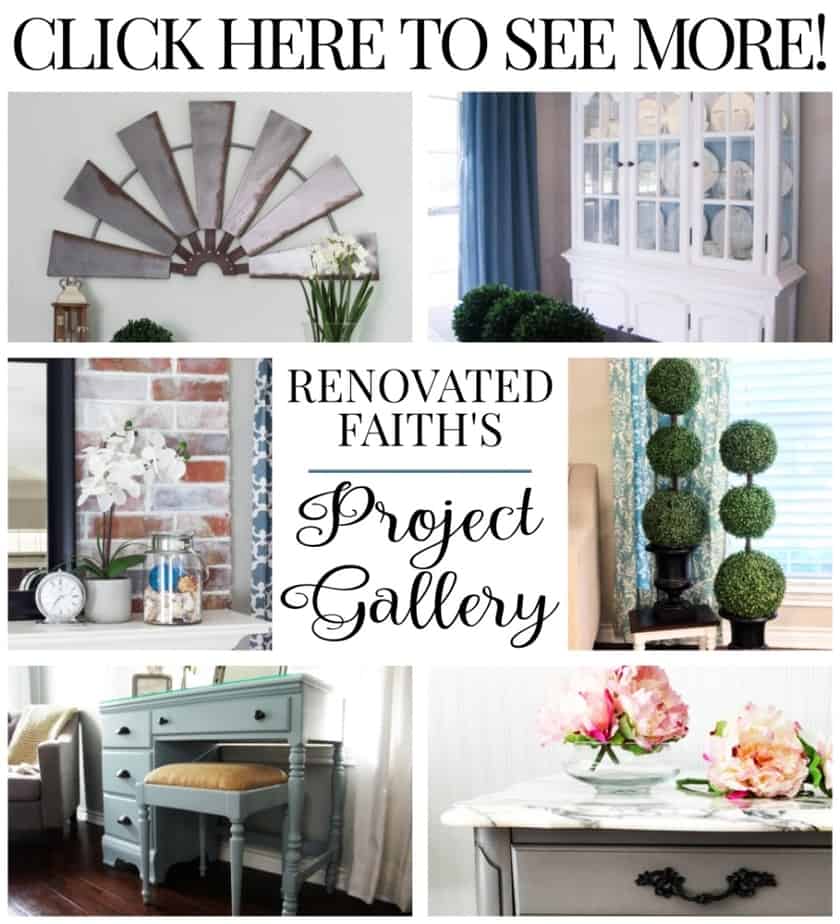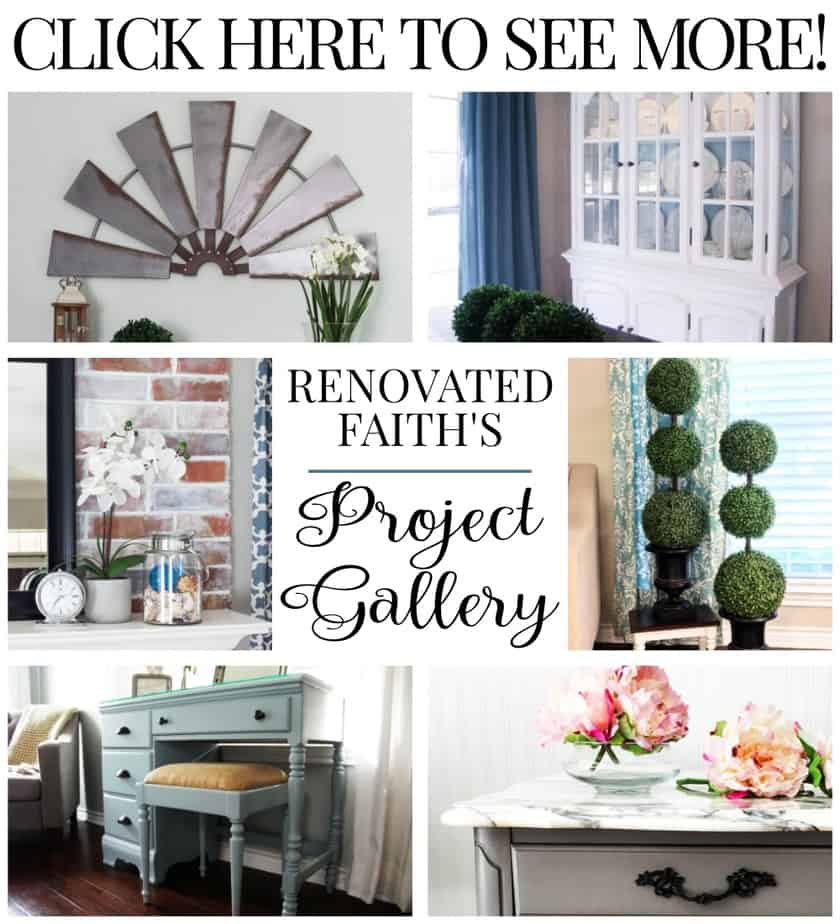 Raw Wood Finish: DIY Tutorial with NO Bleach or Furniture Stripper
Welcome to Renovated Faith, where I share about DIY projects, my faith and everything in between! When I'm not spending time with my family, you will find me redoing furniture in the garage or watering plants in my greenhouse. This blog is about transformation. Anyone can renovate a house but only God can transform our hearts!