A Guide to Selecting the Best Wood for Your Kitchen Table Top
Want to find the best wood for a dining table or other heavy-use furniture piece? Here are several wood types and a beautiful low-cost option!
---
Whether you are buying from a furniture store or building a table yourself, it's important to consider the best wood for your dining table before you go and make a big furniture investment. Your dining table is the centerpiece of your home, but the best wood type is one that is not only beautiful but durable enough to endure heavy use.
With the high price of lumber today, it would be a shame to buy or build a gorgeous piece of wood furniture only to realize that it can't withstand the demands of your family's everyday life. Maybe it gets an unsightly ring from a drink left on it a few minutes, or maybe the tabletop scratches easily and you get nervous every time one of your kids runs by.
Using wood that is durable enough is important but durable hardwords can be pretty expensive!
However, with this easy hack, there's no reason you can't build beautiful furniture that looks like it belongs on a showroom floor without spending a lot on lumber.
LET ME SHOW YOU:
Several different types of wood for dining tables
A way to have a beautiful table top without spending a lot on lumber
Tips on how to effectively protect your wood finish in the future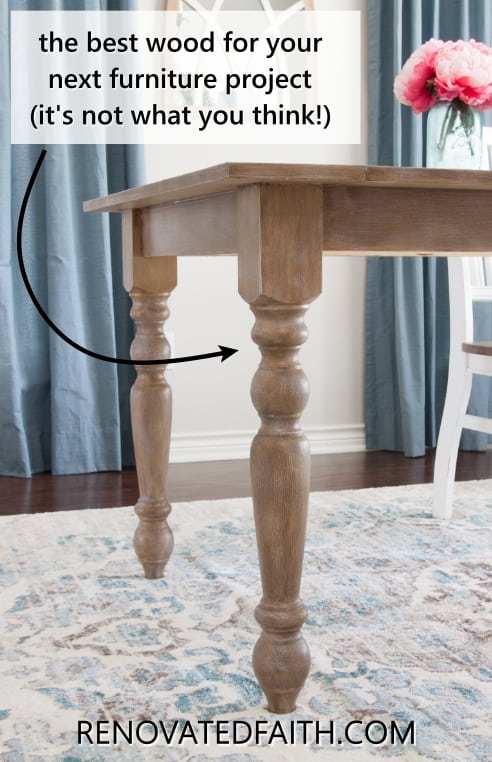 (As an Amazon affiliate I earn from qualifying purchases. Please see my full disclosure HERE).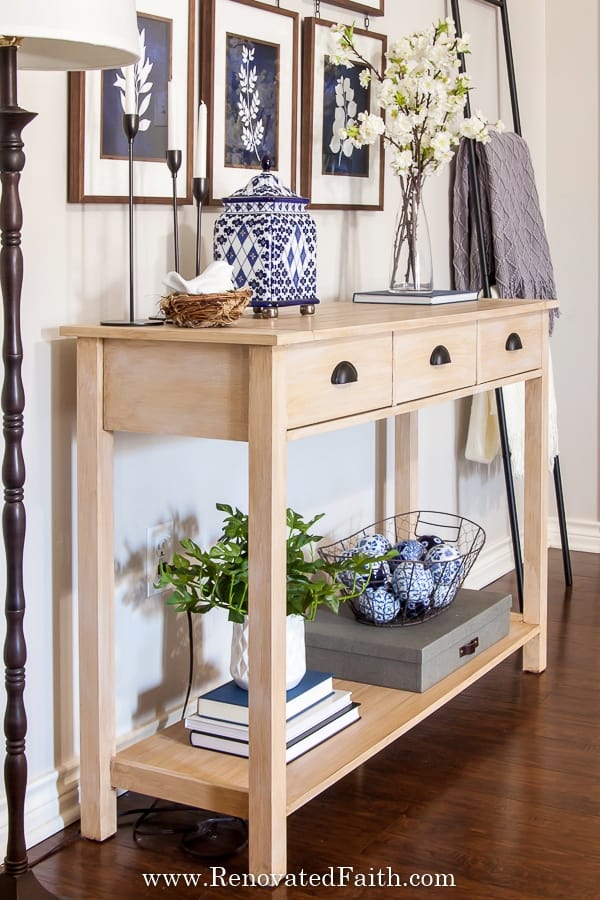 A Note About Hardness and Durability of Wood Species
Each wood type has it's own specific characteristics and some are more durable than others. The hardness of wood is best measured by something called the Janka Hardness test. The hardest wood on the Janka Hardness scale is Australian Buloke at 5,060 lbf and the softest is balsa wood at around 70 lbf.
Durability and hardness are important considerations for high-use furniture like dining tables, coffee tables or desks. Furniture in constant use needs to be hard enough so that it doesn't dent or scratch easily like softer woods.
Durability isn't the only important aspect when picking the best wood for a dining table. Some of the hardest woods are also very dense. High-density woods can be more prone to warping or cracking in high humidity. Also, slightly softer woods are more workable, meaning that screws and nails easily grab into the wood which makes for stronger joints.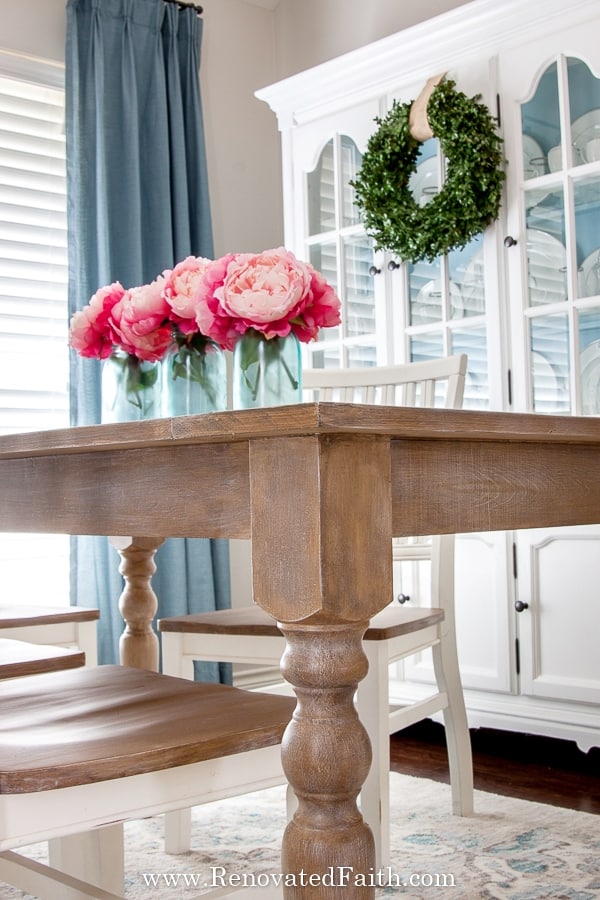 The Best Wood for a Dining Table: Types to Choose From
Whether your want the rustic look of a farmhouse dining area or something more traditional and formal, there are several different options to choose from:
Walnut Wood
Although there are several varieties of Walnut trees, just a few are native to North America. The most common is the Eastern Black Walnut, which is known for its beautiful grain pattern that will make any kitchen table a unique statement piece. Well-known for its color variation and contrast, Walnut is often used for modern styles or contemporary dining furniture.
But this wood can look just as stunning in a modern farmhouse setting as well. Because of the contrasting elements of Walnut, it's so easy to coordinate this wood with other furniture or design elements in your home.
While Walnut is known for being a very hard wood that will serve you well for years, it's also one of the more costly woods.
APPEARANCE – Walnut varies from creamy whites to chocolate browns with rich, bold color variations and grain patterns with lots of motion. Its variability lends well to contemporary rooms because it's not uncommon to see purple, black and golden tones in the wood. While these tones go well with mid-century modern furniture, you're also likely to see Walnut with a darker stain in more traditional settings.
DURABILITY – Although Walnut is a very hard and durable wood, it's susceptible to denting and scratching.
HARDNESS – 1,010 on the Janka scale
WORKABILITY – Overall Walnut is easy to worth with but it can be prone to planar tearout – abrasive tears in the wood when it is run through the planer at the mill. So, be careful when picking out your lumber!
COST – Expensive to Highly Expensive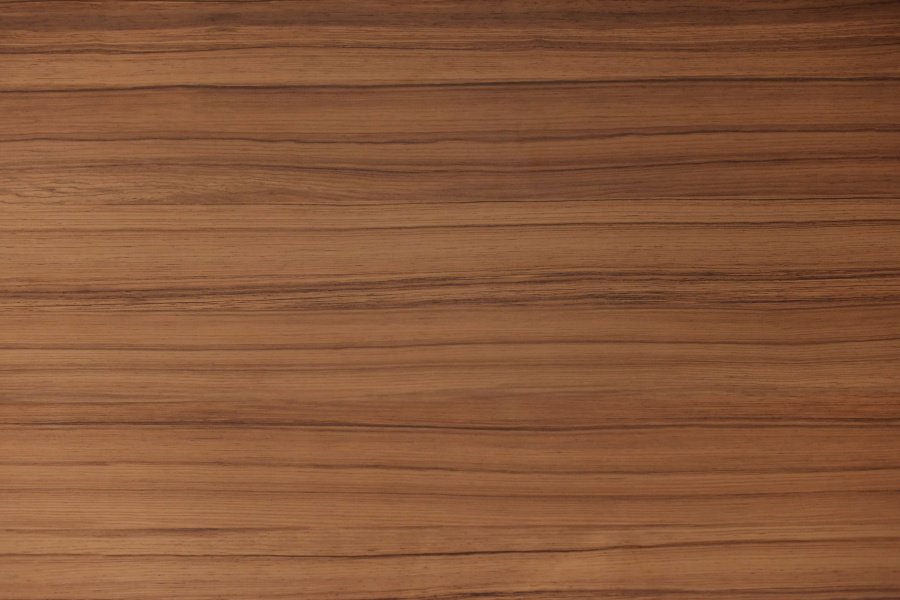 Maple Wood
Maple is one of the hardest domestic varieties of wood in North America and is known for being a very light-grained wood. If you are partial to wood that sands easily to a silky look and smooth finish, you'll love the look and feel of a maple dining tabletop. You can see the smooth, light grain of maple used in contemporary furniture but it's a popular choice in traditional formal dining room sets also.
Hard Maple is known for it's smooth texture, clean lines and straight grain, while still being highly durable. Soft Maple (Brown Maple) is still a very durable hardwood overall but is only referred to as "Soft" because of how it compares to Hard Maple.
APPEARANCE – Creamy white to a light brown or dark golden grain with a beautiful, silky texture.
DURABILITY – Extremely durable because of its tight grain pattern
HARDNESS – 1,450
WORKABILITY – Easy to work with but hard maple tends to burn with high speed cutters like routers
COST – Expensive but moderately priced compared to other hardwoods; Soft maple is cheaper and is often a great low-cost alternative to cherry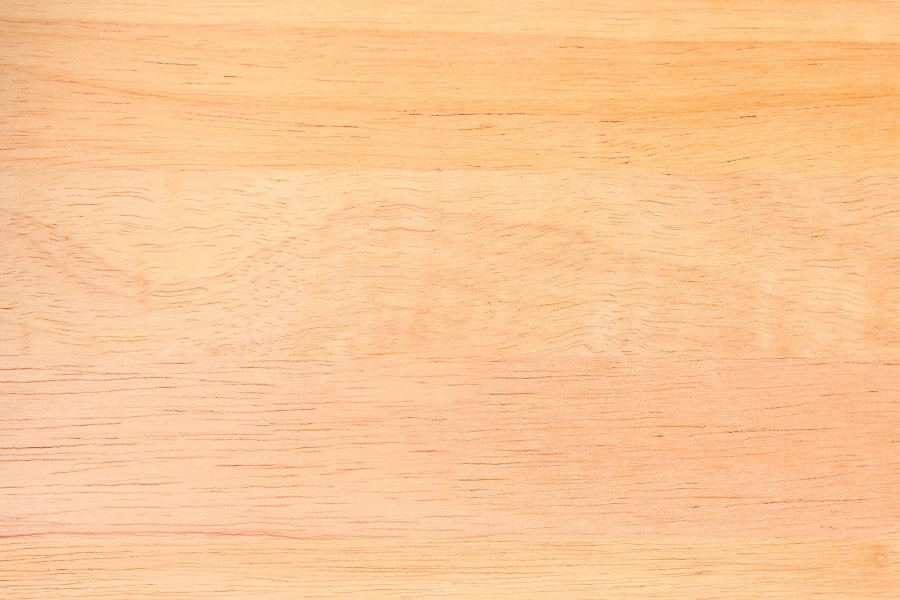 Cherry Wood
Cherry wood is most often used for fine furniture like formal dining room sets. You probably have memories of Thanksgiving dinner at your grandparents' house sitting at a solid wood dining table made of Cherry. Cherry wood is widely available and is also very durable.
One unique aspect of cherry wood is that it tends to darken over time and heat and light can bring out more depth in it's color over the years.
Cherry usually has a very warm tone which can make it harder to match to cooler-toned farmhouse or even contemporary furnishings in your home. If you go with cherry, make sure it doesn't clash or go with a cooler stain with gray undertones.
Rustic Cherry has more mineral deposits which give it a lot of natural texture making new wood look like rustic wood that's been around for decades.
APPEARANCE – Reddish brown with a very smooth texture. At times natural mineral deposits can give it a subtle textural effect. The grain pattern is very soft, linear and doesn't have a lot of contrast like Walnut. It definitely has the most subtle grain patterns.
DURABILITY – Susceptible to dents and scratches with rough use, not as hard but more durable than pine
HARDNESS – 950 Janka hardness
WORKABILITY – Easy to work with, glues well and easily takes screws and nails
COST – Modernately to quite expensive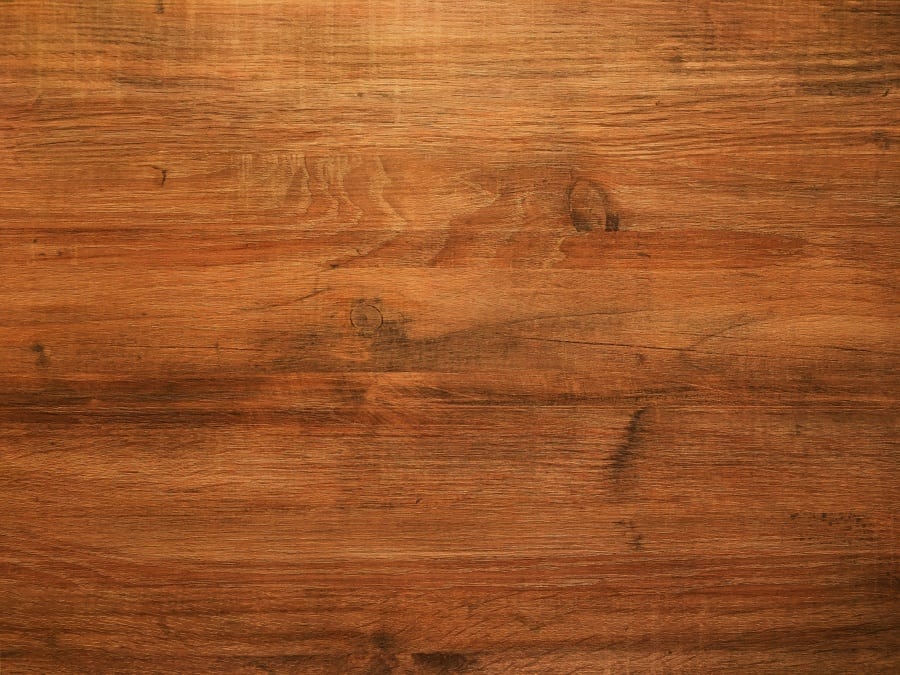 Oak Wood
Oak is one of the most durable hardwoods for furniture and is commonly used on kitchen cabinets. Many farmhouse-style wood table tops are created from red oak which has a slightly orange grain tone and open grain texture.
Oak has a very open grain pattern meaning that it has a lot of texture. No matter how much you sand oak, you will struggle to get a smooth finish because of the grain's texture. That's why oftentimes when repainting oak cabinets, the grain has to be filled in first.
With that said, it's very functional and resistant to dings and scratches. While you don't get the smooth texture of maple, you do get an extremely strong surface with oak tables.
White oak is another common hardwood species, but don't let the name fool you. White oak is actually darker in tone than red oak and still has red and orange undertones. The main difference is in the grain pattern where the grain is less wild. Therefore, a white oak dining room table would look more uniform than a red oak table. Another interesting look is quarter-sawn white oak. Both red and white oak have the same durability
APPEARANCE – Open textured grain pattern in golden, red or pink hues
DURABILITY – Extremely durable and a great wood for furniture making projects
HARDNESS – 1290
WORKABILITY – Great for woodworking but it can be difficult to sand to a smooth finish.
COST – Cheaper than most hardwoods but still more expensive than pine.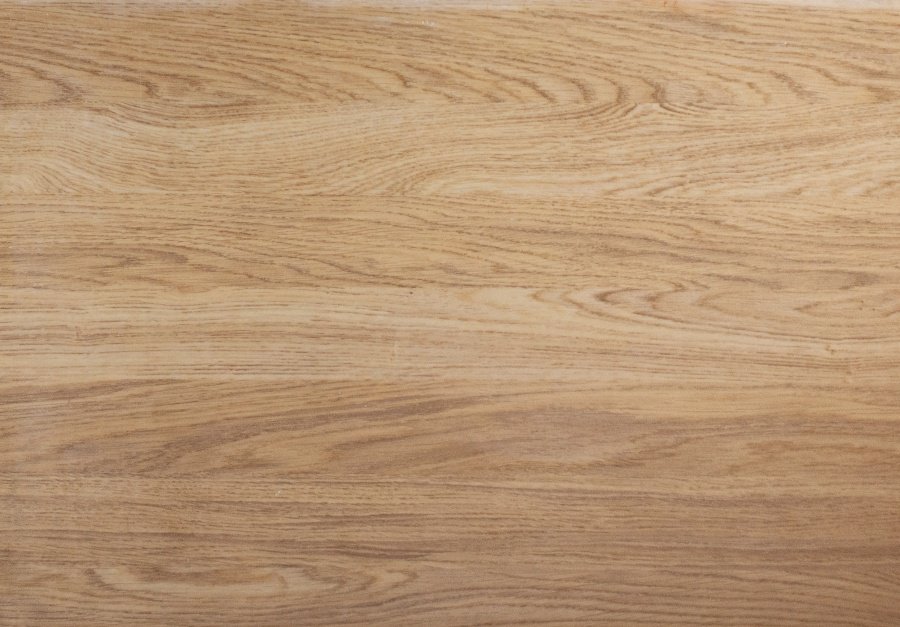 Hickory Wood
If you're looking to have furniture built with a rustic style or farmhouse look, hickory is a great choice! Hickory wood has a medium grain and a very earthy look with neutral undertones that compliment most other furnishings in your home.
Not only is it extremely durable, but Hickory is a very dense and heavy wood which can sometimes lead to warping and cracking. This is especially the case in humid conditions so if you get a lot of yearly rainfall, hickory might not be your best choice. For this reason, it's not a great option for outdoor furniture.
APPEARANCE – Light brown with darker overtones with a contrasting grain pattern. Sometimes it can look more pink so it works well for a country or log cabin look.
DURABILITY – Extremely durable because it's so dense it's prone to cracking and warping in high humidity conditions
HARDNESS – 1820
WORKABILITY – Easy to work with overall, but it's high density means its more susceptible to tearout. It takes stain more readily than other hardwoods.
COST – Moderately expensive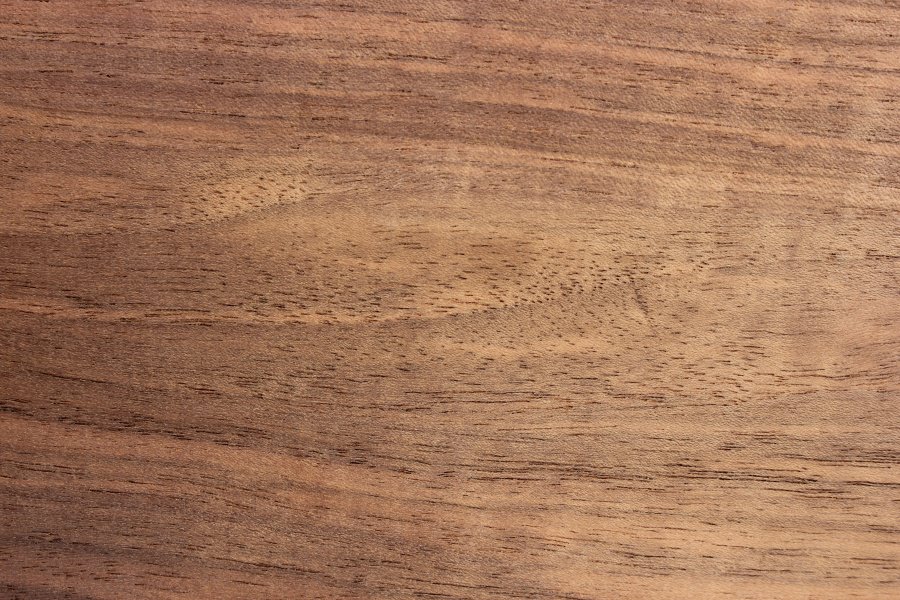 Pine
Pine is a very common material for furniture making and is known for being the most cost-effective option since it is plentiful in almost all regions of the United States and is not endangered.
Pine is very easy to work with as it takes nails and screws easily while exuding a pleasant scent. Unfortunately, it's not one of the hardest options but this can be easily fixed with a high-quality clear coat.
Pine wood is known for it's knot holes and depending on your tastes, that can be a really good or bad thing. If you like the rustic feel of knotted pine, then chances are you embrace the intricate differences in every piece of wood.
But if you're like me, and don't love the knots in pine, they can be easily covered with some faux stains I mention below. Because of it's low cost and workability, you can make a refinish a pine table with a faux stain to look just like a high-end hardwood without spending a lot.
APPEARANCE – Light brown with golden hues and lots of knots compared to most other wood types
DURABILITY – Good but doesn't stand up to dents as well as other woods
HARDNESS – 380 but is still a strong wood
WORKABILITY – Very easy to work with. It can be glued easily and takes nails and screws
COST – Cheap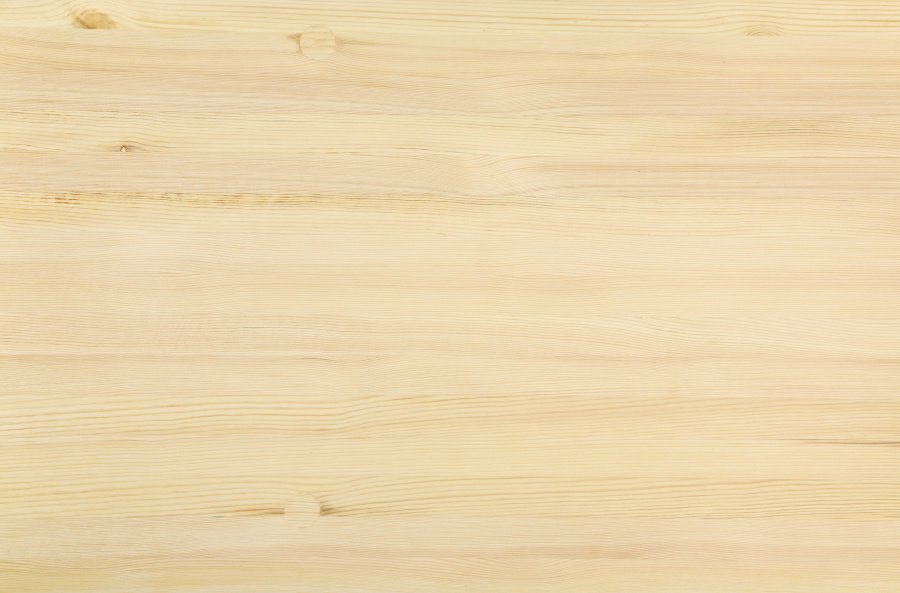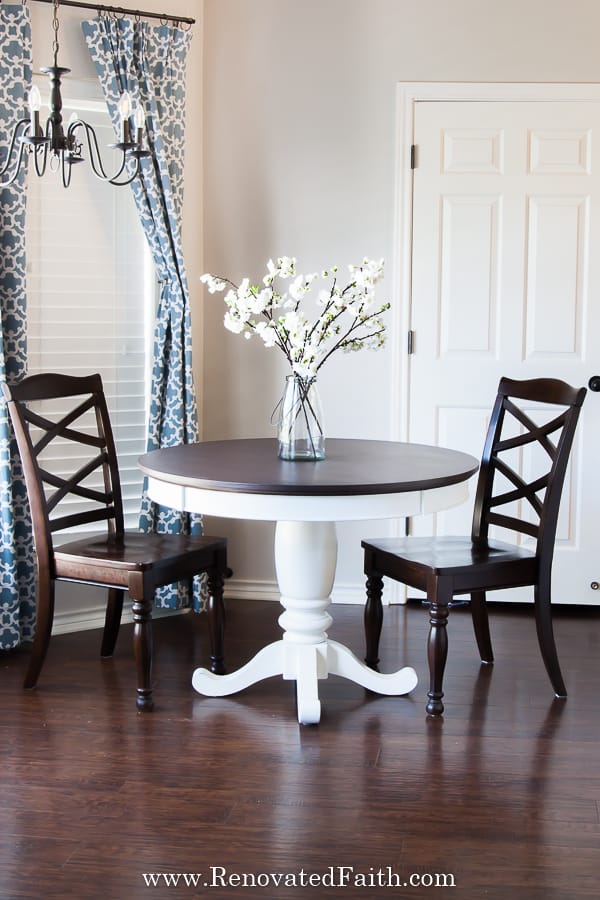 What Is The Best Wood for Making a Dining Table?
The Problem with Traditional Stain
Once you have completed your table, you have lots of options when it comes to the final color of the wood. But applying a traditional stain to a newly finished furniture piece can be trickier than you might think.
I have had a few different emails from readers that went to all the trouble to build a farmhouse dining table but for various reasons, the stain didn't absorb consistently. This left them with an uneven finish or streaks that really took away from the final look of their tables.
When you build a piece of furniture sometimes different pieces of wood didn't come from the mill at the same time. Other times, different sizes of trees have different moistures levels. Uneven moisture levels in wood can affect how well the stain absorbs. This could lead to un unevenness is absorption which causes dark and light areas in the stain.
That's why even high-end furniture stores like Restoration Hardware or Pottery Barn will use a gel stain to stain their pieces. Gel stains are semi-opaque so these darker gels stains hide any unevenness.
But when you build your own dining table, it can be difficult to know how evenly the stain will absorb until it's too late.
Picture yourself spending hundreds of dollars for high-end hardwood lumber. You have your farmhouse table completed and now the only thing left is the stain. You start to apply it and you notice it's not going on evenly. Some pieces of wood are darker than others and areas where you sanded more are also darker. It looks horrible and not at all what you envisioned!
Your only option at this point is to add another coat of stain in hopes that it masks the unevenness. But another coat means less of an opportunity to see that beautiful grain of the high-end hardwood you paid such a high price for.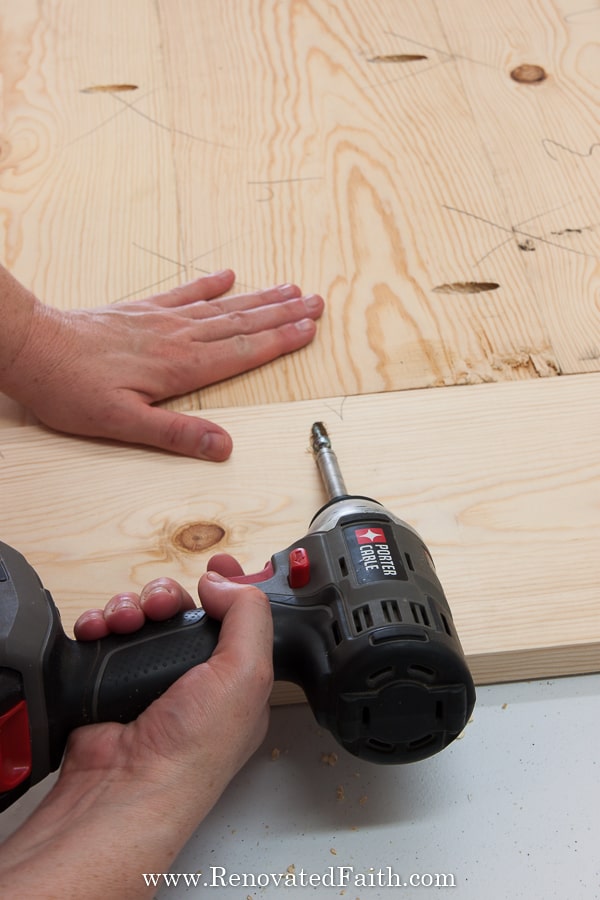 The Solution: Use Pine and a Faux Stain
By using pine, you can use the least expensive wood. Then, you can finish the surface in a faux stain that will completely cover any imperfections in the wood. My faux stains using latex paint can replicate the look of any expensive hardwoods for a fraction of the cost.
Pine is the perfect choice for woodworking projects because of its workability. It's a great wood for beginner woodworkers because it takes nails and screws easily.
To see my faux stain process and all the color optiosn for wood tabletops click here:
Easy Faux Stain Technique with Latex Paint
What About The Knots And Softness of Pine?
The faux stain completely covers up any knot holes. Also, pine is a softer wood but the last step of the faux stain process is applying a clear coat. After lots of testing to find the best clear coat for wood furniture, I've found the best option that will provide maximum durability and protection against drink rings on heavy-use items including restaurant tables. The best dining table top coat is Varathane's Waterbased Polyurethane (click here for the current price).
Best Wood for a Farmhouse Table Top – Pine With A Faux Stain Finish
Here are several of the stain color options. As you can see, you can match just about any look with a faux stain. The great thing about a faux stain is that you can customize them to be lighter or darker to create your own unique look.
Traditional Faux Stain Options
Faux Raw Wood Finish
Want to create a raw wood finish on any surface without knot holes? You can even add more white to give it more of bleached effect: Easy Raw Wood Finish with Paint
Restoration Hardware Finish
Do you love the look or Restoration Hardware furniture but not the price tag? Here's how to do a faux Restoration Hardware stain to any furniture piece: Faux Restoration Hardware Stain on Furniture
Driftwood Finish
If you want a more rustic or coastal look, you can do this driftwood finish which looks amazing with farmhouse decor: Easy Driftwood Finish with Paint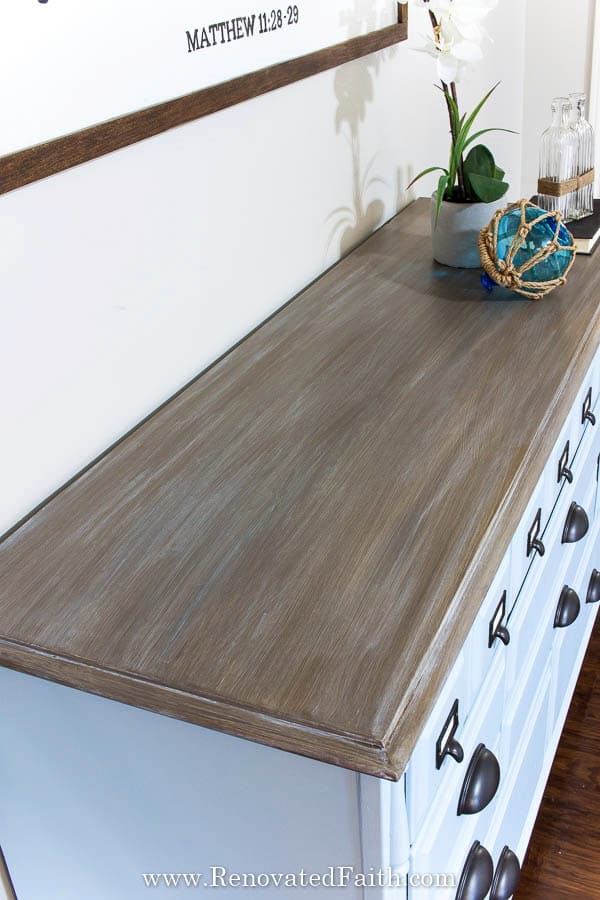 How To Make A Dining Table: Free Woodworking Plans
Be sure to check out my plans on how to build your own farmhouse dining table by clicking here: Easy Farmhouse Dining Table with Turned Legs.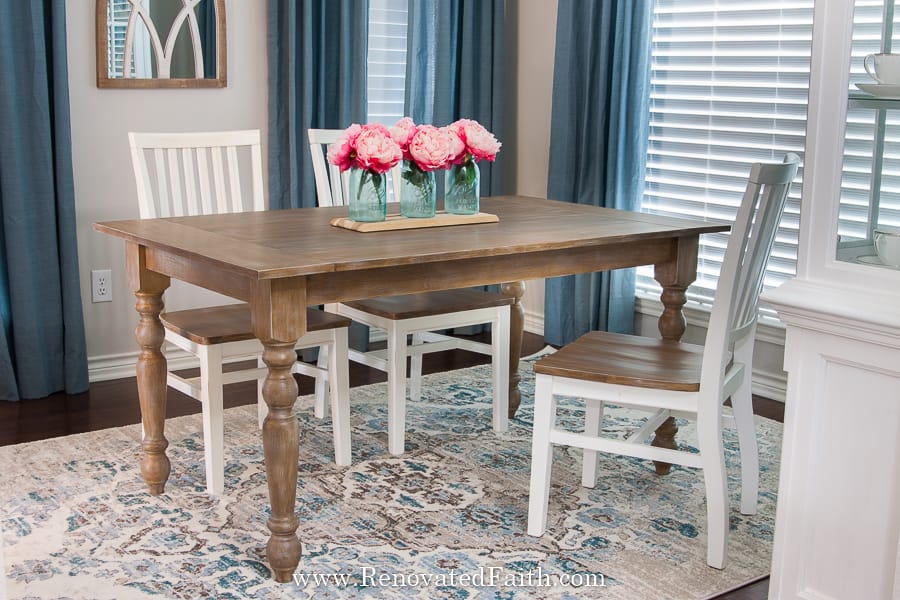 You can also get the free plan for my Farmhouse Coffee Table with a lower storage shelf here: Easy Farmhouse Coffee Table Plans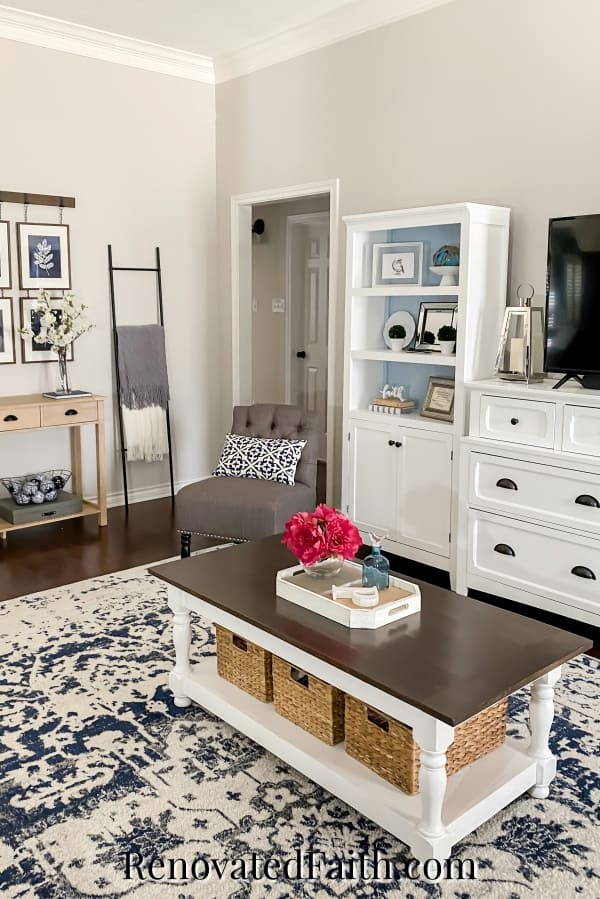 FAQ's: The Best Solid Woods for A Dining Table Build
What is the best wood for an outdoor dining table?
When it comes to outdoor furniture, you want to pick a wood that is durable but not one that is prone to warping. For example, hickory is a wood that is very durable but cracks and warps easily in humidity. So, not only is it cost-prohibitive to use outdoors but it wouldn't hold up long. I like to use treated pine for outdoor furniture and also use a good outdoor clear coat. I have had really good luck with this one: Water-based Spar Urethane (Click here for the current price)
What is the best wood finish for a dining table?
I like to use a satin finish on most furniture. Matte finishes are more popular now but the shinier the finish the more durable. So I like to compromise with a satin finish. If you don't mind a little more shine a semi-gloss finish will be more durable and gloss has way more shine than you need for a tabletop. Here are my favorite clear coats in various sheens: The Best Clear Coats For Furniture, Tested and Reviewed
What is the most durable wood for a dining table?
You can see the hardest woods based on their Janka scores above but keep in mind that workability and woods that don't have a propensity to warp are important considerations. For that reason, I like to use pine with a good clear coat. You can always use one of these faux finishes to get any look you want.
What is the cheapest wood for furniture?
Pine is the cheapest wood for furniture because it is abundant throughout almost every region in the United States.
What is the most expensive wood for furniture?
Specialty woods like acacia wood and also mahogany will be the most expensive. Mahogany is often used for musical instruments because of the depth of sound the wood provides.
How thick should a tabletop be?
A wood tabletop should be at least 1 inch or 1.5 inches in thickness in order to provide maximum stability and to discouraging warping in high humidity conditions.

What is the strongest but lightest wood?
The strongest but lightest wood is pine. Although it doesn't have the hardness of other hardwoods, you can still use a clear coat to better protect the finish against surface damage. The workability of pine helps screws and nails to better grip making for stronger joints.
Is Poplar wood good for dining tables?
Poplar is an easy wood to work with and is very inexpensive. However, the fact that its not a very attractive wood means that hardwoods are usually used instead or pine is used for another low-cost option. Poplar tends to have an unusual grain pattern and pinkish hues.
More Posts Related to The Best Type of Wood for a Dining Table
Easy Faux Furniture Stain with Latex Paint (9 Options to Choose From!)
Easy DIY Farmhouse Table Plan (Great Beginner Project!)
DIY Turned Leg Coffee Table (Free Plans!)
Raw Wood Finish on ANY Surface (No Stripping Required!)
Easy DIY Restoration Hardware Finish on Furniture
How To Paint A Metal Door to Look Like Hardwood
How to Stain Furniture With Gel Stain
Final Thoughts on The Best Wood For A Dining Table
Whether you are looking to build your own dining table or have one specially ordered, finding the right wood for your dining table is so important because it will be the most-used piece of furniture in your home. It needs to be a quality, solid wood piece that can handle heavy use. By using a faux stain you can ensure that your table will be just as beautiful as it is durable not having to pay for expensive hardwood timber. With this technique, you can get the exact look to match your home's style while being confident that your dining table is durable enough to last for years to come.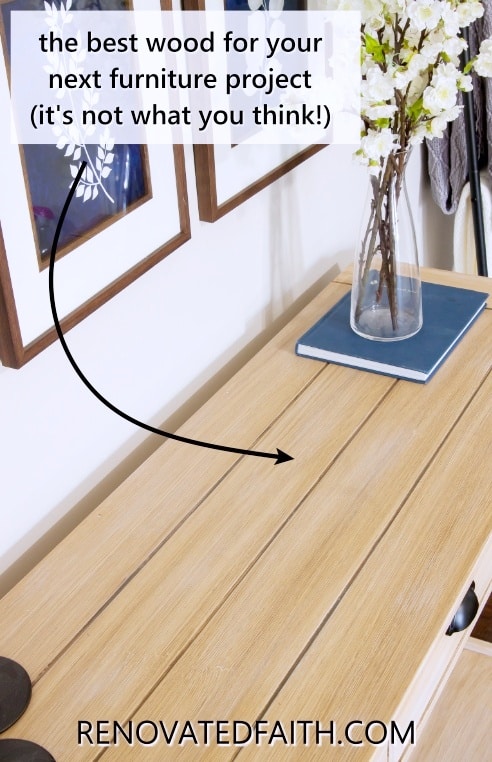 I love to hear your thoughts and questions! Scroll down to leave a comment and I WILL reply! ❤️
Blessings,

Be sure to follow the fun here!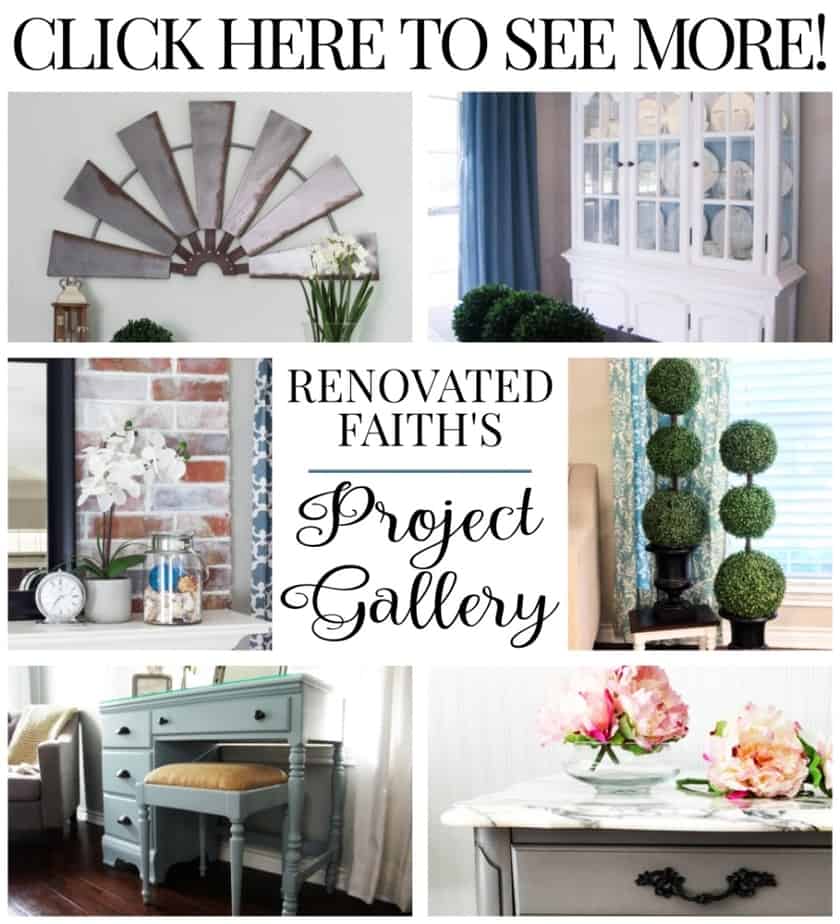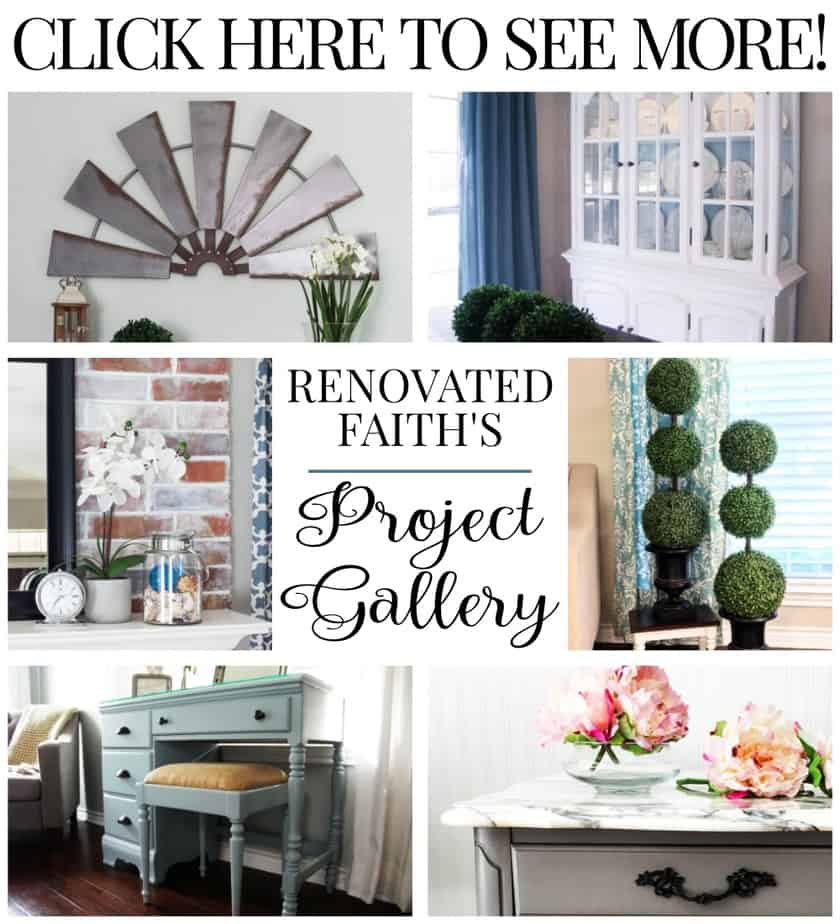 Best Types of Wood for Dining Tables
Welcome to Renovated Faith, where I share about DIY projects, my faith and everything in between! When I'm not spending time with my family, you will find me redoing furniture in the garage or watering plants in my greenhouse. This blog is about transformation. Anyone can renovate a house but only God can transform our hearts!