How to Faux Stain Furniture with Latex Paint
Want to stain a previously stained or painted furniture piece? Check out my barnwood stain tutorial to quickly and easily apply paint that looks like stain! You will be amazed at these results that are consistent every time without the headache of sanding off the old finish or even using furniture stripper.
I learned about this process through a happy accident as I was working on my coastal blue dresser. I was trying to make a driftwood finish and the glaze mixture I first added was too dark and heavy.
So instead of letting it dry and sanding it, I opted to just wipe off the glaze with baby wipes. After wiping off every drop of glaze, it left the surface slightly wet when I went to reapply a lighter glaze.
The moist surface resulted in some really nice streaks in the glaze that looked just like wood grain. You can see how my weathered driftwood finish turned out here: Easy Weathered Finish with Latex Paint. But I'm oh so happy that I learned another technique in the process – how to apply paint that looks like stain!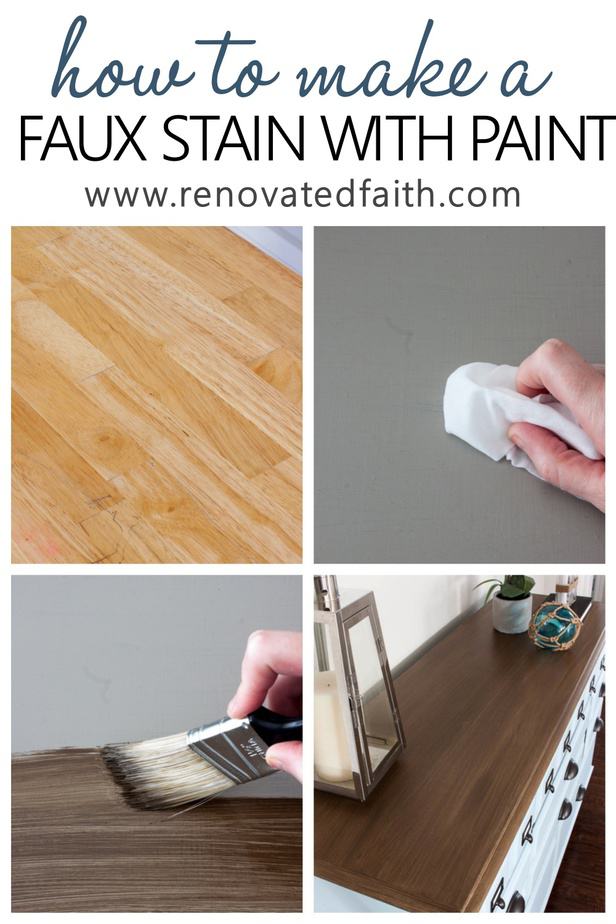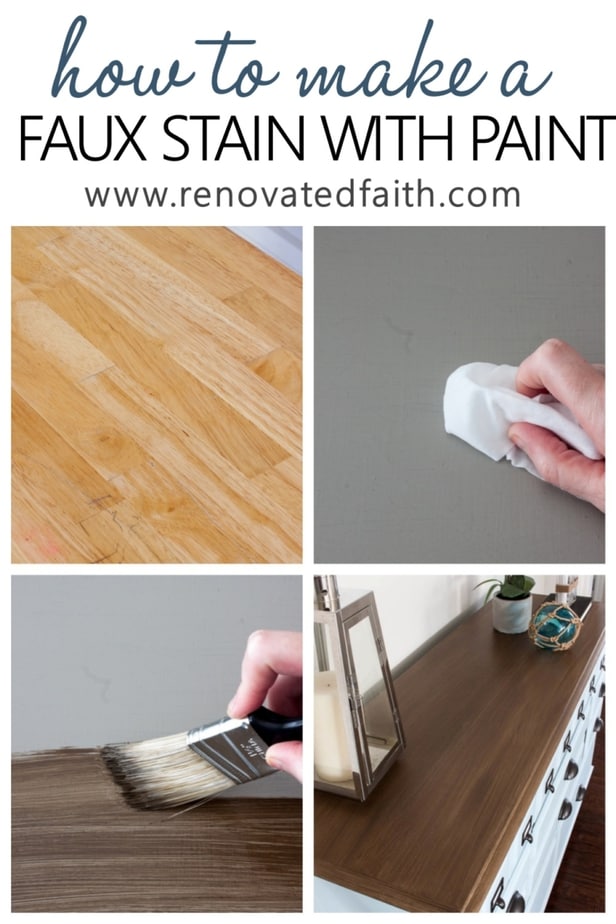 Options to Achieve a Barnwood Stain on Furniture
There's more than one way to get the look of a barnwood stain on furniture, but one yields a much better result than others with less effort and expense:
Traditional Stain (Unfinished Wood)
For an unfinished piece of furniture, this involves light sanding and applying one or multiple coats of a stain. Sometimes two colors of stain can be used to achieve the right shade.
A problem arises with the traditional stain because there is no absolute way to know how the stain will look after it penetrates the surface. A wood stain actually goes into the wood's pores, and the reaction causes a permanent tint to the wood's surface. The more the wood absorbs the stain, the darker the tint.
In addition, I have had trouble with different types of wood as they all absorb stain differently so the shade you want isn't always what you get. Also, the moisture of the wood is a consideration as wood that is more freshly cut will take more coats of stain to penetrate.
Traditional Stain (Previously Stained or Painted Wood)
There are two conventional methods for staining a finished piece of furniture, whether it has an existing stain or is painted.
One option is to completely sand off the entire finish so that you get down to the bare wood. This is extremely time-consuming, laborious and messy as you have to sand off ALL of the old finish so that the new stain can penetrate.
You can also use furniture stripper to remove the old stain or paint. Unfortunately, that involves slathering on lots of caustic, strong-smelling chemicals over your piece, then letting it sit a while before wiping or scraping off the old finish. Needless to say, it's messy!
Wood Oxidation Staining Method
Wood oxidation is the process of expediting the weathering process that would normally happen in nature much like iron reactions with the elements to rust. To read more about oxidation, click here: Wood Oxidation.
It usually involves vinegar, steel wool and a strong tea stain to give a weathered wood finish. This will yield a very natural, rustic barn wood stain but you have to start with unfinished wood unless you want to strip/sand off the old finish.
Also, you don't know what the final finish will look like. And because the oxidation is subtle, it will probably take a few coats at least.
Stain Over Paint Technique
You can stain over a stained piece by using gel stain. It requires only very light sanding and no stripping. You basically apply a base coat in a paint color that looks like pine and then one or two coats of the gel stain from one side of the furniture piece to the other.
The base coat shows through slightly giving the illusion of wood grain. Also, the gel stain comes in lots of color options so you can be sure that the color you pick will be the true color of the piece when you are done.
Gel Stain is usually a darker finish and looks great on more traditional pieces. Also, the gel coat is a tad on the shiny side. If you are looking for more of a traditional faux stain and don't mind a semi gloss sheen, then gel stain is a great option. You can read more about it in my post: The Easy Way to Gel Stain Furniture. However, if you want a more matte, weathered barnwood finish, you have come to the right place…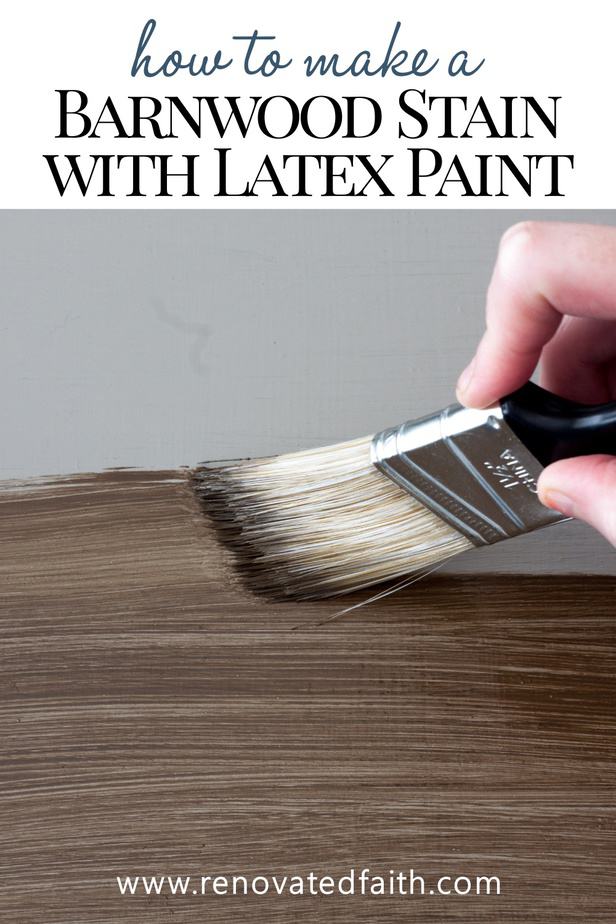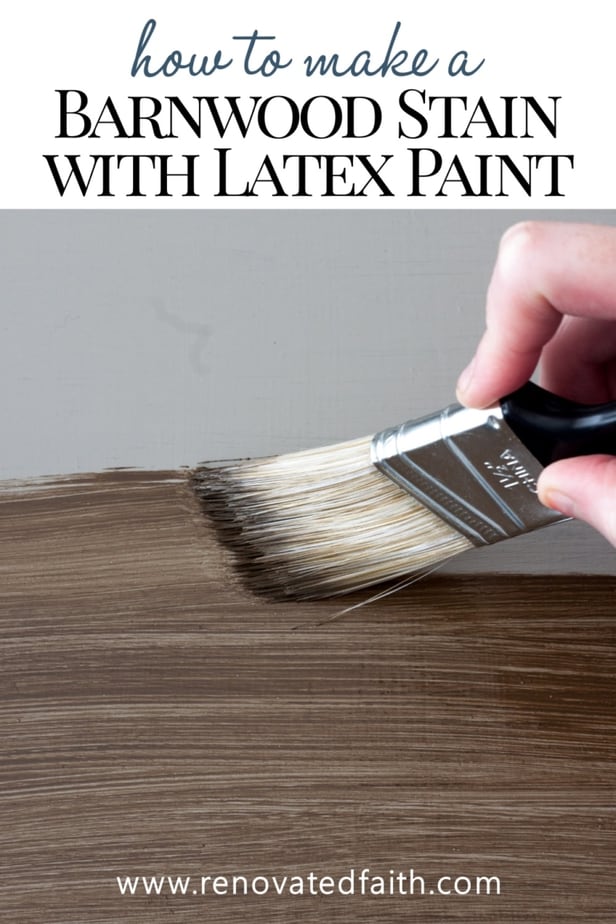 The Easiest Way to Paint Furniture to Look Like Stain: Faux Stain Over Latex
Now on to my favorite technique to achieve a barn wood stain finish. This technique involves applying a base coat and then latex paint mixed with a water-based glaze and then an optional top coat.
This paint over stain technique is not a stain at all but because you paint in one direction, the base coat shows through in such a way to look like wood grains, providing a subtle barn wood finish to an existing piece.
This technique has less sheen than gel stain and because you are using latex paint, you get the same results every single time. It's also not nearly as messy, no strong-smelling stains are used and it's so easy to use.
Stain Furniture without Sanding off the Old Finish
One of the advantages of this technique is that you can stain furniture without sanding off the old finish. There is minimal sanding in this process but it take you less than 5 minutes as you are just roughing up the surface.
Stain Furniture without Stripping
I love that you can also stain furniture without stripping by using this latex paint stain method. "Furniture stripper" is not in my DIY vocabulary and fortunately, it doesn't have to be part of achieving a barn wood finish.
PHEW!!! I went a little overboard there, but basically, of all the staining methods, this one is pretty great. Every time I go back to the traditional way I finish the project saying "never again!"
How to Apply a Faux Stain to Painted Furniture: Barn wood Finish Supplies
(As an Amazon affiliate I earn from qualifying purchases. Please see my full disclosure HERE).
Zinnser Bullseye 123 Water-Based Primer (Optional)*
Sander or Sandpaper for Light Sanding – See my post on the Best Sanders for Furniture for an option under $18
Base Coat in Coastal Villa Latex Satin – It's a Valspar (Lowe's) color. I prefer their Sherwin Williams paint line to Valspar so you can get the SW paint in the Valspar color. Just ask for it at the paint counter. If you are just doing a tabletop or small piece of furniture, you probably only need a sample size.
Valspar's Clear Mixing Glaze (Lowe's)
Valspar Harvest Brown in Satin Latex- You only need the sample size if you are doing a small piece of furniture
Paint Brushes – These are my favorite!
Baby Wipes
*When to Prime First:
The primer is only if you are doing a piece that is previously finished and that finish is not latex paint. As I detail in my post a A Better Alternative to Chalk Paint, you can skip the base coat on pieces that need a primer by getting your primer tinted to be the same color as the base coat would have been. At the paint counter, just hand them the Zinnser primer and tell them you want it tinted to Valspar's Coastal Villa. Then, continue the instructions as normal without the base coat!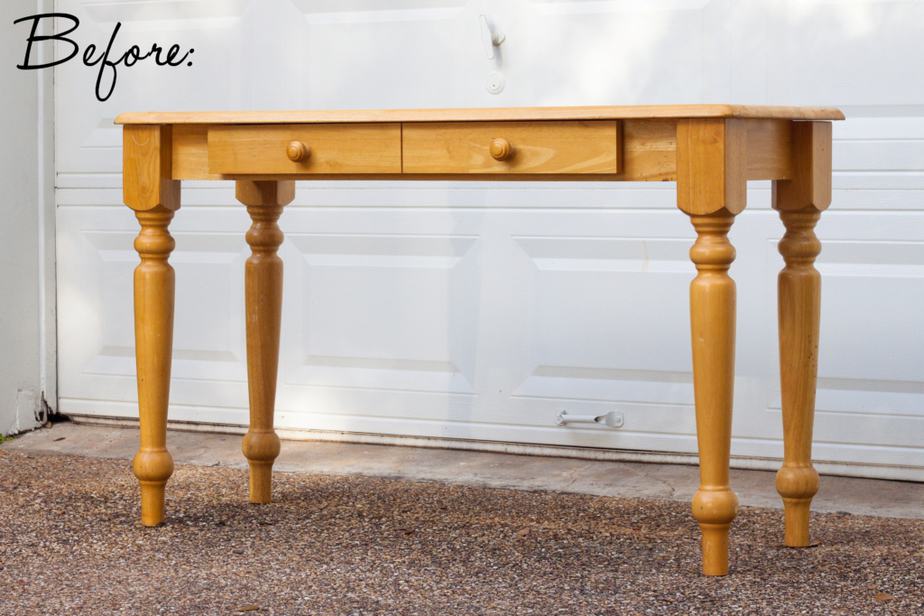 How to Faux Stain Furniture to Look Like Wood: The Process
Step 1: How to Faux Stain Over Paint: Surface Prep
Stop! Before you do anything…take a before pic of your furniture piece. When you are done, post the before and after pics here, so I can see the amazing work you've done! ❤️
Now, lightly sand your piece. I like to use a mouse sander and you can see which I prefer here: Best Sanders for Wood Furniture. You are not sanding off the existing finish. You are just simply scuffing up the surface to accept paint and it will take less than 5 minutes with very little effort.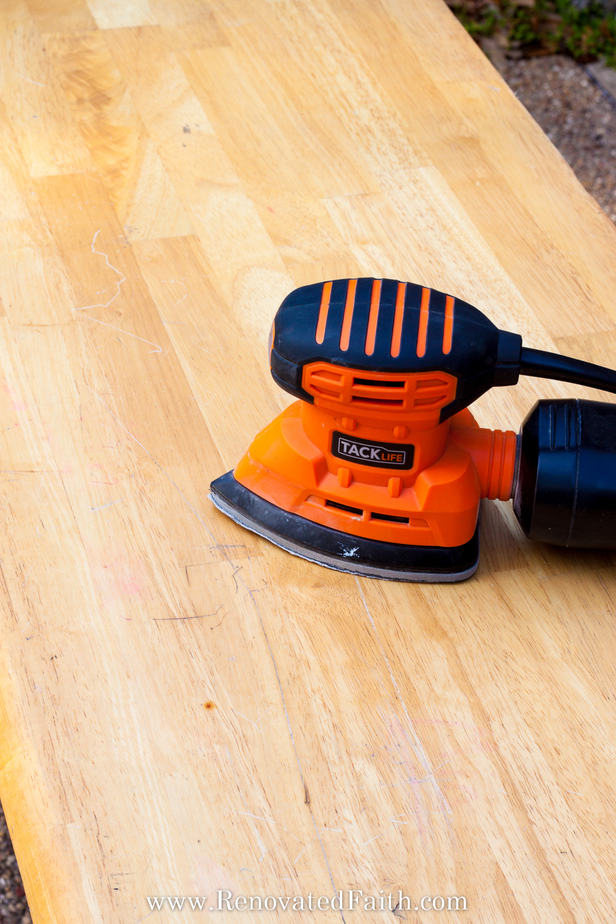 Step 2: Apply a Base Coat for the Barnwood Stain
Brush on the base coat using long strokes in the direction of the wood. In my Best Tips for Painting Furniture, I give several easy tips for ensuring a brush-free surface when painting furniture pieces.
However, this is the one time that brush strokes actually work in your favor. The long brush strokes will give the same effect of wood grain in this case.
Your coverage doesn't have to be perfect so if you see some of the existing paint or wood color come through, that's not a big deal.
Once you have applied your base coat, let it dry for 48 hours. This is important!
While you are waiting for the top to dry, this is a good time to paint the rest of the table. To make it go faster, check out my post on how to paint curvy furniture legs.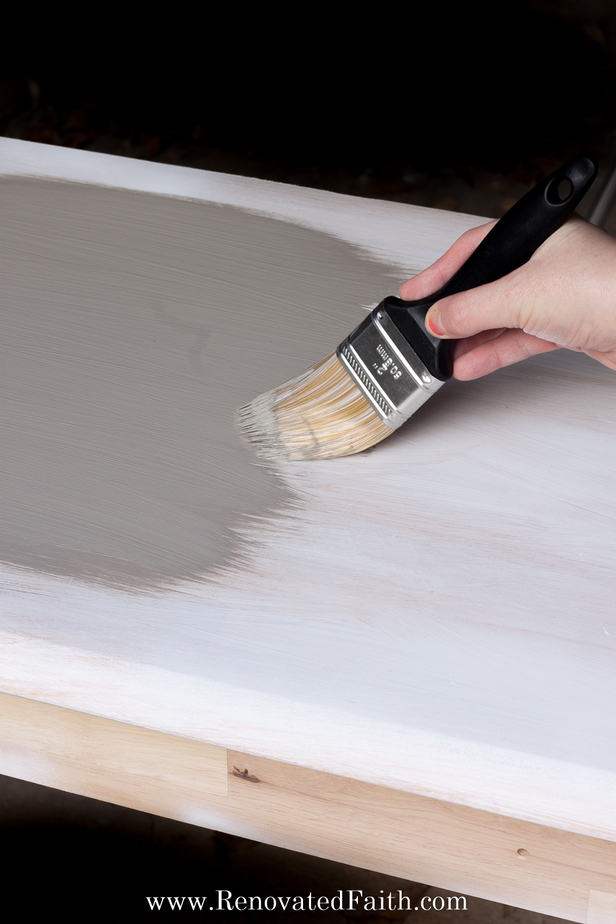 Step 3: Mixing a Dark Walnut Colored Paint to Make a Stain
Mix together the Valspar Glaze and the Valspar Harvest Brown paint in a 1:1 ratio to make a glaze.
Why Make a Faux Stain with Latex Paint
You could use a traditional oil based stain like gel stain at this point and it will work well just like in my post How to Stain Over Stain but if I have to pick, I prefer mixing my latex paint with a glaze to make a faux stain.
I like that the glaze and latex combination is water based which has less odor during the application process and it just less messy. Also, latex is so cheap and comes in almost any shade imaginable if you want to adjust the shade.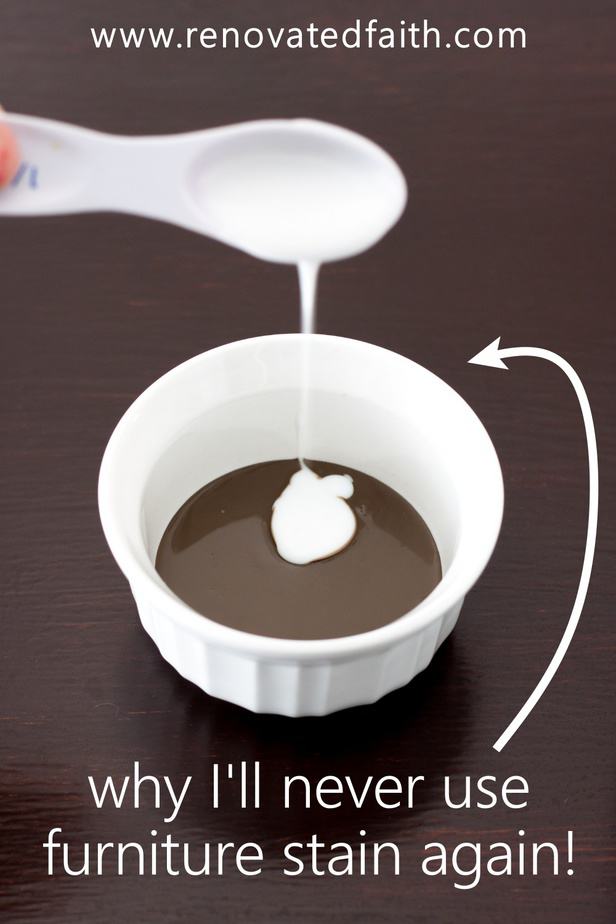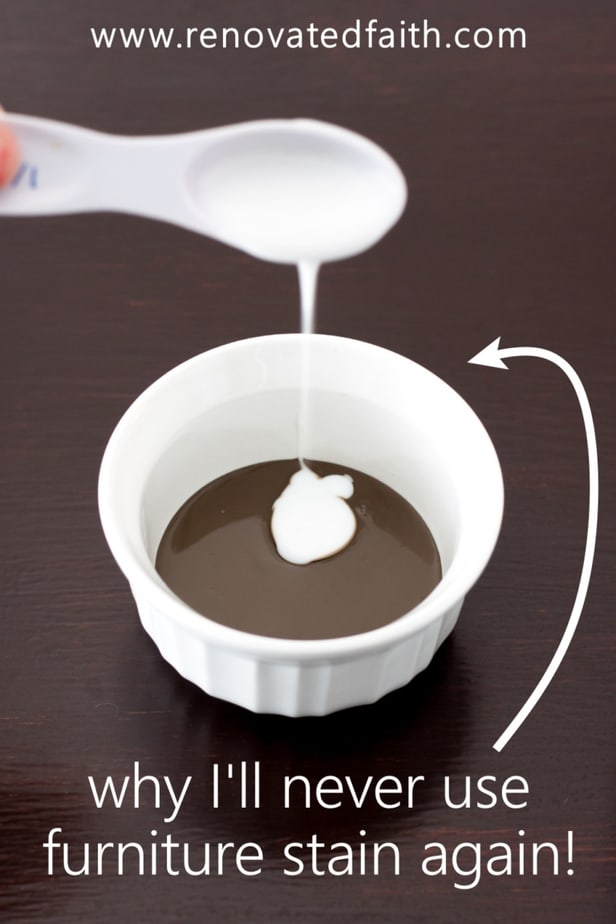 Step 4: Wipe Down with a Baby Wipe
The reason I like to wipe down the dried base coat with a baby wipe is because it moistens it slightly so that the glaze makes these nice wood-grain-like streaks once it is painted on.
I happened on this tip by accident when I was working on the Blue Dresser. I was trying to make a driftwood finish and the glaze mixture I added first was too dark and heavy.
So instead of letting it dry and sanding it, I opted to just wipe off the glaze with baby wipes. When I did that it left the surface slightly wet and the result were some really nice streaks in the glaze that looked like wood grain. You can see how my weathered driftwood finish turned out here: Easy Weathered, Driftwood Finish with Latex Paint.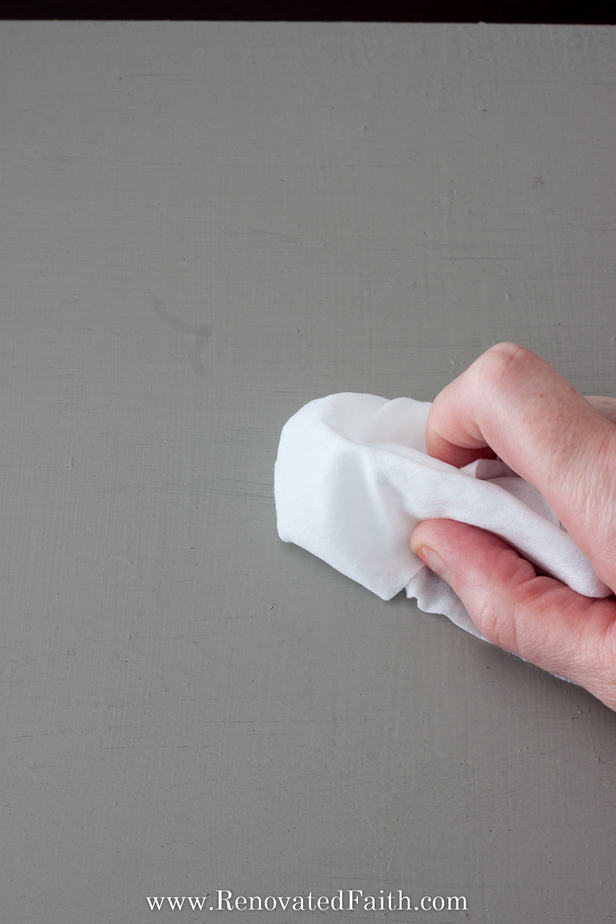 Step 5: How to Use Paint as Stain to Refinish Furniture so it Looks Like Wood
After you wipe down the surface with the baby wipes, you can immediately start brushing on glaze.
Apply the faux stain on top of the paint in long strokes. The glaze helps the latex to be thinner and more translucent while helping it to stay wet longer. This is important because you have time to work with the faux stain to get the look you want before it dries.
Keep applying in long strokes with the length of the furniture piece using the paint as a stain until the surface is covered. You don't want to use a ton of glaze but use enough to cover the surface.
Now without adding anymore faux stain on your brush, go back over the surface in long strokes. You will see streaks that begin to resemble wood grain. Some parts will look too streaky and that's absolutely fine at this point.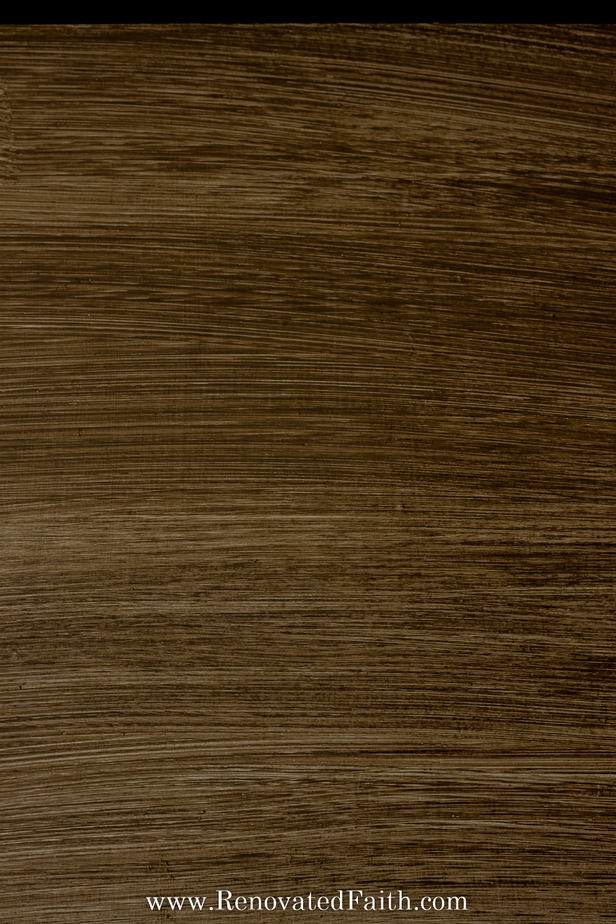 Check out my barnwood stain video to see the process in detail:
Step 6: How to Stain Painted Furniture: Touch Ups
Wait 24 hours for the faux stain to dry and use the same mixture to go over the streakier parts. Now is your opportunity to perfect the finish so it looks like wood. Just keep brushing on stain in the direction of the "wood grain". It will look like parts are dry where others are wet but it will look consistent when it dries completely.
Let it dry for 24 hours.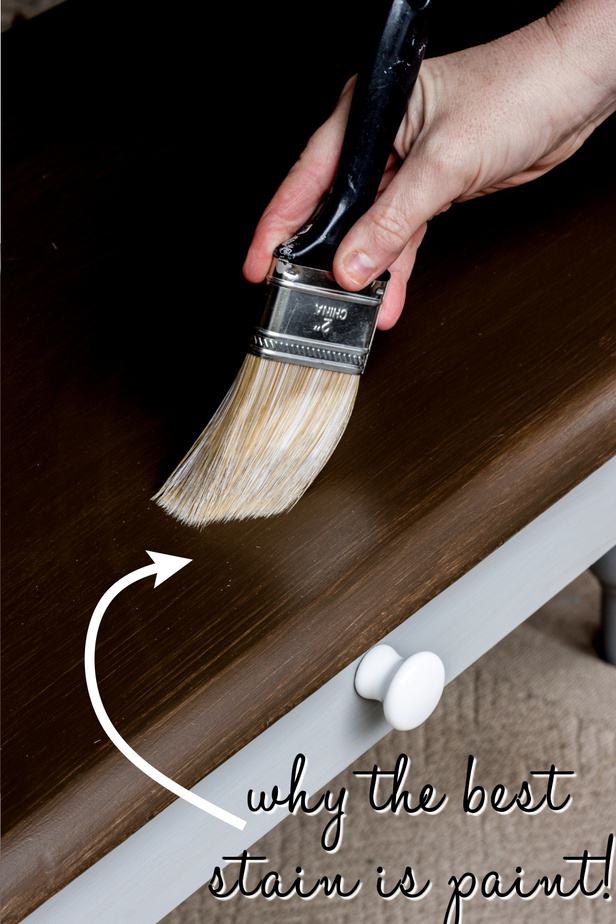 Step 7: Add a Top Coat Over Your Faux Barnwood Stain
This is optional but if you have a piece you know will endure a lot of use or cold drinks, you will want to add a clear coat. Just brush it on with a foam brush and let it dry for 48 hours. For a video on how to apply clear coat and my clear coat reviews, click here: Best Clear Coats for Furniture.
While the clear coat dried, I used that time to paint the rest of the entry table a light gray. I used Behr Coastal Gray for the base and legs using my Best Tips for Furniture Painting to make the process quick and easy.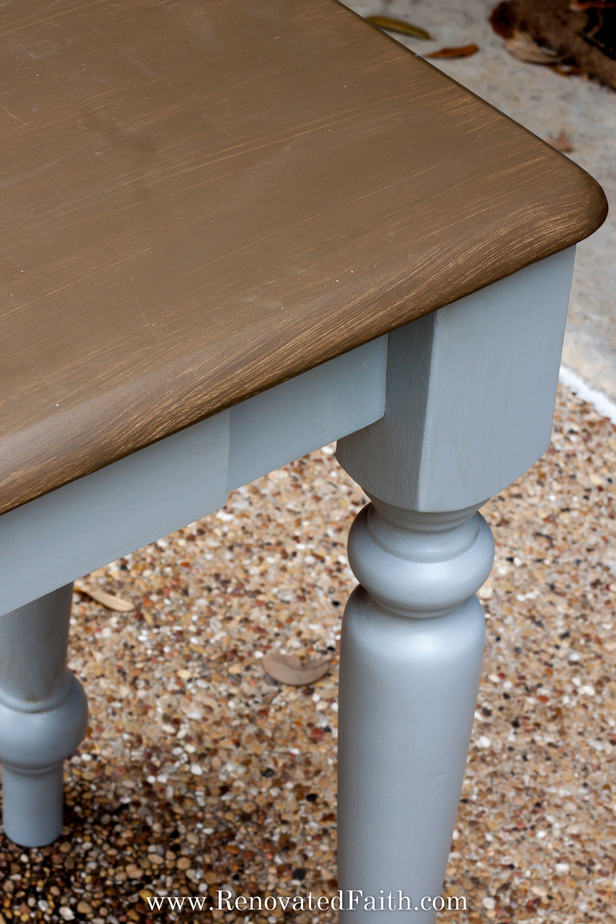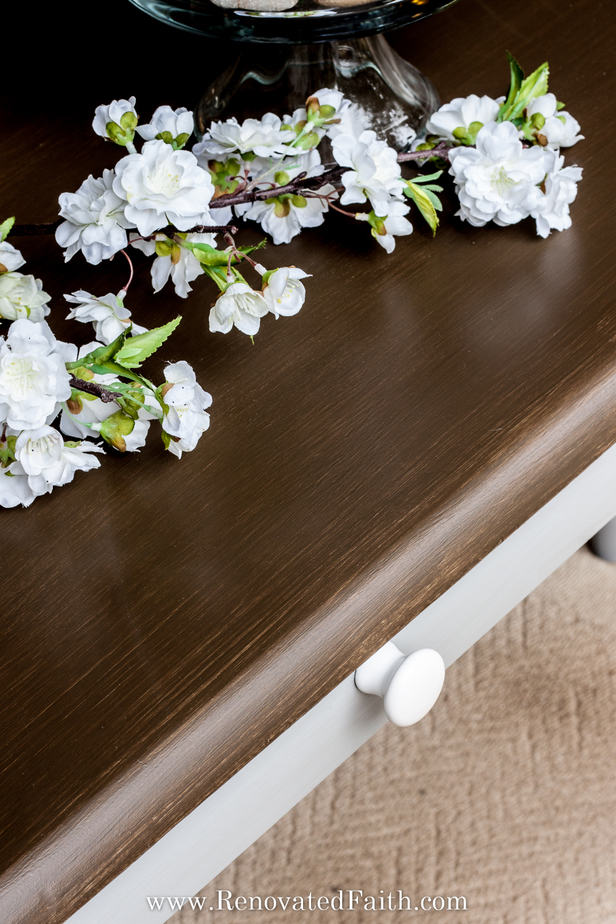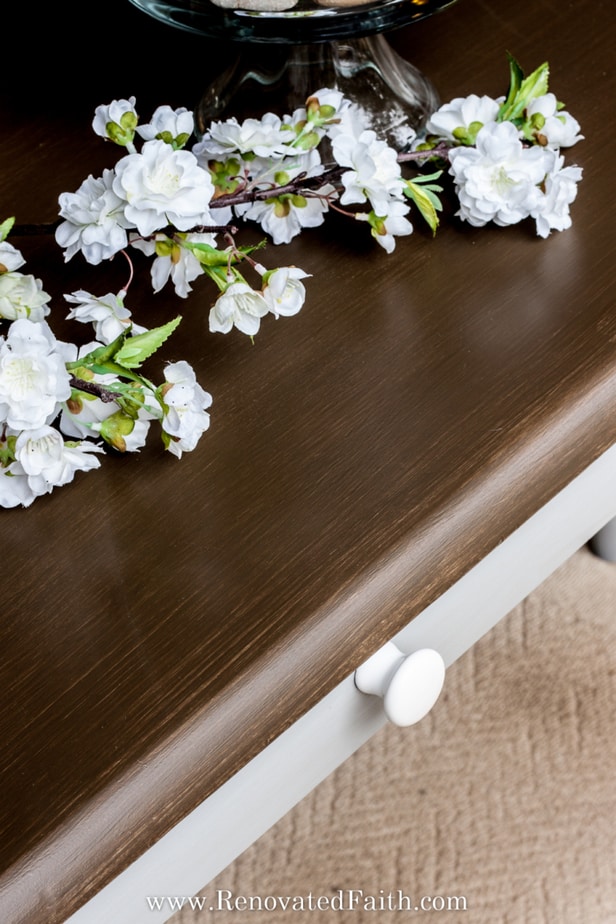 DON'T FORGET TO TAKE A PICTURE!
Now that you are done, I'd love to see how
it turned out! Post your before and after photos here!
I also did a light glaze with another Valspar Glaze mixture as I detailed in my post A Better Alternative to Chalk Paint.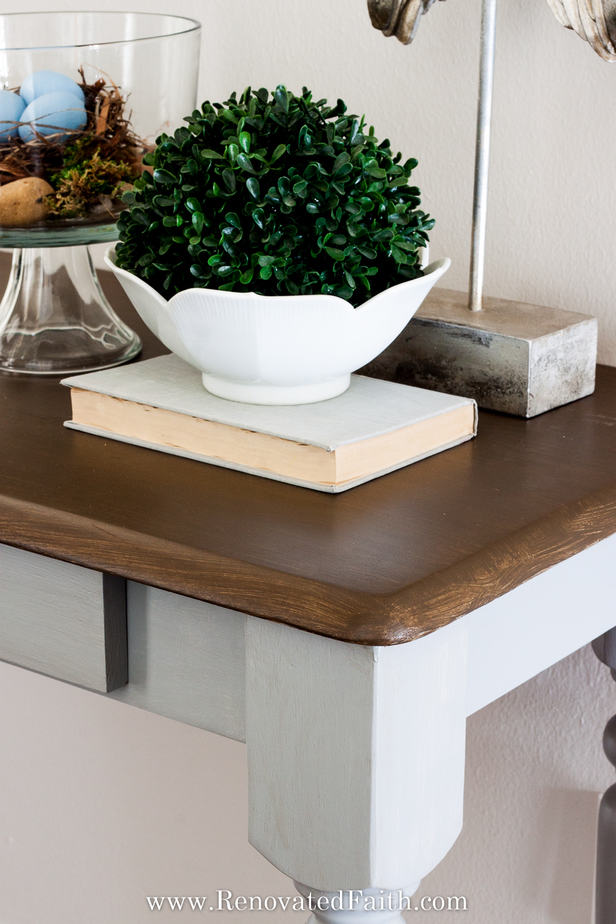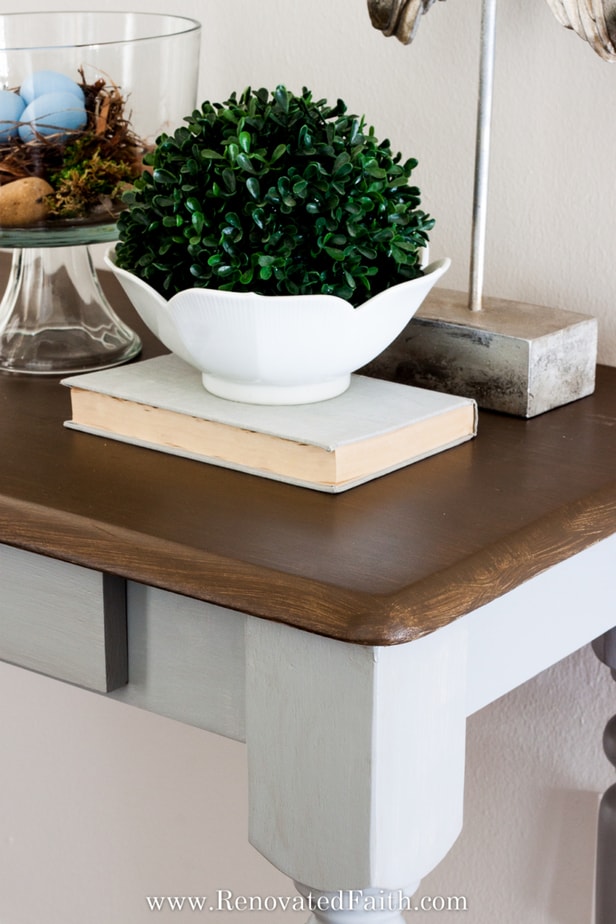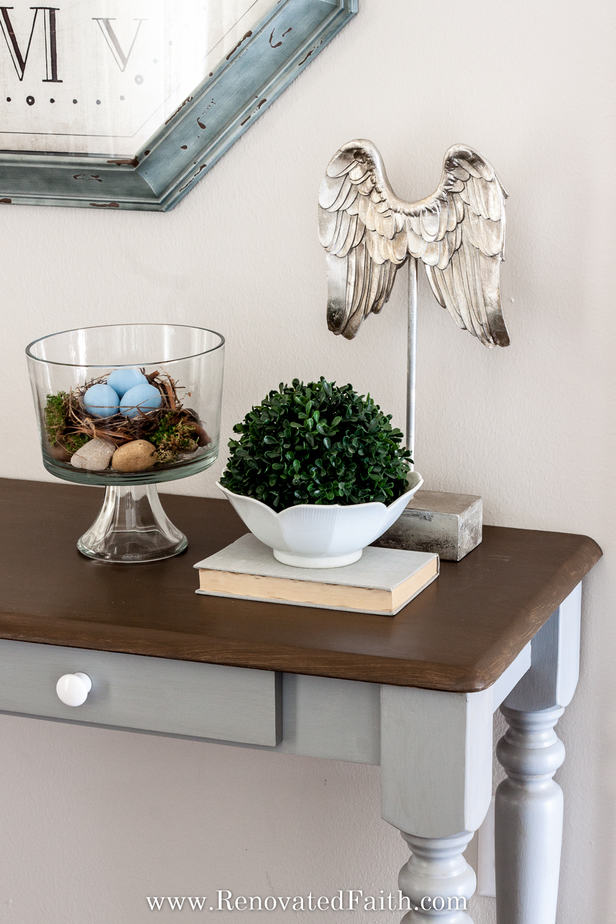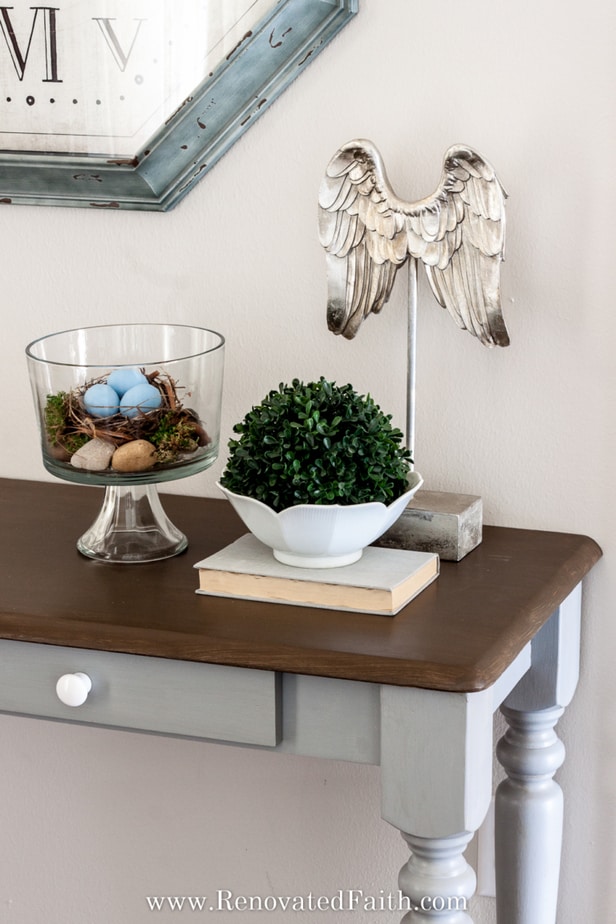 How to Faux Stain with Latex Paint: FAQ's:
How to Paint a Door to Look Like Wood
If you are wondering how to paint a door to look like wood, you can very easily paint this same process on a door whether it is wood or fiberglass. If you painting an exterior door, be sure to use an exterior top coat like this one: Varathane Outdoor Clear Coat
I you are interested in using gel stain to paint a door check out one of my most popular posts, Gel Stain Wood the Easy Way or a post by Homeguides entitled How to Gel Stain Fiberglass Entry Doors.
How to Paint Trim to Look Like Wood
If you are looking for paint that looks like stain for trim, you can use this method also. Just make sure to test a small area and work in six foot sections to ensure the glaze doesn't dry before you can work with it to give the trim the wood grain effect. I would use a clear coat on trim since trimwork gets a lot of wear and tear like this one: Minwax Polycrylic
Can I Use Paint Over Chalk Paint?
You can use latex paint over chalk paint BUT you CANNOT use latex paint over wax. All chalk paint has to be sealed as I discuss in my post Why I Don't Use Chalk Paint on Furniture. Most chalk paint is sealed with wax so if you know the furniture piece has been waxed, you need to sand lightly and use a primer.
If you are unsure if the piece has been waxed, I'd use a primer just in case. The last thing you want to do is use this faux stain process only to have it chip or even peel off later because of the wax underneath.
Can You Faux Stain with Chalk Paint?
There are methods for faux staining with chalk paint but latex is a fraction of the cost of chalk paint, not to mention you have limited color options. With chalk paint, you have to use a clear coat or some type of sealant like wax where one is not always required with latex paint.
For tips on making your next furniture project easier, faster and more beautiful, click the pin below:
Need Chairs for Your Newly Painted Dining Table?
If you just refinished your dining table, you might be interested in updating the look of your chairs. Chairs can be one of the most time-consuming furniture pieces to paint, so I have put together a buyer's guide for my favorite dining chairs here: The Best Cross Back Chairs Less Than $100
Why cross back chairs? Also, known as x-back chairs they work well for any rustic style whether farmhouse, French country or coastal decor. They also come in several different shades to easily coordinate them with a newly stained table.
Paint that Looks Like Stain – Related Posts: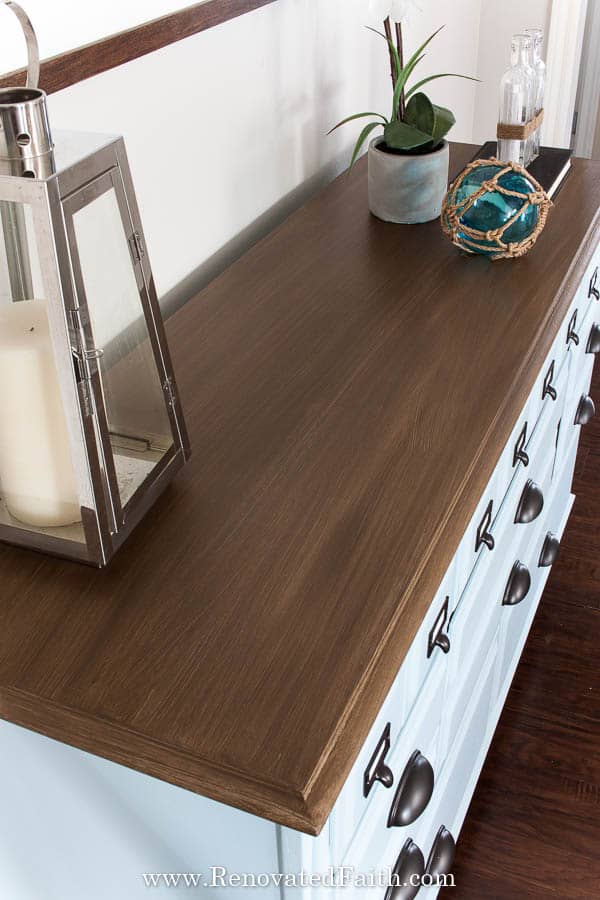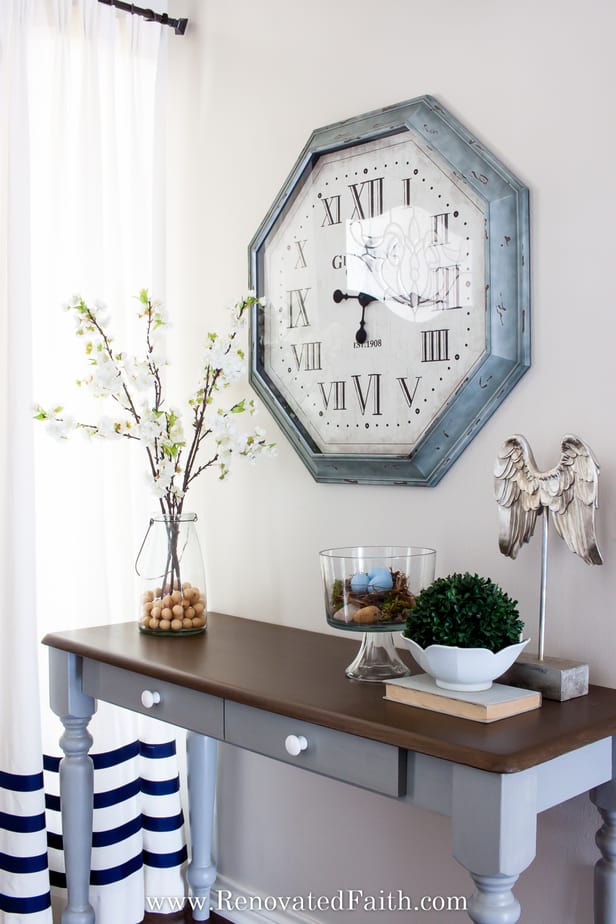 Painting Furniture to Look Like Stained Wood: Final Thoughts
I absolutely love this method applying paint that looks like stain. I actually came across it by accident. I had refinished the top of the blue dresser and was trying to do a driftwood finish. As I experimented, I put too much of the glaze and decided to wipe all of the glaze off with baby wipes.
After I had wiped off the heavy glaze, the top was slightly damp from the wipes so when I added the glaze again it made really nice streaks that looked like wood grain! I hope you love this process as much as I do as you can get the same beautiful barnwood stain consistently each time!
If you want to save this post for later, pin it here: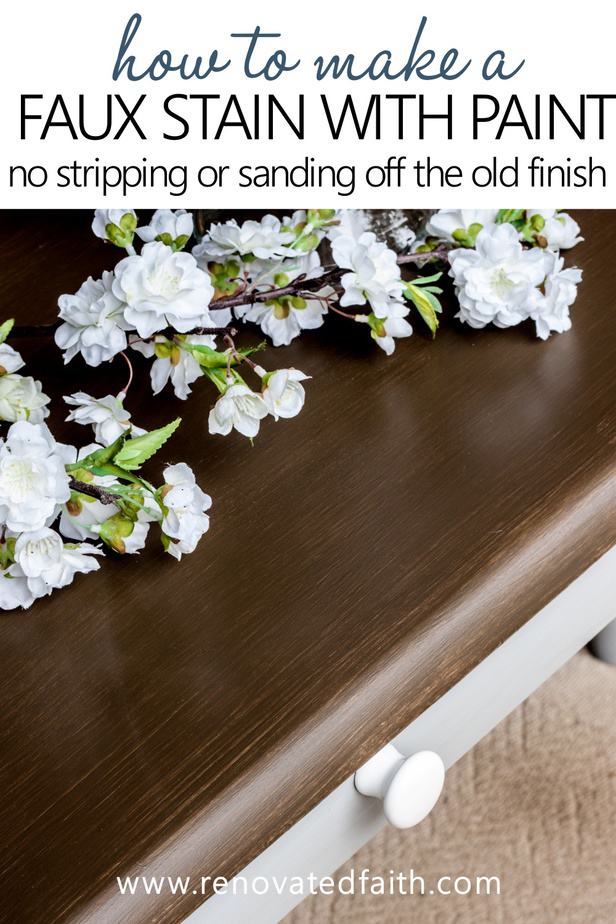 What are your thoughts, my friend? Do you think this process was worth it? I love to hear your thoughts and any questions you have! Scroll down to leave a comment and I WILL reply! ❤️
Blessings,

Be sure to follow the fun here!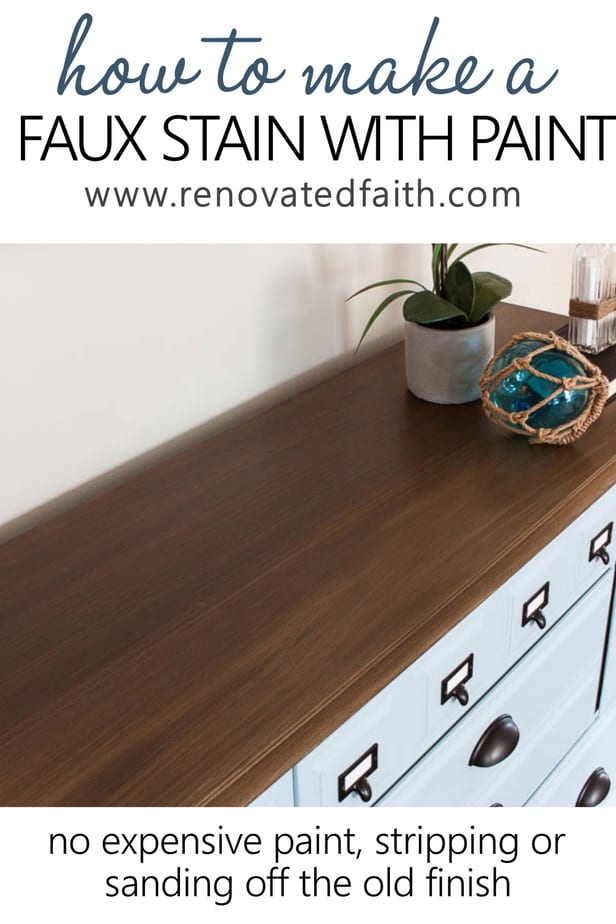 Faux Stain Furniture with Paint
Welcome to Renovated Faith, where I share about DIY projects, my faith and everything in between! When I'm not spending time with my family, you will find me redoing furniture in the garage or watering plants in my greenhouse. This blog is about transformation. Anyone can renovate a house but only God can transform our hearts!