The Best Paint Sealers for Wood (Tested and Reviewed)
Don't allow your project to be ruined by using the wrong sealer! Instead, protect it by applying the absolute best clear coat for painted wood furniture!
I've tested 7 of the most popular topcoats and compared reviews to find the best protective finish for your next furniture project and also the easiest chalk paint sealer and wax alternative!
As someone who has painted dozens of different furniture pieces, I've learned that not all topcoats are created equal and that different surfaces need different protective finishes. In this post, I'll help you find the right sealer for your DIY project that not only provides a protective finish but also makes your furniture piece look amazing!
LET ME SHOW YOU:
What I did to test and review several sealers to find the best clear coat for painted wood
THe overall best topcoat for various wood finishes
My best tips to apply a clear coat to painted or stained wood
How to seal chalk paint easily without the hassle of wax
The absolute best top coat for chalk paint
What is the Best Sealer for Wood Projects?

Have you ever spent hours refinishing a piece of furniture only to have the top ruined by a drinking glass ring or even a scratch?
And even worse, have you added a protective finish to painted wood that left streaks or haziness on your beautiful finish?
If you have, you know how incredibly frustrating that can be. I get it! Depending on the finish, sometimes the only solution is to completely refinish the whole surface. But fortunately, if you apply a clear coat, your flawless finish will be preserved and protected for years to come!
Would you own a home without insuring it? In the same way, a topcoat (or clear coat) acts as an insurance policy against the potential damage caused by everyday life. Especially if you have young kids, your tabletop, desk, or other small projects can be easily ruined with an accidental scratch or water damage from a drinking glass left on it for too long – not to mention spills!
I don't know about you but when it comes to furniture pieces that get a lot of use, I want them to be protected against the potential damage and unexpected spills of everyday life.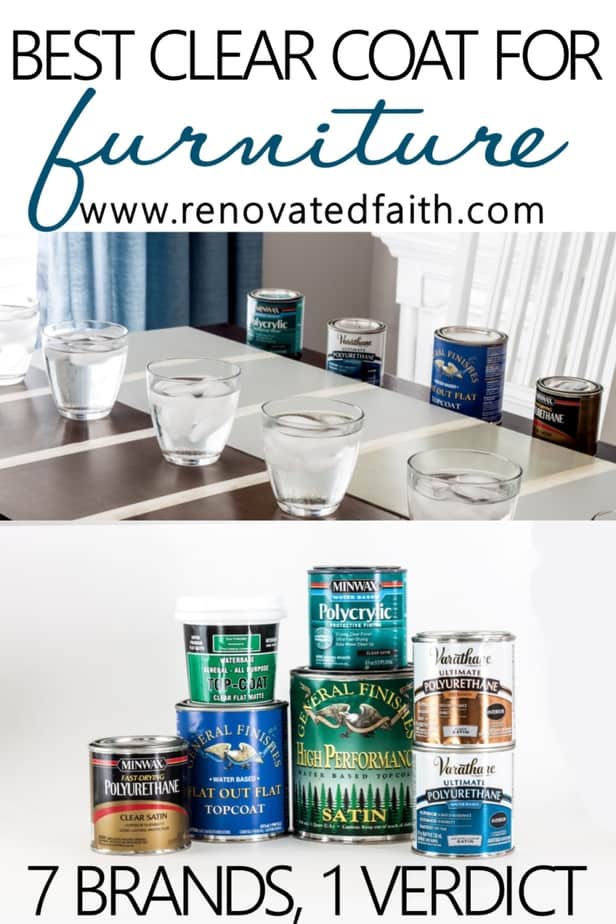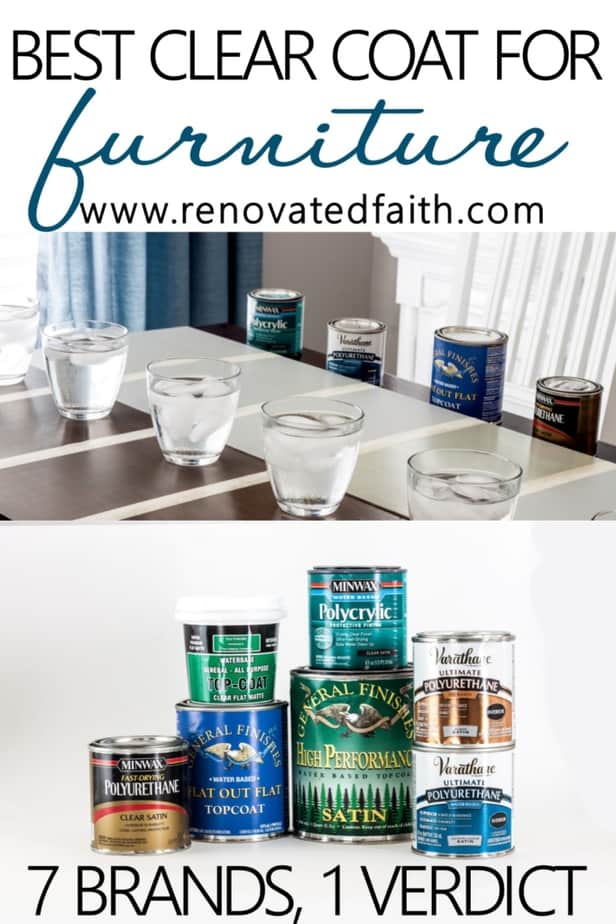 (As an Amazon affiliate I earn from qualifying purchases. Please see my full disclosure HERE).

The Best Sealer for Wood Furniture
☑️ If you are curious or in a hurry, here is my top pick for the best clear coat for painted wood furniture (CLICK HERE FOR THE CURRENT PRICE)
What is a clear coat?
A clear coat (often referred to as a poly finish or topcoat) is basically a clear protective layer that you brush on your painted or stained furniture piece after it has dried. It gives the piece a shield against scratches, water rings from drinking glasses, and just dirt in general.
Choosing the Right Clear Coat for Painted Wood
The protective coating makes cleaning furniture pieces easier because dirt can't penetrate into the paint surface. Instead, it wipes cleanly and easily from the topcoat! There are so many options when it comes to clear coats. Not only can you pick from any sheen (flat, satin, semi-gloss, and glossy finish) but there are oil-based clear coats and water-based.
Some wood sealants might be harder but can also leave a yellow haze on white pieces. Also, some can have a tendency to leave hazy streaks which can be obvious on dark furniture pieces. That's why selecting the right clear coat for your painted wood furniture is so important.
What furniture pieces need a clear coat?
Why should I protect my painted furniture with a topcoat? Any hard furniture that gets a decent amount of use regularly needs protection. We recommend using a clear coat on dining tables, coffee tables, desks, end tables, or entry tables as these are all used daily and subject to wear and tear.
Dark paint colors are especially susceptible to showing smudges and dust so I use a clear coat on those to provide protection. Also, it's a good idea to use a top coat on any furniture pieces exposed to regular humidity like kitchen or bathroom cabinets. Whether you are looking for the best top coat for chalk paint or even for latex paint or stain, this is a good general rule of thumb:
BOTTOM LINE: If your painted wooden furniture piece will come into regular contact with water, food, or little fingerprints, you need a topcoat for the ultimate protection!
Do You Need a Clear Coat For Painted Wood?
This even goes for latex-painted furniture pieces. Although regular paint is very durable, it still benefits from an extra coating of protection. The topcoat makes the surface harder and therefore more durable. Also, clear coats are much more waterproof than latex as latex paints can bubble up if water penetrates the paint or wood surface.
To save you time, you can always just clear coat the top portion of your table as the tabletop gets considerably more wear and tear. However, if your piece is painted in chalk paint, it will need a sealer over the entire surface of the piece.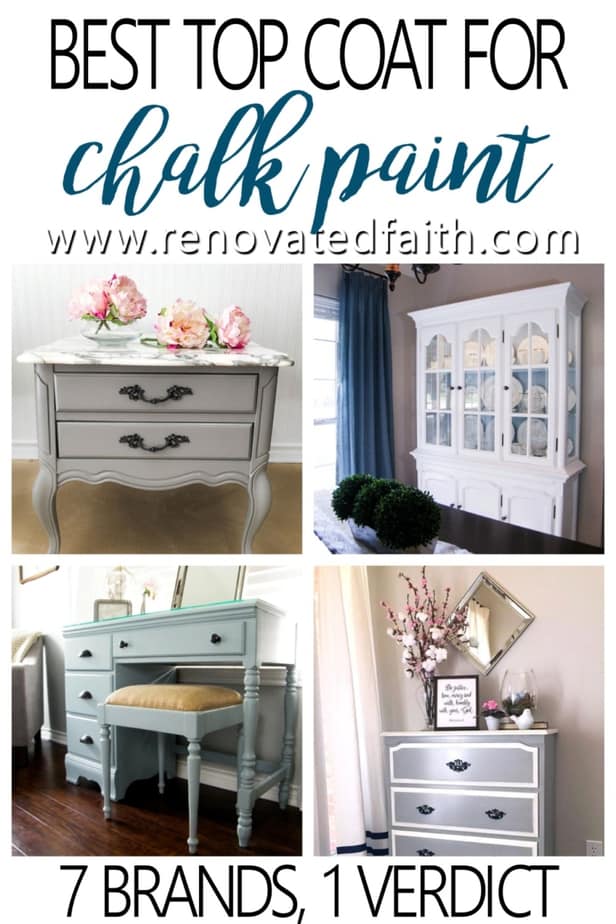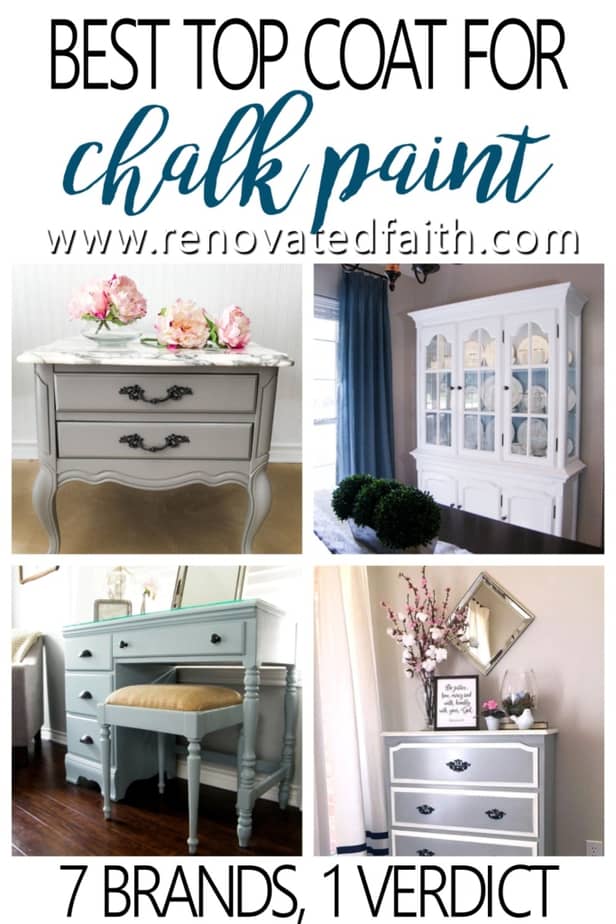 ☑️ MY ALL-TIME BEST FURNITURE PAINTING TIPS (FREE PRINTABLE)
–
Want to transform a furniture piece but don't know where to begin?  Download your FREE step-by-step printable checklist that shows you the exact process I've used on dozens of furniture pieces while saving you time and money! And it costs you nothing. #confetti toss  Click here to access your checklist now : FREE Must-Have Painting Checklist
What Happens if You Don't Wax Chalk Paint?
Unlike latex-painted or stained projects, chalk-painted furniture needs a protective finish unless you know a drinking glass will never be set on it. If a chalk-painted piece without wax or a top coat comes into contact with water, the paint can actually re-liquefy!
So if a cold drink is placed on unsealed chalk paint, you could be left with a puddle of paint on your now-ruined furniture piece not to mention the potential of wet paint on your rug or clothing.
What About A Top Coat for Chalk Painted Pieces That Are Seldom Used?
How to Seal Chalk Paint EASILY
Perhaps you are familiar with using wax as a protective coating on chalk paint but did you know you can more easily apply a top coat and your surface will be better protected from water?
While wax can waterproof a surface, there is a definite learning curve with applying wax properly. If not enough wax is not properly buffed onto the surface, it can be easily penetrated with water and the surface will be ruined if a cold drink is left on the surface. Also, wax has to be reapplied every 6 months to a year to be effective! Later, we'll discuss the best chalk paint top coat as opposed to waxing!
By applying a clear coat to unsealed chalk paint, you can get a more durable, waterproof finish, but without the time, effort, and extra expense of wax!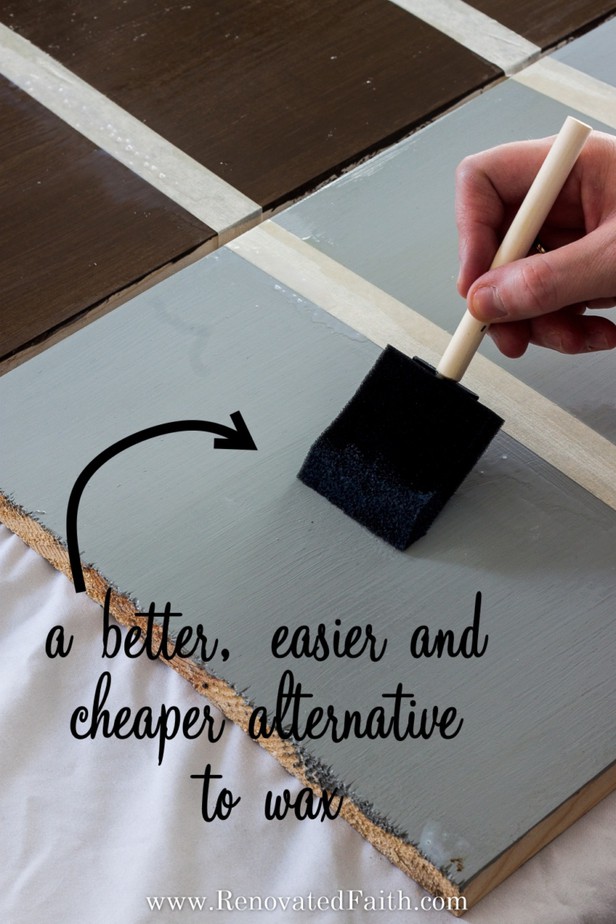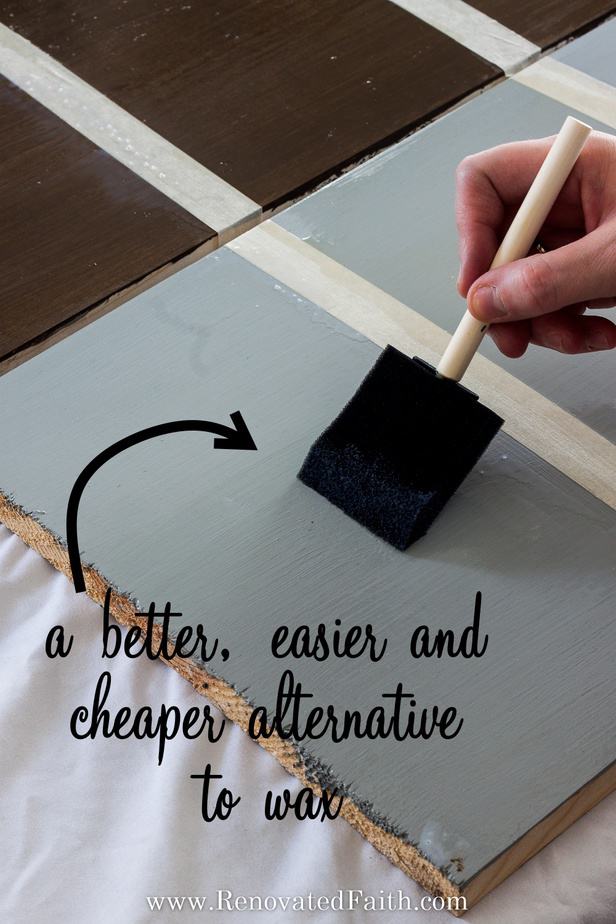 Two Types of Clear Coats for Furniture
There are two basic types of topcoats for furniture: water-based and oil-based. Traditionally, oil-based polyurethanes were the main clear coats used on furniture but now more water-based formulas are on the market. Here's a little about the pros and cons of each:
1. Water-Based Clear Coats
It used to be that all clear polyurethanes were oil-based but now you are seeing several polyurethanes that are water-based and just as durable! Minwax polycrylic is also a water-based version of polyurethane and one of the topcoats we tested. Water-based clear coats are easy to clean up, are low odor and the finish is much less likely to change over time.
Water-based top coats also dry quickly and can be used on bare, stained, or painted wood. Can be used on bare, stained, or painted wood.
Clean-up is easy with water-based clear coats as you can rinse your paint brush with warm water.
2. Oil-Based Clear Coats
Oil-based polyurethanes were always the more durable choice but now they have a lot of competition as water-based formulas have improved. Oil-based products have a strong odor and can take longer to dry. However, the longer drying time can mean fewer brush strokes.
Oil-based topcoats can have an ambering effect, which means that over time the clear coat can cause the surface of the furniture piece to yellow. If you have a dark stained piece of furniture, this won't be detectable and can even warm up the color of the wood slightly over time. But if you have a white painted furniture piece, you can see how yellowing would be problematic!
Also, oil-based clear coats require cleaning your brushes with mineral spirits.
Oil-based polys are very water-resistant but are not recommended for outdoor use as they may crack or yellow when exposed to UV light.
Fortunately, I have found a great water-based exterior sealant and to into detail at the end of the post.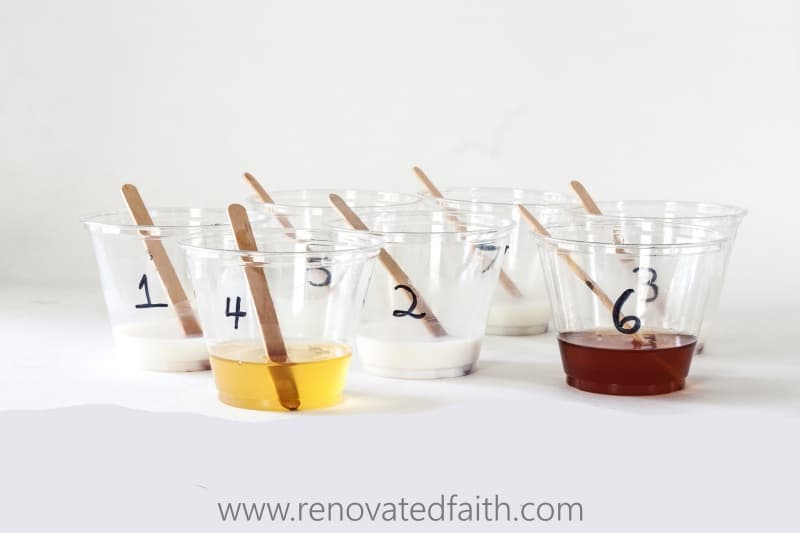 Benefits of Using a Clear Coat on Furniture
Any furniture piece can benefit from a protective finish but especially those that get a lot of use on a daily basis will be better safeguarded from damage, fingerprints, and smudges.
Often, the oils from your hands can react with the not so smooth surface of chalk paint or matte latex. Over time, those fingerprints and smudges will make your piece look dingy – and not in a rustic farmhouse way.
Those dreaded water rings from drinking glasses can easily ruin a furniture piece but with the right amount of clear coat, you can leave glasses on your coffee table overnight with no damage to the surface!
Applying a good chalk paint clear coat make horizontal surfaces so much easier to wipe. I can't imagine having a tabletop without a clear coat for easy clean-up after means.
Many faux finishes use glaze and special techniques to highlight different features of the furniture. Sometimes those glazes are not waterproof so you can easily seal in those details for good with a top coat!
Also, a clear coat will save you time on touching up furniture pieces later. It will also allow you to scrub furniture without ruining the paint finish.
Our Candidates for the Best Clear Coat for Painted Wood Furniture (in no particular order)
There are other great options like tung oil, linseed oil and other natural alternatives to poly topcoats but I wanted to test products that are not only protective against damage but water infiltration.

The Best Top Coat for Painted Furniture: How We Chose Our Best Picks
We did a blind test on 7 of the most popular choices of clear coat for furniture. I found these by going to 4 different Facebook furniture groups I am part of. Each group consists of hundreds of professional furniture painters. After finding out their favorite clear coats, I narrowed down their favorites to the top 7.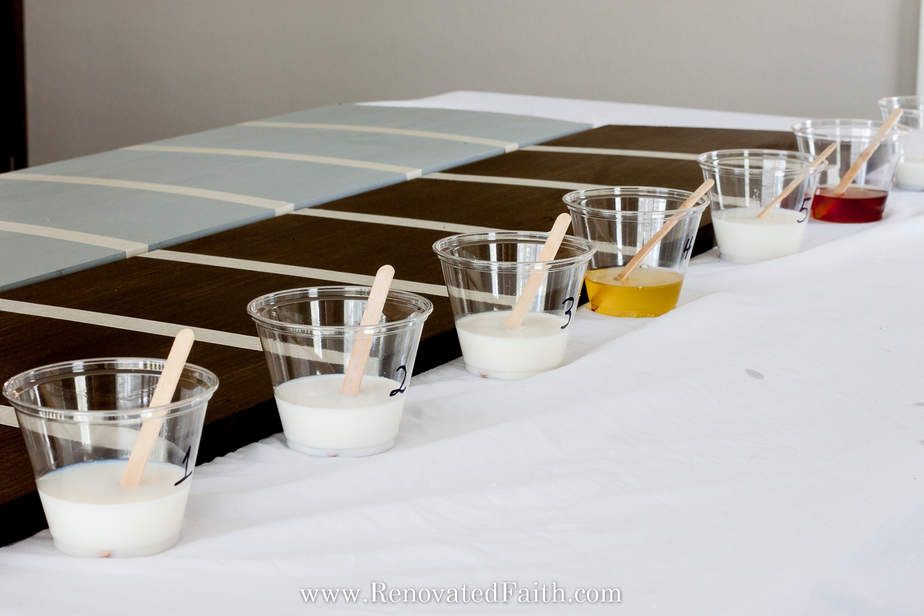 Testing to Find the Best Clear Coat for Wood
Using painter's tape, I made seven different sections on each of two pieces of wood. One was painted and one was stained. On each section, I put a total of three layers of topcoat with light sanding in between. I used an inexpensive foam brush to apply the protective finish. (You can also use a foam roller.)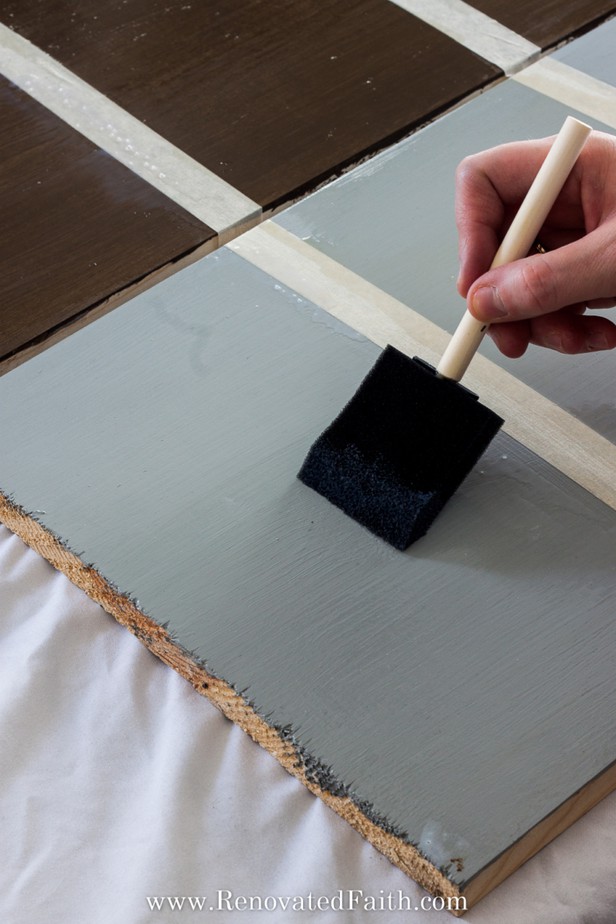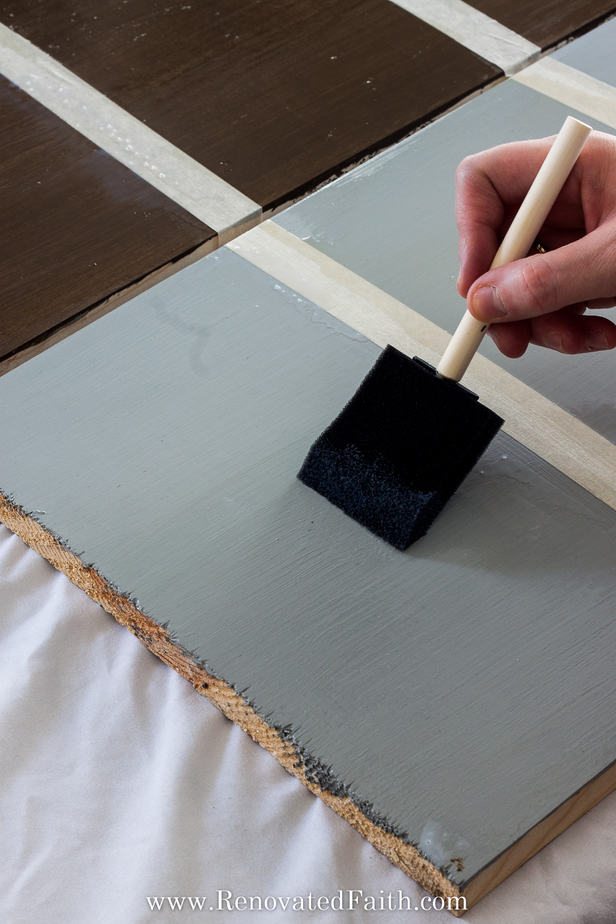 The Cold Drink Test
After letting the last coat dry, I let the two wood planks cure for two weeks to reach maximum hardness and water impermeability for each sample. Then, I put glasses of ice water on each sample for 24 hours to see which samples allowed a ring to appear.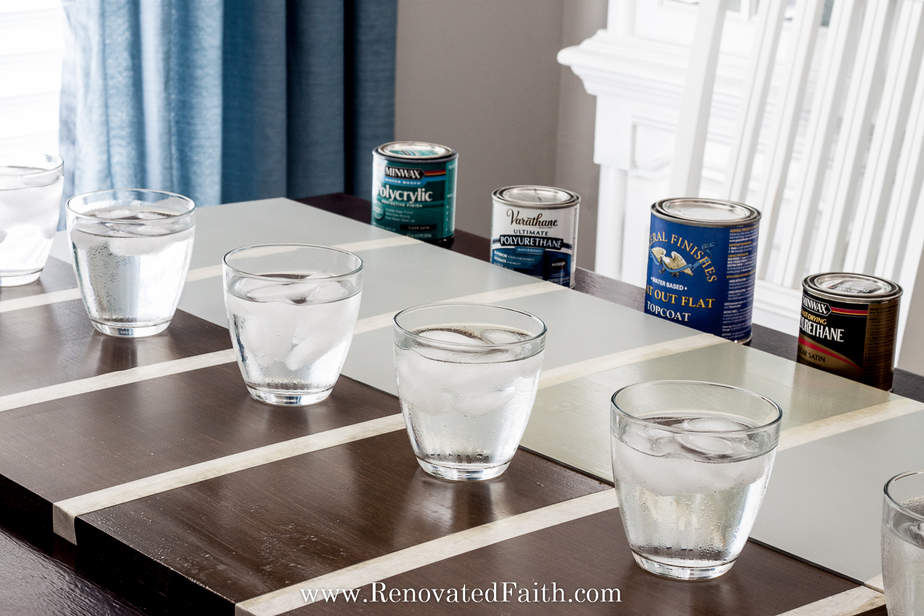 Criteria for the Best Top Coat For Furniture Projects:
Easy of Application
Surface Smoothness
Expense
Durability
Water Permeability
Sheen
Clarity
No or Low VOC's
After testing seven different topcoats, Varathane's Water-Based Polyurethane was the clear winner! This clear coat is great for interior products including furniture, cabinets, trim, or any other pieces of wood. Varathane states it has the best scratch and stain resistance available and based on our findings, I believe them! It has a low odor, with easy soap and water clean up. It also dries quickly once applied.
2 YEAR UPDATE:
After a couple of years of using Varathane's Waterbased Polyurethane on several furniture projects including my dining room table, coffee table and breakfast table, I've been really impressed with the long-term results. On each project, I put at least 4 coats of sealer and I've been so happy with how well they have held up to condensation from drinks and everyday use. The best part is how smooth this product goes on any surface. I've never had any trouble with haziness or streaks – the surface is always completely transparent no matter how many additional coats.
What Reviewers Have to Say:
Many reviewers have used it in a paint sprayer with no problem and have even used it without sanding between coats. Just be sure to not shake the can (only stir) to reduce bubbles. One reviewer found that when they brushed it on there were several bubbles in the finish but those bubbles popped during the drying time to leave a smooth coat with no brush marks! Click here for more reviews.
Why We Love It:
Varathane's Water-based Polyurethane is a fabulous product that was easy to apply. Some bubbles were left in the finish but they quickly popped upon drying leaving a super smooth finish with no brush marks. After three coats, the finish was still very clear and not hazy at all, even on the stained sample. The satin varnish is very nice and not too glossy! Also, this formula was the best performing water-based clear coat when it came to water rings as no ring was left after 24 hours.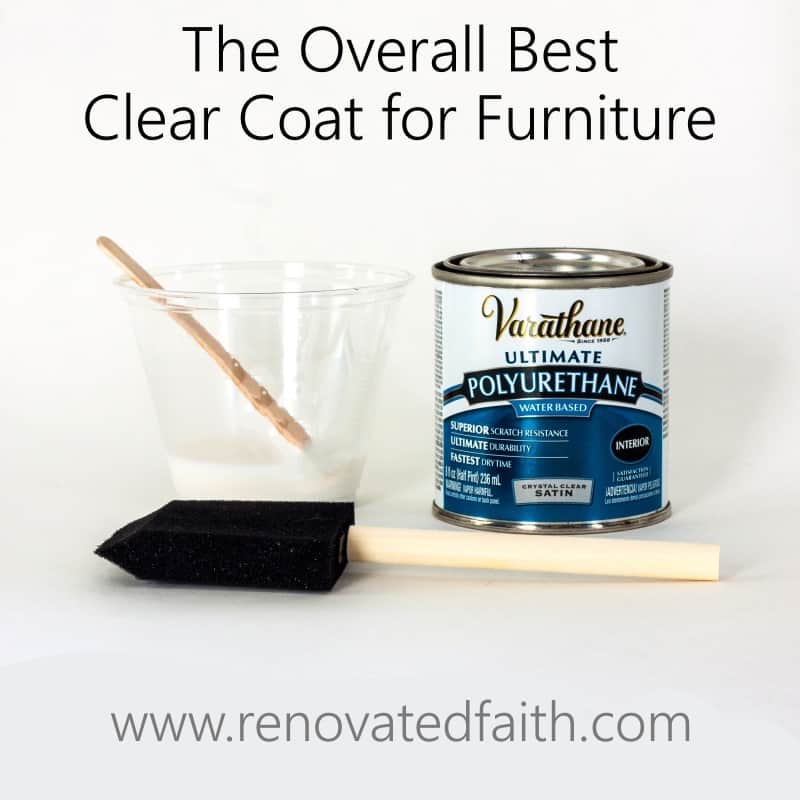 CLICK HERE TO SEE THE CURRENT PRICE FOR THE BEST CLEAR COAT FOR PAINTED WOOD FURNITURE
This topcoat was also the best clear coat for tabletops because it's resistant to scratches, stains, and water. One common concern for a kitchen table is the clear coat's ability to protect against condensation from glasses and this top coat performed best!
To my surprise, Varathane's Water-Based Top Coat was also the best affordable option for furniture. Crystalac's Water-based topcoat was a close second but the price is almost twice as much. See the current price here.
You can see how I used Varathane's Water-Based Polyurethane on the coffee table we built over the faux wood stain: DIY Farmhouse Coffee Table with Turned Legs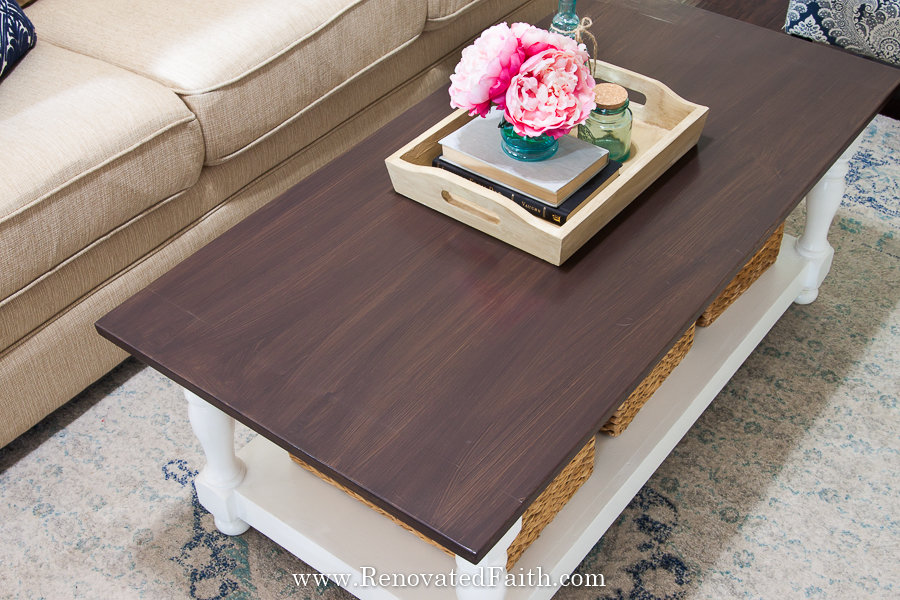 The best sealer for chalk paint is General Finishes Top Coat which does an outstanding job of preserving the look, feel, and color of chalk paint. Their Flat High-Performance Top Coat is a clear, flat, water-based topcoat and excels at making chalk painted or milk painted projects much more durable.
This was one of the two products that didn't leave any evidence of drink rings even after the drinks were left on sealed wood overnight.
Does chalk paint need a topcoat?
The very ingredient that gives chalk and milk paints their velvety look and powdery feel works against them in the durability department. This is especially the case with chalk paint that can even come off on your hands or if you rub up against it. For that reason, chalk paint always needs some sort of sealant on top.
The Best Sealer for Chalk Paint
Wax is not the only option when it comes to Although wax can be used to increase chalk paint's durability, it requires frequent reapplication. However, General Finish's High-Performance Top Coat in Flat Finish (click here for the current price) was picked as the best chalk paint topcoat and sealer because it preserves the look, feel and color while increasing the durability of milk paint and chalk paint even with one coat. It dries quickly and can be easily cleaned up with soap and water.
(See the Runner Up for the Best Sealer for Chalk Paint if you want a lower-cost version here: Varathane Waterbased Polyurethane in Matte This is also an amazing sealer for chalk-painted furniture!

What is the difference between wax and a chalk paint clear coat?
Wax usually comes in a can and comes in a paste consistency. It has to be buffed on the surface with a special brush or rag and not too much can be used. There is definitely a learning curve as far as technique and the wax has to be reapplied regularly to maintain the durability of the finish.
Clearcoat is a clear liquid that can be brushed on the surface with a good brush. Application is easy and it's a once-for-all protective finish that is much more budget-friendly than wax.
The Easiest Chalk Paint Sealer to Apply
The best sealer for chalk paint should not only be durable but easy to apply. Fortunately, there are lots of alternatives to wax on the market. Any traditional sealer that you can brush on a a foam brush takes a lot less time and skill than waxing. Also, the wax and special bush are another cost consideration when picking the best chalk paint clear coat.
How to Seal Chalk Paint: Wax or Clear Coat?
Be sure there are no areas of your chalk paint that are peeling. This can happen easily if your project was painted with a distressed look. Sand off any paint that is peeling up too much so the clear coat lays flat on your chalk painted furniture surface. You can brush on the clear coat the same way I show you in the video with latex.
What Reviewers Have to Say About Sealing Chalk Paint with This Product:
Several reviews said that the topcoat looks milky and opaque when applied but that it because completely clear once it dried. I love that this sealer has almost no odor making it perfect to use indoors when refinishing furniture projects making it a great chalk paint clear coat (Click here for more reviews on the best sealer for chalk paint).
The Best Chalk Paint Protective Top Coat: Why We Love It:
We love that it has a very consistent, velvety matte finish that had no streaks or bubbles. The finish and feel of this chalk paint clear coat are very reminiscent of wax without the cost and hassle. It stood up well to the water test but not quite as well at the Varathane Water-Based, although the results were outstanding especially for a matte finish which is inherently not as water-proof. There were also no brush strokes in the finish!
Can you put polyurethane over chalk paint?
Any type of polyurethane can be used over chalk paint. Some are just better options for others but water-based and oil-based polyurethane can go over chalk paint just like latex paint. Any of the brands listed in this post, including our top choice, can be used if you want to use poly over chalk paint.
GF High-Performance Top Coat in Flat is the Best Top Coat for Milk Paint Also
Any of the top three choices would work beautifully on milk paint but if you like a super matte finish, this one is your best bet for use on milk paint whether it is General Finishes Milk Paint or Miss Mustard Seed's Milk Paint!
CLICK HERE FOR THE CURRENT PRICE & REVIEWS
Best Sealer for Chalk Paint: Runner Up
Since writing this post, Varathane's Waterbased Polyurethane came in a satin sheen but not in a flat/matte finish. Fortunately, there is now a flat sheen available here making it another great option as a chalk paint clear coat: Varathane's Waterbased Polyurethane in Flat
When it comes to the best clear oat for white paint, CrystaLac Premium Clear Top Coat is an exceptional environmentally safe resin for interior use. It provides superior hardness, clarity, and durability. It is especially recommended for "top" surfaces such as tables, bar tops, cabinetry, and furniture.
The Varathane Water-based Topcoat was the best option for latex-painted furniture as it settles well and protects latex furniture from water which could cause bubbling or peeling on unprotected latex surfaces. Our top three clear coats would all do well on painted furniture – CLICK HERE TO COMPARE THE TOP THREE.
Best Sealer for Wood (Raw or Stained)
Sometimes you want to seal bare wood to preserve the look of the natural wood but also to provide it with a protective finish. As the vintage look of bare wood has become more and more popular so has the need to protect its finish without hiding the wood's natural color.
Especially on projects using new wood, the wood color can look pretty muted but added even a single coat of sealer can give you a little bit more contrast to better see the natural grain of the wood. While wood treatments like… will also bring out the wood's natural color, they don't provide any protection. I"m feeling like a broken record again but I love how Varathane's Waterbased Polyurethane brings out the details of wood grain without making raw wood too dark. (For a faux raw wood stain that looks great on natural materials and also laminate, click here: Raw Wood FInish with Latex Paint)
Certain types of wood species are more soft than others and ironically some of these are actually hardwoods but a few coats of a good sealer can go a long way in protecting wooden surfaces.
Other times you might want to preserve the old finish which was the case on these end tables of my mother-in-law's. These old wood drawers were worn and cloudy but adding a clear coat really brightened up the natural color of the wood grain.
The Best Green Wood Sealer
You might have heard of some products being having low or no VOC's (volitile organic compounds). It can be tricky to find a sealer with absolutely no toxic funes but you will always find fewer VOC's with water-based polyurethane's like Varathane's Waterbased Polyurathane's or General Finishes Water-based Sealers.
The Best Sealer for Outdoor Furniture
The best outdoor sealers have always been oil-based but fortunately, water-based outdoor sealants have come a long way lately. They can be used to provide a hard finish on tabletops, exterior walls and even wood decks.
Exterior wood is obviously exposed to hard conditions such a rain, humidity and high temeratures. Most good exterior sealants will provide protection from extreme heat and cold. Also, their fast cure time makes application easier in areas where it rains often.
The best outdoor wood sealer is Varathane's Water-Based Spar Urethane (Exterior Sealant). I used it to seal the metal door on our back porch that I painted to look like hardwood: How to Paint a Door To Look Like Wood. I like how well it has protected the door from fading in its full sun exposure.
The best outdoor sealers not only hold up to environmental conditions but also provide the best protection against the UV rays of the sun. Interior sealants don't have UV protection but it is a must for outdoor furniture.
When applying Varathane's Spar Urethane, make sure to keep a wet edge so it doesn't dry up on you too fast. It doesn't give you quite as much time as its interior polyurethane version. Be sure to apply it within temperatures of 65 – 85 degrees Fahrenheit.
The Best Deck Stain and Sealer
Another product line worth mentioning is …which features a stain and sealer combo containing a stain that pentrates the wood fibers while protecting the top surface of wood. It's great for wood decks and any other exterior surface. You can pick between transparent, semi-solid (semi-transparent) stains and solid stains so that you can cover up any blemishes in the wood while still having some of the wood grain show through. My favorite type of sealer for decks without a stain is Thompson's Water Seal which is not only water-repellant but is durable for high-trafic areas.
The Best Paint Top Coat, YouTube Video
You can find the rest of my furniture refinishing and DIY videos by clicking here: Renovated Faith, YouTube
How To Seal Chalk Paint or Latex Paint Easily
It's easy to clear coat over latex furniture with a few simple tips! After painting your furniture piece, let the final coat of paint dry for 48 hours. It's up to you whether you want to apply topcoat to the entire piece or just the surface.
Apply your thin coat in a covered location where leaves can't fall on the surface and out of direct sunlight.
Brush it on in long strokes in one direction with an inexpensive foam brush (like this one). When you are finished with your first thin coat over the entire surface, don't touch it and let it dry according to the directions on the can.
Usually, I can apply the second coat within 30 minutes to an hour. You want to apply several light coats to get the most durable finish.
I usually add a third coat and let it dry 24 hours after that. When you're done, just throw away the foam brush.
IMPORTANT TIP: The fine print on your can might call for a light sanding between coats. The first time I used clear coat, I sanded between coats and it completely ruined the finish. Sometimes when you sand, it can scratch the top coat of paint so it's best not to sand between coats.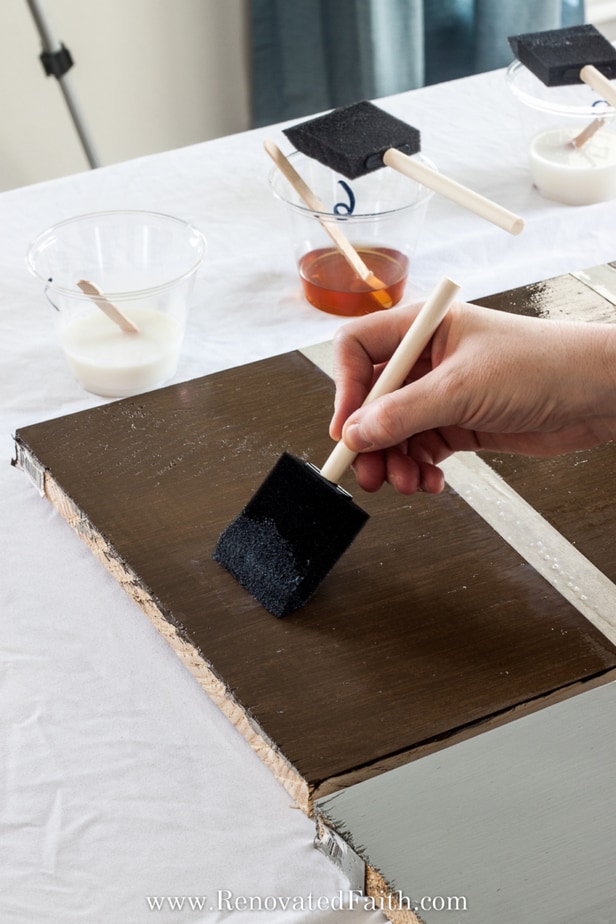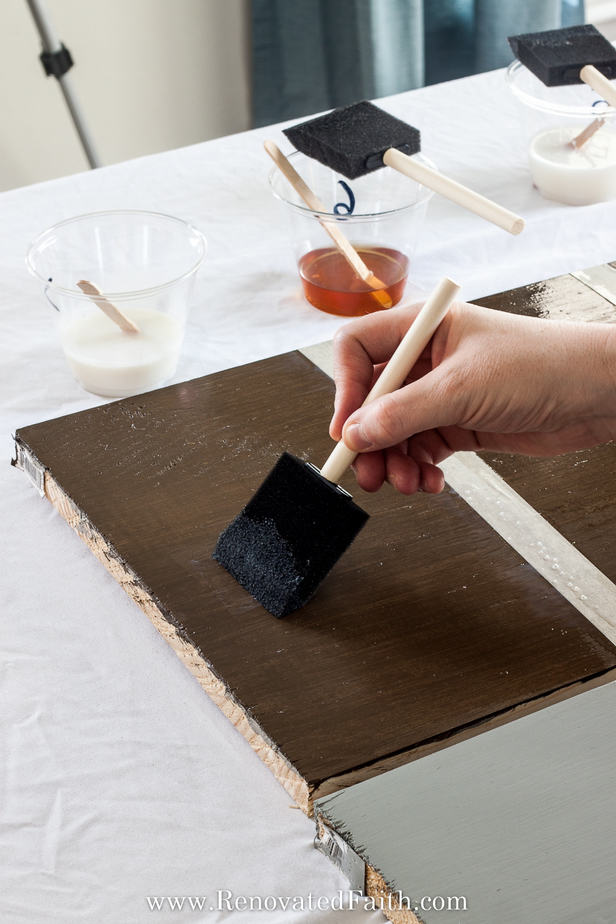 My Best Tip: How to Protect Painted Furniture and Stained Pieces-

To give painted furniture maximum protection, top coat paint with 3 coats of clear coat. This will give your piece maximum hardness and durability. This sounds excessive but our top three clear coats all have very fast dry times, which will cut down on the time to finish your project. Sand very lightly in between and follow the dry time recommended on the can.
For the best protective finish for stained wood, I'd pick General Finishes High-Performance Top Coat. This General Finishes Top Coat provides maximum durability and is very waterproof. One reviewer complained about slight yellowing on a white piece of furniture but that's actually a plus for stained furniture as it warms up the tone slightly making it the best clear coat for wood. After sanding lightly, all three top clear coats would be a great choice for stained furniture.
How to Clear Coat Stained Furniture
Just like clear coating painted furniture, be sure to let the stain dry for at least 48 hours and sand very lightly. For stained finishes, I recommend "sanding" with a paper bag so you don't mar or scratch the stained finish. The paper bag is enough to rough up the surface so the clear coat sticks to the stain but it doesn't leave any scratched in the stain.
To provide a thick clear coat for wood, add three thin layers of clear coat for maximum durability. Use an inexpensive foam brush (like this) and brush in one direction for each coat. Allow each coat to dry according to the instructions on the can.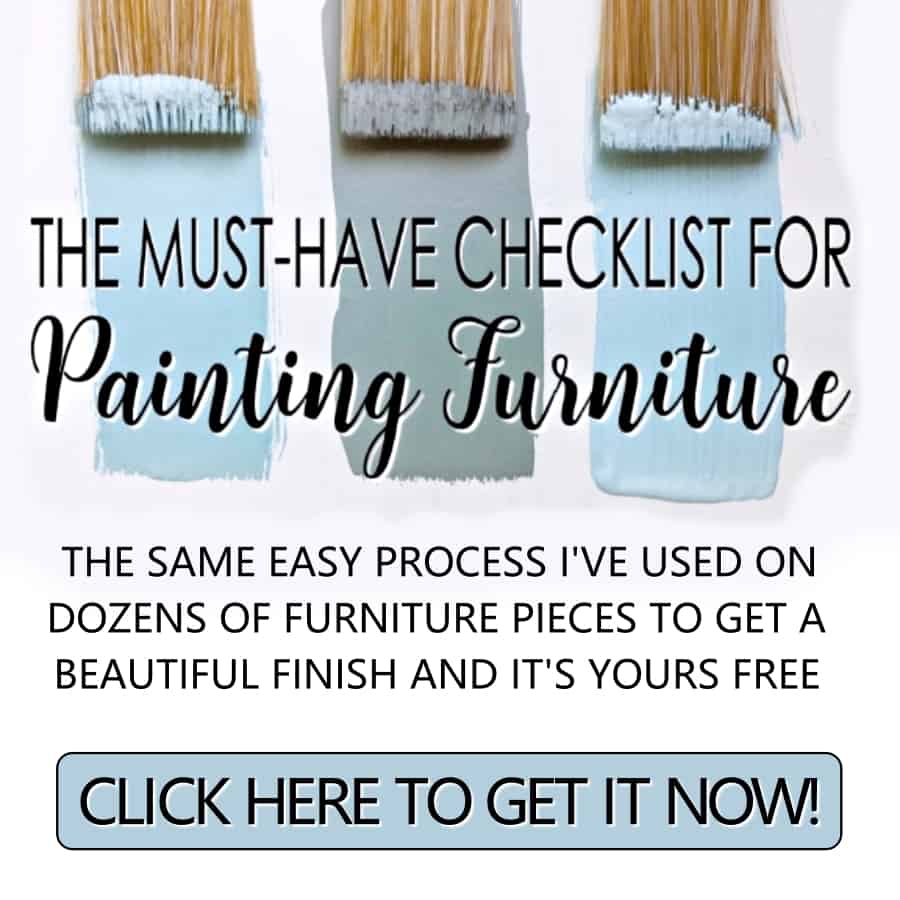 How The Other Contenders Performed:
Minwax's Water-based Polycrylic Top Coat is a commonly used clear coat for furniture refinishing. All seven topcoats are good products but I found our top three clear coats all performed better than Polycrylic in terms of durability and water permeability. There was a pretty obvious water ring left on the polycrylic sample but it provided a very smooth finish.
Several furniture painters have trouble with polycrylic streaking or forming stripes on the surface. I've seen this problem as well but what helps is to add a little extra product per coat on your surface. By adding extra polycrylic, it seemed to minimize streaking significantly!
Oil-based polyurethanes are great when it comes to having a waterproof surface as they both left no glass rings on the surface of each sample. HOWEVER, there were several bubbles in the Minwax surface and both caused pretty severe ambering of the painted surface.
The Minwax polyurethane separated so it took me a while to stir the product so it was once again consistent. If you don't stir in the solids, your finish will be a high gloss finish.
So, while they could both be used for stained surfaces, they would not be a good option for painted furniture, especially light or white paint colors. If you want to use an oil-based polyurethane, Varathane's had better results by far – click here for the current price.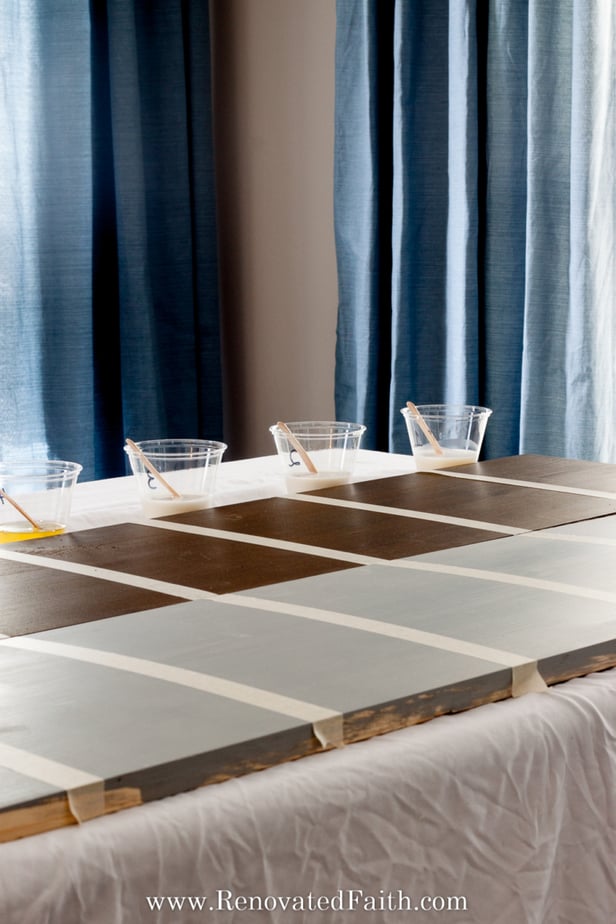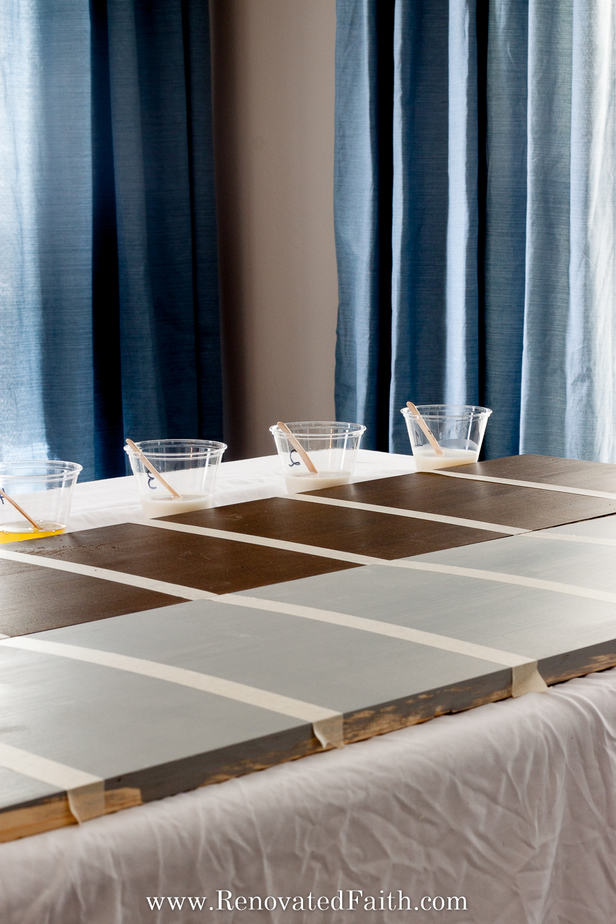 What Sheen Should I Use on Furniture?
Sheen refers to the amount of shine on a piece of furniture ranging from high gloss, gloss, semigloss, satin, and then matte for the least shine. Matte is the most popular now as you will see it often on farmhouse style or chalk painted furniture.
The shinier the piece the more durable and easy the surface is to wipe off. So, if you need a more durable finish, satin is often a good option because it's not very shiny but is a hard, waterproof surface.
The more gloss a surface has the more it will show imperfections in the surface so a matte sheen is much more forgiving than a semi-gloss. The clear coats I experimented with were all matte and satin finishes:
☑️ My All-Time Best Furniture Painting Tips & Tricks (FREE PRINTABLE)
Don't forget to download your FREE step-by-step printable checklist that shows you the exact process I've used on dozens of furniture pieces while saving you time and money!
FAQ's – Best Clear Coat For Painted Wood:
Can I Paint Over Polyurethane without Sanding?
Someone asked me how to refinish a piece of furniture that had been clear coated with an oil-based polyurethane. I would not attempt to refinish over this surface without at least sanding and adding a primer and I describe it in this post here: How to Paint Furniture the Easy Way. Remember, you are not sanding to remove the surface you are just barely roughing up the surface to accept primer or paint (How to Stand Furniture in 5 Minutes).
Can You Put Polyurethane Over Wax?
A good rule of thumb is that nothing will stick to wax except primer. So, don't put any clear coat over wax including polyurethane. You can however wax over polyurethane if you like the buffed look of wax but a much easier option is using our pick for the best chalk paint topcoat.
Do you Have to Seal Chalk Paint?
If your chalk painted piece will not come into contact with any spills, drinking glasses or you aren't worried about the finish rubbing off on your hands, you don't have to seal it. But most of the time, you'll want to be able to set a drink on a piece of furniture. Also, you don't want to worry about the color rubbing off on clothing. Therefore, it's a good idea to seal all chalk painted furniture. See the best chalk paint topcoat here.
What is the Best Clear Coat for Kitchen Cabinets?
If you are wondering how to seal chalk painted kitchen cabinets, your best bet is General Finishes High-Performance Top Coat for a more durable finish or GF Flat Out Flat Top Coat for a more matte finish. I wouldn't recommend painting kitchen cabinets with chalk paint as I discuss in my post: A Better Alternative to Chalk Paint. If you are wondering what clear coat to put on latex-painted cabinets, I would consider going without one. If you use a good semi-gloss paint made for cabinets, it should be durable and water-resistant enough without the trouble of a topcoat. However, if you have chalk painted cabinets, you will need some sort of protective finish.
Should I Use a Spray Clear Coat for Wood?
Spray clear coats seem like they are incredibly convenient and if you are working on a craft project, they are. Although they are a popular option for furniture, spray clear coats are generally a bad idea as they are notorious for leaving stripes on your furniture piece. Trust me; opt for the brush-on top coats to get a uniform look! (If you are already painting a picture frame or small project with spray paint, then spray topcoats are a great option).
After Staining Wood, Do You Have to Seal It?
A stain is a product that penetrates wood pores instead of covering them. Therefore, the surface can still be easily scratched as there is no protective finish for a typical stain. For that reason, it is best to seal all stained wood to prevent scratches from ruining the finish. Gel stains are thicker and more protective so you can get away without a clear coat for lightly used pieces. Just lightly sand with a paper bag before sealing with a clear coat.
What Kind of Paints Can Be Clear Coated?
Clear coats can work on several paint options including mineral paints, media paints, decorative paints, chalk paint and latex.
Want To See More Furniture Makeovers?
To see my best furniture reveals click here: 15 Stunning Painted Furniture (Before and After Reveals)
Posts Related to the Best Top Coat for Paint:
The Ultimate Guide to The Best Furniture Paint, 2021
Milk Paint vs. Chalk Paint vs. Latex
Best Tips for Painting Furniture
A Better Alternative to Chalk Paint for Furniture (Get the Aged Look of Dark Wax Easily)
How to Paint Furniture Legs Quickly & Easily
The Best Way to Stencil (Without Paint Bleed!)
Faux Stain with Latex Paint (7 Different Color Options)
The Absolute Best Paint for Cabinets – 24 Brands Blind-Tested & Reviewed
General Finishes Milk Paint Review
Faux Driftwood Finish for a Weathered Wood Look
How to Make IKEA Furniture Look Expensive with Paint
How to Turn Acrylic Paint into Fabric Paint
How to Fix Damaged Wood: Caulk, Wood Filler, or Epoxy?
Milk Paint Vs. Chalk Paint Vs. Latex: What's the Best Type of Paint for Your Project?
Applying the Right Top Coat to Wood Furniture: Final Thoughts
Refinishing furniture can be so rewarding if you know the right way to seal and protect your finish. There are several clear coats in the marketplace but only one exceeds all others. In terms of smoothness, clarity, durability, and protection from water, we've reviewed our best picks above. You can now finish your next project with confidence knowing it will be protected and look gorgeous for a long time.

What are your thoughts, my friend? I love to hear your thoughts and answer any questions! Scroll down to leave a comment and I WILL reply! ❤️
Blessings,

Be sure to follow the fun here!
Reviews for the Best Paint Sealer for Wood (Best Sealer for Chalk Paint)
Welcome to Renovated Faith, where I share about DIY projects, my faith and everything in between! When I'm not spending time with my family, you will find me redoing furniture in the garage or watering plants in my greenhouse. This blog is about transformation. Anyone can renovate a house but only God can transform our hearts!