Customize Your Own DIY Aluminum Patio Cover (Easy Low-Cost Kits That Look Like Wood!)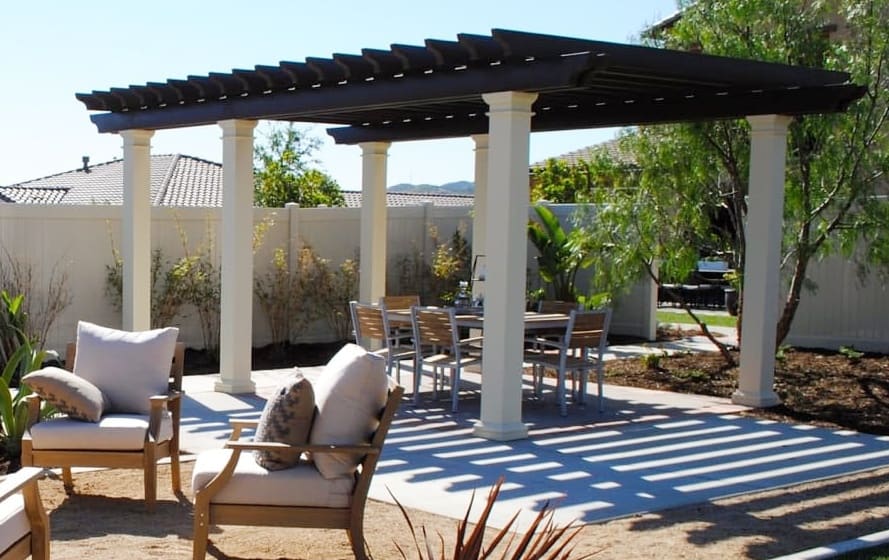 DIY Aluminum Patio Covers Shipped Straight To Your Door
Did you know you could order your own customized DIY aluminum patio cover and save tons of money by not having to pay a contractor? You also don't have to worry about the high cost of lumber.
---
A patio cover not only makes your outdoor living space so much more comfortable but it significantly increases your home's value. Most contractors will cost you an arm and a leg to build and install a porch cover. And if it's wood, you are going to have the high cost of lumber, not to mention the maintenance to keep your patio looking great in the future.
Who says aluminum patio covers can't look amazing? Fortunately, there are actually high-quality aluminum patio cover kits sold online that are embossed to look just like wood. These top-of-the-line patio covers are more durable, maintenance-free, and they don't have to be painted. You also don't have to worry about wood rot. Customize every detail of your DIY patio kit while saving a ton of money by installing your dream patio cover yourself.
The DIY aluminum patio covers listed in this post are of the highest quality, easy-to-install and cost-effective. Also, their customizable design options will help you transform your backyard into an outdoor oasis. With so many roof options, this post will tell you everything you need to know so you can have the peace of mind to choose the perfect patio cover for your needs!
LET ME SHOW YOU:
How cost-effective it is to order an Alumawood patio kit while avoiding the high cost of lumber
The customizable color and style options of DIY patio cover kits
Why aluminum patio covers are worry-free as they don't rot or have to be painted
The best places to buy your dream patio cover on a budget
Encouraging words on how God doesn't expect us to DIY our lives.
(As an Amazon affiliate I earn from qualifying purchases. Please see my full disclosure HERE).
☑️Get your FREE checklist of the top no-demo projects to add serious character to your home. Whether you are selling your home or wanting to add character to a builder-grade home, this list will save you tons of time and money: FREE CHECKLIST OF THE TOP DIY PROJECTS TO INCREASE YOUR ROI
What Are The Benefits of Aluminum Patio Covers (Do-It-Yourself Kits)?
A patio cover not only makes your backyard much more comfortable, but it delineates that space insuring your patio is a comfortable second living area instead of an assortment of patio furniture that is exposed to the elements.
A patio cover also gives your patio space multiple functions not only as an outdoor living space, but as a play area for kids or an outdoor kitchen.
Covers for patios give you the ultimate protection from the harmful UV rays of the sun without the hassle of applying sunblock or getting overheated while you cook dinner on the grill.
Does a Covered Patio Increase Home Value?
Not only do aluminum-covered patios add massive curb appeal to your outdoor living space, but adding a patio will raise the value of your property by 12.5 percent! This is a great addition for any homeowner who wants to make DIY updates with a high ROI for when it's time to sell. Sunsails and retractable awnings are great, but only a permanent structure will give you a huge return on your investment. The beauty of DIY patio covers is that you don't have to hire a contractor which will save you hundreds, if not thousands of dollars.
What Material Is Best For a Patio Cover?
Remember that when replacing an existing patio structure, you don't have to use the same material. The standard industry materials for patio covers are real wood, vinyl, or aluminum. Here are the pros and cons of each:
Wood Do It Yourself Patio Covers
Wood patio covers are often more attractive and open you up to lots of design options and stain colors. Unlike standard aluminum, which can dent easily, wood is much more durable and is less likely to dent.
But because wood is an organic material, you will have more regular maintenance since wood is subject to deterioration from the sun, water, and pests. Also, there are always natural imperfections in wood that a stain may actually accentuate. In addition, wood is a lot heavier which limits you when it comes to deck covers since decks can only handle so much weight. Wood also needs to be painted or stained to provide a protective finish against the elements.
Vinyl Patio Cover Kits
Vinyl patio cover systems require little maintenance as they will not rot or peel. Vinyl is sturdier than wood but not as strong as aluminum. The big downside to covering a patio in vinyl is that it doesn't have the most attractive look. Vinyl usually can't be painted, which is a huge downside as its subject to fading and discoloration because of the sun's UV rays.
Standard Aluminum Patio Cover Kits
Standard aluminum patios are lightweight, rot-resistant and they are easy to install. Gone are the days of those tacky corrugated aluminum panels as there are so many attractive and durable designs now when it comes to aluminum patio covers. Not only do they have low-maintenance requirements but they also come pre-painted with special enamel finishes that adhere well and hold up to the elements.
Unfortunately standard aluminum dents easily which is problematic if your patio cover will be under a large tree where heavy tree branches may fall. Even though standard aluminum patio covers have come a long way, they aren't nearly as attractive as wood.
Renovated Faith: What's in a Name?
What is Alumawood?
Many aren't aware of the advantages of a product called Alumawood. Alumawood kits combine all the attractiveness of wood but they wear like aluminum. This allows you to have the same beauty of stained or painted wood along with the durability and lack of maintenance of aluminum.
Why Alumawood Patio Covers are the Best
Alumawood covers are unique because the aluminum material is actually embossed to have the same grain pattern as wood. Also, the aluminum construction is 30% thicker than traditional covers. With Alumawood, you have several color options to choose from and can even customize the look to your specific design specifications. The color and design options not only mean that your DIY aluminum patio cover will look amazing but you also don't have the chore of painting or staining as you would a wood cover or pergola.
The lifespan of Alumawood far exceeds wood products so you won't need to repair your patio cover nearly as often. This will save you time, money, and energy as you have a patio cover that you can focus on enjoying instead of maintaining.
Is Alumawood Cheaper Than Wood?
The price of Alumawood varies depending on your retailer but it will be roughly the same price as wood and even less as the price of lumber has gone up in 2021. Also, is a product that you don't have to paint and will last decades longer than wood so be sure to keep the long-term cost in mind.
The Durability of DIY Alumawood Patio Covers
Alumawood is an extremely versatile and sturdy material that will stand the test of time, even in harsh weather conditions. These covers are great in wetter climates where wood rot would normally be an issue. They are also a great solution in dryer regions where high winds cause erosive damage to awnings over time. You can also even customize your DIY aluminum patio cover to provide extra protection.
How Much Weight Can An Aluminum Patio Cover Hold?
Alumawood patio covers have a 10 lb live load for snow and a 110-mile wind load. However, for the harshest weather conditions, their engineering covers up to a 50 lb snow load and winds of 130 mph. T customize your patio cover to handle even higher loads, see the details on live load ratings and the best designs for certain snow load requirements below.
How Long Do Aluminum Patio Covers Last?
A pressure-treated solid wood patio cover will last 10-20 years until you need to do major repairs or replace it. However, Alumawood's high-quality aluminum will last up to 50 years with minimal maintenance, which is just a matter of keeping it clean and watching for storm damage.
Benefits of DIY Aluminum Patio Cover Kits
One of the major benefits of Alumawood is that their patio covers come in DIY kits shipped to you so you can assemble your cover on-site. Don't be intimidated by the DIY aspect because "DIY" doesn't mean you are doing it all alone. The covers are not only easy to assemble but Alumawood provides detailed instructions and helpful customer service. With the Alumawood DIY kits, you save a ton of money on the cost of labor but also get a gorgeous aluminum patio cover perfectly customized to your patio cover size, design details, and exact specifications.
By going with the kits you build yourself, you get high-end curb appeal on a really low budget. Their patio space coverings come in standard sizes but they also offer an unlimited size range for your own custom design. I also love that these covers are light enough to be used as deck coverings. The instructions are easy and detailed so the average DIY homeowner can put them together quickly.
Different Types of Aluminum Patio Covers
There are different options of aluminum patio covers to fit your needs, budget, and design preferences. All of the below options come in DIY kits that can be customized, and shipped to you for assembly. All of the listings include various sample covers and add-ons like rain gutters, ceiling fans, and lighting. Each of these sellers provides extensive customer service and support to help you as you assemble your DIY aluminum patio cover kit.
Aluminum Insulated Patio Covers
This solid patio cover not only provides total protection from the sun but is also very durable against the harshest weather conditions like high winds, rain, and snow. The solid insulated EPS core also prevents any heat transfer underneath the aluminum patio awning so it's comfortable even during hot summers.
The insulated roof's core provides extra durability which can take on most wind and snow loads. Also, the snap-lock panels on these aluminum and polycarbonate patio covers can be walked on and they can even be screened in later on!
Be sure to check out these options for various thicknesses of Polystyrene Core Insulated Roof Panels: Screenhouse.com Alumashade.com Homeporchandpatiokits.com
Solid Aluminum Patio Covers
If you like the look of solid aluminum covers but are in a climate where you don't need the insulated core, you can save money by going with a standard solid aluminum patio cover. These roof panels have the same design and customization option but without the polystyrene core as with the flat pan patio cover kits. You can find solid covers without insulation here: Screenhouse.com Alumashade.com Homeporchandpatiokits.com
Aluminum Lattice Patio Cover Kits That Look Like Wood
If it's partial shade you're looking for, be sure to check out the aluminum patio cover pergolas that look identical to wood. As with the solid covers, these will last decades longer than the more traditional wood versions. Again, you can pick your own color options and customize your pergola kit to your home. Here are my favorite supplies of Alumawood Lattice patio kits: Patio Kits Direct Alumashade
Free Standing Patio Cover
If you're looking for a free-standing steel carport, they also come in affordable DIY kits. Not only are they maintenance free but they provide years of worry-free use. The aluminum carports can come in W pan or flat pan DIY systems. This is a great way to get the exact carport you want while staying on budget by avoiding contractor costs. My favorite supplier of free-standing X is: screen-house.com
DIY Aluminum Patio Covers in Standard Sizes to Save You More Money
Many big-box and home improvement stores have patio cover kits as well. While they don't come in customized options, there are still a variety of standard sizes that will still save you money. Here are a few low-cost options:
AluminumPatio Covers, Home Depot
Non-Aluminum Patio Cover Kits
If you decide against aluminum, there are other options for patio covers including fabric and glass. A great option if you want to choose between shade and full sun is a retractable awning:
Fabric Patio Covers and Sunsails
Patio Covers, Retractable Patio Roof Kit
How Much Does An Aluminum Patio Cover Cost?
Once you have honed in on the type of patio cover you want, you can look at the links above to get an idea of how much it will cost you per square foot. The average price range of aluminum patio covers are:
Insulated Patio Patio Cover Kit – $14 per square foot
Solid Non-Insulated Patio Cover Kit – $11 per square foot
Lattice Patio Cover Kit – $11 per square foot
You can also check out this resource for the to make sure your are getting a patio cover at a fair price: Aluminum Patio Cost Estimator
How Much Are Aluminum Patio Covers with Add-Ons?
Keep in mind that the website pricing is usually a baseline and there are several options you can add on like lighting, ceiling fans, door awnings, and decorative aluminum awnings.
Where To Buy Aluminum Patio Covers
Here are my favorite retailers of DIY aluminum patio covers. Be sure to check out these options to make sure you find the right cover for you and your budget while finding a supplier that ships to your area. All of the sites below will provide you with a custom quote, a freight rate, and warranty coverage.
Steps To Buying Your DIY Aluminum Patio Cover
Here's the step-by-step process to pick your aluminum patio cover parts including the awnings, posts, beams and rafters.
After you select the best cover type that's best for you, go to any of the websites above and select your cover. Some websites will also ask you for your location in the US at this point in the process
Now you can design your cover by entering in the measurements. If the site asks you for the projection measurement, that's the distance that the patio cover will be projected from your house or wall. Most patio covers measure 9 feet in height.
You can now pick the type of attachment whether you are attaching the patio cover to the roof, fascia or if your patio cover is just free-standing.
Now is the fun part where you can pick the overall design. Pick either the beveled, mitered, corbel, or scallop header end caps. Also, pick out your aluminum patio cover posts and rafter styles.
Finally, you can select the colors of your aluminum patio cover panels, beams, and rafters. Don't be afraid to use two different colors. I especially like the combination of a dark stained roof with white beams and rafters.
Last, you can add any accessories like bay lights or a ceiling fan!
How To Build an Aluminum Patio Cover
Most of the DIY aluminum patio kits will come with an installation video that includes detailed instructions on assembly and how to attach the aluminum patio cover to your house. They even include tips on how to install an aluminum patio cover with footings. Only basic tools are required.
If you have questions, feel free to contact the customer service department's phone support if you need help assembling your patio cover materials. They can also help you if you are wondering how to update an aluminum patio cover. If you decide you don't want to install it yourself, they provide an installation service.
How to Install A DIY Aluminum Patio Cover, YouTube Video
How to Clean An Aluminum Patio Cover
The only maintenance required for aluminum covers is cleaning. When painting the exterior trim on my house, I found an amazing product for cleaning your home's exterior and it works great on aluminum. You simply spray it on and leave it and any mold and mildew simply disappear. You can find it on Amazon here: Wet 'N Forget Exterior Cleaner
How To Find Patio Cover Kits Near Me
It is a great idea to check for distributors close to you to reduce shipping costs. While the suppliers above will ship nation-wide, you can get your patio cover sooner for checking into suppliers with distribution centers nearby:
RENOVATE YOUR FAITH: Why God Doesn't Expect You To DIY Your Life
For more spiritual encouragement, click here for the rest of my project posts that also include Renovate Your Faith devotionals.
How Can I Turn My Backyard Into An Oasis?
Once you have your beautiful DIY patio completed, you will want to add lots of curb with a stunning landscape design. But you don't have to hire a professional and pay thousands of dollars. Here is a step-by-step guide on how to implement your own landscape design on a budget: Easy Beginner Landscape Design on a Budget
FAQ's: DIY Aluminum Patio Covers
What is the cheapest material to use for a patio cover?
The cheapest material for patio covers is vinyl. But although they are cheap, it's just a matter of time before they fade and crack leaving you with a leaking patio cover that looks horrible. Alumawood is such a great option because it will last forever and look the same for decades with minimal maintenance.
Can You Walk on Aluminum Patio Covers?
The insulated patio covers with the polystyrene core are durable enough to walk on. Some others are also durable enough but it depends on the load rating of that particular aluminum.
Who Sells Aluminum Patio Covers That Are Not DIY kits?
All of the companies mentioned above have installers that can come out and install your porch cover or Elitewood is another great option.
Are Aluminum Patio Covers Hot? Are Aluminum Patio Covers Loud in the Rain?
Not only do aluminum patio covers get hot but they can sometimes be loud. That is why the insulated option is great because it reduces heat and also muffles the sound of rain.
Are Aluminum Patio Covers Good for Cold Weather?
If your biggest concern with aluminum patio covers in cold weather is whether they can handle the weight of snow, all the suppliers above have options to increase the snow load for the particular cover you pick out.
Can a Patio Be The Same Level as a House?
Your patio cover can be the same level as the house and if you have trouble transitioning from your house's fascia to the patio cover, Alumawood offers some great solutions.
Why would an Alumawood patio Cover be leaking where it meets the house when it rains?
With variable weather conditions, sometimes a small gap will form between the aluminum brackets and fasteners. To solve this problem, add gutters to the house's fascia boards above the patio cover.
Do Aluminum Patio Covers Need Footings?
Footings are only required when you don't have a slab or if you have a freestanding carport that is not attached to the house.
More Posts Related to DIY Aluminum Porch Kits
31 Tips Easy NO-Demo Projects to Add Serious Value to Your Home
How to Add Amazing Curb Appeal On A Budget (Free Landscape Design Checklist)
The Best Light Greige Paint Color For Your Home
How to Paint Exterior Trim Yourself (The Easy Way!)
How to Whitewash Dated Brick On A Budget
Easy Spray Paint Tips and Tricks (Free Checklist)
Easy Front Porch Christmas Ideas
Final Thoughts on DIY Aluminum Patio Covers That Look Like Wood
After reading this post, hopefully finding the right kit will be an easy decision since you have so many great products to choose from. All of the suppliers listed above are a one-stop-shop for your patio needs and they will help you every step of the way. The DIY aluminum patio covers listed in this post not only ensure ease of installation but also feature timeless designs that will upgrade the look of any outdoor space.
I love to hear your thoughts and questions! Scroll down to leave a comment and I WILL reply! ❤️
Blessings,
Be sure to follow the fun here!
DIY Aluminum Patio Covers On A Budget