For the last three years, I have stared at our boring fireplace trying to figure out how to easily update it for a fresh new look.  As I looked through Pinterest, I gravitated to those beautiful farmhouse fireplaces with the German smear or mortar wash techniques.  Fortunately, after a little experimenting a found a simple way to get the same look.  This easy, mess-free tutorial shows you howto whitewash a brick fireplace to get the same look of a German smear or mortar wash for a beautiful farmhouse fireplace.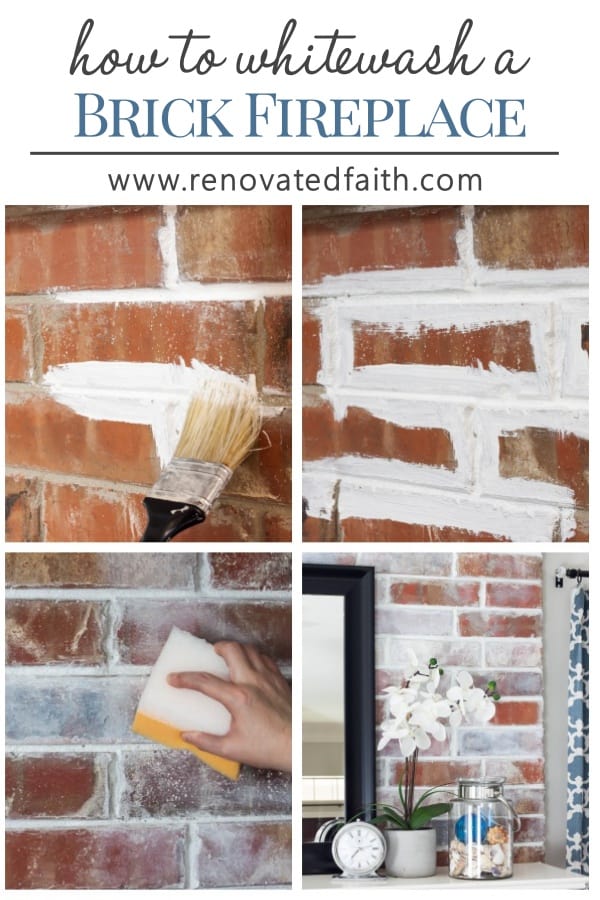 Farmhouse Fireplace Makeover
I scoured Pinterest for pictures of Farmhouse fireplaces (you can see my Fireplace Pinterest Board HERE) and what I liked the most were those that had a German smear or a mortar wash.
I thought about learning how to do a true German smear or how to whitewash a fireplace with lime.  However, both looked really messy.  Also, if didn't like how it looked, there would be no easy Plan B. However, I felt like I could get the same effect with paint and clear mixing glaze.
So, I did some experimenting with paint and glaze to get the same look but more "workability".  Unlike some white wash recipes, the longer drying time of the glaze allows you to wipe the paint off the bricks if you decide you added too much.  
This same process can be used to freshen up an accent wall or to whitewash a brick backsplash.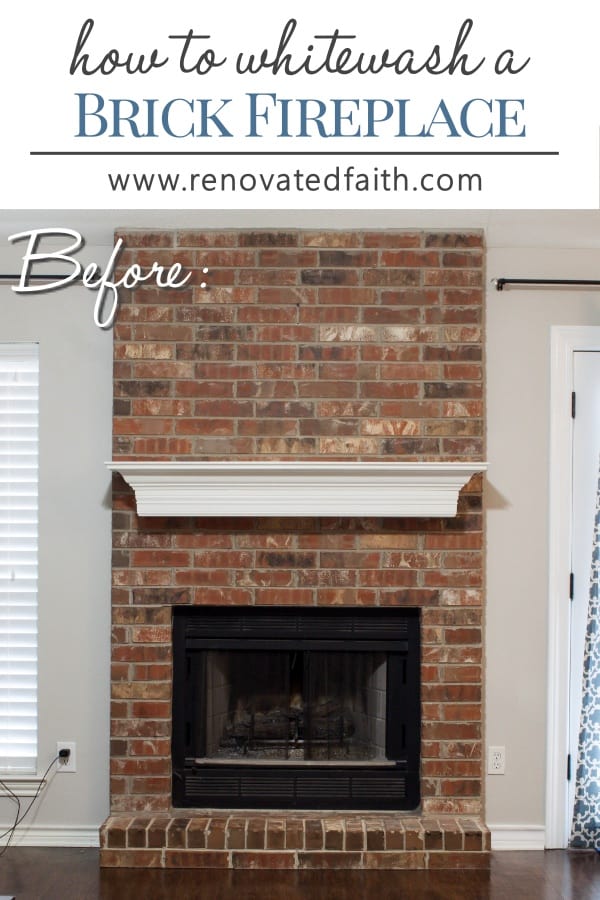 How to Whitewash Brick – Supplies
This post may contain affiliate links at no extra cost to you.  See my full disclosure here.
White paint in Flat or Satin
Valspar Clear Mixing Glaze from Lowes
2 inch Paint Brush
Microfiber cloths – I used this set!
Small, Dense Sponges – These are cheap and work well.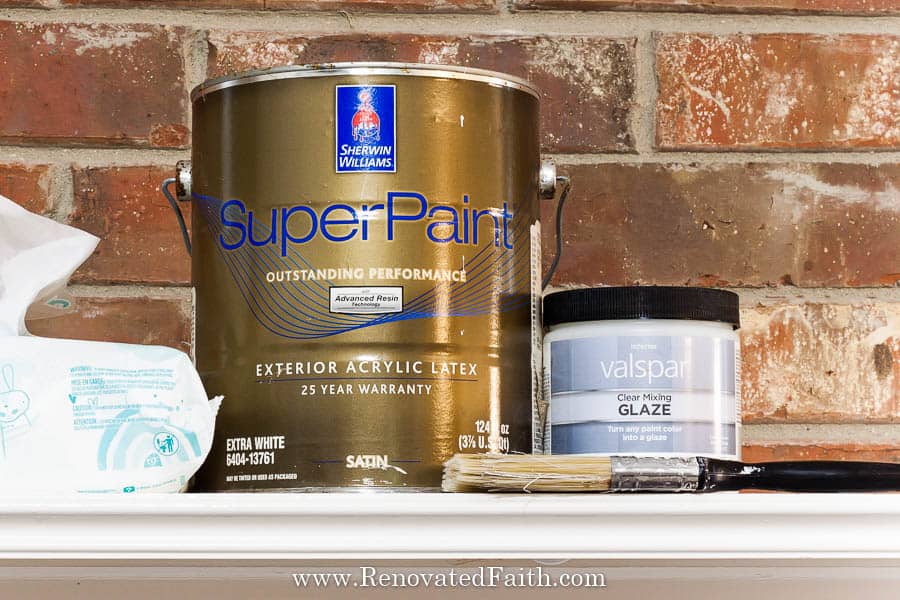 How to Whitewash a Brick Fireplace
Step 1: Dusting the Brick
Brush off all the brick of your fireplace with a broom to remove any dust particles that could get in the paint.
Step 2: Paint the Mortar
Mix up a 1:1 mixture of white paint and glaze.  Take your brush and the space between the bricks to recolor the mortar.  Paint it on without being too concerned about getting the paint on the brick.  After you have done a section of mortar go back with a wet microfiber cloth and white off the excess on the brick.  This goes faster than being super careful to not get paint on the brick with a tiny brush.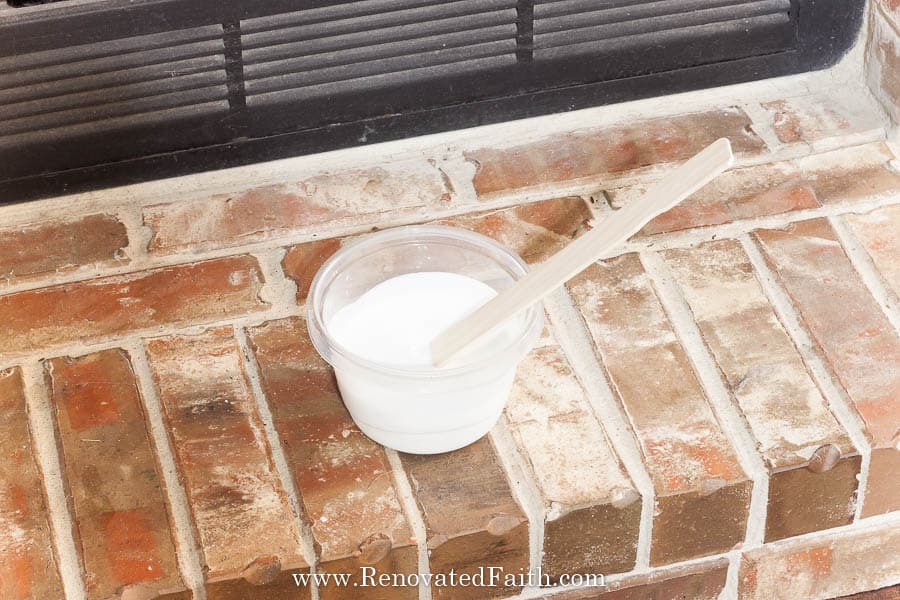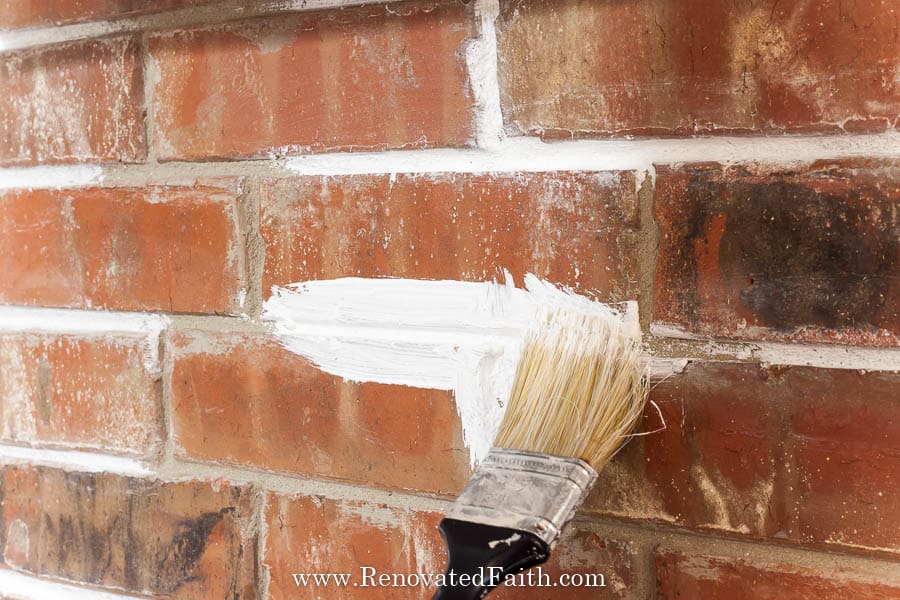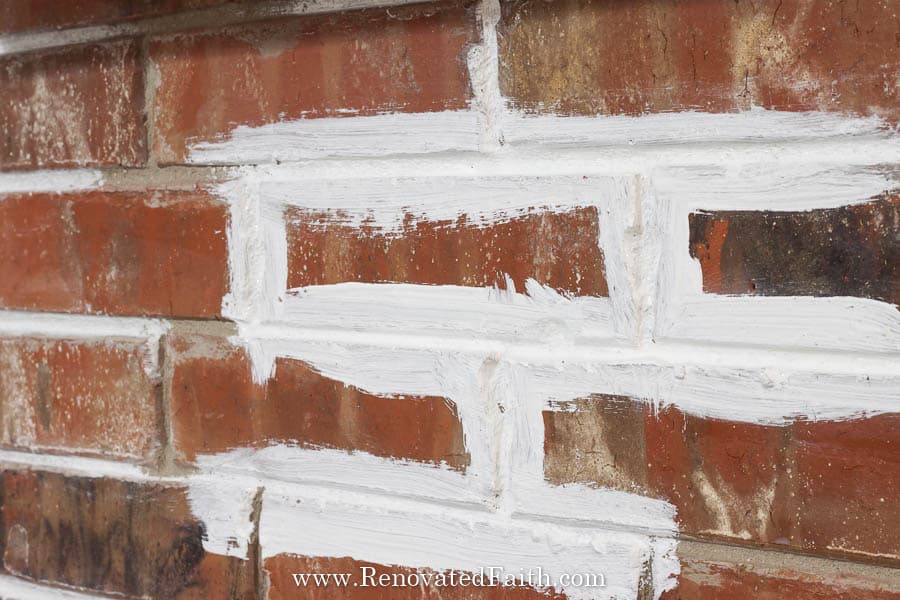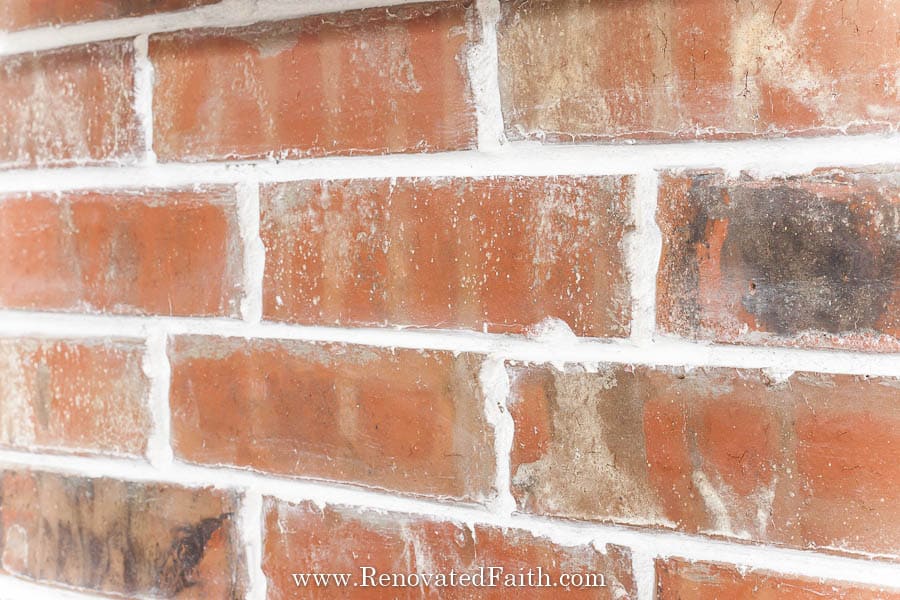 Here's how it looks with just the existing mortar painted white.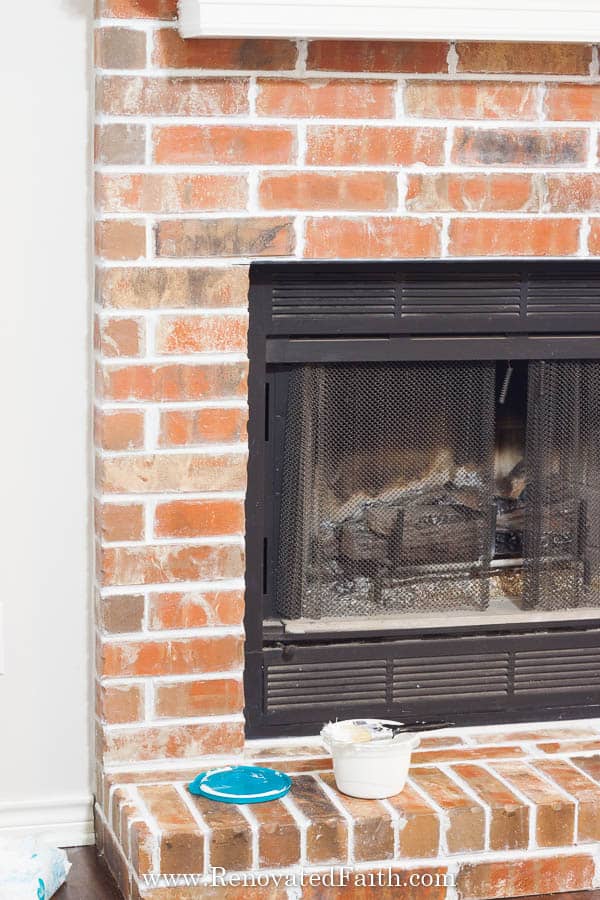 Getting Ready to Sell Your House?

If you are whitewashing your brick fireplace to update your house for a quick sell, you can  check out one of my most popular posts.  In it, I describe 25+ updates for selling your home fast and a printable home staging checklist.
Step 3: Whitewashing Brick Fireplace Surround
Moisten one of the small sponges and dab it into the paint/glaze mixture.   First I picked the ugliest bricks on my fireplace.  These are the ones that were dark gray or a weird cream color.  Those were scattered sporadically throughout so I dabbed each of those bricks.  These are also a little whiter because I wanted to cover the former brick color.  Here is how I painted those bricks:
Next, it was time to whitewash some of the red bricks.  Since I wanted most of the red to show through, I only partially whitewashed most of these.
My best advice is to find a picture online of what you would like I replicate.  Then, follow same general pattern on the bricks with your whitewash mixture.  Just lightly dab the parts of the brick that you want to be white like in this video here:
Because our whitewash mixture contains glaze, if you get too much paint on a brick, take one of your wet cloths and wipe it right off!
Can you whitewash painted brick?  You could use this same technique on brick that has previously been painted since the ingredients are just paint and glaze.   You would probably use less of the whitewash mixture on your sponge since the painted brick will not absorb as much paint as brick will.
Here's the final look of the brick after I was done whitewashing.  I played with it a lot getting the brick to look exactly how I wanted it – painting, wiping off and then painting again in moments of indecisiveness.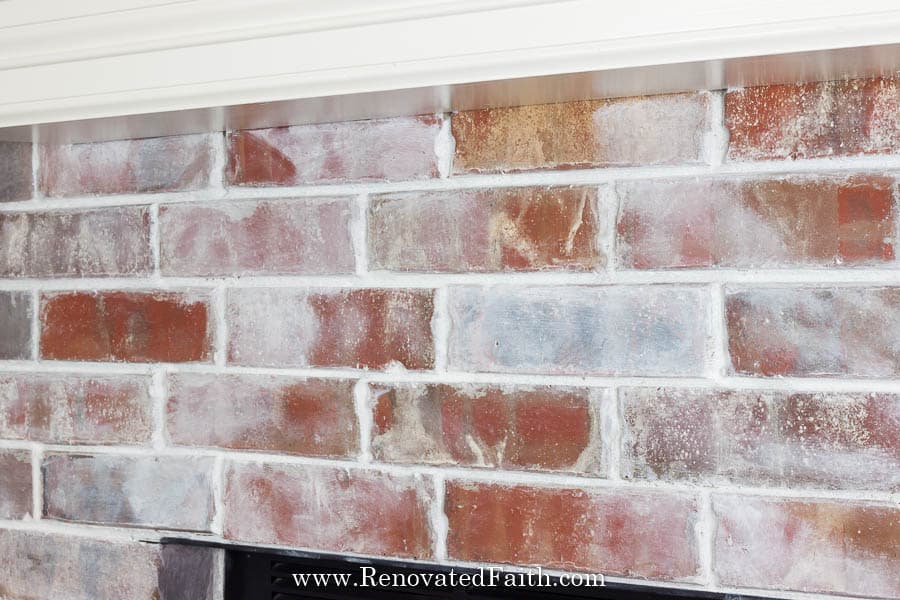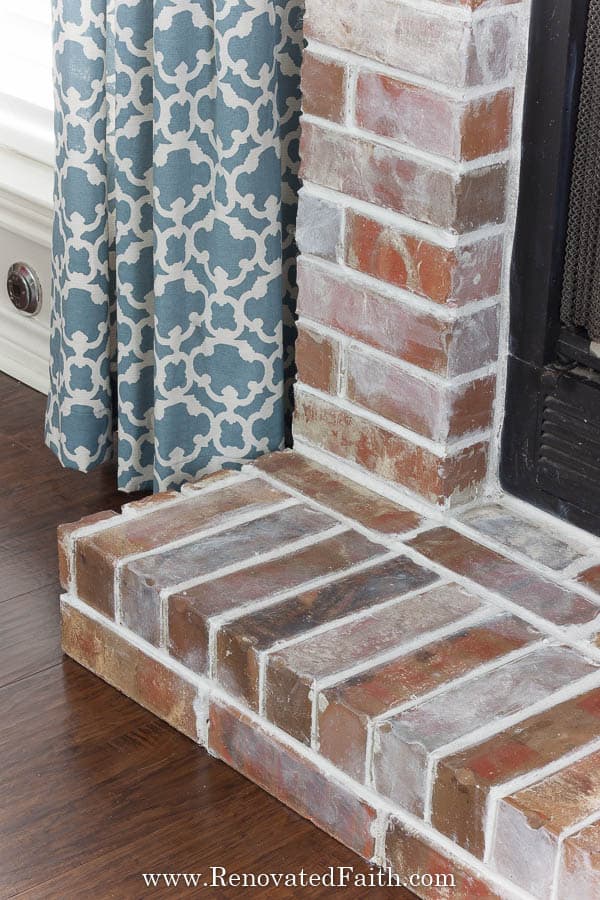 Whitewash Brick Fireplace Before and After
Isn't it a vast improvement?  I love the way it brightens up the whole room.  Also, it's a drastic change but you can still see the original surface of the bricks coming through as opposed to completely painting it white.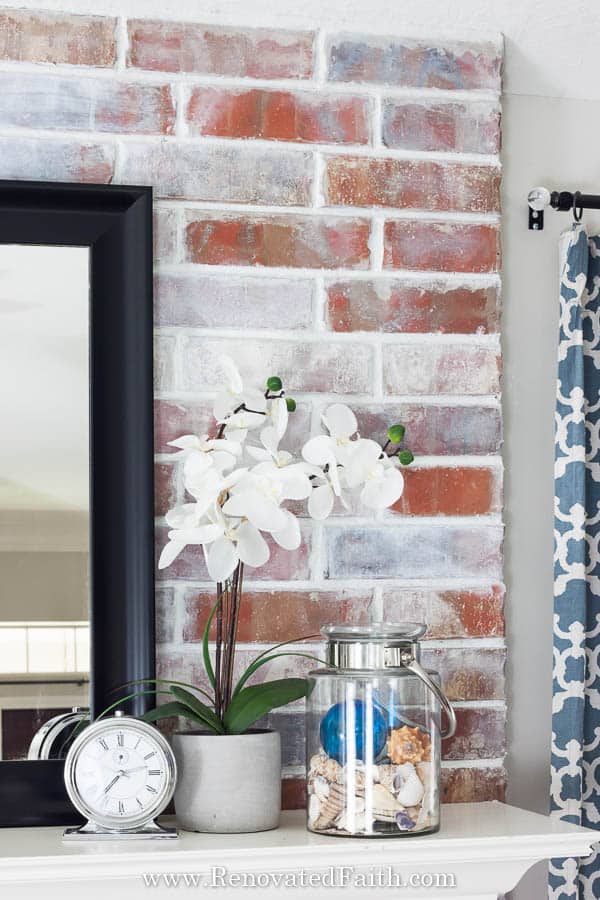 RENOVATED THINKING:
This project was definitely out of my comfort zone, as with most things we can't control.  When I refinish a piece of furniture, I know I always have a plan B.  I always have the option to re-sand and re-finish, not if, but WHEN I mess up.
However, this project was a little different.  I knew no matter what that the fireplace would remain unchanged.  I would never be able to restore it to it's old state and that made me a little uncomfortable.
In addition, there was no way I could possibly predict how it would turn out.  I printed a photo off the internet and I clinched that image in my hand and mind.  I had expectations but this time there would be no guarantees and certainly no do-overs.
Sometimes in life we hold onto expectations of God's blessings so tightly that we forget that the very thing that sneaks up behind us and surprises us is a harbinger of His blessings in disguise.  What we see as an interruption, He sees as an intervention.
Our long-awaited expectations blind us from seeing the very blessings of God right in front of our eyes.  Our own expectations can inhibit us from anticipating God's greatest blessings.  For God's preparation and gifts seldom come wrapped in the packages of our own control.  Instead, His greatest prizes come wrapped in a gift box that we could have never contrived if we tried.
My daughter Morgan went through a rare autoimmune disease when she was younger.  Those were hard days but through them I see God's preparation for the kind, empathetic, caring woman she will one day become.  Recently, she was diagnosed with a learning disability.  Again, this is not what I expected but I chose to anticipate God's blessings through our struggles.  
Anytime God calls you to sacrifice, He WILL replace it with something greater.
Her learning disability was not on my radar but I know God has better plan.  For her brain works in an amazing way that is sure to prepare her for the plans God has already laid in her path.
In the same way, the results of the fireplace aren't something I could control.  Does it look just like the image I printed?  Not really.  But in spite of that the results are amazing and are far greater than I expected.  
True transformations means we will be left unchanged, unable to ever revert to old habits and tendencies.  Through God's grace, we can allow ourselves to let go of our expectations and can anticipate the freedom of being surprised by grace.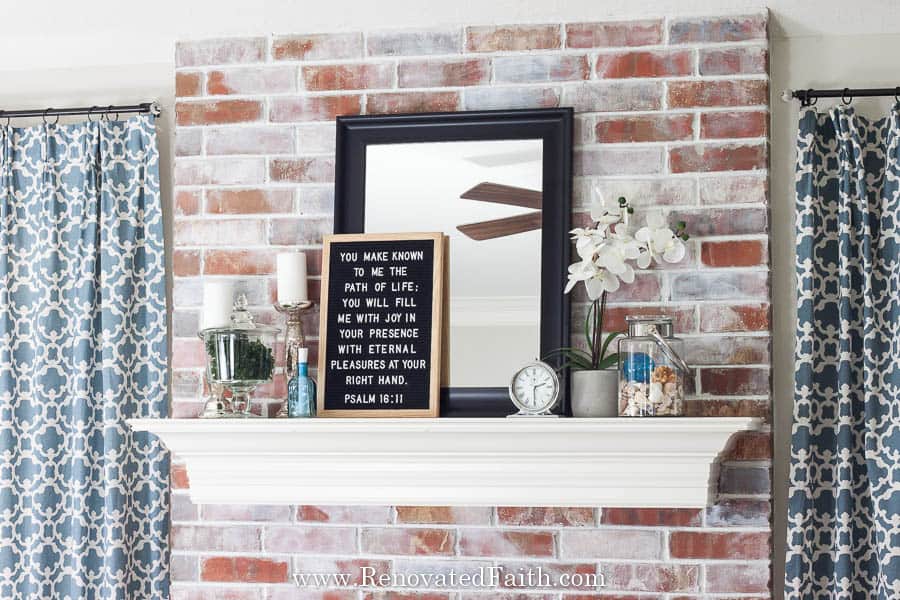 Now our fireplace retains the original character of the brick but is now brighter and consistent with the rest of our decor.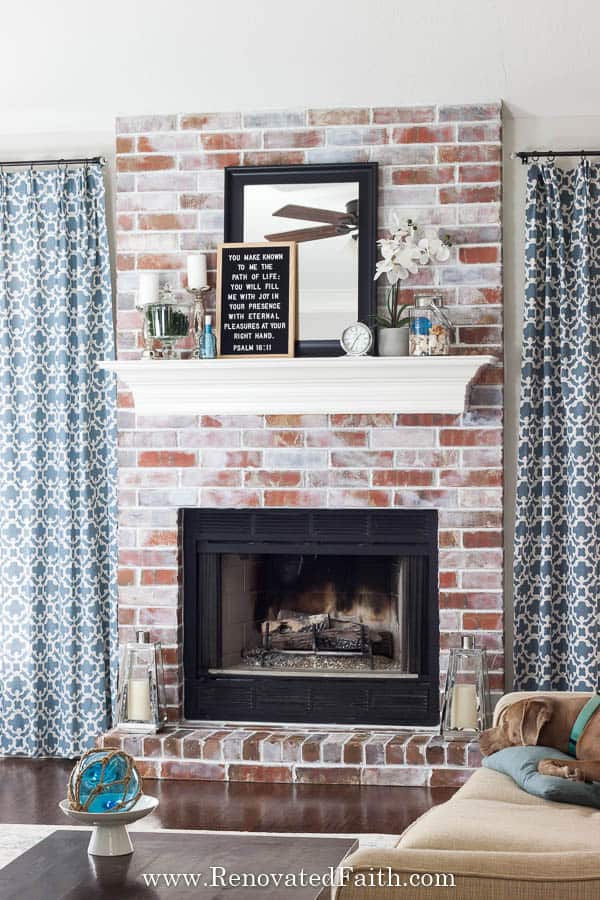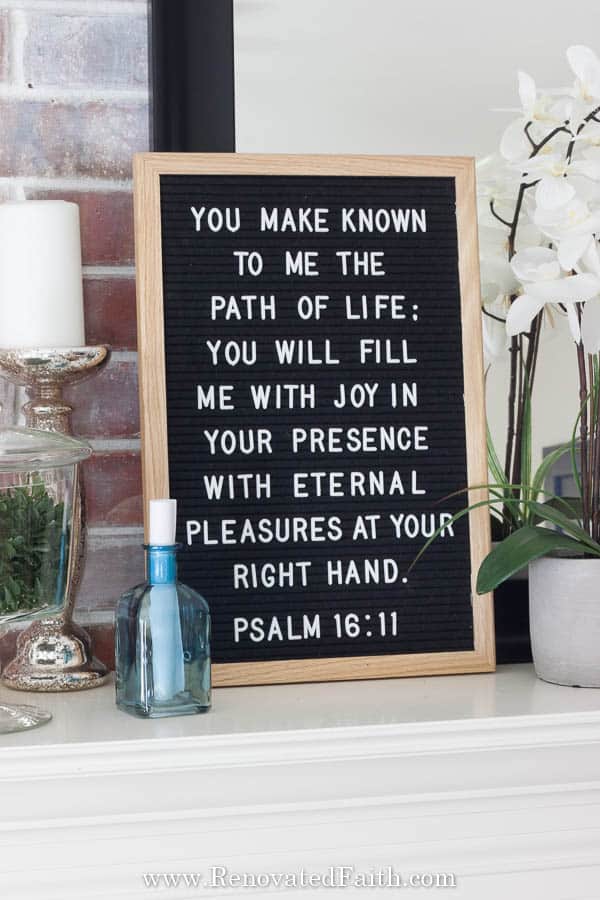 I had so much fun decorating the fireplace for fall with my blue thanksgiving decor here.  It's amazing how it's new look made me excited about decorating it for the first time.  No longer was a dark, dreary eyesore but now it is has a fresh, updated look I can be proud of.
More more DIY Farmhouse Decor, be sure take a look at these posts:
If you want to save this post for later, pin it here: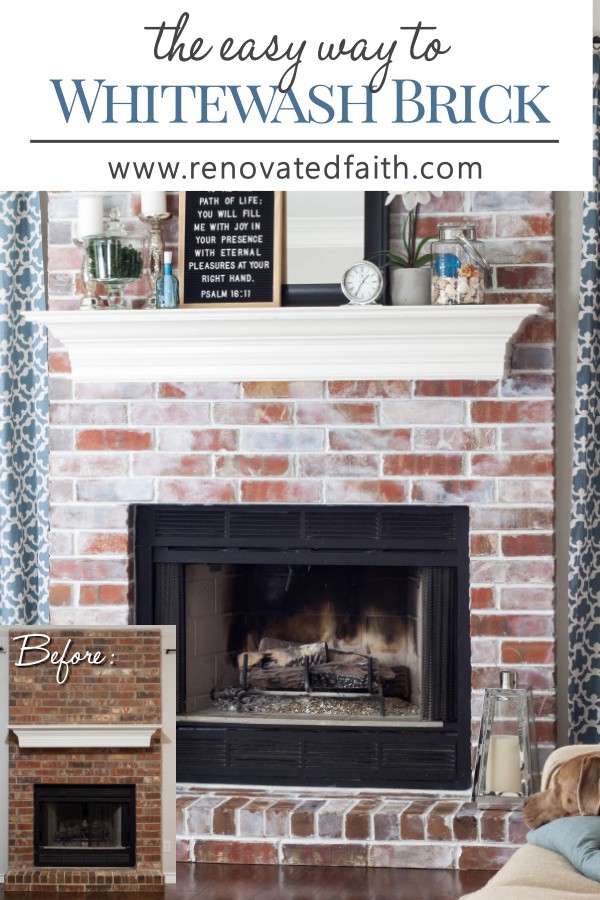 Did you like this post? Be sure to share it with others. Have a wonderful week!
Blessings,

Be sure to follow the fun here!