The Best Cross Back Chairs Under $100, 2022 (that don't look cheap!)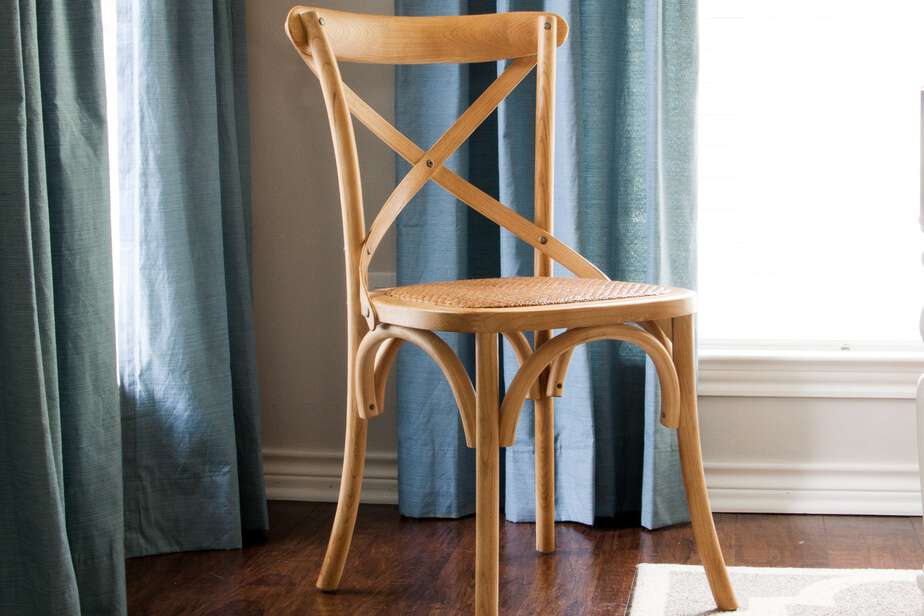 Inexpensive X Back Chairs: A Buyer's Guide
If you are looking for comfortable but trendy dining chairs, consider the versatility of cross back chairs.  Here's my list of the "Best Cross Back Chairs" for inexpensive x back chairs that fit your style and budget!
Buying a new set of dining chairs is no easy feat.  Also, the cost of dining chairs can quickly add up.  After all, you can't buy just one dining chair, you are going to need a full set of 6 or 8!
IN A HURRY?

✅  Here's a quick link to the best cross back dining chairs of 2022:  The Best X Back Chairs
You can try out seating at furniture stores but often their prices are super high.  Also, maybe it's just my introverted personality, but I don't love interacting with a sales associate who competes with every other salesperson on the floor.
Fortunately, cross back chairs check all the boxes when it comes to trendy but affordable dining room chairs.  Also called X back chairs,  these beauties are very ergonomic to give you and your family comfortable seating for years to come.   All the dining chairs mentioned here are less than $100 a chair!
This post might be helpful to you if you:
want beautiful dining chairs that have a classic but stylish look
don't want to spend a fortune on a set of dining chairs
want reliable reviews from others that have long-term experience with various brands of cross back chairs
want the best cross back chairs for back support and comfort
The Best Cross Back Chairs Under $100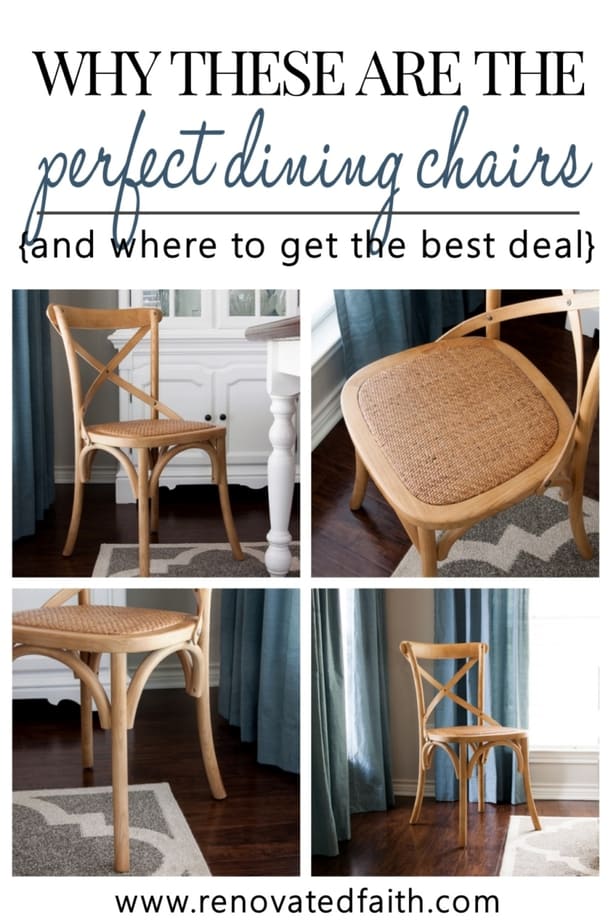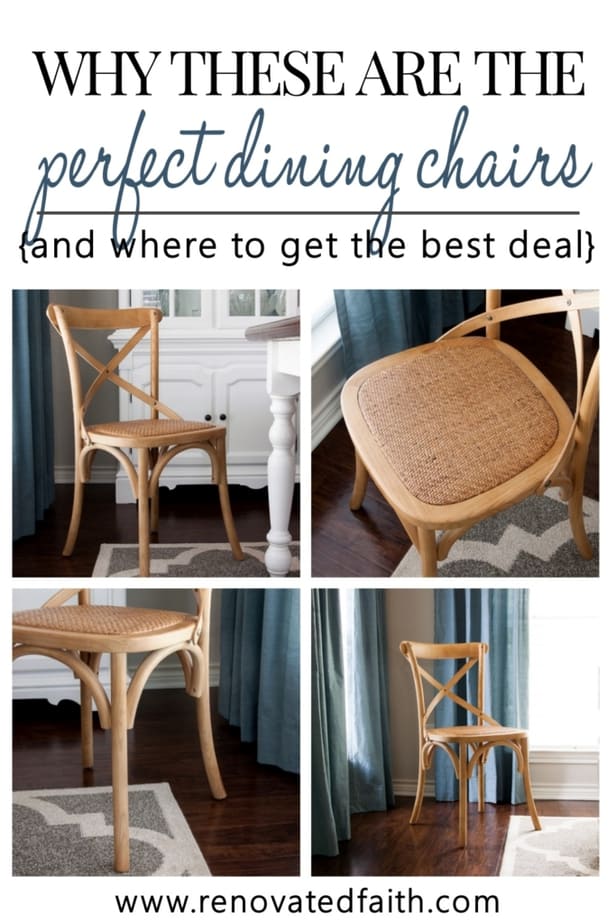 (As an Amazon affiliate I earn from qualifying purchases. Please see my full disclosure HERE).
What are Cross Back Chairs?
Dining chairs play such an important role in your home's decor, not just from the perspective of rounding out the look of your dining room.  But their functionality is critical to the comfort of your family.
Cross back dining chairs are often known for their solid construction with distressed accents that look great with rustic farmhouse decor.  They feature an x-back, curved legs, and a woven rattan seat for a natural style.  The seat adds extra cushioning and a nice contrast against the wood.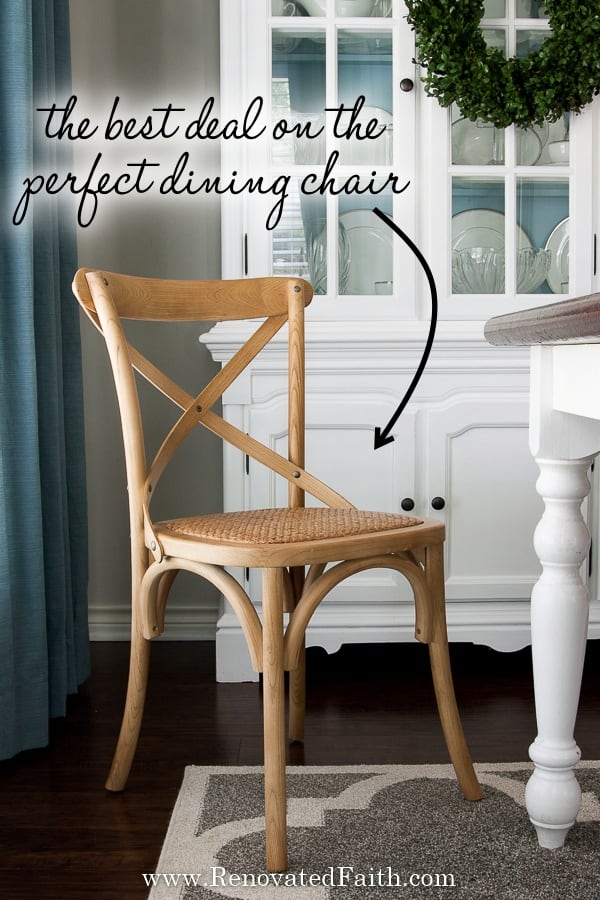 History of Cross Back Chairs
Cross back chairs were originally used in 20th-century French bistros.  They are very similar to bentwood chairs in terms of their lower supports, but they have flattened strips of wood that cross in the back as opposed to the rounded arcs.
Such a unique aspect of cross back chairs is how they were originally made.  The wooden parts were made by heating beechwood slats to 212 degrees F, pressing them into curved cast-iron molds, and then drying them at around  158 degrees F for 20 hours.
Different Sizes and Colors of Crossback Chairs
Cross Back Bistro Chairs on a Budget
You probably have seen cross-back chairs more as dining sets but I also use one as my vanity chair because it's comfortable and doesn't take up a lot of space.  I have a friend that uses one at her craft desk for the same reason.  The standard cross back dining chair has a seat height of 18.5 inches.
Cross Back Counter Stools & Bar Stools
They can also be used as counter stools and bar stools.  The typical height of a counter stool is 23 – 28 inches while the typical bar stool height is 29-32 inches according to Hayneedle's Bar Stool Buying Guide.
Cross Back Color Options
X back chairs come in a variety of color options to work with your table and style including distressed grey, ivory, black, natural, and walnut.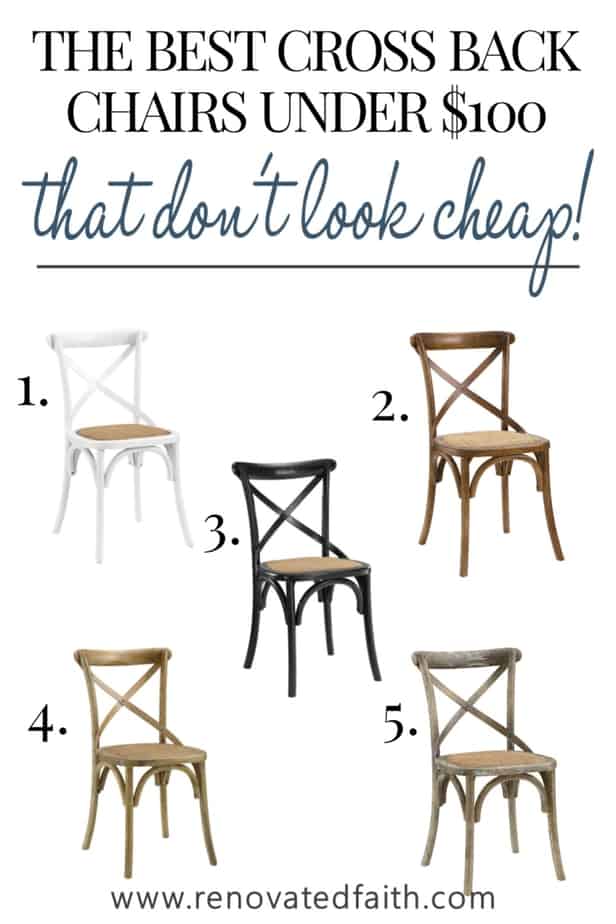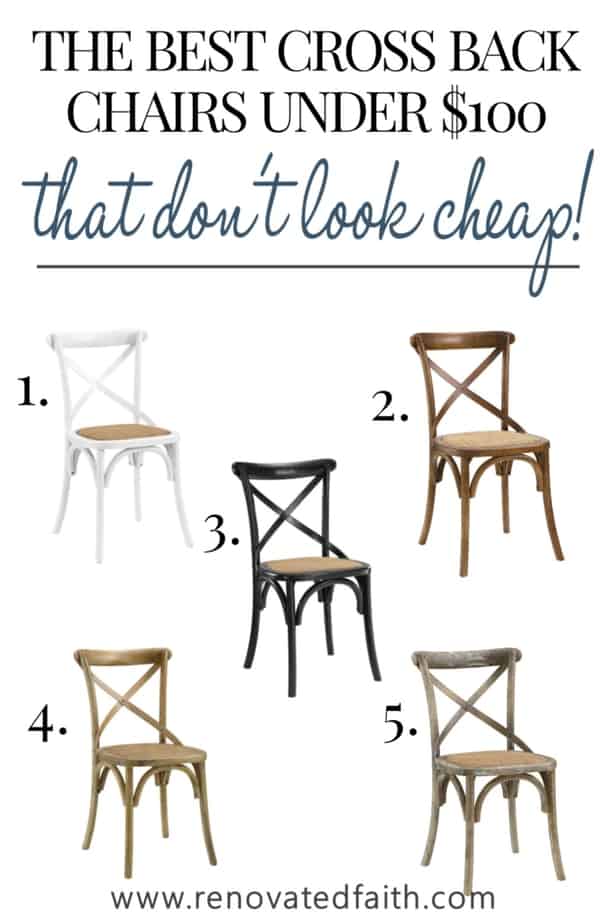 1. Ivory | 2. Walnut | 3. Black | 4. Natural | 5. Gray
Stackable Crossback Chairs
Stackable cross back chairs are also an option for those that want to store them for occasional large family gatherings or for wedding venues.  You often see cross back chairs at weddings and receptions because of their rustic but elegant style and lightweight comfort.  Later, we'll discuss the difference between stackable cross back chairs and non-stackable.
The Best Cross Back Chairs: 4 Benefits
What Makes a Comfortable Dining Chair Versatile for Your Style
What I love most about these elegant dining chairs is their versatility.  Although you often see them with modern farmhouse accents, they look beautiful with almost any home decor style!   They look as at-home with a farmhouse trestle table as they look with French country or coastal decor.
No matter how amazing a dining set looks or how well they coordinate with your decor, nothing is worse than having a sore back from sitting in an uncomfortable chair.  How frustrating would it be to spend hundreds of dollars on a cute dining set only to find out that your family and guests are miserable sitting in them.
Are X-Back Chairs Comfortable?
Not only are cross back chairs comfortable, but they are also ergonomic, which is ironic because they don't look nearly as comfy as they truly are.  As someone with lower back problems, I was presently surprised by the lumbar support provided with wooden pieces that make the curved x.  In searching for the best dining room chair for lower back pain, cross back chairs were often listed as a great desk chair or dining chair for those with back issues.
Most cross-back chairs do not have a fully upholstered seat but do have padding under the rattan making them more comfortable than a regular wooden dining seat.  If you need some extra support, you can always add dining cushions which are more easily cleaned than upholstered dining chairs.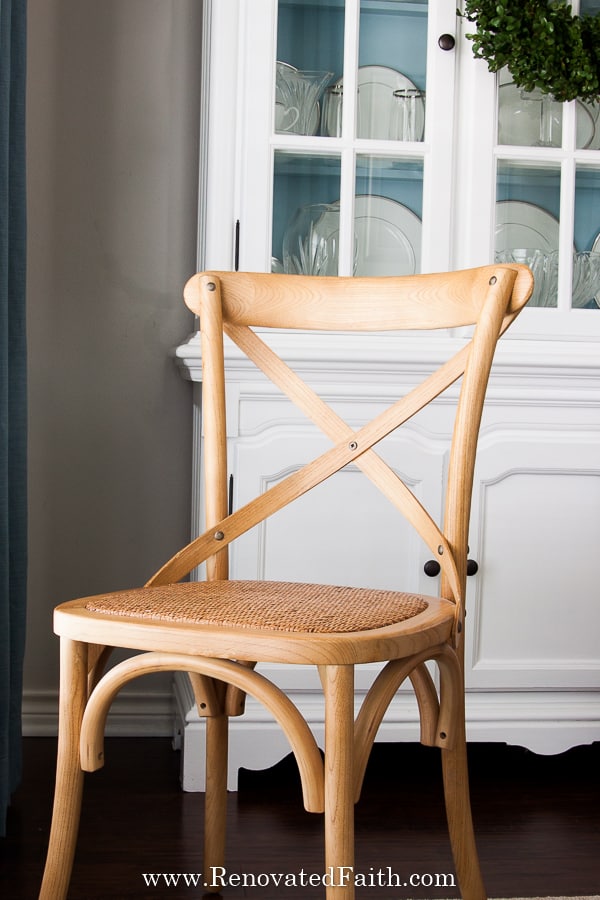 The Best Stacking Chairs
Crossback chairs have become the hottest trend in wedding seating and some are even stackable!  But you have to know what to look for when you buy.  If you are looking to buy a large number of cross back chairs for yourself or if you are a wedding venue looking to buy wholesale, you definitely want to make sure the x back chairs you buy are stackable.
You can see here that cross back chairs without the piece that wraps around are stackable.  Be sure to keep that in consideration when buying them wholesale to make storage easy.  Later I'll share the best source for wholesale x back chairs.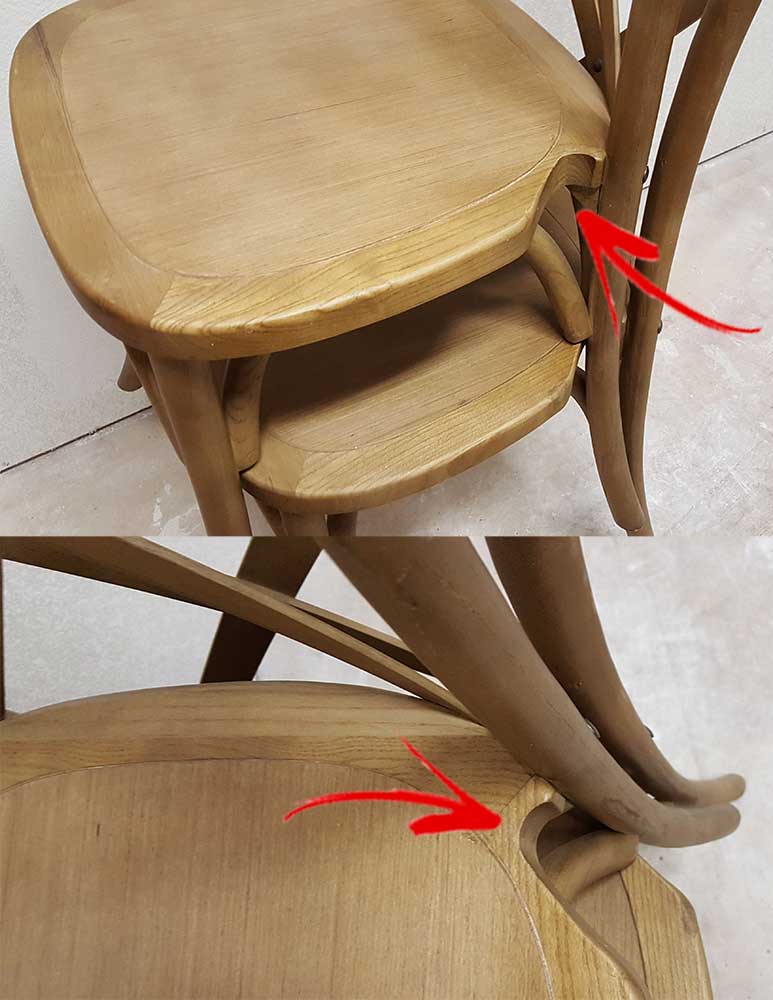 Easy to Maintain & Clean
Crossback chairs are a great option for families with young kids.  Other dining chairs might be fully upholstered or have upholstered seats making them hard to clean when there are inevitable spills.  Crossback chairs are easy to wipe down since they are almost all wood and the padded rattan is easy to keep clean.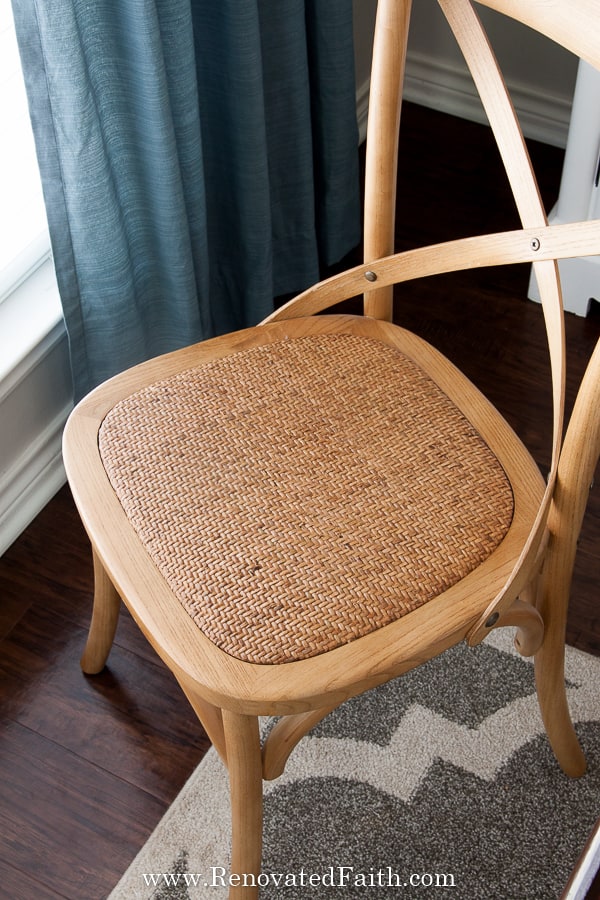 7 Things to Look for in X Back Bistro Chairs
Best Dining Chairs for Family Use – DURABILITY!
One of the most important factors we looked at in picking the best cross back chairs, is durability.  When I bought my last set of dining chairs, the first thing my daughter did was stand on the lower cross bar between the legs and I heard a "snap!"  That was within 15 minutes of having the chairs delivered!
Solid Wood Construction

Fortunately, the x back chairs listed today are all solid wood and have really solid construction with no lower cross bars!  They also come pre-assembled which is so much easier and I think it contributes to their sturdy construction.  Often chairs that need assembly eventually become wobbly as screws loosen and they need tightening.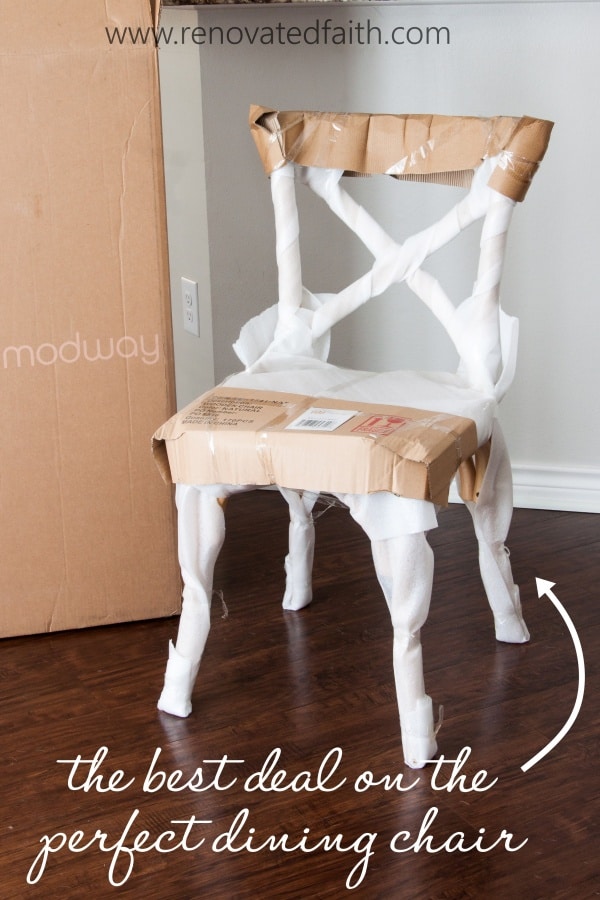 Affordable Modern Dining Chairs
All of the dining chair options I've listed are under $100 making them very affordable even when you have to buy a large set of 6 or more.  If you need more than 10 chairs, I list options for buying them wholesale so you can get an even better deal.
Comfortable, Casual Dining Chairs
As someone with lower back problems, comfort is a major consideration for our dining chairs.  Their padded seats and lower lumbar support of cross back chairs make them naturally comfortable but some brands are better than others!
Coordinating Cross Back Chairs with Table Finishes
We considered cross back chairs that come in several color options so you can coordinate easily with your existing table whether you built it yourself or bought it from a high-end showroom!
The x back chairs listed come in 4 color options: distressed walnut (more of a gray), ivory, black and natural.  If your table has a driftwood finished, the distressed walnut is a good choice, and the natural works well with any stain.

The Right Chair Height
There is actually a lot of variability in seat height with dining chairs so make sure the cross back chair you are considering works well for your table.  An easy way to figure this out is by first measuring your table height.  Say my table height is 30 inches.  Then subtract 12 inches to find your ideal chair height give or take a couple of inches.  (30-12=18 inches)
Not only is it a great dining chair but it also works really well as a desk chair as you can see in my post here: DIY Desk Out of A Door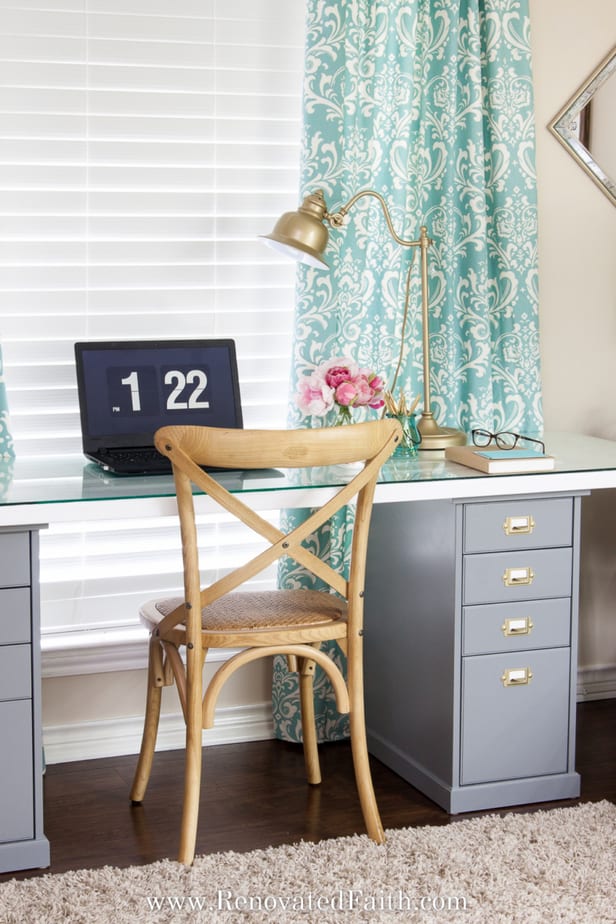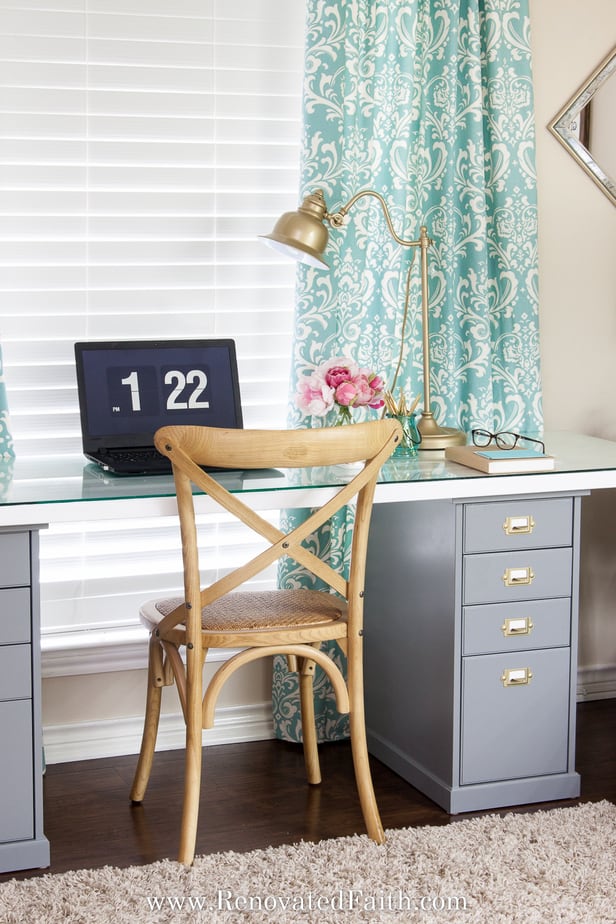 Arms or No Arms?
One consideration is if you want armrests on your dining chairs.  Be sure to measure your table height from the bottom of the apron (if it has one) to the floor.  You want to make sure the armrests have clearance under the apron when pushed in.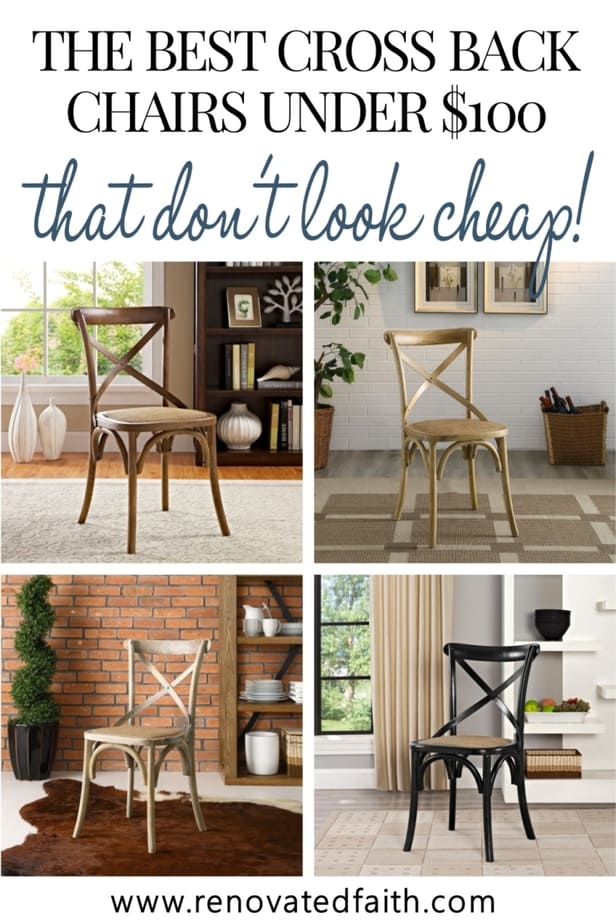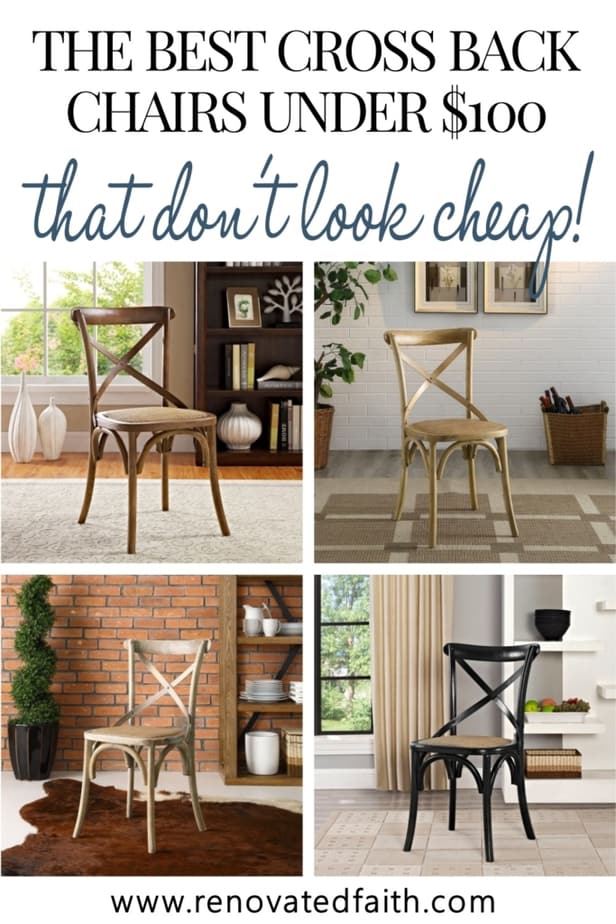 The Best Cross Back Chairs for 2022
After getting reader reviews, we gathered a list of the best cross back dining chairs.
Color Options:  Black | Brown(Walnut Stain) | Gray | White
Available in 5 different finishes to choose from, this chair gives you lots of options to help you coordinate with your home's style and dining table finish.  Whether your style is modern farmhouse, French country, or traditional, this chair is such a great statement piece bringing lots of rustic charm to your dining room while still being incredibly comfortable.  This is the same dining chair I use at my desk and I can personally attest to its sturdy construction and comfort.
Several reviewers were pleasantly surprised by the quality of the chairs as well as their comfort.   One remarked that they looked at the same chair at a high-end furniture store for over $250 but were so pleased they found a better option online.
This chair has a natural tan dining seat that offers comfortable support while eating at a dining table or working at a desk.  These chairs are crafted with solid elm wood making them light-weight but sturdy.  The legs are bowed and the cross-back frame is complemented by the curved apron detail making them comfortable, casual dining chairs.
Be aware that one reviewer that ordered 8 black chairs noticed an odor but said that it dissipated after a few days.  See more reviews by clicking here.
This chair will add sophisticated style to your dining room, vanity, or office and measures 21″L x 19/5″W x 34.5″H overall.  The seat of the chair is 17.5″W x 16.5″ D x 18″H.
CLICK HERE TO SEE THE CURRENT PRICE.
Color Options: Antique White | Brown(Natural) | Gray
To extend the same look from your dining table to the kitchen counter or work island, we recommend the Eleanor X-back counter stool.  No chair is as famous as Thonet's bentwood café model and Safavieh's counter stool captures the look in weathered oak with a graceful frame, rattan seat, and authentic cross back arch brace in black metal. No assembly required, this counter stool measures 19.7″ x 21.9″ x 38.6″ with a seat height of 24 inches.
One reviewer said the following: "I have been searching for these farm-rustic style counter height stools ever since I saw them at a restaurant in Finland. These chairs are very much in fashion these days and a favorite of many lifestyle bloggers and home decor sites. However, the blogger-recommended ones are very expensive (~$200 onwards) on various online shopping sites.  I was very happy to find them on Amazon at such an affordable price."   See more reviews by clicking here.
Something to be aware of is that the listing mentions two different seat heights in the title but the actual height of these counter height stools is 24 inches.
CLICK HERE FOR THE CURRENT PRICE.
Color Options: Brown (Natural) | Ivory | Black
With its willowy frame and iconic cross-back inspired by Michael Thonet's classic bistro chair, the Franklin barstool by Safavieh is ideal in your kitchen or great room.  Crafted of solid American oak, including the X arch brace, this casual barstool is finished with a seat of rattan caning. No assembly required, this barstool measures 19.7″ x 21.9″ x 44.1″ with a 30.7″ seat height.
Several reviewers remarked on the fine workmanship and rich color.  Something to be aware of is that the ivory color is more cream than white as in the photo.  See more reviews by clicking here.
CLICK HERE TO SEE THE CURRENT PRICE.
The same listing for the single chair offers options for sets of two and four but for every color option it is cheaper to buy the single chairs and just change your quantity unless you want more than 10 chairs.
If you want more than 10 chairs, it's much more budget-friendly to buy them from this wholesale source.  I haven't sat in these personally, but this is a more economic option if you are looking for more than 10 chairs.  These chairs don't have the padded rattan seat but they do come with a cream-colored removable pad.
|
Don't forget the Felt Pads!   Since these chairs have small legs you need to protect your floor from being scratched.  I have had good luck with these: 3/4″ Felt Chair Pads.
Tip for Dressing Up Casual Dining Chairs

If you love the look of cross back chairs but want a more formal feel, try this trick!  You can use the cheaper chair options above for the longer sides of your dining table.  Then, get a dressier upholstered chairs for each end.  The end chairs will be statement pieces that dress up the look of your whole room but you still save by using a more inexpensive option for your side chairs.  Here are some upholstered dining chairs: Formal Dining Chairs.
Want a Cross Back Chair with a Padded Seat?
If you want a more padded seat, you can buy cushions for cross back chairs that tie on.   They will give you more padding than the cushion under the rattan and will also be easily removable to clean.  It can be hard to find smaller cushions that fit the  cross back chairs mentioned above, but this listing offers an option in small:

More Posts Related to Inexpensive X Back Chairs
Easy Driftwood Finish on Furniture
How to Do a Faux Stain on a Table with Latex Paint
Easy Stain Over Paint Technique with Gel Stain
Cross Back Chair Manufacturing Process
Final Thoughts on the Best Cross Back Chairs
After lots of consideration, the Modway Cross Back Chair was by far the best option as an inexpensive x-back dining chair that also provides durable comfort and style.  There are also great options if you are looking for a counter stool and bar stool.  No matter if you love farmhouse style, coastal, or French country decor, cross back chairs offer form and function for any budget!
Pin it for later  here: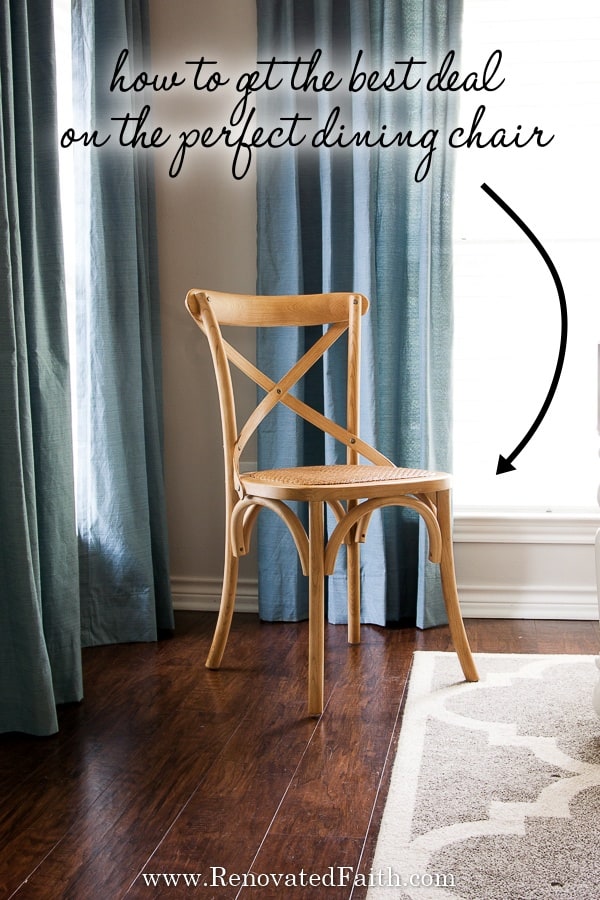 I love to hear your thoughts and questions!  Scroll down to leave a comment and I WILL reply! ❤️
Blessings,

Be sure to follow the fun here!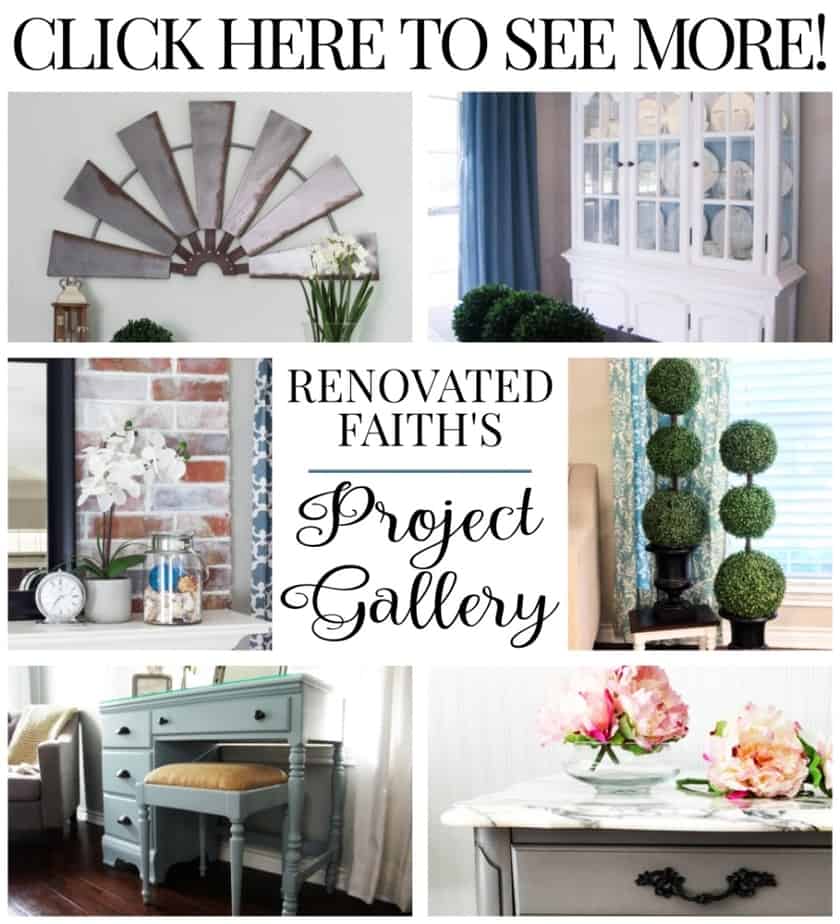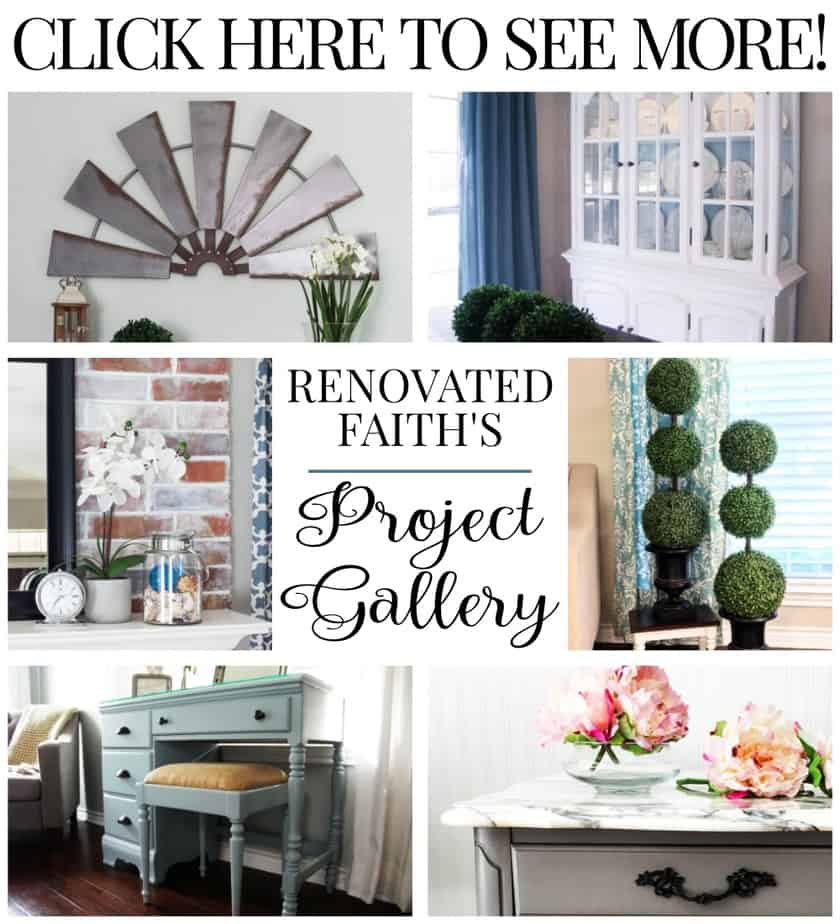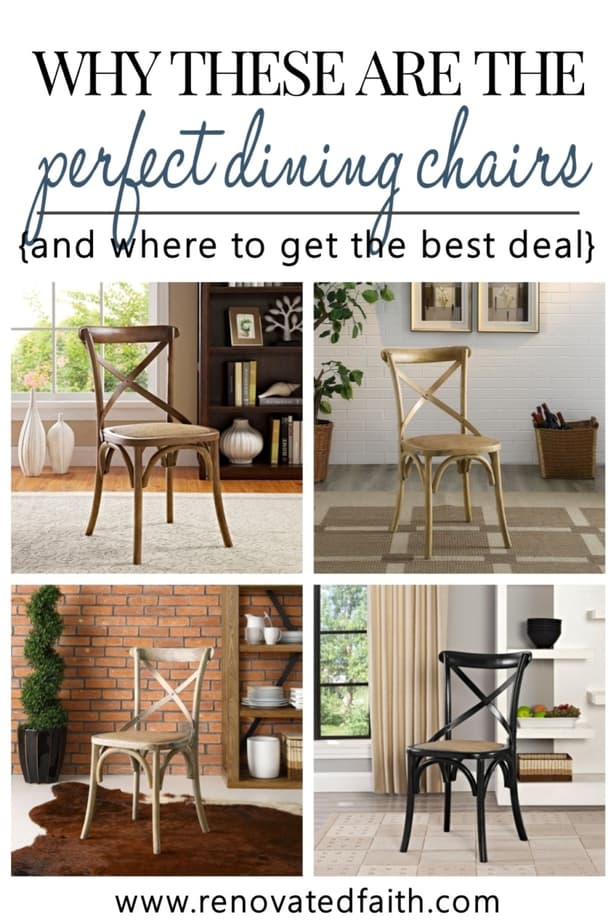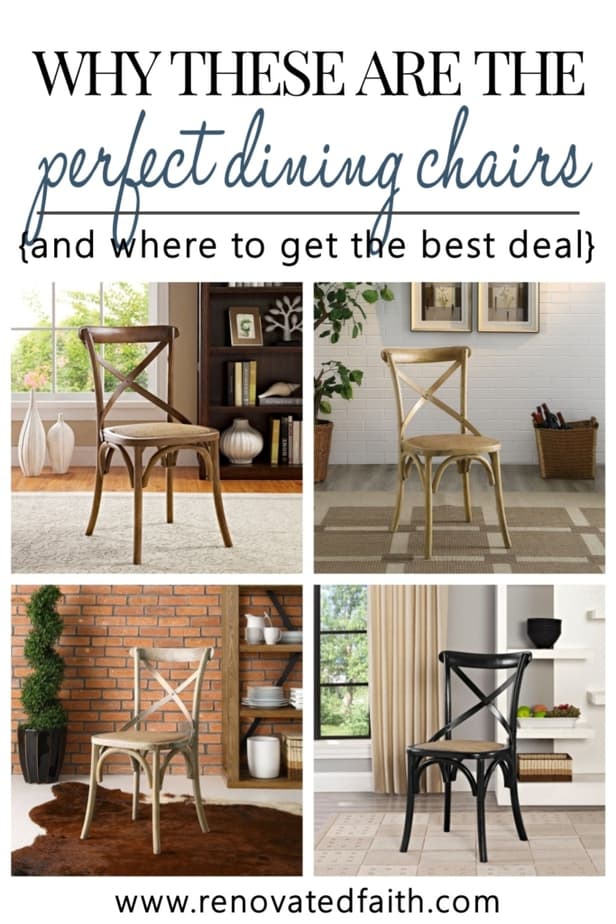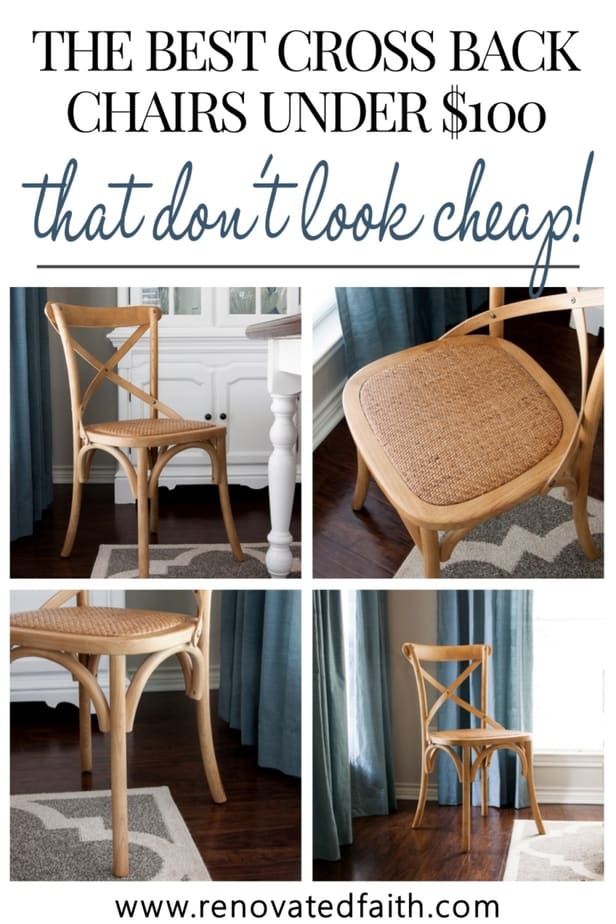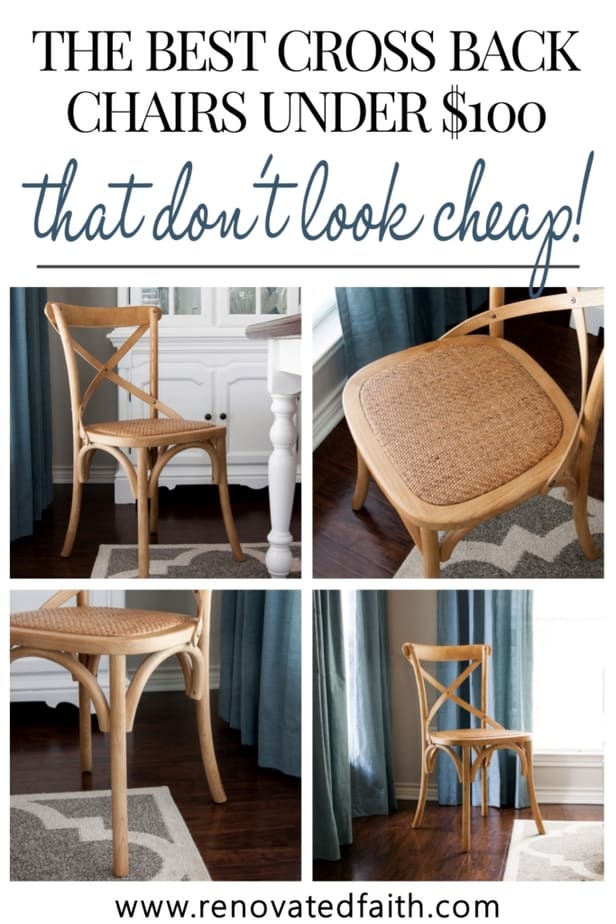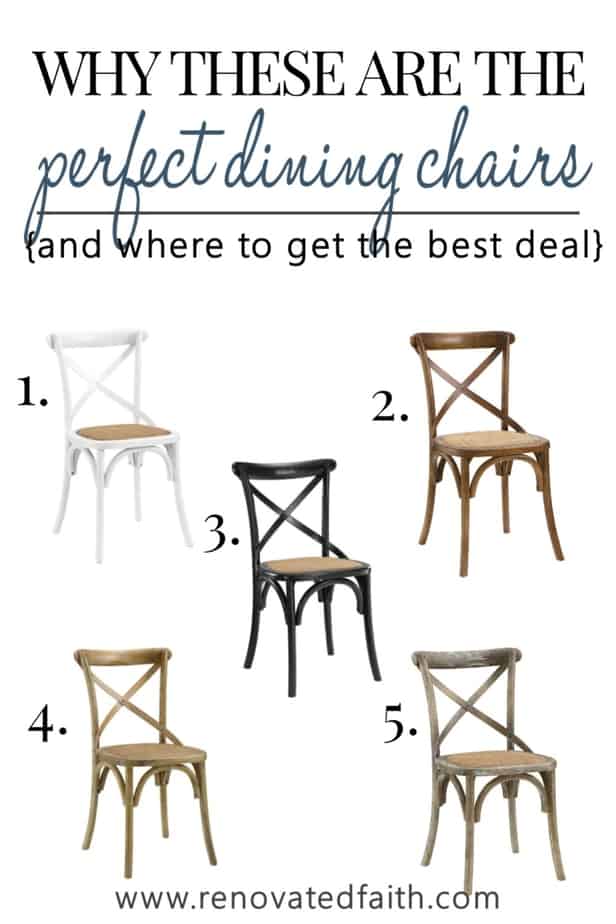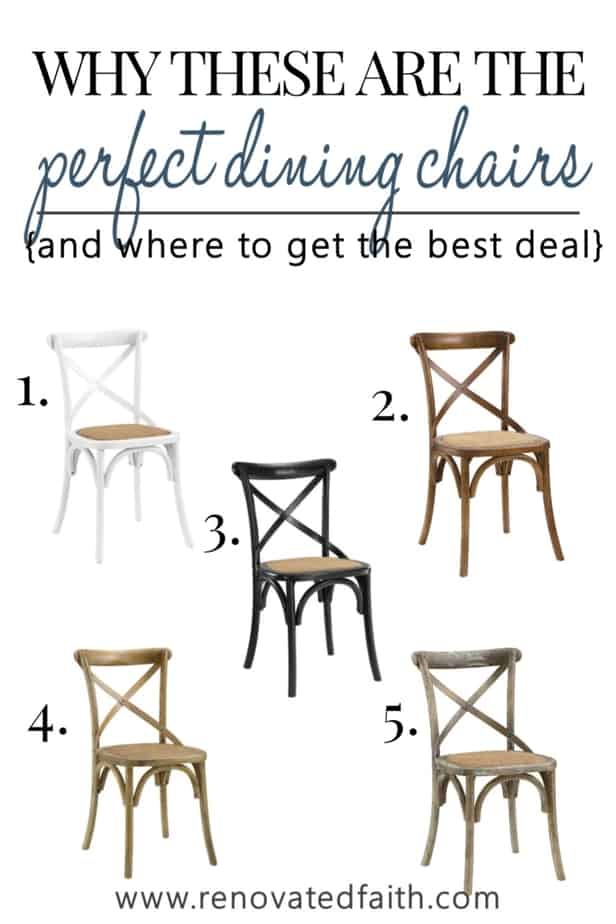 Best Cross Back Chairs: Dining Chairs, Counter Stools & Bar Stools
Welcome to Renovated Faith, where I share about DIY projects, my faith and everything in between! When I'm not spending time with my family, you will find me redoing furniture in the garage or watering plants in my greenhouse. This blog is about transformation. Anyone can renovate a house but only God can transform our hearts!