Sophisticated DIY Desk Out of a Door (DIY Craft Table & Klimpen Hack)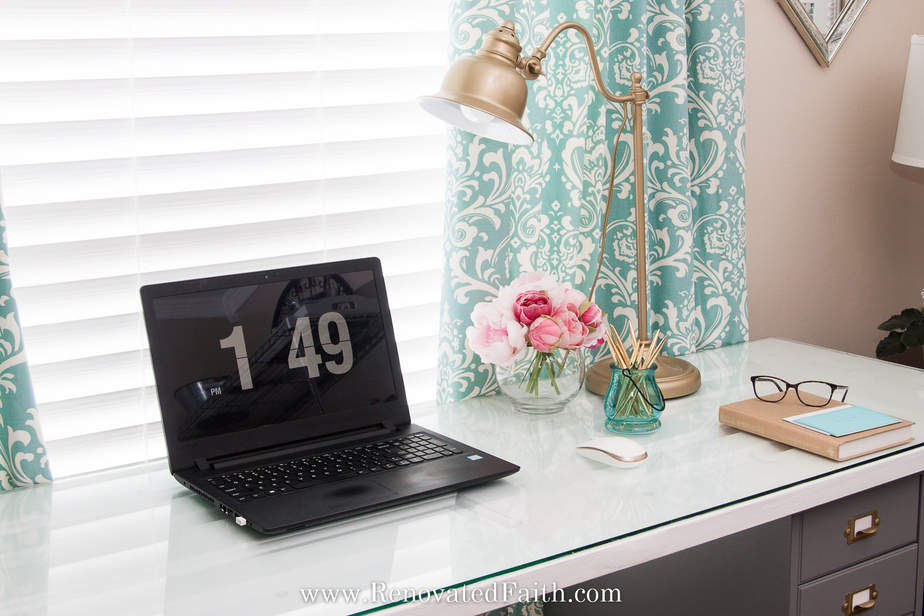 How to Easily Make a Desk Out of an Old Door
Make a one-of-a-kind DIY desk out of a door!  In this tutorial, I show you how to create a stunning DIY craft table that is budget-friendly but also super sophisticated.
There are a few pieces of furniture more important than the desk in my office/craft room.  It serves as an office desk for writing blog posts but it also provides me with lots of space for therapeutic craft projects.
Since you spend so much time there, your desk needs to be comfortable, functional, and also beautiful so you enjoy spending time there.
What I love most about my DIY craft table is the glass top that shows the details of the doors underneath.  It's especially stunning when the light streams in from the window.  The IKEA Klimpen towers underneath give me lots of storage space and they can be spread out so I have plenty of legroom.
The glass top is super functional as I don't have to worry about leaving a ring from a cold glass and my craft messes easily wipe clean.  Also, the amount of workspace is great for spreading out all my paperwork or craft supplies!
This is a great tutorial for you if you:
Want a low-cost desk that is high on style
Love the functionality and durability of a glass top
Need lots of space to work and storage for your craft supplies
See the value in repurposing an old door to make a one-of-a-kind DIY craft table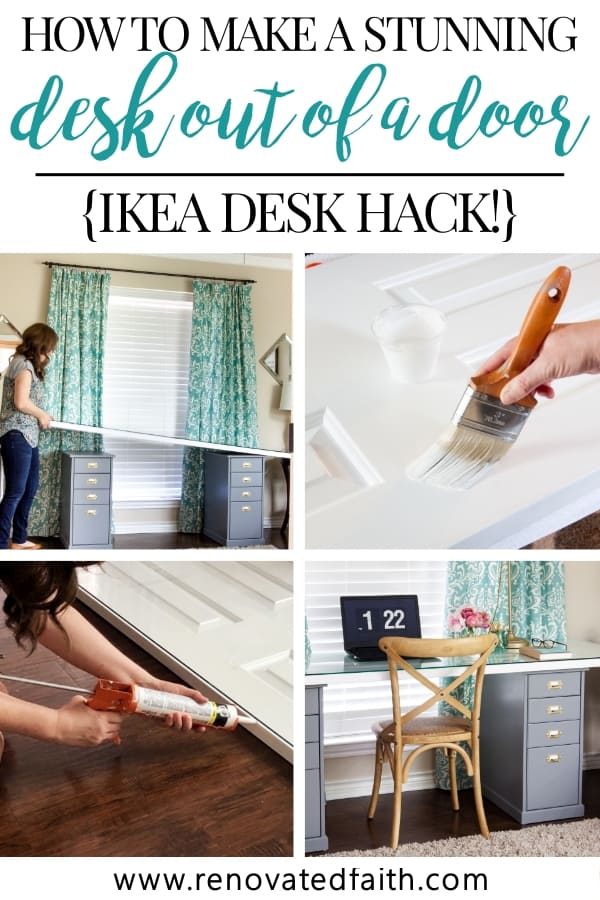 (As an Amazon affiliate I earn from qualifying purchases. Please see my full disclosure HERE).
DIY Craft Table on a Budget
This isn't my first time to make a desk out of a door.  I've actually had this same door tabletop and glass for several years now.  Before, I had some deep shelves that were my grandmother's underneath on both sides.  I painted the shelves navy and made fabric-covered bins for each shelf to store my office and craft supplies.
Fortunately, I learned a few things about what NOT to do when you decide to make a DIY desk out of a door.  Here are some changes I made for this go-around:
I caulked the edges of the top, between the glass and the door, with clear caulk.  This easy step is important because if you spill your coffee, it WILL seep into the crack, and then you can't wipe it without taking the glass off.  Ask me how I know!
This time around, I put some clear little spacers between the desk and the door.  If you don't, the desk won't sit perfectly flush against the top of the door and makes a sticking sound every stinkin' time you put your arm on the desk to type.  I'll show you what I mean by spacers below in the supply list.
I also decided I didn't like the deep shelves with bins underneath.  This time around I used the IKEA Klimpen towers, which I painted a charcoal gray in my post How to Paint IKEA Furniture.  These IKEA Klimpen drawer units give you a surprising amount of storage and I decided that lots of little drawers instead of big bins worked best for my needs.
I also like that the Klimpen drawer units aren't so wide that they can't be spaced out so I can sit cross-legged in my chair.  Comfort is key, my friends!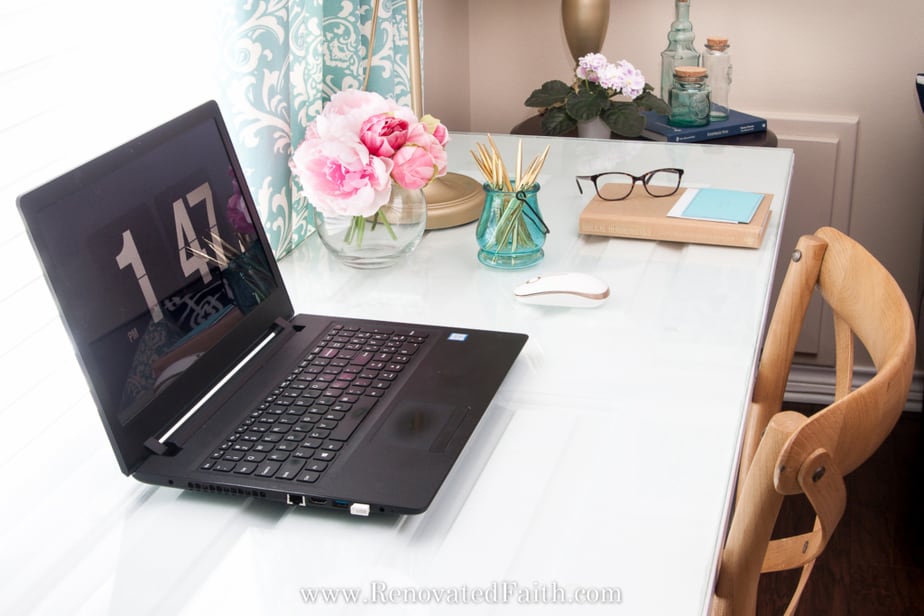 Why Use An Old Door for a Desk Top?
I love seeing the details of the door through the glass on my desk.  This is such a classy, sophisticated look that is surprisingly budget-friendly.  Also, a glass top is ideal for crafts because not only is it waterproof (no more coasters!), it's also easy to wipe up any craft messes.  Also, the glass will stand up time and time again to hot glue.
Unlike a wood desktop, if you get hot glue on the surface of the glass, you just let it cool and the slippery surface of the glass allows you to wipe it away without it sticking.  In my opinion, glass is the perfect surface for a craft table or desk!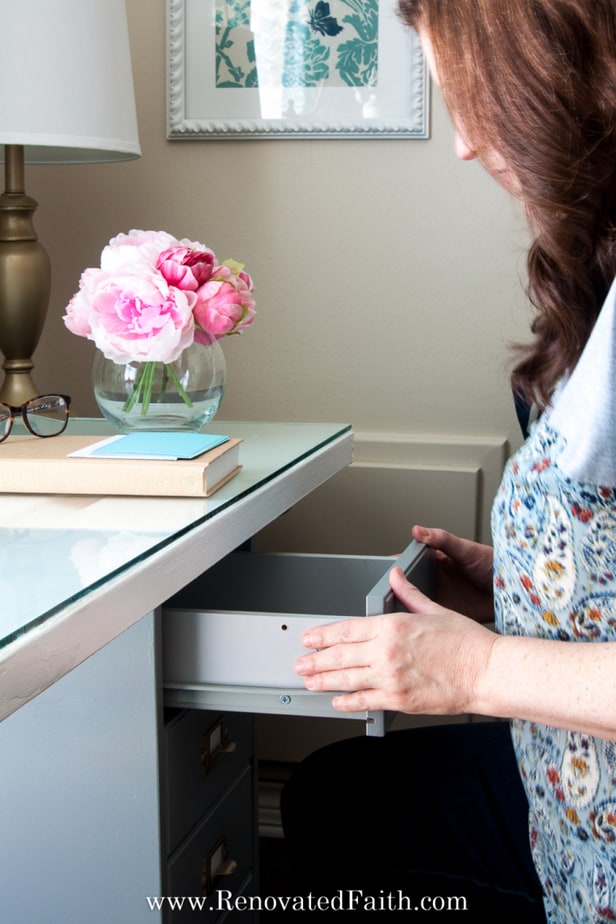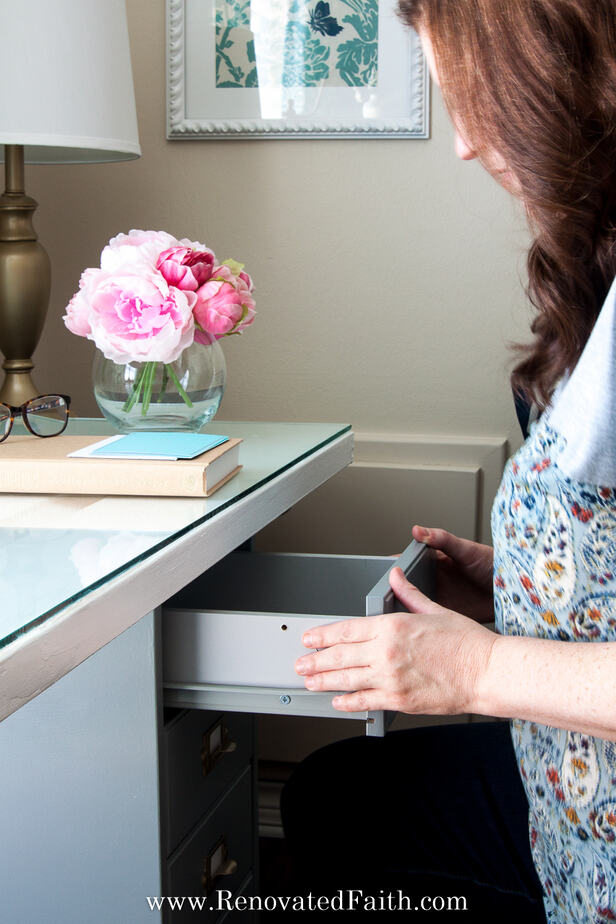 DIY Desk From An Old Door – Supplies:
*What is the Best Door for a Tabletop or Desk?
To make a DIY desk out of a door, you have several options.  If you want an old door, you can check out your local Restore (find the closest one here) to get one at a really cheap price ($5-10).  There you can find some cool reclaimed doors that are truly one-of-a-kind.  Facebook Marketplace is also a good resource for vintage doors.
Another route is to buy a hollow-core door.  One advantage to the hollow core doors is that they aren't as heavy but still structurally sound.  Also, you can buy one that doesn't have the doorknob hole drilled in it.  Remember, you can paint your door whatever color you want!
Here are some options online:  Hollow Core Doors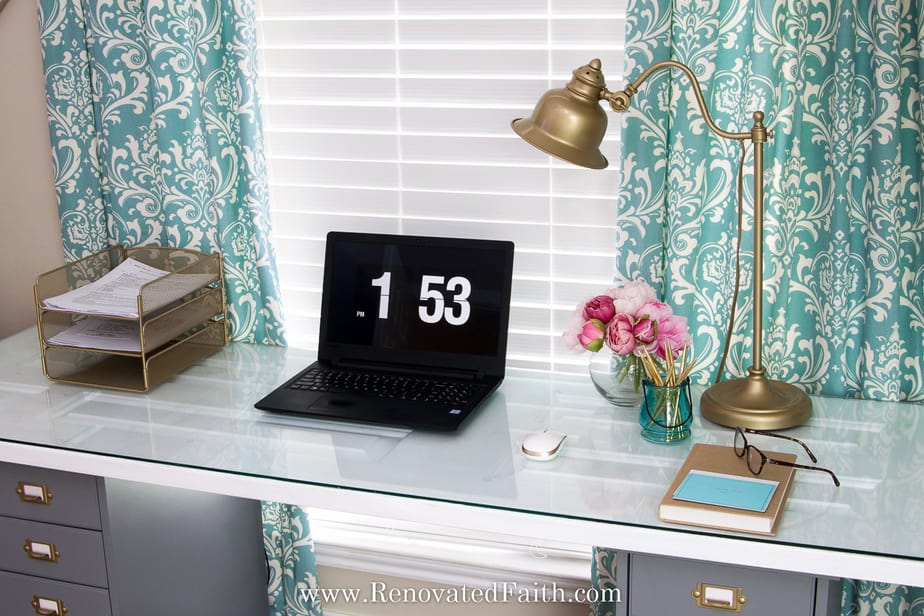 DIY Craft Table Tutorial (IKEA Klimpen Desk Hack)
Here is a full step-by-step video showing you the process from start to finish:
Step 1:  How to Make a Desk Out of a Hollow Core Door
Stop! Before you do anything…take a before pic.  When you are done, post the before and after pics here, so I can see the amazing work you've done! ❤️
Once you find your door, you want to get all the supplies above. Now is a good time to order the glass for your door as it might take a few days to a couple of weeks.  Your best bet is to call around to glass stores and get prices.  When I called around for my glass desktop, there was a big difference in prices among stores.
I found a local mom and pop store that gave me a really good quote of $100 for tempered glass for my 28" x 80" door at 1/4" thick.  That also included delivery.  That sounds like a lot but bear in mind it's a large piece of glass and it helped that my door was almost free at Restore.
If you are on a tighter budget, you can get a flat hollow core door and forego the glass al-together.  Your DIY craft table will still look stunning and you'll have a huge workspace!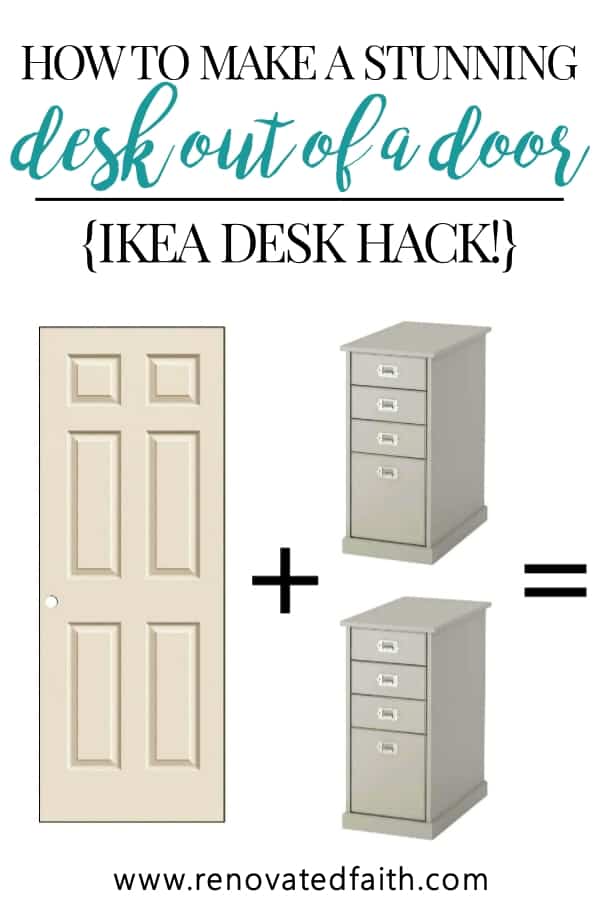 Step 2: How to Fill The Knob Hole
If your door has a hole for the knob you have a few options:
 Leave it and embrace the fact that it is a door.
If you are not using glass, you can turn the knob side to the back and use that hole for your computer and lamp cords to go through.
You can fill it as I did.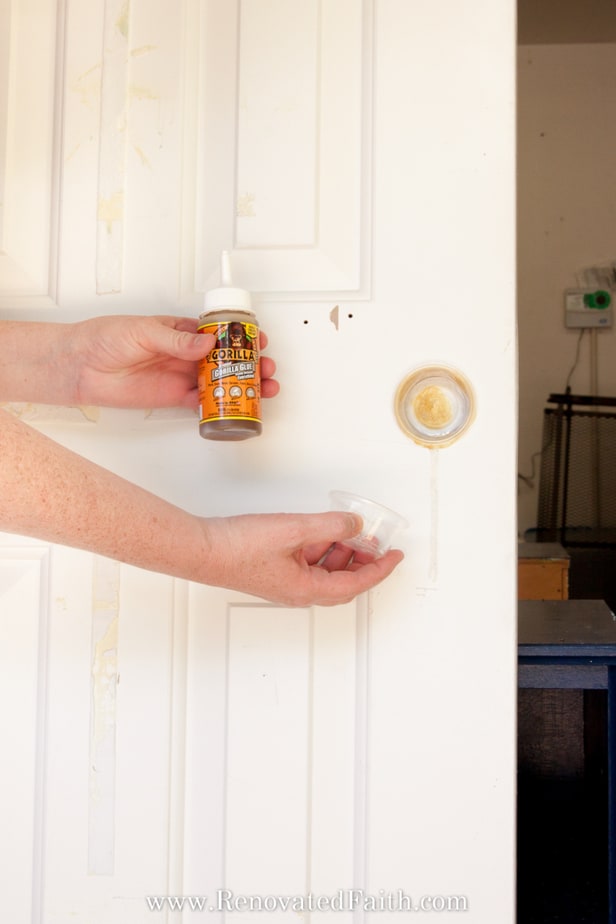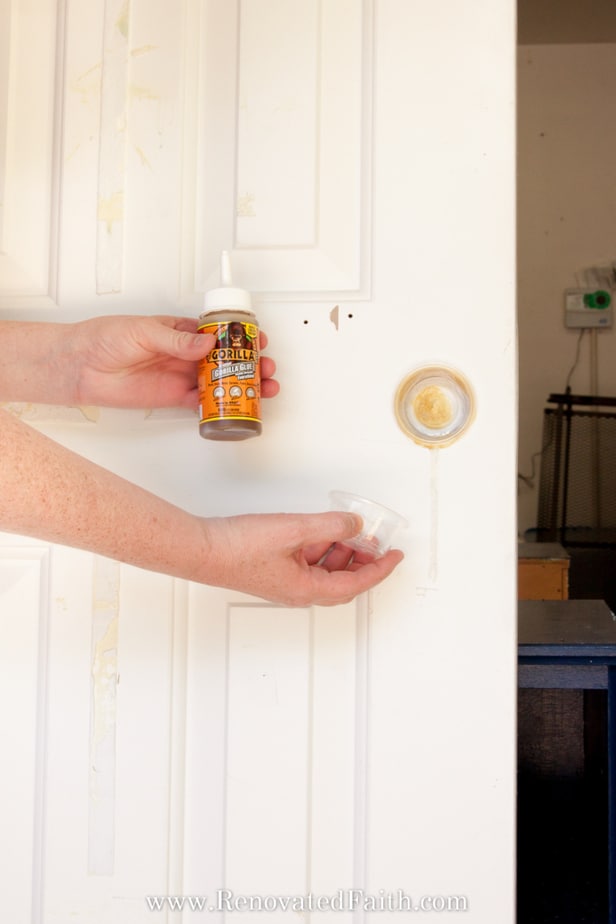 I had an unconventional method of filling the hole.  So, the wood filler would be more structurally sound, I glued a 2 oz condiment cup (like these) in the hole.  It fit perfectly and you won't see the underside where the cup shows.  I just glued around the edges and put the cup in the hole.  Gorilla glue puffs up as it dries and that was super helpful to keep the cup in place.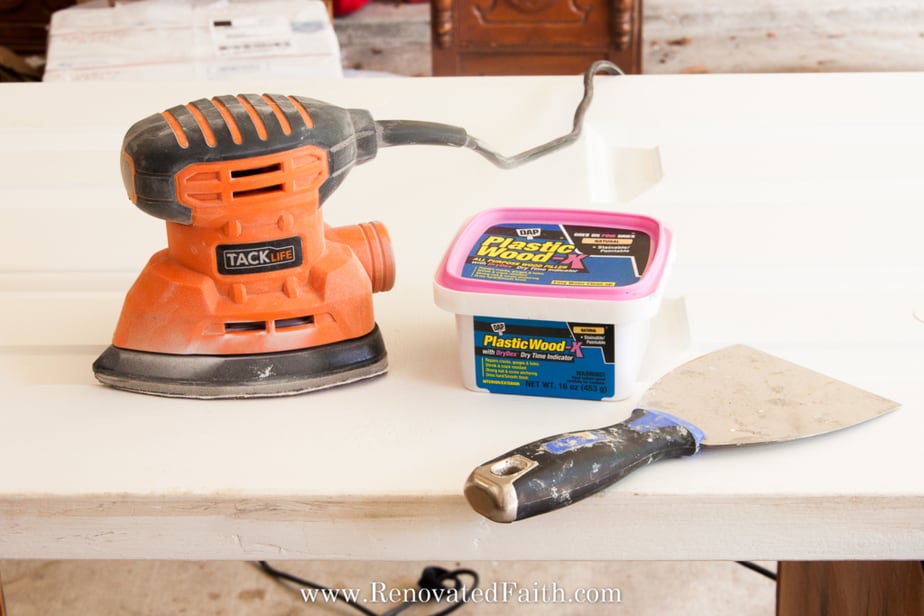 Once the glue dried, I flipped the door over and filled the hole with wood filler as I do in the video here.  I filled it just over the level of the door and tried to make it somewhat smooth.  Let it dry completely and then sand the top with a sanding pad that is a lower number (a rougher sanding pad).  Once you get that pretty smooth, then use a sanding pad on your sander with a higher number (200-300) to get it nice and flush with the door.  If you aren't familiar with a sander, I promise it's easier than ironing and my post here will help:  How to Sand Furniture in 5 Minutes or Less.
TIP: While you are waiting for the wood filler to dry, now is a good time to assemble your IKEA Klimpen desk units.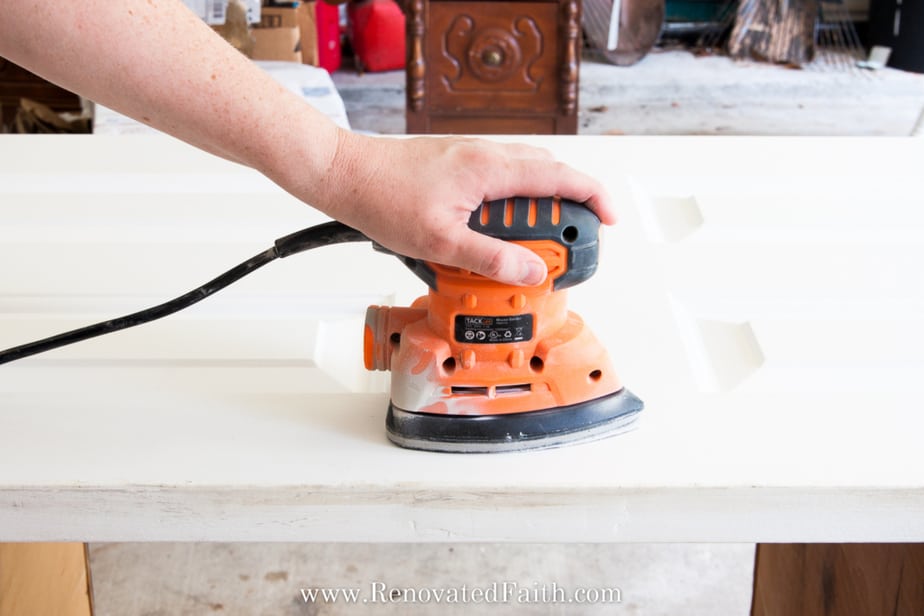 Step 3: Paint Your DIY Craft Table Top
IMPORTANT:  If you get a really old door, you might have lead-based paint on it.  For a door you suspect has lead paint, skip the sanding and apply Zinsser Cover Stain to seal it.  Put on a liberal coat with your 6-inch roller and brush.  Once it's dry, you can paint as normal.  Here is some more information: Precautions with Lead-Based Paint
After you apply your paint, come back about 5 minutes later and check for any drips.  Drips like to collect in the inside corners so you want to smooth them out with your brush before they dry.
To get a really smooth finish in less time, you can download my free Must-Have Painting Tips for Furniture.  They are available in my free resource library and you can get a password at the end of this post.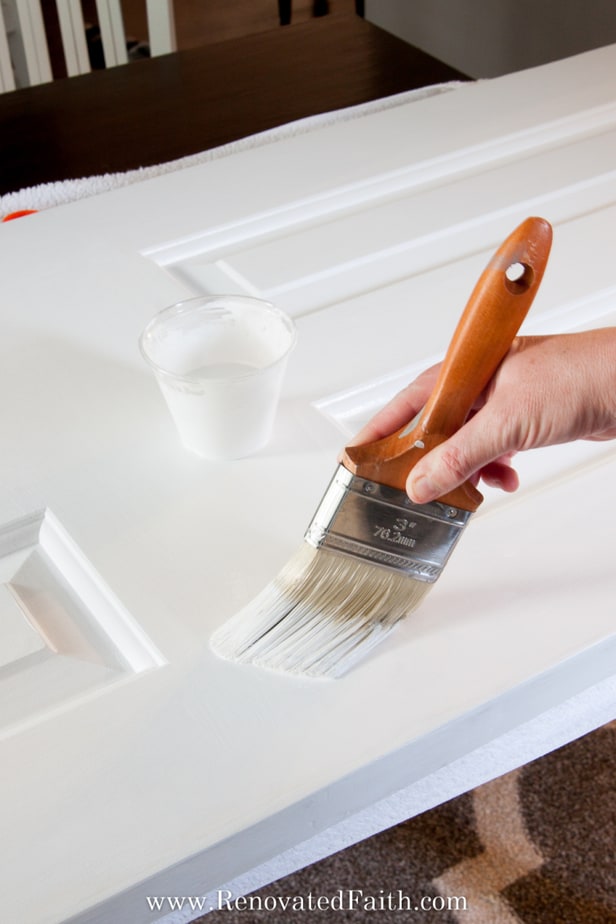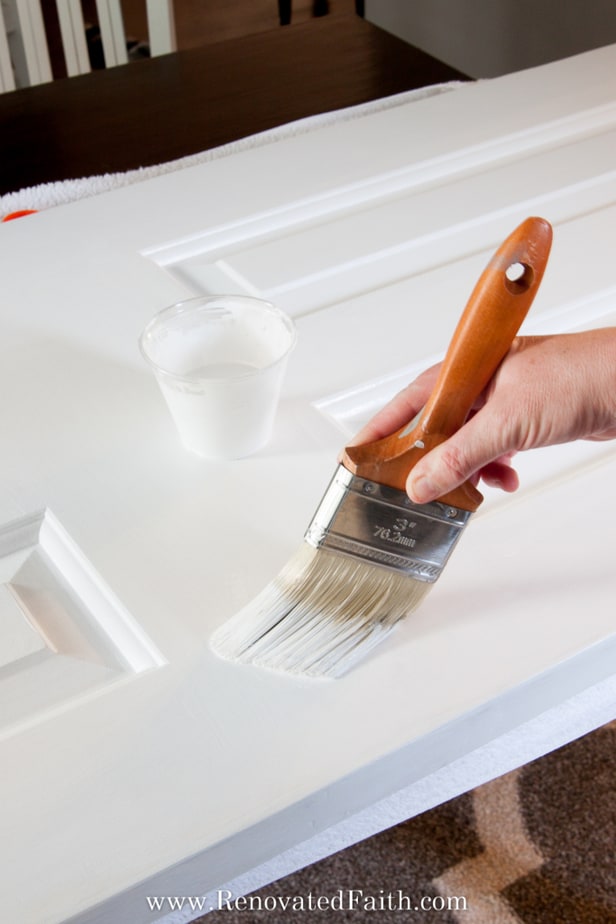 Step 4:  Assemble & Paint the DIY Craft Desk Towers
Now, you can assemble and paint your Klimpen drawer units.  See my post and video that includes great tips and tricks on painting these exact furniture pieces:  How to Paint IKEA Furniture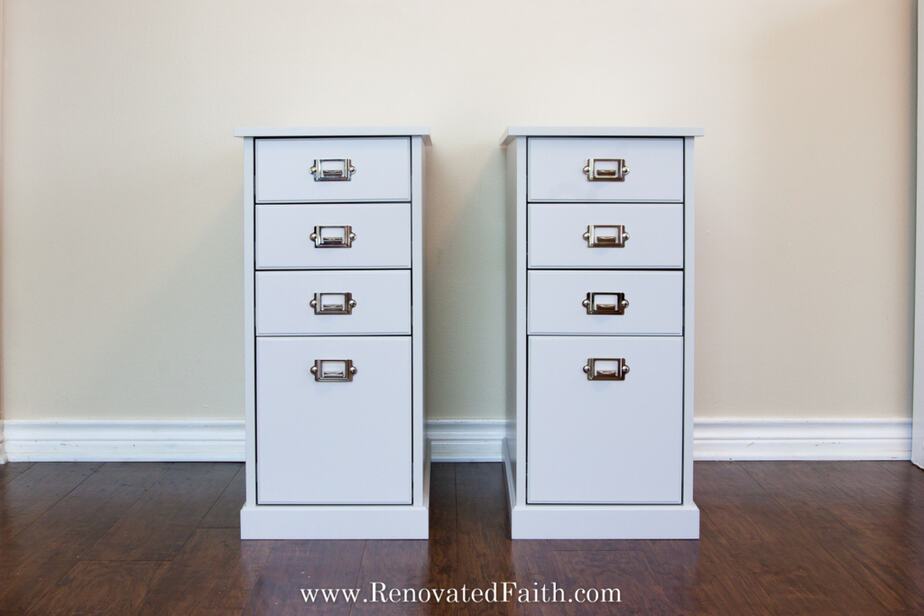 The nice thing about the IKEA Klimpen furniture is that there are several different options for bases.  You can do drawer units, shelves, or a combination of the two as you see here: IKEA Klimpen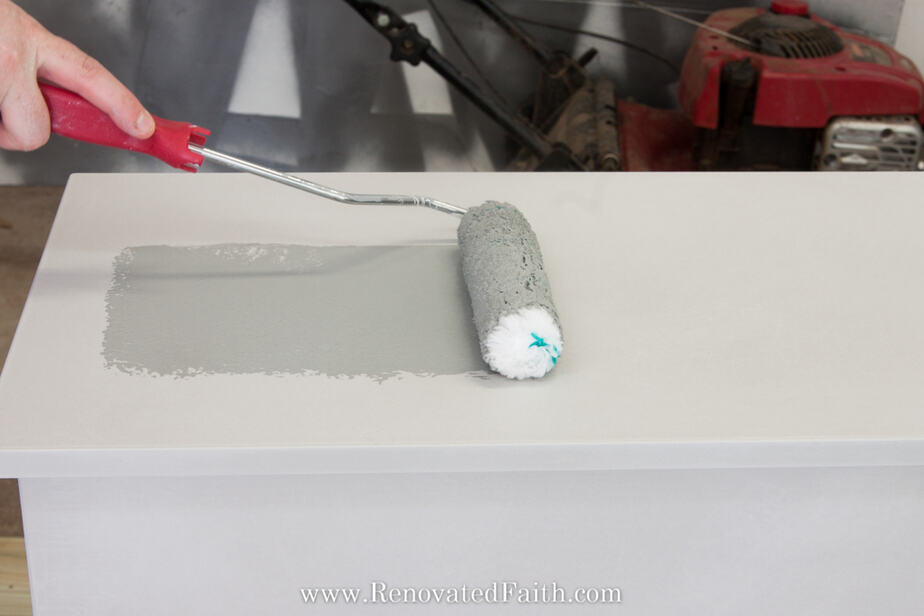 Step 5: Final Touches for Your DIY Craft Table
Now that everything is dry, it's time to assemble your craft table.  To get the heavy piece of glass on the door, I laid the glass flat on the ground on a blanket as you can see in the video here.
Then, I wiped down the top of the glass with Windex and a rag to remove any dust particles or smudges.  This will be the side of the glass that goes against the door so you want to make sure it is clean.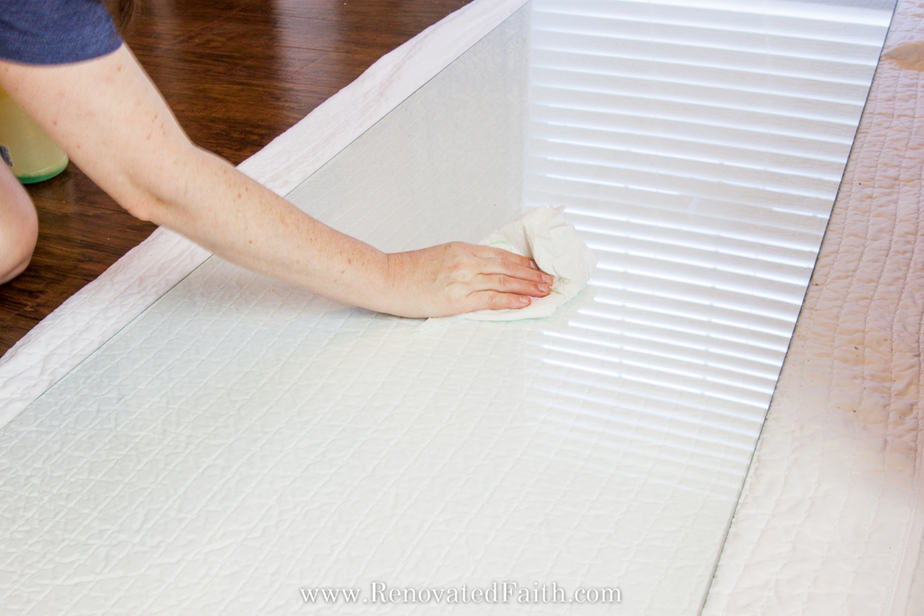 I set the door next to the piece of glass on the floor and put 6 clear adhesive spacers on it.  I recommend these:  Clear Glass Tabletop Spacers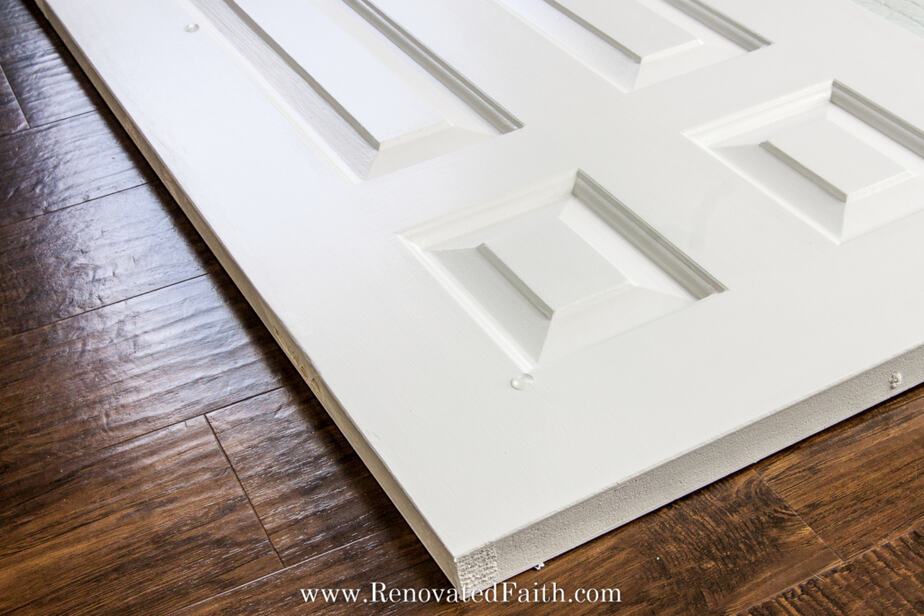 Then, I laid the door spacer side down on the glass.  Next, I flipped the whole tabletop (door and glass) right side up (click here to see the video).  This just made the glass easier to handle.
Finally, I added some stick-on felt pads to the top of the Klimpen drawer unit.  The drawer units came with these but you can also get them here: Felt Furniture Pads
The spacers and felt pads are important because they ensure your desk doesn't make a creaking noise every time you move your arm.  I didn't this with my last glass-top desk and REALLY regretted it!
Now you can put your tabletop on your two drawer units!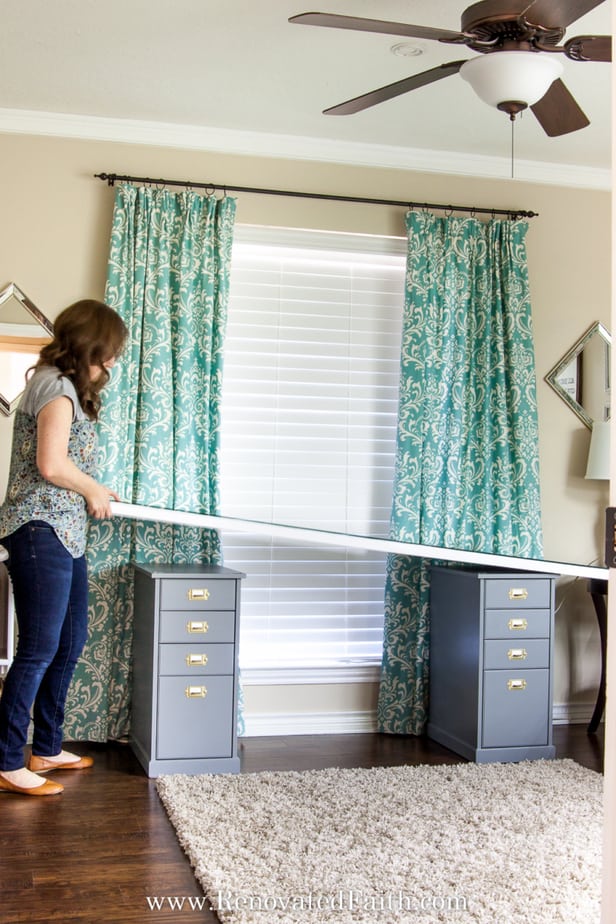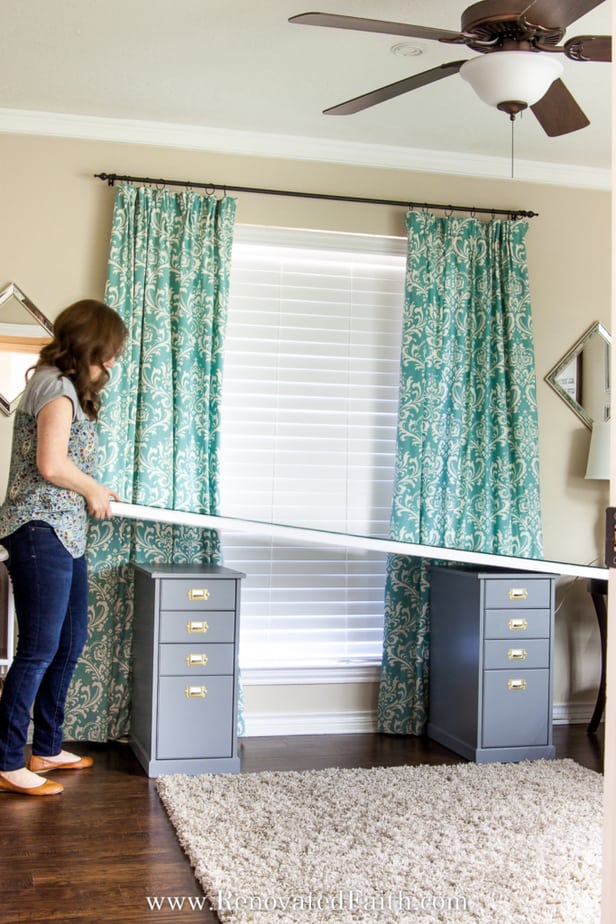 Last but not least, you want to be sure to add a little clear caulk in between the glass and door on all sides.  This is so dust and spilled coffee do not seep between them.
I realized how important the caulk is when I spilled my coffee and a lot of it seeped in the crack.  The only way I could clean it was by taking everything off my desk and taking the glass off the top.
Just squeeze a bead of clear caulk (I like this kind) on each side and go back and smooth it with your finger.  I like to have a trash bag and baby wipes handy to wipe up any caulk.  Let it dry for at least 24 hours.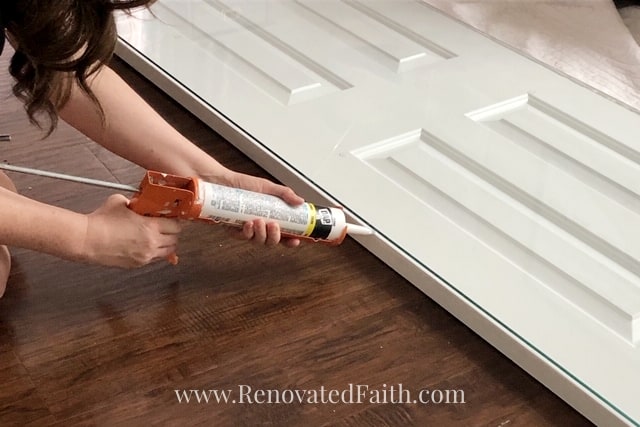 DIY Desk Out of a Door – Youtube Video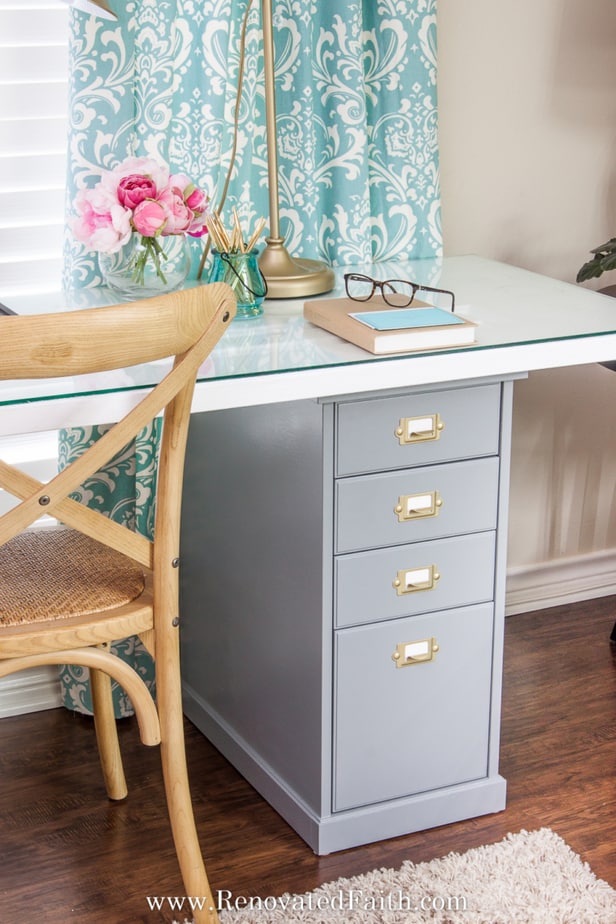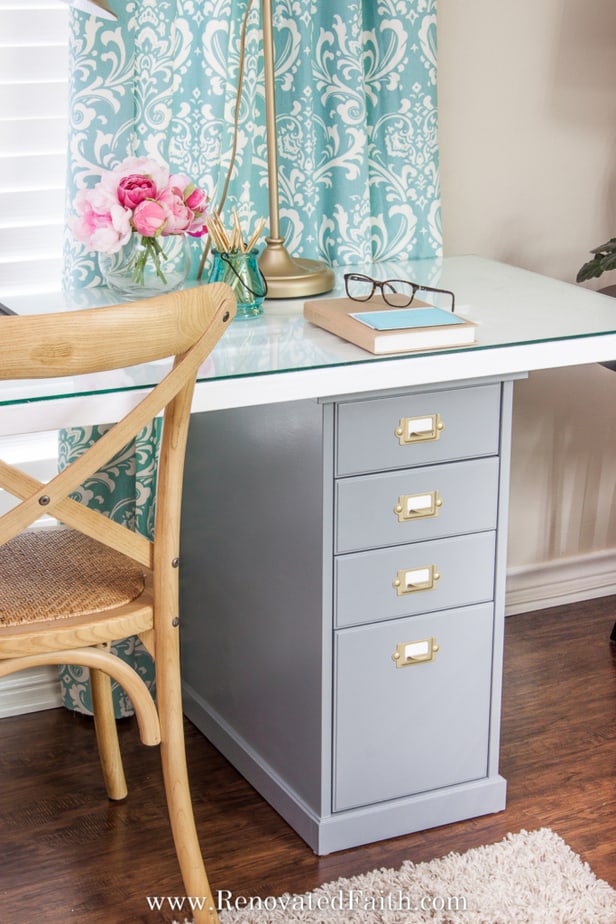 After the caulk dries completely, you can enjoy using your new one-of-a-kind desk!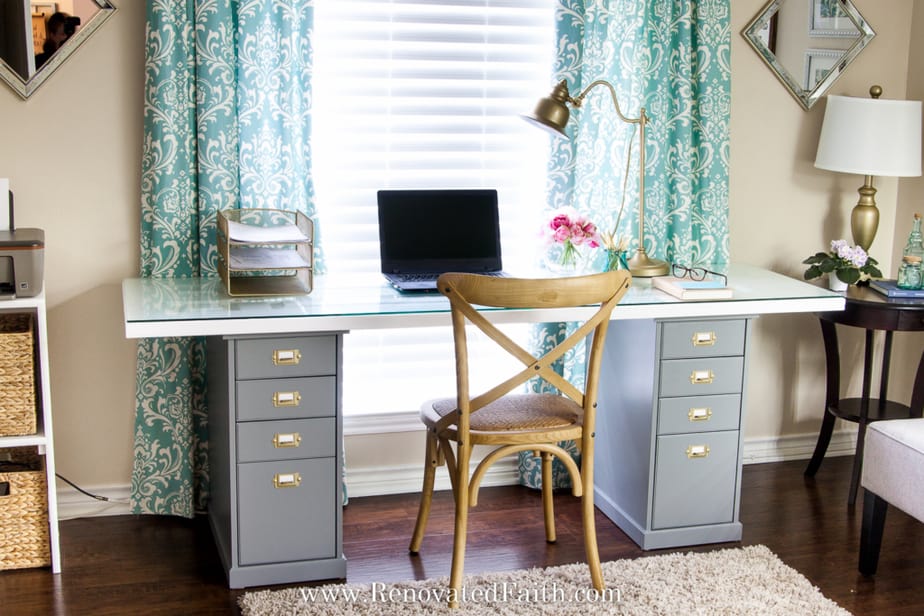 DON'T FORGET TO TAKE A PICTURE!
Now that you are done, I'd love to see how it turned out! ❤️  Post your before and after photos here!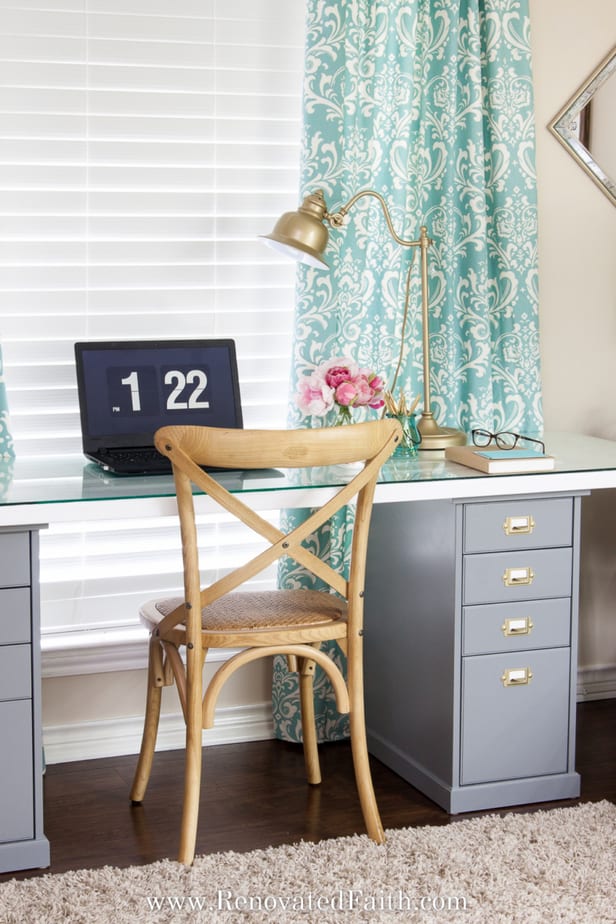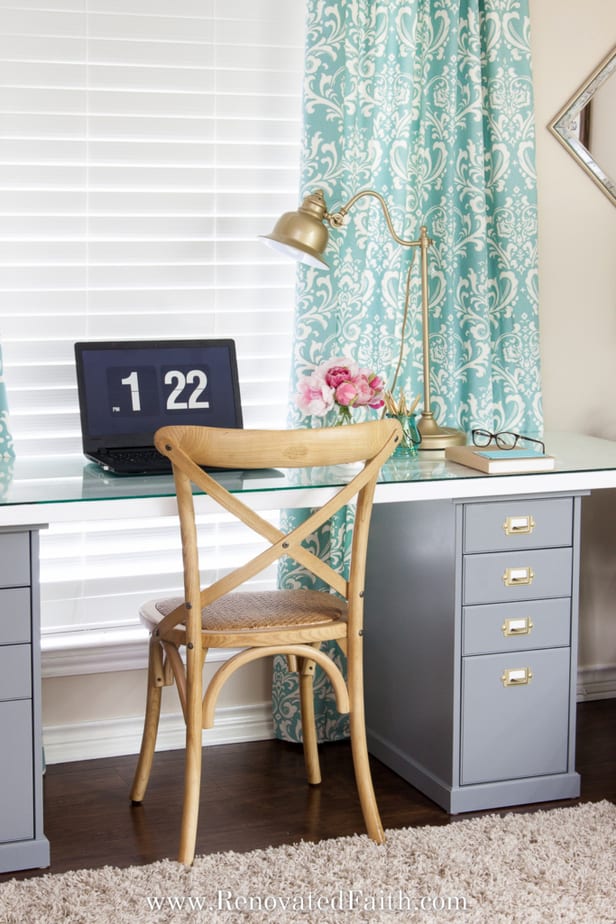 The perfect addition to my desk was a new chair.  I love the natural finish of this Modway cross-back chair that works well with the newly spray-painted hardware.  You can read more about these chairs here:  Inexpensive Crossback Chairs That Don't Look Cheap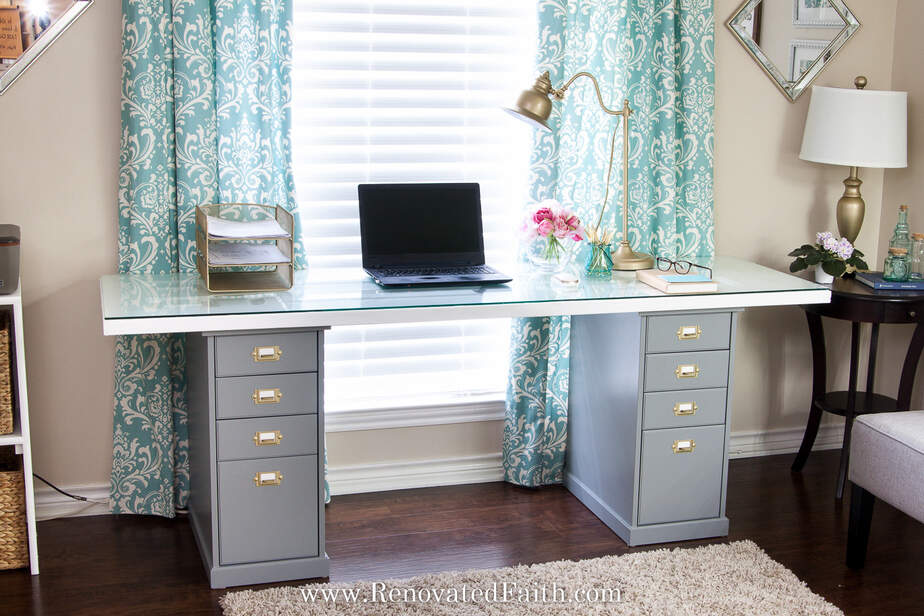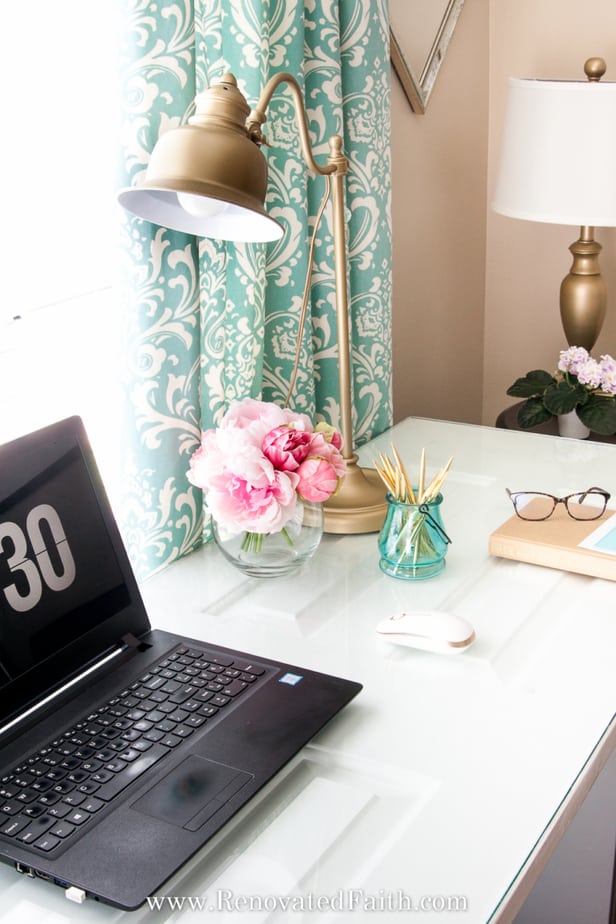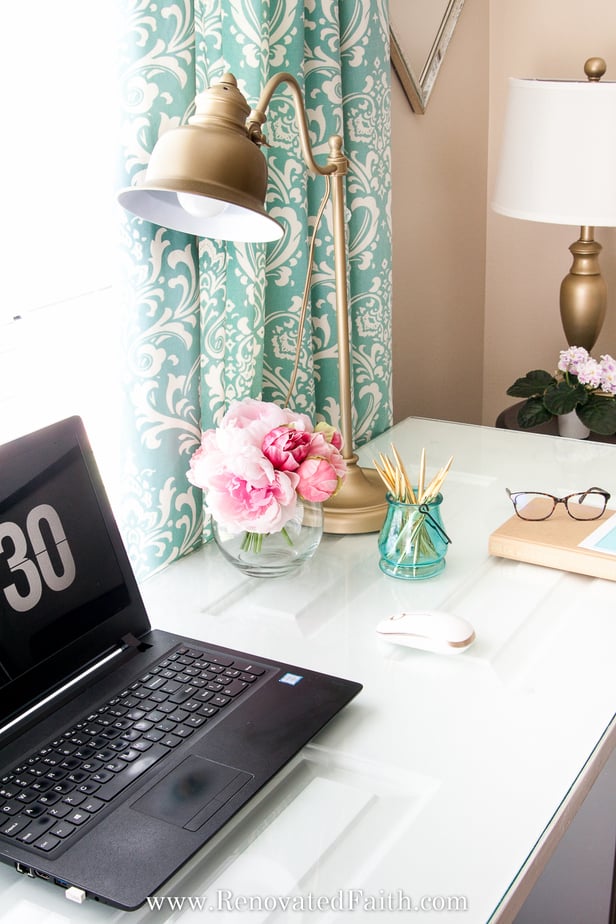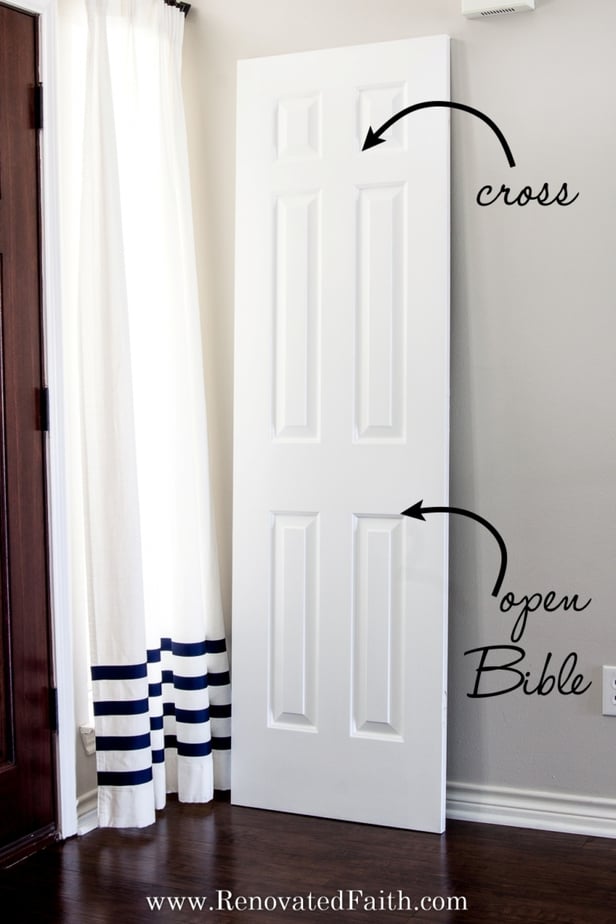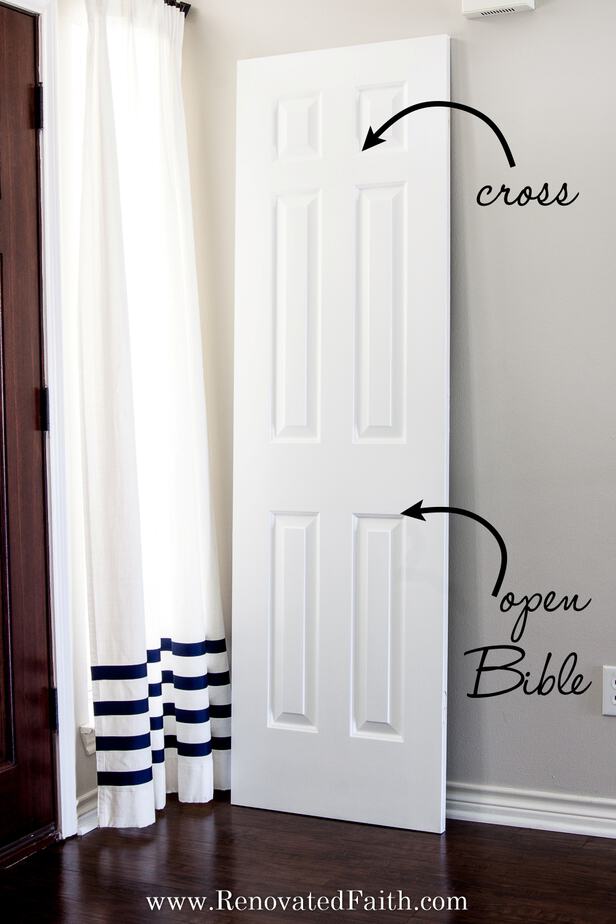 RENOVATE YOUR FAITH: Biblical Symbolism of the Six-Panel Door
The six-panel door, like the one I used for my desk, is sometimes referred to as a cross-and-bible door.  It doesn't take a lot of imagination to see the intersection of the cross in the top portion of the door's architecture along with the open bible underneath.  Some feel that this was a design from the early colonialists to signify their faith to anyone entering their home.  Others believe that the cross-and-bible symbolism is purely a myth.
Regardless of its place in history, I think the design of six-panel doors is such a wonderful reminder of the place of faith in our home.   And what great symbolism of the importance of Scripture in our everyday home life.
The Lord will watch over your coming and going both now and forevermore. Psalm 121:8
I love that the door's design portrays an open Bible, helping me to remember that God's Word is His personal revelation to His people, inspired and completely inerrant.  It is my greatest source of encouragement and strength and God uses it daily in my life to highlight His Will and plans for me.
One of my favorite verses is Matthew 4:4: "Man cannot live by bread alone but on every word that comes from the mouth of God."
The Bible is essential and provides us with strength and energy for the best and worst of what life has to offer.
Every morning, I try to sit in our dining room with a cup of coffee to read some in my Bible and pray about whatever is on my mind.  When I miss this time in God's Word, I can tell a difference in my demeanor and focus during the course of the day.  I am easily discouraged and forget what matters most.
With so much vying for our attention, I realize it can be hard to spend time in the Bible but time in God's Word is never ever wasted.  He even says so…
"So shall my word be that goes out from my mouth; it shall not return to me empty, but it shall accomplish that which I purpose, and shall succeed in the thing for which I sent it."  Isaiah 55:11
In other words, time in God's Word is always beneficial.  It cannot be wasted and will always go forth to accomplish a purpose in the life of the reader.
With that, I encourage you to take some time to read the Bible and just sit with Him, your Creator who loves you dearly.  As your Heavenly Father, He loves to spend time with you and wants you to hand over your burdens to Him.
I challenge you to spend time in God's Word this week for 7 days and see how it affects your life.  I know that it will give you a tremendous peace and encouragement you will not find anywhere else.
Need help understanding how to study the Bible?  Here are a post and video that will give you some tips along with an easy printable guideline that will work for any passage of the Bible: How to Study the Bible for Beginners
For more spiritual encouragement, click here for the rest of my Renovate Your Faith Posts.
Ideas and Inspiration to Make a DIY Desk Out of a Door: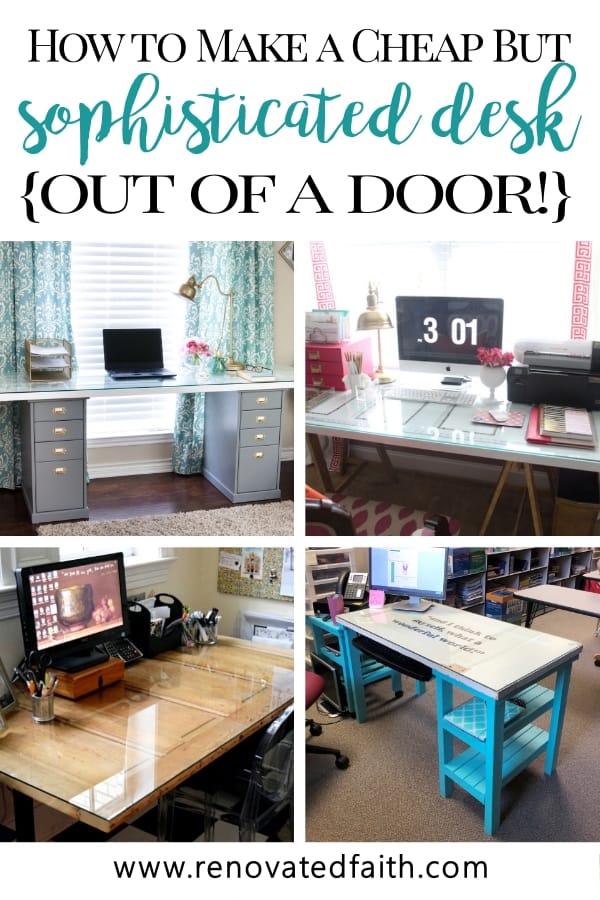 Bethany at Dwellings by Devore created a door desk of her own and spruced it up with nailhead trim and fabric!  These accents add even more character to her door and I love her desk accessories!  You can also see how she placed a ruler beneath the glass.  That would be a great addition to a craft or sewing table!   You can see more of Bethany's door desk here: DIY Nailhead Door Desk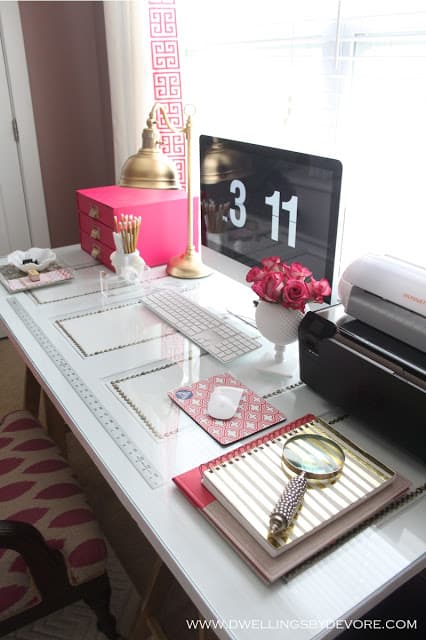 Craft Table Ideas for Small Spaces
What if you like the idea of using a door for a desk but want a smaller version?  That's easy, you can cut down the door to a smaller size and use a piece of trim to cover that edge.  Now you can just paint the door as normal for a smaller DIY craft table that still has the same sophisticated look.
My daughter's tutor has this desk in her classroom and it even has a quote under the glass.  Isn't it adorable?!?  Thanks, Ms. Martin for letting us admire your desk!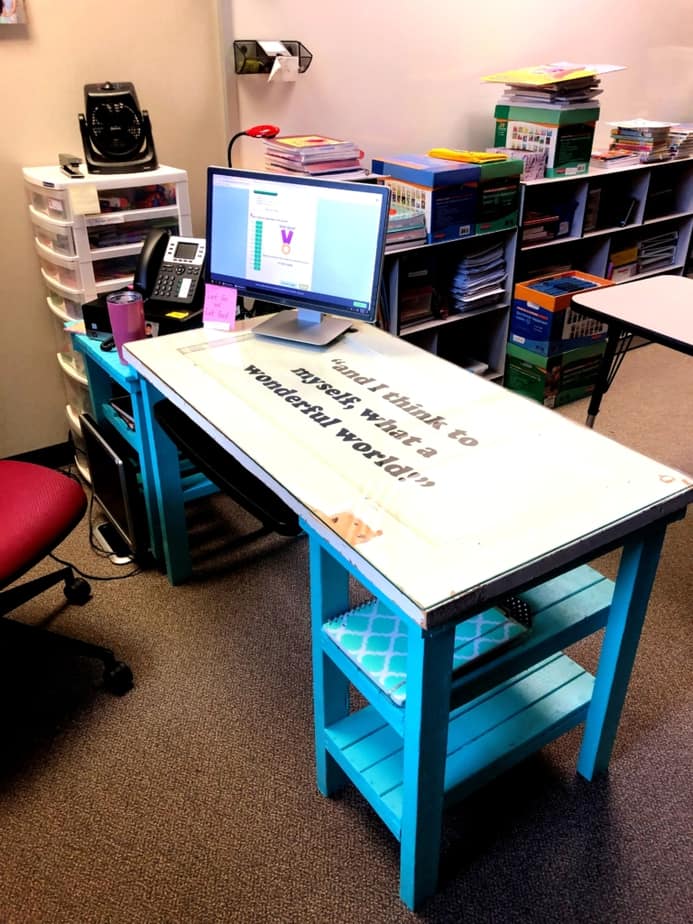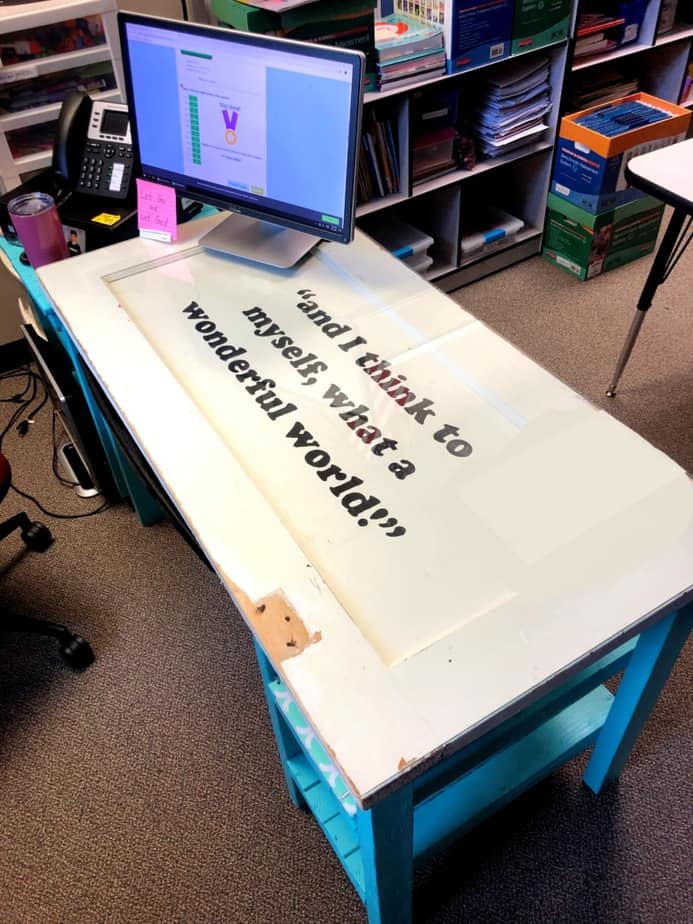 Desk Made From a Vintage Door
For a truly vintage feel, you can use a door in its unfinished state to add a lot of class to your space.  I love how Terry at Nourish and Nestle used this salvaged door for a new desk.  She left the original stain and added a frame.  I don't often say that, but I'm so glad she didn't decide to paint it.  Her door desk is stunning and you can read more about it here: From Door to DIY Desk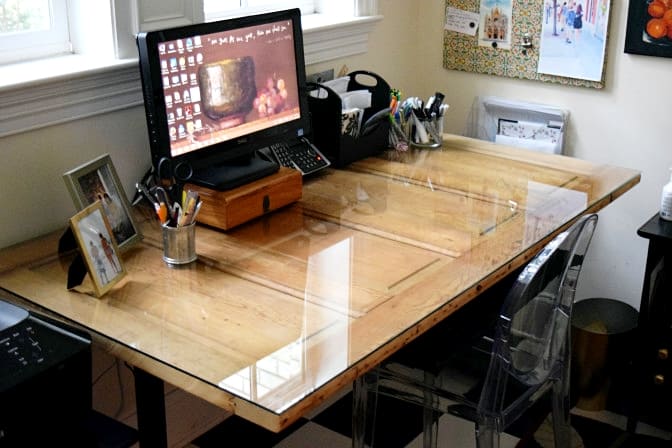 Hollow Core Door Desk Ideas
Here are some ideas on how you can pick different combinations of door styles and paint colors.  Many of these doors come pre-painted but you can save money by painting them yourself: Hollow Core Doors in Various Colors
DIY Craft Desk Ideas
To give you some added ideas for the design of your craft table, here are some more IKEA hacks for craft tables from Jennifer Maker:  DIY Craft Tables    It just goes to show that you can really use a glass top on any desk configuration.  Also, the options are endless to find a craft space to suit your storage and organizational needs.  Everyone is different but there are plenty of options out there!
FREE Must-Have Painting Tips for Laminate Furniture
Get the password for the resource library with the free this free printable guide by filling out this form:
Klimpen Desk Hack FAQ's:
What if I Don't Want to Add Glass to My Reclaimed Door Desk?
A flat door makes a great tabletop whether it has glass or not.  If you decide to forego the glass, you can just use a painted door, however, I'd recommend using a clear coat over the paint.  I've tested the best topcoats for furniture in my post What is the Best Clear Coat for Furniture projects and you can find the best one here: Varathane Water-based Top Coat
What is the best surface for a craft table or desk?
I love the glass tabletop for my DIY desk made from a door because it's waterproof and also holds up to hot glue.  Unlike a wood or laminate surface that might be damaged, hot glue just wipes off and doesn't stick to the slick surface of the glass.  I also don't ever have to worry about rings left from a cold drink with the glass top.
What if I want a large craft table with storage options?
If you're looking for a craft workstation with storage, a DIY desk made from a door is extremely versatile.  You can use any type of end table or drawer unit on either side to give you more storage.  You can use bookcases or even filing cabinets as well!  Just make sure to think about the final height of your table once you put the door on top.
DIY Craft Table From a Door – Related Posts:
Full Office Reveal – Feminine Home Office Checklist
How to Spray Paint Anything Flawlessly
A Beginner's Guide to Furniture Painting – Vintage Vanity Reveal
How to Paint IKEA Furniture the Right Way
Must-Have Painting Tips for Furniture
Milk Paint vs. Chalk Paint vs. Laminate for Furniture
Best Clear Coats for Furniture
The Absolute Best Christian Books for Women
I also made wall art to coordinate with the curtains behind the desk.  You can read about how to make Budget-Friendly DIY Wall Art out of Fabric in my post here:  How to Make Wall Art with Fabric in Less than 10 Minutes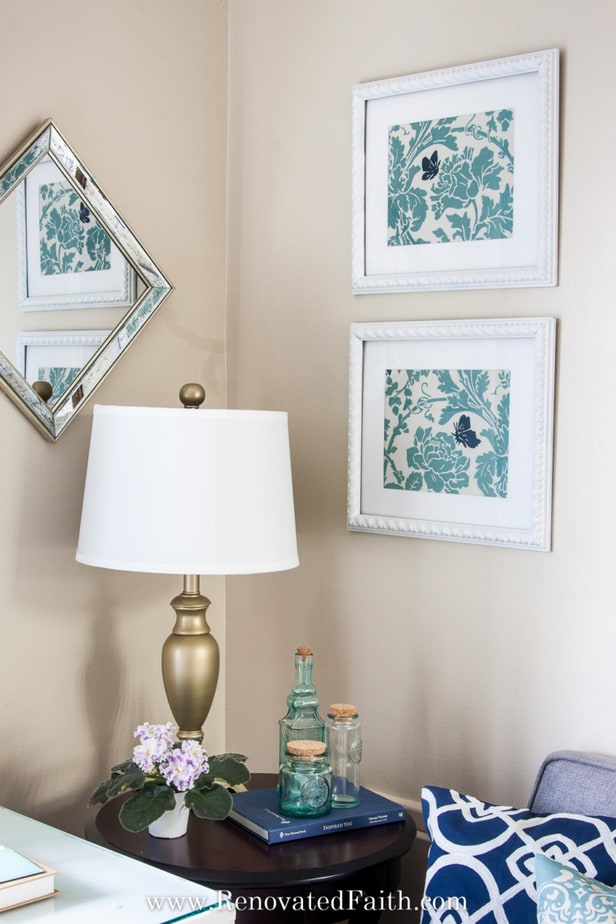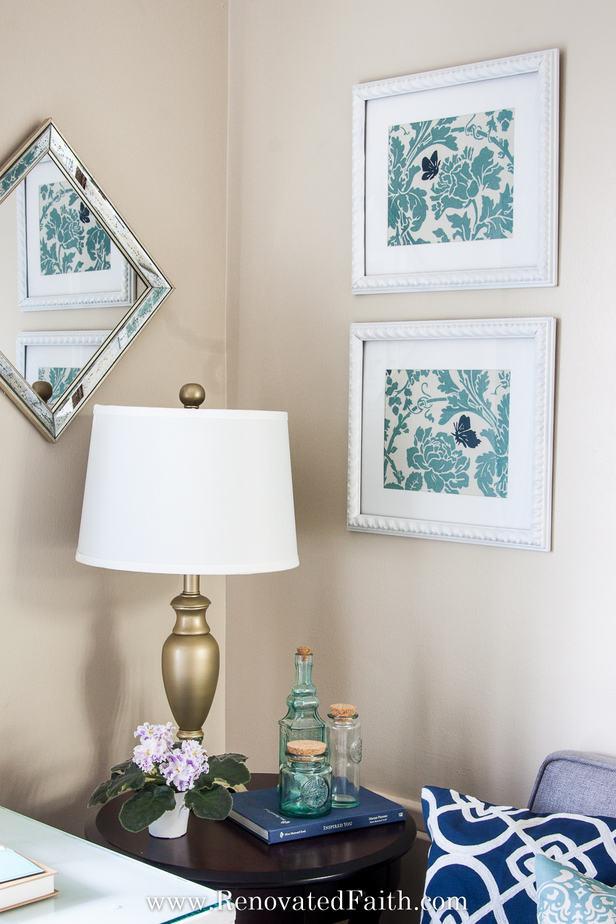 Final Thoughts on How to Make a Desk out of a Door
My favorite piece of furniture in our house is my desk made from a door.  It has a certain sophistication that you just don't see in other DIY craft tables.  I love that even with how unique it is, my desk is super durable and can stand up to even the worst of my craft messes.  With this tutorial, you can make your own DIY desk out of a door but customized to fit your own needs and style!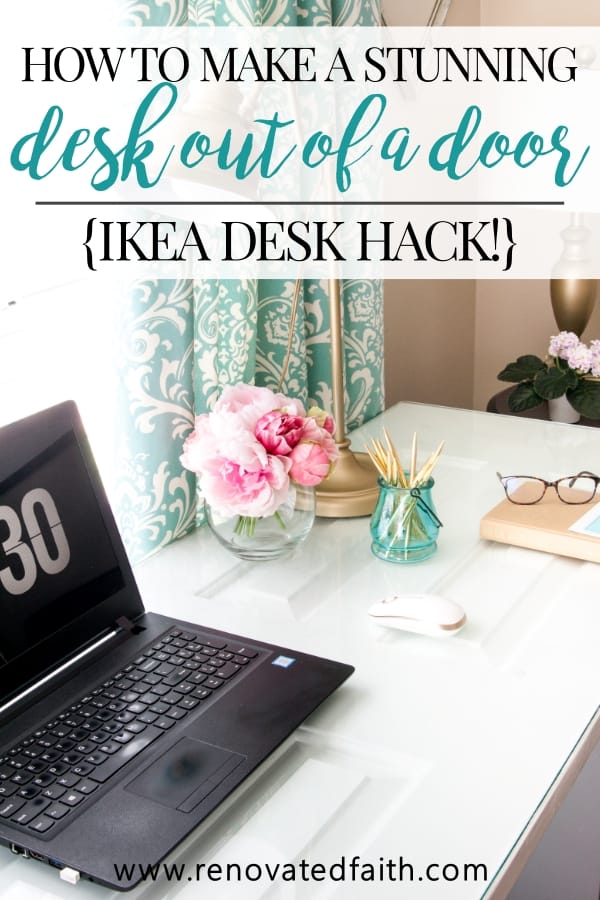 I love to hear your thoughts and questions!  Scroll down to leave a comment and I WILL reply! ❤️
Blessings,

Be sure to follow the fun here!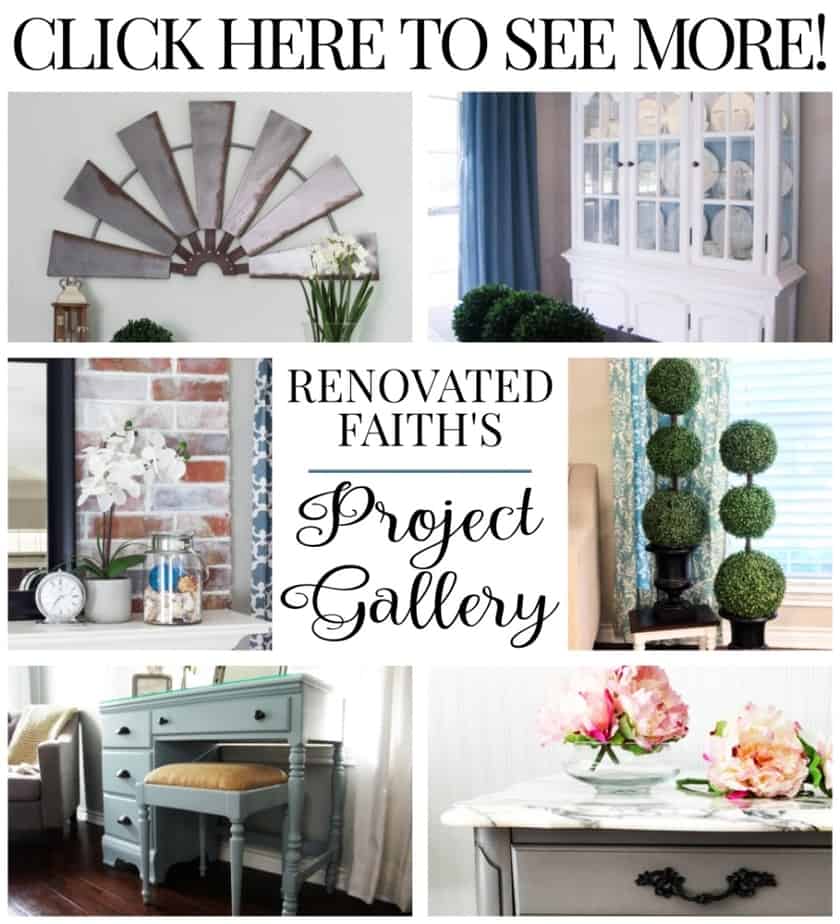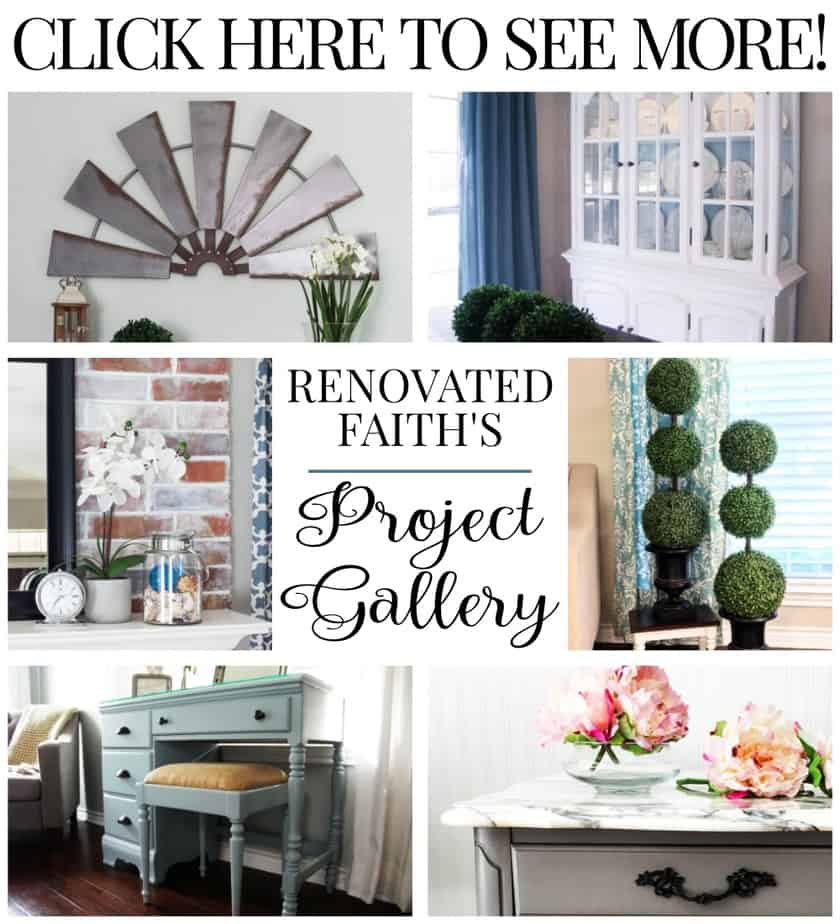 How to Make a Desk Out of An Old Door
Welcome to Renovated Faith, where I share about DIY projects, my faith and everything in between! When I'm not spending time with my family, you will find me redoing furniture in the garage or watering plants in my greenhouse. This blog is about transformation. Anyone can renovate a house but only God can transform our hearts!