The Absolute Best Furniture Paint, 2022 (24 Top Brands Blind Tested & Reviewed!)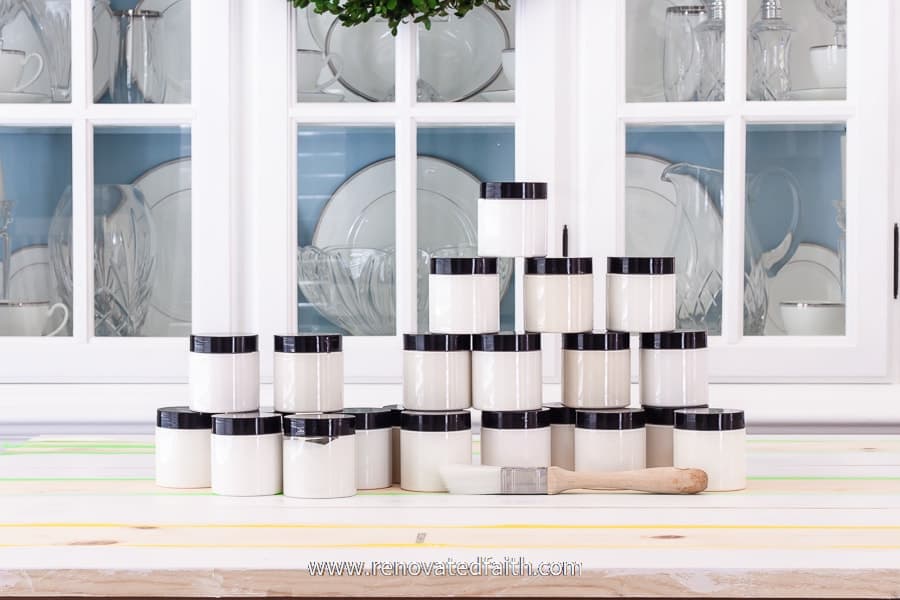 A Side-by-Side Comparison of Today's Top Furniture Paints
After blind testing and reviewing twenty-four top brands, here is the ultimate guide on the best furniture paint.
---
You walk into a home décor boutique and you see a gorgeous shelf full of colorful furniture paint jars in every shade imaginable. But when you closely at the label, you see that little jar is close to $40. You wonder if maybe you are better off getting paint at the home improvement store…but which one? And will it cover as well?
Deciding on the best paint for furniture has been about as clear as mud until now. Not only are there chalk paints, milk paints, and latex paints but there are furniture paints that don't fit into any of these categories that some absolutely swear by.
To get some clarity for us all, I have blind-tested 24 of the top brands of furniture paint to make a side-by-side comparison.
After hours of research, spending a small fortune on furniture paints, and talking to furniture professionals across the country, I have found the best paints for furniture overall and by type.
In this blog post, I give you all the details to find the easiest paint to use that will give you the most beautiful results on a budget!
To see how each paint performed individually, check the complete list of results below. Don't forget to check out the video to see exactly how I tested each paint.
LET ME SHOW YOU:
The full results of how all 24 furniture paints performed
Some new furniture paints you might not be familiar with
All the information you need to decide the best furniture paint for YOU
Encouragement for worriers in this week's Renovate Your Faith devotional at the end of this post
WANT TO SAVE THIS PIN FOR LATER? CLICK BELOW TO SAVE IT TO YOUR FAVORITE PINTEREST BOARD: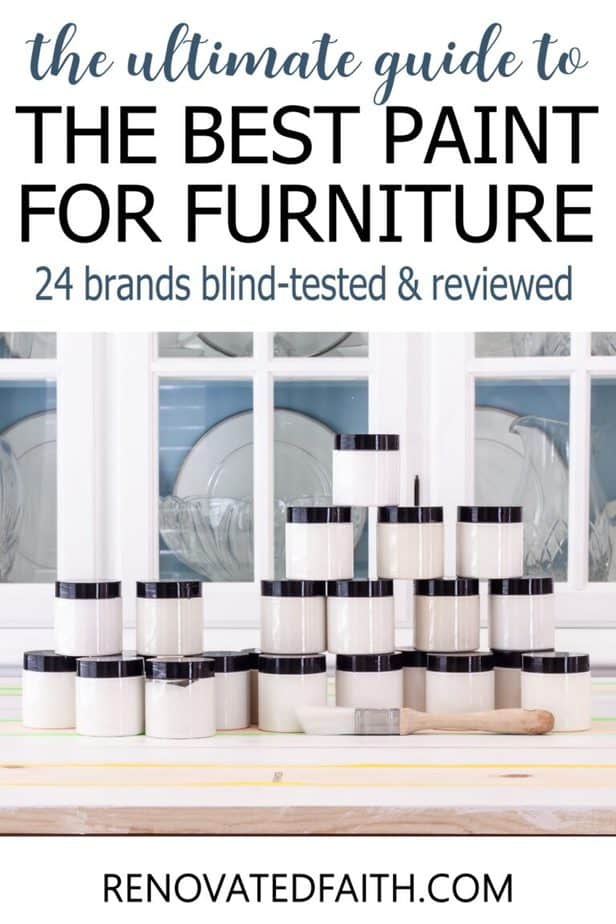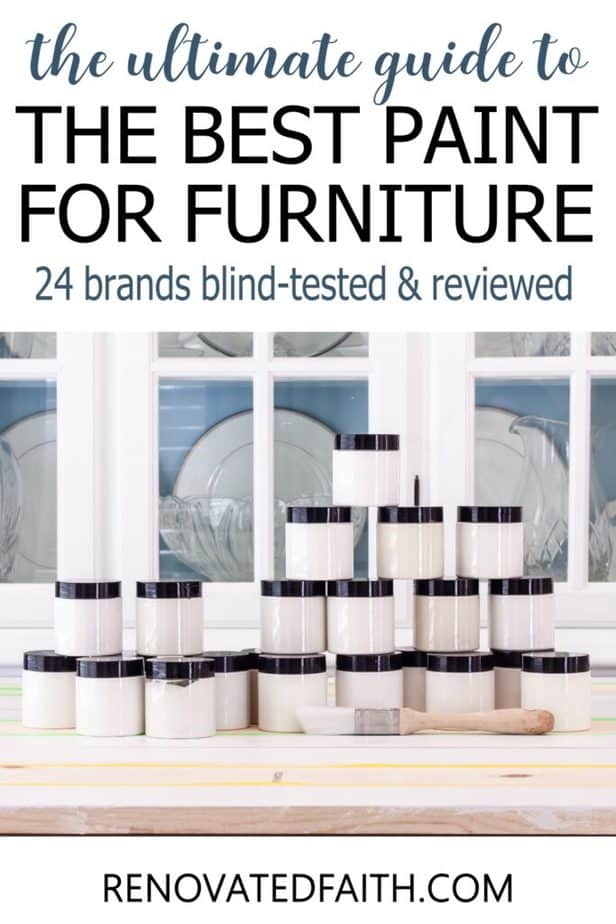 (As an Amazon affiliate I earn from qualifying purchases. Please see my full disclosure HERE. I only use affiliate links for products I use and love.)
Can You Use Any Paint to Paint Furniture? Why Quality Matters
Most furniture you refinish will fall into one of two categories. If you are painting a family heirloom, you want to get it the best finish possible to protect it for many years to come as a treasured furniture piece. If you found an old furniture piece on the side of the road or in a used furniture shop, giving it a gorgeous paint finish will make all the difference transforming your roadside rescue into a piece that looks like it came from Pottery Barn.
Painting furniture is so worthwhile but it is still a lot of work. That's why you don't want to leave the results up to chance by using just any old paint. Furniture paints are not created equal and as you'll see from my testing, the most expensive paints are not the best!
Picking the right paint is so important when redoing furniture. The last thing you want to do is use a low-grade paint that ends up peeling. Repairing a bad paint job means you have to sand off and repair peeling areas or worse, repaint the piece all over again because your paint product didn't adhere or protect the furniture finish.
Abraham Lincoln once said, "If I have 6 hours to cut down a tree, I'll spend 4 hours sharpening the ax."
That's why I believe the most important prep work when painting furniture is choosing the right paint. If you spend $40 on a can of paint with poor coverage, that means it will take several coats. Your time and money is much better spent on a higher quality paint that is cheaper.
Finding a paint that will be durable, go on smoothly with a brush, and has good coverage is vital to the success of your furniture painting projects. Fortunately, I've done all the research and testing for you to find the absolute best paint for furniture!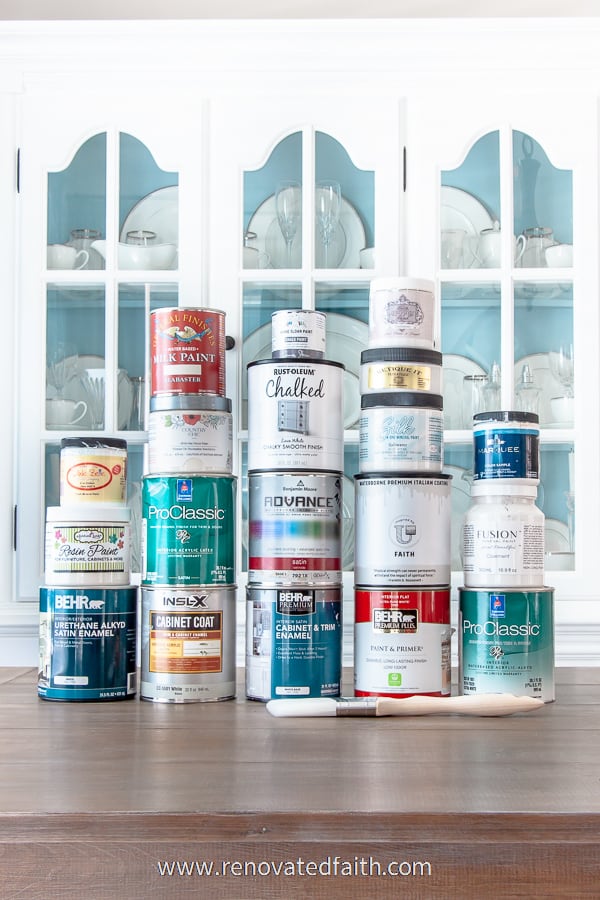 My Top Picks for the Best Paint For Furniture, 2022
This formula is furniture paint perfection in a can that gives you a finish just as smooth and durable as it is gorgeous. READ REVIEW
Don't underestimate this low-budget wonder for your next furniture project! It definitely gives the competition a run for their money. READ REVIEW
This premium Italian coating is available to DIYer's to give you a luxurious finish on your furniture. READ REVIEW
Not only is Dixie Silk a 0 VOC paint, but it also has incredible flow and leveling with a brush or roller. READ REVIEW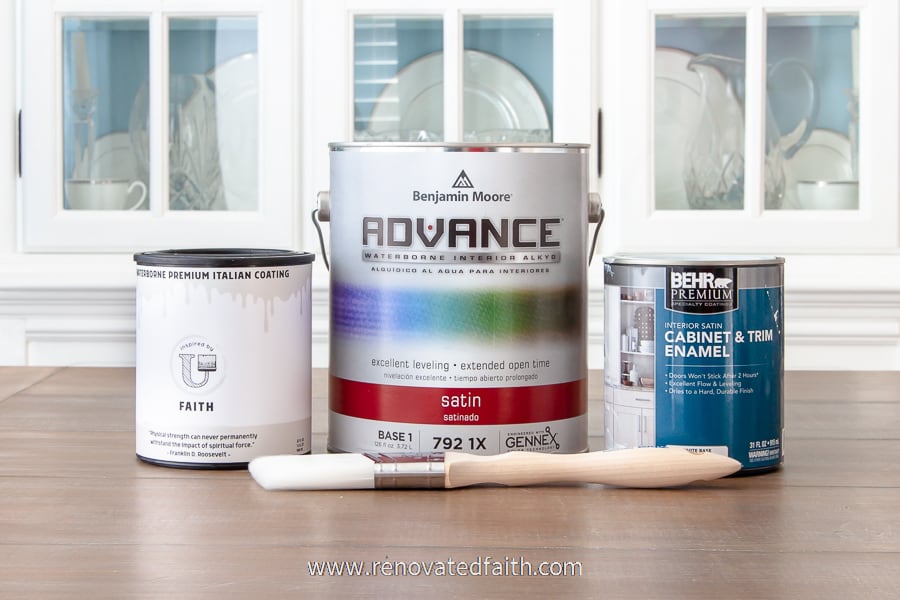 What's the Best Furniture Paint For Each Type?
The best mineral paint by far was Dixie Silk because of its excellent coverage, smooth finish, and great scrubbability. I'm always a fan of using a primer but I'm really impressed with all this paint has to offer. READ REVIEW
Chalk paints are not known for their durability and smoothness but this chalky gives you a smooth matte finish with great coverage and NO brush strokes! It was hands-down the best chalky paint in this category! * READ REVIEW
*If you like the matte finish of chalk paint, most of the furniture paints I tested have different sheen options including flat and satin. Flat paint is the least shiny that most resembles the matte finish of chalk paint. Satin is still someone matte but is more durable than completely flat paint. I opt for a satin finish on most furniture projects.
True milk paint is any paint that includes casein (milk protein) and has properties more similar to stain than paint. Because of its ability to penetrate the surface of the wood, milk paint is the best paint for making a piece of furniture look old and worn. Miss Mustard Seed's Chalk Paint is the best in this category hands down. SEE REVIEW
There are several ways that people define "latex paint" but for the purpose of this review, I'm defining it as "any water-based paint that you can find at a home improvement or paint store". The best brand of interior latex paint for furniture was also the best overall paint – Benjamin Moore Advance. SEE REVIEW
Consumer Reports has always been a big fan of Behr's paints on cabinets and walls so I included several Behr paints in my testing. Behr's Satin Cabinet and Trim Enamel tested not only as the best Behr paint for furniture but as the best Overall Budget Paint. SEE REVIEW
None of the paints from Lowe's tested extremely well but the best option was Sherwin Williams Showcase at Lowe's. I've used it many times when I was already making a trip to Lowe's.
The traditional Proclassic water-based paint even beat out the Proclassic hybrid product making it the best Sherwin Williams paint for furniture. See more info about furniture paint types below. SEE REVIEW
For a high-gloss furniture paint, you want a hybrid formula because it has the benefits of oil-based paints without the negatives. The best hybrid paint and best paint overall is Benjamin Moore Advance. SEE REVIEW *If you are painting a smaller furniture piece with lots of spindles (like a chair or small stool), go with a gloss spray paint to avoid drips.
When spraying small furniture pieces that have lots of spindles like a chair or small stool, you can use a spray paint for furniture. I have had excellent results with Rustoleum spray paints.
Related: Best Spray Painting Tips for Furniture | The Best Spray Paint For A Smooth Finish on Furniture
Benjamin Moore Advance is not prone to yellowing like traditional oil-based enamel paints. Because it is a hybrid formula, it has the positives of oil-based paint without the negatives like yellowing. My favorite "white paint color" is Sherwin Williams Pure White because it is a true neutral white without being too stark or too creamy. Benjamin Moore has all of Sherwin Williams paint colors in their computer so you can tell them you want "Benjamin Moore Advance matched to Sherwin Williams Pure White." See My Best Tips For Coverage When Painting Furniture White.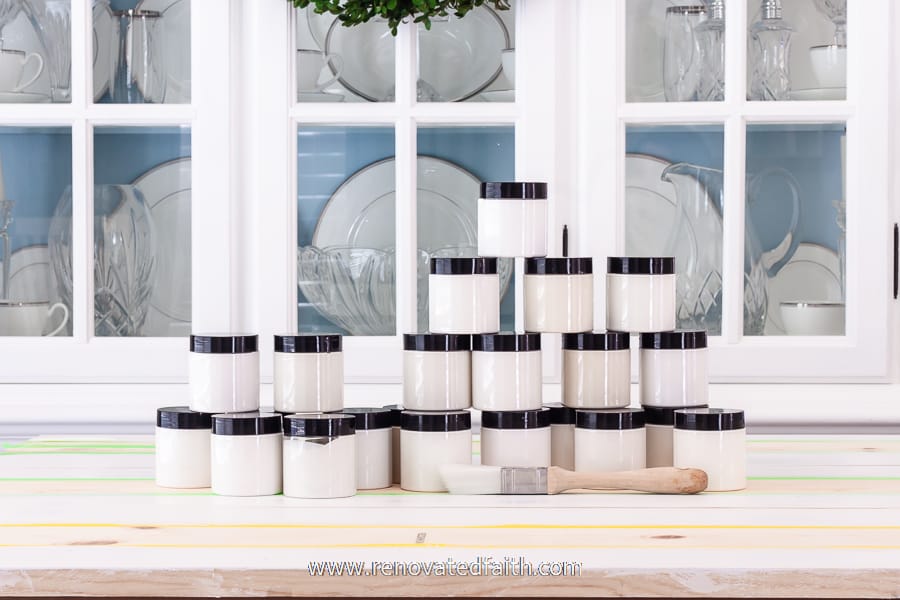 What is the Best All-In-One Furniture Paint?
This is a hard question and I'll do my best to answer it here. Any furniture piece is going to take some kind of prep work. If someone tells you that ANY furniture piece can be painted with their product without any prep at all, they are just trying to sell you paint.
Yes, there are some projects that don't need any prep. The problem occurs when you don't know exactly what stain or paint was used on the furniture piece previously. You can make a guess but the only way to know for sure if a piece of furniture doesn't need prep is if you paint it and see! Of course, this is a really risky way to tell because the price of being wrong means you will have to strip off or sand off every bit of the peeling finish before you completely refinish it all over again. Trust me, I've been there and it's not fun.
Because "an ounce of prevention is worth a pound of cure", I would much rather tell you to be proactive by taking a few minutes to do some prep:
SAND – Sanding furniture should not take you more than 5 minutes. See why here – The Easy Way to Sand Furniture Projects. Remember, when you are sanding a furniture piece to prep it for paint, you are just scuff sanding – not sanding off the finish!
PRIME – As I like to say, "primer stick to things and paint stick to primer." The same properties that make paint durable, hard and smooth aren't great at making it adhere to surfaces. That's why you really need to prime. The good news is that one coat of primer will replace one coat of paint you would already need to paint on your furniture piece to get full coverage. But the primer coat will be cheaper than your paint – especially if you are using a speciality paint. That means using primer instead of one of your paint coats is likely to save you money.
All that to say, I don't think any one paint is completely "ALL in one" for EVERY furniture project. So to be safe, it helps to do a little prep to potentially save you a lot of time and money later on.
ONE LAST THING…that 10 extra minutes of prep work will go so far in making your piece that much more beautiful. And if you have any damage on your furniture piece, you'll be surprised how easy it is to fix: How to Easily Fix Furniture Damage Before Painting
☑️ Want to get a professional finish on furniture the easy way? To get my BEST time-saving tips for a gorgeous finish on furniture, don't forget to download your FREE printable checklist here: Must-Have Painting Tips for Furniture
Furniture Paint Terms Defined
Reviews For The Overall Top 10 Best Furniture Paints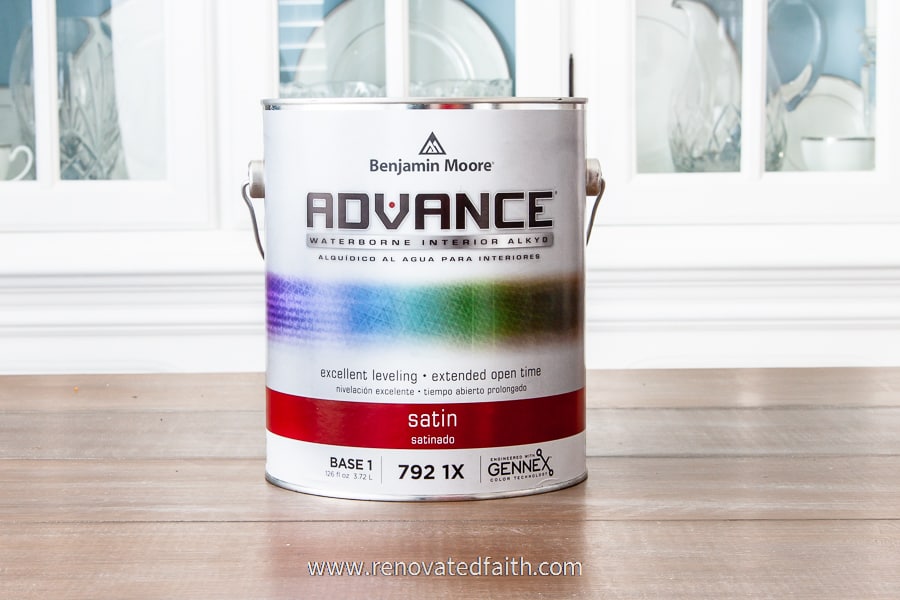 According to my blind tests, this formula excelled in every area. Benjamin Moore Advance is a high-quality waterborne alkyd paint meaning it has the positives of oil-based paints in a water-based formula.
This interior paint not only brushed on well but also rolled beautifully to a satiny smooth finish (which is so important with furniture with open wood grains such as oak). Benjamin Moore Advance cures to an extremely hard and durable finish. I found that I could easily scrub off dried waterproof mascara without taking off any of the furniture's painted surface. It is rare to find so many positive attributes in one paint product.
As you can see in the video, this paint also levels out well on open wood grains and has outstanding coverage even over dark stains. It's available in almost an unlimited number of colors and is a Low VOC paint. You also don't have to worry about shipping prices because you can find Benjamin Moore stores all over the country.
POSITIVES
Outstanding coverage
Dries to a super smooth finish
Excelled in the "Scrubbability" Test
Low-VOC (Volatile organic compounds)
Unlimited Color Options
Low Price at $0.53 per ounce
NEGATIVES
Slower drying time than some of its competitors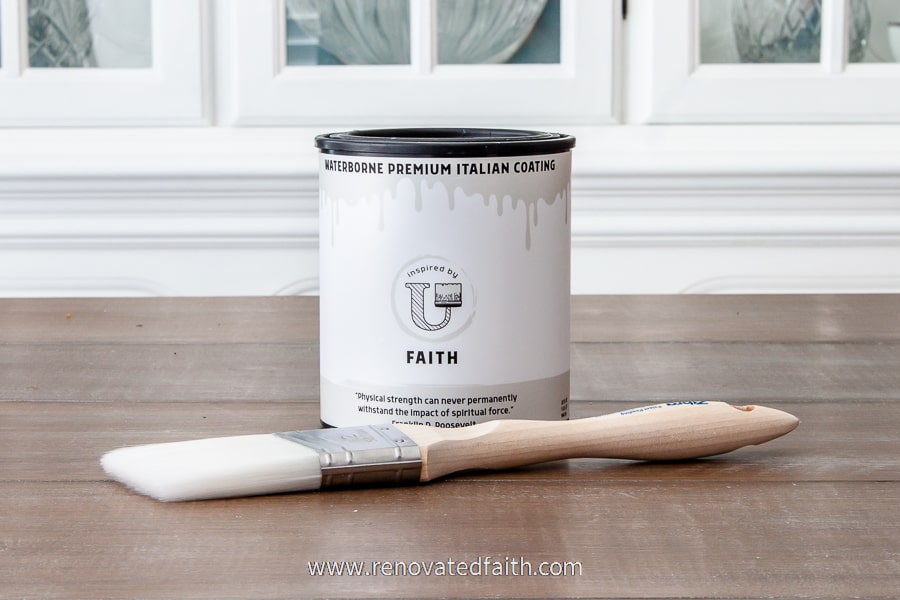 Inspired by U might be a product you haven't heard of but their products are exceptional as they are Milesi premium Italian coatings made accessible in the US to DIYers. This formula is incredible as it settles well, does not yellow over time, and has a super smooth finish, especially with a brush or roller.
This product dries exceptionally hard on furniture without a long dry time. Also, the VOCs are very low.
This is the Best Splurge Option but honestly, it's very reasonably priced for the quality you get and it's less expensive than several other paints tested that didn't perform nearly as well.
POSITIVES
Exceptionally smooth paint job
Fast dry Time
Stain and scrub resistant
Low-VOC's
Great coverage
NEGATIVES
There's a shipping cost its only available online
Limited color options
Paint comes only in quarts,
A little pricier than other options but not the most expensive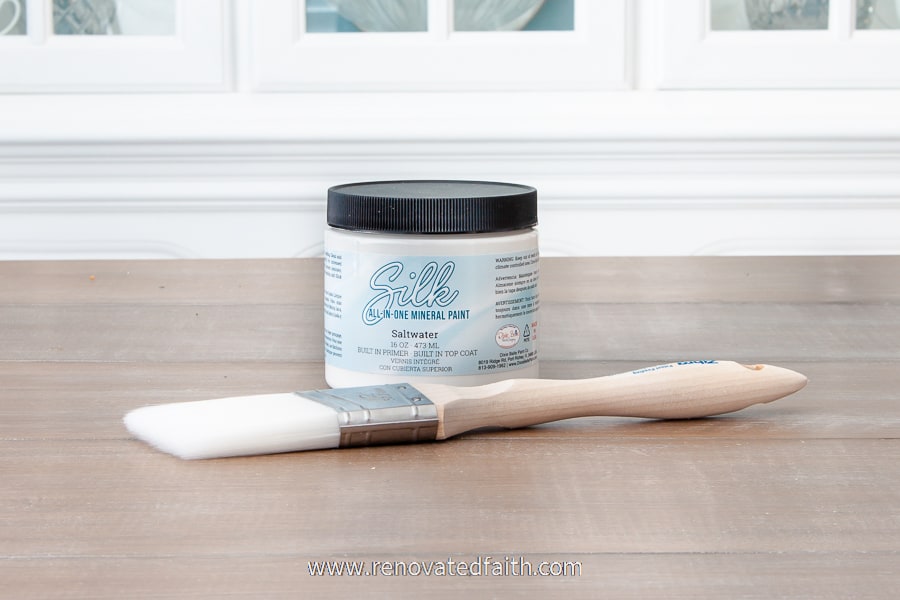 I was impressed with not only how smooth Dixie Smilk settled out but also how well it covered. Dixie Silk is Dixie Belle's newest formula of mineral paint that has a topcoat combined. I love the color options and it is NO-VOC so you can feel completely at ease painting around children and pets. It also has a fast dry time and great "scrubbability." Dixie Belle Silk doesn't only give your furniture a beautiful finish but is also fun to paint with.
POSITIVES
Dries to a smooth finish
Extremely durable
Fast Drying
Beautiful Color Options
NEGATIVES
Comes in small containers
A little pricey
Limited Colors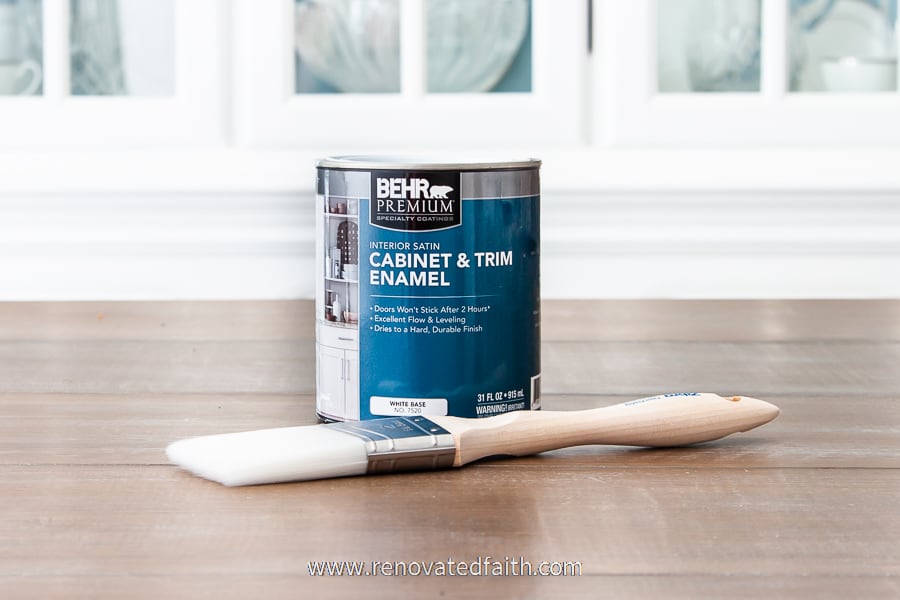 You might be wondering why I have tested so many cabinet paints for furniture. It's because any paint that's a good cabinet paint for DIYer's is also a really good furniture paint because they are the most durable and go on the smoothest. They are also usually the cheapest!
Behr's Interior Satin Cabinet and Trim Enamel is an unbelievable paint for the price. It has incredible coverage, durability and dries fast. It wasn't quite as "scrubbable" as numbers 1 and 2 but I don't want that to minimize how well it performed in all categories at such a low price point of $0.36 an ounce! That's why I chose Behr's Satin Cabinet and Trim enamel as the Best Budget Option!
POSITIVES
Low price for great quality
Available locally at Home Depot
Unlimited color options
Impressive Coverage and Durability
Smooth Finish with both a brush or roller (Be sure to use this microfiber roller with this paint as Behr doesn't recommend a foam roller.)
NEGATIVES
Leveling Ability and scrubbability are not quite as good as the top two.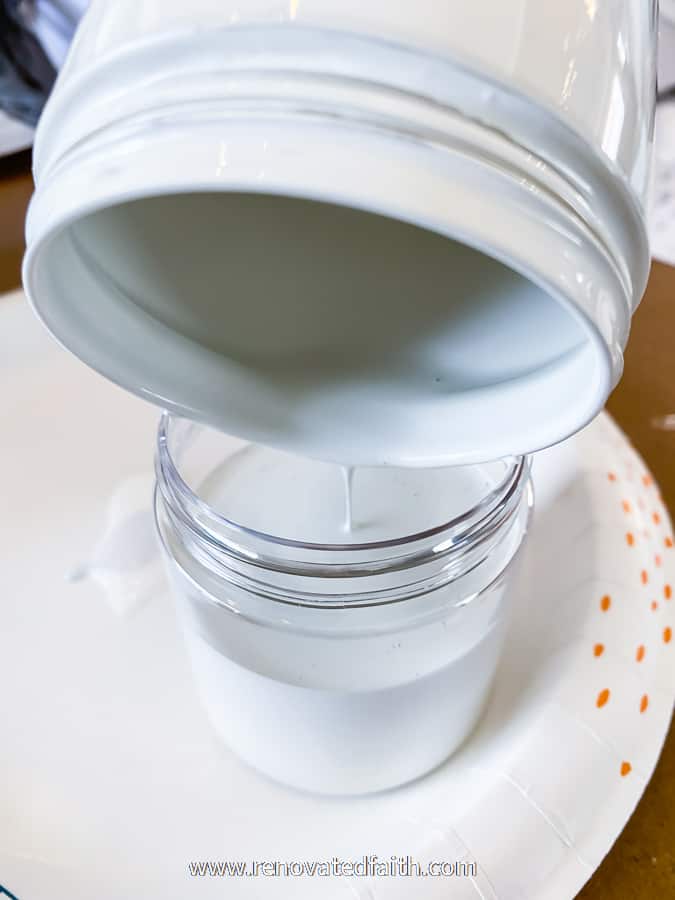 Wise Owl's One Hour Enamel is a really unique furniture paint. It's somewhat viscous without being too thick. As seen in the video, this paint's free-flowing nature makes it really fun to work with, and somehow it has the ability to fully CURE in one hour. This is a water-based alkyd enamel hybrid but most paints in that category don't dry fast making Wise Owl One Hour Enamel the Best Fast Dry Option. This paint will give you a smooth, abrasion-resistant finish in no time for DIYers and professionals alike. It's a little pricey but worth the splurge!
POSITIVES
Fast drying and curing
Cures to an extremely hard, non-abrasive finish
Excellent cover and leveling capabilities on furniture
NEGATIVES
Pricey
Shows minimal brush strokes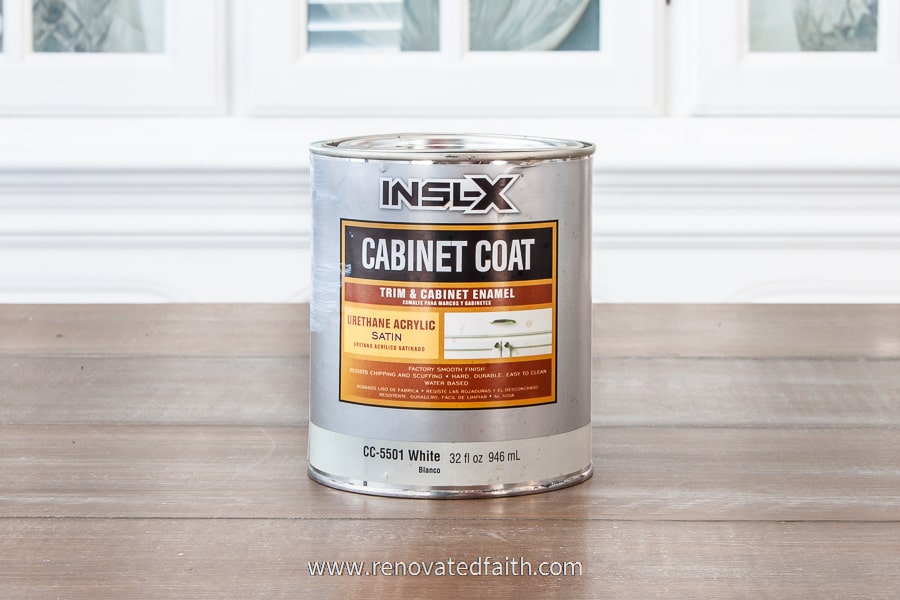 INSLX Cabinet Coat is a urethane-acrylic formula meaning it falls into the hybrid category. This paint gives cabinets a hard, durable finish with great coverage. It also adheres well to surfaces and levels into large open wood grains really well. While it doesn't leave many brush strokes, it left more roller marks than some of its competitors.
POSITIVES
Super durable
Adheres well
Great Coverage
Available at any Benjamin Moore store or online
Unlimited color options
NEGATIVES
Leaves some roller marks
Twice the price of Benjamin Moore Advance
Behr's Urethane Alkyd Satin Enamel is another hybrid enamel with the benefits of water-based paints. It has great flow and leveling abilities and good adhesion. Several reviewers said that it was easy to use in a sprayer. While it didn't perform quite as well with a brush, it left no roller marks on the surface. Also, you can find this paint at any Home Depot for only $0.30 an ounce.
POSITIVES
Quality paint at a very low cost
Great for use with a roller or paint sprayer
Unlimited color options
Available at any Home Depot
NEGATIVES
Leaves minimal brush strokes
Doesn't level as well as some of it's competitors
This has been my go-to paint for years and it has never let me down. I got the idea for the waterproof mascara scrubbability test from using this paint on my grandmother's vanity. It levels well with great flow but its coverage is lacking compared to some of the top paints. Also, since it's a traditional latex it is fast drying and easy to use.
POSITIVES
Great scrubbability
Very smooth finish when brushed or rolled
Unlimited color options
NEGATIVES
Doesn't cover as well as some of its competitors
Slightly more prone to brush marks and roller marks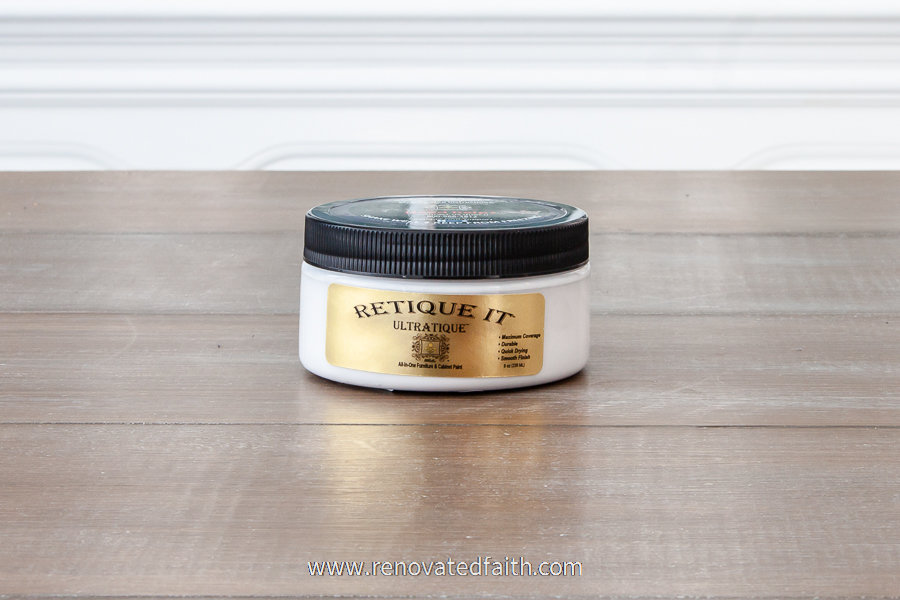 This paint can be used on furniture, cabinets or even concrete. It is said to be an all-in-one product but I always like to prime my furniture projects first. This has a chalky finish but is really smooth with both a brush and roller which is why I selected it as the Best Chalk Paint for Furniture. It's not quite as scrubbable as its competitors but you could add an optional topcoat. It's also durable and has low VOC's.
POSITIVES
Chalk paint finish that is super smooth
Durable
Adheres well
Ultra-Low VOC
NEGATIVES
Pricey
Not as scrubbable as some of its competitors
Want To Learn More About Why I Don't Use Traditional Chalk Paint?
For more information about painting furniture with chalk paint, click here: 7 Reasons I Don't Use Chalk Paint on Furniture or A Better Alternative to Chalk Paint
10. Behr Marquee Interior Paint (Lowe's)
Behr Marque has been my go-to paint for trim as its coverage is great and it will not show brush strokes. Although it does show some roller marks, they are minimal. You can also find Behr Marque at any Home Depot store and it comes in unlimited color options. Because it is also wall paint, if you need a small amount of paint, Home Depot sells sample sizes in Behr Marquee.
POSITIVES
Low-Cost Quality Paint
Good Coverage
Few brush strokes
NEGATIVES
Doesn't roll as well as some competitors
Not as durable as some of the top paints
The Best Furniture Paint, 2022 – The Full Results
Here is all the data from the furniture paint testing. Be sure to check out the video to see exactly how I tested to find the best paint for furniture. If you have trouble seeing it, you can find it here as well: The Best Furniture Paint, YouTube Video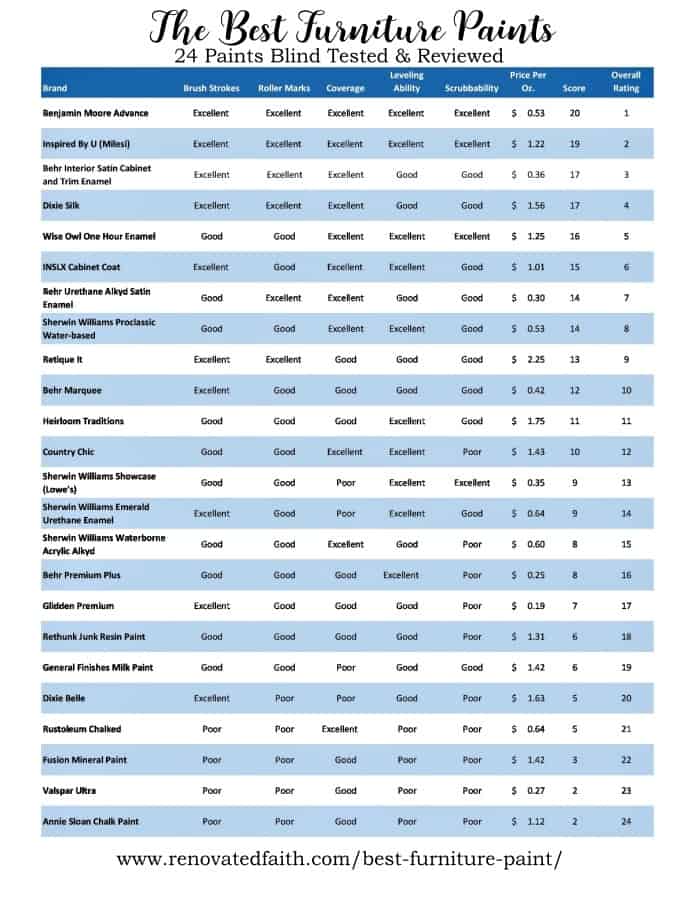 Unsure About How To Buy Paint At A Paint Counter?
When I first started painting furniture, I was intimidated about ordering paint at the paint counter of my local hardware store or paint store. I was concerned about ordering the wrong paint or not knowing the answer to any questions they asked. But here is exactly what you need to know to get paint at the paint counter.
The people at the paint counter are not always paint gurus. So don't be intimidated. You probably know more about the best paint for furniture now than they do!
Tell them the brand of paint and the amount. Ex: 1 quart of Benjamin Moore Advance A quart of paint is plenty for most furniture pieces.
Tell them the finish, otherwise known as sheen. You can pick from gloss, semigloss, eggshell, satin or flat. I paint all furniture with a satin sheen because it's not too shiny but also more durable but if you want a chalky farmhouse look, you can go with an Eggshell or Flat Sheen.
Tell them the color. Did you know that most paint and home improvement stores have the color codes for other paint brands in their computer. Say you are at Home Depot but you really like Sherwin Williams Agreeable Gray (see why I love it here!). Just tell them the "Sherwin Williams Agreeable Gray" and they have that same code in their computer.
It will probably take 5-10 minutes for them to mix your paint so you can wait at the counter or wander around the store until they are done.
And that's it! You are ready to buy your paint.
What to Consider When Picking The Best Paint for Upcycling Furniture
There are several considerations when picking the best paint brand for refinishing furniture like coverage, smoothness, durability, and cost. I think it's important to note that what one person defines as the best furniture paint might not be what someone else does. For example, I like for the surface of my furniture projects to be super smooth and not show brush strokes. But someone else might like the look of brush strokes! That's why I included all the results in the table above – so you can pick the best furniture paint for you!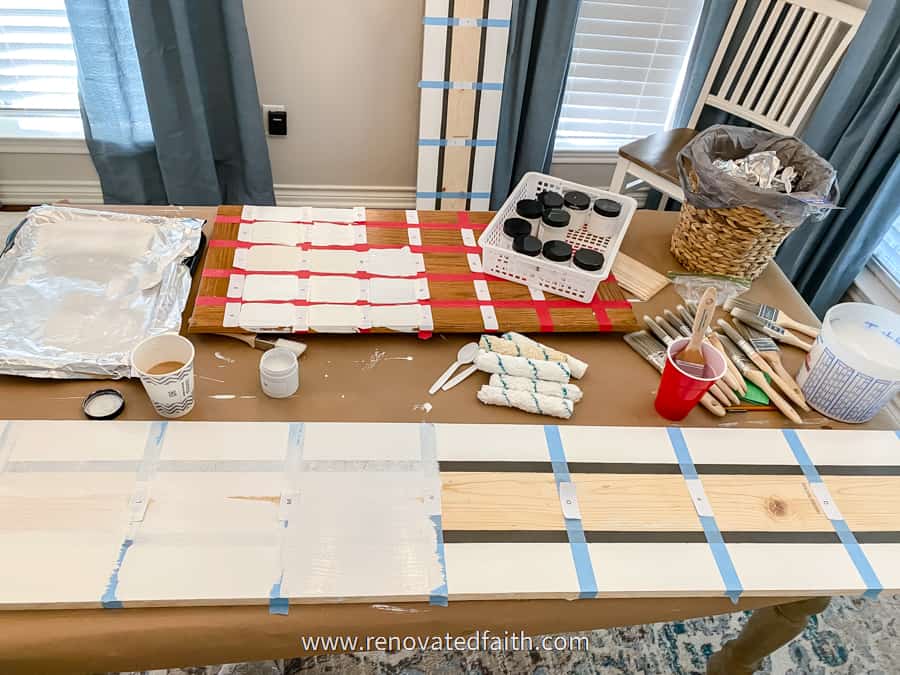 How I Tested Furniture Paints With The Best Coverage
As I mentioned in the introduction, coverage has a huge effect on how many coats of paint you have to apply which also affects your application time and the cost of paint. Also, the more coats you have to add, the least likely you are to have a smooth finish. That's why coverage is one of the biggest considerations when picking the best furniture paint.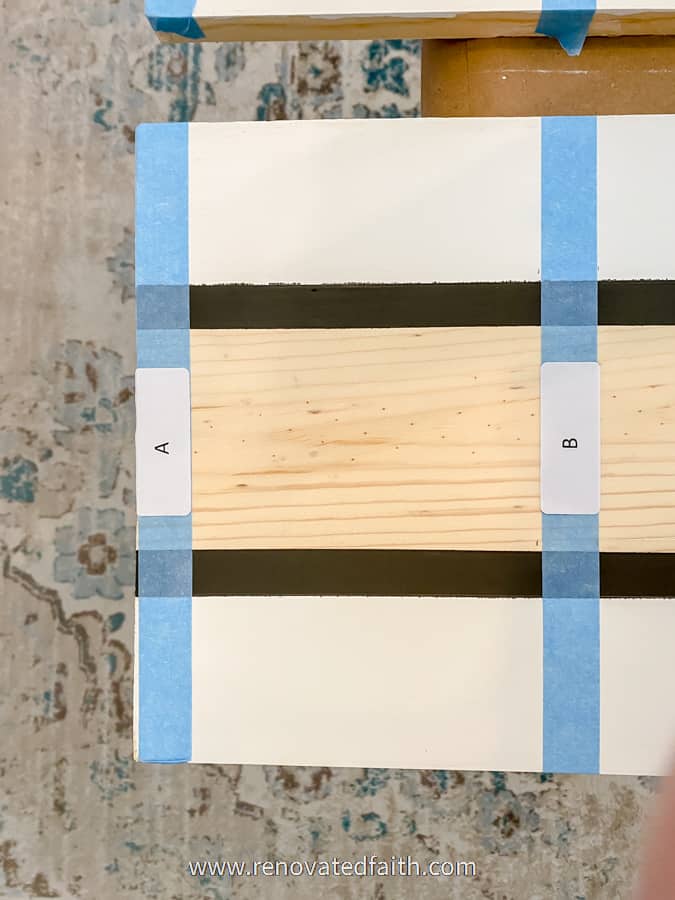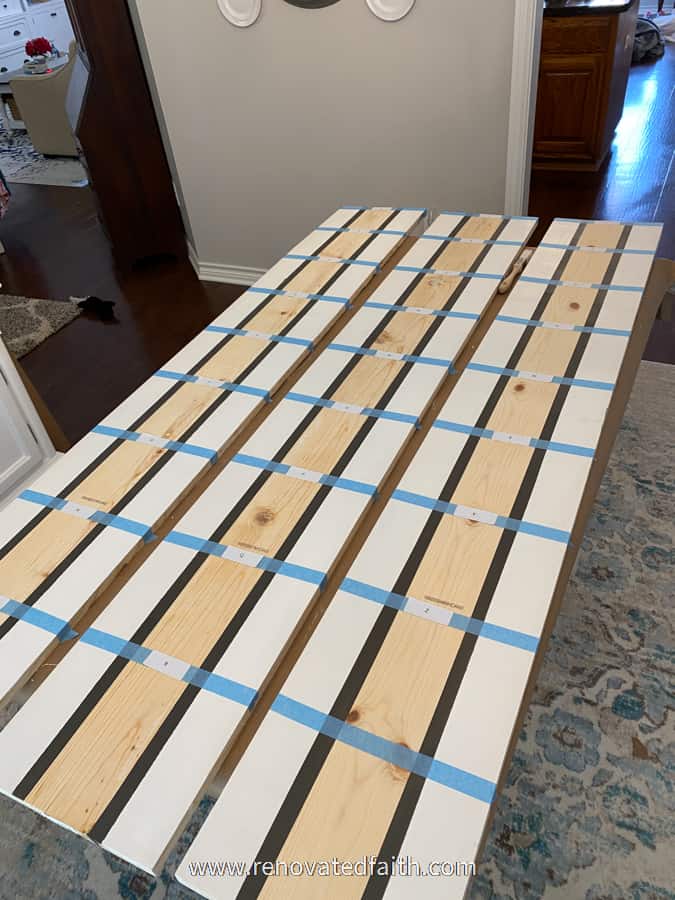 To test coverage, I painted a black line down the length of two sides of the line after painting on a couple of coats of my favorite primer – Zinsser Bullseye 123 (See the current price here). Then, I painted each sample of paint in 10-inch bands on the board. After the second coat of paint, the brands that no longer showed the black line had the best coverage. The paints where the black line was most prominent had the worst coverage.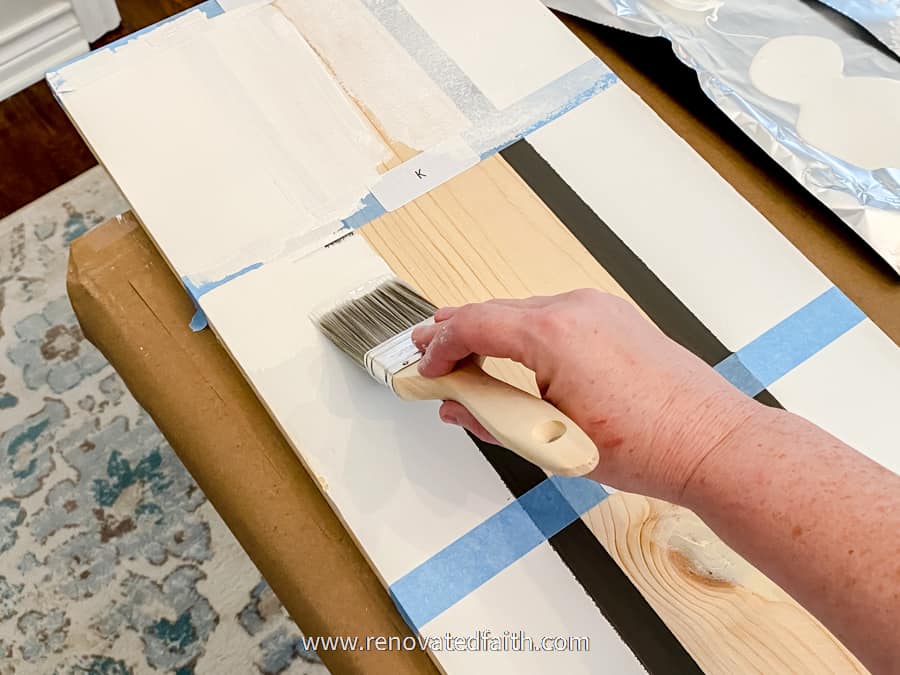 How I Tested Furniture Paints With The Smoothest Finish (With a Brush and Roller)
When it comes to a smooth finish, I'm a stickler! Oak and some pine furniture has a really open wood grain. In other words, you can see lots of small indentions on the entire surface of the wood. To specifically test for which paint finishes would settle into the wood grain to make smooth surfaces, I painted a sample of each on the back of one of my own oak cabinet doors.
You also want to make sure that your paint doesn't show brush strokes or roller marks. To test for a smooth surface, I painted one side of the board I mentioned above with a brush and the other side with a roller for every paint sample. I'm glad I tested both because some paints that did great with brush strokes did not go on very smoothly with a roller – or vise versa!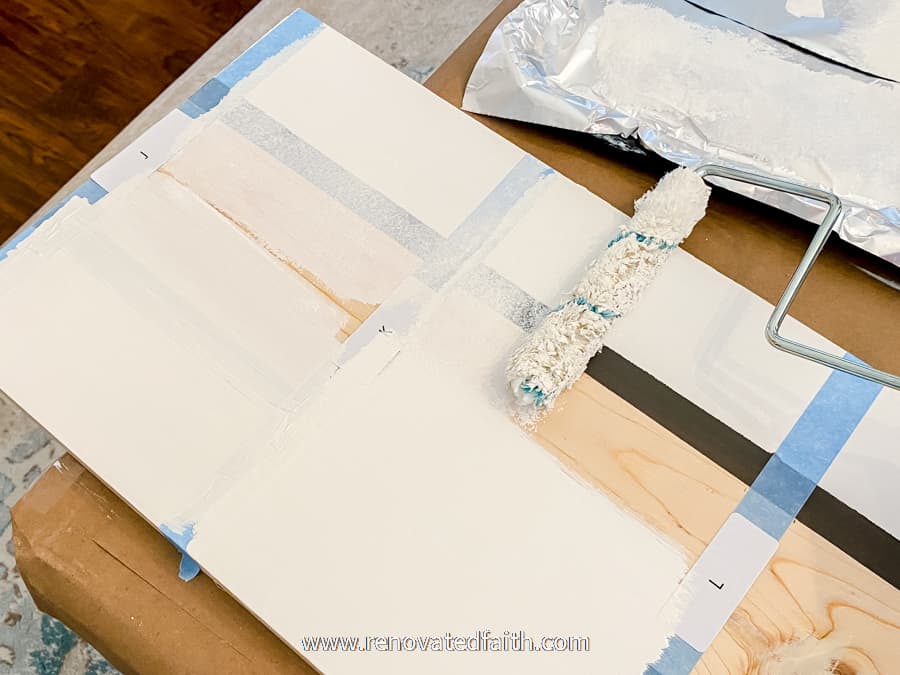 How I Tested "Scubbability" and Stain Resistance of Furniture Paints
In a furniture refinishing group online, I got the idea to test for stain resistance on furniture. This is more of a concern for high-use furniture items like a kitchen table. Apparently, the two most notorious substances for staining white paint are coffee and tomato sauce.
However, the test I learned the most from was the mascara test. I got this idea when I got waterproof mascara on the surface of my grandma's vanity I painted. I assumed I would have to repaint it but to my surprise, it scrubbed off with a microfiber cloth and none of the paint rubbed off!
So, I put a stroke of water-proof mascara on each sample to see:
Which painted surface the mascara could be completely removed from with dawn, water and a microfiber cloth
Which paint would not rub off along with the mascara
I used black microfiber clothes so I could easily see if any white paint was coming off with the mascara.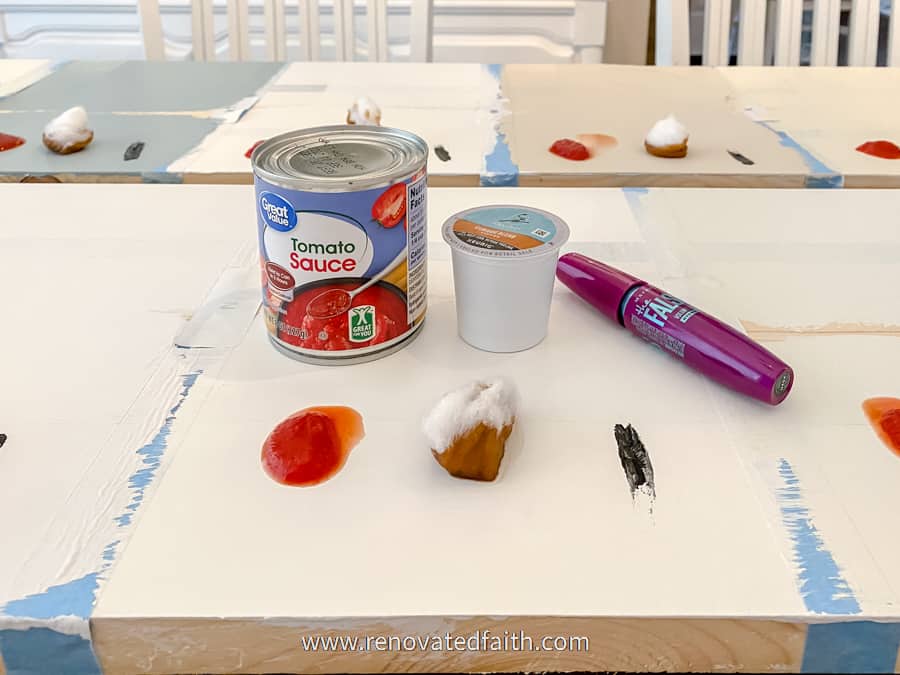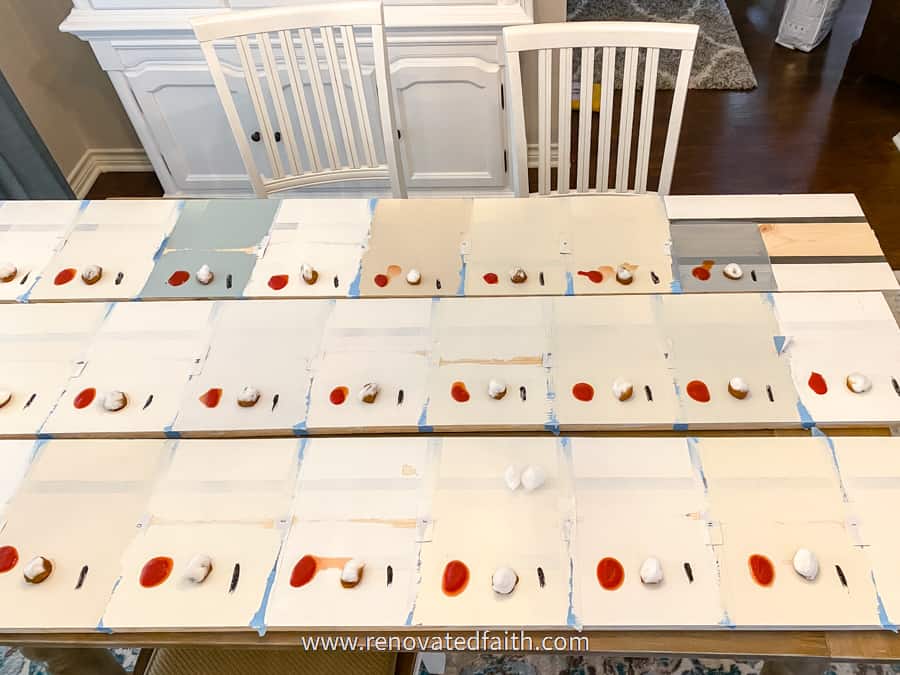 How I Tested the Most Water-Proof Furniture Paints
When I tested the best clear coats for furniture, I put a cold drinking glass on different surfaces to see which clear coats would leave a ring. I did the same test with furniture paints and to my surprise, they all of them did really well. No painted surface of any paint brand bubbled up after having a cold glass on the surface for 48 hours!
There was one paint (Rustoleum Chalked) that peeled. Annie Sloan Chalk Paint's unwaxed sample showed that the paint can partially reliquify when sitting in contact with water. That's why you should always use a protective cost like Varathane's Waterbased Polyurethane on top of chalk paint. You can see why I much prefer it to wax here: The Absolute Best Clear Coats for Wood, Tested and Reviewed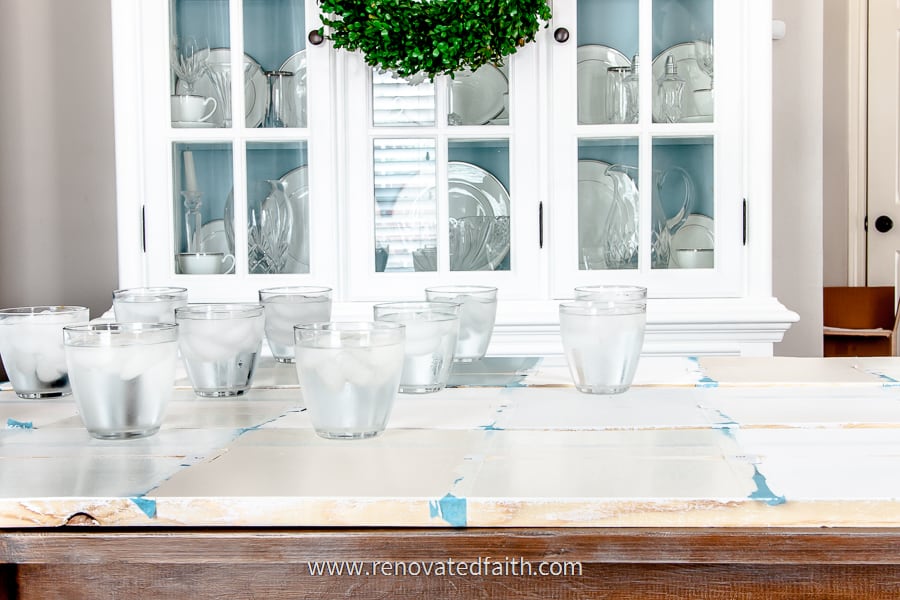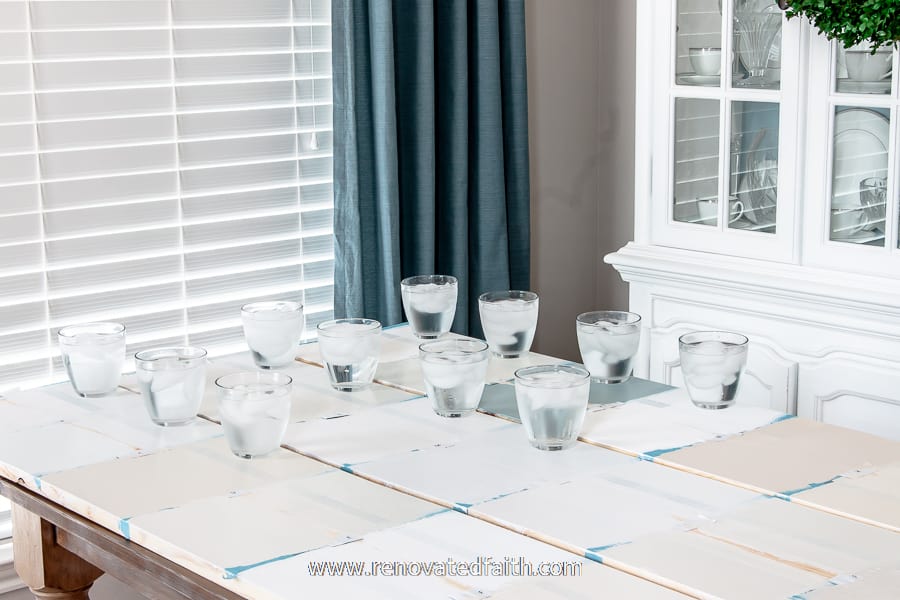 How I Tested Leveling Ability on Furniture Paint
To test how well a paint leveled out on an uneven surface, I used the back of one of my oak cabinets, which have a very open grain. After the paints cured, I looked at each sample to see which leveled out the most on such an uneven surface.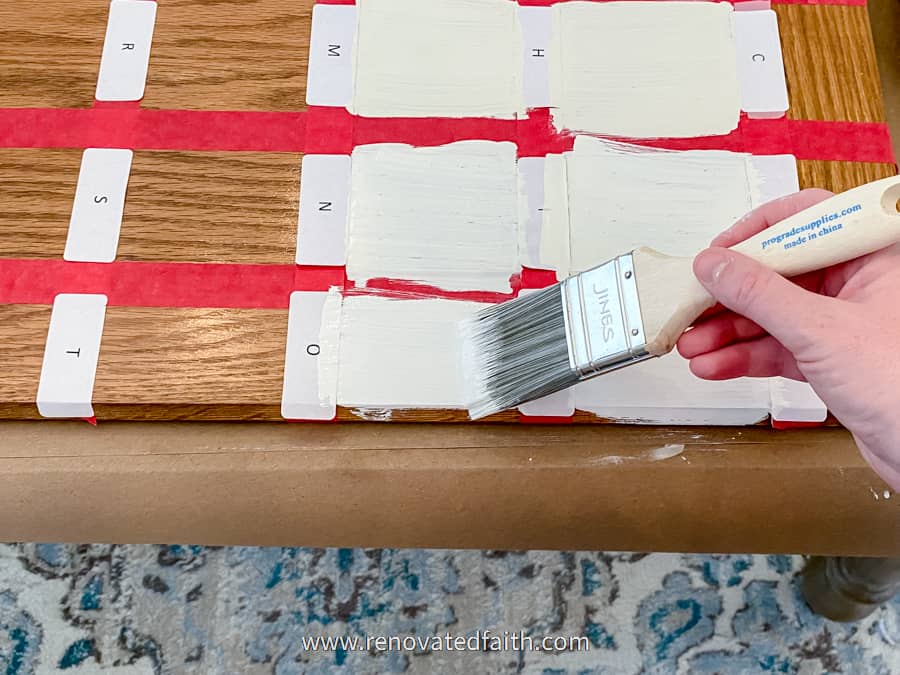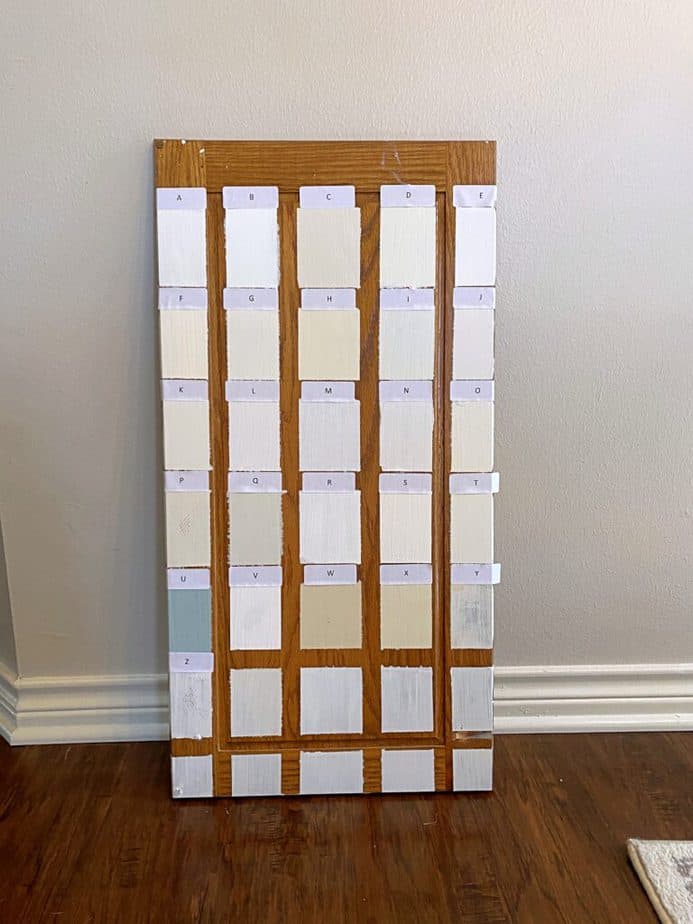 Complete List of Furniture Paints Tested and Reviewed (In Alphabetical Order)
All of the below brands were allowed to cure for a full 30 days before any testing:
Annie Sloan Chalk Paint (waxed)
Behr Interior Satin Cabinet and Trim Enamel (Home Depot)
Behr Marquee (Home Depot)
Behr Premium Plus (Home Depot)
Behr Urethane Alkyd Satin Enamel (Home Depot)
Benjamin Moore Advance
Dixie Silk
General Finishes Milk Paint
Glidden Premium
Heirloom Traditions
INSLX Cabinet Coat aka Benjamin Moore Cabinet Coat
Inspired By U (Milesi)
Rethunk Junk
Retique It Ultratique
Sherwin Williams Emerald Urethane Enamel
Sherwin Williams Proclassic Acrylic Alkyd Waterborne Hybrid
Sherwin Williams Showcase (Lowe's)
Sherwin WIllliams Proclassic Water-based
Valspar Ultra Cabinet Paint
Wise Owl One Hour Enamel
Behr from Home Depot has always done well with Consumer Reports which is why I tested different types of their paint formulas and I'm glad I did.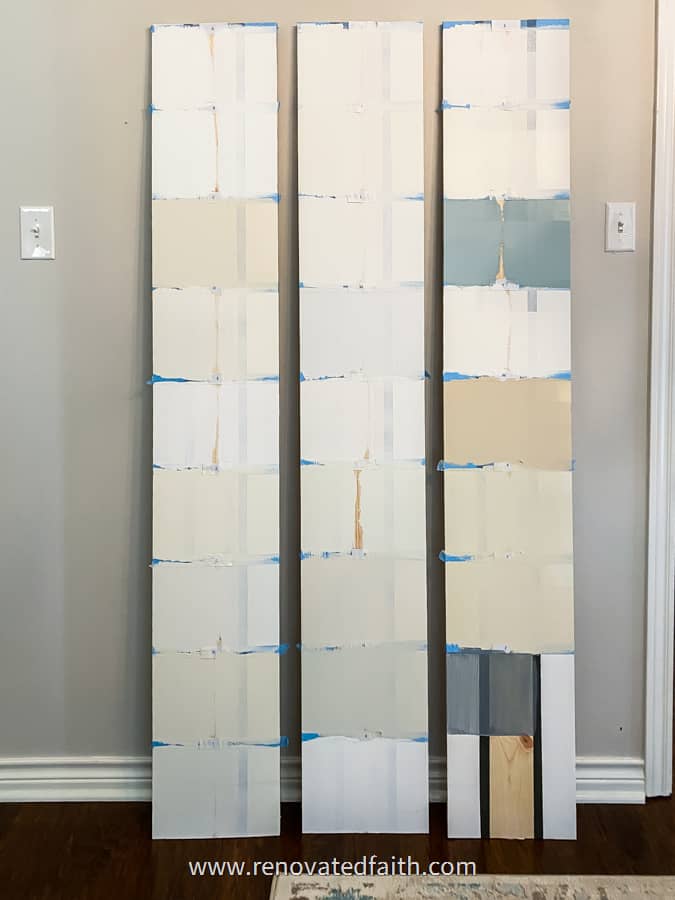 What is the Best Type of Paint for Furniture Projects?
Traditional Oil-Based Furniture Paints
Furniture paints have come a long way in recent years. Initially, furniture and cabinets were painted with old-school oil-based paints. They were durable and hardened quickly but this would also sometimes lead to cracking or even chipping. They settled well making for a really smooth surface, but unfortunately, they had a really slow dry time, and the VOC levels were much higher. Also, some white oil-based paints are prone to yellowing over time – which is less than ideal for white furniture projects. Also, oil paints have to be cleaned up with mineral spirits as opposed to water with latex paints. Oil-based paints are still used today but are less common.
Traditional Latex Water-Based Furniture Paint
Latex or water-based paints began to come on the scene. They had more flexibility than oil-based paints which led to less cracking but this also make them less durable and not quite as smooth. They had lower VOCs and easier clean-up, but the surface wasn't as buttery smooth as their oil-based counterparts.
Hybrid Furniture Paints
Then, hybrids came on the market often called "acrylic-alkyd formulas". These hybrids are special furniture, cabinet and trim paints that have easy clean-up, low VOC's and fast-drying times of latex paints BUT also have the durability and smooth finish of oil-based paints. Examples of hybrid paints I tested were Benjamin Moore Advance, Behr Interior Satin and Cabinet Paint, Wise Owl One Hour Enamel, and Sherwin Williams Acrylic Alkyd Waterborne Enamel.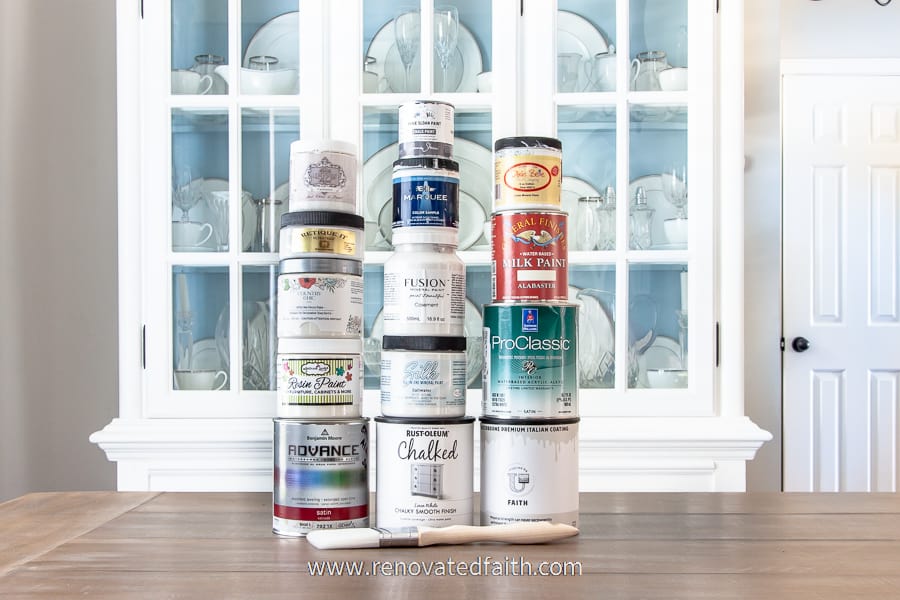 Specialty Furniture Paints
These are paints usually sold in small amounts in boutiques or online from independent retailers. Most of the paints are also marketed for home decor and some for cabinets. Chalk paints, mineral paints and resin paints fall in this category. I would also add General Finishes Milk Paint to the category even though it's an acrylic paint for furniture.
What makes it difficult is that it's not obvious what paints are in which category. If you are looking at an oil-based paint, it usually includes the words "enamel paint" or "alkyd paint". The hybrid paints will usually have one of these words but also include "water-based" or "water-borne" in the title.
Want To Learn More About the Difference Between Furniture Paints?
To understand the different uses and benefits of various types of furniture paint, click here: Milk Paint vs. Chalk Paint vs. Latex or A Review of General Finishes Milk Paint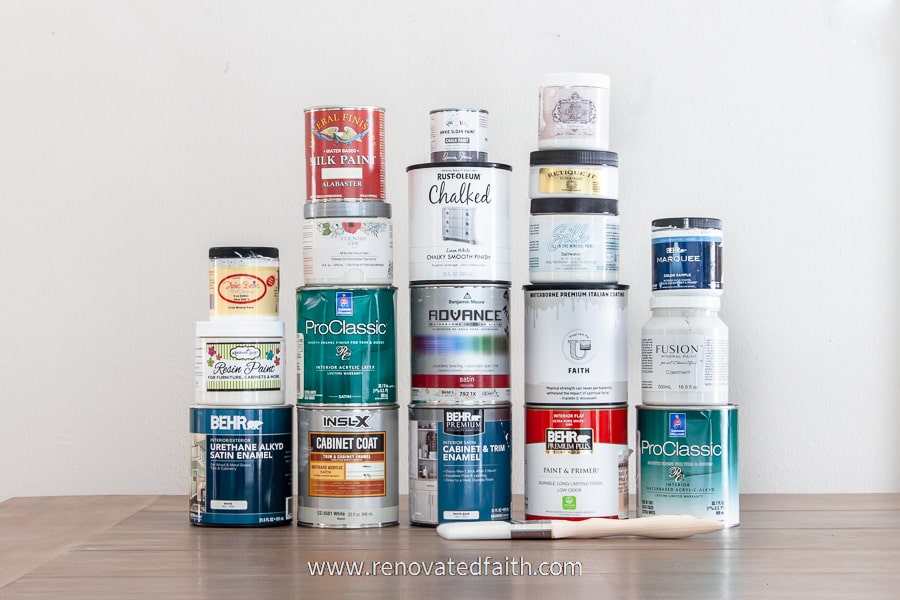 What If You Have Already Bought One of The Low Performing Furniture Paints? What Now?
If you have already bought one of the paints that weren't at the top of the list, never fear! You know that Bible verse, "Above all else, love one another because love covers a multitude of sins." Well, so does a good clear coat!
If you bought paint and are concerned about it's durability, just cover it with this clear coat: Varathane Water-based Polyurethane (click here to see the price).
After testing tons of clear coats, it's the best one to go over any painted surface to give it incredible durability without streaks or cloudiness.
If you have a piece of furniture that's a little too shiny, you can easily change that by adding a coat of the matte version of this clear coat (click here for the current price).
When Do You Need a Clear Coat for Furniture?
If you are using a good quality paint, you don't need a clear coat because good paints will be hard and durable enough to protect your furniture's finish. However, if you have a high-use piece of furniture like a dining tabletop or coffee table, it won't hurt to add a clear coat for extra protection. You can see the best way to do that here: How to Add A Clear Coat to Painted Furniture
What is the Best Paint Finish for Furniture?
The paints coming from the big box stores and paint stores all have different options as far as sheen ranging from flat (or matte), eggshell, satin, semi-gloss, and gloss. The shinier or glossier a paint is the more durable. However, glossier paints show defects most easily. For that reason, I like to use a satin finish on cabinets
The Best Brush and Roller for Furniture Painting
For painting furniture, you can either brush, roll or spray with a paint sprayer. You can also do a combination of two. I personally like to roll and brush my furniture projects so I don't have to worry as much about drop cloths on vertical surfaces.
Although several furniture painters use a foam roller, my favorite roller for painting furniture is this microfiber roller from Home Depot. It gives you an incredibly smooth finish without roller marks and is very forgiving when painting over defects in the painted surface. I absolutely love this brush and use it on my own furniture projects. You can see the current price here: Home Depot 3/8″ Microfiber Roller
As far as brushes go, there are a lot of great ones on teh market for furniture but my hands-down favorite is the Zibra brush (click here for the current price). You will absolutely love this brush. Not only does it leave a super smooth paint finish but it is fun to use because of how it glides on the surface of the furniture.
The Best Way to Paint Wood Furniture
Every time I paint furniture, I use this tried-and-true process that is easy for any beginner but will give you professional results every time. You can also see how my grandmother's vintage vanity turned out: A Beginner's Guide to Furniture Painting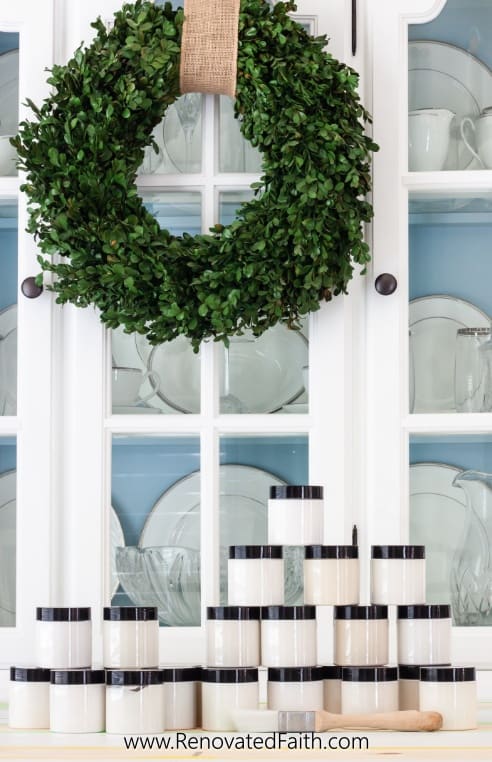 RENOVATE YOUR FAITH: Overcoming Worry About Future Events
I first started painting furniture off and on in college but my hobby really took off as a form of stress relief when I was a young mom. As I have shared before, Morgan had a rare autoimmune disease called Autoimmune Neutropenia that she is now fortunately in remission from.
At one point when we were waiting for a diagnosis, we were told that if it was a different form of neutropenia, we would more than likely be looking at a leukemia diagnosis when she was a teenager.
Waiting for those results was legit scary and probably the longest two weeks of my life. At the time, I often tried to envision what the future held. My thoughts would meander down hallways they should have never stepped through in the first place.
But now that I'm on the other side, I can see God had a completely different plan. She is healthy and happy and those horrible things I imagined never came to pass.
My mind is often prone to this kind of wandering. While its hard not to imagine the worst in life's tramautic situations, I find my thoughts are so prone to wander even in the smallest of trials.
Whether I'm nervous about making a blog video or worried about an awkward conversation with a friend, my thoughts often default to the absolute worst outcome. For me, I think worry can be attempt to prepare myself in case the worst actually does happen.
And before I know it, my mind is walking down hallways it had no business stepping through in the first place. This kind of worry about the future only serves to make me anxious and mentally spiral in the present.
As Sarah Young says in her devotional Jesus Calling, "we tend to project ourselves mentally into the next day, week, month, year or decade and we visualize ourselves coping badly in those times." But what we are seeing is a false image because it does not include God.
We imagine the worst happening because we envision ourselves handling the situation on our own. We discount the most important factor – that God Himself will be with us holding us close.
So often my worries default to the worst possible situation as I forget that my God and Creator will be right there with me every single step of the way leading, guiding, and protecting me.
The next time you find your mind walking through a doorway of worry, remember that no matter what comes tomorrow, God will be with you. Visualizing your future situation without His help is never an accurate representation of reality. His presence is sure to be with us always and can bring peace into any situation.
When these times of worry come, diffuse them by reminding yourself that no matter what happens Jesus will be there with you to deal with whatever life brings. Then, bring your focus back to the present moment where you can always enjoy peace in His presence.
For more spiritual encouragement, click here for the rest of my project posts that also include Renovate Your Faith devotionals.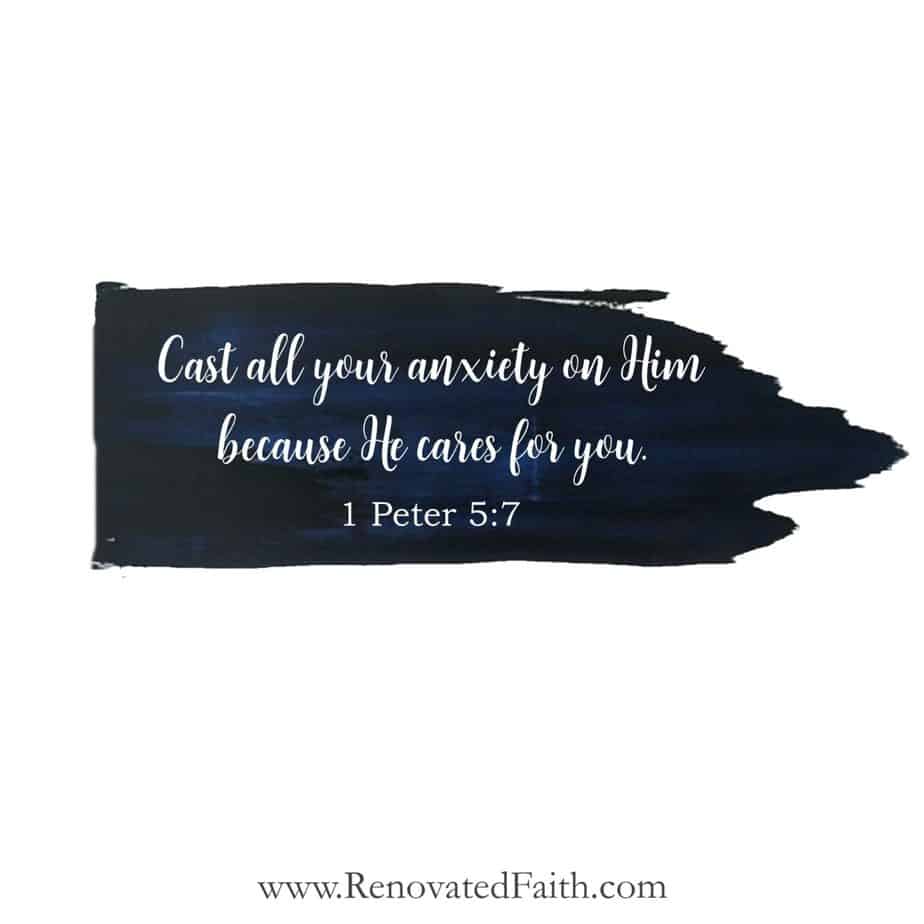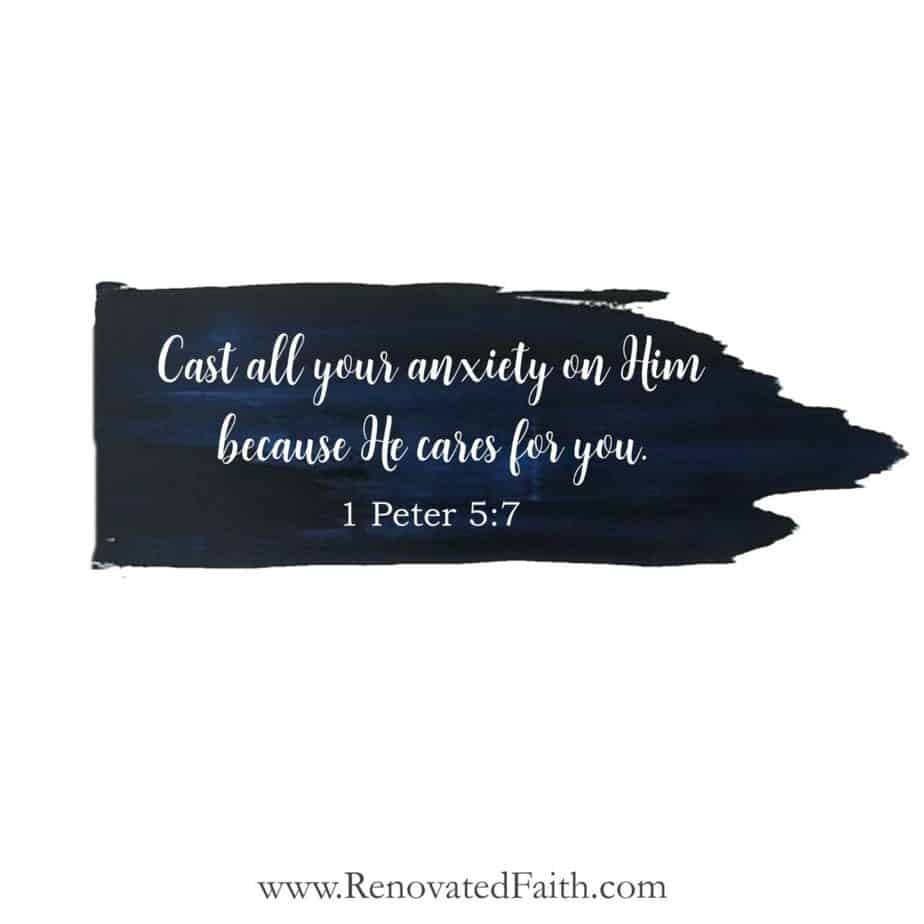 ☑️ My All-Time Best Furniture Painting Tips & Tricks (FREE PRINTABLE)
Don't forget to download the FREE step-by-step printable checklist that shows you the exact process I've used on dozens of furniture pieces while saving you time and money!
FAQ's: The Best Paint for Wood Furniture
Can furniture be painted without sanding?
If you are looking for the best paint for furniture without sanding you can use any of the paints above but just make sure you use a good deglosser before you prime to get good results. I will be doing a post on this soon but in the meantime, I recommend this deglosser: Liquid Sander (Click here for the current price.)
Why is milk paint not in the table of reviews?
I tested Miss Mustard Seed Milk Paint. It's the dark gray sample you see on the boards. I didn't include its results in the table because true milk paint works more as a stain than a typical furniture paint. It has the ability to penetrate the pores of the wood instead of just sitting on top. It's the absolute best product for making a piece of furniture look aged. Because it is so different than the other products, I didn't include the results. But if you want it to have the same smoothness and durability of the top contenders, you can always just add this clear coat on top: Varathane Water-based Polyurethane
What is a good paint to use on furniture that is peeling?
If the furniture is peeling, you want to either remove all of the paint that is loosely peeling OR sand off all of the old paint. If you go with the first one, it will be easier to refinish but you might not have the smoothest surface. If you go with sanding off the old finish, it is time-consuming but you will be able to start from "ground zero" again and will be able to get a smooth finish with your new paint.
What is chalk painting furniture?
"Chalk painting" is just a term that describes painting furniture with chalky paint. Several specialty paints fall into this category.
What is the best brand of paint that is scratch resistant for wood furniture?
I tested durability in terms of water permanence and scrubbability but didn't do a scratch test because it's hard to perform consistently. All of the top posts from this review are extremely durable against scratching. If you are painting a high-use piece of furniture, cover the surface with a clear coat after painting and you'll never have to worry about scratches. This is my hands-down favorite clear coat: Varathane Waterbased Polyurethane
What kind of paint do you use on a dresser?
Any of the above paints in the top categories would be great for a dresser. For high-use furniture pieces, you can use the top coat I mention above for extra durability. To see how to paint a dresser a dark color, check out these tips: Tips for Painting Furniture in Dark Colors
What is the best way to paint already painted wood furniture?
You can see my full tutorial on how to paint furniture here: A Beginner's Guide to Painting Furniture You can get ideas here: Before and After Furniture Makeovers from Renovated Faith
What kind of paint is Valspar furniture paint?
Valspar makes a hybrid cabinet and furniture paint that I wanted to test but it only comes in gallons so there wasn't a simple way to get a small amount. Based on what professional furniture painters have told me, Benjamin Moore Advance as well as the other hybrid products I tested.
Related Posts To The Best Furniture Paint for Wood
Renovated Faith's Best Painted Furniture Projects (Before and After Makeovers)
Why I Don't Use Chalk Paint on Furniture
Milk Paint vs. Chalk Paint vs. Latex
The Ultimate Guide to The Best Clear Coat for Furniture
A Beginner's Guide to Furniture Painting (Vintage Vanity Makeover)
How We Sold Our House in Less Than 24 Hours
Easy Turned Leg Coffee Table Tutorial
How To Transform Acrylic Paint Into Fabric Paint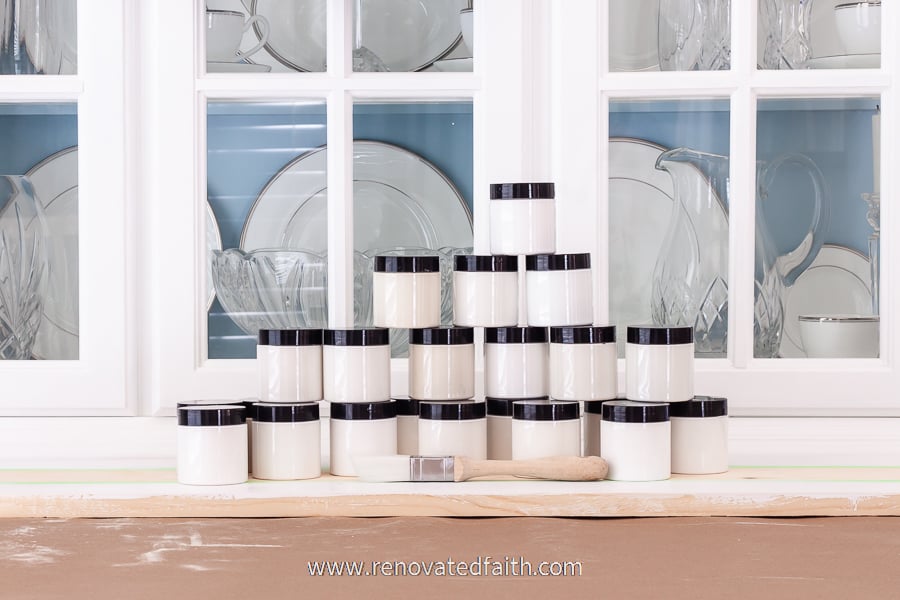 Final Thoughts on The Best Wood Furniture Paint
Don't forget to download my most popular printable of Best Furniture Painting Tips and Tricks! It's will not only help your furniture project to turn out beautifully but the tips will also save you lots of time in the process: Free Must-Have Tips for Painting Furniture
Choosing the right furniture paint is tough. Not only are there so many options to choose from but it's hard to know what particular product is best for your furniture piece and style. Not only do you want the best results but you want the finish to last a long time. In this post, I tested 24 of the best furniture paints side by side by comparing coverage, smoothness, water permeability, staining, scrubbability, and leveling. Now you can decide the best furniture paint for your budget and style while getting the look you want to achieve.
WANT TO SAVE THIS FOR LATER? CLICK BELOW TO SAVE THIS PIN TO YOUR FAVORITE PINTEREST BOARD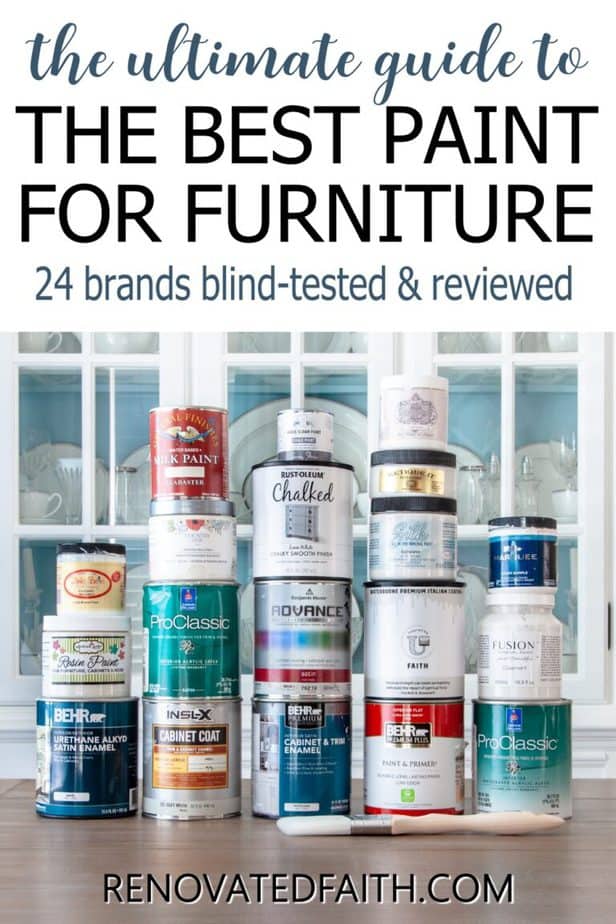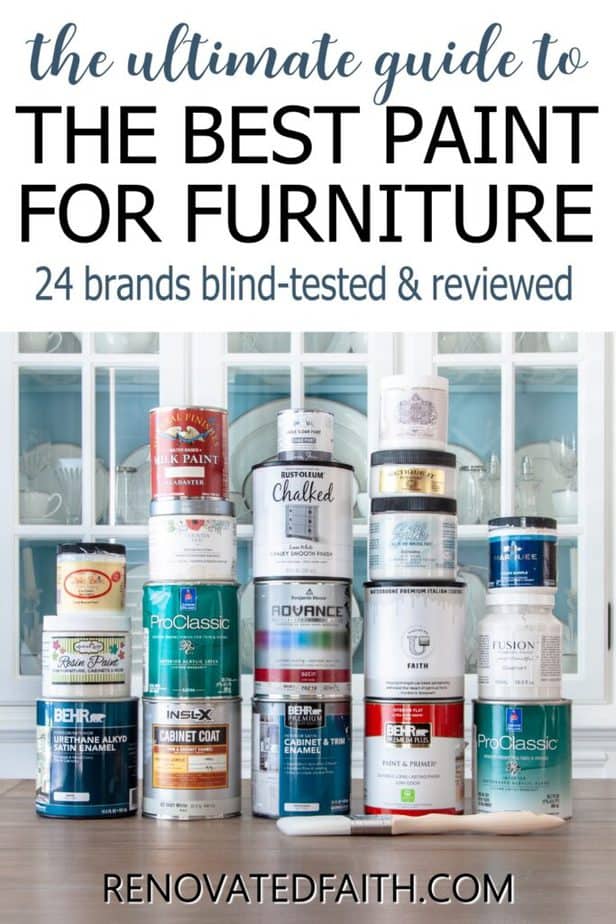 I love to hear your thoughts and questions! Scroll down to leave a comment and I WILL reply! ❤️
Blessings,

Be sure to follow the fun here!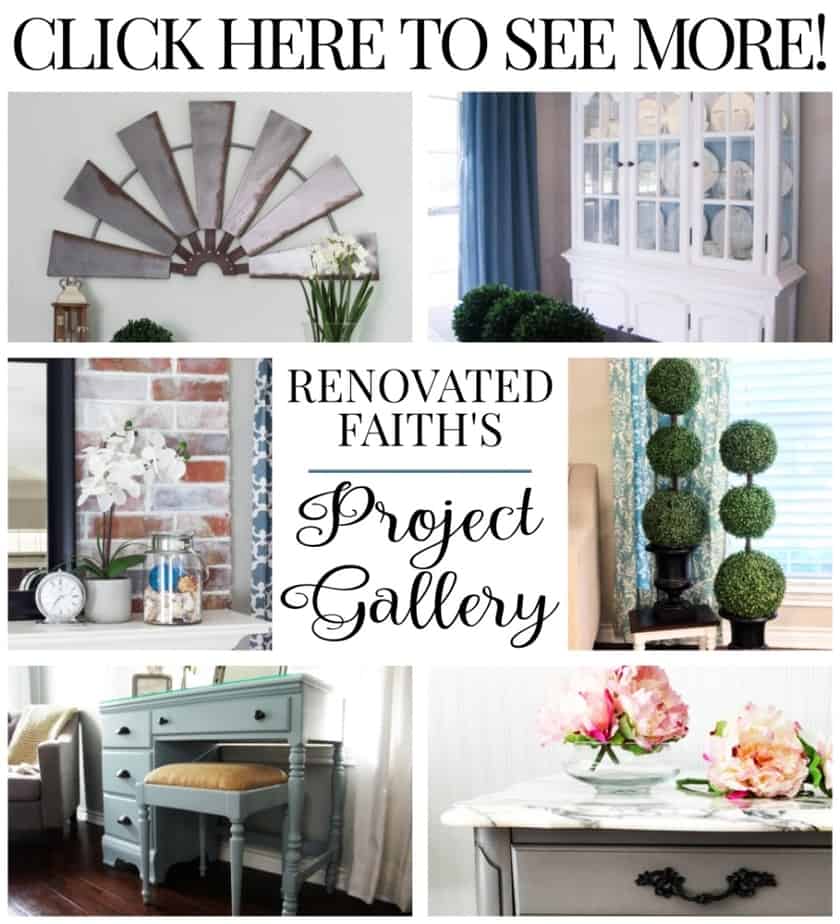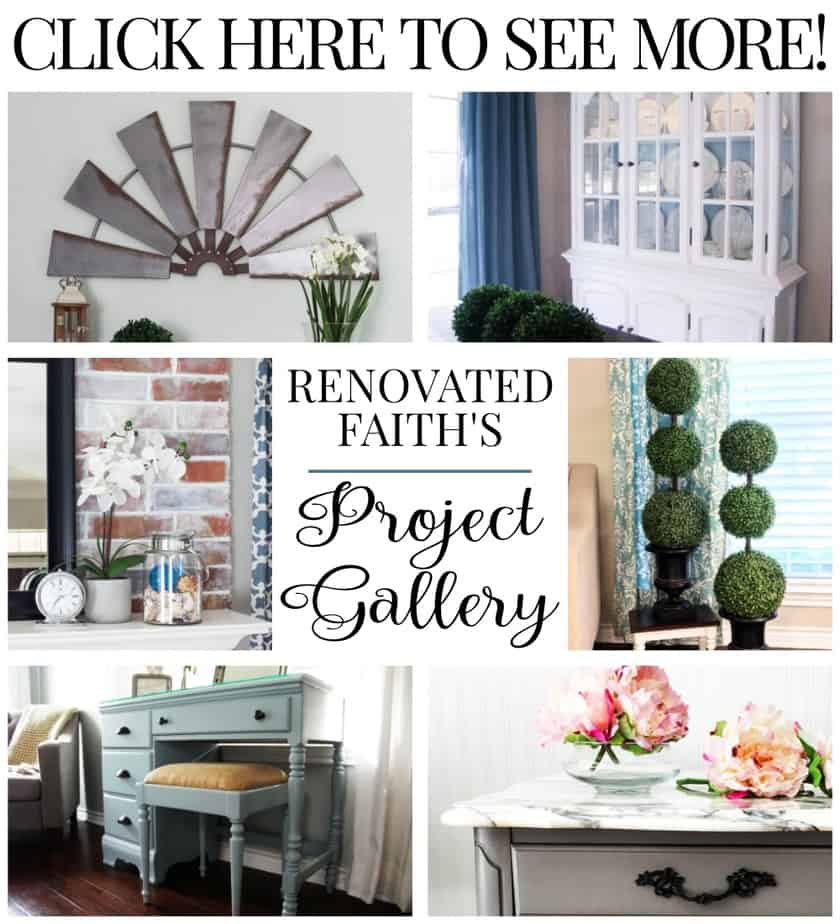 The Best Paint for Furnture, YouTube Video
Best Wood Furniture Paint
Welcome to Renovated Faith, where I share about DIY projects, my faith and everything in between! When I'm not spending time with my family, you will find me redoing furniture in the garage or watering plants in my greenhouse. This blog is about transformation. Anyone can renovate a house but only God can transform our hearts!