Best Tips for Painting with Dark Colors
Benjamin Moore Hale Navy is the perfect navy for walls, cabinets and even furniture. With this painted antique dresser makeover, I show you tips for painting with this amazing color that will save you time and money!
Hale Navy is becoming one of the most popular paint colors out there because it's a workhorse in terms of versatility.  For navy paint colors, it doesn't get any better than this!
LET ME SHOW YOU:
Why Benjamin Moore Hale Navy is so versatile for walls, cabinets and furniture
Color Comparisons to Benjamin Moore Hale Navy
Why it's the best navy paint for walls, cabinets and furniture
Tricks for painting furniture in dark paint colors
Tips to refinish an antique chest of drawers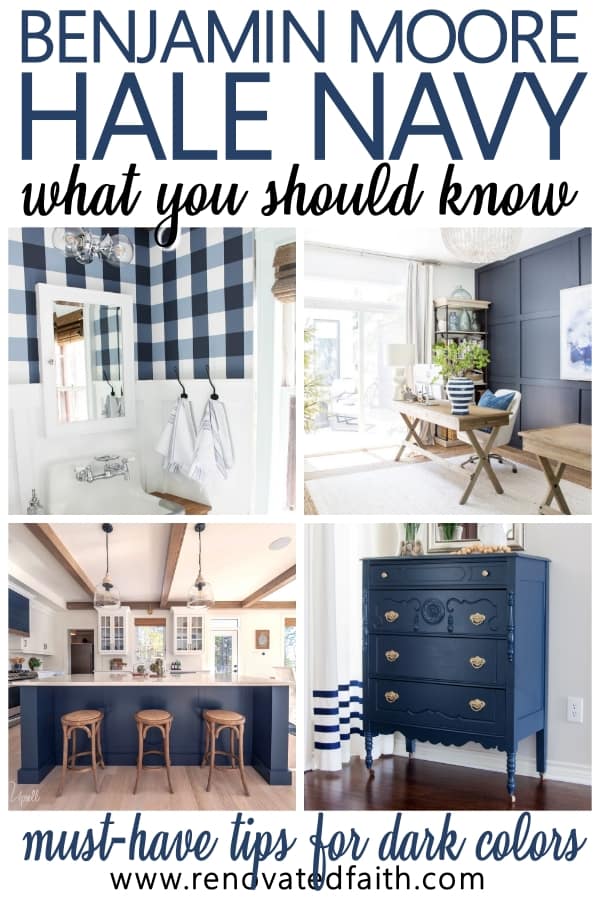 (As an Amazon affiliate I earn from qualifying purchases. Please see my full disclosure HERE).
There are seemingly infinite options for navy blue paint colors but how do you know which shade works best in your space?  It's important to pick a navy that is neutral so it coordinates with the other colors in your home.  Benjamin Moore Hale Navy is wonderful because it is so versatile for walls, cabinets and furniture.
Hale Navy is the most popular navy by far because of it's versatility and dependability.  It works well with any lighting situation which is uncommon is dark colors, especially navys.  
Benjamin Moore Hale Navy HC-154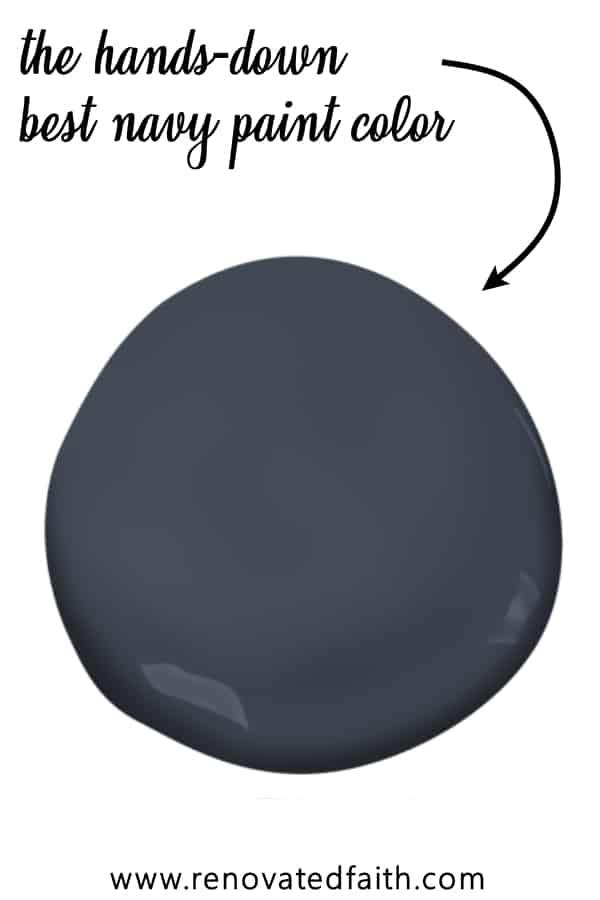 The Psychology of Color: Benjamin Moore Hale Navy
Deep colors are dramatic and rich creating depth in your room, filling it with creativity, energy and confidence.  The challenge with darker colors can be finding ones that work well with neutrals and whites.  Fortunately, Benjamin Moore's Hale Navy has gray undertones make it soothing and sophisticated.  This shade gives a striking but still understated pop of color to any aspect of your home.  It works very well to accent parts of a room, ceilings, furniture, cabinets or just a kitchen island.
Is Hale Navy Warm or Cool?
Benjamin Moore Hale Navy is a transitional color, meaning is has the perfect mix of cool and warm undertones.  It is amazing how well it works in so many color combinations and can be a great accent color on furniture, cabinets and walls but somehow it also looks great on home exteriors.
This perfect mix of warm and cool tones gives you lots of freedom when picking whites for trim work as you are not locked into a creamy white or a crisp,cool white.  Also, it plays nicely with wood, lighter stained floors, a gray roof or whitewashed bricks.
What Colors Go with Hale Navy?
In the same way dark jeans go with just about anything, so does Benjamin Moore Hale Navy!  I love that it is a sophisticated navy that has gray undertones making it inviting but not an in-your-face blue.  Benjamin Moore Hale Navy is a color that accentuates your decor but is not so loud that it doesn't coordinate well with the other furnishings of your home.  In other words, is is a definite navy but still plays nicely with others.
Hale Navy Coordinating Colors
White Dove
Cloudy White
Simply White
Revere Pewter
Gray Wisp
Fawn Brindle
Spring Meadow
Hale Navy and Revere Pewter
One of the most popular colors today is Benjamin Moore Revere Pewter.  Hale Navy and Revere Pewter look stunning together.  So many love the versatility of Revere Pewter on walls so you can be sure that Hale Navy is the perfect navy accent!
To be sure, feel free to paint a piece of poster board in Benjamin Moore Hale Navy.  Let it dry and then live with it in the the same space for a while, seeing how light interacts with the color during the day!
Navy is a classic and elegant choice, but improper application can bring out any flaws and imperfections and making the finish look messy.
For walls, furniture and cabinets, be sure to use a dark primer.  If you are painting with a white primer you will need at least one or two extra coats of paint.  Using a gray primer will save you from the extra cost and effort!
Hale Navy is a very dark color so although it interacts well with different lighting situations, consider using it on an accent wall instead of a whole room if you are concerned that it may make the room too dark.
Dark colors can be unforgiving because they are the hardest to get a smooth finish on.  Actually, any defects in the finish just show up more.  For that reason, use the roller I recommend below on cabinets and furniture in my painted antique dresser tutorial and video.  It will ensure a smooth finish every single time!
You can see more tips for painting furniture in dark colors in this post: How to Paint Furniture Black
Below are some real-life examples of Hale Navy in action!  Like I said, I love the versatility of this color as so few colors can be used on walls, exteriors, cabinets AND furniture.
Benjamin Moore Hale Navy on an Accent Wall
Sarah at Life on Virginia Street has done an amazing job pairing this Benjamin Moore Hale Navy accent wall with Simply White in her summer home.   Few dark colors can still accomplish "light and airy" like this one can and I like how the it's depth grounds the space.    You can see more of this gorgeous room in Sarah's post here: The Best Navy Blue Paint Colors.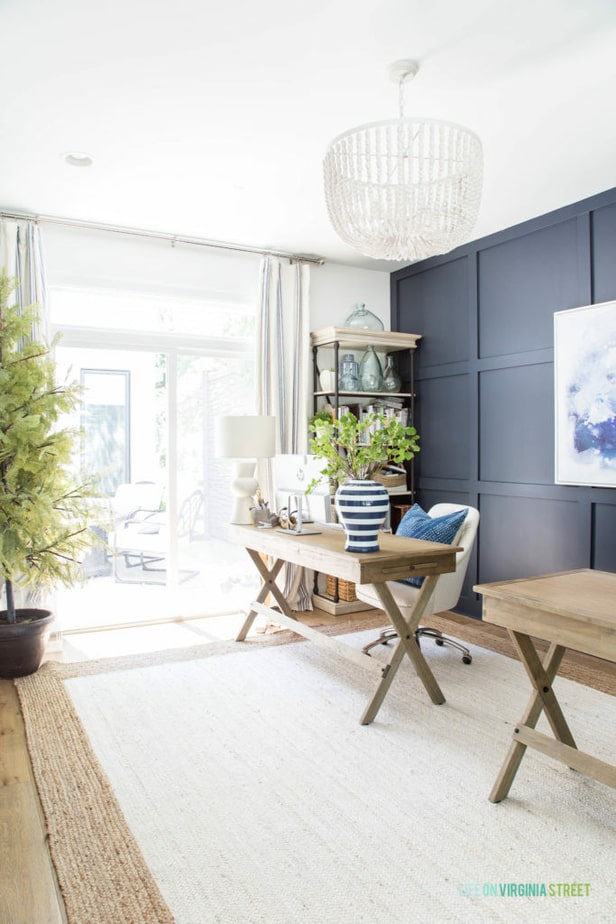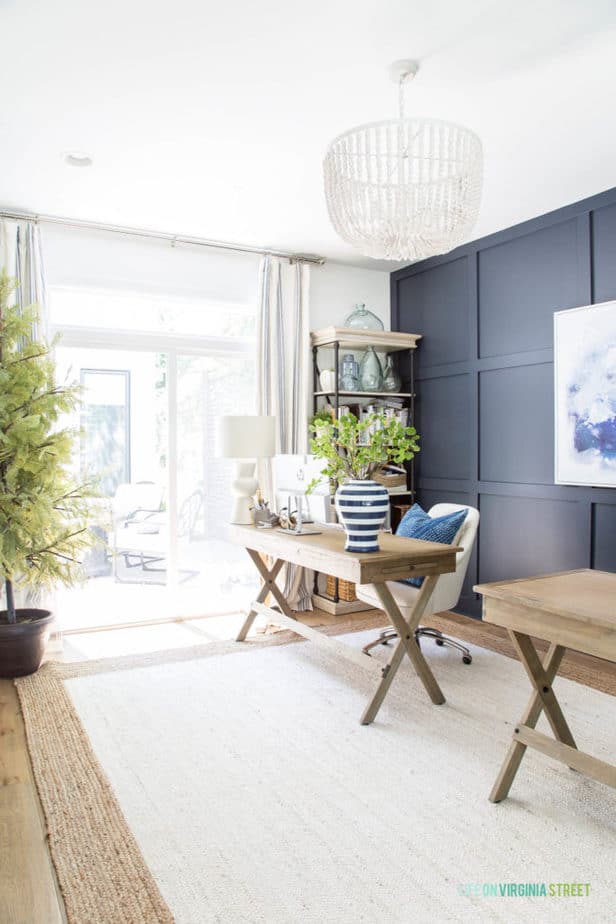 Benjamin Moore Hale Navy Bathroom
I couldn't write a post about Hale Navy without including this adorable buffalo print bathroom by Jamie Costiglio!  Isn't it gorgeous?!?  I love that the pattern shows how well Benjamin Moore Hale Navy coordinates with Decorator's White.  You can see exactly how Jaime did the pattern here: Buffalo Check Painted Walls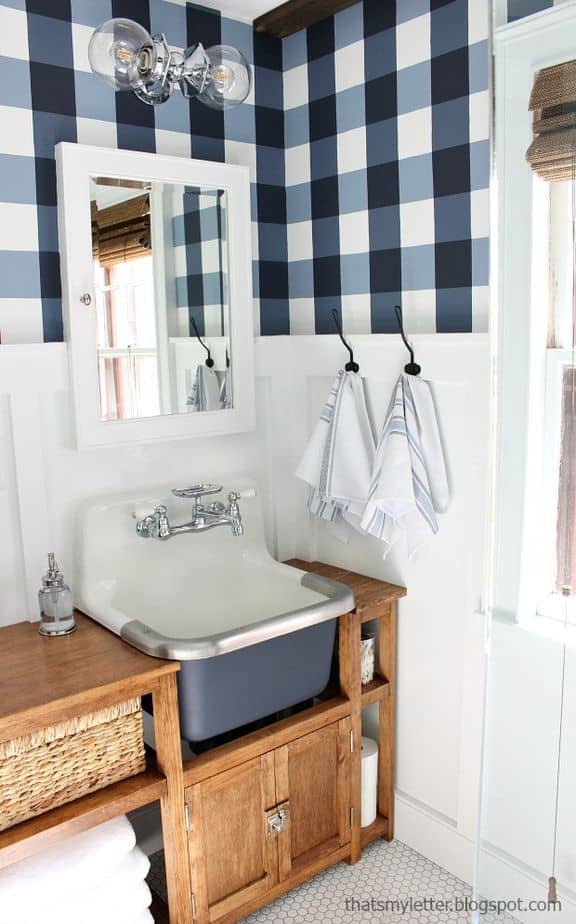 Benjamin Moore Hale Navy Cabinets
Hale Navy has made many appearances in kitchens but I especially like the accent of this hale navy island done by Staged for Upsell.  The bar stools show how well this color coordinates with natural wood tones.  Check out the Benjamin Moore Hale Navy painted hood top, also.  You can see more of this fabulous home here: 2019 QEII Lottery Dream Home.
Benjamin Moore Hale Navy Cabinets are a gorgeous way to add color to a kitchen while still having a neutral feel from the gray undertones in BM Hale Navy.  For cabinets, this is the go-to navy paint color!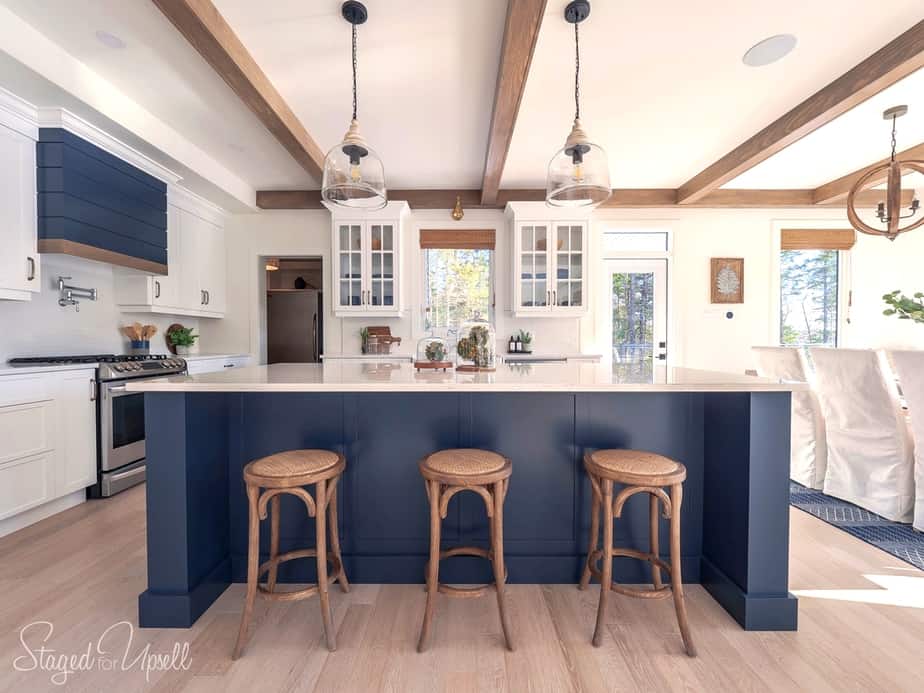 Navy Side Table Makeover On A Budget
My mother-in-law wanted me to redo these two end tables for her that were once Jeremy's grandma's.  I was so excited about the idea she had to leave the drawers stained and paint the rest navy.  Of course, I used Benjamin Moore Hale Navy on the dressers and this post showed you how I fixed the faded stain of the drawers:  How to Fix Damaged Wood Furniture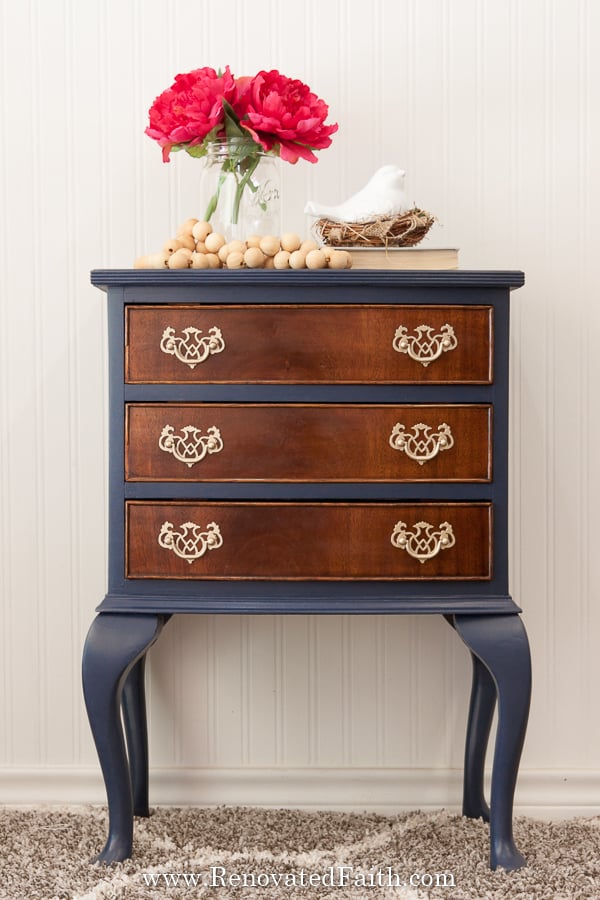 Latex Paint
– I used a quart for this project and had plenty left over.  I actually used the Sherwin Williams equivalent to Benjamin Moore Hale Navy because I like Sherwin Williams
ProClassic
(their hybrid acrylic alkyd) and Emerald paints. 
(Read why here.)
Because the ProClassic doesn't come in a dark base, I used the
Emerald Urethane Trim Enamel
and it worked great!  (
My Free Must-Have Painting Tips for a super smooth finish are available in my resource library – get the password using the form at the bottom of this post!
)
Primer – For this project, use Zinsser Cover Stain.  Sometimes you can find it in gray which is great because it saves a lot of time when painting with dark colors!
Spray Primer (Shortcut for Spindle Legs) –
This is completely optional but I like to use
this gray spray paint primer
on any pieces with milled legs because it saves me a lot of line and I don't have any drips.
Fabric for Drawer Liners (Optional)
– If you want learn how to make paper-like fabric drawer liners from any kind of fabric, check out this post here: 
How to Make Drawer Liners From Fabric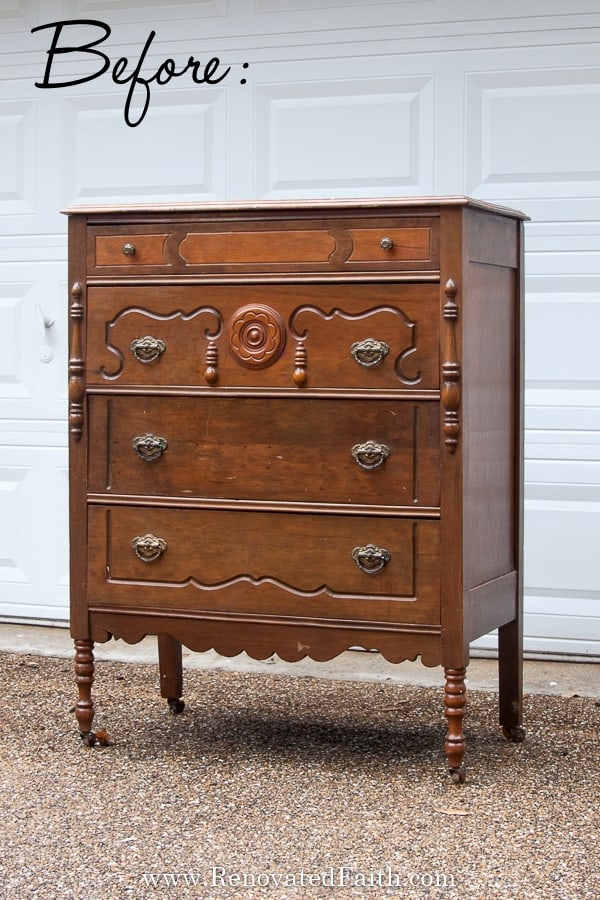 This is not just any piece of furniture but it actually belonged to my grandmother, Cornelia Moseley.  She used this dresser every single morning as she put her makeup on.  Her mirror was on the top and she put all of her makeup in the top drawer.  My grandma was a seamstress which is why I painted a lace detail on the edge of each drawer with stencils to help remember her.  (You can see how I painted the stencils in next week's post. Subscribe here to have it sent to your email inbox.)
Here is a full step-by-step video showing you to how to paint furniture in this gorgeous navy from start to finish.  You can also use the same process for painting cabinets in Benjamin Moore Hale Navy:
Step 1: Prep Your Antique Dresser by Sanding First
Stop! Before you do anything…take a before pic.  When you are done, post the before and after pics here, so I can see the amazing work you've done! ❤️
After you remove your hardware, be sure to put it in a baggie for safe keeping.  Those screws have a tendency to roll away at the worst possible time!
If your furniture has any damaged, be sure to check out this post to fix any scratches, holes or chipped drawers easily: The Ultimate Guide on How to Fix Damaged Wood Furniture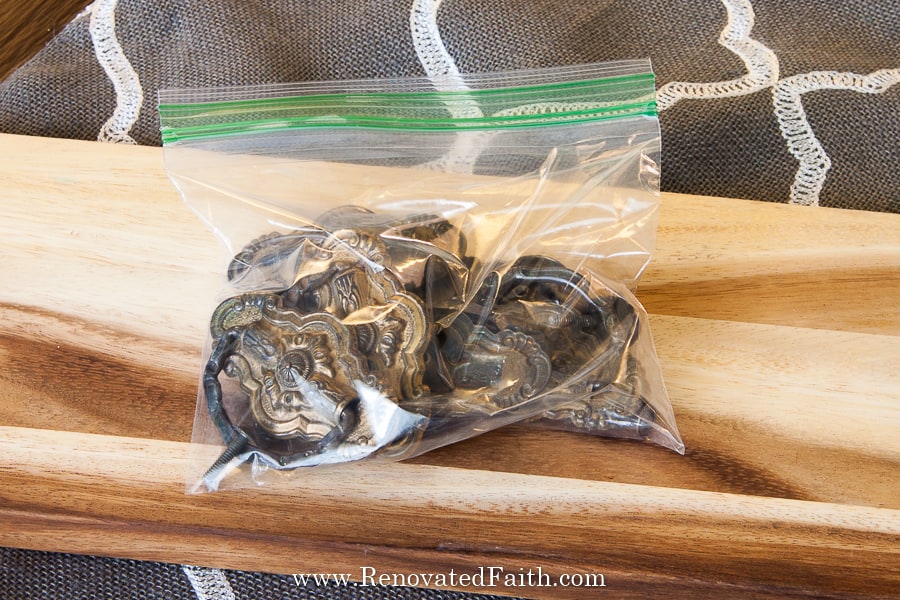 Run an electric sander over your piece just enough to rough up the surface.  Remember, you are not sanding off the old stain or paint, you are just making the surface more porous so the new primer and paint stick.
As I mentioned in my post How to Sand Furniture, you shouldn't spend more than about 5 minutes sanding a furniture piece.  I say that because I don't want you to waste a lot of time and elbow grease because the primer will do most of the work for us.
WHAT SANDER SHOULD YOU BUY?  If you are unsure of the best sander for furniture projects, you can find an easy-to-use sander for less than $20, here: Best Sanders for Furniture, 2020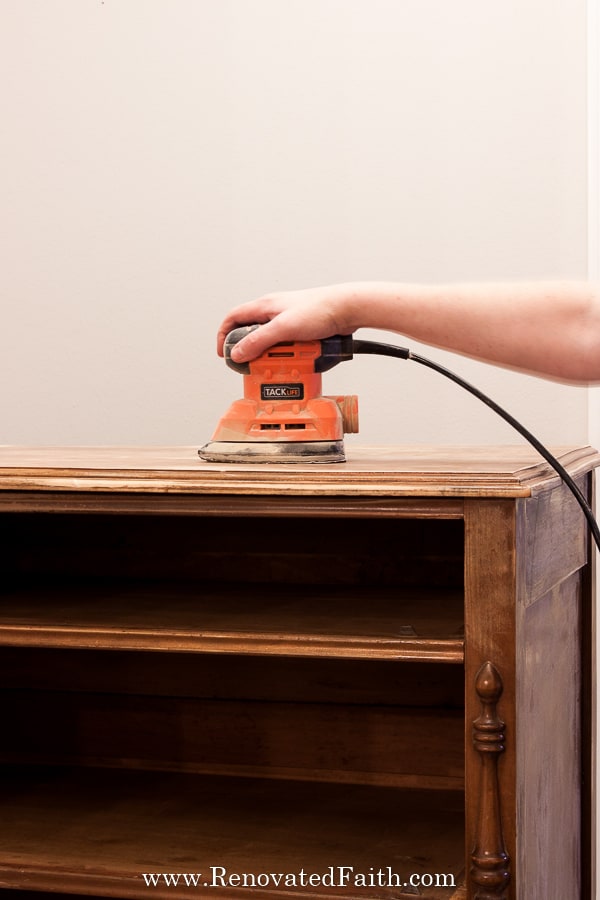 Step 2: Wipe Down Your Furniture Piece Before Priming
After you have sanded your piece, wipe it down with a damp rag or baby wipes to remove any sanding dust.   This will ensure that the dust does not end up in the final finish of our beautifully painted antique dresser!  I forgot to mention this in the video above, but wipe from the top down to minimize dust in the finish.
Step 3:  The Easy Way to Prime a French Antique Chest of Drawers
As I write in my post A Better Alternative to Chalk Paint, I have had great success with using a primer and latex paint on furniture as opposed to chalk paint.  You can check out that post to see why it saves you time, money and you will get a smoother and more durable finish!
I'm a little lazy when it comes to furniture painting and if there is a short-cut that still gives me the same beautiful finish, I'm going to take that shortcut every single day of the week and twice on Sundays!
Antique dressers from the early 1900's often have legs with spindles. For any pieces that have spindle-y legs, I like to spray just the legs with a spray paint primer (see the current price here).   (You can see how I do this in the video above.)
"But Karin, why are you adding a whole other step to this furniture piece?" If you have ever painted curvy furniture legs, you know what a complete pain it can be!
For one thing, you can't save time by using a roller, which means they take several coats with a brush.  Also, they are very prone to drips and drips on those gorgeous milled legs will stand out like a sore thumb.
So, for milled legs, I spray paint those babies because it saves me a lot of time than brushing on primer and the legs turn out better in the long run!  You can read more tips for painting furniture legs here: The Easy Way to Paint Furniture Legs.
I like to use Rustoleum's spray paints and any of their primer's will work.  As you can see in the video, I just spray on a light coat, wait about 15 minutes and spray on another light coat.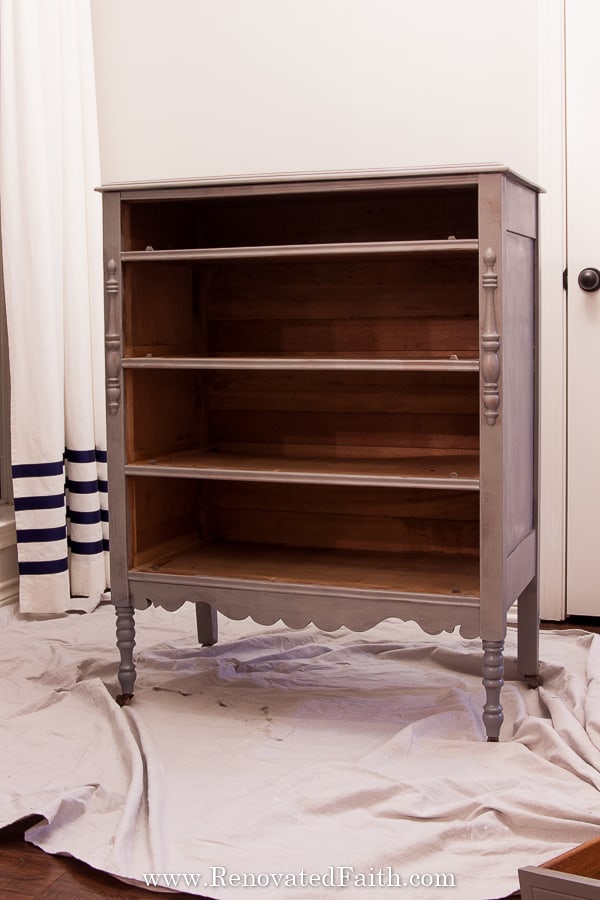 Why Use a Gray Primer on Furniture with Dark Paint?
You'll notice that the spray primer for the legs is gray and so is the Zinsser 123 primer for the rest of the piece. (Zinsser comes in a gray primer here or you can have it tinted at your local home improvement store).    Going from a gray primer to navy paint in this case, is not a big jump in color.  But going from a white primer to a dark paint color would take more coats of paint which means more effort and time on your part.
Because of this, I keep Zinsser Bullseye's 123 primer in white AND in gray on hand at all times!
I like to apply most of my primer and paint with a roller.  I highly recommend this roller(see the current price here) because it gives you an  incredibly smooth finish every time!
Roll on a thick coat of primer and paint any detailed areas with your brush.  Your primer should only take a couple hours to dry before it is time to paint.
Step 4: Paint with the First Coat of Benjamin Moore Hale Navy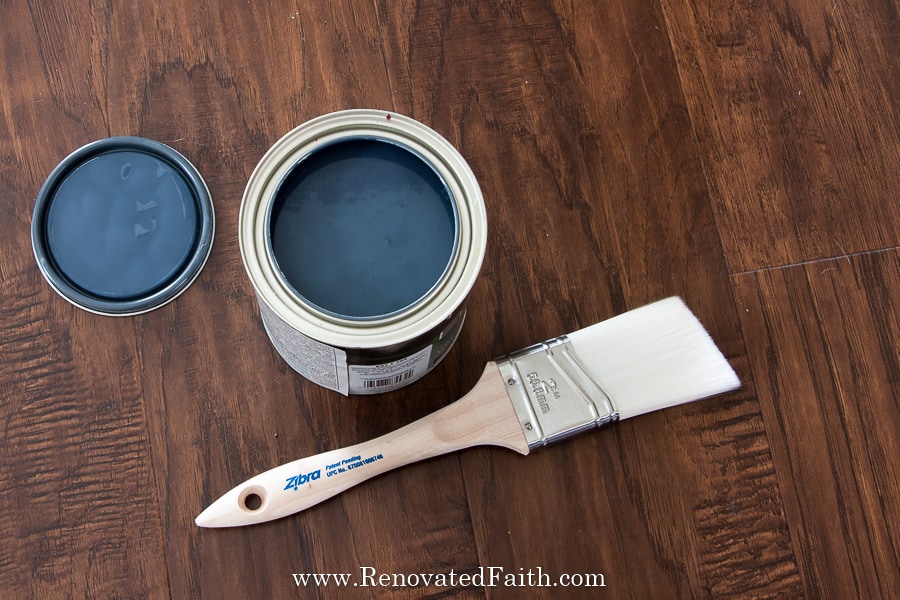 Now that you your primer is dry, it's time for your first coat of Benjamin Moore Hale Navy.  I like to use my roller on most of the surface and then my 1" Zibra brush (see the current price here) for any corners or details.  (For the rest of my time-saving furniture painting tips, fill out the form at the end of this post for your free checklist!)
Notice from the video that your first coat will be very transparent.  That's ok – it will even out with the second coat!  Just get the paint on and smooth it out with the roller.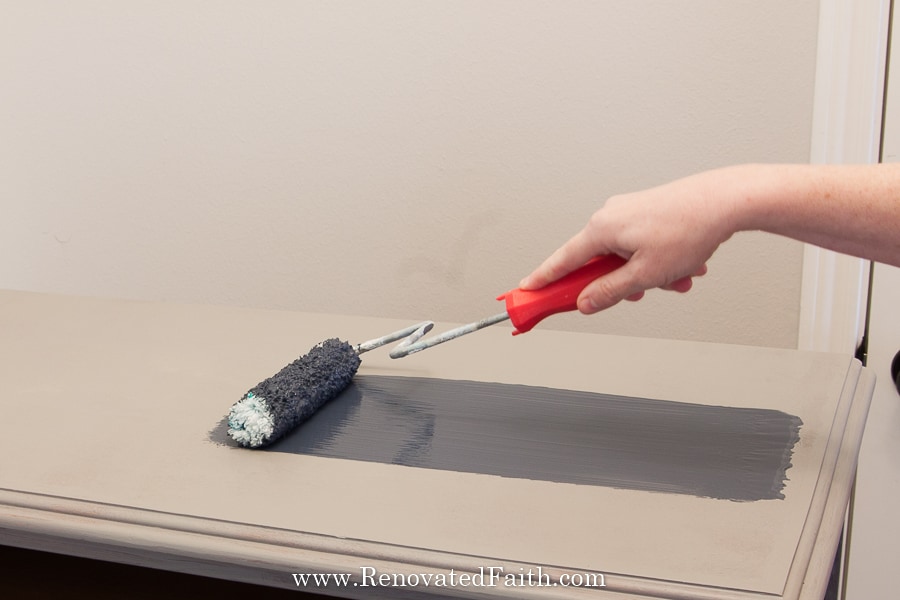 Give the first coat at least 4 hours to dry.
TIP: Hale Navy Sherwin Williams Equivalent – Because I like Sherwin Williams ProClassic for furniture (read why here), I decided to use the hale navy equivalent.  You simply go to the Sherwin Williams counter and ask for the color of Benjamin Moore Hale Navy.  They already have the exact code in their computer system.  Since this color requires a dark base and ProClassic doesn't have a dark base, I actually used their Emerald Urethane Trim paint and I was very impressed!  If you want a cheaper option for paint, you can get the Benjamin Moore Hale Navy Behr Equivalent at Home Depot!  I like Behr's Marquee brand!
Step 5: Spray Paint Your Dresser Hardware
While the first coat is drying, I like to take this time to spray paint my hardware outside in the garage.  It was a rainy day when I did this so I left the garage door open to get good ventilation.  As you can see in the video, I sprayed a light coat and then I came back about 15 minutes later for another light coat of Rustoleum Universal's Pure Gold (see the current price here).  I love this color because it is almost a champagne gold and goes really well with Benjamin Moore Hale Navy.
My Best Tips for Spray Painting 
For my favorite tips and tricks on getting  a flawless finish every time with spray paint, click here for your free checklist:  Best Tips & Tricks for Spray Painting Anything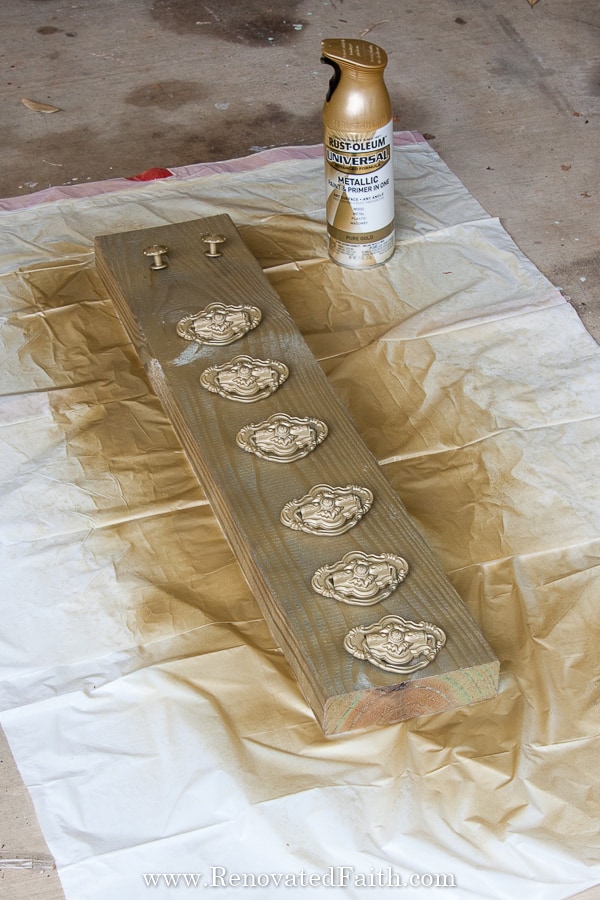 Step 6: Coat 2 of Benjamin Moore Hale Navy Paint
How that the first coat is dry, paint on a second coat of Benjamin Moore Hale Navy.  You might need a third coat depending on how well it is covering.  Extra coats is just 'par for the course' when painting with deep paint colors but we saved at least two paint coats by using a dark primer!  Keep rolling the roller over the paint to get a nice smooth finish.  It will do most of the work for you.  Any remaining roller marks you see in the paint finish will settle out while the paint is drying.
(For more furniture-painting tips, fill out the form at the end of this post for your free time-saving checklist).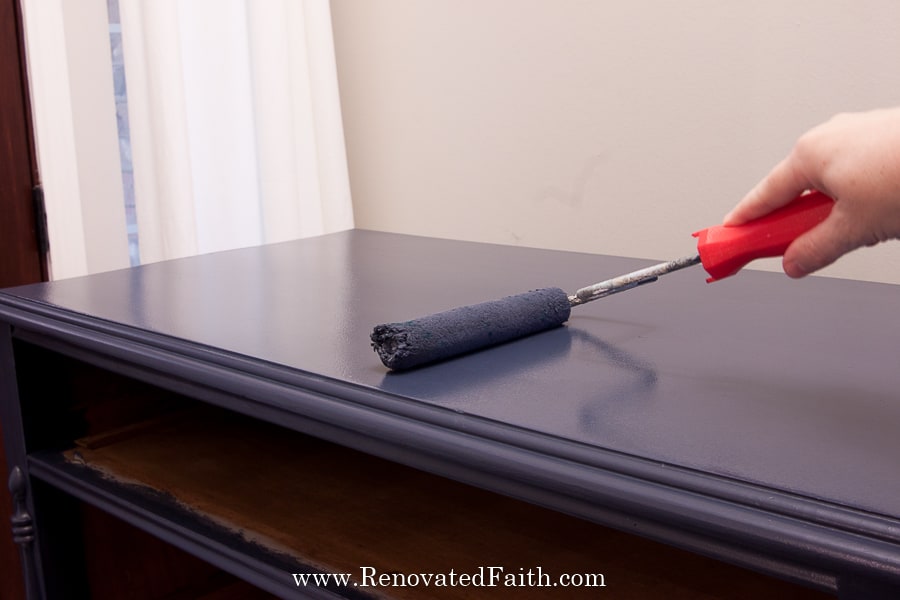 Step 7: Clear Coat and Add Hardware to Your Benjamin Moore Hale Navy Dresser
As an optional last step, you can apply a clear coat to help protect your furniture piece.  This is especially helpful with dark furniture pieces because it will protect the furniture from smudges from the paint reacting to the oils on your hands.  Also, black and navy furniture pieces show dust easily so a clear coat will protect it from whatever you use to dust your furniture.
I've got your back when it comes to the best clear coat for furniture.  After much deliberation and experiementing, Varathane's Waterbased Clear Coat in Satin (see the current price here) came out on top!
If you decide to add a clear coat, use a foam brush (like these).  They are super cheap and can be thrown away when you are done.  Brush on the clear coat in long strokes as you can see in the video here.  Let the piece dry overnight before adding the hardware and using it.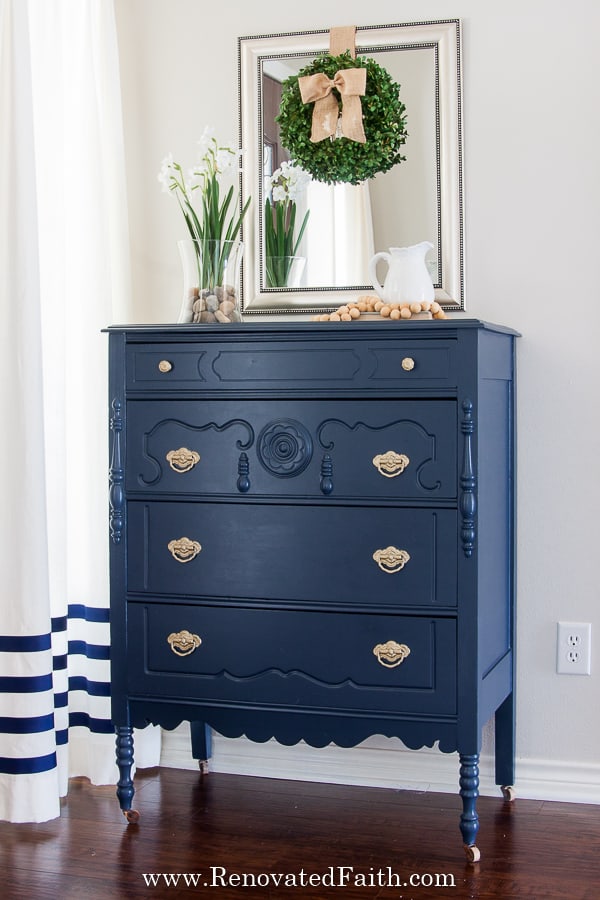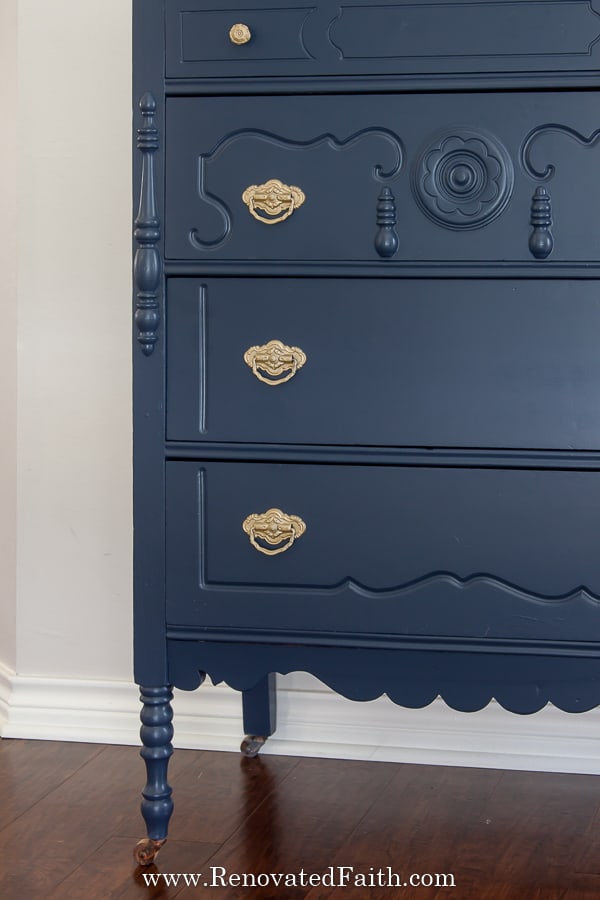 My grandmother was a seamstress and had lots of intricate lace that she loved to add to dresses.  I stenciled lace on the outside of the drawrs to help me remember her!  Check out next week's post to see the FULL tutorial on how to stencil on wood without bleed-through.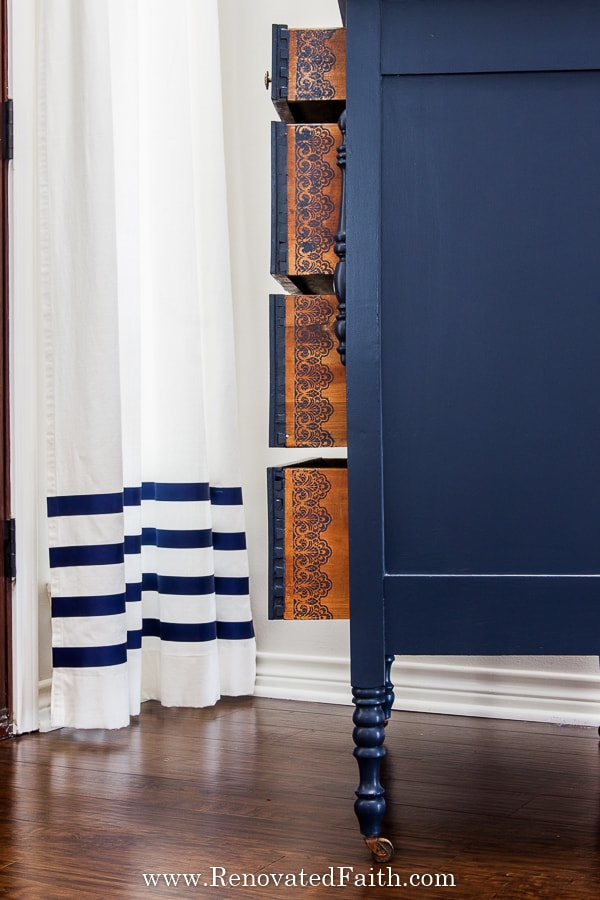 RENOVATE YOUR FAITH: How to Cultivate Space
This dresser is my first project of 2020 and what a beautiful piece to start the New Year with.  As I mentioned, this now navy chest of drawers was my grandmother's – a woman who loved the Lord with all her heart and knew how to rest in Him.  God has taught me a lot lately about how I need to create rhythms in my life to breath and seek Him.
I'm often guilty of pushing myself too hard, taking on too much and generally being my own worst crtitic. But this year, I'm finally listening to that still small voice – the same whisper that breaths more truth into my soul in a second than I could on my own in a whole lifetime.
These days, that voice is telling me to breath and to create margins in my life to focus on Him.  One of my favorite hobbies is raising African violets.  Once I remember reading that the roots need air as much as they need water.
When the soil gets too compacted, there's not enough room for oxygen to get to the roots. This is why farmers till the soil from year to year to break up fallow ground in exchange for soil that allows the roots air to breath and room to grow.
For the same reason, my focus for this year is on "cultivation".  I am giving myself space to breath, grow and become more fully myself in Christ.  I've learned the hard way, that when I don't give myself space to rest, my life gets overcrowded with anxious thoughts, worries and distractions that are dangerous to my own well-being and is detrimental to how God wants to bless others through me.
Instead, I am making room to cultivate space in my life for my soul to breath.  I'm allowing myself more time to focus on the essentials, taking more time to rest and creating things I love.  Every morning I have a time of stretching where I listen to Christian music, deep breath and pray about the day ahead.  Then every afternoon, I tear myself away from blogging for my daily Bible study and then have a long walk with my dog Jake afterwards.
In a world of hustle, I'm learning to walk slower, smile more at my daughter and breath deeper in the face of stress.
This new room to breath has given me mental space to hear His whispers.  I love that He chooses to speak to us in a whisper because He is far too close to us to yell.
In the times when we feel all alone, He is sitting right by us, holding our heart and beckoning us to give our burdens to Him.
When you feel that life is going too fast, and your mind feels overcrowded, don't forget to breath and to know that the very Person who filled your lungs with air is closer to you than a whisper.
What are ways you are learning to cultivate space in your day to reset and breath? I'd love to hear your thoughts in the comments below!  To read more about resting in Him, click here.
For more spiritual encouragement, click here for the rest of my Renovate Your Faith Posts.

Free Must-Have Painting Tips for Furniture: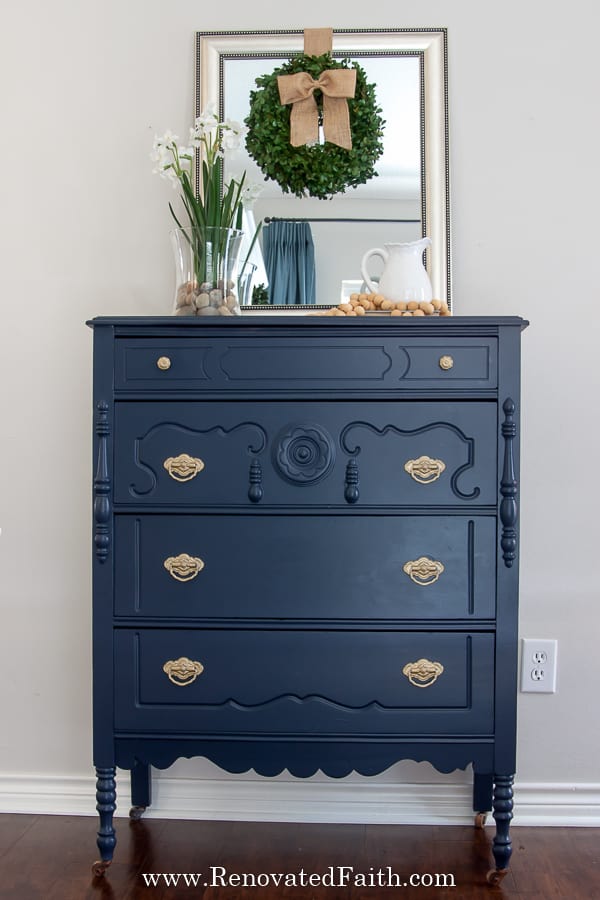 To learn how to add fabric drawer liners that are paper-like, scented and stain resistant, click here: The Easy Way to Make Drawer Liners from Fabric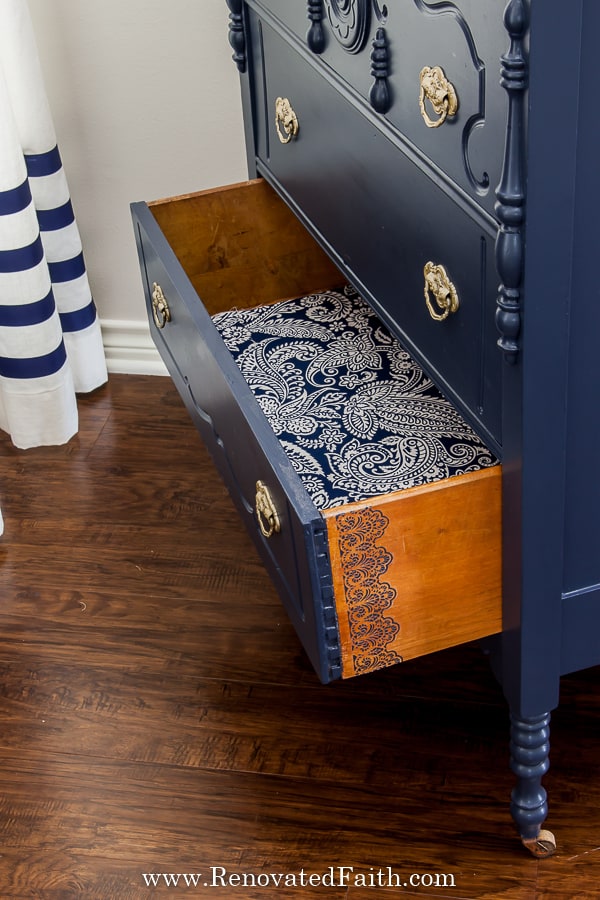 Also, I figured out how to paint with detailed stencils without paint bleed.  To see more of the drawers and how to stencil perfecly every time, click here: The Best Way to Stencil (Without Bleeding!)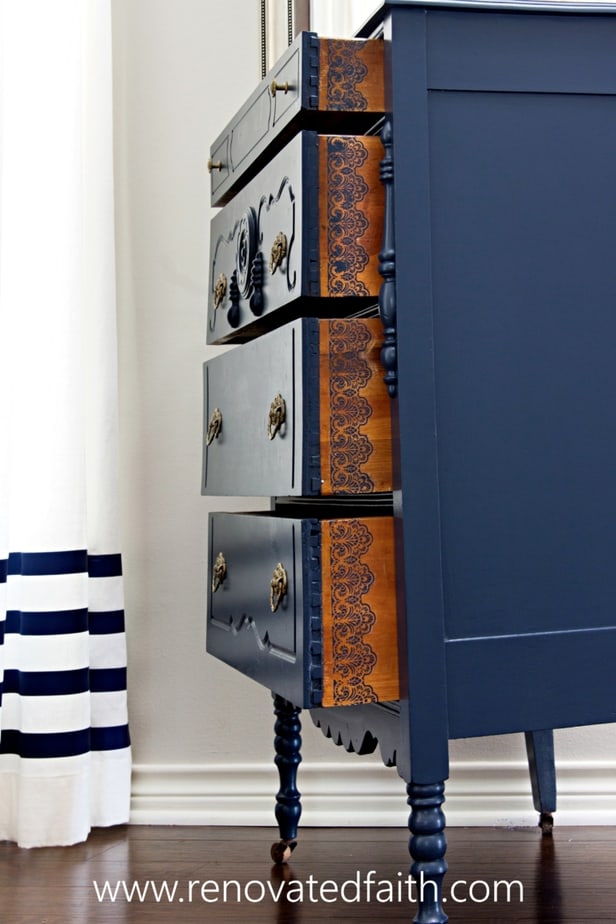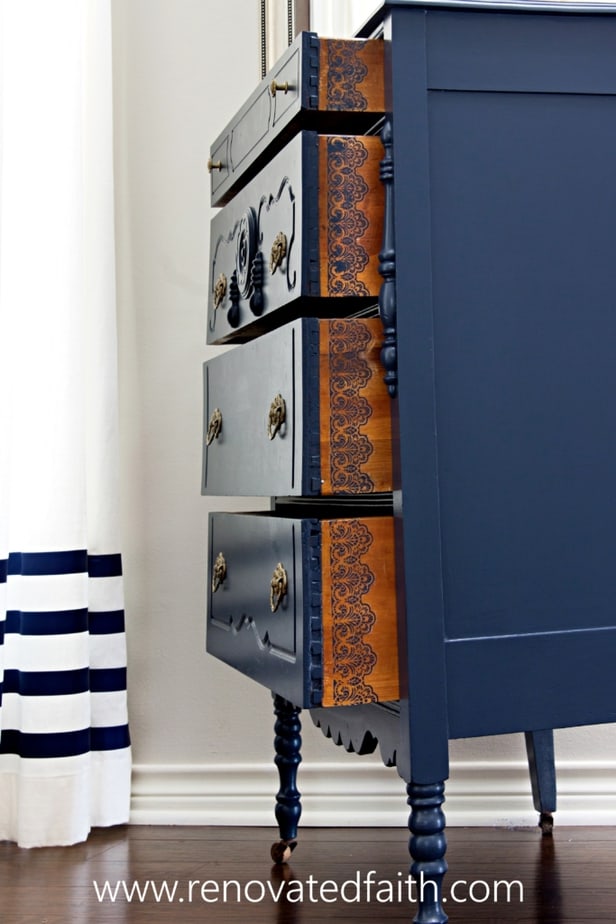 Must-Have Painting Tips for Furniture
How to Paint Furniture White (The Right Way)
A Beginner's Guide to Furniture Painting
Tips for Painting Curved Furniture Legs
Why I Don't Use Chalk Paint on Furniture
The Ultimate Guide to Spray Paint Mason Jars Any Color
The Best Light & Airy Paint Color – Sherwin Williams Agreeable Gray
Hale Navy is so versatile for walls, kitchen cabinets and furniture but painting with dark colors can be tricky!  Now you know some furniture painting hacks to make painting dark furniture much easier.  Whether for a bedroom accent wall or a painted antique dresser from the 1900's, you can't go wrong with Benjamin Moore Hale Navy!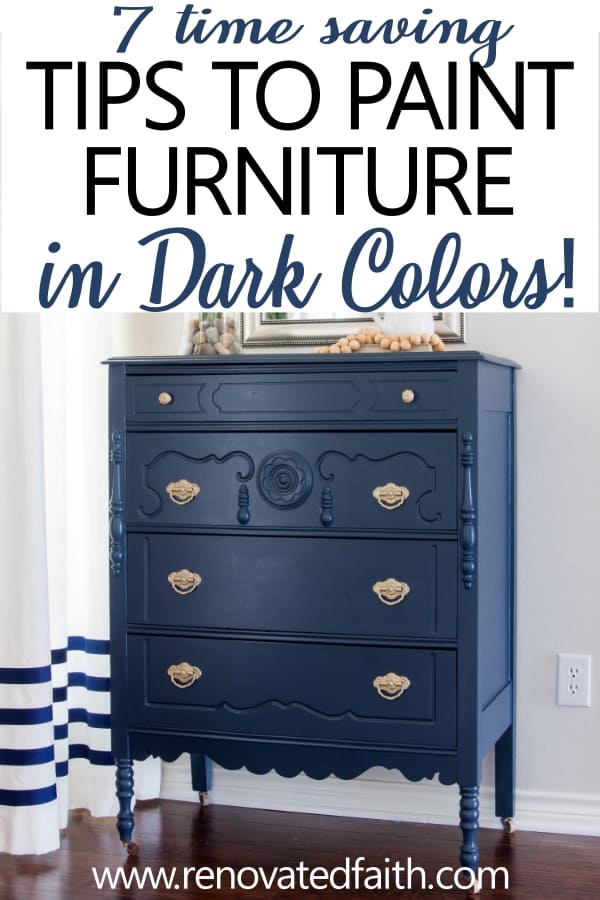 I love to hear your thoughts and questions!  Scroll down to leave a comment and I WILL reply! ❤️
Blessings,

Be sure to follow the fun here!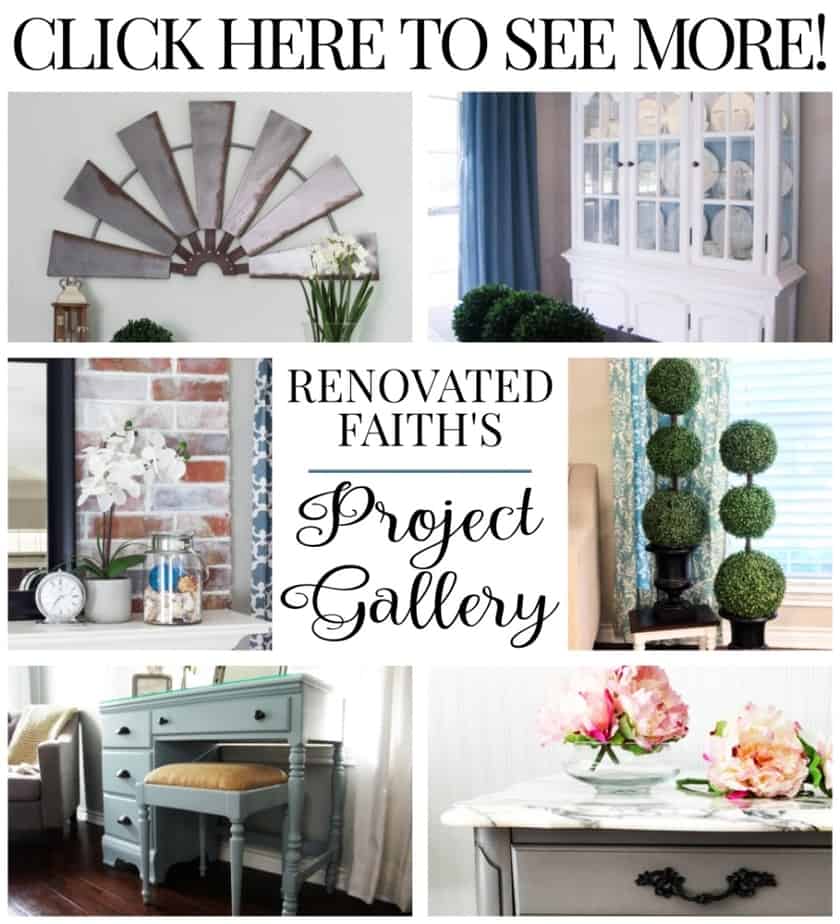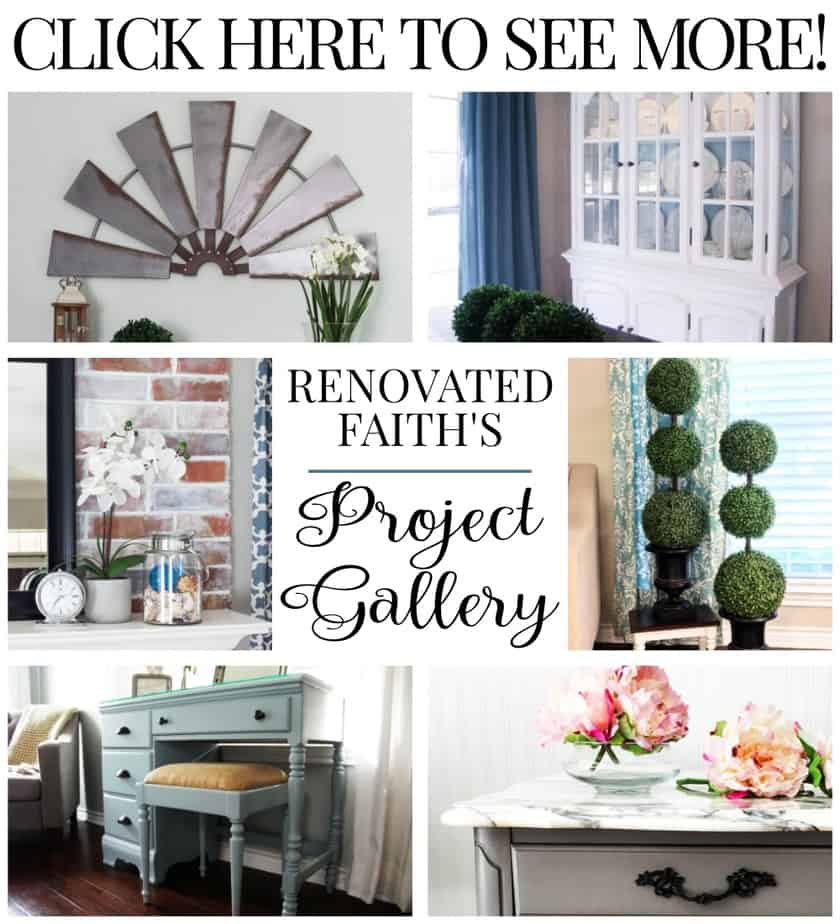 Benjamin Moore Hale Navy, YouTube Video

Welcome to Renovated Faith, where I share about DIY projects, my faith and everything in between! When I'm not spending time with my family, you will find me redoing furniture in the garage or watering plants in my greenhouse. This blog is about transformation. Anyone can renovate a house but only God can transform our hearts!