The Best White Paint for Kitchen Cabinets (Sherwin Williams Color Guide)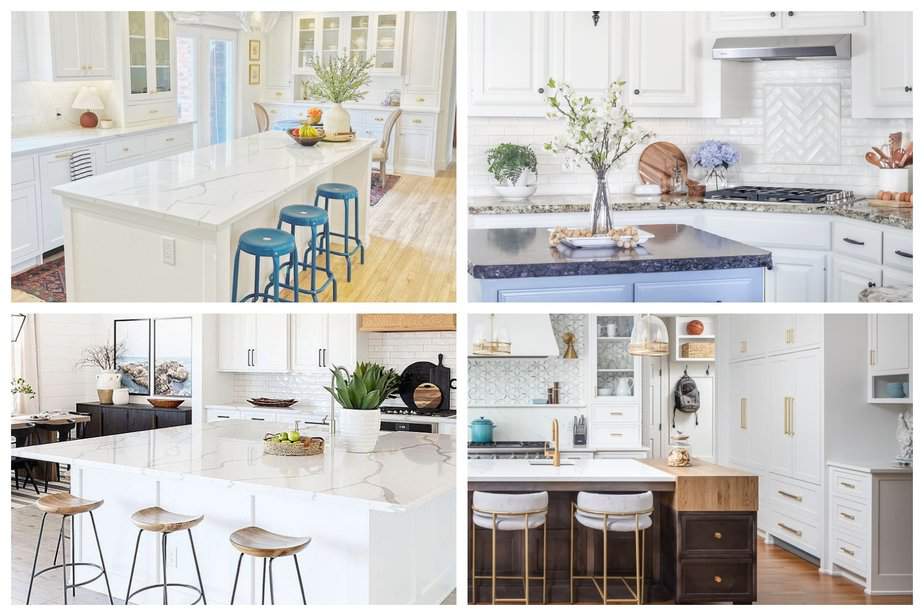 A Guide showing How The Best White Paint Colors Look in Real Life Kitchens
Don't get overwhelmed with too many white paint samples! I'll help you find the best white paint for kitchen cabinets from Sherwin Williams!
---
Deciding on a white cabinet paint always reminds me of that one scene in the office:
Jan: So this is the master bedroom, and these walls used to like white, like an asylum. So I wanted it to be softer, So I had it painted in eggshell white.
Michael: Guess what, white and eggshell white are exactly the same color!
There are literally THOUSANDS of shades of white and after a while, they all start to blend together. But, I'm here to help!
This guide will not only make sure your kitchen doesn't look like an asylum, but it will help you find the perfect white to complement your home's style and make all your accessories pop! (And don't forget to download this printable to get you started painting your cabinets the right way: FREE Cabinet Painting Roadmap)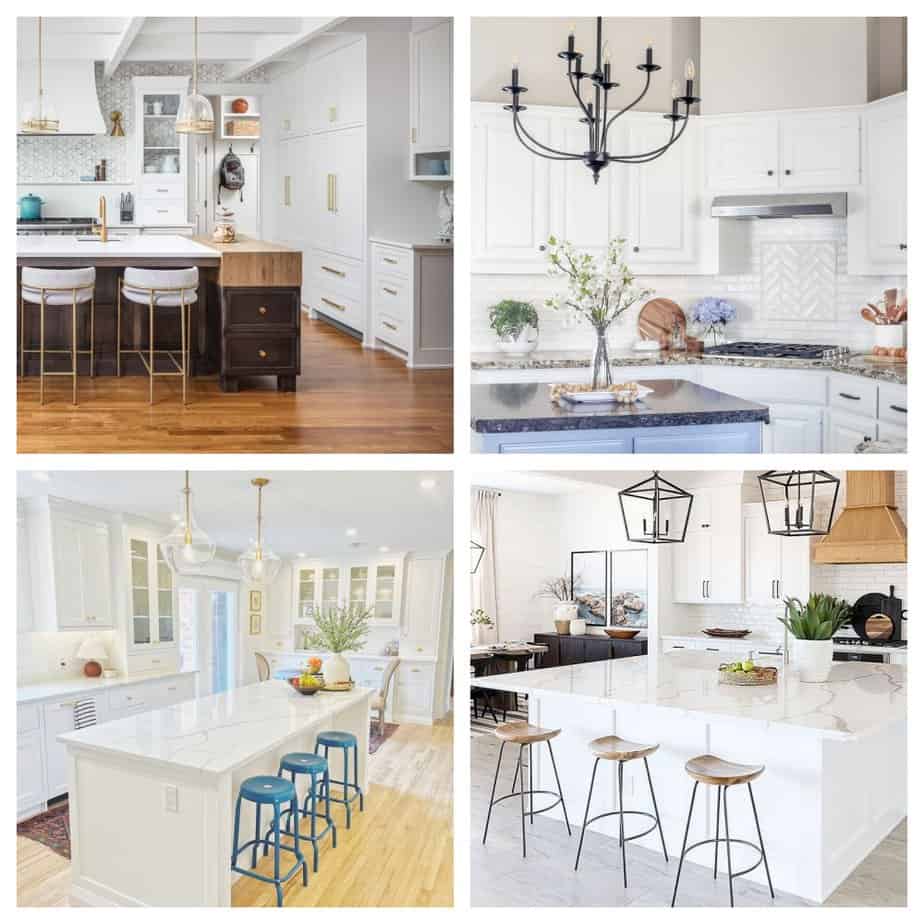 LET ME SHOW YOU:
The most reliable white and off-white paint colors for kitchen cabinets
How to find the right shade of white kitchen cabinet paint for your style and decor
Why popular white paint colors don't always come in the best brand of paint- and how to fix that!
WANT TO SAVE THIS PIN ON THE MOST POPULAR WHITE PAINT COLORS FOR CABINETS? CLICK HERE TO SAVE IT TO YOUR FAVORITE PINTEREST BOARD: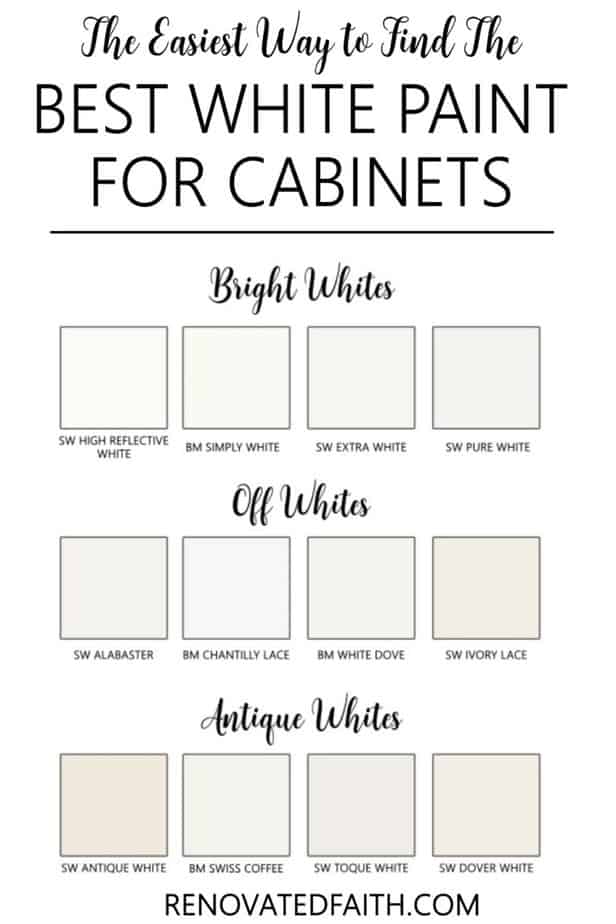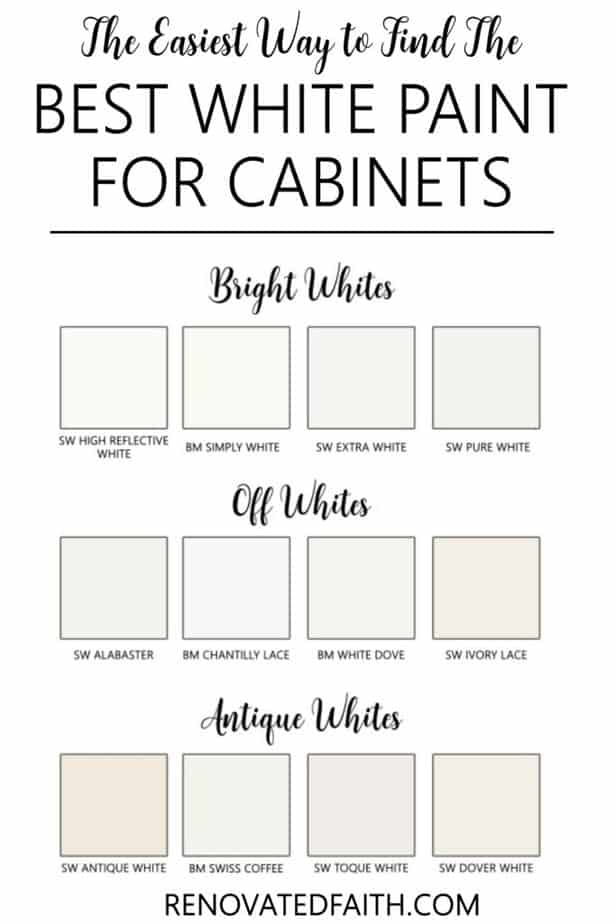 What is the Most Popular Color for Kitchen Cabinets?
You will never find a more popular color for kitchen cabinets than white. A fresh coat of paint in the right shade of white will give you the airy look of your dreams. Nothing can quite press "reset" on a kitchen than a new coat of white paint on kitchen cabinets: See my Kitchen Cabinet Makeover HERE.
Not only is white the most versatile color but it adds a fresh, modern look to one of the most important room in your home.
RELATED: The 33 Most Popular Colors for Kitchen Cabinets | Stunning Blue Gray Cabinet Color Options
☑️ Here's everything you need to know to get a professional finish on your kitchen cabinets while saving thousands by doing it yourself. For the most inexpensive way and efficient order to paint your boxes, doors and drawer front, download this cheat sheet: Cabinet Painting Road Map Printable
What is the Best White Paint for Kitchen Cabinets, 2022?
There are unlimited shades of whites and picking the wrong color can change the whole look of your kitchen…and not for the better.
The good news is that there are several tried-and-true shades of white for kitchen cabinets. But not every shade is perfect for YOUR kitchen.
Fortunately, this blog post will show you helpful pictures of real-life kitchens with some fail-proof tricks to find the perfect white paint color for your cabinets.
IMPORTANT DISCLAIMER ON THE BEST PAINT FOR CABINETS:
Most of the paints listed here are Sherwin Williams paints because I like their color palette. But after blind testing over 24 different cabinet paints, you'll want to use Benjamin Moore Advance from your local Benjamin Moore paint store. They have all the Sherwin Williams color combinations – just give them the paint name or number.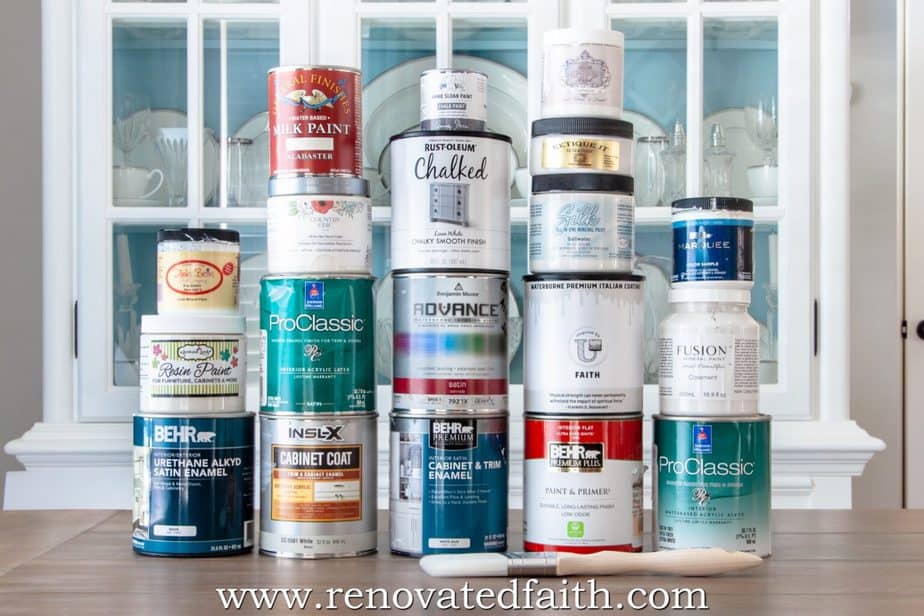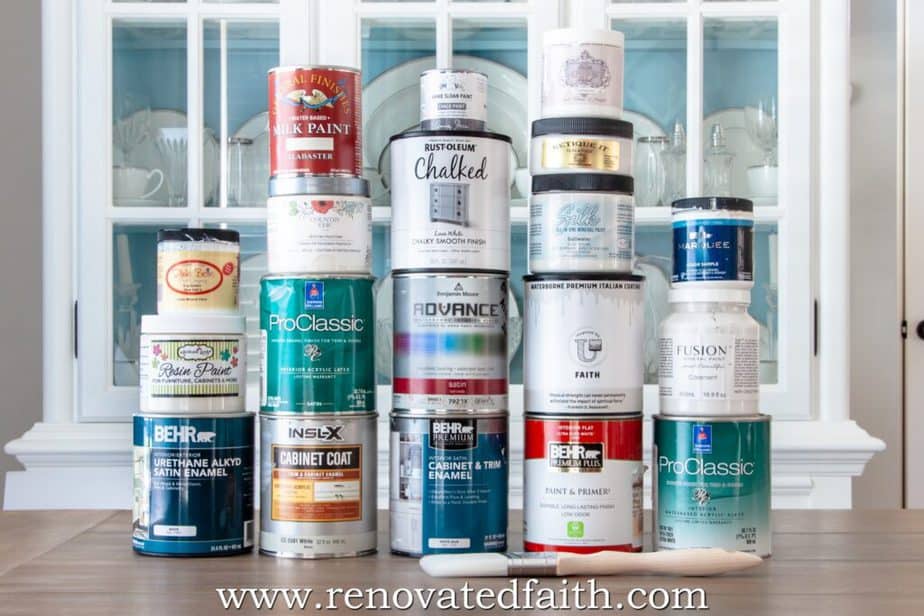 What Is the Most Popular White for Cabinets? Bright Whites, Off-Whites, or Antique Whites
There are three main categories of white colors of paint and they all have great color options that serve different functions:
Bright-White Colors – These are white colors that are TRUE whites. These clean whites are very bright and have very few undertones but the undertones they do have are usually neutral or cool tones. They work well with modern contemporary home decor that calls for true white cabinets.
Off-White Colors – These shades have the clean look of the true whites but aren't quite as stark. They have more even undertones and are a little more inviting. These whites are very versatile and there are several great choices that go with just about anything.
Antique-White Colors – These are the farmhouse creamy whites that work well with warm accents. They have yellow undertones without being too warm.
.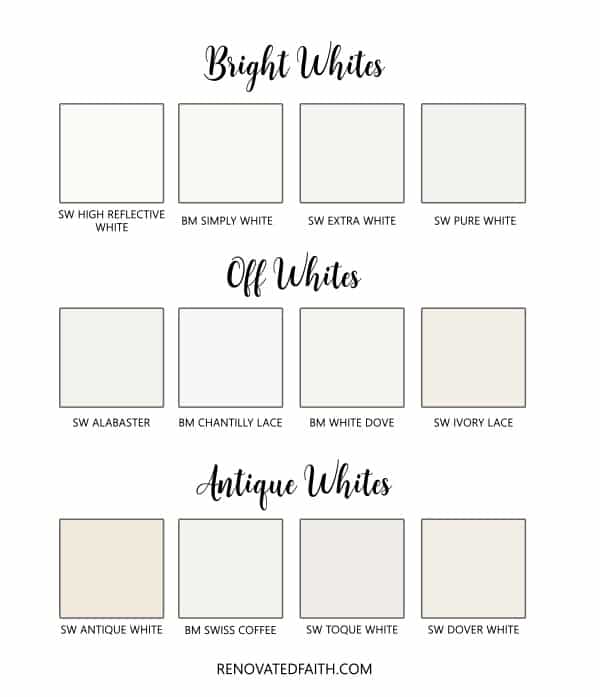 The Best WHITE Paint Colors for Kitchen Cabinets (True Whites)
This first category of true whites is great if you like a more contemporary feel. True whites usually have blue undertones so they are a good option to pair with neutral or cool home decor. You want to be a little careful with true whites because they can be too stark against warmer furnishings and wall colors.
Sherwin Williams High Reflective White
Sherwin Williams High Reflective White is one of the whitest whites you can buy with an LRV of 96. That's a BRIGHT white! Think of that episode of Friends where Ross uses too much tooth whitener and his teeth look like white chiclets.
It has very few undertones, but what it does have are very neutral giving you a true white look. It's no surprise that it's a popular color for trim and doors as well.
As you can see in the gorgeous kitchen below, Sherwin Williams High Reflective White plays well with the gray tones in the tile backsplash. But the undertones of High Reflective White are still neutral enough to go with gold or brass hardware. This color makes for a really nice transition into the blue living room.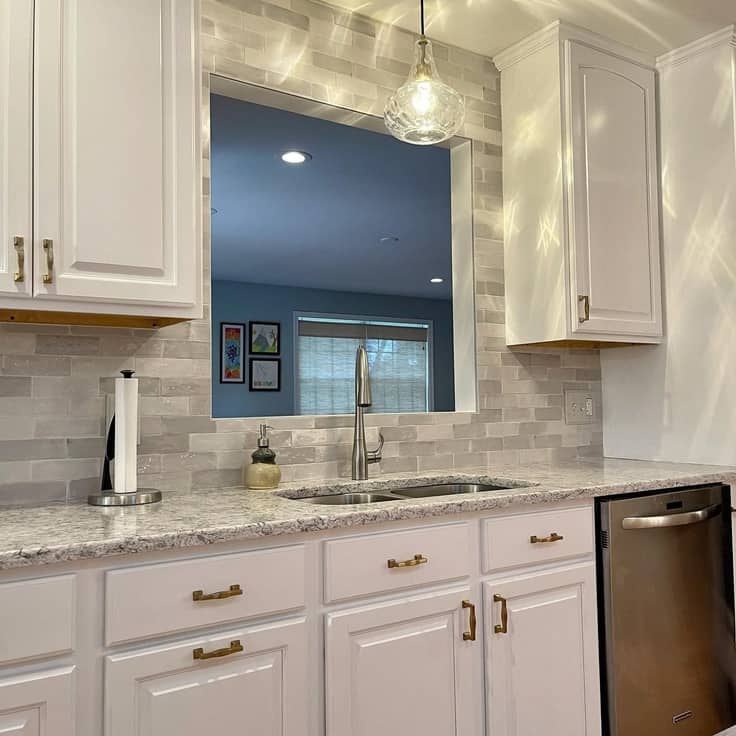 High Reflective White looks so fresh and crisp against the light gray/blue wall color and the pewter island. This color is a great option if you want a bright white for your cabinets to coordinate with gray or blue wall and island colors while still being a neutral white.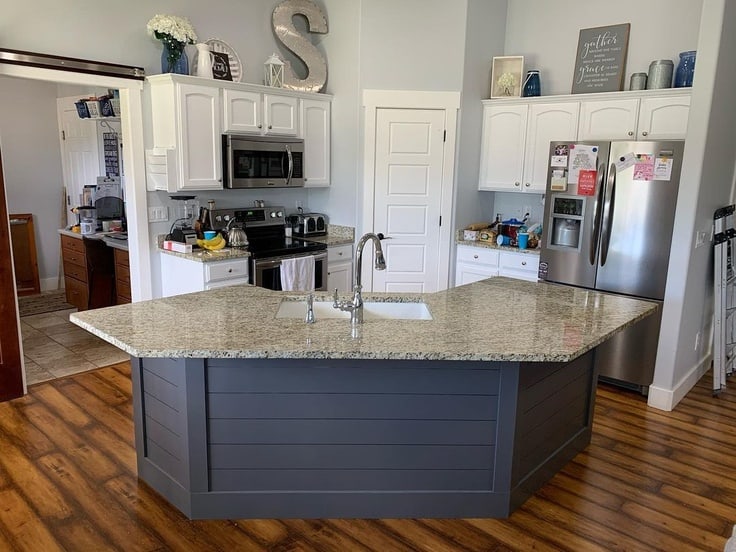 WHAT IS LRV?
LRV
(Light Reflectance Value) measures how much light will reflect on the painted surface. In other words, it shows how light or dark a color is. LRV will help you easily compare the depth of different shades to one another.
When you are staring at 12 white paint swatches that are all starting to look the same, knowing their LRV number can be a big help to know how light and dark they truly are!
The Higher the LRV the lighter the color and the lower the LRV the darker the color.
Benjamin Moore Simply White (The Best Benjamin Moore White Paint Color for Kitchen Cabinets)
Some of the Benjamin Moore whites are just too pretty not to mention. The use of Simply White in the kitchen below is such a home run. I love the gold accents and blue stools under the white island.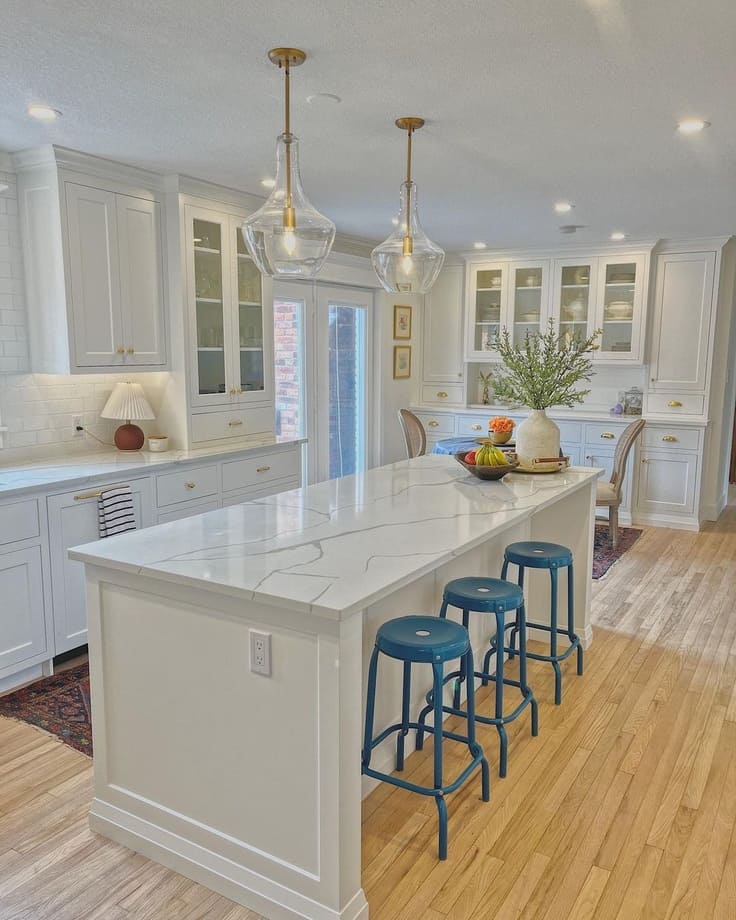 Benjamin Moore Simply White with an LRV of 91.7 is the warmest bright white in this category making it more inviting than some of the cooler-toned bright whites. You can see some of the warmer tones below but that still provide a clean look without seeming yellow.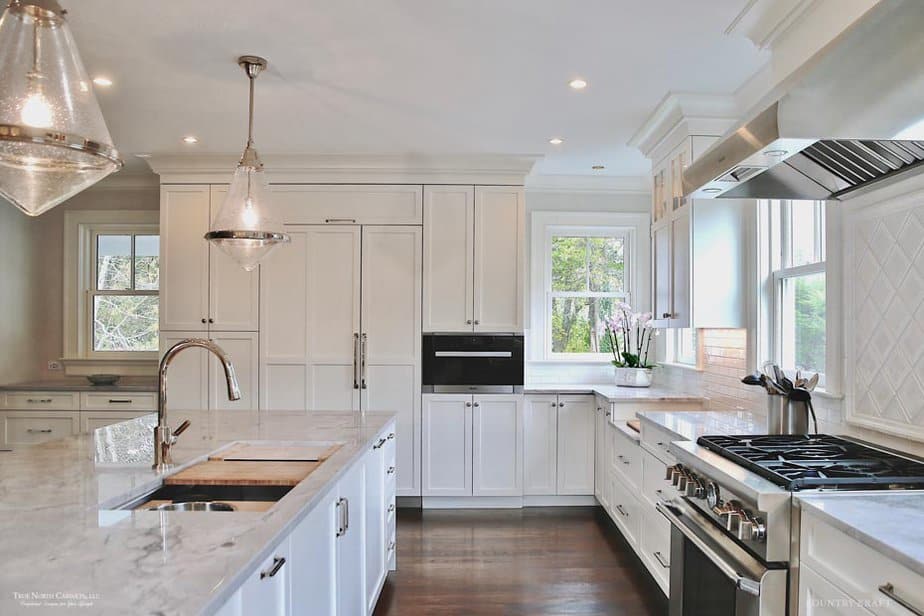 Sherwin Williams Extra White
Sherwin Williams Extra White is not quite as white with an LRV of 86. It's still a gorgeous option as it works well with neutral elements like the wooden stools and pine flooring below.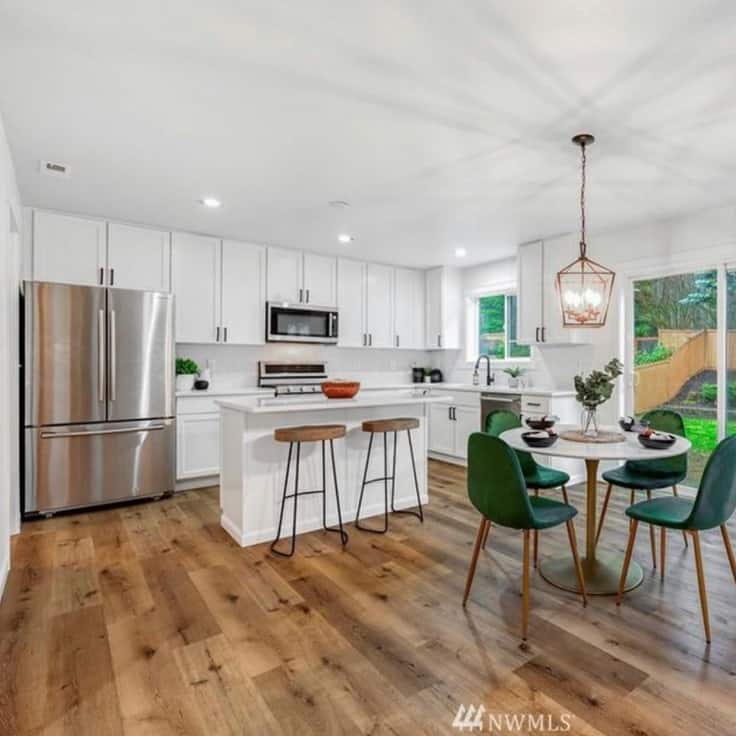 Is Sherwin Williams Extra White Good for Cabinets?
Sherwin Williams Extra White is a good option for cabinets in kitchens with white or gray walls. It's not as stark as High Reflective White but is more of a neutral than BM Simply White which leans warm.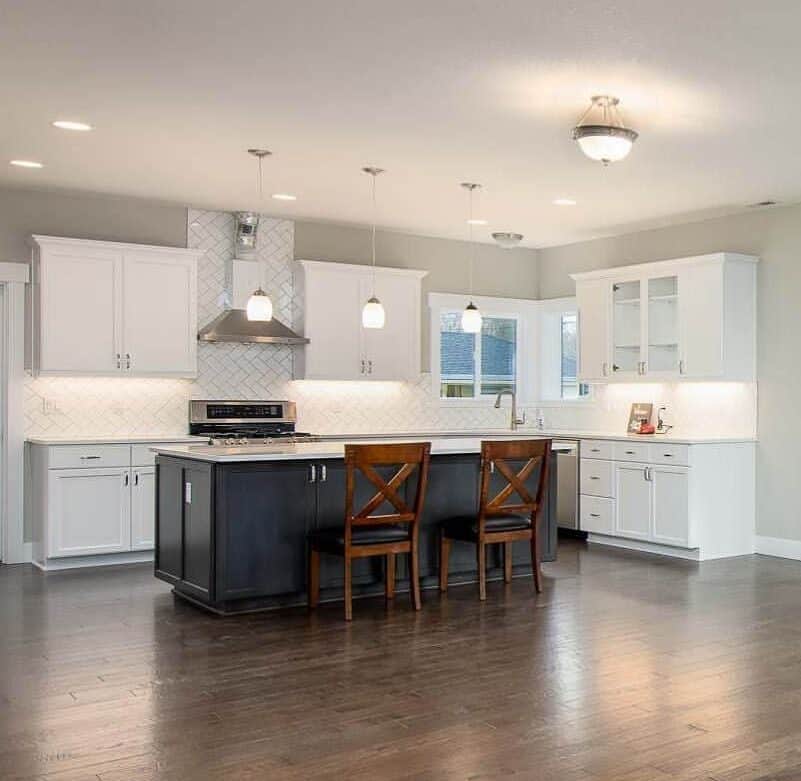 BEnJaMIN MOORE Ultra White vs. Sherwin Williams Extra White
I wanted to mention Sherwin Williams Ultra White because it's another common bright white for cabinets, trim and doors but I would put it in the cool whites category. However, it can lean too hard toward the cool undertones making it too stark in my option. Sherwin Williams Extra White is more neutral and a better pick between the two. If you want a cool white, go with Sherwin Williams Ultra White or Decorator's White.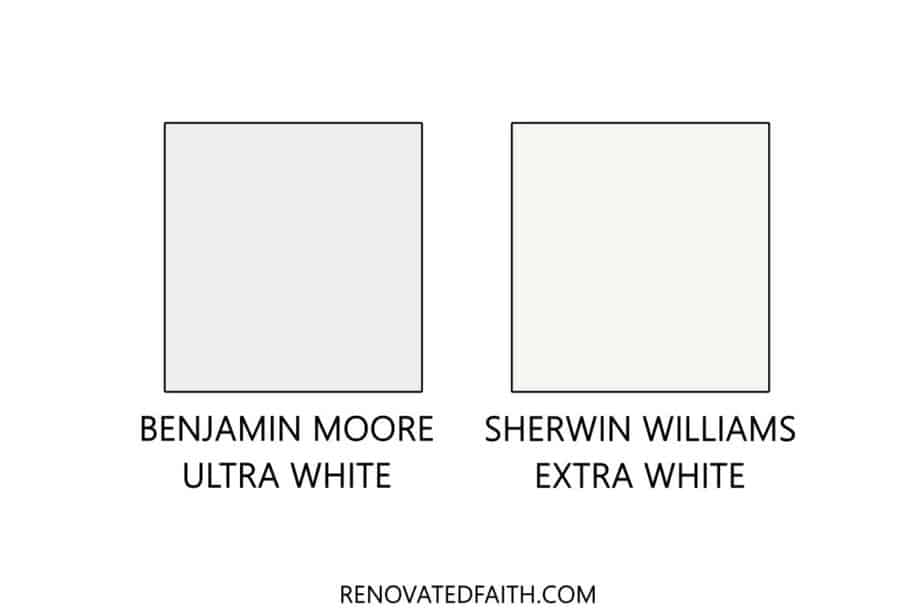 Sherwin Williams Pure White
Sherwin Williams is my favorite bright white because although it's a softer white without looking creamy. It is still bright with an LRV of 84 but it is a really safe option if you are concerned about your kitchen looking too glaring or hospital-like.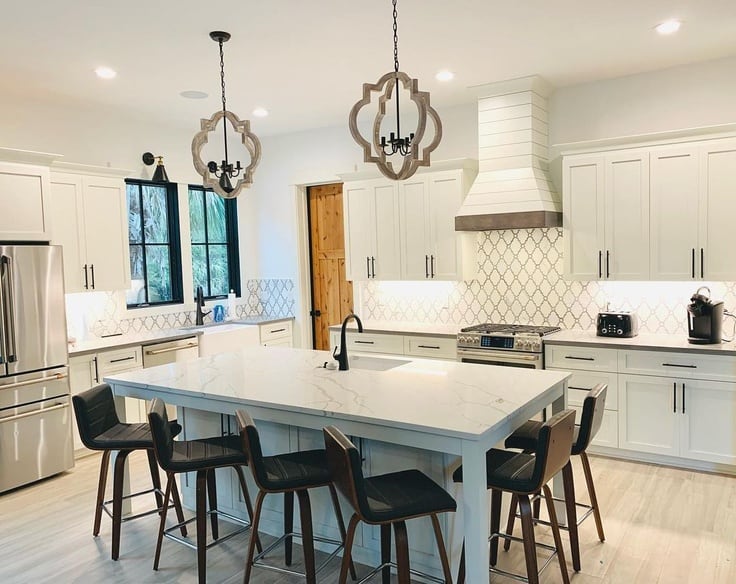 Is SW Pure White Too White For Cabinets?
Sherwin Williams Pure White is always a safe bet when you want a fresh clean white without your cabinets looking stale and cold. With an LRV of 84, it's a great bright white that is still comfortable without becoming too glaring on sunny days.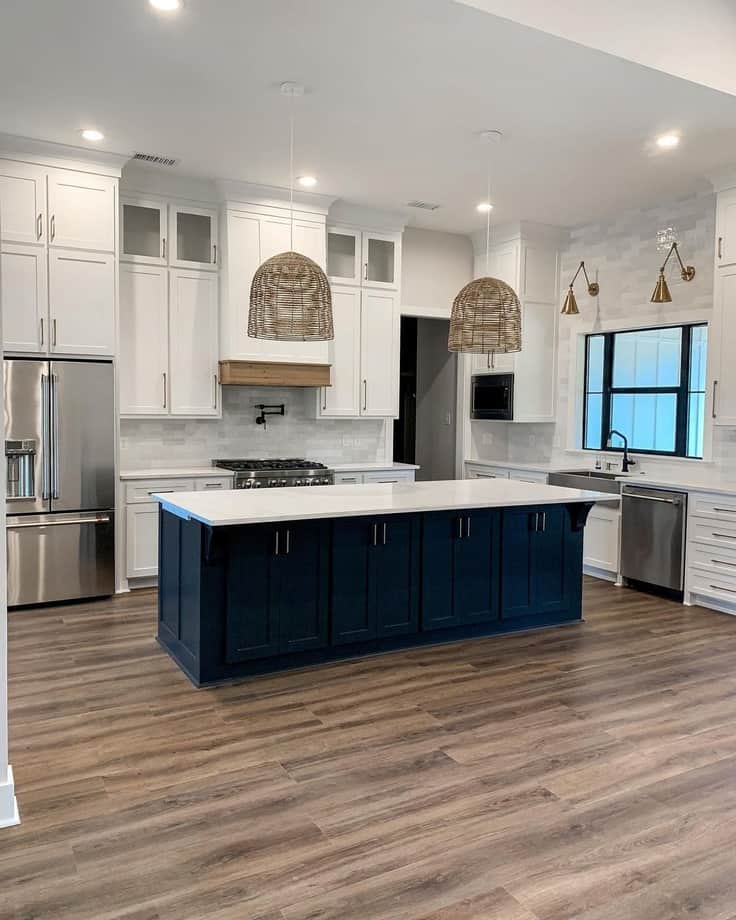 RELATED: How Much It Costs to Paint Kitchen Cabinets (DIY or Hire a Pro?)
Sherwin Williams High Reflective White vs Pure White
Sherwin Williams High Reflective White is the brightest white in this category while still having neutral undertones. Pure White also has neutral undertones but I like that it is a softer, more inviting white, which is more appropriate for a home environment.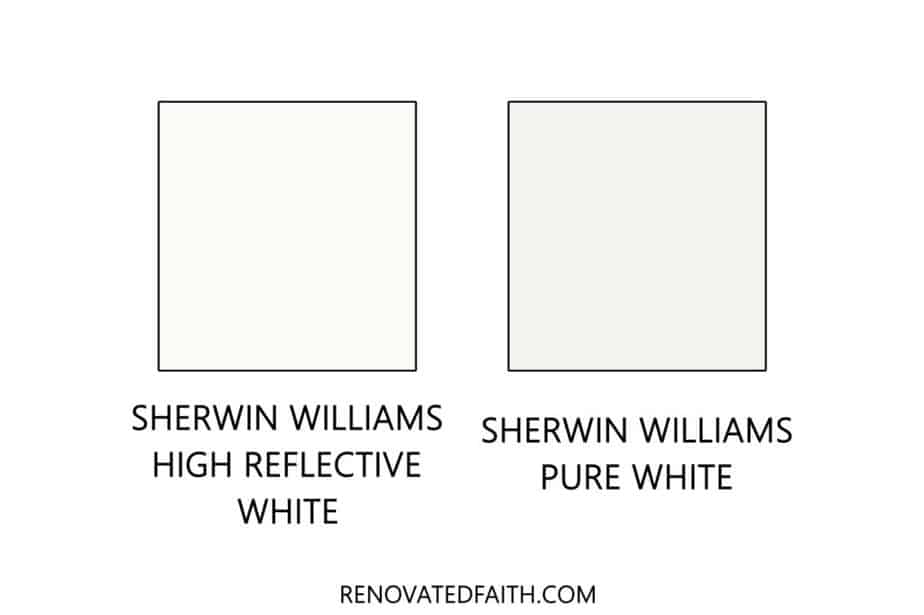 Renovated Faith: What's in a Name?
God never leaves a project half-done…He continually works on each one of us, as a lavish expression of His amazing love and grace. So many of my DIY projects remind me of how God renovates our hearts. If you are a work-in-progress, just like I am, check out the Renovate Your Faith Devotional at the bottom of this post. If this is your first time visiting, click here to get a weekly reminder of new posts by email.
The Best OFF-White Paint Colors For Kitchen Cabinets
The Off-White Cabinet Paints are your safest option, where you can find livable shades of white that are soft and neutral but are still in the whites category. These and Pure White are your best options when picking a white shade for your kitchen cabinets because they play well with so many colors and styles.
Sherwin Williams Alabaster
Sherwin Williams Alabaster is a popular choice of soft white with warm undertones that has an LRV of 82. Even with the warm undertones, it's a great option as a neutral color and coordinated well with my own kitchen island painted in Benjamin Moore Van Courtland Blue and Sherwin Williams Agreeable Gray wall color.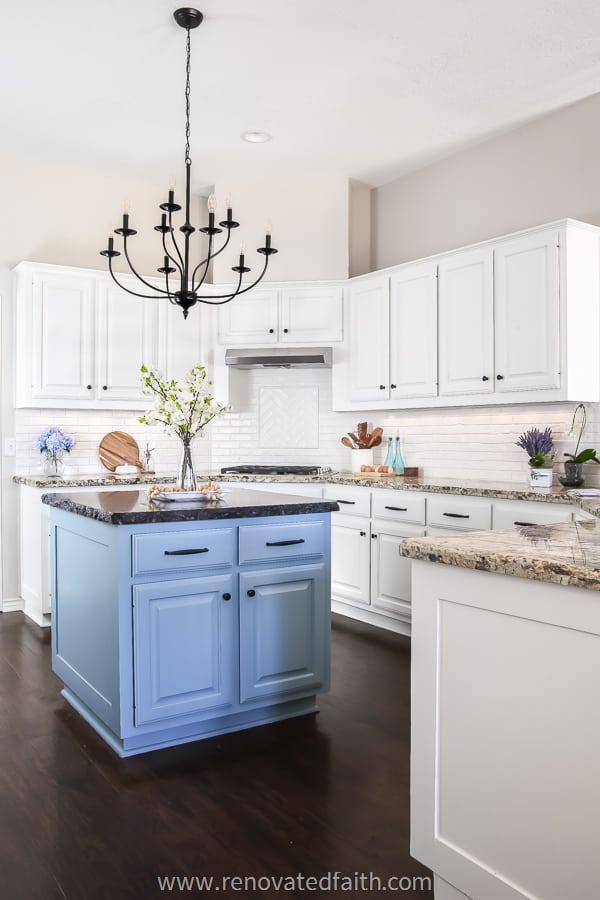 The Ultimate DIY Guide to Cabinet Painting
Don't forget to see my step-by-step tutorial and video on
How to Paint Cabinets Like A Pro.
I hold your hand through the whole process and show you what to do and what not to do to get a gorgeous finish on your cabinets that lasts for years to come!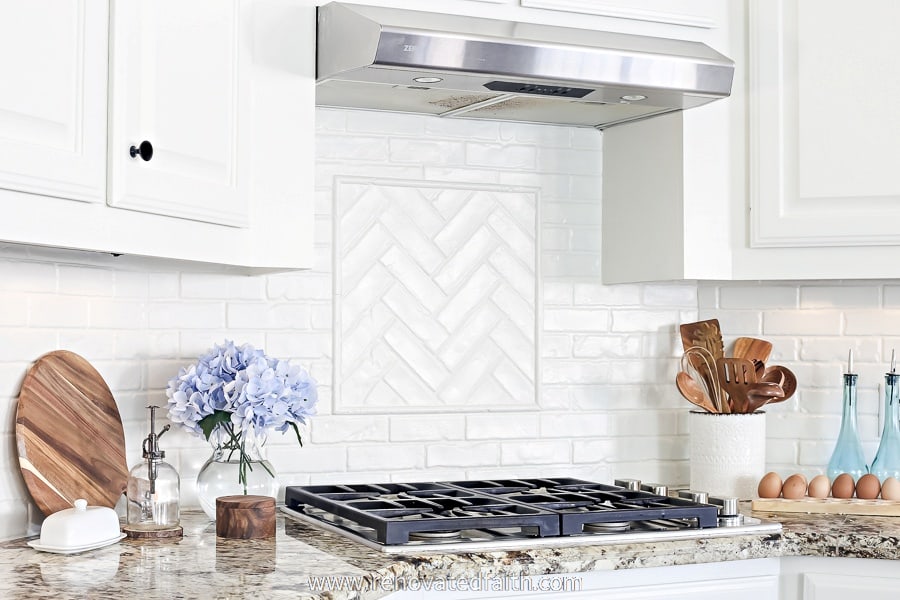 What is the most popular off-white for kitchen cabinets?
Sherwin Williams Alabaster is Sherwin Williams' most popular cabinet and trim color. Its warm undertones make it a commonly used shade by Joanna Gaines in many of her Fixer Upper Episodes.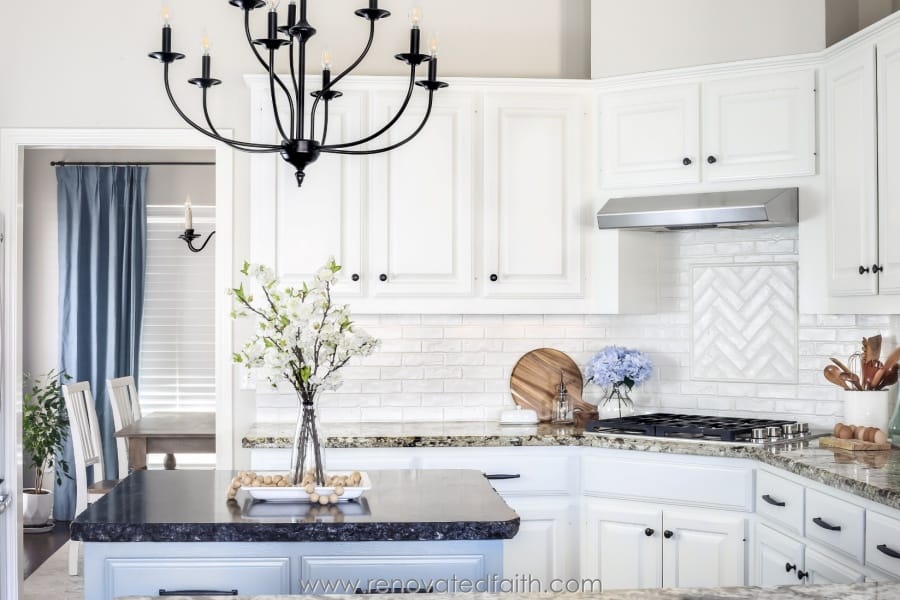 My brother-in-law is a cabinet painter and builder and he recommended this color as it is a favorite of his clients. I was a little hesitant to pick it because I was concerned it would look too much like an antique white but I haven't seen that at all with my cabinets.
Alabaster has an amazing ability to look like a warm sophisticated white without being too creamy or rustic.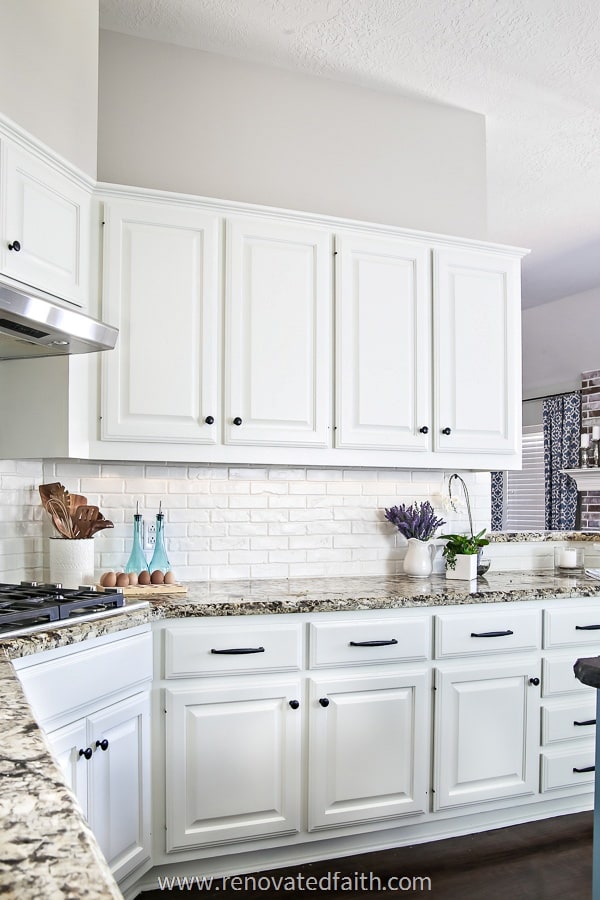 Benjamin Moore Chantilly Lace
Benjamin Moore Chantilly Lace is still a pretty bright white with an LRV of 91 but I put it in the off-white category because of its warm undertones.
In the image below you can see how well this color interacts with the light pulling more of a cream color in some areas and more of a gray undertone in others. We talked about chameleon colors in my Silver Strand review and this is a fun white with some of those qualities.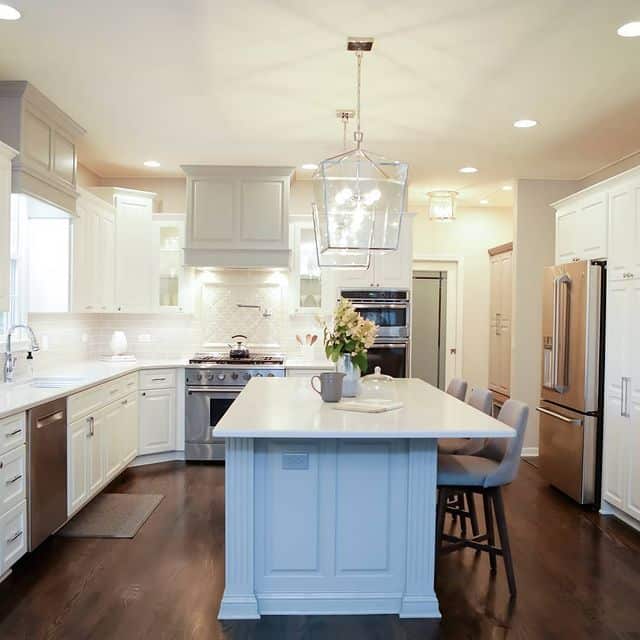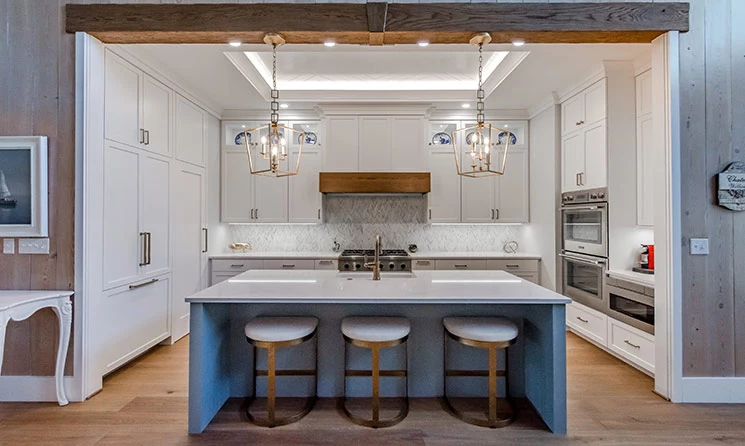 Benjamin Moore White Dove
Compared to Sherwin Williams Alabaster, Benjamin Moore White Dove is slightly lighter with an LRV of 85 and has more gray undertones.
If you are concerned about Alabaster being too creamy, go with Benjamin Moore White Dove! As one of the best off-white paint colors for kitchen cabinets, you can feel confident it will look beautiful in your home.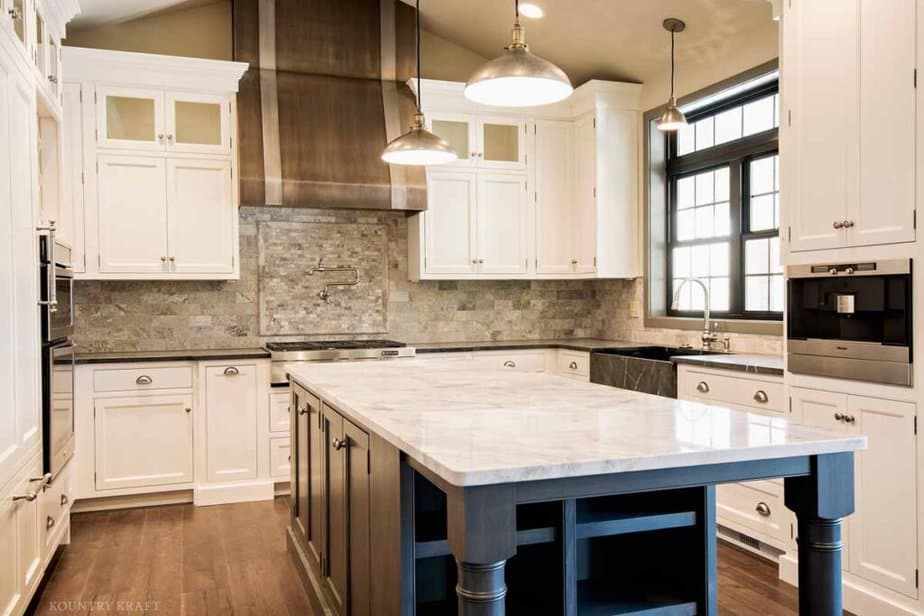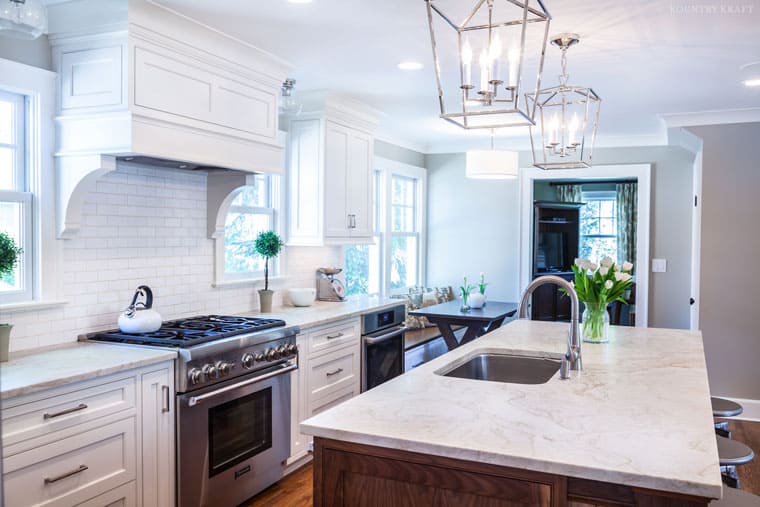 Sherwin Williams Ivory Lace
Sherwin Williams Ivory Lace is a darker off-white with an LRV of 70. If you want a warmer option than Alabaster without being a farmhouse, antique white, then this is a great option!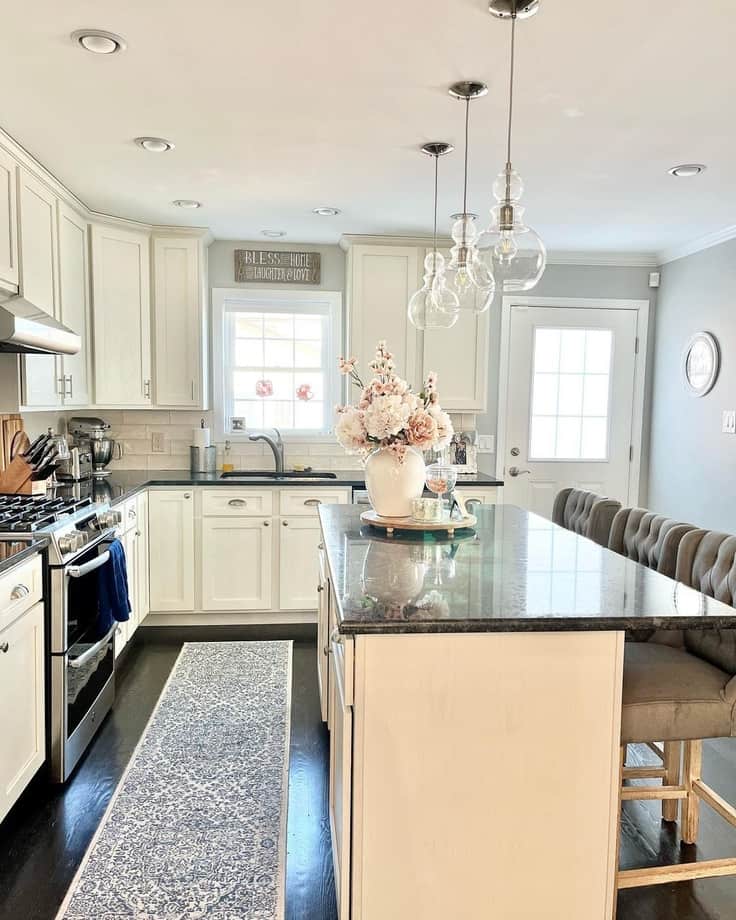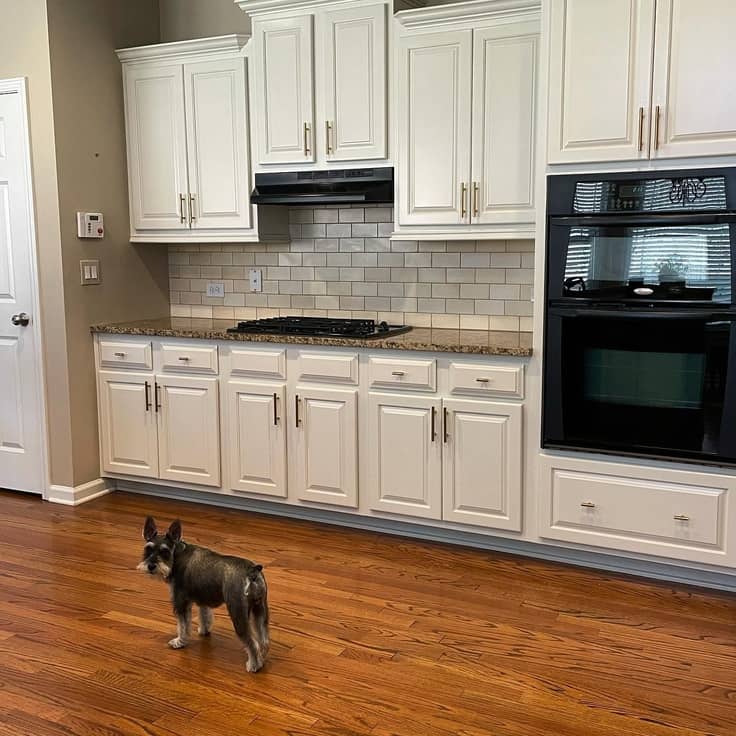 The Best Antique White Paint for Kitchen Cabinets – 4 Options to Choose From
What Color is Antique White?
If you want a classic look with warm tones that look great with farmhouse decor, you'll love these antique white paint colors for cabinets. They have a beautiful, creamy, rustic vibe without being too yellow.
Sherwin Williams Antique White
Sherwin Williams Antique White is a beautiful warm white without a strong yellow undertone.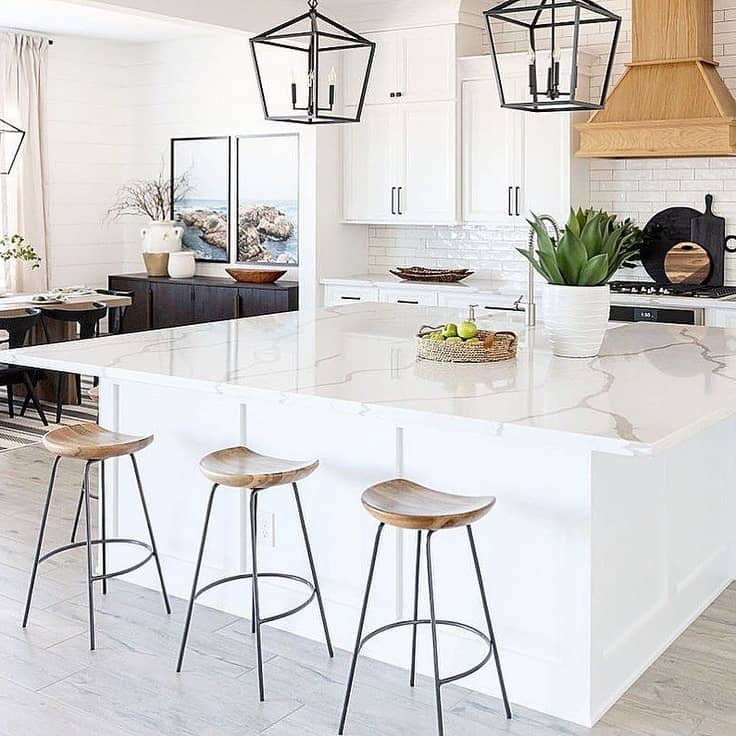 Antique White Kitchen Cabinets with Granite Countertops
Antique white goes really well with warm granite countertops as it complements the warm tones while still creating a clean, fresh look in your kitchen.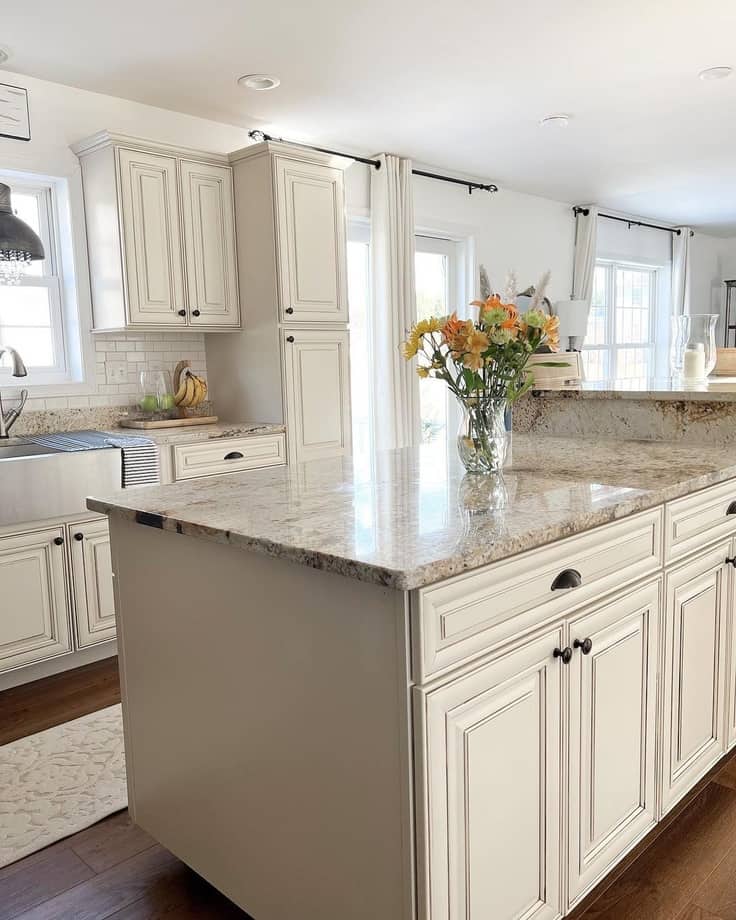 Does Antique White Look Yellow on Cabinets?
Sherwin Williams Antique White has lots of warm but balanced undertones. Because the undertones are more greige than yellow, you don't have to worry about it looking yellow on your kitchen cabinets.
Just a Note:
There's also a Benjamin Moore Antique White but it has deeper undertones and a touch of peach putting it in the cream or light beige category. You can see it here: Benjamin Moore Antique White Reviews
Benjamin Moore Swiss Coffee
Benjamin Moore Swiss Coffee is such a popular color for walls but more and more homeowners are putting it on cabinets. It is a gorgeous antique white paint for wood accents and gold hardware.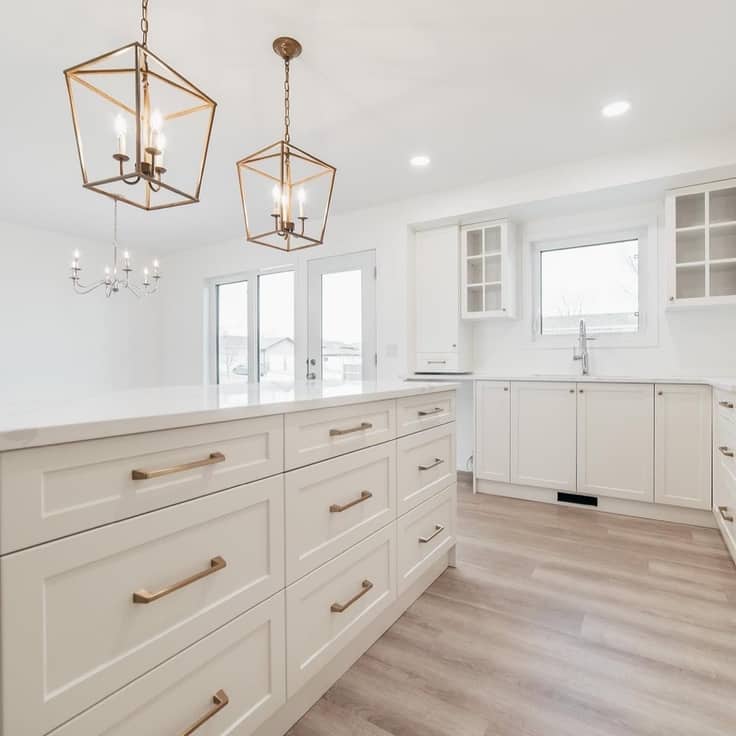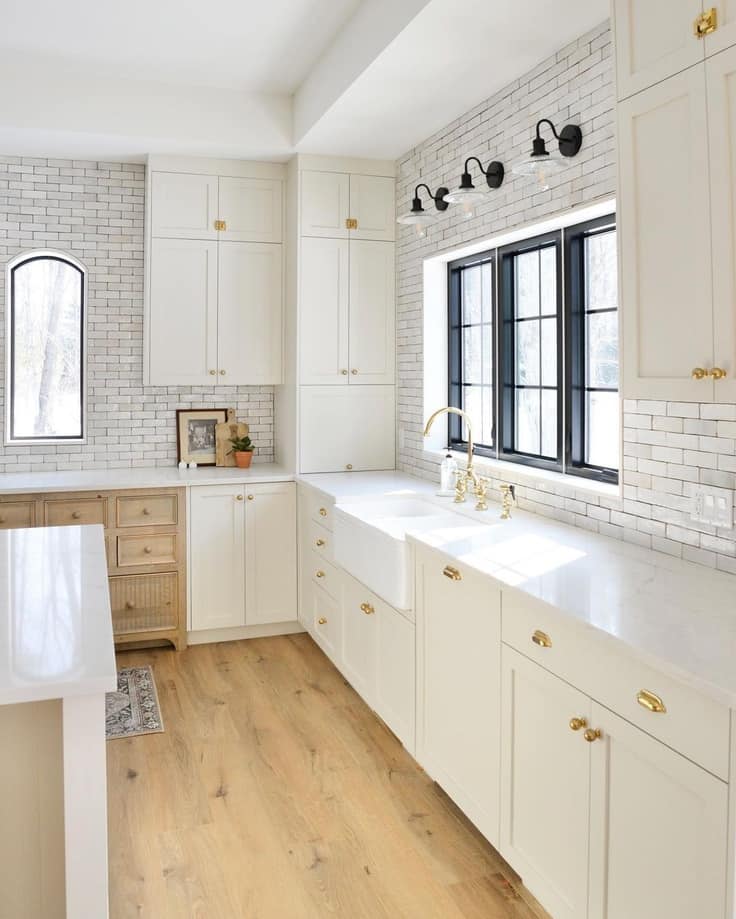 Sherwin Williams Toque White
Sherwin Williams Toque White is a great paint option for kitchen cabinets with dark islands. When you have contrasting elements in your kitchen like dark wood accents, creamy antique white coordinates better wood tones than a stark white.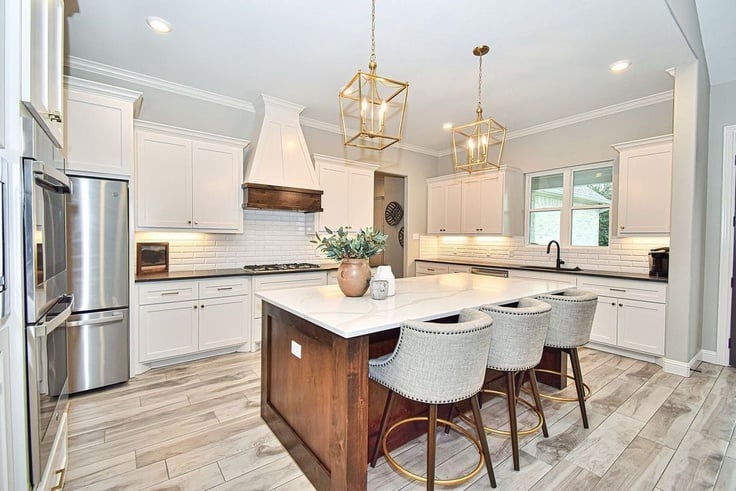 What is the Best Antique White Paint for Wood Accents?
All of the above antique whites including Sherwin Williams Antique White, Benjamin Moore Swiss Coffee, Sherwin Williams Toque White, and Dover White are all great options if you want to implement lots of wood accents in your white kitchen decor. Wood cutting boards, trays, and utensils help to warm up a white kitchen while still giving you a fresh, modern look.
The best antique white paint for kitchen cabinets isn't one set color but it's the one that goes best with your home's accessories and furnishings.
The Best Finish For White Kitchen Cabinets
There are several sheen options when it comes to paint including matte/flat, eggshell, satin, semi-gloss and high-gloss with matte being the dullest finish and high gloss being the shiniest finish. The glossier the paint the more durable it is but the glossier paints are also harder to get a smooth finish with.
Matte paints are more on trend but matte paints aren't durable enough for cabinets. With that said, a good compromise is a satin finish on cabinets. A satin finish gives you and updated look with more durability than flatter options. If you like the look of a little more shine to your cabinets, you can go with a semi-gloss sheen.
The Best Cabinet Color for Small Spaces
If you have a small kitchen, white is a great option to make it look more airy and spacious. If you have a small-space galley kitchen, consider doing a white or light backsplash so there are fewer contrasting lines to break up the space: For an easy, low-cost backsplash that can go over your existing finish, check out this post: DIY Faux White Brick Backsplash
The Posterboard Trick for Finding the Right Paint Color
Whether you use paint chips, stick paint samples or the big squares that can stick on the wall, you will want to use the posterboard trick. When you put a sample directly over your current cabinet color or wall color, it's really difficult to see a true comparison of what the samples would actually look like. That's because the old paint is influencing the look of your new paint sample on the wall.
By sticking your samples on a white piece of poster board, you have a border to separate the old color from the new color. This trick is like a visual palette cleanser that allows you to see how natural light interacts with your kitchen cabinets without the influence of the old color.
Put the samples on a piece of poster board and tape it to your cabinets or kitchen wall. Then, it's a great idea to live with it there for a few days to see how the color looks when exposed to different lights throughout the day.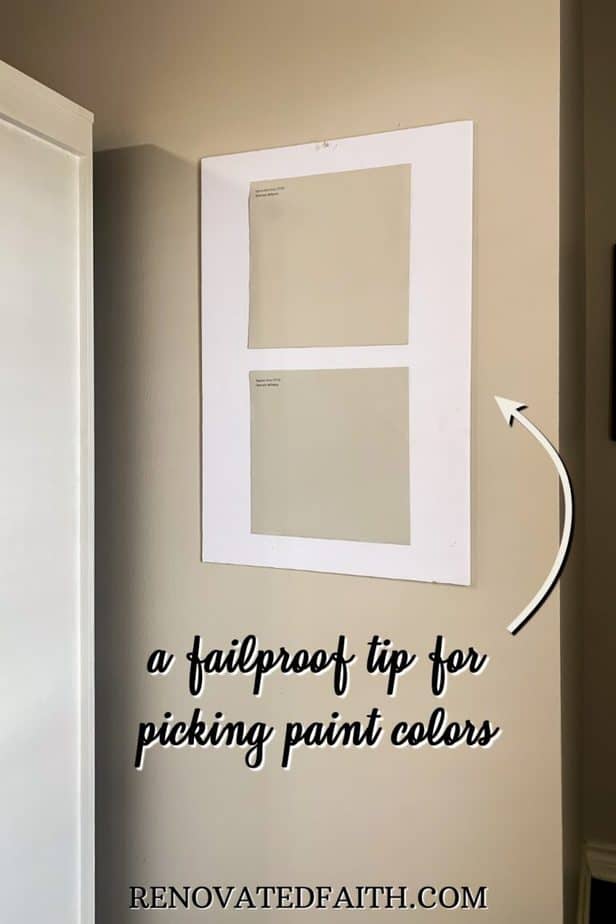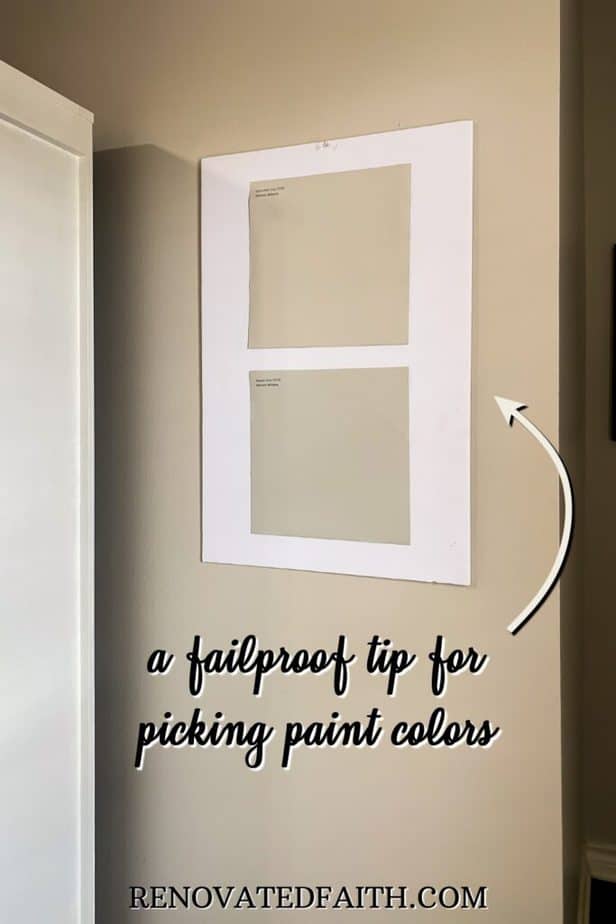 What Paint Color Looks Good for Off-White Cabinets?
The best colors for kitchen walls are light greiges and beiges. You can still have a light and airy look without doing white walls in your kitchen.
My kitchen wall color is Agreeable Gray. It's one of Sherwin Williams most popular paint colors because it is so versatile: Agreeable Gray Review (Pictures in Real-Life Homes)
Agreeable Gray goes well with antique whites and off-whites like Alabaster for your cabinet and trim color. Other popular wall colors for white cabinets are SW Accessible Beige, BM Revere Pewter and SW Repose Gray. Sherwin Williams Amazing Gray is a good option for a gray wall color that's still warm.
RENOVATE YOUR FAITH: Why You Are God's Favorite
As a perfectionist in recovery and someone whose learning to not be so hard on herself, I couldn't help but notice something about the names of white paint: Pure White, Simply White, Snowbound, White Dove, Ultra White, Extra White. You never hear of colors like Extra Red or Ultra Brown.
That's because white is unique in that it represents a standard of perfection, flawlessness, and purity.
The color white exposes any little imperfection, any flaw, any blemish, and anything that runs contrary to the blameless perfection.
For this reason, one of my favorite passages is Galatians 2:26-27:
"For in Christ Jesus, you are all sons of God, through faith. For as many of you as were baptized into Christ have put on Christ. "
In the original Greek, the word for "being baptized into Christ" means putting on Christ like a large coat that embraces and covers you. Because of the sacrifice of Christ dying for our sin, when we accept Him as our Lord, we are no longer separated from God by a chasm of sin.
As believers, we are baptized into Christ and have been "clothed with Christ". When He looks at us, He sees the very perfection of Christ and as objects of His divine favor.
You can rest in knowing that when He sees you, He is not distracted by your sin and faults. God looks at us in the pure white perfection of Christ.
Why does this matter to us?
It means we don't have to strive for something God has already given us – His acceptance and approval. We are already clean and we can stand before Him as beloved children without shame.
It means we are protected – He provides us a cloak of perfection and we have nothing to fear.

It means we are dearly loved. The term "beloved" in Thessalonians 1 was only reserved for truly great men, like Moses or Solomon. Through Christ, He now extends the title to us.

This doesn't mean that we are free to pursue every desire we want. But instead, we are no longer slaves to sin, but are free to serve and honor Him with our lives.
Because we are each His favorite, we can work FROM the approval of God and not FOR the approval of God.
No longer to we have to strive for approval. We have His full approval through Christ and we should live and work in a way that embodies that truth.
"Do your best to present yourself to God as one approved, a worker who has no need to be ashamed, rightly handling the word of truth." 2 Timothy 2:15
When we come to a saving relationship with Christ, we are cloaked in the pure white perfection of Christ; we are objects of His divine favor. Because of the unexplainable, unconditional love of God, each one of us is His favorite.
You no longer have to see the approval of God or anyone else. You are already God's favorite!
For more ways to embrace who you are in Christ, I highly recommend Try Softer by Aundi Kolber.
For more spiritual encouragement, click here for the rest of my project posts that also include Renovate Your Faith devotionals HERE and be sure to subscribe to the email to be notified of new posts so you don't miss a thing: RENOVATED FAITH's WEEKLY NEWSLETTER
https://landing.mailerlite.com/webforms/landing/y0u7w1
FAQ's: The Best Sherwin Williams White Cabinet Paint
What Sherwin Williams paint is best for cabinets?
When it comes to painting cabinets white, there are literally thousands of shades of white, but fortunately, there are several tried-and-true colors that will not let you down. The best Sherwin Williams paint for cabinets depends on your style and how you want your kitchen to feel.
This blog post separates the colors into True Whites for a clean contemporary look, Off-Whites for a warm neutral that goes with anything, and Antique Whites when you want a true farmhouse look. Pick any of the Sherwin Williams cabinet paint colors from the category that fits your style best.
What is the Most Popular White At Sherwin Williams?
The most popular white paint colors are ones with neutral undertones that aren't so bright that they don't cover well.
The most popular white at Sherwin Wiliams is Pure White as it is often used on doors and trim but the most popular white cabinet paint at Sherwin Williams is Alabaster White because of its slightly warm undertones. Both paints cover better than brighter whites with higher LRVs like Sherwin Williams High Reflective White and Sherwin Williams Extra White.
Is White or Off-White Better for Kitchen Cabinets?
When it comes to whites vs. off whites for kitchen cabinets, you have to first define terms. True whites can be very stark but off whites (not quite creamy farmhouse whites) give you the best of both worlds.
Off whites can give you the clean fresh look of stark whites, but they have enough neutral undertones to make the face feel warm and inviting. Regardless if you go with white or off-white kitchen cabinets, be sure to use a high-quality paint: The Best Paint for Cabinets (24 Brands Blind-Tested and Reviewed)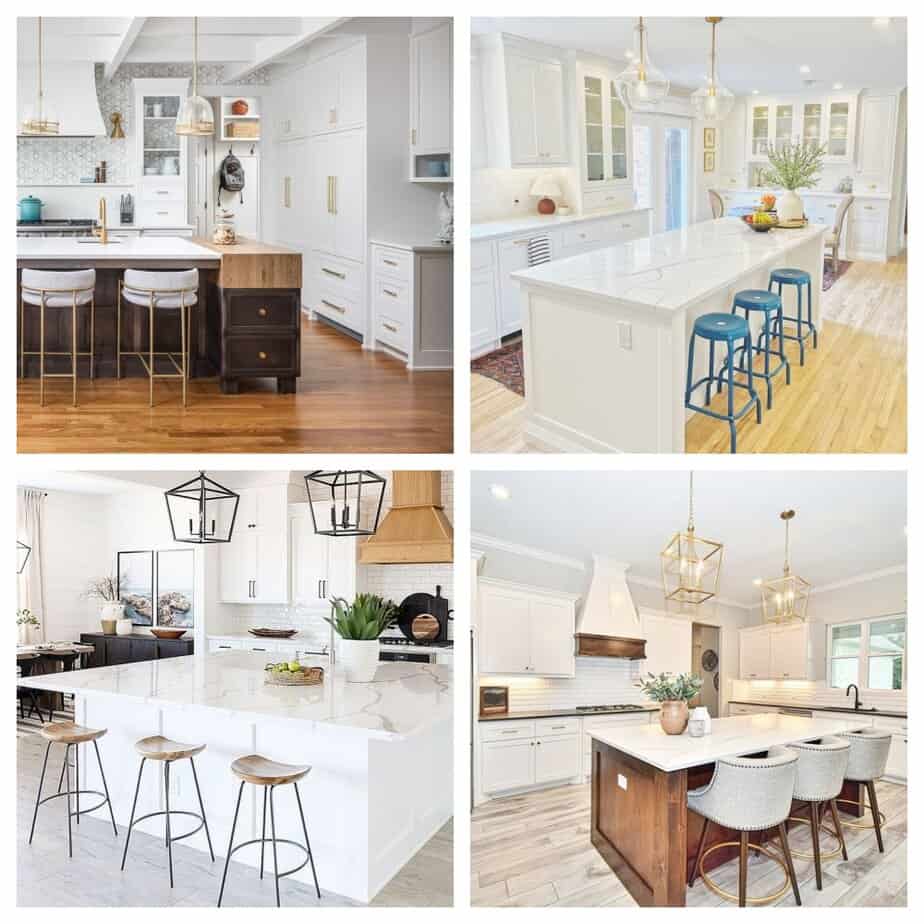 What is The Best Color White to Paint The Ceiling (Sherwin Williams)? What Shade of White Is Used for Kitchen Cabinets?
When it comes to ceiling color, you want to go with a true white but because you don't want to go with one that is too stark, I recommend Sherwin Williams Pure White as the best color white to paint a ceiling. It is a neutral true white but the undertones it does have are very neutral and will coordinate well with your wall colors. I feel confident in saying it is a safe choice for any ceiling!
What is the most popular Sherwin Williams white paint?
The best neutral cabinet colors have undertones that are balanced enough to go with a wide variety of wall colors. Sherwin Williams' most popular white paint color for cabinets is Sherwin Williams Alabaster White. Not only is it bright enough to have a clean, fresh look but it has enough of the warm undertones to still be inviting and welcoming in your space.
Although Alabaster is considered a warm neutral, it's not at all yellow. You can see several images above of Alabaster in my own kitchen. I am so pleased with this shade and think it's a gorgeous color for any kitchen.

What is the Best Antique White Paint for Furniture?
The best antique white paint color for furniture is Sherwin Williams Antique White, which is a great creamy white for furniture when you want a true farmhouse, rustic look. It is a warm white that does not look yellow and also looks great distressed. Don't forget to check out this post: The Easiest Way to Paint Furniture, A Step-By-Step Tutorial
What Trim Color Goes With Antique White?
For a trim color that coordinates with antique white, you have a few different options. Any trim that is adjacent to your cabinets needs to be the same antique white of your cabinets. So, you can make the trim in your kitchen that same antique white.
If you have a living room off your kitchen that you don't want to paint a creamy, antique white, you can go with a truer white but it has to have some warm undertones even if they are subtle. The warm undertones will ensure that it coordinates with the antique white of your cabinets. Alabaster is a great option when coordinating with warmer whites. Another good idea is to choose one of the whiter options on the same paint strip of your antique white cabinet shade.
What is the best Benjamin Moore Kitchen White Paint Color for Kitchen Cabinets?
There are several Benjamin Moore kitchen cabinet paint colors that are great options as warm neutral whites. Benjamin Moore White Dove is a stunning warm white that is super inviting without having yellow undertones. It is a safe pick to give your kitchen the look you've always wanted!
Why is Everyone Painting Their Cabinets White?
White cabinets are classic but they do ebb and flow with trends. But even in the midst of changing trends, they can give you a fresh, clean backdrop for any kitchen style or aesthetic. Some complain that white can be too stark or boring. Fortunately, there are shades of white that have a lot more character and personality than your standard bright whites.
Is Antique White Good for Kitchen Cabinets with White Countertops?
In the examples above, check out the antique white paint colors that have white countertops. The one thing they have in common is that the color differences are deliberate. If you go for a white counter and cream countertops, make sure they are far enough apart in color that it looks intentional. Do this and your kitchen will look amazing!
What White Paint Does Joanna Gaines Use for Her Kitchens?
Sherwin Williams Alabaster is one of Joanna Gaines' all-time favorites and she uses it many times in Fixxer Upper on kitchen cabinets and walls. As a warm neutral white, Alabaster's neutral undertones make any room feel warm and inviting without looking yellow.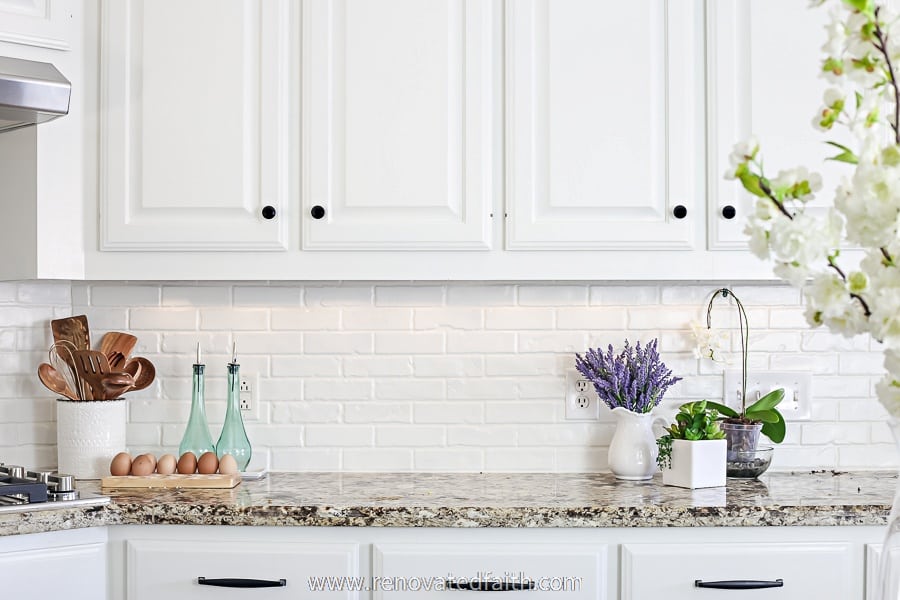 More Posts Related To Popular White Paint Colors for Kitchen Cabinets
The 33 Top Paint Colors for Kitchen Cabinets
How to Paint Oak Cabinets Like A Pro
The Easy Way to Remove Wood Grain From Cabinets
The Simple Solution to Perfect Cabinet Hardware Installation
Easy Faux White Brick Backsplash
The Best Dark Blue For Walls and Furniture
Easy DIY Farmhouse Dining Room Table
How To Paint Furniture White (Time-Saving Tips & Tricks)
A New Feature On Renovated Faith
Also, I'm so excited to be one of Google's paid early testers for their Thank with Google pilot program. Thank with Google is an experimental feature that allows you to purchase a virtual sticker and directly show your appreciation for content on my Renovated Faith.
As a loyal supporter, you can now feel more connected and engaged because you have the ability to express yourself and share what my work means to you.
There are a variety of stickers to select from and every time you send a paid sticker, you can add a personal message which I enjoy receiving. For me, these virtual stickers translate into direct revenue to support the work that goes into the content that you are enjoying on my blog.
You can find the Thank with Google feature in multiple places on my site, including a button at the bottom and top of this post and all other blog posts.
If you try it out, I would love to hear what you think! Thank you so much for your continued support and encouragement!
Final ThoughtS ON THE BEST WHITE PAINT FOR KITCHEN CABINETS (SHERWIN WILLIAMS)
Finding the right white paint doesn't have to be as hard as it seems. But the worst thing you can do is to pick up a random paint sample that looks white... That's how you end up with white cabinets with peach undertones. This blog post gives you the most reliable white kitchen cabinet colors from every category. Whether you want a bright white, off-white or antique white cabinet shade, this guide will ensure that your cabinets will turn out absolutely gorgeous and not like an asylum!
Now that you know the right color for you, don't forget to download your free guide to show you where to start: Free Cabinet Painting Roadmap Printable
Best White Paint Colors, YouTube Video
I love to hear your thoughts and questions! Scroll down to leave a comment and I WILL reply! ❤️
Blessings,

WANT TO SAVE THIS PIN ON THE BEST WHITE PAINT FOR KITCHEN CABINETS (SHERWIN WILLIAMS)? CLICK HERE TO SAVE THIS PIN TO YOUR FAVORITE PINTEREST BOARD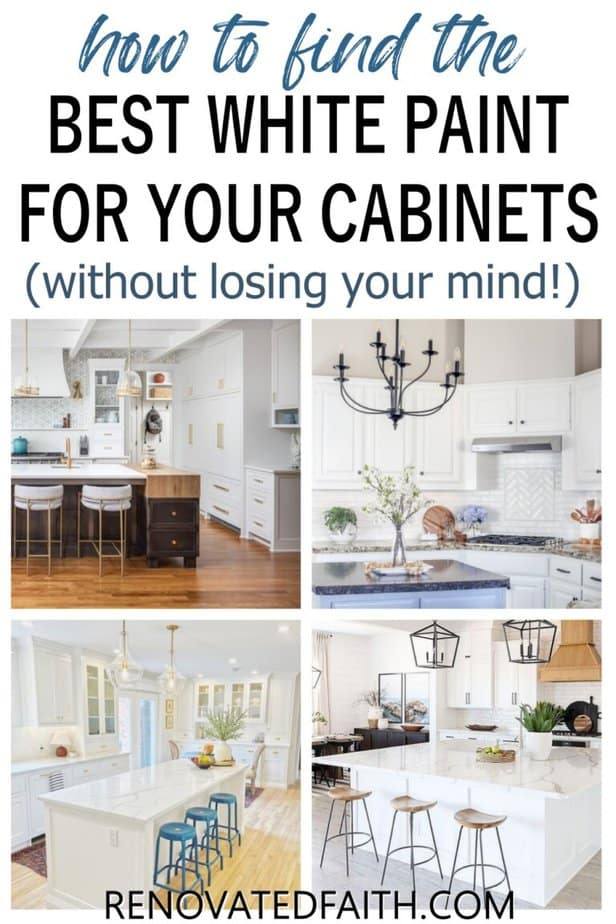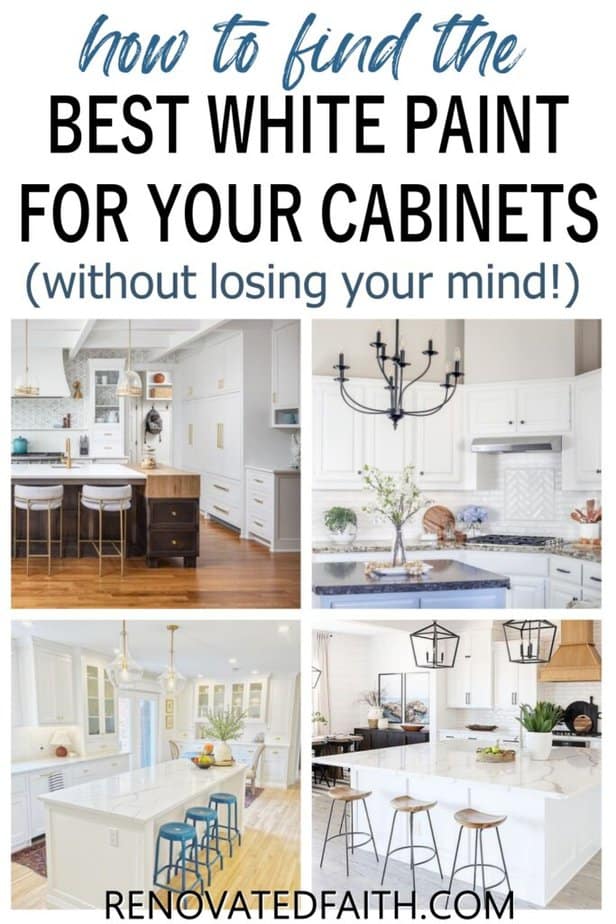 Be sure to follow the fun here!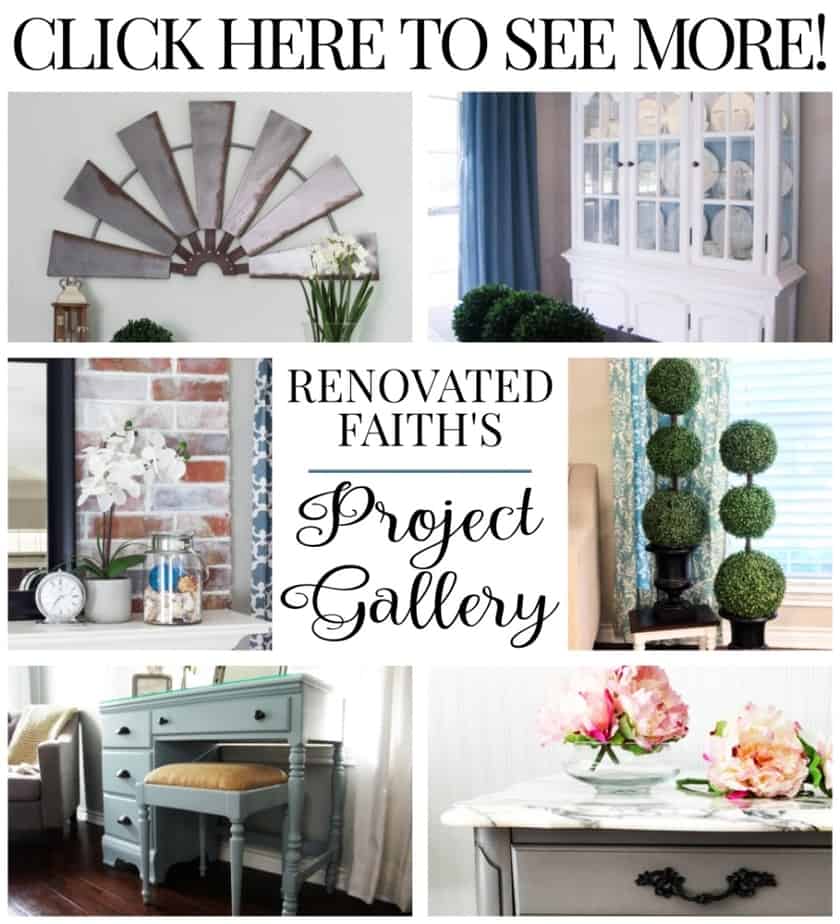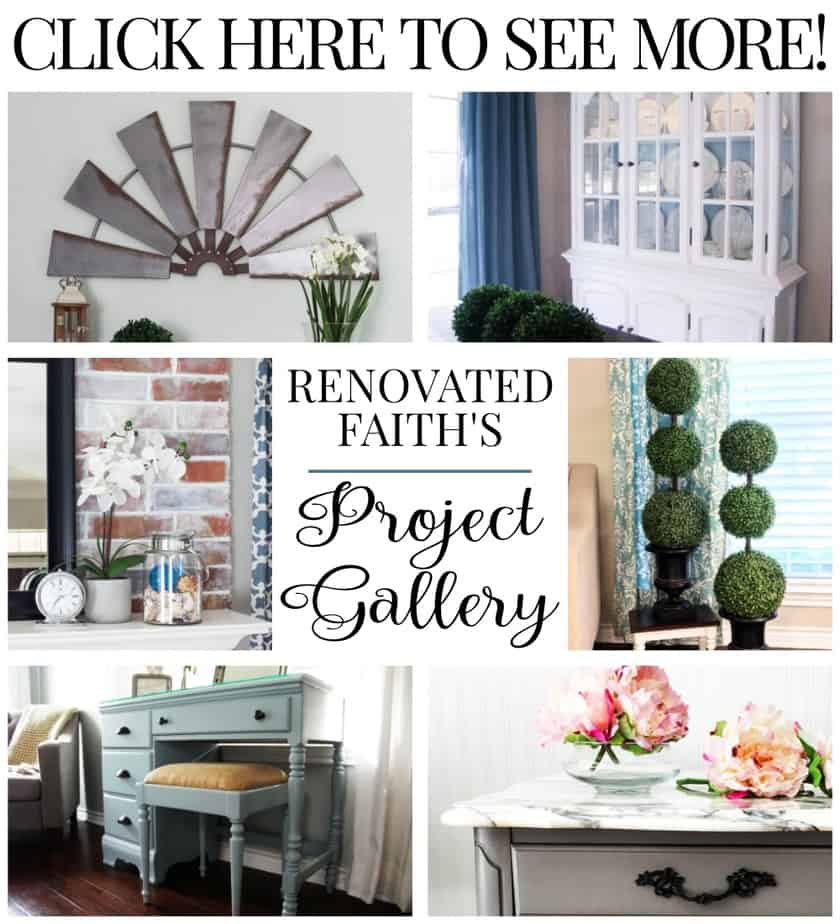 v
WHAT IS THE MOST POPULAR WHITE PAINT COLOR FOR KITCHEN CABINETS (SHERWIN WILLIAMS COLOR OPTIONS)?
Welcome to Renovated Faith, where I share about DIY projects, my faith and everything in between! When I'm not spending time with my family, you will find me redoing furniture in the garage or watering plants in my greenhouse. This blog is about transformation. Anyone can renovate a house but only God can transform our hearts!