How Much Does It Cost to Paint Kitchen Cabinets? (DIY vs Hiring a Pro)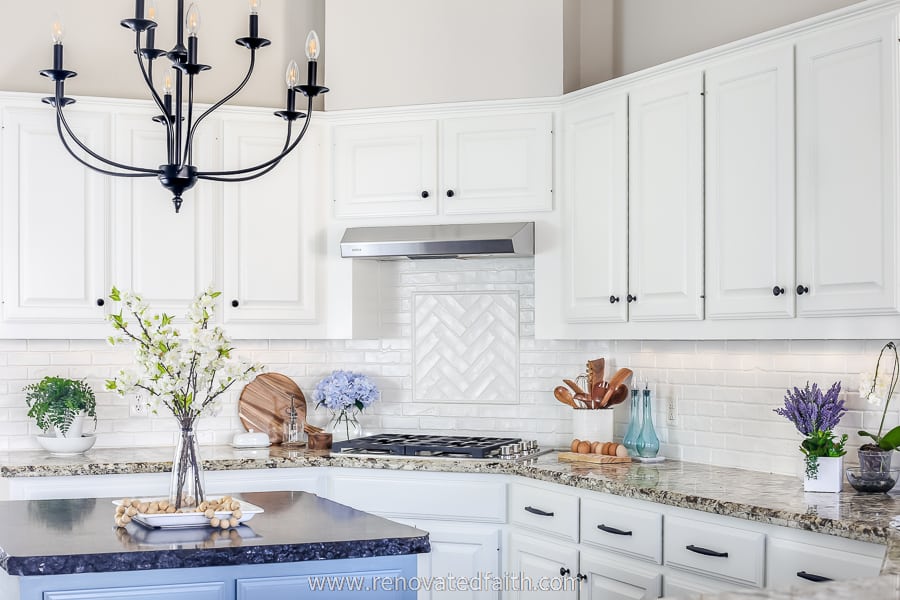 Is It Worth it to Have Your Kitchen Cabinets Professionally Painted?
Wondering how much it costs to paint kitchen cabinets professionally? Here is the cost comparison whether you hire a pro or want to DIY like one.
---
No other DIY project can upgrade the look and value of your home like painting your kitchen cabinets. The average cost to have kitchen cabinets professionally painted is $3-10 per square foot and $903 – $6,764 total. The total cost of painting cabinets with my cabinet painting process was $2.67 per square foot and $492.22 in total for my 187-square-foot kitchen.
It's amazing how a fresh coat of paint can give the most important room in your home a whole new look! In this post, I'll show you what to expect when hiring a cabinet painting professional and what is involved in painting your cabinets yourself.
Is Painting Kitchen Cabinets Worth it?
If the estimates for hiring a professional are not in your budget, I'll show you exactly how to refinish your kitchen cabinets yourself while getting professional results.
Painting your cabinets is hard work and time-consuming but you will save a significant amount of money and get smooth and durable results with my FREE cabinet painting guide below.

LET ME SHOW YOU:
A cost comparison how exactly how much it will cost to paint your cabinets versus hiring a professional (and why the type of paint will make or break your cabinet project!)
How to find a quality cabinet painter that will give you the best results at a reasonable price
What is involved in painting your cabinets yourself to get quality results with no surprises!
Some encouragement for habitual planners like myself in this week's Renovate Your Faith devotional at the bottom of this post.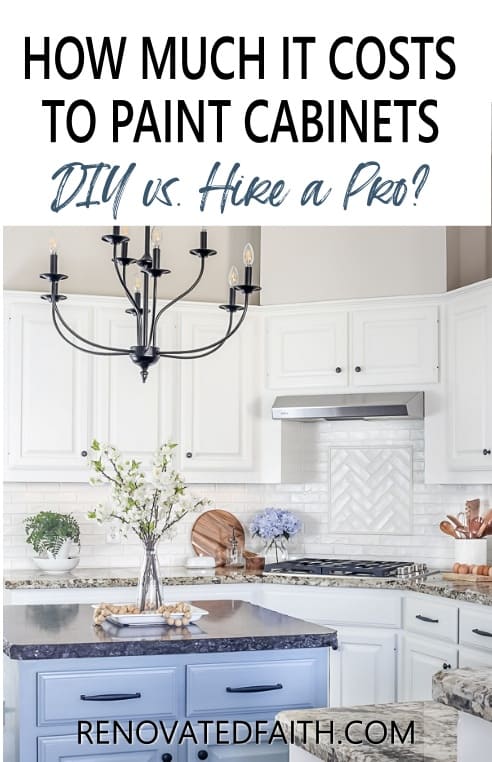 How Much to Paint Cabinets Professionally (DIY Like a Pro or Hire a Pro?)

Whether you use this information to decide whether you paint your cabinets yourself or hire it out to a professional painter, there are a few things you need to know.
In either scenario, prep work is vital. If a contractor says he doesn't need to sand your old finish before priming, he is not the contractor for you!
You may have heard that an ounce of prevention is worth a pound of cure! That's definitely the case with cabinets. Not doing a simple sanding can lead to the paint not adhering and actually peeling off the old service.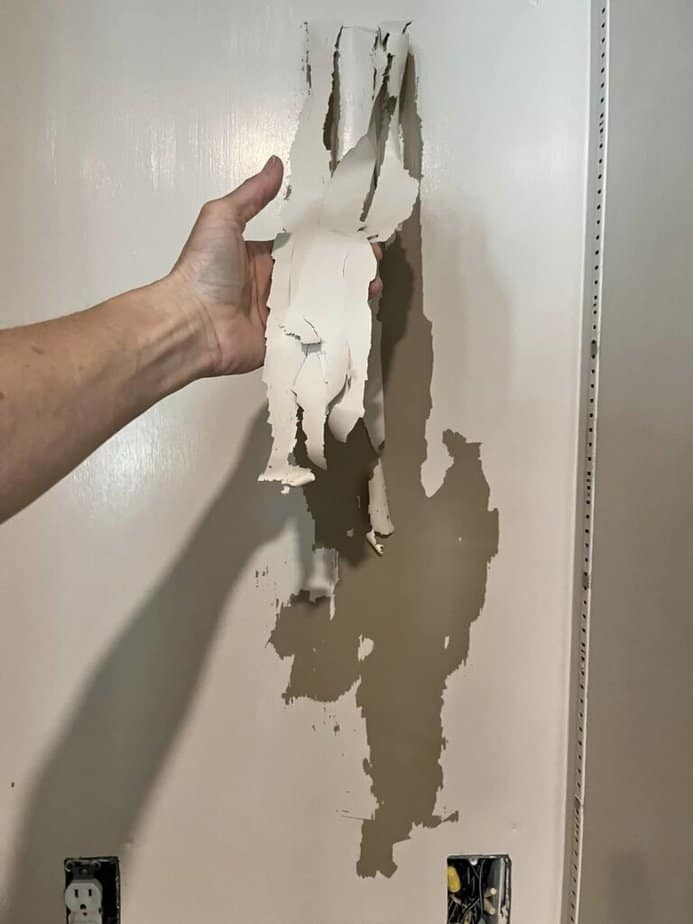 That means the process will have to be completely redone after scraping off the old paint. So, whether you do it yourself or hire a contractor, sanding and priming are both a MUST!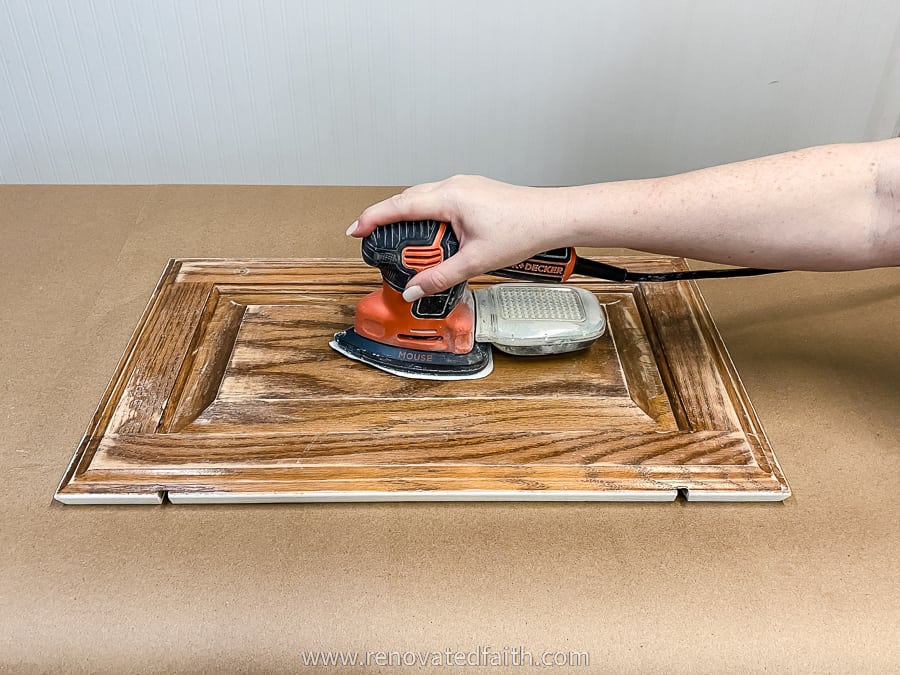 Fortunately, prep does not require as much work as you may think. You only need to sand enough to take the sheen off the old surface. In other words, you don't have to sand off the old paint or stain, just scuff it up a little. (Related: How to Sand Furniture in 5 Minutes Flat)
Also, a coat of primer is going to replace a coat of paint. So there won't be any more labor involved. Also, a coat of primer is cheaper than a coat of paint. Therefore, you could argue that using a primer lowers the overall price.
So, all that to say, don't let anyone tell you that cabinets don't have to be sanded or primed.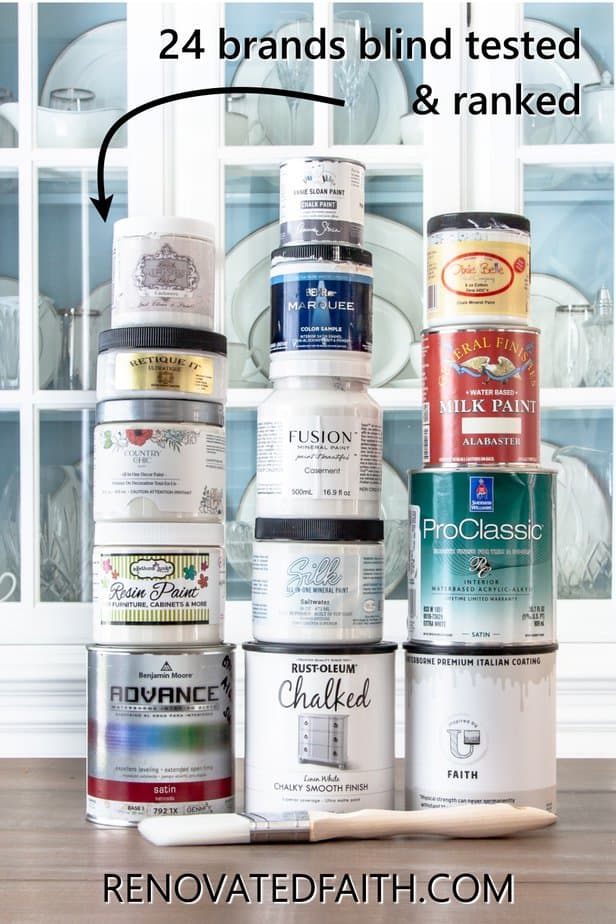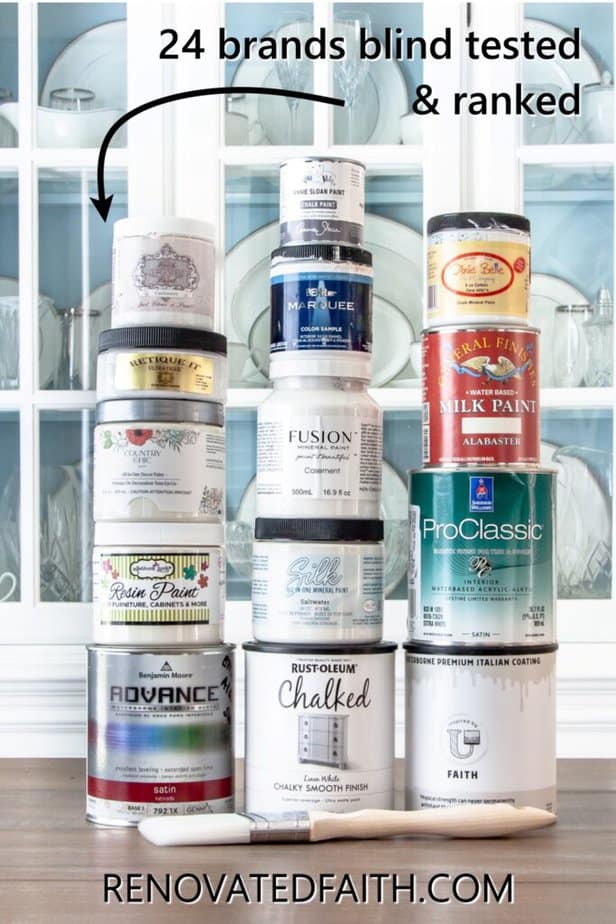 BEST PAINT Type of Paint for Cabinets
Whether you DIY or hire out, paint quality will make or break your cabinet painting project. After testing 24 brands of paint including latex paints, oil-based paints, and hybrids, I found that the best paint for cabinets is Benjamin Moore Advance. With that said, it's not the only good paint on the market. When getting estimates from professional paints, make sure they use one of the high-quality paints on this list for a durable and smooth finish:
The Best Paint for Cabinets (24 Brands Blind-Tested and Reviewed)
How Much Does It Cost to Have Your Kitchen Cabinets Painted Professionally?
The average cost to have kitchen cabinets painted by a professional is $3-10 per square foot, $50-$100 per door, $20-30 per drawer, and $903 – $6,764 average total cost for kitchens in the US. The cost per square foot includes labor costs and the cost of materials only. Below are the national averages based on the size of your kitchen:
Small Kitchen Cabinet Painting Cost
The average small kitchen is around 70 square feet making the overall cost between $900 and $2500 total.
Medium Kitchen Cabinet Painting Cost
The average medium kitchen is around 100 to 200 square feet making the overall cost between $2500 and $4200 in total
Large Kitchen Cabinet Painting Cost
The average large kitchen is over 200 square feet making the overall cost at least $4000 and on up.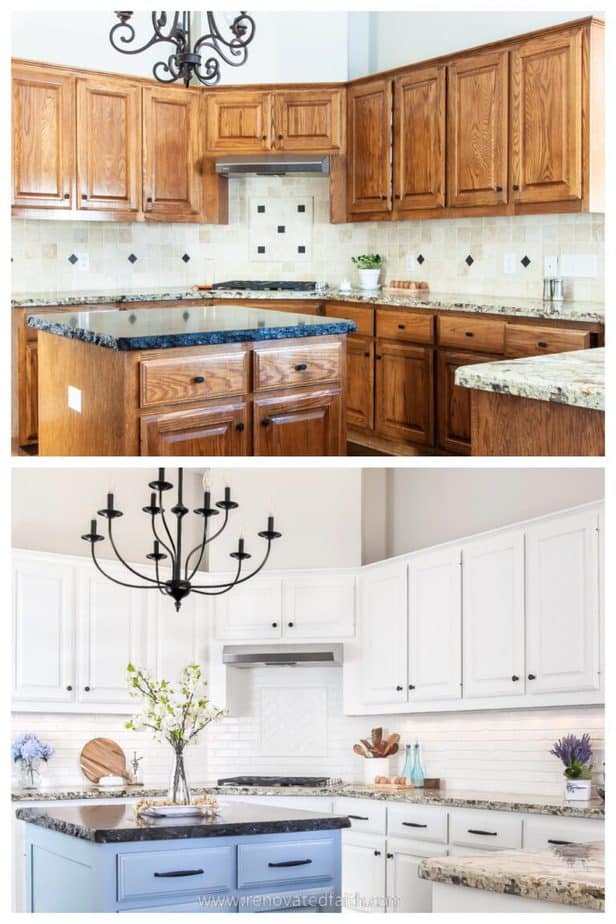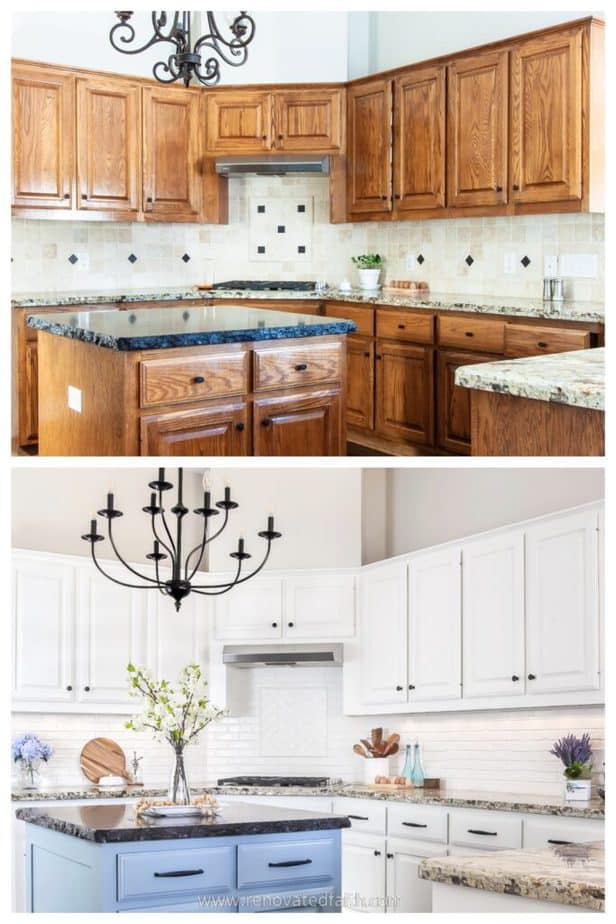 Wondering How To Measure Your Cabinets For Square Footage?
To measure the area or square footage of your cabinets, you will take out a sheet of paper and record the length and width of all the squares and rectangles you can find that make up your cabinet surface.
Now, I will record my measurements for the width and height of each. For example 27 x 34 inches and 44 x 34 inches. Keep recording the width and height until all the surface area is accounted for.
Multiply the width by the height for each square and add up all those totals. A spreadsheet makes this really fast. Once you add up all those totals, you will have the overall area in square inches.
But we need square feet. Multiply the overall square inches times x to give you the square footage of your cabinets. So if you want to see how much it would cost a contractor that charged $5 an hour, you'd multiply that by your total square footage.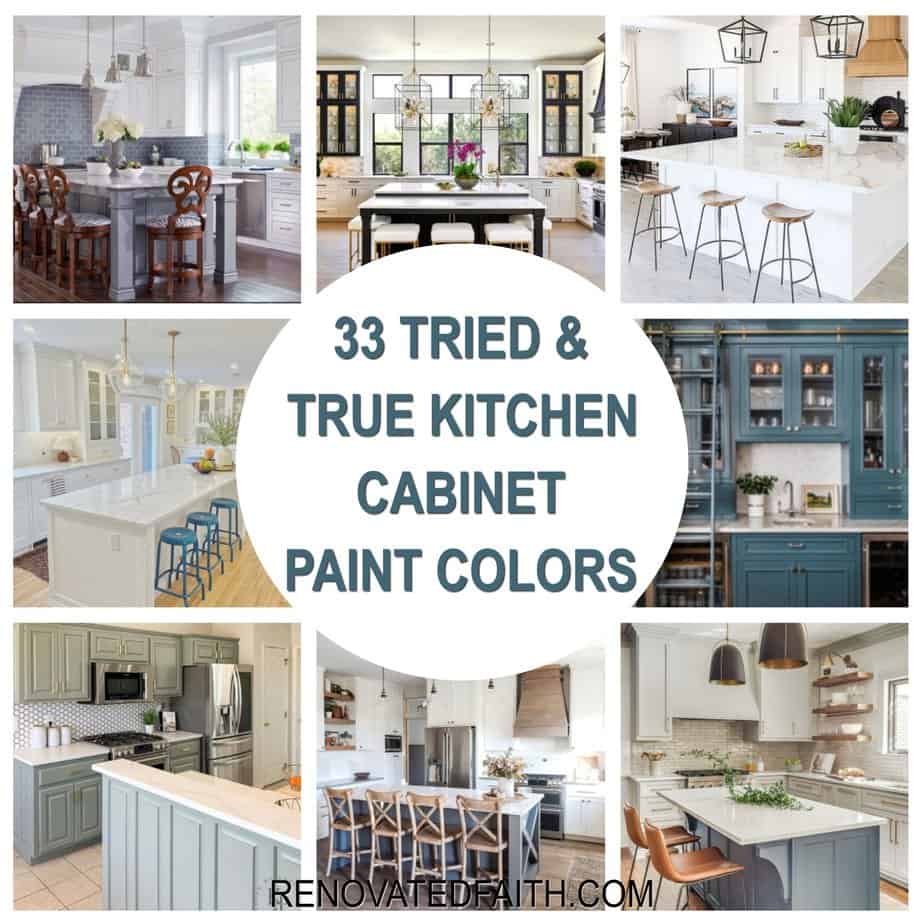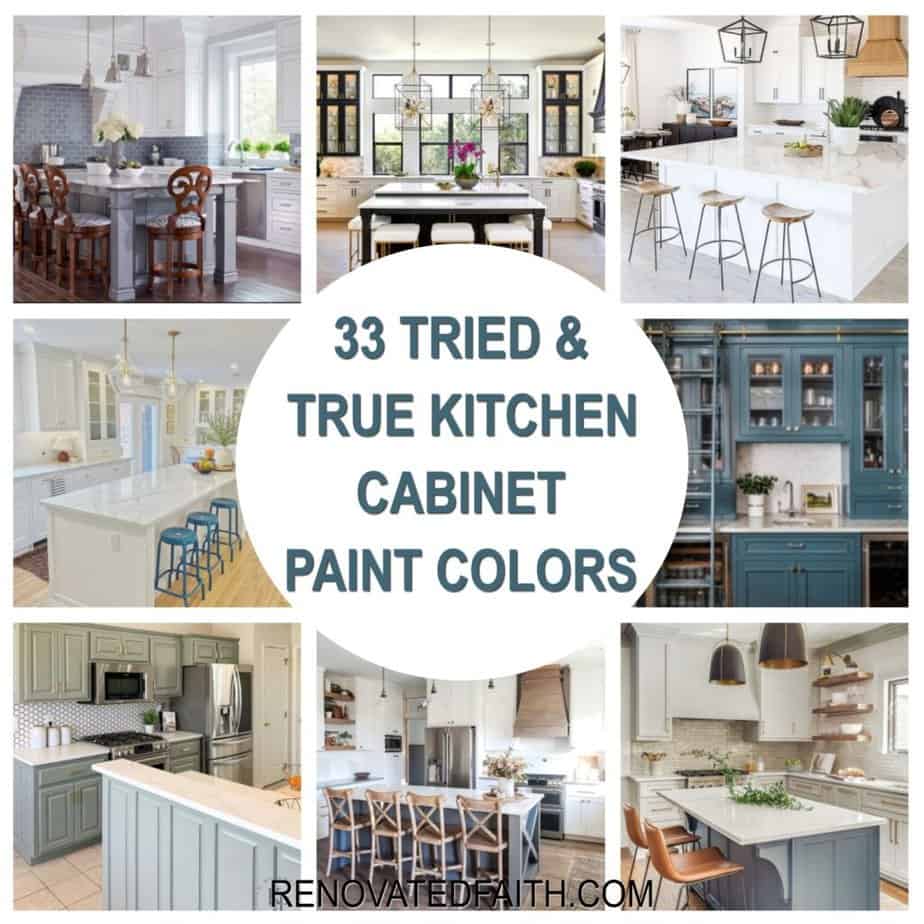 How Much It Cost to Paint My Own Cabinets…
For reference, I spent $2.67 per square foot on my 187-square-foot kitchen making the total cost $482.22. See more about the cost to paint your kitchen yourself towards the bottom of this post.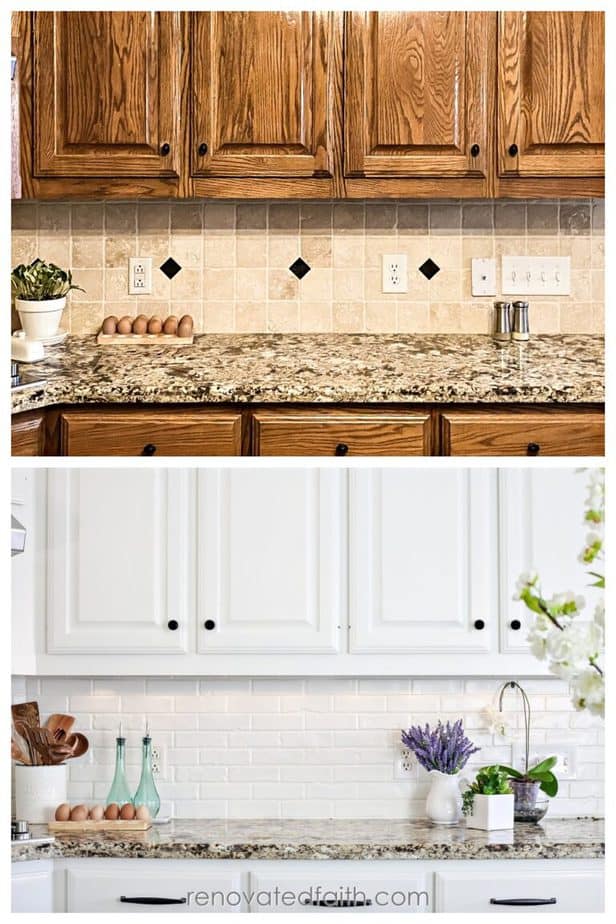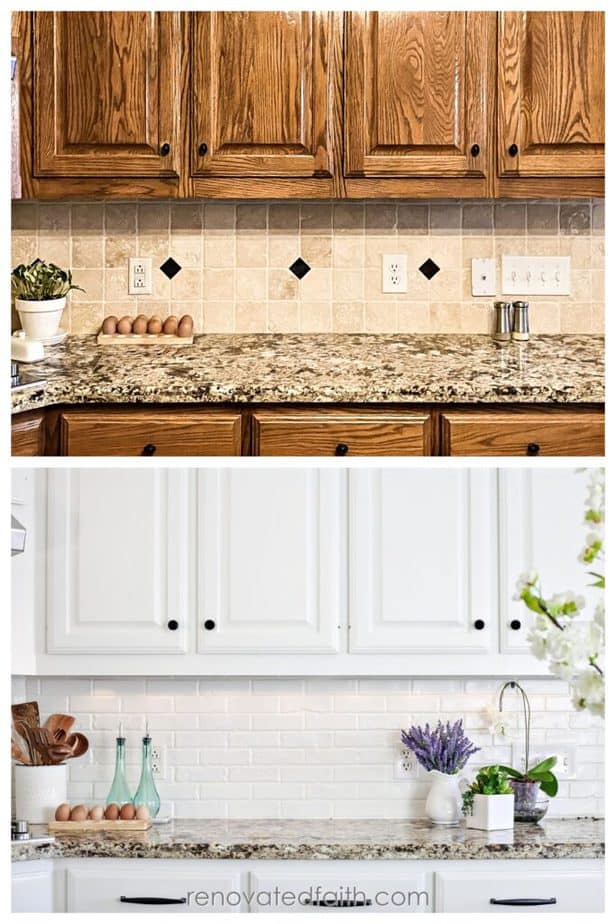 COST Considerations: How Much to Paint Kitchen Cabinets Professionally
You might be wondering why the price per square foot is a lot lower than the national average based on kitchen size. That's because the average kitchen will incur more costs based on some of these factors:
Cabinet Condition
Cabinets in poor condition will need some extra repair and that will increase the overall cost. Also, cabinets with more detail are more time-consuming and add to the labor cost.
Grain Filler
Many oak cabinets need a grain filler to make the surface smoother so you don't see the divots of the grain in the final paint finish. Most professional cabinet painters will increase the total price by as much as 50% if a grain filler is needed. (You can see how I applied grain filler to my cabinets here.)
PAINT COLORs
Darker colors will require more coats and will raise the cost of materials and labor. However, some professionals will use a primer that is tinted a darker color to save time and money.
Site Preparation
Covering surfaces and drilling new hardware holes will cost you more. A good cabinet painter will fill holes and drill new ones before painting. See why here: How To Install Cabinet Hardware Easily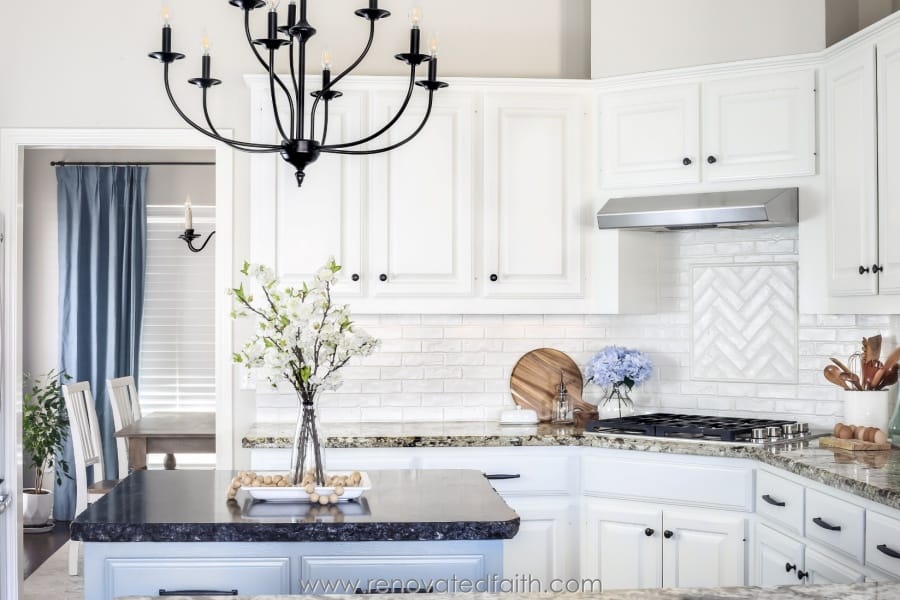 Download Your FREE CABINET PAINTING ROADmAP HERE
☑️ If you decide to go the route of painting your cabinets yourself, you don't want to miss this post on how to refinish your cabinets like a pro. I also share the top results after testing 24 cabinet paints and my best tips for making the project go as smoothly as possible:
FREE Cabinet Painting Roadmap & Tutorial
How Much Should I Expect To Have MY Kitchen Cabinets Painted By A Professional? (The Actual Cost)

You can measure your kitchen and get a ballpark estimate of how much it will cost. Once you have contractors narrowed down to a few great options, have them come to your home and measure to give you a true estimate.
What To Consider When Hiring a Painter Vs a Cabinet Refinisher
Not all professional painters are cabinet refinishers because painting cabinets is much more involved than any other painting project.
A cabinet refinisher needs to know how to get a smooth finish, the best products, how to thicken or thin the paint mixture in the sprayer when humidity changes, and what seams to caulk and which to leave open for floating cabinet doors. In other words, don't hire a handyman to paint kitchen cabinets.
The cheapest bid you get from a painter might not be the best option. A cabinet painting professional probably won't have the lowest bid, but he will make sure the job is done right the first time. If you decide to go the DIY route, I cover all the information you need to know in my Cabinet Painting Guide HERE.
Renovated Faith: What's In A Name?
Ever read a cabinet painting article with a devotional at the end? Me neither! But this blog is about more than just transforming your home but also about transforming your heart. Through one DIY project after a never, I'm reminded about how God can transform even the most broken parts of our lives into something beautiful. Be sure to check out the devotional at the end of this post!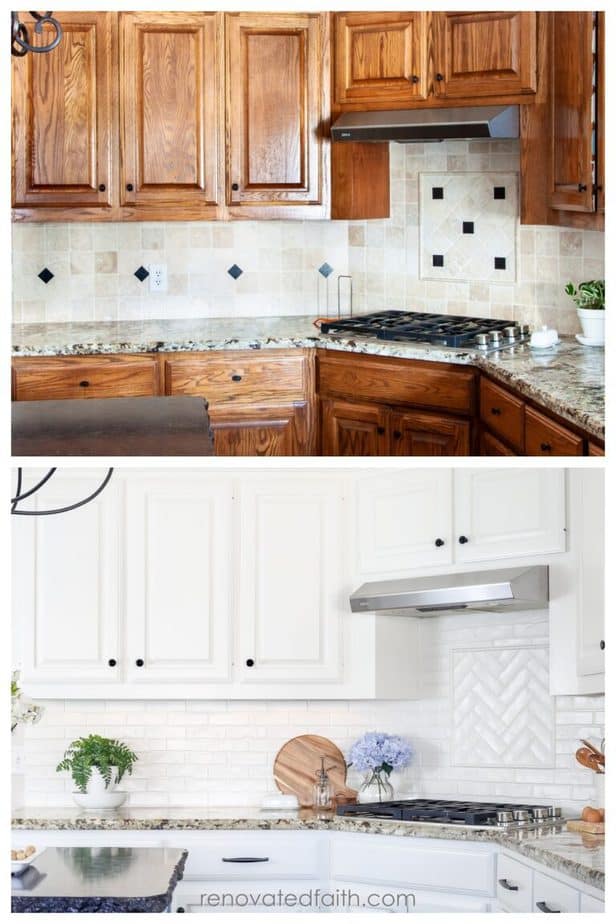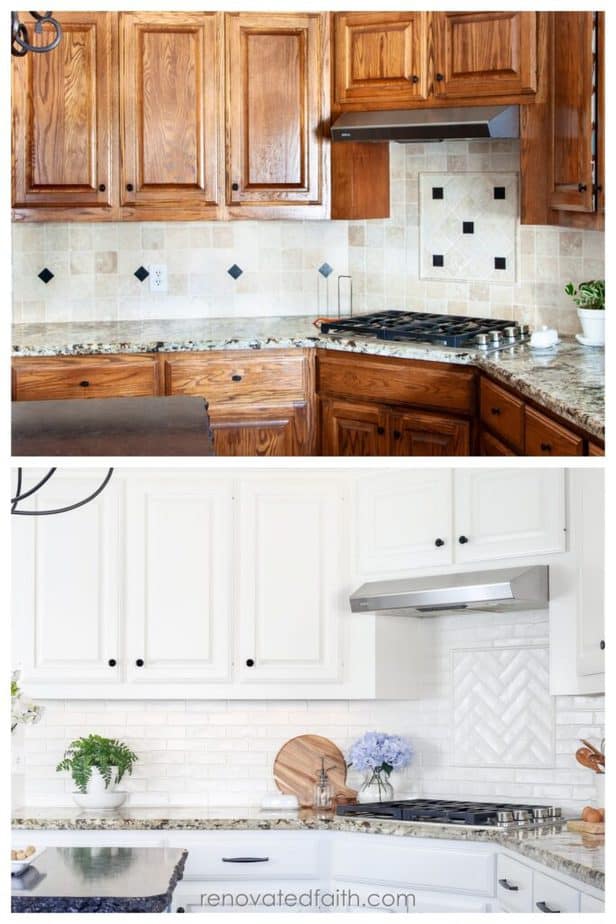 The DIY Cost of Painting Kitchen Cabinets
A great way to save money is by painting your cabinets yourself. This of course does away with any labor costs but know that it will cost you time and effort. Because this is not a simple project and will require a lot of work, you can read all about what's involved here: How to Paint Cabinets Like A Pro
After testing 24 brands of cabinet painting, the top paint that will give you the smoothest and most durable finish is Benjamin Moore Advance.
I used Cover Stain primer before painting my cabinets in Benjamin Moore Advance in a satin sheen color-matched to Sherwin Williams Alabaster (Related: The Best White Paint Shades for Kitchen Cabinets).
The average cost to refinish kitchen cabinets yourself is between $400 to $1250 or $2.50 – $7.00 on average according to Forbes.
The total cost to paint my own cabinets was $492.22 for my 187-square-foot kitchen at a cost of $2.67 a square foot. The price includes the use of a grain filler on my oak cabinets and you can see the full cost breakdown further down in the blog post.
For now, here are the cost breakdowns for kitchen size.
How Much To Paint Kitchen Cabinets In A Small Kitchen
Small kitchens are usually around 70 square feet. It will cost around $300-$400 to paint a small kitchen.
How Much to Paint Kitchen Cabinets In A Medium Kitchen
Mid-sized kitchens are usually 100 – 200 square feet. It will cost you $400 – $534 to paint a medium size kitchen with the paint and primer I used. For reference, my kitchen is 187 square feet.
How Much to Paint Kitchen Cabinets In A Large Kitchen
Larger kitchens can be anywhere from 200 to 300 square feet. Using my free cabinet painting guide, it will cost $534 to $801 to paint a large kitchen.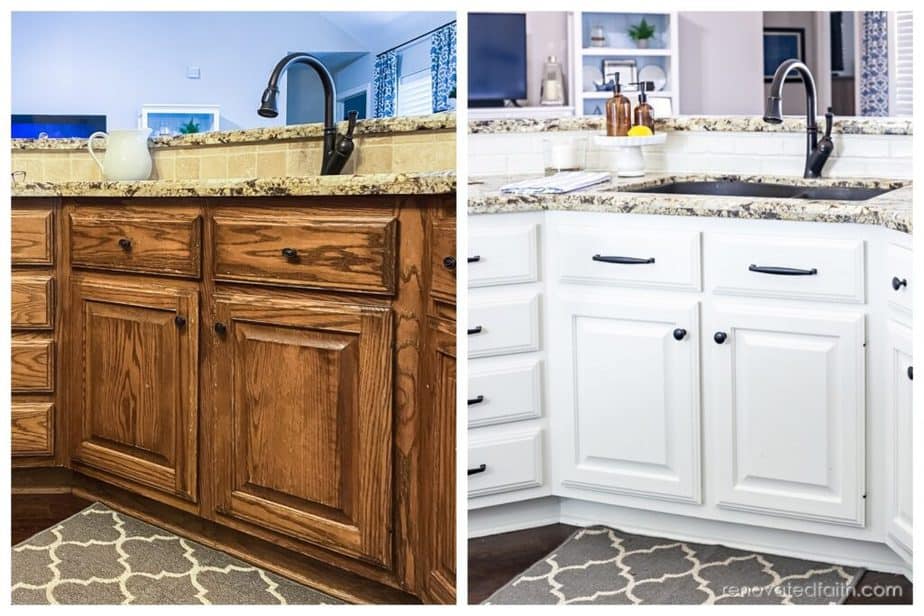 Considerations When Estimating Your Kitchen Cabinet Refinishing Cost
The Type of Paint – The Cheapest Paint Isn't The Cheapest Paint
Just because a brand of paint is cheaper doesn't mean that it will be cheaper in the long run. For example, in our old house, one of the many updates was painting our cabinets (The Easiest Home Upgrades With The Highest ROI).
This was many years ago and since we were on a tight budget, we got the cheapest paint that Lowe's had in stock. It was Olympic paint which is actually not sold anymore. This paint was so thin it was like painting with skim milk. It would not provide good coverage and I ended up applying 13 (yes, 13!) coats on those cabinets! LESSON LEARNED.
I spent so much more money on several cans of cheap paint than I would have on a couple of cans of high-quality paint like Benjamin Moore Advance, not to mention the added time, energy and so much frustration.
Painting Method
Your painting method has a big effect on the overall cost of materials. Most professionals use the method of spray painting cabinets with a paint sprayer. However, there is definitely a learning curve with paint sprayers and a GOOD paint sprayer is usually cost-prohibitive.
That's why I recommend most DIYers roll and brush their cabinets. Use a roller for the larger flat cabinet surfaces and use the brush on smaller areas and the door trim to get a really smooth paint job.
Colors
Darker colors usually require more coats of paint to get full coverage however, you can tint your primer a darker color. This allows the new paint the best coverage over another dark paint color.
Damage
Filling holes and water damage in cabinet boxes, drawer fronts and doors will incur extra costs. To learn how to fill wood grain in oak cabinets, check out this post: The Easiest Way to Fill Wood Grain in Cabinets For repairing any other damage, this post on repairing scratches in furniture applies to cabinets as well: How to Fix Scratches in Furniture and Cabinets If your cabinets are in good condition, you can start right away.
Hardware Installation
New cabinet hardware is an added cost and your cabinet design can dictate whether you will have to drill new holes. For everything you need to know about how to install cabinet pulls and knobs, click here: Easy Cabinet Hardware Installation Guide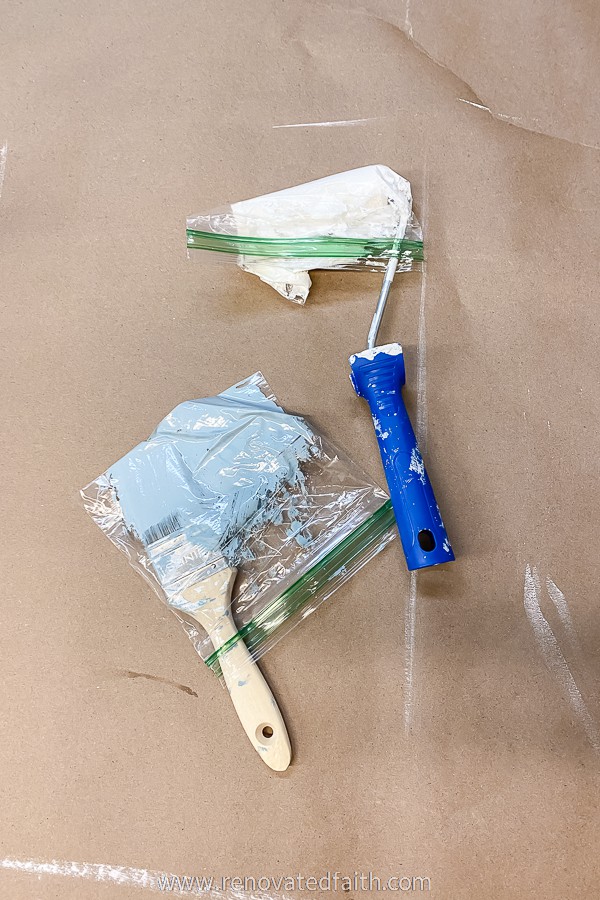 The Total Supplies for My Kitchen Cabinet Process
See a more detailed list of cabinet painting supplies here and be sure to download my cabinet painting roadmap that tells you what order to paint your cabinet boxes, doors, and drawers: FREE Cabinet Painting Roadmap
33 Cabinet Knobs 9.99 + 36.99 = 46.98
20 Drawer Pulls 48.00
Krud Kutter 16.88
Electric Sander 37.49
Sanding Pads 10.99
1 Primer 18.98
2 Aqua Coat – 46.36 + 25.80 = 72.16
2 cans of Benjamin Moore Advance – 2 x 84.32 = 168.64
Cheap brushes 9.99
2 Zibra Brushes – 11.49 x 2 = 22.98
Mini rollers – 12.59
Wood filler 7.50
Sharpie .98
Painters tape 5.48
Push pins 1.84
Caulk – 3 x 3.58 = 10.74
TOTAL COST OF DIY CABINET PAINTING: $492.22


Is it Cheaper to Paint or Replace Kitchen Cabinets?

The idea of installing new cabinets is tempting and sometimes it is necessary if the existing cabinets are heavily damaged. The cost to replace kitchen cabinets will be $6,000 – $9,000 which is higher than the cost of having your cabinets professionally painted or much higher than painting them yourself.
RENOVATE YOUR FAITH: Who Is Really In Control
For every DIY project, no matter if it is cabinet painting or spray painting door knobs I'm a habitual planner. I think it's my way of trying to prevent unwanted surprises in life. I assume that if I can plan it, then I can control it. But unfortunately, that's just not the way this world works.
Fortunately, God gives us a backup plan when something thwarts even our most well-intentioned plans. So what's our backup parachute for when life is unraveling before us? It's simply communicating with Him.
Yes, it's just that simple. Through giving our burdens to Him in prayer, He is faithful to bless and strengthen us in any situation we encounter no matter how large or small.
Only through prayer can we see disappointments as opportunities for good, helping us to be joyful even in the hardest of circumstances.
I don't know about you but I can be great at communicating with God one day but completely fail to engage with him the next.
God realizes that we are only human and that our environment is rigged to distract us from Him.
So regardless of how easily distracted we have been in the past, He loves it when we come back to Him with our problems, big and small.
Learning to communicate with Him is a discipline and it's not something we learn overnight. But the more we do it, the more our eyes are opened up to how He is using those struggles for His good which is ultimately for our good.
The practice of going to Him in prayer takes the sting out of life's hardships
Going to Him in prayer helps you to reframe setbacks as opportunities allowing you to gain so much more than you have lost. More than anything, prayer develops our relationship with Him and helps us to guard our hearts against things that will only discourage us further.
Call to me and I will answer you and tell you great and unsearchable things you do not know. Jeremiah 33:3
God might not fix all of our current problems but He does something better. He uses those circumstances to transform us so that after He has brought us through them, we are better equipped by His strength to handle the future with confidence.
For more spiritual encouragement, click here for the rest of my project posts which also include Renovate Your Faith devotionals.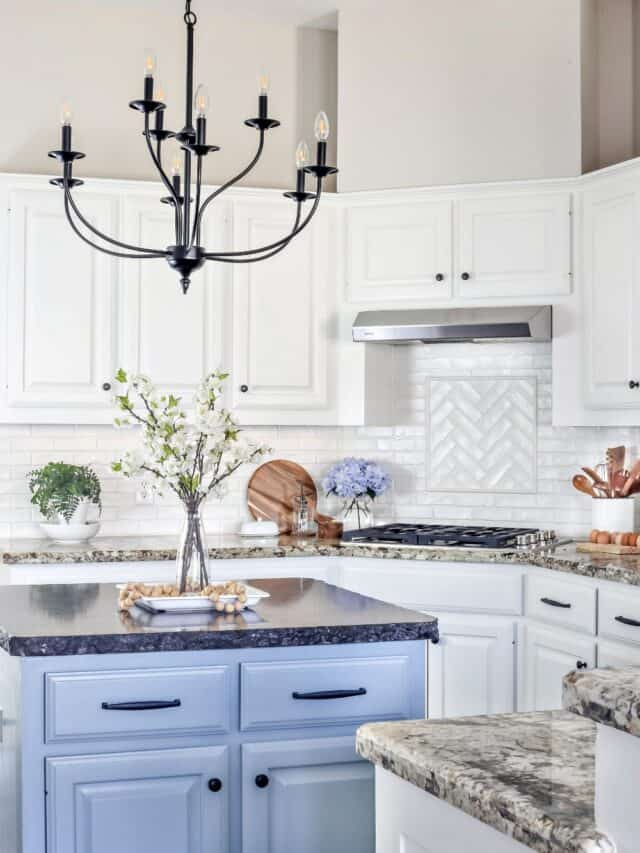 FAQs: Cost to Paint Kitchen Cabinets: DIY vs. Hiring a Professional
How Much Does it Cost to Paint Cabinets White?
It cost me $492.22 to paint my own cabinets in Benjamin Moore Advance color matched to Sherwin Williams Alabaster. For the best white paints for cabinets, click here: The Best White Shades of Paint for Cabinets
What is the cost to paint Maple Cabinets White?
Hardwoods like maple usually don't have an open wood grain so a wood filler is not needed. Because of that, you can take about $85 off the cost of painting my own cabinets making the overall cost about $400 with my cabinet painting process.
How Much To Paint Cabinets Professionally?
The national average cost for having your kitchen cabinets painted by a professional contractor is $903 – $6,764. Factors include kitchen size, kitchen design, and whether a grain filler should be used.
What is the cost to paint Kitchen cabinets per door?
Cabinets can be compared by square footage, linear feet of cabinetry, the number of cabinets, or the number of door and drawer faces. For this tutorial, we are using square feet to estimate our cabinet painting costs. To get the cost to paint kitchen cabinets per door, simply add the number of drawer fronts and door faces. Then divide that number by the total square footage.
What is the Best Sheen for Kitchen Cabinets?
A satin sheen will give you the best results without looking too shiny. Satin paint has enough of a sheen that it is durable enough. Flat paints are never a good idea for a cabinet painting project because they trap dirt and aren't as durable. To keep your cabinets in good shape for years to come it's a good idea to use a satin or semi-gloss sheen for durability and wipe-ability.
Is There Such A Thing As A Kitchen Cabinet Painting Cost Calculator?
Some sites will try to estimate the cost for your area but while this will give you a ballpark estimate these cabinet cost estimators usually don't account enough for the details of your kitchen, local material costs, any additional costs, and local labor costs.
How Do I Find Professional Kitchen Cabinet Painting Near Me?
Check out reviews online first and foremost and ask around in local Facebook groups. Some of the best recommendations will be from word of mouth and this will put several professional cabinet painters on your radar. Feel free to call them to get a free estimate and remember to ask if they are going to prime and sand the cabinets. If they aren't going to prime or sand, they are not the painting contractor for you!
Also, make sure their paint of choice is one of the best types of paint on the list of the Best Paints for Cabinets. These criteria will ensure that all extra costs are accounted for but more importantly, you have a quality professional job done in a timely manner.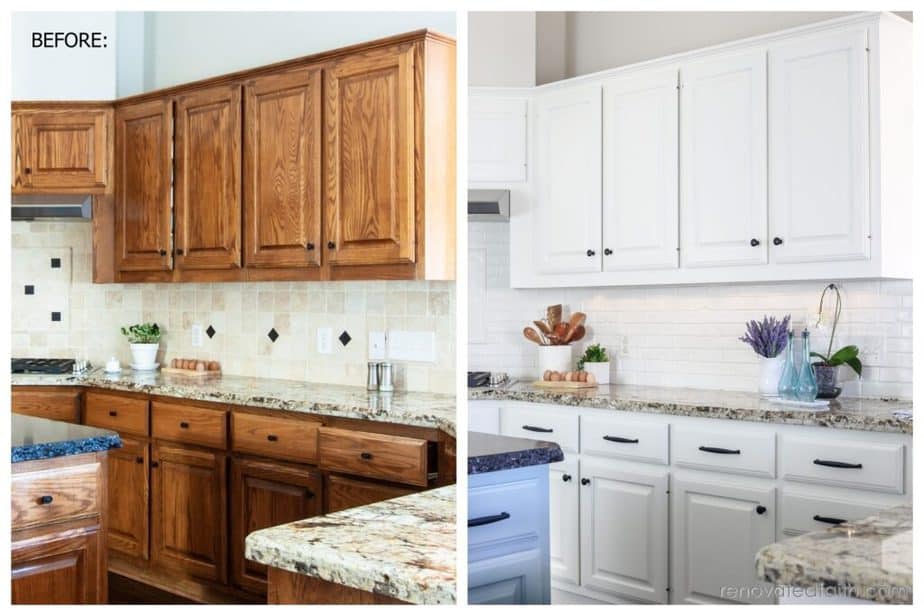 More Posts Related to The Average Cost to Refinish Kitchen Cabinets
The DIY Guide: How To Paint Kitchen Cabinets Professionally
25 Popular Kitchen Paint Colors With White Cabinets
The Best Paint Shades for White Kitchen Cabinets
The Most Popular Colors for Kitchen Cabinets
The Best Blue and Gray Paint Shades for Kitchen Cabinets
The Best Sander for Kitchen Cabinets and Furniture
Tips for Painting Laminate Cabinets and Furniture
Comparison of Chalk Paint, Milk Paint, and Latex Paints on Furniture
The Best White Paint Shades for Kitchen Cabinets
Great Blue Paint Colors for Cabinets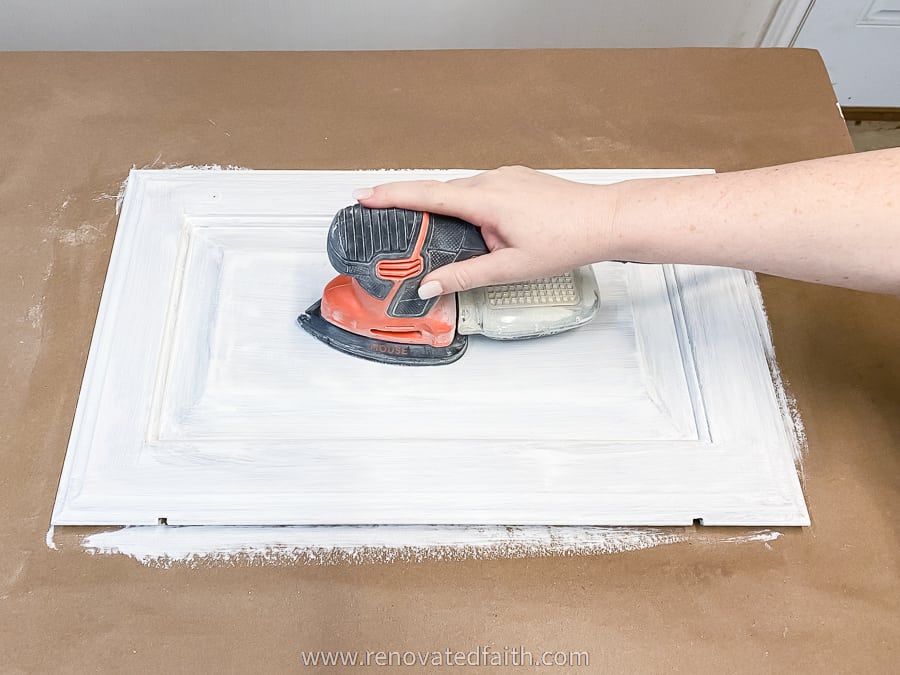 Final Thoughts on How Much To Paint Kitchen Cabinets White
Painting your kitchen cabinets is the easiest way to add new life to your kitchen and home overall. It's important to know all the facts about how much to paint kitchen cabinets yourself and how much it costs to hire a professional. Whether you hire it out or do it yourself, know that no other DIY project will upgrade the look and value of a home like painting the cabinets. You'll be so happy you did!
How Much To Paint Kitchen Cabinets, YouTube Video
CLICK BELOW TO SAVE THIS POST ON HOW MUCH TO PAINT KITCHEN CABINETS WHITE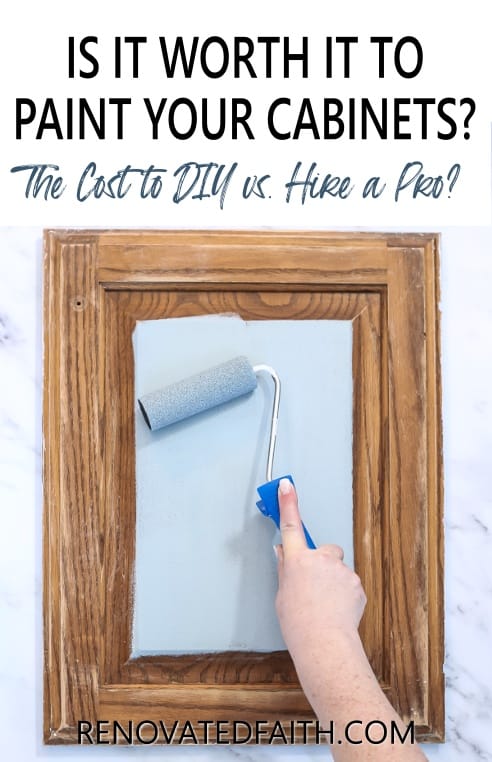 I love to hear your thoughts and questions! Scroll down to leave a comment and I WILL reply! ❤️
Blessings,

Be sure to follow the fun here!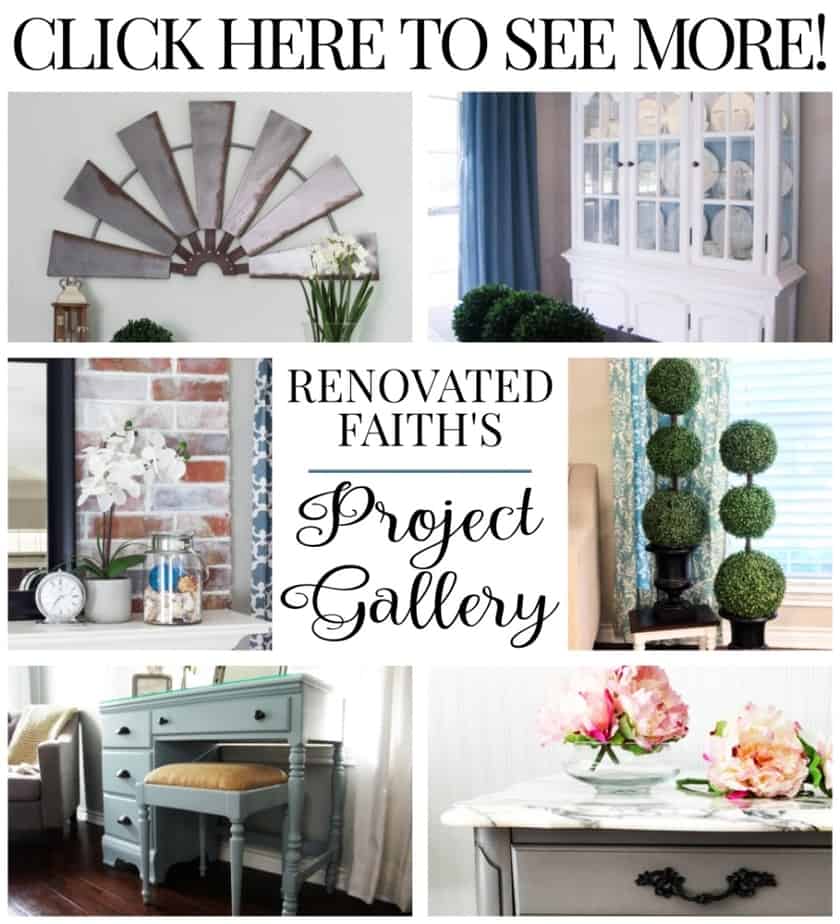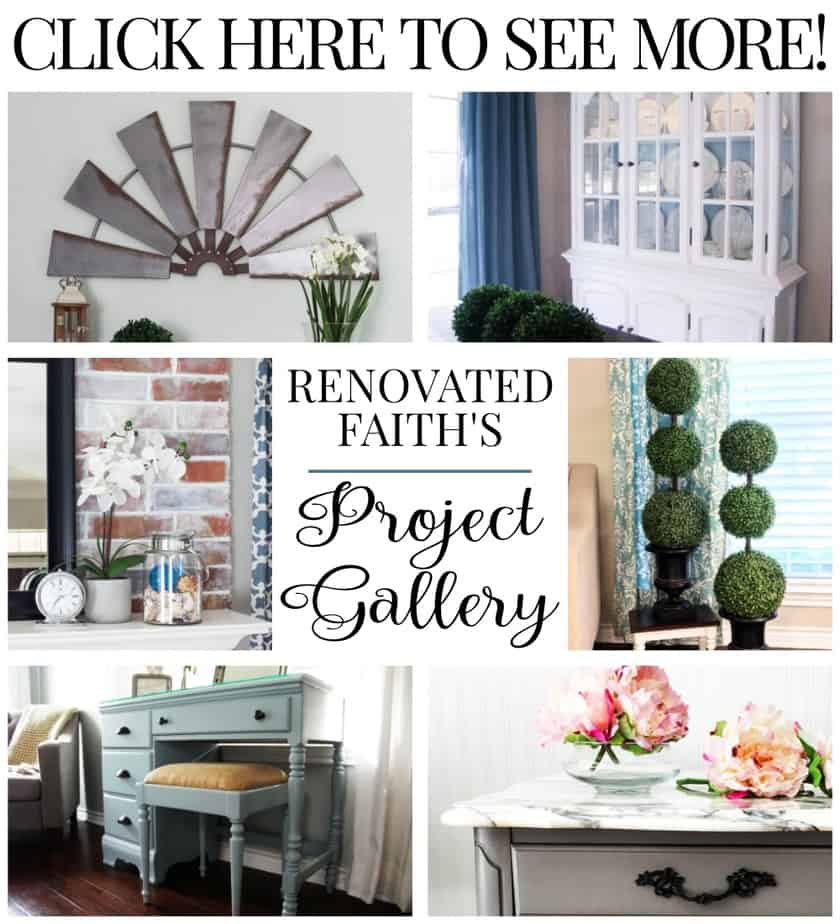 How Much To Paint Cabinets Professionally
Welcome to Renovated Faith, where I share about DIY projects, my faith and everything in between! When I'm not spending time with my family, you will find me redoing furniture in the garage or watering plants in my greenhouse. This blog is about transformation. Anyone can renovate a house but only God can transform our hearts!